Our camping cabin in the garden is especially suited to young and young at heart, independent travellers such as walkers or surfers who want a base close to brilliant beaches, great walks around the coast and the pubs, restaurants and other entertainments of the North Devon Coast. It is basic, but cosy and quirky and comes with optional breakfasts! It is good for couples, pairs of friends and solo adventurers.
Charming rustic cabin nestled in trees and 20 minute walk to the sea. Charlton Cleave (main house) is host to Mole Cabin along with Badger and Toad Hall. There is a separate shower/toilet room, shared also with the other two cabins. Mains water and electricity, kettle, heater and wifi. Beds can be arranged as twin or double. Great for hikers, with its location just off the Southwest Coastal Path, and an Ideal retreat to unplug for a while. There's a pub in the village, approx 15 mins stroll.
Misafirler ne diyor?
"Resimlerin izin verdiği güzelliklerden çok daha muhteşem, güneşli kahvaltı terası, tamamen sessiz, yıldızlı gökyüzü. Trevor harika bir ev sahibi, cömert, gizliliğimize saygılı, ancak sorular için hazırdı. Bize vardıklarında ikindi çayı için süt ve bazı şeyler getirdi. Her şey son derece temiz, sıcak, rahat, konforlu."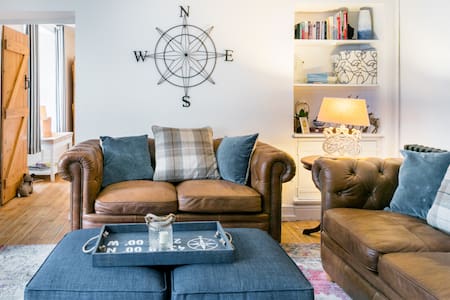 PLUS
Tüm kır evi · 7 misafir · 4 yatak · 2 banyo
Beachside Cottage with a Log Fire in Picturesque Lee Bay
Get into a suitably seaside frame of mind by opening windows wide to let fresh ocean air waft through blue-and-white rooms. After a bracing ramble to the beach, get cosy on leather sofas by a log fire or take a slow bath in a warm tub before bed. Why not enjoy the striking green private and secure garden with stream trickling past.