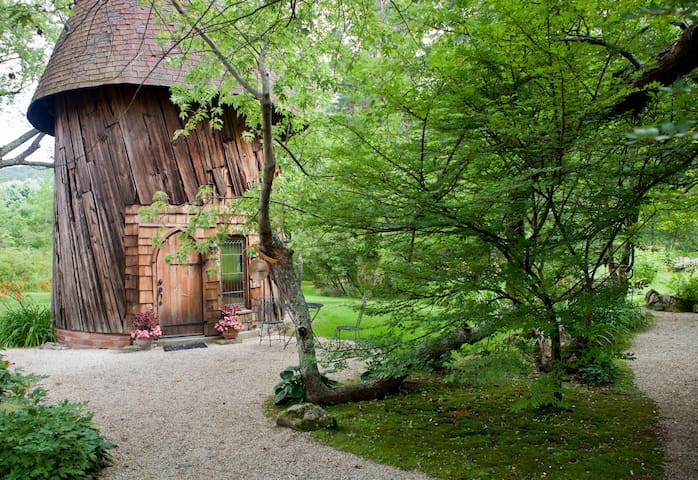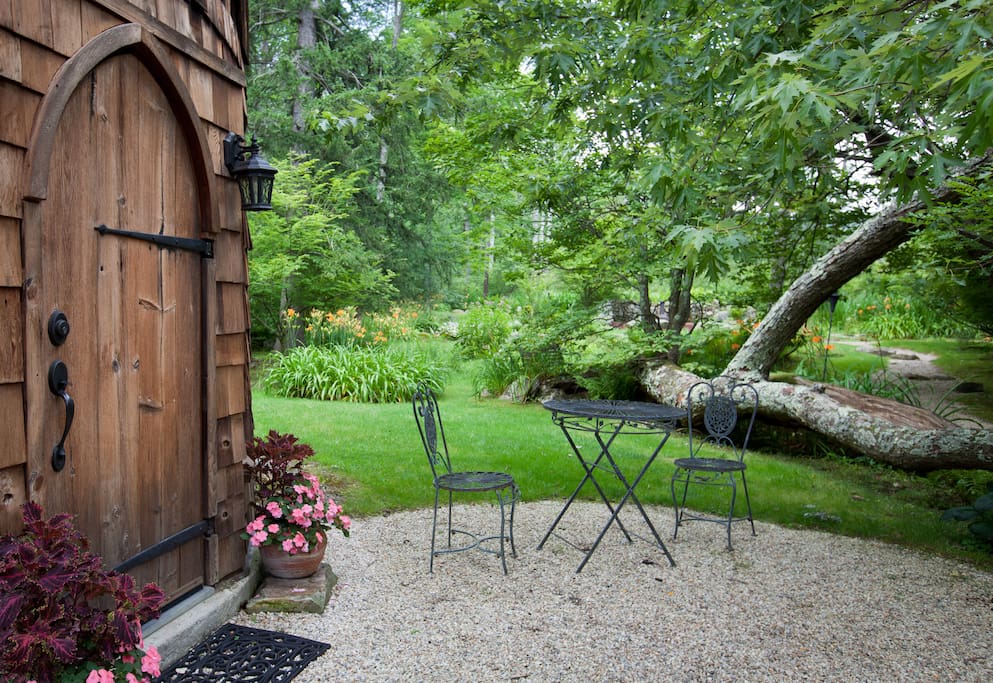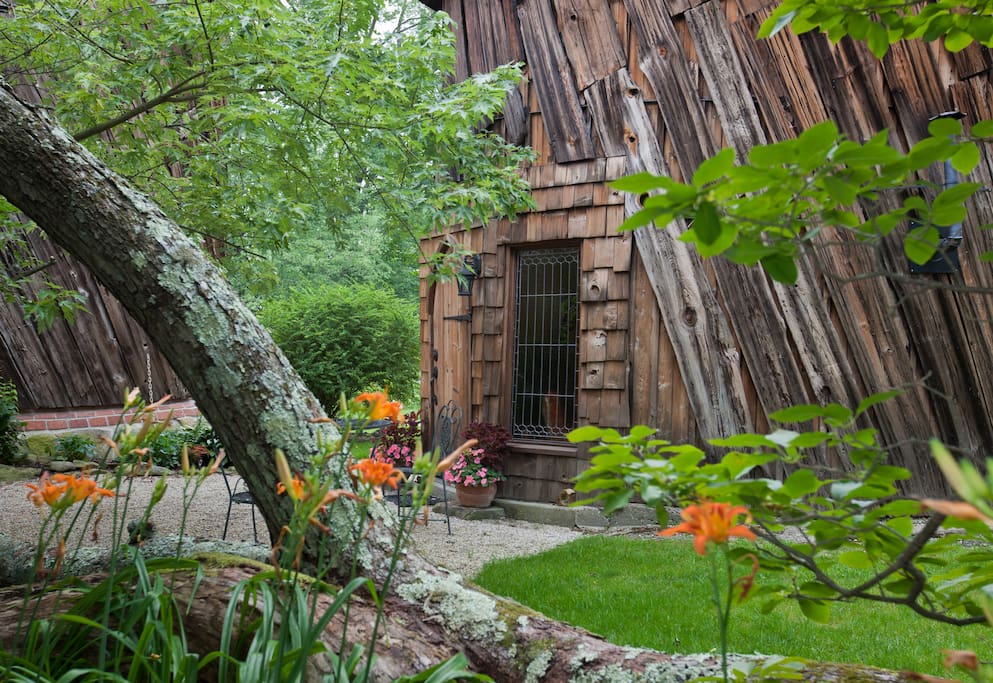 Batı Massachusetts'teki Berkshires'daki Santarella Emlak'daki sevimli ve romantik 'Round' Cottage. Eskiden yazlık heykeltıraş Henri Hudson Kitson'un Santarella Emlak'taki yaz stüdyosuydu. İki katlı yazlık üst kattaki kanopi yataklı 35 ayak yüksekliğinde konik tavan ile büyüleyici bir yatak odasına sahiptir ve ağaçlar ve gökyüzü ve lilyum göleti için devasa, çok panlı "değirmen pencereleri" manzaralıdır. Alt katta oturma odası gevezelik deresi ve güzel bahçelere bakmaktadır.
Charming and romantic,' Round' Cottage on the Santarella Estate in the Berkshires in Western Massachusetts. Formerly, the cottage was sculptor Henry Hudson Kitson's summer studio on the Santarella Estate. The two-story cottage has a charming bedroom with 35 foot high conical ceiling with canopied bed upstairs with views through massive, multi-paned "mill windows" to the trees and sky and out to the lily pond. The downstairs sitting room looks out on the babbling brook and lovely gardens.
Yer
Şimdi yıl boyunca açın! Charming, One Bedroom Cottage, Tyringham, MA'deki Santarella Estate'teki eski heykel stüdyosu. "Silo Studio" Kulübe olarak bilinir. Üst katta kanopi kraliçe yataklı bir yatak odası ve pencere tezgah koltuğu, sehpa, masa ve sandalyeler ile oturma odası, mikrodalga fırın / kahve makinesi bulunan ıslak bar, ekmek kızartma makinesi ve duşlu banyo alt katta bulunmaktadır. Gülmeye devam eden derenin sesleriyle uykuya dalın ve bir "ağaç evinde" yaşamak gibi üst kattaki geniş ekranlı açıklıklardan gölet ve ormana bakış. İki adet sadece, tamamen mobilyalı, tüm çarşaflar, havlular dahildir. Otel bünyesinde uydu DTV ve Kablosuz İnternet bulunmaktadır. Yazlık güzel bahçeler, güzel zambak göleti, koşu dereleri ve 2 dönümlük ormanlar dahil olmak üzere dört dönümlük arazide bulunmaktadır. Kesinlikle benzersiz, tecrübeli bir deneyim! Dikkat edin, yazlık geleneksel olarak yaklaşık Mart-Kasım aylarında üç mevsimlik bir kiralama olmuştur, ancak çok ilgi ve talep nedeniyle yakın zamanda daha büyük bir kapasite pelet soberi ekledik ve kışlamaya yönelik çabalar gösterdik ve ilgilenen konuklar için açık tutmayı planladık. Yazlık bir kış deneyimi! Kış aylarında biriken karla gerekçelerimize erişimin sınırlı olabileceğini lütfen unutmayın. Tahmini aşırı hava olayları sırasında konuklarımızla her zaman konforlarından endişe duydukları için rezervasyonlarını değiştirmeleri için çalışacağız! Güzel gerekçelerimiz misafirlerimize açıktır. Bahçe yolları, taş köprü ile gevezelik yapan deresi, zambak havuzlarının en güzel kısmı, 'chiminea' ile taş tezgah oturma alanı ve konukların kullanımı için odunlar var. Döngü izi olan iki dönümlük orman da var. Kasaba, konuklarımızın kullanabileceği son derece güzel bir Yüzme Havuzuna yaklaşık 3 km uzaklıktadır. Barbekü ve piknik masaları var ve çoğu kez terk edilmiş durumda. Evcil hayvan dostu bir politikamıza sahipken, bir evde beslenen hayvan bizim konaklamalarımızda kalabileceğinden önce, kural ve politikalarımızın önceden onaylanması ve kabul edilmesi gerekiyor. Ayrıca 25,00 $ 'lık ek evde beslenen hayvan temizleme ücreti vardır. Yazlık bahçeler ve öykü mimarisi mimarisi ile çevrili Santarella Emlak'da bulunmaktadır. Santarella, Tyringham Vadisi'nde, Mass. I-90'dan 5.8 km uzakta sıkışmış durumda, birinin zamanında geri adım atmış gibi hissettikleri güzel ve büyülü bir yer. Burası kesinlikle ondan uzak durmak, yürüyüş yapmak için Appalachian Trail ve Tyringham Cobble'a yakın sakin ve kırsal çevrenin tadını çıkarmak için yüzme veya kayak yapmak için birçok güzel gölettir. Araç gereklidir. Bakkaliye ve diğer alışverişlerde 5,6 km.
Now open year-round! Charming, One Bedroom Cottage, former sculpting studio on the Santarella Estate in Tyringham, MA. Known as the "Silo Studio" Cottage. There is a bedroom with canopied queen bed upstairs and a sitting room with window bench-seat, coffee table, table and chairs, kitchenette area with wet bar with Micro/Fridge coffeemaker, toaster and bathroom with shower are downstairs. Fall asleep to sounds of the babbling brook and views to pond and forest from the large screened openings upstairs, like living in a "tree-house". Accommodates two only, fully furnished, all linens, towels included. There is Satellite DTV and Wireless Internet on site. The cottage is situated on four acres including lovely gardens, beautiful lily pond, running brooks and 2 acre woods. Absolutely unique, one-of-a-kind experience!
Please Note, the cottage has traditionally been a three season rental from approximately March- November, however, due to much interest and demand, we have recently added a larger capacity pellet stove and made winterizing efforts and plan on keeping it open for guests interested in a winter experience in the cottage! Please keep in mind that access to our grounds may be limited with the accumulation of snow in winter months. During predicted extreme weather events, we will gladly work with guests to change reservations as we are always concerned for their comfort!
Our lovely grounds are open to our guests. There are garden paths, babbling brook with stone bridges, loveliest of lily ponds, stone bench seating area with 'chiminea' and firewood for guest's use. There are two acres of woods with a loop trail as well. The town has an exceptionally beautiful Swimming Pond about 2 miles away which our guests may use. There are BBQs and picnic tables and it is often deserted.
While we do have a pet friendly policy, prior approval and acceptance of our rules and policies is required before a pet may stay with you in our accommodations. There is also a $25.00 additional pet cleaning charge.
The cottage is located on the Santarella Estate surrounded by gardens and storybook architecture. Santarella is located in the Tyringham Valley, tucked away 3.5 miles from Mass. I-90, a lovely and magical place where one feels like they have stepped back in time. This is definitely a place to 'get away from it all', enjoy quiet, rural surroundings close to the Appalachian Trail and Tyringham Cobble for hiking and many lovely ponds for swimming or kayaking.
Vehicle is necessary. Grocery and other shopping at 3.5 miles.
Misafir erişimi
Konuklar, konaklamaları süresince yazlık evden özel olarak yararlanabilir ve araziyi keşfetmekle ve güzel mülkümüzün keyfini çıkarabilirler.
Guests have the private use of the cottage during their stay and are welcome to explore the grounds and enjoy our lovely estate.
Misafirlerle etkileşim
Yan komşu bir evde yaşıyoruz ve sorularınız olduğunda ya da yardıma ihtiyaç duyduklarında misafirlerimize açıktır. Misafirlerimizin mahremiyetini her zaman korumaya çalışıyoruz. Zemin koruma ve mülk üzerinde bakım misafirler mümkün olduğunca uzakta olduğunda yapılır.
We live in a cottage next door and are available to our guests whenever they have questions or need assistance. We try to protect our guests privacy at all times. Grounds-keeping and maintenance on the property are done when guests are away if possible.
Dikkat edilecek diğer şeyler
Lütfen dikkat: Silo Stüdyo Kulübesi istediğiniz tarihler için mevcut değilse, açık olabilecek benzersiz ve daha büyük Grand Silo Tower Süit Airbnb listemize bakın. Daha büyük gruplar ve aileler için, Airbnb'deki Santarella'daki geniş dört odalı Sömürge Çiftliği'ni 8 konuk ağırlayacak şekilde sunuyoruz. Tüm konaklama yerlerinde özel giriş / giriş var ve birbirimizi etkilemiyor. Bizi ya da başkalarını zaman zaman ve muhtemelen hafta sonları ve tatil günlerinde görebilirsiniz. Yalnızca bir günlük kalışa izin veriyoruz Takvimde bir gün açılıyorsa.
Please note: If the Silo Studio Cottage is not available for the dates you want, please check our Airbnb listing for the unique and larger Grand silo Tower Suite which might be open. For larger groups and families, we also offer the spacious four bedroom Colonial Farmhouse at Santarella on Airbnb which will accommodate up to 8 guests. All our accommodations have have private access/entries and do not impact each other. You may see us or others on the grounds occasionally and most likely on weekends and holidays. We do allow a one-day stay only If there is a one day opening on the calendar.
Evcil hayvan kabul edilir
Yatak odası 1
1 kraliçe yatak
Parti veya etkinlik düzenlenemez
Giriş zamanı: 16:00 - 18:00
En geç çıkış saati: 11:00
Common courtesy and quiet enjoyment of a lovely and serene environment.Pet Policy
Dogs are allowed as long as these rules are followed: 1) The dog must be kept on a leash at all times on our property as we have a cat and other guests. 2) Dogs may not pee anywhere on our lawns because it burns holes and kills the grass. There are gravel paths and areas which may be used if necessary and plenty of brush areas as well. 3) The dog may not be left alone in the cottage while you are away under any circumstances due to potential barking/howling which will disturb us and our other guests staying at Santarella as well as possible interior damage or safety issues for the dog. The dog must be with you at all times or please don't bring her! 4) Finally, the dog must have it's own bed and not sleep on/in our linens. There is a $25 pet cleaning charge to bring a dog. If these policies are acceptable, you are welcome to bring your dog.
Cats are allowed under the following condition: Cats: 1) must be in a crate when left alone 2) must have a litter box 3)  must have a scratching post or other
device and not use our furniture 4) must have their own bed and not sleep on our linens. Cats should be on a leash and attended at all times when outside. There is a cat who lives on the property as well as occasional predators (fox, coyote, fisher-cats) on the property.  There is a $25 pet cleaning charge to bring a cat. 
Ayrıca kabul etmeniz gereken şeyler:
Bazı alanlar ortak - The parking area is 150 feet from the cottage.
Evde kedi(ler) var
My husband Dennis and I are the owners of Santarella Estate and Gardens in Tyringham, MA. Over the past twelve years, Santarella has been a labor of love and the realization of a dream for us. It is such a unique and magical place and must be shared ~ Airbnb is one of the best w…
Yanıt oranı:
100%
Yanıt süresi:
birkaç saat içinde
Tyringham ve çevresindeki diğer seçenekleri araştırın
Tyringham bölgesinde kalacak daha fazla yer: