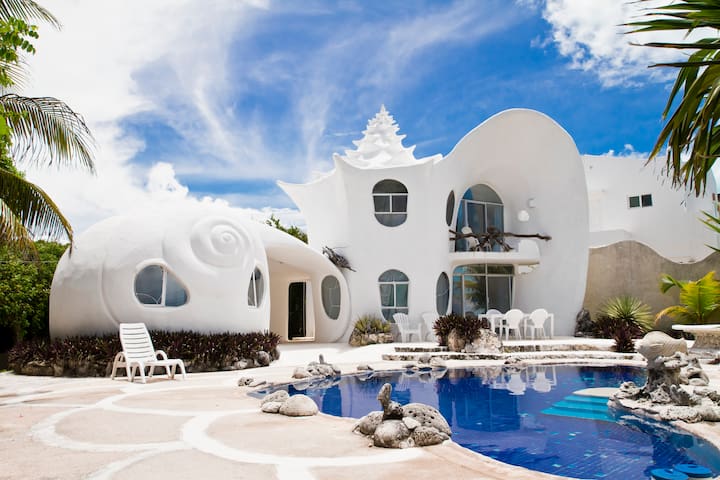 Dünyaca ünlü Seashell evi kapılı bir mülk .... sahipleri / mimarları yandaki evde yaşıyor. Özel havuz, iki kral yatağı, mini mutfak ve barbekü ile tüm mülkler, her iki kabuk da olacaktır. Kabuk wifi, klima. Konaklamanı etkinleştirmekten gurur duyuyorum. Meraklı ifadelerle bakmak isteyen geçenler gibi bir ünlü gibi bir ya da daha fazla günün tadını çıkarın.
The world famous Seashell house is a gated property .... owners/architects live next door. You will have a private pool, two king beds , kitchenette and BBQ and entire property, both shells . In shell wifi, air conditioning.
I am proud to enable your stay . Enjoy a day or more feeling like a celebrity as passers by will seek to look in with intrigued expressions.
Yer
Sevgili arkadaşlarım Raquel ve Eduardo Ocampo, Seashell Evi'ni tasarladı ve inşa etti ve uzun yıllar boyunca burada kimsenin kalabileceğini bilmiyordu ve daha az kişi kalmayı nasıl bildiğini bilmiyordu. Kendime saklamak çok özel olduğuna karar verdim ve dünyayı AIRBNB aracılığıyla davet ettim! Raquel ve kızı Vane, bu eşsiz ada cennetinde ev sahipliği yapıyorlar. Kalabalık havuzlar, lobinin ve "turist balonu" kaçış fikriniz değilse, SEASHELL HOUSE ISLA MUJERES'inizde konaklamanız için mükemmel bir yer olabilir. En yakın havaalanı: Cancun International En yakın liman:. Puerto Juarez (Cancun şehir merkezinin bitişiğindeki) veya Playa Tortugas (Cancun otel bölgesi) En yakın plaj: Adanın kayalık kuzey tarafına bakarız ve en güzel plaj, golf arabasıyla 15 dakika uzaklıktaki kuzey kumsalıdır. El Garrafon şnorkel park ters yönde kısa bir mesafededir. Maksimum konuklar tam olarak belirtildiği gibi ... dört boşluk var. Isla Mujeres 7 km uzunluğunda ve 650 metre genişliğindedir. SEASHELL EVİNE (6 ADET) veya golf arabasıyla (GÜN başına 35 USD) uygun taksi ile gelin KONUT İŞLA MUJERES ADALARINDA ÖZEL GATE MÜLKİYET ~ HER KONUT YATAKTA ÖZEL HAVUZ - BİR KING Sakin alan gizlilik sağlamak için küçücük bir adanın uçurum kenarındadır. Tüm turistlerin ortasında değilsiniz, ancak en güzel kumsallara çıkmak, bir golf arabası veya taksi ile kolay. Tabii ki, golf arabaları üzerindeki turistlerin muhteşem mimariyi fark etmesi ve çitler üzerinde ansızın ünlülerin hissetmesini anlamak için uğramayı bırakması nedeniyle gizlilik bazen kaybolur. Daha küçük yuvarlak kabuk tertemiz bir KING BED ve duşlu özel banyo ile İngilizce ve İspanyolca kanalların geniş bir dizi bir tv vardır. Duşlu özel banyo kiremit ve kabuklardan yapılmıştır. Üst katta bir oturma alanı ve büyük bir buzdolabı, mikrodalga fırın, gazlı ocak ve lavabo ile yemek keyfini çıkarmanız için gereken tüm araçlara sahip olan MUTFAK, üst katta yer alır. Yuvarlak oturma alanında uydu kanallı bir TV de bulunmaktadır. Ayrıca oturma alanının yarısı bir banyosu bulunmaktadır. Yuvarlak bir merdivende, KING BEDli ana yatak odası ve duşlu özel banyo bulunmaktadır. Havuz görünümlü ve Karayip Denizi'nin karşısında bir balkon var. WUE, QUEEN CONCH'da ücretsiz sağlanır Evdeki her oda uzaktan kumandalı bir klimaya sahiptir. Elbette havlu - çarşaflar ve sabunlar sağlanmaktadır :) Golf arabanız veya scooter'ınız için geniş park yeri. Minik kertenkeleler mülkün içinde ve çevresinde evde ve tüm Meksika'da ev yapmak, sevimli küçük kertenkeleler sizi korkutup kaldıktan sonra Seashell evine gelmezler. Hiçbir zaman unutamayacağınız bir tatil için Isla Mujeres'e gelin, biri size bütün bir yıl boyunca düşen anılara sahip olacak ... siz gelene kadar. Evler DÖRT KİŞİ TOPLAMI uyurlar. Her evde bir kral yatak var. ~~~~~~~~~~~~~~~~~~~~~~~~~~~~~~~~~~~~~~~~~~~ TARİH : 1994'te mimar Eduardo Ocampo Isla Mujeres'e geldi ve kendisi için bir ev inşa etti (ve daha sonra eşi Maria Raquel'le tanıştı) Kardeşi Octavio Ocampo sık sık ziyaret etti, Eduardo'nun karayip deniz manzaralı şirin bir yerleşim bölgesinde iki arazisi vardı .... ve onun kardeşi için onun üzerine inşa etmek istedi. Tabii ki, bu herhangi bir ev olamaz. Ünlü bir ressam olan Octavio, benzersiz bir şeye ihtiyaç duydu. İlk başta Eduardo bir palala istedi ... ancak bunun etrafında deniz kabuklarının dağlarından çok etkilenmesine izin verilmedi, aslında bir deniz kabuğu inşa etmek için esin kaynağı oldu. Bu, kardeşinin (Cuernavaca'daki) tatil evi olurdu, içeride yuvarlaktı, spiral merdiven ... kabuğun hemen içindeydi, kabuğun ağzı olan bir kapı ve kabukları olan pencereler vardı EFSANE : Yıllar sonra Eduardo, adacıkların böyle bir efsaneye dönüştüğünü öğrenmek için gıdıklanıyor ... Isla Holbox balıkçısı, kendi adalarını övmek için Isla Mujeres'lerin balıkçısıyla bir araya geldi ... Isla Holbox, "Dünyamızda en büyük balı bulduğumuz ada!" Isla Mujeres'in balıkçısı "Dünyadaki en büyük kabuğa sahip olmaktan gurur duyuyoruz!" En büyük kabuk mu? Evet en büyük kabuk !!! Bulduğumuzda bütün ada sakinleri için ceviche yaptık ... sonra da şu an içinde yaşayan bir kavuşağa sattık! " Sahipler gringolar olmamasına rağmen ... efsaneyi duyduklarında hala gülerler. Konuklar, barbekü ve otoparkı kullanabilirler. Raquel ve kızı Vanessa komşu mülkiyette. Eğer sen Onu ihtiyaçlarınıza göre bulamazsanız, temizlik veya havuz çalışanlarıyla etkileşim kurabilir veya bir mesaj bırakabilirsiniz. Mahalle güzel huzurlu ve sakin. Geceleri çok karanlık ve çok sakindir. Seashell Evi bir yerleşim bölgesinde bulunduğu için bir golf arabası gereklidir. Dünyayla paylaşmak istediğim için konaklamanı mümkün kılmak için hizmet ediyorum ancak Raquel'in sahibi ... Lütfen evlerini saygı ile tedavi ederek kiralanmaya devam etmesini sağlayın.
My dear friends Raquel and Eduardo Ocampo designed and built the Seashell House and for many years no one knew that it was possible to stay here and fewer knew how to arrange a stay.
I decided it was too special to keep to myself and I invited the world via AIRBNB !!!
Raquel and daughter Vane are your hosts at this unique island paradise .
If crowded pools, lobby's and the "tourist bubble" are not your idea of an escape then the SEASHELL HOUSE may be the perfect place for your stay in ISLA MUJERES.
Nearest airport : Cancun International
Nearest port :. Puerto Juarez (downtown Cancun adjacent) or Playa Tortugas (Cancun hotel zone)
Nearest beach : we face the rocky north side of the island and the best beach is north beach which is 15 minutes away by golf cart. El Garrafon snorkel park is a short distance in the opposite direction.
Maximum guests is exactly as specified ...there is space for four .
Isla Mujeres is 7 km long and 650 meters wide.
Arrive by convenient taxi (6USD)or by golf cart(35 USD PER DAY) to THE SEASHELL HOUSE(S)
PRIVATE GATED PROPERTY IN RESIDENTIAL ISLA MUJERES ISLAND ~ PRIVATE POOL ~ ONE KING BED IN EACH HOUSE
The residential area is on a cliff side of the tiny island to allow privacy. You are not right in the middle of all the tourists but getting to the most beautiful beaches is easy with a golf cart or taxi.
Of course, privacy is sometimes lost as tourists on golf carts notice the spectacular architecture and stop to gawk over the fence making you suddenly understand how celebrities feel.
The smaller rounder shell has an immaculate KING BED and private bath with shower and a tv with a wide array of channels in English and in Spanish. The private bath with shower is made of tile and shells .
The taller shell has a sitting area downstairs and KITCHENETTE with a large fridge, microwave, gas stovetop and sink with all the tools you need to enjoy meals . The round sitting area also has a tv with satellite channels.
There is also a half bath off the sitting area.
Up a rounded staircase is the master bedroom with a KING BED and private bath with shower. There is a balcony over looking the pool and across the street , the Caribbean Sea.
Wifi is provided for free in the QUEEN CONCH
Every room in the house has a remote controlled air conditioner.
Towels - linens and soap are provided of course :)
Ample parking for your golf cart or scooter.
Tiny geckos make there home in and around the property, and all over Mexico, so if cute little geckos freak you out and will disturb your stay then do not come to the Seashell house.
Come to Isla Mujeres for a vacation that you will never forget, one that you will have fond memories of all year long...until you come .

The houses sleep FOUR PEOPLE TOTAL.
There is one king bed in each house.

~~~~~~~~~~~~~~~~~~~~~~~~~~~~~~~~~~~~~~~~~~~
THE HISTORY :
In 1994 architect Eduardo Ocampo arrived in Isla Mujeres and built a house for himself (and later met his wife Maria Raquel) His brother Octavio Ocampo visited frequently, Eduardo had two pieces of land in a quaint residential area with caribbean sea views....and wished to build on his lot for his brother.
Of course, this could not be any house. Octavio, a famous painter and needed something unique. Eduardo at first wanted a palala...but this was not allowed...having been very influenced by the "mountains" of seashells all around, he was inspired to actually construct a seashell. This would be the vacation home of his brother (in Cuernavaca) , it would be rounded on the inside, the spiral staircase... just inside the shell, a door where there was the mouth of the shell and windows with the form of shells
THE LEGEND :
Years later Eduardo would be tickled to learn that the islanders had created a sort of legend which goes like this ...
The fisherman of Isla Holbox met with the fisherman of Isla Mujeres to boast of their individual islands...Isla Holbox sounded "Our island is where you find the biggest fish in the world !"
The fisherman of Isla Mujeres responded "We are proud to have the biggest shell in the world !"
The biggest shell ?
Yes the biggest shell !!!
When we found it we made ceviche for all of the islanders...and then we sold it to a gringo that lives in it now !"
Though the owners are not gringos...they still laugh when they hear the legend.
Guests can use the BBQ and parking lot .
Raquel and her daughter Vanessa are at the adjacent property . If you cannot find her for your needs you may interact with cleaning or pool staff or leave a message .
The neighborhood is beautifully peaceful and quiet . At night it is very dark and very serene .
A golf cart is necessary as the Seashell House is located in a residential area.
I serve to make your stay possible as I wanted to share it with the world but Raquel is the owner ... Please treat the homes with respect so that she continues to enjoy renting
Misafir erişimi
Raquel ve Vanessa, sizi terminalden alıp bir golf arabası kiralamada güvende olacaklar (günde 45USD'den), yalnızca Airbnb güzergahındaki tarifleri takip etmeniz gerekecek
Raquel and Vanessa will be happy to pick you up at the terminal and secure a golf cart rental for you (from $45usd per day )you need only follow directions in your Airbnb itinerary
Misafirlerle etkileşim
Deniz Kabukları evinin sahipleri, girmek için kullandığınız çitin erişebileceği arsa alanındalar. Raquel ve Vanessa burada tam zamanlı. Lütfen AIRBNB'NIZI GİZLİ YAZDIRIN ve varış zamanınızı bildirin ve marina seferinde bulunmak isterseniz. Golf arabası kiralama da kolayca düzenlenmiştir.
The owners of the Seashell house are on the plot of land which is accessible by the fence you use to get in .
Raquel and Vanessa are here full time.
Please PRINT YOUR AIRBNB ITINERARY and let them know your arrival time and if you wish for a pick up at the marina. Golf cart rental also easily arranged .
Dikkat edilecek diğer şeyler
İçte ve dışta olan sevimli kertenkelelerden korkuyorsanız, gelmeyin ... Karayipler'de yaşamın bir parçası olmadığı Haşaratı DEĞİLDİR. Hizmetçi servisi haftada iki kere. 2 Gün kalmak için hiçbir hizmetçi servisi yoktur.
If you are scared of the adorable geckos that are inside and out , do not come ... They are NOT vermin they are part of life in the Caribbean .
Maid service is twice per week.
For a 2 day stay there is no maid service.
Yatak odası 1
1 kral yatak
Yatak odası 2
1 kral yatak
Evcil hayvan için uygun değil
Giriş zamanı: 14:00 - 02:00 (ertesi gün)
En geç çıkış saati: 12:00
Please DO NOT flush toilet paper , please use trash cans.
(Isla Mujeres has a very delicate drainage system)

Please turn off air conditioning when you depart the house for long periods.

Please have no loud music outside after 10pm.

Please don't hesitate to ask for what you need .
Casa Caracol is well known as a tourist spot on Isla. We had an easy time taking the ferry to a taxi in downtown and our host was very sweet welcoming us. This is in a safe and quiet location on the island, but is not near a beach so be prepared to rent a golf cart or take taxi to the north side of Isla. The convenience of the location was nice for sleeping quietly, but not close enough to hear the waves. A nice walk around the neighborhood and you will find cold coconuts and local foods; for authentic taqueria check out Las Colonias Gloria off Pompano Road/Street for excellent and local food. The house is very beautiful and loved the photos, but it was not as clean as we had hoped. I imagine this is a very difficult place to clean but it was a downside for me. If you are looking for luxury-this is not the place. It is a beach house with beach amenities. The AC works great for only the upstairs bedroom, so you can sleep nicely in the evening. I saw other reviews had a lot of hot water issues; we unfortunately encountered hot water issues for three days during our stay (very cold water showers), but our host was excellent with communication and kept trying to fix it. The hot water worked on our last day here, but seems to be a frequent issue. We tried both showers and the hot water and cleanliness was an issue for us. This house is beautiful and great for some photos, but do not expect a hotel luxury experience. Come prepared to enjoy the scenery, not functionality. The host is super friendly, kind, and warm hearted so you will not have issues with the people on Isla. Enjoy!
---
We loved our stay at the Shell House. The creativity and the location were amazing and the hosts were exceptionally accommodating. We loved the private pool too. We highly recommend this place for a special getaway! You won't be disappointed.
Michelle kullanıcısının yanıtı:
Thank you Jack , I see you also commented it was pricey for the area but if you consider four people / 75 usd each and a world ridiculously off the charts famous property I think you will appreciate the rather low cost . I appreciate you and I appreciate your comments . Thank you Jack
---
Staying at this place was a dream come true. Such a cool experience in one of the most beautiful places I've ever seen. Highly recommend staying here and renting a golf cart to explore the rest of the beautiful island! Vanessa was kind and helpful and even though we had some issues with the bathroom working they took care of it! We are definitely planning on coming back!!
---
Cancun, Meksika
Nisan 2011 yılında aramıza katıldı
I love what I do here in Cancun and I have won 5 years of awards for excellence on Tripadvisor for the quality of my rooms and attention to my guests.

I traded Canada for Cancun when I was 25 because I had a desire to never have to return to " reality" after vacationing again. Mexico proved to be a wonderful place to live.

For 15 years I worked in all the top luxury hotels as concierge / guest services and I learned many things that can help you have a fabulous experience. I'm here full time, not an absentee owner.

The desire to vacation never went away and I enjoy it more than ever and I frequently travel overseas to major world cities (opposite of here!) to open my mind and have new experiences .... always looking for ways to serve you better ~ I love what we do .

Sincerely , Michelle

Diller:
English, Español
Yanıt oranı:
100%
Yanıt süresi:
bir saat içinde
Isla Mujeres ve çevresindeki diğer seçenekleri araştırın
Isla Mujeres bölgesinde kalacak daha fazla yer: