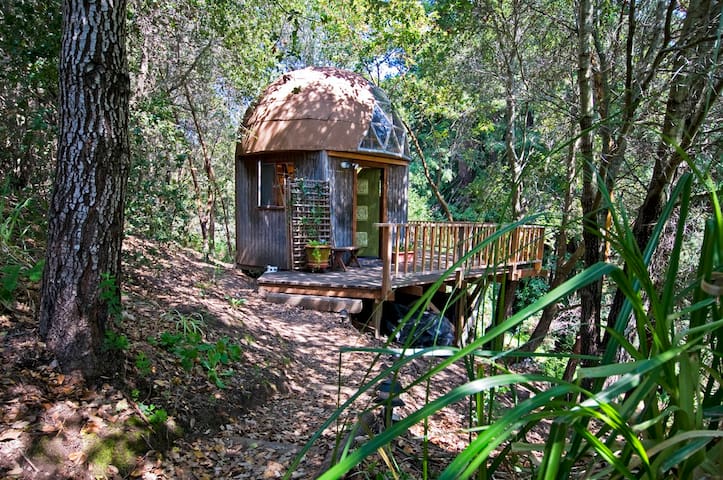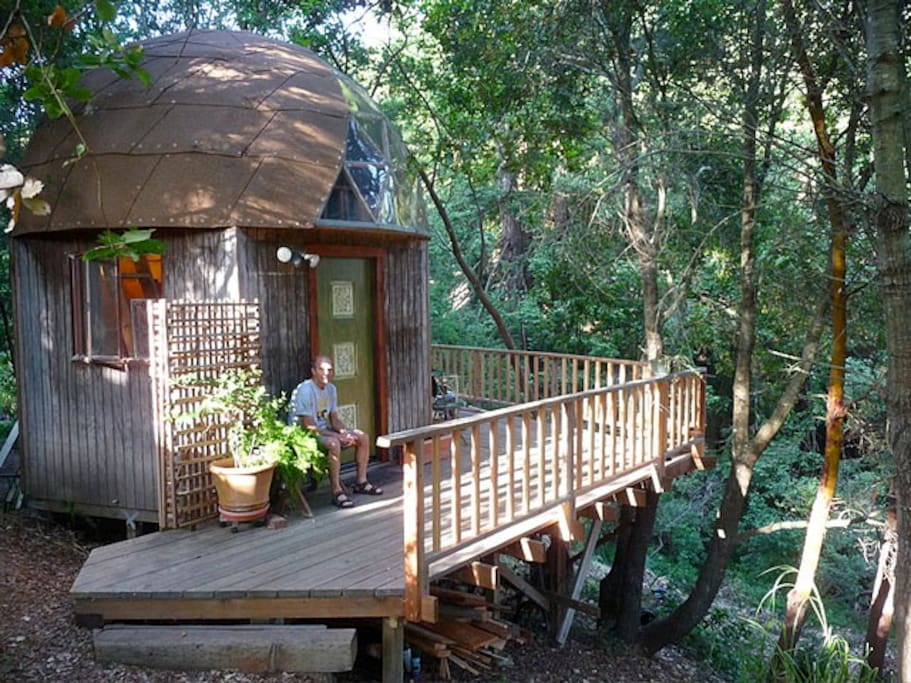 Jeodezik kubbe çatı katı ve ağaçlardaki büyük bir güverte ile, ormanda bir ağaç evindeymiş gibi hissedeceksiniz. Sessiz ama elverişli bir konumdayız. Meşe ve Madrone ağaçlarıyla gölgeli ve bir Redwood korusunun yanında, güverteden açık havanın tadını çıkarabilirsiniz. Yaz aylarında serin olur ve kışın aşağıda çalışan dere sesini duyarsınız.
With a geodesic dome loft & a large deck in the trees, you'll feel like you're in a tree house in the woods.
We are in a quiet yet convenient location. Shaded by Oak and Madrone trees and next to a Redwood grove, you can enjoy the outdoors from the deck. In the summer, it is cool and in the winter you might get to hear the creek running below.
Yer
Çitsiz topraklara 10 dönümümüz var, böylece doğanın tadını çıkaracaksınız: güvertede takılın, ormanda bir yürüyüşe çıkın, sinekkuşlarını izle, keçi hayvan edin, sahile gidin veya yıldızlara bakın - gibi Ay dolmadığı sürece. ; ) Yaz boyunca, eğer herhangi bir gece siseni yoksa, Samanyolu'yu burada görebiliriz. Mevcudiyet durumumuzu kontrol etmek için "Kitap İste" bağlantısını tıklayın. Ve evet, mevcut değilse, zaten ayrılmış! Yaz boyunca bir hafta sonu burada kalmak isterseniz, yaklaşık 9 ay önceden rezervasyon isteğinizi yapmanız gerekecek. Bununla birlikte, bazen bir iptal alıyoruz, bu nedenle, önceden ayrılmış bir tarih istiyorsanız, bize bildirin ve size bir iptali bildiririz. (Rezervasyon talebinde bulunmadan önce lütfen bu açıklamanın tamamını okuyun.) Rahat ve temiz yarı rustik kabin, jeodezi kubbesinin ("mantar kapağı") altında bir çatıya sahiptir. Çatı katında, çok rahat uykuya ve sadece takılmaya izin veren bir Kraliçe süper popüler Casper Yatağı var, temiz çarşaflar ve yastık kılıfları sunuyoruz. Ayrıca bol miktarda battaniye sağlanmaktadır. Diğer "yatak", yatağa dönüştürebileceğimiz bir kanepedir. Eğer 2 kişi olacaksın, ama ayrı yataklar istiyorsan lütfen 3 için rezervasyon yaptır, ya da önceden haber vereceğiz - 10 dolar var. Yatak olarak kullanmak için ücret. Çatı katında, 32 inç HD Düz Ekran ve filmler için DVD oynatıcı (TV yok) var. (Ayrıca 80'den fazla film izleyebiliyoruz.) Ana katta (Pentagon) kanepe ve bir çekip çıkartma masası var. Küçük bir buzdolabı, blendır, Sıcak Hava Patlamış mısır Popper, Fransız Kahve Fincanı, salata ezicisi ve bulaşıklar sunuyoruz. Evet, bir şarap açacağımız var. Yemeklerden, oyunlardan, vb. Keyfini çıkarabileceğiniz 2 masamıza sahibiz: 1 tane iç ve 1 dışarıda kırmızı güverte ile yüzleşen büyük güvertede. Güvertede ayrıca bir gaz brülörü bulunan bir barbekü ızgarımız var. Organik Kahve, çaylar, yulaf ezmesi, patlamış mısır, tereyağı, bal, şeker, besin mayası (patlamış mısır için!) Baharat, yağ ve sirke ve çeşitli aperitifler sunuyoruz. Kuyu suyumuz ozonatör, UV ışığı ve yumuşak su filtresi ile işlenir. Bir bebeğiniz varsa ve ikinci yatağa ihtiyacınız olmazsa, 2 kişilik rezervasyonunuzu yapın ve çatı için küçük bir yatağa ihtiyacınız varsa bize bildirin. Yine, eğer ikinizden biri bulunuyorsa, ancak ikinci yatağı kullanmak istiyorsan, lütfen 3 için rezervasyon yap. Şirin banyoda traverten duş, özel fayans lavabo ve Natures Head'in kendine has komposto tuvaleti bulunmaktadır. Bazı misafirler banyomuzda bir sorun yaşadı, bu yüzden banyoya bir perde bulundurduğumuzdan ve kullanılmış tuvalet kağıdınızı çöp kutusuna koymanızı istiyoruz. (koku almayacaktır) Tuvaletin nasıl kullanılacağına ilişkin talimatları izlerseniz, herhangi bir koku kalmayacaktır. Kompostolanmış bir tuvalet kullanma fikri sizi fena halde yargılarsa, burada rezervasyon yaptırmayın. ; ) Havlu, sabun, şampuan, saç kremi, saç üfleme-kurutucu vb. Sağlarız (Dikkatli olunması gereken bir husustur: tuvalette alçak bir tavan vardır .6'yı aşarsanız, burada ve yerde küçük bir ördek yapmak zorunda kalabilirsiniz.) Cumartesileri çok talep ettiğinde (ve cumartesileri özgür olmak isteriz) hafta sonları minimum 2 gün kalmamızı gerektirir. Cuma ve cumartesi gecelerinin 145 TL olduğunu unutmayın. her. Bu nedenle, bir hafta sonu burada kalmak 290 $ mal olacak. artı 35 dolar. temizleme ücreti, $ 40 airbnb ücreti ve yaklaşık% 35 olan% 11 Santa Cruz Bölgesi Geçici Vergi. Bu yüzden hafta sonu için toplam 444 dolar olacak. 1 gün boyunca devam etmek haftanın genel maliyeti 200 $ civarındadır. 3 günlük tatillerde 3 gün rezervasyon yaptırmamız gerekir. (Bu Başkanlık Günü, Anma Günü, MLKing Günü ve İşçi Bayramı dahildir.) Ama bir hafta sonu burada kalmak için, genellikle bir kabin bulmak için şanslı olmadığınız sürece 6-8 ay önceden kabin rezervasyonu yaptırmanız gerekecektir! Check-in zamanı 4 ile 10 arasındaki saatlerdir. Er ya da geç gelmek isterseniz, bazen düzenlenebilir. Çıkış saati öğlendir. Misafirlerden bir miktar zarara uğradığımız için şimdi 100 $ talep ediyoruz. güvence bedeli. Burada çok izole hissettiğiniz halde, mağazalar, restoranlar, sağlıklı bir gıda mağazası, Safeway, vb. Bulacaklarınız Aptos Village'e 10 dakikadan az bir mesafedeyiz. Monterey Körfezi'nde merkezi bir konumdayız: Plaja 10 dakika uzaklıkta (Rio Del Mar ve Seacliff Devlet Plajı), ayrıca 10.000 dönümlük Nisene Marks Eyalet Parkı, Redwoods'ta ve Aptos deresi boyunca yürüyüş veya kir bisikletiyle gezintiye çıkıyor. Santa Cruz şehir merkezine 20 dakika, 25 dakika. Beach Boardwalk'a, Monterey'ye 45 dakika ve dünyaca ünlü Monterey Körfezi Akvaryumu'na 50 dakika. Carmel'e ve Big Sur'e 1 1/2 saat, güneyde San Francisco'ya gidiyoruz. Evet, Kaliforniya'nın en güzel bölgelerinden birinde bulunuyoruz. (bu saatler acele saat (ler) değil); Sinek kuşlarını seversen kameranı getir. Bahçemiz birçok Anna Sinek kuşuna yıl boyunca ev sahipliği (URL HIDDEN) genellikle yaklaşık (PHONE NUMBER HIDDEN)l boyunca sahibiz) Yaz aylarında birçok Rufus ve Allen Hummer tarafından da eve çağırılıyor. Yani yaklaşık 120 oz beslediğimiz "Sinekkuşu Havaalanı" nı görmelisin. Bir yaz gününde şurup! Lütfen, kabinde ya da mülkte sigara içilmemektedir. Sigara içenlerin burada kalmasına izin verirdik, ama kabin kokuyor ve dışarıda bir yangın tehlikesi. Bazı cep telefonları burada çalışmaz, ancak telefonda bir wifi şebekesi varsa, kabinde ücretsiz wifi bulunduğundan aramak iyi. Bazen araç parkurunun salınım koltuğuna Verizon servisi alabilirsiniz. Bölgede yapılması gerekenler hakkında bilgi edinmek için Santa Cruz, CA için bir internet araması yapın. Köpekler burada kalabilirsiniz ancak birkaç şartla karşılanırsınız: çok hayvana sahip olduğumuzdan, köpeklerinizin dışarıda bir tasma altında tutulmasını gerektirir (keçiler çok gevşek köpeklerle sinirlenirler). Ayrıca, çatıdaki veya aşağıdaki kanepedeki köpeklere izin vermiyoruz, bu yüzden lütfen bir köpek yatağı getirin. (köpekleriniz bunun için bir kapak getirirseniz kanepeye gidebilir) Zor olan buysa, bize bir köpek yastığı vereceğiz. Köpeğiniz güvertede tasma olabilir bu yüzden ayarlayabildiğimiz bir kapımız var. Küçük bir çocuğu getiriyorsanız, katlanabilir bir futon koyabiliriz (yatağın yanında 2 / 3'lü futon veya köpük yatağı) Önceden vaktinizi söyleyin. Yine de, yatak demiryoluna karşı oldukça yüksek olduğu için çocuğun kendi başına çatıda bırakılmaması gerektiğini unutmayın. En yakın otobüs durağına yaklaşık 3 km uzaktayız, arabayla burada kalmak oldukça zordur. Burada ahenkli hissedeceksen davetlisin. Evcil keçi, tavuklarımıza, kedilerimize, minyatür köpeklere göz atın ve çok taze havanın tadını çıkarın. Sana bir keçi sütünü öğretmeyi bile öğretebilirim. Hiçbir ay ışığı olmadığında buraya gelirsen gökyüzü berrak olur, çok sayıda yıldız görürsün. Yazdaki ısıdan bıktınız mı? "Sis kemeri" nin kenarında olduğumuz için burada güneşli ve serin olabilir. Gürültülü bir yer isterseniz burada hoşunuza gitmeyecek: Buradaki ses kuşların cıvıl cıvıl cıvıl cıvıl cıvıl cıvıl cıvıl cıvıl cıvıl cıvıl cığından ve ağaçların arasından esen meltemden geliyor. İnsanlar burada olsa da, burada insan sesleri ve ara sıra zincir testere tamamen yoksun beklemeyin, arazi üzerinde yaşıyorlar. :) (Keçi meşe dallarını besliyoruz)
We have 10 acres next to land without fences so you will get to enjoy nature: just hang out on the deck, take a hike in the woods, watch the hummingbirds, pet the goats, go to the beach or gaze at the stars - as long as the moon isn't full. ; ) During the summer, if there isn't any nightly fog, we can see the Milky Way here.
To check our availability, click on the "Request to Book" link. And yes, if it isn't available, it is already booked! If you want to stay here on a weekend during the summer, you will need to make your reservation request about 9 months in advance. We do, however, occasionally get a cancellation, so if you want a date that's already booked, you can let us know and we will notify you of a cancellation.
(Please read all of this description before making a reservation request.)
The cozy and clean semi-rustic cabin has a loft under a geodesic dome (the "mushroom cap"). In the loft is a Queen-sized super popular Casper Mattress which allows for very comfortable sleeping and just hanging out, We provide clean sheets and pillow cases. Plenty of blankets are also provided.
The other "bed" is a couch that we can make up into a bed. If there are going to be 2 of you, but you want separate beds, please make the reservation for 3 or let me know ahead of time - there is a $10. charge for using it as a bed.
In the loft, we have a 32" HD Flat Screen and a DVD player (no TV) for movies. (We have over 80 movies you can view as well.)
On the main floor (a Pentagon) is the couch and a pull-out table. We provide a small refrigerator, a blender, Hot Air Popcorn Popper, French Coffee Press, a salad spinner and dishes. Yes, we have a wine opener. We have 2 tables where you can enjoy meals, games, etc.: 1 inside and 1 outside on the large deck that faces the redwoods. We also have a barbecue grill on the deck with an extra gas burner on the side. We provide Organic Coffee, teas, Oatmeal, popcorn, butter, honey, sugar, nutritional yeast (for the popcorn!) spices, oil and vinegar and various snacks. Our well water is treated by an ozonator, a UV light and a soft water filter.
If you have a baby and you won't be needing the second bed, make your reservation for 2 and let us know if you will need a small pad for the loft. Again, if there are 2 of you but you want to use the second bed, please make your reservation for 3.
The cute bathroom has a Travertine shower, custom tiled sink and a Natures Head self-contained composting toilet. Some guests have had a problem with our bathroom, so I want to make it clear that we have a curtain for the door to the bathroom and we require that you put your used toilet paper in the trash. (it won't smell) If you follow the instructions for how to use the toilet, it won't have any odor. If the thought of using a composting toilet grosses you out, then don't make a reservation here. ; )
We provide towels, soap, shampoo, conditioner, a hair blow-dryer, etc. (a word of caution: the bathroom has a low ceiling. If you are over 6' you may have to do a little ducking here and there.)
As Saturdays are very much in demand, (and we like to be free on Saturdays), we require a minimum 2 day stay on the weekends. Keep in mind that Friday and Saturday nights are $145. each. Therefore, to stay here on a weekend will cost $290. plus the $35. cleaning fee, the $40 airbnb fee and the 11% Santa Cruz County Transient Tax of about $35. So for the weekend, it will be a total of about $444.
To stay for 1 day mid-week costs a grand total of about $200.
On 3 day holidays, we require a 3 day reservation. (This includes Presidents Day, Memorial Day, M.L.King day, and Labor Day.) But to stay here on a weekend, you will usually have to book the cabin 6 - 8 months in advance - unless you are lucky to find a cancellation!
Check-in time is between 4 and 10pm. If you want to come sooner or later, this can sometimes be arranged. Check-out time is noon.
As we have experienced some damage from guests, we are now requiring a $100. security deposit.
Although it feels very isolated here, we are less than 10 minutes to Aptos Village where you will find stores, restaurants, a health food store, Safeway, etc.
We are centrally located on the Monterey Bay: 10 minutes from the beach (Rio Del Mar and Seacliff State Beach) as well as the 10,000 acre Nisene Marks State Park for miles of hiking or dirt biking in the Redwoods and along Aptos creek. We are 20 minutes to downtown Santa Cruz, 25 min. to the Beach Boardwalk, 45 minutes to Monterey and the world-famous Monterey Bay Aquarium, 50 min. to Carmel and 1 1/2 hours to Big Sur going south and San Francisco to the North. Yup, we are located in one of the most beautiful areas of California. (these times are not during rush hour(s) ; )
If you love hummingbirds, bring your camera. Our garden is the year-round home to many Anna Hummingbirds. (We usually have about 250-500 year-round) During the summer, we are also called home by many Rufus and Allen Hummers as well. So you have got to see our "Hummingbird Airport" where we feed them about 120 oz. of syrup on a summer day!
Please, no smoking in the cabin or on the property. We used to let smokers stay here, but they stink up the cabin and it is a fire hazard outside.
Some cell phones don't work here, but since we have free wifi in the cabin, if your phone works with a wifi network, you are good to call. You can sometimes get Verizon service on the swinging seat by the driveway.
To learn about things to do in the area, do an internet search for Santa Cruz, CA.
Dogs are welcome to stay here but with a few requirements: since we have so many animals, we require that your dogs be kept on a leash when outside (the goats get very nervous with large loose dogs). Also, we don't allow dogs in the loft or on the couch downstairs so please bring a doggie bed. (your doggie can go on the couch if you bring a cover for it) If that is difficult, let us know and we will provide a doggie pillow. We have a gate that we can set up so your dog can be off the leash on the deck.
If you are bringing a small child, we can put a folding futon (2/3rds of the futon or a foam pad next to the bed ) Just let us know ahead of time. Keep in mind, though, that a child should not be left in the loft by themselves as the bed is fairly high up against the rail.
As we are about 3 miles to the nearest bus stop, it is pretty difficult to stay here without a car.
You are invited, if you feel you would be harmonious here. Pet the goats, check out our chickens, cats, miniature dog and enjoy the very fresh air. I might even teach you how to milk a goat. If you come here when there is no moonlight and the sky is clear, you will see lots of stars.
Tired of the heat in the summer? Since we are on the edge of the "fog belt", it can be both sunny and cool here. If you want a noisy place, you won't like it here: most of the sound here comes from the birds or crickets chirping, the tree frogs croaking and the breeze blowing through the trees. People do live on the land here though, so don't expect it to be totally devoid of human sounds and the occasional chain saw. : ) (We feed the goats oak branches)
Misafir erişimi
Orada ücretsiz wifi kabin, iyi su ve bazı iyi yürüyüş parkurları güverte yanı sıra bir doğa sandbox redwood grove altında kuru dere yatakta. (Kışın, akar suyabilir) Misafirlerimiz dolaşıp küçük farelerimizi (3 keçi, 9 tavuk, küçük bir köpek ve 2 kedi) ziyaret edebilir ve sorular sorabilirler.
There is free wifi in the cabin, great well water and some good hiking trails right off the deck as well as a nature sandbox in the dry creek bed under the redwood grove. (In the winter, it can have running water) Guests are also welcome to wander around, visit our animals on our little "farmette" (3 goats, 9 chickens, a small dog and 2 cats) and ask questions.
Misafirlerle etkileşim
Misafirlerimle neredeyse her zaman etkileşim halindeyim. Onları hoş karşılamayı ve evde hissettirmeyi severim, onları sinek kuşlarını gösterir ve güzel alanıma gidecek harika yerler hakkındaki bilgimi paylaşırım. Benimle etkileşimde bulunmak istemiyorsanız ve sizi hızlı bir şekilde yalnız bıraktığımda bana bildirin. ; )
I almost always interact with our guests. I love to make them feel welcome and at home, show them the hummingbirds and share my knowledge of the great places to go in our beautiful area. Let me know if you don't want to interact with me and I'll leave you alone quickly. ; )
Dikkat edilecek diğer şeyler
Oldukça dar bir alanımız var - ve birkaç yerde, dik - evyeli. Karşılaşılan araçları geçmek için katılımlar var. Lütfen yavaşça al. Bazen kış aylarında elektrik kesintisi yaşıyoruz. Bu gerçekleşirse, pille çalışan ışıkları sağlayacağız. Ana yol düşmüş bir ağaç tarafından engellenmişse, alanımıza nasıl girip çıkacağımızı bildiririm.
We have a rather narrow - and in a few places, steep - driveway. There are turnouts to pass oncoming cars. Please take it slowly.
Occasionally, we have a power outage during the winter. If that happens, we will provide battery operated lights. If the main road is blocked by a downed tree, I'll let you know how to get in or out of our area.
Evcil hayvan kabul edilir
İlave kişi sayısı 41 TL / gece 2 misafirden sonra
Hafta Sonu Fiyatı 590 TL / gece
Geçinilebilecek Maaş Taahhüdünü Destekler
Her zaman Airbnb aracılığıyla iletişim kurun
Ödemenizi korumak için Airbnb web sitesi veya uygulaması dışında asla para transferi yapmayın ya da iletişim kurmayın.
Yatak odası 1
1 kraliçe yatak
Parti veya etkinlik düzenlenemez
Giriş saati, şu saatten sonra herhangi bir zamandadır: 16:00
En geç çıkış saati: 12:00
• Please, no smoking either in the cabin or on the property
• Please don't sleep here with tooth or skin whitening material: they bleach the pillow cases and sheets.
• If you want to bring a dog, please send a request. (We have goats and cats) As so many people are allergic to cats, please don't bring yours.
• Dogs must stay on a leash when outside.
• Dogs are not allowed in the loft.
• No wild parties, please.
• Please don't drink wine in the loft.
• If you use the barbecue, you are required to clean it. But don't close the side lid if the burner is still hot!
• Please wash and put away your dishes, pots, etc. before leaving.
• Please don't bring a lot of food or water in plastic. (those #1 clamshells can't be recycled)
We provide all the dishes you will probably need, so please don't bring disposables either.
• If you want to use real candles, please talk to us first. We provide a rose quartz mood light.
• Please take short showers.
Ayrıca kabul etmeniz gereken şeyler:
Merdiven çıkması gerekiyor - There is a short but steep steps down to the cabin and the loft is accessed via a ladder.
Gürültü olasılığı - Once in awhile, we need to cut some oak for the goats with a chain saw. We try to do it when guests aren't present, but that is not always possible.
Mülkte yaşayan evcil hayvanlar - We have 3 goats, chickens, 2 cats and a tiny dog.
Bu kayıt için minimum konaklama gecesi sayısı değişmektedir.
Kitty and her place were amazing!!!! She was extremely accommodating with the check in/out time and was open and willing to help us with anything we needed. The place itself was just as pictured... it was beautiful and very cozy!!! I would definitely recommend this location to anyone and am hoping to come back very very soon! The goats, cats, and hummingbirds were also a great addition to an otherwise already perfect stay!
---
The Dome at Kitty and Michael's place offered me a much needed and swell retreat. I had a coupon from being a super host myself and glad this is the place i chose. Kind of everything I hoped for, quiet, safe, comfy, close to outdoor places I explored. I drove from San francisco and walked the coast at Wilder State beach, then went on to two of Kitty's suggestions - Capitola and Del rio beach. the next day I hiked at Nisene Marks State Park and back to the beach before "home" for dinner. Altho the Dome feels like you are way in the country and woods, you actually are very close to many places to explore. The Dome is small, perfect for me and they note a ladder to the bedroom/loft and it is steep. But once you are there you have a nice window out to the trees and I was lucky the second night it rained so I listened to lovely pattering all night, about as good as listened to waves. If you are looking for a get away, this is a great place. Jocelyn
---
Such an amazing property. Kitty is so kind and generous with her knowledge about the area and sharing her beautiful property The hummingbirds that come near her home are amazing. As well as the entire place. A home away from distractions. Plenty of movies for entertainment but weren't totally necessary. The only thing was the internet was sketchy at times, but that was only a slight hinderance and no trouble for anyone looking to escape the noise. Had some of the best sleeps of my life in the stillness and quiet of this quaint hideaway. Would recommend to everyone.
---
Kitty was a very warm host and her cabin was a fabulous spot for a romantic weekend getaway! Just a few mins from downtown Aptos and nearby Capitola, there are lots of options for going out and exploring the restaurants and seaside. But it feels far enough away that it's also perfect for just cozying up with a book or a movie, or a game on the porch. Lovely spot with unique architecture, 10/10 would stay again :-)
---
Aptos, California, ABD
Temmuz 2009 yılında aramıza katıldı
We live on 10 beautiful acres of sun, oak forest, redwood groves and gardens and 3 goats, a parrot, 2 cats, a small dog, 9 chickens and over 400 hummingbirds.

I have been hosting on airbnb since July, 2009 and really love what this company has made possible. I have met so many wonderful people from around the world that I would never have met if I hadn't had this opportunity with airbnb! Some of our guests (especially the ones from Europe) have never seen a hummingbird before and here they get to see them up close - just a few feet from them as the birds "hum" around the feeders.

We welcome you to come experience the peace and tranquility that our wonderful land has to offer.
Yanıt oranı:
100%
Yanıt süresi:
birkaç saat içinde
Aptos ve çevresindeki diğer seçenekleri araştırın
Aptos bölgesinde kalacak daha fazla yer: