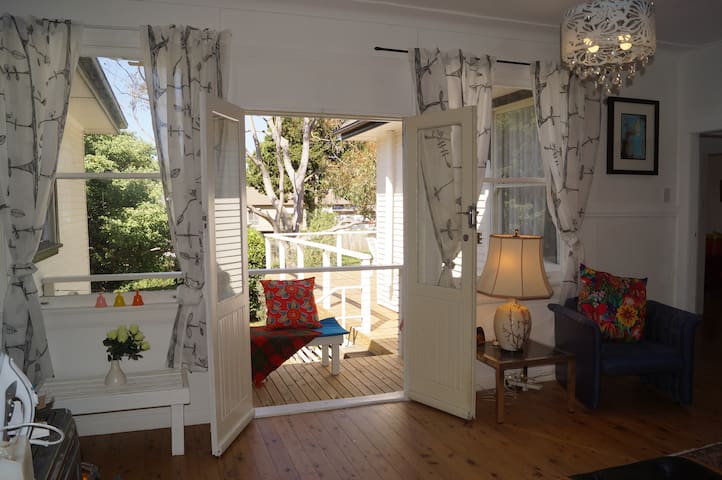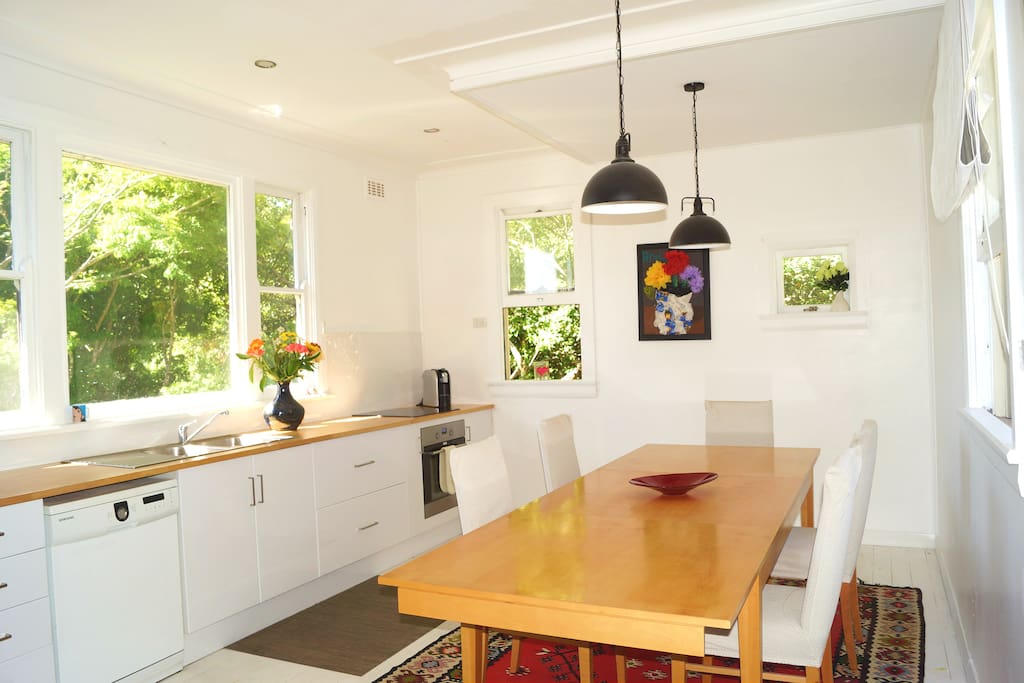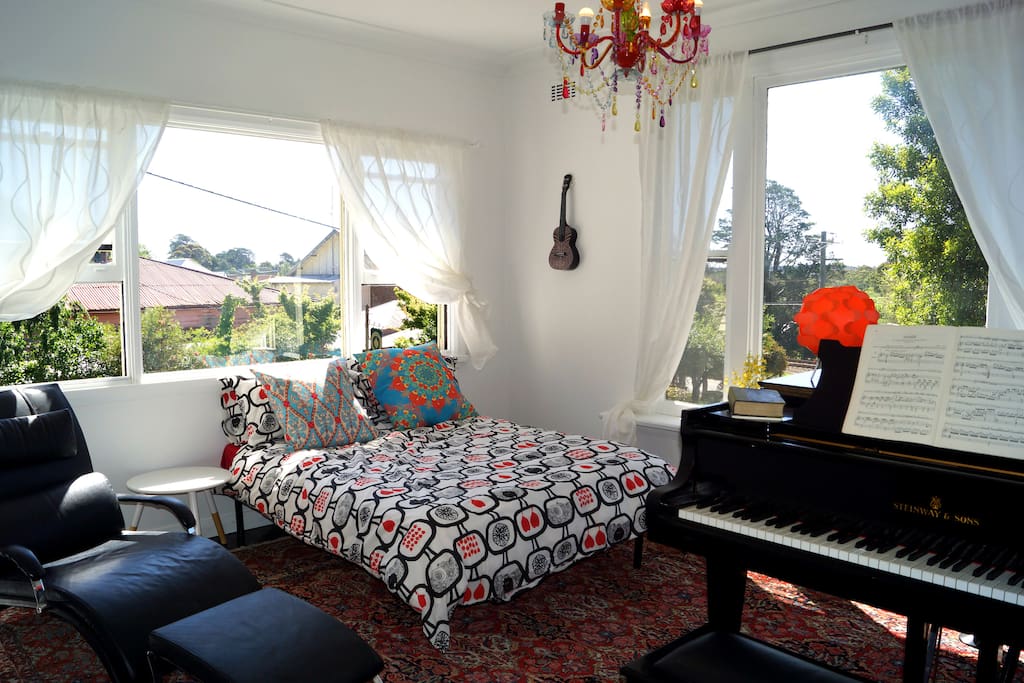 Spacious, airy, light-filled funky country escape just 90 minutes from Sydney. High ceilings, floorboards and rugs, large eat-in kitchen, funky eclectic retro style, modern bathroom, comfy beds, French doors, deck, big garden, books, and a Steinway!
Yer
Just re-listed and have added another Queen bed, so now it sleeps up to 5 (a double in one room, a queen and a single in the other.) Modern, Funky Country Living - Bundanoon CBD
3 minute walk to station, I min stroll to cafes (across the road the strip of local shops starts!), charming village, shops, and a 5 min to bushwalks in Morton National Park. 10 minute walk to Glowworm Glen.
Friendly, relaxed host.
The Apartment:
A 2 bedroom apartment (half a house) fully self-contained with massive eat-in kitchen, small but lovely brand new fully tiled bathroom with shower, basin and toilet.
Sleeps up to 5 people:
One bedroom is made up with a queen bed and a single. Bedroom has two open wardrobes, small chest of drawers, mirror, desk with standing halogen lamp and stool, bedside lamp, and small bedside table.
Second bedroom is the piano room (front room) which has a comfortable double bed, grand piano, Corbusier chair, small bedside table, standing lamp, chandelier and light concertina doors.
Awesome large eat-in kitchen with great view over garden and Bundanoon.
On site car parking at the back.
Free WIFI!
We are literally 3 min walk from the station, right in the Bundanoon CBD, and 1 minute from the amazing cafes and shops in the village. A short walk from the Morton National Park, and right in the middle of the historic village of Bundanoon. So convenient! A great base for exploring the Southern Highlands.
You walk down the side of the house from the car park and up a short flight of stairs to the private entrance. Off the right of the entrance hall is the fully tiled bathroom with shower, toilet and basin. You proceed into the light-filled living room, with two seater couch, easy chair and Eames chair, which opens to french doors.
All the other rooms lead off the dining room - the north facing piano room/second bedroom is fitted with a concertina privacy door that 'disappears' to given an open-plan look when not in use. It has bookshelves filled with interesting books, a piano, double bed, and Corbusier lounge chair with footstool.
The twin or king double bedroom is also accessed from the living room.
You can also walk through to the large eat-in kitchen, which has painted white floorboards, a large Guatemalan rug and 6 seater (or more if you add the church pew bench in the entry hall) beech dining table.
The north-facing kitchen has opening windows on three sides, and looks out both at the deck to the rear and the main garden to the front .
The dining room opens out via french doors to a small deck, which connects by a walkway to the rear deck used by the apartment in the rear half of the house, however there is so much outdoor living space (it is a 2000sm block in total) that there are plenty of private outdoor areas to find your own spot!
From the deck, a flight of concrete steps descend down to the front garden.
You also have shared access to the 1000sm back garden which has a wood outdoor fireplace/barbecue.
There is no TV yet but I'm working on it!
FREE unlimited WIFI, comfortable seating (2 seater, easy chair, and Eames chair) and a cozy wood burner.
A hair dryer is supplied as well as soap, body wash, shampoo, conditioner plus various other products you can find in bathroom cupboard.
Both bedrooms are fitted with built in eco-friendly ceramic wall panel heaters (the piano room has two).
The kitchen has a good electric heater if it's cold.
Bundanoon village shops are literally only a 1 minute walk to the left on Railway Ave, and the supermarket is about a 3 minute walk to the right on Railway Ave. If you are driving, there is on site parking via our driveway entrance in Osborne St (the property is on the corner of Railway Ave and Osborne st). There is parking for four or so cars, shared between the two apartments, which is usually plenty!
Fully equipped kitchen with 4 element touch stove, space in large fridge for your groceries, modern oven, sandwich press toaster, kettle, Samsung dishwasher, crystal wine glasses, and all the crockery, utensils and kitchen equipment you'll need for self-catering.
Pod Espresso machine stocked with coffee pods and Milk Frother
French Press also supplied.
English Breakfast, Earl Grey and Peppermint Tea and sugar supplied
1 litre of milk supplied
Extra blankets, linen and towels available in wardrobe (you can use the dark coloured towels for swimming!)
Comfy lounge with woodburner, some wood supplied, and opening french doors to deck
Enjoy!
Misafir erişimi
Your apartment opens out both from the dining room to a deck, connected by a walkway and shared with the other apartment in the rear of the house, with steps down to a beautiful garden. North facing, we have great sun morning and afternoon for outdoor relaxing, breakfast (there is an outdoor seating area on the deck), lunch or dinner. There are other little spots to sit in the garden, too.
Solar Springs Health Resort is right behind us across the road, and beauty and massage appointments are possible.
Hot Water: There is a large tank in the garage, so there's plenty.
Washing Machine: I will provide access to laundry for bookings of a week or longer.
Coffee Pod machine: This machine takes Aldi pods. These are available from ALDI in Bowral, but I will supply a variety complimentary (quite a few!) to get you started.
Dishwasher: The manual is a laminated A4 which is kept in the kitchen cupboard under the sink, but if you just use on and off and start button it will just work! Detergent is under sink.
Swimming towels: There are plenty of extra towels for swimming (we have a great outdoor local pool open in the summer months, next to the Bundanoon Bowling club on the other side of the railway tracks, a ten minute walk or less) in one of the ottomans. Please use the coloured towels for swimming and use the white or premium guest towels in the house only.
There are also spare blankets/bedding in the twin bedroom wardrobes and in the ottomans.
Wood fire: Kindling, Firestarters and Firewood can be purchased at the village supermarket, one block from the house on Railway Ave (towards Moss Vale). Please use the woodburner carefully and only with supervision, and be careful about bits of wood falling out as you stoke the fire - although there is a tiled hearth. But if it's winter I will provide firewood that should just about last you for your stay!
Wildlife: The magpies are friendly and loyal. I feed them now and then so they won't swoop you, so don't chase them away (within reason) so they don't get confused!
Wombats: You might see wombats in the area - it's been a bit rare this year but I have seen some in Osborne Avenue, and Victoria Ave, behind the house. The come out at twilight and during the night. Be careful arriving at night because it happens with unfortunate regularity that they get run over on the road in to Bundanoon. Apart from the poor wombat itself, apparently it is a little like running over a concrete block and could substantially damage your car. If you drive at the speed limit (50k in the town, and 60k approaching the town) and use high beam, you should have plenty of time to see them and stop - they tend to stand right in the middle of the road!
Wallabies/Kangaroos: You might see wallabies or kangaroos in the back garden! Mostly you'd see them in the middle of the night in the grass beside the carpark, illuminated by headlights. They don't really do anything, but I would keep away anyway, to be safe. You may see them on the road if coming from the Goulburn side and driving at night, but I haven't seen any on the road on the Bundanoon/Exeter side. Drive slowly though at night, as per Wombats!
Neighbours:
The neighbours are lovely, and this is a very safe neighbourhood (i.e. you can leave the doors unlocked and nothing would happen. I say this with confidence after 3 years in Bundanoon!) Rexeen is the neighbour at the left rear, who has Eureka Yurts also on Air BNB, if you need extra space! She is lovely, as is Bruce Pryor over the road, the local potter. Bruce has offered to be someone guests can knock on the door and ask for help if need be, and if by any chance I'm not around and you need some assistance. If his ute is parked across the road, he's usually around.
Most of the local shopkeepers know me, so feel free to introduce yourselves in the village!
There is WIFI in the house, and you will be sent the password when your booking is confirmed. I usually leave a note with the WIFI password in the house too. however it's also on the back of the modem!
Misafirlerle etkileşim
I will be available by text, email or phone for the duration of your stay, and to greet you when you arrive, if I'm in Bundanoon at the time.
If not (and in any case) either the apartment will be left open or with keys in the lock (most usual) or, keys will be left in a lock-box outside the door, and you will have a code to gain access, so in any case you will be able to arrive when you like.
Throughout your stay, you will be able to enjoy privacy and the feeling of having the place to yourself, although please note this apartment is half of the building. You may hear a little noise from the other apartment, but it's not too bad.
I want you to have as much privacy as you would like and will not disturb you - but if I'm around you can always hit me up for a chat and a drink if you would like some company or local knowledge, or a ukulele jam session!
Depending on your arrival time, and if I'm in Bundanoon at the time, I can leave the keys out for you or meet you and show you inside the property. However, check in and check out can be completely self-service (private) if required (or may be, if I'm not in town at the time.)
Default check-in time is from 2pm, but earlier may be possible. It really depends on if there's a booking the day before and how close it is to your stay, and what time I am able to prep for you by, so just ask!
Default check out time is 11am, but again it could be later (ask me) but depends again on if there's a booking the next day. I won't know if this is the case until a few days before your stay. So you can count on 11am check out (at least) and request a later one and I'll grant it closer to the date of your stay if I can. I do aim to please!
Dikkat edilecek diğer şeyler
Mountain bikes may be available for hire at the Bicycle Shoppe Cafe in the town (4 min walk).
Bundanoon is a popular area for biking and mountain biking.
Bundanoon has a public swimming pool that is about a ten minute walk for a dip on a hot day. It is open in the summer months every day - this year, it will be open from approx the 14 November to the 6 March. Outside those times, I recommend the Moss Vale Aquatic Centre, suitable for swimming in any weather as it's indoor and heated to a very comfortable temperature.
Bundanoon also has a Bowling Club which also has very good bistro meals, from Tuesday to Saturday nights and they do Sunday lunch as well (although this does vary, so best to check!).
The pub (Bundanoon Hotel) is a popular spot with locals and visitors alike, and serves excellent meals - and is only a 5 minute walk.
Best cafes in town?
The Terrace Tea Rooms is the closest, and my fave - run by Jane and John who are friends - Jane makes amazing food (my tip is try the Terrace Eggs scrambled with leeks and cheese, so divine! - or the bacon and egg rolls, best in town, so the tradies tell me! - and John makes the coffee, and is always up for a chat!
Next along is the Primula - which has been there for ages - looks unassuming, but is very good! Peter the owner makes a brilliant pizza, really really good. And the greek salad is also a fave, as is their calamari (hand crumbed in house). If it's hot, try sitting in the shaded outdoor area at the back. I also really like their coffee.
Then there's the Bundanoon Deli - new owner Byron and very stylish these days!
The Good Yarn is a brilliant shop - the classic small country town shop - and it's for charity too! - locals bring in their produce, honey, jams and chutneys, flowers, treasures, and home-made craft things (quilts, jumpers, scarves etc). You can get some brilliant home-grown produce here, including duck eggs sometimes.
Then there's Jumping Rock, an upmarket bakery cafe with amazing pies, sausage rolls, croissants and sandwiches they heat on the press, and really good coffee and smiley baristas. Dog friendly too.
Last but not least is The Bicycle Shoppe cafe, and here I recommend the french toast with bacon and maple syrup. I like it so much I've never tried anything else, it's a cult dish for me, my 'always order this' thing! They have a dog-friendly outdoor seating.
Restaurants - there's another pizza shop, the closest to my place, and they are an eat-in place as well as takeaway. Good ambience, and they have brilliant profiteroles too and a kiddie dessert called 'frog in a pond' - green jelly with a chocolate frog on top! My fave meal there is the veal scallopini with green peppercorn sauce and vegetables. It's SO yummy! My nephews 10 and 13 love the pizza and spaghetti bolognese and the Nutella dessert pizza with marshmallows!
The Chinese restaurant is good too. I've enjoyed the lemon chicken, sweet and sour pork and mongolian something or other. And they're licenced - always handy when you've missed the bottle store and can't be bothered walking an extra 3 min to the pub!
The pub is awesome for bistro food in a cosy setting with good quality food. The public bar can be lively on the weekend - it's where the locals hang out and sing along to the jukebox!
Sutton Forest pub (a 10 min drive) is also quite a vibe particularly on Sunday afternoons when they have an open mic night and the bistro is open too. Their salt and pepper calamari is lovely and tender!
Exeter is a village about 7k away towards Sydney, and also has a post office and general store as well as a terrific cafe (daytime)
The Werai Tea Rooms (daytime) are also about 7k away on Werai Rd, the back route to Moss Vale. Very cute (recently rebranded to 'The Farm Club' and recommended. It's going to have a petting zoo at some stage and sell local produce!
The Bundanoon Makers markets are on every second Sunday, and are good for food as well as clothing, knicknacks and 'market stuff' - they have sandwiches, cakes, ready made quiches, all sorts - there are two local 'chefs' who bake up a storm. There's also good produce out the front.
Petrol is available 24/7at Sally's Corner, Sutton Forrest just off the freeway or Moss Vale. (about a 10-15 min drive). Macdonalds is there too, and there's another new Maccas in Moss Vale.
Petrol is available in Bundanoon at Petersen's Garage in a Friday until about 5pm, but they are not open on weekends. Nearest 24/7petrol station is the Shell on the Hume Highway, or about 20 minutes to Moss Vale for petrol (open 5am to 9pm 7 days.)
Trains and noise: We do have about 3 freight trains a day or so that go through the town, and a few commuter trains. The commuter trains you hardly hear, as they approach slowly and stop, but the freight trains can be quite loud and take about 20 seconds to pass.
I have had friends and family stay as well as Airbnb guests so far and people have said that they slept really well here. I don't think the trains will disturb you, but I just wanted to mention them.
---
---
İlave kişi sayısı 89 TL / gece 2 misafirden sonra
Hafta Sonu Fiyatı 533 TL / gece
Her zaman Airbnb aracılığıyla iletişim kurun
Ödemenizi korumak için Airbnb web sitesi veya uygulaması dışında asla para transferi yapmayın ya da iletişim kurmayın.
Daha fazla bilgi edinin
---
Yatak odası 1
1 kraliçe yatak, 1 tek kişilik yatak
Yatak odası 2
1 çift kişilik yatak
---
Evcil hayvan için uygun değil
Parti veya etkinlik düzenlenemez
Giriş zamanı: 14:00 - 02:00 (ertesi gün)
En geç çıkış saati: 11:00
I am pretty chilled - and welcome you! Children are welcome as well, but please note the property is not fenced, and there's a small pond (that no longer has water in it) in the front garden.
I ask that you respect our neighbours and keep noise to a minimum after 10pm.
---
---
---
We stayed at the white house for a wedding at Sutton Forest and to see some of what Bundanoon has to offer. We visited with my parents and our 7 wk old baby. What a great location and a quirky, cute place to stay! The home has lots of character and is in walking distance to great cafes and local shops, we especially loved the Bundanoon Bloomery shop and the makers markets. There are also some great private gardens in surrounding areas to visit. I would recommend a few changes for future guests - we were unable to open windows in the bigger bedroom and this was frustrating as there are no fly screens on any of the windows or doors, this meant that blow flies came into the house and couldn't get out as well as a wasp which was a bit unsettling with a new baby. I would hope for the price you pay that you could open the windows for fresh air especially as the house gets quite dusty with the fireplace. My other recommendation for improvement would be thicker curtains or blinds that keep heat in and allow for more privacy from the street. We did hear conversations and noise from next door as there is only a wall separating the two sides of the house. The locals are all very friendly and we found the best coffee at Jumping Rock Cafe. Barb kindly let us check in an hr earlier which was helpful. Overall a great little stay with a cosy fireplace and comfy beds.
---
Barbara's place is just great. We loved the fireplace in the evenings, and Barbara had taken care of all things large and small. Check-in was a breeze, firewood was awaiting us, and it all looked very welcoming. The kitchen is positively huge, although we sadly didn't stay long enough to make good use of it. The coffee machine is a really nice touch. Barbara is going out of her way to make you feel welcome, even complimentary coffee is provided. One of us used the piano, much to the delight of the others listening - that was fantastic, too. We can't recommend it enough. Thanks!
---
The White house is exactly as described. I was attracted by the piano, and am so glad we booked it as that was a definite highlight. We were both comfortable, the woodburner was a welcome asset, and we slept like logs. Barbara was a great host, very good at communication and obliging in every way. Bring your own Brekky!! but don't miss out on this great stay!
---
I really do care about people and love hosting them in my home. I am constantly tweaking the accom to make it even better. I was so nervous when I listed this place back in October 2015 and I can't believe how great and rewarding it has been to create an oasis people can enjoy when they come to Bundanoon. My background is a professional 'muso' - signed to Sony/ATV as a writer/producer, toured with countless bands (Alex Lloyd, Christine Anu, Jenny Morris, Jon Stevens, Amiel, and many NZ acts too) and these days I live in Bundanoon, and just started a new position as Director of Music at Goulburn Cathedral where I direct the Cathedral choir and play the organ. I run/teach/convene a couple of ukulele groups in Bundanoon and Bowral, and still also play the organ at this very cute and historic Anglican church in Sutton Forest now and then as well as the old people's home as a volunteer, still travel to Sydney to do the odd production gig, act in local drama productions, am even putting on a couple of musicals next year, and am as happy as larry. Can't wait to host you! PS I also speak German - it was my first language (born there!)
Life motto - to be happy, all you need to do is focus on service to others. fact!


Diller:
Deutsch
Yanıt oranı:
100%
Yanıt süresi:
bir saat içinde
Bundanoon ve çevresindeki diğer seçenekleri araştırın
Bundanoon bölgesinde kalacak daha fazla yer: