Gorgeous, separate accommodation on a farm 10km from the entrance to the Addo Park. 2 bedrooms each with their own bathroom. The bedrooms are large & beautifully furnished. The beds can be converted to King or Twin beds. Rooms open onto a big veranda furnished with comfortable chairs overlooking the farm.
Very good stay.
Philippe
2016-11-11T00:00:00Z
The place is nice but it's actually the Stable Cottages at Elephant House where the cottage was. Please make sure you get good directions from Anne how to get there, so your GPS doesn't send you to the midlle of a township; where I ended up. And Anne is very keen on selling you the Scotia Game Drive. I haven't found out why. The cottage is beautiful and very big. I had a nice swim in the pool and you're free to use the facilities at Elephant House.
Tjitte
2016-12-11T00:00:00Z
I had a wonderful stay with Anne. Beautiful farm house, cottage and scenery. The large bedroom, beautiful bathroom and crisp linens made it a fantastic, comfortable and warm night! Thank you Anne! I will definitely be back!
Donné
2016-06-26T00:00:00Z
This was by far the best B&B we have visited. We stayed 2 nights. The location was perfect, just 10 minutes from Addo Elephant park, the room was very big and clean, the beds were really comfortable. Breakfast was in the nearby Elephant House restaurant and was really excellent. You can see Anne has experience in hotel management and will go the extra mile to take care of the guests. We will go back for sure.
Wiebe
2015-10-29T00:00:00Z
Anne was a great host. She was very welcoming and her staff could not have been more helpful. Really excellent service - and a very good breakfast. Anne upgraded us to the main house so I can't comment on the cottages but the house is wonderful to stay in. Lots of comfy chairs and places to relax. Bit cold in winter to try the pools, sadly. Great recommendation from Anne for the river safari, we really enjoyed this.
Margrit
2016-08-26T00:00:00Z
We had a wonderful stay at Anne's place. Anne was a perfect host and it was a real pleasure to stay in her lovely cottage located nearby her private house. The accommodation was unique, clean and perfectly decorated. Anne offered us the use her private swimming pool and it was a real pleasure to stay in such lovely and secured area. We had as well the possibility to use all facilities of the ''Elephant House'' a very pleasant hotel owned by Anne and located nearby. We then discovered a luxury atmosphere, a delicious restaurant offering high quality cuisine with delicious dishes and fantastic breakfasts… We would like as well to thanks the local staff for their professional care and personal attention to customers…. Thanks again Anne for this unique experience …..
LAURENT
2017-02-13T00:00:00Z
Our stay was fine. Anne wasn't there but we were welcomed by people from The Elephant House. We were the only family staying at The Cottages, so felt quite isolated. The dogs were very friendly and kept us company. The road from The Elephant House to the cottage is really bad, we were glad we had rented a sturdier type of car. We had 2 interconnecting rooms and both were very spacious and offered a good night's sleep. No airco unfortunately but there were fans. All in all a fine stay. Dinner and breakfast at The Elephant House were nice and we were welcome to use the pool there but unfortunately we had some rain during our stay.
Karen
2016-12-28T00:00:00Z
We had an awesome stay with 2 couples at the wonderfully luxurious and secure mansion of Anne. We met her at the elephant house and she showed us exactly where we needed to go, it was very easy to find. The house is at a perfect short distance from the Addo elephant park, we could not have wished for a better place to stay during our trip. Would recommend Anne and the house to anyone looking for a comfortable stay near Addo!
Peter
2017-01-10T00:00:00Z
Oda Tipi
Özel oda
---
Mekan Türü
Oda + Kahvaltı
---
Konaklayacak Kişi Sayısı
4
---
Yatak odaları
Addo, E Cape, Güney Afrika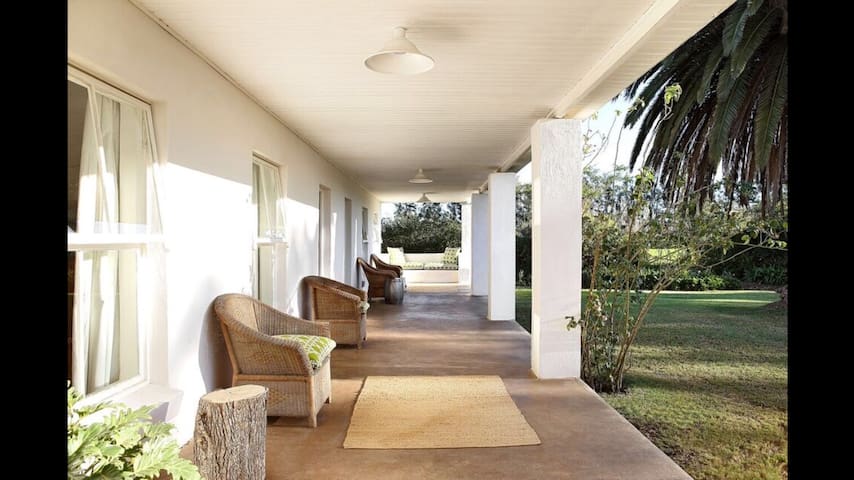 Self Catering Unit / Backpackers style accommodation. Sleeps 10 Comfortable relaxed farm style interior. Large kitchen and lounge area leading onto a patio with panoramic views over the mountain range, pool & braai area. 3 bedrooms each with own en suite bathroom. Per bed option: R200 per person per bed Communal kitchen, lounge, braai & pool area Whole Farmhouse: R2000 per night / complete exclusivity Private use of kitchen, lounge, braai & pool area
Fully Furnished, kitchen appliances supplied. You will need to bring your own food and beverages, clothing, toiletries, towels and yourselves. Check availability online: (URL HIDDEN)
Addo is a town in Sarah Baartman District Municipality in the Eastern Cape province of South Africa. Region east of the Sundays River, some 72 km northeast of Port Elizabeth
Oda Tipi
Özel oda
---
Mekan Türü
Ev
---
Konaklayacak Kişi Sayısı
10
---
Yatak odaları
Addo, Eastern Cape, Güney Afrika
We are situated 11 kilometers from the Addo National Park. You'll love my place because of the views, the ambiance, the people, and the location. My place is good for couples, solo adventurers, business travelers, families (with kids), and big groups.
We had a great stay at the kraal, very very friendly staff, always had nice chats and they were helpful with safari tours! The country estate was so beautiful and not far away from the park, the room was clean and cozy with tea and coffee. Hope to come back one day ;)
Sabine
2017-01-23T00:00:00Z
Ruime kamers met goede airco en grote badkamer. Groot gebouw met meerdere zitkamers en gezellige bar. Ontbijt voldoende.
gerhard
2017-02-14T00:00:00Z
Nice place to Start for addo national park
Johannes
2017-03-08T00:00:00Z
Nice stay, room was comfy and breakfast and dinner were both to a good standard. Great location for getting to Addo park as well
Martin
2017-03-24T00:00:00Z
The room and bathroom were clean and comfortable but this accommodation is not at all what one would expect from its name and description. Host was absent snd only met staff who were pleasant.
Marion
2016-11-18T00:00:00Z
Was okay
Silke
2017-01-06T00:00:00Z
The host canceled this reservation 54 days before arrival. This is an automated posting.
Maxime
2016-11-07T00:00:00Z
Reinets place was awesome. very pretty buildings and a beautiful garden. Reinet and her crew were very helpful and gave us great advice on where to go and what to see. changes in plans were no problems for them.they are flexible and very fun people hanging around with! we highly recommend this place and would love to stay there again. thanks a lot!
Lena
2016-10-10T00:00:00Z
Oda Tipi
Özel oda
---
Mekan Türü
Oda + Kahvaltı
---
Konaklayacak Kişi Sayısı
16
---
Yatak odaları
Addo, Eastern Cape, Güney Afrika
Addo - Airbnb
:
58

misafir değerlendirmesinden,

5

yıldız üzerinden ortalama

4.81

yıldız
Tam fiyatlandırmayı görmek için tarihleri görün. Ek ücretler uygulanır. Vergiler ilave edilir.