Enjoy the spectacular views from your private porch before and after a day of fun at the National Park Beaches which are 15 minutes from the house. Your room is totally private with it's own bathroom, small refrigerator, coffee maker, Mon-Fri laundry service, and separate entrance to the house. The room is very clean and private but it is the views that make this room so special.
The views from your room are beautiful. Coffee in the morning or wine in the evening on your porch enjoying the views should help relax you.
We are a newly constructed house close enough to town for convenience.
This was our first time overnight on St. John. We stayed for three nights at Donna's place. It was perfect! The view is incredible! The house was newly constructed. The guest room is completely private, with a separate entrance, bathroom, balcony, and parking space. The bed was super comfortable and the room was relaxing and peaceful. And, again, the view!! The view was breathtaking. Donna and her husband Kevin were incredible hosts. They have lived on the island for some years now and made recommendations in regards to restaurants, hikes, beaches, activities, sightseeing, etc. We were truly grateful for their hospitality and suggestions. They went above and beyond to make our stay enjoyable. We did rent a car. I think it allowed us to explore more of the island and make the most of our short trip. Donna even met us at the ferry to guide us to the house on the first day we arrived. We look forward to returning in the future! Thank you Donna and Kevin again!
Nat
2017-04-03T00:00:00Z
Oda Tipi
Özel oda
---
Mekan Türü
Ev
---
Konaklayacak Kişi Sayısı
2
---
Yatak odaları
Cruz Bay, St John, ABD Virjin Adaları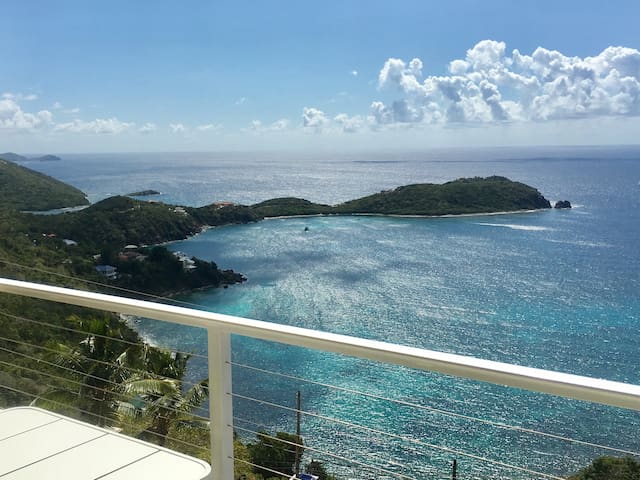 Casa Caribe consists of two units. The Loft at Casa Caribe is a private ocean front villa with a full kitchen, private master bedroom(loft) and living room. The Loft has newly installed air-conditioning! Beautiful ocean views can be seen from the house and private ocean front porch & sun deck. The Loft apartment has a full living area with a bedroom located above the living area. The living area has two day beds that can sleep an additional two guests.
This private ocean front villa offers unique and amazing views of the ocean, reef and beach at Little Apple Bay. Beautiful views of Jost Van Dyke and Cane Garden Bay off in the Distance. The loft at Casa Caribe has all you need to enjoy your time in Tortola. The Bedroom has amazing views of the ocean and Jost Van Dyke. The living room is open and spacious with views of the ocean.
Casa Caribe is located ocean front near the West end of Little Apple Bay(AKA Capoons Bay or just Apple Bay). Apple Bay is quiet with a nice beach. Because we are located towards the west end of Apple Bay it is a short walk over the hill to Long Bay and its beach
This place is spot on for a great relaxing break. Located in West End, it has a nice community feel & the best beaches. From the moment we stepped in CasaCaribe, we just felt so much at home. The views were simply gorgeous and we could have spent the entire day just looking at the azur coloured sea and admiring the pelicans flying by the balcony and diving in for their food. Just 2 mn walk down is Apple Bay with its small but lovely quite beach, only visited it seems by guests from ''Sebastian's'' & locals. Also around the corner is Frenchmans Cay which host the cute Soper's Hole Marina. Breakfast there at ''D'Best Coffee shop'' is a must so is renting a car from the friendliest car rental owner: Mr BigSexy (Yes, that's his name! (URL HIDDEN) & he lives 2 houses down from CasaCaribe. Thank you to Louise & her gracious help during our stay.
sophie
2016-03-29T00:00:00Z
Oda Tipi
Tüm ev/daire
---
Mekan Türü
Ev
---
Konaklayacak Kişi Sayısı
4
---
Yatak odaları
Tortola, Tortola, Britanya Virjin Adaları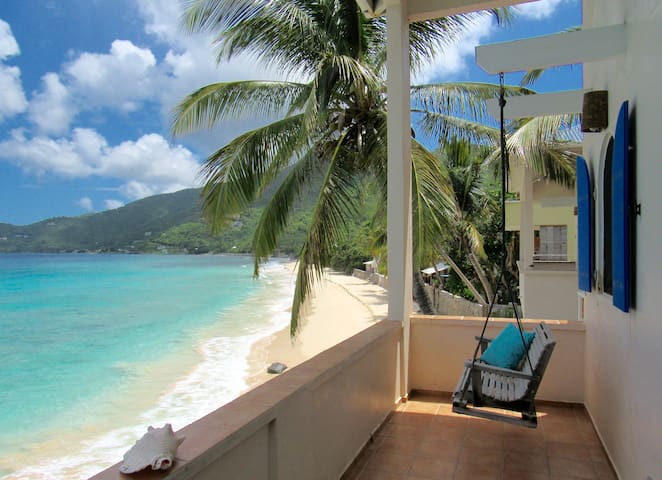 "Dovelet " breezy ,quite ..with a wonderful view of Magen's bay ! Bright ,cheery and super comfortable ! Down a quite a fewsteps to get to this gem ! Fully screened in ! With a outdoor shower ! Lay back and relax and watch the activities of the bay . Sailboats , fishermen , pelicans , sea turtles. Wild parrots.
Quite breeze sunny the view is lovely ! Very bright ..big view Dovelet is the guest / art studio to Ladydove Screened in large room !
Doveway is a gated community ! Very safe area ! 20 min drive to most everything ! 5min drive to Magen's bay
Selwyn was an amazing host!! I can't say enough about her except that she was always available before, during, and after to answer any questions or help in anyway that she can. She picked us up at the airport for a smaller fee then a taxi would charge and brought us to the grocery store to pick things up for breakfast etc. The view from the house is absolutely amazing and cannot be beat! Its very peaceful and relaxing to wake up to every morning. The house is very cute with everything you need to have a great time, Selwyn was very nice to share things that we didn't have. The outside shower had to be one of my favorite things about the house besides the view! It's not far from town or Magen's Bay and there is also a wonderful bar/restaurant down the road with great local food! Selwyn will give you all the information you need to find these great places and more on the island! You must stay at her place you won't regret it!!
Danielle
2016-01-22T00:00:00Z
Selwyn made us feel very welcome at Dovelet. She gave us very good directions. A rental car is important to get into and out of this part of the island on your own schedule. As Selwyn will tell you, you don't need a jeep. We spent our first evening at Dovelet and then moved to Sea 280.
Ralph
2015-09-21T00:00:00Z
This location is absolutely stunning! Located just a few minutes from Meghans bay beach, which is literally just down the road from the property. There is also a sweet little private beach even closer ;) The community IS gated w/ 24 hr video surveillance which is a plus and gives a peace of mind while staying there. Peterborg (the area) is my favorite part of the island, not crowded with tourists (huge plus for me). As a host, Selwyn is very accommodating, friendly and just plain awesome! Being on the islands for about 30 years, she knows whats up! She was spot on with her recommendations of cafes, beaches, and tours. She went on a personal trip to the BVI during my stay and even then, the communication was great. She made sure i knew it was perfectly fine to call or text if i needed anything, or had any questions for her. Overall my stay at St. Thomas was great and staying here had alot to do with that! I highly recommend this and any of her other properties because you simply just cant go wrong. A big A+ from me!
dennis
2015-06-03T00:00:00Z
From the first email/contact, my experience at Dovelet was so great! I am a backpacker with a curious taste for wanderlust and if you are looking for a place with 100% privacy and quiet, this is it. The outdoor shower and open-air bed is something that should be experienced, now!
Matthew
2015-07-20T00:00:00Z
Selwyn was the most gracious hostess! She gave us ideas for beaches, and restaurants, and whatever else we needed! She was fun to be around! And the view was spectacular!! I would highly recommend staying with her. If we weren't moving to St Thomas I'd say we'd definitely be back!
Shelli
2015-10-24T00:00:00Z
Selwyn is such an amazing host! As soon as I arrived at the airport, she was there to pick me up because I was not able to get a rental car during the holiday weekend. She stopped by a local grocery store for my breakfast needs the next morning and gave me rides to the beaches whenever she can. The view overlooking Magen's bay is beyond words can describe. I slept so comfortably and enjoyed the patio and outside shower so much. This was the best experience during my entire trip to USVI not only because it's such a beautiful place to stay at but also Selwyn's warm hospitality. I cannot wait to come back to Dovelet soon!
Zhen
2015-12-26T00:00:00Z
We lived our stay at five cottage. The location was amazing, the views were breath taking and Swelyn was a gracious host who helped us get groceries and with a ride to the beach and the import. I highly recommend this airb&b if you are planning to visit Megan's Bay! We loved every moment and can't wait to go back.
Renee
2015-08-30T00:00:00Z
This was a lovely little place with amazing views. Selwyn was also very helpful with some great tips for beaches and also let us borrow a few things we needed. It's also not far from Magen's Bay which is a great beach.
Casey
2015-11-07T00:00:00Z
Oda Tipi
Tüm ev/daire
---
Mekan Türü
Ev
---
Konaklayacak Kişi Sayısı
2
---
Yatak odaları
St Thomas , Vi, ABD Virjin Adaları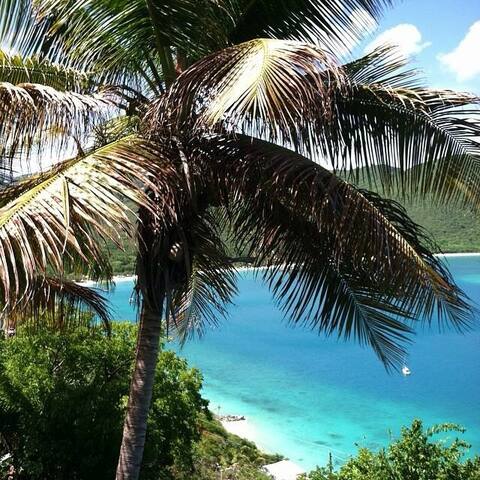 Wonderful 2 BR house with the best view in the world! Picture yourself on the balcony with sweet smelling Frangipani, colorful Bougainvillea under a shady trellis with lots of Passion Fruit. And when you need anything, it is only a 10 minute walk from Cane Garden Bay - the most beautiful beach in the BVI with bars and restaurants. There is no AC, but all rooms have fans.
Down on the beach there are lots of bars, restaurants and a small super marked.
Our host, Ulla, was fantastic! She made us feel right at home in her beautiful and cozy home! We really enjoyed our time staying with her and look forward to future trips! The accommodations were comfortable, it was very close to our favorite beach and truly does have one of the best views in all the BVI! We highly recommend this listing!
Kelly
2017-01-09T00:00:00Z
Oda Tipi
Tüm ev/daire
---
Mekan Türü
Ev
---
Konaklayacak Kişi Sayısı
4
---
Yatak odaları
Cane Garden Bay, Britanya Virjin Adaları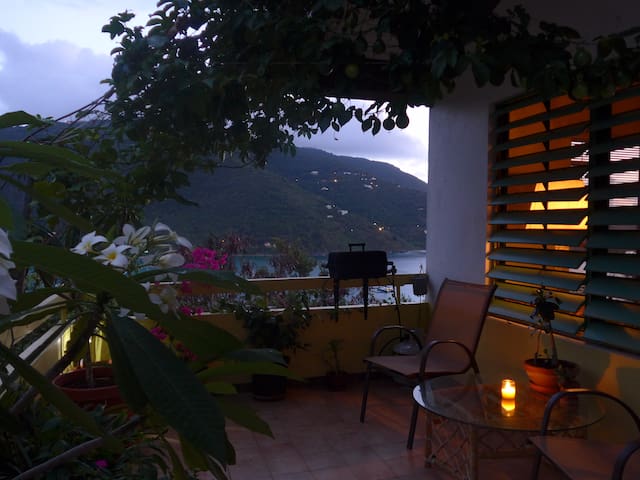 Imagine You on Tortola. Escape, Rejuvenate, Relax…Create memories of love and laughter. Throw a few things in your bag, grab your shades and sunscreen, you will be deep in the Islands in no time. Feel the soft Caribbean trade winds as the palms sway
Surf House is perfect for a romantic getaway or family vacation! Perched above the Caribbean you will have a bird's eye view of all of the happenings down on the beach. Watch the surfers play and the sail boats fly by. The tropical setting is lush with fruit trees and local flowers. There are two bedrooms each with a private bath and shower. The view from the Great Room of the house is all glass and provides a dramatic setting to prepare meals, hang out or watch the clouds float by. Couples love the cozy cottage feeling that is provided by being off of the beaten path when you are at the Surf House. There is a sense of privacy as you ascend the 100 steps to reach the house. Contact us now to book our secret get away in Little Apple Bay Tortola.
Tortola and Little Apple Bay touch the heart like no other place. When we are relaxing at the Surf House, reading books, watching the surfers, feeling the Caribbean breeze, we feel more alive than ever. This cottage is magical. Everyone who makes it to the top of the 100 stairs says the same thing ' how did you find this place?'
Great interactions with Jon and Rebecca regarding the listing. There were able to give me really useful information about where to rent a Jeep, restaurants nearby, and any answers to other questions I had. The Surf House is in an amazingly picturesque location, perfectly situated above Apple Bay. The house itself was perfect for the two of us, and would be ideal for two couples. A great relaxed vibe and perfect lounging space made this an ideal vacation spot.
William
2015-07-17T00:00:00Z
Great views of Jost and very nice accommodations. Fun location between two beaches surfing at little apple swimming and body surfing at long beach. Almost don't need to leave the house!
Karen
2017-01-27T00:00:00Z
We had the best time at The Surf House and we did not want to go back to Norway.... We were met by Rebecca who was the friendlyest person who helped us with all our questions and guided us to the beautiful beaches. The house is so pretty and nice, and the view!!! Ahh, the view was beyond words. Coockie the guard dog was a big hit for our Girls (10 and 12 years), they had a blast playing with her. Don't get frigtend about the 101 steps up to the house, it's no biggie and just a good workout :) I can go on and on for why you should rent this house, but you just have to do it and experience it yourself! Thank you so much for letting us rent, we hope to come back one day :)
Pia
2016-03-06T00:00:00Z
We had the best week at the surf house! We followed Rebecca there and she gave us great advice as where to go to the beach, markets, good restaurants etc. Cookie, the "guard dog" was very sweet and we enjoyed inviting her in and hanging every night. It was just like home -- the surf house had everything we needed. It had privacy, a VERY nice view, was clean and functional, and the location was absolutely perfect. We recommend going to Smugglers cove and visiting Nigel for great jerk chicken and rum punch. We spent a day or two with the doors wide open just watching the surfers in Apple bay. Don't forget to stop at the bomba shackk! We will definitely be back.
Brieanne
2016-04-22T00:00:00Z
Very special. Very perfect. We so much enjoyed our stay in this beautiful home, and definitely will stay here again. This property is a gem with too many unique and comfortable features to list. Our expectations were exceeded. We appreciated the thoughtful and intentional extra-attention-to-detail sprinkled **throughout**. We loved the privacy (even if shared between two couples, or a family) what amazing privacy! This home feels like a treehouse that sits in a perfect location with the most incredible views at every turn. We explored the whole island and still remained truly ecstatic to the very end about picking this property to call "home". The stellar communication on the booking/check-in/check-out/tips/guidance made everything a breeze from beginning to end. We are forever grateful for the memories created here.
Michele
2016-10-31T00:00:00Z
Great View. Nice and peaceful. Great communication
Damian
2015-06-05T00:00:00Z
This is our second trip to the surf house. Once again the place is amazing. The views from the house are awesome, and if there's waves out from its one of the best spots on the island. We were lucky to get surf on both trips.
David
2015-04-28T00:00:00Z
The Surf House was an amazing place to experience Tortola. We felt like we had a private villa to ourselves. Jon made sure the caretaker could greet us, and she was lovely to us. Driving up the steep driveway was fun for us, no steeper than any of the rest of the island, don't go to Tortola if you don't like driving steep! Otherwise, rent a jeep and go for it! Also, we are dog people so loved having the neighbors' dogs hang out with us on the porch. There is nothing like waking up and seeing more ocean than land. Can't overstate how breathtaking the view is!
Bryce
2015-07-06T00:00:00Z
Oda Tipi
Tüm ev/daire
---
Mekan Türü
Ev
---
Konaklayacak Kişi Sayısı
4
---
Yatak odaları
Tortola, Tortola, Britanya Virjin Adaları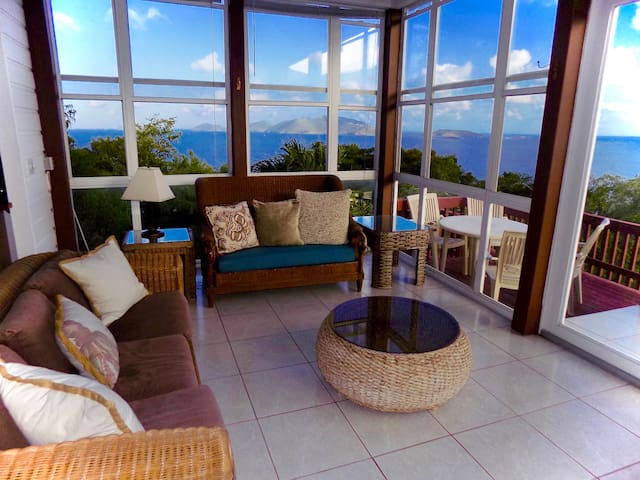 Enjoy close proximity to Frank Bay Beach, Frank Bay Pond and town-3 minutes to the beach, 7 minutes to town! Peacocks and other wildlife, plus our unique eco-friendly amenities complete your paradise experience.
The rooms at St. John Eco Suites are eco friendly, simple, yet chic, and clean with an island freshness. Your eco suite is is your most comfortable and convenient vacation home. Each eco suite has: a full bed, nightstand, dresser, lounge chairs, mini-fridge, microwave, bathroom, garment rack and balcony.
We believe that your sea views, privacy, peace and quiet on our preserved, natural environment with local wildlife are priceless. We welcome you as our guest!
Angela and her daughter could not have been more welcoming upon our arrival! She was so helpful at getting us settled and situated in the suite. The suite even came with beach towels and beach chairs which were an added bonus! The breeze from the ocean was so refreshing and the views were breathtaking all from the balcony! We will certainly be back and look forward to staying at the Eco Suite's again!
Whitney
2017-01-01T00:00:00Z
Angela, Our airbnb was exactly as advertised. We enjoyed having a scenic ocean view oasis so close to Cruz Bay. We rented a car to snorkel at Salt Pond Bay and Water Lemon Cay. Don't miss breakfast or lunch at the North Shore deli and Thai food at Rhumb Lines courtyard for dinner. Sharing travel adventures in the evening with Angela and our airbnb neighbors on the shaded easy breezy deck made the whole experience even more memorable! Be sure to use Angela's white noise machine and box fan on high at bedtime to mellow out the rooster and peacock calls in the morning. Loved the cool breeze through our studio at night. It will be hard returning to winter in Minnesota. Goodbye island life for now.
Ron
2017-04-05T00:00:00Z
Angela and her Eco suites are great! the rooms are charming and comfortable with a relaxing porch and great view. the location is perfect. you are on top of the point, immersed in nature, but you're still only a 10 minute walk to all the bars and restaurants in Cruz bay. you also have the beach right at the bottom of the hill if you don't feel like going too far any day. there are lots of chickens and beautiful peacocks around the property. there's also a very sweet cat and we were greeted by the neighbors baby goats! be prepared to wake up with the sounds of wildlife. Angela offered us a ride from the ferry. we didn't need it but I suggest taking her up on that if you have lots of luggage. this is a great spot with the real island charm. thank you!
adrien
2016-06-06T00:00:00Z
Angela is very nice and reached out before our arrival to arrange transportation. Unfortunately I missed her messages due to no Verizon service in VI and we ended up in a wrong place based on (SENSITIVE CONTENTS HIDDEN) map. I wish I checked directions beforehand. The bedroom and bathroom were SPOTLESS and exactly as pictured. It's in the harder to get to private property areas. So it's quiet at night. Early morning roosters wake you up, but it was natures call so I didn't mind them. We had a car so I haven't walked from the house to anywhere. I recommend this room to anyone looking for good value.
Yichen
2016-12-17T00:00:00Z
This is a great spot for those who enjoy staying away from large resorts or staying in accommodations that have a local feel. We enjoyed sitting out on the porch and enjoying the beautiful view. There are roosters on property, but we brought ear plugs which helped for sleeping. We enjoyed being able to walk too and from town. We stayed in Pearl Lavender, and is was a well kept room. We would stay here again!
Megan
2016-12-30T00:00:00Z
St. John Eco Suites was a wonderful and inexpensive place to stay very close to the heart of the action in Cruz Bay. A 5 minute walk gets you to the Beach Bar and the edge of town. Angela was more than accommodating and communicative - she even drove us back and forth to the ferry dock. The room itself was clean and had all the amenities you could want including beach towels and chairs. If I'm ever in St. John again I would definitely stay at Eco Suites!
Craig
2017-01-12T00:00:00Z
The Eco Suites provide a great clean and reasonable room. Angela the host was very helpful, approachable and friendly and the room had a lot of nice touches such as the fridge and microwave and beach towels and chairs. The suites are about a 15 minute walk from the centre of Cruz Bay and there are some pretty big hills and an unpaved lane so probably not suitable for those with less mobility. The surroundings are beautiful with great sea views, goats, peacocks and chickens (who can be a bit noisy!).
Rachael
2017-02-26T00:00:00Z
We didn't want to leave ! My fiancé and I stayed in the lavender pearl eco suite and we absolutely loved it! Angela could not have been sweeter or more accommodating. The eco suite is absolutely beautiful and nothing beats that view ! The scenic walk into town is only about 9 minutes where you can find restaurants, bars and shops. I see other reviewers complained about the animals but honestly, we loved them ! It's part of the experience. It was amazing to see the peacocks and goats and chickens and I just feel like that is all part of the awesome package here; and really makes you feel like you're getting the real island experience. Also, Angela kindly provided a white noise machine to drown out any chickens or other animal noises while we slept and it worked perfectly! I couldn't recommend this place enough, my fiancé and I will be back many times! Thank you Angela !!
Lissa
2017-03-26T00:00:00Z
Oda Tipi
Özel oda
---
Mekan Türü
Ev
---
Konaklayacak Kişi Sayısı
2
---
Yatak odaları
Cruz Bay, St. John, ABD Virjin Adaları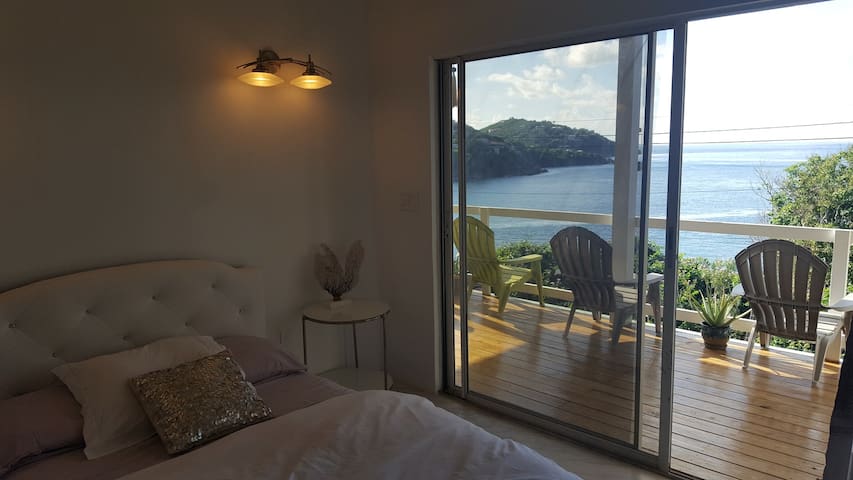 This charming beach house is steps from the beautiful beach at Brewers Bay. Recently renovated, this is an ideal holiday home for couples or families who are looking for a genuine beach vacation in comfortable surroundings.
We are right next to the one of the most beautiful beaches in Tortola, BVI with coral reefs a few meters away. Brewers Bay is generally very calm which makes it excellent for swimming, paddling, kayaking and snorkelling. Our location is extremely tranquil and the house has everything you need to enjoy a magical vacation. The capital Roadtown is a 10 minute drive and other beaches and places of interest all within a 10 minute drive.
The neighbourhood is peaceful and friendly. It is not densely populated and other nearby home owners are mostly residents and a couple of other vacation rentals.
Amazing house with even better views! Working with Judy and Chris was smooth and easy - they really helped me out, not only with the house, but getting other things booked on the island too! Already wanting to plan another trip back! Thanks again for everything.
Matthew
2016-01-05T00:00:00Z
If your Tortola vacation is anything like mine, with a focus on spending many hours in the Exquisite warm Waters of the Caribbean, book this Beach House ASAP! The available dates are disappearing quickly and for good reason. If you can imagine a person fortunate enough to live in Sedona Arizona for 30 years  and vacation  in Brewers Bay Tortola, that would be me .  I began my Airbnb search for Tortola lodging in late February 2016. I had been to Brewers Bay in the early 1980s and became somewhat obsessed with my desire to share Brewers Bay with my wife, who grew up in San Diego California where the ocean is quite cold by comparison. In the beginning of my Tortola search I only found one Airbnb place located on Brewers Bay that was in our budget. I am currently writing this review from that cottage, while looking across the bay to the Beach House. I believe the reason it took me some time to find Judy's Beach House is because it was indicated as being in Road town, where I had no desire to stay. I am so fortunate to have connected with Judy when I did. At first contact with Judy, her calendar was quite open however in the short time it took me to confirm our reservation I was only able to stay 5 days rather than a week… because some fortunate guests we're able to book the entire month of December. Let me repeat myself, book it ASAP! I would give this Beach House 7 Stars if I could, exceeding our expectations and hopes in numerous ways. The master bedroom upstairs was indeed a sanctuary, with a private balcony that my wife greatly enjoyed. There are no lodging options on Brewers Bay that are closer to the water, so going back and forth from the home to the water was literally measured in seconds. The stretch of beach below the home was essentially a private beach, we met one neighbor  during our five days . We were delighted to find numerous unexpected toys that we indulged in, such as kayaks, paddleboards and snorkeling gear. The Reef directly in front of the beach house has been one of my favorites in the two-and-a-half weeks I have been on Tortola, snorkeling almost every single day. Smugglers Cove on the West End of Tortola is the only Beach / bay that can begin to compare with Brewers Bay for safe snorkeling, kayaking and paddle board activities but it completely lacks options for lodging. From the beach house we fished from the kayak and my wife caught largest fish ever in her life while I was the paddling / motor for trolling. Many thanks to Judy, Chris and Mobbsie, who provided our orientation to the beach house. We have every intention to return for another fine Tortola beach house experience
Dale and Marcy
2016-12-01T00:00:00Z
Before the trip I started to think that my expectations were evolving too high so I started to rein them in. The property was as pictured and described, best of all it filled and beat my wild expectations. From day 1 to day 14 no complaints, rain or shine we had an outstanding time. We are pretty self sufficient and enjoy an adventure so the surroundings here allowed for solitude and exploration of Brewers Bay which we found pristine and safe. Shout out to Mobbsie and Claudine so nice and helpful, efficient and in the background if needed.
Franklin
2016-11-14T00:00:00Z
Great beach bungalow. Location is right on the water, could not be close. Your own private beach included. You can sleep to the sound of the ocean every night. We had some passport issues and Judy was so helpful and understanding. It was raining while so we did not get to enjoy the snorkeling as much as we would have liked but we made up for it by going surfing. Judy and Chris were very helpful and provided suggestions for things to do and places to eat that were great. The house is simple, but very comfortable and has all the amenities. It had kayaks, paddleboards, snorkeling gear. Full kitchen. Our kids loved it and we all cannot wait to go back.
Brandon
2016-11-25T00:00:00Z
Thank you Judy. We greatly enjoyed our stay at the Brewers Bay beach house. Clean, quiet and secluded, this is a gem. Sitting just above the beach, we watched seabirds fishing as we enjoyed our morning coffee each day. The adjacent beach and snorkeling just offshore was some of the best we experienced. While adjusting to local driving conditions was a bit challenging at first, those experiences made for some good stories.
Greg
2016-02-04T00:00:00Z
Oda Tipi
Tüm ev/daire
---
Mekan Türü
Ev
---
Konaklayacak Kişi Sayısı
6
---
Yatak odaları
Road Town, Tortola, Britanya Virjin Adaları
This studio is located on the third floor of an oceanfront building, located just minutes from town. It is walking distance to Cedar School and off the main road leading to Road Town. The views are stunning- just nothing but the beautiful blues of Sir Francis Drake Channel stretching for miles, as well as the outlying island of the BVI. The studio has a small kitchenette, a/c, small desk for writing and full bathroom. There is ample closet room for your clothes. Maximum two guests please.
There is a small kitchenette area that is sufficient for breakfast and other simple meals (no oven).
The host canceled this reservation 6 days before arrival. This is an automated posting.
Sarah
2017-04-04T00:00:00Z
Oda Tipi
Özel oda
---
Mekan Türü
Ev
---
Konaklayacak Kişi Sayısı
2
---
Yatak odaları
Kingston, Tortola, Britanya Virjin Adaları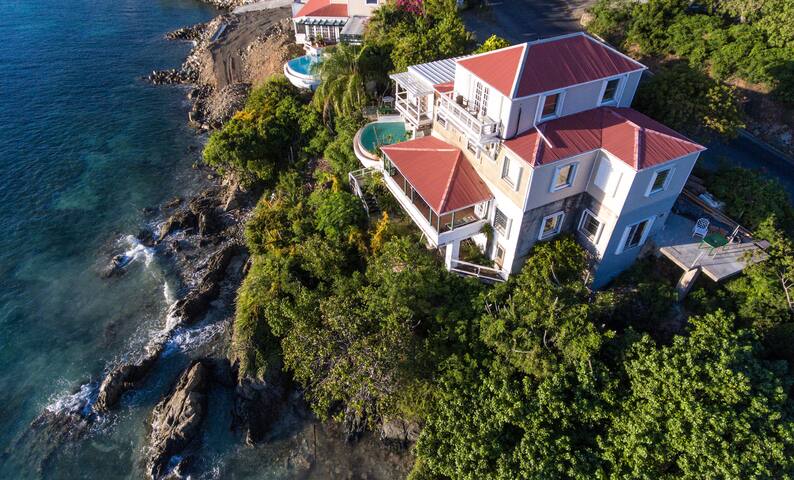 Entire villa overlooking the surf of Apple Bay and the gorgeous serene Long Bay. Big decks, hot tub and entertaining areas. Fully equipped kitchen, 2 bedrooms (Master air-conditioned) with ensuite bathrooms upstairs, 1 bedroom suite downstairs. Turtle Dove House is part of Turtle Dove Cottages, a great location for groups wanting individual accommodations. Contact me for additional cottage and villa information.
A quiet, private little group of cottages and one villa makes up Turtle Dove Cottages. The villa has panoramic views of the incredibly beautiful Long Bay and the picturesque island coastline including the Apple Bay surf break. A 10 minute walk takes you to either beach and a great selection of bars and restaurants. Shops, equipment rental, car hire, ferry dock and more restaurants within a 10 minute drive. My dog Cookie has the run of the garden, but not inside the house.
The area is lovely, safe and quiet. There are a bunch of good restaurants with a short walk or drive, and everyone is very friendly.
If you're looking for the most breathtaking views, this villa is for you. The pictures don't (and can't) do the views justice. Our crew spent nearly every moment outside on the upper, covered porch; or under the tree on the lower deck (my personal favorite spot). The home is situated near other villas, but it's quiet! Rebecca has the home stocked with all of the kitchen appliances, spices and extra goodies you'll need. There is even an alcohol cabinet, sun screen and bug spray! Within 10 minutes you could be on a beautiful beach, walk to Sebastian's for a rum punch or dinner, or at the ferry port. The driveway is a challenge; only one of the guys in our group was willing to drive. But, it makes for some hilarious thrills, laughs and shrieks from the ladies! In terms of bedrooms, the master is BEAUTIFUL and well-equipped with air conditioning (the rest of the home, including the downstairs bedroom is NOT air conditioned). The other 2 bedrooms are smaller, darker, have small bathrooms, and could use a mattress upgrade (if you're traveling with 3 couples, plan on pulling straws for who gets the master; or be sure any of the couples are willing to take a subpar bedroom without complaint). However, the views and Rebecca's graciousness far exceed the lack of "pristine" found in the extra bedrooms/bathrooms. Rebecca was always available, helpful, friendly, and was flexible with us during the booking process. The Wifi worked well for us during our entire stay. Book it and get ready to be WOWED by the beautiful views and sounds of the ocean!
Quentin
2017-03-04T00:00:00Z
The villa was just like the pictures portrayed, and the view was unforgettable. Waking up to that every single day for 7 days was amazing. The villa was very comfortable with a nice kitchen, living area, outdoor decks and 3 bedrooms. The lower bedroom could be a disappointment to some, but allows lots of privacy from the people in the main house. People leave food, and paper products when they check out, so we didn't have to buy a lot of things. The villa had everything you would need. The internet did not work the entire time we were there. If you need it for work, you may have to go to a bar or restaurant. Also, you must have a 4 wheel vehicle and nerves of steel to drive there. It is not walkable to the beach. Any negative thing I could say is erased by the spectacular views! We will stay there again!
Vicki
2016-12-27T00:00:00Z
The Turtle Dove House is absolutely astonishing. The views, amenities and experience are exactly as seen. I have been around the world and the sunset on the deck is one in a million. The home is actually more spacious then I thought it would be and had plenty of room for socializing and cooking. The upper deck provides as great eating area and with the amazing weather they get perfect for a meal. The lower deck is ideal for watching the waves crash and lounging in the evening. The master bedroom is very nice and comes with a king bed and a large closet. The second bedroom is very nice as well. The owner is wonderful and extremely accommodating which makes the stay and time on the island even better. Response time was extremely fast and billing went smooth. This side of the island is by far my favorite as well. You will not forget your time here. My final review for the house is the best I can give it and that is I will stay here again in the future.
Michael
2014-03-09T00:00:00Z
Turtle Dove was just as the pictures and description portrayed it. Rebecca was very accommodating, pleasant to work with, and even gave wonderful restaurant suggestions. She respected our privacy yet was always available to answer any questions that we had. I would definitely recommend this location to a friend!
Dan
2015-11-14T00:00:00Z
We selected Turtle Dove because of the view and we were not disappointed!! From the two decks, you could see two different beaches, Jost Van Dyke and the lights of St. Thomas with a more than 180 degree view. We were so unmotivated to leave the deck and that beautiful view to explore the island. (A glass of wine and a board game, and I was perfectly content to never leave.) Even thought we were up high, we could still fall asleep to the sound of the waves, which was lovely. The home is in a convenient spot to get to Smuggler's Cove, Cane Garden Bay and everything in between. We also went to Soper's Hole one night for dinner which is on the other side of the hill. Loved the location! A few things to point out. A 4x4 is required to get to the house (and highly recommended for getting around anywhere on the island)! Getting up the driveway to Turtle Dove is not for the faint of heart but we were used to it after the first time Rebecca escorted us up. The house was lovely with all that we needed for our short stay and a few appreciated items pre-stocked in the fridge. We only stayed in the master bedroom, so can't speak about the comfort of the other two rooms. The master bedroom had an awesome view as well and the bed was pretty comfortable (on the firmer side, which I need for my back). The shower is small, but water is precious on the island so its not the place for a long, luxurious shower anyways. I would highly recommend this property unless someone in your party is squeamish about critters. You are essentially in the middle of a "jungle" up on the side of the mountain, so you may encounter a few bugs, lizards, mosquitos or rodents. I'm sure most properties on the island have the same co-inhabitants and they didn't bother us. There is also a friendly dog named Cookie and his friend that hung out with us on the deck while we were in the hot tub. We did get eaten alive on the trip so use the bug spray provided at the house, even when inside as they found their way in through small holes in the screens (it was pretty rainy while we were there so to be expected). We decided the house would be perfect if we brought our kids and the grandparents since one of the rooms is on the lower level with its own entrance and the master had a huge walk-in closet where we could put the baby's crib. The only concern is part of the lower deck doesn't have a rail but little ones would be fine on the upper deck. Go ahead and book!
Amy
2017-02-26T00:00:00Z
Rebecca was very helpful and very pleasant. The house was as seen in the picture, fantastic location at about 5 min walking distance to long bay beach, and 5 min from the restaurant. Great panoramic views of the beach and nearby islands. The house was clean and we all enjoyed our stay at Turtle Dove House. The only issue is that there were a lot of mosquitoes which we understand was quite unusual. It would have been really nice to have mosquito nets available for use.
laurent
2014-05-19T00:00:00Z
By far this house has one of the most amazing views you will find on Tortola. Our host Natalie was very helpful in Rebecca's absence and she met us at the car rental and helped us find the way to the house. The house was clean and had the basics there. We spent most of our time at nearby beaches. The only thing we did not originally check is that the house only has AC in the master bedroom, which I assume its not a major issue unless you travel in the middle of the summer like we did. If you do come also be prepared for mosquito, we were not and they had a field day on us the first two nights, but then we were armed with all the replant available on the island and they left us alone. Overall Tortola was an amazing experience despite the mosquitos.
Costel
2015-07-31T00:00:00Z
We stayed for a few nights the first week of April. Rebecca was a gracious host. She met us upon our arrival and guided us right to the house, which is less than 10 minutes from the ferry terminal. The driveway is steep, but that became one of the most entertaining parts our our stay...the kids loved it! The house is great and the views are stunning. The house has all the necessities you could ask for. Plus, we had a big beautiful rainbow our first morning and that was a sign of good things to come. We hit the beaches (Smuggler's Cover is a must) and Rebecca tipped us off to the Sunday night Spring Regatta celebration at Nanny Cay. The kids loved the fireworks. We highly recommend renting from Rebecca. She is very friendly and will do whatever she can to make sure you have a pleasant stay. She lives on the property, so you can't go wrong with either of her villas.
Chad
2016-04-06T00:00:00Z
Oda Tipi
Tüm ev/daire
---
Mekan Türü
Ev
---
Konaklayacak Kişi Sayısı
7
---
Yatak odaları
Long Bay, Tortola, Britanya Virjin Adaları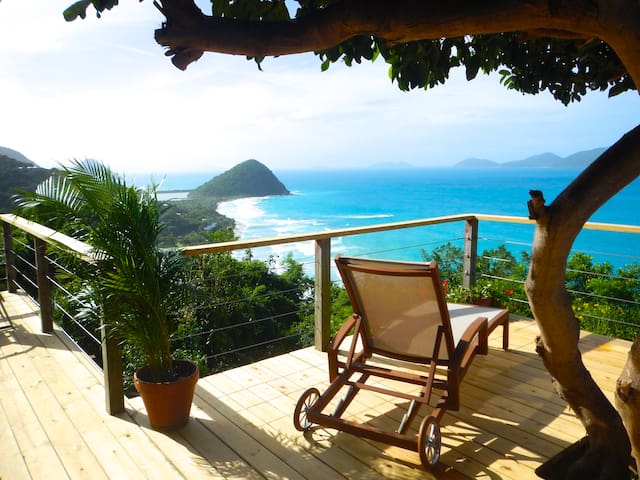 Cool, breezy suite, private bath, balcony and a mesmerizing dream view of Beef, Guana and Virgin Gorda Islands. A two minute drive or ten minute walk over the bridge to Beef Island, the closest beach is Long Bay and 7 minutes to the airport. Trellis bay features shops and restaurants as well as the ferry connect to Virgin Gorda, Scrub & Pussers's Marina Cay. We are in close proximity to East-End Long Look supermarkets, Harbor View and Hodges Creek Marinas, Josiah's Bay, Lambert and Little Bay.
The Master Suite is spacious, bright and has a constant breeze flowing through french doors of the private viewing balcony. The queen size bed is well appointed with lots of comfy pillows and a soft duvet for cool nights. There is a smart TV with access to Netflix and an HDMI cable to connect your personal devices. The room has an ensuite private full bath with towels, and starter toiletries such as shampoo, body soap, toilet paper, etc. There is also a full laundry room for your use near the kitchen, ($5 a load to cover excessive utility costs) equipped with an ironing board and iron. Luxury Twin Air Mattress provided for additional Guest.
Beautiful residential location just before the bridge to Beef Island. Your view is full of Yachts and sailboats traversing the waters enticing you to come out and play. Our neighborhood is generally quiet and rural, with Shetland ponies that run free with goats and sheep.
Amazing view & hosts! Definitely staying here again if I am in BVI
Koun
2017-03-18T00:00:00Z
My wife and I had a very pleasant 3-day visit. The view over Beef Island, the Camanoes, and out to Virgin Gorda was terrific. Very convenient to the Airport. However, if you must be away from the sounds of civilization, you might prefer another location. The driveway is steep enough to startle me after several past visits to hilly Tortola. Rent a good 4wd car. Our little Mitsubishi Terios nearly stalled in low gear a couple of times. Barbara and Carol are warm and welcoming, and very knowledgeable about the islands. I must mention that I arrived at Barbara's place after (thankfully minor) contact with manchioneel sap. They were very sympathetic and helpful in directing me to a local clinic for treatment. The house is clean and inviting, and the shared kitchen is well equipped. Barbara's sweet Havanese dog, Tesla, was an added bonus.
John
2017-02-18T00:00:00Z
Super fun place to stay. Fresh, local meals prepared with love are available and are better than everything else we tried! This room has a nice degree of privacy from the rest of the house as well as a private balcony. The location was walkable to a beautiful beach if you don't mind a STEEP hill at the end or you could just chill on the balcony and enjoy the view!
Whitney
2017-02-20T00:00:00Z
Wonderful scenic location with welcoming hosts. The room is very comfortable with good ensuite facilities and lockable dressing room. Access is via a very steep drive so you need a four wheel drive car.
Nigel
2017-03-17T00:00:00Z
Barbara and Carol could not have been more helpful or welcoming. We enjoyed a tasty dinner on the terrace with another guest, great conversations, and the expansive view. The room was large, clean, comfortable, nicely decorated and had it's own bathroom and balcony. Only caution is drive a 4x4 or park mid-way and have the host bring you up (done with a smile). It is a great location if travelling to Virgin Gorda, airport, or east end beaches.
Jennifer
2017-03-26T00:00:00Z
Barbara was amazing. She communicated w/ us the entire travel to BVI. She gave us advice on where to go and what to do and she even drove us everywhere because the car rentals were sold out. She cooked us breakfast and made us coffee; we felt like royalty. The place was beautiful, clean and comfortable. She has the most loving dog that went w/ us to the beach when we first got there. Hands down, we'll be going back to BVI to see Barbara!!
LUIS
2017-01-01T00:00:00Z
Great ladies it was nice meeting you. Our stay in the VI was great and you were very accommodating to us. Thanks for also providing us with transport to get to some places. Cheers happy New Years!
Celine
2016-12-27T00:00:00Z
What to say? We could not imagine a better spot to spend our time on Tortola. The high wooden ceilings throughout the house, the lovely ceiling fan in the bedroom, the spotless ensuite bathroom, the breeze, the green balcony railing against the backdrop of blue blue water, the goats and chickens on the way to East End, the vibrancy of the locals.... I recommend renting a Jeep Wrangler or something similar, spending hours at the beach at long bay, lunch or dinner at sugar mill and surf song. (Skip Myetts!) Breakfast lunch or dinner at trellis bay, a day trip to virgin gorda (rent a car from speedy's, you can pick/up and drop off at the ferry terminal) eat at hog heaven or coco maya, hike gorda peak, see the baths, Spend (EMAIL HIDDEN)municating with Barbara and Carole is straightforward and effortless. They are simply the best.
Dana
2017-03-02T00:00:00Z
Oda Tipi
Özel oda
---
Mekan Türü
Ev
---
Konaklayacak Kişi Sayısı
3
---
Yatak odaları
Tortola, Tortola, Britanya Virjin Adaları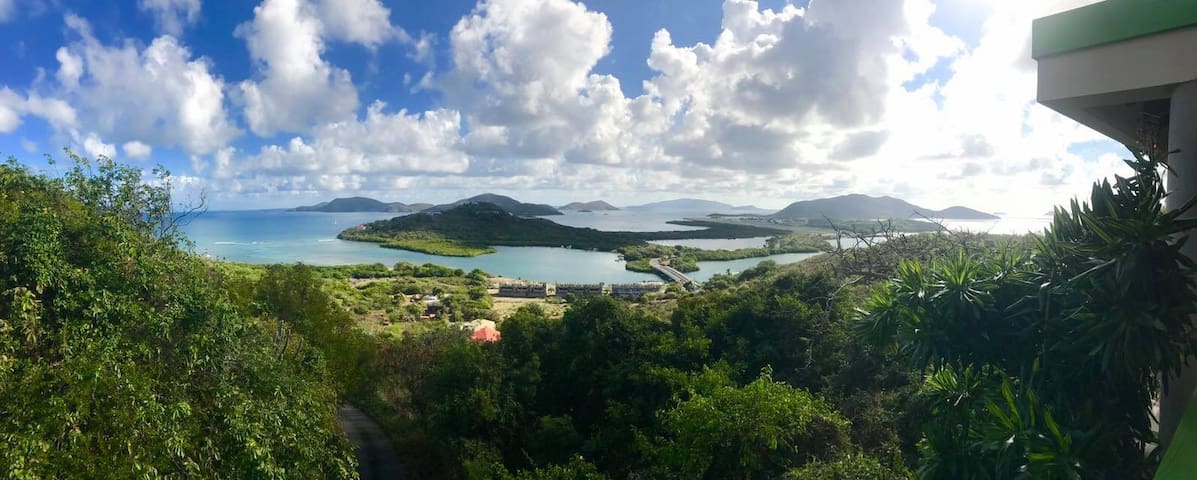 Villa Divertimento (def. diversion or distraction) is close to Cruz Bay dining and shopping, Westin Resort, Chocolate Hole beach for snorkeling, and world famous National Park beaches and hiking. For a "total renewal" vacation. The Villa features the luxury of tropical breezes, azure pool, spacious interiors and outdoor decks, along with easy access. Wi fi of course. Perfect for one or two couples and family groups of all ages.
The home was a great place to stay while on St. John. The pool and view was amazing and a great place for morning sun. The only down side was the grill, which was a bit rusted on the grates, but with aluminum foil worked well for grilling out. The bed was comfortable and I would not hesitate to stay again with my kids on another trip. The home was a great value for the money. Suzanne was a great host and very helpful. She provided a great map for locating hiking trails and took care to send off a dive shirt accidentally left in the dryer!
Tom
2017-01-29T00:00:00Z
I was in town for a wedding and the couple getting married said this place was twice as nice as theirs and almost half the price. We used a taxi service recommended by the host and he is highly recommended. It can be a little confusing which street the house is actually on as St. John handles addresses differently. Make sure you confirm with the host the road name and you should have no trouble. Read the little binder with info and reminders. I waited until the end of my trip and missed out on some cool places. Fairly close to Cruz Bay and a taxi is about $6 per person to get there. The house is enormous and beautifully staged. The pool area is breath taking. There are two master bedrooms with two master baths (which are open air showers). The washer and dryer were wonderful to have and the wifi works. Our host was quick to respond daily and helped us out of some transportation issues we were having. It is a quiet road and the stars at night are incredible. Highly recommend.
Amy
2017-02-20T00:00:00Z
The home was beautiful; it has a spectacular view of the bay, the home was clean, and well stocked with extra towels, dishes - everything we needed to be comfortable. The location was quiet, we couldn't hear the neighbors or any traffic. We were simply delighted with our stay!
Christa
2017-03-17T00:00:00Z
Villa Divertimento looks great, is very spacious, 2 master bedrooms, good size swimming pool both for kids and adults, great view of Chocolate Hole (not swimmable or close to walk), walkable to Westin resort (beach and restaurants), a 10 min drive to town and 20+ min drive to the north beaches. We especially loved going to Trunk, Maho and most of all Gibney Beach. We also loved a lot of the downtown bars and restaurants (free parking at Mongoose Junction), like the excellent pizza at Da Livio or appetizers and drinks at the Beach Bar. This was the best Spring Break vacation yet.
Flo & Cristina
2017-04-04T00:00:00Z
Villa Divertimento is a beautiful villa, in a perfect location! It is the perfect size for a family of four, or 2 couples. We had a wonderful week and look forward to a return trip sometime soon!
Tracy
2017-02-27T00:00:00Z
Tons of room, great view and wonderful pool.
kevin
2017-02-07T00:00:00Z
Beautiful home. Amazing views. Awesome proximity to everything that matters. Great host. Thank you Suzanne.
Jack
2017-03-07T00:00:00Z
Oda Tipi
Tüm ev/daire
---
Mekan Türü
Ev
---
Konaklayacak Kişi Sayısı
5
---
Yatak odaları
Cruz Bay, St. John, ABD Virjin Adaları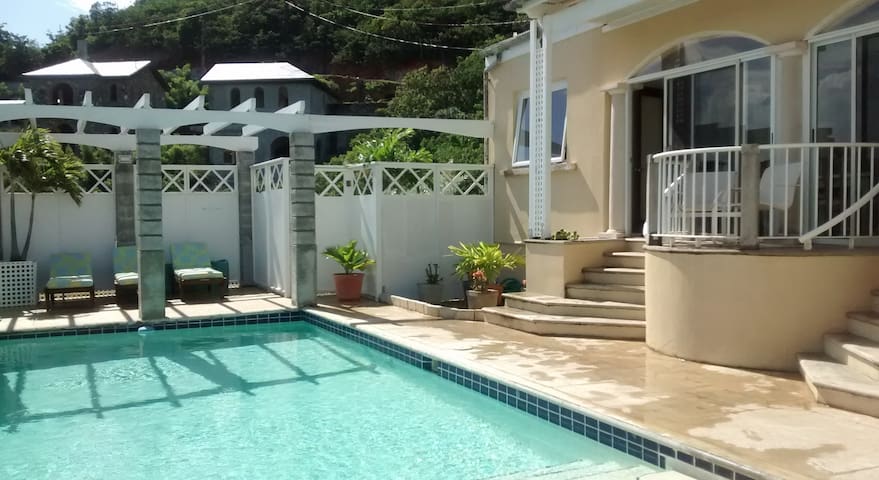 Hammer Time is a lovely home bursting with amenities to make your stay in the Virgin Islands everything you've dreamed of. Gaze across the infinity edge pool to the beautiful turquoise of the ocean speckled with other US and British Virgin islands. Enjoy the wide variety of beautiful orchids in the lush custom landscape.
This four bedroom villa comes complete with modern showers, kitchen and washer/dryer. Perfect for family and friendly get togethers. There is ample space for each guest to spread out, enjoy the warmth of the Caribbean sun or relax under a shady tree. The property is surrounded by lush rugged terrain balanced by gently manicured orchids and gardens. Each of the three main bedrooms has a gorgeous view of the ocean, a private bath and patio access. There fourth bedroom is a children's room with two twin-sized beds. Enjoy the perfect beach experience at Magen's Bay just a two minute drive away.
Hammertime is located in a residential gated community of Sydney's Fancy on the Peterborg Peninsula. The villa is a two minute drive from Magen's Bay beach.
Great House with Wonderful view and location. Great Service.
Bin
2016-08-28T00:00:00Z
House was exactly as described and more gorgeous in person than pictures can do justice. If you enjoy cooking the kitchen is very well equipped and flows easily to the pool/deck area for grilling and hanging out. The host has an on-island management group that will meet you at the airport and are responsive to any questions you have during the stay. Everyone was very helpful and easy to work with. Would definitely stay here again!
Dee
2016-06-05T00:00:00Z
best airbnb i have ever stayed. the house is amazing. the pictures display the house very well. within minutes of sharing a picture of the view at least 20 people were asking me "where are you". I would easily easily stay here again. my friend who lives on the island said this is the best house she has ever seen on st.thomas.
Joe
2016-08-06T00:00:00Z
Absolutely Breathtaking!! The property and the views was exactly like the description. Host was very nice and helpful. Definitely will be staying again!!
Michael
2016-06-28T00:00:00Z
Hammer Time is everything you want and more!!! This house is stunning! The grounds are beautiful, the house was clean and had enough room for our family celebration! We had 5 adults and 3 children. We loved the big patio pool and the gorgeous view! Morning to evening it's the perfect spot to relax and take in the island life. The concierge service that Jen uses is on top of any and all your needs. They helped to make our stay easy and comfortable. Magen's Bay is literally 4 minutes away!!! We spent several days on this beautiful beach! Wish I was there now!! I would highly recommend Hammer Time for your St. Thomas stay!!
Angie
2016-07-20T00:00:00Z
The host of Hammer Time Villa made our trip one that we will never forget. We were treated as family from the moment that we arrived until we left the island. The neighborhood has to be one of, if not the nicest on St. Thomas. A safe, beautiful gated community that is only a stones throw from Magens Bay was EXACTLY what we were looking for. The neighborhood is quiet, relaxing, peaceful and has perfect views of St. John, Tortola and Jost. Everything that the host describes about the property is exactly the way it is. I recommend this property for any family that is looking to experience St. Thomas the way it was meant to be seen. We certainly would love to return sometime in the future.
richard
2016-05-17T00:00:00Z
Oda Tipi
Tüm ev/daire
---
Mekan Türü
Ev
---
Konaklayacak Kişi Sayısı
8
---
Yatak odaları
Northside, St. Thomas, ABD Virjin Adaları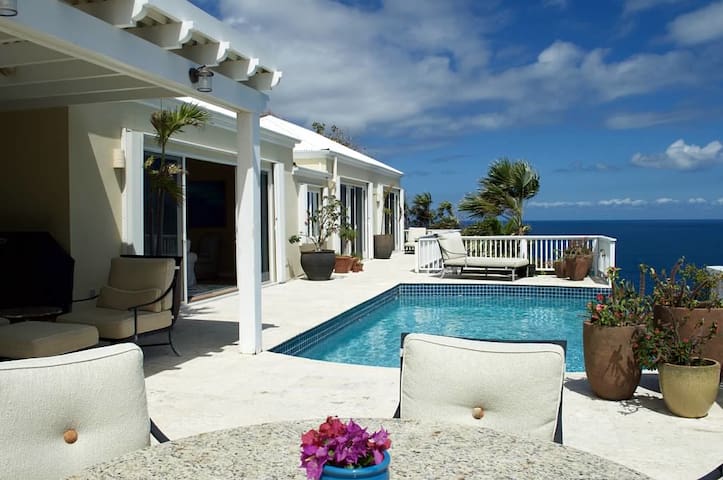 Jolly Diversion is the ideal vacation retreat. Located in quiet Fish Bay, this home has all the amenities including an inside/ outdoor shower so that you can shower under the stars or sunlight.
The great room offers comfortable rattan furniture with a TV/VCR/DVD. The Dining area has a glass top dining table that can accommodate 6 guests. The kitchen is custom designed with a bar and bar stools for a quick breakfast before heading out to the beach. There are plenty of amenities in the kitchen for the cook including mixer, blender, pots, pans, and coffee grinder. Off the great room is the main deck with chaise lounges, a gas grill, built in corner seating, and a large rectangular table for outside dining. The home has an easterly exposure making it cool in the afternoon.
Fish Bay is a quiet residential neighborhood on the south shore of St John. Close enough to Cruz Bay to enjoy restaurants, far enough away for peace and quiet.
Oda Tipi
Tüm ev/daire
---
Mekan Türü
Ev
---
Konaklayacak Kişi Sayısı
5
---
Yatak odaları
Cruz Bay, St. John, ABD Virjin Adaları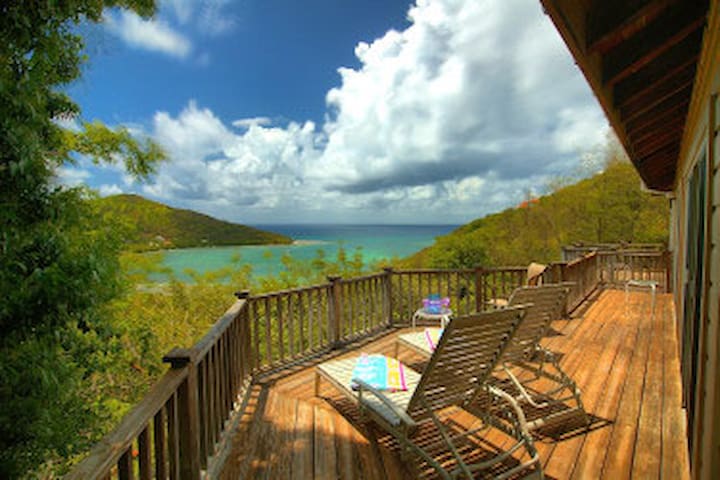 Cooten House is nestled on top of Cooten Bay in Tortola,BVI. Whether you are looking for a romantic getaway, a place to relax and soak up the sun or all of that plus close proximity to great surfing spots, Cooten House will exceed your expectations.
Situated on the pristine North East Coast at Cooten Bay This newly built, one-bedroom villa offers an amazing panoramic view over the islands and beaches on this, still largely undeveloped, side of Tortola. The Style of the house is modern classic Caribbean with a tasteful collection of out of the ordinary furnishings and art-deco pieces lending a slightly "retro" feel to the peaceful and beautiful location. The large and airy kitchen/living room comes well equipped with modern, high-end stainless steel appliances, custom cabinetry and hardwood counter tops as well as huge vintage industrial lights, Driftwood table, antique cupboards and a comfortable, stylish sitting area. With a high quality Bose sound system and a large LCD TV hooked up to cable and other A/V equipment (including a massive library of movies and music) the house has been carefully designed and equipped to be a relaxing, comfortable home In the bedroom is a custom made queen size and the bathroom features a lovely old marble sink from a Turkish bath house. Outside is a large covered balcony, pergola and sunken sun deck with a 156 jet Hot Tub complete with waterfalls, LED lighting and it's own sound system close by is a bright orange vintage enameled fire-place. The house sits on a private 1/2 acre lot with no other house visible nearby. The villa overlooks the Cootens Bay, a renowned surf break in the winter months. Just next to the small rocky beach is an amazing old ruin untouched since the 18th century complete with original cannon lying in the undergrowth. Close by are two beautiful secluded golden sand beaches, Rogues bay and Trunk Bay.
I reserved the home for my nephew and wife...they loved it!! Marija was most helpful in arranging thier arrival and the home was as pictured...lovely, clean and so welcoming!
Michele
2015-12-22T00:00:00Z
Marija and Jeremy's house was amazing! We stayed at Cooten House for part of our honeymoon and it was the PERFECT honeymoon experience - secluded but with quick access to Road Town and reasonably quick drive to Cane Garden Bay. It is beautifully finished and decorated, and had everything we needed for a comfortable stay. Their property manager Sayula went out of her way to make sure we had everything we needed, even coming out to the house the first night to help us figure out the oven. We stayed in May and with the doors open, the temperature was extremely comfortable thanks to the breeze. Of all the places we visited on our honeymoon, we were most sad to leave Cooten House!
Gene & Holly
2016-05-29T00:00:00Z
The house was the highlight of our trip. Truly georgeous. The view is stunning and the house is tastefully decorated. Thanks so much jeremy and marija for an unforgettable memory
Marcelo
2016-04-20T00:00:00Z
Marija & Jeremy's property is amazing! The views are incredible. The house is spotless clean and well decorated with a lot of special details. We felt right at home during our stay. The local property administrator went above and beyond to make our stay was pleasant. She gave us a lot of suggestions and tips to get around town. We recommend this listing 100%! We will definitely come back in the future. Thank you so much! ❤
Rodolfo
2017-04-01T00:00:00Z
Lovely home in a beautiful spot! Note there are no screens on the doors or windows which is fine when it's breezy, so best to choose a breezy time of year in my view when it would not be buggy. With doors open breeze through is excellent. AC is bedroom only, which is quite typical.
Michael
2015-12-03T00:00:00Z
Had a wonderful vacation and the Cooten House was a very nice place to stay. It is very private, great having an ice maker, jacuzzi and AC in the bedroom was awesome.The jacuzzi did not work properly some of the time, but when it did, it was great. A few light bulbs in the kitchen/living room needed to be replaced. But the views are stunning. And great outdoor space is very comfortable.
Kayren
2014-06-17T00:00:00Z
We rented this private villa from Marija and Jeremy Snell last week and were not disappointed. The view, the villa and amenities were beyond our expectations. The Office Manager, Sayula, was extremely responsive and showed great attention to making us feel welcome. We appreciated the privacy the villa offered as its located directly above Cooten Bay on the more remote part of the island. It was a short 20-30 minute drive across the island to the best restaurants. When we plan our next vacation to the island, we won't consider staying anywhere else. Thank you Sayula for your wonderful hospitality and many thanks to Marija and Jeremy for sharing there breathtaking villa with us. Brian & Liz
Brian
2015-06-10T00:00:00Z
A BIG thank you to Jeremy and Marija for the dreamiest stay we could imagine. Quite simply the most stunning location I have ever "lived." Marija and Jeremy's home is beautiful, clean, secluded and wonderfully wild. We so enjoyed trekking to local beaches (highly recommend the 10 min drive to Josiah's Bay), cocktails on patio, grilling pizzas behind the house (best spot for spotting the local creatures!) hot tubbing at sunset and waking up to the sunrise. Highly recommend renting a car with all wheel drive - we did not specify this with the rental car company and had a bit of trouble tackling some of the tortola roads. We went in the off season (august) so the island was very quiet - most restaurants were closed but the upside was that we had nearly every beach to ourselves.
Jillian
2016-08-14T00:00:00Z
Oda Tipi
Tüm ev/daire
---
Mekan Türü
Ev
---
Konaklayacak Kişi Sayısı
2
---
Yatak odaları
Tortola, Britanya Virjin Adaları
Kerensa is close to gorgeous beaches and has stunning views of the North coast. You'll love it because of the beautiful natural setting, the seclusion, the high end equipment and the quirky antiques and decor. It is ideal for romantic couples but can sleep up to 4
This was BEST place we have stayed at so far!!! Truth be told I don't even want to write the review because we likely plan to come back, and don't want to share our amazing find. Sorry Ben :-). The pictures he has does not even give it justice inside and out, and he has thought of every amenity. Seclusion is the key term, it's off the beaten path and secure. Ben is a wonderfully gracious host, always willing to make the stay better. We even ended up shopping together at one point at the local grocery store. Thank you Ben and family, cheers!!!
Jacob
2016-11-03T00:00:00Z
Oda Tipi
Tüm ev/daire
---
Mekan Türü
Ev
---
Konaklayacak Kişi Sayısı
2
---
Yatak odaları
Roadtown, Tortola, Britanya Virjin Adaları
Welcome to Palladio's View! This private St. John villa is located just above Coral Bay and has sweeping views of St John's East End and the BVI's from every room. Two identical first floor master suites with private outdoor showers and wrap around decks, a central common living space with open kitchen/dining area and an additional 2nd floor bedroom make Palladio's view the perfect house for couples and families with kids. Tons of outdoor space including sun deck, hot tub and pool deck!
See the videos of Palladio's View (and the ride to/from the house) on YouTube by searching "Palladio's View". In July 2015 we purchased Palladio's View which was built in 1995. We are now refurbishing PV for you, our guests. Recently completed upgrades include a new solar electric system, a new powder room in the 2nd floor bedroom, renovation of the kitchen, a new roof/ceiling in the great room, new ipe outdoor furniture, new pool area landscape/hardscape improvements, a fabric sunshade over the sundeck and a new safe driveway railing system. Renovation of both first floor master bathrooms and installation of new hand-carved mahogany high-poster beds in both master bedrooms will be completed in May 2017. Future short-term planned improvements include overhauling the hot tub equipment and controls, continuation of the cable railing system throughout the villa, door refinishing/replacement, dining area roof/ceiling replacement, landscape re-invigoration, and hot tub deck renewal. We welcome you to share our villa, enjoy the incredible down-island views, experience the unspoiled natural beauty and cultural history of St. John, interact with the unique group of people who call St. John home and re-energize your body and soul.
Calabash Boom is primarily undeveloped. There are no adjacent homes and there are few villas that are within eye site. Palladio's View is very private and peaceful. That being said, Calabash Market convenience store and Shipwreck Landing restaurant/bar are at the bottom of the hill and the village of Coral Bay is a mile or two away.
The long views from everywhere in the house and from the decks toward the BVI and Coral Bay are immersive. The house is beautifully designed and equipped and very private. No a/c provided but none needed. Be forewarned that the road access is primitive and very steep with crazy switchbacks and a 4 wheel drive vehicle with road clearance is essential. Don't recommend arriving after nightfall until you get used to the road. Larry and local management were very eager to please and did their best but the hot tub repair we needed perished to island time. This place is magical. Be sure to wake to see the sunrise.
Richard
2016-12-10T00:00:00Z
Beautiful villa with amazing view. Very well equipped, the one finds everything the one could need for the stay. Larry was a wonderful host, who guided carefully through all the procedures, and we were informed about everything we needed to know with smallest details. The house is situated in the very quiet area, accessible with car only. Highly reccomended!
Jurga & Audrius
2017-02-01T00:00:00Z
Larry sent a detailed email when I booked the villa with great pointers for how to make arrangements for our stay -- like pre-booking the jeep during a busy holiday period -- that made our stay super easy. The jeep is needed, as the villa is up a steep road with both paved and unpaved sections -- not for the faint of heart, but the drive is soooo worth it! The villa was even more beautiful than the pictures depict, and the views are amazing. The layout is perfect -- two master suites flank the common living/dining room and a third bedroom with twin beds and a bath is upstairs. The outdoor furniture is comfortable, making a second living/dining room under the stars. The beds were comfortable, and with the open windows we could hear the music of the birds and the wind. The villa has a nice selection of movies, books, board games and puzzles for entertainment inside, and beach chairs, small coolers, pool floats and some snorkeling gear for outdoors. There are at least two markets nearby in Coral Bay, with everything one will need. You do pay "island prices" for groceries, so shop thoughtfully -- true all over the island. There are several good restaurant options nearby -- we particularly liked Aqua Bistro and Skinny Legs. You are a 15-20 minute drive from Maho Bay and Trunk Bay. Palladio's Villa is a perfect "home base" to explore and enjoy St. John -- we can't wait to find a way to return!
Michele
2016-12-28T00:00:00Z
The house and view was exceptional! Even had monogrammed beach towels for each bedroom. I plan on going back~
Cynthia
2016-10-10T00:00:00Z
Great place to stay if you are adventurous and want to get away from the crowds. Great views, peace and quiet and did I mention, it has a private pool and hot tub!!!
Mike
2016-12-03T00:00:00Z
Oda Tipi
Tüm ev/daire
---
Mekan Türü
Ev
---
Konaklayacak Kişi Sayısı
6
---
Yatak odaları
St. John, VI, ABD Virjin Adaları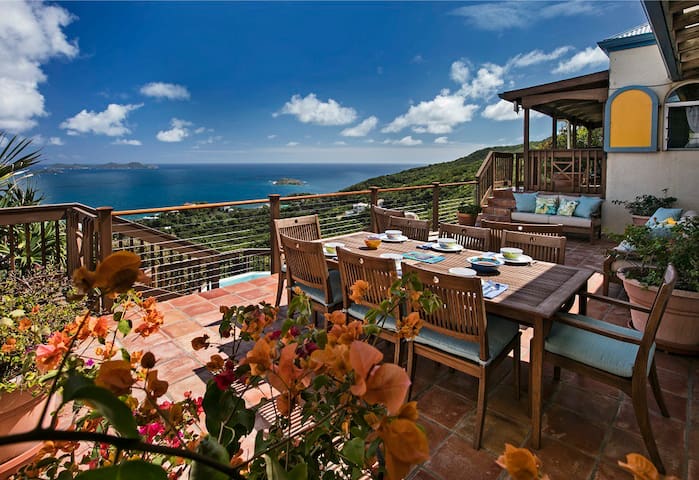 Located in central Tortola, This private downstairs suite gives easy access to all parts of the island (especially surf beaches).. You'll love my place because of the views, the location, and the ambiance. My place is good for couples and solo adventurers and surfers.
We try to keep the space as clean as possible. Tbh the listing is not huge but I can guarantee a clean, comfortable experience.
Our "neighborhood" consists of rich vegetation and wildlife.
I had a wonderful time staying in Tortola. Robert and his family are very welcoming and accommodating. They put a lot of efforts into trying to make sure everything is okay. They offered me rides into town and even called several car rental agencies for me. The place is very well kept and has everything one needs. Communication was easy, I always got an almost an immediate response to all my questions. I highly recommend staying with this lovely family!
Susann
2016-12-17T00:00:00Z
Robert and his family were perfect hosts. Incredibly friendly family with a genuine interest in who you are. If, like me, all you need is a bed and a shower this is what you're looking for but it even comes with a little kitchenette if you want to cook a meal. All in all, a great experience with some very nice people.
Simon
2017-02-10T00:00:00Z
A perfect welcoming, the house is very well placed, cereals, tea and coffee are available for breakfast. It was very nice to stay in this place!!! Go go go
matthieu
2017-01-13T00:00:00Z
What a wonderful place high above Roadtown with a nice big deck and beautiful ocean view. Robert was quick to respond to messages. He met us upon arrival and carried our bags to the room. The room has a private entrance, was clean, has a hot pot to heat water, a mini fridge a microwave, dishes and silverware. There was cereal, milk, coffee and tea waiting for us. The bathroom had a spacious clean shower with hot water and toiletries plus super soft egyptian cotton towels. The bed was very comfy too. I was sick with a bad cold and Musonda brought down cough syrup and lemons and limes for my tea! This is a wonderful place to stay if you have a rental car to get around the island to go to the beaches or to/from the ferry docks if you want to take day trips out to Jost Van Dyke or Virgin Gorda. About 45 mins from West End ferry, maybe 20 down to the Roadtown ferry by car. We absolutely loved Musonda and hope to see her again. Would definitely stay again if I have a rental car.
Lisa
2016-12-07T00:00:00Z
Robert and his mom were very welcoming and helpful. The place is located in a nice residential area which is very quiet and peaceful. You will definitely enjoy the view of the ocean.
Ira
2017-01-27T00:00:00Z
Dear Robert, Thank you so much for providing a fantastic home-base for our vacation on Tortola - here are our comments about your place... Robert's AirBnB listing was everything and more than the listing stated - in our estimation, a model of what AirBnB listings and hosts should ALL be. Our small suite was exceptionally cozy & quiet, private, clean and well-organized. A plus: the front patio was like our private oasis overlooking the ocean far below ! Robert and his family were available to help us with everything and anything we needed. They are extremely thoughtful, warm, gracious and polite hosts. We rented a 4 wheel drive vehicle for our island stay - the best and only way to get around this beautiful island. (Please note that driving here can be very challenging.) We're happy that we were able to visit BVI economically and stay within our budget by staying at this exceptional AirBnB. Once again, thank you Robert and family... We highly recommend your listing to others ! Sincerely, Caelen and Gillian
Caelen
2017-02-05T00:00:00Z
This place is perfect for one person or a couple. We stayed here for 2 nights and loved it! It is in a very nice and quiet area. The view is beautiful! Everything is there, mini fridge, nice bathroom, airco, wifi.. thought about everything. Robert and his family where very helpfull and friendly. We definitly recommend this place!
Lisa
2016-10-24T00:00:00Z
Listing was just as described. Hosts were very helpful and would stay again!
Andrew
2016-12-12T00:00:00Z
Oda Tipi
Özel oda
---
Mekan Türü
Ev
---
Konaklayacak Kişi Sayısı
2
---
Yatak odaları
Road Town, Tortola, Britanya Virjin Adaları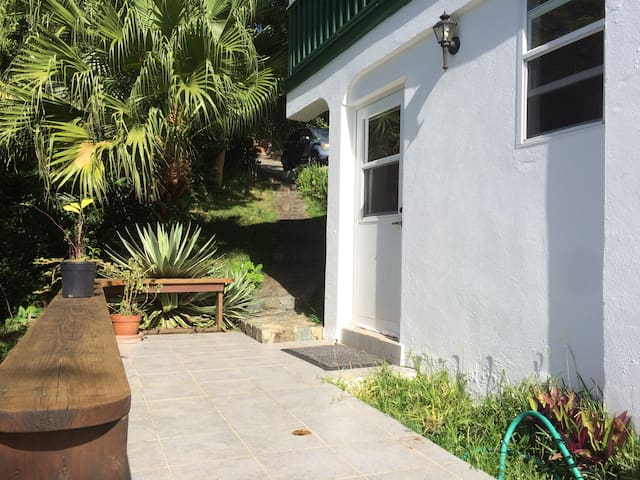 Beautiful property in Road Town, stunning views overlooking Road Harbour. Recently renovated and redecorated to a high standard, two air conditioned bedrooms with en suite bathrooms. Fully furnished throughout including washer dryer, TV and Wi-Fi.
We loved everything about staying in this apartment! It was exactly as described- very modern but with quirky split levels which added some great character. You can tell that it was recently refurbished as everything is new- it has been finished to a high standard throughout and has all the basics you need for your stay! The double glazed windows ensured that it was a really quiet and peaceful night's sleep! There was AC in the bedrooms and fans in other rooms which kept it really cool! My favourite spot was the balcony at the top level- loved looking out over the water watching all the boats coming and going, particularly in the evenings with a glass of wine. This apartment is a great location - only 5 minutes walk from Rod Town where there is a choice of restaurants with lots to see and do- we enjoyed shopping at the new Tortola Pier Park! Just 3 minutes away was a grocery store and only 1 minute away was a restaurant called The Pub- best Bushwacker (cocktail) we had during our time! Our host Ian was super helpful and very knowledgeable of the local area. He recommended some lovely restaurants for evenings out in Road Town and even helped us to arrange car rental for a few days so we could explore more of Tortola. I will definitely be staying here again when I next visit!
Laura
2016-04-09T00:00:00Z
Ian is very helpful and prompt to reply. Pleasure to work with throughout the booking.
Ryan
2017-01-01T00:00:00Z
Clean apartment with all the amenities we needed. Ian is easily reachable and responds very promptly. Location is good, within easy reach of capital city, grocery store and restaurants. Only negative we had was noise in the area - from the laundry room adjacent to (but not part of) the apartment and construction work ongoing in other apartments in the building.
Humphry
2016-10-27T00:00:00Z
It's a 4 story walk up with a great view from the roof deck, kitchen/living room and bedroom over the bay. Right on the water.
Lisa
2017-01-09T00:00:00Z
The apartment is in a wonderfully central location. Restaurants, ferries and shops are all in walking distance. It was ideal for our stay. The space is large and airy, perfect for a family. We enjoyed the large kitchen and outdoor balcony. The apartment overlooks the ocean and has great views. We felt very fortunate to be staying there. Our host, Ian, was exceptional. He answered every call and helped us navigate our way around the island. We'd love to go back again and would definitely try to stay here.
Debra
2016-04-21T00:00:00Z
This apartment exceeded our expectations! (My husband was blown away when he realized there are two full bathrooms in the unit.) The eat-in kitchen has tons of space and everything you need to whip up a home cooked meal not to mention the fabulous washer and dryer hidden under the counter. It is bright and airy and perfect for anywhere from 2 to 4 people. AC units worked like a dream and were a welcome reprieve from the heat outside at bedtime. Our family enjoyed our time and like another guest mentioned, we felt fortunate to have been able to stay there. Ian was a great host; responsive and personable! He and his team are a stones throw away if anything pops up during the day time and easy to reach by phone outside of that. The property is located within the general vicinity of Road Town and it was easy to get to good food whether groceries or the amazing patties at Crandall's around the corner. You're about 30 minutes away from the beaches in either direction.
Crystal
2016-07-13T00:00:00Z
Spacious townhouse overlooking a marina and the Harbour. Was in town for business and it was convenient to be on the main road with parking. Water would go off at night which was a little frustrating but just part of island living, and one air conditioning unit in the bedroom broke but owners replaced with a new one. Clean and well equipped kitchen with good washer and dryer.
Elizabeth
2016-11-11T00:00:00Z
Ian was a wonderful host and met me at Road Town Ferry Terminal. Very nice accommodations AND great view. I will definitely stay there on my next trip to BVI.
Gary
2016-05-19T00:00:00Z
Oda Tipi
Tüm ev/daire
---
Mekan Türü
Ev
---
Konaklayacak Kişi Sayısı
4
---
Yatak odaları
Road Town, Tortola, Britanya Virjin Adaları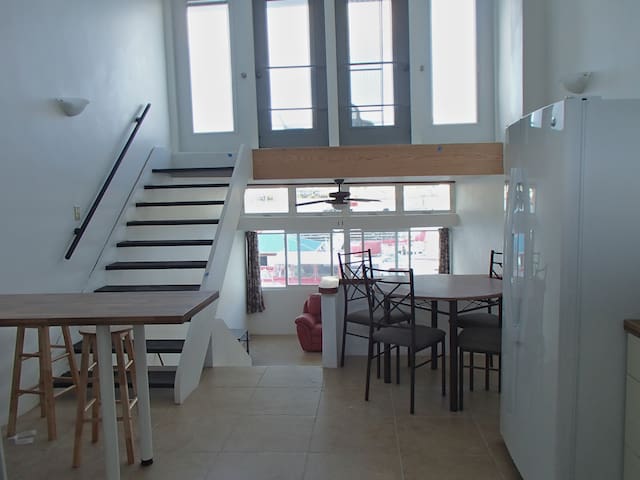 Anegada - Airbnb
:
272

misafir değerlendirmesinden,

5

yıldız üzerinden ortalama

4.92

yıldız
Tam fiyatlandırmayı görmek için tarihleri görün. Ek ücretler uygulanır. Vergiler ilave edilir.