Tam fiyatlandırmayı görmek için tarihleri görün. Ek ücretler uygulanır. Vergiler ilave edilir.
10 Kiralık
· Bangka Island
10 Kiralık
· Bangka Island
Having strategic location, you would love to explore Bangka Island. My mom could offer you private motorbike rental to go around. If you love to live local, this one is definitely must try.
It's located around (URL HIDDEN) room only for you. You can fully access to your room but you also can explore the kitchen and family room where there is a tv. I would be glad to help and provide you with information about tourism there and also place to eat, where to rent for a motorbike with reasonable price.
Neighborhood is very warm and full of hospitality. In the morning you can walk through and seeing traditional market where local people buy their daily foods. Beside my place, there is also local small restauran which serve indonesian food, a very healthy food from vegetables, we call it PECEL and also serve Bangka Noodles with fish soup. And also because my house in the centre of city, you can explore a beach, a very famous Pasir Padi Beach, 20 minutes by riding a motorbike from my house. You can rent a motorcycle or private car. Or I can arrange you transportation during your stay. But public transport is also available during day time until 5pm. Maintain cleanliness. My father is sick and he is suffering of stroke. But he has my mom who always taking care for him. No worries and my parents they really respect people and always helpfull. Especially my mom. You can ask her anything.
Great place to stay if you would like to explore the island! Strategic location convenient to get around town. Host also has good initiative to provide the necessary info like the current weather trend at location and urge to bring the necessary for the trip. She's also very informative and do check on you if you get what you're looking be it food or going places. Also provides info for recommended food stalls or places to visit. Recommended host with great sense of responsibility.
Ikhtiaruddin
March 2017
The house is close to the city center, so it's easy to go everywhere: beaches, museum, sea and airports. I was solo travelling, so I rented a motorbike from Tiara's mom. She's nice The house is in the neigbourhood, thus will be great to know Bangka from local views. Keep your GPS on in case you got disoriented
raras
January 2017
Oda tipi
Özel oda
---
Mekan Türü
Yatakhane
---
Konaklayacak Kişi Sayısı
3
---
Yatak odaları
1
Rangkui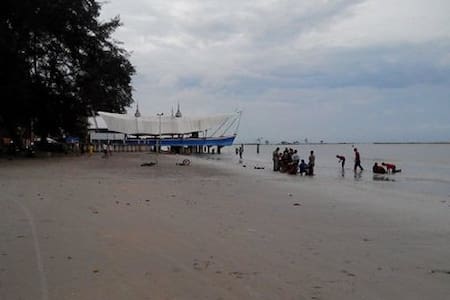 Tempat saya berdekatan dengan Kolong ti, kebun lada,lapangan futsal, tempat ibadah masjid dan gereja, , seni dan budaya lokal, , pantai sangat dekat, , aktivitas ramah keluarga bisa menjadi alternatif hiburan.
Oda tipi
Tüm ev/daire
---
Mekan Türü
Konukevi
---
Konaklayacak Kişi Sayısı
4
---
Yatak odaları
2
Bangka Regency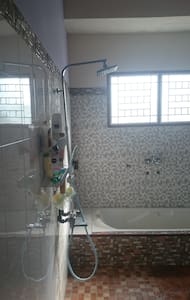 Location in downtown Sungailiat Bangka. Total 16 houses with 4 houses fully furnished and 12 houses except www.rumahcharsy.blogspot.co.id
Oda tipi
Tüm ev/daire
---
Mekan Türü
Ev
---
Konaklayacak Kişi Sayısı
4
---
Yatak odaları
1
Sungai Liat
My place is close to BES Cinema, Immigration Office, Rumah Makan Padang Pagi Sore (Nasi Padang Restaurant), and the beach. You'll love my place because of the location. My place is good for business travelers, families (with kids), and big groups.
Lovely place, clean, very well located, the nitty-gritty things were provided! Hosts were very warm, kind, helpful and respond promptly. We loved to stay here. Couldn't ask for more!
Imelda
December 2016
Clean, comfortable, full facility
wahyu
December 2016
Oda tipi
Tüm ev/daire
---
Mekan Türü
Ev
---
Konaklayacak Kişi Sayısı
7
---
Yatak odaları
3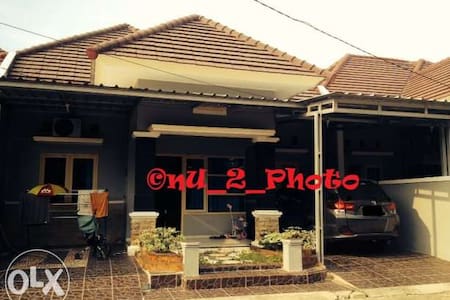 Puri Ansell is like a small village of 6 small villas and 6 apartments within a private resort. Each villa or apartment has one big room, a bathroom and a terrace. The location is right behind the beach, about 50m distance to the water.
You will have your own villa or apartment with your own terrace in front of it, but will share the premises and the private beach with the other guests.
Puri Ansell is located right behind a private beach, but you can walk along the beach to the public area, where it is crowded with visitors during weekends, or see the sea turtle conservation located next to the public beach. There is a good restaurant right outside the resort that Puri Ansell belongs to. On the public beach about 200m north of Puri Ansell, you can enjoy various watersport facilities like jetski, banana boat, kite surfing or boat trips for fishing.
One thing that we did not appreciate so much is that we could not arrive on the appointed day, due to flooding in Pangkal Pinang, but were given only a 50% credit for an extra nite to make up for the nite that we missed.
Alex
February 2016
Oda tipi
Tüm ev/daire
---
Mekan Türü
Daire
---
Konaklayacak Kişi Sayısı
2
---
Yatak odaları
1
Sungai Liat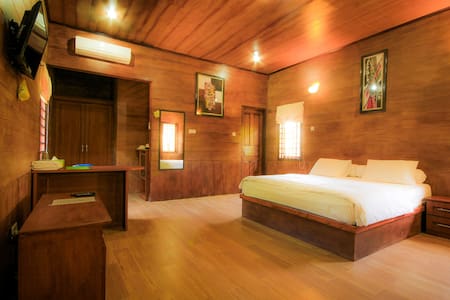 Lagi jalan-jalan keliling Bangka Barat terutama Jebus, Parit Tiga atau sekitarnya? Jadikan Penginapan Asia sebagai tempat anda untuk istirahat anda. Akses internet kami menyediakan Wifi di seluruh area gedung, terdapat juga tempat parkir gang cukup luas. Akses dari bandara ke penginapan bisa menggunakan mobil Damri tujuan Parit Tiga, mobil sewaan/Travel dan Bus.
Penginapan Asia berada di Parit Tiga, Jebus. Bangka Barat. Akses dari Bandara ke penginapan bisa menggunakan Bus Damri tujuan Parit Tiga, Mobil Travel maupun Bus. Untuk bus tujuan Parit Tiga berada di Jl. Mentok pangkal pinang, bus berada di samping Pertamina. Untuk yang suka pantai nih, ada beberapa pantai yang bisa kalian kunjungi antara lain: pantai penganak, pantai bakit, pantai siangau sampai pantai pala. Penginapan Asia adalah pilihan tepat untuk anda yang membutuhkan waktu istirahat.
Oda tipi
Özel oda
---
Mekan Türü
Ev
---
Konaklayacak Kişi Sayısı
2
---
Yatak odaları
1
Kabupaten Bangka Barat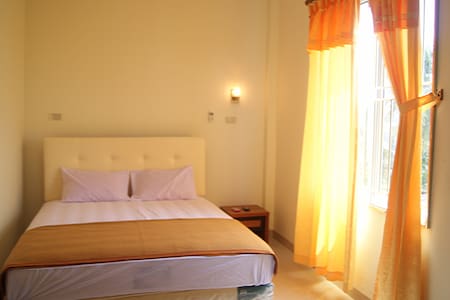 Villa Batu Bedaun is located in Bangka Island. This Villa is the best choice to Family Guest who looks for private accomodation. Offering 5 luxury and lovely bedroom with generous facility to equip your stay. Beach is reachable exact at back of villa
View from the rooftop is directly facing to the Batu Bedaun Beach. Fascinating panorama in early morning to neutralize your energy. Breezes of wind and fresh air will bring positive day to you. Walkable beach and nice spot to take a jogging activity in the morning. You can enjoy the real private stay in Bangka Island with private beach nearby. If you want to try local food, culinary choices are easily found nearby Villa. Stay with us and feel the comfort. To get to this Villa you have to take local trasnport from Pangkal Pinang Airport to Sungai Liat Street. Try to find Gang Ranau (small path heading to our Villa. The trasnport minibus will be cost around IDR 200.000/car.
Local culinary just 10 minutes from Villa. Easy access and several choices of food. You have to use private vehicle to get around since our Villa is located not in the central of town
Oda tipi
Tüm ev/daire
---
Mekan Türü
Villa
---
Konaklayacak Kişi Sayısı
13
---
Yatak odaları
5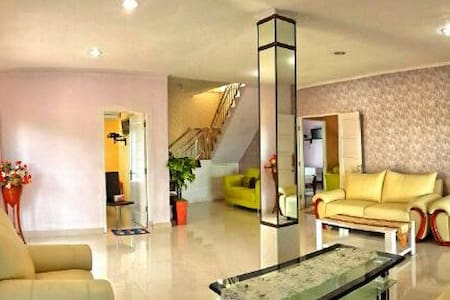 Babe Resort di Pantai Siangau Pala, Teluk Limau merupakan tempat yang cocok untuk wisata keluarga, terutama jika ingin beristirahat di daratan rendah seperti di pantai. Selain menyediakan tempat beristirahat yang memiliki pemandangan pantai secara langsung, tamu dapat juga menikmati keindahan alam dengan berenang di pantai kapan saja dan melihat batu-batu unik di sekitar beserta flora dan fauna yang ada.
Babe Resort is a private place that is rented out to guests to enjoy the attractions on the island of Bangka, Bangka especially the West. With the concept of natural wood huts and small houses, this place can make you feel comfortable and quiet to enjoy the holidays. Besides a place to stay, guests can enjoy a large parking area and swimming at the beach for free anytime, depending on sea conditions. The breakfast is also available with a restaurant that can be ordered food. Places of worship such as prayer room is also available so guests do not be confused about the place to pray.
Babe Resort is located in the highlands of the Gulf coast Siangau Pala Lemons are still very natural. 3 hours drive from Depati Amir, Pangkal Pinang to use private vehicles. Since this place is a place that is still very natural, guests are expected to maintain the cleanliness and conservation of nature is all around babe resort.
Oda tipi
Özel oda
---
Mekan Türü
Doğa içinde pansiyon
---
Konaklayacak Kişi Sayısı
5
---
Yatak odaları
5
Parittiga
View yang bagus, dan sangat tenang. menambah liburan anda menjadi menyenangkan
Oda tipi
Özel oda
---
Mekan Türü
Dağ Evi
---
Konaklayacak Kişi Sayısı
4
---
Yatak odaları
1
Pangkal Pinang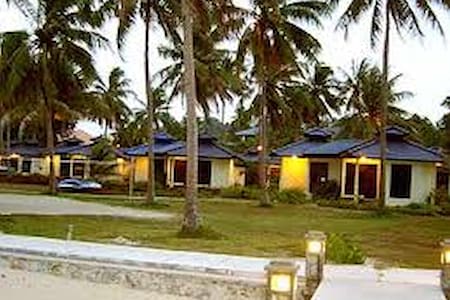 Saya disini hanya ingin menyediakan tempat bagi kalian yang mungkin ingin beristirahat sejenak.
Oda tipi
Özel oda
---
Mekan Türü
Oda + Kahvaltı
---
Konaklayacak Kişi Sayısı
2
---
Yatak odaları
1
Toboali