'Where you'll fall asleep listening to the waves Avoid the hectic life and noise of San Juan and spend a relaxing vacation in the small town of Barceloneta just 50 min from the SJU Airport. Theres a beach and a creek surrounding the house
The house has 3 bedrooms, one bathroom and a big yard with a gate that takes you right to the beach. Room 1: One Full size bed. Sleeps 2 persons ( a/c) Room 2: One bunk bed and one Twin size bed. Sleeps 3 people ( a/c) Room 3: One single bed (fan). Sleeps 1 person
The house is located on the most beautiful area of Barceloneta. During the week you barely see anybody around, it is very quiet. There is some movement during weekends with people enjoying the beach, either swimming, celebrating birthdays, fishing etc. A few blocks from the house you will find very popular kiosks were locals serve fresh sea food ( a lot of people come from different towns just for this)
I'm just going to describe it like this: It's like a dream come true!!! It's like living in a dream house. The view is amazing!!!!! The sounds of the waves and the nature surrounding the house add that extra touch to the tranquility that you feel being there. I recommend this get away to anybody that wants to spend their best vacation ever. Very quiet neighborhood. Beach is right at the backyard's gate and the stream is right in front of the front gate. It have a huge yard where you can enjoy of nature.
Gerardo
2015-08-21T00:00:00Z
This was indeed a pleasant place to stay! The house is a beach house... nothing over the top but I think Che could actually describe the space its on and around much brighter than it states now. The river right next to the house is ridiculously awesome. Amazing to kayak up and see so much great wildlife! There is also a great swimming spot right next to the bridge that the river goes under that we didn't find till the last day that is not mentioned. The beach the house is on isn't to good for swimming but very lovely for sea shelling, and the pier adds some great character to the space. Down the road not to far are some super cool caves and petroglyphs to explore as well as beaches not to far from the house in both directions. It's basically awesome! =) And it would also be a really great spot for kids! I don't have any but I have friends with some great little gremlins =) and I very much look forward to organizing a trip with them to come explore it. Thanks much Che, heaps appreciated!
marcus
2016-01-02T00:00:00Z
Cozy home in a great location! Che's place was clean and thoughtfully equipped with just about anything you could possibly need. This is the sort of place that most people only get to dream of having. The home sits on a nice piece of lush green land and is surrounded by compound walls which gives a nice sense of security and privacy. Wander out the back gate and you could walk on the beaches for days. There are several great restaurants in the area that you can easily walk to. Check out Kapi Kapi when there is live music. The locals are great and quite fun. Che's place is a perfect start point for day trips around the island and is quite close to some great shopping options. Hoping to come back and stay here again quite soon.
Shawn
2016-03-27T00:00:00Z
The host canceled this reservation 21 days before arrival. This is an automated posting.
Theresa
2015-06-17T00:00:00Z
What an experience!!! Che was a wonderful host. He's house was perfect for my parents, my daughter, my wife and , I. Every night we would go to sleep to the sounds of the ocean and wake up refresh. We had everything we need it! I wish I would have stay longer. My three year old loved she had fun going every morning to the back yard and walk to the pier. Che gave us a gps to get there and it worked great he went out of his way to meet us at the airport and give us the house keys. We are grateful for his kindness and hospitality.
Francesca
2016-04-10T00:00:00Z
Che's was a wonderful host. I appreciate his meeting me at the car rental with a GPS and smile. Our stay was quite long (3weeks) and Che prepared for that. Upon arriving at the house.. we were awestruck by the surroundings. We fell asleep and awoke to the ocean waves and sounds of the wild life. The friendliness of the locals is unmatched by any place I have ever been. The pier is perfect for fishing or sunbathing. Che made sure we had kayaks on the property and my children loved it. My children are 4,5, and 8 and they could have spent every day playing on our own beach and jumping off a nearby bridge. Many locals speak English and if they don't they will stand with you as long as it takes to figure whatever it is out. I feel like staying outside of a tourist area is a must. There are so many places to see and many things to do within a short distance. Food is expensive unless you go to locals who often sit in front of their houses or run bakeries. Just know I never had a single bad meal here. I was well informed from Che on how to find local celebrations.. we were here for Christmas which last much longer here. On holidays the island shuts down for the most part. So do your homework before you come. Walmart, Sam's Club, and outlet shopping are only 20 mins away. A laundry mat is located on the right hand side across the highway from Walmart. I'm sure I could write many more wonderful things. I can tell you I travel extensively and I will be staying at Che's when in Puerto Rico.
Heather
2017-01-07T00:00:00Z
It was as nice and quiet stay at Cesar's families beach house. The rooms were clean as well. Cesar get us a GPS over the rental time, which was helpful to find some attractions and beaches around the area, thanks for that. We were in contact with Cesar above our stay and he was really friendly and helpful during our trip through PR. A good stay if your independent (car rental !). You will need a car to get to some good beaches around the area.
Steffen
2015-01-02T00:00:00Z
So glad I made the decision to stay at this little waterside house instead of in a more touristy district. There's nothing better than falling asleep to the sound of the surf. The house was clean enough for my standards and has a full kitchen (microwave, fridge, sink, coffee maker, camp stove w/ gas). No hot water except in the shower, which was fine. The whole yard is enclosed by a high fence and wall with gates you keep locked. Things renters should be aware of: this is not a touristy area, so most nearby shops and restaurants cater to locals. It took me a day or two to get used to the narrow, windy roads. There are usually guys fishing from the pier, so you'll want to keep the gates to the yard locked. And there is no wifi, and for me no cell service, at the house (service was ok in town). I found this Barceloneta location ideal for exploring some mountain sites off the beaten track, and really enjoyed my trip to the nearby sugar cane plantation Hacienda Esperanza.
Amanda
2015-01-29T00:00:00Z
Oda Tipi
Tüm ev/daire
---
Mekan Türü
Ev
---
Konaklayacak Kişi Sayısı
6
---
Yatak odaları
Barceloneta, PR, Porto Riko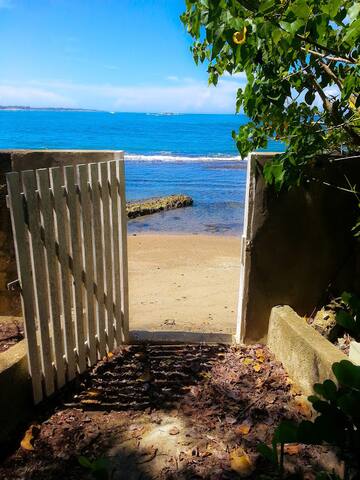 This private room is located nearby several beautiful beaches that are within walking distance. Beaches include La Poza de las Mujeres, Cueva las Golondrinas and la Esperanza Reserve. (URL HIDDEN)
Walking distance to the beaches.
Calm. Fresh.
Nice !
Pierre-Abel
2017-04-02T00:00:00Z
Its was all perfect very friendly mum and sweet
Camai
2017-01-13T00:00:00Z
This location is a nice getaway from the normal busy life! It is slightly secluded from the main part of town, which means it is VERY close to the beach. Certainly not a bad thing! Wanda's mother is incredible and will indeed make amazing coffee and food. I would recommend this location to anyone wishing to see beautiful beaches and local culture. It is also not too distant away from Ciales and San Juan. The room and property were very well kept and the amenities were just what we needed. Highly recommend!
Mac
2017-03-16T00:00:00Z
Perfect place
Axel
2017-03-26T00:00:00Z
My husband and I stayed one night with Wanda's mom at her house and it was very lovely! The room and bathroom were clean and had a private entrance (no need to go inside the main house), which was nice specially since we arrived late the night before! The location is great if you want to visit some of the nice beaches in the area or do some shopping at the outlets. :) The only thing is that depending how you sleep you might feel some of the springs from the mattress in your back, although for us it wasn't a big deal since we were so tired. Wanda was very responsive to messages and her mom was very sweet. We enjoyed breakfast and coffee before heading out for the day!
Cristina
2017-02-02T00:00:00Z
Nice and clean place nice host in great area and peaceful place to stay and relax
Joel
2017-03-08T00:00:00Z
Wanda and her family are wonderful hosts . They were very helpful in helping us locate the house. Its a cute beautiful house. We would recommend the place. Her mom prepared superb local coffee.
Srikar
2017-01-15T00:00:00Z
Good place to stay for the night. Right by an awesome beach to hike. Very nice lady. Does not speak English though.
jaclyn
2017-03-10T00:00:00Z
Oda Tipi
Özel oda
---
Mekan Türü
Ev
---
Konaklayacak Kişi Sayısı
2
---
Yatak odaları
Manatí, Manatí, Porto Riko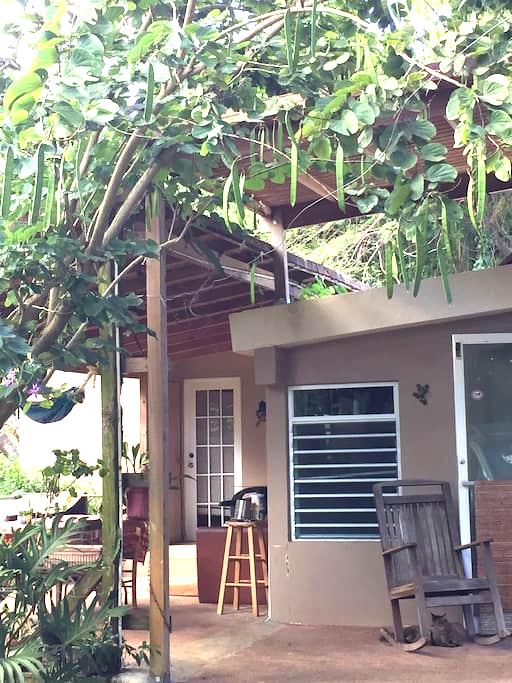 Atlantic Ocean beach front house in the north of the island of Puerto Rico; west of the capital city, San Juan. The property is located a few minutes away from Hallows Beach, a paradise for surfers, one of the best beaches known internationally.
Atlantic Ocean beach front house in the north of the island of Puerto Rico, west of the capital city, San Juan. It is located in a quiet neighborhood perfect for weddings, family reunions, corporate getaways, spiritual retreats and sport camps. The house has a spacious living room, a dinning room, kitchen, six bedrooms (it comfortably fit 16 people), four bathrooms, beautiful swimming pool, large activity room besides the pool, well kept garden and parking space.
It is very quiet neighborhood. You will only hear the sound of the beach waves and the breeze.
My family of eight, three generations, stayed at La Posita de Catalina for 5 nights over New Year's eve and it was a lovely experience. The house is comfortable, with a fully equipped kitchen (enough dishes, flatware, glasses and wine glasses for all of us and some friends who passed through, plus pots and pans and kitchen implements), a big balcony, 5 bedrooms (with another one in the "pool house" and enough sheets, pillows and towels for bath and beach, although no air conditioning to muffle the street noises, just ceiling fans), 4 bathrooms, a large pool, picnic tables and a large lot full of trees. It's a little rundown, especially three of the bathrooms, but it has its charm. The house is across from the beach, which is a mere 50' away, more or less, on a busy coastal road. The beach is rocky but there is a small natural pool. There are many beautiful beaches nearby with coves that protect them from the rough winter-season ocean, such as La Esperanza and Mar Chiquita in Manatí to the east and La poza del obispo in Arecibo to the west. La cueva del indio, a site with Taíno indian petroglyphs, is down the road, a magical place. So there is a lot to explore in the immediate area. Bakeries with good bread, small markets with basic items, a supermarket, and a large outlet mall are very close. Any needs are easily taken care of. The only two drawbacks were that the area has many stray dogs, all hungry and covered in mange, ticks and fleas. Four very sweet, cute and lovable dogs were on the property and their pathetic situation broke our hearts. We did not feed or touch them but our stay was definitely marred by that and we ended up not even sitting on the terrace and taking advantage of the ocean view and the cool breezes. If the property were fully fenced in (not just chicken wire or partial cyclone fencing), the dogs would not find it so easy to come in. The other one was the lack of TV, cable, internet, wi-fi (all out of service, waiting for the company to come by and fix it over the holidays), and a dryer (clothes lines are hung under the trees) which were part of the house's amenities and, of course, of the price.
Susan
2014-01-04T00:00:00Z
We rented the house for a small wedding and it was a great choice. We had the ceremony right on the beach in front of the house. It was very scenic and we didn't see any other people out there during the four days we were in the area. The beach house itself had more than enough room to accommodate our small wedding party. We were also able to set up a DJ in the pool area and use the cabana house for the reception. The property was beautiful. We had some issues with the electricity during the first night of our stay, but Ligia had an electrician come out and make repairs really quickly. Other than that, I do recommend stocking up on mosquito repellent. We appreciated the polite and responsive communication. Thanks for hosting our special day!
Chantel
2016-12-11T00:00:00Z
The house was perfect for our group of 8 and could easily accomodate many more. Our host gave good directions, and her housekeeper met us to give us keys, and even though she didn't speak much english, we felt well informed by her. A lovely little beach is right across the street, and down the road a ways is a bigger better to swim at beach, but honestly we spent more time in the pool. The kitchen is a little cramped but it was clean and functional. She told us to stock up on supplies in San Juan, and we did, but there are big grocery stores in Arecibo just 15 minutes up the road. The house felt like it was designed to host parties. We almost always ate on the front porch where we could see the ocean. It was really nice to be able to do laundry. We would totally recommend the house.
Bon
2015-12-27T00:00:00Z
This is the best beach house in Puerto Rico. Carmen was very easy to communicate with and made the check in/out smooth and easy. This house is perfect for a large group. Situated on the beautiful north coast of Puerto Rico, the house is fairly easy to get to from both San Juan and Aguadilla airports. The house is isolated from major traffic and tourism, but conveniently close to a very charming little town named Barceloneta, with a supermarket and plenty of fresh fruit stands with cold fresh coconut water minutes away. The house is quiet, clean, safe, and stocked with linens. The backyard has an amazing lawn with picnic tables and a beautiful clean pool. A brief hot water problem was promptly taken care of by Carmen, and the pool was cleaned twice during our stay. If you want to get away with your family or friends, this is a great place. I'm looking forward to staying there again.
Michael
2013-02-26T00:00:00Z
Ligia y Bety estuvieron atentas y disponibles durante toda nuestra estadía. La casa es espaciosa y cómoda, aunque un poco anticuada. La playa esta cerca y el vecindario es tranquilo. Pasamos la mayor parte del tiempo en la terraza, escuchando el mar. Gracias!!!
Maria
2016-11-27T00:00:00Z
La Posita de Catalina Beach House was perfect for my large group! There were 16 of us and we were quite comfortable. There are five bedrooms in the main house (with beds for 14 people) and two bathrooms, and a pool house with one bedroom with one full-sized bed and 2 bathrooms. The house was clean and adequately supplied with sheets, towels and dishes. The grounds of the house were lovely and well kept. The property is located right across the road from a beautiful beach protected from the waves by coral, keeping it calmer than the surrounding beaches. It was relatively private during our stay. Carmen Ana was a great host and really easy to work with! She is kind, welcoming, and helpful. She kept in close communication during our stay, answering any and all questions promptly. I highly recommend this house!
Megan
2014-01-26T00:00:00Z
Our stay at La Posita de Catalina Beach House was so wonderful! I'd definitely recommend it to others and even go back there myself someday. Ligia was a great host and the house was perfect! (She wasn't in PR but I met her mother, a cook, and the housekeeper who were all helpful and friendly too, but it would help to know Spanish.) The property was beautiful and had plenty of space, indoor and outside! 10-13 of us fit very comfortably between the main house and pool house. Ligia and her mother also helped us with local suggestions and were very accommodating. The location was great, walking distance to a little beach and very close driving to more beach/food options. Such a beautiful area!
Katie
2016-01-05T00:00:00Z
Carmen was really good at communicating throughout the process. Her sister also got in touch when we arrived to make sure we were okay and Betty the housekeeper was there to show us around. Very nice people. The place was as depicted in the photos on the whole. The location is amazing. We loved the coastline. I am surprised there is not more development there. We didn't see another tourist for the first 3 days. There is a large supermarket in town and once you find your way around it's pretty easy to get what you need.
Rich
2015-01-02T00:00:00Z
Oda Tipi
Tüm ev/daire
---
Mekan Türü
Ev
---
Konaklayacak Kişi Sayısı
16
---
Yatak odaları
Barceloneta, Porto Riko
Beautiful Beachfront Villa. Interior staircase leading to a small but charming terrace with spectacular view. Two bedroom with full bed and one bathroom. Air Conditioning in Master Bedroom. Kitchen include small Fridge, sink, microwave, coffee express, cutlery, cups, plates. Table with 4 stools. Sofa, two armchairs and Flat TV with basic channels in the living area. Next to the Cueva del Indio Natural Reserve, Hollows Surf Spot and Gasolina Beach Club. Near best restaurants & Attractions; Salitre Restaurant, Arecibo Light House, Fun Valley Park, Plaza del Atlantico Mall. Poza del Obispo Beach and Surf Beach.The Villa is located in 681 Street, Km 7.7 in Bo. Islote, Arecibo, Puerto Rico. (The map do not mark the exact location, is right on the beach). Landmarks and places of interest Cambalache Reserve Caño Tiburones Marshland La Monserrate Refinery Ruins Las Criollas Beach Palmas Altas Beach Sixto Escobar Museum. I am looking forward to hosting you and hope you enjoy the house and the city!
Had a great time at this location. Alex was extremely accommodating. Sent me directions when requested and even had a cooler with beer, water and ice in the apartment for us when we arrived. The apartment was great, and it was wonderful being able to fall asleep to the sound of the beach right next to us.
Sandra
2015-02-17T00:00:00Z
This cute little unit is right between the beach and the road, so you get both sounds. The balcony is not really in the apartment, it's on the roof out a small hatch window. The beach is beautiful, but has rocks at the surf which is a little nerve-wracking. There's a rural feel here which is nice and it is convenient for exploring other beaches east and west, plus it's easy to get inland to the beautiful mountains.
Robin
2012-07-03T00:00:00Z
Oda Tipi
Tüm ev/daire
---
Mekan Türü
Ev
---
Konaklayacak Kişi Sayısı
4
---
Yatak odaları
Barceloneta, Porto Riko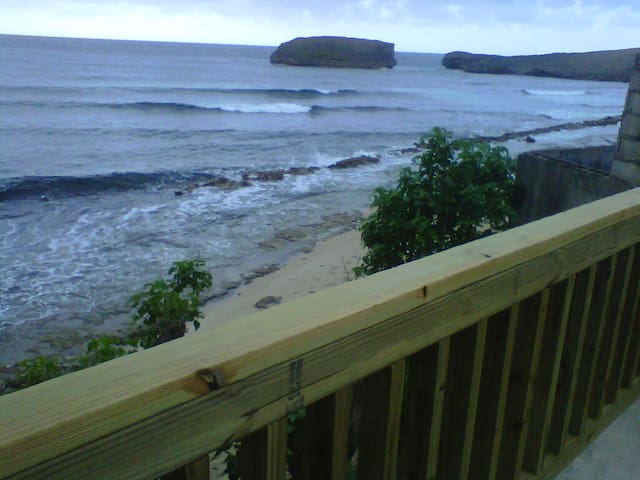 Barceloneta - Airbnb
:
56

misafir değerlendirmesinden,

5

yıldız üzerinden ortalama

4.91

yıldız
Tam fiyatlandırmayı görmek için tarihleri görün. Ek ücretler uygulanır. Vergiler ilave edilir.