Mit Blick auf die Bucht ist "Driftwood", eine stilvolle, offene Haus Scandanavian Stil Strand. Es ist nicht nur geräumig und luxuriös ist es perfekt auf den vollen Nutzen aus der Sicht zu nehmen, ob Sie sich auf der Veranda oder überall im Haus.
Driftwood Bay of Fires befindet sich am Strand befindet sich am nördlichen Ende von Taylors Beach, 10 Minuten Fahrt vom Binalong Bay. Das Haus hat zwei Etagen mit Parkplatz abseits der Straße die Einfahrt hinunter einschließlich einer offenen Tür Garage für die Gäste. Der Wohnbereich im Erdgeschoss mit einer Essecke, große Küche, ein geräumiges Wohnzimmer und Toilette. Im Obergeschoss befindet sich ein Zwischengeschoss in das Licht und die Aussicht auf den Ozean Aussicht zu nehmen. Es enthält drei offene Schlafzimmer und ein Waschraum. Das Hauptschlafzimmer verfügt über ein eigenes privates Bad mit Badewanne und ein separates Bad. Die beiden anderen Schlafzimmer teilen sich ein separates Bad und WC. Der Wohnbereich im Erdgeschoss öffnet sich über Schiebefenster Türen und Bi-Falten zu einem umfangreichen Deck auf. Ein weber Grill und Tische und Stühle liefern das Deck. Genießen Sie einen privaten Zugang auf den Strand, der nur einen Steinwurf vom Haus zu werfen ist.
Matt was very friendly and efficient during all our communications. He provided us with all the necessary information, and the house was as advertised. The home itself is very well appointed with all the utensils and amenities we needed. The location is the absolute highlight with an amazing view of the Bay of Fires. We felt very welcome on arrival and we could immediately start the fire in the fireplace to help with the cold weather. :-) Thank you Matt! Highly recommended....
Pieter
2015-04-26T00:00:00Z
The house is awesome location is prefect well layed out everything is there fantastic stay
Chris
2016-10-15T00:00:00Z
Amazing Beach House in The Gardens at Binalong Bay (Bay of Fires). The property was even more spectacular in person than the photos. Will definitely return. Matt was a wonderful host, nothing for us to do except relax.
Dion
2015-09-21T00:00:00Z
A gorgeous place with easy and welcoming instructions
Sharon
2016-03-03T00:00:00Z
I received an email from Matt that had all the information we needed. The house was welcoming, well appointed and comfortable.
Crosby
2015-03-03T00:00:00Z
Spectacular house and location!
Katherine
2017-02-21T00:00:00Z
Wow, what a place. We loved our short stay at Driftwood. It is situated in paradise, right on the beautiful beach. The house is well kitted out with a lovely wood fire. lovely kitchen. We were made to feel welcome. We loved the photograph books by the owners who share the story of how and why they acquired Driftwood, a lovely addition. We look forward to returning for a longer stay in the future. Thank you :-)
Clare
2015-06-06T00:00:00Z
Matt was a great communicator and took our last minute booking with ease. Driftwood was a slice of paradise that I honestly didn't realise Tasmania had to offer. It was just perfect! The house is amazing, the view is to die for and with just steps down through the back garden to the white sandy beaches. We loved the touch of sparkling upon arrival, and the tip to keep an eye out for whales (which we saw !! We spotted over 6 just from our balcony). Thankyou for a great stay. I do wish there were doors on at least 1 of the bedrooms. Although I love the open plan experience - we had a 2 year old with us, and unfortunately found it hard to put him to bed with any noise or lights on anywhere else in the house. Thanks again Matt and Driftwood - we will certainly be back!
Emily
2016-10-17T00:00:00Z
Oda Tipi
Tüm ev/daire
---
Mekan Türü
Ev
---
Konaklayacak Kişi Sayısı
6
---
Yatak odaları
Binalong Bay, Tazmanya, Avustralya
Eden ist eines von Tasmanien spektakulärsten und luxuriöse Strandhäuser. Es verfügt über ein Koch in der Küche und ist mit Kunst und Möbel von einigen Tasmaniens besten Künstler in Handarbeit gefüllt. Eden genießt eine absolute Strandlage mit gigantischem Ausblick.
Eden an der Bay of Fires ist eine von Tasmanien spektakulärsten und luxuriöse Strandhäuser und würde bequem in den Premium-Häusern in einigen der begehrtesten Orte der Welt sitzen. Entwickelt vom preisgekrönten Architekten Shane Denman, die Aufsicht und die Liebe zum Detail ist in allen Aspekten dieses hochwertigen Strandurlaub wider. Eden genießt eine absolute Strandlage an Taylors Beach, eine 4 km Ellipse von reinem weißen Sand und klarem, türkisfarbenem Wasser. Dieser Strand und Umgebung wurden vor kurzem habe eine der weltweit Top-Ten-Destinationen von Conde Nast Traveller und Reiseführer Lonely Planet. Das Haus ist geräumig und komfortabel und mit zeitgenössischer Kunst und Möbel von einigen Tasmaniens besten Künstlern und Handwerkern in Handarbeit gefüllt. Es gibt zwei Wohnbereiche, vier Schlafzimmer und drei große Bäder. Vier Glaswände wegrutschen die drinnen zu lassen und im Freien zu verschmelzen. Die voll ausgestattete Kochs Küche verfügt über Gaggenau und Viking Geräte. Die großzügig bestückte Speisekammer enthält Tee, Kaffee und Kochen Heftklammern für Ihren Gebrauch. Es ist einfach, Ihren Tag zu füllen. Walk the Strand (Sie werden oft haben sie alle zu sich selbst), schwimmen, surfen oder schnorcheln. Schöne Grants Lagune bietet Möglichkeiten für die Vogelbeobachtung und Warmwasserbecken. Oder entspannen Sie sich einfach mit einer Tasse Tee, ein gutes Buch und die Aussicht zu genießen. Am Ende des Tages genießen Sie ein Glas tasmanischen funkelnd in der Außen-Jacuzzi und beobachten den Sonnenuntergang über dem Strand. (Unser Outdoor-Jacuzzi ist verfügbar November bis April.) Eden ist für kurzfristige Aufenthalte, das ganze Jahr hindurch geführt werden.
Wow. Lynne's house is breathtaking. The pics don't go near to doing it justice. One night after a few beers we sat around the table, milling about selling our assets, pooling our resources and making Lynne an offer to buy it. Everything in the house is clean and amazing quality. Everything works. Everything is luxurious. I'm going home to throw out all my pots and pans and replace them with Lynne's brand. This is truly an experience that you need to enjoy. Having the beach right at your back door, being able to enjoy a beer whilst watching the kids, meeting the neighbours, all these things added up to being the best air BnB experience I've had. And I've had A LOT of experience. Go there.
Narelle
2017-01-27T00:00:00Z
This is a totally gorgeous part of the world. The bay of fires is fascinating, the natural beauty breathtaking and Eden at bay of fires does it justice. Super well organized, and amazing view, and amazing kitchen, great advice about what to do, tons of books and a pleasure to stay. The oysters from Lease 65 are ridiculously good. The open fire place is a gem and created a lovely ambience. The TV and music system was fun. Highly recommend a stay.
David
2016-11-03T00:00:00Z
Oda Tipi
Tüm ev/daire
---
Mekan Türü
Ev
---
Konaklayacak Kişi Sayısı
8
---
Yatak odaları
The Gardens, Tazmanya, Avustralya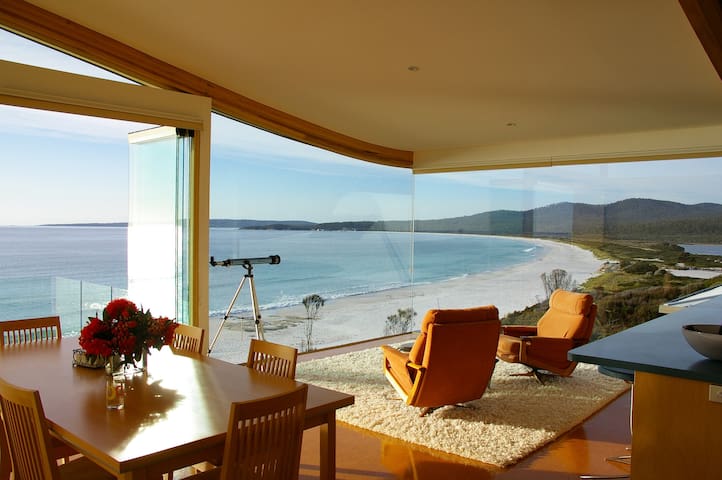 Tam fiyatlandırmayı görmek için tarihleri görün. Ek ücretler uygulanır. Vergiler ilave edilir.