Our comfortable three bedroom apartment is in a very quiet town of Bombarral but with all the essential amenities. Sit in a traditional cafe drinking espresso overlooking the beauty Portugal has to offer.
Gostámos imenso da casa, tem excelentes condições, todas as comodidades, muito boas áreas, muito agradável. Tem a vantagem de ter ótimas acessibilidades (perto da A8). Situada no centro da cidade mas em zona muito calma.
Marta
2017-02-28T00:00:00Z
Oda Tipi
Tüm ev/daire
---
Mekan Türü
Daire
---
Konaklayacak Kişi Sayısı
7
---
Yatak odaları
Bombarral, Leiria, Portekiz
Casa rustica na Azambujeira dos Carros a 3 Km do centro do Bombarral,a 1 KM da A8 a 10 Km de praias e do Surf Supertubos. Na zona da Pera Rocha e perto da famosa Bacalhoa Buda.Poderá ainda visitar Óbidos a 8 Km,e provar a famosa ginjinha, visitar o Castelo e avistar o Mar.Poderá ainda visitar o Santuário de Fátima,viajando pela A8,que está a 90Km do Bombarral.
Oda Tipi
Tüm ev/daire
---
Mekan Türü
Ev
---
Konaklayacak Kişi Sayısı
4
---
Yatak odaları
Bombarral, Leiria, Portekiz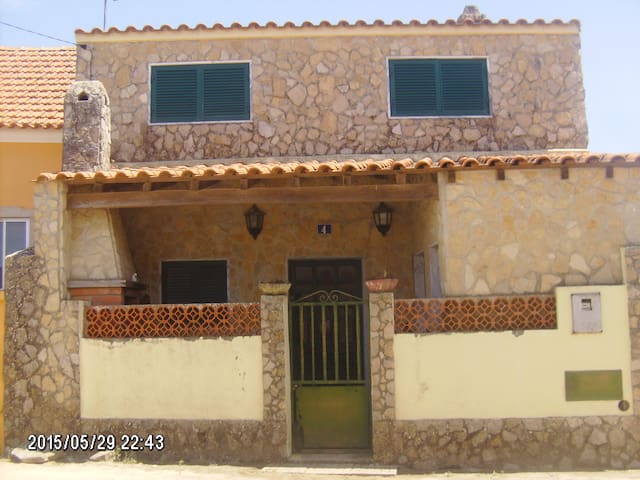 This townhouse is comfortably decorated and fully equipped with a lovely back patio where you can barbecue. Complete fitted kitchen. Hair dryer, iron and ironing board, towels and linens. Just steps away from castle walls and minutes from beaches.
Just steps away from the walled village, this townhouse offers the comfort of modern construction in a setting of tradition and history. 10 to 20 minutes from beaches, west cost surf schools and world renowned golf courses.
Place was spacious and clean. Really close to the castle walls and can walk to a restaurant in a few minutes. Would recommend.
Dexter
2017-02-06T00:00:00Z
Betty foi a melhor anfitriã possível. Realmente muito educada e simpática. Ela nos deu um suporte fantástico! O local é maravilhoso e tem uma vista muito boa para o castelo de Óbidos. Recomendo muito.
Arthur
2016-06-15T00:00:00Z
Betty made us feel very welcome as soon as we arrived. The house was perfect, couldn't fault it. Brilliant location too. Very peaceful and yet extremely handy for the beautiful town of Obidos and all it's cafes, bars and restaurants. Betty left us a bottle of wine and some biscuits, which was a lovely touch. The wine was enjoyed on the amazing private terrace with a barbecue on our second night. I wouldn't hesitate to return and would recommend to anyone wanting a Portuguese break.
Eleanor
2016-09-30T00:00:00Z
Betty nous a accueillis très gentiment en faisant l'effort de s'exprimer en français. Elle nous a fait visiter l'appartement qui était tout à fait conforme à la description. Les points forts sont sa fonctionnalité, une grande terrasse avec un barbecue, un parking couvert sécurisé et surtout une excellente situation au pied des remparts de la vieille ville qui est très pittoresque. C'est le point de départ idéal pour visiter le centre de l'Espagne tout en étant très proche de l'océan. Nous espérons avoir l'occasion de revenir dans les prochaines années.
Gilles
2015-09-17T00:00:00Z
Très charmante location, propre et très spacieuse pour le couple que nous sommes ! Super bien équipée, jolie déco,au calme et au pied des remparts. Avec en prime le barbecue sur la terrasse, au top ! Betty nous a accueilli avec son sourire et sa jovialité en plus de nous donner de très bons conseils. Un super séjour, merci encore !
Marion
2016-09-09T00:00:00Z
We enjoyed our stay very much. The location is really good within walking distance to the historic centre. The appartment is quite spacious, comfortable and clean. Betty is very kind and helpful.
Ingo
2015-04-11T00:00:00Z
Betty ist eine sehr kommunikative und engagierte Gastgeberin. Check-in und Check-out verlief sehr unkompliziert und nach Plan. Die Wohnung ist schön eingerichtet und hatte für unsere eher bescheidenen Bedürfnisse mehr als das nötige an Einrichtung. Einzig die Bratpfanne war veraltet und die Belichtung in der Küche ungünstig. Sehr sauber und aufgeräumt mit geräumiger privater Terrasse inklusive Grill. Sehr zu empfehlen!
Stefan
2016-09-22T00:00:00Z
Great experience. Our host Betty was a pleasure to deal with from start to finish. The property was clean and had everything we needed for our stay. A gem within walking distance of all amenities and very easy to find. Would highly recommend.
Jane
2016-11-15T00:00:00Z
Oda Tipi
Tüm ev/daire
---
Mekan Türü
Ev
---
Konaklayacak Kişi Sayısı
4
---
Yatak odaları
Óbidos, Leiria, Portekiz
A cozy old style cottage, where you can find all you need to spend a romantic days near the castle of Óbidos. Inside a private land, it is located 1500 meters from the castle. Perfect for those who like to walk or ride a bike, to get to the village.
This is a very old house, rebuilded in 2013. It has the purpose to accommodate two guests. Although, there's a possibility to put a single bed for a third guest. Different from most of the rustic houses, this one is not inside the walls of Óbidos. Though, it is perfect for those of you who like to sleep in a more silent and quiet place, rural land, and at the same time, being close to the Village and Castle. There are two folding bikes available for renting (per day or season), easy to deal and easy to keep them inside the house. You're also not far from the Lagoa de Óbidos (Óbidos lake), it is a heartbreaking place so you definitely shouldn't miss it. Around 20 minutes far by bike. The land where the house is located, is a private farming property. There's is a terrace just next to the house, where you can chill and enjoy the sunset. A pool is available for summer, under some conditions, as it is attached to another house and we don't want to be too noisy for the people. All in all, I find the place peaceful and quiet, so feel free to come and see it with your own eyes ;)
The house is not far from the street that leads you to the Village and Lagoa de Óbidos, but you will not find any neighbourhood. There are two more houses in the property, where people live. They are away most of the time, due to their professional lifes.
We really enjoyed the peace and quiet of this lovely setting after the hustle and bustle of Lisbon. Great location for exploring the walled city of Obidos!
Kate
2016-06-21T00:00:00Z
The cottage is very cute and deceptively large inside. The bikes are a great addition and make getting into Obidos very easy. The cottage is situated just a 15 minute bike ride away from the beautiful medieval town. This is a great place to stay if you are travelling from Lisbon as there is a direct bus that takes you to Obidos, from which you can get a taxi to the cottage for roughly 5 euros. It is also situated near to Obidos lake (roughly 30 mins by bike), but beware that if you want to go swimming/sunbathing at the lake, you must go all the way to the furthest end. which takes about 2.5 hours by bike. We did not meet Tiago as he was out of town but he was helpful in answering our questions both before and during our stay in his cottage. There is a pool, but note that it is attached to the neighbors house, and therefore you cannot use it as you please. However, the cottage was clean and comfortable, perfect for a couple.
Helen
2015-07-05T00:00:00Z
We had a wonderful time at Tiago's countryhouse. The apartment itself is much bigger than it appears on the fotograph, we had everything we needed during our stay. The quitness and peaceful atmosphere of the surrounding gave us a very relaxing time there. Even if it was not possible to meet Tiago face-to-face, communication went always perfect, the arrival was without problems since the description for the entering is perfectly described. It's a pity that we only had such a short time to spend there and we would love to be once again guests there in the future!
Peter
2016-08-09T00:00:00Z
Everything was as we expected. The house is charming. We used the kitchen, that was very convenient to have. Tiago was very easy to communicate with and attentionate. We're happy of this experience, thank you!
Christine
2015-07-17T00:00:00Z
We didn't meet Tiago personally but we kept in contact on line. His little cottage was very charming and close to the castle. We had everything we needed. The tiny cottage was clean and the bed was very comfortabl(URL HIDDEN)
Pauline
2016-01-26T00:00:00Z
everything was exactly how it was described. Tiago wasn't there but he kept contact by sms to see of everything was all right.the house was easy to find and we spent a lovely three days holiday overthere. the only thing I missed was a corkscrew ....but the neighbours helped out. Thanks Tiago, I hope we'll meet next time , because we will return.
Paul
2015-05-04T00:00:00Z
Tiago's house was perfect for our stay in the area. Super cute and cozy place to ride and the rain storm we had while playing games. Well stocked and would recommend staying here. Tiago was extremely attentive and a perfect host.
Kathryn and Greg
2016-01-06T00:00:00Z
Lovely place, with a beautiful view on Obidos. Tiago was really patient to answer all our questions. Perfect stay if you want to enjoy and visit Obidos!
Mh
2015-07-01T00:00:00Z
Oda Tipi
Tüm ev/daire
---
Mekan Türü
Villa
---
Konaklayacak Kişi Sayısı
3
---
Yatak odaları
Óbidos Municipality, Leiria District, Portekiz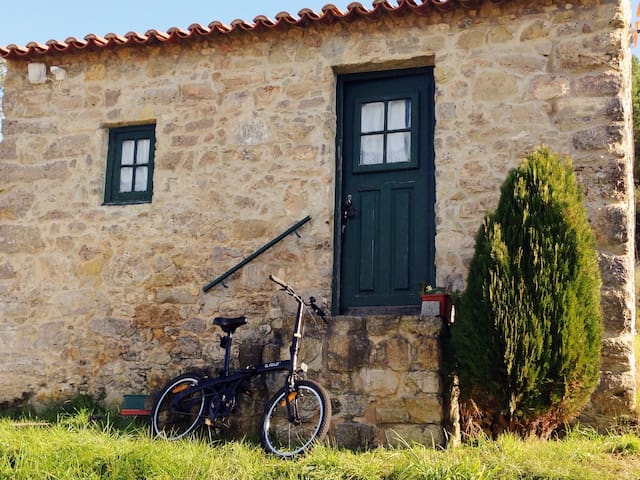 My place is short drive (10min) to the fabulous beaches of Peniche and (15 min) to Obidos. You'll love the natural light, and the cozy feeling of the village. The space is small but freshly renovated and very clean. -Bedroom has a built in closet. -Bathroom includes shower, bathtub and hair dryer - Living room with kitchenette includes electric burners, small fridge, microwave with grill option and electric kettle. I´m looking forward to hosting great people, talk to you soon!
-Bedroom has a built in closet. -Bathroom includes shower bathtub and hair dryer - Living room with kitchenette includes electric burners, small fridge, microwave with grill option and electric kettle. I´m looking forward to hosting great people, talk to you soon
This neighborhood is very safe and relaxing, everyone living here has grown up together and tourists are treated like friends.
Great stay! The flat has everything we needed for a short stay! The bathroom is great and the bed as well! We can only recommand this place! Thanks:)
Claire
2017-03-10T00:00:00Z
Tania é stata un host perfetta: Precisa e puntuale. La casa era impeccabilmente pulita. Parcheggio libero sotto casa. Anche se non c'è il Wi-Fi nell'appartamento, c'è comunque un bar molto vicino in cui é possibile navigare
Anna
2017-01-03T00:00:00Z
Good place. Closely to the ocean and there is all necessary in the city. Hosts very friendly. Good for stay day
Maria
2017-01-06T00:00:00Z
We had a nice stay in a cozy apartment in an small and authentic Portuguese village. Everything was clean and tidy. The place has cooking utensils, a fridge and even some things for breakfast like tea, instant coffee, juice, milk, cornflakes and other little snacks. Tania made sure that we got into the apartment at our requested time. She even waited for us with her car to lead us to her place. She was very nice and polite and gave us a lot of tips for diner and other activities. We would highly recommend Tania's place.
Anja
2016-09-25T00:00:00Z
Tania fue super amable y muy flexible con los horarios. La casa impecable. Corresponde exactamente a la descripción. Pedir más tranquilidad es imposible. ¡Muy recomendable!
Carla
2016-11-13T00:00:00Z
Tania's place is perfect and probably even better than the pictures show. It is clean, well-appointed, and very cozy. Tania met us close to the entrance and showed us the way and she is super friendly. The location is about 15 minutes from Peniche if you have a car. I think it's worth mentioning that it's on a busier road in a very small town and even though it's on the 2nd floor, there is some traffic noise in the morning although it wasn't a bother at all. We would stay here again in a heartbeat. Great host and great place to stay!
Michael
2016-11-03T00:00:00Z
Tania foi muito atenciosa....seu apartamento fica numa regiao tranquila e agradavel...nos recebeu super (URL HIDDEN) limpo e organizado e ainda nos deixou itens para um belo cafe da manha!!!!
Manuela
2016-11-05T00:00:00Z
Very well equipped Appartement with everything you could need for a short or long stay! Tania was even kind enough to provide us with breakfast supplies to enjoy. At night it is very cold without a heater but probably not an issue in summer.
Thomas
2016-11-26T00:00:00Z
Oda Tipi
Tüm ev/daire
---
Mekan Türü
Ev
---
Konaklayacak Kişi Sayısı
2
---
Yatak odaları
Atouguia da Baleia, Leiria, Portekiz
Casa de campo perto de Óbidos Uma casa acolhedora ideal para uma família, um casal ou um grupo de amigos. Um cantinho de sossego central a 10 min de Obidos, 18 min das Caldas da Rainha, 30 min de Peniche e a 25 min das praias mais bonitas do Oeste. Para quem quer ter ao seu alcance o social sem perder a tranquilidade. No jardim pode encontrar ervas aromáticas para usar nos cozinhados ou apanhar plantas para uma infusão. Espaço exterior agradável e propicio para uma refeição ao ar livre.
O espaço e composto por duas casas que partilham o jardim exterior, sendo uma delas a de hospedes e a outra dos anfitriões. No espaço exterior encontrara um jardim com ervas aromáticas e medicinais que pode usufruir e se quiser conhecer mais acerca de suas propriedades. Os legumes que existam nos canteiros podem ser partilhados com os hospedes com moderação. Tem um telheiro espaçoso que permite estar ao ar livre debaixo de um tecto onde pode fazer as refeições se assim o desejar. Se preferir pode se esticar nas cadeiras espreguiçadeira debaixo do chapéu de sol não vá apanhar um escaldão. Tem espaço nas traseiras da casa com campo e algumas árvores. Tem uns lindos por- do- sol.
Todos os dias excepto ao Domingo passa a carrinha do pão. Sentimo-la a aproximar-se pela buzina, faz-se sinal para parar e deixa-nos com o pão quentinho ainda. O peixeiro vem a meio da manhã por volta das 10h/10.30H com o peixe acabadinho de vir da lota de Peniche. Pquenos luxos
It was a nice stay. Tiago was really helpful and the house is clean and quiet. I recommed to stay here, especially when you have a car with you.
Amanda
2016-10-30T00:00:00Z
A Susana foi fantástica, nos apresentou a casa e seu filho lindo! Adoramos estar em sua casa, nos sentimos em nossa casa! Ambiente do campo com comodidades da cidade o clima estava bem frio mas tinha aquecedor e nós mantivemos muito bem o banho também foi muito bom!!! Super recomendo! Além de ter sido recebida com caqui do próprio quinta! Susana novamente muito obrigada!
Andreia
2016-11-25T00:00:00Z
Nice house! thank you
Begum
2016-11-13T00:00:00Z
Susana and Tiago are the best! Our stay was very comfortable. The house suited us perfectly well and is exactly as described. We loved the calmness of the village and the beautiful beaches around. Thanks for a great holiday!
Charlotte
2016-10-02T00:00:00Z
Susana and Tiago were very warm and welcoming hosts! We loved the cottage and it was great to get to know them over dinner! Great communication throughout and they were very helpful with ideas about what to see for the rest of our holiday.
James
2016-09-08T00:00:00Z
A EVITER SANS TRAVAUX ET AMELIORATIONS NECESSAIRES
monique
2017-03-17T00:00:00Z
Rustique mais très sympathique. Les propriétaires Susanna et Thiago nous ont fait un très bon accueil . Ils nous ont bien renseigné sur les lieux à visiter et étaient toujours très disponibles pour nous ! On est dans les vergers,le village est calme et tranquille . Chez Susanna et Thiago tout est bio et beau !plage à 20 minutes en voiture superbes!
Muriel
2016-08-28T00:00:00Z
The house was set on a beautiful farm in a lovely little village. It's about 5-10 minutes driving to Obidos. The house has everything you need and Tiago, Susana's husband, is really welcoming and lovely. The only thing is that the bed is a bit hard! But we slept great.
Hailey
2016-09-14T00:00:00Z
Oda Tipi
Tüm ev/daire
---
Mekan Türü
Ev
---
Konaklayacak Kişi Sayısı
4
---
Yatak odaları
Usseira, Leiria, Portekiz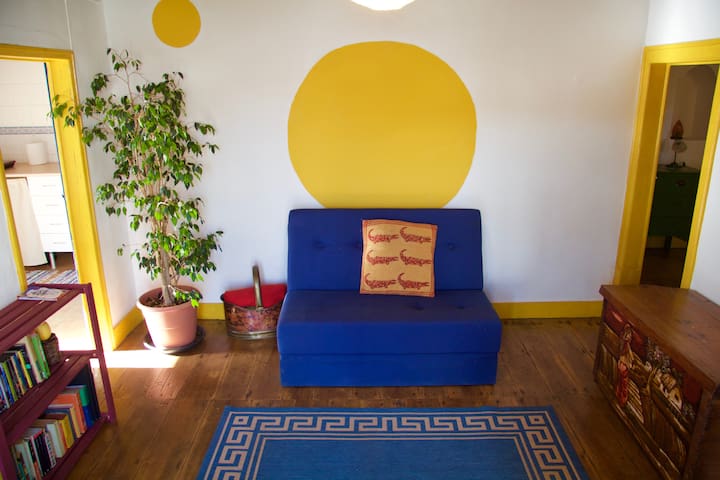 O Casal Vale da Palha, agroturismo da natureza é um espaço de comunhão com a natureza composto por 2 casas v1 com alpendre privativo e espaços comuns que incluem salão de jogos e refeições, churrasqueira e piscina com vistas deslumbrantes.
O Casal do Vale da Palha nasceu há cerca de 75 anos quando foi nele construída a nossa primeira casa de família. Em 2015/2016 foi alvo de profundas renovações e foi reconvertido em Agroturismo da Natureza, tendo a adega sido transformada em duas pequenas casas. A Casa da Mó é composta por quarto de casal, WC com duche e janela, hall com roupeiro, sala de estar com chaise longue com cama e pequena kitchenette com mesa de refeição para até 4 hóspedes. O quarto e a sala estão equipados com ar condicionado e a sala tem televisão com ligação satélite (82 canais incluindo TVCine's). Dispõe ainda de um alpendre privativo com pérgula, mesa exterior, cadeiras e banco de pedra. Os interiores das casas são em madeira lembrando as casas pombalinas e associando o conforto da madeira à poupança ecológica de co2. A cozinha é em pedra e está equipada com o essencial para refeições rápidas até 4 pessoas, frigorífico, micro-ondas e louças diversas. Para refeições mais elaboradas os hóspedes são livres de usar a cozinha comum, equipada com todos os utensílios e equipamentos de cozinha, ou optar por grelhados na churrasqueira. Existe ainda estacionamento privativo no interior da propriedade, salão com zona de jogos, zona de estar, pequena biblioteca de uso livre e espaço para refeições para os hóspedes que preferem passar estes momentos em confraternização. No exterior existe ainda churrasqueira, forno a lenha, mesas e bancos, piscina de água salgada, zona infantil, zona dos animais (galinhas, patos, codornizes, coelhos, cabras e pássaros - zona em finalização) e uma horta. A maior parte da nossa flora é comestível e os hóspedes são livres de colher e consumir livremente frutas e legumes da época.
O Casal do Vale da Palha foi desanexado da secular Quinta do Vale da Palha e está inserido no limite da aldeia de Vale Francas. É uma aldeia pequena e pacata onde os habitantes acenam e cumprimentam as pessoas que passam na estrada. É uma população maioritariamente composta de trabalhadores agrícolas e donas de casa, embora existam algumas construções novas com pessoas da capital que escolheram a aldeia para descansar ao fim de semana e nas férias. Alguns destes não resistiram aos encantos da envolvente e mudaram-se definitivamente para a aldeia, optando por trabalhar nas cidades mais próximas. A aldeia fica a menos de 5 minutos da A8 (saída de Campelos/Outeiro da Cabeça). O que não temos em quantidade temos em qualidade, pouca pressa, pouco stress, poucas pessoas, pouca confusão e nenhum trânsito! A localização é o melhor, pelo menos para quem gosta de sossego, pois estamos no meio de nada mas perto de tudo, a 5 minutos temos Bombarral, Cadaval, o Budha Eden Garden e várias quintas/explorações vinícolas, a 15 minutos temos Torres Vedras, Óbidos, Caldas da Rainha e a Serra de Montejunto, a 25 minutos temos as praias de Santa Cruz, Ribamar, Areia Branca, São Bernardino, Consolação, Super Tubos, Peniche, Baleal, Praya D'el Rey (golf), Bom Sucesso, Foz do Arelho e São Martinho do Porto, a 35 minutos da Ericeira, Nazaré e Alcobaça e a menos de uma hora de Sintra, Ericeira, Batalha e Fátima. Lisboa fica a 45 minutos tanto de carro como utilizando a rede de Expressos (destino Bombarral). Para quem gosta de experiências mais radicais temos o Kartódromo Internacional do Oeste a menos de 5 minutos bem como vários fins de semana de escaladas nn Serra do Montejunto. Claro que também pode optar por um passeio familiar nos nossos burro meigos, o Romeu e a Julieta, para conhecer os campos em redor ou ir à vila. Para amantes de geocaching existem várias caixas nos arredores e percursos vinícolas e serranos. Pergunte-nos mais que gostamos de ajudar!
Alexandre welcomes you with a slice of home made carrot cake (he's great at baking) and a freshly squeezed lemonade made with lemons picked from the garden's lemon tree ... So imagine how's the rest of your stay in this secluded and pretty house, where we felt like at home and were treated fabulously. Great spot nearby all the region's highlights and coastal resorts. You may spend the evening relaxing by the salty water swimming pool after a day out, get some meats for organising your bbq and play pool at their table sipping on a beer.
Florie
2016-07-15T00:00:00Z
Amazing stay at Alexander's place. A whole little house for ourselves. This is very great place to stay to chill and rest. Alexander is such a nice host who takes care of his guests and make us feel at home. The little dessert after our diner and the breakfast were perfect. We would have loved staying for a longer time.
Nielsen
2016-09-07T00:00:00Z
Great welcome from Alexandre to his lovely, clean home. Wonderful views to appreciate in the Portuguese sun. Superb carrot cake! Will definitely return.
Henry
2017-04-01T00:00:00Z
Alexandre est un hôte attentif au bien être de ses invités. Il est disponibles pour tout renseignement et très sympathique. Le domaine est par ailleurs charmant. Je recommande.
Cyrielle
2016-08-30T00:00:00Z
Ficar no Casal Valhe da Palha foi das melhores, se não mesmo a melhor, experiência que já tive em airbnb (depois de mais de 30 alojamentos por esta via). As casas estão decoradas com um enorme carinho (e conseguimos ver isso em cada pormenor), o espaço exterior é fantástico, a vista é o que se vê nas fotografias (tranquilidade absoluta). Para além de tudo isso, os hosts são das melhores pessoas que já me receberam: atenciosos, prontos a ajudar, que nos presenteiam com pequenas iguarias (como pequeno almoço delicioso, com bolo caseiro,...) durante a estadia. Embora o Alexandre e o Sérgio vivam numa casa no condominio (penso que existem 3 casas), respeitam o espaço e privacidade dos hóspedes. Experiência fantástica e a repetir!!
Virgínia
2016-08-01T00:00:00Z
You're together very great And we spend à beautiful moment here. We love your place. Thanks a lot for everything.... Limonade, fruits, pie, breakfast, PORTO !!!! we keep a very Good mémoire Bye Bye Amandine, Bastien, Christelle, Mathieu
Mandoux et
2016-09-24T00:00:00Z
A wonderful place with an equally wonderful host who made us feel very welcome. Alexandre was extremely helpful and courteous and we will certainly be returning on our next visit to Portugal.
Henry
2017-01-25T00:00:00Z
O Casal Vale da Palha atingiu os parâmetros descritos, esperados e mais ainda. A localização é perfeita para um fim-de-semana de calma e tranquilidade no campo. O Espaço é sereno, limpo e decorado com muito bom gosto. O Alexandre foi o melhor anfitrião que conheci até hoje. Sempre muito atencioso e prestável e que nos apaparicou com mimos gastronómicos sem fim. Recomendarei o espaço e conto voltar.
Ana
2016-07-18T00:00:00Z
Oda Tipi
Tüm ev/daire
---
Mekan Türü
Ev
---
Konaklayacak Kişi Sayısı
4
---
Yatak odaları
Vale Francas, Cadaval, Portekiz
Casinha rústica para arrendamento de férias ou fins de semana, todo o ano, composta por quarto com cama de casal e roupeiros, sala de estar e jantar com sofá cama e salamandra, casa de banho com chuveiro e cozinha equipada com louças e utensílios de cozinha. Sobral da Lagoa, Óbidos.
Casinha rústica para arrendamento de férias ou fins de semana, todo o ano, composta por quarto com cama de casal e roupeiros, sala de estar e jantar com sofá cama e salamandra, casa de banho com chuveiro e cozinha equipada com louças e utensílios de cozinha. Também disponível, roupas de cama e toalhas. Área de churrasqueira coberta, lindo jardim muito privado para tardes relaxantes de leitura ou banhos de sol e alpendre com mesa e cadeiras para refeições ao ar livre. Existe ainda um terraço espaçoso para colocar espreguiçadeiras e gozar o sol e as lindas vistas para a aldeia e vales. Contacte para mais informações e disponibilidade de datas. Aldeia pitoresca com café local e mercearia para todos os bens de primeira necessidade. Localização excelente para passeios pedestres ou de bicicleta. Casinha ideal para umas férias ou fim de semana relaxante, férias românticas a dois ou para famílias pequenas.
Óbidos a 4Kms, Caldas da Rainha e Foz do Arelho 20Kms, Santuário de Fátima a 93Kms, Nazaré 46Kms, Bom Sucesso Golf Resort 13Kms, Praia Del Rey Golf Resort 16Kms, Lisboa e aeroporto 85Kms.
petit logement au coeur d'un village isolé terrasse et exterieur magnifique. je recommande
fabrice
2017-03-14T00:00:00Z
Oda Tipi
Tüm ev/daire
---
Mekan Türü
Ev
---
Konaklayacak Kişi Sayısı
3
---
Yatak odaları
Vau, Leiria, Portekiz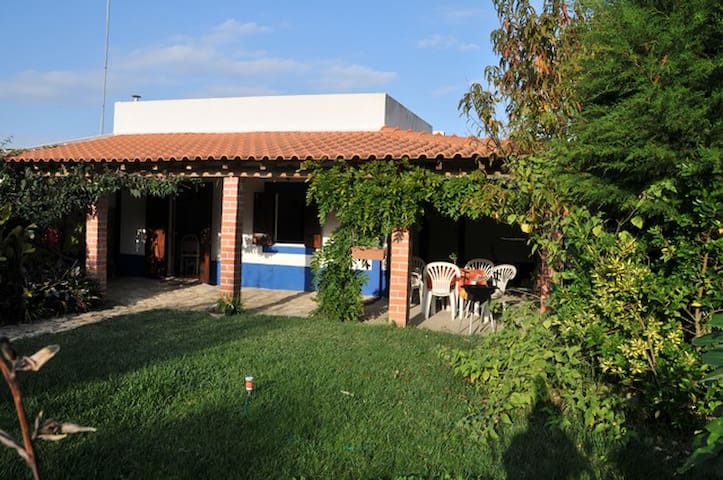 Romantic house in the heart of Peniche countryside. 7min. drive from Peniche, the house is part of a small property with swimming pool and plenty of green spaces to relax and enjoy with family or a romantic vacation or getaway! The house is well equiped, simple and practical!
Unique property with plenty of space to relax. We are about 7 minutes driving from Peniche and all best surfing beaches and main atractions! Quinta das Flores has good access to main roads: 45min from Lisbon, Sintra, Cascais, Estoril, Ericeira 1,25hour from Coimbra 35min from Nazaré 10min from Obidos. The house is decorated to host couples in romantic vacations. Free and secure parking.
Nous connaissons bien le logement de Marco et Antonio car cela fait deux fois que nous réservons chez eux pour dire que l'accueil est très chaleureux. Les logements sont très confortables et très propres. Marco et Antonio savent se rendre très disponibles et très attentionnés la preuve en est des spécialités portugaises nous attendent à chaque arrivée. Marco et Antonio sont le reflet même du Portugal : simplicité, générosité et authenticité.
KARINE
2016-10-31T00:00:00Z
Foi uma otima estadia. fomos muito bem acolhidos e vamos voltar com certeza. :)
Linda
2017-04-02T00:00:00Z
Tout est parfait, accueil, lieu, tranquillité, un peu juste en hivers car il n'y a pas de chauffage, malgré la proposition de Marco de nous mettre un petit radiateur d'appoint, mais il ne faut pas abuser! Vu le prix! Un pull supplémentaire et l'affaire est faite. Encore merci à Marco pour sa gentillesse et son écoute.
Marianne
2016-11-23T00:00:00Z
Este foi umdos melhores airbnb onde ficamos, a casa e maravilhosa. Estainserida numa quinta lindissima e e bastante confortavel, super limpa e com tudo o que e necessário. Fomos muito bem recebidos num parte central da vila para que nao nos perdessemos e posteriormente conduzidos à quinta. Fomos sempre tratados com muita simpatia e tinhamos um cesto com queijo, chourico, pao e vinho à espera, o que foi extremamente agradavel. Podemos aproveitar a piscina e o jardim que sao ambos muito bonitos. Tambem nos foi dada a oportunidade de ficar ate mais tarde no diado check out o que foi óptimo.
Ana
2016-10-03T00:00:00Z
Our time in Quinta Das Flores was perfect. The house was so clean, and we really appreciated your welcoming present. Tha house has all you can need and because it is in the countryside, no noisy at all! Thanks for everything
Angela
2016-09-11T00:00:00Z
A casa é 5 estrelas. Gostámos imenso de passar 2 noites na Quinta das Flores, sendo que recomendamos obviamente a qualquer casal que pretenda passar uns dias nesta região, ou até mesmo para uma viagem de amigos/família. O sítio fica localizado numa zona mais rural, que permite um descanso e um silêncio únicos. A casa é bastante confortável, com tudo o que é necessário para uma estadia curta ou mais prolongada. O Marco foi um anfitrião super atencioso e simpático, deixando-nos completamente à vontade. Recomendo :)
Ricardo
2016-09-25T00:00:00Z
Hi! It is small, yet nice place. We had everything we needed there. The owner was welcoming. Apartment was cleaned good enough. It is a countryside, so be ready to meet mosquitoes and another insects. Thanks a lot and good luck.
Katharine and Alexandr
2016-10-22T00:00:00Z
Óptima experiência na Quinta das Flores. Casa muito prática e limpa. O Marco recebeu-nos muito bem e preocupou-se com o nosso bem estar. Recomendo!
Beatriz
2017-03-27T00:00:00Z
Oda Tipi
Tüm ev/daire
---
Mekan Türü
Villa
---
Konaklayacak Kişi Sayısı
3
---
Yatak odaları
Atouguia da Baleia, Leiria, Portekiz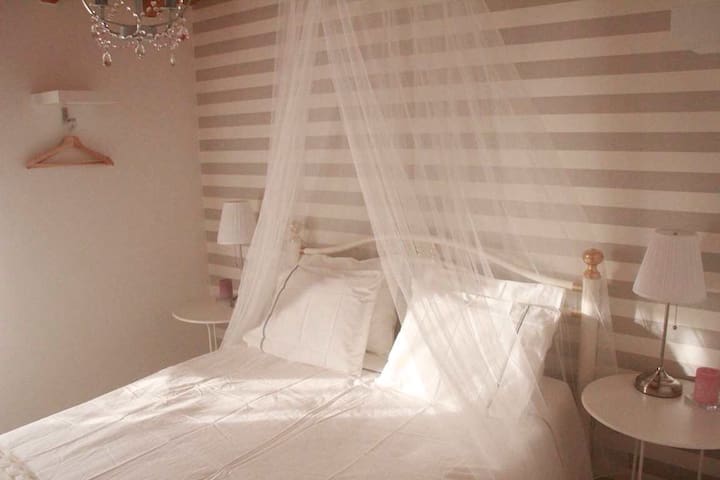 Good decorative order. Homely. Wood burning stove. Wifi. Self catering. Good cooking facilities and use of swimming pool and laundry/ironing facilities. Beautiful views and within driving distance of many cultural excursions, including Obidos, Nazare, Alcobaca, Lisbon, Peniche, Buddha Eden, Fatima, Tomar, Batalha. Nearest towns are Caldas da Rainha and Bombarell. Lots of Roman history and amazing architecture. Beaches also include Foz de Arelho and the Grutas and Santarem nearby.
Surrounded by Orchards and mountains. Within 30 mins drive to the sea front, Two local restaurants and plenty of night life, bowling and go karting in nearest town of Caldas, 15 minute drive. If you love countryside and walking this is the place for you. However, a car would be a necessity for day trips to local excursions and town amenities.
Our neighborhood is quiet and mostly inhabited by Portuguese. Nearly all the neighbors are animal lovers and there are plenty of dogs and cats and the occasional cockerel and goat. We are happy to take bookings in May for when the Pope comes to Fatima as nearer towns are quickly running out of space.
Oda Tipi
Tüm ev/daire
---
Mekan Türü
Bungalov
---
Konaklayacak Kişi Sayısı
4
---
Yatak odaları
Peral, Lisboa, Portekiz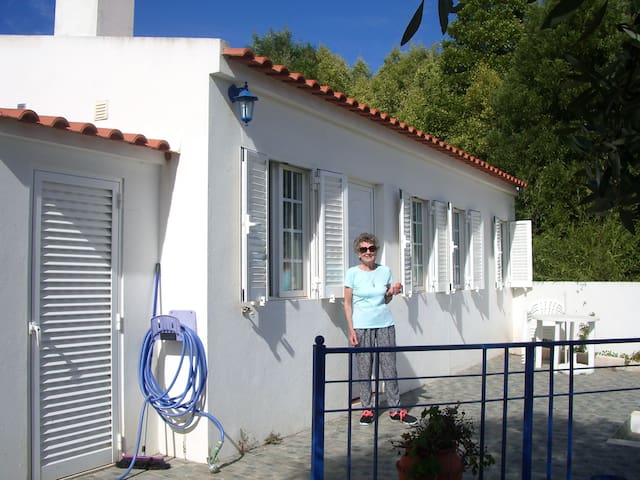 Picva is a XVIII century charming house right next to the old Walls of Óbidos town. It has a very quite and pleasant garden. The house has 3 suites independent open directly to the garden. This room can accommodate from 2 up to 3 guests
The rooms can accommodate from 2 up to 4 guests, all have a private bath. Garden suite – room 2 (accommodates 2), Garden suite – room 3 (up to 3), Garden suite – room 4 (up to 4) A cradle can also be provided for any of the rooms. Includes a continental breakfast, we can adapt by request. Through the garden the guests can access the kitchen (by demand) to make their own breakfast which can be enjoyed in the garden. Ideal for romance, families or artists due the inspiring relaxed ambiance and nostalgic details of the space. Outside, in good weather, the guests can make a barbecue or make a fire to get warm in the evening. Guests can safely park, in the patio, their own bikes or use ours. Games, toys and books are also available.
(URL HIDDEN) A vila de Óbidos, remonta ao século I, guarda séculos de história entre as suas (URL HIDDEN) um vasto património de arquitectura religiosa e vestígios histórico-monumentais, a vila de reis e rainhas deixando marcas que a vila ainda hoje mantém. A casa fica no Arrabalde, na entrada Este da muralha com contruções do século XVII.
João and Ana went beyond being great hosts. We felt like we'd made new friends after spending only one night in their spectacular home. They are warm and caring people who are happy to provide an abundance of information about the area. Charming Obidos was even more special because of them.
Esperanza
2016-10-22T00:00:00Z
This is a very convenient location just outside the Obidos wall with parking. We did not stay in the room pictured, but were in a lovely room with private bath. The house is very old and historic and lovely. I was very impressed by their art collection, beautiful watercolors! We were only there for one night but would definitly reccommend. Breakfast was excellent!
Lynne
2016-10-08T00:00:00Z
Nous avons été merveilleusement accueillis chez Ana et Joao. Leur maison est située juste en contrebas de la muraille et dispose d'un patio et d'un beau jardin en belvédère sur la plaine. La chambre et la maison sont spacieuses et bien décorées, peinture, mobilier... chaque objet a son histoire! Ana et Joao ont été très disponibles et nous ont donné beaucoup d'informations sur Obidos et la région, ainsi que des conseils sur les resto et les produits typhiques. Notre séjour a été excellent!
Silvia
2016-05-30T00:00:00Z
Ana's house is beautiful and in a great location. The room is lovely, spacious and clean. Breakfast is delicious. Ana is lovely and this is a true authentic family home.
veronica
2017-01-29T00:00:00Z
Great place. Nice couple and superb room. The beakfast was amazing. Thanks a lot for everything and good luck for the future.
Bruno
2016-02-09T00:00:00Z
Ana was very helpful and responsive. She offers the breakfast on a big round table, for all the guests, making it feel more like a home. She helped us plan our time properly, and she even offered great suggestions of this to do on our trip, toward Porto. We were also welcomed with a some local drinks, which made the entire experience very pleasant. The only issue that I had, was with (SENSITIVE CONTENTS HIDDEN) Maps, who was not able to properly locate the place. Eventually I parked close by and went on by foot. The location is great, just near all the attractions. You can also have some quality time, enjoying the great views that this place has to offer.
Dan
2017-03-19T00:00:00Z
Nice house, with a great view and João made us feel at home from the first moment. The house, from the XVIII century, is truly cozy and a short distance walk to the mainstreet. The room was big enough and in front of a beatiful and relaxing garden. A experience to repeat for sure.
AnaTeresa
2016-12-22T00:00:00Z
Un énorme merci au conjoint d'Ana pour son accueil et son aide précieuse.
Marie-Claude
2016-09-01T00:00:00Z
Oda Tipi
Özel oda
---
Mekan Türü
Ev
---
Konaklayacak Kişi Sayısı
3
---
Yatak odaları
Óbidos, Leiria, Portekiz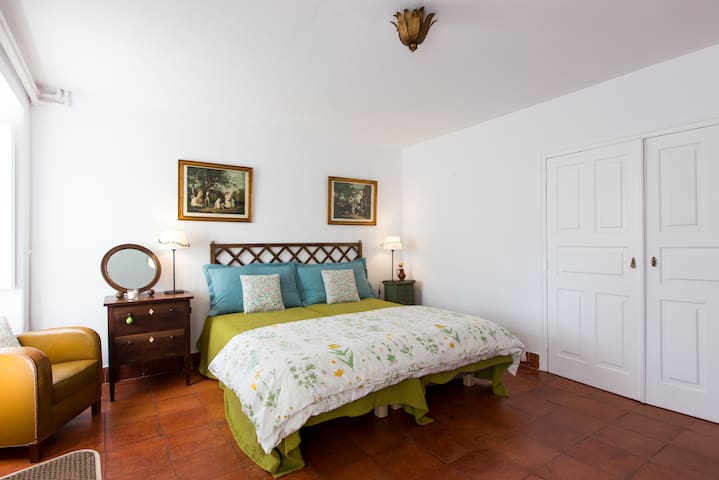 Small and beautiful house inside the castle walls of Óbidos, has all the amenities needed for an unforgettable stay . Located in this charming and flower village ; a comprehensive calendar of cultural events and entertainment await visitors.
Apesar de pequena, a casa tem todo o conforto necessário. Although small, the house has all the amenities needed.
Paula's place was just lovely. I was welcomed by Paula's friend Concha who was very welcoming. The location is fantastic so close to everythind in Obidos.
Kerry
2016-09-27T00:00:00Z
Obidos is such an amazing town and the apartment is absolutely perfect. It is clean and beautiful and charming and it was an absolute pleasure to stay there for a couple of days.
Katrina
2015-09-26T00:00:00Z
Great location - just inside the castle walls - for enjoying the charm and character of Obidos.
David
2016-10-22T00:00:00Z
La experiencia fue muy buena, la casa era muy cómoda, limpia y bien situada. El pueblo muy bonito y cerca de otros lugares de interés. Recomendable.
Enrique
2016-08-22T00:00:00Z
La casa es bonita y bien decorada, solo que es un poco humeda y cuando no se ventila, huele a humedad. Pero me imagino que esto lo tendran todas las casas de Obidos. Paula y su amigo que nos esperó en Obidos y nos llevó a la casa hablan solo portugues, entonces no era facil quedar y teniamos que hacer varias llamadas intendando entendernos. El puebo es muy bonito, pero muy turistico.
LENKA
2015-09-07T00:00:00Z
Obidos est un petit village tranquille. Appartement vaste avec tout le nécessaire pour cuisiner. On s'y sent à une autre époque. L'amie de Paul, concha, était très gentille et toujours disponible. Comme mentionner précédemment, l'appartement est un petit peu humide, mais ce n'était pas un problème pour nous.
Daphnée & Maxime
2016-05-07T00:00:00Z
Foi um prazer ficar em casa da Paula em Óbidos. Trata-se de uma casa independente entremuros das muralhas desta bela vila. A casa detém todas as comodidades necessárias para duas pessoas se sentirem perfeitamente acomodadas. A cama é muito confortável, e a envolvência muito tranquila. Só não usamos a lareira, por não estar ainda suficientemente frio. A Paula tem a gentileza de oferendar os seus hóspedes com pequenas delícias, como café, pão, fruta...etc A decoração é muito sóbria e adequada, pontificada por bom gosto e a limpeza é de nível de 5estrelas de hotelaria. Um gosto!
Daniel
2015-10-25T00:00:00Z
We did not get to meet Paula but we were greeted by a lovely lady named Concha who was extremely accommodating & helpful. We were greeted with a little welcome gift which was lovely (thank you Paula the strawberries were amazing.) The house was just magical, so cozy and inviting which matched the theme of the town. I wish we were able to stay there longer as it felt just like home. This beautiful home was located right inside the castle walls and close to amazing local restaurants & wine bars, your spoilt for choice. We highly recommend Paulas home and if we were to ever return we will absolutely be in touch. Thank you for letting us stay in your lovely home.
Julia
2016-05-31T00:00:00Z
Oda Tipi
Tüm ev/daire
---
Mekan Türü
Ev
---
Konaklayacak Kişi Sayısı
2
---
Yatak odaları
Óbidos, Leiria, Portekiz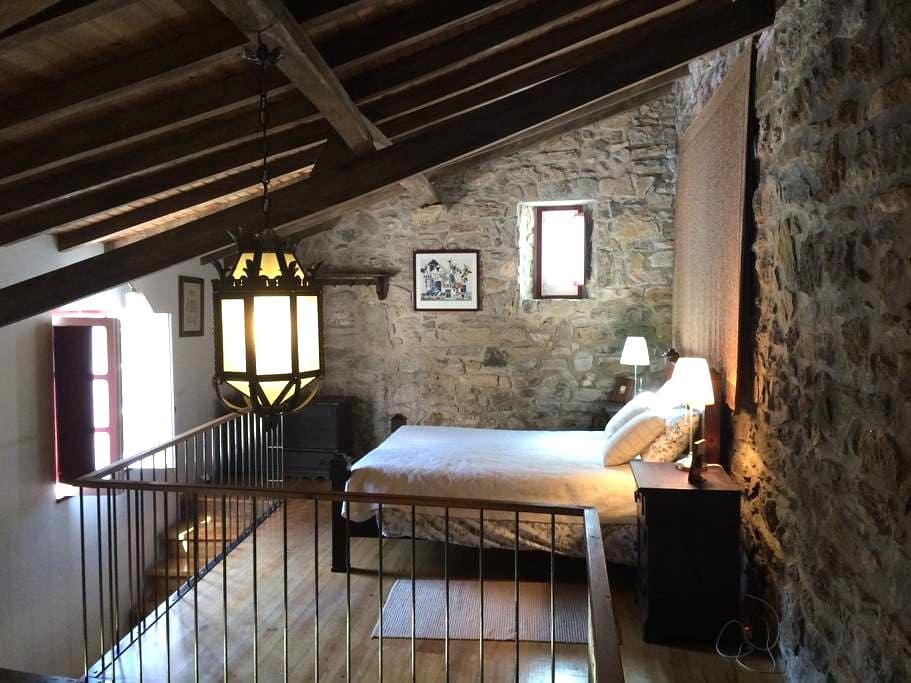 The Ocean Breeze Apartment is perfect for travellers who are looking to have a luxury vacation but at the same time a cosy place at a low cost to spend magical sunny days near the beach.
Umgeben von allen am besten Baleal und Ferrel Restaurants, Sushi-Bars, Fisch Gourmet-Plätze und sogar ein Surf Lodge. Das Ocean Breeze Apartment ist ideal für Reisende, die suchen, um einen Luxus-Urlaub zu haben, aber zugleich ein gemütlicher Ort mit niedrigen Kosten magischen Sonnentage in der Nähe von Strand zu verbringen. Mit nur wenigen Minuten von den wichtigsten Baleal Strand gehen, sind Sie mitten im Zentrum von Ferrel und Baleal Dörfer. Die Wohnung mit Blick auf den schönen Meer, so dass Sie die Sonnenuntergänge von Ihrem eigenen Balkon direkt genießen können! Genießen Sie erholsame Zeit: Auto nicht notwendig, um den Zugang zum Strand (aber wenn Sie eine haben, kein Problem, es gibt ausreichend Parkplätze auf dem Grundstück). Neu modelliert überall! Seien Sie unter unserer ersten Gäste die brandneue und exklusive Umgebung zu genießen. Luxuriös mit voll möbliert und ausgestattet Küche und Bad gestaltet. Brand new Waschmaschine und Geschirrspüler installiert und einsatzbereit. Full-HD-TV im Lieferumfang enthalten! Brauchen WiFi-Internet? Kein Problem, können Sie es auch bei uns mieten. Grill und Balkon mit Blick auf das Meer und der Strand Baleal: ein paar entspannende Momente in der Sonne genießen und sogar Ihre eigenen Grill Mahlzeit zu genießen, wenn Sie mögen. Der Balkon bietet einen atemberaubenden Blick auf das Meer, im Gegensatz zu vielen der anderen Wohnungen in der Umgebung, die die stark befahrenen Straßen blicken. Erster Stock mit einfachem Zugang zum Pool und Garten! Der schöne Pool mit einem kleinen Kinderbecken befindet sich auf dem Grundstück enthalten, die frei ist auf der Seite! 2 Haupt getrennten Betten mit einem zusätzlichen Bett und ein Schlafsofa für 2 zusätzliche Räume. Leicht beherbergt insgesamt 4 Gäste. Komplettlösung: Voll ausgestattete Wohnung: Handtücher, Geschirr, Teller, alles bereit für Ihren stressfreien Urlaub! Kaffeemaschine, Toaster, alles inklusive! Aber nehmen Sie nicht mein Wort für sie, kommen Sie und genießen Sie unsere schönen sonnigen Tag des einladenden Portugal Strände. Versuchen Sie, die erstaunliche Top-Wahl Fischrestaurants, die schönen Meereswellen und eine erstaunliche Nachtleben! Erleben Sie einen erholsamen Urlaub in einer stressfreien gemütliche Wohnung, reiten die Wellen berauschend, und stellen Sie sicher, die köstliche regionale Küche zu probieren! Wir freuen uns auf Ihren Besuch!
Das Apartment war toll, sehr sauber und super ausgestattet. Ana war sehr flexibel mit Check-in und Check-out. Die Umgebung hat uns gut gefallen.
Alexandra
2015-07-08T00:00:00Z
I really enjoyed staying here 5 days. great place, cozy house .I will recommend this accommodation to friends. I was very pleased. thank!
Albina
2015-10-25T00:00:00Z
Great location, perfect place for surf! the apartment is very clean and very functional. We spent a great time in peniche baleal. Thanks to ana!!!
sebastien
2014-07-25T00:00:00Z
Very clean and nice apartment. The host was also very nice and alwayas achievable. Good comunication.
Philipp
2015-06-27T00:00:00Z
Very nice and clean og great service. We recomed this place verye much:-)
Anne
2015-07-15T00:00:00Z
The reservation was canceled 18 days before arrival. This is an automated posting.
Marius
2014-05-21T00:00:00Z
Great location if you are into surfing as many spots are in walking distance. The apartment as well as the building lacks a personal charme. To me it appealed as a clean and commercial AirBnB offering. Got the job done.
Bastian
2016-10-01T00:00:00Z
Ana and her team were very flexible on our arrival and check-in time. The apartment is just as shown in the pictures and a 15 min walk to the beach. The area has some nice restaurants and a supermarket. Even on a busy month like August, even tough the pool was crowded, it was still pleasant. We suggested some improvements to the company that host these apartments.
Joana
2015-08-07T00:00:00Z
Oda Tipi
Tüm ev/daire
---
Mekan Türü
Daire
---
Konaklayacak Kişi Sayısı
4
---
Yatak odaları
Ferrel, Leiria, Portekiz
The accommodation is close to beach and activities for families. Will love the accommodation because of the warmth, the silence of the village but so close to historic district and Budah Eden. My accommodation is good for couples and families (with children). Is 2 minutes from the A8 motorway. It has several beaches within 15 minutes, restaurants within 5 min. Obidos is 10 minutes by car, and the Budah Eden. Train station is 1km away.
The space has two bedrooms, a bathroom, kitchen, living room and garden with private parking. The walls surrounding two meters tall, give guests privacy and security.
Quiet and calm village just minutes from the bustling city. Relax in the quiet of the village and enjoy the city or the nearby beaches.
Excelente espaço. Bem decorado e limpo. Óptima simpatia e hospitalidade da Patrícia. Se precisar de alojamento nesta região, recomendo vivamente!
Ricardo
2017-03-19T00:00:00Z
A Patrícia é uma excelente anfitriã, muito atenciosa e sempre disponível. A casa é fantástica, superou as expectativas em relação às fotografias e está bem equipada. Tem muitos locais de interesse nas proximidades. Adorámos a estadia! Recomendamos vivamente!
Ana
2017-01-01T00:00:00Z
La casa de Patricia es muy bonita y espaciosa. La cama muy cómoda, y tiene absolutamente todo lo necesario. Patricia es muy atenta y amable. Nos puso muchas facilidades para llegar, a pesar de ser por la noche. La casa también cuenta con una chimenea, y Patricia nos dejó leña y todo lo necesario para poder utilizarla. Como punto negativo, diremos que hacía un poco de frío. Ya que fuimos en enero. Echamos en falta alguna calefacción más. Por todo lo demas el alojamiento era perfecto. Estamos muy contentos con el alojamiento y lo recomendamos 100%.
Alba
2017-01-13T00:00:00Z
Oda Tipi
Tüm ev/daire
---
Mekan Türü
Ev
---
Konaklayacak Kişi Sayısı
4
---
Yatak odaları
Leiria, Leiria, Portekiz
Lovely holiday house with pool in small Portuguese village, close to Montejunto Mountain, where you can enjoy lovely walks through vineyards and windmills. It has a local café and vendours pass by with their fresh bread, fish or fruit. Vilar is the next village at less than 5 min. drive, walkable, with supermarket , restaurants and bars. By car, you're less than 10 min. from A8 motorway, 20 min. from Obidos , Peniche, beaches and other beautiful must-see sites. Only 45 minutes drive to Lisbon.
This centennial house has been refurbished, providing you the "old feel" of portuguese arquitecture, still maintaining it's original features, but with modern comfort. Peaceful and private, although right in the middle of the village. The swimming pool is yours to enjoy, and the walled yard gives you the desired privacy. Many terraces for sunbathing with mountain views. Outdoor table for 8 and plenty of shade to enjoy our hot summer days by the pool.
Oda Tipi
Tüm ev/daire
---
Mekan Türü
Tatil evi
---
Konaklayacak Kişi Sayısı
6
---
Yatak odaları
Cadaval, Obidos, Portekiz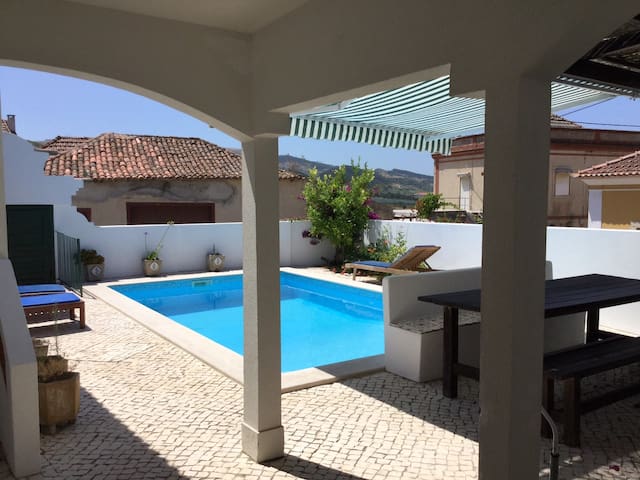 Wonderful old garden with swimming pool (shared with family) Table tennis and "hand soccer" table;)
At Casa das Alfazemas there's nothing to do. Unless you want to spend your time doing whatever you feel like doing. You can lounge in the terrace, read a book while sipping a cup of tea, go for a swim in the pool (shared with the family), or challenge your friends to a Poker, Canasta, Chess or Scrabble game. If the wheather gets cooler you can light up the fireplace and enjoy a warm and romantic moment hearing the crackling fire. If you feel energised and keen on exploration you could visit the 'World Heritage' village of Óbidos, Portugal's most romantic medieval village. You could also go for a zen trip in Buddha Eden at Quinta dos Loridos, or for a walk in nearby Serra do Montejunto. Alternatively set off on a coastal trip and discover the beautiful beaches of Baleal and Foz do Arelho. And when your taste buds demand to be stimulated discover the local regional delicacies or share a cosy dinner at home with your friends. Whatever you do, take your time.
Cadaval is around 45m (70km) from Lisbon. You have an highway (A8) and is very easy to access either Lisbon or other historical cities as Óbidos (20km); Alcobaça (57km); Batalha (87km); Mafra (65km); Tomar (120m); Peniche and Baleal beach (36 km); Foz do Arelho beach (32 km); Lagoa de Óbidos (30km); Évora (175km).
Catarina est venu nous chercher dans le centre village puis nous a accueilli dans la location. Une confiture de poire, un pain local et une bouteille de vin blanc nous attendaient. La semaine c'est déroulé trop vite dans un cadre idyllique, pour ceux qui aime le calme de la campagne ;). Merci pour tout Catarina et votre maman.
Mathieu
2016-09-20T00:00:00Z
Tout fut formidable durant notre sejour a cadaval. La maison est spendide avec sa nouvelle decoration qui est chaleureuse. Le jardin et la piscine sont tres bien entretenus. Nous avons passe un excellent sejour de 2 semaines avec nos 3 enfants. Une mention speciale a mize et catarina qui nous ont tres bien accueilli (pain, confiture, vin, citron). Nous y retournerons avec plaisir.
Arnaud
2016-07-23T00:00:00Z
Catarina est vraiment gentile, très disponible et sympa. La maison est tres belle, très spacieuse aussi, tout est comme dans les photos, nous avions une voiture donc pour nous c'etais bien, mais sans, il serait un peu compliqué, car la maison est dans un petit village, et il serait tres difficile de se deplacer avec des transports plubliques. En general, une bonne choise pour qui comme nous, veux visiter les petites ville à coté de lisbonne, dans un lieu très tranquille.
Melania
2012-10-10T00:00:00Z
Le logement de Catarina est très bien agencé, bien décoré et très cosy. Nous avons rencontré sa maman, qui nous a très bien accueilli et qui a été très agréable et qui nous a bien renseigné, mais n'avons pas eu le plaisir de rencontrer Catarina. Il est situé dans un petite ville agréable, accessible seulement en voiture et nous avons pu visiter de nombreux sites, dont Lisbonne, qui est situé à 45mn. La maison est à la campagne, même si nous avons trouvé la rue très passante. La seule chose qui nous a surpris c'est que la piscine est communautaire. Ce n'était pas écrit dans le descriptif. Du coup, nous n'avons pas été un seul jour seuls à la piscine et nous n'avons pas osé y aller autant que nous aurions aimé, de peur de déranger.
Christophe
2016-08-30T00:00:00Z
Maison conforme à la description. Les hôtes sont très accueillants et disponibles si besoin. Je recommande cette maison à tous ceux qui veulent découvrir cette partie du Portugal ! J'y retourne sans hésiter!
Jean- Louis
2012-09-02T00:00:00Z
Catarina was helpful the whole time with us! The had prepared for us some handmade jam and bread as a welcome present! She came to pick up us coz we got lost... an Our stay in the house was amazing! The house is cozy, clean and stylish! We enjoyed staying there during 3 nights! I will come back for sure next time we go to portugal!
Laia
2013-07-05T00:00:00Z
La maison est parfaite pour passer de bons moments au Portugal. La maison est grande avec un très beau jardin et une agréable piscine. La maman de Catarina nous accueillis chaleureusement avec petits cadeaux locaux! Quel plaisir!!! Nous avons passer 3 semaines vraiment agréables. Mizé et Catarina sont des personnes vraiment sympathiques et veulent toujours faire plaisir. Vraiment merci pour tout!!!!! Dommage que nous n'avons pas pu dire au revoir à Mizé. À très bientôt
Cindy
2016-08-20T00:00:00Z
Just as described - the hosts were great and quick to respond with any of our questions. María José greeted us with fresh bread and local moscatel wine from a local winery right down the road which was quite a treat !! So delicious! The home is very charming and the fireplace kept us warm as it was a little chillier than expected for this time of year. We were able to prepare some nice meals in the kitchen with fresh food from the market in Caldas just 15 min away - we enjoyed our stay !
Laura
2017-03-01T00:00:00Z
Oda Tipi
Tüm ev/daire
---
Mekan Türü
Villa
---
Konaklayacak Kişi Sayısı
6
---
Yatak odaları
Cadaval Municipality, Lizbon, Portekiz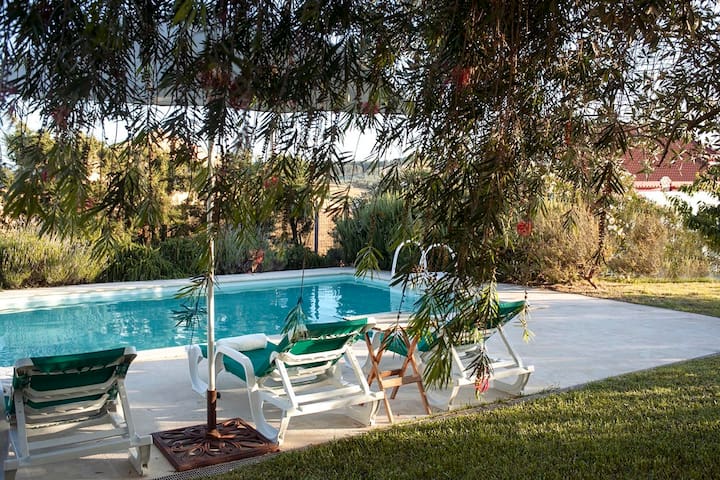 A Casa de Pedra, casa para férias, tem encanto de uma casa rústica de férias e/ou fins-de-semana, com uma decoração cuidada e confortável. A casa tem um terraço panorâmico sobre o Reguengo Grande, um jardim privado, com churrasqueira e um forno de lenha que pode acomodar até 6 pessoas. Aconchegados espaços interiores que incluem uma sala de jantar, uma sala de estar, 3 Quartos,uma casa-de-banho e uma Cozinha com todos os equipamentos necessários para a sua estadia, incluindo forno, fogão, frigorífico, máquina de café, torradeira, micro-ondas, ferro de engomar e máquinas de lavar roupa e loiça. Entre as comodidades de lazer incluem-se leitores de CD e DVD, tv com canais por satélite, uma selecção de livros e filmes. São fornecidas roupas de casa (panos de cozinha, lençóis de cama e toalhas de banho). Nos arredores e proximidadades: Estações arqueológicas de Óbidos e Rio Maior, desde grutas pré-históricas, castros da Idade do Cobre ou povoados romanos, convivem com castelos árabes de Torres Vedras, aquedutos e pontes romanas, igrejas e mosteiros medievais e renascentistas de Torres Vedras, Lourinhã, Peniche, Atouguia da Baleia, Óbidos, Caldas da Rainha, Sobral de Monte Agraço, Arruda dos Vinhos, Bombarral, Alenquer; o trabalho secular das marinas de sal, fortalezas quinhentistas de defesa de costa, de Paimogo, Peniche, e Berlenga ou solares dos séculos XVII e XVIII são alguns dos aspectos mais marcantes da monumentalidade da Região. Para os amantes da natureza recomendam-se os passeios pedestres no Paul de Tornada, na Reserva Natural da Ilha da Berlenga, única Reserva Marítima do País, na Serra do Socorro ou no Parque da Serra de Montejunto, onde os amantes da espeleologia, do montanhismo e alpinismo se podem deliciar dias a fio, e os desportos na Lagoa de Óbidos. PRAIAS MAIS PRÓXIMAS Praia do Areal, Praia da Areia Branca,Praia do Caniçal, Praia do Paimogo, Praia da Peralta, Praia do Porto das Barcas, Praia do Vale Frades, Praia do Valmitão, Zimbral,Praia da Pedra do Ouro, Praia da Polvoeira, Praia de Água de Madeiros, Praia de Légua, Praia do Salgado, Praia da Foz do Arelho, Praia do Baleal, Praia da Cova da Alfarroba, Praia Medão/Supertubos, Praia da Gambôa, Praia da Consolação, Praia de São Bernardino, Praia Peralta, Praia do Areal , Praia de Porto Dinheiro, Praia de Valmitão, Praia de Santa Rita , Praia de Amanhã, Praia da Física, Praia de Santa Cruz, Praia do Mirante, Praia da Formosa, Praia Azul, a bela Baía de S. Martinho do Porto e a pitoresca Praia da Nazaré CAMPOS DE GOLFE MAIS PRÓXIMOS Clube de Golfe do Vimeiro ; Campo de Golfe do Botado; Campo de Golfe da Praia d'El Rey; Campo Real; Bom Sucesso; Campo de Golfe do Royal Óbidos SERVIÇOS NO REGUENGO GRANDE Multibanco/Banco; Farmácia; Lavandaria; Igreja; Cinemas; Supermercado; Mercado/Praça Auto-Estrada As novas auto-estradas (A8 e A15) e as novas vias rápidas ligam o Oeste a Lisboa, Santarém e Leiria em poucos minutos e ao Porto em menos de 3 horas. Aeroporto de Lisboa a 75 Km LOCAIS DE INTERESSE A Capela no Cemitério (Igreja Velha), a Igreja Matriz, a Ermida do Sr. dos Aflitos, o Museu Rural, o Lagar de Vara, o Parque de Merendas, as Casas de Artesanato, um relógio de sol, as pontes medievais e romanas, as azenhas, os moinhos de vento as minas de água. (website hidden)
Ha sido todo un acierto escoger esta casa. Cómoda y práctica.un lugar muy tranquilo e ideal con niños. Un 10
Ana Laura
2015-04-05T00:00:00Z
een erg leuk huis. en erg vriendelijke mensen in het dorp
pj
2017-03-11T00:00:00Z
Pasamos unos días muy agradables en la casita de Teresa. La decoración está muy bien escogida y la localización en un pueblo muy tranquilo y muy cerquita de la playa, a unos 15 min en coche. El trato recibido por parte de Teresa, la propietaria, fué genial, es muy agradáble y simpática ( además nos obsequió gentilmente con una botella de vino y fruta ;) Merecen nuestra más sincera recomendación.
Nacho
2013-08-16T00:00:00Z
Het is een erg leuk huis om in te verblijven en Teresa is een aardige gastvrouw. Alles goed georganiseerd. Strand en cultuur dichtbij. Het beddengoed is aan vervanging toe vonden we, dat was best oud.
Tjeerd
2015-07-17T00:00:00Z
This listing was beyond fantastic, Teresa did everything she could to make sure we were comfortable. The house was beautiful, a great getaway for anyone who wants a wonderful stay away from the hustle and bustle of the city. I can't recommend Casa de Pedra enough.
Galen
2015-07-06T00:00:00Z
Oui nous avons été bien accueilli , le logement est bien ce a quoi nous nous attendions !
Lydia
2015-08-02T00:00:00Z
Teresa es amable y simpática, nos recibió con fruta y vino y nos explico toda la casa. La casa es tal y como se ve en las fotos, esta equipada con todo lo necesario. incluso wifi. calefactores, cafeteras, televisión, barbacoa, ect. La casa esta situada en un pueblo pequeño y tranquilo, se puede ir andando a desayunar a la cafetería o ir al mercado, a comprar al supermercado, a la carnicería, frutería o pescadería. Las playas están mas o menos cerca (20 minutos), el único inconveniente es que hay mucho aire (o al menos a principio de junio), son playas para surfistas. En lisboa te sitúas mas o menos en una hora. Apto para toda la familia. Esta bastante mal señalizado para llegar hasta Reguengo Grande, por lo que es seguro que os perdáis y deis unas cuantas vueltas con el coche antes de llegar a la casa. Yo repetiría encantada alojarme en la casa de Teresa, es preciosa.
lola
2015-06-07T00:00:00Z
Estupenda casa¡¡ Genial para una familia, en un entorno rural con todas las comodidades. Te sientes como en tu casa puedes hacer unas barbacoas en el jardin con unas vistas de ensueño. De Teresa no podemos decir nada mas que estamos muy agradecidos de su cariño nos ha tratado como ha "sus pequeños" siempre dispuesta con una sorisa. Enhorabuena por tu alojamiento y tu pais¡¡¡ esperamos volver. Un beso de los cuatro. MARA
mara
2013-08-12T00:00:00Z
Oda Tipi
Tüm ev/daire
---
Mekan Türü
Ev
---
Konaklayacak Kişi Sayısı
6
---
Yatak odaları
Lourinhã, Lizbon, Portekiz
My space is close to beautiful landscapes, parks and beaches, art and culture and monuments. You will love my space because of the heat, views and central location. My space is good for families, individual adventures, and business travelers.
The house is integrated in an isolated villa, in which only the external access can be shared. It has an attached park and garden that can be used in exclusivity.
•Located in the in the foothills of the Serra de Montejunto, just 2 min. from the village of Cadaval municipality, one of the 12 counties that comprise the beautiful "Silver Coast", the central part of the former Extremadura province. •The Silver Coast region has a strategic location on its approach to the capital city Lisbon - just 45 min away - and from there to Europe and the world - as well as other urban and cultural centers. •You will find calm and safety neighborhood, in a vineyards, orchards and forest surrounding area. •Lisbon Airport is only 40min. driving by A8 Highway or A1;
Nuno's place is really beautiful. Great view, gorgeous house and the best host you can imagine. We were sorry we had to leave.
Wim
2017-02-17T00:00:00Z
Oda Tipi
Tüm ev/daire
---
Mekan Türü
Konukevi
---
Konaklayacak Kişi Sayısı
6
---
Yatak odaları
Lamas, Lisboa, Portekiz