Amazing architect prize winner house, in one of the most beautiful beaches in Portugal! Ideal for a group of 6 but also romantic for a couple. This is a modern house full equipped with a comfortable rooftop facing paradise and 3 fantastic terraces to chill out! This is located in the center of the Unesco protected village. And 10 mines by car from a lot of sightseeings. Astonishing place.
Amazing architect classified prize winner house, in one of the most beautiful beaches in Portugal! Ideal for a group of 6 but also comfortable and romantic for a couple. This is a modern house full equipped with everything, 3 furnished terraces (one in the rooftop) and 3 bedrooms (one is a suite and another has the old XII century wall inside) There is total privacy, 3 floors surrounded by windows that give to this house a really special ambiance. Modernly decorated with unique design and Portuguese antique pieces, a comfortable sofa, and a fire place you can use (carefully) in winter. A fantastic open space modern kitchen with all the amenities. Integrated in a peaceful and really beautiful village away from all the crowds. Fantastic for fishing, walking, bicycling, photographing but essentially, to be in peace. At one minute walking from this house there are 3 restaurants: a very famous oysters one (really good), and the other 2 with traditional Portuguese food at average prices. Sunsets are famous also because of their amazing colors reflected in the estuary "Ria Formosa". what more can I say?... Pictures show a little bit what you find in this amazing village and house!... Sheets and towels are provided for all guests.
Cacela Velha is integrated in one of the most beautiful areas of Portugal surrounded by beaches, countryside with amazing small villages and probably (still...) one of the less touristic places of Algarve. Hystory: Cacela Velha (meaning "Old Cacela" in Portuguese) is a village located in the civil parish of Vila Nova de Cacela, municipality of Vila Real de Santo António, Algarve, Portugal. Cacela Velha is situated on top of a hill with a view to the easternmost lagoon of the Ria Formosa. Cacela Velha and the surrounding towns were a stopover for Greek and Phoenician navigators, and according to some authors it may have once been near the location of Conistorgis, the still-unrecovered capital of the Conii. Roman and Arab occupiers also played a significant role in the expansion of the region. Archeological excavations conducted from May 7 to July 4, 2007, determined the village was the Medina of Qast'alla Daraj (Ibn Darradj al-Qastalli), an Islamic town dating back to the 10th century, when much of the Iberian peninsula was controlled by the Moors and Berbers who arrived from North Africa. Archeologists determined the area was an agricultural center, and part of the excavation recovered seven corn pits that were used for storing cereals and grain. For many years, commercial fishing has been the main source of commerce for Cacela Velha. In recent years, the village has seen additional revenue from being a tourist destination. Cacela Velha's beachfront location and lack of modern overdevelopment has been attractive to many visitors, while the village's fishing fleets have supplied the local seafood restaurants with oysters, clams, prawns and baby squid. Cacela Velha's major cultural event is the annual Noites da Moura Encantada (in English: Nights of the Enchanted Moor Woman), which provides evenings of music, street fairs and artisan exhibitions that pay tribute to the region's Arab and Berber heritage. Cacela Velha is one of ten Portuguese villages that the regional development commission (CCDR) has chosen to renovate in an attempt to encourage more Portuguese residents to relocate to the region
La casa es maravillosa. Estamos muy agradecidos a los anfitriones por todo. Volveremos
Reyes
2016-09-11T00:00:00Z
House in a beautiful location. Most adequate for the sophisticated urban guests. The house is an architectural piece and is beautifully decorated and might not be adequate for small children, or guest that do not appreciate its little details.
Paulo
2016-08-06T00:00:00Z
Localização fantástica e excelente arquitectura. A recomendar.
Sonia
2016-08-29T00:00:00Z
Lovely place to stay. Alex was a wonderful host.
Jarrad
2016-07-25T00:00:00Z
Oda Tipi
Tüm ev/daire
---
Mekan Türü
Ev
---
Konaklayacak Kişi Sayısı
6
---
Yatak odaları
Cacela Velha, Tavira, Portekiz
Casa Cacela Velha - Algarve se encuentra en Cacela Velha y ofrece una estancia tranquila, con vistas al parque natural de Ria Formosa. Hay un corto trayecto a pie de la pintoresca Playa Cacela Velha.
Esta confortable casa de vacaciones tiene un dormitorio doble con cuarto de baño y una habitación doble en la planta superior. Una amplia sala de estar con zona de comedor, sofás grandes y TV de pantalla plana, aire acondicionado y calefacción. Los huéspedes podrán preparar sus propias comidas en la cocina totalmente equipada. La terraza al aire libre rodeada de jardines ofrece el escenario perfecto para un desayuno relajante antes de ir a las playas sublimes de la zona. Los huéspedes pueden utilizar las instalaciones de barbacoa disponibles.
The host was not available during arrival Day. We phoned the given number and sent text messages several times. No one was there to lock us in when we arrived in the evening after dark. At 7 o clock she finallly picked up the phone and arranged for domene to lock us in
Liv
2017-01-01T00:00:00Z
The place is very well done, I would say with love and care for the guests. Very good design, very convenient and cosy. We found milk, fruit and water on the table and a cupboard full of the essentials salt, olive oil etc. The television only shows programmes in Portuguese and Spanish but for us that was a welcome break from watching the TV. The view from the windows is great and it is close to both beaches. Great experience in the place which I unreservedly recommend. Thank you Mariana!
Rosi
2016-11-27T00:00:00Z
PARFAIT BON ACUEIL VILLAGE SYMPATHIQUE VUE IMPRENABLE SUR LA LAGUNE
Françoise
2016-09-24T00:00:00Z
A Casa fica numa localização espectacular, se tiver a sorte de estar maré baixa em 5 minutos está na ria e na praia. A casa vale pela vista para a Ria fantástica. Qualquer pequeno almoço, almoço ou jantar são inesquecíveis com esta vista, ficou a faltar um chapéu de sol que dê sobra para não ficar demasiado quente. A Casa está bem decorada e tratada, as fotos são precisas. Conhecemos a senhora que limpa a casa, a Maria José foi uma simpatia e deixou a casa muito limpa e em perfeitas condições. Só vai necessitar de carro para ir ao supermercado mas tem alguns restaurantes perto bons. Recomendo este local e espero voltar em breve!
Esperança
2016-09-01T00:00:00Z
Oda Tipi
Tüm ev/daire
---
Mekan Türü
Ev
---
Konaklayacak Kişi Sayısı
5
---
Yatak odaları
Cacela Velha, Faro, Portekiz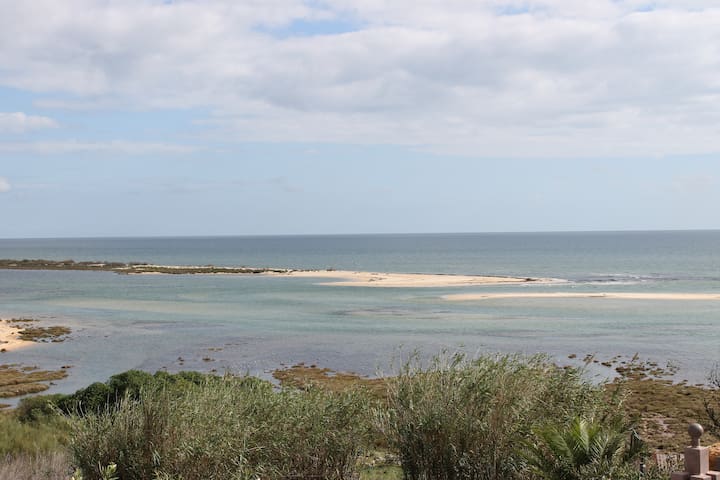 "Sessiz Sular" Garden 1500m2 tarafından ve harika bir Göl / Eko-Havuz çevrili bir aydınlık ve modern Vila olduğunu. plaj ve tarihsel "Cacela Velha" Vila ve Quinta da Ria benzersiz Golf sahasına 15 dakika yürüme mesafesinde beş dakika.
"Sessiz Sular" aileler için idealdir. Bir paketi ve bahçe ve GENİŞLETİLMİŞ deniz ve Ria manzaralı doğrudan erişim (çarşaf ve havlu ile) üç yatak odası vardır. oturma odası farklı alanlarda ve çevresindeki doğa ve manzarası eşliğinde sessizce olabilirsiniz Bahçe erişimi olan muhteşem bir deniz, Ria ve göl manzarasına sahiptir. Evin Klima ile donatılmıştır. "Sessiz Sular" Bir Ekolojik Rezervi ( "Ria Formosa") bulunur plaj ve "Cacela Velha" Vila tarihsel yürüme beş dakika. Golf (yakın golf kursu yürüme 15 dakika olmak üzere), zam veya döngüsü Ria Formosa iyi keşfetme: Burada, açık havada yapabileceğiniz bir çok şey var. iklim koşulları ve doğa dinlenmek için özel bir yer yapmak gibi her mevsim harika.
Ev / apartmanda Uydu TV, gelgit tablo, kullanmak için yerel restoranlar, yönergelere ilişkin önerileri ile Misafir klasöründe bulabilirsiniz ...
We've just spent a week in Vitor's house, both villa and apartment, and really enjoyed. We were with kids and both grandparents and was a really nice experience with lots of space for everybody. The location of the house is great and the view to the sea and Cacela Velha is fabulous!! A view I'll be carrying in my memories for long!... A big garden and some games and film DVD's made the kids happy. Vitor was really helpful and always available for whatever needed. I do recommend spending some holidays in Quiet Waters! For sure I would love to return!
Marta
2016-07-31T00:00:00Z
What an incredible villa at the most magical location. Cacele Velha is one of the most beautiful spots on the eastern Algarve. Just a few minutes walk from the villa is the historical and authentic 'village' with amazing views over the sea and a few lovely restaurants. From there it is about 100 steps down to the water. During low tide you can cross on foot to the barrier reef island, that offers one of the most beautiful beaches you have ever seen. Or take one of the frequent small boats that charge 1,50. The villa is in an enclosed -and automatically locked- beautiful and large garden, it's slightly up a hill and from there you can see, hear en smell the sea. The natural pool is great to swim in. With no other houses -other than that of the owners- anywhere close, this is also one of the quietest spots you can imagine. We loved our breakfasts and dinners on the terrace. There is a BBQ and very comfortable patio-furniture. The house itself is bright, light, modern, clean and ultra comfortable. Having all rooms on one floor is also so nice. Other than kitchen and bedrooms we did not use the living space, because the weather was incredible at all times, but that space was large and bright as well, so even in bad weather, i can imagine it's a wonderful spot to relax. The gourmet & design kitchen is fully stocked with anything you can imagine. Bedrooms come with new comfy beds and luxurious sheets. Water supply in showers is great and there is an AC unit in each room. We never slept better. Vitor was a wonderful host. He was very responsive and cooperative when we made the booking. As we tried coordinate our plans to travel to Portugal he was flexible and courteous and upon arrival he was so gracious and kind. We had no issues, just a few questions and he was quick to respond to all of them. We have been coming to South Portugal for over 30 years and this house was by far our most wonderful, relaxing and comfortable stay ever. What an amazing peace of heaven!!!
Pieter
2016-09-22T00:00:00Z
Beautifull house Vitor, perfectly situated close to terrific beach and idyllic little village Cacela Velha. Beautiful rough jogging-trek along coast and beach to Fabrica and Praia da Manta Rota. Fine dining closeby. We like to recommend this place.
Hein
2016-09-11T00:00:00Z
Oda Tipi
Tüm ev/daire
---
Mekan Türü
Ev
---
Konaklayacak Kişi Sayısı
7
---
Yatak odaları
Cacela Velha, ALGARVE, Portekiz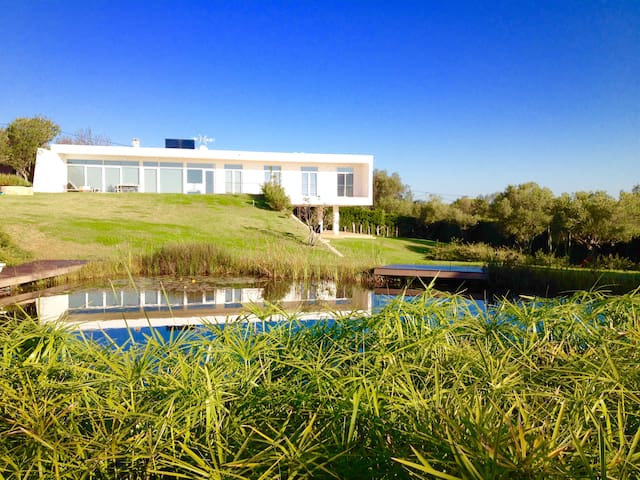 House inserted in a biological farm with sea front 300 M from the beach and golfs 800 m
perfect
Ana
2016-07-24T00:00:00Z
Oda Tipi
Tüm ev/daire
---
Mekan Türü
Ev
---
Konaklayacak Kişi Sayısı
10
---
Yatak odaları
Cacela Velha, Faro Bölgesi, Portekiz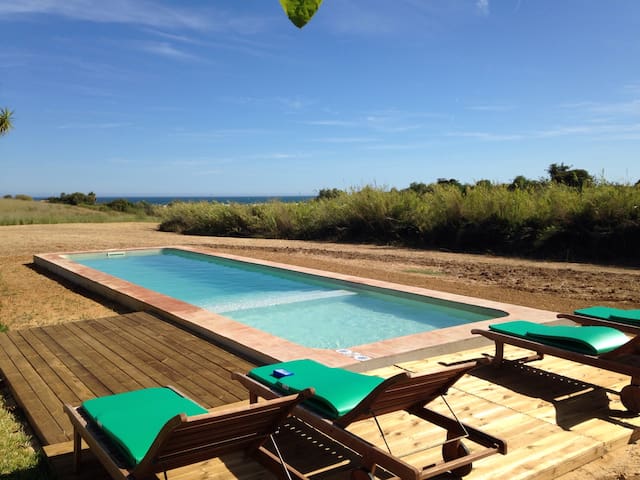 This delightful, modern villa is located on a quiet road in the beachfront and close to the golf course. As well as a spacious garden this property boasts 5 bedrooms and a beautiful terrace with an amazing view of the Ocean. Ideal for memorable family break. Many more amenities and details will be found on this personal summer home. - Close to the airport: 40' from Faro and 1h30 from Sevilla.
The host canceled this reservation 220 days before arrival. This is an automated posting.
Pedro
2016-12-28T00:00:00Z
Oda Tipi
Tüm ev/daire
---
Mekan Türü
Ev
---
Konaklayacak Kişi Sayısı
10
---
Yatak odaları
Cacela Velha, Faro, Portekiz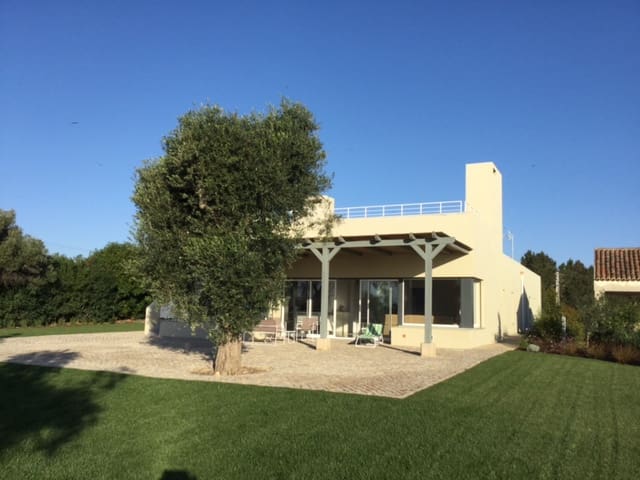 No parque natural da ria formosa. Em primeira linha com a ria e mar. Zona única no Algarve
Muito tranquilo. Vistas primeira linha de ria e mar. Em plena reserva natural da ria formosa. Acesso facilitado a serviços.
A casa está muito bem localizada, num contacto com a natureza muito interessante. A casa apresenta todas as comodidades necessárias. Foi uma semana agradável. Considero que o preço de acesso à piscina do Cabanas Resort excessivo e abusivo, uma vez que existe um acordo com os proprietários.
Carlos
2016-09-10T00:00:00Z
Excelente moradia com vista privilegiada e local muito sossegado. Recomendo
jose
2016-09-19T00:00:00Z
A very nice house in a great neighbourhood. And the view is amazing:-) 10 minutes walk from Cabanas with great restaurants and bars.
Anni
2016-10-20T00:00:00Z
Oda Tipi
Tüm ev/daire
---
Mekan Türü
Ev
---
Konaklayacak Kişi Sayısı
7
---
Yatak odaları
Tavira, Faro, Portekiz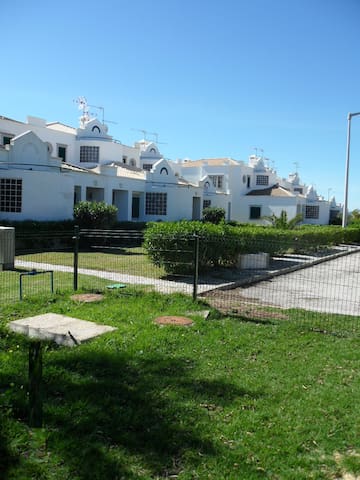 House furnished and equipped, a large garden space. 800 meters from the Cabanas Island and the Ria Formosa Natural Park. The rental includes bed linen and towels. Minimum 4 nights. Suggested activities: beach, hiking, mountain biking, Golf.
We had a great time in Cristinas house. It's located about five minutes walk from the waterfront. The house is rustic with all basic things that you need. There is a big garden on the back, where you can relax and make your own barbecue. Cristina was nice and easy to talk to, and came to our hotel in Faro to leave the keys and a map. All together, this is not a luxury place, but it is probably one of the most affordable houses that you can rent in Algarve! We would like to come back!
Erik
2016-06-09T00:00:00Z
Estaba y era todo tal como esperábamos por el anuncio y por el precio pagado. No hemos echado nada en falta, y la casa y el ajuar estaba limpio y en buen estado. Tal vez lo ponga en el anuncio, el dormitorio principal cuenta con un aire acondicionado realmente efectivo. El lugar está cerca de la playa y se puede ir andando, pero si se va en coche no hay ningún problema para aparcar cerca de la playa. Por otra parte la urbanización de la casa cuenta con aparcamiento propio y se aparca a 15 metros de la puerta. El contacto con el propietario es en ingles o portugués, pero si se tiene problema con esos idiomas, se puede escribir por email o sms y tirar de traductor. Lo único que hemos echado en falta es el lavavajillas, pero como dije antes, es asumible por el precio que se paga. Resumiendo, nuestra estancia ha sido muy positiva en todos los aspectos.
Jesus
2016-09-09T00:00:00Z
Cristina is a friendly and helpful landlady. We enjoyed the house, which is spacious for a couple, and its very pleasant garden. Located just a short distance from the sea, the accommodation has easy access to shops and views, plus cafes offering free wifi. There you can also find interesting beach walks. For an enjoyable night out on the waterfront, we can happily recommend the Atlantis restaurant for warm hospitality, great food and easy listening live music.
Claudie
2017-03-20T00:00:00Z
Bon rapport qualité prix sur cabanas Séjour agréable
Filomene
2017-03-10T00:00:00Z
El único problema ha sido de comuniciación...pues yo no se portugués, ni inglés (URL HIDDEN) casa calidad-precio esta bien. Es la tipica urbanización de casas pequeñas para turismo en el algarve. La casa esta con todo algo antiguo, pero calidad-precio inmejorable. En definitiva, casa cómoda y barata....
Sergio
2015-09-15T00:00:00Z
No começo houve um pouco de dificuldade na comunicação, mas a seguir tudo correu bem. A casa é como estava descrita, a zona é óptima. Chega-se tranquilamente a pé para a ria e para os sítis de interesse da vila.
Pulci
2016-03-23T00:00:00Z
Oda Tipi
Tüm ev/daire
---
Mekan Türü
Ev
---
Konaklayacak Kişi Sayısı
4
---
Yatak odaları
Tavira, Algarve, Portekiz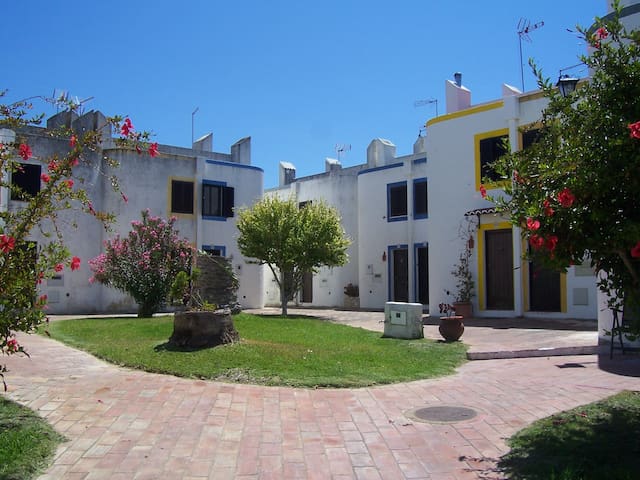 Algarviaans a holiday in the natural park Ria Formosa. An ideal place for nature lovers, birdwatchers and those seeking tranquility. It is 4 km from Tavira. Cabanas is 2 km away. There is a small safe with inland beach about 10 minutes by bike. A great base to explore the eastern Algarve, exploring the countryside and the nearby towns and fishing villages such as St. Luzia, Fuzeta, Olhão and Faro (30 km). Seville is about 2:30 pm.
Oda Tipi
Tüm ev/daire
---
Mekan Türü
Ev
---
Konaklayacak Kişi Sayısı
4
---
Yatak odaları
Tavira, Faro, Portekiz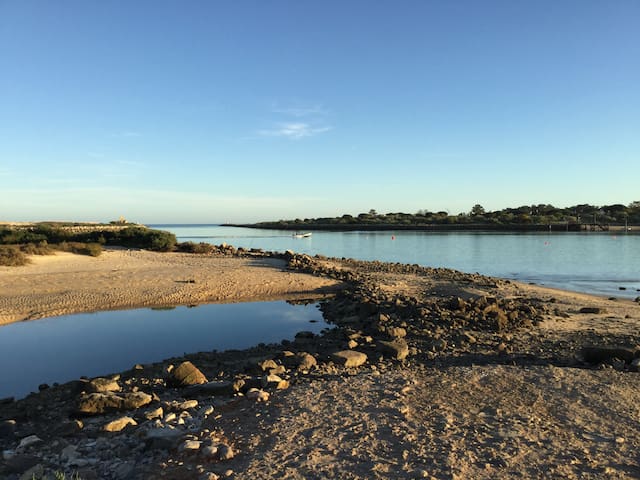 My place is 40 minutes from Faro airport and 10 mins from 5 Portuguese golf courses including Monte Rei. You'll love Casa Girassol because it was my home before we moved to a new build next door. It has all the luxuries of a home. It is in the heart of golf in the Eastern Algarve.
The house is in the countryside 10 minutes walk from the town of Cacela. We have a beautiful garden with vegetables fruit and flowers throughout the year. You are welcome to the produce we pick daily. We have ducks and chickens and you can collect fresh eggs most days. The beach is a five minute drive/ 20 minute walk with miles of golden sand.
it is a 10 minute walk to a choice of several restaurants and cafes
Oda Tipi
Tüm ev/daire
---
Mekan Türü
Ev
---
Konaklayacak Kişi Sayısı
4
---
Yatak odaları
Tavira, Faro Bölgesi, Portekiz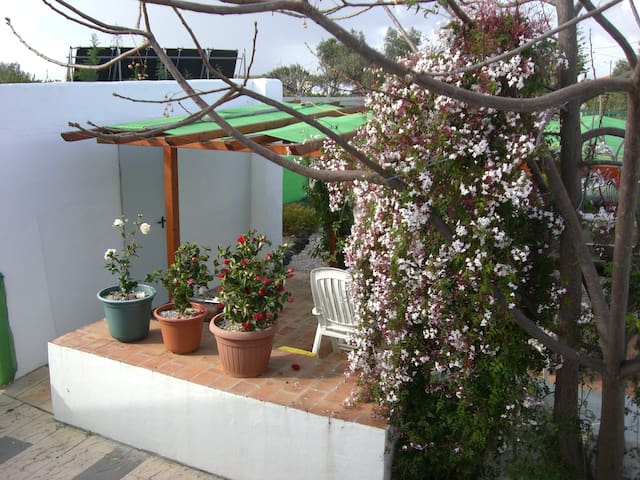 Duplex fully furnished with sea view, very close to all kinds of trade and services. Private parking for two cars. * 1st floor: living room with balcony, bathroom, kitchen and engine room. * 2nd floor: two bedrooms with private bathrooms (1 bathroom with Jacuzzi). Rooms with terrace access. Beach 10m, and for Golf lovers have 5 courses, the closest 5 minutes and further 30 minutes.
Oda Tipi
Tüm ev/daire
---
Mekan Türü
Ev
---
Konaklayacak Kişi Sayısı
7
---
Yatak odaları
Tavira, Faro Bölgesi, Portekiz
Former Portuguese fishermen completely renovated cottage with two bedrooms, living room with fireplace and kitchen. With all the necessary amenities for a pleasant stay in the environment of the Ria Formosa Park. In the Algarve.
It is 2 minutes from the sea, fully equipped and with terrace.
Oda Tipi
Tüm ev/daire
---
Mekan Türü
Ev
---
Konaklayacak Kişi Sayısı
2
---
Yatak odaları
Cacela Velha, Faro, Portekiz
Casa Fabrica is a two bedroom fisherman's cottage situated in the stunning village of Fabrica on the Eastern Algarve. The cottage is on the bank of the Ria Formosa, one of the last remaining protected areas in the Algarve and a World Heritage site.
Fabrica is a small hamlet that is still home to many working fishermen. It is unspoiled and offers a welcome change from the more built up areas of the Western Algarve. It is home to the restaurant O Costa which is known throughout Portugal for its seafood. Fabrica is located one kilometre from Cacela Velha and its picturesque church on the cliff top. It is adjacent to the Quinta da Ria and Quinta de Cima golf courses and 5 minutes drive from the Benamor Golf Course. The house has been refurbished and has a new bathroom and kitchen. An additional feature is the roof top terrace with pergola, huge BBQ, sink and fridge.
Step across the road and down ten steps and you are on the beach!
Fantástico sítio! Adorei finais de tarde no terraço com vista relaxante sobre o mar :-) ideal para desligar do mundo e aproveitar o bom tempo! Gostaria de voltar!
ana
2016-06-12T00:00:00Z
This is one of the best experience that me and my family had. The place is amazing. We will go there again for sure. Congrats Roger and thank you for everything.
Carlos Miguel
2016-08-28T00:00:00Z
Lovely cottage with scenic views in a tranquil and relatively unspoiled location. We had a thoroughly enjoyable stay!
Shiraz
2017-02-09T00:00:00Z
A fantastic location, and a truly wonderful traditional cottage exactly as described - everything we wanted and needed. Roger's communication was extremely prompt and helped make our stay really memorable. Highly recommended!
Colin
2016-01-04T00:00:00Z
We had a great stay, next eyear we will be back . See you soon :o)
Daniel
2016-04-14T00:00:00Z
This a great place with a wondeful view from the roof terrace. Ideal for long walks at the beach. Quiet. We were there in February and sometimes it was cold during nights so bring warmer clothes while travelling at this time of the year. Roger provided heaters but it takes time to make the whole house warm. The kitchen is well equipped. And the whole house is very cosy.
Joanna
2017-02-24T00:00:00Z
Nous avons passé un super séjour. Le logement est propre, bien équipé et bien situé. Nous avons apprécié la terrasse avec vue sur mer. Seul bémol, pour l'accès internet, il faut prévoir quelques heures et un voyage au village aux heures d'ouvertures de MEO pour charger le compte... Autrement nous recommandons vivement cette petite maison de location dans un petit village de pêche fort agréable.
Daniel et Jean-Charles
2016-04-21T00:00:00Z
Dix sur dix, merci Roger.
Kevin
2016-04-29T00:00:00Z
Oda Tipi
Tüm ev/daire
---
Mekan Türü
Ev
---
Konaklayacak Kişi Sayısı
4
---
Yatak odaları
Vila Nova de Cacela, Faro, Portekiz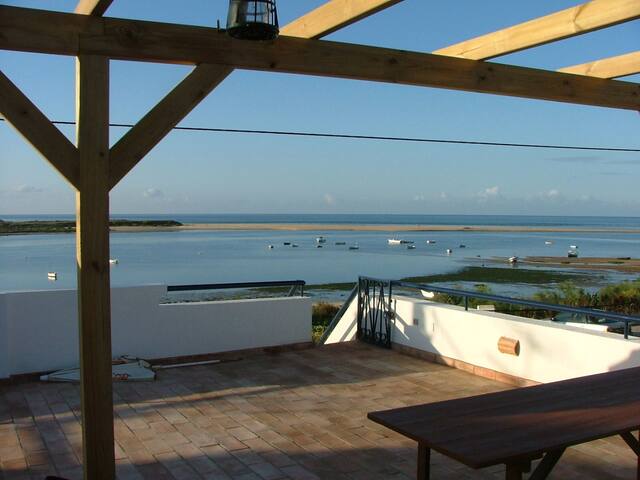 Beautiful house with 300 square meters of building area, located on a plot of 1338 square meters, with 5 bedrooms, two en suite, large living room, large barbecue area, swimming pool 12x7 meters. Garage for two cars, two covered floors, panoramic terraces. Heating stones in the room and air conditioning in all rooms. Free wi-fi, cable TV. Kitchen with oven, ceramic hob, microwave, fridge, freezer, washing machine, washing machine. All kitchen utensils. All included bed linen, and towels.
Oda Tipi
Tüm ev/daire
---
Mekan Türü
Ev
---
Konaklayacak Kişi Sayısı
10
---
Yatak odaları
Faro, Faro, Portekiz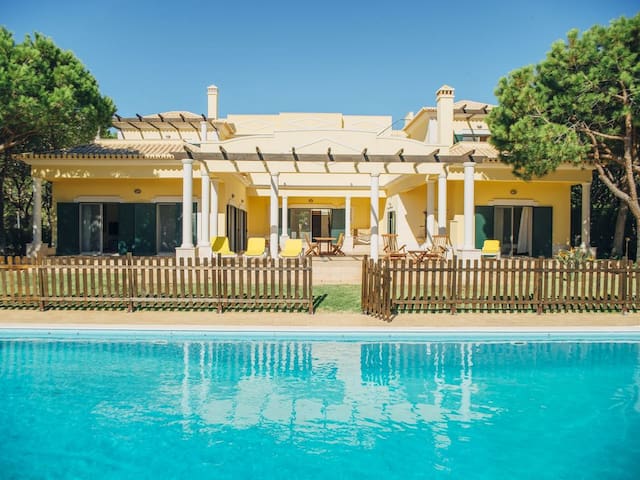 Two bedroom apartment in complex with a pool. Handy access to all local amenities and one of the Algarve's nicest beaches. Beautiful Tavira is also nearby. Easy access to Faro airport.
The apartment is great and in a decent location, 5 minutes walk to the sea. It is clean and spacious. We really enjoyed our stay there although we were surprised to find out that there is a 300€ deposit on arrival.
barbara
2015-07-22T00:00:00Z
Aaron, my experince was good. The apartment is nice and has a very good location. The swimingpool is very nice. Nidia from property management company was very helpful. Hope to repeat.
Mario
2015-08-01T00:00:00Z
This is a lovely complex the apartment is very comfortable a home away from home so thank you Aaron we are looking forward to next year.
Laura
2016-09-20T00:00:00Z
Apart from getting key to the apartment, everything went well and we had a very enjoyable holiday. The apartment was as described, the area was both quiet and safe. The complex has a lovely pool area with plenty of shade for the hot afternoons. It is a short walk to the boat taxi to the beach. The town of Cabanas is lovely as is the neighbouring town of Tavira. I would be very happy to stay here again and would also be very happy to recommend it to family and friends.
Gerard
2016-08-04T00:00:00Z
O apartamento está muito bem localizado, e tem uma boa relação qualidade-preço. O Aaron foi sempre muito acessível. Correu tudo bem, recomendo!
Patrícia
2016-08-28T00:00:00Z
Apartamento casi nuevo ,muy funcional,hemos estado muy cómodos,el sitio bueno tb , en 5 min andando se coge el barquito q te lleva a la playa.recomendable
David
2016-03-28T00:00:00Z
El apartamento es más grande de lo que parece en la foto. Está nuevo y creo que es una excelente relación calidad-precio. Es un bajo que da a la calle y Cabanas es una pedanía de Tavira muy acogedora y aunque turística, algo menos que Tavira. Está como a unos 300 m del barquito para la playa y de los restaurantes y cafeterías. La verdad es que desde Cabanas hicimos visitas a varios pueblitos de alrededor durante el fin de semana y en general fue muy agradable.
Begoña
2015-07-27T00:00:00Z
Oda Tipi
Tüm ev/daire
---
Mekan Türü
Ev
---
Konaklayacak Kişi Sayısı
4
---
Yatak odaları
Tavira, Faro, Portekiz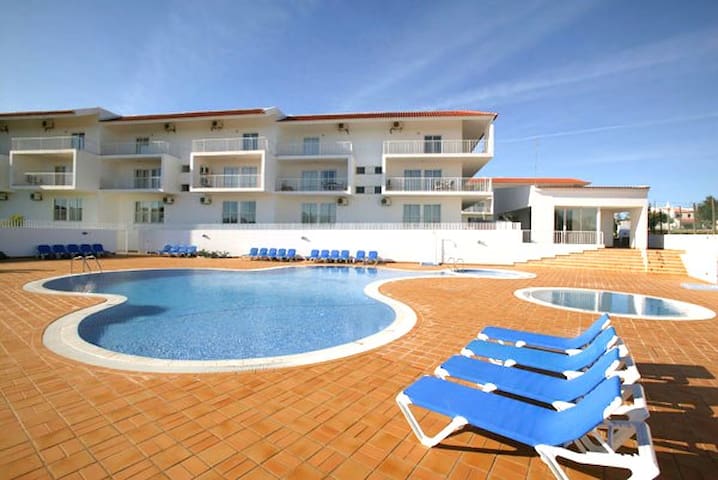 Come and enjoy the sun in our beautiful house This accommodation has four large bedrooms, and is located in a residential and quiet area. The house has all the comforts to make your stay as pleasant as possible Close to all amenities and only 10 minutes from the center of Tavira. You can cook on site at your convenience and there is also a barbecue at your disposal.
Oda Tipi
Tüm ev/daire
---
Mekan Türü
Ev
---
Konaklayacak Kişi Sayısı
8
---
Yatak odaları
Tavira, Faro, Portekiz
La maison est situés dans une résidence de standing, à 150m d'une superbe plage sur l'Océan. Restaurants gastronomiques, Piscines, Hôtel 4* etc. Golfs internationaux, ports de pêche et plaisance, villages authentiques, site naturel classé, salines et fleuve, le tout à proximité.. Vue mer du solarium. Cuisine équipée, cour et terrasses avec mobilier, barbecue CLIMATISATION INTERNET TV écran plat Séjour parfait pour les couples, les petits groupes d'amis, les familles et leur animal préféré.
Oda Tipi
Tüm ev/daire
---
Mekan Türü
Ev
---
Konaklayacak Kişi Sayısı
6
---
Yatak odaları
Faro, Faro, Portekiz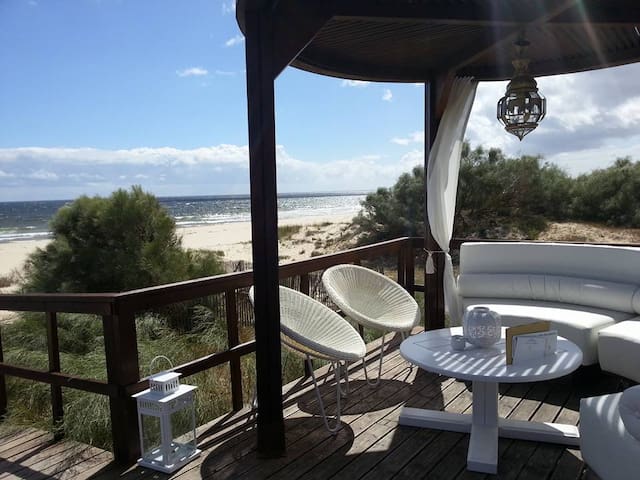 Rural house near Tavira in the country side
Rural house on the country side, 5km away from Tavira center and Tavira beach, 6 km away from Cabanas beach.
descriçao adequada
Maria
2016-08-15T00:00:00Z
A casa é como descrita. Imenso espaço, contacto com natureza, céu estrelado. Paz. O sr. Avelino é bastante simpático e prestável.
Liliana
2016-08-09T00:00:00Z
Muy tranquilo y acogedor. Si te gusta el campo este es tu sitio. Buena zona de solárium y el equipamiento justo y necesario para pasar unas buenas vacaciones. Muy cerca de Tavira un pueblo encantador. Gracias Avelino por todo un fuerte abrazo
Ruben
2016-08-24T00:00:00Z
Ficámos bastante satisfeitos, recomendo a qualquer pessoa que esteja interessada em fazer turismo rural
pedro
2015-08-10T00:00:00Z
Oda Tipi
Tüm ev/daire
---
Mekan Türü
Ev
---
Konaklayacak Kişi Sayısı
8
---
Yatak odaları
Tavira, Faro, Portekiz
Enjoy a few days in the middle of nature and a short walk from the beach. Set in a nature reserve, the Dolphin Valley combines comfort and simplicity of the field, the proximity to the beach, shopping and numerous outdoor activities!
Had a great time at vale do Boto. Its a nice quiet place wonderfully located. The outdoor porch is perfect for chilling or enjoying meals. We were very well received, and I'm definitly coming back :)
Carlos
2016-09-04T00:00:00Z
A anfitriã (Vânia) foi muito simpática e disponível. O local é muito bonito e propício ao descanso, pelo sossego envolvente. A casa é bastante acolhedora. O alpendre é um espaço muitíssimo agradável.
Maria Antónia
2016-09-19T00:00:00Z
Nous avons passé un excellent séjour dans la maison bleue de Vania qui nous y a très bien accueillis! Nous étions au calme pour nous ressourcer et profiter pleinement de cette semaine de vacances dans ce petit coin paisible, à deux pas de la plage en voiture ! En espérant y revenir un jour... Geneviève et compagnie
Geneviève
2016-07-17T00:00:00Z
Oda Tipi
Tüm ev/daire
---
Mekan Türü
Ev
---
Konaklayacak Kişi Sayısı
5
---
Yatak odaları
São Bartolomeu, Faro, Portekiz
Cacela Velha - Airbnb
:
50

misafir değerlendirmesinden,

5

yıldız üzerinden ortalama

4.41

yıldız
Tam fiyatlandırmayı görmek için tarihleri görün. Ek ücretler uygulanır. Vergiler ilave edilir.