My apartment is in a quiet part of Dona Paula, centrally located in Goa. It is fully functional with everything except TV and AC (which isn't essential this time of the year). It is close to the bus stop, Odxel & Miramar beach & Dona Paula jetty.
Quiet neighborhood with a short walk to the beach. The swimming pool is clean and well maintained, with a breathtaking view.
Vishal's flat is really amazing! It's right in the center of goa and it's good point to travel around goa. And the swimming pool is the best part of the flat! It's clean and water is maintained at good temperature always. And Vishal is really nice guy and he is always there if we need some help or suggestions. Overall, we totally recommend this place if you are visiting gap.
Mahendra
2016-08-29T00:00:00Z
From the very beginning Vishal was a very helpful host. He helped arrange everything including transport to and from the bus station, a furnished kitchen containing everything that we would have needed and even recommended restaurants and places to visit in Panjim. He was always available on call for whatever issue that might arise (cleaning the apartment, faulty appliance etc.) and was extremely prompt with his responses. We had a really great time staying at this house and would definitely recommend it to others as well.
Lt
2016-11-13T00:00:00Z
So I'll start by being honest, while booking, we were skeptical about the overall look of the apartment, but the pool certainly made a statement and we went with out instinct and booked the place. Even before we had checked in, we kept on disturbing Vishal, yes I'll use the word disturb cos we really did, for every small detail and most absurd queries and he always obliged with a smile(figuratively of course). Coming to the check in date, we didn't want to leave the house as soon as we checked in. So much so that we almost cancelled all our plans to see the beaches. ;) It was that pleasant and very spacious. The best thing was that we had all the appliances working and in good condition. The entire house was at our disposal. And the location was superb. Secluded yet not too far away from the city life for which Goa is famous. Word of advice though, you won't find night life around Dona paula or in Panjim for that matter. You're gonna have to travel to places like Baga Beach and Calangute Beach. Coming back to the peaceful stay after the day's tussle and fun was always a nice feeling. We could enjoy the pool as well. Barely anyone ever comes there. And it is better than what can be perceived from the pictures. It's huge and very beautiful. Attached to the ocean itself. Vishal, nice host that he is, even let us stay an extra 6 hours cos our flight was late in the evening. That says a lot about the kind of person he is. Pick this place without hesitation. With a group of 4/5, you won't be disappointed.
Krishna
2017-02-20T00:00:00Z
The apartment was nice and roomy and Vishal was very helpful. The pool was amazing and definitely the highlight of my trip. My parents seemed pleased too and my mother enjoyed making her breakfast every morning in the kitchen. The only con is that is it a bit out of the way and far away from most places and you need a vehicle to take you anywhere. The closest place to eat is quite a walk away, and the climb back is tiring (if you're in bad shape), but Vishal has a bunch of menus where you can order take out from as well (we never ordered). Vishal also helped us with a local private driver who took us around in his car and charged us with the best rates. The view is amazing and if you want a peaceful getaway away from all the noise and the city, this place is for you.
Roxanne
2016-01-28T00:00:00Z
Vishal was a caring and concerned host whose facility offers what is probably the best, serious "Lap-Pool" in Goa... For that function alone – if you are a keen lap-swimmer – then his offering makes it worthwhile. The geographic location of Dona Paulha where the apartment is situated, is also well-sited. 28 kms from the airport with a charge of around IR 1,000 for a mid-sized pick-up – the location is quiet, has a magnificent view and yet is also near enough to the historic attractions of Old Goa to be useful. If you are looking for more"excitement" then the more tourism-centric Northern Beaches further up the coast and starting another 30 kms away, will be more attractive. Vishal went out of his way to make my stay useful and helped by showing me where the nearest shops were for provisions: in general, unless staying along the Northern beaches, you will need some kind of transport – and Vishal will certainly be able to point you in the right direction for hire-cars or bikes etc. This location will not suit everybody – but for myself I was pleased to be able to operate from a quiet neighbourhood, enjoy a great pool and be able to travel around to visit the old Portuguese forts and churches for which Goa is reknowned.
Claude
2016-01-05T00:00:00Z
The list description is absolutely accurate, and the place is in a very nice quiet neighbourhood. It may not be for everyone, but it worked for us, because we had both work and leisure very close by. If you're planning to stay a few many days, remember to pick up provisions from near University/ Dona Paula circle, or at a little store thats 5min walk away, but not open at all convenient times. The room was a little dusty when we got in, but Vishal helped in not just getting it cleaned, but also fortifying the pantry with some bread and eggs. He introduced us to a cab owner who gave us both a pleasant drive and the best rates. His book collection is superb, and a great way to spend an afternoon escaping the sun. The pool looked great, but unfortunately I did not have time to check it out myself. Some things could have been better, such as kitchen organisation, but I'll be nitpicking. If I find myself coming back to this area of Goa again, I will definitely consider staying here once more.
Vinay
2016-02-22T00:00:00Z
The neighborhood is pretty peaceful. Its slightly away from the main town but that's fine, the transport in Goa is not a problem when you rent vehicles like we did. The highlight of this accommodation has to be the pool. We were skeptical if it would look as good as the picture, but all our doubts were erased when we actually saw the pool.
Deepam
2016-03-27T00:00:00Z
Awesome Apartment , Great location , perfect for any one .
Aditya
2017-03-05T00:00:00Z
Oda Tipi
Tüm ev/daire
---
Mekan Türü
Daire
---
Konaklayacak Kişi Sayısı
4
---
Yatak odaları
Dona Paula, Goa, Hindistan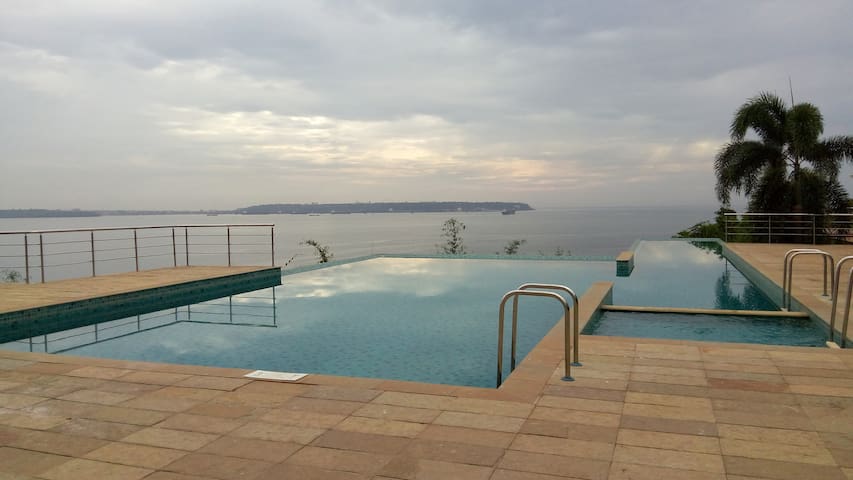 Beautiful apartment perched on a hilltop with 2 infinity pools,Gym. Secure gated community, 2 bedrooms with AC, 2 bathrooms. Minutes from Dona Paula and Miramar beach and Panaji. Excellent restaurants, within 10 min drive.
Spacious, secure and peaceful 2-bedroom 2-bath apartment in prestigious Dona Paula neighbourhood (Odxel town) 5 min drive to Dona Paula, Cidade de Goa resort and Bambolim medical college campus. 10 min drive to Miramar beach and, Panaji 10 mins drive to all the casinos in Panjim. -Secure neighborhood - Guarded community with 24 hour security. -Fabulous sea views from pool. -Fully furnished with kitchen appliances; excellent for short of long term vacation stays. Internet, private parking spot. Elevators available. Swimming pool with infinity view of the sea. Short descent to Odxel beach and a fishing village to get a taste of the local goan culture. - Bedroom 1: Queen bed and attached bath- AIRCONDITIONED - Bedroom 2: Queen bed, adjoining bath - AIRCONDITIONED - Living room with 3- seater sofa and two chairs providing comfortable seating places for 5 people. - Dining area has table providing seating for 4. - Fully furnished kitchen with refrigerator, gas stove This community is a short drive to local restaurants of all sizes including the restaurants at the five star resort Cidade-de-Goa. There are some home deliveries available such as Domino's pizza and other local goan food restaurants. Self driven cars and cabs can be arranged on request. Distances: Odxel beach - walking distance North Goa Dona Paula, Vainguinim beach- 5 min Caranzalem, Miramar beach - 10 min Candolim, Calangute beach - 35-40 min Morjim, Ashvem - 1 hour South Bambolim and Siridao beach - 10-12 min Bogmalo and Cansaulim beach - 35 min Majorda - 45 min Colva - 55 min
Quiet residential area. Perfect for a relaxed time and close to restaurants and the buzzing city of Panjim.
Nice place in the heart of Goa!! But a calm place on the Cliff with breathtaking views. There is a infinity pool which no one should miss
Sriram
2016-04-24T00:00:00Z
Loved the stay. Very clean and peaceful environment.
Harsha
2016-03-28T00:00:00Z
Oda Tipi
Tüm ev/daire
---
Mekan Türü
Daire
---
Konaklayacak Kişi Sayısı
5
---
Yatak odaları
Dona Paula, Goa, Hindistan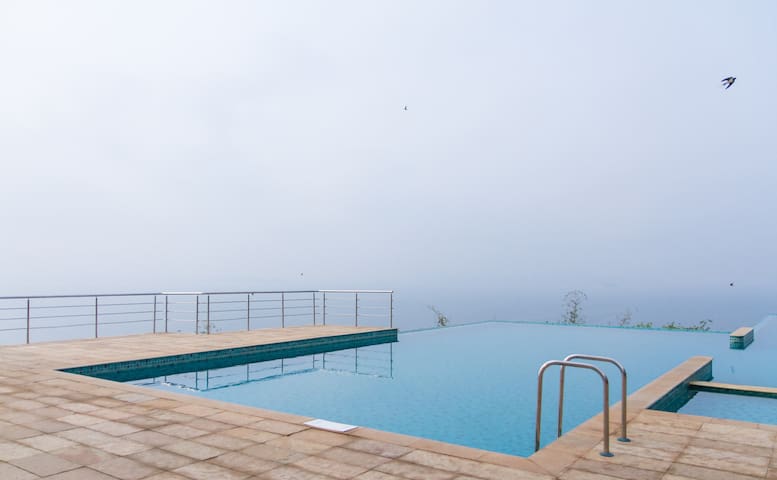 2BHK with beautiful surroundings and an uninterrupted view of the Arabian Sea, each space captures the essence of Goa to make a perfect home cocooned in paradise.
Ultra Private Space. Stunning Sea View. Outdoor Pool. Location wise the Apartment offers the best of both worlds : the peace and tranquility of a mountain retreat and uninterrupted view of the sea The apartment has been designed to super luxury standards. An ideal space for two couples with kids. Private 1 bedroom yacht available on hire at special discounted rates for Apartment guests.
24 Hours security. Located within a complex of Apartments. Each apartment enjoys it's own privacy and comes with an unrivaled 180 degree view of the sea.
I visited this place from 7th -10th Feb with my family (Parents+ wife) it is and amazing property, with awesome sea view. Flat is fully furnished and consists of all kind of amenities like AC, Fast internet, Dining table, sofa, locker etc. i really want to thanks Keith, Mohammed and Sanjay for their hospitality. The breakfast provided was awesome, especially aalo parantha was out of this world, I do recommend their hot breakfast to everyone. Building consists of nice gym and clean swimming pool. For me it was perfect location for family outing.
Gaurav
2017-02-10T00:00:00Z
Nice property and great service
Mihir
2016-06-30T00:00:00Z
The apartment is perfect for 5-6 friends with full equipped kitchen and huge balcony with a perfect view!
Mehul
2017-03-05T00:00:00Z
If you are planning to stay at a place which is in the city yet away from the hustle bustle, this is just the right place for you but you need to have your own vehicle if you plan to stay here as all the eating joints are far from this place. The home was neat and clean, had all the essential amenities. Even the swimming pool in the society has a great sea view..very clean.
Megha
2017-03-24T00:00:00Z
We really enjoyed the 2 bedroom 3 bath apartment with kitchen and washing machine. The deck is huge and the view fantastic. We especially enjoyed the quiet location and being near the Grand Hyatt resort. Your service is also excellent with taxi and every request provided quickly. Thank you and the best to you!
David
2017-04-03T00:00:00Z
Nice place for a relaxed stay at goa. All the amenities were as listed. The housekeeping was very helpful. I have just three Minor things that I didn't like. First that the pictures in the listing are of not the same apartment I stayed in. Second that the place does not have any power backup. There were power cuts a couple of times in our 2 day stay, although none were more than 10-15 mins. Lastly, there is some construction going on which puts off your mood a little and the fact that swimming pool is a little far from the apartment. But to be fair, who needs pool when you are in goa. All said, I would definitely keep this place in my mind for my future trips.
Gaurav
2016-08-16T00:00:00Z
Wonderful place, a bit secluded but jannat for peace and nature lovers..!!
Prateek
2017-02-19T00:00:00Z
Thank you Adi ..For being such a great host..Loved our stay here .. especially the balcony view ..Love the scene and privacy ..
Nikhil
2017-03-19T00:00:00Z
Oda Tipi
Tüm ev/daire
---
Mekan Türü
Daire
---
Konaklayacak Kişi Sayısı
6
---
Yatak odaları
Panjim, Goa, Hindistan
This spacious apartment is located in Cabo Apartments, Landscape Town and is situated near Bay 15, Odxel, Dona Paula, Goa and is on the second floor. Lift is less than a minutes walk away. The Property comes with an infinity pool that is about 2 min walk from the Apartment . It is not a pool facing apartment. This township is situated just a few minutes drive away from Manipal Hospital, in Dona- Paula and is just after the BSNL Office.
The apartment is fully furnished with modern amenities for your comfort. Located on the 2nd floor, it provides accommodation for a minimum of 4 adults with the provision of 2 additional guests at a minimum price. Guests are welcome to park their car or bike at their own pvt parking area here. This appt has a spacious, airy living area that comes with a sofa set that easily seats 3-5 persons. A lovely showcase is also provided. The balcony view from here has a great view of the pristine greenery from here. The dining area has a dining table for 4. Kitchen has amenities which include: fridge, micro-wave, an induction plate and as water purifier. Basic cutlery is also provided. Kitchen is meant ideally for re-heating properties. The bedroom is spacious, airy thanks to being on the 2nd floor. It is also air-conditioned with the master bedroom being en-suite. The second bedroom is also air-conditioned but has a common wash cum bath area.
The property is situated near Bay 15, Odxel, Dona Paula, Goa. Dona-Paula beach is just 2kms from here. Miramar Beach is the other beach at about 6 kms from here. 'Navnath' is the nearest mini-market cum wine store at about 1.5 km from here.
The host was wonderful. He did everything he could to make sure our check-in was a smooth & wonderful process. The apartment was exactly how the pictures depict. However, the pool turned out to be even better! The best view I've ever seen from a swimming pool. The location is also nice, near the airport & centrally situated in Goa; which makes travelling to either North & South Goa an easier task. We had a wonderful time!
Ishan
2016-06-27T00:00:00Z
I booked the apartment for my brother and his family, as they had to extend their stay for a day in Goa. We had looked at the Panjim property while booking, but before they moved in, they were told that the Panjim property wasn't available and that arrangements were made at Casa Melhor near Calangute. They loved the apartment and the owner was also very helpful! Definitely would want to go again for a longer stay in the future.
Nihar
2016-06-06T00:00:00Z
Great location to public transport and a 5 minute walk to the main road. Alot of dogs on the way though. The apartment has plenty of space, and they are updating some parts of the apartment, however some parts are in need of an update, especially the bathrooms. It is quiet place, with good wifi, air con, lots of positives. Pool is 5 star but a short walk to get to it at end of apartments. It is a shared pool. Very helpful caretaker.
Bronwyn
2017-01-20T00:00:00Z
Awesome stay and very friendly host!
Vanessa
2017-01-11T00:00:00Z
Oda Tipi
Tüm ev/daire
---
Mekan Türü
Daire
---
Konaklayacak Kişi Sayısı
6
---
Yatak odaları
Goa, Goa, Hindistan
Our vacation home is located in the prestigious Dona Paula area of Goa. Situated at the end of Nagalli hills this modern 4 air conditioned bedroom/4 full bath accommodation offers panoramic views of the ocean and valley. The world famous Vainguinim beach is barely a kilometer away and which is know for its loneliness and beautifull surroundings covering the palce , the other beaches being Miramar (3 km), Dona Paula and Bambolim. Panjim (Capital City) - Approximate driving time is 10 minutes , & distance is 7 kms (4 miles) . We are on the upper first floor in a quiet, safe and peaceful upscale neighborhood. If you are looking for a restful vacation in tranquil surroundings with gorgeous views this is the place for you. Witness gorgeous sunsets from your private verandah or the unique "moon-rise" as the new moon ascends over the valley and bathes the apartment in moonlight.
We are located in the upscale neighborhood of Nagalli Hills in Dona Paula. The cidade-de-goa 5 star resort and the Manipal Hospital are about 1.5 km away. We are located about 2 km from the Dona Paula jetty which offers water sports, entertainment, restaurants and casinos. Panaji city is about a 7km distance. The Vaiguinim, Dona Paula, Bambolim and Miramar beaches are all within a 5 km distance.
What was good. Lovely view and in good walking distance to the international centre. What was not so good. Kitchen was dirty, wifi didn't work, beds were not set up as requested, difficult to find, accuracy of communication.
Sophie
2017-01-20T00:00:00Z
Dominic's place was perfect accommodations for my group during the THINK Conference this year. The space and view was lovely and the arrangements went off without a hitch. It fit all of us well, and we had a great time. There aren't many residencies near the flat, so noise or commotion at night were not problematic. However, this also means that the location is off-the-beaten-path, so while the location was great due to its proximity to our conference, but budget travelers should be wary of transportation costs to the hotspots of Goa. All in all, I would highly recommend this house for large groups.
madison
2012-11-05T00:00:00Z
The apartment has a great view and is located in a calm neighborhood. Location is a little off beat but it takes only 5 minutes to the next supermarket and about 10 minutes to Panjim (by car/bike). Rooms were fully air conditioned, clean and spacious. The caretaker was always friendly and helpful.
Janosch
2012-05-13T00:00:00Z
Definitely not recommended. Pictures do not depict the actual state of the place. Smoke burns on the couch, a horrible smell in the apt. We had 3 sets of guest staying there and all of them left before the check out dates. Also accessibility to the area is very limited so if you intend moving around the city this location is not ideal.
Pradeep
2013-10-16T00:00:00Z
Oda Tipi
Tüm ev/daire
---
Mekan Türü
Daire
---
Konaklayacak Kişi Sayısı
16
---
Yatak odaları
Panaji, Goa, Hindistan
Come home to 180 degrees of uninterrupted sea view at Acasa Anantam Dona Paula, Goa. It is the most perfect location if you want to explore the sunkissed beaches,old churches, flea markets, beach restaurants or pure tranquility.
Ultra Private Space. Stunning Sea View. Outdoor Pool. Location wise the Apartment offers the best of both worlds : the peace and tranquility of a mountain retreat and uninterrupted view of the sea The apartment has been designed to super luxury standards. An ideal space for two couples with kids. Private 1 bedroom yacht available on hire at special discounted rates for Apartment guests.
24 Hours security. Located within a complex of Apartments. Each apartment enjoys it's own privacy and comes with an unrivaled 180 degree view of the sea.
Good place, amazing view, cool place
sandeep
2017-02-26T00:00:00Z
This was our last stay in Goa & we just wanted to completely relax, and this place did that. Sanjay was a massive help by ordering us pizza & helping us with groceries. They brought round breakfast every morning which we unfortunately couldn't eat due to food poisoning (wouldn't recommend dominos) The view is amazing & the pool is too. This place is very secluded so stock up on food & DVDs. The only downside was that the place needed a good deep clean. There was what looked like mentos in the bathroom/bedroom, cockroaches (3) in the pots and pans draw & hair in the shower.
Lily
2017-03-11T00:00:00Z
It was a great staying experience at Adi's place. Everything was well arranged and the view from balcony was breathtaking. We truly enjoyed the stay.
sourabh
2017-01-28T00:00:00Z
Great place by the bay ; though secluded is quite relaxing and peaceful . Very close to Grand Hyatt Hotel
Jaideep
2016-11-18T00:00:00Z
The view is great. Bay15 is a nice place to eat. Vehicle is a must as the site is remote. The apartment is really nice.
rajiv
2017-02-12T00:00:00Z
The property was great, away from the hustle bustle of the main city. The great views compliment the apartment - a perfect getaway for people coming in from the concrete jungle. However if you plan to stay indoors and chill, make sure you stock up on basic food items as the closest grocery store is a 15min drive. Otherwise the place is self sufficient with other basic necessities to make your stay enjoyable :)
Munazzah
2016-08-08T00:00:00Z
The place is exactly as described. The photographs are accurate. The view from the expansive balconies is awesome. The apartment is perched on a hillock and overlooks Odxel beach.There isn't too much habitation / commercialization around and its quiet and peaceful. The apartment has been done up well and is well maintained. The linen, towels etc. were adequate in number and decent quality. The daily housekeeping service was a huge plus.The kitchen was well stocked with adequate pots, pans, plates, cutlery. Everyday we got fresh supply of milk, eggs, bread etc. too. The location is a little off -so there aren't any stores etc. close by. You need to do some planning around that. Sumit (the housekeeping guy) was generous enough to get us small stuff from the market if needed. Adi has thoughtfully placed a folder with menus etc. - so we didn't have to do too much discovery. In the grander scheme of things the location is central - close to the airport & Panaji and equidistant from the northern and southern shores. This is the first floor apartment, so there is mosquito etc. but given its monsoon in Goa - thats an expected problem. There is also construction going on currently of a new block in front of the existing building. Its not that much of a bother (not too much noise or dust and doesn't impact the view) - just that its there with people milling around and working right through the day. Our neighboring flat was also getting their interiors done and they decided to do some banging work on Sunday morning. Luckily we had plans and left! When we came back, it was all quiet. We had a great time - Adi also called us and gave us some good tips about dining options in the area.
Aditi
2016-07-12T00:00:00Z
The staff of Adi, Miss Lochan was very much attentive and considerate. The house keeping guy, Rajendra was also helpful. If you really like a stay out of the town, in a very tranquil location with trees surrounding you ( of course with the bugs and flies after sunset) it's a perfect location. Without a vehicle please avoid to stay here as it will be very much inconvenient for roaming around.
MAYUR
2016-11-04T00:00:00Z
Oda Tipi
Tüm ev/daire
---
Mekan Türü
Daire
---
Konaklayacak Kişi Sayısı
6
---
Yatak odaları
Panjim, Goa, Hindistan
It's a fully equipped apartment located in a beautiful and centrally located Dona Paulo. It's famous for beach and it's view as you can judge from the pool. We will ensure you have a comfortable stay with us.
It's in a unique location which makes it more popular among all age groups. Kindly note - COMPLETE UNIT WILL BE ALLOCATED TO ONE BOOKING AT ANY TIME OF THE YEAR FOR FULL PRIVACY. NO SHARING, IT'S COMPELETELY INDEPENDENT UNIT JUST FOR YOU.
You can walk down to the beach. Local shops and restuarants are located in the vicinity of 10 mins drive. Located just 15 mins drive from Panjim and Miramar. Main Road is about 800 mtrs from where you can get local transport.
It's exactly what the picture shows and the caretaker are very friendly and helpful.The place has well maintained swimming pools with amazing view.Whenever I am visiting Goa,I would like to stay at this (URL HIDDEN) a rare find !
Vishal
2016-10-01T00:00:00Z
Great place! We absolutely loved the pool. The place is clean and reasonably sized for a group of 4 people. The location is also quite nice. Tucked in enough to not hear the hustle bustle of the city but also not too far from the main road. Gaurav is a brilliant host. He keeps into touch with all his guests and is extremely open to feedback. Would love to stay here again.
Mahak
2016-11-28T00:00:00Z
The place was specious. Location was peaceful, its a bit inside from main road. However the sea was just behind the apartment and from the pool you actually get absolutely gorgeous view of the bay. brilliant. You can walk down a stairway to a fishing village below and Odxel beach. But that is really nothing to write home about. You need to speak with Gaurav / house keeping agency to fix up a cleaning schedule. That was bit of an issue. Otherwise a great stay.
Arnab
2016-05-31T00:00:00Z
It was an awesome place.....host was excellent and everything is as described
Animesh
2016-06-22T00:00:00Z
Incredible pool, very nice to place to stay :)
Dominic
2016-09-17T00:00:00Z
Thanks for given beautiful apartment to us. Apartment was nice and swimming pool view point also too attractive one. Property manager Sanjeev is too friendly.
VEERAPANDIAN
2017-02-06T00:00:00Z
The swimming pool is truly spectacular and quite private. Overlooking the sea, the pool was picturesque and a great place to relax and unwind. The apartment was clean and well maintained. The rooms were spacious enough to accommodate a group of six. One issue that we had with our stay is with the caretaker who was assigned to us. He was inexperienced and he couldn even point us to the location of the pool. In fact he wasn't even sure if there was a pool. He didn't know where the WiFi router was or where to get potable water in the apartment. I hope the host addresses this issue soon as it could ruin an otherwise wonderful experience.
Rahul
2016-06-03T00:00:00Z
We had wonderful time and created pleasant memories to cherish at Goa. The villa for stay was cherry on cake. Clean n value for money. Definitely thumbs up for the place! Cheers!!
Apurva
2016-05-14T00:00:00Z
Oda Tipi
Tüm ev/daire
---
Mekan Türü
Daire
---
Konaklayacak Kişi Sayısı
6
---
Yatak odaları
Panjim, Goa, Hindistan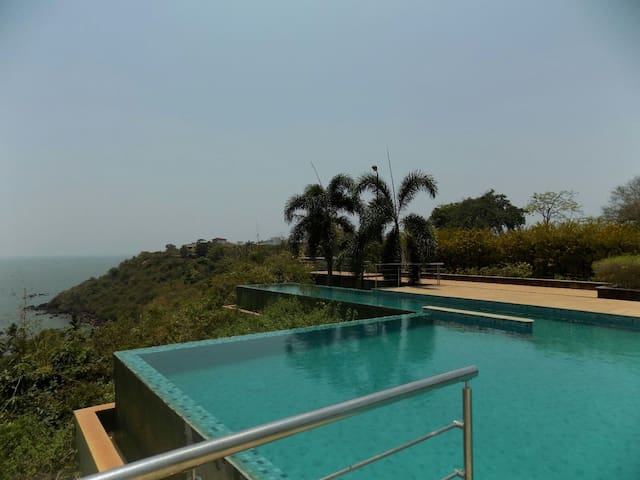 A stunning Duplex Apartment at Dona Paula, Cabo de Goa boasts of three air-conditioned bedrooms, each with a private balcony overlooking the Arabian Sea. Guests also have access to a shared, luxury infinity pool.
Designed and furnished to truly echo the tropical setting, Cabo de Goa is dressed in a palette of earthly tones, brought to life with bursts of warm colours reminiscent of the typical Goan-Portuguese style. The duplex apartment has a large living room, dining area, bar counter, a fully equipped kitchen and three air-conditioned master bedrooms with private balconies. Each rooms offers the idyllic view of the Zuari bay and the Arabian Sea. The rooms are named after major Portuguese rivers. Meals: The duplex comes with a fully equipped kitchen and is stocked with necessary breakfast ingredients such as eggs, bread, jam, butter, corn flakes, milk, coffee, tea, juices, etc. You can either cook the breakfast by yourself or hire a cook at an extra cost (Cooking charges INR 1000 per day. The cook will be available in the morning from 7.30 am to 10.30 am and in the evening from 5 pm to 7 pm). Please note that the material cost for lunch/dinner in not included. You can pay the cook for the actuals/groceries on site. Daily house keeping services will be provided, however linen would be changed once in 2 days unless guests insist changing it on a daily basis. For book lovers we also have a mini Library within the apartment. Just in case you are in the mood for some ready-to-eat food from the nearby restaurants, you can order your favorite cuisine right from Indian to Portuguese or Konkan/Goan food and in less than an hour they will deliver the food at your doorstep! Most of our guests end up admiring the views and hardly leave the property but if you do decide to step out then you also have easy access to taxi hire service. When the right amount of sunlight hits the balcony, the yellow coloured walls lights up with a golden glow and the various artwork and paintings adorning the walls, especially Mario de Miranda's illustrations in the living room come alive. We don't think you'll ever get to see such a beautiful sight on both inside as well as outside somewhere else. A small portico overlooking the sea is dressed with beautiful flower pots and is equipped with a comfy seating area perfect for an hour or two of chilling around. But the highlight of this place is still its infinity pool. The pool deck is barely 150mts from the apartment. If you love to lounge on the sundeck or take a dip in the infinity pool, then this is a must visit place to indulge in meditation and mesmerizing sunset in the backdrop of ocean. Forget glitzy restaurants and flashy bars, this private villa provides a sun-kissed escape from the city life with all the privacy and comfort of your own home. The pool looks out towards the ocean, and during sunset, when the fiery red of the skies contrasts against the greenery, it is best vantage point for watching the sun go down.
Cabo de Goa is 5kms away from Panjim city, at Donapaula. Reach Goa university at Donapaula , from Goa University aprx 2 kms on Donapaula road take left turn to Odxell and in about 500 mts on this road, you find Cabo Landscape. Land mark: Near pub Bay 15. Nearby Landmarks: Take a visit to the pristine beaches of North Goa at Calangute, Anjuna (18- 25 kms), famous Dona Paula fort (3kms) , Mira Mar beach (4kms), famous Old Goa Churches (15 kms) , Mangeshi and Mahalasa temples (20kms) and try your luck in the Panjim off shore Casinos.
The place was very Good and the communications very helpful. Only problem is the location, if you want to move to do shopping ... you need a cab, but the host will provide you a good contact number for that.
Julien
2017-03-15T00:00:00Z
Enjoyed our stay. Hosts were helpful. Only thing we didn't realize (though maybe our fault) was that the pool was not so close to the apartment and shared with other apartments
Phyl
2017-01-02T00:00:00Z
Oda Tipi
Tüm ev/daire
---
Mekan Türü
Daire
---
Konaklayacak Kişi Sayısı
9
---
Yatak odaları
Goa, Goa, Hindistan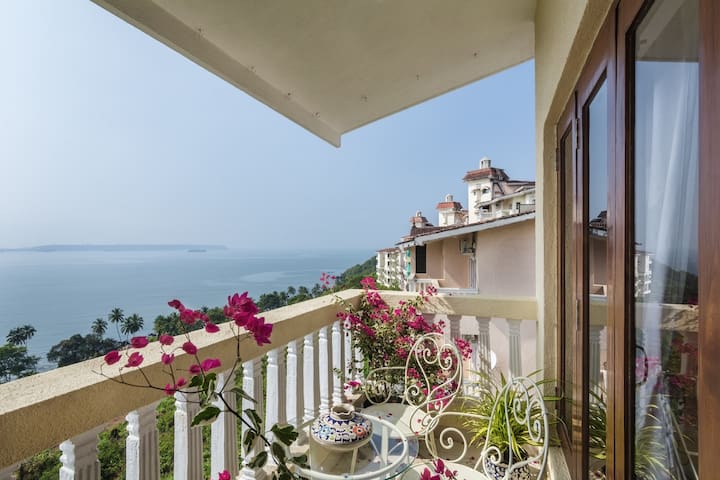 A 3000 sqft Apartment centrally located in Dona Paula, Panjim. Beaches nearby Bambolim, Miramar.
A Beautiful Home overlooking the Greens Fields of Goa on One Side and a Sea View on the other.
A mixed culture of families live in this condominium
Oda Tipi
Tüm ev/daire
---
Mekan Türü
Daire
---
Konaklayacak Kişi Sayısı
5
---
Yatak odaları
Taleigao, Goa, Hindistan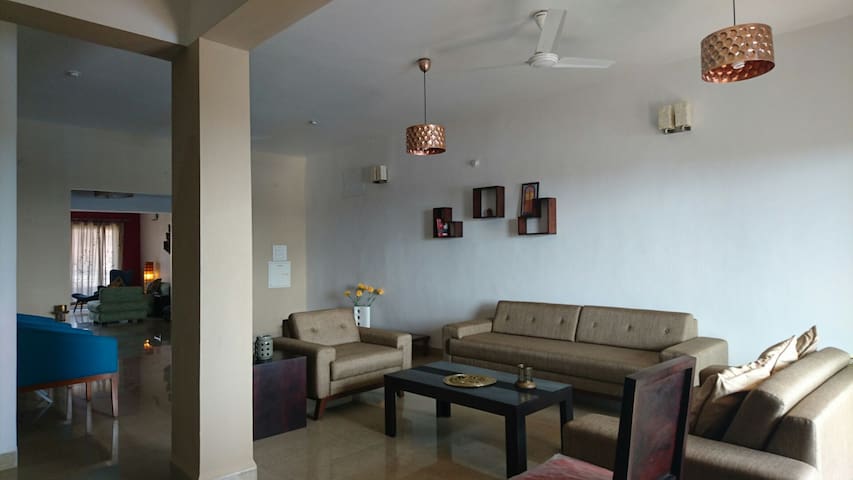 Being located on a cliff in Dona-Paula, the apartment possess one of nature's best views overlooking greenery at the foot of the hill and sea in front of it. Apartment is fully furnished like a 'ready to move in' home.
3 Bedroom/Hall/Kitchen apartment having area 118 sq.mt Amenities include:- -Sofa set with center table -32" LED TV -Dining table with 6 chairs -Refrigerator -Water purifier -Hot water in all 3 bathrooms -Washing Machine -3 wardrobes -3 double beds -3 A/C s -Stilt Car Park(1 slot) -Cooking facility on request only(extra charge)
My neighborhood is a society of loving and well respected families. The nearby areas -- Within a radius of 2 kms, one can spend time at the famous Dona-Paula jetty, water sports and kayaking at Vainguinim beach, Chances Casino and much more. ATMs, Nationalized banks, Medical stores, Multi-speciality Hospital, Restaurants, Grocery stores, etc are within 1.5 km radius.(10 mins walk) Panaji City -- 7 kms(10 mins drive)
The stay was very comfortable. The view from the apartment is very pleasant and relaxing with fresh sea breeze blowing continuously. Waking up to the ocean is an amazing experience. The rooms were clean and we felt at home. The host Gladwin was welcoming and made sure we had a good stay. It was a nice getaway for us and we will definitely make this trip again.
Savio
2016-08-01T00:00:00Z
Place is very good. View is great from balcony. Must stay place
manish
2017-01-29T00:00:00Z
Very good, beautiful and peaceful place to stay
Prasad
2017-01-01T00:00:00Z
Well furnished, clean and spacious apartment with exotic views from the balcony. The host was very cordial and cooperative. Highly recommended!
Kuldeep
2017-02-17T00:00:00Z
Amazing view, no noices at all, great rooms. A bit far from the center but if you rent a scooter its perfect. Joseph and is dad are very helpfull. Do not hesitate to book.
Ivan
2017-03-01T00:00:00Z
Great atmosphere and gladwin is very good host. Though we didn't connect more with each other. Feel comfortable with to talk with him over phone. He provided all possible support from his end.
jayant
2016-10-25T00:00:00Z
I would say this was a wonderful experience from the word go. The owner was coordinating from the time we booked until we checked in and was very helpful always. He was responding to us and even was ensuring that he was available to receive us when we reached his place. The apartment was also as described and the photos do match exactly the way they had described. The added bonus was the washing machine and also he helped us in getting to a diner to get some good at night. The Apartment was clean and well maintained and from all the balconies we can see the Arabian sea. The place is situated in a quiet place and so it was a pleasant stay away from the city life and the crowd of Goa. There are a lot of good places to eat like Peeps that is just 500 meters away. Overall a great experience and most important a wonderful host. He knows what travelers want and takes care of these very well.
Srilesh
2016-11-28T00:00:00Z
Thanks for the homely environment. We were a family of 6 and the place felt like home. Our stay was just for a day, but it was a memorable one. Gladwin was very flexible with the check-out timing. He gave us another apartment just to keep our luggage and freshen up before we left as the apartment had been booked by another guest. I definitely recommend this place !
Swetha
2016-11-27T00:00:00Z
Oda Tipi
Tüm ev/daire
---
Mekan Türü
Daire
---
Konaklayacak Kişi Sayısı
6
---
Yatak odaları
Dona Paula, Goa, Hindistan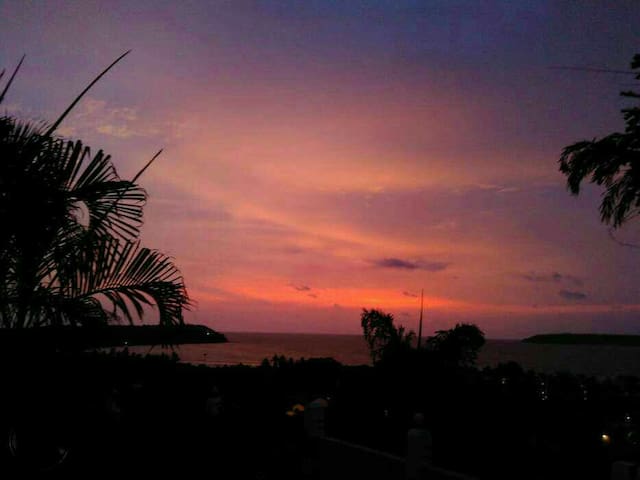 Our cool 2 Bhk flat with field and pool view. We have a 2bhk Apartment with 2 Ac bedroom available with comfortable Bed. It has bathroom with shower (hot & cold). Rooms have view of beautiful palm trees. Located at a very short distance from the beautiful Miramar beach and Dona Paula. Perfect stay for your perfect Goan holiday
Enjoy your stay at our fully furnished apartment you will have a furnished spacious bedroom where 2-3 persons can sleep comfortably. It has a wardrobe and a bathroom with shower (hot & cold). There is Bed, dressing table, a bedside table. The interiors are elegant, bedroom cozy and a view of beautiful palm trees. There is kitchen with cooking and refrigeration facility. In addition to the above mentioned there is also a separate dinning space along with well furnished hall. The carpet area of apartment is 95 sq mt. Shops, Restaurants, Cafe's, Church, Temple, bus stand, casino, beach nearby.
Apartment is close to Miramar beach, dona paula, panjim market, goa university, casino, kala academy
This was the first time I'd used a rented apartment room and that too through Airbnb. But I found the whole arrangement really convenient and reliable. Our host was also responsive and helpful before and during our stay. The flexible check-in and check-out times worked well for us because flights sometimes get delayed. The location was great because of the peaceful surroundings, proximity to a supermarket within the apartment complex, and proximity to Panaji and Dona Paula beach. There is hardly any traffic. The apartment complex is clean and well-maintained. We were a family of 3 (my parents and I). So we could adjust easily in the separate double bedroom with attached bath. The kitchen and dining-cum-living room were shared spaces. Elevators are available. So reaching the apartment on the 6th floor was a breeze with luggage, more so for my physically challenged mother. I'd especially recommend this place for small families, couples and solo travellers who'd like an economical stay and prefer to cook (or manage on their own) rather than eat at hotels/restaurants. Eating out can get expensive.
Kamakshi
2016-12-22T00:00:00Z
Came to attend IFFI 2016 and FilmBazaar and stayed at this place for 10+ days. The hosts of the apartment are one the most helpful and amazing people I have ever met. The place is easily accessible and around 10 minutes drive from Kala Academy. I hired an activa with the help of the Host. No noise, good view from the window, attached bath, common kitchen and living area. The host and I became great friends for life. Its value for money and very safe and calm place to stay. I will recommend this place to people visiting Goa during x-mas and New Years. Thank you guys for being such a lovely Host. God Bless you always
V
2016-11-29T00:00:00Z
The place is very close to a Dona Paula and Miramar Beach. This room is located in an apartment and it was well maintained and clean. The house was more better than the pictures shown in Here. A good choice to stay with your family or friends. It's located in a gated community.
Bala
2017-01-02T00:00:00Z
Had an amazing stay at Hemant's place. Felt as if we were staying in our own home. Also Hemant is an awesome guy and helped me and my wife in every possible way as it was our first trip to Goa.
Abhi
2016-12-16T00:00:00Z
Host is very helpful. Decent place for staying
Nehal
2016-10-23T00:00:00Z
Тихое,спокойное место. Рядом общественный транспорт. В доме прод. Маркет. Очень приветливый отзывчивый хозяин. Чисто, уютно. Рекомендуем.
Валентин
2016-12-09T00:00:00Z
The place is fine and has a shop downstairs which is convenient and Hemant also picked us up which was great and very useful. The hosts are great and very accomodating - cheap bus into the city for 10IR. Excellent communication and fine if you happy with a cheap place to stay. A little out of the city but not a major problem.
Ian
2016-11-10T00:00:00Z
Place is very neat and comfortable... hosts are very helpful and friendly... place is worth every penny you guyz are spending on for stay .....
Shubham
2016-11-07T00:00:00Z
Oda Tipi
Tüm ev/daire
---
Mekan Türü
Daire
---
Konaklayacak Kişi Sayısı
6
---
Yatak odaları
caranzalem, Goa, Hindistan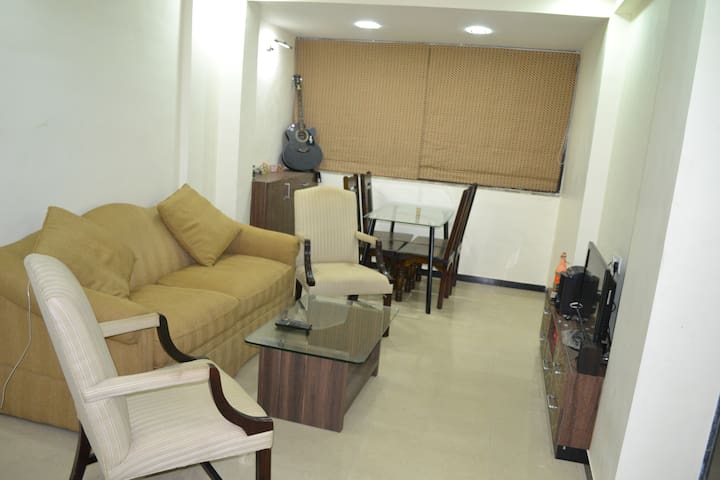 A beautiful 5 bedroom fully furnished apartment with a private pool and a fantastic view in Dona Paula. This makes a perfect holiday home for those who wish to have a comfortable and a luxury stay in Goa. Come here and live your dream holidays in Goa!
This is our villa located in Dona Paula. The ground plus one is the part which is turned into a luxury boutique villa and it has 5 luxury rooms. All can be booked by a group of friend (max upto 15 pax) or a family of 15. Guests will get a private parking space, A private pool, Kitchen and luxury rooms with attached bath. The villa has a common dinning area, Common sitting area and we also have staff who will be cleaning the rooms daily and preparing breakfast for you on daily basis. Breakfast Breakfast is included in rates and will be provided every morning between fixed times. Lunch, dinner and other meals. Guests will have access to the kitchen, they can bring their own groceries and cook their meal or can request the staff to cook for them (additional charges apply). You must request in advance if you need the staff to cook these meals for you. Guests can also order their meals from the nearest multicuisine restaurants as most of them deliver the food at our place. Pleas note i and my family stays on the top floor and we have a separate entrance. We would like to allow your privacy and we expect the same from our guests.
We are located in the Nagalli Hill colony in Dona Paula. You will enjoy the full Panjim city view and the sea view from our house. Dona Paula Jetty is just 2kms from here Vainguinim beach is approx 1km Caranzalem and Miramar beach is approx 4kms Panjim city is 6kms Airport is approx 25kms from here Nearest train station is Karmali station which is 15kms away Multicuisine restaurants, Grocery stores, Medical stores, Hospitals, ATM machines, Banks etc are within the radius of 3kms Calangute, Baga, Candolim, Vagator, Anjuna etc are approx 20kms from here.
Oda Tipi
Tüm ev/daire
---
Mekan Türü
Daire
---
Konaklayacak Kişi Sayısı
15
---
Yatak odaları
Goa, Goa, Hindistan
2BHK Sea view luxury apartment with beautiful surroundings and an uninterrupted view of the Arabian sea, each space captures the essence of Goa to make a perfect home cocooned in paradise.
Ultra Private Space. Stunning Sea View. Outdoor Pool. Location wise the Apartment offers the best of both worlds : the peace and tranquility of a mountain retreat and uninterrupted view of the sea The apartment has been designed to super luxury standards. An ideal space for two couples with kids. Private 1 bedroom yacht available on hire at special discounted rates for Apartment guests.
24 Hours security. Located within a complex of Apartments. Each apartment enjoys it's own privacy and comes with an unrivaled 180 degree view of the sea.
The house is located in a good location with a huge balcony providing an excellent view of the sea and beautiful sunset. Bay 15 is nearby and good music can be heard in the evenings with drinks. Its a new house which is quite neat and clean. Rooms are quite spacious with attached bathrooms and spacious living room for parties, get-togethers. Clean linen and sufficient utensils were also available. Security was good as well. Since its a new locality, some of the grocery and food delivery options provided by the host refused to deliver. We also faced nuisance because of construction going on in nearby aprtments. The maintenance could also be improved as some of the lights and door bell etc needed to be repaired. Overall, the property is great, but the service /assistance can be improved.
Rohit
2017-01-01T00:00:00Z
Aditya and his crew were fantastic and ensured we were comfortable for the entire stay. Our room was cleaned daily and food for breakfast was provided at no additional charge. The location is beautiful and the neighborhood is quiet. Goan destinations are all nearby and easily accessible by car. Good value.
Ramsey
2016-07-11T00:00:00Z
First the good things - the view is really nice, it is very quiet in the building and the facilities - wifi, gym etc are as promised. However, on the other hand, the flat is in the middle of nowhere really and as a result food became a major issue. None of the restaurants we called wanted to deliver in this area. And there were no good restaurants nearby. The other issue was cleanliness. Bathroom was really dirty when we arrived and had to clean it ourselves. The beds had ants crawling all over it in the night which woke us up. And when we went to the kitchen in the morning, the food we had left outside had been half eaten by rats. When we complained to the staff there, they just said we should keep things inside. Not clean at all. Messaged the host with our problems and did not receive a response. He has outsourced the management of the property to some staff who live there but they are clueless and unable to help much. Very poor management and communication.
Aniruddh
2017-01-27T00:00:00Z
This was by far the best Airbnb we have ever stayed in the room was clean adi the host was very helpful he recommended some awesome places to visit since this was our first Goa outing he was very open to communicating with us about any questions he was an impeccable host we would stay here again. Ans I wish other Airbnb hosts could be more like aditya.property is one of the best in Goa I highly recommend this place
karthik
2016-09-13T00:00:00Z
Short on words to express my feeling!! If you are planning to stay near Panjim and still close to sea, this is perfect place to stay with your friends and family...Just pack your bags and land there!! Its fully furnished and equipped HOME, most important, its maintained well!! ️️️️️
Harshil
2016-10-20T00:00:00Z
Beautiful apartment with a stunning view. Very communicative and helpful. We very much enjoyed the breakfast. Will definitely stay here again if we come back to Goa.
Nahal
2017-03-03T00:00:00Z
Oda Tipi
Tüm ev/daire
---
Mekan Türü
Daire
---
Konaklayacak Kişi Sayısı
6
---
Yatak odaları
Panjim, Goa, Hindistan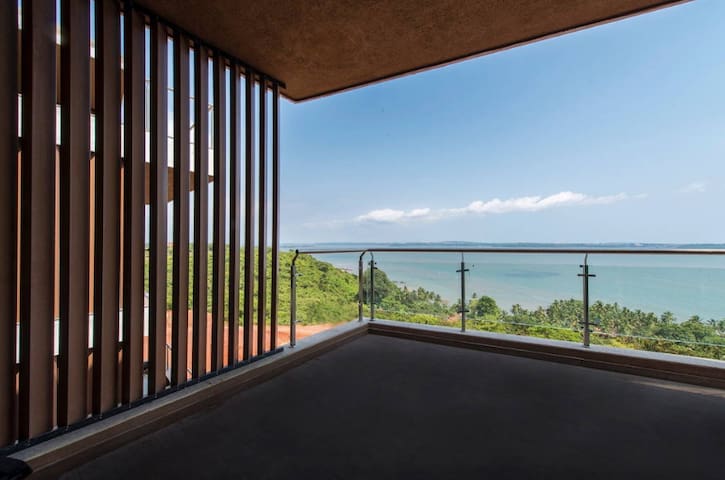 BRAND NEW modern apartment units in the heart of the city, right at Donapaul.which has four flats and two pent house We have really comfy beds, high-speed wifi, LCD TVs and safes in each unit. The clean and shiny bathrooms come with towels and soap:)
Our apartment was built by the architect to provide beautiful stay and experience the luxury The architect was successful enough in creating one of the most beautiful buildings in Donapaul. We have several units to rent in this building, some of them are connected by a lockable door so it is ideal for group of friends or big families :) Each unit is for for 1-5(max 8 with an extra bed) who like to enjoy the full comfort that the modern, comfortable furniture provide. The new, stylish bathroom and the unique interior in each unit will make you feel like in a luxury hotel. Our beds and mattresses are extremely comfortable. We have flat screen LED TVs with satellite channels in every rooms. High speed internet throughout the property is provided. We've hired a cleaning company so immaculate conditions can be expected
The apartments are located at the most popular area of the city central right next to Goa International Center (the street of beautiful apartments), Donapaul . Have a look at the map and you will see that the location cannot get any better than this whatever your preferences are. Many bars and ruin pubs can be found in the area as well as exclusive restaurants. Our building is in walking distance from the Donapaul beach road. In the area you can find: the huge shopping center, supermarket, smaller food and veg shops, tea houses, cafes, banks, currency exchange offices, gym so whatever you need, really.
New house, great accessibility and just 2 kms from the Dona Paula jetty where you can go for water sports at a price much lesser than the rest of Goa. Great host and a hassle free stay. Loved it!
Nazish
2017-01-03T00:00:00Z
Oda Tipi
Tüm ev/daire
---
Mekan Türü
Daire
---
Konaklayacak Kişi Sayısı
6
---
Yatak odaları
Dona Paula, Goa, Hindistan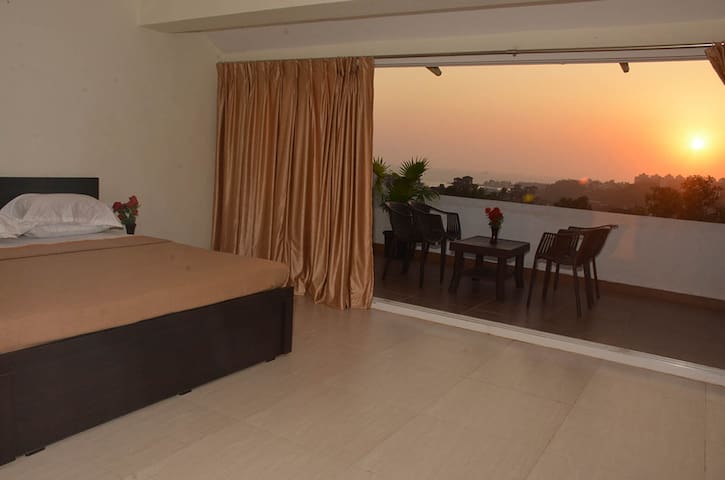 my place is on 7th floor with 2 open terraces overlooking arabian sea. the place has 3 bedrooms with balconies a spacious living cum dining and a live kitchen. the place is close to miramar , donapaula beach and panjim city
Oda Tipi
Tüm ev/daire
---
Mekan Türü
Daire
---
Konaklayacak Kişi Sayısı
6
---
Yatak odaları
Kuzey Goa, Goa, Hindistan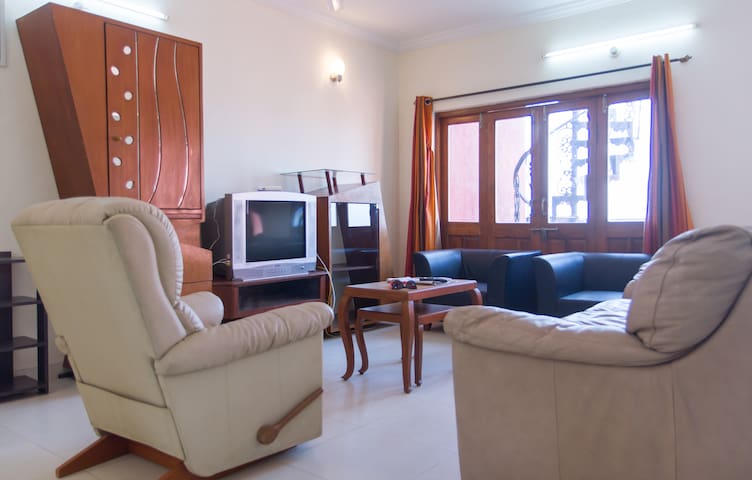 The bungalow is located in a posh locality; Nagally Hills Colony, Dona Paula. Has all modern amenities, guests have the advantage of central location i.e. near Panaji, Miramar Beach + has cooking facilities, parking space, privacy, a lawn and more.
The ground floor of the bungalow is ENTIRELY available for renting out for short-term as well long-term stay. The house also hosts a beautiful Cocker Spaniel who is friendly and will not interfere in the rented area. Master Bedroom: Has a King Sized Bed & Antique Lounger (Extra Bed) 338 square feet including toilet & bath Guest Bedroom: Has Twin Single Beds, 270 square feet including toilet & bath Guest Bedroom: Has a Queen Sized Bed, 147 square feet including toilet & bath Kitchen & Dining 370 square feet Living Area 360 square feet
Posh neighborhood. Very centrally located & near to all the important places in Goa yet quite and peaceful.
We were a group of 4 attending a conference just 2 KM away. Mr. Rajeev was very professional from the time of our booking to when we departed the residence. The ground floor is extremely spacious with great facilities. Everything was clean and spotless, with some nice, extra touches throughout. This included extra bathroom items and a few basic food items within the fridge, all of which came in handy. Rajeev was also available for support throughout our time there and was a friendly guy in general. I'd only caution that transportation in Goa in general can be expensive and a hassle. I would strongly suggest investing in a scooter or car rental if you stay here. Overall, a great trip. Thank you to Rajeev and the Coehlo's!
Rahul
2016-02-22T00:00:00Z
Brilliant, Brilliant, We had arrived a little early, our host welcomed us and showed us around the house, the house matched the description perfectly infact even better, the host had some essentials to get us started which was a lovely gesture, the house was fully equipped and I can't think of anything i wanted and could not find, the bedrooms were good size, the master bedroom was huge, all in all a fantastic stay and would highly recommendthis place.For an overseas visitor this house has everything and more you expect to find in a house when on a holiday with (URL HIDDEN) the owners well done and keep it up.
Vivek
2016-02-04T00:00:00Z
As we arrived, Rajiv was a the property to welcome us. He explained everything about property. Rajiv is a gentleman and true professional. After a few days, he even helped us with location/direction and restaurant recommendation. But please don't don't take this for granted as he has many other daily responsibilities. As we looked around, the place was clean and welcoming. We enjoy bright and energetic place and this one definitely was one of them. The kitchen had pretty much everything one would hope to find. And (probably) since we were traveling from US and staying for longer period, they even had bread, eggs, milk and even wine for us. Please note this is an upscale neighborhood, it's kind of secluded. So there fa fewer street hawkers and vehicles, taxis nearby. After few walks nearby we found a grocery place at 10 minutes walking distance. Although, there are stores who can deliver groceries we didn't use them. However we did get food delivered from some restaurants. Dona Paula beach is about 20-25 min walk, where there are water sports. The other lesser known place is a hotel Citade De Goa where they do have a water sports shop and is available for visitors. Good alternative to often crowded Dona Paula jetty. This place is pretty much in the middle of north and south beaches. I thought that's advantage. But the travel was lot more than I anticipated. Combine that with not so great taxi system of Goa, we found ourselves struggling with schedule on some days. In Goa, having your own vehicle would is great idea, especially in this area. Although there many things, I would like to call out two experiences. Firstly, on Christmas eve the owner (who lives upstairs) came by with box of sweets. He didn't have to. It was a good surprise, nice sweets and memorable gesture. Secondly one of the bathroom lock broke leaving one of us stranded in there. It was quite strange and shocker as those kind of locks don't break so easily... especially in that manner. Owner came down and tried opening lock. As soon as he realized it's tricky, he called his handyman who broke it open. And a second guy came by couple of hours later and replaced the lock. I thought they were quite responsive for such unique situation. Overall we enjoyed the stay. Since we could, we even extended the stay by 2 days. In all, we highly recommend. Although it may not be a concern to most of the future tenants, owner is a gem of a person.
K
2015-12-27T00:00:00Z
It was wonderful experience. The property is absolutely clean and homely. Malcolm and Carol being the perfect host. Would surely love to come back again. Thanks Malcolm
Vinay
2016-10-31T00:00:00Z
Rajeev was quite helpful and prompt. He made sure the fridge is filled with eggs, bread and milk which came handy. The place was beautiful and spacious. Every minute details like brush, paste, kitchen utensils have been taken care of. Awesome!
Neeraj
2016-04-11T00:00:00Z
We were the first tenants they have had and it was a delight staying here. The place is well furnished, clean and very spacious. I was visiting with family and children and this was a perfect setting. The hosts are very friendly and help out with any doubt and suggest places to eat, beaches etc. the wifi wasn't working so the owners promptly called the technician and got it working by the next day. Extremely hospitable, warm and friendly people...
Janhvi
2015-10-26T00:00:00Z
It's an amazing experience to stay here. Ideal location. cool and peaceful. Few minutes from Dona Paula, Miramar, Panaji city if you have a vehicle. You can rent bikes or car by phone. Rajeev has compiled all information required for tourists like nearby restaurants, home delivery food, laundry, rent a bike etc. They were kind enough to provide us with bread, butter, jam, sugar, oil, and what not. Owners are very nice people. Malcolm came to meet us. He also shared a home baked delicious cake with us. The bunglow is tastefully decorated. It is much more than description on Airbnb. We were 7 adults and a child . There is ample of space available to accommodate a large family. We highly recommend this place for Goa visit. I am surely coming back.
Pravin
2015-11-20T00:00:00Z
Rajeev stayed on phone and guided us perfectly to the apartment. The apartment itself was clean and comfortable and well stocked with supplies - tea, coffee, water, bread, butter, jam etc. The location itself - Dona Paula - is great and very well connected to all other points of interest in Goa. All in all - I would stay here again the next time I am in Goa - if it is available.
Eashwar
2015-11-13T00:00:00Z
Oda Tipi
Tüm ev/daire
---
Mekan Türü
Daire
---
Konaklayacak Kişi Sayısı
8
---
Yatak odaları
Dona Paula, Goa, Hindistan
My place is just a 3 minutes walk to the beach and the Panjim City is located at a 10 minute drive. There is a Casino and a Hospital in its vicinity. Taxi's are available My place is 30 kms away from the airport, surrounded by beautiful greenery and is located down in by a valley. You'll love my place because of the ambience and the outdoors space. My place is good for couples, solo adventurers, business travellers, families (with kids), and big groups.
The apartment is located in a complex of six buildings with ground plus three floors. My apartment is on the third floor. The living room and bedrooms have Balconies. The bedrooms have beds for two and the living area has sitting and dining space. If there are more than two occupants Extra Mattress along with Linen pillows etc can be provided. There is an electric kettle for tea/coffee preparation and if needed a microwave can be arranged but there is no kitchen and full cooking is not allowed.
The place is located in a small residential valley which has a lot of greenery and the beach is attached to the valley which is accessible through a direct pathway going from the premises.
The host canceled this reservation 8 days before arrival. This is an automated posting.
Vish
2016-12-19T00:00:00Z
Oda Tipi
Tüm ev/daire
---
Mekan Türü
Daire
---
Konaklayacak Kişi Sayısı
6
---
Yatak odaları
Panjim, Goa, Hindistan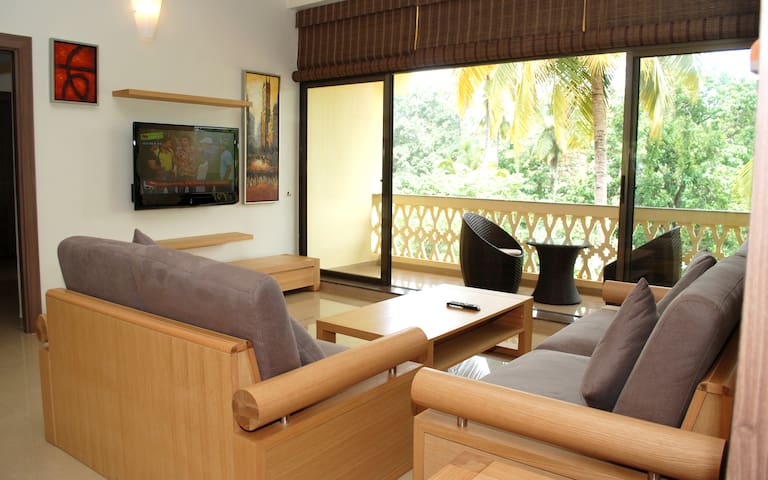 My place is close to Panjim. San Miguel serviced rooms are centrally located at Santa Cruz in our own private building. The property is just 12-16 km from iconic beaches of Candolim/Calangute/Baga. Restaurants and local market are at walking distance.. You'll love my place because it is clean and elegantly furnished, with comfortable king size bed, plus one single bed. The room is equipped with split remote AC, LED TV, Tatasky digital HD channels, refrigerator, dinning table etc.
Oda Tipi
Tüm ev/daire
---
Mekan Türü
Daire
---
Konaklayacak Kişi Sayısı
3
---
Yatak odaları
Santa Cruz, Goa, Hindistan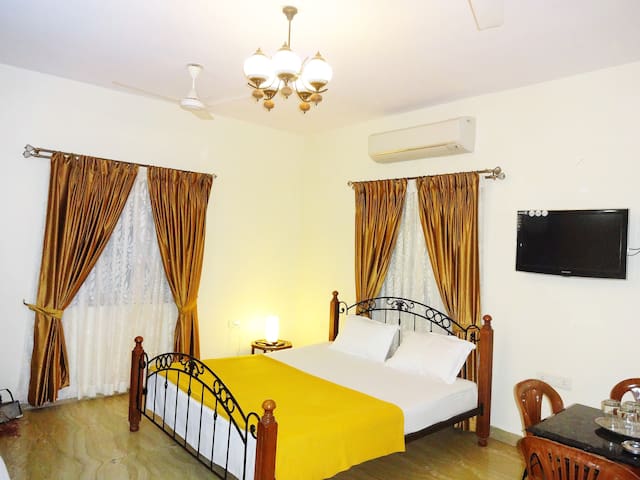 1

–

18

/

150 Kiralık Daire
Tam fiyatlandırmayı görmek için tarihleri görün. Ek ücretler uygulanır. Vergiler ilave edilir.