Giriş tarihinizi gg.aa.yyyy formatında girin
Çıkış tarihinizi gg.aa.yyyy formatında girin
0 çocuk
Yaş aralığı 2 - 12
Ev sahibinin onayını beklemeden rezervasyon yapabileceğiniz kayıtlar.
Ev sahibinin konuştuğu dil
Tam fiyatlandırmayı görmek için tarihleri görün. Ek ücretler uygulanır. Vergiler ilave edilir.
Bu Temmuz ve Ağustos aylarında tüm fiyat aralıklarında en yüksek puanı alan bu 100 evden birini deneyebilir ve Sonoma'da yaşayan bir kişinin görüşünden faydalanabilirsiniz. 24 saat giriş, Anında Rezervasyon, yerel şarap ve atıştırmalıklarla tek yapmanız gereken arkanıza yaslanıp tatilin keyfini çıkarmak.
My place is close to restaurants and dining, public transport, and family-friendly activities. You'll love my place because of the comfy bed, . My place is good for solo adventurers and business travelers.
Very comfy and cozy bedroom for people who just need a place to stay over night, big spacious closet, mini fridge in room, and a desk as well. Guests are able to use kitchen, and bathroom as well as living room as they please.
Oda tipi
Özel oda
---
Yer tipi
---
Konaklayacak Kişi Sayısı
1
---
Yatak odaları
1
Chatsworth, Los Angeles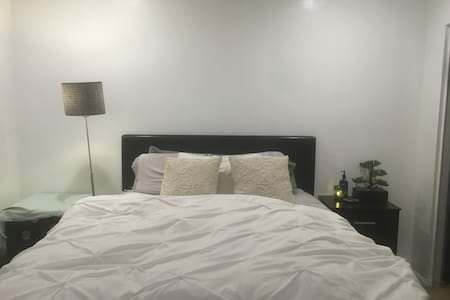 This is a peaceful and rustic Acre of land shaded by trees and within walking distance to the Santa Suzanna hiking trails. The Main house with beautiful open floor plan and private back yard shares a common space with professional Art studio & apt.
We absolutely loved staying at Robin and Dave's rental. The location was great because it was close to hiking options around Chatsworth for a wonderful view of the SFV and was not far from main highways around LA County and into the city. When you pull down the long (for LA standards) driveway, park and enter through the wooden gate, you immediately know that you are in the space of artists. There is beautiful and welcoming art hanging outside, inside the house, and you can ask Dave to show you what he is working on in his studio building off to the side :). The house is the roomiest Arbnb I have been in and is intuitively designed. The vaulted ceilings let you come home and relax as you cook dinner in the kitchen and maybe even dine out on one of the many patio spaces. Everything worked perfectly. It's easy to tell that Robin and Dave have cared for their house and want their guests to share in the joys of staying there. There is no way you will not enjoy your stay here. It was so rejuvinating that I even considered it a work-retreat while I stayed here. Thanks again, Robin and Dave! Give the goats a pet for me :)
Debra
August 2016
Oda tipi
Tüm ev/daire
---
Yer tipi
---
Konaklayacak Kişi Sayısı
6
---
Yatak odaları
2
Chatsworth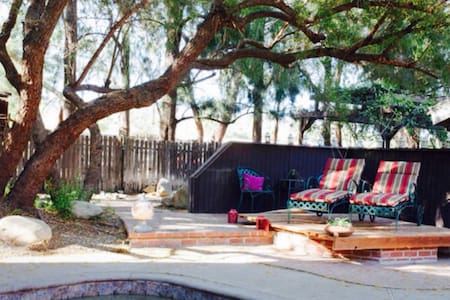 We're close to restaurants, parks, great views, 15 minutes from Magic Mountain, 20 minutes from Hollywood, Close to Porter Ranch plaza, 10 Minutes from Northridge Mall & great hiking trails at Santa Susana Historic Park. We have it all Location, quiet neighborhood, the outdoors space, a pool and tennis court! Amenities! Pets and kids welcome! The guest house is GREAT! Private entrance, Lots of light and great energy, There is a pull out couch for families with kids.
The guest house is spacious and clean. Relax in the bedroom watching TV or go for a hike in the trail, take a dip in the pool or play some tennis; The guest house is private, but you will be able to access the pool, back yard, tennis courts and hiking trail. We want you to enjoy yourself and relax. If you need and help, please do not hesitate to ask. I can help guide you around the area or suggest a great place to eat. I have lived in Los Angeles for 20 years and know all the great places. We like to hang out in the backyard so please feel free to join us and relax.
The neighborhood is very quiet and safe. There is also a park located 2 blocks away from my home.
Marcelo was very attentive and accommodating.
Gina
September 2016
Marcelo is such a great host! He was so friendly & accommodating to his guests in any way, and we highly recommend staying here. We will be back soon!!
Anna
November 2016
I came to Marcelo's AirBnB for a film shoot and I must say- my team and I had a fantastic stay. Marcelo was incredibly helpful, patient and kind and went above and beyond to make us feel welcome and to help us with our needs. The home was absolutely stunning- and, have I mentioned the hiking trail and tennis courts! Fabulous stay- perfect place to relax and unwind in the California sun and warmth! Incredibly kind host! I can not thank Marcelo enough. Highest of recommendations!
Alex
November 2016
The house is so comfortable and the pool was fun. The hosts had water bottles and snacks. They provided hangers and disposal plates/utensils. The stay was fantastic. We will definitely be back.
Amber
September 2016
Marcelo is a wonderful host and has a beautiful place to share. The photos do not do it justice. very good location very quite neighborhood. I will call again if in the area and highly recommend Marcelo's place for a stay.
William (Bill)
October 2016
Beautiful location and guesthouse. Marcelo is awesome and he made my trip so much easier by allowing a smooth move in after my 22 hours on the road. Great family and if you want to stay in Southern California, then this is a great place.
Casey
November 2016
We were greeted with smiles. They were just warm and friendly people. They gave us our space but if we engaged in conversation they were happy to talk. They told us if we needed anything to let them know. We never felt like we were a nuisance to them
James
November 2016
It's private, very comfortable, a wonderful experience!
Warren
January 2017
Oda tipi
Tüm ev/daire
---
Yer tipi
---
Konaklayacak Kişi Sayısı
4
---
Yatak odaları
1
Chatsworth, Los Angeles
Private 2BR guesthouse, sleeps 5-6, and is located on a beautiful estate property. The amazing tree lined streets of this upscale Northridge suburb, are very safe, and just minutes walking to restaurants, grocery store, shops, movies & bus lines.
2BR guesthouse is beautifully decorated, has a fully equipped kitchen, a large bathroom with essentials, and living room. One bedroom has queen size bed, the other has 2 twin beds, and there is a full-size pull out sofa bed in the living room. A 60 inch HDTV with premium cable movie and sports channels in the living room along with DVD player, movies, and board games. Views of the sparkling swimming pool just outside your door! Have drinks and dine on the outside patio, looking at the gardens and pool. Amenities include: Full kitchen Selected Coffees&Teas Fireplace New mattresses and linens Flat screen HDTV, DVD player & movies Premium Cable Movie & Sports Channels House phone/ fax printer Wi-Fi enabled common areas Patios with gas BBQ grill Swimming Pool/Spa Landscaped with orange, lemon, peach, banana, fig, pomegrante, and grapefruit trees Bicycles available to use The gameroom, bar, laundry, and office, all located in the main house that you will have access to, and are welcome to use! We provide all essentials as well as laundry soap, bleach, bathroom tissue, dish soap, cleansers, aluminum foil etc. Only 2.7 miles from CSUN. Just 5 minutes walking distance to Grocery Stores, Restaurants, Bars, Coffee Shops, Food King, Pacific Movie Theaters, Claim Jumper, Jamba Juice, Chiles, Corner Bakery, Elephant Bar, California Pizza Kitchen, Starbucks, Cold Stones Ice Cream, Macaroni Grill, Ruby Thai's, Mrs. Fields Cookies, Yard House, Subway, Great Shopping, Westfield Mall, & more! * If needed, you can make arrangements with us to assist you with your transportation from LAX to our home. During your stay please feel free to ask questions, myself or one our friendly guest will be glad to help you!
5000 sq ft estate home is located in the Devonshire Highlands Estates of Northridge, a suburb of Los Angeles We also have 2 cars when available to rent @$175 /week, $40/day Both cars are insured. Valid DL is required . Minutes to public transportation; Metro Bus, ORANGELINE, 405, and 101 & 118 FREEWAYS.Less than a minute walking to bus lines! Bicycles available to use We have a game room, bar, laundry, and office with fax printer copy machine, house phone line, all in the main house that you are welcome to use!
A very nice guest house with a beautiful garden and pool.
Nagendra Prasad
January 2017
The house was nice and quaint. Marissa was helpful.
Brooklyn
September 2016
In a nice neighborhood, this property is very pretty with nice landscaping. The cottage is set back from the main house and separated by a gate. Entry is through the main yard where two little doggies play. There were some hiccups with checkin which Marissa and her mom were able to take care of without problems. The pool is unheated but the jacuzzi was really nice. Marissa was nice enough to let me borrow one of her doggies for a jog in the neighborhood.
Soeun
April 2016
The host canceled this reservation 15 days before arrival. This is an automated posting.
Sherri
The host was very welcoming when arrival, unfortunately we needed to wait for 25 mins until check in. Over all the stay was good and we sidnt get bothered during our stay there so that was nice. Sadly one of our main reason we got this place was for the pool and the heater for the pool was not working.
Carlos
October 2016
Marissa's mom was very nice and helped us out with any issues we had. The place was charming and the hot tub was great.
Daria
February 2016
The host canceled this reservation 18 days before arrival. This is an automated posting.
David
this is a great place to stay in LA. the house is set back from the main house and it feels very safe and secure especially with kids. the house and grounds are really beautiful and well maintained. it's also in a really nice neighborhood with lots of shops and restaurants.
eoin
July 2016
Oda tipi
Tüm ev/daire
---
Yer tipi
---
Konaklayacak Kişi Sayısı
6
---
Yatak odaları
2
Chatsworth, Los Angeles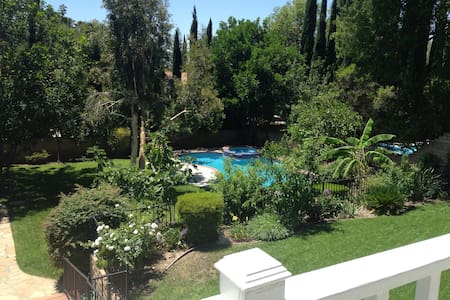 good place to stay . Available 24 hours
Oda tipi
Özel oda
---
Yer tipi
---
Konaklayacak Kişi Sayısı
2
---
Yatak odaları
1
Chatsworth, Los Angeles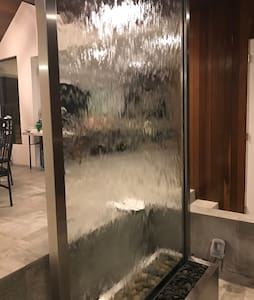 Welcome to our humble home! It has been frequently described as inviting, happy, safe, quiet and "like home". We are 5 min from CSUN and hiking, few blocks to numerous markets and Starbucks, 30 min from downtown LA and 45 min to the beach! Join us!
Pets welcome! Our home is nothing spectacular by any means, yet it is clean and filled with lots of love and laughter! Chubbs is my 7 year old English Bulldog and he is the coolest dude on the planet and loves guests, including cats! Private bedroom with queen bed, personal refrigerator, wifi, and shared bathroom. Guests are welcome to the shared areas of the home ( living room, dining room, kitchen, yard, etc...) and coffee and tea are provided. Meals are avail for an extra charge upon request. There is plenty of parking directly in front of the house. I work from home quite a bit and am available and around to answer any questions and guide guests anyway I can ( I have lived in LA my whole life!), yet will give them their space!
I am a single mom and have raised all 3 of my kids ( now adults) here and feel safe and secure. Our community is a quiet suburb 25 miles south of downtown LA. I walk Chubbs every night after dark and have always felt comfortable doing so. We are 5 minutes from local mountains and I hike at least once a week. I am 7 min to our local university ( CSUN), 5 minutes to the 118 fwy ( 10 min to the 101 and he 405 fwys) and am blocks from the markets and our local park. Malibu Beach is 45 min away . My street is quiet and green and pretty! Pets welcome! We have a bus stop one block away and the train station is 2 miles away. 118 fwy is 5 min away and the 101 fwy and 405 fwy are 10- 15 min away.
Julie and Chubbs, her delightful dog, made me feel quite welcome. They provided a nice space to recharge after a day of intense work. The room and house are comfortable and relaxing. I'll definitely try to stay with them next time I'm in the area.
blaine
April 2015
Julie was an outstanding host, she is very polite, helpful and respected my privacy. The place is extremely comfortable, clean and quiet. Easy access to most everything especially the highways yet in a very quiet and safe neighborhood. I throughly enjoyed my stay there and would not hesitate to do it again. Thank you very much Julie for making my stay so enjoyable.
Sean
April 2016
Since the moment I got off the taxi and saw the house I felt I had reached a very good place. When I walked in they all received me with a smile (even Chubbs, I realized that he likes to receive guests too). Julie and her family are very outgoing and friendly. I think the house is very clean all the time. The room is very nice, and the neighborhood is very quiet and safe. They are very respectful of privacy. on the other hand, if you want a conversation or ask a question about whatever you want, you will find a friendly face that will answer with sincerity and the best energy. All areas of the house are very comfy, I was not a long time there but I really enjoyed it. If I ever return I will not hesitate in staying with them or at least go to greet them. I felt at home.
Sergio
September 2015
Julie and her son were great and very helpful ! Beautiful home, chill puppy , great neighborhood ( walking distance from supermarket , subway , starbucks and more! ) My first time experiencing airbnb and no regrets ! Thank you so much for being a great hosts, Julie!
Mayara
May 2016
I stayed like three weeks with Julie and Chubs and had a great time the house is immaculate and the family is super sweet. If I needed to stay in Chatsworth again I would definitely stay with Julie and Chubs.
Ryan
February 2016
Julie was very welcoming. The place was clean and quiet and I felt safe. I would stay there again.
Gloria
November 2015
Quiet bedroom in a private home. Nice neighborhood close to where I needed to do business.
Terry
March 2016
Julie and her family were very nice and welcoming. Her house is lovely and clean. The room was nice and quiet. She also had a small fridge in the room so that was nice. If you want privacy you got it , if you want some interaction you got it to. Definitely will be back.
Julius
September 2015
Oda tipi
Özel oda
---
Yer tipi
---
Konaklayacak Kişi Sayısı
2
---
Yatak odaları
1
Chatsworth, Los Angeles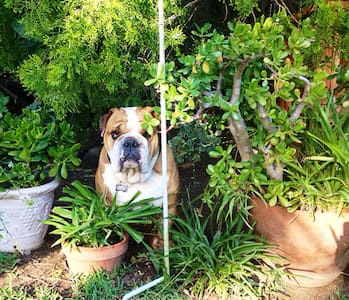 My place is good for solo adventurers and business travelers.
Oda tipi
Özel oda
---
Yer tipi
---
Konaklayacak Kişi Sayısı
1
---
Yatak odaları
1
Chatsworth, Los Angeles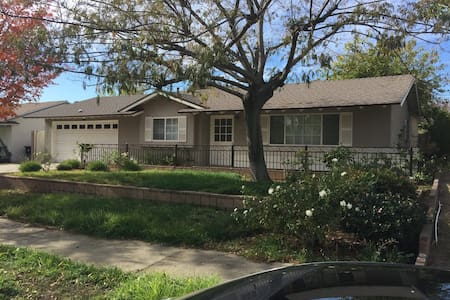 Quiet & Safe Neighbord and a beautiful city Private Big Room and A Big house with everything you need with a friendly family. Enjoy using my kitchen my swimming pool etc My house is your house .
The room have a garden view big enough for a couple Guess have access to the kitchen, living room, swimming pool . Laundry Just make ur self at home . I be near the neighborhood for anything you need
beautiful neighborhood 3 minutes driven to STONEY POINT PARK you love hiking or walk this is a perfect spot , we are just A few blocks from the mall , the movie theater, 25 minutes from universal studios, 30 from LAX , 4 minutes to CSUN, 20 minutes from city walk etc Metro link & busses terminal is just walking distance or 3 minutes driving. Literally everything is near by. We are a friendly , respectfull and peaceful family so we spect desame thing from are guess
Thank you so much for the hospitality :) The whole family take care of me, was very friendly and warm!!! I would retourn
Nicole
December 2016
Communication was difficult.
Tj
October 2016
How can I explain how much I loved this airbnb I will explain The Bed was very comfortable i almost fell asleep just laying on it The Family that lives there are great, friendly, helping just all around amazing people Though i was only there for 2 weeks they made me feel at home. The communications were great when I was coming and going The room is large a really good size, for the price you would think it would be tiny but no this room is perfect. it is a couch and a fridge in there which was great for me at least as a person who drinks a lot of juice and water it was quick an easy access Location it is in a great location, the parking was very easy. This place felt Amazingly safe it was just all around a great place; the internet was fast; I HIGHLY RECOMMEND THE PLACE I would stay there again. I can't swim so I didn't go into the pool but i did see it, and they have a very nice size pool I think for someone who likes a home away from home and would like to take a dip in the pool you would love it. Honestly maybe the best airbnb I have stayed in. So many things made this place awesome, I was sad i was checking out.lol i got to comfortable. so just fantastic You will love it
George
November 2016
The host canceled this reservation 21 days before arrival. This is an automated posting.
Lucretia Kiki
Nice neighborhood and the room is very cozy with a great bed.
Walt 'Sway'
December 2016
I thoroughly enjoyed staying here! Alex and his family were incredible and were very helpful, friendly and welcoming! Very clean, very safe, amazing pool and the room was large, comfortable and clean. I'd go back anytime!
Patrick
November 2016
Nice place! Very comfortable bed and very clean!
Aditya
December 2016
Oda tipi
Özel oda
---
Yer tipi
---
Konaklayacak Kişi Sayısı
2
---
Yatak odaları
1
Chatsworth, Los Angeles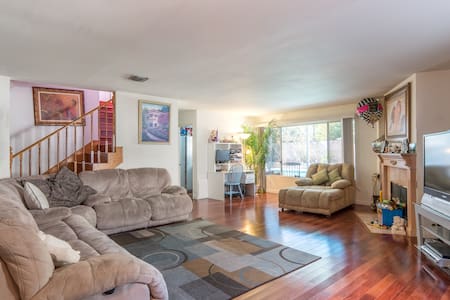 My place is close to family-friendly activities and the beach 25 minutes from Malibu. My place is good for couples, business travelers, families (with kids), and furry friends (pets). Close to shopping center and Mall . Metrolink 10 minutes away .
Oda tipi
Özel oda
---
Yer tipi
---
Konaklayacak Kişi Sayısı
2
---
Yatak odaları
1
Chatsworth, Los Angeles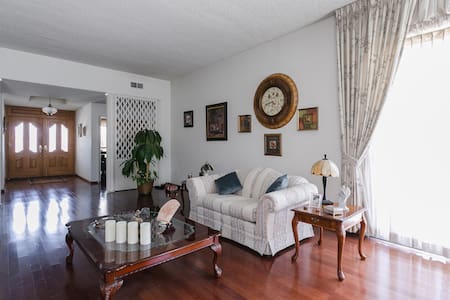 organic wood in the house and real fireplace in the master bedroom with separate entrance. Great vuew on the lake (you may use), unique neihborhood with leaders of sport, movie and other industries. piano room with steinway&son, healthy breakfest
Oda tipi
Özel oda
---
Yer tipi
---
Konaklayacak Kişi Sayısı
1
---
Yatak odaları
1
Chatsworth, Los Angeles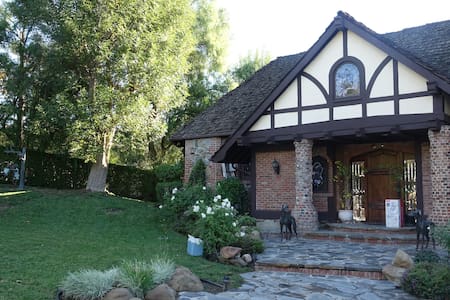 You will be staying in the ranch style guest house on our ranch property with your own pool! We currently have over 20 rescued horses. We also have two giant pigs, 2 potbelly pigs, a goose, turkey, 8 chickens and three dogs. An Irish wolfhound, a St Bernard X and a goofy little terrier. Feel free to pitch in at the ranch any time! My place is close to Stoney Point, State Park, Amtrak Transport and city buses. My place is good for couples, solo adventurers, and furry friends (pets).
The guest house is right where the horses are. You can watch them training and being turned out from your bedroom window! Your little house has a large sliding door that opens up to the pool and the huge backyard. There is a bunk bed with two sleeping spaces as well as as queen bed. We are currently remodeling the guest house and are open for bookings in January. You will be in your own self contained unit. There are always people here, ranch staff, volunteers or the owners. Even though we are away from the hustle and bustle of the city there are always friendly folk on site. Saturdays are guinea pig adoption days when guinea pig lovers come to adopt, buy supplies or get a nail clip from the USA's largest guinea pig rescue.
Our ranch is situated on a dirt road and the minute you turn into our road you are not in the city anymore. You cannot believe that you are still in Los Angeles. We are on the furthest corner of the San Fernando valley. A lot of Western movies were made here right here and Chatsworth was home to Hollywoods cowboy elite for most of the 20's and 30's. We are an animal friendly ranch and out of respect for all our rescued friends we ask that you do not bring any meat onto the property.
Oda tipi
Özel oda
---
Yer tipi
---
Konaklayacak Kişi Sayısı
4
---
Yatak odaları
1
Chatsworth, Los Angeles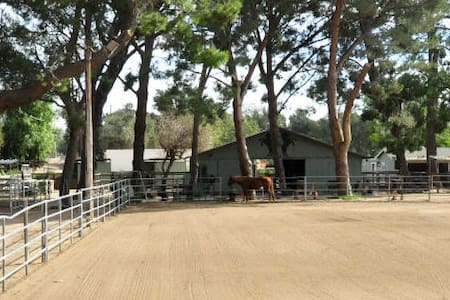 Enjoy staying near Hollywood in this very clean eclectic space! Situated in the home of a Los Angeles music & TV professional. Includes all the amenities a hip person needs!
Very sunny, neat & clean space for a relaxing stay just outside of Los Angeles situated in the West san Fernando Valley. Full use of kitchen & coin operated laundry facility. Host will be available to assist traveler during stay, very discreet and respectful.
Chatsworth is a historic equestrian town very close to everything in Los Angeles via the 118, 405 & 5 freeways. Starbuck nextdoor, Trader Joe's and major Supermarket across the street. Within blocks of Chatsworth train station (Metrolink Orange Line) Metro Bus Stop right outside. (schedule is provided for guest) Drive to Hollywood: 34 min (26.2 mi) via CA-118 E Host is entertainment industry professional in TV & Music production, very in tune with events and nightlife entertainment options in the area.
Oda tipi
Özel oda
---
Yer tipi
---
Konaklayacak Kişi Sayısı
1
---
Yatak odaları
1
Chatsworth, Los Angeles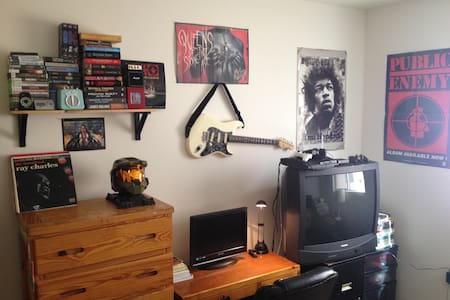 This charming sweet room is location in Chatsworth. It's central location gets you to ALL areas of Los Angeles and Ventrua in equal time. It is a nice and home and well cared for. Enjoy a huge pool, jaccuzi, designer bathrooms, and chefs kitchen.
It is a large house with great people - so quite , perfect for anyone looking to escape Complete access - mi casa Es tu casa ;) Pool BBQ Kitchen Cable Internet I am rarely home - this house is barely lived in .
Quiet place to live with great people around. Safe and typical suburbia Not great for buses but close to the train
Esmeralda's house is amazing! Clean, quite and located in a very nice place. The kitchen is great and the pool is amazing. The people who lives there are friendly and makes us feel in home. About the place, is quite and has all facilities near. Access to downtown by bus (except Sundays).
Rodrigo
July 2014
Oda tipi
Özel oda
---
Yer tipi
---
Konaklayacak Kişi Sayısı
2
---
Yatak odaları
1
Chatsworth, Los Angeles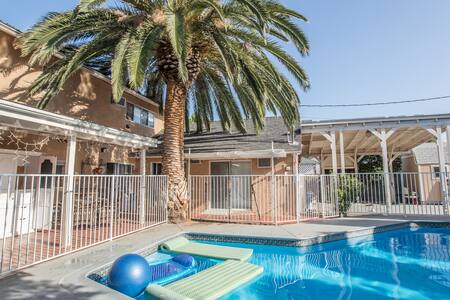 When the ordinary won't do! Escape to historic & scenic Chatsworth Lake Manor! Country feel suffuses this eclectic community back-dropped by majestic sandstone bluffs. Great home with lots of charm! Living room boasts a cozy fireplace & enclosed deck.
Quiet almost rural home on the outskirts of LA Access to Open-space
Chatsworth is nestled in the San Fernando Valley, only 1/2 north of the greater Los Angeles region, with easy access to Malibu, Santa Monica, and the Pacific ocean. Los Angeles has an exhaustive array of things to do. If you're a film buff, vintage Hollywood is a must-see. Some classic attractions in the area include TCL Chinese Theatre and the Hollywood Walk of Fame, and Paramount Pictures, the only television and film studio left in Hollywood. For a taste of stardom, window-shop along Rodeo Drive or cruise Sunset Boulevard. Do you prefer the sun? Tourists who opt for a day on the shore head to Venice Beach, Zuma Beach or the Santa Monica Pier and Beach. And after you've explored all L.A. has to offer, you may want to take a day trip south to Anaheim-Disneyland. Quaint Yoga Studio a short stroll away: Serene, tranquil, zen environment surrounded by mountains, modern, green and clean facilities, certified, experienced and friendly instructors, affordable rates ($8-$15), plenty of free parking, located just two minutes away from Topanga / Plummer intersection, to the west, after the park and before the market. (http://www.chatsworthyoga.com/) LA's BEST BBQ: COME TO Cookin' with Lenny Smokehouse for Amazing Breakfast, Lunch, and Dinner! Nothing beats Lenny's gourmet recipes that take a tastey twist on your Smokehouse favorites! (http://www.cookinwithlenny.net/)
The host canceled this reservation 44 days before arrival. This is an automated posting.
Aaron
Terra was a great communicator, and arrival was super easy. It was a spacious house, but unfortunately was rather cluttered. The pictures were obviously taken quite awhile back before rooms started filling up! Also of note is that the air conditioning only consists of one window unit in the living area. We stayed when the high temperatures were over 100 degrees daily, and it was quite uncomfortable. In addition, the television is a computer monitor in the 'office' that has the double size futon in it, thus the three of us were unable to watch TV together. There are non-working electrical outlets, and numerous extension cords, so I would hesitate to take small children due to this, and due to the numerous personal objects everywhere! The location was ideal for us as we were attending a wedding at the nearby Orcutt Ranch. We wanted to love the place, and we did love Petey the cat, and we dutifully scooped his litter box, but we were not entirely comfortable. A little organizing, and a fix of electrical and central AC would make this place a gem! And Terra is wonderful, she went out of her way to mail me an earring that I had lost!
carla
August 2016
Terra has a lovely home and goes out of her way to create a welcoming atmosphere. A basket of often forgotten toiletries was placed in the bathroom, and guides to local sights as well as menus to local restaurants and fresh fruit were waiting on the table. We were a bit worried about the resident cat, but Petey turned out to be the sweetest, most lovable housemate you could imagine.
Kitwench
June 2015
The house is in a great little nook of Los Angeles. The neighbourhood is easy going. You don't feel like you're staying in a big city, but can easily drive anywhere you like and visit all the exiting things LA has to offer. The house itself is cosy and has everything you need. Contact with the host Terra was great. The check in was fast 'n easy. Since we we were at the end our holiday in the States and pet owners ourselves, we really enjoyed the resident indoor cat Petey. Petey is a fun and playful sweetheart that you'll enjoy having around. There is a big supermarket nearby (Vons) that has everything you need. We've just totally loved our stay in this house!
Nienke
July 2015
The host was great about providing directions and responding to questions. The location was as described. The bedroom was dark and cluttered - not like it was pictured in the listing. Although the resident cat was very friendly and cute, the smell in the house was off putting. The electrical outlets in the bathrooms didn't work so I had to use extension cords.
Tara
July 2016
This is a very charming home and we love the location. We are looking forward to planning to stay here again soon. Thank you so much for everything!
Tommy & Dixie
April 2015
The house is clean, the cat is very friendly and it is convenient to any LA activities you might want to partake in. Terra had everything ready! It was just what we needed.
Carolyn
May 2015
Spacious, clean, well organized...Terra has prepared all the necessary to make us us feel just like at home! Checking process is easy, questions always got very quick response. Thanks Terra to help us have good days in L.A.!
Ronnny
May 2015
Oda tipi
Tüm ev/daire
---
Yer tipi
---
Konaklayacak Kişi Sayısı
5
---
Yatak odaları
3
Chatsworth