Il B&B Casa Mattia è una struttura in paglia e legno che nasce come soluzione per rispondere alla crescente necessità dell'uomo di vivere in un ambiente salubre ed ecocompatibile. I muri in balle di paglia, gli intonaci in terra cruda e le tinture ecocompatibili sono materiali naturali e quindi non nocivi per l'uomo. I più grandi alleati di questa struttura sono sole e umidità che la rendono un luogo altamente confortevole e salubre.
La traspirabilità delle pareti rende l'abitazione "viva" e capace di intervenire nell'ambiente circostante trasformandosi in un vero e proprio regolatore naturale di umidità: la casa assorbe l'umidità in eccesso e la rilascia in caso di aria troppo secca. Questo impedisce la formazione di condense e muffe e rende l'ambiente interno salubre.
Oda Tipi
Tüm ev/daire
---
Mekan Türü
Ev
---
Konaklayacak Kişi Sayısı
6
---
Yatak odaları
Cisterna di Latina, Lazio, İtalya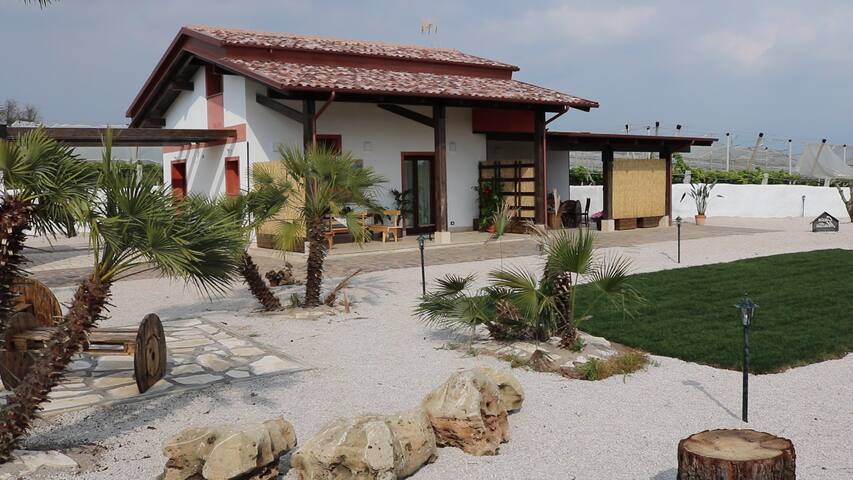 casa indipendente con tre camere letto, due bagni, grande salone con camino, cucina a vista, veranda, grande giardino curato con barbecue, parcheggio interno. Distante 50 metri dal Giardino di Ninfa, a pochi chilometri da Sermoneta, Cori, Norma e Bassiano. Distante 30 minuti dal mare, 10 minuti dalla stazione ferroviaria, 60 minuti da Roma. Ai piedi dei Monti Lepini, ideale per FAMIGLIE per giornate in campagna e gruppi di sportivi che praticano PARAPENDIO, ARRAMPICATA,EQUITAZIONE,ESCURSIONI.
Oda Tipi
Tüm ev/daire
---
Mekan Türü
Ev
---
Konaklayacak Kişi Sayısı
8
---
Yatak odaları
Cisterna di Latina, Lazio, İtalya
La casa è composta da sue stanze da letto (1 matrimoniale e una con un singolo), due bagni, un salotto, cucina e posto auto. Da questa zona tranquilla si può raggiungere comodamente Roma (60Km) e nelle vicinanze Latina, il Cireceo e i castelli romani
Oda Tipi
Tüm ev/daire
---
Mekan Türü
Ev
---
Konaklayacak Kişi Sayısı
3
---
Yatak odaları
Cisterna di Latina, Lazio, İtalya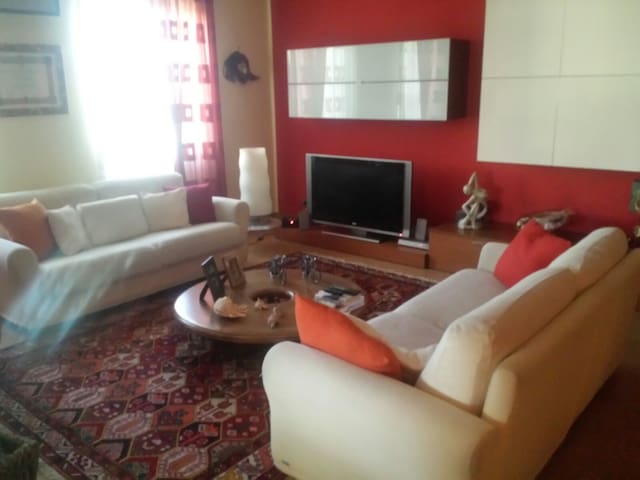 Büyük açık alanlarda ve geniş bir özel otopark ormanda derin bir kır evi. özel banyolu iki ana yatak odası. kapalı bir süre bizi bulmak gel: Kendi evinde olduğu gibi biz misafirperverliği, eğlence ve gizlilik garanti!
özel banyo ve kahvaltı için rahat bir salon ile hem iki ana yatak odası. Ayrıca, bu güneşli sabahları dışında çok büyük ve özel park alanı ve bir karşılama veranda ve gazebo bulacaksınız.
Gerçek bir İtalyan kırsal ev!
Oda Tipi
Tüm ev/daire
---
Mekan Türü
Ev
---
Konaklayacak Kişi Sayısı
4
---
Yatak odaları
Lariano, Lazio, İtalya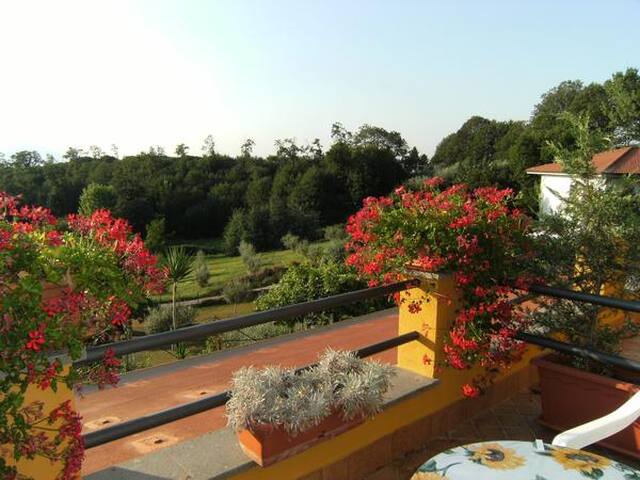 Our appartment will surprise you with its stunning view, that opens up to the panorama of the below valley, Mount Circe and to the sea through its windows and with its interior design. It is in the center of the mediaval town of Norma, few minutes of walk from the main street and it is placed basically on the rocks. The appartment is a perfect place for those who love outdoor sports, couples, single travellers, small families (with kids) and for those who trovel with their animals.
The appartment is an open space that can lodge two people but it is possible to add a third bed if needed. In the house there is a fully equiped kitchen, a living space where you can enjoy the view, a bathroom with shower, a sleeping area with a double bed and a closet. We will provide you with all the textiles you need for the bedroom and the bathroom. We also have a small balcony where you can watch the view or you can watch the paragliders flying in front of you, sunbathing all afternoon. If needed we can provide a second zone with a seperate entrance. It is a double room for two people with a private bathroom. It has a loft bedroom with a window that looks at one of the medieval alleys.
The appartment is 5 minutes walk away from Via del Corso, the main street and the center of Norma. In this zone, you can visit the ancient city ruins of Norba (a Roman settlement), the amazing Ninfa gardens and the chocolate museum of Norma. This town is particularly suitable for those who love the outdoor sports. Because whoever is into paragliding, hang gliding, free climbing, mounting and trekking will see that Norma is a paradise!
Buona accoglienza da parte dell'Host Vincenzo, disponibilità e gentilezza. La descrizione non mette in risalto quanto la casa è bella e organizzata bene. Il quartiere poco accessibile con la macchina, si cammina 10 minuti ma quando arrivi in casa la vista ripaga la salitelle del paesino!
Alessia
2017-01-01T00:00:00Z
Vincenzo and Gamze are the best hosts you can ask for. Friendly and helpfull in every way. I was contemplating lying about it to keep the place for my self. If you're looking for a studioapartement with the best view possible: this is the place to go.
Peder
2017-02-27T00:00:00Z
La più bella vista che si possa desiderare! Una casetta dotata di confort e comodità, in uno spazio raccolto ma perfetto. Difficilmente mi sono trovata così a mio agio in una casa Airbnb: ho apprezzato tantissimo la vista, che é stupenda H24 sia di giorno che di notte, la stufa calda e il letto e le poltrone comodissimi! Raramente dico di voler tornare in una location, qui lo penso e lo farò davvero! Grazie di cuore a Vincenzo e Gamze, sono due persone gentilissime e molto disponibili.
Daniela
2017-03-19T00:00:00Z
Tutto come descritto, il paesino è semplice e intimo con un parcheggio a 5 min da casa, perfetto per visitare le zone vicine in comodità. L'appartamento è piccolo ma molto accogliente e con una vista unica, perfetto per un soggiorno di coppia. La cucina è ben fornita e la pulizia sembra buona. Siamo stati benissimo
Daniele
2017-04-01T00:00:00Z
The place was super great, the location with the view, we loved the decorations in the apt, plus Vincenzo and Gamze helped us get to the place by sending the direction and where to park the car which, and they asked us what we would like to have on breakfast so they can put in the kitchen. Thank you so much.
Yasser
2017-03-14T00:00:00Z
Oda Tipi
Tüm ev/daire
---
Mekan Türü
Ev
---
Konaklayacak Kişi Sayısı
5
---
Yatak odaları
Norma, Lazio, İtalya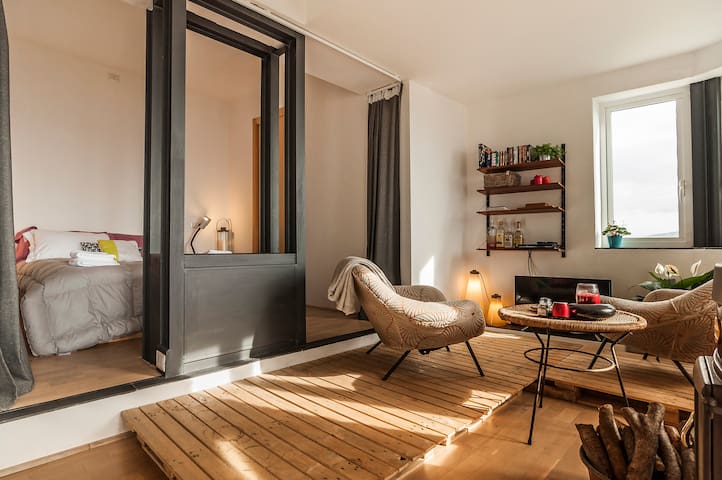 If you are looking for a little 'relaxation in beautiful Sermoneta, "La Chicca" is the one for you. Composed of living room with fireplace on bioethanol, kitchen (ground floor), double bedroom, bathroom and a room with bunk bed (upstairs), restored cave with Jacuzzi, shower and toilet (basement)
The cave with the hot tub and the location: central and quiet at the same time
La casa è deliziosa, centrale e dotata di tutto l'essenziale. Portatevi solo l'asciugacapelli. Francesca è una persona gentilissima, disponibilissima e ci ha consigliato e guidato per il paese. Consigliatissimo.
Silvia
2017-02-05T00:00:00Z
Comunicazione eccellente con l' Host. Nessun problema nemmeno per check-in e check out. Una chicca di nome e di fatto la casa, ideale per una serata romantica. Molto bella la zona al piano -1 con una vasca idromassaggio enorme. Consigliato
Gino
2017-01-05T00:00:00Z
Francesca è stata gentilissima, ci ha fatto trovare una buonissima crostata. L'appartamento è situato nel centro storico di Sermoneta (paese stupendo). Molto accogliente, pulito e ben arredato. Al piano di sotto Francesca ha saputo creare un angolo di relax con una vasta idromassaggio grandissima (c'è la fatta trovare piena d'acqua calda e circondata da candele). Siamo stati benissimo e torneremo presto a trovarla.
Lucia
2016-11-13T00:00:00Z
Davvero nulla da dire dalla pulizia dell'appartamento, alla comodità della posizione, all'arredamento della casa, una vasca idromassaggio da sogno. Francesca è gentilissima e disponibile su tutto. Ci tornerò perché è stato magnifico.
Diego Alberto
2016-08-26T00:00:00Z
Una casa bellissima, le foto non rendono merito alla grotta che dal vivo e molto più bella e la vasca e grandissima. Francesca e una persona davvero gentile e disponibile e Sermoneta e davvero fantastica. Consigliamo tutti di passare almeno una volta in questo angolo di paradiso. Con affetto Silvia
Silvia
2016-07-17T00:00:00Z
L'appartamento si ripartisce su tre piani ed è molto comodo, perché prossimo ai parcheggi principali del paese e, al contempo, a pochissimi metri dalle principali attrazioni del centro storico. Ideale per quattro persone, ha una zona notte distinta da quella giorno, mentre il piano sotterraneo, con la vasca idromassaggio, è un piccolo ninfeo. Un plauso particolare merita la proprietaria, Francesca, di squisita gentilezza ed estremamente disponibile. Consiglio fortemente la sua struttura per piacevoli soggiorni, sia tra amici, sia in coppia.
Salvatore
2016-09-05T00:00:00Z
Appartamento consigliatissimo: la casa, in pieno centro storico, è divisa in 3 piani, una parte giorno con cucina (equipaggiata con tutto) e salottino (con caminetto e tv), un piano superiore con camera da letto + bagno e il piano inferiore con una splendida grotta con vasca idromassaggio/cromoterapia e un ulteriore bagno con doccia. Francesca è stata gentilissima, ci ha fatto trovare la vasca pronta e anche una crostata fatta da lei; disponibilissima per qualsiasi cosa ci servisse, così come per gli orari di checkin/out e per illustrarci le cose da vedere. Sermoneta è carinissima e merita sicuramente una visita (in particolare per le viette del centro storico, il giardino degli aranci, il belvedere e il castello) oltre ad avere nei dintorni altri bei posti come Bassiano, Cori e i Giardini di Ninfa (purtroppo chiusi quando siamo stati noi). Anche Sabaudia e il Circeo non sono molto lontani per un'eventuale pomeriggio al mare. Il problema del visitare i dintorni è che la casa è così carina da non volerti fare uscire :)
Michele
2016-10-31T00:00:00Z
Siamo stati in questa bellissima casa un sabato e una domenica. Francesca è gentilissima, ci ha fatto trovare casa pulitissima, una crostata e il caffè. Casa è magnifica, romantica e pulitissima. Tutta in pietra, il piano terra ha una vasca idromassaggio e una doccia,. Francesca ci ha fatto trovare all'arrivo le candele accese e la vasca pronta. Un weekend da sogno. Torneremo sicuramente.
Pietro
2016-10-16T00:00:00Z
Oda Tipi
Tüm ev/daire
---
Mekan Türü
Ev
---
Konaklayacak Kişi Sayısı
4
---
Yatak odaları
Sermoneta, Lazio, İtalya
Il nostro accogliente appartamento bilocale con giardino di proprietà...............
L'alloggio ospita comodamente 2 persone
piccola collina nel verde di coltivazioni tipiche della zona,ortaggi,vite,kiwi
Melania e il suo compagno sono stati davvero simpatici e gentili.Abbiamo molto apprezzato la loro compagnia e le primizie del loro giardino. La casa è l'ideale per chi vuole trascorrere delle vacanze in campagna.
giulia
2015-08-21T00:00:00Z
Melania e il suo compagno sono stati davvero simpatici e gentili. La casa è l'ideale per chi vuole trascorrere delle vacanze in campagna. L'appartamento era pulito e piacevole. Sul tavolo c'era una colazione italiana come un benvenuto.
Britt
2015-11-23T00:00:00Z
Piccola e carinissima casetta immersa nelle campagne di Velletri. Silenziosa e pulita. I proprietari sono due persone simpatiche e disponibilissime. La consiglio!
Giuseppe
2016-01-06T00:00:00Z
Io e la mia ragazza siamo stati per 6 giorni ospiti e devo dire sono stati i più bei giorni del estate che ho passato. Il posto era tranquillo la casa molto pulita non si poteva chiedere di più. Massimo e Melania sono stati molto accoglienti e stupendi con noi. La casa si trova in campagna le sere si può caminare e essere molto rilasati.
Mario
2016-07-12T00:00:00Z
Oda Tipi
Tüm ev/daire
---
Mekan Türü
Ev
---
Konaklayacak Kişi Sayısı
2
---
Yatak odaları
Velletri, Lazio, İtalya
Lovely house on two floors, with garden and terraces with panoramic views on agro Pontino, in the historical center of Sermoneta.
The house is on three levels. In the lower part there is the rooftop garden where you can dine in the shade of several trees of orange and mandarin. The garden is also equipped with barbecue. On the main floor is the kitchen stocked with every utensil, the dining room with a table for 6-12 people, the living room with LCD TV 42 "next to the wood burning fireplace and a small bathroom of SERVING. From the dining room you are accessed via a spiral staircase in the bedroom: the bedroom, with double bed and eventual single bed / cot is equipped with a large private terrace with views of the bell tower of the Cathedral of Sermoneta, the district Torre new and the Pontine plain. In the sunniest days it is very well observed the profile of the cape of San Felice Circeo and the Pontine islands. Also on the upper floor is the master bathroom with a large shower.
En la casa de la familia Torelli hemos disfrutado de unas vacaciones especiales e inolvidables. El pueblo de Sermoneta es verdaderamente un escenario de película (prácticamente intacto desde el S.XIII). Te encantará pasear pausadamente por sus calles empedradas, perderte entre su intrincado laberinto de callejuelas y rincones, visitar sus recoletas iglesias, su soberbio Castillo Caetani y disfrutar apaciblemente de un ambiente rural: comprar el pan, tomarte el aperitivo o un café en alguno de sus bares... La zona en la que nos encontramos encierra un enorme atractivo cultural, donde se pueden visitar otros pueblos medievales (Bassiano, Norma, Sezze) y destacados monumentos (abadías de Valvisciolo y de Fossanova, jardines de NInfa...), y algunas de las mejores playas del litoral Tirreno (Sabaudia, San Felice Circeo...). Asimismo, es posible realizar excursiones de un día a Roma o incluso a Nápoles (poco más de dos horas por la autopista) En lo que respecta a la casa, ésta se encontraba limpísima y perfectamente equipada con toda suerte de electrodomésticos. Se trata de una antigua edificación medieval perfectamente reconstruída y dotada de todas las comodidades. La decoración se ha llevado a cabo con un excelente gusto de acuerdo a un estilo tradicional. Cuenta con un espacioso jardín con césped, diversas plantas y árboles frutales (granado, limonero...), incluso una barbacoa a disposición de los inquilinos. Un espacio romántico y lleno de encanto para abandonarse a la lectura e incluso comer o cenar al aire libre. Los propietarios: Marcello, Adele y su hija Sara habitan la vivienda contígua; son personas encantadoras que han estado en todo momento a nuestra disposición para atendernos y proporcionarnos todo aquello que necesitáramos. Nos dejaron incluso leche y alimentos para poder desayunar al día siguiente ¡¡ y una deliciosa tarta de frutos del bosque !! Conozco bastante bien Italia; es un hermoso país cargado de historia, arte, cultura, pero si tuviera que destacar algo sería precisamente la tranquilidad. Esta comarca del Lazio, a pesar de encontrarse a una hora de Roma aproximadamente, penas es conocida por el turismo internacional, por lo que se encuentra en un estado absolutamente puro. No encontrarás rebaños de turistas cámara en ristre ni gente ruidosa; tan solo calma, tranquilidad, gente hospitalaria que te hará sentir como en tu propia casa, aire puro, luz, alimentos de primera calidad...¡¡ puro sabor mediterráneo !! Si te apetece disfrutar de unas vacaciones inolvidables, no lo dudes, Sermoneta no te dejara indiferente. Y volverás...
Pedro
2016-08-31T00:00:00Z
L'host ci ha messagiato e ci é venuto a premiere appena arrivati nella piazza del paese vicino alla casa. Ci ha (URL HIDDEN) a casa e ci ha spiegato i servizi disponibili
Fabrizio
2016-07-29T00:00:00Z
It was just fantastic! It was definitely our best stays at airbnb so far! Sermoneta is just charming and beautifull, even not far away from the sea (40 minutes). In agost there is a cultural festival going on, so its nice to come at this time of the year. The house "Sermoneta Home Made" of Sara is very big and beautifull, nice big bedroom, a lot of light, a huge terrace with view at Sermoneta and the valley and sea; a perfectly equpped kitchen, washing machine...everything you might need you will find! There is a another beautiful terrace stepping out of the kitchen and a lovely garden, where you can have breakfast or (URL HIDDEN) magic! They left us a lot of food when we arrived (coffee, milk, juice, biscuits, olive oil, beer) and the fridge was already cool! That's a real service! Everything was tip top clean. Sara was really nice and helpful, perfect service! We really would like to come back!!! Thanks, Sara and family!
Miguel Ángel
2016-08-06T00:00:00Z
Sara's place is a real find. Right in the centro storico of Sermoneta and super comfortable, clean and spacious. Lovely and quiet too. Highly recommended
Catherine
2017-03-04T00:00:00Z
I cannot express enough how much we loved staying in Sara's lovely home in the beautiful village of Sermoneta and how highly we recommend this special place to other visitors wanting to find a home-from-home and a little piece of paradise. My partner Mike and I and our two dogs were fortunate enough to have 6 weeks staying at Sara's for a mix of work and holiday, and now we are back in the UK we miss everything about our stay so much. Huge thanks to Sara for her incredible helpfulness, kindness and warm hospitality, and also to her parents Adele and Marcello. Sara was so patient with our many questions in advance of our trip, and it was lovely to meet with her, her little dogs and many of her family members once we arrived - a lovely family who made us feel very welcome, with home baking and chats in the garden to see their tiny tortoises waking up from winter sleeps as the sun started to warm. The apartment is really stunning with the most beautiful view over the village rooftops, across olive groves on the hillside and then out across the plain towards the sea in the distance. You can see all this beauty from an amazing balcony off the bedroom and a sweet garden off the kitchen. Everything in the house is very clean, comfortable and well-appointed and it is a lovely stone building - one of so many beautiful buildings in this quite unique Medieval village of little narrow streets, orange trees and churches. We loved walking out of our own home there and across the little piazza where we got to know more and more people to greet. The village has all you need to feel happy: a lovely warm community, a little bar, some good restaurants, a little supermarket, even a Friday pizza night at the village bakery. Sermoneta is a great place to relax as it is very peaceful - there are few car-width roads inside the village and you need to park just outside and walk in. There are lovely rural hills to walk all around, several bustling towns on the plain, the beach within about 40 minutes drive and Rome just an hour away from Sermoneta door-to-door by car/bus and train. We have been back in the UK a week now but certainly a piece of my heart has stayed behind in Sermoneta. Thank you Sara for everything.
Polly
2017-02-21T00:00:00Z
Location, cleanliness, presentation and comfort we're perfect. A special home in a special place. Couldn't recommend the house and Sara highly enough.
Holly
2017-02-28T00:00:00Z
Oda Tipi
Tüm ev/daire
---
Mekan Türü
Ev
---
Konaklayacak Kişi Sayısı
3
---
Yatak odaları
Sermoneta, Lazio, İtalya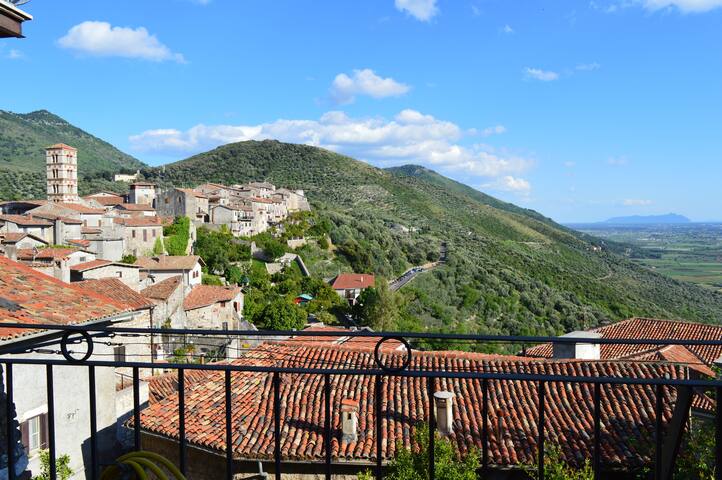 A house in the countryside of campoverde just 9 km from Nettuno.Ideal for a stay immersed in natura.4000mq garden , including a gazebo , swimming pool , barbecues and pizza oven and little pond with ducks and peacocks .
la camera di 20 mq disponibile anche per una sola persona al prezzo di 21€ è dotata di mini-frigo tv wi-fi con vista giardino, nel bagno che è privato, troverete doccia/vasca idromassaggio e phone. l'entrata è indipendente.
La camera si trova in una villa sulla via principale che conduce verso il mare di Nettuno la zona è tranquilla e tanto vicina alla citta quanto al litorale!
Marina é una eccellente padrona di casa, molto gentile e disponibile. La prima sera mi ha anche accompagnato in pizzeria. la sua casa é comoda e ben fornita, con un letto comodo e un grande bagno.
Daniela
2016-11-10T00:00:00Z
Marina è una persona molto cordiale e accomodante e ci ha fatto sentire i benvenuti. La casa/camera è ben arredata, con finiture di pregio ed ha tutti i confort di un hotel, compreso il frigo in camera. A rendere il soggiorno speciale vi è una splendida piscina molto pulita, completa di comode sdraie e si può godere di un piacevole clima ventilato. Perfetto per chi vuole godersi un po' di relax lontano dal caos! Ci torneremo.
Emanuela
2016-08-04T00:00:00Z
Это просто отличное место! Нам всё очень понравилось у Марины. Марина очень гостеприимная, добрая и отзывчивая. Возле дома пруд с черепахами, а по территории дома гуляют павлины, это просто великолепно. Спасибо за всё Марина. Не пугайтесь что море в 8 километрах, вас с радостью туда отвезут, а потом заберут. Очень советуем!
Николай
2016-08-12T00:00:00Z
Marina è stata gentilissima, cordiale e molto discreta, la casa dispone di una bella piscina e la stanza e il bagno sono confortevoli.
Sara
2016-08-15T00:00:00Z
Accoglienza e disponibilità eccezionali. Posto comodo e tranquillo. Spazi ampi, ordinati e puliti.
Francesco
2016-12-13T00:00:00Z
L'accoglienza di Marina è stata fantastica e la sua casa è davvero bella. La stanza è ampia e ha un bagno fantastico. Più che consigliato. Molta cordialità e gentilezza da parte di tutta la famiglia. Nel giardino sono presenti animali e pavoni bellissimi.
Gabriele
2016-08-10T00:00:00Z
Marina è stata veramente una meravigliosa Host, ci ha dispensato di consigli e indicazioni sul luogo ed è stata veramente di grande aiuto oltre che ad essere una persona gentilissima e cordiale. Location confortevole in un oasi di pace, super consigliata per chi vuole riposare mente e corpo, in estate poi sarà sicuramente un luogo dove poter avere tutto in un unica soluzione visto che dspongono di piscina, forno e grill all'aperto, sdraia e ombrelloni, giardino per i bimbi piu piccoli. Da provare il caffè di marina, tra i migliori che io abbia mai bevuto. In definitiva.........5 stelle e piu. Grazie marina e arrivederci presto. Franco e Valentina.
Franco
2017-02-19T00:00:00Z
Marina é stata gentile e disponibile, la camera ampia e confortevole e lo spazio intorno la casa bello e verde. Un'ottima esperienza.
ivan
2017-02-25T00:00:00Z
Oda Tipi
Özel oda
---
Mekan Türü
Ev
---
Konaklayacak Kişi Sayısı
2
---
Yatak odaları
Lazio, Lazio, İtalya
2 bedrooms with private entrance and bathroom with tub.
Oda Tipi
Özel oda
---
Mekan Türü
Ev
---
Konaklayacak Kişi Sayısı
3
---
Yatak odaları
Latina, Lazio, İtalya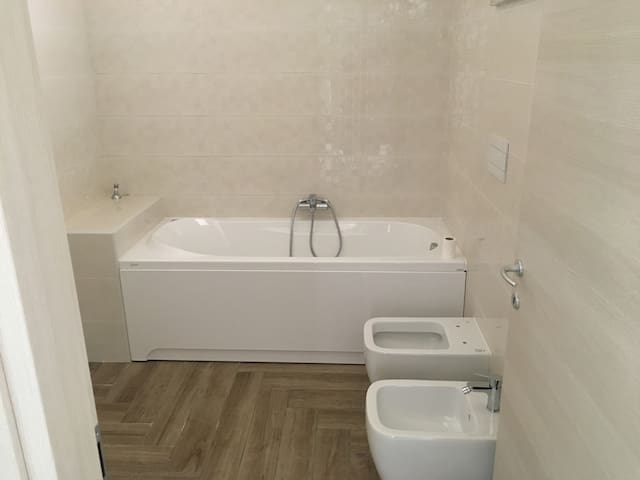 La stanza, con annesso bagno, è al primo piano della nostra casa, immersa nel verde e nel silenzio della natura ma a pochi minuti dal centro del paese; al risveglio potrai degustare marmellate della nostra frutta. Pulizia, accoglienza e riservatezza.
L'alloggio è un antico casolare colonico a due piani, di color rosa, circondato da piante, fiori ed alberi da frutto.
Giuliano e Giuliana sono stati gentili e disponibili. La stanza dispone dell'essenziale. Ottima per un soggiorno rilassante.
Daniela
2016-09-08T00:00:00Z
Il mio giudizio è solo positivo e non è retorica perché Giuliano e Giuliana sono due persone fantastiche, la loro ospitalità è semplicemente unica e ti assistono e consigliano dell'arrivo alla partenza. Camera molto accogliente, ariosa, tranquilla. Grazie Giuliani.
Angelo
2016-06-01T00:00:00Z
Giuliano e Giuliana sono due persone disponibilissime e di un'ospitalità unica. Il soggiorno è stato perfetto sotto tutti i punti di vista e, se potrò, tornerò sicuramente. Consigliatissimo!!!
Livio
2016-10-13T00:00:00Z
Mi sono proprio sentita come a casa. Giuliana e Giuliano sono disponibilissimi. La casa é proprio carina, nel verde della campagna ma conunque a due passi dalle comodità del centro di Velletri.
Francesca
2016-03-04T00:00:00Z
A place is a little out of town, so i decided to get a taxi to reach the house from the train station. The place is very quiet, with a beautifull nature all around. Giuliana and Giuliano are very nice and friendly. The room was simple but comfortable. The place is very clean. Breakfast was so nice, even with home made marmelade, so i felt like i ate at home. If you need some place in this area, to rest and relax, this is really a nice place.
Mojka
2017-04-03T00:00:00Z
Giuliano en Guiliana wr very nie and welcoming hosts. The accomodation in simple and fin to saty. Giuliano was very helpful giving me tips for the rest of my journey in Italy.
Alexia
2016-11-24T00:00:00Z
Molto soddisfatto. Immerso nel verde a pochi minuti a piedi dal centro di Velletri. Ottima ospitalità. Consigliato.
Andrea
2016-11-04T00:00:00Z
Ottima accoglienza e bellissima casa. Per me è stata perfetta la permanenza e ringrazio ancora Giuliano per l'ospitalità!
francesca
2016-04-18T00:00:00Z
Oda Tipi
Özel oda
---
Mekan Türü
Ev
---
Konaklayacak Kişi Sayısı
1
---
Yatak odaları
Velletri, Lazio, İtalya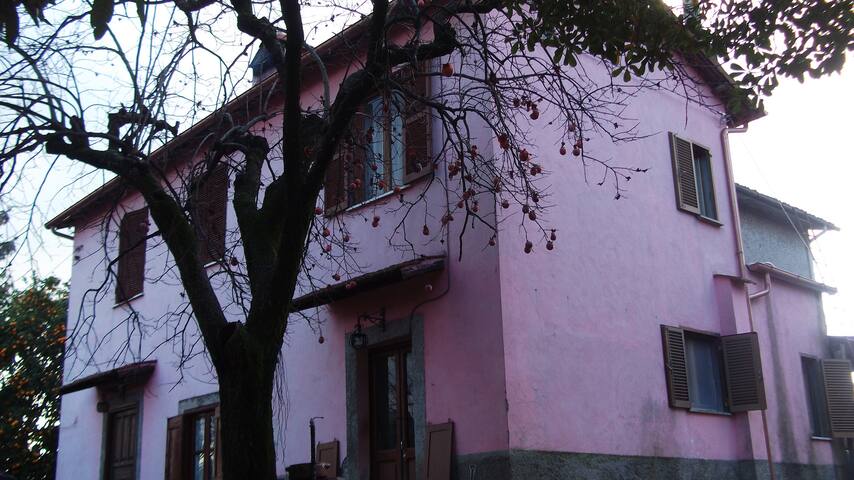 My accommodation is suitable for couples, lone adventurers, business travelers, families (with children) and furry friends (pets).
L'appartamento è pulitissimo e completo di accessori. L'accoglienza è stata veramente aperta e disponibile per orari e offerta di eventuale aiuto. Gentilissima la Signora che mi ha fatto trovare dei tranci di torta da lei preparata per la colazione. Il silenzio durante la sera e la notte regna sovrano.
Savino
2017-03-24T00:00:00Z
Oda Tipi
Tüm ev/daire
---
Mekan Türü
Ev
---
Konaklayacak Kişi Sayısı
4
---
Yatak odaları
Latina, Lazio, İtalya
INDIPENDENT HOUSE IN THE GARDEN In this residence you can experience a bucolic feeling. Surrounded by a natural landscape and only a few kilometers' drive away from abbeys, pictoresque historic towns, lakes, woods and nature trails.
Only 40 km away from Rome's city center, a 30 minute ride away. The residence was built in the year 1631 by a noble roman family. Their youngest son was a cardinal and minister of several Popes, Some arches of old church are still visible today INDIPENDENT HOUSE, is a 130sqm house with 2 bedrooms with their own bathroom, 1 room with 2 bunkbeds. In the fully equipped 35sqm living room are two bed sofa, the living room has his bathroom All the beds with exception of bunk beds coud be available as single bed or kingsize beds . Fully equipped kitchen complete the house. Large garden is around the house where is possible to make barbecues. Sun umbrella, table, chairs and deck chairs are in the garden.
In this historic residence you can experience a bucolic feeling like in Tuscany but without crowds of tourists. Surrounded by a natural landscape and only a few kilometers' drive away from abbeys, pictoresque historic towns, lakes, woods and nature trails you can enjoy the famous delicatessen of the area. All this only 40 km away from Rome's city center, a 30 minute ride away. The residence was built in the year 1631 by a noble roman family. Their youngest son was a cardinal and minister of several Popes, who, on their way from Rome to Naples said Mass in the Church of the residence. Some arches of the church are still visible today. A garden of 6000 square meters offers a quiet and relaxing stay. On request you can even rent a multi-purpose hall (150m²) for your work-shop activities.
Vriendelijke (URL HIDDEN) over restaurants en uitstapjes. Rustige landelijke omgeving.
Nel
2014-07-06T00:00:00Z
Great stay at Guidos place. Quiet and private with a wonderful garden accessible to us. The house was spacious and had everything we ever needed. Wonderful and respectful hosts that made us feel very welcome.
Eirik
2015-07-29T00:00:00Z
This is a beautiful place! Guido and his wife Christina are amazing hosts, warm, friendly and helpful. Every detail is carefully addressed. The house is lovely and the garden a huge plus. We stayed for 2 days and wished it was longer. Even if it is in the countryside I would recommend staying here and using the car to move around. It's definitely worth the trip! Top experience!
Paula and Vincent + Gael!
2016-08-17T00:00:00Z
Absolute perfect location for holiday, as it is ment- calm, relaxing, inspiring. Huge garden with playground for the kids. Guido and Christine are charming and very helpfull hosts, they were a big help with information about local markets, things to do and to see. The old houses are renovated very carefully and with a great eye to details. Would go again everytime, we can recommend this location absolutely!
mathis
2014-11-05T00:00:00Z
We stayed in this peaceful, beautiful spot for ten days around a family wedding and were made very welcome by Christine who was a delight to speak to and provided a range of helpful suggestions and practical advice which we found very comforting. The house is set in a large garden surrounded by orchards of kiwi and olive trees. It is roomy, decent beds, welcoming and lovely to stay in. It was immaculately clean and the garden is a delight to survey with a cold drink in hand watching for passing wildlife. Wifi faster than the service we get at home and situated close to most facilities you could want. There is a restaurant opposite that is well worth a visit and a range of supermarkets within 10 minutes that supply anything you could want. A station ten minutes away provides a swift service to Rome and connections to the airport. Very good value and somewhere i would highly recommend as a base for touring or just to stay and relax.
Anna
2016-08-30T00:00:00Z
We really enjoyed our stay in this house. It was spacious enough for our family of 4 with grandparents visiting. My children loved the big garden and playground. Guido and his wife made us feel very welcome and were a great help in suggesting things to do.
Noortje
2015-05-15T00:00:00Z
Perfect place for a big group in a quiet area of Velletri
Virgilio
2015-06-16T00:00:00Z
Oda Tipi
Tüm ev/daire
---
Mekan Türü
Ev
---
Konaklayacak Kişi Sayısı
8
---
Yatak odaları
Velletri, Lazio, İtalya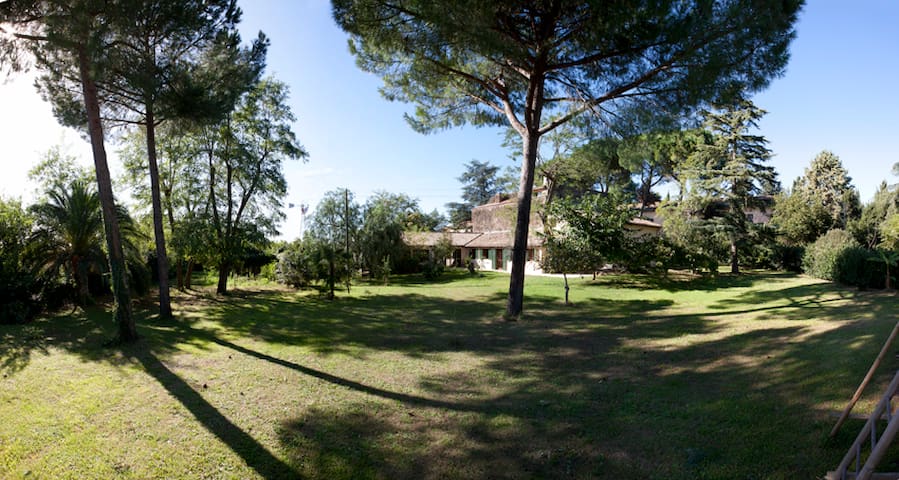 Il nostro splendido e accogliente trilocale in villa è ciò che serve per il vostro relax! Può ospitare comodamente 4 persone ed è posizionato tra i comuni di Genzano di Roma e Nemi, a due passi dall'omonimo lago. Giardino,cucina attrezzata e camino
We were warmly welcomed by Leonardo's mother, who lives upstairs in the building and was endlessly helpful and cheerful. The property is a self-contained flat with one double bedroom and another queen (?) bed in the reception area. The property worked well for my husband and two children for one night. Kitchen was helpfully available with basic ingredients, and all was clean and tidy. The area is lovely and quiet, off-street parking on a private road was welcome. We didn't ask for the WiFi password, nor did we see a TV; both are listed as available. We were in the area for one day, and so were absorbed in exploring and enjoying the gorgeous surroundings. We were caught up in the joy of swimming in Lake Albano and requested a late checkout in the late afternoon before we left for the airport. Our hosts were very understanding and let us stay until the last minute before the next guests arrived. Of course we were happy to pay extra to do so! Good value in a beautiful region.
Margaret
2016-08-16T00:00:00Z
We were very comfortable at Leonardo's. Mirella was great to deal with and very helpful with advice about the area and public transport into Rome.
Eva
2016-08-19T00:00:00Z
for six people it was just 49 (URL HIDDEN) is really awesome... Although it was outskirts of rome, it is only 1.5 euros to travel to rome.
Surya
2016-09-08T00:00:00Z
Great hosts that were very friendly and flexible. The apartment is as described and in a very convenient location. Was perfect for 3 adults and children.
Kayley
2016-09-05T00:00:00Z
Tutto come da descrizione. Ottima accoglienza e cortesia. Posizione comoda per visitare Nemi, un gioellino di paese..
Francesco
2016-08-07T00:00:00Z
Leonardo's mother Mirella was waiting for us. She was pleasant and even though her English was limited, she did a very good job communicating with us. Rather than just giving us directions to the supermarket, she drove us there. She shared vegetables, fruits and herbs from her garden with us.
Theresa
2016-08-14T00:00:00Z
Oda Tipi
Tüm ev/daire
---
Mekan Türü
Ev
---
Konaklayacak Kişi Sayısı
4
---
Yatak odaları
Nemi, Lazio, İtalya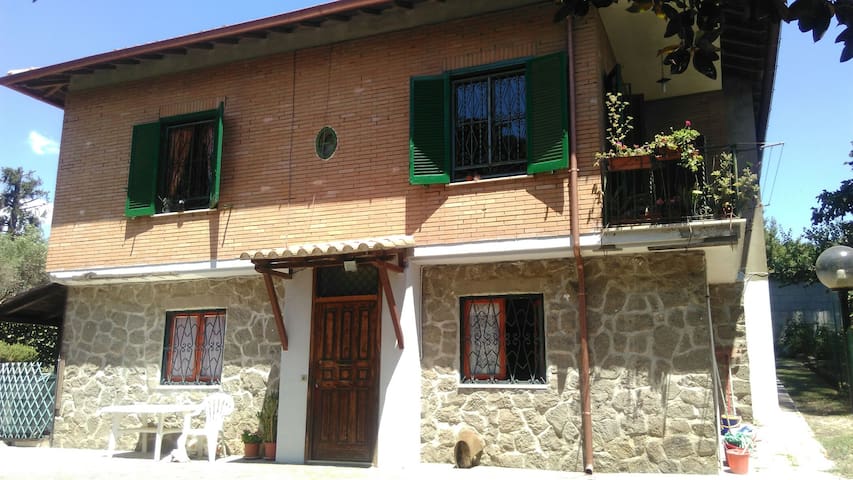 In Cori, beautifully situated in the Monti Lepini just south of Rome, you can experience an Italy far from the tourist crowds. This charming house was built about 500 years ago and has undergone a recent renovation.
This charming house was built about 500 years ago and has undergone a recent renovation. It is located in the historic central district and has excellent access. With a car you can drive directly to the entrance to unload your luggage or groceries. A single flight of stairs leads from the street to an independent entrance, which opens onto the living room. From there, French doors lead to a small balcony furnished with a table for two, where you can enjoy the view over the trees and across to the "castle." Located just off the balcony in the storage room is the washer. Back inside, take the beautiful spiral staircase down to the kitchen or up to the bedroom. The kitchen is very well-equipped and includes a dining table for four. Extra chairs can be added to seat up to six people. The full bathroom, with shower and bidet, is located on this floor as well. The bedroom is a charming sanctuary where you will feel as if you are nestled in a tree house. It is furnished with a comfortable queen (in Italian, matrimoniale) bed with nice linens, cotton blanket, and down duvet. On this floor you will find a small closet with drawers and a half bath. Cori has several excellent restaurants and cafes within walking distance of the house. A weekly open-air market takes place every Friday morning. We are on the parade route during festivals and enjoy a bird's-eye view from our windows. Due to the staircase and to the balcony height, this house is not suitable for young children. It is most comfortable for two people sharing the queen bed, but the sofa in the living room converts to a single bed if needed.
For more information about Cori, please visit (URL HIDDEN) There are several restaurants in Cori and the surrounding villages. Our favorites are: (URL HIDDEN) (URL HIDDEN) (URL HIDDEN) (URL HIDDEN) There are three wineries in Cori, all of them excellent and award-winning: (URL HIDDEN) (URL HIDDEN) (URL HIDDEN)
Oda Tipi
Tüm ev/daire
---
Mekan Türü
Ev
---
Konaklayacak Kişi Sayısı
2
---
Yatak odaları
Cori, Lazio, İtalya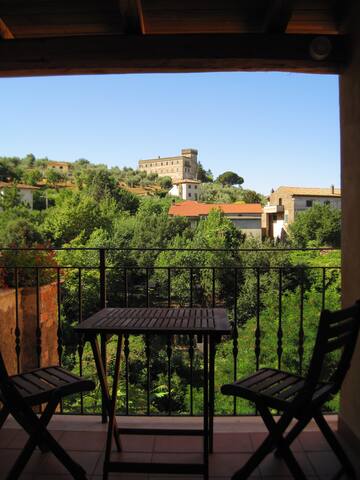 La casetta è immersa nel verde all'interno di un'azienda agricola che coltiva alberi da frutta e ortaggi vari. Si trova tra il comune di Genzano e quello di Velletri, in provincia di Roma, vicino alle migliori attrazioni dei castelli romani, Nemi, Genzano, Rocca di Papa, Castel Gandolfo e a 30 minuti da Roma. Chi scegli di essere nostro ospite ha voglia di rilassarsi e di stare all'aria aperta in campagna. Adatto alle famiglie per far stare i bambini nel verde e ad una coppia in cerca di relax.
Il posto è molto tranquillo nel verde ma nello stesso tempo è a 2 minuti dalla strada principale, via appia nuova. Ed è quindi facilmente raggiungibile
Deliziosa casetta nel verde tra i comuni di Velletri e Genzano. Gli ambienti sono molto piacevolmente arredati e il tutto risulta accogliente ed allo stesso tempo intimo. Ideale per una coppia che cerca un po' d'intimità o una piccola famiglia in cerca di relax. Unica pecca, se avete necessità di essere sempre connessi o reperibili, è il fatto che non avrete campo, se non fuori dalla casetta. Ma qualche giorno senza cellulare fa anche bene. Per me è stato così.
Pier Luigi
2016-11-10T00:00:00Z
Tout dans notre séjour a été positif. La location correspond en tout point à sa description et la gentillesse de nos hôtes a été sans faille. Disponibilité et sympathie qualifient au mieux la famille de Vito (le papa d'Evita). En plus de répondre à nos questions; nous avons été gâté avec les délicieux fruits et légumes du jardin et les œufs fraîchement pondus de leurs poules. Rome et ses trésors sont accessibles à moins d'1 heure en voiture ou bus; idéal donc pour les visites. Nous avons ainsi pu alterner visites et culture avec farniente (en restant à la maison et profitant de la piscine avec nos enfants de 6 et (presque) 2 ans Nous vous recommandons vivement la Casetta!
amelie
2016-08-21T00:00:00Z
Zeer vriendelijke eigenaren en een behulpzame huismeester. Het is een prachtige plaats in de nabijheid van Rome (35 min.), meren van Nemi en Albano en andere bezienswaardigheden. De kust is ook te bereiken per auto. De ruimte heeft veel privacy, veel rust, een zwembad, airco en 2 slaapkamers. Voor ons uitermate geschikt voor een vakantie met het gezin.
Y.J.M.
2016-07-29T00:00:00Z
Petite maison très agréable et confortable ! A 45 mn en bus du centre de Rome ! Au calme pour recuperer de vos visites touristiques très fréquentées ! En prime une piscine pour se détendre !
Jean Michel
2016-07-17T00:00:00Z
Très bonne accueil des hôtes Lieu idéal pour passer des vacances en famille Accès facile à la gare avec aller direct vers Rome
quentin
2016-08-08T00:00:00Z
Oda Tipi
Tüm ev/daire
---
Mekan Türü
Ev
---
Konaklayacak Kişi Sayısı
4
---
Yatak odaları
Velletri, Lazio, İtalya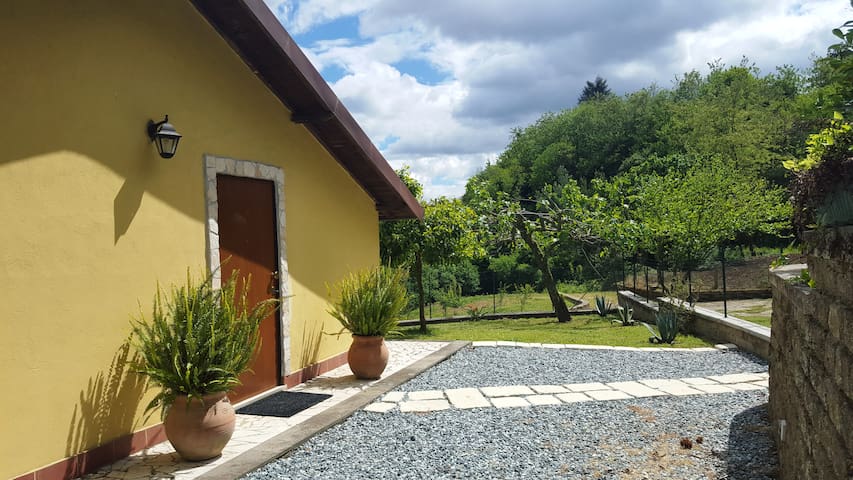 Graziosa villetta con amplia veranda, 3 camere da letto, bagno, cucina e salone e ampio cortile, ideale per una vacanza con la famiglia In una posizione strategica fuori Roma, a 15 minuti da Latina, Nettuno e Anzio, a 3km dal mare.
Giuseppe-Один из самых лучших итальянцев которых я встречал в своей жизни. На столько добрый и отзывчивый во всем! И вся его семья за нами ухаживала так, будь то мы знакомые с ними много много лет Даже фрукты приносили из своего сада Дом в котором мы жили,был очень уютный и мы реально чувствовали себя как дома!!! В доме все есть, прям все что нужно для жизни на море
Zoran
2015-08-18T00:00:00Z
La casa è molto ampia, carina e ben tenuta. L'allarme è una ulteriore comodità. La zona è tranquilla e lontano dal caos però vicino a tutti i posti più belli da visitare. Giuseppe è una persona disponibile e attenta alle esigenze. Consigliato.
Nicola
2015-08-31T00:00:00Z
Wir haben 2,5 wunderbare Wochen in Guiseppes tollem Haus verbracht. Es ist ideal gelegen, um Strandurlaub mit Ausflügen nach Rom und in die Umgebung zu verbinden! Das Haus hat alles, was man für einen erholsamen Urlaub braucht. Hat viel Platz und Komfort. Guiseppes Informationen waren sehr hilfreich. Er ist ein zuverlässiger Gastgeber, den wir gerne weiter empfehlen können.
Michael
2016-08-22T00:00:00Z
Дом очень уютный и просторный) в нем есть всё для отдыха. Фермер нас угощал овощами из сада. Рядом есть красивые места-Теранчино, сад Нимфы, не далеко и Рим. Нам все очень понравилось. Спасибо за всё)
Lidia
2016-09-04T00:00:00Z
Все понравилось. единственное в воскресенье вечером увеличивался поток машин по улице, тк все ехали с моря
Egore
2016-08-06T00:00:00Z
Ottimo soggiorno! Sia Giuseppe che Giada sono stati assolutente disponibili e ospitali e l'alloggio corrisponde esattente alla descrizione a pochi passi dal mare e immerso nel verde. Ci siamo sentiti come a casa nostra. Torneremo sicuramente appena possibile.
Emanuela
2015-07-27T00:00:00Z
The place was perfect for our needs with a fully equipped kitchen and enough space for 6 people. Giuseppe and his uncle, who owns the house, are nice people who were helpful with all requests and also had this little farm in the back from where we were given fresh tomatoes. Recommendable and not far from the beaches in the area.
Melodi
2016-07-19T00:00:00Z
La maison était très propre et très sécurisée. Cependant certaines prises électriques ne fonctionnaient pas.
Rony
2016-09-17T00:00:00Z
Oda Tipi
Tüm ev/daire
---
Mekan Türü
Ev
---
Konaklayacak Kişi Sayısı
6
---
Yatak odaları
Macchia Grande, Lazio, İtalya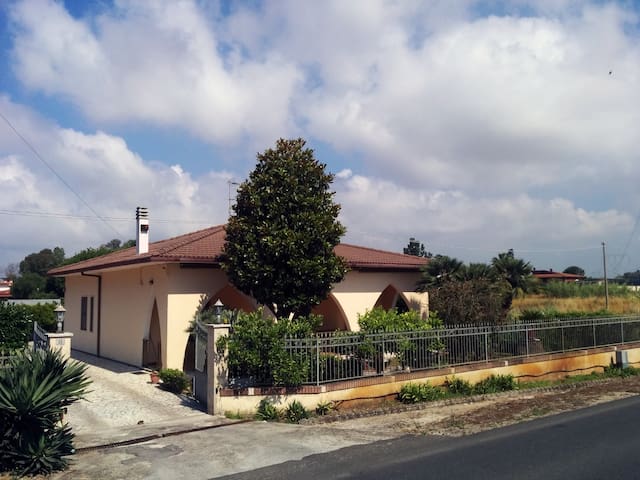 Private bedroom with bathroom and separate entrance in a cottage located in a quite and charming countryside of the Castelli Romani Regional Park, close to the town of Velletri at ten minutes walking to the rail station, one hour from the center of Rome, 20 minutes from Ciampino airport. Garden, parking, breakfast - Free Wi-Fi
Our cottage is located in a quite environment close to the town of Velletri, the room is on the ground floor and as an independent entrance
Velletri was an ancient city of the Volsci tribe, before the Roman Empire, lies upon a low hill at the southeast edge of the Alban Range. At its back is the long ridge of the Artemisium. Velletri has been continuously inhabited since prehistoric times. Scholars debate whether the settlement was established by Etruscans, Latins, or Volscans. In any case, Ancus Marcius, fourth king of Rome (640-616 BCE) conquered the town, which he named Velitrae. Velitrae was reconquered at least twice more by the Romans. In the Middle Ages, Velletri was an independent comune. For several years in the late 18th and early 19th Centuries, Velletri was a free-standing republic. The citizens of Velletri suffered tremendously during World War II, with significant damage and loss of life. Actually Velletri is a town of 53,829 inhabitants, it is a comune in the province of Rome, on the Alban Hills, in Lazio - Italy, 35Km away, South-East Rome. The city has direct train connection to Rome Termini (Central Station) (50min) where the metro lines crosses. A stroll through Velletri is a pleasant excursion: - Santa Maria in Trivio, Cathedral of San Clemente, 14th Century Church of S. Antonio Abate, Tempietto Bramantesco (1523), 16th Century Oratory of Santa Maria del Sangue. - The defence wall of the antique Volscian Velitrae was destroyed by the Romans in 338 BC and was not rebuilt until medieval times when other mighty castle walls surrounded it. Originally, there were six gates in the surrounding wall which were reduced to three in the 16th century. The only one remaining today is the Porta Napoletana (Neapolitan Gateway). - Museums: Museo Civico Archeologico Oreste Nardini - Museo Civico di Geopaleontologia e Preistoria dei Colli Albani - Museo Diocesano - Velletri boasts of a significant wine production with a good variety of vines. - You can see the "festa dell'Uva e del Vino" (Grape & Wine festival) last weekend of September; "Palio delle Decarcie" (Inter-District Race); "Camellia Festival" every spring (March), with displays, sales and guided tours of local gardens; "Sagra del Carciofo alla Matticella" (Artichoke Festival) during May; "Estate Velletrana" (Velletri Summer) – in summer Velletri has a calendar of events; "Festa patronale di San Clemente" (Patron Saint's Day) – on the 23rd September the town celebrates Saint Clement, Pope, martyr, and Patron Saint; "La Pasquella" (Period Costume Parade) – it is held on the 5th January, the day before the Epiphany.
It was a wonderful experience. The place is nice and the family was wonderful to us, couldnt recommend it more.
Matías & Camila
2015-10-24T00:00:00Z
Il posto è molto bello. L'accoglienza di Flavia, la mamma di Siria, è uno spettacolo da vivere: senza fronzoli né moine sa come farti sentire a casa tua. Tutto molto piacevole.
Paolo
2016-10-23T00:00:00Z
The host canceled this reservation the day before arrival. This is an automated posting.
Jakob
2015-08-31T00:00:00Z
I have never been to meet so kindly and respected family. I feel one the family. I love it and I will come back to visit to you. Clean and comfortable house. The garden so nice and I love different fruit. Thanks Simona and family.
Ali
2014-08-17T00:00:00Z
Siria è stata disponibile a darci tutte le indicazioni per raggiungere la casa. L'alloggio era pulito e confortevole, e sia Siria che sua madre si sono dimostrate gentili e accoglienti. L'unico appunto che possiamo fare è che la camera era un po' fredda.
Eliana
2015-11-29T00:00:00Z
The room was lovely and exactly as promised. I warmly recommend to stay in this place to anyone visiting the area.
Janne
2015-04-05T00:00:00Z
Zona tranquilla, casa pulita e accogliente, bellissimo giardino, persone discrete, gentili e molto disponibili, ci siamo trovati benisimo, se dovessimo trovarci in zona, sicuramente ritorneremo. Un Grazie alla mamma di Siria per la disponibilit(URL HIDDEN) Gaetan(URL HIDDEN) Mariann(URL HIDDEN)Mena
Gaetano
2016-04-16T00:00:00Z
The room is small but very clean and pleasant, with a view onto the garden. However, unfortunately we were not warmly welcomed, which made our stay an uncomfortable one. Communication from the host was also not great.
Julian
2016-04-23T00:00:00Z
Oda Tipi
Özel oda
---
Mekan Türü
Ev
---
Konaklayacak Kişi Sayısı
2
---
Yatak odaları
Velletri, Lazio, İtalya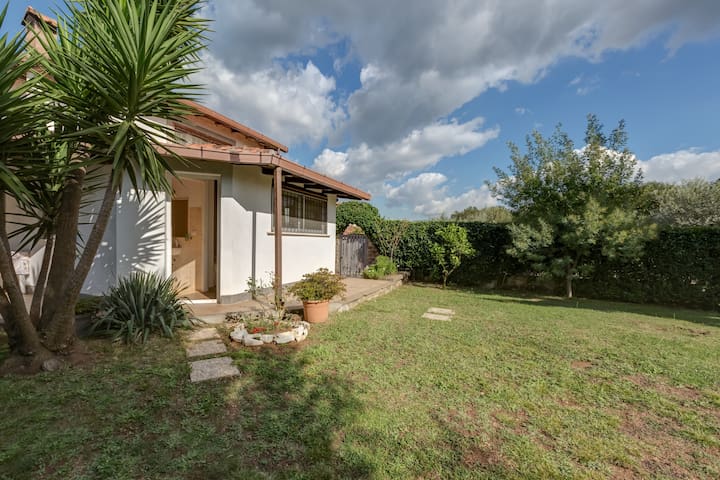 Cisterna di Latina - Airbnb
:
113

misafir değerlendirmesinden,

5

yıldız üzerinden ortalama

4.69

yıldız
Tam fiyatlandırmayı görmek için tarihleri görün. Ek ücretler uygulanır. Vergiler ilave edilir.