Welcome to our Country apartment. This is fully private charming country getaway 1BR/1 Bath Apartment with separate entry is half of a single family house located on 1 acre, surrounded by farmland. We have tried to think of anything you would want, from Coffee, to TV with Streaming Movies, AC & Comfy Bedding! OUR LOCATION: located on the private Sunset Airstrip in quiet and safe neighborhood. 5 minutes from Intel and 16 miles to downtown Portland. 3/4 miles from North Plains exit off Hwy26.
Quiet and cozy in perfect COUNTRY location for work or vacation. We provide clean linens and towels, toiletries including shampoo, conditioner, body wash and soap, etc. LIVING ROOM: a comfortable and inviting place to relax (or sleep). Bright and cheery. Queen sz Sofa bed. Flat screen TV, Cable and HBO. Cozy electric fireplace for cold nights or romantic cuddling. KITCHEN: well equipped kitchen, range with built-in microwave, refrigerator, toaster, coffee maker and teapot. BREAKFAST: includes coffee, tea, eggs, milk and cereal or oatmeal. BATHROOM: big walk-in shower and towels. Extra toiletries in an medicine cabinet. Hair dryer and all essential toiletries provided. BEDROOM: quiet bedroom, window flooded with light and view of the mountains. Queen bed with comfortable pillow top mattress. Crisp luxurious 540 thread count linens and extra pillows ensure and good night sleep. Black out shades create a perfect setting for good sleep even when jet-lagged or in need of a mid-day nap. Dresser for great storage to unpack and settle in and Apple TV for late night movie or show. LAUNDRY: full size Samsung washer & dryer. Eco-friendly detergent provided. OUTDOOR: the covered patio/fenced backyard space is for your private use. Driveway parking for 1-2 vehicles. Central AC for summer. Quiet safe neighborhood.
All high tech companies very close to the area - 5-6 miles. House located on private Sunset Airstrip, and yes we are NOT in downtown Portland. Please don't give 4 stars for location because we are NOT at downtown Portland location and this reflected in price. Thank you! * Downtown Portland - 16 mi (30 minutes drive) * Downtown Hillsboro - 6 mi with zero traffic! * Pumpkin Ridge Golf Club - 1.6 mi * Pumpkin Ridge Zip Tour - 7 lines, 3 suspension bridges, 2 hours, 1 amazing place! * Treasure chest Antique Mall - 1 mi * Willamette Valley Soaring Club (Gliders) - 1 mi * Horse back riding - 1 mi * Pacific Univercity - 8 mi * Horning's Hideout - 6.7 mi * Tree to Tree Aerial Adventure Park - 17.7 mi 8 miles to Tanasbourne area with access to shopping, local malls, Cinemas and great restaurants.
This place was perfect for me. Quiet, clean and just as I expected. I'd stay there again.
Carol
2016-09-13T00:00:00Z
Victoria's place was fantastic! Clean, updated, very comfortable bed. Very nice shower. Would have enjoyed a longer stay! Great communication.
Maggie
2016-11-05T00:00:00Z
This is really a nice place. It's neat and tidy. Very cozy and warm. We have everything we need. The equipments are well-prepared. Highly recommended!!!
Yi-Jen
2017-01-08T00:00:00Z
Great stay. Very clean, accurate description and good hosting!
Kiah
2016-09-20T00:00:00Z
Victoria was so welcoming, and the house was lovely! Quiet neighborhood along rural road. I'd absolutely suggest Victoria's place to anyone visiting the Portland area
Jade
2016-10-27T00:00:00Z
Victoria was an excellent communicator, and I felt welcome despite my late arrival.
Ben
2016-09-22T00:00:00Z
This is a very nice apartment far off the beaten path. The bed was big and comfortable. The whole place is clean and private. The kitchen had everything I needed. I would stay here again.
Albert
2017-01-23T00:00:00Z
Victoria's place was perfect, very clean, comfortable, and convenient. I had some down time so I appreciated the Apple TV. I also liked that the kitchen was well stocked, and there was some food for guests. I definitely recommend it & would stay again!
Shannon
2017-01-19T00:00:00Z
Oda Tipi
Tüm ev/daire
---
Mekan Türü
Daire
---
Konaklayacak Kişi Sayısı
4
---
Yatak odaları
Hillsboro, Oregon, ABD
Large 1,000 feet private 1st floor suite in our scenic 3 story home offers you a private entrance to our 1st floor suite. Queen size bed and 2 single beds, private deck w/BBQ, business work desk w/2 large screen computer monitors. Private bathroom, private refrigerator, coffee maker, microwave, convection oven, hot water heater, exercise equipment, smaller additional bedroom TV, DVDs, & games & larger TV bonus room. We are open, loving people & do not discriminate. Wifi & parking free.
Beautiful wetland and urban wildlife area right off our back porch. - Nice neighborhood - 10 min walk to Jones Farm Intel Campus - Bikes available to borrow - 1st floor bonus room with large TV, music, treadmill & foosball table - Queen & 2 single beds available, (private TV in bedroom also) - Medium sized refrigerator, coffee maker, convection oven, toaster, hot water pot & microwave for private use on 1st floor - total or near 100% privacy on main floor (your choice) - No main floor kitchen access (without host coordination) but we do have convection & microwave ovens for your use - many board games - we can share the laundry room, ironing board and iron - Work desk with large computer screens for your laptop to access - Free Wifi, Coco 2.4 (password in Air BnB reservation as "Wireless Info") - Outdoor table and chairs - Outdoor grill with charcoal available - Berries to pick in the backyard (summer) - many other amenities available for your use - please see our guidebook for recommendations to area activities, restaurants and experiences
We are in a quiet neighborhood, walking distance to Intel Jones Farm, the largest Costco in the world and historic downtown Hillsboro. We have several good restaurants nearby (Japanese, Indian, Thai, American and more). Historic downtown Hillsboro has food, wine and brew pubs. In the summer and fall there is a great local Farmers Market in downtown Hillsboro every Tuesday night and Saturday. The food, music and entertainment are terrific. 30 minutes by car to the west and you are in the Tillamook State Forest, with trails to hike, fish to catch and a terrific interpretive center. +60 minutes to the Oregon Coast, +60 minutes to Mt. Hood.
Very welcoming and hospitable. Have a whole basement to use. Views are so nice. Mini frig available for use, as well as microwave and toaster oven. Coffee pot also. We would stay here again. Due to rainy weather and soaked ground, the outside entrance was too boggy to use, but Ed welcomed us to use his family entrance to get downstairs. Worked well for us.
Marilyn
2017-03-20T00:00:00Z
Ed was a fantastic host. This was my first time using Airbnb and it was an awesome experience. There was a family emergency that came up the day of check in and Ed was very responsive and supportive throughout everything. The place itself was very comfy and unique. I loved every aspect of the house and I will be back in the future! I highly recommend this place, it was a great stay.
Ronnie
2017-01-01T00:00:00Z
I put a picture of Ed's house to my seldom-updated (SENSITIVE CONTENTS HIDDEN) Moment (朋友圈) with the comment "I don't want to say good bye" when I left here at 4am after 3 months staying. No other words should be used here except praising and appreciating. During the 90 days I stayed here, Ed and his family didn't provide just a space for residence for me, but a real "home away from home" feeling with their enthusiasm, patience, understanding, active actions. I have to thank all members in the family for introducing me a lot of things of Hillsboro and Oregon and United States, lending me the bicycle for my daily outing when I was not able to drive, helping me for any request like shopping, receiving parcels and playing sports, instructing me to be a real driver from zero, inviting me to take dinner, to drink beer, to watch the Independence Day fireworks together in the leisure evening time, and showing me a really positive example of how to build respectful and responsible family relationship with active and inspiring educating. Besides the working time here, I definitely consider that living together with Ed's family was also an unforgettable experience and an efficient workout in my life time. Have to say some words for the house and room itself. Ed's house is sitting in a pretty beautiful, clean and cozy area. The neighborhood environment is also quite good. The doggy coco is really easy to get close. I stayed inside two rooms during the days. Both of them keep a convenient working desk and enough room for private stuffs. It is highly recommended for single person who would visit Hillsboro either for very short time or some weeks, especially for Intel employees. Wrote the words above during the flight back to Beijing, China. And all best wishes to Ed and your family. No doubt we should meet again in the future. Cheers, my friends!
Zongyan
2016-07-16T00:00:00Z
I had a good time staying here. Hope to stay again.
Saptarshi
2017-03-16T00:00:00Z
Ed & Elizabeth are the perfect thoughtful hosts, offering the perfect private quiet beatifull place in Hillsboro. If you are looking to know more about Hillsboro and schools in the area, just ask them. They have been serving this community for a long time... Or you are just going on a business trip or a relaxing vacation: Look no further: That's the place!
Paulo
2017-03-30T00:00:00Z
Our stay with Ed was wonderful - we felt totally welcome and cared for from the moment he responded to our request to stay at his place. He and his family were warm and friendly, but gave us all the space we needed. The space itself was very comfortable, everything we could need and more was provided; the neighborhood was very peaceful and the view of the pond and trees out the large picture windows in the downstairs apartment was lovely. Whenever we had a question or concern Ed responded immediately. I would recommend Ed's place without reservation.
Trudi
2016-10-14T00:00:00Z
Staying here was a great experience for us. The hosts are genuinely warm and friendly people and they made sure that we felt very welcome in their home and that we had everything we needed. They shared a lot of really helpful information about the area and even invited us over for dinner one night-- definitely went above and beyond our expectations. The space is clean, comfortable and quiet with a beautiful view. The location was great for us, since it was a quick walk to the Intel Jones Farm campus.
Sarah
2016-11-25T00:00:00Z
Everything was wonderful. Felt right at home!
Scott
2017-03-13T00:00:00Z
Oda Tipi
Tüm ev/daire
---
Mekan Türü
Daire
---
Konaklayacak Kişi Sayısı
4
---
Yatak odaları
Hillsboro, Oregon, ABD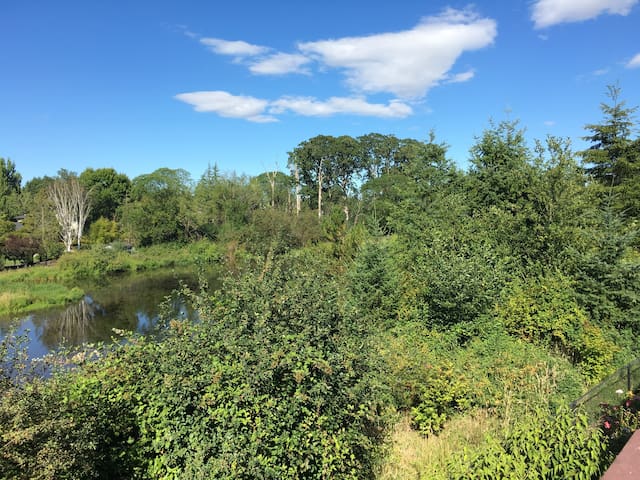 You won't find a nicer "entire place" for the price near us! Easy ground level studio w/street parking is a true find for sub's, relocator's, etc.. in a vast sea of 3 story walk ups with distant parking! Private entrance - no coming in thru our home nor vice versa!
*** Due to some recent computer gliches with airbnb, I have temporarily removed my 30+ day discounts on the system. If you are wanting the unit for over 30 days, please request the dates wanted, when I see your request I will respond with a fixed "Special Discount Rate" (currently about 35%) then at that time you can accept it or decline it. This is the best way at the moment to assure the rate is correct. Hopefully airbnb will fix this soon!! I appreciate you working with me to work around them a bit! :-( ============================================================ PRIVATE Studio Apt. w/private "front of house" entrance. NOT just a bedroom in someones home! Truly private!! You do not enter our part of the home to get to yours. Comfy, Very CLEAN, fully furnished 375 sq. ft., on residential street, attached to one level home. Sleeps 1-2 persons. 1 person is better than 2 when looking at long term. 1 queen bed. Keyless entry code door knob w/deadbolt for extra security at night. Key code is given when you check in. ~~ FREE Breakfast basket for 1st morning! ~~ ~ ~ ~ ~ ~ ~ ~ ~ ~ ~ ~ ~ ~ ~ ~ ~ ~ ~ ~ ~ ~ ~ ~ ~ ~ ~ ~ ~ ~ ~ ~ ~ ~ ~ ~ ~ We are .8 walking mile from Jones Farm Intel ! Great apt location for visiting family & friends. Open floor plan, Main area has a larger flat screen tv w/dvr & vhs play, queen bed, drop down table for 2 & other seating. All clean & fresh including QUEEN Bed w/memory foam topper & New Egyptian Cotton sheets (extra sheets for easy change out if you are here more than a week). Full closet. Extra storage in apt. All bedding, including covers are washed between clients. Let us know ahead if you are bringing your own pillows or bedding. We are happy to leave off the bedding & put in storage. COMPLETE PRIVATE KITCHEN !! Nicely tiled with butcher block counters. Unit has a microwave, cooking pans, coffee maker, full 18.6 c.ft. fridge, electric stove with 4 burners (oven holds a medium sized pizza!), starter supplies - tea, coffee, spices, dish soap, garbage bags, cleaning supplies. You will need to shop if you plan on cooking! Grocery store 2 minutes drive. Modern PRIVATE Full Bath (easy step in shower only - no tub), with plenty of storage, towels, laundry hamper, iron & ironing board & starter supplies, etc.... Cleaning supplies & vacuum in unit as well. ** *** Sorry, NO Pets, Smoking or Drugs on property. *** ~ ~ ~ ~ ~ ~ ~ ~ ~ ~ ~ ~ ~ ~ ~ ~ ~ ~ ~ ~ ~ ~ ~ ~ ~ ~ ~ ~ ~ ~ ~ ~ ~ ~ ~ ~ To clarify pricing - (Re: our booking calendar - ONLY the WHITE DATES are available to book. We do book from places other than Airbnb so if the date is GRAY - this means it is booked.) For any stays under 30 days airbnb adds Oregon Transitory room tax. (When you book 31 days or more then it will be less the taxes) We do NOT charge extra for holidays/weekends! For longer than 30 day stays, a simple short term contract would need to be signed by all guests. *Don't wait too long if you need a place. When we book it tends to be 1 month or more at a time! Current price includes reasonable utilities (Water, Sewage, TV, Internet, Wifi, Garbage, Electricity). 12/2016 - now has Wifi booster box, so fast & easy! ~ ~ ~ ~ ~ ~ ~ ~ ~ ~ ~ ~ ~ ~ ~ ~ ~ ~ ~ ~ ~ ~ ~ ~ ~ ~ ~ ~ ~ ~ ~ ~ ~ ~ ~ ~ Kelly is a LYFT driver so type in code - kelly547403 - under promo on the LYFT app for a some free credits! There are 3 car rental places in Hillsboro. We are professional carpet cleaners, so bring slippers as we prefer no shoes on carpet! Cleaned 2 times in 2016. Call or text if you need anything, otherwise we will respect your privacy. ~ ~ ~ ~ ~ ~ ~ ~ ~ ~ ~ ~ ~ ~ ~ ~ ~ ~ ~ ~ ~ ~ ~ ~ ~ ~ ~ ~ ~ ~ ~ ~ ~ ~ ~ ~ OUR GUESTS ~ ~ Provide their own food & personal items. Recycle & Conserve whenever possible. Be respectful of neighbors. Quiet times 11pm - 7am. This is your home while you are here. Please take care of it. * If you are staying over 1 month - We do ask that you hire a service or use ours to keep up on things like kitchen/bath cleaning/dusting/vacuuming & change bedding. We let you handle the kitchen dishes, fridge & trash! We find most guests that are here working don't take or have time to take care of the upkeep. Average cost of cleaning people here are $20-25 hr. We need to be kept up to date on when a service is here. Early check in is very possible if unit is ready. So, to be determined on that day. We hope this answers most questions! We encourage all renters to purchase traveler insurance.
~ ~ ~ ~ ~ ~ ~ ~ ~ ~ We are close to many ethnic restaurants, shops, Jackson Bottom Wetlands, Bowling, Golf, Zoo, Theaters, Hiking, Disk Golf, Rice NW Museum of Rocks & Minerals, 1/2 hr to a Haag Lake for boating, fishing & swimming & Tree to Tree Adventure Park. 10-25 minutes to some serious Saki, Beer Brewers & Wineries, 1.5 hrs from the beach, 25 minutes from Portland, 1.5 hr to Hood River & Mt. Hood.
Very clean and perfectly-sized for my needs.
Sylvia
2017-04-10T00:00:00Z
Very, respectful and friendly couple who keep the place very clean. Also a quiet neighborhood. Great place to stay, would recommend :)
Christa
2015-06-21T00:00:00Z
This studio is very cozy, and has everything you need to feel at home. Tim and Kelly are great hosts as well. Definitely a great place to stay.
Andy
2015-01-04T00:00:00Z
We were very comfortable at Tim & Kelly's studio that was quiet, clean & tidy. We made the studio our base while visiting our son in Hillsboro and sightseeing the surrounding area. Paul
Paul
2016-05-28T00:00:00Z
This studio was perfect for my one-month stay in the area. Everything was clean upon arrival, the bed is comfortable, and the kitchen is equipped with anything that may be needed during a short stay. Keyless entry was a plus!
Elizabeth
2017-01-03T00:00:00Z
Tim and Kelly are gracious hosts! Their apartment is perfect for our extended stay in the Hillsboro area - close grocery shopping, laundry, and restaurants. They even stocked the fridge! We are very lucky to have booked with Tim and Kelly for my husband's summer internship at Intel.
Simone
2016-06-19T00:00:00Z
The hosts were helpful and courteous. The unit was as described - with spacious storage. Quiet all the time there. The breakfast goodies provided were a nice touch. Would stay again.
David
2015-01-27T00:00:00Z
Listing was accurate and both Tim and Kelly were very welcoming and available for any questions I had when moving in/throughout my stay. They even provide a helpful binder of things to know. Despite internet troubles for the first few weeks of my 3 month stay (that Tim and Kelly worked hard to get fixed ASAP), the studio was comfortable and well stocked for cooking. Would stay here again if ever in the area.
Dina
2016-12-05T00:00:00Z
Oda Tipi
Tüm ev/daire
---
Mekan Türü
Daire
---
Konaklayacak Kişi Sayısı
2
---
Yatak odaları
Hillsboro, Oregon, ABD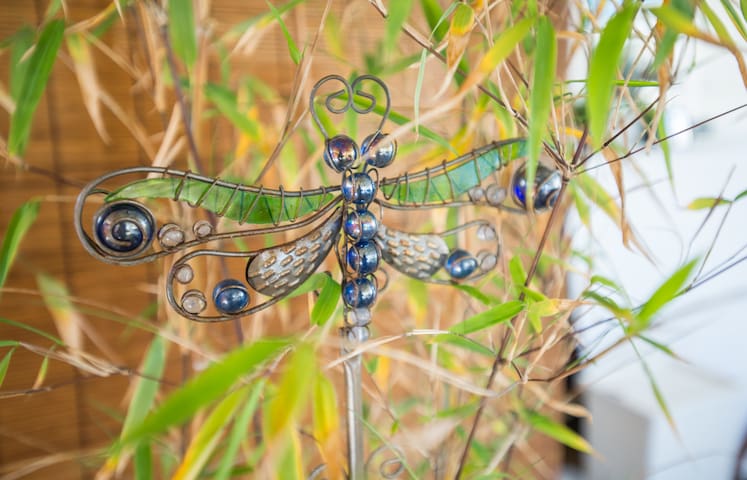 Our 1930's farmhouse is nestled on the hillside just outside Forest Grove. It is a quiet rural setting with easy access to many nearby wineries, Forest Grove and Pacific University,. It is about 50 minutes to the beach and 30 minutes to Portland. The space, newly remodeled in 2016, is located on the basement level with private entrance. The room has a queen bed, sitting area, studio kitchen and full bath. Free WIFI is also available to our guests.
The private entrance takes you to a newly built studio apartment in our 1930s farmhouse. Private parking is right outside the door. The kitchen includes microwave, coffeemaker and fridge. Coffee and some breakfast items are provided. A queen size bed, TV, comfortable chairs and a dining table furnish the room. An en suite bathroom, with heated tile floor includes a large shower. This unit has air conditioning. WiFi, Netflix and network TV channels are available.
The house is located on the west side of the Tualatin Valley. This is the heart of the Northern Willamette Wine Country. It is 3 miles from Pacific University and Main Street Forest Grove.
Teresa met us to show us the unit which had everything we needed. The space was cute and comfortable. It is just outside of the town. We interacted with our host on a couple of occasions and she was very gracious.
Elizabeth
2017-04-10T00:00:00Z
Loved this stay! Theresa and Ken greeted me when I arrived and made sure I was aware of everything I needed to know. The apartment is just the right size and has everything necessary and more. There were so many thoughtful touches; fresh fruit, lots of snacks, extra toiletries, nice linens and even a robe. I rate this as my best ever airbnb experience and would certainly stay again. Thanks so much!
Arwen
2016-09-11T00:00:00Z
Theresa met us on arrival and surprised us with some welcome snacks after a long drive. The room was exactly as pictured. We were in the area to visit our family, but we did notice some nice information provided in the room on local wineries, restaurants and more. We will be staying here again if it is available on our next visit. A great place.
Jim
2016-10-17T00:00:00Z
What a wonderful experience we had at this b&b. Theresa was warm, welcoming and helpful. The space she has created is charming, clean and comfortable.
Marla
2016-11-07T00:00:00Z
Theresa is one of the most delightful hosts I've had with Airbnb. She communicated extremely well before my stay (including updates on winter conditions in the area regarding driving and safety) and had everything prepared to perfection upon arrival. I was touched by her generosity and warmth. The space is just perfect - with everything you need (and more) for a great stay - well organized with clear directions on how to use items, attractions in the area and emergency contact information. The bed is comfortable, as is the entire space. Everything was extremely clean, organized and welcoming. Really, I have nothing but high praise for this spot. Thank YOU Theresa!! I look forward to seeing you again!
Emily Lawson
2016-12-18T00:00:00Z
Theresa and her husband Ken are very warm and friendly. We had abnormal weather conditions (a foot of snow) during our stay and an ice storm leading up to it. We had to alter our travel arrangements as we were driving 3+ hours to stay at their studio. They were accommodating and helpful when we had to make adjustments to our arrival date. The studio is in great shape and well-stocked. The bathroom is lovely with heated tile floors and well-stocked with anything you may need. I appreciated the first aid in the medicine cabinet as I arrived with a backache from shoveling the snow the precious few days! The kitchenette has everything you need and more and the breakfast and light snack items were very appreciated. Their home is located in the beautiful countryside and is easy to find. We stayed here so my daughter could train at a nearby equestrian facility and plan to stay again on a regular basis. It is a wonderfully quaint studio!
Amy
2017-01-12T00:00:00Z
Great place! We were well taken care of and it felt like home away from home.
Shannon
2017-02-04T00:00:00Z
I stayed a second time at Theresa and Ken's studio and it was just as wonderful as the first time. I look forward to future stays!
Amy
2017-01-16T00:00:00Z
Oda Tipi
Tüm ev/daire
---
Mekan Türü
Daire
---
Konaklayacak Kişi Sayısı
2
---
Yatak odaları
Forest Grove, Oregon, ABD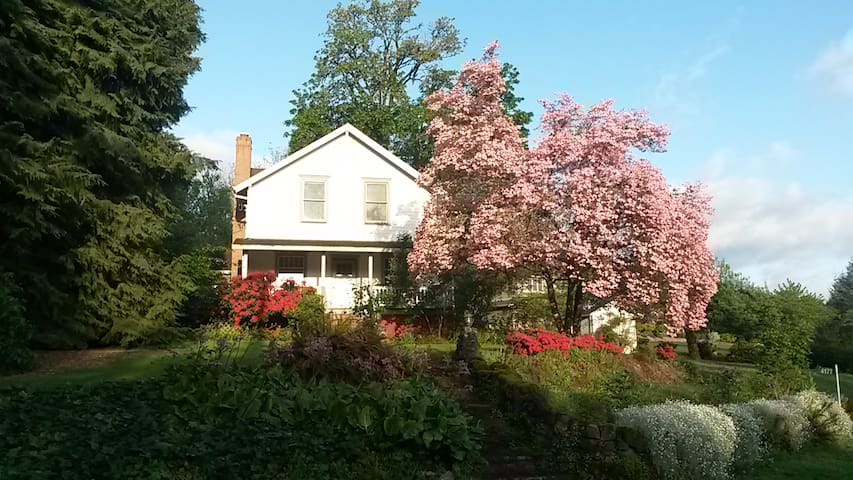 Private little tucked away space in basement level of my home built in 1930. Separate entrance leads you to a one bedroom apartment to call home during your stay in FG. One bedroom, one bath, full w/d and kitchenette make your stay super simple! Walk 2 blocks to everything!
Great for 1-4 guests Good pictures coming soon!!!
Historical Clark District. Great architecture, gardens and old brick Central School. Walk through historical residential district to the downtown shops and restaurants! Take a walk, jog or bike ride on B St trail and out by the buffalo ranch or Sake One, the largest producing sakery in the United States! On the Washington County Winery Loop? Forest Grove is a great place to start with its award winning Pinots. Whatever your reason for passing through, this little hideaway is sure to fit the bill in your wallet and please your home sweet home away from home!
Oda Tipi
Tüm ev/daire
---
Mekan Türü
Daire
---
Konaklayacak Kişi Sayısı
4
---
Yatak odaları
Forest Grove, Oregon, ABD