Tam fiyatlandırmayı görmek için tarihleri görün. Ek ücretler uygulanır. Vergiler ilave edilir.
Gallup, in the middle of the Navajo Nation, is minutes from world class hiking and biking and less than a day's drive to the Grand Canyon, Flagstaff, Durango, Albuquerque and Santa Fe. My home is within walking distance to cafes, coffeshops, galleries, hospitals, schools, fitness centers and a yoga studio and offers a safe and serene environment for a good night's rest.
Perfect environment for traveling doctors and nurses, contract workers and anyone looking for either long-term or short-term safe, uplifting and comfortable housing. Weekly and montly discounts apply. Parties of 3-4 persons can book both available guest rooms also, but if you are a single night, solo or traveling couple, you'll enjoy the ease and warmth of checking into my humble abode for a good night's rest. My domicile is a lovely 1950s cottage, refurbished with hardwood floors, stucco walls, new bathrooms and a custom kitchen. If you are looking for a natural environment, you'll be comfortable here--IKEA bed with cotton linens, open shelving and custom shades that block out daylight for late risers. The TV/Reading Room is bathed in sunlight with green plants and comfortable seating. (Host has her own living space on a separate floor.) An outdoor patio, high speed Comcast internet, basic cable and Comcast's TV and movie streaming app is also available. All guests have full access to the adjoining living room area and limited access to the kitchen. Garage space is available for bicycles or outdoor equipment. Safe, off-street parking is available to all guests. I teach full time, but am accessible when home or by phone. I reside on a separate floor, and thus offer guests ample privacy, but enjoy sharing conversation and tips about the area if needed. I can arrange tours of the reservation and a studio session with a Navajo silversmith if desired as well.
My home is situated in the older neighborhood, downtown area of Gallup which makes walking for leisure or for access to downtown shops and eateries all within easy reach. La Montanita Co-op is the closest fresh foods grocer, although there is a growing farmer's market on Saturdays right next to Gallup's treasure, the Silver Stallion Coffee and Bread on the walkway between Coal and Aztec streets. The Amtrack station is 5 minutes away, which has a lovely diner as well as a museum in the depot area. While not suitable for small children, a family of 3-4 may book both guest suites if available. There is a fabulous park one block away, designed for mountain bikers as well as a running track a couple blocks away.
Patricia was a great host, made me feel welcome and at home in Gallup. She offered great suggestions on things to do and places to eat in town. Room was comfortable and linens were provided. Recommend staying here!
Ben
September 2016
Our host was able to arrange for a neighbor who also ran an Airbnb to let us into the house. She was going to Albuquerque to spend time with her family. Everything went very smoothly and we were very pleased with the accommodations.
Jim
October 2016
The room was very clean & private. Patrice provided clean water & towels and a bath robe. The bed was comfortable! I slept very well. Patrice was a very gracious host.
Tara
January 2017
Patrice was responsive, kind, and her cottage is wonderful for those looking for a bed for the night and more. We spent less than 24 hours at her place but would definitely go back!
Jesson
December 2016
I really enjoyed my one night stay at Patricia's house. Everything was very clean, the bed very comfy and Patricia is a wonderful host, who makes you feel very much at home. I would definitely recommend her.
Claudia
November 2016
Quiet, clean, far better value than the hotel
brian
January 2017
Thank you. Great host.
Carole
February 2017
Home away from home!
Christopher
December 2016
Oda tipi
Özel oda
---
Mekan Türü
Ev
---
Konaklayacak Kişi Sayısı
2
---
Yatak odaları
1
Gallup
Modern amenities for the solo-traveler, a small family, & that adventurer located in an upscale neighborhood in Gallup, New Mexico. This gorgeous, boutique hotel-quality bedroom with bathroom is located on the 2nd floor of our home.
Guests have access to complimentary high-speed wifi internet. - Kitchen - Laundry Room - Private front deck. We are both available & will be there for guests should they need us.
An upscale area of the city - Monterey Drive has gorgeous views of the Gallup red rocks looking east & is located in a safe neighborhood where guests can go for hikes on the local trails or evening strolls. The backyard is amazing in the spring & summer. There is limited public transportation in Gallup. Our puppies Ralphees and Rileys hang out around the second floor and yard. They stay with us on the third floor at night.
I stayed at the house for 5 nights for a seminar. The house was absolutely amazing. I had everything I needed. The bedroom was over the top. I totally loved the house decor. Alray was an awesome host. The doggies were friendly and welcomed me everyday. This was my first trip to Gallup. They made my stay very comfortable. I will definitely stay here again. Thank you for allowing me to stay at your fabulous place.
Stephanie
March 2017
Alray is a great host, opened his house to us. If we didn't have to leave so early the next day, we would've hung out and played pool.
Cody
March 2017
A beautiful home that makes you feel very comfortable along your travels. I will be staying here again if I ever happen to come through Gallup again. HIGHLY recommended.
Jeffrey
February 2017
Fabulous hosts!!! So very helpful and communicative--it was a perfect, delightful experience to interact with them! Thank you!!!
Pamela
March 2017
We stayed at Alray's home during our visit to Gallup, New Mexico. Alray and his partner are very nice and recommended some great mexican restaurants in the area. House, room and bathroom were very clean, and I would highly recommend staying at Alray's place if you visit Gallup.
Christopher
January 2017
Perfect stop for us on our cross country driving trip. Comfortable, accommodating hosts, clean, beautiful view in the am. Thx!
Peter
February 2017
Beautiful home and wonderful host would recommend this home to anybody
Diane
February 2017
We had to arrive late and they were very accommodating to our circumstance. We really appreciated it and hope to stay again!
Eric
January 2017
Oda tipi
Özel oda
---
Mekan Türü
Ev
---
Konaklayacak Kişi Sayısı
2
---
Yatak odaları
1
Gallup
Ground floor 1 BR suite. Walking distance to downtown Gallup... arts and culture galore. Quick drive to world class high desert or forested hiking and mountain biking. Central Air Conditioning!
Jennifer was very hospitable and accommodating. The place was perfect. The only thing I thought I'd mention is that, as we were outside at 9:30pm talking in a normal volume, a neighbor came out and started yelling at us to shut up. At the end of her angry tirade, she said, "You don't even belong in this neighborhood!" - which I can only believe is bc my friends are black. But I really think that was out of the ordinary. The stay was perfect besides that.
Debra
August 2016
Enjoyed this home so much that I extended my stay, twice! Stayed 7 nights. Nice to have access to a full kitchen, porch with a swing, backyard with a garden. Hosts could not have been nicer. Plenty of literature provided on what to do in the area. Great place for mountain biking, and Chuck, Jennifer's other half, leads tours!
Caroline
July 2016
The most amazing hosts, cannot say enough! House is beautiful with a lot of local charm and detail. Great views, good neighborhood, walking distance from great food and downtown. Spacious area with large front and backyard. Clean and comfortable! Loved it so much we extended our stay!
Albert
October 2016
Very cute place with lots of character and original artwork. Close to downtown.
Abby
June 2016
The house was more than what we could have asked for . Very clean and cozy the neighborhood is quiet and never had any issues with neighbors. The front and backyards are great places to relax and enjoy the evening. Jennifer and Chuck no doubt were excellent host always getting back to us when we had questions, and always went out of their way to make sure we had everything we needed. They even gave us ice melter and shoveld the sidewalk when snow started coming down. We would definitely ask to be returning guest if ever in the area .
Albert
January 2017
First Airb&b experience. Outstanding. Cute home, spotless, comfortable, exactly as advertised. Jennifer was an excellent host. Answered all my newbie questions, even allowed me to shoot a diabetes education video in her well-appointed kitchen. Covered front porch with swing, and back yard with a lovely vegetable garden. On a quiet street 2 blocks from downtown Gallup, a quaint and friendly town. Near the food co-op. Nightly Native American dancing by the courthouse all summer. You just getting the feeling that this is a home that is loved, and guests are welcome. I will always check with Jennifer about availability when I travel back to Gallup. All in all, a great experience!
Caroline
July 2016
As a corporate traveler, I am on the road 4 days a week. After awhile you crave some touches of a home instead of a hotel. In Gallup New Mexico I found this perfect stop over which met both spiritual and material needs. Thanks so much for a beautiful, clean, comfy, and all accommodating experience. Your location is perfect, and served as a wonderful ambassador to an under rated city. We will be back.
Carlos
August 2016
Our visit to Gallup was great. Jennifer was a great host and available for our questions. I would highly recommend her.
Jack
November 2016
Oda tipi
Tüm ev/daire
---
Mekan Türü
Ev
---
Konaklayacak Kişi Sayısı
4
---
Yatak odaları
1
Gallup
Perfect environment for traveling doctors, nurses, or other professionals needing short or long term housing. A queen size bed comfortably accommodates two people, with adjoining reading and TV room and newly remodeled bathroom. A second guest room can also be reserved for larger parties. Lovely outdoor seasonal patio seating, ample off street parking and convenient walking or driving distance to shops, cafes, galleries, hospitals, schools and fitness centers. Hiking and biking trails nearby.
My home is a fully refurbished 1950s cottage with stucco walls and hardwood floors offering a feeling of solidity and warmth whether you need a one night respite from traveling or an extended stay for business in the area, I assure you, you'll feel safe, secure, uplifted and comfortable here. The layout is ideal for offering both privacy and interaction --the two guest rooms are on a separate floor from the host with their own living room and access to a freshly remodeled kitchen for extended stay guests. A comfortable TV and reading room offers local magazines and tourist publications as well as high speed cable TV and Internet, dining area and limited access to the kitchen (please ask for an orientation). For long term guests, access to the laundry area is provided. I teach and work a full five day week, but love to dialogue with guests and serve as a local guide if needed. I was an Airbnb guest for several years prior to buying my home and becoming a host, so now I travel vicariously through my guests!
Lovely old residential neighborhood with a mix of families, single professionals and retired people. Walking distance to downtown Gallup and less than 5 minutes from I40 or HWY 66 access as well as the hospitals and schools. The Amtrak passenger train station is five minutes away and has a lovely diner as well. Garage space is available for bicycles or other outdoor equipment. My space is not suitable for small children, however, a family or party of three to four may reserve both rooms which will provide you with a queen and a full size bed in rooms situated at opposite ends of a hallway with a bathroom between.
Patrice is a kind and welcoming host. It was a pleasure meeting someone who was well traveled. When we arrived late she offered us a cup of hot tea, I was so grateful for the warm welcome and relaxing moment after a long day on the road. The bed was very comfortable and everything was cozy and clean. Thank you Patrice!
Laura
November 2016
Lovely and cozy home! Patrice is a great hostess! We felt relaxed at her home! Highly recommended!
Lynn
November 2016
Patrice is a wonderful and warm host. She made us feel like at home and gave us a lot of suggestions. The house is clean and located in a nice neighborhood. We highly recommend her and would book her room again.
Thomas
November 2016
Such a great place to stay. Patrice is so welcoming. She was able to host us on short notice with a late arrival. Her house is cozy and inviting. We loved it!
Kelly
December 2016
Our host was gracious and welcoming and provided information on local spots to enjoy. Her home was lovely, clean and in a great locale.
Anna Maria
November 2016
Patrice was very friendly and accommodating and offered to help with navigation. She recommended a great local coffee shop (Silver Stallion Coffee & Bread) and it was so great that we went there for both breakfast & lunch! She also made us coffee in the mornings and offered us tea, and let us use the living room & kitchen areas.
Kelsey
December 2016
Great place to stay when visiting or traveling through Gallup. Great hostess who made me feel welcome in her very nice home. Comfortable, safe, clean, and convenient. What more could you expect or want. Thank you Patrice for making my first Airbnb and total success.
John
December 2016
Patrice was a fantastic host, the home was exactly as described and the room was great from the bedding to the filtered water available for guests. Patrice is also a delight to talk to, I would recommend staying here and I would definitely stay again.
Shane
January 2017
Oda tipi
Özel oda
---
Mekan Türü
Ev
---
Konaklayacak Kişi Sayısı
2
---
Yatak odaları
1
Gallup
Pleasant and serene decor. Front porch and yard with lovely eastern view, shaded and enclosed side yard. Wireless internet, smart TV (cable not included), shared washer and dryer. Walking distance from downtown Gallup.
I live in an attached apartment with my 2 dogs, and have access to the laundry room, which we share, and the basement, which is for my use only. I don't have access to your space except when you need me or in case of a fire or similar emergency, and our spaces are only attached via the laundry room. I am very available for repairs or to answer questions as needed. I live in an attached apartment, and when I travel, I have someone on retainer to be available.
Please let me know at least a day in advance approximately what time you will be arriving, so I can plan to be available to show you around and give you keys.
Oda tipi
Tüm ev/daire
---
Mekan Türü
Ev
---
Konaklayacak Kişi Sayısı
4
---
Yatak odaları
2
Gallup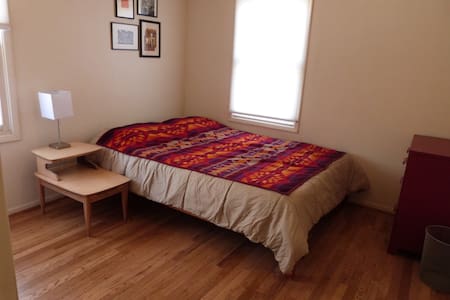 Our second floor apartment is close to downtown Gallup. This unit is good for couples, solo adventurers, and business travelers.
This unit has a small kitchen with the basics...stove, microwave, and fridge. The bathroom has a claw foot tub with shower attachment. There is wifi and a TV with local channels and a DVD player (sorry no cable). No washer or dryer in this unit. The ground floor of this home is split between a small office and another rental unit. You are welcome to park in the backyard or on the street in the front of the house. We live just down the street, so give a shout if you need anything.
Great price! Great location! Nicely furnished. Very comfortable bed and couch. Jennifer also provided a deluxe air mattress upon request.
Sarah
January 2017
The hosts both went above and beyond my expectations. They were respectful of my working night and their hospitality made me feel at home. The place was clean, quiet, yet walking distance of downtown, and comfortable. I felt safe and enjoyed my entire stay in this home.
Wendi
January 2017
Oda tipi
Tüm ev/daire
---
Mekan Türü
Daire
---
Konaklayacak Kişi Sayısı
2
---
Yatak odaları
1
Gallup
Perfect for the solo traveler, couple, or young professional seeking a private getaway in beautiful Gallup, NM. Guests have the first floor of our home with private entrance & parking space. The suite includes a small bar/kitchenette area & large master bathroom. Enjoy evenings in your own area in our backyard.
Guests only have access to the first floor and backyard area only. Should you need use of our main kitchen or laundry room, please let us know when booking. The suite is equipped for longterm renters & has all necessary kitchenware to make meals. We are here should our new friends need us!
Upscale, safe area of town located three blocks from the regional hospital. Our neighborhood is perfect for morning joggers & evening hikes on local trails. There is limited public transportation in the city.
Oda tipi
Özel oda
---
Mekan Türü
Ev
---
Konaklayacak Kişi Sayısı
3
---
Yatak odaları
1
Gallup
Our home is within walking distance to the bike park and downtown Gallup. We have one indoor cat and one outdoor cat who like their separate spaces - most of the time. We have three bunnies in the backyard along with two chickens.
Oda tipi
Tüm ev/daire
---
Mekan Türü
Ev
---
Konaklayacak Kişi Sayısı
4
---
Yatak odaları
3
Gallup