Make yourself at home and see what it's really like to live on Danial Island!!! Cute apartment with cable and wifi. Mimosas in the morning and hang out at the pool at night. I have everything you need if you have little ones and we are business ready. Hope to see you soon!!
It's on secluded Danial Island.
Safe and serene. Great for walks and relaxing.
Oda Tipi
Tüm ev/daire
---
Mekan Türü
Daire
---
Konaklayacak Kişi Sayısı
3
---
Yatak odaları
Charleston, Güney Carolina, ABD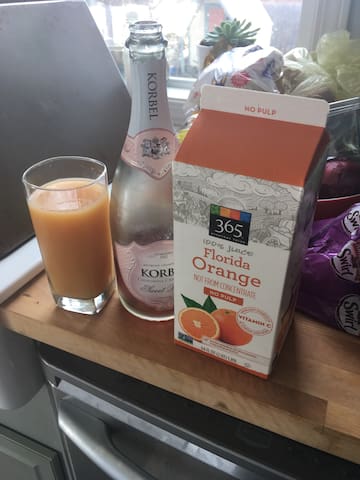 This listing is for the Bunk bedroom which is a fully furnished bedroom (linens included), bunk bed with new full-sized (not twin) mattresses, large dresser, walk-in closet, large work desk, tables and a spare computer monitor with speakers.
Perfect for sharing a room with someone you like, but not enough to sleep with in the same bed! Siblings, parent and kid, good friends, cousins. It's like 2 rooms for the price of just 1. My place is a 3 bedroom townhouse in Charleston SC with my bedroom and office and bathroom downstairs and the 2 guest bedrooms (one with a Captains bed and one with a Bunk bed) and full bathroom upstairs. The rest of the house, including a ½ bath is downstairs. If the potential to be sharing the full upstairs bathroom with another guest is a concern to you, please ask me if the other guest room is scheduled to be rented during your stay, or you can check to see its schedule by checking my profile (although I always block out the day before and after each booking for cleaning so best to just ask me). The complimentary washer and dryer and detergent are on the first floor in kitchen area. Duration of stays: At this point the longest stays I am accepting are 1 week (7 nights). Thank you for understanding.
Our townhouse is the very first one in a 6 unit building and is also the first building in the apartment complex so you won't need to navigate through parking lots or side streets. We have a nice side yard perfect for playing games, and there are woods behind us. We do not have public transportation nearby so you'll need a car. We are 10 minutes to Mount Pleasant, 15 minutes to the airport, and 20 minutes to Isle of Palms beaches, Sullivan's Island beaches and historic downtown Charleston. The nearest supermarket, shopping and restaurants are about 3 miles away on Daniel Island. We are just 5 minutes from Family Circle (now Volvo Open) Stadium, Blackbaud (now MUSC) Stadium and the idealic town of Daniel Island, and 15 minutes from Tanger Outlets in North Charleston.
Kevin provided everything we could possibly have needed! Staying in the bunk room was very comfortable, and he was very flexible and kept open lines of communication. 5 stars for sure!
Megan
2017-01-01T00:00:00Z
Kevin was awesome!!!!! Literally the best airbnb I've stayed in to date!! He was there when we arrived, and walked us through the home in a way that made us both feel really comfortable. He prepared breakfast for us (fresh belgian waffles) the next day, and the space was beautiful Solid 10/10, would stay again.
Kat
2016-03-23T00:00:00Z
Kevin is an excellent host. The room and house is exactly as advertised, with everything clearly labeled and organized to help you find what you need without having to constantly ask. He made breakfast every morning and was always willing to offer suggestions about what to see in and around Charleston. He even invited me spend Easter Sunday with his family during my stay. If you're looking for a host who is very kind and accommodating, you can't do much better. Also, he's pretty damn good at ping pong.
Andrew
2016-04-01T00:00:00Z
My stay at Kevin's was very comfortable and quiet. He does like sharing about his travel experiences and family so be sure to ask him about either. :-) I made a video walkthrough of the house so feel free to check out the link below . Thanks so much Kevin! (URL HIDDEN)
Jessica
2017-02-05T00:00:00Z
Without a doubt, this is the best Airbnb I've stayed in. I love how Kevin treats this like running an actual Bnb. It was so sweet of him to provide breakfast and beach supplies. Everything was labeled in the house which made getting around so much easier and I loved how intricate his check-in process was because then we didn't have any questions. Driving into the city really wasn't that bad so I'd definitely recommend staying here.
Rachel
2017-03-17T00:00:00Z
Kevin's place was very clean and safe. The bunk beds were way bigger than I expected. He respected the guests' privacy too by making it clear that we had the upstairs to ourselves. He provided breakfast cereals and supplies too which was great. It's a short drive out of Charleston but very comfortable especially for a short stay with multiple guests. He even washed our dishes for us after we made ourselves dinner in his kitchen which I thought was very generous.
Emily
2017-01-04T00:00:00Z
Kevin is awesome and highly recommend. Extremely organized and friendly. Very convenient location. And did I mention bunk beds?
Todd
2017-04-01T00:00:00Z
Kevin is an amazing host! His attention to detail is incredible and he did everything he could to make my stay comfortable. He goes above and beyond hosting duties, such as cooking breakfast each morning. His place is clean, comfortable, and secure. I would definitely stay here again.
Adrienne
2016-06-27T00:00:00Z
Oda Tipi
Özel oda
---
Mekan Türü
Daire
---
Konaklayacak Kişi Sayısı
2
---
Yatak odaları
Charleston, Güney Carolina, ABD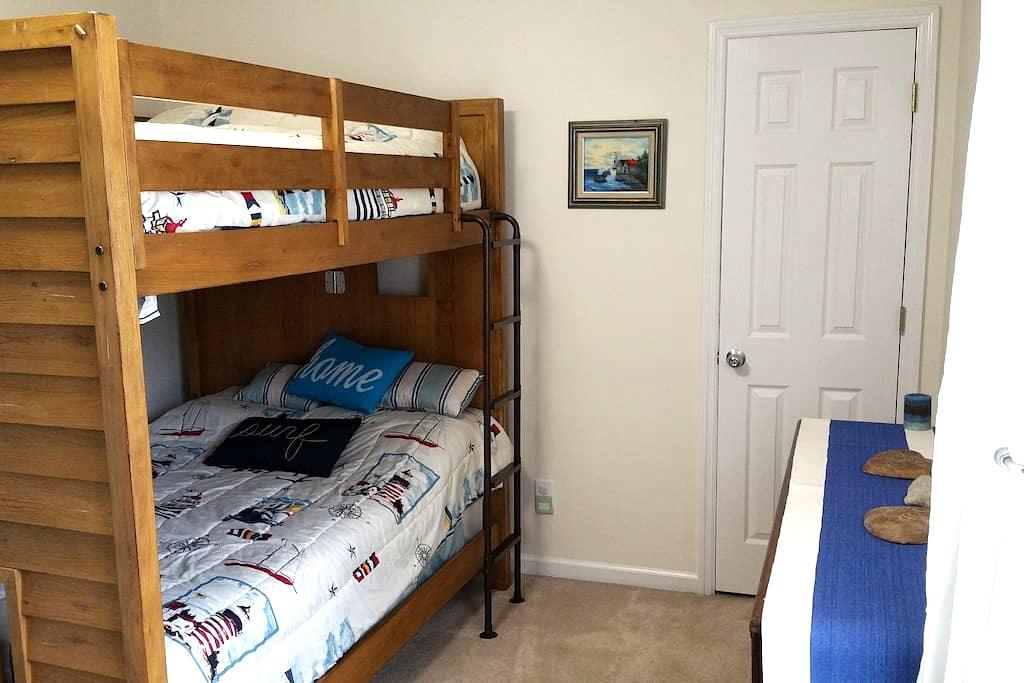 Fully furnished 1 bedroom (queen bed) apartment on Daniel Island. Full kitchen with cook top, dish washer, etc. Includes linens, dishes and utensils. Washer/dryer en suite. Has DirecTV and wifi. 15 mins from airport, downtown Charleston, and beaches.
This carriage house apartment is detached from the main house. It is located on a quiet, tree-lined street and has a private, separate entrance. There is a dedicated parking space and garage access if desired. The home has a beautiful courtyard with outdoor dining area and Weber gas grill for our guests to use.
Daniel Island has so much to offer. Outdoor activities include: community pools, walking/biking trails along the rivers, numerous parks, Family Circle and Blackbaud Stadium. Easy access to famous beaches and many excellent restaurants.
This was a lovely detached guest house behind the main house, essentially a well appointed apartment above the garage. Perfect location....about 20 min to downtown Charleston and numerous beaches, about 25 min from the airport. Daniel Island is charming. You can walk to the main town square which has a great bagel shop (Blondie's) as well as many restaurants and even a Crossfit gym. The full sized kitchen (minus an oven) meant that we could cook two meals a day at the apartment, and the washer and dryer meant we didn't have to overpack for a weeks' stay. David and Shirlie were attentive hosts but very perceptive--we interacted only when we had a question or chose to initiate. Overall, an amazing gem of a find in a great neighborhood. We felt like we were at a resort and we will definitely make a repeat trip in the future.
Jocelyn
2016-03-19T00:00:00Z
David and Shirlie had a beautiful and clean apartment. Very bright and modern. We would stay here again!
Victoria
2016-03-06T00:00:00Z
Our visit to beautiful Daniel Island/Charleston was made even more perfect by the lovely accommodations provided by our hosts David & Shirlie. They were a great help in the planning of our days, providing lots of good tips for the Charleston area. Everything in the apartment was exactly as described and even more beautiful than pictured. I would highly recommend staying with them if you are in the Charleston area! Thanks again for our wonderful weekend!
Kathy
2016-06-13T00:00:00Z
Excellent apartment for your Charleston vacation... Pros...Daniel Island is a nice upscale neighborhood, good location (need car) for downtown Charleston and area attractions, very walkable neighborhood, very quiet at night, close to grocery store and restaurants, clean and spacious apartment, very personable and knowledgeable hosts. Cons....None If we go back to Charleston, we will stay at David & Shirlie's place again.
Dan
2017-03-25T00:00:00Z
David & Shirlie were fantastic! The apartment is spacious, clean and has all the essentials for an island stay. The pack and play was clutch for our 15 month old daughter. Their place is on a quiet street very close to the downtown area. We cruised around on their bikes and enjoyed the local life of Daniel Island. We highly recommend staying with David & Shirlie :) They are lovely Hosts!
Kara
2017-04-04T00:00:00Z
Great place. Very clean and a great neighborhood. Will stay again.
Chris
2017-03-10T00:00:00Z
This was a wonderful place to stay. Although we never met David and Shirlie we had good communication prior or our trip and when we were there. They offered us great food recommendations which we tried out, and loved. The car ride to downtown Charleston was so easy, and it was great staying somewhere else in town. The apartment was clean, comfy and lovely all around. We would without a doubt stay here again.
Jen
2016-10-22T00:00:00Z
I am so happy we landed such a great place to stay during our visit to Charleston! From the beginning, the owners had great communication and provided detailed recommendations. The area is well maintained and safe. The apartment is beautiful, spacious, and clean...still smells new. Several places to grab a bite, and a Publix, within a short drive/bike ride away. Beautiful areas to walk around, near water... And nice playgrounds for the kids! About 20 minutes to the beach or downtown Charleston. We ate at Blondies Cafe and the smoothie place next to it most mornings, and on Shirlie's recommendation, tried Ali Baba's and liked it. You also have a full kitchen, so that's great! We would absolutely stay again. Thank you David & Shirlie!
Maria
2016-08-06T00:00:00Z
Oda Tipi
Tüm ev/daire
---
Mekan Türü
Daire
---
Konaklayacak Kişi Sayısı
3
---
Yatak odaları
Charleston, Güney Carolina, ABD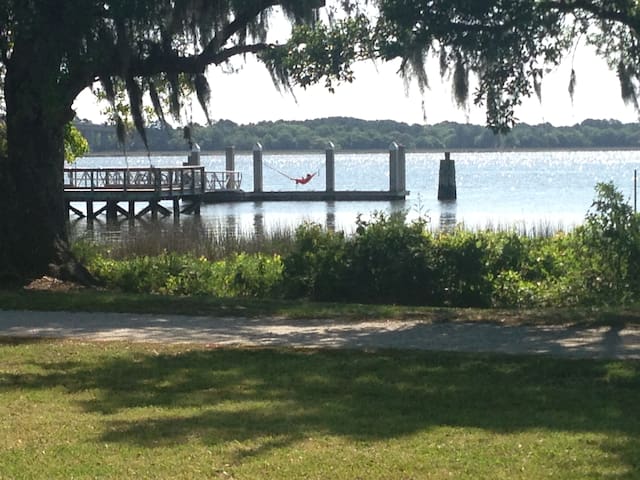 Downtown Daniel Island. You'll love this hip apartment-clean, modern, nice new furnishings, plush king bed, HUGE 70" TV, pool/gym, walk to all shops, restaurants, parks and concerts on the island or drive/uber just 20mins to downtown Charleston and beaches. Good for couples, solo adventurers, and business travelers.
Quiet, clean, modern, new decor, luxury linens, plush new king mattress, full sized kitchen, large bathroom with walk-in shower, washer/dryer, 2 Flat screen tvs/one is 70", private large balcony overlooking downtown. Also has a massage table and we can arrange for a massage therapist to come to the apartment. Bluetooth speaker. Wifi and built in desk. Netflix and Amazon Prime. Also as a 27yr local I can help you with recommendations on things to do and where to eat in this amazing culinary city. Golf cart available to rent as well for additional fee. It's like your own private sanctuary in one of the most top rated cities in the world. Come experience it all;)
Oda Tipi
Tüm ev/daire
---
Mekan Türü
Daire
---
Konaklayacak Kişi Sayısı
2
---
Yatak odaları
Charleston, Güney Carolina, ABD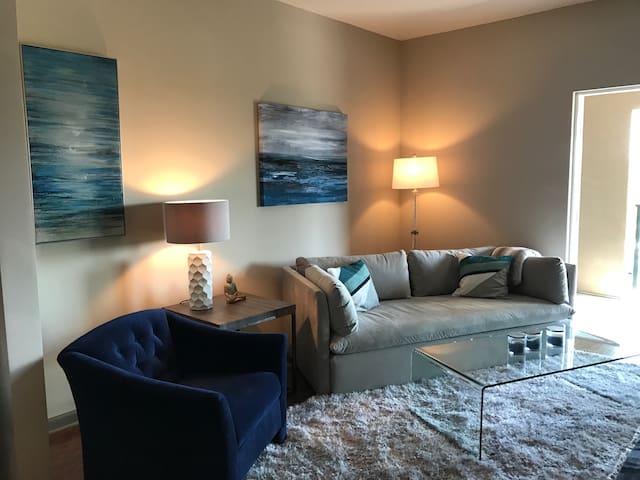 Feel Like Family- in this private room that accommodates two. Comfy Queen- size bed, Private full bath, walk-in closet. Minutes away from all local attractions in Charleston (15 minutes), Mt Pleasant (3 miles), and Daniel Island (5 miles). Beaches (IOP and Sullivans)are minutes away. Smoke-free but do have a dog.
Clean, Quiet and Private. What more can you ask for! The room is nicely furnished with a new queen size bed, linens and fluffy pillows. Large window brings in natural light. Private full bath is attached. Internet is available. Limited cable available in shared living room. Washer and dryer is available in apt for guest use.
The accommodations are quiet and convenient to all Charleston area attractions, Daniel Island Events, and Beaches. Two miles ( a nice walk) to Belle Hall Shops which includes local dining, Starbucks, grocery, CVS, boutiques and salons. Pool, fitness room, laundry room are available for use by guests.
Claudia was an outstanding host, extremely accommodating and generous. We stayed with her twice on our trip to Charleston, and were very comfortable in her home. We arrived quite late the first time, but she just left a key for us so it wasn't a problem. The second time it was pouring rain, which cancelled out plans for the day, but she invited us to spend the afternoon at her home. She provides a whole shelf in the fridge of breakfast foods for guests--bagels, fruit, yogurt, etc. Her place is quiet, cool, and the bed is very comfy. And the location is convenient for going to the airport, downtown, Mt. Pleasant, or Isle of Palms.
Jeanette
2014-09-10T00:00:00Z
Claudia was very prompt to respond to questions about check in times and what-not leading up to our weekend to stay. This was my first airbnb experience and this place did not disappoint! She left a great welcome note in the room to get acquainted to the apartment and her dog. We only saw each other once, but still felt very comfortable in her place. The food, coffee, and travel-size lotions and shampoos made it that much better. I would definitely stay here again and recommend it to anyone. ALSO it's a 5 minute walk to Westbrook Brewery, so that wasn't a bad extra either.
Jordan
2017-02-19T00:00:00Z
We had such a great experience at our first airbnb stay. The room was great, Claudia was very nice, and her dog Brandi was so sweet.
Jodie
2017-03-26T00:00:00Z
The stay at Claudia was great. She is an excellent host and very nice. The place is super nice and easy to find! A perfect Airbnb :-)
Anders
2015-05-28T00:00:00Z
We stayed with Claudia twice and it was wonderful both times. Please see my other review for specifics.
Jeanette
2014-09-02T00:00:00Z
Claudia is a great host. She gave us many tips of what to do and see in the city. We also spend a good time talking about life! The room is spacious and the bathroom super clean. There is a mall nearby where you can find a Deli place (try out the spud! Amazing!). There is some plantations near as well where you spend a great time relaxing.
Alberto
2016-11-17T00:00:00Z
I enjoyed staying with Claudia and her sweet dog, Brandi! She is a great host and was very hospitable and accommodating. The room was very comfortable and quiet in a nice area convenient to town. She had provided a variety of food for breakfast and snacks including coffee and milk. She made me feel very comfortable about helping myself in the kitchen and is a very friendly and upbeat person. Mt Pleasant is an ideal place to stay to visit the tourist area in Charleston if you want to be away from the city. There is not an overabundance of traffic and plenty of large chain stores and restaurants on the way into town. I would stay with Claudia again if I were to come back to Charleston. Thanks Claudia!!
Marianne
2014-10-06T00:00:00Z
This was the first time we used Airbnb. Based on this excellent experience with Claudia we will do it many more time. Claudia was so hospitable, friendly, personable, and accommodating. She had everything ready and organized for us when we arrived late in the evening. We will do this again!
Job
2014-05-05T00:00:00Z
Oda Tipi
Özel oda
---
Mekan Türü
Daire
---
Konaklayacak Kişi Sayısı
2
---
Yatak odaları
Mt Pleasant, Güney Carolina, ABD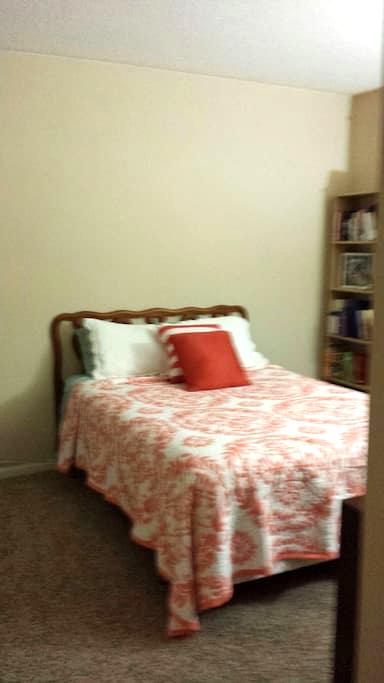 The apartment is well appointed with nice furniture and a kitchen with all that you need. Your room is bright and airy furnished with a queen bed with a memory foam mattress, dresser, nightstands, private bath and walk-in closet. Currently no TV in the room. The complex is a beautifully kept. Crossroads are Long Point/I-526. The apartment has plenty of parking and is close to the pool and BBQ.
The neighborhood is quite and tucked away next to the Wando River.
Oda Tipi
Özel oda
---
Mekan Türü
Daire
---
Konaklayacak Kişi Sayısı
1
---
Yatak odaları
Mount Pleasant, Güney Carolina, ABD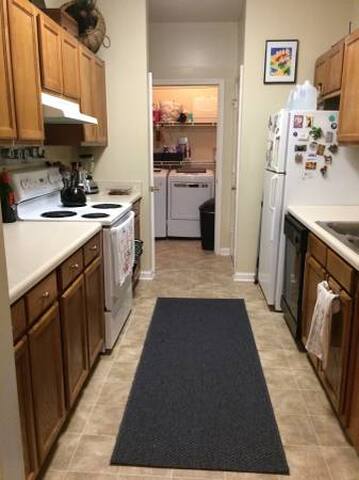 Tam fiyatlandırmayı görmek için tarihleri görün. Ek ücretler uygulanır. Vergiler ilave edilir.