Charmerende stranden hjem med 3 soveværelser og 2 bade i rolige Slaughter Beach, DE. Dette er den ferie stedet for dig, hvis du søger fred og ro i en venligere, blidere rustik samfund. Cykler og Natur har retten til vejen i denne søvnig by.
Slagtning Beach er en strand samfund minder om dage i fortiden. Lidt længere nede ad gaden, vores by har et fællesskab legeplads med tennis og basketball domstole, strand pavillon med masser af ekstra parkering samt den nærliggende Dupont Naturcenter. Favorit Slaughter Beach sidste-tider nævnes: walking stranden om morgenen, slapper af på stranden eller dæk, cykling, sejlsport, aften strand bål og udforske alle de nærliggende faciliteter, der kommer med Lewes og Rehoboth Beach feriesteder. Se solnedgange fra verandaen og solopgange fra det tilbage dæk mod bugten. Check-out @ 10:00 Indtjekning @ 04:00. Og for de mere på farten besøgende, Harrington Raceway & Casino er kun 32 minutter væk for en lidt mere spændende underholdning.
Host communicated with me before trip and all details provided were accurate. We arrived and made ourselves at home. It was nice to have all of the normal amenities of home available (kitchen utensils, spices, paper products, toiletries, linens, games, movies, etc. ). Prior to our arrival, the host made it very clear what was available and what was not available, so we didn't have any surprises. There were very clear directions regarding the house operations and amenities. Beautiful view too. Would definitely go back if the opportunity arises.
Jennifer
2016-08-01T00:00:00Z
The beach house is so clean, airy and beautiful. The owner took great care to think of everything we would need. She was responsive and communicative, and we were thrilled to be able to stay at the lovely property. This is the right place for guests who search for a more remote and restful stay far from the commercial beach experiences. It was the perfect retreat for us, and when we wanted to go to the bigger beaches for larger waves, it was an easy drive to Cape Henlopen and Rehoboth. We look forward to returning another time!
Karen
2016-07-09T00:00:00Z
Elisabeth 's home was beautiful and very comfortable. Gorgeous views of the bay. My little son said it was like a home where you would live when you first get married :). The kitchen has everything you need. The neighborhood is peaceful and unpretentious. Great biking through farmland and to the wildlife refuge. Only drawback is stores are about 20 mins away. Thank you for a lovely stay!
Meg
2016-08-05T00:00:00Z
A wonderful stay with everything you could need. From suntan lotion, bug spray, sunglasses, laundry detergent, to cooking utensils. It is a quiet little seaside bungalow big enough to sleep 4 comfortable. Close enough to Rehoboth Beach, Milton, Milford and Dewey Beaches.
Brian
2016-09-20T00:00:00Z
The home was lovely Airy and bright with plenty of room for lots of folk. The common area was nice and big and the kitchen made eating in an easy thing to do. You really are right on the bay and the view of the sunrise in the morning is wonderful.
Claire
2016-07-25T00:00:00Z
Elisabeth had everything we needed and more! We hardly left the house for the few days we were there. The beach views are amazing and worth the commute. The house has amazing views, stocked with appliances and entertainment, well furnished and very clean. The beach area did not get packed; with only a handful of people each day and the water was remarkably warm throughout the day. The only downside is we had to leave this amazing place. We hope that Elisabeth will have us back next year, where we hope to stay for a longer duration.
Rachel
2016-07-19T00:00:00Z
We enjoyed our stay here very much! The beach was perfect and the area was quiet. We felt very safe for three ladies on a ladies getaway. The house was lovely and the perfect size. The kitchen and home were well stocked with dish soap, laundry soap, tp, paper towels, etc. Thank you for offering your lovely home to rent.
michele
2016-09-27T00:00:00Z
Perfect Trip !
Nora
2016-08-22T00:00:00Z
Oda Tipi
Tüm ev/daire
---
Mekan Türü
Ev
---
Konaklayacak Kişi Sayısı
6
---
Yatak odaları
Milford, Delaware, ABD
Sat to Sat summer rentals. Bright & airy, 4-bedroom house. A block from the beach (beach tags included). Completely updated with plenty of room for a family or large group with a spacious, open floor plan upstairs and several outdoor spaces (where you can hear the waves crashing and feel the cool ocean breeze); 2 front porches, screened-in back porch, back deck and yard. Family-friendly, quiet... a true hidden gem. The Red Store is 2 blocks away. It's a short bike ride or Uber to Cape May ;)
Completely renovated for the 2017 season... we designed this house to be your home away from home. Here's a bit more detail about what to expect. If you have questions, just ask! SUMMER AVAILABILITY: Our home is a weekly rental during the summer, from Saturday to Saturday. For this reason, when you view the calendar to check for open dates, only Saturdays will be "active" or clickable. The other 6 days are white and cannot be selected. You'll also notice if you hover on them, that a message may appear that says "Heather requires checking in on Saturdays". If a week is already booked, all the boxes will be grayed out. Hope this makes sense. If you need help send us a message! DOWNSTAIRS: The house is an upside-down layout, with 4 bedrooms and 1 bathroom downstairs. Bedrooms & Bathrooms: • Sleeps up to 9 comfortably; BR1 Queen, BR2 Queen, BR3 Full, BR4 Twin over Full bunk bed (and room for 2 more upstairs) • There's also a sleeper sofa upstairs and pack-and-play for a baby or toddler (not a crib as listed... AirBnB didn't have an option for P&P). • There are two brand-new bathrooms, one on each floor. Downstairs has a bathtub and upstairs is a shower only. • Quilts, mattress pads, pillows and extra blankets are provided. • Guests must bring sheets and towels, or you can rent them from Linen Ladies (they also have cribs, strollers, highchairs and more) • Stacked, full-size washer and dryer are also downstairs in BR4. UPSTAIRS: Open floor plan with vaulted ceiling and large floor-to ceiling windows and sliding-glass doors on both sides. Kitchen & Dining Room: • The kitchen is brand new, with all the things you'll need to whip up a delicious meal (oven, microwave, coffee maker and grinder, toaster, blender, griddle, crock pot, lobster pot, knives, mixing bowls, etc.) • There's also a book of menus if you don't feel like cooking :) • The counter along the kitchen seats 5 and the dining room table seats 8-10. Living Room & Sitting Area: • The main area has a sectional couch, coffee table and TV and seats 5-6 comfortably. • Cable TV, Internet, phone (unlimited national calls) and WiFi included. • The sitting area has a sleeper sofa (for 2), coffee table and two chairs and is perfect for reading or playing games (which are included as well!) OUTDOORS: One of our favorite things about this house is the abundance of outdoor space! • First floor, front porch with chairs to relax. • First floor, back deck with patio dining set that seats 7 comfortably, gas grill, outdoor shower (hot and cold), places to hang towels and bathing suits, and yard. • Second floor, front porch (just outside the kitchen/dining room), with chaise lounge and lounge chairs. There will also be a fabric awning to provide shade, that is not currently pictured but is being installed in late May. • Second floor, back screened-in porch (just outside the living room/sitting area), with chairs to relax and an outdoor beer garden table and benches to dine and enjoy the evenings al fresco. ALSO INCLUDED: • 8 beach tags included (children under 12 do not need beach tags) • Beach umbrella and 4 beach chairs
Cape May Point is at the very tip of southern New Jersey, surrounded by the ocean with nature sanctuaries and trails all around it. It's a lovely place for a getaway at all times of year and the pace is perfect for families and all generations. It's truly a unique and awe-inspiring place, filled with nature, birds, beautiful dunes, and lovely people. There's a wonderful general store/restaurant/coffee shop/ice cream spot called "The Red Store", a lighthouse (which you can climb to the top of pretty easily), a Post Office and Fire Station. You can also take a 5-minute walk down to Sunset Beach for miniature golf, a cafe and shops. It's a few minute's drive to Cape May by car (or Uber) or a lovely 20-minute bike ride down Sunset Blvd. Cape May proper has restaurants, lots of shops, miniature golf, arcades, bike and surry rentals, a public library, museums, trolley tours, food tours, fishing and whale watching trips and more. Also reachable by car nearby, there are farm stands for fresh produce, Beach Plum farm which has a restaurant, gift shop, and animals for the kids to feed, several breweries and wineries, Cape May Wetlands (great for birding!), The Cape May Zoo, Cape May National Golf Club, playhouses, movie theaters, Historic Cold Spring Village, to name a few...
Oda Tipi
Tüm ev/daire
---
Mekan Türü
Ev
---
Konaklayacak Kişi Sayısı
11
---
Yatak odaları
Cape May, New Jersey, ABD
Jo and Ginny were lovely hosts. They welcomed me to their living room when they were watching to in the evening (I arrived late). Ginny and I had a nice chat in the morning. The room was lovely and huge! The bed and everything comfortable. The bathroom clean and really nice towels They have an amazing mural by their son - he is so talented. I won't be surprised to hear his name at some time!
Sally
2016-07-29T00:00:00Z
Absolutely perfect for what we needed! We felt very welcome and comfortable. Jon and Ginny were perfect hospitable hosts. Wished we could've stayed longer. Would definitely return.
Michelle
2016-10-02T00:00:00Z
We felt very welcomed upon arrival. We really enjoyed our privacy and the comfy bed as well as the fresh towels. It was a lovely experience. The banana nut muffins that Ginny baked were delicious. I wish I had taken more with me. Lol if I'm ever in the area again, I will definitely book here because we were only 30min from Lewes and rehoboth beach.
Milly
2016-07-25T00:00:00Z
If there's an "100-star" option, I will definitely give it to Ginny and Jon's place! The word "perfect" is far to enough to describe our one-night stay at their house, which was super clean, neat, well-prepared and fully equipped. We arrived at the house late at Saturday night and they lighted the porch lights for us to spot the road and the house. Joe welcomed us in front of their house and Ginny cooked muffins and prepared fruits! (Of course, they're all DELICIOUS!!) The room actually was pretty big and has a queen-size bed and another small bed. So the room can definitely fit in 3 people! They had a TV with cable in that room but in fact we didn't have time to watch it since we spent all our time having chit-chat with them! Ginny and Jon are so hospitable and enthusiastic. We feel like we are not staying at an Airbnb for one night, but meeting some old friends near to the beach! Talking about the beach, we're planning to go to the Rehoboth Beach but they suggested us to go the Henlopen Beach, which had less people but a perfect choice for family. Driving from Ginny and Jon's house to the both beaches will take a little more than half an hour, which is not bad at all! Additionally, they have a little kitty at home and she's very quite and friendly!! (Yes, I miss her too!) Overall, Ginny and Jon's house is a perfect choice for anyone who plans to go the Rehoboth beach or anywhere nearby! This Airbnb experience is very impressive and precious for both of us!!
Cong
2016-08-28T00:00:00Z
My friend and I were in town for a training. Jon and Genny were perfect hosts. We took a nap upon arrival (a rarity for two moms). They were hospitable. The breakfast was delicious and our room was lovely, clean and comfortable.
Corina
2016-07-10T00:00:00Z
Jon and Ginny were wonderful hosts; their house and the room were immaculate, spacious, beautiful, cozy, and perfect for a stay. They were communicative and gracious, and Ginny even offered freshly baked muffins for breakfast that were absolutely delicious. Jon and Ginny's place was excellent and I would unhesitatingly recommend staying here!
Helen and John
2016-08-20T00:00:00Z
Jon and Ginny were genuinely warm and naturally hospitable hosts! The spacious room and large private bath exceeded my expectations as well. Looking forward to visiting them in the Spring!
Paul
2016-09-17T00:00:00Z
Jon and Ginny were wonderful hosts! It was like Visiting family. They were kind, welcoming and lovely to talk to. The home was comfortable and very clean. They provided is delicious fruit for breakfast and offered us dinner - though we took them up on a local restaurant recommendation. We highly recommend staying with these lovely people.
Amy & Werner
2016-08-27T00:00:00Z
Oda Tipi
Özel oda
---
Mekan Türü
Ev
---
Konaklayacak Kişi Sayısı
3
---
Yatak odaları
Lincoln, Delaware, ABD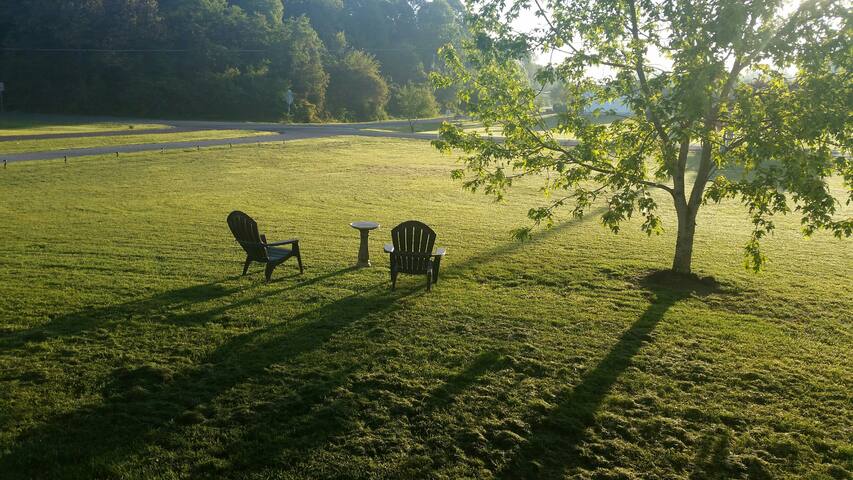 Our historic house-tour-featured home just off the center of this villagey town offers a "Brooklyn-in-Bridgeton" style welcome, combining easy access and central location (Bridgeton is the Cumberland County seat) with privacy, green views, big skies and bold blue-orange sunsets. Inside, the feel is cozy, cosmopolitan & comfort-driven. Philly, Cape May and AC are barely an hour away, NYC & DC only 2 1/2. Lots to see, do...and have for breakfast!
The older "farmhouse" kitchen/dining room section of this sensitively updated historic house goes back to the 1820s; the more elegant additions are Victorian--1870 to 1900. Our two BnB rooms are on the second floor of the later "front" section, directly across the hall from each other with a sense of seclusion from 'our section,' but also with easy one-flight access to the dining-room/kitchen for breakfast. Retro in feel but with A/C and other amenities, the two bedrooms look out over West Commerce St, a "gateway" access road lined with handsome Victorian homes. The main BR (first pictured) is spacious and gracious, fitted with (among other things) an old-fashioned four-poster DOUBLE-bed (please note!). It contains its own recently restyled step-down bathroom with tiled floor and shower. Larger groups or families (one or two additional adults or children) can add the twin-bedded room across the landing for an additional $50. But note that bathroom access is through the main room, so larger groups need to work out sharing and privacy. (There is another half-bath for emergencies directly downstairs, but to maintain some guest privacy we book only one family or group at a time.) Both bedrooms in themselves combine personal privacy with easy access to rest of the house. The large master BR will also accommodate a young adult or child in a roll-out bed or a baby in a collapsible crib for only $15 more, rather than pay for the full second room. (But even moving a full twin into that main BR for another adult can be arranged for an additional $25.) PLEASE consult the calendar for higher-priced periods on holidays, etc.
Even overnights sometimes include some down-time, so we are happy to accommodate those looking either for interesting ambience OR needing a quick and practical in/out. If you're a medical professional working or interviewing in Vineland Hospital, it's only 20 minutes away. So is Millville's Motorsports Park. We're only a block from the County Court House in the heart of Bridgeton's historic district, the largest in the state, and a mile from the Rutgers Food Innovation Center. Our own historic house sits on a high bluff above the Cohansey Riverfront, just a few steps from the bridge Bridgeton was named for 300 years ago. The river, City Park, zoo and amazing (and under-appreciated) Bayshore landscapes of Down Jersey offer many choices of eco- and agri-tourism as well as historic field trips. Nature still rules in the Cumberland County region. Birdwatching is unbelievable--starting with eagles and on down. Horseriding, canoeing, kayaking (even a sheep farm) are nearby. The Atlantic Jersey Shore beaches (including Cape May) are about an hour away. Take your pick of scenic natural resources: massive parks and protected watersheds, historic river and bayside villages, landscaping nurseries, farms and farmstands, arts and crafts, antiquing, festivals and public events. Here in Bridgeton we're surrounded by big Federal/Victorian/Edwardian Arts/Crafts-style homes and public buildings in the West Side and Courthouse districts. (We're in the heart of the annual Bridgeton Historic Holiday House Tour in December... just use that phrase for internet look-up) . Two nearby public murals by Philly Mural Project artist Cesar Viveros-Herrera, a muralist in the great Mexican tradition, celebrate farming and industrial history. And we're more widely surrounded by some of the most interesting historic settlements in the Northeast--tribal home of the Lenni Lenape Indians, places where Swedes, Finns, Dutch, English and more have passed or settled going back to the 1600s, and what is considered the first settlement of free Blacks in the original colonies. The past generation or two have brought hardworking Mexicans and their upwardly mobile children to the farms and nurseries, transforming Bridgeton into a bilingual city (at least bilingual; Asians and South Asians are other large minorities). We think we have some of the best Mexican restaurants in the region, two in walking distance: Las Palmas-- with a kind of funky ambience, bar and fantastic food (ask for Moses, and say we sent you) and La Cabaña, on East Commerce Street. Nearby are a couple of good pizzerias, one with sit-down service, and a Jamaican take-out restaurant. Drive about a mile to the Green Olive (privately-owned, NOT Olive Garden) with good "continental" style dining. Back here at the Hann House, your hosts are Flavia (retired professor, writer and preservationist) and Sandy (collectibles specialist and man of many parts). We haven't wasted a minute of the ten years we've lived in South Jersey and know it better than some locals. And everybody knows us. Want fun? We know where to find it. Privacy? That too.
Our room and bathroom were neat and comfortable with ample room for us and all our luggage. Our hosts couldn't have been more accommodating to our needs. Flavia is multi talented as a writer and an artist with a tremendous knowledge of the area. Sandy provided a delicious breakfast cooked to order each morning that carried us through until dinnertime. Note to Sandy: "That sounds good." He is also a master at gardening. Those Jersey tomatoes are the best. Conversation was easy and the stories were always interesting. We would certainly recommend a stay here to anyone looking for gracious and friendly lodging(URL HIDDEN)Poul and Sandra D.
Poul Ove
2016-08-09T00:00:00Z
Flavia and Sandy were the perfect hosts who made us feel like home away from home. The Victorian style house with all its antique treasures was just beautiful and full of charm just as I had imagined. They were great with the little kids and Sandy played hide and seek with my 5 year old in the very big yard which has beautiful old trees, zillion of tomatoes, flowers and herbs. Apart from breakfast with Italian espresso and perfectly shaped homemade American pancakes with maple syrup, we had Italian pasta for dinner. They were so kind, hospitable and fun. I totally recommend staying at their Italian-American inspired home. It's a "treasure" in Bridgeton you will not forget. If you are looking for an accommodation that is affordable and not too far from Cape May and the beautiful beaches New Jersey has to offer, this is the place. There is also a farm I would like to recommend. They offer horseback riding but in fact it's another little treasure in Vineland "Indian trail farm" (URL HIDDEN) Apart from horses, your kids can see and pet goats (the only fainting goats in the region), peafowls, rabbits, donkeys, etc.
Viktoria
2015-08-10T00:00:00Z
Mrs Flavia and Sandy are very gentle and respectful people. They were kind to talk to us and offer us their grill even if they were unprepared for our late registration. Flavia provided us with valuable information about their local area and Sandy made us delicious breakfast.
Abbas
2016-03-25T00:00:00Z
This place was by far the best place my wife Amy and I have ever stayed! Flavia and Sandy were some of the nicest people we've ever met. They were excited when we arrived and greeted us warmly into their home. Their house is an experience! Since the house is part of a historic Christmas tour, it has so much character that's brought to life by Sandy and Flavia providing a tour and insight to the surrounding area. The room we stayed in was clean and cozy with a private bathroom right in our room which was also incredibly clean. We had convenient access to WiFi in our bedroom which enabled us to watch the Pitt vs Penn State football game. GO PITT! Breakfast was served made to order by Sandy. Everything was delicious, including the fresh picked figs from their own backyard! We really enjoyed our stay and will definitely visit again when we can!
Eric
2016-09-12T00:00:00Z
Flavia and Sandy were wonderful hosts! Of all of my airbnb experiences this is the most like a real bed and breakfast. Each morning I received a perfectly cooked breakfast after a deep sleep. The room has a private bathroom that is well stocked. Sandy and I enjoyed watching the World Series together at night. I didn't spend much time there because of my busy schedule but if I was ever to head back to south NJ I know where I would be staying.
Arlen
2015-10-30T00:00:00Z
A historic gem in a great little town. Hosts were fabulous and provided us each morning a delicious breakfast served on beautiful china. We enjoyed talking about the history of the town and found they were quite the collectors of antiques. Our room was a perfect example of old and new. The newly remodeled bathroom was wonderful and the large bedroom has plenty of space to spread out. They mastered the art of making you feel comfortable.
sharon
2016-09-19T00:00:00Z
Flavia and Sandy were very hospitable, very sweet, kind and attentive to us yet gave us our privacy. They provided us with everything we needed and more. We were also served an amazing breakfast, which we looked forward to every morning. The house is very beautiful and cozy. They were also very knowledgable about the areas and were also able to answer any questions we had. We enjoyed our stay and will definitely be back again.
Sirarpi
2015-09-08T00:00:00Z
Flavia and Sandy are absolutely amazing! My girlfriend and I arrived to their awesome home on a cold December evening and felt comfortable and welcomed right away. After dinner, we were invited to sit by the crackling fireplace and get to know them better. Their house is like museum filled with awesome looking antiques and arts. We talked for hours about everything from history of the city to cooking and politics. Flavia is one of the most interesting people we've met and Sandy is super witty and funny. The next morning they had the table set up and Sandy (who is an amazing cook by the way) made us breakfast exactly the way we wanted it! Then sandy gave us a tour of the neighborhood which was awesome! We were sad to leave and we would definitely stay at their place again. It definitely exceeded our expectations! Thanks!
Amir
2016-12-19T00:00:00Z
Oda Tipi
Özel oda
---
Mekan Türü
Ev
---
Konaklayacak Kişi Sayısı
4
---
Yatak odaları
Bridgeton, New Jersey, ABD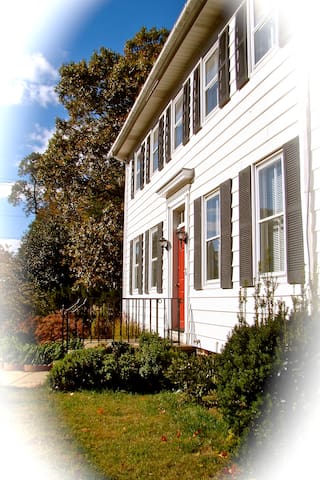 This beach house is close to a restaurant, local bar, the beach, charter boat and great views. My place is good for couples, solo adventurers, business travelers, families (with kids), big groups, and furry friends (pets).
The house has 2 large bedrooms, 2 baths, 2 patios, a large private deck, outdoor shower, firepit, fully furnished, ice chest, propane grill and lots of seating.
There is a head boat at the end of the street that goes out every morning for deep sea fishing trips. Occasionally, the boat schedules dinner events and a light house tour. One block over from the house is a seafood restaurant on the water. You can eat and enjoy live entertainment on the deck, on the water or inside. Across the street from the restaurant is a very local dive bar which offers food, music, shuffle board and billiards. There are three boat ramps next to the coast guard station. Just behind the coast guard is an inlet, jetty and the start of the beach. The beach is excellent for water sports and relaxation. The river at the end of the street dumps into the Delaware Bay. You can see the river from the house and part of the bay. You can see and hear the large charter boat from the house. The sandy beach is about a 2 minute walk. The neighborhood is very friendly.
Great place, close to the beach!
Dave
2017-04-02T00:00:00Z
Such a convenient location to nearby Dover and smaller cities along the shore. Great kitchen fully stocked and a short walk to the Delaware Bay. Wish we had spent more time at this roomy beach house! Hostess was prompt, provided very helpful communication and beneficial local information.
Nancy
2016-10-23T00:00:00Z
I absolutely loved my stay here! The house has tons of room and would be great for a group. I was staying with my dog and had visitors on the weekend. Tara was very accommodating and communicative. I had anything I could ever need! The house and the town felt just like home. Would love to return here again someday!
Emily
2016-11-18T00:00:00Z
Our Bowers beach stay for new years was amazing! The house is very clean and spacious. The walk to the beach new years day was a short one and enjoyable. Thank you Tara so much! We can't wait to stay in the summer.
Anna
2017-01-02T00:00:00Z
Amazing! Walked in to a very clean and welcoming home . Just a drive away from beach, and the neighborhood was quiet. Definitely will be coming back !
Olivia
2017-03-12T00:00:00Z
Only a few blocks away from the beach, the house is in a quiet little summer neighborhood with great amenities. The heater works a little strangely, where the upstairs gets super hot and the downstairs is frequently cold, but this also has to do with the time of year we came. Aside from that, it was a very nice stay.
Kyle
2017-03-17T00:00:00Z
This place is definitely a hidden gem. It's clean, comfy, has all the amenities and close to a local bar/restaurant and the beach. I'm not sure how busy it gets during the peak summer months but in February, it's quiet and very peaceful. Tara was very responsive and helpful. We can't wait to visit again in the warmer months.
Joe
2017-02-12T00:00:00Z
My wife and I couldn't have picked a better place to stay and Tara was a great host. She was prompt and accommodating and very helpful. And the location is perfect.
Aaron
2016-12-30T00:00:00Z
Oda Tipi
Tüm ev/daire
---
Mekan Türü
Ev
---
Konaklayacak Kişi Sayısı
8
---
Yatak odaları
Frederica, Delaware, ABD

Esta casa frente a la playa aislada es ideal para grupos familiares y retiros si quiere alejarse de las multitudes y el ruido, pero aún así disfrutar de la belleza y la diversión de estar en la playa. Esta casa tranquilo y espacioso se encuentra en un acre de terreno con su propia playa. Cada habitación tiene grandes ventanales con hermosas vistas de la bahía o los humedales y su propia calefacción y aire acondicionado. Hay una gran sala grande y una gran sala de estar donde la gente puede reunirse, pero también hay muchos rincones privados.
Pequeñas bodas y eventos son bienvenidos en la casa de playa por un cargo adicional dependiendo del tamaño del grupo.
Estas son algunas de las muchas atracciones cercanas: Milford (12 minutos) tiene tiendas, tiendas de antigüedades y restaurantes. Muchas reservas naturales para el ciclismo, observación de aves y el senderismo están a pocos minutos en coche, o una canoa o un paseo en bicicleta de distancia. Rehoboth Beach complejo con playas de mar, centros comerciales y otros lugares de interés (40 minutos). Lewes, con el Cape May - Lewes ferry y ballenas y delfines (40 minutos). Bowers Beach con los viajes de pesca (20 minutos). Killens Parque del estanque de agua (20 minutos). rampa del barco (10 minutos). Harrington Hipódromo, Casino y Feria del Estado (25 minutos). Dover la capital del estado y la base aérea (20 minutos), Dover Speedway (30 minutos), Dogfish Head con recorridos cerca de Milton (25 minutos).
Oda Tipi
Tüm ev/daire
---
Mekan Türü
Ev
---
Konaklayacak Kişi Sayısı
16
---
Yatak odaları
Milford, Delaware, ABD
Bayfront location. My place is close to restaurants and dining, amazing views, the city center, art and culture, and parks. You'll love my place because of the beachfront access, and the ambiance. My place is good for couples, solo adventurers, and furry friends (pets).
Quaint family cottage I have stayed in and owned for many years. Fresh ocean breezes from every window. Private deck to relax on a lazy afternoon. Kitchen: All items to cook are provided. Must be hand washed after use. Trash: Trash can is located in the sunroom of the garage. Trash day is Thursday and trash can must be put out the night before and taken in after its picked up.
This cute immaculate house is a private place to recharge from a busy work schedule or simply for a short getaway. Its location is prime as just 20 steps away is the beach and water. Also located a few blocks from a great afternoon or evening spot called Harpoon Henrys.
Tom was a delightful and highly communicative host. He was very thoughtful and thorough. His place is right on the shore, with one of the most beautiful views we've seen. We only wish we could've stayed longer!
Jeremy
2017-04-02T00:00:00Z
Cozy, clean, and superbly managed right next to the bay. If you're looking for a quiet, private (and potentially romantic) place to hang your hat next to the water, this is the spot. Enjoyed by humans and dogs alike! It's a great place to get engaged!
Tony
2017-01-02T00:00:00Z
Very cute space with peaceful views. No TV but there is wifi.
Erin
2017-04-09T00:00:00Z
The apartment was lovely and very clean. Location was also great (right on the beach). Thomas was great and helpful, and even let us stay late on the day we checked out. I would definitely stay here again!
Melina
2016-10-10T00:00:00Z
The directions were totally accurate. Thomas messaged me around check in time just to make sure we had arrived safely and we were enjoying ourselves. The property was RIGHT ON THE WATER! We could literally see water from every single window. There were fresh coffee beans on the counter and some Baileys in the fridge. No television. It was the perfect getaway. We ended up asking Thomas if we could stay an extra night. Thomas really went above and beyond. Thank you! We can't wait to come back!
Melinda
2016-11-23T00:00:00Z
Romance!!! Thomas's place is the perfect spot for romance. We used his fire pit and it was nothing short of perfection. Listening to the water while enjoying the fire and star gazing was extremely romantic. Thanks Thomas for the use of your cute house. Highly recommend. Also thank you for your very fast response times!
Lynne
2017-02-20T00:00:00Z
Great quiet little getaway,
Scott
2017-01-27T00:00:00Z
Our stay here was so enjoyable!!! Thomas was a great host and will plan to stay at his location again soon!!! Great location!
Kate
2016-12-28T00:00:00Z
Oda Tipi
Tüm ev/daire
---
Mekan Türü
Ev
---
Konaklayacak Kişi Sayısı
2
---
Yatak odaları
Cape May, New Jersey, ABD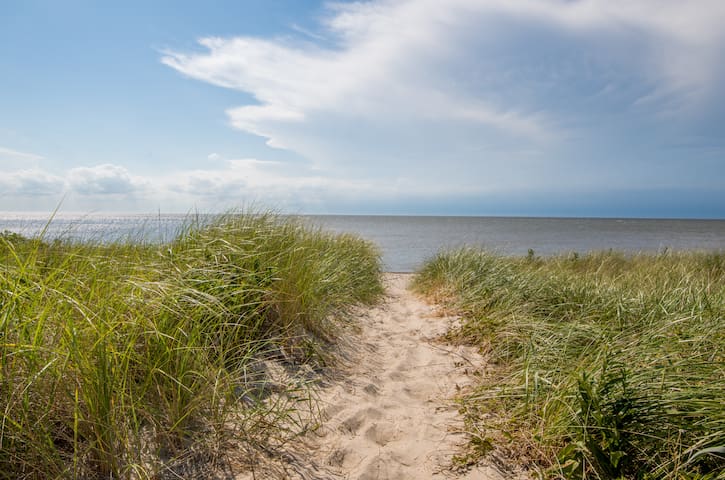 The Widow Caulk House located on the Harriet Tubman Underground Railroad in the historic district. The Queen Anne is a 6 bedroom, 2.5 bath house with a large front porch and back yard. Please use the well appointed kitchen, dining room and living room.
Upstairs bedroom (13x15) at the back of the house- Large windows with flowering trees outside. Choose the back stairs right outside your door to go to the kitchen if you desire or use the front stairs. Shared bath right next door to your room. Empty chest of drawers just for you. Powder room downstairs with laundry. The formal front parlor offers a quiet respite. Your room has a flat screen tv, complete with extended cable, blu ray, Amazon Video, Netflix and Pandora set for your view pleasure! An additional bluetooth speaker is in the room in case you want to play your music off your own device. Bedding: 1 double bed
Camden Historic District (on the Underground Railroad) - 18 houses built in the 1700's most of them in the early 1800's, mine is the newest -starting in the 1800's and finished in 1910. Brick sidewalks and gas streetlights, yet you can walk to a new Store complex (drug, groceries, Chinese food, etc...) in under 5 min. walk. Minutes from Dover Downs Casino and festival grounds.
Alta, was an amazing host, very knowledgeable about the DE beaches/other areas to visit and very accommodating in all aspects- relaxed check-in/out, breakfast for guests, provided clean linens and other amenities, etc. If you're ever in the Camden/Dover area or need a place to crash, I highly recommend staying at this unique and gorgeous old English cottage home!!! :)
Anne
2016-07-04T00:00:00Z
This was the best experience me and my husband had staying in an Airbnb home. The owner was a very gracious host ,very helpful, she even surprised us with breakfast ; she makes the best waffles , thank you Alta .
Rita
2016-10-30T00:00:00Z
Accurate listing, kind and communicative host, and a beautiful, complimentary breakfast!
Oakland
2016-11-26T00:00:00Z
Nice clean room/bathroom in a beautiful neighborhood. Alta even made us breakfast! Expectations exceeded.
Libbie
2016-06-20T00:00:00Z
Alta was absolutely amazing! Her home is very charming. She made us feel welcome the moment we met her. She has loads of knowledge about the area and the nearby beaches. I would highly recommend staying with Alta if you're going to be in the area!
Kristen
2015-07-19T00:00:00Z
Alta is a model of what an airbnb host should be. Helpful, gives you privacy, and gives you a glimpse of the local life. We feel this is what airbnb is all about - an alternative to the more costly, impersonal hotel stays. We had a wonderful time at Alta's place and her homemade breakfasts are so good. She even tried to adjust her menu to my diabetic and "picky" husband. Looking for a place to stay around Delaware? Go to her place. You won't regret it.
Agnes
2016-12-06T00:00:00Z
Alta was so warm and welcoming! She did everything to ensure we were comfortable, including getting up at the crack of dawn to fix us a fabulous breakfast before our long bike ride. We felt really special!
Danielle
2016-10-16T00:00:00Z
Alta was the absolutely perfect host! Her home is gorgeous and so welcoming, as is she! Breakfast was ready and the table was set both mornings when we came down and everything was delightful. We can't wait to come back and stay again.
Autumn
2016-10-09T00:00:00Z
Oda Tipi
Özel oda
---
Mekan Türü
Ev
---
Konaklayacak Kişi Sayısı
2
---
Yatak odaları
Camden, Delaware, ABD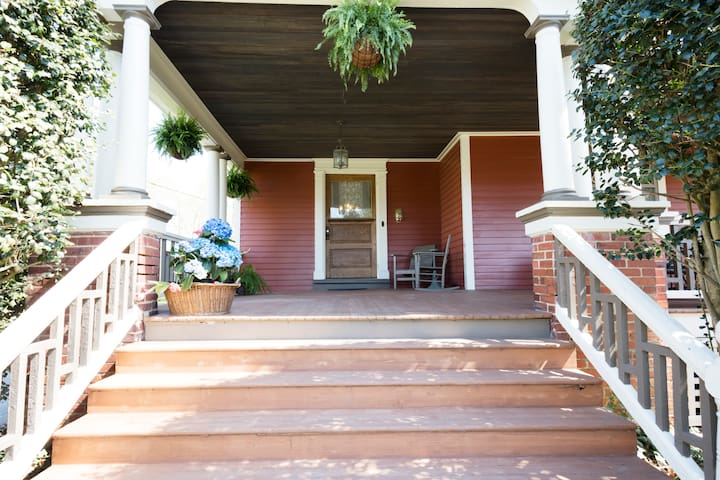 This idyllic setting was just what we needed. The photos and description are beautifully accurate. Kathy and Jack were welcoming and delightful. They made us feel so comfortable and right at home. The house and the setting are phenomenal! I could spend countless hours just sitting on the deck looking at the water. Kathy and Jack gave us privacy, which was terrific. We also enjoyed the nearby small towns of Milford and Milton for homemade ice cream and breakfast pastries. Our only regret was that we couldn't stay longer. Next time, for sure!
Elise
2016-08-17T00:00:00Z
Kathy and Jack's place is on an amazing wildlife refuge. We watched the sunrise every morning on the beach, relaxed with coffee in the morning and enjoyed the peace and quiet of their lovely home. Kathy and Jack were sweet, accommodating and very easy to communicate with which made our stay all the more enjoyable. Thanks Kathy and Jack! :)
Melissa
2016-09-05T00:00:00Z
We finally made it to the beach!! We moved to Maryland two years ago and have hoped for a weekend at the beach...Kathy's place met our expectations and beyond. Kathy provides a seasonal description of the private beach setting you will have at Prime Hook. The location is accessible to a few towns nearby for groceries and restaurants. We ate at The Backyard and Po'Boys which are great choices. We also drove to Prime Hook Wildlife Refuge. You are close to Lewes and Rehoboth. The Space: This is how to relax and let go of the day to day. You are not surrounded by other tourists or shops. You can walk along, take a nap and just let the waves of the ocean speak to you and watch the birds and waves. I did some seashell and rock collecting. The room has an attached bathroom and you pretty much have the upstairs area to yourself along with a deck. Early morning and evening it is nice to sit in the upper deck and enjoy the view. The bedroom and bathroom are that dream beach location feel and the bed is very comfortable. There is a mini fridge and coffee maker. Kathy and Jack: I love Airbnb for opportunity to meet great people. I think in life it is great to encounter people who are just good spirits and love life. You can feel it in conversations and witnessing how welcoming they are that they have worked hard and enjoy the life around them. Thank you for everything.
Jennifer & Randy
2016-09-12T00:00:00Z
Kathy is so very welcoming. Her beach oasis is amazing and has all the comforts of home!
Shawn
2016-09-25T00:00:00Z
Kathy is a great host. She and her family are friendly. The house is thoroughly clean and homely. Location is prime for quiet retreat.
Jon
2016-08-17T00:00:00Z
It was such a treat to have a weekend away here!! The house is lovely, clean and light and fresh, and right beside the beach! The weather was perfect, Kathy and her husband made us feel right at home and were helpful in every way. So grateful for a peaceful weekend right alongside a quiet, beautiful beach. Would recommend this to all my friends! Thanks Kathy!
Rebecca
2016-08-22T00:00:00Z
We stayed with Kathy and Jack for a week. The accommodations were great for us - comfortable and clean as described. Our hosts were warm and friendly yet gave us privacy. Their house is on a quiet beach. We viewed gorgeous sunrises over the bay from their second story deck. We also watched the sunrise and sunset over the marshes and that was beautiful too. You drive through miles of farmland, woods, and the wildlife refuge to get to Kathy and Jack's. There are local towns within 10-15 minutes for restaurants and supplies. The drive to Lewes' beaches and beautiful Cape Henlopen State Park is under 25 minutes.
Chad
2016-09-03T00:00:00Z
My wife and I totally enjoyed our stay at Kathy's! It was a perfect spot to take a break and cherish a moment of tranquility. We were able to unwind while swimming, reading and sunbathing. The beach front view is fantastic! From check in to check out, everything was a breeze. We felt very welcomed. It was a wonderful experience. We look forward to visiting again soon!
Hassan
2016-08-09T00:00:00Z
Oda Tipi
Özel oda
---
Mekan Türü
Ev
---
Konaklayacak Kişi Sayısı
2
---
Yatak odaları
Milford, Delaware, ABD
2 Schlafzimmer, 2 Bad Haus mit Parkplatz, Waschmaschine, Trockner, Hinterhof mit Terrasse für 6 Personen alle zwei Minuten zu Fuß von der schönen Bucht von Delaware. 15 Minuten zu den freien Stränden in Wildwood und 10 Minuten zum Cape May Zwei Flatscreen-TV 's mit DVD-Player, Mikrowelle und Kleingeräte.
Zwei Minuten vom Strand entfernt
Der Strand
Oda Tipi
Tüm ev/daire
---
Mekan Türü
Ev
---
Konaklayacak Kişi Sayısı
6
---
Yatak odaları
Villas, New Jersey, ABD
Genießen Sie die Privatsphäre einer Gated Community, ohne die Tore. Prime Haken liegt perfekt hinter einem Wildlife Refuge. Nicht viele Leute wissen über unsere Oase an der Bucht. Nahe genug, um die Aufregung, wenn Sie es wollen. Und dann wieder kommen und ein Lagerfeuer am Strand genießen.
Very relaxing and quiet spot close to the beach. We stayed with our dog and baby and were very comfortable. Breakfast at the Backyard is worth the 15-20 min trip into town. Would love to come back again.
Andrea
2017-03-26T00:00:00Z
Good find
katy
2017-03-20T00:00:00Z
This is a beautiful home with a lovely view. The layout is perfect for a couple of families with kids. Patrick was an excellent host.
Kate
2017-01-01T00:00:00Z
We loved the house. Very clean with lots of space - 3 bathrooms, several bedrooms and all with water views . We also loved the 2 decks - we could see the beach . And a quick walk across the street you are at the beach . Very quiet beach neighborhood and behind the house is Prime Hook with lots of wildlife . Great for walking or running too. A quick drive and you are on Route 1 - Lewes and Rehoboth close. I would highly recommend this place . Great for a quick getaway for a couple and great for family too .
wendy
2017-04-02T00:00:00Z
Small bayside community was beautiful and charming. The wildlife refuge was great. Very quite spot here in the off season. Lots of room. Comfortable home. Fab host with quick communication A++++
M Melanie
2017-02-19T00:00:00Z
Great location right across from beach. My boyfriend and I had an idea to get away. We stumbled upon this beach house and immediately booked it! We brought our two pups down with us as well which made the experience even more memorable. I will absolutely recommend this house if you are looking for something family friendly and pet friendly as well! We went to the dogfish head brewery and tanger outlets and a number of walks on the beach. The house is a little ways from the surrounding towns (about 15-20 minutes) depending on what your looking for but it worked out great for us. It was just us two in the house but it's big enough for two families and kids. We hope to come back when it gets warmer!
Kasey
2017-02-26T00:00:00Z
Beautiful spot nestled in a wildlife refuge. Secluded, quite and peaceful. Great spot.
Justin
2016-12-04T00:00:00Z
Nice spot, just steps from the beach. Tons of room for guests and just 20 minute drive to Rehoboth. Love being in the nature reserve. Would definitely stay again.
Sam
2017-03-01T00:00:00Z
Oda Tipi
Tüm ev/daire
---
Mekan Türü
Ev
---
Konaklayacak Kişi Sayısı
15
---
Yatak odaları
Milford, Delaware, ABD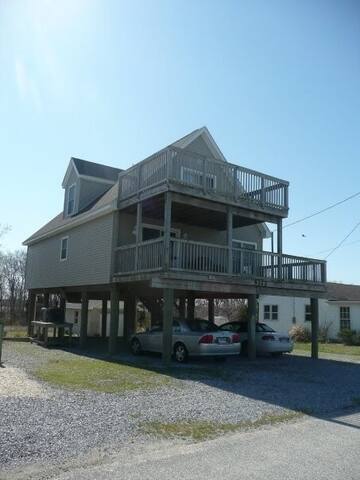 Adorable 2 chambres, 1 salle de bain chalet qui a été entièrement rénové. Une chambre a un lit queen. L'autre a un lit king size (un lit gigogne avec deux lits jumeaux rejoint). Il y a aussi un futon en taille réelle sur le porche de soleil. Comme il est d'usage à Cape May, les clients doivent apporter leurs propres draps et serviettes. Couettes, couvertures et oreillers sont fournis.
quartier résidentiel calme mais très proche de plusieurs magasins, dont une pharmacie CVS, un dépanneur Wawa, et un magasin d'alcool. Plusieurs restaurants locaux à proximité. Épicerie pas trop loin non plus. Vérifiez le livre Bienvenue à l'arrivée des suggestions!
Great place to stay! Amy was really responsive and helpful throughout. House was well stocked and located in a quiet neighborhood. Nice walk to bay beach and close to Cape May attractions.
Dana
2016-09-11T00:00:00Z
We really enjoyed our time at this cozy cottage. Nice to have desperate rooms from the boys and the beds were comfortable. Bathroom is certainly dated and we were further from downtown cape may than I had realized (my fault) but I enjoyed sitting on the back deck and my husband read in the front sun room. Kitchen was perfect. Didn't use any appliances except the dishwasher but there was a coffee maker, washer and dryer. Nice rental. Really convenient to have code for door instead of needing to meet owner for keys! Close to a beach location though and we saw some giant horseshoe crabs!
Jessica
2016-05-16T00:00:00Z
Amy is very organized and connected with me early on to confirm our arrival. She generously left some goodies for us to enjoy! The house is very well depicted by the pictures in a quiet neighborhood. It was only a quick 15 minute drive to Cape May. We traveled there for the beach, as her rental is on the bay side.
Jaclyn
2016-06-07T00:00:00Z
We stayed at Amy's sweet cottage in February - so not a beach weekend - although we did go down to take a look and it was breathtaking. Very peaceful and naturally lovely with deep dunes and winding paths down to the beach. The house was thoughtfully furnished and stocked, with extra blankets, toiletries, pantry items, and Amy even left us a bottle of wine and candy as a welcome gift! There were 3 adults and one child and we were all happy and cozy. The heating system warmed up the whole house quickly... beds were very comfortable. Shower lovely! The property is huge for being so close to the beach, and fenced in with a big deck. In warmer months it must be amazing with groups/kids. Highly recommended!
Heather
2017-02-19T00:00:00Z
Cottage was located in a great location short walking distance to the bay. The rooms are well laid out. It is small but kitchen was equipped adequately. Good wifi. Washer and dryer. Cute sun porch and back deck with large yard make the home seem larger. You have to supply the bedding so that may be a problem for some. Amy was friendly and professional. Easy to work with. My only complaint is that the master bedroom could use some additional freshening at this point. The rest of the home is nicely decorated, clean and adequately updated.
Jane
2017-02-26T00:00:00Z
Lovely cottage which was the perfect size for my family of 4. Fenced in yard was great for playing with my 2 little ones. Close walk to a serene beach area as well as some local shops. Amy provided some treats which was a very nice touch!
Julie
2016-07-03T00:00:00Z
Clean and charming place in a quiet residential neighborhood. Perfect for our weekend stay. Interaction with Amy was pleasant and straight forward. Would stay there again.
Heike
2016-10-03T00:00:00Z
Amy was very accommodating and her place was perfect for two couples. We loved the sun porch and spent a lot of time dining & just hanging out on the back deck. I would bring toiletries and extra paper products if you're staying awhile, but there are plenty of them in smaller quantities if you forget something. Internet is pretty slow but there are an array of DVDs to watch on a rainy day (and cable TV of course). It was great being able to walk to the bay and also drive to downtown Cape May in 15 mins. There's actually a lot of things to do in the Villas area. Everything was well organized and there was a ton of kitchen stuff to use if you want to cook. I would definitely stay here again!
Nina
2016-06-17T00:00:00Z
Oda Tipi
Tüm ev/daire
---
Mekan Türü
Ev
---
Konaklayacak Kişi Sayısı
5
---
Yatak odaları
Lower Township, New Jersey, ABD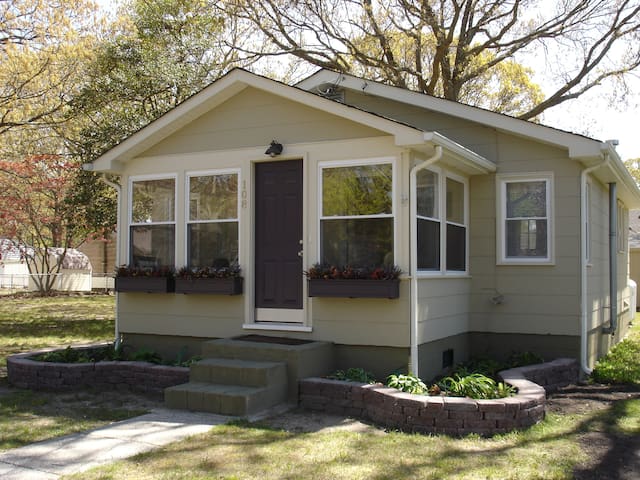 Sunnybrae ist eine schöne, historische und Charme Mansion, die in der Mitte eines 90 Morgen großen Anwesen befindet. Sunnybrae ist nur 20 Minuten von Lewes Beach, 30 Minuten bis Rehoboth Beach und 50 Minuten von Ocean City Maryland. Sunnybrae liegt nur 20 Minuten nördlich der Tax Free Rehoboth Tangor Outlets. Sunnybrae ist nur 20 Minuten südlich von Dover Downes Raceway and Casino und 15 Minuten östlich von Harrington Raceway and Casino. Sunnybrae ist behindertengerecht.
Besuchen Sie unsere Website unter (URL HIDDEN)
Das Besondere an diesem Mansion ist, dass es in der Mitte eines 90-Morgen-Zustand befindet, so dass es macht es einfach, mit der schönen Aussicht und schöne Privatsphäre Wochenende.
Absolutely amazing! I booked the mansion for my brother's "roaring 20's " themed wedding shower and it was perfect. The house is huge with so many areas to explore. Lynn was attentive and available for anything we needed. My brother was so happy and I thank Lynn for letting me make that happen. Would definitely consider booking again! Loved it!
Megan
2017-03-19T00:00:00Z
Lynn was a great host! I got a full tour of the house and a great history lesson as well. The house is more beautiful in person and has such a personality to it. The My crew and myself had the greatest time here. They left us board games to play, there is a pool table, poker table and wine cellar. What more could you ask for? It is located near great places to eat and to Lewes. This was the best stay I ever had and I hope I can schedule more stays there in future.
Arielle
2016-07-15T00:00:00Z
A fantastic mansion with a very accommodating host. Thanks Lynn for the great tour and history lesson. We had a great weekend!
Francis
2016-08-15T00:00:00Z
The mansion is absolutely gorgeous! It was clean and immaculate. The hosts were incredibly friendly and accommodating. They made us feel very comfortable staying at Sunnybrae. I would definitely recommend Sunnybrae to anyone who likes a quiet and relaxing stay in beautiful surroundings both inside and out.
Wendy
2016-11-13T00:00:00Z
Staying at Sunnybrae was a wonderful experience! We were visiting the area for a conference and this was the perfect location for our group. The venue was perfect and Lynn was a great host! I would not think twice about booking again. My only regret is that we were only there for two nights.
Jennifer
2016-09-25T00:00:00Z
Our stay at Sunnybrae Mansion was fantastic. The house, with all of its finely decorated rooms and history behind each room made our stay even more memorable. Even though the reason for our stay was sad this house made our stay very comfortable and memorable. If you ever need a house for a large number of people this is the best value you could choose. There were so many rooms were a person could just relax and be alone if needed. Thank you again.
Tim
2017-03-12T00:00:00Z
Great place to stay with many people, very affordable. Thank you!
Antonio
2016-10-16T00:00:00Z
We really enjoyed staying at Lynn's place. It is very spacious, was very well decorated for the holidays. Kitchen had more than enough utensils, pots, pens, plates, cups. Everything we needed we were able to find. For those who are looking to have separate bathrooms for each bedroom, here is the layout of the mansion: the 1st floor has a suite for 1 person (bedroom and bathroom in it). the 2nd floor has a master bedroom (with the bathroom) and 2 bedrooms that share 1 bathroom on the same floor. The 3rd floor has 3 bedrooms that share 1 bathroom on the floor. Also, the third floor has a suite with 2 person bed and with the private bathroom. There is a half bathroom on the 1st floor for everyone to use. Also, there is a full bath in the lower level where the vine cellar and the game room are. It was very convenient to have a second fridge in the lower level of the mansion. It is the perfect place to spend time with a big group. As part of the entertainment, some people went to casino that is about 30 min drive from the mansion. Some people just enjoyed walking the mansion's grounds and taking pictures. Thank you, Lynn, for sharing this great place with us and making us feel at home.
Marina
2017-01-02T00:00:00Z
Oda Tipi
Tüm ev/daire
---
Mekan Türü
Ev
---
Konaklayacak Kişi Sayısı
10
---
Yatak odaları
Milford, Delaware, ABD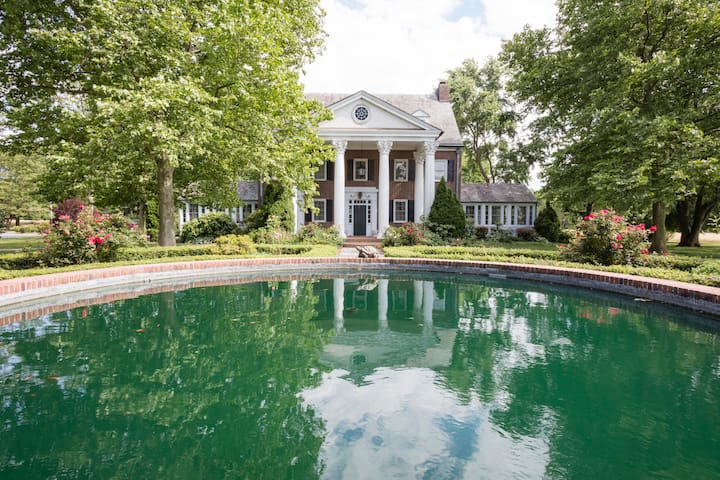 Dies ist ein wunderbares Haus in unmittelbarer Nähe zu Milton, nach Hause zu Hund Fisch-Kopf-Brauerei. Es ist 5 Meilen zum nächstgelegenen Strand, ein 12-Meile Fahrt nach Lewes und eine 15 Meile Fahrt zum Cape Henlopen State Park. Es ist weniger als 20 Meilen nach Rehoboth / Steckdosen.
Esta casa se encuentra a poca distancia de la histórica ciudad de Milton DE. Se encuentra a 10 minutos de una playa local y una unidad de 45 minutos a Ocean City, MD. Es zona de el sueño de un amante de la naturaleza, pero también es perfecto para las familias en busca de una experiencia de balneario. Los interesados en la observación de aves será mucho opciones. Tenemos juguetes de playa, juegos de mesa, consola de x-box, dos terrazas y un jardín. Siéntase libre de comer lo que crece en el jardín! Nos recientemente terminado de pintar toda la casa y la propiedad es de menos de diez años de edad. La casa está a poca distancia de Dogfish Head - 10 minutos en coche y 30 minutos a pie. La zona es maravillosa para antigüedades. Es una manera perfecta de 55 años de revisar las opciones locales. También puede tomar una excursión de un día en ferry a Cape May NJ o conducir 1,5 horas y visitar Annapolis Maryland. Ten en cuenta también tomar excursiones de un día a Easton Maryland, St. Michaels Maryland y todo el Chesapeake tiene que ofrecer. Rehoboth y las otras ciudades costeras de Delaware también son un breve trayecto en coche.
Die Entwicklung ist ein 5-10 Minuten zu Fuß zu Milton Delaware. Milton ist eine hübsche, historische Stadt mit einem wunderbaren Markt Bauern jeden Freitag während der Sommermonate. Broadkill Beach ist ein 6-7 Minuten mit dem Auto und es ist eine kleine Low Key Strand. Das Gebiet ist von großer Antiquitätenläden und in der Nähe von Tanger Outlets umgeben. Die Attraktionen der Küste von Maryland sind innerhalb eines Tages mit dem Auto. Genießen Sie Annapolis und die schöne Aussicht auf die Chesapeake.
My friends and I had a great time! Everything was close and there was much to do. We stayed 4 days and didn't get to do everything still. The place was very clean and a perfect size for a group. All the information Ken provided has very helpful. Great long weekend!
Kelli
2015-08-17T00:00:00Z
The host canceled this reservation 76 days before arrival. This is an automated posting.
Cherisse
2016-06-02T00:00:00Z
Great place, and super convenient! Kenneth was also incredibly flexible when I came down with a bad cold (not ideal for visiting a brewery), he let me change my visit to the end of my trip! Thanks a million, I'll definitely recommend this to my friends and visit again!
Katie
2016-02-24T00:00:00Z
Ken's place was great. It was more than enough space, and it had a huge open kitchen which was perfect for lazy Sunday breakfast-cooking. Ken had tons of suggestions for nice beaches and delicious restaurants which were much appreciated. His place was centrally located, and easy to find with a grocery near by. The house was really close to Dogfish Head Brewery(which was awesome), and the beach was just a short drive away. All in all, we had a wonderful experience.
James
2015-10-12T00:00:00Z
Right at home! Helped make recommendations for things to do, responded quickly to questions we had, and just made our experience extra positive!
Sarah
2016-09-06T00:00:00Z
We were visiting from England and stayed one night at Ken's holiday home. It was in a great location for us to visit Assateague and the surrounding area. Unfortunately, due to trouble with our hire car we did not arrive until late. When we did we found the house very untidy, a dirty shower and floors and door knobs sticky. Bins were not emptied and the trash had not been put out. There were clean sheets on the beds although Ken had warned us after we had first booked that we may need to put clean ones on. He also asked me to put clean sheets on the bed in the master bedroom before we left as someone else was arriving. The house was warm and of a good size and there is a lovely patio if the weather is warm. Menu's and information provided were also very useful. We left early in the morning and left this house cleaner than we found it. It seems, from the other glowing reviews I have seen about this house that we were unlucky, perhaps with a family coming immediately before us and another person straight afterwards so that Ken could not get down from his home to clean up in between. I would suggest that other guests check this situation out and that Ken informs future guests of this possibility. Having said that we still enjoyed ourselves on our last night in the US.
corinna
2015-04-11T00:00:00Z
Kenneth was great and very hospitable. He was very approachable and gave great advice on things to do in the area.
Charles
2015-02-17T00:00:00Z
Ken and Una's home was beautiful and exactly as described. We have kids, so the room set up for the kids was great! We used the grill, washer and dryer, and took their advise to visit Cape Henlopen State Park which was wonderful. If we come to the Rehoboth area again next year we will make this a repeat stay!
Heidi
2015-09-08T00:00:00Z
Oda Tipi
Tüm ev/daire
---
Mekan Türü
Ev
---
Konaklayacak Kişi Sayısı
6
---
Yatak odaları
Milton, Delaware, ABD
Tam fiyatlandırmayı görmek için tarihleri görün. Ek ücretler uygulanır. Vergiler ilave edilir.