Você trabalhou duro durante toda a semana, é hora de levar algum tempo fora e relaxar em nossa casa lago especial em Discovery (URL HIDDEN) uma vista como esta de seu quintal você não vai acreditar que você é apenas uma curta distância de SF ou East Bay. Peixe, churrasco ou apenas R & R.
Esta casa do lago recém-renovado é tão especial para a nossa família. Meus meninos gostam de pescar, nadar e brincar no jardim da frente. Toda vez que estamos aqui nos sentimos como se tivéssemos viajado milhares de milhas. O estresse apenas derrete. ** A casa está localizada no lado lago, então não há acesso ao delta E BARCO DE LANÇAMENTO não é permitido. Contudo, a descoberta Bay Yacht Harbor é menos de 2 minutos de distância e lançamento de barco É permitido lá e não há acesso ao delta.
Este é o bairro mais bonito. Todos é tão amigável mas respeitam sua privacidade. Durante X-mas há ainda um desfile de barcos que passa por todas as casas no lago! A marina está a 3 minutos a pé, onde você pode jantar no Boardwalk Grill ou pegar um (email hidden) ou fazer compras ao longo do calçadão. Há um 24 horas Safeway mercearia cerca de 5 minutos junto com Starbucks, CVS um restaurante Sushi, McDonalds e muito mais. Brentwood é de 20 minutos. Há Eles têm tudo, cinema, restaurantes, lojas e dependendo de quando você vem, há muitos festivais também. Por último, mas não menos importante, há vários pêssego, cereja, maçã ... pomares, bancas de frutas e até mesmo vinícolas apenas a uma curta distância. ** A casa está localizada no lado lago, então não há acesso ao delta E BARCO DE LANÇAMENTO não é permitido. Contudo, a descoberta Bay Yacht Harbor é menos de 2 minutos de distância e lançamento de barco É permitido lá e não há acesso ao delta.
Amy is wonderful in helping make sure you have the best experience possible. Her flexibility with check-in and check-out was great as well. The house is everything the pictures show which isn't always the case. The paddle boards were a lot of fun and the location is great. Feels like you're far away yet there's a Safeway just down the road for all those last minute items. 5 stars all the way
Ryan
2016-05-02T00:00:00Z
Almost like staying in the Hamptons :) I'm a returning client and would recommend staying here to my frds!
johann
2016-10-19T00:00:00Z
Great communication from the start! Her house is amazing and I will definitely have to stay again at one of her houses. One of the best airbnb hosts I've experienced.
Andre
2015-03-23T00:00:00Z
We had a great time at the lake house! Great furnishings and very nicely updated! The host was very responsive and helpful. Thanks for sharing your beautiful home!
Lisa
2016-10-25T00:00:00Z
This house was awesome! We will definitely be back. Highlights included; the house had everything we need, was clean and nice, and right next to the marina for easy boat launch access. Summer is here!
Jimmy
2015-03-30T00:00:00Z
Amy's house was amazing! The house was nicely designed and very easy to get to. The backyard view was absolutely amazing. Amy was very responsive throughout our stay. Definitely would stay there again!!
Robert
2016-08-23T00:00:00Z
We had a fantastic experience! The house was lovely, so comfortable, and had everything we needed for our stay. Communication with the host was great. We would definitely stay here again!
Claire
2016-08-03T00:00:00Z
Place was great. Very clean. Great area and neighborhood. The house had everything you could want and more.
Jorge
2015-10-09T00:00:00Z
Oda Tipi
Tüm ev/daire
---
Mekan Türü
Ev
---
Konaklayacak Kişi Sayısı
6
---
Yatak odaları
Discovery Bay, California, ABD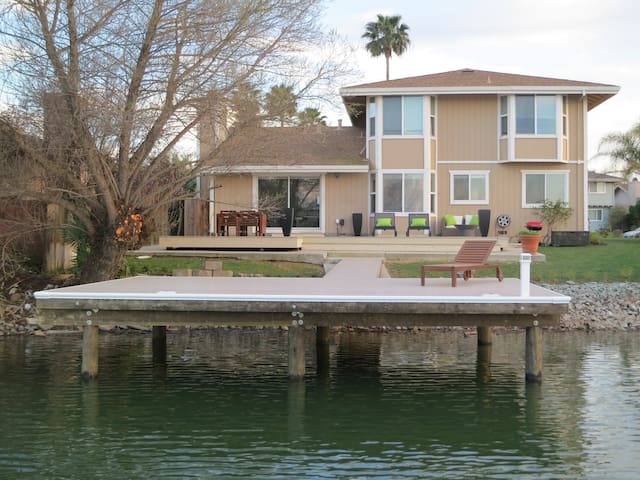 I love It!
Kay
2017-04-02T00:00:00Z
This house was extremely relaxing and comfortable with a gorgeous view off the deck. We could not be happier and hope to return some day! BTW we had 4 kids and it worked really well. You need to monitor them near the water (obviously) but they loved it too. Eat outside with a view of the water, cuddle up and watch a movie together, the whole thing was tons of fun.
Sara
2017-03-31T00:00:00Z
Really nice spot !
Thomas
2017-03-19T00:00:00Z
Oda Tipi
Tüm ev/daire
---
Mekan Türü
Ev
---
Konaklayacak Kişi Sayısı
8
---
Yatak odaları
Discovery Bay, California, ABD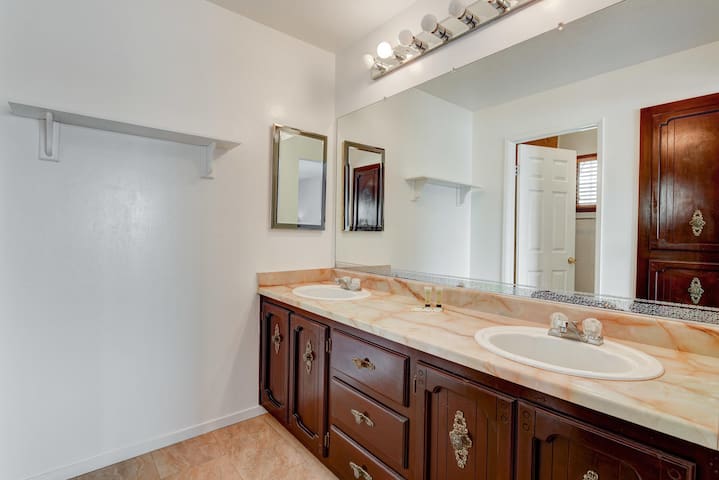 Vacation house in golf club
Golf club
Oda Tipi
Özel oda
---
Mekan Türü
Ev
---
Konaklayacak Kişi Sayısı
1
---
Yatak odaları
Discovery Bay, California, ABD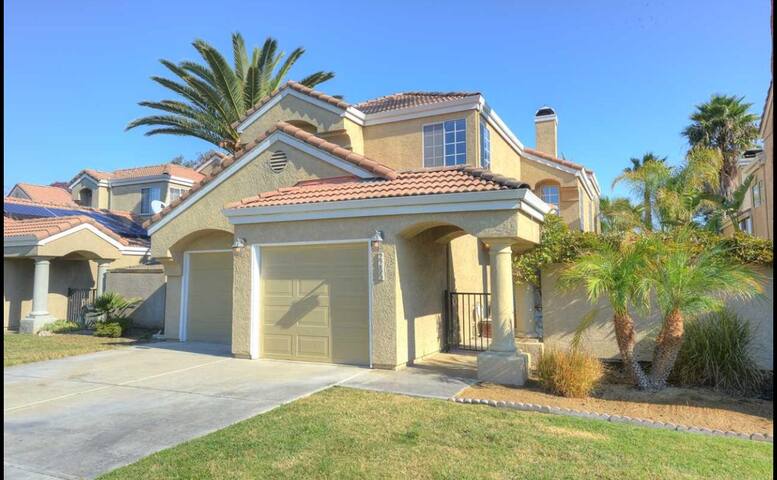 Staying at GarNet's place was easy and exceeded expectations -- something we are all looking for when using AirBNB. She is a great host.
Eric
2016-10-03T00:00:00Z
We enjoyed the scenic waters and the nice deck. The paddle boat was a nice treat too! Large spacious home and the speakers were fun to use! Will stay again for sure.
Becky
2017-02-19T00:00:00Z
My associates had rented GarNet's home and had a very nice time. They said the place was beautiful and peaceful. Everything was exactly how it was described. We would definitely stay there again.
Annie
2016-07-31T00:00:00Z
We were able to check in early. Everything was very nice and very clean. It was nice to be able to use the kayaks and paddle boat. Discovery Bay is over an hour away from San Francisco. Truly a beautiful home(URL HIDDEN)
Doreen
2016-09-24T00:00:00Z
Garnet was very quick and helpful in responding before our trip to questions we had. During and after the trip, also quick to respond. The home was exactly as described. Wonderful cozy home! We loved it! Our family and visitors also thought the home was perfect and would love to rent it again! The water was more green, allege, then usual but thats just due to the lake water. I was just at the delta a few weeks back and it wasn't nearly as green as this time, however still nice and the location was perfect! Great home and Great host!
Crystal
2016-08-04T00:00:00Z
This house is a great Disco Bay getaway! The lower deck has two patio tables with plenty of space for group meals. The dock has a handy boat lift and even has kayaks and a paddle boat for cruising around close to the house. Inside, the kitchen and bathrooms are modern and spacious. Air conditioning is available if it gets too hot, otherwise the ceiling fans are great. Garnet is a gracious and responsive host. Overall, a wonderful stay!
Leslie
2016-08-07T00:00:00Z
This home is amazing. My family came all the way from new orleans to visit for the thanksgiving hoilday. It was the perfect getaway home. We felt like home away from home. The VIEW IS AMAZING. Perfect property to relax and enjoy the sunset and scenery. Thank you so much for the experience!☺
Justine
2016-11-28T00:00:00Z
What a great house with an amazing view. We can't wait to do it again.
Leah
2016-08-29T00:00:00Z
Oda Tipi
Tüm ev/daire
---
Mekan Türü
Ev
---
Konaklayacak Kişi Sayısı
10
---
Yatak odaları
Discovery Bay, California, ABD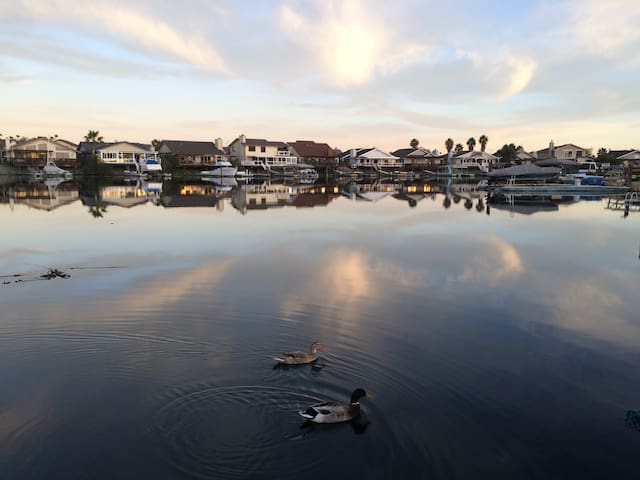 What a wonderful experience from hello to goodbye! I have a business relationship in Discovery Bay and needed to stay for two days so I chose this beautiful home because of the fantastic photos of the patio and bedroom. The bedroom was totally peaceful, spotless and comfortable. The patio, just as you see in the pictures is full of color and french charm. I was greeted with a drink of my choice and a luscious plate of garlic bread, olive tapenade, cucumbers and tomatoes and basil. What a treat to relax there and enjoy the long view on a beautiful golf course. Jane and I enjoyed hours of conversation and Don popped in and out. My breakfast in the mornings were better than any restaurant could provide. Bacon, eggs, compote, English muffin and jam. Perfection. I accidently left something hanging in the closet and told Jane I will be back in a month to retrieve it. This will be my first choice anytime I have business in Discovery Bay.
Holly
2016-08-15T00:00:00Z
Jane was very polite and the home was well kept!
Dan
2016-09-18T00:00:00Z
I enjoyed my stay in Discovery Bay at Jane and Don's place. They are wonderful hosts and the house is beautiful! It's well maintained and it's on a golf course. What more could you ask for? Some might think that Discovery Bay in August is too hot, but this home is positioned in a way that it doesn't get too much sun, which is nice. In the past, I've stayed closer to the water in Discovery Bay, which is also nice, but I wasn't able to swim this time anyway, so it all worked out. Jane and Don serve breakfast everyday and they even set a wonderful table on the patio for me and three of my old college friends - complete with place settings from Williams and Sonoma and sparkling water! Boy, were my friends and I impressed!
Dianne
2016-08-23T00:00:00Z
Jane and Don are excellent hosts, from the initial contact (Jane responded to my request to stay in 2min), to an impeccably clean home and a wonderful breakfast the next morning. Thanks for a great experience!
Alan
2016-08-07T00:00:00Z
Jane and Don were so welcoming! They left us some lovely cookies at night and cooked us an amazing breakfast in the morning! Their company was lovely and they made us feel right at home! I would encourage anybody to stay with them and hope to be able to stay with them again!
antonia
2016-10-16T00:00:00Z
My stay with Jane was absolutely wonderful! I could not have asked for anything better. She and Don created an experience that completely exceeded my expectations! Being from the beach myself I felt right at home from the get go. Their home was comfortable for me, like a fresh, clean, bright yet cozy beach cottage (just minus the ocean breeze!) I felt so pampered and taken care of and yet they were so easy-going and mellow that they were not overbearing in any way. From the luxurious white linens and bath essentials to the exceptional cleanliness (I am very allergic to cats and never even noticed that one lived there!), the whole experience felt like I was in a fancy resort! Only this was better because it came with Jane and Don's excellent company and conversation, not to mention their seriously fantastic gourmet breakfasts made from fresh local ingredients! What wonderful people and hosts! Don even went out of his way to give me a ride to the wedding I was attending across town. If you are heading to their area, skip the hotel, stay with Jane and Don. You won't be sorry!
Tandis
2016-09-12T00:00:00Z
They're very nicea dwelcome... Love the place!! i'm so impressive with your place..we'll back again...
Tiffany
2016-07-03T00:00:00Z
Wow, Jane and Don were wonderful! Very lovely couple. Expecting us and greeted us with open arms. Their home is beautiful and Jane is a very talented decorator! Ended up having wine with them and chatting about our lives till late evening. Jane made us an over the top breakfast! Fresh juice, fruit, eggs and bacon but she also made a "dutch baby" pastry too die for! The back yard patio is super cute and comfortable. Beautiful at night especially with all the cool lights in the trees,etc....Lots of Hawks flying around and the beautiful view of the golf course. The bedroom was so cute, comfortable bed with cool linens and beautiful towels with everything you need if you forget anything. (I forgot a toothbrush and they had one for me! I would definitely stay again if in the Discovery Bay area. Went to a few restaurants while there the "Boardwalk Grill" on the water (lovely out on the patio) and Sports Bar and Grill / Steakhouse. Both were very good.
Richard
2016-07-09T00:00:00Z
Oda Tipi
Özel oda
---
Mekan Türü
Ev
---
Konaklayacak Kişi Sayısı
2
---
Yatak odaları
Discovery Bay, California, ABD
来吧花一些某个时候,发现加州的美丽 - 在加利福尼亚三角洲。这是深水1800 SF开放式的计划 - 房子,可以容纳大型船只 - 20分钟快速水。平静,安宁和优雅的你一定会喜欢醒来阳光和你的甲板。我们喜欢住在这里,和超市,商店,餐馆和咖啡馆都只有步行英里远!
在深水通道,大量海盗燃气灶和美食厨房天窗,安静祥和的睡眠。精彩开放的平面图。高档的感觉。房子是在整个traverine瓷砖铺设了瓷砖。没有与大号床三张舒适的客房。两卫;大厅浴室有按摩浴缸,并在主双,他和她的淋浴,带天窗。
我们爱,我们的核心是在加利福尼亚州的所有美好的一日游。我们是美国加州的部分Δ-千里新鲜水路 - 钓鱼冠军和令人兴奋的划船和水上运动。前来入住在牧场和农场国家的中部 - 让你的新鲜水果和坚果从当地种植者。来自和未来的地区品尝我们屡获殊荣的葡萄酒。两家酒厂不到2英里远!探索一个小时,一些变化 - 旧金山,纳帕,海滩(半月湾),硅谷,苹果等)。小时一对夫妇+远是优山美地,卡梅尔和塔霍都做出了完美的周末 - 或者只是享受在后院的看法 - 您的私人甲板和码头。
We had a nice time staying at Ken's house. It was nice, peaceful and relaxing. It's was our first time to Discovery Bay and we really enjoyed it. Ken was able to provide us all the necessary info making the trip convenient.
Joe
2016-09-17T00:00:00Z
Beautiful home right on the water. It had a large amazing deck with comfortable seating and nice views. The kitchen was impressive! We loved the open layout that let us cook and have conversation at the same time. It was convenient to have access to the boat dock to tie up our boat. K & K were responsive and welcoming.
Stephanie
2016-10-23T00:00:00Z
Fiance loved the place. They had an awesome weekend.
Brandon
2017-04-02T00:00:00Z
We stayed at Ken's place while in the area for a family funeral. The home is located in a quiet and attractive residential neighborhood and the pictures accurately depict the property. Great kitchen, deck, view, etc. We very much appreciated Ken's communication and would definitely stay here again.
Brent
2017-04-09T00:00:00Z
I brought my parents here and we really enjoyed the quiet neighborhood and modern yet cozy home. Very much appreciated the slightly lived-in feel because it made us feel right at home. The kitchen is outstanding, there is fun decor and a great patio with mountain-view sunsets. We also appreciated the one-night option which is all we needed this time around.
Heather
2016-12-22T00:00:00Z
Ken and Kat agreed to let my company host a team building event at their lovely home in Discovery Bay. They were very accommodating and helpful. They had breakfast treats, bottled water, coffee and tea ready when our team arrived. The setting on the water, the comfort and cleanliness of their home and the general vibe was perfect....beyond exceptional.
Kim
2016-09-28T00:00:00Z
We had a great time, super location, comfy house, all good!
John
2016-10-09T00:00:00Z
Yeh house was very clean and it was well stocked. The outside patio area was awesome.
RIchie
2016-12-27T00:00:00Z
Oda Tipi
Tüm ev/daire
---
Mekan Türü
Ev
---
Konaklayacak Kişi Sayısı
6
---
Yatak odaları
Discovery Bay, California, ABD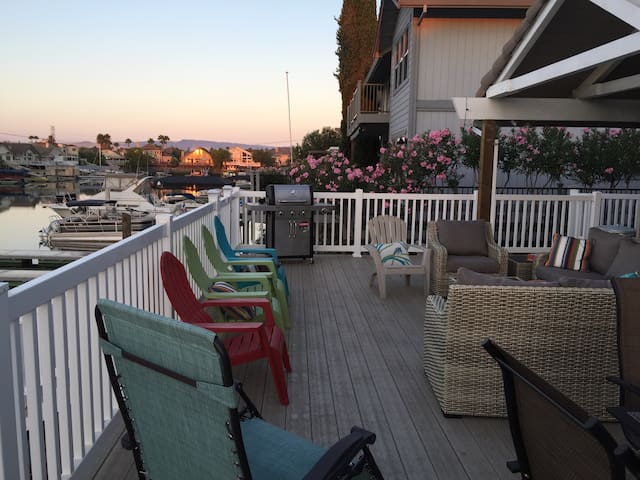 Puede disfrutar de las siguientes actividades en esta hermosa zona: Vela, golf, natación, esquí acuático y paseos en bote. También la pesca derecho de la cubierta. También puede optar por ir al país del vino o San Francisco en tan sólo una hora en coche de la casa o ir de excursión al Monte Diablo.
Un centro comercial Safeway, la comida rápida y la estación de gas está a una 10 minutos de la casa.
Host was lovely. We had everything we needed and the house was gorgeous. Monte was simultaneously responsive to communication and hands off, which was just perfect for us. The deck is gorgeous and the sunsets! Wow! Would highly recommend and would be delighted to stay again.
Rachel
2015-11-15T00:00:00Z
This home was beautiful. Spacious, clean and well stocked with everything we needed. I appreciated all the little extras like lotion, shampoo and conditioner. We had plenty of extra towels and warm blankets. The kitchen provided everything we needed, including a Keurig type machine with refills and also a regular coffee pot. Plenty of plates, cups, silverware etc. The stove top was electric and a couple of the burners took some time to heat up, but it didn't ruin our stay by any means. The view from the deck was beautiful and we were able to pull our boat up into the private dock by the house. (The marina to drop the boat in was about a 5 min drive from the home). The neighborhood was quiet. This beautiful home provided a great get away with our friends to see in the New Year. We would definitely come back.
Gail
2017-01-02T00:00:00Z
House was easy to find, clean, spacious. Nice view and amenities
Abigail
2016-09-12T00:00:00Z
Lucia and Monte are great hosts. Easy to communicate with, very responsive and helpful. Home is lovely, comfortable, well-equipped and great location. Highly recommend Lucia and Monte's home for a great getaway to Discovery Bay.
Ariane
2015-09-07T00:00:00Z
This house comes as advertised, for the most part. The house has a great layout for a nice relaxing weekend on the delta. The back deck is awesome, as is the dock. We had very little in the way of criticism. The only issues were no cable TV, despite the house having a very nice TV in the main room, and no usable cues for the pool table. The cues were there, they just had broken tips. My only other picadillo would be the lack of a gas range, as I love to cook, and hate electric stoves. But that is really just a personal preference, and not something that I feel the host should change. We had a great time at this house and absolutely recommend it to anyone looking for a great spot to have a modest get-together in a fantastic location.
Fletcher
2016-09-25T00:00:00Z
Monte was a great host checking on us when we arrived and answering any questions we had promptly.  The home is beautiful, inside and out.  We enjoyed the fireplace and playing pool. The kitchen has all the pots and pans and dishes you need for a home cooked meal. The towels are well stocked and linen is available for every bed and futon in the home.  The view from the back deck is stunning and was a great back drop for lovely wedding photos.  We had a great time with family, the space and all the comforts of home only added to our great wedding celebration.  
William
2016-03-06T00:00:00Z
Monte's home was so nice and big. Excellent place to stay for large families. Would love to stay there again the next time we visit!
Sharrel
2016-11-13T00:00:00Z
Monte's home is beautiful! My family and I were in Brentwood for my brothers wedding and rather than get some hotel rooms we found this beautiful home on Discovery Bay and made a vacation of it. The house was perfect for the 6 adults and 4 kids there was so much room for everyone. The deck is a great spot to watch the sunset while sipping on a glass of wine. Monte provided really nice amenities and the kids loved the kayaks and the paddle boards. I would definitely recommend this place for a long weekend get away. There is so much to do in the area.
Alex
2016-05-17T00:00:00Z
Oda Tipi
Tüm ev/daire
---
Mekan Türü
Ev
---
Konaklayacak Kişi Sayısı
12
---
Yatak odaları
Discovery Bay, California, ABD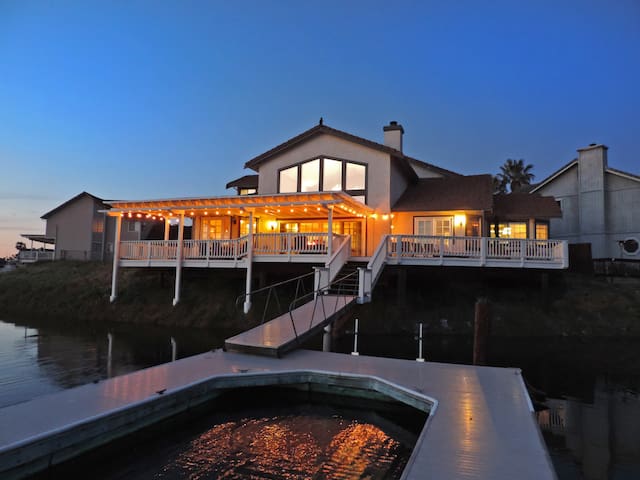 Oda Tipi
Tüm ev/daire
---
Mekan Türü
Ev
---
Konaklayacak Kişi Sayısı
12
---
Yatak odaları
Discovery Bay, California, ABD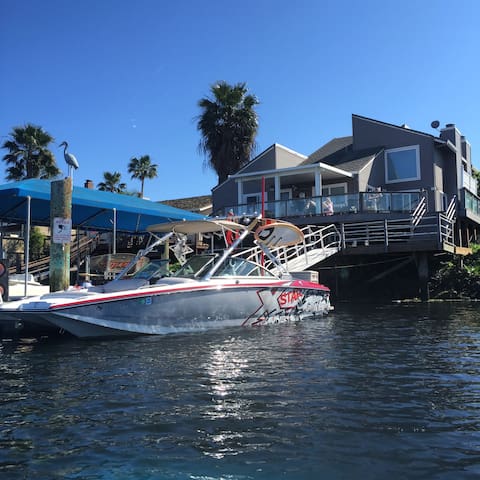 设备齐全,新装修的3 BD,2巴的房子,大码头,甲板深水访问三角洲。大客厅,主卧室和开放式厨房,水和山暗黑华丽的景色。独木舟,皮划艇和桨包括在内。
来到愉景湾,刚>一小时即可抵达,从海湾地区,但你会觉得完全输送到另一个世界。您所有的压力都会融化。钓鱼,划船,滑水,皮划艇,独木舟,站起来划船,游泳或只是放松都是可能的。
宁静的居民区。社区游泳池和公园附近。滨海公共发射,餐馆和商店在几个街区之外。 Safeway和其他商店和餐馆只有几分钟的路程。
Our host was great at making sure our stay was set up and we were welcomed into his vacation house. The host was great in communication prior to our arrival at the house. The home was nice and clean and met all our needs. We would rent the house again.
Sheldon
2016-04-25T00:00:00Z
Cool place me and my family had a great time. Will be returning in the future! Thank you!
Mark
2016-11-13T00:00:00Z
Oda Tipi
Tüm ev/daire
---
Mekan Türü
Ev
---
Konaklayacak Kişi Sayısı
10
---
Yatak odaları
Discovery Bay, California, ABD
Una amplia Quiet-dormitorio con una cama de matrimonio. Las novedades sábanas y comforter.Private baño para dos. Usted tiene acceso a su cuenta privada doble lavabo, ducha y Toilet.All en dos pisos, 4.000 pies cuadrados privada cerrada Inicio de los Lagos y Delta.
La Casa La ubicación es muy singular. Se encuentra ubicado en una comunidad cerrada segura de los Lagos Usted tendrá una habitación privada y acceso a dos baños privados, uno arriba y uno abajo. varios lagos artificiales con las fuentes son sólo unos segundos de pie. Rutas de senderismo, bicicleta, carrera, Pesca, Observación de la puesta del sol, navegación, cruceros en barco, bodegas y buenos restaurantes mexicanos y sushi se encuentran en una distancia a pie. Traiga sus kayaks ya que la casa está cerca de varios cursos de agua.
Vivimos en una zona muy tranquila, de barrio. Llevar a los niños
Mae's house is pretty much paradise. Big beautiful kitchen, luxurious bed and bath, pool and deck out back. I wanted to move in. She made us feel welcome and totally at home, and she felt like family after a few nights. She even gave me a little cooking lesson. Nice jogging trail nearby too! Couldn't be happier with our stay here. Might need to find an excuse to pass back through Discovery Bay
Michael
2016-11-08T00:00:00Z
Mae was a most gracious and kind host, offering to do above and beyond what was expected to make us comfortable. In addition to a generous array of breakfast options, she also had fresh fruit, nuts, cookies, coffee/tea, and other treats available to us at any time during our stay. Her home was immaculate and nicely decorated, located on a quiet street in an upscale neighborhood. Her dogs Rider and Daisy were adorable, especially once they got used to us being there, and we enjoyed having dogs at our home away from home.
Jenny
2015-11-29T00:00:00Z
I booked this room for my daughter and her friend who were in town for another friend's wedding. Mae's home was situated much closer to the wedding location than the nearest hotels, and worked out perfectly for my daughter. She and her friend had a very nice stay and enjoyed meeting Mae and her two dogs! They reported that Mae made them feel at home, was very helpful - even provided a ride for them - and they were very pleased and would recommend it to other travelers.
Mark
2016-04-18T00:00:00Z
Oda Tipi
Özel oda
---
Mekan Türü
Ev
---
Konaklayacak Kişi Sayısı
2
---
Yatak odaları
Discovery Bay, California, ABD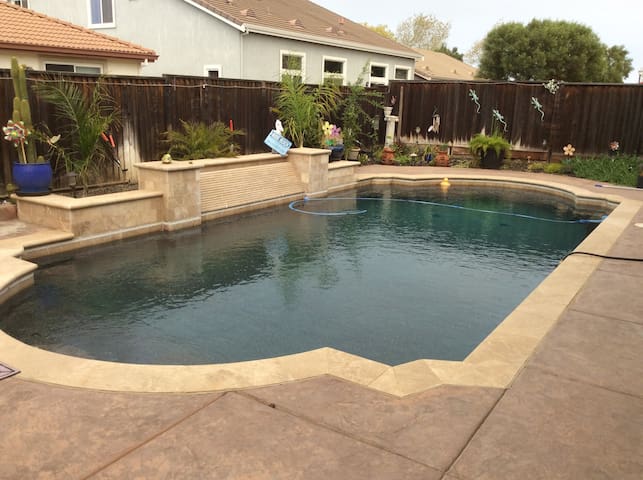 The house was beautifully decorated, with an open floor plan that made for a perfect family visit. The deck on the water had enough seating for our extended family of about 18 people. The young people enjoyed the paddle boat immensely. Stacey welcomed us with a basket of essentials. She was also very responsive to any questions that we had, getting back to us within a few minutes. The kitchen had everything we needed for cooking. There is a Safeway right down the road (ask for a club card for the discounts). The bedrooms were a nice size, and the kitchen has two seating areas for a large group of people. As my husband put it - "you hit it out of the park on getting this house". We would highly recommend this house and the host. We hope to be back!!
Theresa
2017-03-26T00:00:00Z
Very nice clean house. Good location for water skiing or wake-boarding. The boat lift was a nice bonus. Nice quiet inlet for swimming or kayaking. The house is well furnished with everything you need.
Jana
2017-04-08T00:00:00Z
Oda Tipi
Tüm ev/daire
---
Mekan Türü
Ev
---
Konaklayacak Kişi Sayısı
10
---
Yatak odaları
Discovery Bay, California, ABD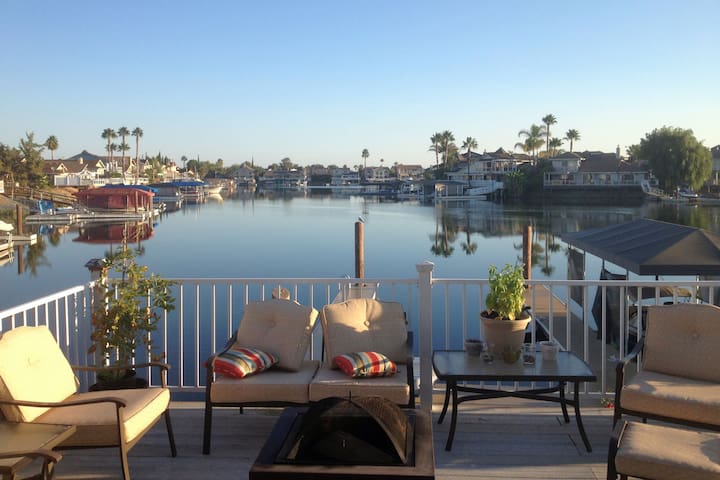 Oda Tipi
Tüm ev/daire
---
Mekan Türü
Ev
---
Konaklayacak Kişi Sayısı
14
---
Yatak odaları
Discovery Bay, California, ABD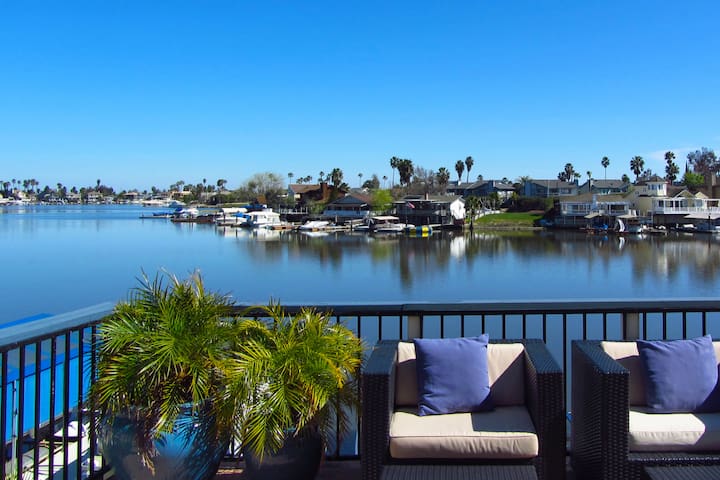 acogedora habitación en una casa de 1.800 pies cuadrados en aguas profundas! Tranquilo y silencioso que tendrá un baño semi-privado (salón). Casa está equipada con una cocina completa para cocinar sus comidas gourmet. Llevar su barco, flotadores o simplemente pasar el rato y barbacoa
paz increíble y tranquilo donde se puede Zen y observar la vida silvestre. Disfrutar de su retiro y relajarse. Dan Francisco está a una hora, 2 horas, Yosemite Silicon Valley por hora. Volar en el aeropuerto de Oakland y se encuentra a 40 min. De comestibles, restaurantes y todo a una milla. La habitación tiene una cama de matrimonio, gran armario y una mesita de noche. No hay televisión en el dormitorio. El baño es un baño de la sala, que se comparte sólo con nosotros, si estamos en casa los fines de semana. (La mayoría de los días de la semana que no lo son)
En el agua, el agua profunda con un bote de 20 minutos en llegar al agua rápido. centrado en el medio de las tierras agrícolas, un gran bote, pesca, flotando. Supermercado a menos de una milla de distancia.
Kate and Ken were such warm and loving couple. Who made us feel right at home. The beautiful home sits right on the lake, beautiful view, relax on the deck with comfy hammock. Truely a fun place to stay, we would love to go back visit again, and again.
Teresa
2016-10-04T00:00:00Z
Nice house . I couldn't meet the hosts but the communication was great & the house was very well appointed !
Randeep
2016-12-09T00:00:00Z
They are wonderful hosts and have everything ready for their guests. They even texted me a flyer for an event happening in their neighborhood, a Christmas Parade. I was able to invite some of our grandchildren to the house for hot chocolate and cookies afterward. It is a great place to stay in winter. I was able to sit on the deck in 80 degree weather and soak in some sunshine and the terrific view.
loretta
2016-12-06T00:00:00Z
Had to book on the day of arrival. Ken and Kate got back to me within minutes of booking and had everything ready. They were very hospitable, opening up everything in the kitchen for our use and consumption. Literally every need was met. Very quiet. Easy access. Beautiful Bay views and dock. A vacation destination to enjoy.
loretta
2016-11-19T00:00:00Z
This was our second stay with Ken and Kate. Every detail is taken care of. They are friendly and welcoming and we have everything we need. Their place is just as pictured, clean and beautifully decorated. We feel very grateful to have found such a nice place to stay.
loretta
2016-12-01T00:00:00Z
This was a fabulous place to stay. The hosts were amazing and very friendly. We would definitely stay here again. Thank you both again so much!!
Diana
2016-09-06T00:00:00Z
Oda Tipi
Özel oda
---
Mekan Türü
Ev
---
Konaklayacak Kişi Sayısı
2
---
Yatak odaları
Discovery Bay, California, ABD
The host canceled this reservation 131 days before arrival. This is an automated posting.
Adam
2016-03-03T00:00:00Z
The listing description and pictures were accurate. The house and neighborhood is very warm and inviting. My group was in the area for work and it was a nice to come to a home rather than stay in a hotel. The place was perfect for our 3 week stay. We bought groceries in the nearby grocery and just really enjoyed being in a comfortable home setting. We didn't get a chance to enjoy and take advantage of the waters but the setting is amazing. Would recommend the house to anyone in the area.
john
2015-02-01T00:00:00Z
We had a fantastic time at Katherine's house. She was very quick to respond to messages and very helpful throughout the process. The house was lovely (especially the outside deck!). I would highly recommend this location for a nice relaxing weekend and nice outdoor dining and cooking.
reza
2015-10-26T00:00:00Z
The house and area was beautiful. Very comfortable and the neighbors were very pleasant.
Matthew
2015-07-27T00:00:00Z
This is a very nice home with a lot of good amenities such as soft water and filtered drinking water. The patio is amazing. Plenty of room. Great kitchen and BBQ. And Catherine was very accommodating and welcoming.
Ralph
2015-10-19T00:00:00Z
We booked this house for the new year eve (and day before) and absolutely loved it. House was clean, open and has a beautiful view of the lake. Listing is pretty accurate in describing the property, only thing is that the TV was not working but Catherine notified us well before the reservation as the previous host found out and there was not enough time to replace it. Although I never met Catherine but she communicated well and we had no issues whatsoever in finding the house and checking in. She, in fact, agreed to our request of late checkout as well. If I get a chance, I will definitely stay again.
Rahul
2015-01-02T00:00:00Z
Oda Tipi
Tüm ev/daire
---
Mekan Türü
Ev
---
Konaklayacak Kişi Sayısı
8
---
Yatak odaları
Discovery Bay, California, ABD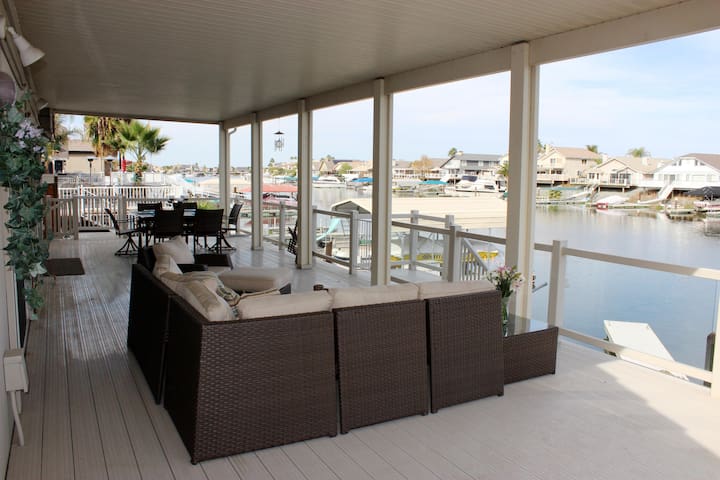 Hermosa habitación con una vista de la ventana de ancho de 8 pies del agua.
Great location to stay at in Discovery Bay! Cozy bed with water view! Nice, clean, modern bathroom! Very convenient for boaters! Great communication. Will definitely stay there again!
Kelly
2016-11-07T00:00:00Z
Oda Tipi
Özel oda
---
Mekan Türü
Ev
---
Konaklayacak Kişi Sayısı
2
---
Yatak odaları
Discovery Bay, California, ABD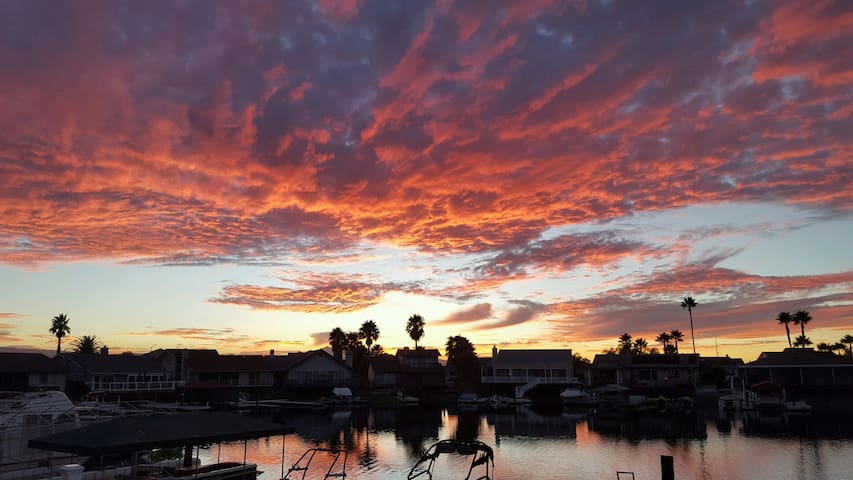 Tam fiyatlandırmayı görmek için tarihleri görün. Ek ücretler uygulanır. Vergiler ilave edilir.