La casa è immersa nella tranquilla campagna ennese. La dimora è composta da una salotto, un'ampia cucina, una camera da letto matrimoniale con letto a baldacchino, 2 camere singole e due bagni. Dalla cucina si accede a una grande terrazza e ad un giardino a completa disposizione degli ospiti. La casa è arredata in modo creativo secondo arte, tradizione siciliana e stile shabby chic. Molto comoda, tranquilla e con un'anima romantica è l'ideale per coppie, famiglie ma anche per solitari.
Un ambientazione creativa e inusuale, quasi ogni singolo componente dell'arredamento e' stato pensato, creato da materiali poveri e rinato a nuova vita !
Une famille adorable, exceptionnellement accueillante, qui nous a fait partager l'amour de sa maison. "Maître Giovanni" l'a construite de ses mains et est en train de finaliser les extérieurs, tandis que son fils fabrique des meubles et objets de décoration uniques et originaux. Belle vue sur Enna et calme de la campagne.Notre séjour fut trop court et nous reviendrons avec plaisir.
Irene
2017-03-26T00:00:00Z
Great hosts, very kind people. The place is extraordinary, like a palace with an incredible view of old city of Enna.
Tomislav
2017-02-25T00:00:00Z
Oda Tipi
Tüm ev/daire
---
Mekan Türü
Daire
---
Konaklayacak Kişi Sayısı
4
---
Yatak odaları
Enna, Sicilia, İtalya
In the center of Enna, very close to "Duomo" and the Castle of Lombardia you can find the "giardino di Cerere" apartment. The apartmen has 1 bedroom with double bed, a living room with sofa bed, kitchen and a beautiful garden
in the apartment you can find a bed room with double bed, a living room with sofa bed, a kitchen, internet (wifi just in living room and kitchen) and a garden with a beautiful view of Enna
The appartment is in the oldest area of Enna, between the suggestive San Biagio and Valverde (URL HIDDEN) is very close to Duomo, Varisano museum, San Michele church and 10 minutes walking to the Castle. Around the area you can find, bar, restaurant shops and supermarket
Le point fort de l'appartement est le jardin et la terrasse parfaite pour prendre le petit déjeuner. L'appartement est confortable et bien équipé. Pierluigi est très sympathique. Il a mis à disposition son garage et nous a conseillé un très bon restaurant.
EMILIE
2016-07-21T00:00:00Z
Pierluigi was an excellent host, very friendly, customer oriented & helpful. He made our stay in his apartment so comfortable as we were at home. His responses were quick & informative while I was booking the apartment. We stayed 1 night in his apartment. I faced with some troubles with my navigator on the way to Enna, he was kind enough to meet our car on the way from autostrada & followed us till the home. The apartments is clean, good equipped, has everything that the traveler may need during the stay. It has a kitchen + living room with a sleeping place + separate bed-room & even a small garden at the entrance where you can drink a coffee in the morning. Location is in the city center & one can reach the town's points of attraction very easily by foot. There was a breakfast & everything to make a coffee or tea. I would recommend this apartment & Pierluigi as a host to my friends.
Alexandrina
2015-08-31T00:00:00Z
La casa se encuentra a pocos metros del Duomo de Enna, por lo que su ubicación es ideal. Para llegar a la casa no hay que temerle a las angostas calles italianas. Tomar nota que hay parking disponible! Yo no había reparado en eso y tuve la suerte de encontrar aparcamiento relativamente cerca. Pero tenerlo en cuenta ya que la entrada al parking es anterior a la llegada a la casa. Si te pasas hay que dar una vuelta para poder volver. La casa está muy bien puesta. El jardín es hermoso, la habitación espaciosa. Nos recibió muy bien la madre de Pierluigi, nos dejó todo preparado en la nevera y nos indicó distintos lugares para cenar. Todos muy amables!
Luciana
2016-07-10T00:00:00Z
Pierluigi was the best host that I have ever had on AirBNB. He was mindful, an excellent communicator, and helped us every step of the way, from recommending the best restaurants and pastry shops and even going WAY out of his way and shipping a few things that I had accidently left there to my home in Rome. You are in the best hands possible with him. The apartment itself is in a prime location with an amazing view. There is plenty of space, a kitchen with all that you need, and a very comfortable, large bed. When we needed olive oil to cook, Pierluigi even brought some to us to save us a trip to the store. We are so grateful. You will not be disappointed with this place!!! Enna was also one of our favorite stops in Sicily.
Luke
2016-04-01T00:00:00Z
Giornate splendide al sole e alla frescura del "Giardino di Cerere"...o mettendo 'a finestra a vanedduzza... e l'intrico di antiche strade del centro storico dell'amata Enna, in questo belvedere di Sicilia. L'appartamento di Pierluigi, la sua cordialità, sono un approdo sicuro e un punto di partenza validissimo, sempre.
Antonio
2016-04-18T00:00:00Z
Il "Giardino di Cerere", sempre casa!
Antonio
2016-05-23T00:00:00Z
Great place to stay! We staid just for a brief stop but i definitely recommend Pierluigi's place... The place is wide and furnished with all needed. The garden is lovely and in april it smelled jasmin everywhere... Plus, Pierluigi has been a super helpful guest, he came to fetch us and show us the way, even let us use the garage (useful in Sicilia...), and provided advices on the town's attractions and restaurants.. Warmly recommended!
Lauriane
2016-04-25T00:00:00Z
We had a wonderful stay in Pierluigi's house with its lovely garden. The location is perfect for wandering the old town. Check out Cafe Italian for great coffee. Pierluigi was very helpful in picking us up and dropping us at the bus station and very interesting to talk with about Sicily. Highly recommended.
Nina
2016-04-30T00:00:00Z
Oda Tipi
Tüm ev/daire
---
Mekan Türü
Daire
---
Konaklayacak Kişi Sayısı
4
---
Yatak odaları
Enna, Sicilia, İtalya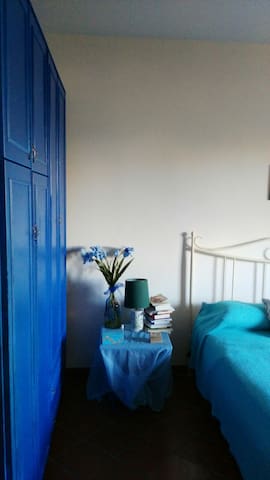 Il mio alloggio è vicino a ristoranti. Il mio alloggio è adatto a coppie, avventurieri solitari e chi viaggia per lavoro.
Oda Tipi
Tüm ev/daire
---
Mekan Türü
Daire
---
Konaklayacak Kişi Sayısı
2
---
Yatak odaları
Enna, Sicilia, İtalya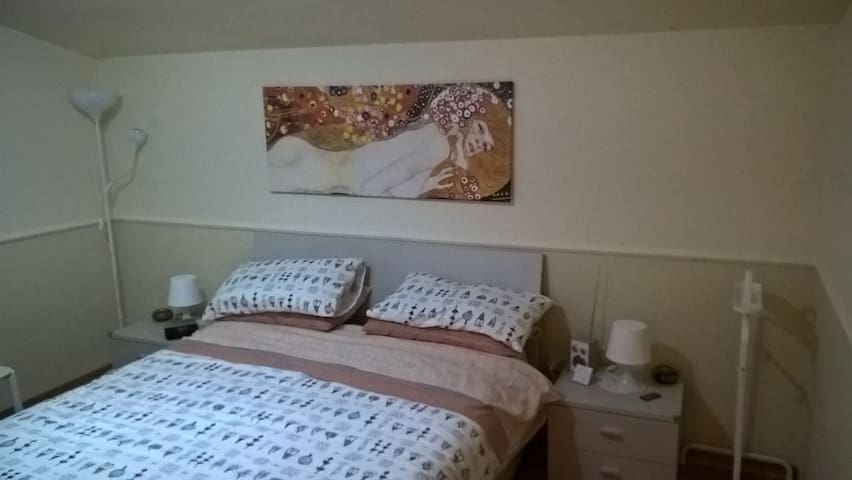 Delizioso appartamento composto da un soggiorno , cucina , da uno spazio relax con divano letto , e da una camera da letto molto ampia e comoda . E' presente uno spazio esterno attrezzato dove poter pranzare in totale privacy . L'appartamento si trova al centro di Enna , nelle vicinaze sono presenti un market , una macelleria , un piccolo Ristorante/Enoteca
Oda Tipi
Tüm ev/daire
---
Mekan Türü
Daire
---
Konaklayacak Kişi Sayısı
4
---
Yatak odaları
Enna, Sicilia, İtalya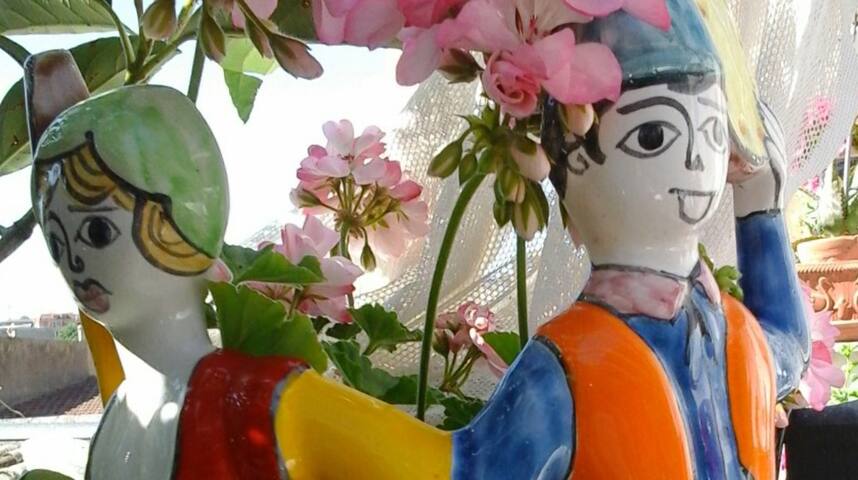 A flat that stays in the very hearth of Enna, far from city traffic but at the same time perfectly linked with all the city areas. A perfect stop in the middle of Sicily, and a nice surprice to discover its inlad so reach of things, people, colours.
The flat is new, clean, confortable, the decor is simple and functional. It is in the city centre very connected linked to all the city focus, it is close to food places, it is niche of the centre so that you can stay there relaxing. At home you will find clean towels, beds tidy, tooth paste, shampoo, showergel, in the kitchen fresh water, juices and a basket with coffee, tea, biscuits, rusks, milk. Occasionally I relax preparing sweets or picking fresh fruit that I bring to my guests to let them try what Enna has to offer.
The area around is very quiet and silent. Enna is everywhere a safe place. People walk all around all day long. From there you can reach every part of the ancient Enna, it is easy to reach coming from the bus station, and out from the Route A19 crossing Sicily.
Crisitina has a generously sizes apartment close to the centre of Enna but in a quiet location. It is very clean and tidy and comfortable enough. The balcony from the lounge and kitchen has some stunning views. There is plenty to do around Enna and this makes for an ideal base to explore the region. Cristina was very helpful, knowledgable and friendly with a good command of English.
Nathan
2015-08-13T00:00:00Z
Nous avons eu de nombreux contacts par mail avant notre arrivée, Cristina nous a accueillis à l'heure prévue dans son agréable appartement, nous avons apprécié de trouver café, thé, lait, et même des petits pains pour le petit déjeuner, et même un délicieux gâteau maison!
marie
2015-09-22T00:00:00Z
Christina was very helpful: she met us at the bus station and gave us a ride to the apartment (it was walking distance but we had a lot of luggage and a baby). She left us lots of snacks and a home-baked treat. Best of all, she gave us a guided tour in English of Villa Romana del Casale (the mosaics are astounding). The apartment is spacious, if Spartan, but Christina said she is planning to add more furniture next year when she is done refinishing it (that's why she has not put up photos yet). The beds are comfortable and the kitchen has most things you'd need (except paring knives). A supermarket is just a few blocks away. The view over the valley from the kitchen and living room is wonderful. However, the toilet runs sometimes or makes loud noises when refilling. A sofa and a washing machine would be useful additions. If you don't have a car (as we didn't), it's a long walk to the area of the duomo, the castle, and the main strip of restaurants in Enna Alta. Streets are narrow and jammed with cars, which makes walking a bother (especially when pushing a baby stroller). During much of our time there in late September, Enna Alta was in a cloud, with only white out the windows (no view) and the streets shrouded in cold mist. Apparently that's common during the cooler months and takes away much of the benefit of staying up on top of the hills.
Chris
2015-10-03T00:00:00Z
Cristinas's apartment is gorgeous, you won't regret staying there! Very clean, nicely fitted, spaceous and tastefully furnished. Big bedroom with a very comfortable mattress. We had such a quiet relaxing night there! The kitchen is very well equiped and Cristina left water, tea, etc. for us. It is located in the first floor of a secure development with an nice balcony overlooking the mountains, big enough for 2 chairs and watching the sunset. The apartment is in a niche corner of Enna, very close to the historic centre. Free parking outside too! Cristina is really cool, super helpful, speaks fluent spotless english and took us around town to meet her friends. A real Enna experience! We didn't want to leave any more. Definitely recommended!
Sabine
2015-07-06T00:00:00Z
Good location. Large rooms comfortable and good facilities. Helpful and friendly host
Rex
2015-10-07T00:00:00Z
Cristina is an excellent hostess, very accommodating and welcoming. The apartment was very nice and had an excellent view of the valley below. We came by train but unfortunately the bus from the station to Enna was out of service during our stay- Cristina left us to the station which she didn't have to do and for which we were extremely grateful.
colin
2015-09-17T00:00:00Z
Cristina est une hôte formidable ! L appartement est spacieux, très propre et possède l une des plus belles vues de Enna.
fabien
2015-07-19T00:00:00Z
The reservation was canceled 11 days before arrival. This is an automated posting.
Kili
2015-04-13T00:00:00Z
Oda Tipi
Tüm ev/daire
---
Mekan Türü
Daire
---
Konaklayacak Kişi Sayısı
5
---
Yatak odaları
Enna, Sicilia, İtalya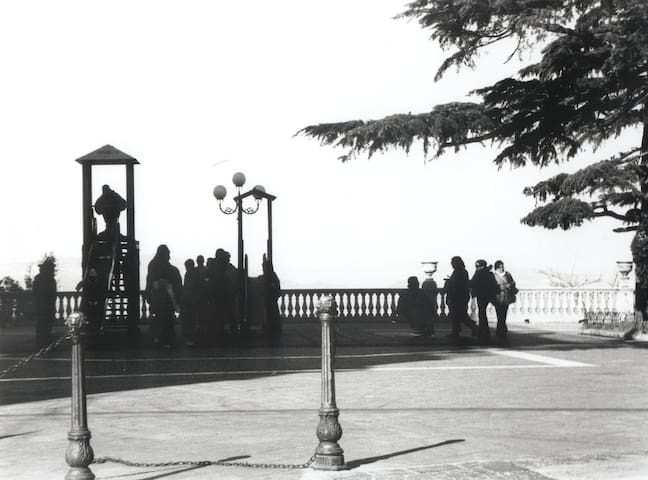 PICCOLO APPARTAMENTO DI 30 mq , AL PIANO TERRA CON INGRESSO INDIPENDENTE DAL RESTO DELL'ABITAZIONE, FRESCO IN ESTATE E TERMOMUNITO IN INVERNO, OFFRE 1 CAMERA DA LETTO, MATRIMONIALE O DOPPIA IN BASE ALLE VS. ESIGENZE, CUCINA , BAGNO E TV .
LA CASA SI TROVA ADIACENTE IL DUOMO, AL CENTRO STORICO, IN ZONA TRANQUILLA PER PASSARE DEI GIORNI PIACEVOLI IN RELAX. ENNA SI TROVA AL CENTRO DELLA SICILIA, E' VICINO A TUTTE LE PRINCIPALI METE TURISTICHE. POSSIBILITA' DI PARCHEGGIARE IN PIAZZA DUOMO GRATUITAMENTE OPPURE SOTTO CASA SE SI TROVA POSTO. A POCHI MINUTI DALLA FERMATA DEI BUS CHE RAGGIUNGONO LE PRINCIPALI CITTA', A SOLI 50 MINUTI DALL'AEROPORTO DI CATANIA, HR 1,30 DALL'AEROPORTO DI PALERMO E COMISO.
IL QUARTIERE NEL CUORE DEL CENTRO STORICO, A 100 MT DAL DUOMO E DALLA CENTRALISSIMA VIA ROMA, DOVE TROVERETE FARMACIA, BAR, RISTORANTI E ALTRO.
Ottima accoglienza e massima disponibilità. Grazie !
Francesco
2016-05-18T00:00:00Z
The apartment is very well situated. Enna was quite calm at this time but beautiful. Maria is a lovely host and even if you dont speak italian everything works perfect;) thanks again.
Lina
2016-09-07T00:00:00Z
Super Wohnung, sauber, klein aber gemütlich. Sehr central gelegen, direkt in der Nähe der Kathedrale, mit gute Parkmöglichkeiten. Maria ist eine top Gastgeberin. Immer wieder gerne! Grazie Maria!
Anca
2016-09-18T00:00:00Z
Maria was very accommodating - we got stuck in Enna in deep snow and she allowed us to stay extra nights without any problems
Ruth & Frank
2017-01-06T00:00:00Z
Ottima casa e ottimo Host tornerò di sicuro
Andrea
2017-01-03T00:00:00Z
l'accoglienza è stata veramente ottima e ci siamo trovati nel posto giusto al momento giusto! La posizione è strategica per visitare tutta Enna!
maria lina
2016-03-27T00:00:00Z
Maria hat uns angerufen, Ort und Zeit wurden verabredet und exakt eingehalten. Die Wohnung liegt absolut zentral in der Nähe des Domes, aber dennoch ruhig, da keine Fahrstraße am Haus vorbeiführt. Parken war überhaupt kein Problem. Das Frühstück war überaus reichhaltig mit lokalen Spezialitäten, die Küche komplett ausgestattet und sauber. Die Wohnung liegt im Erdgeschoß und war im sizilianischen Sommer schön kühl.
Norbert
2016-06-08T00:00:00Z
Quartier d'accès difficile en voiture
Jean-Loup
2016-10-25T00:00:00Z
Oda Tipi
Tüm ev/daire
---
Mekan Türü
Daire
---
Konaklayacak Kişi Sayısı
2
---
Yatak odaları
Enna, Sicilia, İtalya
The flat is in the centre of a lively area, close to supermarkets, bakery, restaurants, bus station, gas station, coiffeur, bars. It's the perfect location to visit the central area of Sicily, and to see the traditional procession of the Holy Friday
Grazie per averci ospitato.
Ciccio
2016-07-19T00:00:00Z
Lieu très calme et parfait! La mama ma donné des produits de sa ferme pour un petit déjeuner délicieux ! Parfait
Thomas
2016-11-03T00:00:00Z
A very cute apartment in a very beautiful city! Francesca and her sister were adorable and full of good attentions! The place is to be seriously considered if you're planning to stay in Sicily! Thank you so much again!
Medhi
2015-08-03T00:00:00Z
Un super accueil de la maman de Francesca et de sa soeur, un appartement fonctionnel et fidèle aux photos. Merci beaucoup! (Il ne manque que la wifi)
Agathe
2016-09-04T00:00:00Z
Francesca es una anfitriona muy simpática, amable y atenta. A pesar de pasar tan sólo una noche en el apartamento, tuvo varios detalles con nosotros, como dejarnos fruta riquísima! El apartamento es pequeño pero muy acogedor, y el sofá cama donde dormimos era muy cómodo. Muchas gracias Francesca!!
Núria
2014-09-03T00:00:00Z
nous avons ete bien acceuillies par Francesca qui nous a donne de precieux re4nseignements pour notres sejour en Sicile. Le studio est bien situe dansd le centre d Enna et est agreable a vivre.
laure
2014-11-14T00:00:00Z
It was a pleasure to meet Francesca and to stay in her lovely flat. It is a perfect 'bolthole' to visit to explore central Sicily. We stayed for one night whilst travelling from Catania to Cefalu. Enna is a beautiful town offering lovely views of the surrounding region. Francesca is a friendly host, I highly recommend staying in her Studio.
James
2016-06-22T00:00:00Z
Super accueil de la part de Francesca. Nous avons eu l'excellente surprise de trouver des produits frais cultivé par ses soins dans le frigo à notre arrivée. Appartement conforme aux photos.
Ronan
2016-09-07T00:00:00Z
Oda Tipi
Tüm ev/daire
---
Mekan Türü
Daire
---
Konaklayacak Kişi Sayısı
2
---
Yatak odaları
Enna, Sicilya, İtalya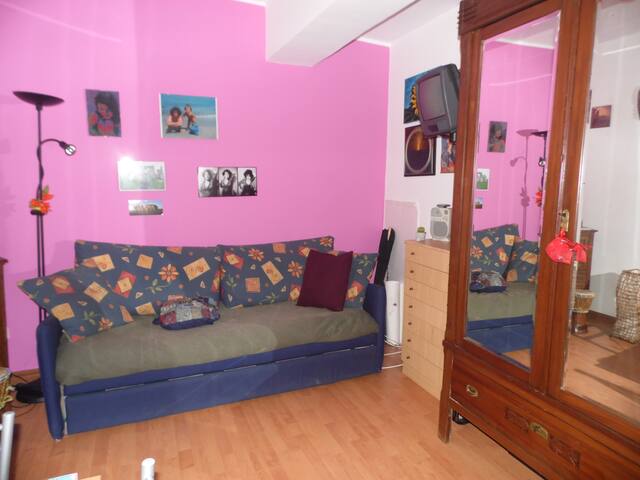 Apartment with three bedrooms overlooking three related spacious bathrooms . E ' can use the large common area with the possibility of access to the terrace from which you can see the most beautiful sunsets of the island .
Set in the centre of Enna, B&B Enna Inn Centro offers elegant rooms. Guests can enjoy the sun terrace featuring panoramic views of the surrounding countryside, and free Wi-Fi throughout.
La posizione centrale della residenza vi permetterà di visitare le bellezze artistiche della città autonomamente e a piedi, senza dover incorrere nell'uso obbligato dell'auto. Lo Staff, giovane e dinamico, contribuirà a rendere il vostro soggiorno indimenticabile, offrendovi un servizio d'alta qualità. Inoltre il nostro personale sarà lieto di consigliarvi i percorsi migliori per la scoperta della nostra antica città.
le logement était conforme aux photos le gros inconvénient : c'est le parking, appartement centre ville et il n'y a rien pour se garer à proximité; de plus c'est une rue très étroite et passante
André
2016-09-24T00:00:00Z
Thank you so much for the nice introduction, Manuela. A quiet place with effectful heating system! And wonderful breakfast. Highly recommended!
Ruth
2016-03-27T00:00:00Z
Oda Tipi
Tüm ev/daire
---
Mekan Türü
Daire
---
Konaklayacak Kişi Sayısı
6
---
Yatak odaları
Enna, Sicilia, İtalya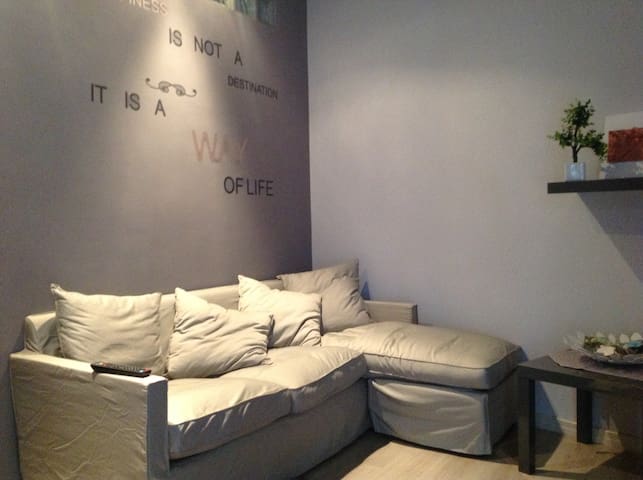 Il bivano sia trova al centro della città, e' adatto per un massimo di 4 persone.Dotato di Tv,lavatrice, e riscaldamento autonomo. Composto da una camera matrimoniale ,un soggiorno con divano letto matrimoniale, cucinino e bagno.
Oda Tipi
Tüm ev/daire
---
Mekan Türü
Daire
---
Konaklayacak Kişi Sayısı
4
---
Yatak odaları
Enna, Sicilia, İtalya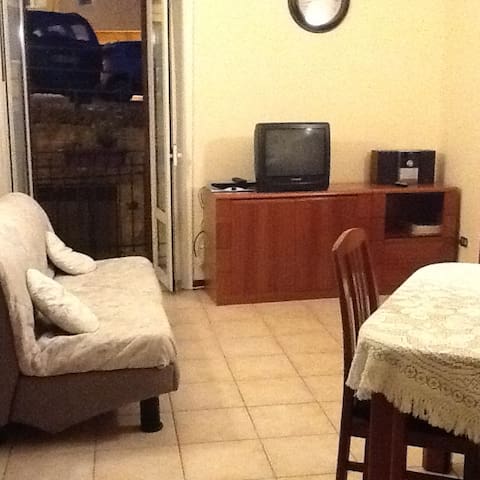 Il mio alloggio è una elegante casa del 900 recentemente ristrutturata ed ubicata vicino al Castello di Lombardia. A poche decine di metri troverete il Duomo ed il Museo Archeologico. Abitazione inserita in pieno centro storico, ristoranti, mezzi pubblici e servizi essenziali a pochi passi. Il mio alloggio è adatto a coppie, avventurieri solitari e chi viaggia per lavoro.
Lovely place right beside the castle. No wifi but it was never advertised anyway so I should've known. Very clean and modern
Emma
2016-09-18T00:00:00Z
I stayed two days in her flat. everything was really perfect, she was friendly and helpfull. the flat was very clean, very central in the city close to the castle. thanks a lot!
thomas
2016-09-08T00:00:00Z
Oda Tipi
Tüm ev/daire
---
Mekan Türü
Daire
---
Konaklayacak Kişi Sayısı
2
---
Yatak odaları
Enna, Sicilia, İtalya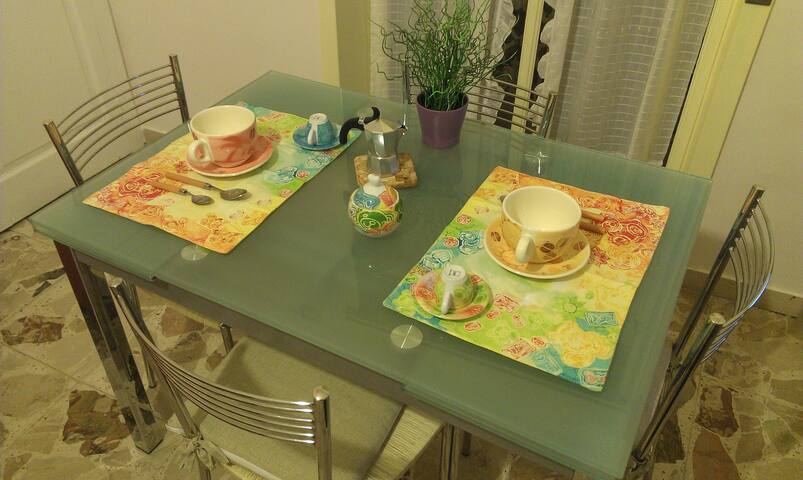 Sito in pieno centro storico a pochissimi passi dai maggiori monumenti della città, ristoranti pub, farmacia, market, musei. L'appartamento di nuova concezione offre tutti i sevizi per un piacevole soggiorno, aria condizionata, riscaldamento........
It was a very comfortable apartment at the center of Enna.The people from the apartment were really polite.The cleanliness was perfect.I hopw to be back soon!!!
Eirini
2016-09-09T00:00:00Z
Merci pour votre accueil très chaleureux,appartement bien situer proche toute commodités,c'est un appartement propre et mieux qu'un hôtel 3 étoiles
jean paul
2016-08-18T00:00:00Z
The host was extremely nice and helpful. The house is actually much better than it looks like in the pictures. Great heating system which can be very pleasant even in cold winter days. The internet connection is quit slow. Aside from having some stuff for the first breakfast that was a very nice detail, there was some more payable drinks and snacks a kind of mini bar hotel style which seems a bit out of airbnb concept. Overall experience ... great!
Mecca
2016-12-31T00:00:00Z
Bellissimo e nuovo appartamento, centralissimo e comodo.Pamela e Giuseppe gentilissimi è disponibili. Consigliatissimo
Francesco
2016-08-29T00:00:00Z
La casa de Pamela en Airbnb es preciosa y está totalmente equipada. Además, los anfitriones fueron muy amables y nos explicaron todo lo que podíamos visitar y lo que no debíamos perdernos de Enna y alrededores. Estuvimos muy a gusto en su casa.
Ana
2016-08-27T00:00:00Z
This place was very beautiful like you see in the pictures. The hosts met us and gave us a great amount of detailed information about sights to see and places to go. I would encourage them to write these things down as we got so much information that we couldn't remember the most basic like where to leave the key. We appreciated the info on parking our car. They were very friendly and anxious to share about their properties and their decorating ideas. The place was beautifully decorated.
Margee
2016-10-08T00:00:00Z
Oda Tipi
Tüm ev/daire
---
Mekan Türü
Daire
---
Konaklayacak Kişi Sayısı
6
---
Yatak odaları
Enna, Sicilia, İtalya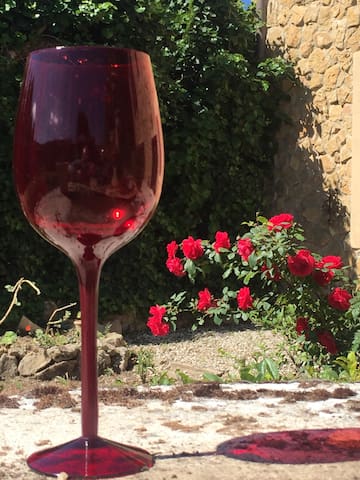 Appart. the 3rd p. /lift; Parking or use boxes; enna quart low. university; tobacconist, market, bus.Stanze terminal with key, orthopedic bed, bedside table and desk with bajour, wardrobe, dressing table, chairs, view of henna and ancient castle. Use kitchen / refrigerator capacity 220 L, good breakfast for reservations of more than one night at a typical pastry bars nearby. Bathroom with washing machine use. Heating heating .Coibentazione thermal and acoustic .WIFI
L 'apartment consists of 5 single most common areas in 3 of the 5 rooms there are three university students until June, the 2 rooms vs. available rooms are well insulated acoustically, equipped with heater and .l apartment key personnel is a residential neighborhood away from the traffic. Enna is in the center of Sicily, and the highway linking the Ionian the Tyrrhenian coast. And 'ideal for a restful stopover on the journey made and what to do.
The central position of the three most visited destination points, or Palermo, Agrigento and Catania (80 km from Catania, 120 km from Palermo, and a hundred from the coasts "of Camilleri" Montalbano). It is also 30 kilometers from Morgantina and Roman Casale
The host canceled this reservation the day before arrival. This is an automated posting.
Kristina
2017-03-22T00:00:00Z
Oda Tipi
Özel oda
---
Mekan Türü
Daire
---
Konaklayacak Kişi Sayısı
2
---
Yatak odaları
Enna, Sicilia, İtalya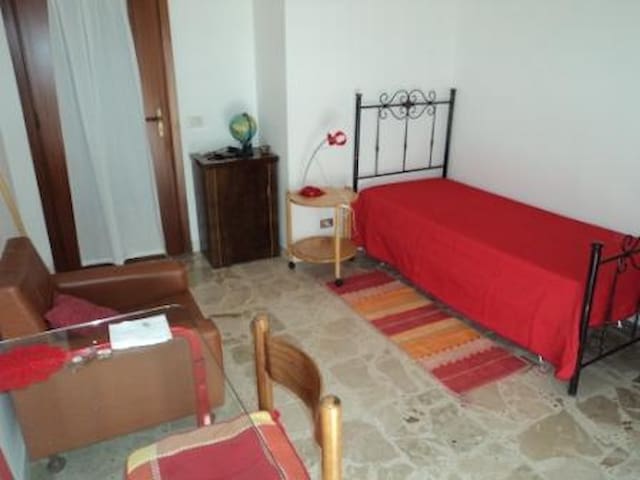 Un appartamento al 4 piano in condominio.Loft separa salotto,due divani comodi,da trasformare in letti, vetrata e terrazzino.Un cubo svetta al tetto con lucine, effetto grattacielo.Angolo pranzo,mobili antiquariato, parete cucina. Lavanderia, bagno con lavabo placcato in oro. Nel soppalco due camere letto, una matrimoniale (riproduzione cielo stellato), una con due lettini,separate da un corridoio con traiettoria luminosa. Un bagno di specchi ed un vano (URL HIDDEN) uomini soli.
La casa è abitata da me. E' curata nei minimi dettagli e la metto a disposizione perchè la abito una volta la settimana.Obbligatorie spese di pulizia della casa, una volta consegnate le chiavi,a fine soggiorno, che ammontano a 40 euro, prenotazioni minimo per 7 giorni.
Il quartiere è residenziale e servito di tutto. Dalla salumeria, ai ristoranti, al bar, alla pescheria, ai negozi di arredi e corredi. Sotto il palazzo si trova fermata autobus di collegamento con Enna bassa, che dista 300 mt, da cui partono tutti gli autobus per la Sicilia, e per Enna alta.
Oda Tipi
Tüm ev/daire
---
Mekan Türü
Daire
---
Konaklayacak Kişi Sayısı
4
---
Yatak odaları
Enna, Sicilia, İtalya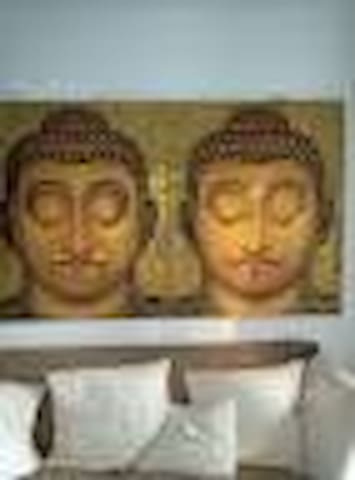 Camera singola privata luminosa, termoriscaldata, completamente arredata in appartamento con bagno e cucina in condivisione, recentemente ristrutturato, a pochi passi dalla piazza centrale del paese in pieno centro storico.
Situato al 4 piano di un edificio moderno in una Posizione invidiabile che ti permette di raggiungere in pochi minuti il centro nevralgico del paese con cimema, teatro, pubs, bar, pizzerie e ristoranti, uffici, banche e supermercati.
Essere immersa nel centro storico a 2 passi da tutto!
Laura is a very attentive host. I was delayed during my arrival and had no internet to warn her. She was kind enough to wait for me until 1 am for which I was enormously helpful. She made every effort to make my stay as pleasant as possible. The apartment is very spacious with lost of light and very centrally located. Off street parking is relatively easy to find.
Javier
2016-09-17T00:00:00Z
Oda Tipi
Özel oda
---
Mekan Türü
Daire
---
Konaklayacak Kişi Sayısı
1
---
Yatak odaları
Enna, Sicilia, İtalya
Nella sapiente coniugazione tra l'antico e il moderno; nel gioco dei disallineamenti dei tetti che come una cornice, adornano una perfetta ed armonica visione d'insieme. L'attico offre un incredibile senso di serenità in pieno centro storico.........
Pamela and her husband Giussepe were more than kind to receive us and let us in the apartment couple of hours before the scheduled time since we arrived earlier. The place is as it is on the photos, clean and great location too. Easy access with modern elevator... I recommend their apartment!
Ivo
2016-08-05T00:00:00Z
The hosts were more than friendly and helpful! A great apartment near the center with everything what you need. Recommend it!!!!
Manuela
2016-10-25T00:00:00Z
Oda Tipi
Tüm ev/daire
---
Mekan Türü
Daire
---
Konaklayacak Kişi Sayısı
4
---
Yatak odaları
Enna, Sicilia, İtalya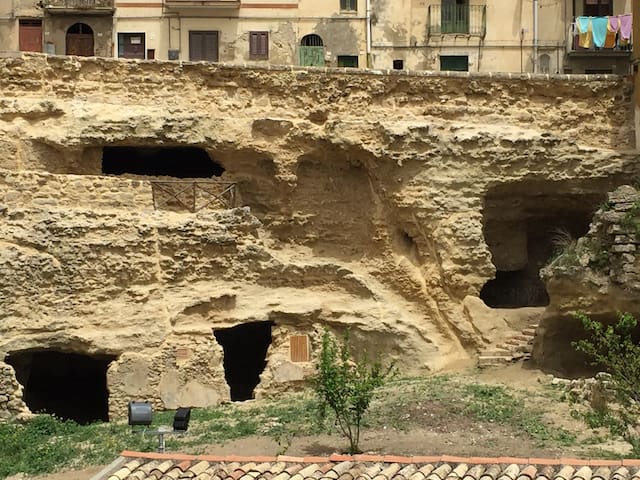 Il mio alloggio è vicino a trasporto pubblico e il centro città. Ti piacerà il mio alloggio per questi motivi: il quartiere, la luce, la comodità del letto e la cucina. Il mio alloggio è adatto a avventurieri solitari e chi viaggia per lavoro.
Oda Tipi
Özel oda
---
Mekan Türü
Daire
---
Konaklayacak Kişi Sayısı
1
---
Yatak odaları
Enna, Sicilia, İtalya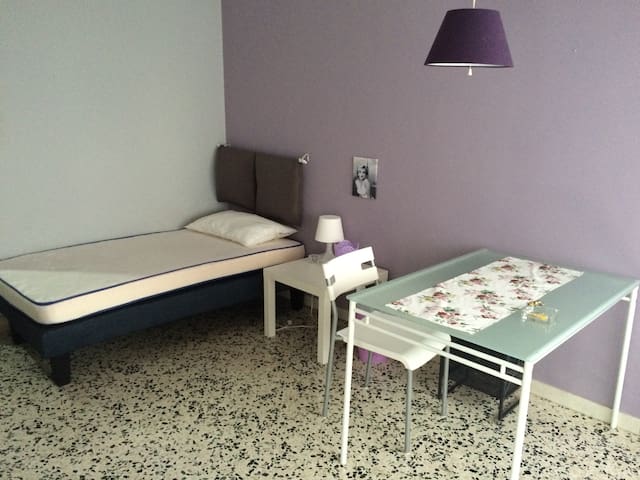 Casa cn 3 stanze da letto e 3 bagni, cucina in comune e salotto, all interno troverete lavatrice WIFI e tanti altri confort, zona centro storico fornita di supermercati tabacchi fermata bus parcheggio, e tutto vicino a chiese monumenti e opere d arte.
Oda Tipi
Özel oda
---
Mekan Türü
Daire
---
Konaklayacak Kişi Sayısı
2
---
Yatak odaları
Enna, Sicilia, İtalya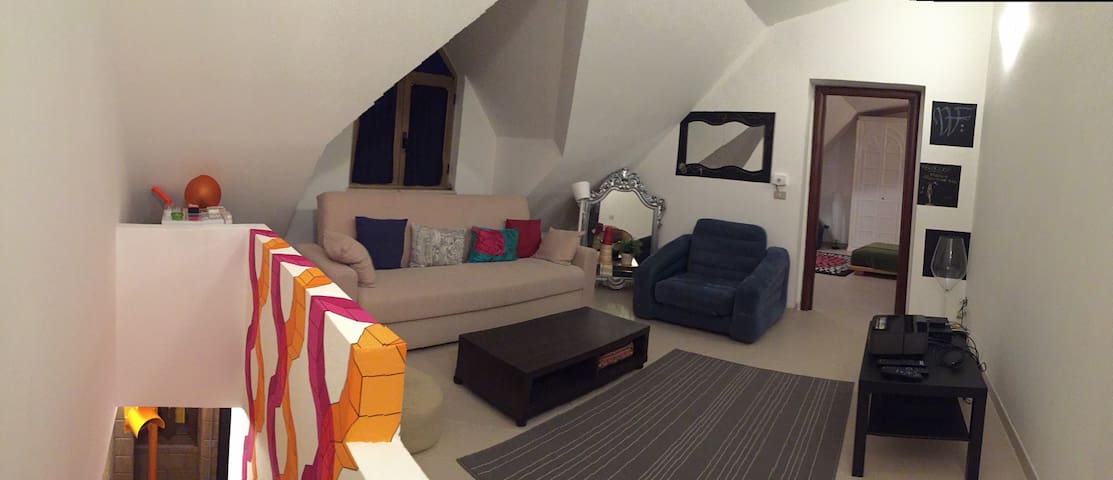 L'appartamento, in stile moderno e con un design contemporaneo, si trova al terzo piano di uno splendido palazzo ottocentesco. Servito da un ascensore e dotato di ogni comfort, Il Salotto della Città – Exclusive Home è ideale per famiglie e compagnie
Oda Tipi
Tüm ev/daire
---
Mekan Türü
Daire
---
Konaklayacak Kişi Sayısı
5
---
Yatak odaları
Enna, Sicilia, İtalya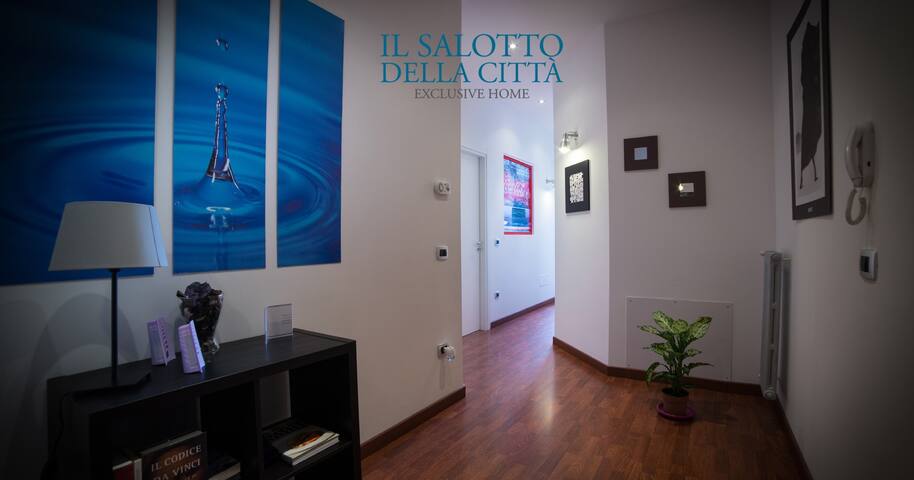 Enna - Airbnb
:
121

misafir değerlendirmesinden,

5

yıldız üzerinden ortalama

4.29

yıldız