Beautiful apartment is part of historic Sugar Pine. Main cabin was the old Madera Sugar Co. Pine Paymasters office during the lumber company's years (PHONE NUMBER HIDDEN). The largest, most successful lumber operation west of the Miss. 4500' elev. - nice & cool. When it's 95 in the San Joaquin Valley - it's 75 at out place. Very nice, shady patio is a great place to relax after an active day in Yosemite. I'll even BBQ for you one night!
Very private, very quiet and beautifully furnished.
We live in a very quiet, secluded area with much beauty and history.
We had a great time staying at this cabin! It is in a great location; convenient to visiting Yosemite which was important to us. Instead of providing breakfast, Terry provided a welcome barbecue! My husband LOVED the ribs he made. We really enjoyed the mascot, Bootsie (his very cute small dog), as well! We had great conversations, and really appreciated the hiking recommendations from his buddy, and the dinner recommendation from Terry himself. What a great community Sugar Pine is! Would highly recommend staying here!
Stephanie
2015-09-27T00:00:00Z
My friend and I went on a 12 day national parks road trip and Terry's was our last stop, and we stayed for 3 nights. Terry was an amazing host- after a full day hiking, his dinner was just what we needed. BEST corn and watermelon salad I've ever had! Totally stealing his recipe. The room is a cute, clean, and comfortable studio and it was a pleasure coming back to it at night- plus it was great to cook our own meals after a week of eating packed rations and restaurants. He had a lot of great recommendations for local ears and sights. I would stay here again- and plan to stay longer.
Connie
2016-09-27T00:00:00Z
The host canceled this reservation 2 days before arrival. This is an automated posting.
Philipp
2016-08-18T00:00:00Z
Terry was very accommodating and the location is convenient. The night we arrived he cooked a tasty dinner for us and entertained us for the evening, sharing stories and talking football over some wine. The cabin is probably as close to Yosemite as you can get without lucking out on a campsite or spending a small fortune on the hotels inside the park. Very quiet neighborhood, also conveniently close to Oakhurst and it's easy to come and go as you please since the cabin is completely detached. Highly recommend this as an option if you're going to Yosemite. Recommend leaving Terry's by 7am to beat the crowds...
Colby
2016-09-05T00:00:00Z
We would definitely stay with Terry again - it was a great experience! First off, location location location. Don't get roped into staying somewhere far from Yosemite; you're going to be driving a lot in Yosemite anyway, so don't add extra time by staying somewhere inconvenient. Terry's spot is perfect! It's near to the gate and the Mariposa Grove and Glacier Point, etc! Also - Terry welcomed us after a long day of traveling with a delicious BBQ dinner!! It was nice to talk with him over a wonderful meal, and meet his cute dog, Bootsy. Thanks, Terry!
Joyce
2014-09-26T00:00:00Z
Terry is a fantastically accommodating host and person. The cabin is in a cool little neighborhood about halfway between Yosemite and Oakhurst which made it super convenient for our trip. Enjoy your stay if you end up booking it.
Joseph
2016-09-01T00:00:00Z
Terry made us very welcome, he is a great host. We enjoyed very much having dinner with him the first night and he then left us very much to ourselves. I was assured that if there was anything we needed he would have been available. The cabin is nicer than the photos indicate and very comfortable and quiet with everything you need for a quiet getaway. The location is very convenient for trips into Yosemite. I hope to visit again some day.
Maribeth
2015-06-12T00:00:00Z
The Sugar Pine Cabin was a delight -- quiet surroundings and an ideal location for visiting Yosemite. There is a bed and a futon (perfect for sleeping up to 4 adults), private bathroom, stovetop for cooking, microwave, coffee maker, and a small refrigerator for storing food. The bed was comfortable and the shower was great. It was the perfect place for us to relax after a long day of hiking. Terry was an awesome host who made checking in a breeze. He gave us great tips for visiting the park and surrounding area, welcomed us with a delicious dinner when we arrived, and even gave us some quick lessons on history :) Thanks for everything Terry!
Jennifer
2016-05-02T00:00:00Z
Oda Tipi
Tüm ev/daire
---
Mekan Türü
Daire
---
Konaklayacak Kişi Sayısı
3
---
Yatak odaları
Oakhurst, California, ABD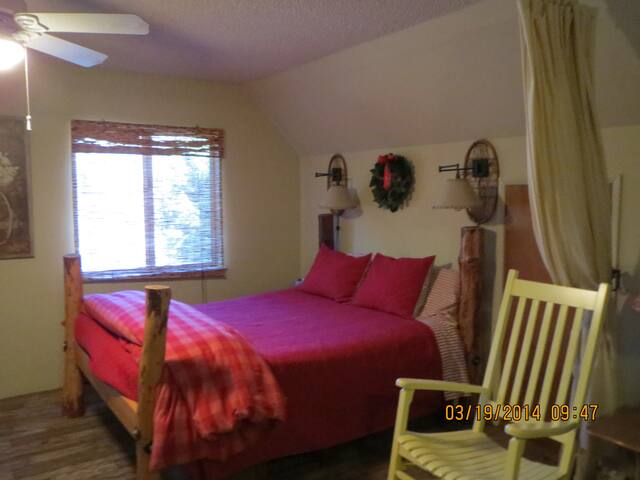 Fish Camp - Airbnb
:
96

misafir değerlendirmesinden,

5

yıldız üzerinden ortalama

5

yıldız
Tam fiyatlandırmayı görmek için tarihleri görün. Ek ücretler uygulanır. Vergiler ilave edilir.