Kanu zur Verfügung gestellt. Oder bringen Sie Ihr Boot auf den Fluss des St. Mary, genießen Sie erholsame Tage und erholsame Nächte auf der Florida / Georgia Linie. Schwimmsteg, Bildschirm Veranda, Küche, Bad. Schlafen 3-4, Fullsize-Bett. Zwischen Okefenokee Swamp und Cumberland Island National Sea Shore. Besitzer wohnen im Haupthaus auf dem Grundstück.
Zwei-Zimmer-Hütte mit Küche und Bad / Dusche mit Blick auf schönen St. Mary River. Privater Dock. Kanu zur Verfügung gestellt. Küche mit Mikrowelle, Kochplatte / Herdplatte und Kühlschrank. Charcoal Grill auf der Veranda. Bringen Sie Holzkohle. Willkommen Kajaks, Angelausrüstung, Boot etc. Full-Size-Bett im Schlafzimmer zu bringen. Zwei Doppel foutons im Wohnzimmer. Tolle Lage für Tagesausflüge nach Amelia Island, St. Augustine, St. Marien, Cumberland Island, Okefenokee Swamp, Jax Strand zu bleiben
Abgeschieden. Privatgelände. Das Haupthaus ist auf dem Grundstück
The visit went well and the cabin was very well located near the Okefenokee Swamp on the St Mary's River.
Samuel
2016-07-04T00:00:00Z
Did not meet the host in person, but was quick to respond and very friendly. Home was as described. The canoe was so much fun. Quiet, secluded, safe area. Plenty of space and activities.
Jennifer
2016-06-06T00:00:00Z
Host is extremely responsive and helpful. The cabin is a rustic beauty. We LOVED the large porch, dock and canoe. The river is gorgeous and the space perfect for a little R&R. We love to BBQ, so that worked perfect for us, but we did think electric stove top, instead of electric griddle as far as the kitchen is concerned and had one meal planned that we had to readjust with just griddle. So don't read that wrong like we did, the electric griddle is great for eggs, bacon...etc. little harder for boiling rice.. etc. Overall, wonderful spot, great host and a repeat trip will hopefully be on our future.
Monique
2016-08-01T00:00:00Z
A great place for relaxing . Really enjoyed the dog and cats. Right on the river, caught 2 fish
Donna
2016-11-12T00:00:00Z
The place was great and Bishop was very helpful. There is a skillet and hot plate available to cook with but the skillet is very small so plan accordingly. Also, as mentioned in another review the water smells so be sure to bring water for drinking and cooking. Overall our stay was amazing and exactly what we needed.
Jonel
2015-12-31T00:00:00Z
Prompt and good commuication with the host. This place has so much going for it...great location for going to the Okefenkee Swamp (which was what I was there to do) and overlooking the St. Mary's River. Sitting out on the deck in the evening with a beer watching the birds and squirrels and the river was great after being out and around all day. When it got a little buggy, the screened-in porch was perfect. The cabin is basic but fine. I personally had a allergic reaction to the small bedroom and used the futon sofa in the living area for a bed. As I think some other reviewers have mentioned there isn't a real bed in the cabin, just the sofa and a fold-out chair. I had my Thermarest pad with me just in case, so was fine. I brought a microwave dinner with my other road food and didn't worry about cooking. Just enjoyed the wonderful setting.
Susan
2016-03-22T00:00:00Z
Great communication, good spot for an off the grid peaceful getaway, best location for seeing the real Florida-Georgia line.
Moore
2016-06-20T00:00:00Z
Great cabin we loved it. Basic, but just as described. Really handy for Okefenokee which is amazing.
David
2016-03-24T00:00:00Z
Oda Tipi
Tüm ev/daire
---
Mekan Türü
Kulübe
---
Konaklayacak Kişi Sayısı
3
---
Yatak odaları
Hilliard, Florida, ABD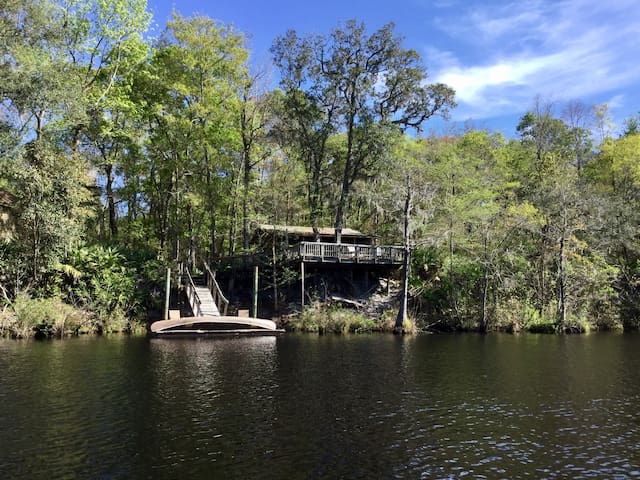 Fantastic location, spacious updated home, amazing hosts. Will book again.
Alex
2017-04-09T00:00:00Z
Oda Tipi
Tüm ev/daire
---
Mekan Türü
Ev
---
Konaklayacak Kişi Sayısı
9
---
Yatak odaları
Hilliard, Florida, ABD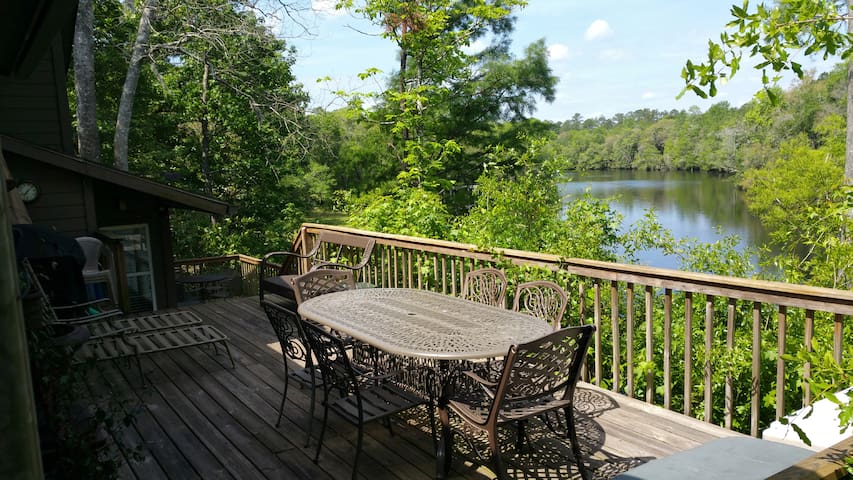 Welkom bij de River House! Gelegen op een hoge klif met uitzicht op de rustige St Mary's River, is deze ruime woning, omgeven door de rustgevende bladgroenten van de natuur ... Kom en schop je schoenen uit, rust en ontspannen in deze oase van rust ..
Deze spectaculaire huis kijkt uit over de Saint Mary's River en ligt op 45 minuten ten noorden van Jacksonville, Florida! Dit mooie huis is voorzien van een 50 'dock en twee grote dekken met uitzicht op de rivier, die worden verbonden door een brede trap. Absoluut ongerepte setting, verscholen tussen groene platteland en prachtige oude bomen, maar toch slechts enkele minuten van de steden van Folkston, Hilliard en Callahan. 35 minuten naar het historische Fernandina aan de Atlantische Oceaan en de stranden, (die ook uit het huis kan worden bereikt met de boot) 45 minuten naar het centrum van Jacksonville en minder dan 40 minuten rijden van Jacksonville International Airport. Deze comfortabele woning is onlangs vakkundig gerenoveerd en biedt hardhout en tegelvloeren, een grote master suite met een kingsize bed, een tweede slaapkamer die kan slapen drie, een derde slaapkamer die kan slapen twee, drie badkamers, een grote familie kamer (geschikt voor een ander twee op de comfortabele queen size uitklapbare Serta sleeper), grote hal en woonkamer met 15 'plafonds, sierlijsten, hardhouten kasten, granieten werkbladen, roestvrij stalen apparatuur, aangepaste blinds en zijden overgordijnen U kunt uw boten en jetski's te lanceren op een hoge kwaliteit boothelling faciliteit met een park en het strand een paar honderd yards down rivier. Deze woning is gelegen op een groot en een eigen mooi aangelegde en treed veel in een gevestigde, veilige en vriendelijke buurt, dat is zeer handig om de belangrijkste toegang tot snelwegen. Een stukje van de hemel en perfecte natuurlijke rust, maar toch gelegen met een uitstekende service op korte rijafstand. Plattegrond is open en zeer mooi stroomt - ideaal om te ontspannen en onderhoudend!
Rustige omgeving en super vriendelijke buren!
We enjoy the house a lot. He had a wonderful memories again. We are going back soon. We recommend this house 200%!!!
Marco
2015-03-01T00:00:00Z
The River House was totally beautiful and a comfortable home away from home. We were attending my nephews wedding at the Hilliard Mansion which was only 10 minutes away. We opened the front door to a lovely foyer, just like the photos. On the left was a queen bedroom, bath and closeted washer & dryer. To the right was the family room with the largest & most comfortable couch I've ever napped on (it's also a sleeper sofa which we didn't need), comfy leather chair, fireplace, TV & computer. Outside that door was the top patio overlooking the river below. Great view at sunset. The lovely master bedroom & bath is on the left also, up 6-7 steps. Then you travel down nine steps to the dining room, kitchen, bathroom and another bedroom with a full size bed with single bunk bed above. What a pleasure it was to use the kitchen. It was fully stocked with plenty of dishes, utensils, glasses, pots and pans. The lower patio was beautiful in the early, misty morning. A great place to sit with your morning coffee or to serve your eggs Benedict to the gang. We hosted a Florida Gators party on the Saturday night with the new bride and groom, new in laws and friends. Wifi was great so we all pulled out our iPads & cell phones to watch the game and grilled on the patio. The guys drowned some worms on the floating dock (23 steps down to the water). No luck fishing but Guy fun! We chilled out and just relaxed most of the week. We weren't looking for entertainment so we can't tell you about what else was going on in the area. We dined one evening in Callahan at Cedar River Restaurant and lunched at DQ in Folkston but the best times were having the families together for bonding and reminiscing. We didn't need to call Mark for anything. His manual contained all the necessary information. It would have been great to have brought the boat or kayaks but we were really there for the wedding festivities. Boats could be rented at the marina, we just never bothered to. This is a great home for a family reunion. Thanks Mark & Alice for sharing your river home with us. Jean, John, Pam, Jim, & Mel
Jean
2015-10-06T00:00:00Z
Accurate description, very idyllic, wonderful setting with fantastic comfort and amenities. Great location for solitude and the river was absolutely amazing.
HG
2016-03-27T00:00:00Z
Gorgeous and relaxing
Danielle
2017-01-09T00:00:00Z
The River house was lovely and the scenic views were beautiful. We enjoyed our stay very much.
Wayne
2015-03-08T00:00:00Z
What a great spot. Overlooking the river from the porch or the pier. You can swim in it also. The house is beautiful and well equipped with everything for your comfort. Mark communicated very friendly and promptly. Due to this all we had a great and relaxing experience at this great river house.
Jan-Willem
2015-04-30T00:00:00Z
The river house was great. Beautiful and relaxing. Mark was easy to work with, and always responded quickly.
Wilson
2013-11-11T00:00:00Z
This is a beautiful home tucked away by the St. Mary's River. If you are looking to relax and unwind without any distractions it is a wonderful choice! The river is beautiful to go out on. The water is pure and refreshing and it was great fun to jump from the floating dock into the water. There is a fish camp just down the road where you can rent canoes for $20 a day. The home has a multilevel deck overlooking the river and is sweet spot to enjoy family meals. The space easily accommodated four adults and two children. There is a children's room with a bunk bed that sleeps three, a guest room and master which each sleep two and one of our favorite features, a HUGE, comfy sectional couch which pulls out. (we didn't use it for sleeping but it's a nice bonus and could fit all of us to hang out in the evenings.) A great get away in a remote and tiny little town, right on the Florida/Georgia border.
Maggie
2013-07-30T00:00:00Z
Oda Tipi
Tüm ev/daire
---
Mekan Türü
Ev
---
Konaklayacak Kişi Sayısı
8
---
Yatak odaları
Hilliard, Florida, ABD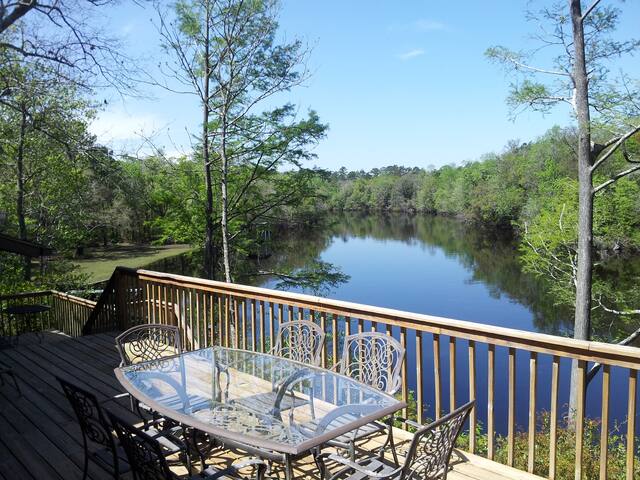 Ma place est à proximité des belles plages de sable fin, Cumberland Island Ferry, marais Okefenokee Park, Kings Bay Naval Base et de l'Aéroport international de Jacksonville. Vous allez adorer ma maison 1900 Folk victorienne pour sa décoration d'époque confortable et de style éclectique. Conçu pour l'élégance décontractée et l'hospitalité du sud Vous allez profiter de la chaleur et de confort lorsque vous entrez dans la porte. Mon endroit est idéal pour une escapade tranquille, raffinée ou romantique.
Idéalement situé dans le centre-ville de Kingsland, GA, à proximité des restaurants, Georgia Coastal Hwy. 17. Sel Poivre et le restaurant Thyme. achats locaux.
Very gracious host did everything possible to make us feel comfortable. We would definitely stay with Carol again.
Robet
2016-10-28T00:00:00Z
Oda Tipi
Özel oda
---
Mekan Türü
Oda + Kahvaltı
---
Konaklayacak Kişi Sayısı
2
---
Yatak odaları
Kingsland, Georgia, ABD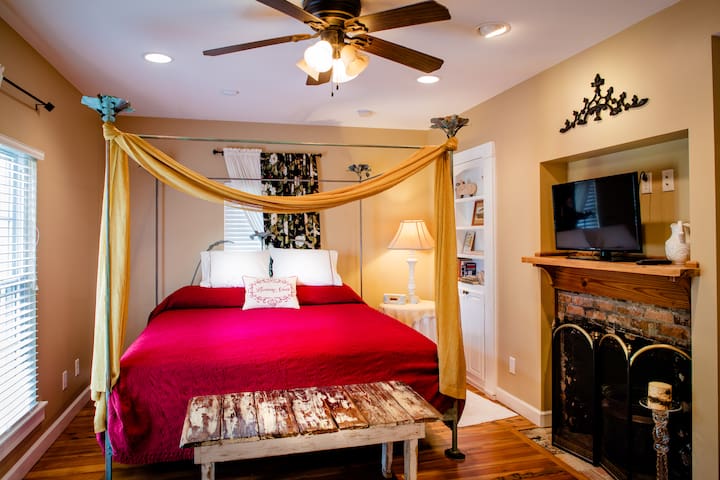 Mi lugar está cerca de las playas de arena fina, Cumberland Island Ferry, pantano de Okefenokee Park, Kings Bay Base Naval y el Aeropuerto Internacional de Jacksonville. Te va a encantar mi casa de 1900 Folk-victoriano por su decoración de época cómoda y estilo ecléctico. Diseñado para la elegancia casual y hospitalidad del Sur podrá disfrutar de la calidez y la comodidad al entrar en la puerta. Mi lugar es ideal para una escapada tranquila, refinada o romántica.
Esta habitación con encanto está en el primer piso y tiene un montón de apelación de la vendimia. Con suelos de madera rico, una gran cantidad de luz. Disfrutar de un baño de su privado lleno de burbujas en esta bañera con patas antigua magnífica. No hay problemas para conciliar el sueño aquí! Usted está seguro de tener un sueño tranquilo en este cómodo tamaño queen cama con ruedas. O si requiere instalaciones de baño para minusválidos, la primera planta tiene capacidad con un baño totalmente accesible.
Carol is a wonderful hostess, down to earth, pleasant, and her house is a wonderful restored 1900s home with all the right decorative touches. We stayed for business when we were exhibitors at St. Mary's Rustapalooza. Would recommend her place. Loved it.
Teresa
2017-03-12T00:00:00Z
Oda Tipi
Özel oda
---
Mekan Türü
Oda + Kahvaltı
---
Konaklayacak Kişi Sayısı
2
---
Yatak odaları
Kingsland, Georgia, ABD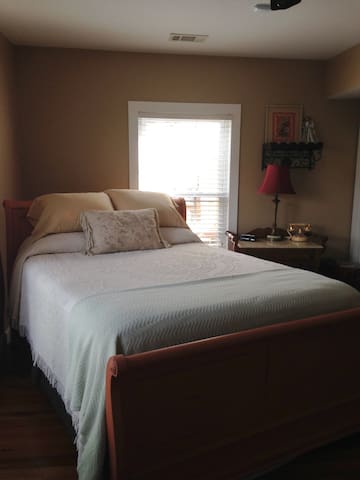 We had a wonderful weekend stay with Che & Curtis! The whole experience was easy and smooth from reservation to our departure, which is great, especially since this was our first Airbnb stay. While the reservation is for a private room, the hosts made it clear we were welcome to use most of their house as our own (including the kitchen, dining room, living room, screened-in porch area, etc.). Our room -- and the entire house -- was clean, organized, and welcoming. We were welcomed warmly and made us feel relaxed and taken care of; yet -- at the same time – Che & Curtis gave us plenty space and privacy. We barely even knew they were home most of the time. We would definitely stay here again, and we would recommend our friends and family to stay here if they ever have a chance to visit the area.
James
2016-05-31T00:00:00Z
The host canceled this reservation 10 days before arrival. This is an automated posting.
Mindy
2016-08-16T00:00:00Z
Another pleasant stay at Che and Curtis's house. They were friendly and welcoming. If you park on the grass be aware of the soggy spot near the power transformer.
Chris
2016-07-28T00:00:00Z
Che and Curtis made me feel very welcome in their home. Their home is clean and modern and relaxing. They were very accommodating and they live in a nice safe neighborhood.
Carolyn
2016-06-15T00:00:00Z
Che and Curtis Place was excellent I would stay there again, when in the area. The had specific instructions on getting to their home . I met Che the next day as we arrived late in the evening. Was and honor to stay at their place. Convenient and very comfortable. Place to park your car. The stay was for one night. I loved her friendly atmosphere. You will never regret staying there. Enjoy
Marjorie
2016-08-01T00:00:00Z
Great stay! Che and Curtis were very friendly and pointed us to a great local place for dinner. The room and bath were clean, comfortable and very pretty. We couldn't have asked for a better stay.
Mary
2016-04-24T00:00:00Z
It was a perfect stay. The first contact, check in, the time there and check out, everything worked perfect. The room, the bath room, the house, the location are wonderful, comfy, spacy and safe. Che and Curtis are wonderful hosts and easy to talk to. I can highly recommend this place. It was a home far away from home.
Denise
2016-04-22T00:00:00Z
Che and Curtis were fabulous hosts. They were very flexible with our arrival time and gave us simple instructions on how to get in. They also gave us directions on how to find their house-we didn't even need to use our GPS! Their home was lovely. We chose to stay here the night before spending the day on Cumberland Island and, if we make the trip again, we would certainly stay with Che and Curtis again.
Merrill
2016-07-16T00:00:00Z
Oda Tipi
Özel oda
---
Mekan Türü
Ev
---
Konaklayacak Kişi Sayısı
2
---
Yatak odaları
Kingsland, Georgia, ABD