Slow down, spend time downtown among the historic buildings. Yes, there is a Starbucks in town, but you may want to visit the little local coffee places like Fresh Market or College Street Pub for a big burger and a cold drink.
1 Private Bedroom with a Queen size bed and Private detached bathroom.
If you want some rest, peace and tranquility this may be for you. A train a mile away gets on the horn periodically, but other than that, our property is quiet, beautiful and a break from the norm of hotel stays. It works great as a basecamp for adventures all around.
Mark and Gale have a wonderful house in a very quiet neighborhood of Waxahachie - I stayed here for business but given the location near the lake it would be a great spot for a quiet weekend. The were gracious and accommodating hosts!
JAMES
2017-01-16T00:00:00Z
Awesome hospitality.
Crystal
2017-04-09T00:00:00Z
This is a beautiful place to stay in lovely surroundings. Mark and Gale obviously enjoy looking after their guests - they were really great company. We woke up to gorgeous views and fresh air - a real haven not far from Dallas. There is a very funny internal cat door with an amusing story attached - not to be missed! Thanks so much for a lovely stay.
Katie
2017-03-14T00:00:00Z
We had a lovely stay with Gayle and Mark. Their home was beautiful and comfortable. They are the perfect hosts. The setting was very picturesque and out in the country yet still close to town.
Elizabeth
2016-10-29T00:00:00Z
From the beginning I contacted Mark he made sure I was taken care off. The room and bed was very clean and great. I liked the secluded and quiet surrounding with walking distance to Lake Waxahachie and historic downtown only a few miles away. Mark and his family are very friendly and I felt home right away. Swimming in the deep salt water pool in the evening watching fireflies in the forest and listening to the cicada after a hot Texas summer day was simply unbeatable. Thanks again for your hospitality and for sure I come back next time I am in the area.
Uwe
2016-07-10T00:00:00Z
We had a fantastic experience. We were close to town which was important since we had gone up for the festival. We were able to access everything and be close enough that when we were exhausted we could come back and relax and watch a movie. The home is in a beautiful spacious country nook completely separate from the busy city. We truly enjoyed staying with Mark and Gail. They were very generous gracious hosts.
Elizabeth
2016-10-30T00:00:00Z
Both Gail and Mark were very warm and friendly. I was given complete privacy and when I went to the kitchen we had wonderful interesting discussions. The home was very clean and refreshing. One morning I walked around the neighborhood and felt completely safe. It's a beautiful neighborhood.
Kim
2016-09-25T00:00:00Z
Mark & Gale are one of the finest people I have ever met. They are great host, very friendly, helpful, trustworthy and their hospitality and availability was beyond expectation. I am so blessed to meet them. I had an amazing time during my stay. I would certainly come back for more.
Sudeep
2016-09-21T00:00:00Z
Oda Tipi
Özel oda
---
Mekan Türü
Ev
---
Konaklayacak Kişi Sayısı
2
---
Yatak odaları
Waxahachie, Teksas, ABD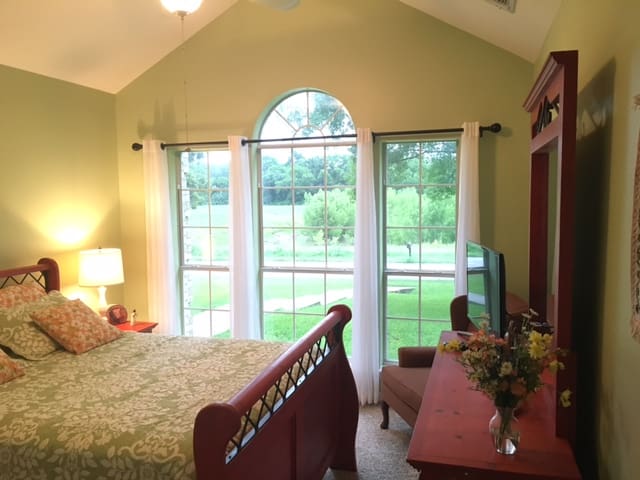 My place is located in the countryside, but very close to historic downtown square with shopping, restaurants, family-friendly activities and also a pretty painless 20-25 minute commute to Downtown Dallas. Reconnect with some things you might not have experienced in many years such as the sounds of passing trains, wild flowers, lightning bugs, and mooing cows.
Of the three rooms available upstairs, this first one off the stairs shares the bathroom located just off the stairway and has a full size tempurpedic bed.
My home is surrounded by cows and countryside and an incredible nature walking/bike path is at the end of the street as well as the historic downtown square. My favorite establishment to frequent around the square is College Street Pub. Also good is the Dove's Nest, Country Cafe, Bittersweet Bakery, Tuscan Slice (located north a ways on 77)
The perfect place to stay in the perfect location for work I was in Waxahachie to do. Gina was very gracious and the farmhouse is charming. Hope I will be in the area in the future. Would definietly stay there again.
Christy
2016-10-09T00:00:00Z
Gina was a wonderful host! My boyfriend and I set out to Waxahachie looking for some small town adventure and relaxation. We are both writers and our stay was tranquil, inspiring, and all around great! We arrived a little bit later than we expected, but Gina was super flexible and communicative. She was there to receive us when we arrived and gave us a tour of her beautiful home. Wow was it gorgeous. Our room was beautifully furnished, private, and comfortable. She was generous in providing us with delicious coffee and tea and cool water just outside our door and also very helpful in making recommendations to us for local food and sites to see. The house was just a short drive from the town square and very close to the hight way so getting around was very easy and fast. I would definitely recommend Gina's listing to anyone looking for a nice, quiet getaway.
Megan
2016-11-28T00:00:00Z
Gina was a great host. We were her very first guests and on our part, things weren't straightforward. We are on holiday (and part work) from the UK. My husband became very ill on the way to Waxahachie and after checking in at the house with Gina, I decided that he was going to need medical help. Gina was very helpful and supportive, directed us to the nearest hospital and remained in touch. My husband stayed in hospital for two days (so he never stayed at Gina's) but I went back and forth. Gina's place fortunately is close to the hospital. Anyway, Gina's Victorian home is lovely. She has restored it beautifully and it is warm and welcoming. My only wish would be that the bathroom could be ensuite with the bedroom, though it is the next room along the hallway. The bed was comfortable and the place was spotlessly clean. Would recommend it to others.
Gilly
2016-08-07T00:00:00Z
My husband and I only got to stay one night at Gina's house, but we will definitely stay here again when we are in the Dallas area. This house is really amazing and beautiful! It's an historic home that they have lovingly restored with modern comforts while maintaining the spirit of its era. We stayed in the room that has the ensuite bathroom which has a claw foot bathtub, so cool! Gina was very welcoming and made sure we had everything we needed/wanted for our stay. Our only regret is we couldn't stay longer due to my schedule!
Jessica
2016-09-24T00:00:00Z
I LOVED staying here! It's SO close to downtown Waxahatchie, and the house itself and Gina's flair is a dream. Honestly, I'd stay here for a month if I could. Beautifully decorated, also comfortable, and has so much character someone should write a script for it. Thank you, Gina!
Logan
2016-11-04T00:00:00Z
Beautiful historic home! Gina is a fabulous host. I had my own suite! Looking forward to my next stay!
Kerri
2016-10-29T00:00:00Z
So amazing! Perfect stay, all aspects!
Gayle
2017-04-06T00:00:00Z
Gina's historic farmhouse is darling. It's out in the country yet close to town. This Waxahachie Airbnb is a charming place to stay. Gina had fresh juice and water and snacks for us, and is very hospitable. We will look forward to our next stay. Thank you Gina!
Mary
2016-10-17T00:00:00Z
Oda Tipi
Özel oda
---
Mekan Türü
Ev
---
Konaklayacak Kişi Sayısı
2
---
Yatak odaları
Waxahachie, Teksas, ABD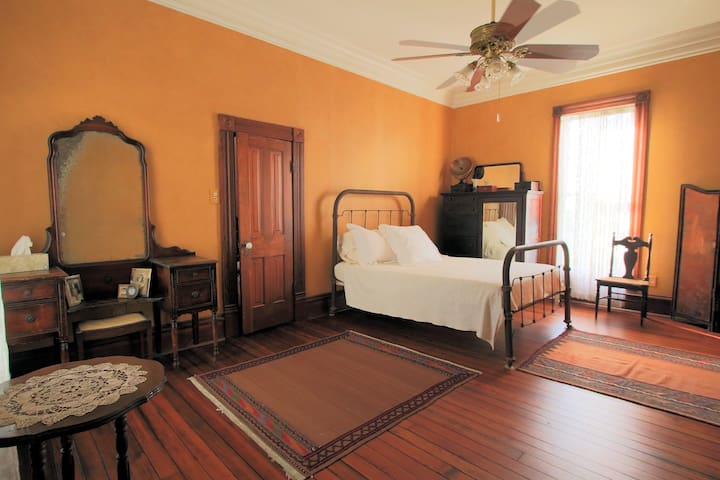 This room is located in our primary residence. It is 10 mins from downtown Waxahachie . Approximately, 20 mins to the Galaxy Drive Inn in Ennis and midlothian and 45 minutes from downtown Dallas. In addition, we know of a few places you can have fun rest and relax in downtown Waxahachie such as mosaic madnes. If you want some advice about things to do, my wife and I will be happy to provide it.
The space has a queen size bed and an adjacant private bathroom. We will supply soap, shampoo, towels,washcloths, and bedding. You will also have access to a full kitchen that you can use. The living room of the house does have a television you are welcome to use when it is not in use by us.
Excellent hosts, very responsive and quiet room. Bedroom was comfy, clean, and private. Would definitely recommend
Jackie
2017-04-09T00:00:00Z
Oda Tipi
Özel oda
---
Mekan Türü
Ev
---
Konaklayacak Kişi Sayısı
2
---
Yatak odaları
Waxahachie, Teksas, ABD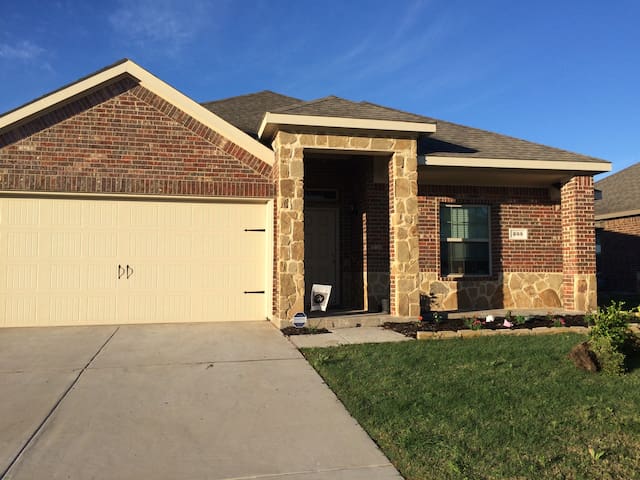 You'll love the Back Door de Milagro, a Bed & Breakfast located on a twenty-seven acre fruit farm. Our mission-style hacienda and wooded vistas make this the ideal get away even if for one night. The Back Door is good for couples, solo adventurers, and business travelers. We do private parties and dinners, as well.
Set on a twenty-seven acre fruit orchard called Milagro Farms, this B&B is reminiscent of the original missions of Texas and New Mexico. There are two private rooms with queen beds and private baths and one two-room suite that hosts a queen and a daybed with trundle. Off the Fiesta patio is La Casita, a little house with a bedroom (double bed), bath, living area and kitchenette. The Back Door de Milagro B&B is also home to a private dining and catering company. Guests not only receive a cooked breakfast, but can order a personal dinner with reservations. Contact Laurie for more information.
We are located on twenty-seven acres in Forreston, Texas, just south of Waxahachie.
This was perfect! We needed th time alone to recharge and this beautiful setting did just that. Not fancy but oh do warm and inviting. Perfect Laurie. Please don't change a thing!! We will be back!!
Melodie
2017-03-30T00:00:00Z
This place is lovely! We enjoyed our stay and look forward to coming back again. Laurie was very accommodating. Definitely recommend to any travelers looking for some peace and quiet in the country.
Katie
2017-03-14T00:00:00Z
Oda Tipi
Özel oda
---
Mekan Türü
Oda + Kahvaltı
---
Konaklayacak Kişi Sayısı
2
---
Yatak odaları
Forreston, Teksas, ABD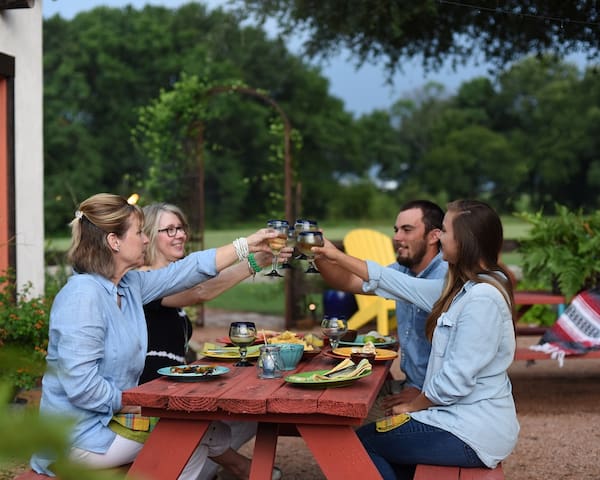 이 편안한 단면 소파 친화적 인 환경과 깨끗한 아파트에서 사용할 수있는 충분한 담요와 베개와 두 잔 다. 텔레비전, 부엌과 욕실은 주말 거주자에만 제공되는 아침 식사, 손님에게 무료로 열려 있습니다. 제공 넷플릭스와 훌루에 액세스 할 수있는 사용 가능한 와이파이도 있습니다. 하룻밤 빠른 숙박 완벽하고 지갑에 편리합니다.
I had another great stay here. Dylan was very accommodating of my late arival time, i had no issues getting settled in.
Ryan
2017-02-24T00:00:00Z
Rupert
2017-02-12T00:00:00Z
I really enjoyed my stay here. Dylan was a great host and very accommodating.
Ryan
2017-02-15T00:00:00Z
It was easy and comfortable. All needs were met. Very fairly priced.
JOSEPH
2017-03-29T00:00:00Z
Great place, 30 mins from Dallas!
Carlos
2017-03-17T00:00:00Z
Oda Tipi
Müşterek oda
---
Mekan Türü
Daire
---
Konaklayacak Kişi Sayısı
2
---
Yatak odaları
Ennis, Teksas, ABD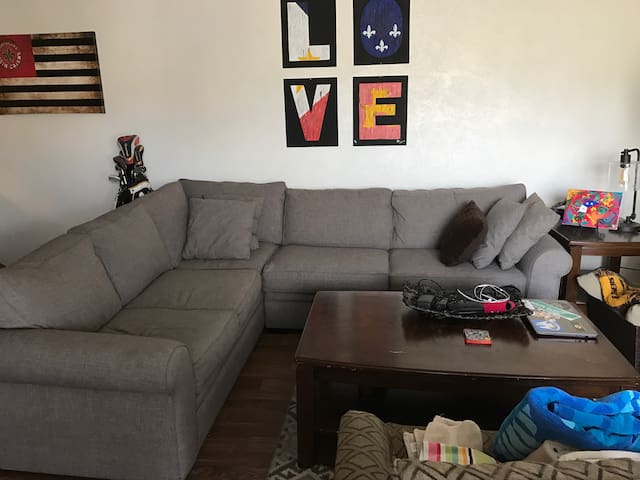 Only a 25 min commute from Downtown Dallas and right off I-35, but you will feel like you're in the country. A beautiful walking/biking/nature path is located just down the street as well as the the historic downtown square, parks, and restaurants.
Cool old house. Gina was awesome. The room was more than awesome and beautiful. Will make this my regular stop.
Julian
2016-11-21T00:00:00Z
The room is nice and cozy and clean. Beautiful farm. Gina is a very nice host, and her family is very friendly too. Recommend!
Kiains
2017-01-16T00:00:00Z
Beautiful Victorian home, beautiful room. Very kind and accommodating host. Only slept here while visiting family during the day. Hope to stay again and get the chance to enjoy the house and scenery more.
Jan
2016-12-27T00:00:00Z
Gina is a wonderful host. The home is perfect if you enjoy antiques and a house with much character and history. Super comfortable room and ensuite bathroom.
Weldon
2017-03-10T00:00:00Z
You will never stay at a better Airbnb. Gina's place is superlative. From the antique-filled decor to her kindness--she even came with Kim in their car and drove ahead of me back to her place as was tired and my sense of direction was kaputt!--to her wonderful cats and her (URL HIDDEN) just all too good. The weather was breezy and cool and beautiful, too. Don't miss a stay at Gina's if you're in the area.
Helene
2017-03-25T00:00:00Z
Wonderful home very authentic all the way through even the door hinges have character. Hosts were very pleasant and respectful. Would recommend to stay here.
Nicholas
2017-03-15T00:00:00Z
Gina was very accommodating when we arrived very late. She is easy to communicate with and so sweet. The room was historic, spacious, comfortable, and a cool experience! :)
Elizabeth
2017-01-31T00:00:00Z
Gina keeps a clean and lovely room for her guests.
Barbara
2017-03-05T00:00:00Z
Oda Tipi
Özel oda
---
Mekan Türü
Ev
---
Konaklayacak Kişi Sayısı
2
---
Yatak odaları
Waxahachie, Teksas, ABD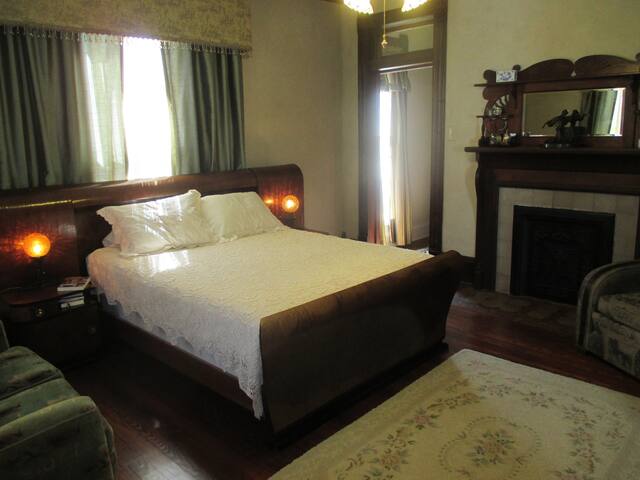 方便的位置,很多周圍的達拉斯地區的景點和購物。六旗遊樂園,AT&T體育場和大草原城名牌折扣店都位於不到30英里遠。 新成立的居委會因循守舊。我們家是全新的,相當寬敞。
在房間裡的一切都是全新的,非常舒適。床配有一張大號枕頭床墊。有水和軟飲品的迷你冰箱。自然光萬噸。牛逼毗連浴是私人的,不與任何其他客人共用。尼斯的壁櫥空間。這間客房藏在房子的上層,交通便利,旁邊的媒體室和健身室。 包正可以發揮,如果你是小傢伙呆在一起。
新成立的和安靜。
Oda Tipi
Özel oda
---
Mekan Türü
Ev
---
Konaklayacak Kişi Sayısı
3
---
Yatak odaları
Midlothian, Teksas, ABD
La nostra struttura acri 2 si trova nella parte posteriore di una strada a ferro di cavallo, fornendo grande privacy e sicurezza mentre vicino a ristoranti e negozi. Il cortile ha belle, alberi secolari e si affaccia verso le cime degli alberi di rotolamento. Amerete il mio posto a causa della pulizia e spazio. Forniamo un ambiente di lavoro tranquillo per i viaggiatori d'affari di condurre affari. C'è un sacco di spazio a disposizione il lavoro di ufficio. C'è anche un sacco di divertimento per avventurieri singoli, coppie e famiglie.
Siamo situati in un quartiere super bella e tranquilla di 17 case in totale. Siamo una casa famiglia orientata, ma perché io lavoro da casa un sacco so cosa vuol dire avere bisogno di un posto tranquillo per condurre gli affari. Se siete qui per il riposo di business certi v'è abbondanza di spazio a disposizione il vostro lavoro di ufficio e computer portatile. Ho usato a considerare l'RV mio ufficio a casa prima ho avuto la mia stanza ufficio in casa nostra. Incluso nel camper è una tabella che ho trovato si adatta perfettamente davanti al divano per ancor più spazio di tabella. Per coloro che vengono per il divertimento, la connessione giochi all'aria aperta: ferri di cavallo, frisbee, pneumatico swing, di badminton, scacchi, ecc ...
Downtown dispone di un mercato locale fresco dai primi di maggio ai primi di ottobre. Il quartiere ha conigli selvatici in esecuzione, sono innocui e ci dà qualcosa da guardare. Il suo un quartiere molto tranquillo con i pensionati e le api che lavorano allo stesso modo. Durante i fine settimana ci svegliamo agli uccelli.
I received email reminder and told when place was ready.
Dan and Kristin
2016-09-02T00:00:00Z
Great hosts, they are very accommodating and make the whole experience very smooth! The place is perfect, very, very clean and comfortable, everything you need. Loved the location! Would definitely stay here again.
Dan and Kristin
2016-08-13T00:00:00Z
We loved our stay in this beautiful little getaway. The RV is very clean (still looks brand new!), spacious and very luxurious feeling, and we loved the private entrance and safe parking area. The bed was very comfortable, and we had everything we needed for a wonderful visit at Adriana's place. In fact, this is definitely the most well stocked AirBNB we've ever stayed at! :) We'll always be coming back here anytime we find ourselves back in the local area. Thanks again Adriana!
Sam
2016-08-06T00:00:00Z
The place was very clean, nice and quiet. My son loved the trampoline and the hammock, we will be back!
Robbie
2017-04-09T00:00:00Z
It was clean and Adriana was such a great host. Would definitely recommend and stay at again!
Sarah
2016-11-18T00:00:00Z
Always a great stay at the RV.
Dan and Kristin
2016-10-31T00:00:00Z
Close to restaurants and grocery store. Close to Tex Plex park. Very clean and comfortable.
LaJahna
2017-03-05T00:00:00Z
Very Nice and cozy has all the amenities and more Adriana was a wonderful host.
Adrian
2017-03-03T00:00:00Z
Oda Tipi
Tüm ev/daire
---
Mekan Türü
Kamp Karavanı/Karavan
---
Konaklayacak Kişi Sayısı
5
---
Yatak odaları
Midlothian, Teksas, ABD
Jo's place was hands down one of the best experiences my family and I had through AirBnB. She was very quick to respond to emails, answered any questions we had and even checked we found everything okay and were comfortable on the day we got there. The house is exactly as shown on the pictures with a lovely backyard and on a quiet road off the highway (so it's quiet but close to everything you could need with a big Walmart about 10 minutes away). I think the most special thing about this place was all the thought that had gone into it, though - when we arrived, a Christmas tree was put up and the lights were on and we even got a little present underneath it. The fridge was stocked with everything you might need, including teas, coffees and even Starbucks hot chocolate as well as cinnamon rolls for breakfast and cold drinks. We felt completely at home and used the house to explore Dallas. I can only recommend this place, we loved it and would stay here again!
Ann-Sophie
2016-12-25T00:00:00Z
Being our first AirBnb experience, we weren't sure what to expect. Jo was a wonderful host, and her cottage was absolutely wonderful. It was a great experience for all of us. Our 20 month old granddaughter loved the toys that Jo had provided. Great place to stay ! Highly recommend.
Kelly-Noah
2016-05-31T00:00:00Z
Jo's house was AMAZING! It's in the country outside of Dallas and about 30 minutes out from downtown Dallas. I've been to Dallas several times and it really takes about 20-30 minutes to get anywhere so having Jo's house as a getaway each night was the best and not a big stretch. Her beds were comfortable and she left an amazing assortment of foods, drinks and snacks. We'll be booking here for our visits from now on out instead of hotels.
Twylah
2016-10-30T00:00:00Z
The house is charming. I loved the homeyness about it and was very comfortable there. Just what I needed for this trip. Everything I needed was available to me. Jo Kept in touch and answered promptly with any questions. Kudos to her for that. The property is surrounded by trees and shrubs which made me feel like I wasn't on top of the neighbors. And it was close to food gas and where I needed to be. I am so grateful to Jo for sharing the cottage with me. I will definitely return to this property when traveling in the area! All in all it made for a great trip!
Susan M
2016-04-12T00:00:00Z
Jo was wonderful! We had a great time staying in her home. The house was very clean. Good sized living space and dining room that we enjoyed for late night games. The beds were comfy and the bathrooms were clean, and big. Jo provided plenty of towels and bath amenities for us. It was about a 20 minute drive from Dallas, which wasn't too bad. Red Oak has plenty in the town as far as groceries and necessities go. However, if you are looking for entertainment, you'll probably need to go to Dallas. You have the feeling of seclusion in this house, which was nice and peaceful! The backyard is so big, and the decks were great. We would have utilized them more if it wasn't July in Texas!
Mallory
2016-08-01T00:00:00Z
Jo is super sweet and her home is beautiful, clean and comfortable. We loved our stay and hope to come back!
Paula
2016-07-24T00:00:00Z
Jo was awesome! She thought about things before we even had to (like moving cleaning supplies out of reach of our little ones) and was very helpful in suggesting things in the area to check out. The cottage was great and the back yard was amazing! ALL of this for a great deal. Will definitely try to stay at Jo's place again!
Jeremy
2016-06-12T00:00:00Z
We were looking for a relaxing weekend and we got it! Checking in and out was a breeze and everything was as described.. The cottage felt remote yet had all the comforts of home nearby.. The patio was a nice touch and the weather cooperated.. We would definitely return/ recommend to friends! Thanks, Jo!
Andres
2016-05-23T00:00:00Z
Oda Tipi
Tüm ev/daire
---
Mekan Türü
Ev
---
Konaklayacak Kişi Sayısı
3
---
Yatak odaları
Red Oak, Teksas, ABD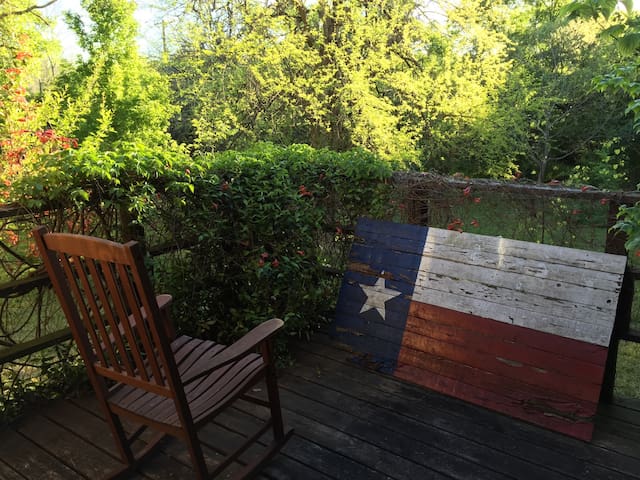 Sam and Joanne made us feel at home. The historic house is certainly a labor of love and they are truly committed to maintaining the grandor of this beautiful old lady. The accommodations were comfortable and cozy, room well appointed, coffe and snack bar available for our convenience with breakfast cookies, crackers, fresh fruit and coffee/tea. Gourmet breakfast was delicious and visiting with the hosts was a treat. There is a beautiful sun porch which would be a great place to enjoy a cup of joe in the AM, unfortunately our schedule didn't allow that indulgence this time. We did make time for massage which Joanne kindly arranged for us. It was a great relaxing treat. If you are looking to a get away in Ennis this will be a b&b experience to add to the top of your list.
Josie
2016-05-30T00:00:00Z
Oda Tipi
Özel oda
---
Mekan Türü
Oda + Kahvaltı
---
Konaklayacak Kişi Sayısı
2
---
Yatak odaları
Ennis, Teksas, ABD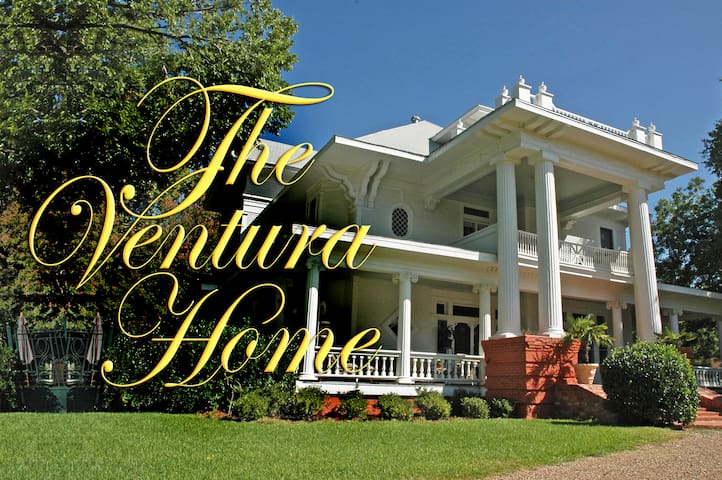 This listing was in an amazing location! The Ranch was absolutely beautiful and was just remote enough to allow us to feel like we were getting away from it all! When we entered the gate, we were greeted by the donkeys and llamas! Then we drove up to the house and met sweet Liz! She was a wonderful hostess for us, anticipating things we might need or want (like marshmallows for the fire pit!) -- and she made us some delicious omelets and bacon for breakfast too! We enjoyed chatting with her and exploring the property. Our room was decorated with very unique antiques that belonged to her mother, and everything was clean and tidy. The bed was very comfy! We enjoyed our time here, and will definitely stay here again the next time we visit Ennis!
Chris
2016-10-16T00:00:00Z
Oda Tipi
Özel oda
---
Mekan Türü
Oda + Kahvaltı
---
Konaklayacak Kişi Sayısı
2
---
Yatak odaları
Ennis, Teksas, ABD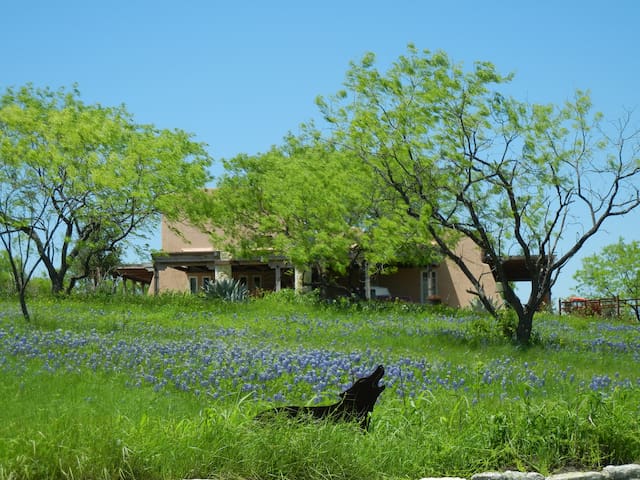 cómodo dormitorio con cama queen, baño privado. uso exclusivo de segundo piso, billar y sala de estar privada. El hogar es de 20 minutos del centro, el centro de AA. 30 minutos desde el aeropuerto, el estadio AT & T, y Globo de Parque de la Vida, pero lejos de las multitudes y el tráfico. Barrio tranquilo de acre.
suite de arriba fresco y cómodo con baño privado y zona de estar con termostato independiente. Personalizado de vivienda en zona tranquila y se encuentra a 20 minutos del centro y la arena Mavericks, a 30 minutos del aeropuerto, el estadio de los Cowboys y los Texas Rangers de béisbol. Cocina compartida, cuarto de lavado. Frigorífico privada y el espacio despensa. Balcón abierto con rockeros y hamaca. Estamos aquí para hacer su estancia lo más agradable posible. Le damos tanta privacidad como desee, pero le damos la bienvenida en la habitación familiar para la conversación. barrio tranquilo, con pie y en bicicleta a lo largo de senderos colinas. DFW DART autobús y los servicios ferroviarios son cerca de 10 millas de distancia.
barrio tranquilo, con pie y en bicicleta a lo largo de senderos colinas.
Fantastic Host !!! Very friendly people.
Chirag
2014-10-01T00:00:00Z
I love staying at Paul's place! It's even more wide and open than it looks on the pics. Lots of light all day long, a perfect place to relax and sleep and rest like a baby. Him and his wife were very kind and open to allow me to use the kitchen for my cooking needs. Also, the room is very comfortable for two people and has enough storage space. Nice wifi and TV in room. The second floor was pretty much for myself. I even had to tape an audition and I felt like I was in a full film studio noise concealed, that how quiet this place is. I got there around midnight and Paul did everything possible to make my arrival as smooth and easy as it was. Great people, very friendly and respectful of my privacy. I definitely recommend this house to anyone who needs a nice, secluded yet easy to access from highway, comfortable and very affordable place. Greetings!
Felipe
2017-01-26T00:00:00Z
Our stay was very nice, though we were not able to meet Paul and his wife the letter they left for us in our room and the consistent communication proved them to be kind and very hospitable people. The room was clean, location beautiful, and we could not have asked for anything better in our price range.
Tim
2017-02-11T00:00:00Z
Very friendly and quiet neighborhood
Maria Diem
2017-01-14T00:00:00Z
It was a very pleasant home and welcoming. Paul and Susie were wonderful host. They provided everything I needed and more!! If your looking for somewhere relaxing this is the place to stay. Great scenic views throughout the surrounding areas!!
Toynette
2014-10-28T00:00:00Z
Staying with Paul and Susie has been a wonderful experience. They will give as much privacy as you want but also welcome you to spend time with them. They really take the time to make you feel at home. I'm so glad that I chose to stay with Paul and Susie while transitioning to a new job and a new state.
Maynard
2016-02-07T00:00:00Z
My GPS didnt work all of a sudden and was lost in the community. I called the Host and he was so nice to drive his car and meet me so that I may follow him to his house. Great People !
Chirag
2014-10-10T00:00:00Z
Paul and Susie were wonderful hosts, they were so welcoming with their home and family. I always felt more than comfortable and my time with them made my three month rotation go by faster even though I was away from home. The reservation also has the perfect balance of privacy when needed with a room, bathroom, and even use of a nice balcony.
Mary
2016-09-18T00:00:00Z
Oda Tipi
Özel oda
---
Mekan Türü
Ev
---
Konaklayacak Kişi Sayısı
2
---
Yatak odaları
Cedar Hill, Teksas, ABD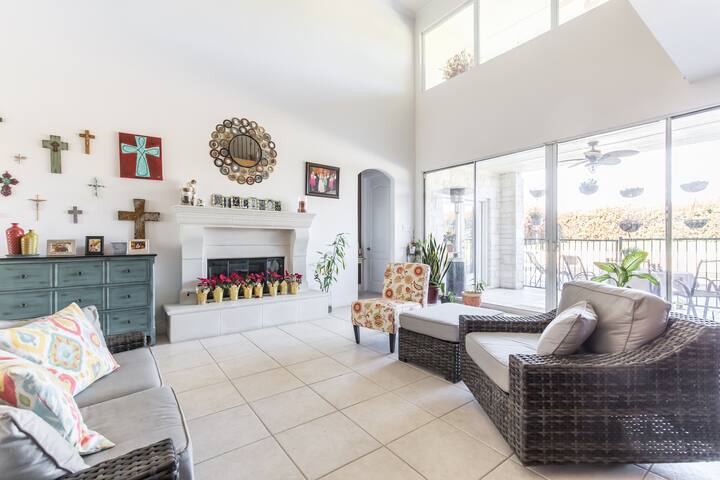 Conectado casa de huéspedes. Lejos de las multitudes en 5 acres ubicados. A 30 minutos del centro de Dallas y Ft. Valor. cálida sensación de una cabaña de madera w / una cama de matrimonio. A petición también tenemos una bonita cama de aire reina con las hojas para niños o adultos para el total de 4
El momento en que entras por la puerta que le lleva de vuelta a los viejos tiempos de la cabina de registro que le da ese toque retro. Viene con su propia puerta de retrete. LOL Con todas las comodidades modernas de golf. La privacidad y la seguridad de una comunidad cerrada. Su aparcamiento cubierto pocos pasos de su puerta.
Tranquila zona rural rodeada de trigo, campos de maíz, las zonas boscosas. Estamos a 2 millas de Big League de los Sueños, parque acuático Hawaiian Falls. A unos 10 minutos de Mansfield para comedor, comercial y de ocio.
This is a great place. Host was very nice with sweat pet!. My family enjoyed with cabin. We like it!
Suyun
2016-06-25T00:00:00Z
The experience with Eric and Dawn was great! We felt very welcome staying on their property with them. Next time we are in town will will for sure stay with them again. The room was extremely well kept and they even provided us with a few snacks which was very generous! All in all we have no complaints and wouldn't have changed a thing!
Casey
2016-03-27T00:00:00Z
They made us feel welcome by speaking to us like great friends They even had us over for dinner with their friends one evening and we had an excellent time. We could go anywhere we wanted on their beautiful property.
Cindy
2016-01-16T00:00:00Z
Eric & Dawn were friendly and welcoming. The cabin itself was tastefully decorated and clean. I cannot emphasize how clean it was. I'm a freak when it comes to cleanliness. It has the comforts of home; a fridge, microwave, TV, and the bed was most comfortable. If the Discovery channel was included in the cable, I'd have given this an A+++ rating. For that reason, I give this cozy cabin an A+. I highly recommend this place.
Cherie
2016-03-16T00:00:00Z
My wife and I had a wonderful experience at their cabin. Everything we needed was provided. We would stay at their place again.
Joe
2016-04-14T00:00:00Z
Staying at Eric and Dawn Cabin again was a wonderful stay, we like coming here because it is so quiet and nice farm land. The surroundings are great and Eric and Dawn are the best! they take care of the cabin and surroundings and awesome welcoming snacks!! We will recommend staying here to everyone we know....Thank you Eric and Dawn for having such a wonderful cabin!
Sandy
2016-01-27T00:00:00Z
Eric and Dawn were very welcoming to us. We requested the space last minute as we were coming in for a funeral. They kept in constant communication to ensure that we had everything we needed on the way in. Eric greeted us and showed us the ropes. The cabin is incredible. It is warm, inviting and beautiful. It is better than the picture show. They worked with us when we last minute added two guests for one night. We look forward to staying with them again.
Amy
2015-10-26T00:00:00Z
Eric and Dawn were very accommodating and hospitable. My wife, my 5 year old son and I stayed the weekend and spent quite a bit of time inside the cabin. It was very comfortble, and relaxing for my family and I. We especially loved their dogs, very friendly and stayed quiet. Thank you again.
Mike
2016-10-02T00:00:00Z
Oda Tipi
Tüm ev/daire
---
Mekan Türü
Kulübe
---
Konaklayacak Kişi Sayısı
4
---
Yatak odaları
Venus, Teksas, ABD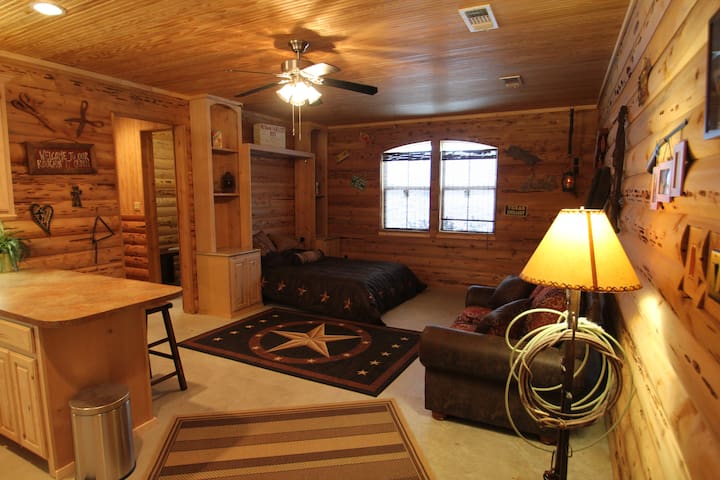 Southern Living Luxuries Manor with loads of nice amenities, comforts, and hi-tech connectivity ! Prefect for Private Get-Aways, Special Occasions, Relaxing Romance, Recharge Events, Business or Personal Retreats, Creative Inspirations, Adventurous Explorers, and Blissfully Sweet Travel Treats ! NOTE: Neat Clean Honest People of All Kinds and All Lifestyles are very welcome here at the Southern Charm Privacy Manor.
Charmingly Nice, Spaciously Big, Neat & Clean, Peaceful & Private Oasis. Beautiful Big Kitchen, Lavish Formal Dining Room, Comfy Great Room, Elegant Living Room, Hugh Southern-Style Front Porch with Rocking Chairs, Private Back Desks with 2-Story Gazebo, Nice Laundry Room, and yes . . . much more !
Great Quiet Safe Neighborhood ! You can walk thru the woods down to the nice big City Park. Restaurants and shopping are all minutes away. Lake Whitney, Lake Aquilla, and the Brazos River are very close as well.
This is the perfect place to stay in this area. Easy range to Waco (Magnolia Market and the Silos, Baylor, Waco Tennis Center, Brazos river parks), Waxahachie, Lake Whitney, etc. The house is comfortable and clean with lovely porch and deck. It is within easy walking distance of the Hillsboro historic district and courthouse (eat at Frenkie's by the square-yum!) The beds are comfortable. Everyone in our party slept well. Plenty of hot water for our four guests' showers. Complimentary coffee, water, and sodas. If you want decaf or tea, you might want to bring your own. Even the teens liked this house--the WiFi worked well. This is a great place to relax and unwind.
Elizabeth
2017-04-09T00:00:00Z
This is a fantastic place to stay in a small town but within easy reach of places to visit. We loved our stay with Cal and Kay. They have a great place to stay with a lot of space and a realy comfy bed. If we are in Texas again we will stay here again. We felt very welcome and they give us good information about places to eat and places to visit.
Martina
2017-02-17T00:00:00Z
We loved having such a big room all to ourselves, and the location was close to lots of restaurants. Great place to stay!
Kathryn
2017-03-17T00:00:00Z
Quiet place! Very nice! Would recommend to anyone!
Catie
2017-03-15T00:00:00Z
Great home !! So much room and so clean. The home was more than we could have asked for. We will be staying here more for sure.
Derrick
2017-04-02T00:00:00Z
Cal's place was amazing. The size of the house was awe inspiring. Every inch of the home was decorated with careful attention. I could write a whole essay about how much me and my family loved staying here but the short of it is: even if you have to drive 30 minutes out of your way, it's worth it! Thanks Cal!
Lance
2017-03-26T00:00:00Z
This is a beautifully restored older home that oozes with character (positive sense). Emphasis on "home". We felt like we were guests in someone's home. It was very comfortable. The couch in the den was so nice we wanted to take it home with us, but our hosts were not around to ask and it wouldn't fit in the car anyway. The pictures are accurate and portray a bit of its character. While we enjoyed the privacy of have the run of the house all to ourselves, we missed meeting our hosts to learn of them and their journey with their home. Take the massive grandfather clock Cal received as a gift on a very special occasion or the dueling pianos (dueting?), or all the restoration (URL HIDDEN) many questions!
Michael
2017-03-05T00:00:00Z
I love the furnitures, the whole big house and pianos, guitars! Really want to live forever!
Xinan
2017-03-19T00:00:00Z
Oda Tipi
Tüm ev/daire
---
Mekan Türü
Ev
---
Konaklayacak Kişi Sayısı
9
---
Yatak odaları
Hillsboro, Teksas, ABD
Great place
mark
2016-01-30T00:00:00Z
Staying here was an amazing experience. Our hosts thoughthe of everything - from bread and coffee creamer to toothpaste and detergent. The home here is lovely. Everything was clean and comfortable, Victorian decor, very comfortable beds, and much more space inside than I could have hoped for. Morning coffee on the front porch was a treat, as was an even if picnic in the luscious back yard. The next time I head this way, this will absolutely be my home away from home.
Jo Anne
2016-06-25T00:00:00Z
Beautiful, clean, perfectly maintained house. Perfect example of home away from home really. I definitely felt VERY welcome and many little thoughtful touches throughout the house always made me felt welcome, like the few snacks graciously provided by the host, so that I didn't have to run to the store right away. Location is great for those who seek quiet. It's only 25-30 min away from the heart of Dallas, convenient to grocery stores and a few restaurants, as well as a few small towns. I actually enjoyed the "hole-in-the-wall" BBQ place a couple of blocks away. I definitely felt very safe. Fantastic night sky view and absolutely gorgeous backyard. Thank you so much for everything!
Max
2017-04-10T00:00:00Z
This was the perfect place for our weekend get together with our kids and their families. The house was clean and provided the needed space for sleeping and visiting. The yard was perfect for the 16 month old to run around in and we all had a wonderful time. Just what I wanted--home away from home.
Catherine
2016-03-26T00:00:00Z
Loreen and her son, Brett, her property manager, were amazing hosts! The house is charming and was perfect for our family Christmas gathering. They had the refrigerator and pantry stocked with essentials and goodies, which made us feel right at home. The grounds are lovely and the crazy Texas weather allowed an outdoor after-Christmas luncheon that both Loreen and Brett helped to cater. Everyone had a wonderful time and we plan to add the experience to our Christmas traditions. We hope to stay again!
Carolyn
2016-12-28T00:00:00Z
Amazing home and lots of space!
Jackie
2017-01-01T00:00:00Z
Loreen and her son were very helpful and made the process easy for first time travelers to Texas. Highly recommend the place as your next lodging option.
Eugenia Chen
2016-05-21T00:00:00Z
Oda Tipi
Tüm ev/daire
---
Mekan Türü
Ev
---
Konaklayacak Kişi Sayısı
8
---
Yatak odaları
Red Oak, Teksas, ABD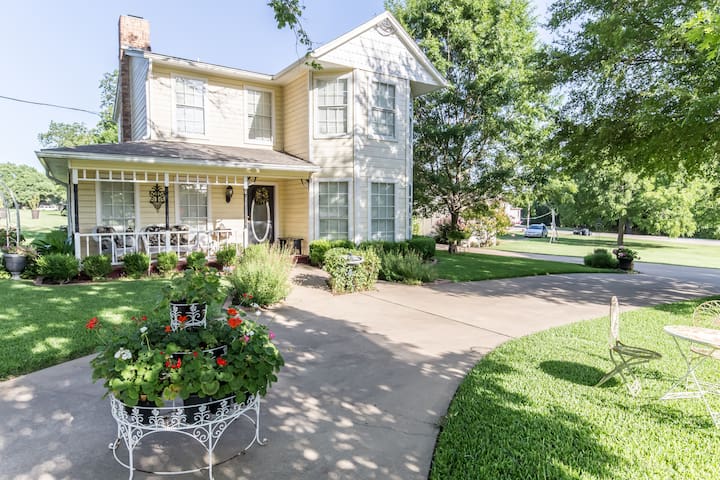 DALLAS 멀리 FT WORTH 그냥 10 분 3 주요 고속도로 교통 꽤 NEW SUBDIVISION. NEW 쇼핑 지역과 WEST TO 레스토랑 10MIN. 은둔.
Gian was wonderful and very accommodating, he was a phone call away if I needed anything. His home is lovely, and well stocked with everything you need. I highly recommend staying here when you're in the area.
Gabriella
2016-05-02T00:00:00Z
The place is beautiful! Gian is very accommodating and there are no complaints at all. Great stay!
Kennedy
2016-11-07T00:00:00Z
Gian is a great host, he was super nice and his place was awesome. The house is exactly as described and would recommend this location for anyone looking to relax in a comfortable space.
Jameshia
2017-01-22T00:00:00Z
Excellent spot...very accommodating for family of 5. Clean,comfortable and cozy. Would recommend to anyone visiting Dallas area. Thanks Gian
Jacqueline
2017-03-26T00:00:00Z
thanks for the hospitality. Great house, great stay, quiet. Will rent again. Wonderful house, excellwnt communication
Andrew
2017-04-02T00:00:00Z
Awsome place to stay. Highly recommend
Yoga Box Racing
2017-02-05T00:00:00Z
Great place and great communication! We were in town with teenage girls for a cheer competition and the place was perfect for our needs. Was so nice to be a bit outside the city but still close (20 minutes) to downtown and away from everything at the end of the day. Thanks again Gian! Hopefully will see you again in the near future.
Jason
2017-02-26T00:00:00Z
First time using Airbnb and it was a great experience.
Gina
2016-10-16T00:00:00Z
Oda Tipi
Tüm ev/daire
---
Mekan Türü
Ev
---
Konaklayacak Kişi Sayısı
5
---
Yatak odaları
Cedar Hill, Teksas, ABD