Giriş tarihinizi gg.aa.yyyy formatında girin
Çıkış tarihinizi gg.aa.yyyy formatında girin
0 çocuk
Yaş aralığı 2 - 12
Ev sahibinin onayını beklemeden rezervasyon yapabileceğiniz kayıtlar.
Ev sahibinin konuştuğu dil
Tam fiyatlandırmayı görmek için tarihleri görün. Ek ücretler uygulanır. Vergiler ilave edilir.
Bu Temmuz ve Ağustos aylarında tüm fiyat aralıklarında en yüksek puanı alan bu 100 evden birini deneyebilir ve Sonoma'da yaşayan bir kişinin görüşünden faydalanabilirsiniz. 24 saat giriş, Anında Rezervasyon, yerel şarap ve atıştırmalıklarla tek yapmanız gereken arkanıza yaslanıp tatilin keyfini çıkarmak.
My place is close to Alexandria, Pineville, Lake Buhlow, Wal-Mart, local grocery stores, restaurants and dining. You'll love my place because of the high ceilings, the location, the ambiance, and the people. My place is good for couples.
Features a welcoming living room with fireplace, Keurig, large backyard and more! Private bedroom has a separate shared bathroom with our son. There is a Google Chrome-cast connected to the TV if you have Netflix, Hulu, etc. Washer & dryer are accessible right off the room. Entertainment room has a tv with games, netflix and Amazon Prime Video. Sorry we don't cable at this time. We are totally down to socialize with guests! We want you to feel comfortable & accommodated. We also understand that you may need your space & quiet time. We will respect your space, time & privacy.
Our neighborhood is quiet & friendly. While we are not familiar with the routes, public transportation is available. A vehicle is highly recommended though. We do have a dog in our home. She is not aggressive, she does not jump on people, & she is not allowed on the furniture. Penny is great with other animals as well as with children.
Oda tipi
Özel oda
---
Yer tipi
---
Konaklayacak Kişi Sayısı
2
---
Yatak odaları
1
Ball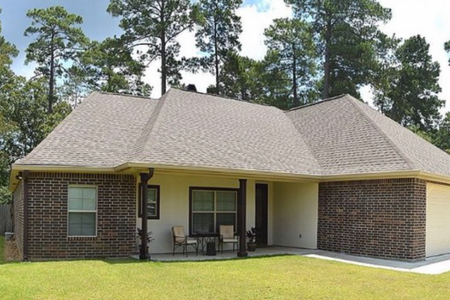 Single bed in comfortable home with a new 32 inch HDTV! Near mall, zoo, Kent House Plantation, restaurants, hospitals and festivals. Close to major highways and interstates.
Now I know firsthand why Linda has such glowing reviews!!! What a wonderful hostess, and she immediately made me feel welcome and a part of her home. From the generous offer of a ride from the airport after my rental car reservation snafu to the delicious welcome basket of sweets and pecans waiting for me in my room, it is obvious that Linda puts the comfort of her guests to the top of the list. I would definitely recommend staying here if your central Louisiana travels put you near Alexandria for the night.
Cynthia
September 2015
Linda was a superb host who went above and beyond! She welcomes and treats you like family. Her cooking is great and she will help out any way she can regarding sights to see, travel plans or anything else.
melissa
February 2016
Linda was the perfect host and if your looking for down home warmth and care, you'll find it here. She loves to cook for you and has a very caring nature. The house is located in a convenient spot to get around Alexandria. This listing is just like staying with a friend or family. Heartwarming! the WiFi was great and the neighborhood had kids riding bikes and playing outside which I haven't really seen anywhere for awhile.
gretchen
July 2015
What a wonderful person Ms. Linda is! This was my second stay at her lovely home, and she welcomed me back as though I were family. Ms. Linda keeps an immaculate home, and is a superb chef. Before writing this review, I re-read her listing, and can verify it to be accurate. If anything, she understates the warmth and comfort her listing offers. Ms. Linda regularly went out of her way to accommodate my hectic work schedule, which had to have been an imposition on her. But I would never know it. She handled me and my drama with the utmost grace and compassion. I have developed a true affection for Ms. Linda, and highly recommend her to anyone looking for a safe haven in Alexandria.
Gary
April 2016
Miss Linda is very genuine and kind hearted. Her home is very inviting and warm. She was very welcoming and provided a wonderful breakfast. If you're looking for a quiet and relaxing stay... Please contact Miss Linda.
Paul
October 2015
Mrs. Linda is a wonderful host. I was met with a friendly smile and a cute little welcome basket. When I came home everyday, it was so nice to come back to a delicious homemade meal and great conversation over dinner... vs fast food and lonely hotel room. Everything was very clean and comfortable. Definitely will return again.
Diana
August 2016
I went to Linda's splace as I didn't want to say alone in a hotel this week, and I found a marvellous place. It's big, very clean, and you also get to enjoy her delicious dishes, and nice conversations. You are also welcome to pet the cat when it's around, and meet other very interesting guests if there are. I can only recommand this place, as a place of heaven in this nice neighboorhood!
Joffrey
August 2016
Ms. Linda was warm and welcoming from the minute I entered her home. The house is extremely clean and was exactly as advertised. Ms. Linda is a great cook and is very interested and willing to accommodate guests' palates. The room I stayed in was very clean and comfortable and at no time did I feel like an imposition. Ms. Linda genuinely enjoys her guests and that is evident in the way she ensures that her home is your home during your stay. Highly recommend.
Shane
September 2016
Oda tipi
Özel oda
---
Yer tipi
---
Konaklayacak Kişi Sayısı
1
---
Yatak odaları
1
İskenderiye
Our place is right next to the Red River and Cane River, less than 15 minutes from Downtown Natchitoches. Just 3-5 miles away from the famous Oakland Plantation and Cherokee Plantation. A local hangout called "Point Place Marina" is 5 miles away. Both Red River and Cane River offer excellent fishing opportunities. Located on a working ranch, there is abundant outdoor space for couples, families with kids, or someone on their own. You will surely enjoy the STARS at night.
The house is located on a 2000 acre working ranch. It can accommodate up to 6 guests. Everything you need is well provided in this gorgeous house. The bright living room has two couches. One is a sofa bed which very easily turns into a comfortable double bed. The house is very private, safe, quiet, and is located in a peaceful spot. The kitchen is fully equipped with cooker and oven, huge fridge, coffee maker, toaster and microwave. It's an open kitchen with breakfast bar. You can also enjoy dining al fresco way- the deck is perfect for bbqs and picnics. The bedrooms feature unfussy earth tones with a view of the ranch. In the mornings you wake up with birds chirping and cows mooing! A good country experience. Each room has a queen size bed, walk-in closet and a luggage stand, you surely have an ample storage for your belongings. The house features a private bathroom fitted with a sink, bath and toilet. Fresh Towels and bed linens are included in the price. Added Bonus: - 32" LG High Definition TV with DirectTv - Washer and Dryer (for guests staying 4 nights +) - Picnic table outdoors -hair dryer, iron -satellite network (wifi) If you are looking for a fishing trip, a quiet weekend with the family or a romantic weekend with a loved one, or just simply a quick getaway, our ranch house makes the perfect choice for your visit in the historic town of Natchitoches. It's your home away from home! We hope to welcome you soon. You have the whole house to yourself including living room, kitchen, bathroom, bedrooms, double garage, and large yard with a deck where you can relax while watching the sunset. You are free to explore our ranch, we have a river front access/ the sand bar by The Red River, our ranch is 1600++ acres, with over 200 pecan trees, when in season you are free to pick pecans. We live just next door so we can meet you at the house, hand you the keys and show you around. Then the place is all yours! Feel free to contact us thru our mobile or just simply knock on our door if you need assistance. We are more than happy to help you.
Getting to the ranch is thru a dirt road. From the ranch, you do have a good access to Red River, and it's not very far from the Marina if you'd like to bring your boat to fish. The nearest pub is at Point Place, a 5 minute drive, if you fancy a drink. Downtown Natchitoches is a 15 minute drive. Cherokee plantation and Oakland plantation is only about 3-5 miles away. About less than 5 miles from Cherokee plantation and other old plantation houses. Cane River is 3 miles. The nearest pub is at Point Place which is about 3 miles away. It is a local hang out, overlooking the cane river. Downtown Natchitoches and the College is less than 15mins drive. The ranch house is located on Red River Ranch which is a working ranch. Access to our ranch is thru a dirt road. Our guests find the location very private, refreshing/relaxing and the entire experience fascinating!
We were very thankful to be accommodated on such a short notice. The place was very clean, nice and cozy. Felt very relaxed and rejuvenated the next morning. We hope to come back and actually explore Nachitoches when we have more time.
Lauren
December 2016
Came for the weekend for the Festival of Lights downtown. Was only a 10-15 min drive away. First time using Airbnb but will deffinelty use again thanks to this trip! Will also book with them again once it warms up because the view is beautiful! These are two of the nicest people and the cutest little house! PS if you stay here...you may get some awesome muffins!
Samantha
December 2016
My friends and I are NSU alumni and chose to stay here instead of a hotel. We couldn't be happier with our choice! The farmhouse was plenty of room for us 5 friends and the decorations were adorable. Perfect place to stay while visiting Natchitoches!
Amanda
October 2016
David and Marianne are both very kind and helpful hosts. The place is very nice on a beautiful working ranch. A private beach on the river is only a 2 minute drive. I will definitely be returning if I am ever in the area again.
David
November 2016
The house was great. It was very clean and the kitchen was the best equipped of any AirB&B we have stayed. David and Marianne were great hosts. They were there when and if we needed them, but out of sight when we didn't. The location is very secluded and quiet. It is a great place to unplug and recharge. Natchitoches is only a short drive, which made the location ideal for attending the Christmas Festival. We will definitely be back.
Shaun
December 2016
It is worth going down a long country gravel road to get to this unique place of pure beauty. The scenery is vast and beautiful. The barn house is adorable and cozy. I would definitely go back.
Candace
November 2016
Marianne greeted us as soon as we arrived at the ranch. She is very friendly and very accommodating with requests such as the barbecue grill and outside table set. She made some fresh scones on Sunday morning for us! If you want somewhere quiet to relax this is the place.
Stefano
October 2016
Always responsive to contacts from reservation through stay. Helpful recommendations for things to do and places to eat in town.
Royce
December 2016
Oda tipi
Tüm ev/daire
---
Yer tipi
---
Konaklayacak Kişi Sayısı
6
---
Yatak odaları
2
Natchitoches
This fresh, modern house offers 1 - 2BR that comfortably sleeps 4 with one full shared bath. Located in a quiet neighborhood on Bringhurst City Park. Enjoy the walking trail 20yds from the front door, free golf course, and Alexandria zoo!
The bedroom sleeps 2 people in a Queen bed. Also, the room is equipped with a new 32" SmartTv with access to Netflix and Hulu! *If more than 2 guests, I also have a second room available with a full sized futon. It is my small home theatre room so in the second room there is only a 55" tv available to use but no closet to hang clothes! I rent out my personal bedroom when I am not home. The price will increase from $50 to $70/nt when that is the case as you are getting the entire home! :) Access to the full bathroom including fresh towels, washcloths, and bath soaps. Access to Internet, Netflix, front porch, parking, and home theatre room. I am a very busy person so won't be able to communicate much with guests as I am in and out a good bit. However, am always carrying my phone if guests have questions or concerns throughout their stay! :)
The walking trail! It's wonderful to be able to step off my front porch and take a stroll down the neighborhood. You can even stop to say hi to the lions at the zoo next door! There is a bus stop a short walk away at the end of the neighborhood. Major stores and the mall is bike ride away if you are one who likes to bike. Please remove hair from tub upon leaving the bathroom. The tap water does not taste good in town. I have filtered water in the fridge guests are welcome to!
It was very warm, inviting, and charming. It felt like home, and it is an easy drive to all of the major Alexandria amenities. If I ever traveled through the area again, I would definitely choose to stay here!
Kimberly
July 2016
Beautiful home and Victoria was very kind and hospitable.
Amy
August 2016
Thanks again!
Sarah
March 2016
Wonderful, peaceful, clean, quiet, cozy home! Victoria is an amazing hostess & super sweet to accommodate my late check in! Will stay here again!
Bree
November 2016
Great location-quiet and picturesque. Loved the decor and charm of the house. Very quaint. Would stay again. :-)
Karen
July 2016
Victoria is such a thoughtful AirBnb host, and her home is immaculately clean! I really had a great time staying overnight at her place - the room was spacious, the bed was comfortable; and her neighborhood is quiet, descent, neat... right on a hiking trail. How cool is that?! The only little thing I did not like about staying at Victoria's home is that I did not get to meet her :-( She was out of town for the week-end; but I guess that's what "next time" is for, yes?
Lili
March 2016
Such a charming home and host!!! Had a great experience!!
Sarah
March 2016
Victoria is a such a great hostess!! She has filtered water, coffee mugs for me to use as I left for work to have my "to go" thermos filled. Super quiet home on a lovely little street by the park. She kept the light on for me, it was very easy to find & feel safe. It's a comfy, snuggly bed perfect for this chilly weather! Will stay again when I'm back! ❤️️
Bree
November 2016
Oda tipi
Özel oda
---
Yer tipi
---
Konaklayacak Kişi Sayısı
4
---
Yatak odaları
1
İskenderiye
Great for Business Traveler. I will pick you up at the airport for a fee and return you to the airport if needed. Clean beautiful private must see. Suitable for couples, solo travelers you all will love the cosiness. Cable TV, On Demand, netflex, hulu, wifi in you room. Living area has a gas fireplace, kitchen with breakfast table. Your privacy is respected. Quite street excellent neighborhood. 2 miles from restaurants, stores, 3 miles from MacArthur Dr. Covered patio.
Bedrooms are separate from MB. See breakfast below. Living area, kitchen, patio. Breakfast if requested is toast or biscuit, cereal, coffee, juice, or oatmeal. I respect your privacy but I am available to offer help and answer your questions anytime. I will offer recommendations when asked. I can be a supportive host and can socialize or I offer privacy and respect your wish not to be socializing.
Location is great, neighbors are quite and stay to themselves, quite, beautiful, respected Public transportation is 2 miles away. You may park in my driveway. I have a 4 lb. baby sweet toy poodle who loves and adores everyone. She will not be caged.
Carol is a gem. She is so kind and welcoming. The room is comfortable and there is a large private bathroom. Her neighborhood is quiet and safe. She is very accommodating - she allowed my husband and I to have a late check-in, she stayed up to greet us. I would stay with Carol again.
Haley
January 2017
Oda tipi
Özel oda
---
Yer tipi
---
Konaklayacak Kişi Sayısı
2
---
Yatak odaları
1
İskenderiye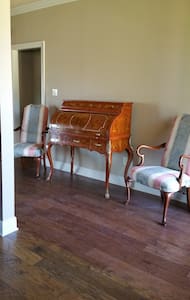 A queen sized sofa bed, 42 inch TV, fireplace, 2 recliners.
Ms. Linda was welcoming and genuinely nice. Her home was neat and clean and availabile to me at the last minute which I appreciate.
Kama
November 2016
This place is awesome! Ms. Linda welcomes (URL HIDDEN) on you, and even feeds you! Her house is homey and cozy, and she genuinely cares about her guests. The house is immaculate, and the accommodations are great. I stayed on the pullout, and it was still very comfortable. Will definitely stay there again when in Alec. True southern hospitality. If you're in town on business or pleasure, stay here! Much better than a hotel.
Malerie
December 2016
It was very nice to stay at Linda's. She is very warm welcomming. The dinner was perfect so was the talk. She gave me more than I needed and make me confortable right away. She even found me medication for my cold!
Solvejg
October 2016
Linda was a gracious host that went out of her way to make me feel comfortable. Her cooking was outstanding and she was very generous with the use of the kitchen. She even offered the use of her laundry facilities which was an unexpected, and appreciated benefit. There were two other guests staying there, and I enjoyed my discussions and interactions with both of them, making it feel like a small community. This was an unexpected benefit and added to the experience. Linda accurately described the listing as a "shared space" and, in fact, there is some lack of privacy despite the curtains. But it was not a major issue. When I expressed concern about the comfort of a sofa bed, Linda made an air mattress available. As it turned out, the sofa bed worked better, but the effort was appreciated. Linda's religion is important to her and anyone who is a Christian will feel especially comfortable.
Steven
April 2016
Linda's place is perfect. Great place to stay and feel at home. Clean, safe and comfortable. She likes and is a good cook. Come hungry. Her hospitality and home are wonderful.
Brian
September 2016
Linda was an excellent hostess and made us feel very welcome. We had all the comforts of home. She asked us what we wanted for breakfast and made some awesome homemade pancakes with crispy bacon! We would recommend this home for others to enjoy!
Dwayne
January 2016
Located in the suburbs of Alexandria, for us it was ideal, to explore the national parks around the town. Linda is very sweet friendly and very much likes to take care of you. Her home cooked breakfast/supper are delicious and healthy, we enjoyed them immensely after our walks. The bed is in the living room, but when you are staying, it is considered your room. There's no door, but a privacy curtain, which was fine for us. The sofabed started to have a little bit of trouble getting out of the couch, and is not the best bed in the world, but was all right for a couple of nights.
Roeska
November 2015
As usual my reservation was last minute. Ms. Linda definitely keeps a nice clean house even when there are no guests. Because I literally booked an hour before my arrival and everything was perfect. My boys loved playing spinners (a domino game) before going to bed. Thanks for your true southern hospitality and the boys and I will see you again soon.
Brock
April 2016
Oda tipi
Müşterek oda
---
Yer tipi
---
Konaklayacak Kişi Sayısı
2
---
Yatak odaları
1
Alexandria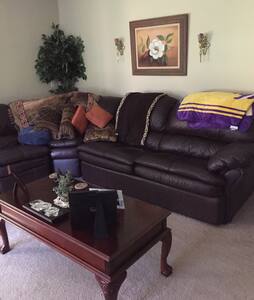 Ultimate Southern living on beautiful Black Lake near the public boat ramp. You'll love the morning sunrise with a cup of coffee on the balcony. The private boat dock accommodates 4 boats, quiet neighborhood, huge yard, breathtaking night sky, gorgeous sunrise and outdoor space. It is perfect for fishing, duck or deer hunting. The location is great for couples, solo adventurers, families (with kids), hunters, fishing groups and big groups. The whole second floor is yours. Downstairs is not used.
The allure of this space is the beauty of the outdoors. The Spanish moss covered Cypress trees are absolutely breathtaking. Entering the house: a few days before check-in, you will receive a code for the front door keypad. The downstairs is off-limits due to construction. There will be no construction occurring during your stay and no one else will be staying downstairs. You will have the entire place during your stay. My cell phone is always on to take your call.
Some of the nicest people you'll ever meet live in this neighborhood and neighbors look out for each other. Enjoy the company along with the outdoors! Free parking on the premises and we are close to the public boat ramp. The drive to the lake house is very scenic and beautiful. The roads themselves are not the best though, as they are windy and bumpy. Use caution when driving, but be sure to wave at all the neighbors. It's expected!
This place would be great for the fisherman and hunter. However, we visited with 4 adults and 5 children as a place to just get away - and it worked. The hosts were VERY responsive and offering of their time. We walked the neighborhood, the kids made friends with the numerous local dogs and we spent a lot of our time skipping rocks at the boat launch. The open kitchen/den layout is great for eating, cooking, and playing games. The market was close and had what we needed and with Natchitoches only 20 minutes away, we departed from our excursion without any regrets. A big bonus was the price.
Robbie
November 2016
The hosts are obviously making improvements to the property. New carpet, some new paint, etc. The scenery, namely the swampy edge of the lake, is beautiful. There is a pier/walkway out over the water, and it is in very good condition. If it hadn't been raining, I would have taken my morning coffee out there. We had everything we needed. Directions to the place were very accurate. The hosts were very responsive, considering how technologically challenged I am!
Malena
December 2016
This is a quiet lake house in a secluded neighborhood. Everything was as described, no surprises. The hosts' communication was excellent.
Ryan
January 2017
This property was a good value. It is off the beaten path, offers a beautiful setting as a unique older property that is under renovation. The moss laden trees and wildlife were spectacular.
David
December 2016
This is such a peaceful getaway! The property is beautiful and quiet. The lake in front of the house is awesome and we loved sitting on the balcony drinking coffee as the sun rose. The property is just a few miles from nacthitoches which has a great strip of shops on the cane river. During the winter season they have Christmas lights and festivals all season long on the banks of the Cane River. Definitely will be back and would recommend it to anybody trying to have a peaceful getaway.
Steffany
December 2016
Host was very helpful with any questions or concerns. Absolutely beautiful place to stay. I will definitely try to get same place if I ever need to stay in area again. Beautiful property
Nicholas
November 2016
Host was very helpful and answered questions immediately. We celebrated Christmas at this location. My family was very satisfied, especially my wife!
Hendrix
December 2016
Oda tipi
Tüm ev/daire
---
Yer tipi
---
Konaklayacak Kişi Sayısı
9
---
Yatak odaları
2
Campti
Spacious, peaceful extended stay on secluded 5 acre peninsula with wildlife, fishing, boat access & pier, large lake view porch with gas grill and smoker. Sleep: King, pullout couch, 2 full size and space for a queen air mattress
You will relax the minute you get here. Enjoy water sports on the lake or just read a book. Caney Lake has excellent fishing for bass and crappie. Jimmy Davis State Park is just around the corner by water or 5 minutes by car. Shop in Monroe/West Monroe 40 min. Duck Dynasty Commanders is 40 min. More stars than you can imagine. Deer, fox and other Critters fed 2x a day. Host lives next door. Sleeping arrangements include a full sleeper sofa, king bed, 2 double beds and room for a queen air mattress. Huge 20'x40' front porch with beautiful lake view. Relax outside or inside with satellite TV, grilling, water sports, or just watching the area's wildlife. This listing is only for the apartment - a larger space is available next door for larger family gatherings if interested. Additional guest bedroom in bath at host's home (next door) available if needed. Please reference this as you request booking. There is an extra charge for this room. You will have full access to apartment, porches, 5 acres, boat dock, 1500' lake front, boat tie ups on dock if needed. Washer/dryer in attached garage. Large smoker, propane grill, fire pit when cold. Host lives in home next door and is available if needed.
Lake front Living, 2 local eateries, Jimmy Davis State Park with beach. Home is available renting for events, weddings, parties, etc and many weddings and parties have taken place at our property. Please contact us for special pricing for these events.
Well, let me just say that this was the best stay ever! Charlie and Linda were the best hosts ever. They went out of their way to make sure we had everything we needed and to make me and my family feel right at home. The place was clean, beautiful and more than we expected. You could not ask for a better place to spend a relaxing time. My family and I were able to relax and enjoy the home and the lake. We went fishing and were even given a boat ride by the host to show us the homes as the moon rising on the lake. Charlie is a great cook and even went out of his way to smoke a brisket we bought for my family. He and his wife even served my family while we had a huge get together. The lake was really beautiful but also it was nice to see all the animals that would come up around the cabin to feed. We saw many deer, raccoon, fox and lots of other cool wildlife. The cabin itself was nice spacious and very comfortable. We had up to 11 people stay at one time with no issues at all. This place was definitely a home a way from home. Not to mention the host even cooked dinner for me and my wife and my mother and father. You could not ask for a better place to stay with better host. I am definitely glad I found this place and decided to stay. This cabin is next to Jimmie Davis State Park and has a beautiful view. If you are looking for a great place to relax and get away or just have a vacation with your family then this is the place for you. It was definitely a time to remember and I know for sure that we will be back again someday. Thank you Mr. Charlie and Mrs. Linda! Without you this would not have been possible! Jeremy Clower
Jeremy
September 2015
I do not know where to start, we definitely found a gem. Charlie and Linda are an absolute pleasure and truly made us feel like family from the minute we showed up. The property is beautiful and quite relaxing, being able to sit out on the patio and look at the lake and watch the wildlife walk right up near the property was awesome. We were treated to some wonderful food that they cooked for my family while we cooked on the bbq one evening. The hospitality and generosity shown during our stay was far more than we could ever expect or ask for. I would recommend this property to anyone looking to stay in the area, you will not want to leave your new found home.
Janne
April 2016
Charlie's house is very comfortable and cosy. It is a lovely place to enjoy the lake. Most importantly, Charlie and his wife are two amazing guests! So we had a blast! :))
Antoine
May 2016
Charlie and his wife were extremely welcoming! They were great company and wonderful hosts. The surrounding area was amazing as well! The listing was a great depiction of the property
Jennifer
August 2016
Charlie and Linda were absolutely magnificent hosts. They went above and beyond in accommodating us and our two dogs. Their home and the rental quarters were immaculate, evident of the care they provide for their guests and the pride they take in their ideal lakefront paradise. After the great meals, pleasant boat ride, engaging conversation, and overall genuine hospitality, I can honestly say we left feeling like we gained new members of our family. They truly cared about us, our dogs, and our experience. We are so thankful to have booked our trip and will surely be back. There are not enough superlatives to describe our experience and I could not recommend a visit to their home enough!
Miranda
June 2016
What a beautiful place! Charlie & Linda are absolutely amazing and will make you feel right at home. Will definitely be back!
Bruce
March 2016
Charlie and Linda were the most amazing hosts EVER! As if it wasn't enough that we were on the lake in a beautiful setting with a wonderful house, they treated us like family! They were welcoming from the very first email to the last hug goodbye. When we had local family visit for dinner they welcomed them and brought us delicious shrimp. We enjoyed time out on the lake, Cajun spices they gave us to take home, lots of wildlife, relaxing out on the porch, and of course, visiting with Charlie and Linda. We will go out of our way to make it back to their wonderful home.
Jenny
October 2015
Charlie and Linda were like discovering long lost family! They made us and our dogs feel like royalty and the lake house was a spectacular find. We only wished we could stay longer! The commute back to see family in Monroe was worth the hospitality and tranquility we found there. We will definitely be back!
Jennifer
December 2015
Oda tipi
Tüm ev/daire
---
Yer tipi
---
Konaklayacak Kişi Sayısı
10
---
Yatak odaları
2
Chatham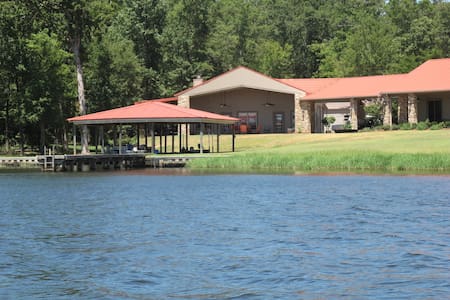 My place is close to restaurants and dining. You'll love my place because of the coziness. My place is good for couples, solo adventurers, and business travelers. My street & The neighborhood is excellent clean quite,safe and respected. You will find my home is lovely and pleasant. The accommodation is separate from the owners room so you have privacy. Your own bathroom. TV in the room Netflex Hulu & on demand. 2 miles to restaurants shopping 3 miles to the main area of town. Relax in the den fp
You may use the covered patio outback. You may use refrigerator for a drink or snack. Sitting in living room is available. TV cable is available. Private bathroom. Breakfast is toast or biscuit/hot or cold cereal, fresh fruit. Living room, kitchen, bedroom, bath, patio front door I will help you as much as needed. I will be available most of the time.
quiet, safe, beautiful you will love the neighborhood No public transportation near. I have a 4 lb. baby poodle who is all over the house except the bedroom your renting. She will not be caged at anytime.
Great place. Great host.
John
January 2017
Carol was a very gracious hostess and I enjoyed staying in her guest quarters! The bed was very cozy and the sheets were amazing! The street was very quiet and safe. I made my espresso on her stove in the morning and froze my ice packs overnight in the freezer. Carol was very accommodating and friendly. (Her little poodle was adorable; 4 pounds of curls and affection!)
Jennifer
December 2016
Oda tipi
Özel oda
---
Yer tipi
---
Konaklayacak Kişi Sayısı
2
---
Yatak odaları
1
İskenderiye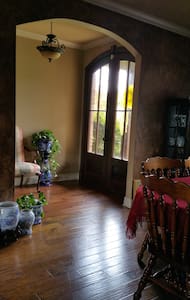 Our comfortable cottage allows you to step right outside and be standing over beautiful Caney Lake. With beautiful views from the dock, best fishing in the state of Louisiana, you feel you are at a relaxing resort on the inside of this property. Tucked away in a quiet cove, this place has private boat launch and electric boat slip, this is a true relaxing fishing getaway for the entire family a guys weekend away. 1 Queen Bed in bedroom, 2 twin beds and 1 futon sofa that makes into a full bed.
Located in private cove with private boat launch and electric boat lift. Local bass fishing expert and sac-a-lait fisherman lives next door and is happy to talk and share his secrets. Also, friendly neighbors that are willing to assist during any portion of your stay. Enjoy water sports or relax with a book. Jimmie Davis State park is close by either water or road. Great Beaches and splash pads for the children to play. 1 Queen Bed 2 Twin Beds 1 Futon Sofa that makes into a full bed 40 minute drive to Monroe for shopping and visit to Duck Dynasty. Jonesboro 20 minutes away for nearest town with Wal Mart. 2 Marina's on lake, Hooks Marina & Browns Landing offers gas, snacks, food, bait and drinks. Full access As often as they want to contact me
Great fishing, clean lake, family fun, relaxing and peaceful. No House cleaning Fee for every rental: $60 All provided: Sheets, blankets, pillows, towels, shampoo, soap, hair dryer, coffee maker, skillets, pots and pans, dishes, propane BBQ pit, Satellite TV, 2 TV's one in living room and other in bedroom, washer and dryer, iron, closet space, patio table and folding chairs outside, ladder on dock for those who want to swim in lake. On request can provide life vest for all sizes.
Oda tipi
Tüm ev/daire
---
Yer tipi
---
Konaklayacak Kişi Sayısı
5
---
Yatak odaları
1
Chatham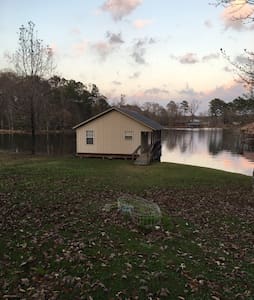 Three bedroom condominium with living room, dining room, kitchen, 2 1/2 bath, and patio! Humans and a menagerie live in this lovely space, and we'd love to host you! Quiet and safe neighborhood just off Jackson St, 20 minutes from the airport.
This is a split level condominium, with the guest bedroom upstairs. We have a delightful patio where you can sit and enjoy a glass of wine or bottle of beer! We have a washer and dryer for your use, and fridge space is available as well. The private room upstairs has a queen bed, with a full air mattress for the the floor if required. We have a plethora of animals in the house; be aware if you have allergies or phobias! We have cats, dogs, amphibians, and fish! The living room, dining room, kitchen, and patio are all common access areas. All of us work, however, our schedules can be a little crazy. It will depend day to day who all will be in the house and available. That being said, our phones are always on us!
The space is just off Jackson St, where there are many restaurants, groceries, etc. There is a multitude of guest parking, cars are not a problem! There are cats and dogs in the common areas, so be aware if you have allergies. We also have a frog, so be aware if they freak you out.
Ly (Lee) was a wonderful host. She was exceptionally fast at responding to questions related to the area in which the rental was available. Thanks so much Ly!
Abbie
July 2016
We had a super short stay and unfortunately didn't get to meet our hosts in person, but the place was lovely and clean, in a safe neighborhood and had THE friendliest cats, which was amazing!
Lina
July 2016
Lovely people and lovely place. Because of their work, everyone went to bed at 8.30pm so it was a good thing I didn't want to watch TV in my room!
Karen
May 2016
She communicated with us before our arrival and entrusted us with her house even though she was not present when we arrived. After her long day at work she took time to greet us. The description is accurate and the neiborhhood is nice and close to everything in town.
Ofelia
June 2016
Oda tipi
Özel oda
---
Yer tipi
---
Konaklayacak Kişi Sayısı
4
---
Yatak odaları
1
İskenderiye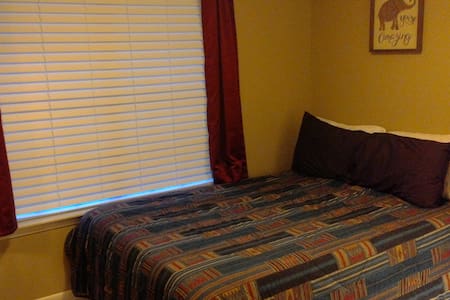 Peaceful and relaxing. Just a short 10 minute drive to downtown Natchitoches, the home of Steel Magnolias the annual Christmas Festival. Located on the Cane River with a magnificent view. Boat launch and pier for added enjoyment. Quaint 3 bedroom, 2 bath that sleeps 12. The perfect size house for a weekend getaway or a week filled with fishing and boating.
Oda tipi
Tüm ev/daire
---
Yer tipi
---
Konaklayacak Kişi Sayısı
12
---
Yatak odaları
3
Natchez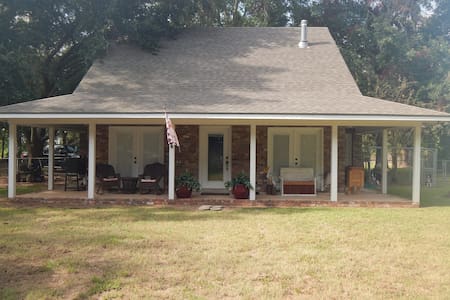 Nice comfortable home near mall, zoo, Kent House Plantation, restaurants, and festivals. Close to major highways and interstates.
This home is very warm and invitee and you can tell there is love all around looking forward to seeing Linda again she is truly a breath of fresh air
MaryAnne
July 2016
Wonderful stay! Linda welcomes you into her home with open arms. We immediately felt comfortable in her home and like we had known her for a long time. Linda is a genuinely kind and friendly host. Thanks. We enjoyed our stay and will be back whenever we are in the area.
Debbie
November 2016
Linda was a wonderful host and the first thing I noticed was a welcome basket and note. She cooks wonderfully, is extremely attentive, and is very caring. The room was comfortable and I was happy to make a friend. The neighborhood is quiet. I would definitely stay again. She's a super host!!!!!!!!!!!!!!!!!
Brandy
February 2016
Linda was a wonderful host! I felt welcomed and like a member of the family as soon as I walked in the door. Her home cooking was also fantastic. I hope I have the opportunity to stay at her place again.
Stacey
June 2016
This was our very first experience of Air B&B and after checking the reviews on this site booked in for 1 night. Linda answered questions before our arrival promptly. Linda was a very kind and gracious host who made us feel very welcome and at home immediately. Linda asked if we would like supper and breakfast - this was totally unexpected, but a very welcome change to eating out for the past 2 weeks. Linda's home cooked meal was delicious, as was the breakfast. The house was spotlessly clean, bedroom comfortable. Linda provided free Internet usage and we had full access to the TV and den. After a long drive from Alabama via New Orleans we were so grateful to be in a place that felt like home. My husband quickly made friends with the cat too! Thank you Linda for your kindness to strangers from Australia - we would definitely choose to stay here again should we visit this area again - Numbers 6:24-26
Colette
October 2016
Linda was waiting for me on her front porch. She had contacted me earlier to see if I wanted her to cook breakfast or dinner for during my one night stay. I opted for dinner and had a choice of roasted chicken on jambalaya. I chose jambalaya, and it was delicious! Linda is a very thoughtful and friendly hostess. She is a lovely soul.
Marie
October 2016
This was a last minute reservation and Ms. Linda was prepared and ready for my arrival along with my two young sons. Our room was clean and she even had us a dinner ready even with the short notice. I highly recommend her home as a place to stay on your travels.
Brock
April 2016
It was comfortable, clean, safe, host cooked one meal everyday, enjoyed my time beingMs.Linda guest.
CHANTELL
April 2016
Oda tipi
Özel oda
---
Yer tipi
---
Konaklayacak Kişi Sayısı
2
---
Yatak odaları
2
İskenderiye
Fully furnished apartment: queen-sized bed, 48''TV with cable, big sectional sofa, high speed-wireless internet.
The apartment locates in a quiet and safe neighborhood with access to amenities from the apartment's clubhouse such as outdoor swimming pools and laundry facility. This spacious and clean place is fully furnished with big sectional sofa, TV with cable, high speed wireless internet, office space, and many more. You will have everything you need to make your stay comfortable. Important: Please communicate arrival plans and arrange check-in prior to day of arrival in order to ensure a smooth check in. Last minute notice could result in delayed access. Entire Apartment Pool & laundry facilities all on site. My aim is to provide comfortable and affordable accommodation for travelers who come to Alexandria for leisure or business visits. I might be able to assist in local knowledge and tips for getting about. If I can help with anything let me know. I hope you will choose to stay here and I am happy to answer any questions.
Quiet, clean , and safe complex that is centrally located on Jackson Street so it is very easy getting around many places in Alexandria from here. Downtown Alexandria is less than 10 minutes away, Mall is less than five minutes away, Airport is about 15-20 minutes drive. The place locates close to many businesses: grocery stores, restaurants, CVS, Walgreens, post office..all within walking distance. Buses and Taxi I will try to be home upon your arrival. If not, I will make arrangements so you have access to the apt.
This accommodation perfectly met my needs during my trip to visit family in Pineville and Pollock. The host, My, welcomed me with warm, southern hospitality. During my five-day stay, she stopped by to bring me a selection of dvds and later, brought over more fresh fruit. I would highly recommend this property. It's located in a safe and convenient area.
Lisa
March 2016
My was so friendly and helpful! Her apartment is on a ground floor corner and her parking spot is directly in front of it which was perfect for loading luggage and great to not have to walk far when we got back at the end of each day! This place is centrally located and so cozy- very close to everything in Alexandria! My was excellent at communicating and making sure we had everything we needed. We will definitely stay again when we come back to visit! Thanks My!
Valerie
February 2016
My was a great host, friendly and helpful. The place was extremely clean and we had everything we needed, including cool drinks and snack which she left for us. The couches and bed were very comfortable. We only stay one night as a stop over on a road trip but was just what we needed.
Liv
April 2016
The room was ready when we arrived with nice amenities for our stay.
Dwayne
January 2016
My was super helpful and made sure we feel comfortable in her home.
Adi
December 2015
We spent just one night in My's appartement which she left to us. Clean, spatious, comfy bed. Arrival went well, we received instructions well ahead. Fortunately she was free to have a long and insightful conversation with me. We wish her good luck for the future and hope to welcome her in our home in southern France close to the Spanish border.
Richard
April 2016
Yes My Pham made me feel right at home! She was a nice host, she offered drinks and snacks, and showed me where everything was located. I got some much needed rest! I would love to use My Pham again when needed!
Q
December 2015
My was flexible with our travel schedule and met us on site. Showed us around the home left out snacks and reasonable accommodations for us. She was great and we thanked her for her service. She made herself available and was easy to reach.
Jeremiah
January 2016
Oda tipi
Tüm ev/daire
---
Yer tipi
---
Konaklayacak Kişi Sayısı
4
---
Yatak odaları
1
İskenderiye