Within virgin Cycladic landscape and balcony Sea will find peace, quiet, sun sea and thyme. We walks, fishing, swimming and exploring the majestic island of Andros. Welcome!
Oda Tipi
Tüm ev/daire
---
Mekan Türü
Ev
---
Konaklayacak Kişi Sayısı
4
---
Yatak odaları
Kalamaki, Egeo, Yunanistan
Traveler that values the beauty of simplicity and the airbnb's premise of living with locals may experience the uplifting magic of our home. "Iris" is a private small apartment, part of a bigger house and has all the amenities to ensure you a comfort stay. Illuminated by the bright Greek summer sun and roasted by the saltiness of the Aegean, the house was decorated over the years with all our beloved belongings and crafts. Just 150m away from the sea it is ideal for families or friends.
"Iris" is a private small apartment of 55sq.m., part of a bigger house. It has all the amenities to ensure you a comfort stay. This apartment consists of a living room with two small sofas, two a cozy bedrooms (one with a double bed and the other with two single beds), a bathroom with shower/toilet and a kitchen that is fully equipped with all the electronic facilities (fridge, oven, coffeemaker and a water kettle) necessary for your convenience. Next to the kitchen there is a large wooden table that can serve either as dinner table or as a Work Table. Additionally, there are three roof-ceiling fans (one located in the living room and the other two in the bedrooms) and we provide free WIFI access. The bedroom with the double bed is to our one-seat parking spot while the other bedrooms with the living room have direct access to the main veranda where you can interact with the other guests since there is another private apartment for renting in this floor. The apartment is bright, airy, and decorated minimalistic over the years with all our beloved belongings and crafts according to our "Sincerity & Sensuality" motto. "Iris" is ideal for a family or friends who seek an alternative choice close to the beach (150meters away).
Lotos is small quiet neighborhood of Kini village surrounded by locals. It is 9km far for Hermoupolis and is ideal for families or couples who seek privacy. Kini is 10min far by walking and the route is quite romantic. In Kini there are supermarkets for your needs as well as traditional restaurants where you can taste local delicacies and gaze the Aegean sea - Kini is also known for it's amazing sunset.
It was one of the best vacations ever. Beautiful beach nearby, quietness, clean and comfortable house (it has literally everything you need), tavernas with really good food (especially mind Yalou Yalou), mini market. Very handy kitchen with all you need to make some nice food (I, as a mom of 16 months old kid, appreciated it especially)! I haven't met Ector personally, but he made more than the best host can do, even some things almost impossible :))) About the island - its gorgeous! Clean, almost empty (from tourist crowds), Kini beach - paradise! beautiful Ermoupouli - you will enjoy the architecture and small shops. A must are sweets from Melikraton - remember my words!
Alena
2016-09-05T00:00:00Z
We had the most brilliant time in Syros and Ector's amazing place was the most idyllic spot to explore it from. Kini beach is by far one of the best beaches on the island (and after hiring a little ATV in Hermoupolis to go around the island we can say that with certainty), and Ector and his family were incredible hosts - a lift into town, fresh figs and baking from his mum topped off the lovely hospitality from all of them. The place itself is gorgeous, simply but nicely done with everything you could need plus a huge verandah with stunning views over the bay and little Lotos beach. Ector's father is an architect and designed the house, and you can tell - the layout is beautiful, with the little apartment being very private as well as making the most of the views. Kini beach and its chilled little restaurants is a 5 min walk, and it's an easy 15 min taxi from the main city where the ferry arrives. Definitely recommend exploring other beaches on the island for a day (Galissas & Delfini were our other faves) and spending some time in Hermoupolis (including walking up through the old town on the hill Ano Syros). Overall it was the perfect place and one of the best Airbnb's we've stayed in. Will be recommending to everyone, and thank you so much again to Ector and his family for having us!
Natasha
2016-08-13T00:00:00Z
Ector's place was the best Airbnb I've stayed in or heard of. Even though we haven't had a chance to meet the host personally, we were taken care of by the rest of his family, who were all incredibly nice and welcoming. Ector's mom kept offering us traditional Greek food that she made taking our dietary preferences into consideration (100% vegan friendly), Ector's dad was always up for a small chat and Ector's sister did a wonderful job recommending places to see in Syros. The family kept saying that this has nothing to do with the Airbnb and we could clearly see how honest their hospitality and kindness is. They were always happy to help us out even if that meant driving us all the way to Anos Syros on the day of our departure! Apart from that, the place was perfectly clean, well designed and it had a beautiful view on the agean sea and the lotos beach which was just 2 minutes away. The center of Kini was also a 5 minute walk. We enjoyed our stay at Ector's place so much that immidiately after we left we started reccomending it to our friends and family. Thank you so much for having us!
Bogusia
2016-07-18T00:00:00Z
The house is perfectly located between the small beach of Lotos and the village of Kini. It is at walking distance from either but away from the crowded areas. Design, comfort, amenities, veranda views: all are top notch. This is the kind of place that you simply do not want to leave. Our perfect Syros days always started with a good breakfast at the shadowed veranda enjoying the refreshing Aegean breeze and Maria's home made marmalade. At the end of the day, we spent many relaxing evenings just enjoying a glass of wine, reading and watching the night fall. Ector and his parents, Thodoris and Maria, were fantastic hosts. They made us feel at home from the first moment we arrived. Always there if we needed something, discrete, warm and friendly, it was as if we were staying with friends. Their hospitality made this an unforgettable experience!
Stratis
2016-08-28T00:00:00Z
Amazing house, amazing hosts! The house is in a lovely beach of the island with some of the best restaurants. If you want more noise, Hermoupolis is 10 min by car. The house is immaculate down to the last detail and Hector and his parents are simply the best hosts ever! We had an amazing time and most likely will visit again soon.
Christos
2016-08-21T00:00:00Z
Excellent stay! Beautiful home. Ector and his family were very kind and accommodating. I've been to Syros many times and this was my favorite experience.
Hunter
2016-07-15T00:00:00Z
Bravo! A wonderful apartment in style and well equipped with the most prettiest view. For instance, every detail in the apartment is well selected and thought through. A lovely host family who made us feel at home ride away. We enjoyed Maria's self made jam, cheese pie and stuffed vegetables, Theodor's self collected capers and Ector's company. Both Kini beaches are in walking distance (5 min). The Giannakopoulos family provided us with interesting details about the island and its history. We can't wait to come back!
Sonja
2016-08-09T00:00:00Z
Oda Tipi
Tüm ev/daire
---
Mekan Türü
Daire
---
Konaklayacak Kişi Sayısı
4
---
Yatak odaları
Kini, Egeo, Yunanistan
The 64 sq.m stone house is situated in Apano Meria, the last traditional place on the island.Here you can enjoy the peaceful environment far from the town noise,without being more than 7 KM away from Hermoupoli's center. Beautiful paths,lonely beaches,traditional taverns and the old seeds are under your feet.The sun rises every day behind Dilos, opposite our planted field, from which you can also enjoy the view of Tinos, Mykonos, Ikaria. Simplicity creates beauty and here everything is simple...
The house is totally built out of stone, in the traditional way of the area's habits. You will find a double bed in the bedroom, where there is also an office, a closet and our little library, full of interesting literature and poetry books. There is a built semidouble-double bed on the sitting room, that a couple can enjoy, whereas, at the same place, another at least two persons can find comfortable room to sleep on the wide built couches. The little bathroom is also built according to the traditional old ways, the same as the kitchen with the marble counters and sink. There is a washing machine, solar water heater, hairdryer, iron, television and free internet wifi. Outside the house you can enjoy the view from the yard, sitting on the built benches under the arbour.
Chalandriani, the little village where the house belongs used to be a prehistoric agricultural spot. On the opposite hill of Kastri you can visit the remains of the prehistoric town. You can also find interest in exploring the cave where Ferekydis, one of the first ancient writers and also Pythagora's teacher, spent part of his lifetime. The medieval village of Ano Syros is only 5 KM away and you should for sure walk to it's narrow traditional little streets. The area is quiet and peaceful. You can enjoy walking on some of the beautiful paths that lead to stone wells, nearby little villages (San Michalis, Platy Vouni, Papouri) or the isolated sand beaches of the north. Watch exceptional bird species, like hawks or even hedgehogs if you are lucky, and meander around the special bushes of creeping theme or sage. Explore the quiet beaches of the north (Aetos, Marmari, Varvarousa etc), and find out the beauty of small sand gulfs and crystal waters among the rocky landscape. Enjoy your lunch or dinner in one of the three taverns of the area, with breathtaking view of most of Cyclades islands. The distance from the house is 1-2 KM and you can even walk to there on one of the most beautiful roads of the island between east and west! Find out about the biological products of the local. Non water vegetables, fresh milk straight from the cows, grapes immediately gathered from the field, figs with exceptional taste. And always the little donkeys nearby! After relaxation under full stared sky and peaceful view you can explore the rest of the island. Hermoupolis is just 7 KM away and the villages in the south are always close. Don't hesitate to also visit the islands that you watch everyday from our little house! Tinos is only 40 minutes away, Mykonos about 1 hour and from there take the little boat to ancient Dilos!
Oda Tipi
Tüm ev/daire
---
Mekan Türü
Ev
---
Konaklayacak Kişi Sayısı
5
---
Yatak odaları
Chalandriani, Yunanistan
Our house is a family maisonette of 95 sq.metters with elements of traditional residences in Myconos . Enjoy the great view of the Aegean sea from the upper level of the house or relax in the isolated bedrooms in the ground level with acces to the garden.
Our house is a multiple-level place about 95m. that represents our esthetics. You can enter the house from the upper level and enjoy a wonderfull view either you are sitting near the fire place in the living room , in the dining room or having a coffee in our large veranda with an opportunity to dine outdoors while relaxing and enjoying the blue Aegean Sea.In this level there are also a fully equipement kitchen, a small bedroom, a bathroom and a wooden loft for some extra relaxing moments. In the lower level you can find the two bebrooms and take a bath to a unique (URL HIDDEN) main bebroom has acces to a bright small terrace near the garden with the olive trees. Our house has the ability to acommodate from 2 to 8 (URL HIDDEN) is ideal for families or parties.
From our place you can have a panoramic view of the village. Kini is at the west part of Syros island so you can enjoy the most beautiful sunsets.The beach is 200 meters from the house and a lot of taverns (meat or fish) are on that beach.There is also a mini market.You can go the beach by foot following the direction for Lotos Beach(as you exit from our house you go left) and enjoy the panoramic view as you descending the hill. You can also take the path near the catholic church (after you exit our house you go right)and descend the stairs if you wish to pass through the village. Other options for swimming is the Lotos bay and Delfini beach. If there is not a windy weather, a boat leaves from Kini daily for the northern beaches of Syros (Grammata, Lia, Aetos, Varvarousa), which, due to the absence of a large urban network, are cut off and therefore ideal for those seeking isolation and tranquility. .
Confortable et très jolie maison avec vue magnifique sur la mer et sur Kini. Des propriétaires intentionnés et adorables, Accès au port et à la plage de Kini à pied, Une idéale adresse pour passer des vacances agréables en famille. À conseiller vivement !!! Un grand merci à Maria, son mari et leurs petite fille, pour tous ces moments inoubliables.
marie
2016-08-17T00:00:00Z
Nous avons été très bien accueillis par Maria qui nous a proposé son aide pour notre voyage jusqu'à sa maison de Kini. Un taxi nous a emmené depuis Ermoupolis (ferry) environ 10km (le plus pratique pour trouver la première fois). Son mari Stamatis nous y attendait et nous a très gentiment montré la maison et conseillé sur les endroits à ne pas manquer. La maison est super, bien agencée et bien décorée, l'équipement est comme listé, balcon (terrasse couverte) la vue sur la mer est splendide + terrasse sur la chambre grand lit 2 places niveau jardin. Le village KINI (cafés, restaurants, mini market, un loueur de voiture) et la plage (sable et eau transparente) sont a dix minutes de marche à travers le village, descente par des escaliers, très agréable, très reposant et l'atmosphère y est très douce! Nous vous conseillons la location de voiture 25euros /jour, pour découvrir l'île, voir d'autres plages, départ balades ou retourner à Ermoupolis (15 minutes) pour balades, boire un verre ou manger. Nous vous recommandons cette location que nous avons inauguré avec airb&b! Merci à Maria, Stamatis et leur fille Alexandra que nous avons eu la chance de rencontrer.
Lucie
2016-05-26T00:00:00Z
We had a fantastic holiday in Kini. Maria was/ is a perfect host. She preapered our stay in Kini very carefully and answered every question of us very fast. She let us a lot of advices, proposals and even the German guide. The house is lovely, clean, nice decoreted and has everything what you need for holiday. Its also very friendly for the children. We (four adults) were in Marias house with two babies and two children and it was enough space for everyone. Kini is beautiful, has nice beaches and you can use the bus, taxi or rent a car in order to visit another beaches and discover the lovely Syros. We also went for two days to Athens. We enjoyed the house and Kini very much. I hope to come back there once again. Thank you Maria for everything!
Aleksandra
2016-09-01T00:00:00Z
Dès notre arrivée à l'aéroport d'Athènes, Maria et Stamatis, son mari, nous ont pris en charge. Ils nous avaient réservé un taxi à notre arrivée à Ermopoulis. Bref, ils ont tout fait pour nous faciliter notre arrivée dans leur maison de Kini. Maria a veillé à ce que nous ayons de l'eau fraîche dans le frigo (l'eau du robinet n'est pas potable, comme dans toute l'île), une bouteille d'un très bon vin blanc et de succulents loukoums... La maison est située sur les hauteurs de Kini (environ 80 mètres d'altitude), à 10 minutes des plages de Lotos et de Kini (pour se rendre au centre ville, prendre par l'église catholique et l'escalier, pas par la route principale où passent les voitures). La situation de la maison offre une vue imprenable sur la baie de Kini et d'autres îles. Levers et couchers de soleil inoubliables sur la terrasse couverte. Il y a toujours de l'air, ce qui est extrêmement agréable. L'intérieur est joliment décoré. Le quartier est très tranquille. Tout est faisable à pied. La plage et le petit port de Kini sont charmants et très agréables pour la baignade. Kini dispose aussi d'une petite épicerie ("mini market") où l'on trouve le nécessaire. A noter que la maison est à 30 mètres de l'arrêt de bus Lotos en direction d'Ermopoulis (les horaires sont indiqués sur l'arrêt). Nous avons quand même loué une voiture à Ermopoulis (tarifs plus intéressants que celui proposé à Kini) pour découvrir les autres plages de l'île. Maria a pris soin de prendre des nouvelles le lendemain de notre arrivée pour savoir si tout se passait bien et nous avons échangé durant le séjour. Avant notre arrivée, elle a toujours répondu à nos questions avec rapidité, ce qui est très appréciable et facilite la préparation du voyage. Nous avons été enchantés par notre séjour.
Marion
2016-07-15T00:00:00Z
Oda Tipi
Tüm ev/daire
---
Mekan Türü
Ev
---
Konaklayacak Kişi Sayısı
8
---
Yatak odaları
Kini, Egeo, Yunanistan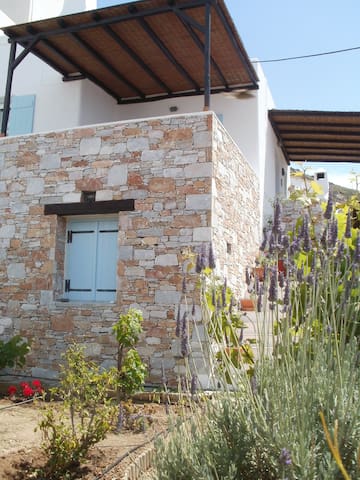 Traditional storied house with entresol located at the picturesque side of Kini beach, 5 meters from the sand. Includes air conditioning, fully equipped kitchen, a bathroom, as well as a large balcony with a direct view on the sunset. Can host up to 6 persons. Cafeterias, mini markets, restaurants, and also the bus stop are all in close proximity. Recommended for couples, families and friend groups looking for a quality vacation at the countryside.
The house is located at the northern part of Kini beach, one of the most popular beaches of Syros. It is literally 5 metres away from the sand, which gives the opportunity to go swimming whenever you need and to enjoy the sun and the sea. It is near the cafeterias, mini markets, restaurants and beach bars of the village. The house itself is storied and includes 2 bedrooms on the upper floor (one has a double bed and one has a single bed), as well as a bedroom on the entresol with 2 single beds. In the livingroom there are 2 large sofas which can accommodate some persons as well, meaning the house can host up to 6 persons in total. The kitchen is perfectly operative and features a sink, cooker and fridge, as well as cupboards with any cooking equipment you may need. There is also a balcony and a small yard, where you can sit to relax and enjoy the sunset. In this house we have spent our first 15 summers, and it is full of beautiful and sweet memories. We hope that you will get the same friendly, calm vibe we have always gotten.
we had a wonderful time with my friends in this house. what a beautiful house it is, in front of the see, close to beautiful restaurant. Takis and Lefteris took care of our group, like real gest. thank's a lot Takis and Lefteris.
Sibylle
2016-10-05T00:00:00Z
We had a great stay and the house exceeded our expectations. We found it even more charming than what the images give away. The location was perfect right next to the beach and with everything we could want and need near by. The hosts made us feel very welcome and even picked us up from the port, which we highly appreciated. All in all a terrific holiday.
Renate
2016-07-30T00:00:00Z
Lefteris is a very nice and friendly young man who did everything he could to welcome us and to make our stay in Syros unforgettable. The house and the place is even better than the pictures. All our expectations and wishes for a beautiful holiday were fulfilled. Therefore is was for us the perfect and best place to stay in Syros. Many thanks Lefteris, Rob
Rob
2016-08-10T00:00:00Z
it was perfect. Your island and your house were beautiful thanks for your welcome and your gifts
Florence
2016-08-19T00:00:00Z
Oda Tipi
Tüm ev/daire
---
Mekan Türü
Ev
---
Konaklayacak Kişi Sayısı
6
---
Yatak odaları
Kini, Egeo, Yunanistan
My traditional Greek farmhouse has been in my family for many years - my mother was born there. Set in a country area of the island of Syros about ten minutes walk from a safe sandy beach, it offers two bedrooms and a terrace with good sea and village views.
My old style Greek house is part of a working farm. It is surrounded by olive trees, which are harvested in the traditional way each November. All year we grow vegetables and keep chickens. Inside the house is furnished in a Cycladic style. Many pieces of furniture have been handed down through my family. There is no central heating or aircon, but we have fans and portable heaters if required. You can also use the open fireplace in winter to be really cosy.
Yiannis met us at the port, and drove us to the farmhouse, where we had an excellent 5 night stay. Yiannis was always available to answer our questions about Syros and helped arrange a car to hire. The location of the farmhouse in the nice little village of Kini is amazing for a relaxed and enjoyable stay. Many thanks to Yiannis for his hospitality. Andrew
Andrew
2015-09-24T00:00:00Z
Hey Yiannis, thanks for everything! It was a great stay at your farmhouse! Its a perfekt place for a family, the kids were happy in the house with the big terrasse and at the beautiful beaches! We would like to come back!
sascha
2016-05-27T00:00:00Z
"You'll come back", Yiannis said. We'd hardly arrived, but he was absolutely right. And though he certainly meant 'back to the island', we would also be delighted to come back to Yiannis place. He had the answers to our questions before we even posed them, the house was beautiful and clean, Yiannis was more than friendly and Syros was wonderful in quiet. We'll come back.
Jozefien
2015-05-29T00:00:00Z
Yiannis is a wonderful man, loving his island and ready to share the authenticity of it. His gran father house is like described : simple, authentic, nice atmosphere and beautiful terrasse and view on the village and the sea.
Parisod
2016-10-25T00:00:00Z
Siamo state accolte da Yiannis e da un suo collaboratore benissimo ,sono venuti a prenderci al porto e portate all'appartamento che era in un posto favoloso !!!
Monica
2014-10-09T00:00:00Z
Un séjour très agréable à Kini ! Yannis est un hôte très sympathique grâce à qui nous avons pu découvrir l'île et échanger sur mille choses de la Grèce. Le logement est simple, propre et confortable. Nous y avons été très bien !
Louise
2016-04-27T00:00:00Z
Nous avons passe un très bon séjour dans la maison de Yannis, la maison est simple c est ce que nous recherchions. Grâce au grand jardin les enfants ont pu passer leur temps à jouer dehors. Yannis est très disponible pour nous aider. Nous espérons pouvoir y revenir bientôt.
Cécile
2014-08-25T00:00:00Z
Yiannis was the perfect host! Communication ahead of our arrival was great – he met us at the port when we stepped off the boat and gave us a guided tour of the island on our way to the farmhouse. The farmhouse itself was exactly as described – and just what we had hoped for. It was well equipped, spotlessly clean and very cosy. The location at Kini made for a great base – Yiannis had arranged car hire for us as well, and we were able to explore all of the island during our stay. We would definitely recommend Yiannis as a host and hope to return to Kini very soon :)
Emily
2015-10-10T00:00:00Z
Oda Tipi
Tüm ev/daire
---
Mekan Türü
Ev
---
Konaklayacak Kişi Sayısı
5
---
Yatak odaları
Kini, Egeo, Yunanistan
A house in the area of Kini in Syros, 80 square meters wide, with garden.The house is fully equipped with furniture, air condition, telephone line, cutlery etc. The house has two bedrooms, living room, hall, kitchen, WC and two terraces.
We really enjoyed our stay in Kini. Such a lovely little village! Lovely beach and nice restaurants just right outside. Maria was just a great host and was very helpful to us. Her house was just in perfect location, the view from the house was stunning! Maria also provided us with some food to start with such milk, orange juice, water, eggs, capers, feta cheese and jam. For that we were so grateful! We couldn't ask for anymore! It was a fantastic holiday!
Yuni
2016-07-21T00:00:00Z
We had an amazing time on Syros, and thoroughly enjoyed our time in this lovely house in Kini with lovely views of one of the best beaches of the island a very short walk away. Maria very kindly met us at the port in Hermoupolis and ensured we were shown around the house and provided us with lots of relevant information. She had gone the extra mile with preparations and there was water, juice, feta, crisp breads, coffee, sugar etc provided. A life saver when you've just arrived somewhere new with children. The house was clean and tidy, very well equipped with iron, washing machine, pots, pans and everything else you would normally find in your home. We can thoroughly recommend the house as a holiday home and Maria as a host.
Christos
2016-08-26T00:00:00Z
I am delighted to leave some feedback for such gracious hosts. The first night that we needed the accomodation for they were booked, but It was no trouble for Marita/Maria to find us alterantive accomodation for our 1st night. The next day we were all picked up and transported to their beautiful house for the next 6 days. The house is gorgeous with amazing views over Kini beach. There were even essential supplies of food/drink for us on arrival. As a family with a 12 year old and a 3year old, the house suited us all perfectly. Lying in our beds in the morning you can open the shutters and see the sea! perfect! Maria/Marita thank your for making us feel so at home and going the extra mile for us. Especially helping us find accomodation in Mykonos for our last night. We will definietly be back and look forward to welcoming you all to London whenever your here. xx
Emma
2014-08-23T00:00:00Z
Maria was a great host and even picked us up from Hermoupolis and brought us to the apartment. She was also very helpful in pointing out the facilities in the area and advising which places to visit.
Thomas
2015-08-01T00:00:00Z
We found that Kini was the nicest village to stay at compared to any other villages on Syros.
lisbeth
2016-07-12T00:00:00Z
Oda Tipi
Tüm ev/daire
---
Mekan Türü
Ev
---
Konaklayacak Kişi Sayısı
7
---
Yatak odaları
Κίνι, Αιγαίο, Yunanistan
6 bedrooms, 4 bathrooms: 3 suites on ground floor + 3 bedrooms & 1 bathroom on the first floor. Very calm, great neighborhood. Air conditioning in all the rooms.
Convenient for 3 families / 12 persons
Nice neighbors, far from the house. Very calm.
Dimitri était très chaleureux et ait venu nous chercher au port. Nous avons decouvert la maison qui etait encore plus belle et agréable qu'en photo ; une grande piscine, une vue exceptionnelle, des chambres spacieuses, plusieurs endroits où se reposer à l'ombre! Je recommande vivement cette maison à ceux qui veulent passer des vacances en famille ou entre amis pour se reposer et s'amuser ! La ville la plus proche est à 15 minutes à pieds et il est sympathique d'y déjeuner, les lieux sont vraiment charmants !
Louise
2016-07-18T00:00:00Z
La maison de Philippe est superbe!! La vue sur la mer est idyllique! La piscine est très agréable et très propre. Bonne situation, à 5min d'un super marché et 5-10min de Kini (mieux vaut tout de même être motorisé) Notre arrivée et notre départ ont été très simples et la communication facile... Bref impeccable ! Merci !!
Raphaelle
2016-10-04T00:00:00Z
The house and the view are indeed breathtaking! It's a wonderful and peaceful place/location. There's 3 or 4 cozy places outside were you can eat or take a nap (+swimmingpool!). Inside the interiour is very tasteful and super clean. I feel the more I will say about this place the less special it will be. We were there with 12 people and we were all like wow! Discover it yourself. Thank you Philippe!
Bart
2015-06-08T00:00:00Z
Nous avons passé une semaine entre amis dans la maison de Philippe. Le lieu est juste extraordinaire, surement l'une des maisons les mieux placées dans cette partie de l'île, un havre de tranquillité, en trois mots : luxe, calme et vue-panoramique. Une habitation charmante, où tout le confort est à disposition, un peu comme à la maison il n'y manque rien. Bien situé à la fois proche des plages et des commerces, tout en préservant un cocon d'intimité. la maison est très bien agencée, grâce à la disposition des terrasses on trouve toujours un endroit au soleil ou à l'abri du vent pour déjeuner, se détendre, profiter des vues sur la baie, les montagnes ou le coucher de soleil. Les chambres sont mignonnes, la literie est bonne et l'ensemble bien tenu. Très bon suivi de Philippe, qui a été d'une grande aide lorsque nous avons eu besoin de lui. Dimitri, qui est le gardien de la maison, quand à lui est un excellent intermédiaire sur place pour tous les besoins et questions pratiques. Bref depuis 10 ans que nous parcourons la Grèce et ses îles, la maison de Philippe restera dans nos mémoires comme un petit coin de paradis rempli de plaisants souvenirs.
Samuel
2016-05-09T00:00:00Z
La maison a été à la mesure de nos attentes et même au delà : spacieuse, confortable, extrêmement bien située avec vue panoramique sur la côte découpée à l'ouest de l'île de Syros. Les chambres sont lumineuses et spacieuses. La maison est agencée de telle sorte que chaque chambre dispose d'un accès autonome à l'extérieur ou à une terrasse de sorte que même en groupe on peut toujours trouver un endroit calme. La piscine est grande. La maison est appropriée pour des groupes d'amis et/ou pour une famille avec enfants. Le contact avec le propriétaire Philippe a été facile et agréable, et efficace. A recommander chaleureusement!
Steffen
2015-08-02T00:00:00Z
La maison était tout simplement parfaite : spacieuse, pratique, propre et très bien équipée. Très bien située sur l'île de Syros, proche de plages magnifiques et d'une superette. Les à-côtés sont aussi très utiles ou pratiques : les terrasses, la piscine, le barbecue, les kayaks... La vue sur la mer Egée et les îles était magistrale (les couchés de soleil sont exceptionnels). Et un propriétaire très avenant, et qui nous a bien parfaitement bien aidés pour notre séjour. Very comfortable, functional and well-equiped house with a wonderful view on the sea. The place to be to chill out and enjoy holidays !
Anne
2016-05-31T00:00:00Z
The contact with Philippe through the mail was good: Philippe answered quick and was very kind and helpful. We were picked up at the harbour of Ermoupoli by Dimitri (employe of Philippe). Dimitri is a very friendly and helpful host. He explained us everything we wanted to know about the house and the island. The villa was really amazing and we felt home immediately : it is like a dream house with a breathtaking view over the sea combined with the swimming pool, the cosy living room, the large space around the house. There are terraces on different sides (seaside, entrance side, 1st floor), this is very handy due to the wind which can occur. There is a bbq place at the front side near the kitchen which we used a few times. This is definitely a house where we would like to come back.
Carina
2016-05-16T00:00:00Z
Indeed a breathtaking seaview. It's a lovely house with a lot of wonderful terrasses. Dimitris was very kind and helpfull. We definitely would love to come back.
Nina
2015-07-26T00:00:00Z
Oda Tipi
Tüm ev/daire
---
Mekan Türü
Ev
---
Konaklayacak Kişi Sayısı
12
---
Yatak odaları
Dani, Egeo, Yunanistan
This place offers a spectacular view over the wide blue sea and unforgettable sunsets from the terrace. You have a fully equipped kitchen, a big living room with a lot of light coming in, a separate studio, several terraces around the house. A jewel!
The house is really nice, fully equipped, located extremely beautifully and offers a stunning view to the Aegean Sea and some other islands. However a car is highly recommendable, but easy and cheap to be rented. The hosts are very friendly and welcoming people. Iosif picked us up from the port and showed us the way to the house. The communication was always very easy and reliable. We will definitely come back again.
Johannes
2016-10-08T00:00:00Z
We had a very pleasant stay in this fantastic place. The house is well equipped and clean.The view from the house is even better than on the picture. And the host Iosif was very hospitable and friendly. Out of the buzz of Andros' main villages, but not too far by car. Nice beached within 10 minutes driving from the house. We will come back!
Berend
2016-10-02T00:00:00Z
Oda Tipi
Tüm ev/daire
---
Mekan Türü
Villa
---
Konaklayacak Kişi Sayısı
7
---
Yatak odaları
Andros, Egeo, Yunanistan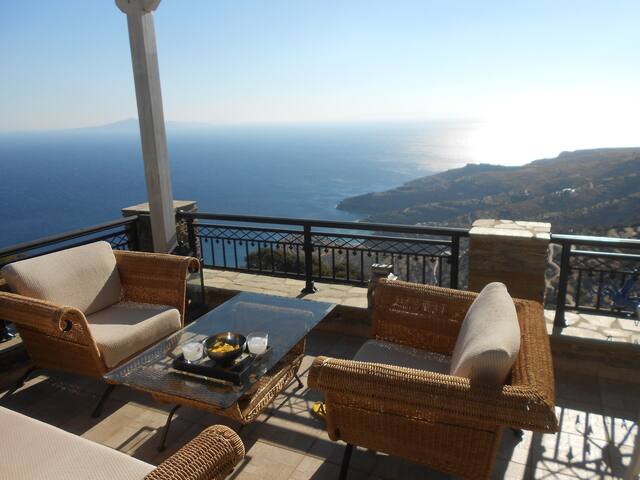 Vanha talo tärkein kaupunki Andros neliön edessä museon. Näkymät erittäin vilkkaalla alueella kahviloissa. Josta voi kävellä vanhassa kaupungissa ja helposti kahden lähellä rantoja.
Vanha kolmikerroksinen rakennus sijaitsee päätien (Kairi) neliön Chora, pääasiallinen kaupungin Andros, edessä arkeologinen museo ja kahden minuutin kävelymatkan päässä Goulandris Modern Art Museums. Kairi Square on vilkkaalla alueella, jossa kahviloita, baareja ja ravintola -Kun upea näköala läheiselle Paraporti rantaa- tarjoillaan perinteistä kreikkalaista ruokaa. Pohjakerroksessa koostuu lahjatavarakauppa ja yksi pieni tila, jota paikallinen elokuvan klubi kalvona kirjasto. Sisäänkäynti torilta on kehystetty vanha kappaletta marmori vuoden 1867 veistetty peräpeiliin. Kymmenkunta jyrkkä vaiheet johtavat viihtyisä parveke ja kuisti näkymät aukiolle ja samalla upea näkymä Paraporti rannalle. Ensimmäisessä kerroksessa koostuu eteinen, iso istuma ja ruokailutila ja kaksi makuuhuonetta (yksi parivuode toisessa sänky) kanssa ikkunat kapea takaisin kadulle. Se sisältää myös keittiö ja kylpyhuone (suihku ja wc). Oleskelualue on sapluuna-seinillä vuodelta 30: n ja vanhoja huonekaluja kuten valtava venetsialainen peili, veistetty taulukoita. Sen ikkunat ja parvekkeen ovi katsoa Kairi Square. Toisessa kerroksessa on itse asiassa ullakko koostuu kaksi makuuhuonetta, joissa parivuode kussakin. He ovat ikkunat antavat sen Paraporti rannalle.
On elokuussa ja erityisesti lähellä 15. saari on hyvin täynnä. Talo on näkymä keskusaukiolle Chora - jossa on paljon kahviloita ja pubeja ja vaikka makuuhuoneet ovat takana melu saattaa olla tulossa vasta hyvin myöhään.
Mrs Athina and her husband were great hosts! Her husband picked us up before entering Chora, he helped us with the luggage and after arriving at the house he told us the basic things to do, the best places to eat and about Andros' history! The house was fully stocked with all the necessary things, towels, clean sheets, shampoos and even with local delicacies like cheese and Mrs Athina's homemade jams!! We felt like it was our home! Great people and very kind!! A big thank you for opening your beautiful house to us! We loved every day of our stay! We will surely come back very soon! Wait for us!! Love Georgia & Xenia♡
Xenia
2015-08-25T00:00:00Z
Athina & her husband were more than hospitable, they were warm and friendly and shared a wealth of information about chora. They filled the fridge with local homemade delicacies from their farm. The following day we met for coffee and had a wonderful time getting to know them. The house itself is much more than the description and pictures show, it is a treasure of greek style. Every room is perfectly organised, thought of and decorated. The kitchen is lovely, a view of the bay while cooking. We spent a lot of time on the balcony overlooking the square and the bay. Following athinas advice we did some trails in the area, and enjoyed the nature and beauty of the island. Eating out was a bit of a challenge, as there are 3 reasonable restaurants. For vegetarians cooking at home proved to be more rewarding. We also enjoyed a lovely evening at the cinema club watching a great documentary in english.
Ella
2015-09-23T00:00:00Z
Um ganz ehrlich zu sein: Eigentlich will ich dieses wundrschöne Haus gar nicht weiterempfehlen, denn ich möchte auch im nächsten Sommer derjenige sein, der es mieten darf...
Thomas
2016-08-29T00:00:00Z
The reservation was canceled 71 days before arrival. This is an automated posting.
irene
2015-05-06T00:00:00Z
We had most pleasant 14 days at Athina's house! It's located very central in the little town of Andros but still overlooking the sea, most amazingly equipped and beautifully decorated with a love for details and great furniture and Athina and her husband did their best to make us feel at home. They welcomed us at the bus station when we arrived late on a Sunday night, showed us the city of Andros the next day and were always available if we had any questions or needed some information. Thx so much again! We would love to come back at some point as this house and the island are really special and wonderful. You can go for hikes on Andros, they got great hiking paths there, you can discover new beaches every day and one is located right underneath the house. We didn not have a car while being on the island which was fine, we rented a scooter sometimes or took the bus which goes regularly to all parts of the island. Or you can rent a little boat and explore the beaches which are not so easily accessible by scooter/car. Don't miss out on the Museum of Modern Art, it really is worth it. And visit the little store Waikiki if you are into modern Greece fashion design (URL HIDDEN) Plus: Achlan beach is the best! It takes a while to get to Andros, but it's worth it. The ferry stops at Gavrio and you have to take a bus (50 minutes) in case you don't rent a car to get to town of Andros (Chora). Only in case you are very sensitive about noise at night, you might not find Athina's house that suitable as it is overlooking the central square of Chora - with lots of pubs where people meet and chat until early morning hours.
Marlis
2015-08-16T00:00:00Z
Nous avons adoré notre expérience. La maison est fabuleuse et bien qu'il n'y a pas de climatisation, elle demeure fraîche grâce à la ventilation naturelle. Par chacune des fenêtre, la vue est à couper le souffle. Nos hôtes ont été d'une gentillesse extraordinaire, nous amenant à la plage avec nos deux enfants et nous ont même invité à prendre le café à leur petite ferme. À notre arrivée, une bouteille de vin nous attendait ainsi que de la confiture faite par Athina. Tout simplement merveilleux. Nous recommandons chaudement cette maison typique qui a des allures de petit musée. Ce fut pour nous un privilège d'y demeurer près de dix jours. Merci encore une fois pour cet accuei si généreux.
Eric-Jan
2016-07-26T00:00:00Z
Lovely! Outstanding!
Nestor
2016-10-13T00:00:00Z
Nous avons été très bien accueillies par Athina qui est vraiment charmante. Elle nous a très bien accueillie dans sa belle maison, en nous laissant même des produits locaux à consommer. J'avais un peu peur du bruit sur la place, mais en septembre, excepté le samedi, c'est très calme. Animé juste ce qu'il faut. J'espère vraiment la recroiser, à Andros ou même chez moi à Paris. Une adresse 5 étoiles !
Emy
2016-09-25T00:00:00Z
Oda Tipi
Tüm ev/daire
---
Mekan Türü
Ev
---
Konaklayacak Kişi Sayısı
4
---
Yatak odaları
Andros, Cyclades Aigeo, Yunanistan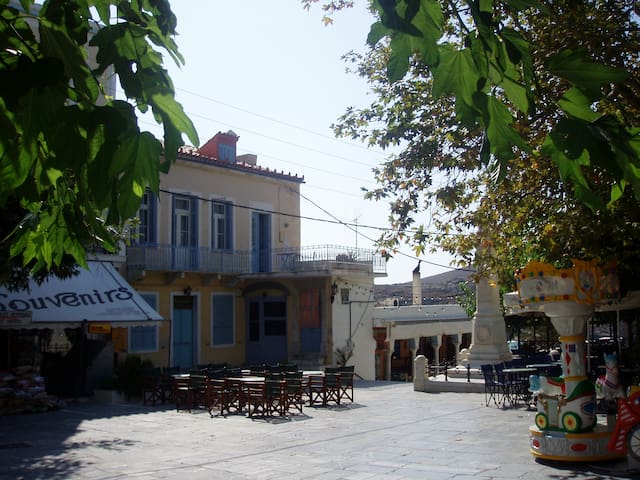 Αυτό το κατάλυμα απέχει 1 λεπτό με τα πόδια από την παραλία. Το Blue Harmony Hotel είναι ένα παραθαλάσσιο ξενοδοχείο στο χωριό Κίνι που προσφέρει πανοραμική θέα και υψηλής ποιότητας υπηρεσίες. Βρίσκεται ακριβώς πάνω στην παραλία Κίνι. Τα άνετα δωμάτια του Blue Harmony είναι εξοπλισμένα με τηλεόραση επίπεδης οθόνης. Κάθε δωμάτιο διαθέτει ιδιωτικό μπαλκόνι ή αίθριο με εκπληκτική θέα στη θάλασσα. Καθημερινά σερβίρεται πρωινό Παρέχεται δωρεάν Wi-Fi και δωρεάν ιδιωτικός χώρος στάθμευσης στο κατάλυμα
Oda Tipi
Özel oda
---
Mekan Türü
Oda + Kahvaltı
---
Konaklayacak Kişi Sayısı
2
---
Yatak odaları
Ermoupoli, Yunanistan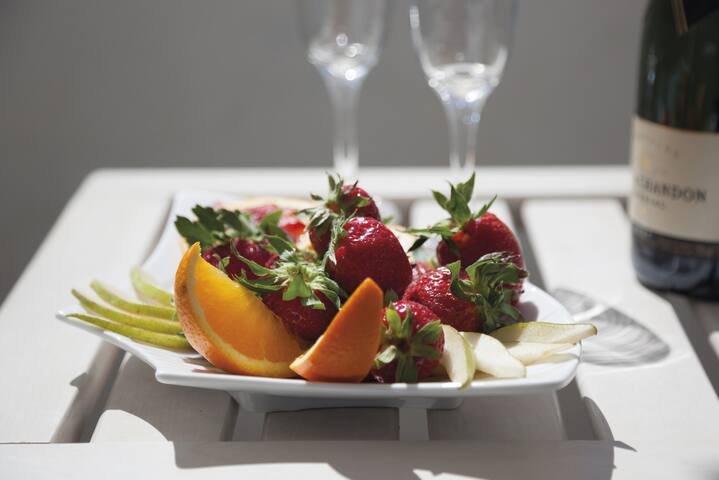 This is simply the most gorgeous area - overlooking the beach and other greek islands, set in its own gardens and olive groves, these two houses (one is two bedroom one is three bedroom) are refined and elegant - perfect for family holidays.
Oda Tipi
Tüm ev/daire
---
Mekan Türü
Ev
---
Konaklayacak Kişi Sayısı
6
---
Yatak odaları
Syros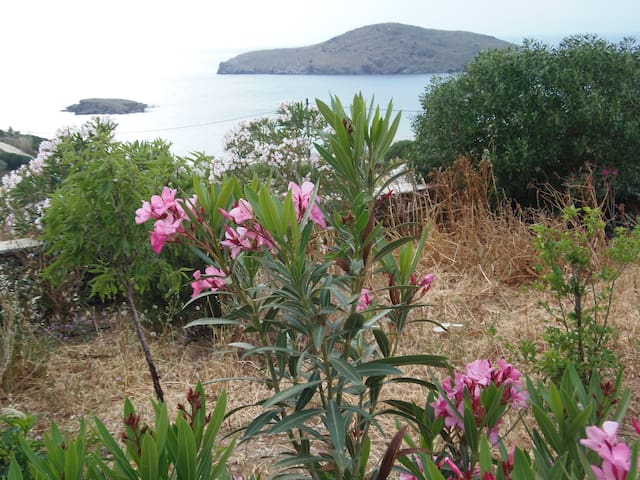 Ο χώρος μου είναι κοντά σε Παραλία. Λόγοι που θα σας αρέσει ο χώρος μου: Παραδοσιακή Κατοικία.Ο χώρος μου είναι κατάλληλος για ζευγάρια, φίλους,δραστηριότητες για ένα άτομο και γίνονται δεκτά και κατοικίδια..
Wonderful trip! Close to the beach, nice amount of space, great outdoor area. We liked the air conditioning and proximity to everything nice in Syros. Would definitely stay here again. The kayaks and the bicycles were the perfect extra touch!
Hunter
2016-08-02T00:00:00Z
Oda Tipi
Tüm ev/daire
---
Mekan Türü
Ev
---
Konaklayacak Kişi Sayısı
2
---
Yatak odaları
Kini, Yunanistan
Detached house with fantastic seaview, built around a garden at Dani, next to Kini village/beach. Easy access to the north coast of the island.
The house is in two acres of land with magnificent view to the Aegean sea and to the gulf of Kini. Colourful skies and amazing sunsets take our breaths during the year. You can enjoy the sun flirting with the sea, relaxing at any of the house terraces or in the garden. It's the best choice for travelers seeking to wind down, spending vacation time at a place with easy access to the sea or the islands' nightlife. A short trail leads you in just 10 minutes to the beautiful beach of Lotos just a few steps down the hill.
The house of Stefania is beautiful, full of all accessories and amenities you may need and has a magnificent veranda from where you have a stunning view on the Kini bay and the northern shores of Syros. Stefania organized our arrival in Syros in a perfect way. She booked for us our car, came to the port together with her friend Rita to pick us up and showed us her house. At our arrival, there were fruits, cakes and other cuisine products for us in the kitchen. Stefania's house is just 10 walking minutes from a nice small beach. Stefania, her friend Rita and her sister Mary made us feel like we were friends since a long time. They gave us very useful hints to discover Syros and organized a fantastic farewell BBQ, during which we have tasted an authentic and gourmet Greek cuisine and enjoyed their cheerfulness and friendship. We recommend to stay at Stefania's house for all these reasons.
Arianna
2016-09-01T00:00:00Z
Oda Tipi
Tüm ev/daire
---
Mekan Türü
Ev
---
Konaklayacak Kişi Sayısı
5
---
Yatak odaları
Ermoupoli, Yunanistan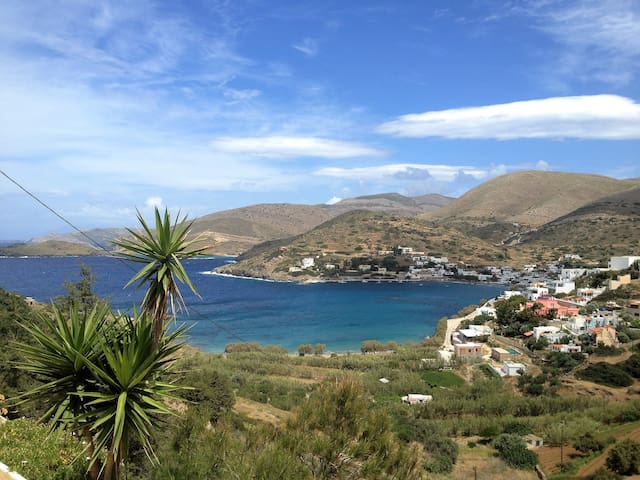 This is a luxury guest suite with an outstanding view of the Aegean Sea part of the Delfini Villa property located at the Delfini Bay at the island of Syros, and is only a 3 minute walk from the beach. It may accommodate 4 people and has 1 bedroom with a double bed and a sofa which may be turned into a bed upon request. It has air-conditioning, a flat screen TV, 1 bathroom, and small kitchen. It has a veranda with outdoor seating with a view of the sea, sunset and private garden.
This private luxury suite is part of the Delfini Beach Villa property. It has an outstanding view of the Aegean Sea and is just a 3 minute walk from the beach. The veranda with outdoor seating area offers great views not only of neighboring islands, but also of one of the best sunsets in the island. The suite may accommodate 4 people and has 1 bedroom with a double bed and a sofa which may be turned into a bed upon request. It has air-conditioning, a flat screen TV, 1 bathroom, and small kitchen. The kitchen includes: a toaster, a small fridge, pots and pans, an American coffee machine, a microwave, and a small stove (2 one large one smaller). We also provide a hair dryer, shampoo, an iron, and a spare set of sheets and towels. It is built in the traditional Cycladic architectural style of white walls and blue windows. From the property's garden which is available to any person staying, you can enjoy freshly picked tomatoes, eggplants, peppers, figs, as well as grapes when in season.
Being a protected area for environmental reasons, the Delfini Bay is very peaceful. It can be accessed by car and taxi. The Delfini Beach is considered to be one of the best and largest beaches on the island, with turquoise waters, sand as well as an area with large smooth pebbles. It is separated into two parts and suits all preferences. The right area has a great tavern and beach bar offering sunbeds and umbrellas, while the left area is one of the most remote beaches on the island reached by car. The Delfini Bay is also in the middle of two hills, one of which has a great hike route leading to a remote beach on the following bay. The property is located just 1 km away from the picturesque fishing village Kini, which has great options for food, one of the best restaurants on the island, and a beautiful beach with beach bars. Its small port is the starting point for boats that take visitors to the northern remote beaches of Syros, not accessible by car. Syros is the capital of the Cyclades and a cultural destination with a cosmopolitan atmosphere. It can be reached by plane, as well as by boat from the port of Piraeus and Rafina. Ermoupolis, the capital of Syros, is full of life and has great restaurants, bars as well as many cultural events to attend. There are many music and theatrical performances happening in the Apollo Theater and other spaces, as well as art exhibitions of established and upcoming artists. Also, a not to miss attraction is a walk in the old town, Ano Syros, located on one of the hills above Ermoupolis. This Medieval settlement is nothing like the rest of the island and has narrow roads with many shops, restaurants, and old churches that are worth exploring.
The house is fantastic,a paradise in a silent beautiful bay only a few minutes walking from the marvellous beach. Everything was absolutely perfect. The host Antheia was perfect in everything!!! Always available! She came to pick us up in Kini,the small village close to Delfini,where the taxi left us.(not all taxis accept to bring you to Delfini,if you don't know the exact address,and the roads there don't have a name,there are not so many houses anyway) At our arrival we were already in love with the house and the place. The view is magic,the position is perfect. The house was perfectly clean and beautiful,it had everything we needed. There were also some typical pastries of the island waiting for us,marmelade and grapes in the fridge,coffee tea ecc ecc and everything we could need for breakfast. I had a bad cough and Antheia and her mother prepared a fantastic infusion that made me feel much better! They always cared about any details and we will never forget that. We will come back,and I suggest everyone to go there once,it's a fantastic experience! Thank you so much Antheia!! Adriana&Ruggiero
Adriana
2016-08-28T00:00:00Z
Oda Tipi
Tüm ev/daire
---
Mekan Türü
Ev
---
Konaklayacak Kişi Sayısı
4
---
Yatak odaları
Siros, Egeo, Yunanistan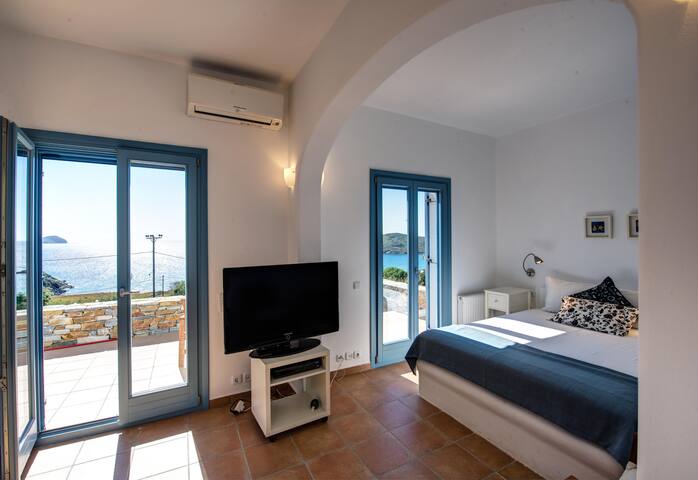 The cycladic studio is equipped with air conditioning system, kitchen with utensils, refrigerator, flat led tv, bathroom, yard and balcony with view to the village. Furthermore, you may park your vehicle at our private parking lot. In case you do not have a vehicle, the bus station is only 50m from our facilities. The studio is equipped with double sound-proof windows, so you may enjoy your privacy. The linen (bedhseets, towels, pillows, cushions) are top quality silk and cotton.
The studio is equipped with air conditioning system, kitchen with utensils, refrigerator, flat led tv, bathroom, yard and balcony with view to the village. Furthermore, you may park your vehicle at our private parking lot. In case you do not have a vehicle, the bus station is only 50m from our facilities. The studio is equipped with double sound-proof windows, so you may enjoy your privacy. The studio has a private balcony with view to the village where you may enjoy your dinner under the stars, or watch the magnificent sunset with a glass of wine. On the other side of the studio, there is a small yard where you may eat your lunch, under the shadow. What pictures cannot express, is the friendly enviroment, and the hospitality that we will offer gently :)
Our neibourhood is called "Elies" (it means "olive trees" in greek) and is located on the main street of Kini. The studio is on the first floor of the building, hence it has a magnificent view, is always sunny and lets the fresh air pass through. It is a quiet neibourhood with no clubs, bars, pubs or loudy taverns, so you may rest and sleep peacefully.
Loukia and her son John have been the perfect host. Very professional and humanly kind at the same time. Beside this, the apartment was provided with the finest beauty products (natural shampoo, body creams and so on). The flat is treated as a first class hotel room. Almost every day Luokia cleans it and change the towels. On top of this Loukia provide you fresh fruits and vegetables from her garden when available. The beach is super close to the flat. You have Kini at 5 min walking and Delphini beach (probably the most awesome beach in Syros) at 5 min by bike. Summarizing: Loukia's place is the best place to stay in Syros :)
Andrea
2016-08-22T00:00:00Z
Louika met us off the bus and was very attentive and kind. She did not speak English, but we managed to communicate through sign language and smiles and pointing. Her son was available on the phone if there was anything we needed. The apartment was lovely, clean, well located , with a gorgeous veranda to relax on and sip our ouzo. Louika was very friendly and bought us homemade cake, chicken and salad all local produce which was an unexpected treat. We felt very at home and loved our time there. We would visit again and recommend others to stay if you want a warm, relaxing and hospitable stay in a quiet sleepy picturesque seaside village.
Kate
2016-07-27T00:00:00Z
Il soggiorno presso Loukia Studio è stato meraviglioso. La struttura è moderna, appena ristrutturata e accogliente. La camera era molto pulita e la signora Loukia è stata sempre molto scrupolosa e disponibile, nonostante non parli inglese. La posizione è ottima per raggiungere la spiaggia e Kini. Nei dintorni è possibile fare bellissime escursioni.
Arianna
2016-07-14T00:00:00Z
Loukia's studio was great : perfectly located, 5 minutes away from the Kini beach, and very nicely decorated. The view at sunset is also striking ! But the very best part is Loukia and her son John's helpfulness and smile : Loukia speaks very little English but we communicated with signs and she went out of her way to make us feel at home, and John provided useful tips for us to enjoy our time in Syros!
Marie
2016-09-18T00:00:00Z
My partner and I had a wonderful time at Loukia's Airbnb. We didn't arrive until very late at night but she made sure our arrival was as smooth as possible. We felt welcomed and the room was lovely and cosy. It was a great spot just up from Kini beach and right next to a bus stop. We would definitely stay here again.
Jessica
2016-09-26T00:00:00Z
Anyone wondering where to stay in SYROS - look no further. Kini is beautiful and so chilled out. Loukia's apartments are a 3-4 minute walk to the beach and the tavernas and bars of Kini. The family are so lovely and friendly and let you just get on with it. My husband left his aftershave in the room and Loukia emailed us straight away and offered to post! Rooms are spacious, spotlessly clean and have everything you need. Due to availability, we stayed the first night in the suite which had the comfiest bed I have ever slept in, nespresso coffee and a very stylish bathroom! We moved next door the next morning with no hassle and carried on our holiday! There is a bus stop to Ermoupolis almost right outside the apartment and the journey is only 20 mins. But Kini is definitely worth a few nights, there are a couple of wonderful tavernas right by the beach highly recommended. I would definitely stay here again and have no hesitation to recommend to others.
Jen
2016-08-12T00:00:00Z
We really enjoyed our stay in Kini! The studio was quite small but lovely and comfortable. Loukia was extremely kind and graceful, a great host even though we did not speak the same language. Thank you!
Rachel
2016-09-09T00:00:00Z
Oda Tipi
Tüm ev/daire
---
Mekan Türü
Daire
---
Konaklayacak Kişi Sayısı
2
---
Yatak odaları
Kini, Egeo, Yunanistan
Beautiful stone built condo with sea-view in Andros. Luxurious interior, kitchen with dishwasher, swimming pool with Jacuzzi and reverse swimming system, private balcony and a huge front shared veranda.The amazing sea-view and the aromas of the nature will take your breath away! Within the spacey yard of six acres there is also a water stream with a small wooden bridge which adds to the beautiful senery. The nearest beach is very close and the area is perfect for long walks. Come visit us!
Το σπίτι είναι όπως ακριβώς περιγράφεται, σε μια ήσυχη τοποθεσία με μοναδική θέα. Η πισίνα ήταν σε καλή κατάσταση, το σπίτι και ιδιαιτερα η κουζινα ήταν πλήρως εξοπλισμένα. Έχει πολλούς εξωτερικούς χώρους, τόσο ιδιωτικούς όσο και κοινοχρηστους, που μπορείς να απολαύσεις την θεα. Τον ιδιοκτήτη δεν τον συναντήσαμε, αλλά είχαμε άψογη τηλεφωνική επικοινωνία και υπήρχε υπεύθυνος επιστάτης στον οποίο απευθύνομασταν για ότι χρειαζόμασταν. Ιδανικό μέρος για ήσυχες διακοπές.
Marina
2016-08-21T00:00:00Z
Oda Tipi
Tüm ev/daire
---
Mekan Türü
Ev
---
Konaklayacak Kişi Sayısı
5
---
Yatak odaları
Andros, Egeo, Yunanistan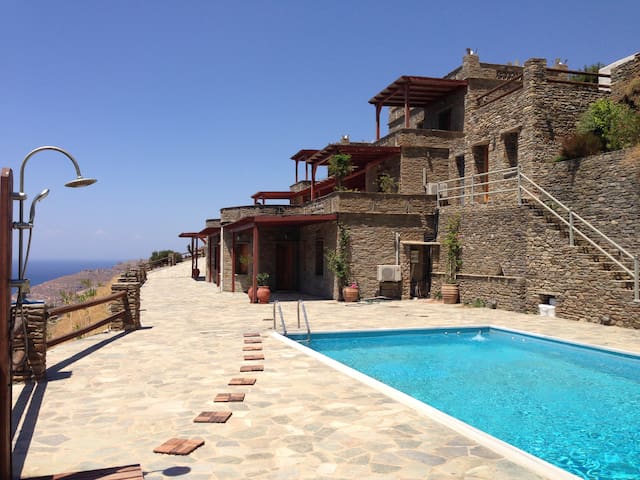 Μια ομορφη και ήσυχη κατοικία χτισμένη σε πλαγιά πάνω από τον μαγευτικό ορμό του κινίου!!Διαθέτει 4 υπνοδωμάτια με 3 μπάνια κ μπορει να φιλοξενήσει ανετα 8 άτομα.Διαθετει επισεις πλήρως εξοπλισμένη κουζίνα, τραπεζαρία κ άνετο σαλόνι, μεγάλες βεράντες όλα με θέα την θάλασσα .Επισεις διαθετει ιδιωτικό παρκινκ. Η παραλία οι ταβέρνες κ τα καφέ του χωριού απέχουν μόνο 100m από το σπίτι! Η Ερμούπολη κ το λιμάνι είναι στα 7 km κ το αεροδρόμιο του νησιού στα 8km.
Φιλοξενεί άνετα 8 άτομα.Τα 3 κρεβατια ειναι διπλα 1.60m Χ 2.00m και το αλλο δωματιο εχει δυο μεγαλα μονα 1.10m Χ 2.00m Ακομα σε ολα τα δωματεια υπαρχει WI-FI κ TV Lcd.
Δυνατότητα ξεναγησης με σκάφος στις βόρειες παραλίες της Σύρου,κατόπιν αιτήματος σας.
Oda Tipi
Tüm ev/daire
---
Mekan Türü
Villa
---
Konaklayacak Kişi Sayısı
8
---
Yatak odaları
Ermoupoli, Yunanistan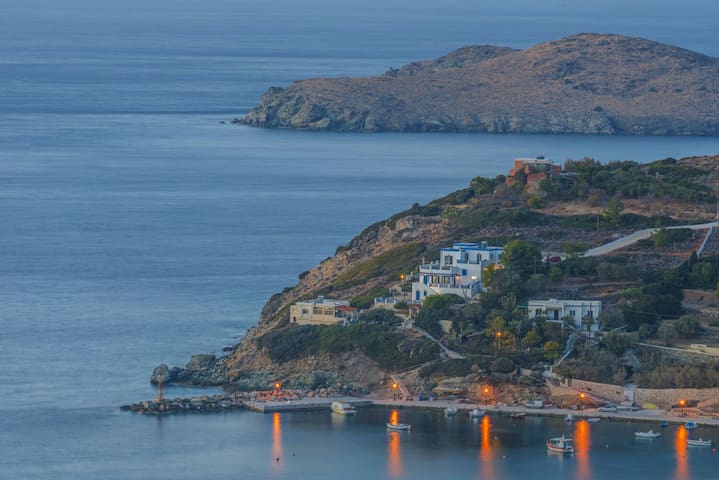 Tam fiyatlandırmayı görmek için tarihleri görün. Ek ücretler uygulanır. Vergiler ilave edilir.