ROMANTIC APARTMENT IN THE HEART OF THE CITY WITH FREE PARKING ! NO FILMING, PHOTOGRAPHY OR PARTIES, THANKS
Please note No Parties If you are looking for a studio to do photography or filming DO NOT CONTACT THIS LISTING, IT IS NOT ALLOWED. Thank you. Everyone else is welcome : ) MY LITTLE PARIS IN LOS ANGELES BONJOUR, and welcome to my Parisian accented flat in downtown Los Angeles. A comprehensive art library, original paintings and objet d'arts, decorate this 800 square foot flat in the center of the city. In the heart of downtown you are surrounded on all sides by five star restaurants, clubs, art galleries, and fashion stores. And with the wave of pop-up shops, you'll never know what to expect from one day to the next! For those of you who want to grab a snack, there are convenience stores across the street and you are just blocks away from the Metro Subway station. Before I describe the usual rooms and amenities, let me say that this loft was created with YOU in mind. It has been furnished with one of kind pieces, reupholstered chairs and repainted dressers. I have invested a great deal of effort to create a unique experience just for you, the guest. BEDROOM: Large windows, with velvet curtains embrace this space. A fully made queen sized bed, and high speed internet, provide comfort and convenience. A large roomy closet, and dressers provide ample space for your clothes and personal belongings. BATHROOM: Toilet, tub/shower & sink. Clean linens, towels, as well as complimentary soap and shampoos are provided. CLEANING: The apartment is professionally cleaned for each guest. If you would like the loft cleaned during your stay, please let me know. LAUNDRY: Complimentary Laundry Service. *Please, NO PETS. I cannot accommodate any kind or size animal at this time. If you want to really EXPERIENCE LOS ANGELES, do it from 'My Little Paris In L.A.' This apartment is in the heart of Gallery Row In Downtown LA . Two blocks from Metro station, plenty of public transportation. This apartment is in the heart of Gallery Row In Downtown LA . Two blocks from Metro station, plenty of public transportation.
This apartment is in the heart of Gallery Row In Downtown LA .
This was my first Airbnb experience and we were very happy with everything. The apartment was great! Colette was great. Thanks.
Toni
2014-11-15T00:00:00Z
Although we did not meet Colette she was available via mail whenever needed. Colette was always friendly and helpful. Her friendly husband Greg was there to greet and help us. The apartment was exactly as described. The location was very good to explore downtown LA and the public transport system was close by. Parking was provided and very good. The part of downtown the apartment is situated was very lively. We enjoyed LA very much and would recommend Colette's place.
Klaus-Dieter
2016-03-15T00:00:00Z
Very nice place, exactly as described. Really amazing to see the collection of arts there, even more amazing to know that many are painted by the host. Highly recommended!
Chenhao
2016-08-24T00:00:00Z
This really does feel like a little slice of Paris in LA. Colette made us feel very welcome. The description of her place is just as described, actually even better than described. It manages to feel both stylish and warm and we were especially happy about the central downtown location.
Jon
2014-11-11T00:00:00Z
Our favorite place to stay in DTLA. Always easy, immaculate, cozy and comfortable. Great bed and bath. We'll be back later this week.
Gerry
2015-02-24T00:00:00Z
Colette's generosity, warmth and willingness to go the extra mile are what make her a gem of a host. As we did not have a car for travel, Colette never failed to offer to drive us to and pick us from various destinations. We felt really bad about imposing on her but at the same time, we were very touched by her gesture. She is always so friendly and cheerful! Thank you, Colette, for your hospitality and we hope your dream will come true! Rachel & Vincent
Rachel
2016-12-07T00:00:00Z
Just a fabulous place to stay - the apartment is so beautiful, and in a fantastic and convenient location. It was even better than the photos! Colette has thought of everything and is an amazing hostess. I cannot recommend this more highly, I would stay there again in a heartbeat. There is plenty of room, the apartment is really spacious.
Linda
2016-06-06T00:00:00Z
Martha was very friendly and extremely helpful all throughout my stay. She and her husband helped me carry my luggage and find the parking lot, which was close by. It was a pleasure to stay in her beautiful loft, which is meticulously adorned and exudes a sense of both luxury and calm. The location is also ideal for exploring downtown. I would most definitely recommend Martha's loft.
Diana
2013-10-29T00:00:00Z
Oda Tipi
Tüm ev/daire
---
Mekan Türü
Daire
---
Konaklayacak Kişi Sayısı
2
---
Yatak odaları
Los Angeles, California, ABD
Vores moderne, hyggelige pensionat har trægulve, et TempraPedic seng, tekøkken og regn-brusebad i en meget privat indstilling, til dig. 5 min væk er højspændte Hollywood Blvd. Nyd afslappende omgivet af natur, før udforske byen!
Lev som en kunstner! Gemt væk i Hollywood Hills endnu kun 5 minutter fra hjertet af Hollywood og West Hollywood! Dette helt nye moderne hus har en smuk udsigt og en luksuriøs følelse af privatlivets fred og samtidig være i midten af det inspirerende energi Hollywood. Den private, højt til loftet 400 sqft gæst Studio har sin egen indgang og store skydedøre mod den private baghave gårdhave, perfekt til at sætte sig ned og læse eller se ud på den fredfyldte bjergskråning natur Hollywood Lake park. Der er ingen delte vægge med hovedhuset. Badeværelset har en tur i regnbruser; tekøkkenet har et køleskab og diverse køkkenudstyr, hvis du vælger at gøre et måltid for dig selv. (Ovn / brødrister, vand komfur, ris komfur, kaffemaskine, fade, gryder og 2 elektriske kogeplader, osv) Rummet har trægulve; tæpper; Hi-speed internet adgang; TV og er fuldt møbleret og udstyret til noget du muligvis. Den europæiske dronning / king size seng (dette er en størrelse mellem en amerikansk konge og dronning seng) har en TempraPur hukommelse skum topmadras kombineret med en helt naturlig, økologisk madras på en stærk og fleksibel bicoflex stel fra Schweiz. Attraktioner i nærheden: • 5 minutter til Universal Studios • 5 minutter til Hollywood Walk Of Fame • 5 min til Chinese Theater • 15 min til Hollywood Sign • 20 min til Griffith Park Observatory • Fwy til Disneyland er 2 min væk. (Fra LA det tager omkring 45 minutter at køre til Disney Land) • Masser af shopping og kulinariske steder i dette kvarter Bus & Metroinformation: Slå op hollywood streg, GotoBus, eller LA metro røde linje.
Vores kvarter er meget stille og roligt sat endnu Hollywood Blvd er blot et par minutter ned af vejen. Det er et dejligt område at gå en tur; Hollywood søen med perfekt udsigt over Hollywood-skiltet er lige op ad vejen. Du kan se prærieulve (ingen bekymringer, de er bange for mennesker) eller kaniner i haven. Masser af kolibrier er i dette område så godt.
Peferct location for Hollywood, Universal Studios and Beverly Hills!
Chris (and Andrea)
2011-10-05T00:00:00Z
Absolutely perfect. The space itself seems brand new, is completely quiet, clean, and great for entertaining a couple friends. The decor is clean and minimal with tons of built-ins for storage. The large back sliding door opens up to the wooded back yard and patio, and gives the entire home the feel of an outdoor space. And it's nestled in the hills of Hollywood,. but not too far up to make the drive long. When I'm in LA I'll stay here every time it's available. It immediately felt like home!
Nick
2012-04-19T00:00:00Z
My girlfriend and I thoroughly enjoyed Judith and Marc's studio. Communication was excellent, parking spot right out front was convenient, and the bed was very comfortable! The space heaters came in handy for cool nights, and everything we could need was found in the cabinets. Thank you! We would definitely stay with Judith and Marc again.
Joseph
2016-01-10T00:00:00Z
Everything about the place proved to be even better than I hoped. Judith is a kind, generous host, the place itself is comforting and well-equipped and the views are grounding and elevating at the same time. A+
Ales
2015-02-01T00:00:00Z
Alles perfekt vorbereitet in einem sehr gut ausgestatteten 1-Zimmer-Appartment.
Inge
2015-12-08T00:00:00Z
Judith was a fantastic host and the private room was in great condition and well equipped so we didn't need to seek any assistance from Judith over the 8 day stay. The location is very convenient and I thoroughly recommend.
James
2015-12-05T00:00:00Z
Unsere erste Erfahrung mit Airbnb und der Aufenthalt war einfach super! Das Apartment sehr gemütlich, sauber und wie beschrieben aufgefunden. Judith und Marc haben uns sehr willkommenen geheißen, bei Fragen jederzeit weitergeholfen. Die Lage ist einfach atemberaubend und hat sehr viel Flair. Wir würden jederzeit wieder kommen !! Vielen Dank ; )
Stefanie
2016-08-29T00:00:00Z
Wir hatten eine tolle Zeit bei judith und können sie nur wärmstens weiter empfehlen. Tolle Lage, tolle Unterkunft, tolle Gastgeber!
Kristina
2014-09-14T00:00:00Z
Oda Tipi
Tüm ev/daire
---
Mekan Türü
Daire
---
Konaklayacak Kişi Sayısı
2
---
Yatak odaları
Hollywood, California, ABD
Brand New 1600 sqft Penthouse Suite + 5 BEDS in Downtown LA! Located in a 35 story building, rivals any of the local 5 star hotels featuring incredible views of Downtown. FREE WiFi,FREE parking
**This apartment is very low priced because I just listed it and it's BRAND NEW. It will go up in price after more reviews** This 1600 sq. ft. Downtown Los Angeles Super luxury suite is located on the 33rd floor in a newly built, 35 story building centrally located in the heart of Downtown LA. This Penthouse rivals any of the local 5 star hotels featuring incredible views of Downtown Los Angeles. This 2 Bedroom 2 Bathroom unit is decorated with ultra luxury modern furniture and artwork. Enjoy a mellow evening on a spacious balcony with custom lounge patio furniture overlooking the panoramic views of the Downtown Los Angeles skyline, or brush up on your pool skills with our custom made pool table. APARTMENT FEATURES: • Sleeps 6 • You get the entire apartment • Outdoor furnished Patio • FREE WiFi • Gorgeous Views (enjoy California sunsets!) • 65" Samsung HD 1080P TV FREE Cable • 2 Gorgeous Modern queen and king beds • Extra Comfortable Mattresses, 1500 thread count sheets, High Quality Comforter Sets • Chic and modern design • Laundry Facilities inside the unit • Full Kitchen • Granite Counter tops • Stainless steel appliances • Full Size Refrigerator • Dishwasher, Microwave, Full Size Stove • Toaster, Coffee Maker • Pot, Pan, Dishes, Silverware, Towels, Hair Dryer, Iron and Ironing Board, all provided • Organic Shampoos and Conditioners • Central Air conditioning and Heat • All brand new furniture and apartment • High Ceilings • Walk In Closets • 3rd bed is a queen sized air mattress with complete bedding • Hardwood Floors • Spoken languages: English, Russian, Spanish, Italian • Cleaned by 2 professional maids
The building centrally located in the heart of Downtown LA where the Financial District meets LA Live. The local area near 9th and Flower has you in primetime walking distance to the Staples Center, Ritz Carlton Hotel, Nokia Center, LA Convention Center, FIDM, California Fashion Mart, LA Mart. Also you can enjoy the walking distance to 24/7 grocery stores, Fashion District, Jewelry District, all the best Downtown LA nightclubs, movie theaters, restaurants and coffeehouses.
Evin lokasyonu ve manzarası müthiş. Gerçekten fotoğraflarda gözüken dairenin birebir aynısı ile karşılaşacaksınız. Los Angeles'a giden tüm tanıdıklarıma tavsiye edeceğim ve mutlaka her gidişimde burayı tercih edeceğim. Aracınız için özel otoparkınız mevcut. Ev sahibi Michael bizi çok kibar karşıladı ve her tür mesajımıza anında eksiksiz cevap verdi. Kendisine de bu konaklamamız ile alakalı çok teşekkür ediyoruz.
Timur
2016-04-28T00:00:00Z
All great - our first airbnb experience and it went without a hitch. Everything better than advertised.
David
2016-06-08T00:00:00Z
This was a great experience . Michael did everything to make us comfortable. I will definitely come back to this place if I have the opportunity
Lonan
2016-12-18T00:00:00Z
Michaels place is really cool and Hip! A great spot to crash after a night out on the town. I traveled here with my family and might have been served in a more family friendly space. This place was large with great views of LA. Very nice kitchen but did not have everything we needed to cook. The bedrooms were big and beds comfy. The bathrooms were adequate but need a little attention. Overall a very nice place in a very nice building!
Steve
2016-07-10T00:00:00Z
Michael and his team are great hosts, very accommodating and professional. The space was beautiful and exceeded my expectations. I will be returning to stay in this apartment again.
Alejandro
2016-11-06T00:00:00Z
Michael was an amazing host! Made me feel very welcome. Just an added bonus to this to die for penthouse. It is everything and more. Exactly how it looks in pictures. You HAVE to stay here and experience it all. I am local to Los Angeles so I can definitely say there is no better place you can stay. There are honestly no words to really describe how amazing this place is. You just have to see it for yourself.
francesca
2015-06-16T00:00:00Z
The penthouse was beautiful - comfortable, posh, with great views, and very much as seen in the photos. Michael was delightful and very helpful in greeting us and showing us around. He met us by the building's car entrance in order to let us into the building's garage. Everything went very smoothly, and we really enjoyed staying here. Our boys loved the billiards table! We would definitely stay here again. Thanks Michael!
Maya
2015-07-10T00:00:00Z
As a first time Airbnb user I was pretty skeptical. But once we arrived and met the host...everything was great. Place is amazing! Great view and location is in a great place. Very close to everything you need from grocery store, shopping, restaurants etc. The hosts are amazing and on call for whatever you need. Security is very good and trustworthy. The residence is very respectful. The best part of my stay is the beautiful view of downtown LA. I give this host a thumbs up in all categories and definitely will be booking with them in the future.
Mike
2016-04-21T00:00:00Z
Oda Tipi
Tüm ev/daire
---
Mekan Türü
Daire
---
Konaklayacak Kişi Sayısı
6
---
Yatak odaları
Los Angeles, California, ABD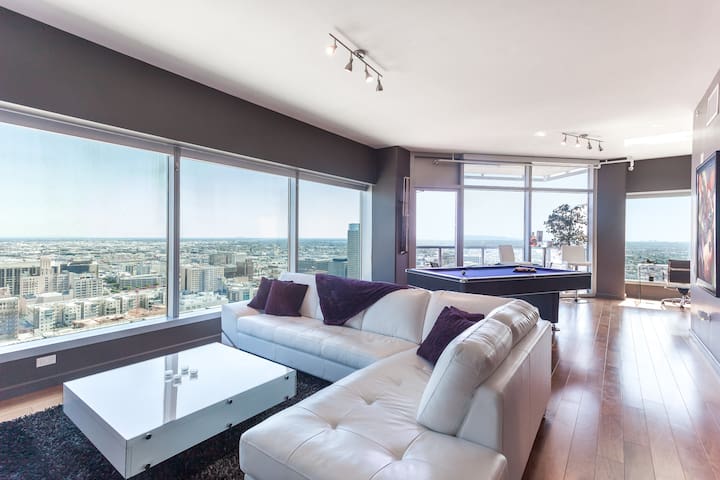 Home "Suite" Hollywood is a new fully renovated furnished suite for rent in the posh Hollywood Hills. The apartment is full of glitz and glamour with a touch of old Hollywood with a modern flair. Enjoy our California king bed with a plush pillow-top mattress, 600-thread-count white hotel sheets and goose down comforter and pillows. Window seats feature two white wing back chairs with a lovely view. North Beachwood Drive is conveniently located 2 blocks from a bus route (a 10 minute ride to West Hollywood), near the Metro Rail and Hollywood Freeway. Here you'll find the world famous Sunset Blvd, Vine Street, Hollywood Blvd, Melrose Ave. and Santa Monica Blvd. In walking distance from Home "Suite" Hollywood is the Hollywood sign, Beachwood Canyon, boutiques, cafes, theaters, restaurants, gyms, wine lofts, pubs, sightseeing, car rentals and much more. Free wireless internet, gas and water included. Unit Features Refrigerator 32" Flat panel television Cable channels Reserved Outdoor Parking Cordless telephone (Local calls) High Speed Wireless Internet IPod docking station Radio/Alarm clock California King size bed with 600 thread count sheets Dining area with four person seating Kitchen plates and utensils for a party of four Pots and pans Tea and coffee maker Free bottled water Turkish bathrobes Hair dryer Iron and Ironing board 100% non smoking Smoke detectors Spoken languages: English Community Features Shared Laundry Facilities within the premises Suite Rates and Polices Suite rate is as follows: $100/night The nightly rate quoted here on AirBNB INCLUDES required 14.0% City of Los Angeles Occupancy tax Daily rates include lodging, use of amenities, wireless internet, ironing board and iron, hair dryers. Rates are for single or double occupancy (maximum two adults). Payment by VISA, MasterCard and Discover are accepted. Minimum 2 night stay required on all weekends, holidays, and for special events such as the Academy Awards, Grammys, New Year's Rose Parade, West Hollywood Halloween, etc. Check in time is 3pm - Check out time is 11am. You may drop off your luggage as early as you'd like upon arrival and leave it for the remainder of your departure day. Sorry, we cannot accommodate pets. Local pet hotels are available nearby. This is a non-smoking property. A penalty of $250 incurred if rule is broken. Please let us know of any special needs you may have, we will do our best to accommodate them. Deposit & Cancellation Policy To avoid disappointment, advance reservations are recommended. A first night deposit is required to hold the reservation. An advance deposit on a valid credit card will confirm the reservation immediately and will be charged at the time the reservation is made. If your card is not charged a deposit will have be decided upon - to charge when you arrive, a written confirmation will be sent upon receipt of your credit card information. Email: (EMAIL HIDDEN)
Our stay at Home Suite Hollywood was wonderful. We felt very welcomed and by Miriam and her mother Margharite was very accommodating. The suite had all of the amenities to make it comfortable. The location was FANTASTIC. I will definetly stay there again. Thanks again :)
Vivian
2011-09-19T00:00:00Z
The suite was just as described, clean, and perfectly located for our needs. Our hosts were perfectly charming, as everyone else here seems to agree on.
Liam
2012-06-16T00:00:00Z
O apartamento é tudo o que realmente foi dito aqui MARAVILHOSO!!! Me senti em casa. A localização é ótima, bem pertinho do letreiro, íamos andando para Hollywood Blvd. O quarto é limpo, bonito, arejado, a cozinha ampla e fomos mto bem recebidos. Sensacional!!! Recomendadíssimo, melhor q qq hotel em LA.
Brena
2012-09-18T00:00:00Z
This place is the best kept secret in LA! Loved staying at home suite Hollywood. Met Mirriam and had a long chat, lovely lady. The place looks like a hotel room, soft bathrobes in the cupboard and fluffy, clean towels. The bed is even made perfectly and the dishes done every morning. The decor is great and the bed is fantastic, king size with fabulous linen and nice pillows! The location is absolutely perfect! I had a car so I don't know how convenient it is for public transport. Close to the hustle and bustle but quiet and peaceful. It really felt as if we were in the best spot in LA! Lovely neighborhood - take a walk up to the best viewing point in town for the Hollywood sign. Beachwood cafe and a supermarket is just down the road. They make a great breakfast and incredible lattes. Only problem I had was that the Wi-Fi wasn't working during our stay but I'm sure that Mirriam would've sorted that out by now. Overall we LOVED this place and would definitely stay there again. Don't waste your money on an expensive hotel room - this place is like a hotel but without the matching price tag. Thanks for a great stay Mirriam! We love Home Suite Hollywood and we love LA!
Liezl
2012-10-30T00:00:00Z
We stayed at Miriam and Mom's suite for almost a week and it was fantastic. It was exactly like the pictures and it was very big. Check in and out was no hassle and the location is beautiful. the Hollywood sign basically is in the yard! The suite was so clean and well equipped with everything you may need. The bed was very comfy! I would strongly recommend that anyone would be happy to stay here, and the price is very reasonable, a lot cheaper than hotels.
Lisa
2013-10-15T00:00:00Z
my brother and I had a great stay here! Miriam is such a great person, she even invited us over at her own house with some friends for some wine and a laugh :) the suite is situated perfectly if you have a (rental) car (not sure about public transportation as we didn't use it) and is close to the Hollywood sign and Sunset Blvd with all the shops, bars and restaurants you'd wish for. Definately would come back again here!
Ilan Y.
2014-03-18T00:00:00Z
Without too many Hollywood puns, Homesuitehollywood Suite wins the Oscar and the Emmy! The location is fantastic - and although you should have a car at your disposal in L.A., if you can't, this is the place to be, since there is a bus nearby, a market and cafe a couple of blocks away. The "room" is really more of a guest house - great king bed, huge kitchen with all the amenities, and a full bathroom (with a great shower). We unfortunately didn't get to meet Miriam and Mom, but did meet Becky, their assistant, who is wonderful. Parking was free and easy, right in front, and waking up in the Hollywood Hills under the famous sign is a treat. Really gives you more of the L.A. experience than if you even had the money to stay at the Beverly Hills Hotel. Thank you for a wonderful stay, and thank you for offering your beautiful home to visitors, and we hope to make Homesuitehollywood Suite our home again next time we visit L.A.
Jon
2013-10-05T00:00:00Z
Awesome place! It's in a quiet and beautiful place, near the Hollywood sign. Sunset Strip is 5 minutes by car. Miriam is a great host! And there's a full kitchen and laundry room. My wife and me will definitely come back on a next trip to LA.
Raoni
2014-10-19T00:00:00Z
Oda Tipi
Tüm ev/daire
---
Mekan Türü
Daire
---
Konaklayacak Kişi Sayısı
2
---
Yatak odaları
Los Angeles, California, ABD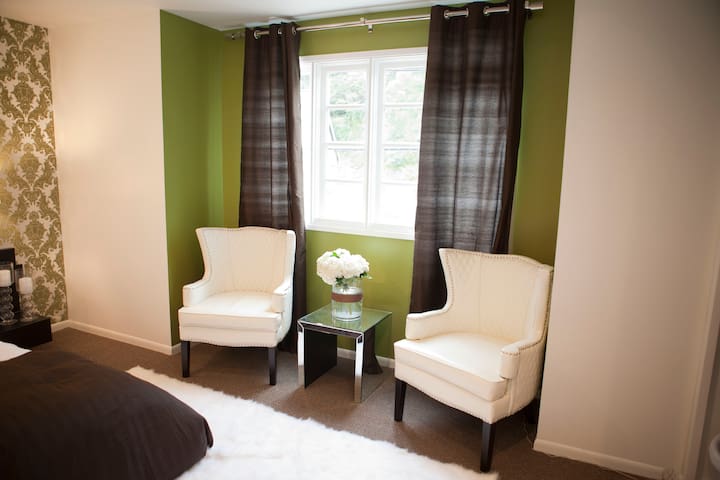 Studio apartment in hillside Eagle Rock home. So close to all that Southern California has to offer, yet we feel like we're a million miles away... Minutes to Old Town Pasadena, Glendale, Hollywood, and downtown Los Angeles, with all the sites these areas have to offer. Fantastic views of the mountains and foothills; we even have a view of the "Rock" (Eagle Rock)! We're surrounded by huge pine trees and lush growth everywhere you look. This is an extremely quiet place... we're into meditation, and we jokingly call our home "The monastery". But those that want to live it up a little are absolutely welcome as well! We have a 3 story Mid-Century modern home, with the first level serving as our guest unit. Your entry is very private and separate from the house. You'll have your own private deck, a living room with flat screen TV, a studio style sleeping/kitchen area, and a private bathroom with a walk-in shower. Lots of street parking right in front of our home... no permits required! Easy access to freeways and public transportation make getting around a breeze. The kitchen has a refrigerator, microwave (no stove), toaster-oven, coffee maker, water-cooker and counter with a sink. We also have guest-suite with a private bedroom and bath - "Beautiful Eagle Rock Views" listed here in Airbnb.
Jerry & Chiu did their utmost best to make us feel at home. The refrigerator was filled with yoghurt and orange juice, and you would find candy goodies everywhere. The place is spacious, light and has amazing views. The pool is a bit cold, but perfect for the hot LA days. And the neighbourhood is safe and you can park your car for free along the curb. We had a great time exploring LA!
Maike
2016-09-25T00:00:00Z
Amazing host and location. Very likely recommended.
Kpal
2017-04-05T00:00:00Z
Jerry's home was beautiful, well located and with amazing views. We were happy with everything. Jerry had left us some snacks and water which was nice. Getting in and out was super easy and the pool was just a lovely bonus.
Anne-Grete
2016-07-07T00:00:00Z
Jerry and Chiu welcomed us when we arrive and showed the house in detailed and gave some clues about visiting around. They were friendly and everything was ok as described in the listing. The neighbourhood was quite and elite because we had a jet lag, We could have some time to rest in silence. Thanks for everything.
Hasan
2016-07-01T00:00:00Z
Beautiful place I encourage everyone to stay here!!
Tyrone
2016-05-14T00:00:00Z
Jerry's studio was perfect; it was very comfortable, cozy, and in a great location. It felt like home right away. Thank you Jerry!
Helida
2014-04-21T00:00:00Z
The place was great! Jerry and Chiu were really welcoming. Check-in was quick and easy. They had good in the fridge and snacks for us--really nice touch! The studio's decor was tasteful.
Richard
2014-07-07T00:00:00Z
Jerry did an amazing job making myself and my boyfriend feel very welcomed. He showed us down to our room, and had snacks/a fridge with food, towels, a clean bedroom, privacy, etc. Everything went smoothly and we really enjoyed our stay. I would definitely stay with Jerry again, because such hospitality is hard to find. I recommend this to anyone wanting to stay somewhere quite, beautiful, and with easy access to many different parts of LA.
Courtney
2016-05-08T00:00:00Z
Oda Tipi
Tüm ev/daire
---
Mekan Türü
Daire
---
Konaklayacak Kişi Sayısı
2
---
Yatak odaları
Los Angeles, California, ABD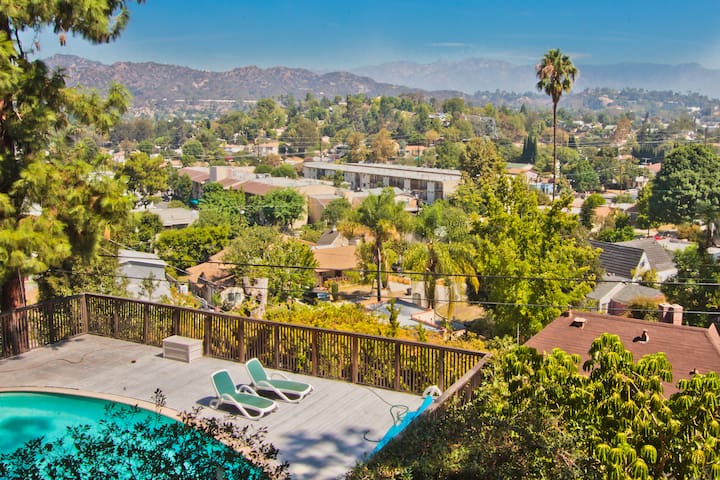 PANORAMIC views of HOLLYWOOD & LA private studio apartment w Tempurpedic queen murphy bed & queen futon bed, bathroom w shower, small kitchenette, large private balcony, wifi, satellite tv,free 24x7 street parking
Bright & airy modern studio located in the best VIEW location in the HOLLYWOOD HILLS. Perched on top of the hills over looking HOLLYWOOD, LOS ANGELES, Lake Hollywood w views to the ocean. There is no better location with better VIEWS in all of Hollywood. Completly PRIVATE, self contained studio w 1 queen comfortable pillow top murphy bed and a comfortable queen futon, private balcony, PRIVATE ENTRANCE & over a acre of shared patio & deck areas w views & walking trails into griffith park Lake Hollywood, & Hollywood sign from front door of house. The VIEWS are one of a kind and can not be beat from the bed, couch, shower, every spot of the studio you have one of the best views in the WORLD. Free WIFI, Cable TV, street parking, hair dyer, fresh lines & towels and totally clean room. access to the 101 freeway, gelsons supermarket, coffee shops, bars, restaurants, gourmet delis, the famous upright citizens brigade, galleries, all 1 mile away. Downtown Hollywood sunset & vine train station, trader joes, bars, restaurants, clubs, Hollywood Palladium, Hollywood Bowl, many Hollywood attractions all 2 miles away. This is Hollywood Hills living not like most seedy, touristy, loud, dirty areas of Hollywood. Our Home is totally fenced and very private in one of the safest, quietest, hard to find secluded celebrity filled neighborhoods in Hollywood. The home is surrounded by trees, flower gardens, 50 foot bamboo, many fruit trees we south facing so we get lots of sun. Our home is a very chilled atmosphere w herb gardens for our guest to use. We live and work from our home so we are always around to help and maintain the property. Late check ins are not a problem. We want your stay to be a unforgettable experience and will be onsite to make sure your stay is perfect. -5 min to Downtown Hollywood Sunset & Vine 2 miles from house -5 min drive to Universal studios 2 miles from house -10 Min. drive to West Hollywood -20 Min. to Rodeo Drove / Beverly Hills - 10 Min. to Echo park / Silver Lake / Downtown - 30 Min. drive to the beautiful beaches (Venice + Santa Monica) - 40 Min. drive from LAX / 20 Min. from Burbank (BUR) airport • Please NOTE that we will *ONLY* accept a reservation if you have a *clear* profile picture OF YOURSELF posted to your account. This means OF YOURSELF if anyone shows up to check in at our home that is not the person we accepted. This means if your renting for your friend, boss, employee, or anyone else we will cancel your reservation upon arrival. ADULTS ONLY, not suited for small children NO PARTIES NO PETS Rates are for single or double occupancy (maximum two adults). Should you need more space for a larger family or group the apartment does have the option of adding another bedroom and bathroom for an additional fee. If dates are not available for this room please contact us about our other room availability. The house is available for filming and photo shoots at different rates than those posted here. Please inquire via message
Best view over LA. We didn't want to go to the city since the balcony was so nice, we could have stayed there the whole day. The location is very close to a lot of attractions in LA. Over all it was a great experience. Thanks again for everything!
Susanna
2013-05-30T00:00:00Z
Staying here was absolutely awesome! Jackie and Corey are wonderful hosts, check in went super easy and both were absolutely relaxed and welcoming. They also had great recommendations on places to go and where to dine. The studio was very clean and comfy, with stylish interior and fantastic views on the city! LOVED morning coffee on the balcony and the spectacular views at night. A truly captivating airbnb experience, can't wait to come back!
Melanie
2014-05-25T00:00:00Z
Jackie was an excellent and gracious host providing timely responses and assistance throughout the process.
michael
2014-08-02T00:00:00Z
Totally awesome stay. We were greeted and shown around by Cait and received a very warm welcome. We loved the stay and would easily recommend the place to anyone!
Christopher
2016-07-22T00:00:00Z
My boyfriend and I traveled to LA for a few days and were so excited to stay at Jackie's place! It was cute and cozy and the view was amazing! Exactly what we had hoped for! I didn't get a chance to meet Jackie, but Cory was extremely welcoming and helpful. We had a great time hiking the trails towards the Hollywood sign, as well as taking walks through the neighborhood. The roads were very windy and narrow but as long as you drive carefully it isn't a problem. What we really loved was that the hills are a quiet secluded neighborhood yet close enough to all of the main Hollywood attractions. We would definitely stay here again of visiting LA and would highly recommend this studio to friends! Thank you Jackie and Cory for the opportunity to stay at your place!!
Kaitlyn
2015-01-15T00:00:00Z
First off, the view was mind blowing! We arrived at night so the sparkling lights of LA were amazing to see! The room itself is very comfortable and has every amenity you could want. Loved our stay here!
Matt
2014-12-27T00:00:00Z
Jackie's place was absolutely breathtaking with their view of downtown LA. It was just the perfect size for 1 or 2 people. Everything you needed to to cook and store food, watch tv, and enjoy the view. I took wonderful pictures that will last a lifetime
Trey
2017-03-02T00:00:00Z
Great views and a friendly host. Convenient access to hollywood via Uber.
Jonathan
2015-08-25T00:00:00Z
Oda Tipi
Tüm ev/daire
---
Mekan Türü
Daire
---
Konaklayacak Kişi Sayısı
2
---
Yatak odaları
Los Angeles, California, ABD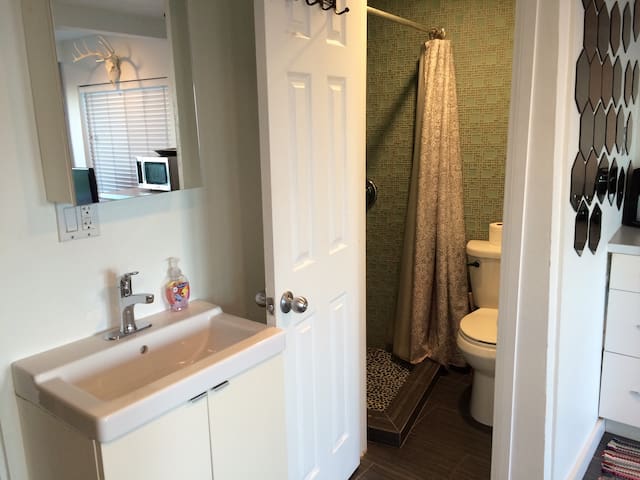 *** Si vous souhaitez réserver ou communiquer avec nous, vous devez nous écrire: « Nous avons lu lu TOUS 3 points principaux énumérés ci-dessous et tous les détails, nous sommes prêts à réserver !! » .... Alors si vous êtes prêt à réserver presse « réserver » sur votre profil et vous prêt à partir! Votre propre efficacité PRIVATE Appartement - Dans l'un des quartiers les plus populaires et sûrs de LA ... ET un des moins chers Appartements privés sur Airbnb !!! Son votre propre appartement avec entrée privée pour le prix d'un arachides !!!
*** Si vous souhaitez réserver ou communiquer avec nous, vous devez nous écrire: « Nous avons lu lu TOUS 3 points principaux énumérés ci-dessous et tous les détails, nous sommes prêts à réserver !! » .... Alors si vous êtes prêt à réserver presse « réserver » sur votre profil et vous prêt à partir! **** TRÈS IMPORTANT, LIRE ATTENTIVEMENT !!!!! **** Bien que ce soit un appartement privé avec sa propre entrée privée, c'est un studio de EFFICACITÉ !!!! Ce qui signifie 3 choses très importantes: 1. Il a une salle de bains !! Il est accessible par un appartement attenant (plus de détails ci-dessous) 2. EFFICACITÉ APPARTEMENTS sont veeeeeeeery petite (environ la taille d'une chambre de taille moyenne) 3. cet appartement a NO CUISINE COMPLÈTE !!!! (A seulement une petite kitchenette qui comprend un mini-réfrigérateur, micro-ondes et e plaque pour la cuisson très mineure) si vous cherchez un appartement à faire toute la cuisine principale, ce ne serait pas votre choix idéal. Cet appartement est mieux adapté pour ceux qui sont souvent manger à l'extérieur ou ceux qui font de petites préparations alimentaires maison très minimes Si vous sentez que vous pourriez avoir un problème avec tous les aspects d'un studio d'efficacité ne réservez pas CET ESPACE ... nous préférons u trouver votre espace idéal tout à Los Angeles !!! :) Ne hésitez pas à poser des questions au sujet de cette !!! L'APPARTEMENT: Ce petit appartement confortable efficacité est très privé et a sa propre entrée privée et est son propre appartement privé. L'unité est décorée avec goût, minimal, super charmant. L'appartement dispose de: -sa Propre entrée privée -Petit-Size (convient confortablement 2 personnes) -NO CUISINE COMPLÈTE !!!! (Ont seulement une petite kitchenette qui comprend un mini-réfrigérateur micro-ondes et plaque de cuisson pour la cuisson mineure) bureau -Grande Internet -Wi-Fi -AC & Heat (qui est automatique pour toute BLD) -Full Miroir -Grande Armoire Placard LA SALLE DE BAIN: Cet appartement dispose d'une salle de bains !! Vous avez votre propre entrée privée dans cette salle de bains de l'appartement. À l'autre bout de la salle de bain il y a une deuxième entrée dans la même salle de bains d'un appartement voisin. Ainsi, la salle de bain est coincée au milieu de deux appartements un peu comme un hamburger entre les petits pains. Salle de bains accessible que par vous et l'appartement voisin. Ils sont aussi-ers comme Airbnb vous. La salle de bains est en fait vide la plupart du jour et quand il est accessible par les autres, ils sont super respectueux et rapide, ne jamais utiliser les toilettes pour plus que 5-10 minutes. Nous avons aussi le personnel de ménage qui garde la salle de bain immaculée avant votre arrivée et salle de bain est toujours rempli de papier toilette et savon pour les mains pour vous. Caractéristiques de la salle de bains ... -Salle est Nettoyé et Rempli pour vous par ménage -douche, WC, lavabo -Special Espace Cabinet pour vous pour stocker votre salle de bain Articles connexes Aussi: Tous les draps et les serviettes tous sont toujours fraîchement lavés pour u avant votre arrivée
Biz Hollywood'dan sadece 10 dk ve her şeyi sunduğu. Bu aynı zamanda LA en ilginç iç kesimlerde tüm 4 yakın SADECE birkaç semtlerinden biridir (Hollywood, Silverlake, Los Feliz ve Glendale) Americana at Brand Atwater Köyü, uzakta da sadece birkaç dakika hakkında gezinme restoranlar, kafeler, tasarruf mağazalar ve insan dolu sadece birkaç dakika uzaklıkta (URL HIDDEN) Griffith Park, Whole Foods, Trader Joes, LA Nehri ve Sunset Junction yakınlarındaki da
My stay with Sara, Stephen & Dave's wasn't terrible. The location was great, and the room looked just like the pictures only issue was as soon as you entered the house it smelled really bad like sewage.
Alex
2017-03-21T00:00:00Z
Es war ein toller Platz hier in Glendale! Das geteilte Badezimmer ist kein Problem, weil es fast immer leer ist. Es ist wirklich alles sehr zentral gelegen und die Nachbarschaft ist auch nicht laut. Das einzig etwas negative war der Geruch, es roch etwas unangenehm! Da würde ich aber einfach ein Deo Empfehlen oder Geruchsneutralisierende Mittel und dann ist das Problem auch beseitigt!
Thomas
2017-02-18T00:00:00Z
Wasn't awful it was decent . Close to great restaurants
Bryanna
2017-03-04T00:00:00Z
Host was friendly. Location is 15 min from beach, Little Tokyo, K-town, Hollywood, Atwood Village.
Kyung
2016-05-11T00:00:00Z
Sarah was easy to communicate with. Worked the check-in time to better fit our schedule. Room was just ok. Decor was nice, but it could have been a little more clean. Neighbors were a bit noisy. We found our towels in the shared bathroom, one of which looked used. All in all, not bad. Just had higher expectations looking at the picture and reviews.
Chen
2017-02-19T00:00:00Z
Everything was great and as expected! Check in and check out was very easy. Everything was very clean and we had no problem with the shared bathroom. The only thing was it was very noisy when people walked up and down the hall because of the wood floors. Other than that everything was great(:
Yleana
2016-09-03T00:00:00Z
Everything was as pictured. Shared bathroom wasn't a issue. Parking wasn't THAT bad. Neighbors were respectful. Neighborhood had so much food! I would definitely stay again.
Mal'Asia
2016-11-25T00:00:00Z
Very smooth and the host was very nice!
Mamer
2015-12-04T00:00:00Z
Oda Tipi
Tüm ev/daire
---
Mekan Türü
Daire
---
Konaklayacak Kişi Sayısı
2
---
Yatak odaları
Glendale, California, ABD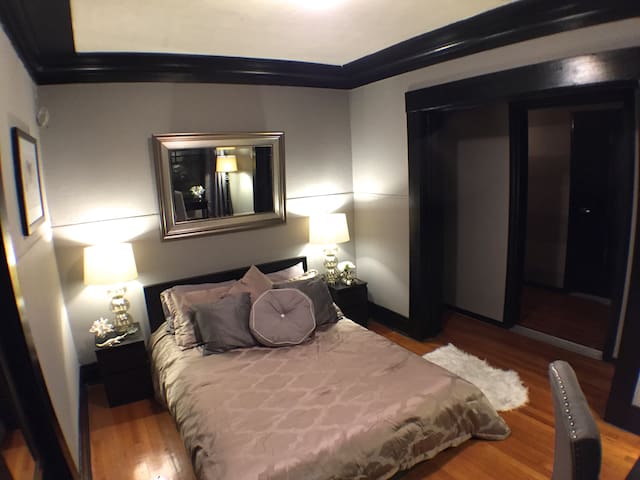 Unsere Wohnung befindet sich im Herzen von Glendale in einem Luxus-SettingLoves gelegen zu reisen? Wein / Sekt? Gutes Essen / Musik? Willkommen zu Hause! Oder vielleicht haben Sie nichts davon wollen, sondern nur Ruhe und Frieden! Das auch finden Sie hier! Sie uns über Ihre Erwartungen, wir werden versuchen, so nah wie möglich zu ihnen! Ich bin polnisch mit einem brasilianischen Partner! Ja, wir sind Homosexuell Paar und wir lieben alle! Wir lieben die Welt! Leute sind alle gut! Die Regierungen sind das Problem!
Ambiente moderno!
Alles in der Nähe Americana ist zu Fuß Direkt neben der Autobahn / einfachen Zugang Banken Geschäfte Restaurants Riegel Bäckereien Café
I loved staying at Kevin's place. He takes very good care of all his guests making sure everyone is happy. I feel honored to have experienced such good hospitality and I will go straight to his place on my next visit to Glendale if it is available!
John
2017-03-20T00:00:00Z
Kevin was an amazing host, he and his partner were very welcoming. The place felt very at home and was in a convenient location, I would definitely recommend this Airbnb.
Juana
2017-04-03T00:00:00Z
Great hospitality, amazing accommodations!
Jason
2017-04-01T00:00:00Z
I would recommend Kevin's place for anybody! Kevin does everything he possibly can to make you feel at home. He even cooked me a delicious dinner! The condo is in a great location - within walking distance of The Americana and the Galleria and a 10-15min drive to Griffith Park. I never write reviews for anything, but Kevin was so amazing that not leaving a review would be an injustice to him and anyone looking for a great host.
Joey
2017-04-06T00:00:00Z
My wife and I live in the area but my family from out of town was crashing our condo. We decided to treat ourselves to another pad and boy are we happy and struck Gold with host Kevin. From beginning to end he was nothing but gracious , smooth and made everything fast. The unit has everything , super clean and new and he offered us a fully stocked fridge. We left wishing we lived there full time. Was a perfect vacation within our own city. We used the pool , hot tub, gym and outdoor TVs on skydeck. Thx again Kevin.
Danny
2017-03-09T00:00:00Z
First airbnb experience has sold me! Kevin was a phenomenal host. It's a great space with beautiful amenities, in the heart of Glendale. Will definitely stay there again.
Michael
2017-03-26T00:00:00Z
Oda Tipi
Özel oda
---
Mekan Türü
Daire
---
Konaklayacak Kişi Sayısı
2
---
Yatak odaları
Glendale, California, ABD
Kühler Ort mit vielen Annehmlichkeiten. Pool, Jacuzzi, Aufzüge, großer Treffpunkt Plätze innen und außen. Es gibt viele Restaurants im Gebäude und Umgebung. 2 Blöcke von ehrfürchtiger Marke Americana, außerhalb der Glendale Galleria. Platz ist sehr modern und Wohnung verfügt über Waschmaschine und Trockner, Geschirrspüler und einen großen Balkon. Sie lieben diesen Ort! Sehr cool und sicher. Nutzung von Fitnessraum, wenn Sie mögen. WIFI und TV.
Minimalistisch mit Luxus
Pernilla's place is where you want to be! In the heart of Glendale..Cozy convient spot
Tyler
2017-03-31T00:00:00Z
Oda Tipi
Tüm ev/daire
---
Mekan Türü
Daire
---
Konaklayacak Kişi Sayısı
2
---
Yatak odaları
Glendale, California, ABD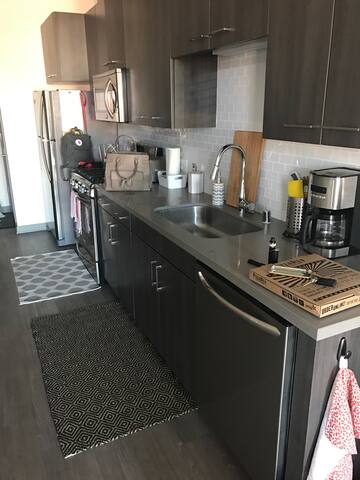 Nylig oppgradert og innredet øverste etasje studio leilighet. Queen size seng med designer ark og puter. Pent utstyrt kjøkken, vaskemaskin / tørketrommel i enheten og en privat gårdsplass å slappe av på etter en lang dag med sightseeing i Los Angeles.
Veldig stille, koselig nylig renovert og innredet studio leilighet på baksiden av eiendommen. Parkering på stedet tilgjengelig, samt vaskemaskin og tørketrommel i leiligheten. AC / Heat, Wifi, HDTV w DISH Network gitt.
Praktisk beliggenhet kun minutter fra 3 store motorveier (134, den 5 og 2), og bare noen få minutter fra ABC, Disney og Universal Studios. Minutter fra sentrum av LA, Pasadena, Hollywood, Dodger Stadium, Staples Center og LA Live Gangavstand til Glendale Galleria for innendørs shopping og spise, og også gangavstand til The Americana at Brand med en pulserende blanding av shopping, restauranter og underholdning med en kreativ vakker park som innstilling. På sitt hjerte, The Americana har en stor to-acre park kompletteres av fontener, offentlig kunst og sjenerøs åpen plass. Promenader, svingete gangstier og friluft torg inviterer gjester til å handle, spasere, spise ute, og bare nyte den vakre omgivelser med familie og venner, også på The Americana en kino. Noen av mine favoritt stopper: I gangavstand, kaffebønne, Foxy Restaurant, og bare noen få kvartaler unna er en fantastisk frokost sted kalt ristet Bun. Like ved finner du Whole Foods, Trader Joes, Fresh & Easy, Starbucks. Sannelig, den beste funksjonen her er at alt er veldig praktisk rett på fingeren tips. Kort kjøretur til: Glendale Advantist Hospital (2 miles) Griffith Park LA ZOO ** (4 miles) Universal Studios ** (7 miles) Rose Bowl og Parade ** (8 miles) Graumann 's Chinese Theatre (9 miles) Downtown LA (10 miles) Staples Center (10 miles) Farmers Market (13 mi) LACMA (14 miles) Magic Mountain (30 miles) Knotts Berry Farm (33 miles) Disneyland (35 miles) Lego Land (35 miles)
Very nice service! Accommodations had everything we needed!Comfortable and cozy environment! Close to everything!
Ieasha
2017-02-17T00:00:00Z
Loved saying at Amanda and Mike's adorable and cozy studio! Checking in and out were very easy, the location is convenient, very close to the Glendale Galleria and other eateries. The private outdoor porch and washer and dryer were great bonuses, plus the little kitchenette was fully ready with plates, cutlery, pots and pans, etc if you wanted to cook. Area was very quiet and peaceful, parking was a bit tricky since the lot is small but not too bad, just had to be careful when going in and going out. I really enjoyed my stay here and I hope I'll be able to book it again!
Jean
2016-03-06T00:00:00Z
This was my first time using airbnb and if every booking works out this way I'll be using it a bunch more. The apartment, while small was amazing. Clean, functional and great location. Will be recommending for any friends looking to stay in Glendale area. Thanks guys.
Niall
2016-11-01T00:00:00Z
very clean and its central to everything. communication with the host was seamless! great place to stay and get some rest after a long day of exploring. please book this spot ASAP!
Adriane
2017-03-29T00:00:00Z
We loved everything about this cute little home away from home in Glendale. It's a super short drive and for those who like a bit of a walk, it's within walking distance to the Glendale Galleria and Americana Mall. It was very clean, everything we needed space wise, very updated interior with pretty white cabinets and stone countertops. The hosts were easy to contact and messaged me everything i needed to do and know, so it was straight forward experience even though this was our first air bnb trip! Most importantly the place was clean, we felt safe, location convenient, and most importantly we slept well in a very comfortable white linen bed. Loved it and hope to stay here next time we visit.
Melissa
2016-11-10T00:00:00Z
My overall experience was great. It is very similar to a place I stayed at in Seattle. I am glad this space has good air conditioning as it was used a lot on the hot days. I was actually able to check in a little early as well which was nice because I needed to get some work done. I would stay again if I was in the area. It also ended up being cheaper than the local hotels. Thanks!
Brian
2016-07-25T00:00:00Z
The studio is exactly as described - clean, comfortable and in a good location. Walking distance to many shops and restaurants. Communication with hosts was smooth and checking in and out was easy.
Gajane
2016-10-17T00:00:00Z
This little studio is prefect! It is super cute and in a great location. It is just the right size for two people. The bed is comfy and the patio is a huge plus! We would recommend this place to anyone traveling to the area.
Megan
2016-03-10T00:00:00Z
Oda Tipi
Tüm ev/daire
---
Mekan Türü
Daire
---
Konaklayacak Kişi Sayısı
2
---
Yatak odaları
Glendale, California, ABD
Совершенно новый, безупречно чистые и полностью оборудованы всеми удобствами. Расположенный на западной стороне Glendale & окаймляющей Глендейле & Бербанк. Пять минут до Бербанк студий, 10 минут до Пасадены, Rose Bowl и 15 в Голливуд или Лос-Анджелес.
Beautiful place with all the comforts! Mike made it so easy with great communication. Highly recommended!
Ashley
2016-06-25T00:00:00Z
Excellent hôte. Excellente location. Je recommande vivement. Très bien situé. Rien à redire.
Roselène
2016-10-14T00:00:00Z
This is a very nice, private apartment. I found it clean, comfortable and nicely supplied with necessities. Mike was a pleasure to deal with...I was there for a month and had only one minor issue that Mike was prompt to address. Should the need arise, I would gladly stay here again! I highly recommend it.
Laurel
2016-09-28T00:00:00Z
Couldnt have asked for a better host. He helped me w my heavy luggage during checkin, promptly returned when I had a few questions about the place, and was very flexible w the checkout time as well. Beautiful and impeccably clean unit, everything you could possibly need during your stay. Thank you so much
Tiffany
2016-10-05T00:00:00Z
Everything was great, the accommodations, communication, amenities, location, etc. loved it, and Mike was great at communication along the way. Thank you for the excellent stay!
Michael
2017-03-18T00:00:00Z
We loved this place, it was clean and loaded with all required amenities. We had an easy check-in and check-out. The host Mike was very responsive in terms of any queries we had, and also went above and beyond to meet our expectations. We felt secure, homely, and happy at the place, and will recomend renting it. Overall this was an amazing spot to call home for a month stay in Los Angeles.
Arm
2016-12-15T00:00:00Z
Really enjoyed my stay. The flat is exactly as per the photos. It was great to have such a well equipped kitchen, a large comfortable bed and a spacious shower. The flat has all modern facilities and the wifi was very reliable. There is great public transport costing just $1 per trip into Glendale. Also great service to Burbank. The bus at the end of the road goes all the way to Venice Beach too. The residential area is safe and I felt at ease walking everywhere. Mike, my host was always available and kindly provided coffee, tea, and some bathroom accesssories. Definitely keeping the details as I plan to stay here again. Maria
Maria
2016-11-13T00:00:00Z
I had such a great stay at this apartment. The finishings and furnishings are incredibly nice. Mike is a great host and is speedy at answering questions, he made sure to check in once and a while to ensure I was enjoying my stay!
Abbey
2016-08-12T00:00:00Z
Oda Tipi
Tüm ev/daire
---
Mekan Türü
Daire
---
Konaklayacak Kişi Sayısı
3
---
Yatak odaları
Glendale, California, ABD
Geräumiges Haus im Herzen von Glendale, ideal für zwei Personen!
Ruhig, sicher Nachbarschaft. Nähe Lebensmittelgeschäfte, Apotheken, Geschäften, Restaurants und Parks!
Us: family of four (w/2 & 4 y.o.) We found the pics attractive and were hopeful that they were not real estate staging pics. Unfortunately, this was more like a kinda disappointing online date- that person is still that person in the picture, but not really. The bed is still that bed in the pics, but without the decorative pillows or matching sheets... that bathroom is still that bathroom, but no candles, no bath rug, and none of the towels match... that sofa is still that sofa, but no pretty pillows... and that dining table is there, but without the tray of exotic teas... Also, as a converted back section of a garage, this is more a studio than a house. And, it is more cozy than spacious. Overall, the large, core items of this listing are pretty good, but there were several indications that this was the hospice for all those fading, failing main-house household items (e.g., mismatched sheets, towels, utensils, glasses; chipped/stained cups and plates; etc...). By no means do we mind mismatched things, but many of this felt like throwaways. This was a fine stay overall, but it just didn't give us the welcoming, comfortable vibe we were hoping for and have had with previous airbnb experiences. Some specifics we hope you find helpful: GENERAL: -GREAT LOCATION and we always found parking, even on weekends -Nice, bright, motion sensored lights outside -The front' part of this converted garage, with which a wall is shared, houses a not so silent washing machine. -Thankfully, there was pleasant weather while we were there, but there's only one window and ceiling fan-no cross circulation. That could get very uncomfortable on hot days. Also, window faces a 'public' space for the, I think, two other homes on the property, so might be tough to feel privacy when windows are open/curtains drawn. -If you like to have your electronics charging near where you sleep, bring an extension cord/multi outlet thing. Not too many outlets available. None found nearby for those using the sofa bed. KID RELATED: -Nice little yard -There's another little guest house in very close proximity to this studio, so nighttime crying may get some jeers (this did not happen, but just a note) -No bathtub. There is a detachable shower head, but the shower curtain is a little short, and it was tough to keep a 2 y.o. still enough to avoid water escaping... -Dining chairs are an odd shape (triangular) that does not safely accommodate standard square/rectangular booster seats -The main bed is EXTREMELY HIGH off the ground. Makes for a regal experience, but even towering at 5'5", I had to step up on the frame to get on it. Rolling over the edge anxiety made the harder sofa bed the only safer choice for the kiddoes. BATH -Hair on shower floor when we got there! -$55 for cleaning isn't just for the clean-up after us, it's a kind of assurance that it was cleaned before us. Unfortunately, the...
J
2017-02-14T00:00:00Z
Great location in a quite neighborhood. Street parking was available. Communication was very good. Will stay here next trip.
Bobby
2016-12-28T00:00:00Z
This was our first Airbnb experience. Good communication. No problem checking in later, as we were delayed during our trip. We booked as a place to stay close to the neighborhood where our kids were moving in and it was convenient and well kept. Unit is on the back of the garage and very private with a small grassy lawn area outside the door. The bed sheet didn't quite fit the very thick mattress and had no mattress pad so it would release at the corners as soon as we climbed in; which made it awkward to sleep and sometimes wake up on the bare mattress. The towels were older and no washcloths available (will bring ours next time), but we were not expecting a 5 star hotel experience and were happy with almost everything in the unit being practically brand new. It was a quiet location with no problem finding parking on the street.
Tim
2017-04-04T00:00:00Z
Accurate description, lovley family.
Daniel
2016-12-23T00:00:00Z
The room was actually really nice, and exactly as described. But being in Glendale and not by the beach, it should disclose the lack of air conditioning. It was hot! It's also a room added on to the back of a garage and we felt like we needed to walk through open windows of another back house, laundry being folded in the garage. A bit awkward and too close to the family/others. Not very private. This should be mentioned in the listing as opposed to a "spacious house" Very misleading. But again, the actual room was nice, as well as quiet and private once you were in it. The cell phone used by the host was incorrect and as a result I was not able to confirm the room and check-in procedures until close to 10pm which was stressful and a first for me on Airbnb. There was an email sent to me an hour or two after reservation but it went to spam and because a cell was provided I did not thing to comb through spam to look for their communication. Very frustrating and stressful; the host needs to update the cell or figure out a way to achieve acceptable communications w their guests. The host also required that I come to the front door so that they could meet me and see who they were renting to, and get the key. This is understandable and not a big deal per say, but far from normal from my many other Airbnb experiences. My girlfriend and I felt awkward ringing the doorbell at 10pm to get a key. Again, not a big deal but this requirement should definitely be mentioned in the listing.
Brett
2015-07-30T00:00:00Z
I stayed in this little studio for a couple of weeks while in Glendale for work. It was just perfect for what I needed. The neighborhood was nice and safe. Sofi's parents greeted me and were very nice throughout my stay. The parking was usually good. The place was affordable. I would, and probably will stay here again if I come to Glendale for work.
Dina
2016-04-06T00:00:00Z
This house was perfect for our use. It was clean and spacious and the posted description was accurate. It is located in a very nice neighborhood that was quiet and safe.
Mark
2015-11-29T00:00:00Z
The location is great, a very cozy place perfect for me and my daughter we enjoyed our stay
Jedidia & Geovany
2016-07-31T00:00:00Z
Oda Tipi
Tüm ev/daire
---
Mekan Türü
Daire
---
Konaklayacak Kişi Sayısı
4
---
Yatak odaları
Glendale, California, ABD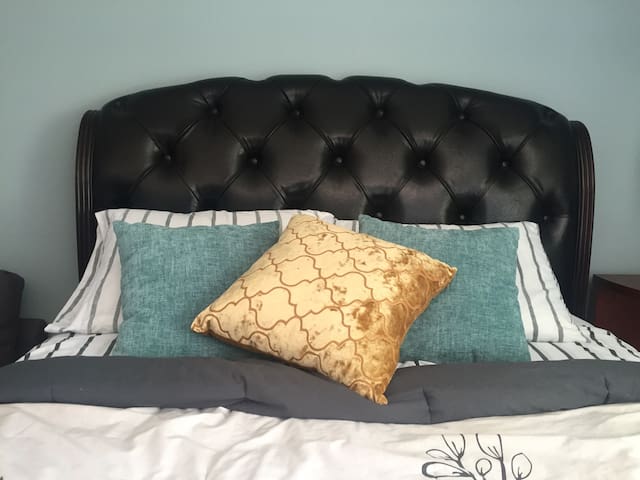 Mi lugar está cerca de restaurantes y de comedor, actividades para la familia, vida nocturna, y el transporte público. Te va a encantar mi lugar debido a la ambiente, el barrio, y la cama cómoda. Mi lugar es bueno para parejas, aventureros en solitario, viajeros de negocios y familias (con niños).
Este apartamento es perfecto para familias, parejas o cuatro amigos cercanos! Con más de 1000 pies cuadrados de espacio habitable, tiene dos dormitorios / dos baños, una cocina completa con electrodomésticos, televisión de pantalla plana, suelos de madera, dos plazas de garaje y todo lo necesario para unas vacaciones sin preocupaciones! Manténgase contacto con sus seres queridos en casa como Internet inalámbrico y por cable están incluidos su paquete de vacaciones. refrescado con buen gusto para el viajero moderno de vacaciones o de negocios.
situado en la mejor ubicación, muy acogedor y limpio apartamento
They take care everything in the house, if anything goes wrong, she fix it rapidly.
Chun wen
2017-01-12T00:00:00Z
Althought the owner had a problem a the very last moment, for the apartment we had selected, she found a promt solution giving us an alternative elegant house. We didnt have the chance to meet sogol in person.. but she has been kind and punctual. Recomended
Andrea
2017-03-26T00:00:00Z
Sogol very quickly responded to my request to stay and was very friendly and warm. The location was close to the highway, quiet, and easy to access. It was a pleasure to stay in a condo versus a hotel!
Gillian
2016-10-03T00:00:00Z
The neighborhood was just fine. We were comfortable and loved all the lemon tree's that are nearby! The parking spots were convenient and we felt secure. The walls are somewhat thin, but I just popped in some ear plugs and slept like a baby. The mattress in the 'master' was also extremely comfortable. Great for a few nights stay for four 20 somethings.
Sidnie
2017-04-11T00:00:00Z
Great place! Comfortable, clean, and in a great location
Dana
2017-01-08T00:00:00Z
It's affordable and in a convenient location with lots of supermarkets and shops around. The apartment itself was very clean, but the condition of the bed frames made me uncomfortable. I feel bad saying so but they looked grimy and I wouldn't stay here again. If you are a little OCD like me, you might want to keep looking.
Paula
2017-03-21T00:00:00Z
5+
Andre
2017-01-31T00:00:00Z
시설이 노후되어 더러움.
Dave Jungho
2016-12-27T00:00:00Z
Oda Tipi
Tüm ev/daire
---
Mekan Türü
Daire
---
Konaklayacak Kişi Sayısı
5
---
Yatak odaları
Glendale, California, ABD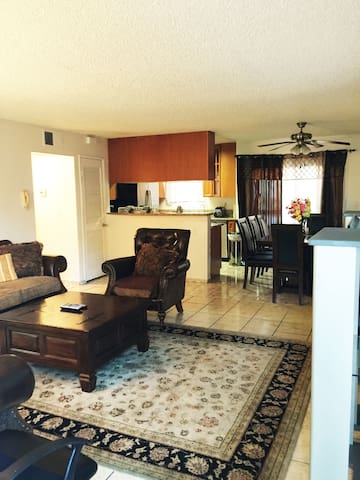 Appartement neuf d'une chambre + mezzanine de luxe au cœur de Glendale avec une distance de marche de toutes les principales attractions de la ville tels que Americana at Brand et Glendale Galleria. Situé dans un cadre luxueux avec salle de gym, piscine, théâtre en plein air, et un jacuzzi. L'appartement est spacieux avec de hauts plafonds et des équipements modernes. Courte distance en voiture de Hollywood, Downtown LA, Dodgers Stadium, Universal Studios et célèbre observatoire Griffith.
Luxueux
very good very good
Syan
2017-04-06T00:00:00Z
Oda Tipi
Tüm ev/daire
---
Mekan Türü
Daire
---
Konaklayacak Kişi Sayısı
5
---
Yatak odaları
Glendale, California, ABD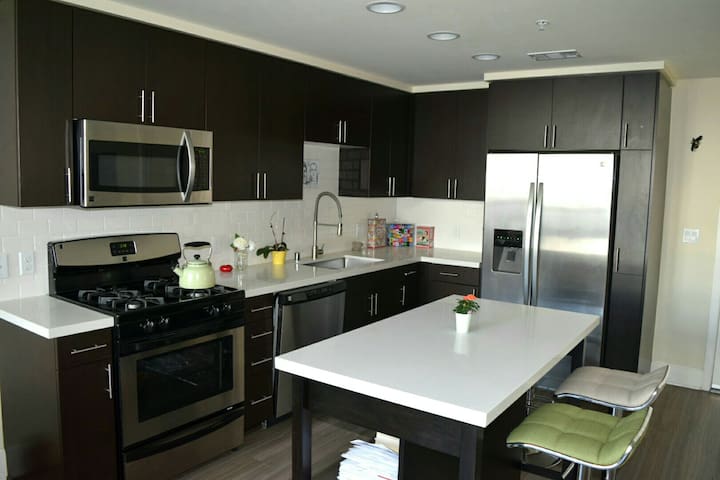 . Alışveriş merkezleri (Americana ve Galleria), Trader Joe, Porto'nun Bakery, ve otoyollardan (Downtown LA, Rose Bowl, Dodger Stadyumu ve çok daha fazlası kolay erişim yürüme mesafesinde Rahat lil odası ve kesinlikle fiyat ücretsiz WIFI tüm araçları içerir. mevcut cadde otopark.
Biz Hollywood'dan sadece 10mins ve her şeyi sunmak için vardır. TÜM BÜYÜK STUDIOS stajyerler are welcome ** benim yerime Burbank / Glendale bölgesi) çok yakındır. Bu aynı zamanda LA en ilginç iç kesimlerde tüm 4 yakın SADECE birkaç semtlerinden biridir (Hollywood, Silverlake, Los Feliz ve Burbank). Americana at Brand sadece birkaç dakika uzaklıkta ve Atwater uzakta yanı sıra birkaç dakika hakkında gezinme restoranlar, kafeler, hediyelik eşya dükkanları, mağazaları ve insan dolu Köyü, ama biz sessiz tarafında (URL HIDDEN) de yakın Trader Joes, Starbucks, restoranlar (yürüme) vardır.
Tida is a really nice host. Not just her place is very comfortable and cozy, but she is also willing to make friends you. My best experience in Airbnb. Will definitely live her place if go back next time.
Jing
2016-05-21T00:00:00Z
Tida's place was great. It is described accurately and you will not regret staying here. Tida was a wonderful host and so easy to contact if needed yet will give as much privacy as you need. The room was clean and comfortable, loved that I had my own entrance. I can not say enough great things about this airbnb. Definitely will stay again next time I am in the area!
Shannin
2017-02-12T00:00:00Z
Tida was a very good host! She was not able to check me in personally but her cousin did and he was very accommodating and responds on time! Contacted him when I arrived in LAX and made my check-in very smooth! Tida also prepared welcome snacks in the room which I very much appreciated since I was too tired to go out after a 13 hour flight. Thanks Tida and Santoosh! Will stay in your place again for sure!
Sheryl Anne
2017-03-26T00:00:00Z
Nice bedroom for a quick stop over. Has an extra air mattress
abigael
2017-03-18T00:00:00Z
Tida's place was great for a single traveler. I travel to LA for work each week, and her place was perfect for my needs. The apartment is in a quiet area. There are a couple of restaurants a few blocks away, and it's close (~30 minute walk) to downtown Glendale where there are a ton of restaurants and shops. I was able to walk to places for dinner, and the apartment was really close to the highway, so getting to work was super fast and easy. The bed was comfortable, but definitely only fits one person. I liked it, but if you're a big person or like to move around when you sleep, you might be uncomfortable. The bathroom was clean and spacious. Overall, the apartment was a great value. (I've stayed at similarly priced hotels in the area, so trust me on this one!) I enjoyed my stay, and hope to stay there again.
Jibran & Megan
2017-03-24T00:00:00Z
Clean,quit and easy , Tida is a really great host she is trying to help all the time and and she always keen that you have a comfortable stay in her place
Ahmed
2017-03-17T00:00:00Z
Good place Clean
Randy
2017-03-31T00:00:00Z
I came back to stay here again. Tida took care me look like the first time . Thank a lot
Tharich
2017-01-24T00:00:00Z
Oda Tipi
Özel oda
---
Mekan Türü
Daire
---
Konaklayacak Kişi Sayısı
2
---
Yatak odaları
Glendale, California, ABD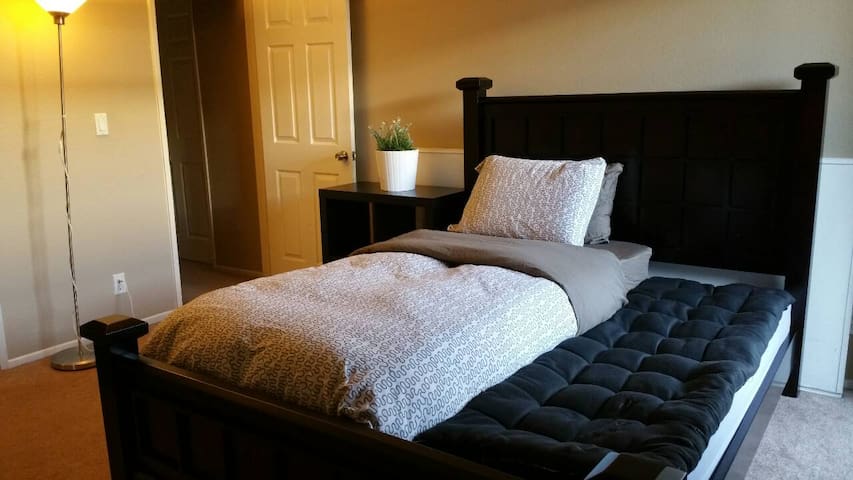 Rummelig et soveværelse, stor veranda, afslappende roligt kvarter tæt på næsten alt.
Dette er et stort et soveværelse / en bad privat lejlighed med en queen size fire-post seng i soveværelset og en fuld størrelse futon i stuen. Der er en vaskemaskine / tørretumbler i lejligheden(URL HIDDEN)soveværelset, en parkeringsplads og rigelig parkering på gaden. Verandaen er et fantastisk sted at nyde et glas vin og læse en bog. Denne lejlighed kan sove 4, men det kan være en smule overfyldt fornemmelse for længere ophold, især med børn. To par ville være komfortable, men igen, der er kun én badeværelse. Lejligheden er meget centralt beliggende mellem de 5 / 134/2 motorveje, og er omkring 10 minutter fra Hollywood, Downtown, Pasadena. Dalen er meget let at komme til, og afhængigt af tidspunktet på dagen, stranden er omkring 25-30 minutter i bil. Kvarteret er meget walkable med en Ralph købmand lige en blok væk, et par dejlige sandwich butikker også en blok væk, og alle downtown Glendale 10 minutters gang væk, med barer, restauranter og biografer. Med hensyn til offentlig transport, er der en bus linje i nærheden, men det er LA-- Jeg vil anbefale en bil for sikker! Offentlig transport i LA kan være meget frustrerende i almindelighed. Jeg væk arbejder i Yukon Territory i Canada, men min bror bor ved siden af og kan hjælpe dig med noget du muligvis. Lejligheden er altid professionelt rengøres mellem gæster, og på grund af rengøring omkostninger, jeg har brug for en 2 nat minimum ophold. Der er frisk strøelse, masser af håndklæder, fuldt køkken fuldt udstyret med alle typer af madlavning ting! Jeg håber du har en dejlig ophold !! Gæsterne vil være i stand til at få adgang til lejligheden ved at hente nøglen fra et nøgleskab bag apparatet. Jeg er sjældent i LA, men jeg er altid tilgængelig via mobiltelefon eller e-mail.
The neighborhood was very safe. We could easily find plenty of parking spots anytime we get back home. Trader Joe and Walgreen's are 1 block away. This was convenient for us as we picked up fresh fruits everyday. The kitchen was loaded pots, pans and tons of goodies. The filtered water container in the refrigerator was GREAT!
Farhang
2016-01-02T00:00:00Z
This was my second stay at Seans apartment in Glendale and I enjoyed it very much. I can recommend Sean as a very nice host and his apartment as a good place to stay if you looking for a quite comfortable stay in the Glendale area. Thank you Sean. I'll come back again!
simon
2014-10-07T00:00:00Z
Excellence. This is a great spot to book. Everything went smoothly and in addition to staying here again in the future, I'd definitely recommend this place for others. Clean home, nice neighborhood, nearby markets, awesome bed, plenty of books to read, and a great responsive and helpful host.
Lightt
2014-01-27T00:00:00Z
Sean is a terrific person to deal with and would recommend his apartment. It was just what we needed and provided us all the comforts of home. The location was central and shopping and highways were easy to access. Quite a beautiful area. Thanks Sean!
Gina
2014-03-03T00:00:00Z
Sean's place was great! Exactly what was in the listing pictures; clean, comfortable and charming. My husband and I were visiting family in Glendale and the apartment was perfectly located for us. Close to downtown Glendale and highways but still having a nice neighborhood feel. Ralph's is down the street if you need to pick up groceries and there is a nice restaurant with an outdoor garden up the street if you want to have breakfast close by. He replied super fast to my booking request, and gave all the necessary information to check in. Would definitely book again!
Michelle
2014-04-23T00:00:00Z
We arrived Thursday afternoon - the house was big enough for what we needed. The location was great, easy to get to downtown and a shopping center down the road with lots of restaurants. We checked in a little early - the house was a little crowded and a little dirty, the floor and bathroom could have been cleaner. Other than that we enjoyed the stay with Sean and would choose this place if we came back.
Eliza
2016-04-27T00:00:00Z
Our host made the necessary connections to set us up. The apartment is quiet even though it is on the first floor. Parking is excellent; as is the location.
Adina
2016-02-28T00:00:00Z
The host canceled this reservation the day before arrival. This is an automated posting.
Jane
2016-05-26T00:00:00Z
Oda Tipi
Tüm ev/daire
---
Mekan Türü
Daire
---
Konaklayacak Kişi Sayısı
4
---
Yatak odaları
Glendale, California, ABD
This is a perfect shared place for someone who is a busy professional, a traveler, or a student. The dining area is usually quiet. The apartment is drug, alcohol, smoke, and drama free. No overnight guests. We take our shoes off at the entrance. :-) Please, contact me if you have any questions. Thank you!
It is a dining/kitchen/living room area accommodation (a convertible sofa) in a 3-bedroom apartment. A great friendly and safe place for a traveler, a working professional, or a student who needs a clean & quiet temporary place to crash. The apartment is drug, alcohol, smoke and drama free. No random overnight guests, and/or parties. The guest-bathroom is shared but clean. The place is healthy and professional. You'll be able to recharge and explore the neighborhood, or visit different parts of Los Angeles. We're friendly and supportive.
Our eclectic Montrose neighborhood has a variety of restaurants & eateries, UA La Canada 8 theatre is one mile away, USC Verdugo Hills hospital, a local library, TJ's store, and other very cool places that are within a walking distance.
Sofa bed provides a hard sleeping surface and guest shares bathroom with occupants of two other rooms; however, this bnb is a great value given its price and location.
Michael
2015-07-27T00:00:00Z
I enjoyed Mari place she was very nice and clean. The only thing is that the other roommate was up early around 730am to make his breakfast and the sofa bed where I slept was next to the kitchen in the dining area. But other than that it was good. Thanks to Mari Val.F
Val
2017-02-17T00:00:00Z
I didnt like it it was so noisy because of refrigrater. And there was no privacy. 70 dollars in that condition is way too mich
태규
2017-02-20T00:00:00Z
It was okay.
Tahir
2015-03-08T00:00:00Z
Host did not say in description the apt was shared with one or two males.
Donna
2015-08-01T00:00:00Z
Mari was very pleasant we kept in great contact texting and she was available throughout my stay to chat with. Her condo is in a nice area with some quaint area shopping, and restaurants.
John
2016-08-22T00:00:00Z
Marie is friendly, attentive and helpful person. The apartment are clean and comfortable. Lovely quiet area with necessary infrastructure.
Ksenia
2016-09-04T00:00:00Z
Mari was an outstanding host. She even gave me a lot of great info and advise about LA. This was my first airbnb experience and I really enjoyed it. The house was extremely clean and I had no problems.
Genisia
2016-08-08T00:00:00Z
Oda Tipi
Müşterek oda
---
Mekan Türü
Daire
---
Konaklayacak Kişi Sayısı
2
---
Yatak odaları
Montrose , California, ABD
Amplio espacio, hermoso. Se trata de una habitación en uno de los barrios más populares y seguras de Los Ángeles. Mi lugar está cerca de la Galería de Glendale (media cuadra) y la americana "es un lujoso famoso parque comercial. Te va a encantar mi lugar debido a la vecindad; todo lo que está caminando. A corta distancia de centro de Los Ángeles, el estadio de los Dodgers, Burbank, Hollywood, Pasadena, Universal Studios, etc.
Muy adecuado para las niñas y las familias
'El Americana' está a pocas cuadras de nuestra casa. Una experiencia de compras increíble y lujoso, con numerosos restaurantes y tiendas de ropa fina. Hay una tienda de barrio dentro de un bloque, y dos Super Markets dentro de los cinco bloques. Maple Park es un parque grande y preciosa para pasear a su mascota; dentro de los tres bloques, con una cancha de tenis, y bancos de picnic y un pequeño parque en la calle dos minutos
This was my first AirBnB, not my last. :)
Kyle
2017-04-11T00:00:00Z
They have small children and small children do have a tendency to a cry, so expect a little of it. Or maybe a lot. I always bring earplugs, so it's never a problem. Great bedroom plus nice privacy drape between the room and bathroom. I'd definitely stay here again.
Jason
2017-03-24T00:00:00Z
Place was decent and it had a balcony too, majed was very friendly and provided all the information when needed. Would recommend his property's for short stay or long stay.
Krishna
2017-03-21T00:00:00Z
Amazing location, accommodations, and host. I hope to stay again if ever in need of accommodations.
David
2017-02-03T00:00:00Z
Majed was very hospitable and attentive. The check-in was easy. The parking was easy. The room was accurate. It was very clean and the bathroom was also clean. Overall it was a nice experience
Davyn
2017-02-08T00:00:00Z
Majed and his family were great hosts. I decided to visit on the day LA got the biggest rain storm in 6 years. They were massively accommodating - stayed up late for my late flight arrival. They were also very flexible when my plans changed shortly after my reservation. The room was just as I expected. Private bathroom and bedroom screened off from their living room. Totally quiet and I had 2 great sleeps. The kindness and thoughtfulness they provided allowed me to have a great stay. The place is located an easy walk from whatever that big mall is and downtown Glendale. Hope you have a great stay!
Morgan
2017-02-19T00:00:00Z
Comfortable stay! Having a reserved parking space is very convenient. Excellent, safe location and very kind hosts.
Molly
2017-04-07T00:00:00Z
房间非常温馨,也非常舒适。让我们了解了新的文化和美食。房东邀请我们品尝了他们国家的美食,很美味。房东非常贴心,房间非常舒适干净。地理位置非常好,步行五分钟就能到购物街。值得推荐!
Taishan
2017-03-14T00:00:00Z
Oda Tipi
Özel oda
---
Mekan Türü
Daire
---
Konaklayacak Kişi Sayısı
3
---
Yatak odaları
Glendale, California, ABD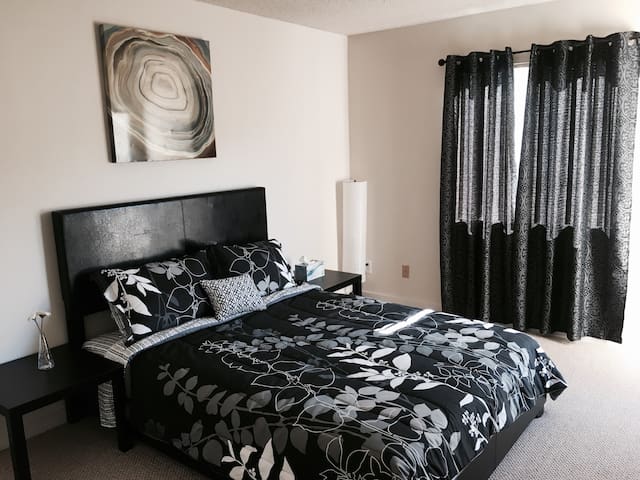 1

–

18

/

300+ Kiralık Daire
Tam fiyatlandırmayı görmek için tarihleri görün. Ek ücretler uygulanır. Vergiler ilave edilir.