1,500 SF private guest wing in host's residence, with 2 master suites and a large multi-purpose room. 1,400 SF private game & workout room, and fire pit area. Kitchen, dining area, & outside eating area with BBQ grill are shared among guests & hosts. Hosts are full-time residents of the home and will living in part of the home during your stay. You will have 2,900 SF of space for your exclusive private use. See Photos section for details and floor plans.
OVERVIEW • The hosts are full-time residents of the home, and will be living in 3,200 SF of the 4,700 SF Upper Level of the home during your stay. Please review the Upper Level and Lower Level Floor Plans in the "Photos" section of the listing. • The private spaces for guests are a 1,500 square-foot separate guest space on the upper level with a private exterior entrance, and a 1,400 square-foot game & workout room on the lower level plus a 700 SF outdoor patio and a fire pit area. • The spaces shared among guests and hosts are the kitchen, a dining area, and an outdoor eating area on the back deck with a propane BBQ grill. • A refrigerator/freezer, a microwave oven, a toaster, and a coffee maker including regular and decaf coffee are provided in the private guest space. • A list of 22 places to eat breakfast, lunch and dinner in Graeagle and the surrounding area is available. There is also a grocery store in Graeagle. PRIVATE UPPER LEVEL GUEST SPACE (1,500 square feet) • KING MASTER SUITE: Includes a king-size bed and an attached bathroom with a separate stall shower and a jetted tub. • QUEEN MASTER SUITE: Includes two queen-size beds with a walk-in closet and an attached bathroom with a large combination tub-shower. • MULTI-PURPOSE ROOM: Between the two suites is a large multi-purpose room with a TV and DirecTV DVR, a sofa that folds out into a queen-size bed, a recliner, a table with chairs, and counter space. This room has an access door to the bathroom attached to the King Master Suite. • A refrigerator/freezer, a microwave oven, a toaster and a coffee maker including regular and decaf coffee are provided in this room. • The room has French doors leading outside to a covered porch, and another door leading out to a deck with a jetted spa for guest's private use. • There is a lockable door that completely closes off the guest wing from the rest of the home to provide for your complete privacy. PRIVATE LOWER LEVEL GAME & WORKOUT ROOM (1,400 square feet) • This room has a pool table, a foosball table, exercise equipment, a TV and DirecTV DVR, a sofa that folds out into a queen-size bed and an attached half bathroom. • Six very comfortable sleeping pads are also provided that can be placed on the floor in this room and in the upper level guest space to provide flexible sleeping arrangements for the allowed maximum of ten guests. You will need to provide your own bedding or sleeping bags for use with these sleeping pads. SHARED KITCHEN, DINING AREA & OUTDOOR EATING AREA. • These areas are shared among guests and hosts. Please coordinate with the hosts about the timing of using these spaces so we will know when you need to use them.
• The property is part of the Smith Creek Ranch planned development, a private subdivision, located within easy walking or biking distance of downtown Graeagle, in a secluded valley with a large meadow. • The home is situated on ten acres of secluded and wooded property with approximately 1,200 feet of frontage on year-round Smith Creek, which flows from spring-fed Smith Lake in the Lakes Basin Recreation Area. The ten-acre lot is completely flat to very gently rolling, and all areas on the lot, including the creek, are easily accessible for walking. • No neighboring homes on adjacent properties are visible from the house. It is very quiet, and the only sounds that are heard at any time of day or night are the wind in the trees, the birds, the creek, and occasionally a distant train whistle.
We very much enjoyed our stay with Scott and Belinda in their lovely large estate. Their home and hospitality are amazing -- highly recommend parties large and small (like us) stay and play in their resort like property any time of year.
Julie
2016-09-24T00:00:00Z
We had really great time at Mountain luxury. Everyone in our group(6) were happy with this place. Both, Scott and Belinda gave us warm welcome with tour of their house. Such a quiet and relaxing place to spend your holidays. we had access to 2 Bedrooms, common room, basement, open area attached to bedrooms and shared kitchen. The basement was equipped with mini gym, pool table and several other indoor games. The bedrooms, bathrooms were clean and perfectly maintained. The neighbourhood has several lakes (just enough water at the time of visit, we spotted few people fishing and kayaking), hiking trails, ranches, good restaurants. The house and vicinity was exactly as described on listing. They helped us with all nearby restaurants and places, not to forget scott, the map you provided was really helpful during hiking in lake basin. Overall, our stay was very comfortable and fun. I would love to visit this place again and I highly recommend this place to everyone else.
Kapil
2015-09-07T00:00:00Z
Even though we didn't get to stay (weekend plans fell apart), Belinda and Scott were so amazing in terms of following up every step along the way to ensure that we got our refund, and contacted AirBNB on our behalf. They were also super gracious and flexible in their scheduling with us, and I could not be more grateful for their help. Excellent communication and we really hope to visit them soon!
Pamela
2015-07-26T00:00:00Z
Scott & Belinda were wonderful hosts. They answered all of my questions and concerns before, and during our stay at their home. Greatest cabin stay I've ever had.
Kim
2017-02-19T00:00:00Z
Belinda and Scott were just wonderful! They were warm and very welcoming. They made us feel right at home! Also, the house itself is beautiful. Hot tubing under the stars was a blast!
Aslı
2016-09-06T00:00:00Z
We absolutely loved our stay with Belinda & Scott. They're the most kind and hospitable people I've meet in a very long time. The area of the house we occupied was huge and private (we traveled with 2 babies and a Golden: total of 5). The house is absolutely beautiful and the kitchen is to die for. We had access to the whole house and we felt at home the entire time. We can't wait to do it again.
Justin
2016-07-22T00:00:00Z
Belinda and Scott were the perfect hosts - always available and super friendly. The place was stunning - super private and very comfortable. We would HIGHLY recommend this place to everybody.
Henrik
2016-09-12T00:00:00Z
What an absolutely delightful experience! Clean, spacious and beautiful house with trails, it's own natural water source (artisan spring) and absolute privacy. We enjoyed options for a private deck with hot tub, large guest rooms, entertainment room, and the privilege of perfect hosts. This lovely home was just minutes from multiple lakes, ponds, horseback riding, and a cute little downtown. Thank you so much for the camp fire and s'mores - the kids were just over the [blue] moon! We will definitely try and make it back soon.
Christa
2015-08-01T00:00:00Z
Oda Tipi
Tüm ev/daire
---
Mekan Türü
Daire
---
Konaklayacak Kişi Sayısı
10
---
Yatak odaları
Graeagle, California, ABD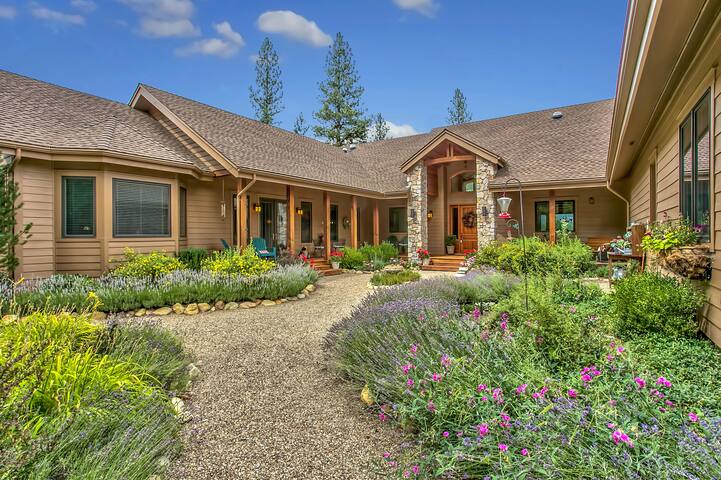 The Valley House, Unit 2 is almost ready for occupancy. It is 600 sq. ft. with 1 master bedroom and bath, a full kitchen, half bath, living room and deck. There is a very comfortable queen bed in the Master Bedroom, and a queen size pull out sofa in the living room. Unit 2 allows pets. Interior photos coming soon. The Valley House is located in Sierraville which is a small town nestled into a corner of the great Sierra Valley with great food, hot springs, and recreation opportunities.
Oda Tipi
Tüm ev/daire
---
Mekan Türü
Daire
---
Konaklayacak Kişi Sayısı
4
---
Yatak odaları
Sierraville, California, ABD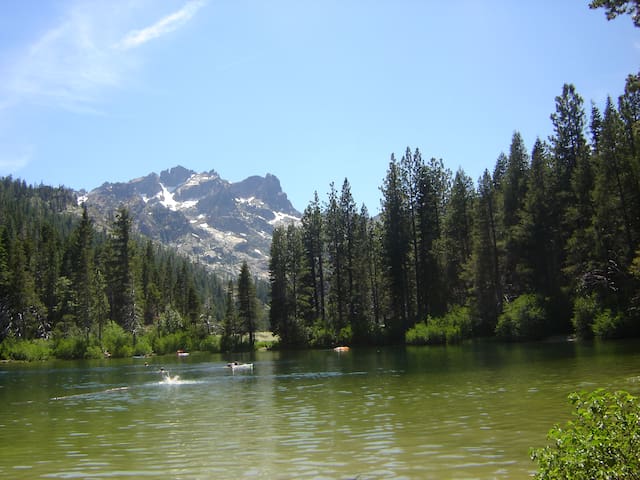 welcome to my house
Great house, good environment, ready to eat a lot of fruit.
岩
2016-12-24T00:00:00Z
The house is very comfortable, very clean, the landlord is very good, no bad habits. Worth recommending.
宏宇
2016-12-14T00:00:00Z
The room is very comfortable, the bed is very big, the quilt is new. Excellent。
磊
2016-12-08T00:00:00Z
Landlord is very good, ready to clean is the fruit to eat and coffee. Very like, after the opportunity will choose here. Recommend to everyone!
海锋
2016-12-19T00:00:00Z
Oda Tipi
Özel oda
---
Mekan Türü
Daire
---
Konaklayacak Kişi Sayısı
1
---
Yatak odaları
Portola, California, ABD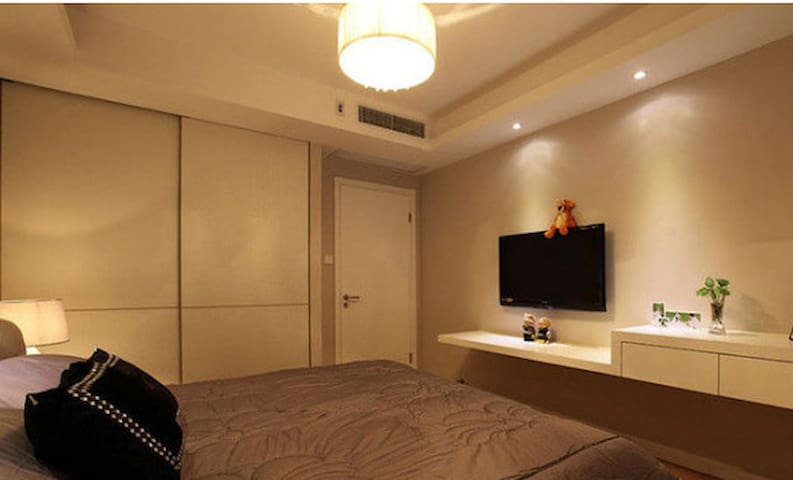 Unit 1 is half of a two-unit apartment hotel centrally located and within walking distance to restaurants in beautiful Sierraville, California. Unit One is ADA-compliant with a large bedroom and bathroom. It's perfect for a family vacation with a sofa bed in the living room. From The Valley House, you can walk to Sierraville's two fantastic restaurants and it's a beautiful 2-mile bike or car ride to Sierra Valley Hot Springs Resort, which offers all-day soaks, spa experiences and organic dining.
Unit 1 has been gorgeously remodeled and provides guests with luxury, comfort and privacy with a separate bedroom apart from the living area and a beautiful bathroom with large walk-in shower. You can cook when you feel like it or bring home take-out and dine outside on the back decks. The floor plan is open with the kitchen and dining space part of the living area.
Sierraville is a sleepy town at the entrance of the Sierra Valley, the largest Alpine Valley in North America. From Sierraville, you are a 30-minute drive to some of Northern California's most beautiful mountain destinations: Lakes Basin Recreation Area, The Sierra Buttes, The Yuba River, Donner Lake/Truckee, Lake Tahoe and surrounding towns.
Great, modern new unit with sound proof windows, so very quiet. ADA accessible and easy to find. Great restaurant new by. Simple, clean, and basic amenities were all there. Great access point to back country skiing.
Stephanie
2017-03-19T00:00:00Z
The host canceled this reservation 66 days before arrival. This is an automated posting.
Rubi
2017-04-03T00:00:00Z
Oda Tipi
Tüm ev/daire
---
Mekan Türü
Daire
---
Konaklayacak Kişi Sayısı
4
---
Yatak odaları
Sierraville, California, ABD
Private, nicely decorated and comfortable, large studio apartment. Private courtyard entrance. Located one block from the courthouse, restaurants and shopping. Made for the traveling professional or just the vacationer who wants to be near town.
Private entrance and apartment. Full kitchen amenities, cookware, chef's knives, stemware, dinnerware, silverware and utensils. Small crock pot, toaster, microwave, propane range. Full size refrigerator. Full size closet with wood clothes and pant hangers. Dresser, shoe rack and shelf storage. Fire exit. Air mattress can be provided on request but will have an additional fee for set up. Also, additional fee applies to more than two persons. Please call management for pricing and specifications.
Situated one block from downtown Quincy. Close to restaurants, shopping, courthouse, parks, Forest Service Supervisor's office, bar / lounge, art galleries, college and hospital. Neighborhood is half residential and half commercial. Light traffic on street and quiet. The Bike Path is right behind the apartment.
The host canceled this reservation 30 days before arrival. This is an automated posting.
Caitlin
2016-10-25T00:00:00Z
Oda Tipi
Tüm ev/daire
---
Mekan Türü
Daire
---
Konaklayacak Kişi Sayısı
2
---
Yatak odaları
Quincy, California, ABD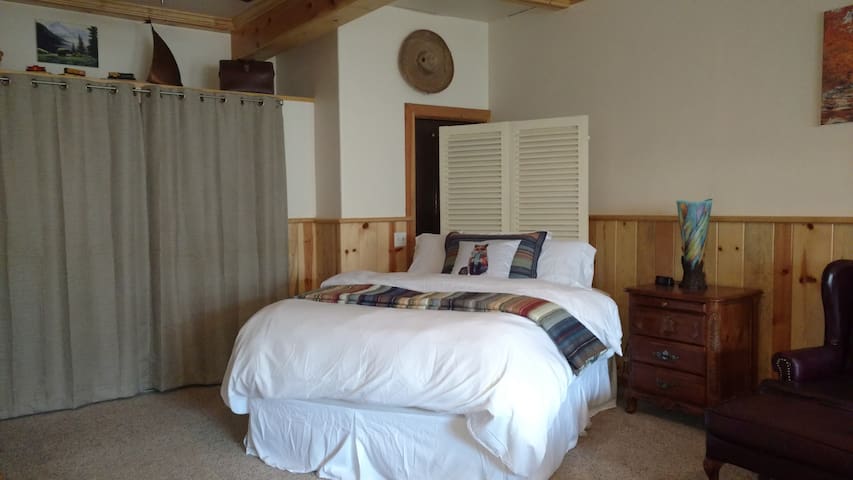 Graeagle - Airbnb
:
38

misafir değerlendirmesinden,

5

yıldız üzerinden ortalama

4.61

yıldız
Tam fiyatlandırmayı görmek için tarihleri görün. Ek ücretler uygulanır. Vergiler ilave edilir.