New loft apartment offers high beadboard ceilings, huge windows looking onto Square, original hardwood floors for great atmosphere. It also provides a full kitchen, full washer/dryer, stall shower and bath, new HVAC, and many closets. Comfortable, cosy, convenient, the apartment is within walking distance of a famous grocery store, a good restaurant, the Courthouse and City Hall, and many interesting sights. Grenada Lake and Interstate 55 are each about 2 miles away.
Built in gorgeous renovated building dating from 1867, the loft apartment is clean and modern with much period charm. Easy to live in, plenty of parking, and much to explore on foot.
We love the largely unspoiled Square, surrounded by 2 story commercial brick row buildings. We love being able to walk to Orleans or to an event at First & Green Celebrations downstairs. We love living next door to Robin Whitfield Studio and Gallery, and M&M Kustom Cars, where Lee Taylor rebuilds vintage vehicles of all kinds. Robin loves to show off the wonders of Chakchiuma Swamp Natural Area, just a couple of blocks away.
Oda Tipi
Tüm ev/daire
---
Mekan Türü
Daire
---
Konaklayacak Kişi Sayısı
4
---
Yatak odaları
Grenada, Mississippi, ABD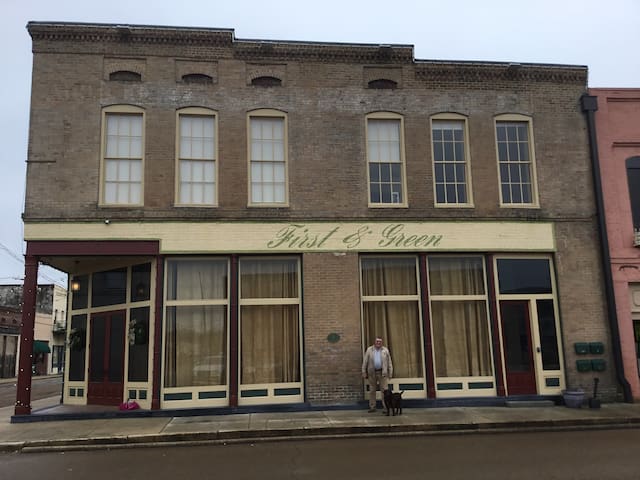 Рядом с моим жильем рестораны и кафе, пляж, семейные развлечения, ночная жизнь и общественный транспорт. Вам понравится, ведь в моем жилье есть виды, расположение и люди. Мое жилье подходит для этого: семьи (с детьми) и большие группы.
blije kmore, vid iz okn krasivii
tixi mesta blije kmoru, blije centr,blije vbulvaru,blije tavcevalni pantan
Oda Tipi
Tüm ev/daire
---
Mekan Türü
Daire
---
Konaklayacak Kişi Sayısı
16
---
Yatak odaları
GA, Georgia, ABD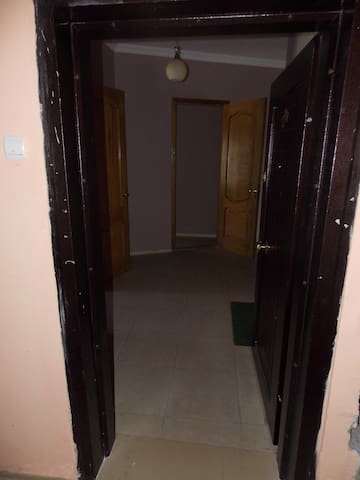 Relax in modern comfort carved into the high ceilings, thick brick walls, and unparalleled ambiance of the historic Blu Buck Mercantile. Renovations Completed Fall 2014.
Fine linens, bathrobes, locally built furniture, a well equipped kitchen and a grocery store 2 blocks away, an ice maker, laundry facilities available down the hall, and the amazing character that is the heart of these historic loft spaces.
Located in the heart of downtown Water Valley MS, a 2 minute walk from the critically acclaimed kitchen at the BTC Old Fashioned Grocery, and just a 20 minute drive to Oxford, MS and the Ole Miss stadium.
This apartment is thoughtfully appointed with all the right things, like local coffee and a French press. Right in the middle of the best of Water Valley, the high ceilings, original floorboards and handmade furniture give it a vintage feel. Kagan was very responsive, which made checking in and out so easy. Would definitely recommend.
Emily
2015-12-26T00:00:00Z
We loved our mini apartment. Beautiful restoration and very comfortable. Loved the sky high ceilings. See you again next year. Thank you.
Empress
2015-11-22T00:00:00Z
Rummet var rent och fint. Jätte mysigt hotell. Det är väldigt lugnt så perfekt för en weekend getaway. Det fanns kaffe och vattenflaskor redo att använda. Det ända negativa är att det är väldigt lyhört och att ytterdörren inte går hela vägen ner. Det är inget som direkt stör eftersom området är så lugnt.
Yasmine
2016-02-16T00:00:00Z
Very Clean, All described great. Easy to get in and out. Great room - would stay here again.
Zachary
2016-05-16T00:00:00Z
Everything about the apartment was just as described and Kagen provided excellent instructions on getting there, where to park, and how to get in. It's right on main street and within walking distance to some local restaurants. The apartment was cozy, quiet, and secure.
Denise
2016-10-06T00:00:00Z
What a wonderful little spot. Everything was exactly as expected - we loved the little outdoor adirondack chairs. With superlative weather, we had our coffee while sitting on the chairs. Will definitely be back.
Kelley
2015-09-13T00:00:00Z
This is an AirBnB gem! I loved staying here. The bed is so comfortable. It has everything and the location is fantastic. You have to eat breakfast or lunch at The BTC Old Fashioned Grocery, dinner at Crawdad Hole and go to the Yalobusha Brewery for the Beer Sampler. Best of all, you can walk to everything. What a fun weekend! I can not wait to go back again!
Treadway
2016-09-12T00:00:00Z
My hosts were so consistently online and gracious with help. This was my first Air BnB booking; having owned/managed a traditional B & B in Texas, I was anticipating a great/new experience. The verification was a bit daunting, but doing ALL online, appreciated. I could feel the safety of such...immediately. My accommodations turned out to be about as I expected; a fun experience in a wonderful little town with walking to all I needed/wanted, a real bonus.
Marjorie
2016-04-05T00:00:00Z
Oda Tipi
Tüm ev/daire
---
Mekan Türü
Daire
---
Konaklayacak Kişi Sayısı
4
---
Yatak odaları
Water Valley, Mississippi, ABD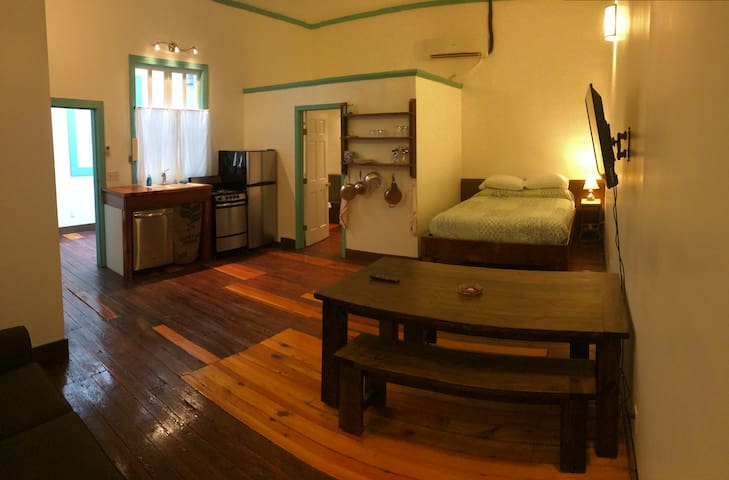 Relax in modern comfort carved into the high ceilings, thick brick walls, and unparalleled ambiance of the historic Blu Buck Mercantile. Renovations Completed Fall 2014.
This was our second stay at the Blu-Buck Mercantile and we enjoyed it just as much as the first! Water Valley is a charming small southern town, and the Blu-Buck is the perfect place to stay while experiencing it. The owners have done a fabulous job of restoring these old buildings and it's a pleasure to spend time here. We had lunch and take-away from the BTC, milkshakes from Turnage Drugs and a fun time touring Ole Miss in Oxford. The Blu-Buck and Water Valley are both gems--don't hesitate to book a room!
Martha
2016-10-23T00:00:00Z
The Blu-Buck Mercantile Hotel was perfect for our week in Water Valley. The Courtyard Room was private, spacious and comfortable and had a functional kitchen set up, which we utilized. The hotel is within easy walking distance to all of the restaurants and shops. Check-in instructions were clear and easy. Kagan was welcoming and informative and responded quickly when we had a couple of questions about the local area. We hope to have the chance to stay at the Blu-Buck again soon.
Rebecca
2017-03-31T00:00:00Z
We have been visiting Water Valley since 1996- and this particular building has been fantasticly remodeled - the room had everything you could possibly need- We were made to feel very welcomed- Thank you, Steven
Steven
2016-05-24T00:00:00Z
We arrived late and left early. The suite was very nice and met in every way the description as posted. The Blu-Buck is on Main Street in a small town within easy driving distance of Oxford. We will try to stay with Kagan again on our next trip through the area.
Thomas
2015-09-06T00:00:00Z
The Blu Buck Mercantile is the best and we wouldn't stay anywhere else in the Oxford area! The rooms are wonderful--well stocked with all you would need and a great vintage feel. The Yalobusha Brewery, the Crawdad Hole, Hometown Pizza and the BTC are all just down the street and great places to visit. We hope to return soon!
Martha
2017-02-20T00:00:00Z
Great place in a cool little town. Had a great stay.
Ellis
2016-06-06T00:00:00Z
Our recent stay at the Blu Buck was more than we could have hoped! We were in the courtyard room, which is large and comfortable and includes access to the courtyard deck. We were visiting for the Watermelon Carnival with two teenagers. It was a great location for them to have freedom to come and go, and also for us to walk down to the BTC for coffee and lunch. Water Valley is a wonderful small town, and the Blu Buck is the perfect base for exploring the town and its environs. We will certainly be back!
Martha
2016-08-06T00:00:00Z
Great place to stay if you're intending to spend time taking in Water Valley. We were a short walk away from several restaurants and the local brewery. Our room had everything we needed for a relaxing and enjoyable weekend getaway. Would absolutely book again the next time in town.
David
2017-03-05T00:00:00Z
Oda Tipi
Tüm ev/daire
---
Mekan Türü
Daire
---
Konaklayacak Kişi Sayısı
2
---
Yatak odaları
Water Valley, Mississippi, ABD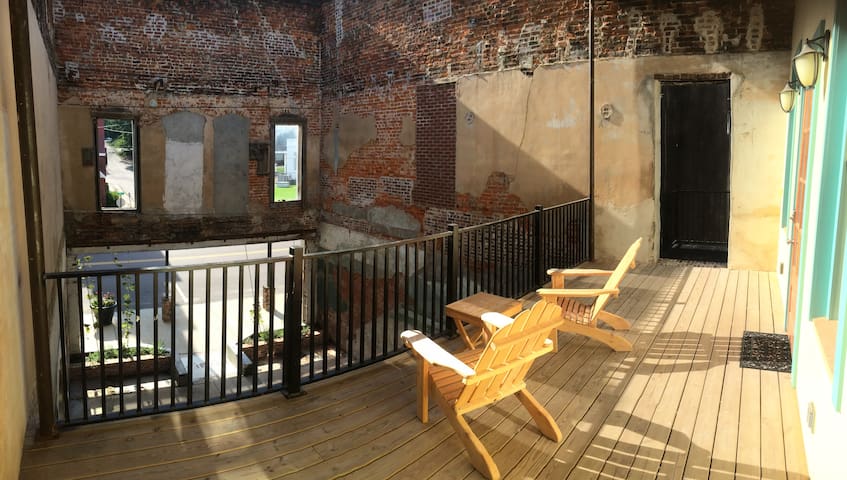 Our place is close to Batesville, Sardis & Enid lakes, and The University of Mississippi (Ole Miss) is within 40 miles. You'll love our place because of the quiet, the views, the location, and the people. We welcome anyone from solo adventurers to big groups, and furry friends (pets). Rural setting complete with horses, cows, dogs, and cats.
We have four separate apartments, all with kitchenettes, private bathrooms, and queen size beds. Three apartments also have sofa beds. Apartments on located on second floor with stairway access. No elevator. Washer & dryer are available for guests use. Additional housing is available occasionally. Let us know what space you need & we will see what is available.
Apartments are located in the middle of the 200 acre ranch. Peace and quiet are yours to enjoy. We are 3 miles from Batesville city limits. North Delta school is located within a mile of ranch. We are surrounded by cattle and row crop farms.
We had a terrific time! It's a perfect place to experience the serenity of the farm with the sophisticated rustic scenery of northern Mississippi. Clean, spacious, comfortable, we had a blast!
Luke
2017-03-27T00:00:00Z
Great place for the weekend stay, secured and quiet.
Keisha
2016-12-12T00:00:00Z
We enjoyed the peace and quiet of The Ranch. We did not have to worry about our boat and other belongings being safe. The short drive to and from the lakes was well worth it.
Janice
2017-03-24T00:00:00Z
Absolutely the best place to stay for the price. Everyone is friendly and see to it you have a great stay. I will definitely be staying here again.
Timothy
2017-02-12T00:00:00Z
Good place to stay, it's quite and a nice setting in the country yet your only about 5 miles from Batesville!
Ryan
2016-12-04T00:00:00Z
This is heaven on earth! The people are soooo friendly and the accommodation is awesome! I found it hard to leave! I will be back again!
Dee
2017-02-19T00:00:00Z
Our stay was fantastic! The rental was very spacious with two bedrooms and baths. The huge greatroom encompassing the living area, the dining room and kitchen was perfect! We could step out the front or back door and enjoy watching the young horses in training. Everyone was super friendly and helpful. Our highlight was attending a show at ArenaOne and getting to see cutting horses in action! We will be returning!
Lee Ann
2017-03-11T00:00:00Z
We had a wonderful experience staying at this beautiful horse ranch with our dog. The apartment was spacious and comfortable, and the view outside was just gorgeous. I wish we had more time in the morning to wander around the property and check out the horse, but we had to get on moving to our next destination.
Cecily
2016-12-23T00:00:00Z
Oda Tipi
Özel oda
---
Mekan Türü
Daire
---
Konaklayacak Kişi Sayısı
2
---
Yatak odaları
Batesville, Mississippi, ABD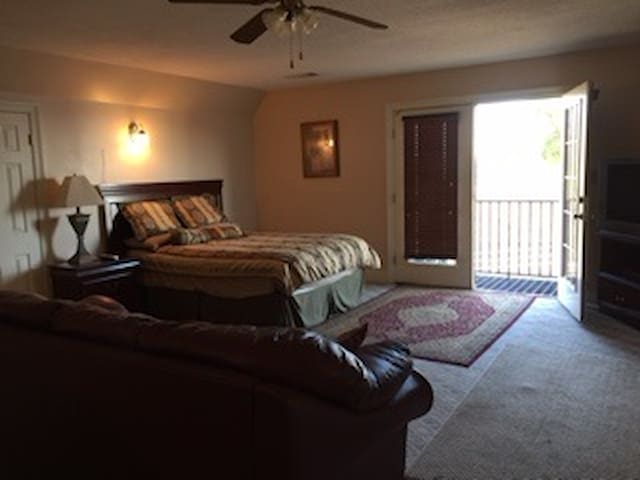 This apartment has it's own entrance off the 2nd floor balcony. It is great for families since it offers both a queen size bed and sofa bed. Also available is adjoining apartment if more space is needed. Full bath and kitchenette are included. Pets are welcome.
Oda Tipi
Özel oda
---
Mekan Türü
Daire
---
Konaklayacak Kişi Sayısı
2
---
Yatak odaları
Batesville, Mississippi, ABD
Grenada - Airbnb
:
46

misafir değerlendirmesinden,

5

yıldız üzerinden ortalama

4.78

yıldız
Tam fiyatlandırmayı görmek için tarihleri görün. Ek ücretler uygulanır. Vergiler ilave edilir.