Relax, relax, relax? Birthdays, name days, anniversaries celebrating? Daughter anal holds bachelor party? Christmas, New Year, Valentine's Day, Easter, Whitsun holidays? Photography? Buliznátok and felfrissülnétek few days? Come to us
We welcome you in 290 m2 house party. Our goal is to feel good yourself, bulizzatok, celebrate or just bring a large Cegetel decisions in his life, nevertheless get some rest, and wellnessezzetek connect with a cozy and cheerful atmosphere. * 2 100 m2, partying style interior Sleeps 16-20 5 separate bedrooms a separate apartment of 45 m2 6-person sauna 6-person outdoor Jacuzzi gym pool table darts football dancehall Internet / wifi sound system Cable TV service 3 corner, which is one of 2 people covered outdoor dining table for 12 people pallet furniture, sun tent, for 12-14 people barbecue and cooking options Ping pong table skittles
Budapest is easily accessible. 30 minutes by car, public transport 60 minutes. Liszt Ferenc Airport 9km away by taxi. 10 minutes.
A házigazda nagyon szimpatikus volt, mindenben készséggel állt rendelkezésünkre.A ház szuper volt, mindenünk megvolt:jakuzzi , billiárd pingpong, kényelmes fekhelyek. Ideális helyszíne egy nagyon szuper bulinak, akár rossz idő esetén is a hatalmas fedett terasza miatt. Köszönünk mindent, remélem még találkozunk!
Attila
2016-06-13T00:00:00Z
Szuper hely, nagyon kedves es rugalmas hazigazdakkal. Jol felszerelt a haz, a szobak tisztak, jol ereztuk magunkat.
Károly
2016-09-05T00:00:00Z
We had a reunion party at the house and it was the blast.. We had such a nice time. So I recommend this for large groups of people, if you want have a privacy and fun .. thank you
Martin
2016-08-08T00:00:00Z
We had a great stay. The place is perfect for a large party. And the host was super helpful about everything.
Tim
2016-05-17T00:00:00Z
让房东发了房间的具体位置,很快就导航过去了。房间和介绍一样,干净整洁,娱乐项目多,很适合家庭、朋友聚会。房东还亲自开车带我们到附近最大的超市买东西。治安也非常安全,晚上有志愿者保安在别墅外保护我们,直到早晨5点过天亮了才离开。我们对着家别墅相当满意!
芸
2016-08-12T00:00:00Z
Oda Tipi
Tüm ev/daire
---
Mekan Türü
Ev
---
Konaklayacak Kişi Sayısı
16
---
Yatak odaları
Gyál, Pest County, Macaristan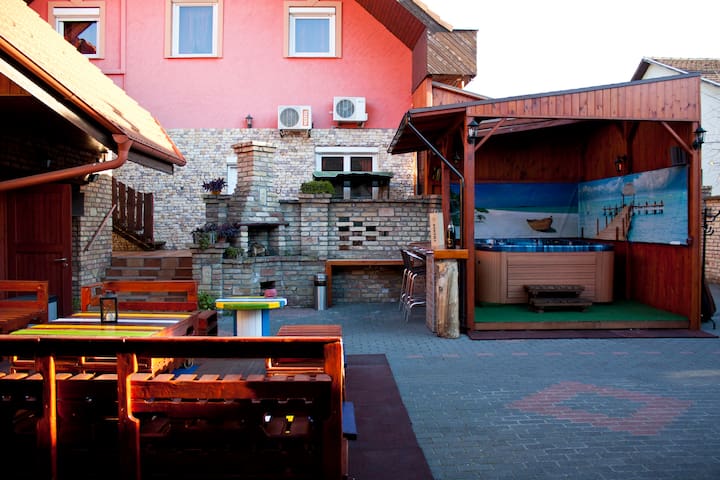 Set in Gyál, only 10 km from Budapest´s Liszt Ferenc Airport, Toscan Caffe offers a 24-hour front desk, free WiFi, a garden with a shared terrace and a restaurant. Private parking spaces are available on site free of charge. The rooms at the Toscan Caffe all come with a flat-screen TV with cable channels, parquet flooring and private bathroom facilities. Bed linen and towels are provided, as well. Breakfast is served daily at the property and dinner can be enjoyed at the in-house restaurant.
Lovely.
Savana
2017-01-02T00:00:00Z
Oda Tipi
Özel oda
---
Mekan Türü
Konukevi
---
Konaklayacak Kişi Sayısı
2
---
Yatak odaları
Gyál, Macaristan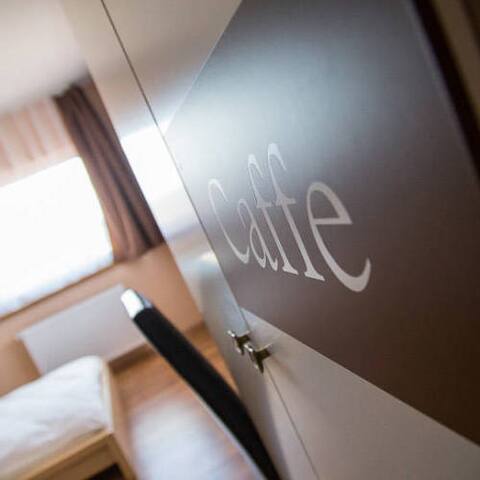 550 nm lüks villa ve yüzme havuzu, jakuzi. Evin 5 yatak odası, oturma odası, 4 banyo, bilardo pub, Barbekü bahçe bulmak citycenter.You'll arabayla 10 dakika uzaklıkta yer almaktadır.
Evin Budapeşte bahçe şehirde bulunmaktadır. Şehir merkezi car.You 10 dakika evin yakınında süpermarketler bulabilirsiniz olduğunu. (araba ile 3 dakika)
The host canceled this reservation the day before arrival. This is an automated posting.
Paulo
2015-10-10T00:00:00Z
The villa was wonderful. We spent a very nice week-end with some friends in Budapest and could relax in the warm swimming pool and jacuzzi. Everything was as described and the host was very helpful. The villa is only at 10-15 minutes from the center of Budapest
Vivien
2016-06-06T00:00:00Z
Very nice place to stay, Aspecially with a big group! Its a bit out of town so you habe to use a car or the public transport. The pool is a little cold but that's not really a disadvantage. Nice hosts. Very polite! We had a good trip!
Saar
2016-09-11T00:00:00Z
The property is fabulous and the pool and hot tub are unique additions. The beds are really comfortable. I would also say the property is a good 20 minute taxi ride from the city centre though taxis are easy to call, be prepared to pay for them. Bernadette is a great host and v responsive.
Jo
2016-10-11T00:00:00Z
The house was exactly as it looks in the pictures and both Bernadett and Levi were very kind and accommodating. We very much enjoyed our stay!! The only downside was that the house was not very well equipped in terms of kitchen utensils and other sorts of things that would have made the difference. But other than that we would definitely recommend!!
Lucia
2016-08-04T00:00:00Z
Was nice tnx
Chai
2017-02-12T00:00:00Z
The house was everything the photos and descriptions said it would be! We were a group of 10 celebrating a birthday. The hot tub, and house were a huge welcome from the very cold temperatures outside. Bernadett was more than accommodating and communicated with me excellently leading up to our trip and her friend was very helpful on arrival and during. As mentioned in description, it is a little way out of town but this is no big deal at all! Even more so in the winter when its so cold. We found a taxi app on the day of arrival which was very lucky (fo taxi). The app acts like uber and you can pre-order taxis. I strongly recommend anyone uses this throughout their stay as picking up taxis via other means can result in getting overcharged! It was only about 12euro for almost any trip around the city and backwards and forwards from the house via the app. Overall our stay at the house was just perfect and I would recommend to any big groups looking for a fun house in a fabulous city!!
Molly
2017-01-08T00:00:00Z
Bernadett's house is a wonderful place for family/friends gathering in Budapest. It's not located in the city center, but you'll have the peacefulness of a quiet neighborhood, while taxi is very cheap. The house is perfectly equipped, Swimming pool, jacuzzi, pool table, bar, ... And Bernadett is really willing to help, she quickly fixed the Wifi issue we had, she reacts very quickly on AirBnb messages. I would strongly recommend this place if you're OK to use cabs to go downtown
Louis and Marie
2017-03-24T00:00:00Z
Oda Tipi
Tüm ev/daire
---
Mekan Türü
Ev
---
Konaklayacak Kişi Sayısı
14
---
Yatak odaları
Budapeşte, Budapeşte, Macaristan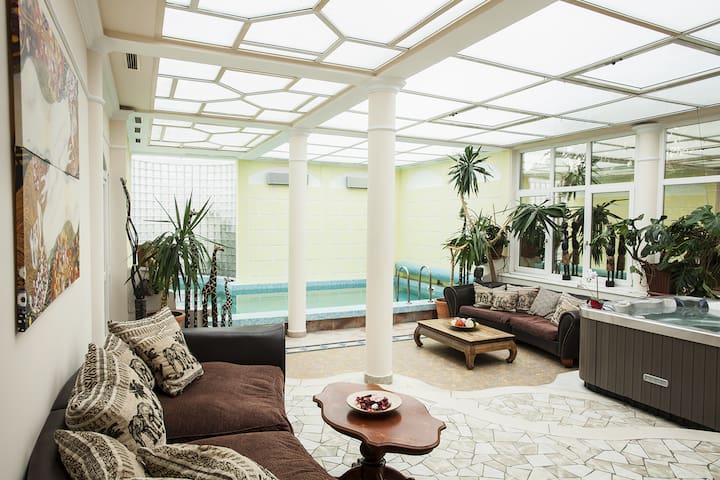 Situated in a residential area of Budapest City and the city centre reachable within 9 km, Solid Apartmans offers a self-catered accommodation with free WiFi and free private parking. Budapest Liszt Ferenc Airport is located 10 km from the property.
Szép és tiszta volt a szállás, szépen berendezett.
Brigitta
2016-10-22T00:00:00Z
Nice and spacious apartment, easy communication
Michał
2016-07-19T00:00:00Z
The host was very nice .The appartment was clean and as described.I recomend.
שאול
2016-07-10T00:00:00Z
Zvolili jsme si toto ubytování, protože je blízko letišti. Bylo nás pět a spali jsme tam jen jednu noc. Ubytování je čisté, pohodlné, tichá lokalita. Vypadá jako na fotkách. Doporučuji.
Tomáš
2017-02-06T00:00:00Z
Very nice place and great host!
Aleksandar
2016-09-05T00:00:00Z
Oda Tipi
Tüm ev/daire
---
Mekan Türü
Ev
---
Konaklayacak Kişi Sayısı
6
---
Yatak odaları
Budapeşte, Budapeşte, Macaristan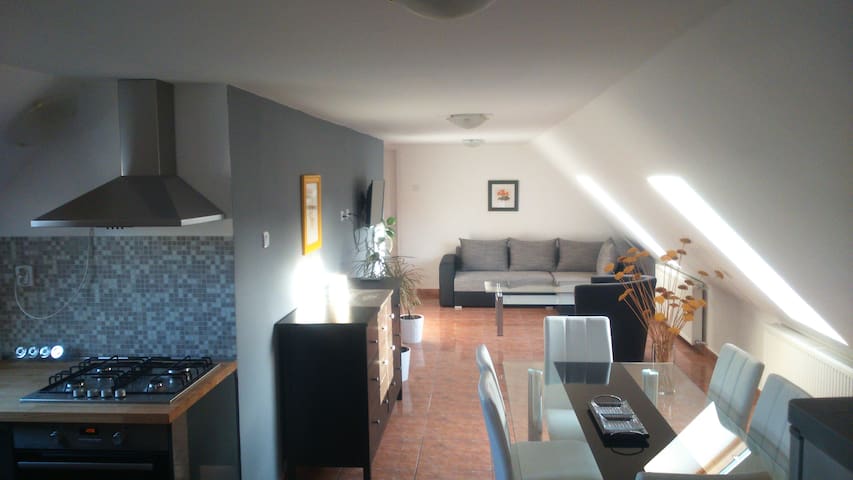 Eğer 10 dakika yeşil kuşak havaalanından sakin bir yerde kalmak istiyorsanız, o zaman Yeşil Baykuş tam size göre. Bu evin önünde ücretsiz otopark imkanı ile 60 m2 loft daire olduğunu. Ben sadece 14 milyon Euro karşılığında sizi havaalanında karşılayabilir. : D
My apartment is comfortable for 1-2 persons. It is furnished in modern style with IKEA furniture. As it is a loft apartment there are steep stairs. Guided tour of Budapest by car at a reasonable price!
Nice, quiet residential area. Also it is located near the airport which can be important for an early flight. If you have just some hours I can take you on a guided tour of Budapest by car at a reasonable price!
Gaby was very nice with us and her apartment is great!
Camille
2017-01-22T00:00:00Z
Спасибо, все соответствует описанию и фото. Останавливались на половину суток до следующего перелёта . Близко к аэропорту( первый автобус в 4:09), удобно на ранний рейс. Отлично, чтобы выспаться, покушать и восстановиться. Понравилось , что в частном секторе.
Anna
2017-01-30T00:00:00Z
Очень хорошая хозяйка. Комната-студия большая красивая и удобная. Рядом станция с которой каждые 20 минут ходят электрички в центр и автобусная остановка. Всем рекомендую
Alexander
2017-01-10T00:00:00Z
I was very satisfied. It is a great value for the price. I reccomend this place
Peter
2017-03-05T00:00:00Z
Gabriella's place was very homey and close to the Budapest airport. She is great about giving directions for coming and going. I definitely recommend!
Matthew
2017-02-27T00:00:00Z
Все великолепно. Первые десять минут я просто в эйфории пребывала, как всё уютно и просторно. Между прочим, есть фен, хотя в описании не сказано. Интернет быстрый. На одиннадцатой минуте я начала замерзать, потому что вариант, скорее, летний, батареи на все помещение немного не хватает. Но в целом великолепно, и очень милая хозяйка, подвезла до автобусной остановки. Ну, лестница-чудесница, конечно, на любителя, зато как уютно наверху.
Ekaterina
2016-12-23T00:00:00Z
Everything was great! Gabriella was waiting for us even if it was a bit late and she took us to the airport really early which was great. Great experience!
Ovidiu
2016-12-06T00:00:00Z
This was our first Airbnb experience. We were traveling as a couple towards the airport and found this place near the airport for a sleepover. We were given pretty simple instructions for the public transport and we followed them without a problem. If you don't like the hassle of public transport then you can have the host pick you up towards the place and to the airport. The house rules were reasonable and simple, we had a bed for two, hot water, towels and pretty much everything we needed for a night. The place was clean and comfortable. If you need a place to sleep over before your flight, this is a great place to do so.
Federico Matteo
2017-03-28T00:00:00Z
Oda Tipi
Tüm ev/daire
---
Mekan Türü
Daire
---
Konaklayacak Kişi Sayısı
2
---
Yatak odaları
Budapeşte, Budapeşte, Macaristan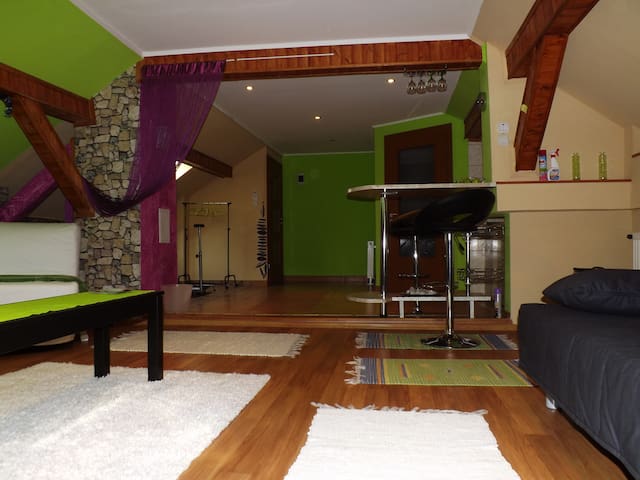 The modern flat offers you 2 bedroom with double bed, a living room for social activities. The apartman is 10 km from the Ferihegy Airport, and 9 km from the downtown. You can easily reach the metro line 3 by the tram front of the apartment. Free wifi, huge plasma TV, bubble bath, free parking available.
Fully equipped 65 sqm flat with everything you might need during your stay. You can also enjoy several channels on our huge 3D plasma TV. The sofa in is avalable to pull out for bed. Hydromassage bubble tube i available in the bathroom. Free Wifi, mobile AC and DVD player.
Great location, just a short taxi ride from the airport. It has everything u might need within 5 minutes walking distance: Supermarket Exchange point Greengrocer Pharmacy Gas station Drogerie Playground Diner Köki Terminal Shopping mall, Kőbánya- Kispest railway station and suburban bus terminal 3 km
Perfect place for me and my family!
Petar
2017-03-27T00:00:00Z
Minden a megbeszeltek szerint tortent. Lakas nagyon jo helyen vam, ugyanakkor nagyon modern, agyak is nagyon kenyelmesek. Koszonok mindent!
Eva
2017-04-02T00:00:00Z
Oda Tipi
Tüm ev/daire
---
Mekan Türü
Daire
---
Konaklayacak Kişi Sayısı
6
---
Yatak odaları
Budapeşte, Budapeşte, Macaristan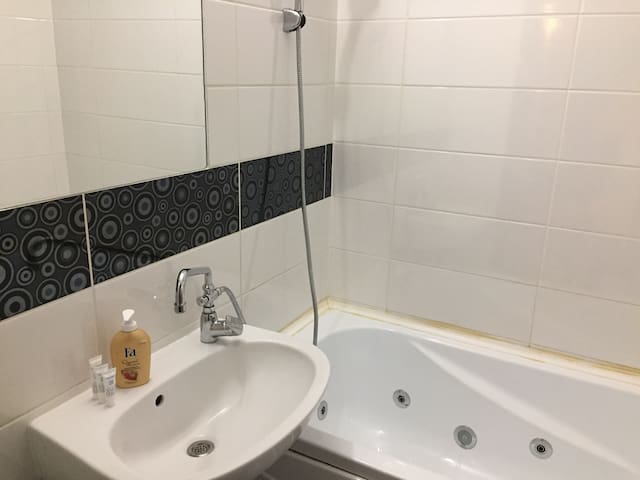 The spot is located near the airport, the city center and parks. The appropriate place for this: couples, lone adventurers and business travelers.
The house is very pretty and easy to reach. We had a problem during our journey so we were too late to get there, but Steve, Fatas nephew, was waiting for us! We are very thankful!
Polina
2016-12-28T00:00:00Z
오랜 유럽여행 기간 동안, 오랫만에 가족과 같은 느낌을 받은 숙소였습니다. 아이들과 편안한 시간을 보낼 수 있었습니다. Fata의 아버지와 어머니께서 번역기로 소통을 하려는 모습이 너무 친근했고, 이틀간의 기간만 머물게 된게 너무 아쉬웠습니다. 숙소는 사진보다 훨씬 훌륭했고, 숙소까지는 내비게이션에 입력 된 주소로 정확히 안내되었습니다. 중심가까지 거리는 있었지만 차로 이동하는 저에게는 문제가 되지 않았습니다. 집안에 주차를 할 수 있는 점도 좋았고, 가족과 보내기에 적합한 숙소였습니다. 환대를 해준 Fata 가족에게 감사드립니다. Thank you so much!
ByungHoon
2016-11-13T00:00:00Z
Nice place to stay one night in Budapest
Noah
2016-10-29T00:00:00Z
Замечательный дом, внимательный хозяин! Всем рекомендуем! Спасибо! Нам все очень понравилось!
Marina
2017-02-19T00:00:00Z
Oda Tipi
Tüm ev/daire
---
Mekan Türü
Konukevi
---
Konaklayacak Kişi Sayısı
4
---
Yatak odaları
Budapeşte, Macaristan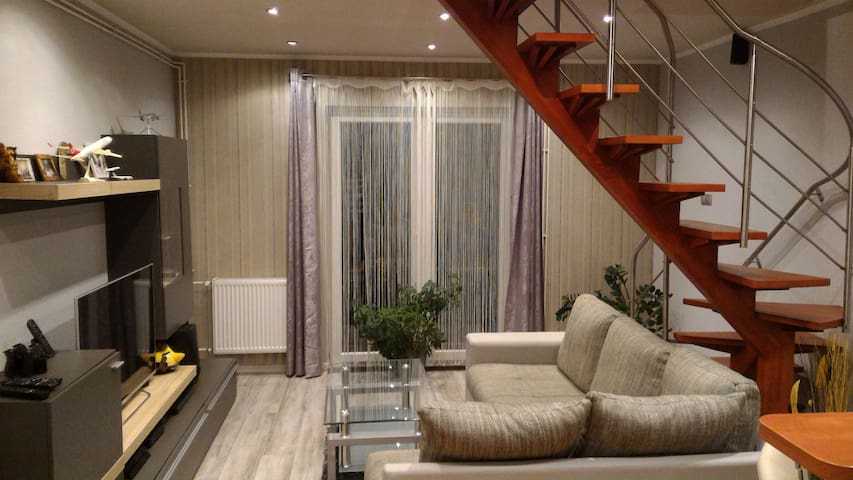 The apartment is 75nm. Large bedroom with double bed. In the living room there is a pull-out bed. The shop (Lidl; Aldi) 5 minute to walk. City center 10 km. About 15 minutes by car.
Oda Tipi
Tüm ev/daire
---
Mekan Türü
Daire
---
Konaklayacak Kişi Sayısı
4
---
Yatak odaları
Budapeşte, Macaristan
One of our 8 freshly renovated, air-conditioned, really stylish apartments in a typical Budapest downtown house at the heartbeat of the most colourful part of Budapest. Furnished and equipped according to highest standard. 1 big bed for 2 + couch; optimal for 2, possible for 3. Facing towards the peaceful inner yard, so less noisy, but less sunny. Check the remaining 7 apartments of ours on our host profile page to pick your favourite one!
The studio is furnished according to highest standard, air-conditioned, the kitchen is fully equipped including oven, hob, microwave, fridge, water boiler and toaster. In the living room you will be able to enjoy the modern SMART LED TV with tons of digital cable channels and connect to the high speed WIFI (240/20Mbp/s). The bathroom is furnished in modern style and contains a shower cabin. You can find everything you might need for a comfortable stay not only the pots, plates, cutleries but even flour, cereals, spices, coffee, tea, oil and vinegar also. We can provide travel bed, baby chair, step on, plastic plates, glasses and cutleries, potty and buggy if you need them. Our calendar is always up-to-date, feel free to use instant booking. We have 8 neighbouring apartments for you to stay at, so please check the other flats as well to choose the one you like the most! Our facility is the optimal choice for companies wanting to stay close to each other but not sharing the same flat. You can reach the other 7 spaces by clicking on our introduction as your hosts.
The apartment is situated in the centre of the city in the so called "Palace District", between Corvin square and Blaha Lujza square, next to the famous "Nagykörút" where you can find the most busy tram lines 4 and 6. With them you can reach easily almost any place in Budapest /Castle of Buda, Margaret Island/ round the clock, because it operates at night as well. You can reach all the 3 tubes of the city in less than 10 minutes on foot and tons of ruin pubs, restaurants are also in walking distance.
Loved the place! Check in/out was easy and straightforward, the apartment was beautiful, it had everything we needed and it was in a great location to explore the city on foot. Thanks Csilla and Mark!
Nick
2016-04-03T00:00:00Z
Personne arrangeante
marine
2015-09-09T00:00:00Z
Before our arrival, we received all information necessary for our check in. We did not meet Benny in person as the apartment is in a separate building and since we arrived quite late, but we felt very welcomed by the fact that the kitchen table was set upon our arrival (see pictures). The apartment itself is extremely modern, clean and has an appealing interior design. It is also equipped with everything we needed during our stay (incl. an electric fan) and located towards the back of the building, hence it is very quiet, but nevertheless central. The only thing that should be changed in our opinion are the matresses, which are very hard, but of course this is a subjective opinion. In total, we can definitly recommend Benny's apartments to anyone visiting Budapest! Thanks again for the very nice stay.
Katharina
2015-07-26T00:00:00Z
Appart spacieux, déco sympa, très propre et bine situé. Je recommande!
Clarisse
2016-10-03T00:00:00Z
Nice small apartment to stay there a couple of night - as some wold like to work, i do not suggest - no working desk (i did not need). I loved the electronic key system - even no need to have a personal meeting with the host - what makes the key handling procedure flexible:))
Robert
2016-11-19T00:00:00Z
inexpensive and clean
승민
2016-07-25T00:00:00Z
Csilla and Mark were very attentive and careful hosts. My boyfriend and I had to book a last minute accomodation in Budapest and we found this instant book apartment called Clockhouse that was really comfortable and cosy. We had an immediate reply from Csilla and Mark about how to get into the apartment. As they work with instant booking, the access is through a code which is very practical. Although it can can sound a little bit unpersonal, our hosts were always in communication with us to make sure everything was allright and that we had a comfortable stay. They even live next door, so in case we needed something we could have contacted them. In Hungary, according to the Airbnb hostage, you need to sign a guestbook and give your personal details for official records, which we find very fair and right. It was a beautiful decorated apartment with all the necessary things you might need for an even longer stay. We had to leave though on next day, so we didn't have time to enjoy the stay fully. Very nice hosts and perfect communication have made things easy for us and we highly recommend this flat for future guests. Kind regards, Pat & Ber
Patricia
2016-06-18T00:00:00Z
Big house is very spacious, clean and tidy. Have independent toilet use very very happy. The landlord is so good, told a lot of tourist route we want to know. Sorry for the Chinese New Year delayed the response time. Happy every day~ Star also missed the time and say hello to you.
Dong
2016-02-03T00:00:00Z
Oda Tipi
Tüm ev/daire
---
Mekan Türü
Daire
---
Konaklayacak Kişi Sayısı
2
---
Yatak odaları
Budapeşte, Budapeşte, Macaristan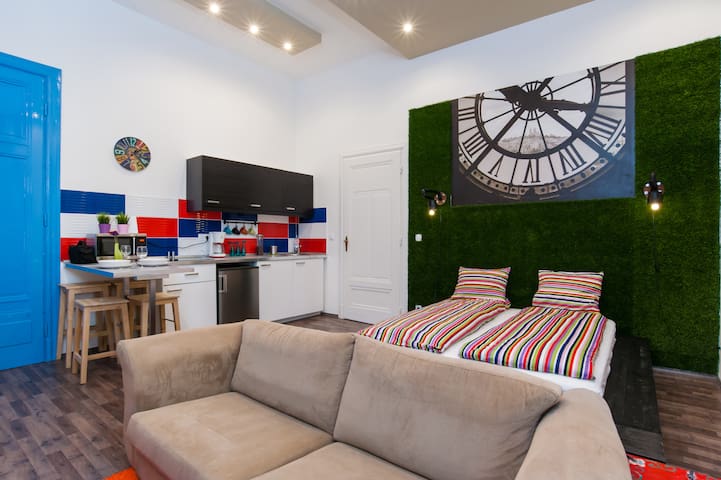 Yoğun ve dumanlı şehir merkezine uzak, bir bahçeyle çevrili, çocuklarla wo / ile bir çift veya aile için düz mı arıyorsunuz? Biz merkezden uzak olmayan yeni inşa edilen evlerin bir köy gibi bir ortamda size şehir gürültüsünden uzak bir kaçış teklif!
Bizim yarı müstakil ev 7 yaşındaki bir binanın parçasıdır ve güzel bir şekilde muhafaza sürekli yeşil bir bahçe ile (3 taraftan) çevrilidir. Sokakta bahçe ve kolay otopark bol bir araba için park yuvası bulunmaktadır. 80 metrekare daire iki katlı aşağıdaki odaları bulunmaktadır: Alt kat - Oturma odası: çekyat (140x200cm), 2 kanepe, küçük masa (tv), klima - Mutfak + yemek odası: Tam BOSCH ekipmanları (bulaşık makinesi, indüksiyon aşçı, fırın, havalandırma), kurutma fonksiyonu ile çamaşır makinesi ile, 6 kişilik donatılmış, çalışma alanı bol, büyük bir masa - Tuvalet: Tuvalet, lavabo Üst katta - Yatak odası: Yerleşik dolap tam ayna sürgülü kapılar, büyük yatak (180x200), balkon - İkinci yatak odası: çift kişilik yatak (140x200cm), seyahat yatağı (+ mama sandalyesi, yatak desteği, oyuncak bol) küçük çocuklar, küçük dolap, koltuk için - Banyo: küvet, geniş lavabo, geniş dolap Bahçe 6 kişilik bahçe mobilyaları ve barbekü ızgara ile donatılmıştır. biri her zaman dışarıda keyfini böylece teras iyi, sıcak yaz güneşe karşı gölgelenir. AİLE EV !!!
Mahalle çok güzel genç aileler tarafından doldurulan bir köy gibi yeni geliştirilmiş sessiz bir alandır.
Superior house in a charming suburb. It's well equipped and everything is quality, new, well-preserved and clean. It has enough room to feel comfortable. The garden is nice, so are the surroundings. The hosts were very hospitable and quick to respond. We especially enjoyed having breakfast on the terrace in the green - table and chairs for 6 persons, and pleasantly secluded. The electrically moved shade just made it perfect. It was also a premium that we could park our car in the garden, and then our friends could still easily find free parking places on the street. Speaking of cars, it's very close to the M0 highway ring, so it was easy to reach any part of the city quickly. The surrounding suburb is well developed, grocery, bakery and playground are in walking distance (try the bakery, it's good:-). The hosts made sure the arrival went smoothly, and were very flexible regarding the arrival time. The instructions they posted were helpful and practical, too. The only downside we experienced was that it's relatively close to the airport, and so - depending on which airway is used - the noise caused by the planes can be disturbing. Especially that otherwise it's indeed a quiet neighbourhood. Overall, everything was as described, or actually even better. I would recommend it to any Airbnb user, especially those with families.
Norbert
2015-07-23T00:00:00Z
nice cozy plavce and a very attentive and kind host. recommended!
Nili
2016-07-06T00:00:00Z
I was pleasantly surprise how nice and well equipped the Garden House was. The grounds were private and meticulously maintained. The weather was unusually warm, but the outside shade coupled with the air conditioned inside made my stay comfortable. The host was most welcoming, responsive and accommodating to any request. I highly recommend the property to others interested in staying in a great family neighborhood with a nice park nearby. I will definitely return.
Jack
2015-07-09T00:00:00Z
Botond and Edit's house was a comfortable and spacious place to stay near the airport!
Tara
2016-10-24T00:00:00Z
Super clean and well arranged, professional hosts. Easy to stay there because there is everything you need.
Stine
2016-07-20T00:00:00Z
The house is very spacious and well equipped and the garden is perfect for relaxing after a long day of visiting Budapest. Also, it's very convenient to have a free parking place. The neighbourhood is nice and quiet and the neighbour's cat is very lovable. It's pretty far from the city center, but we had a car so it was ok. I would definetly recommend it.
Georgiana
2016-05-29T00:00:00Z
Beautiful experience Nice place The next year I will be there
Federico
2016-05-13T00:00:00Z
We had a wonderful, relaxing stay here! These were probably the most thoughtful hosts we've ever had! Beautiful location, peaceful neighborhood with tons of bus stops, and everything we could possibly need at our fingertips! They were quick to respond and were exceptionally helpful. Thank you so much!
Victoria
2016-05-06T00:00:00Z
Oda Tipi
Tüm ev/daire
---
Mekan Türü
Daire
---
Konaklayacak Kişi Sayısı
6
---
Yatak odaları
Budapeşte, Budapeşte, Macaristan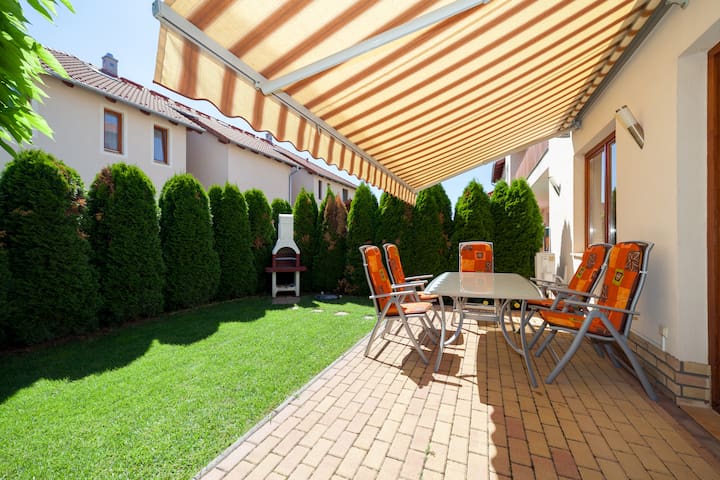 The apartment is next to stadium of Budapest Honvéd, but the city center is close to us of course. About 25 minutes by public transport. Airport is only a short journey by taxi.
Ferenc Puskás is the first star of the world football, he has growing up in the next street.
Ferenc Puskás is the first star of the world football, he has growing up in the next street.
We had a great time in Tibor's apartment he helped us a lot,the flat was very comfotable we definitely recommend on Tibor's place:)
Yael
2016-07-23T00:00:00Z
A lakás tiszta és családias, jól felszerelt. Tibor barátságos és segítőkész. Értékes a csupán pár méterre levő kisbolt. Ár érték arányban nagyon jó szállás, mindenkinek ajánlom.
Bálint
2016-10-22T00:00:00Z
Tibor's place is honestly the best we could have asked for. We wanted something close to the airport for a short night, and we couldn't have asked for more. Tibor and his family are very sweet. They provided us a bottle of water, a charger, they have a collection of nice dvd's and we could even park our rental car right outside the apartment. Tibor is a great and warm person, very passionate about Hungarian soccer :)
Ro
2016-10-07T00:00:00Z
Our stay in Tibor's apartment can be rated only positively. Even though we were arriving quite late, around midnight, Tibor was there in the apartment next door to meet us. Absolutely positive and welcoming person. Apartment was clean and as described. The area is very quite. Good value for money, totally recommended!
Rustem
2016-08-07T00:00:00Z
Best part of our stay was how helpful and pkeasant Tibor was! His willingness to answer all our questions for how to best get around Budapest was really great! If you are looking for a comfortable nights rest at a afordable price near the airport, then this is a great option!
Sharyn
2016-04-12T00:00:00Z
The host canceled this reservation 110 days before arrival. This is an automated posting.
Ella
2015-09-18T00:00:00Z
wir haben uns bei Tibor super gefüllt. er hat uns herzlich empfangen und die Kommunikation war excellent. seine Mutter hat für uns eine leckere ungarische Spezialität gekocht. danke.
Matthäus
2016-10-14T00:00:00Z
L'appartamento è piccolino (max 2 persone, se non altro perché in cucina quello è il numero che ci sta) e distante dal centro, ma comunque è ben collegato coi mezzi pubblici urbani, così che ci si mettono circa 20 min per raggiungere il centro storico (il retro della medaglia è che il tram passa a due metri dalla finestra dove si dorme). Vicino c'è un piccolo market per ogni evenienza e, a 5 minuti, un supermercato più grande con altri supporti (p.es. vendita biglietti e cambio contanti euro/fiorini). Tibor è stato davvero molto gentile e disponibile. Unica pecca la strumentazione della cucina non è esattamente di prima qualità (mancano coperchi e scolapasta ad esempio), ma ci siamo arrangiati in altra maniera.
Giovanni
2016-09-05T00:00:00Z
Oda Tipi
Tüm ev/daire
---
Mekan Türü
Daire
---
Konaklayacak Kişi Sayısı
4
---
Yatak odaları
Budapeşte, Budapeşte, Macaristan
Cosy house near airport with big garden, in a nice neighbourhood. You can use the full house, free wifi, LCD TV, perfect for 2-3 people.
The two room + kichen + bath house size is 80 sqm with a big garden and a parking place in the garden.
The house is near the airport in an quiet neighbourhood. The area is very safe, you can walk home at night, no problem. I will provide you all informations about the public tranport here.
Oda Tipi
Tüm ev/daire
---
Mekan Türü
Ev
---
Konaklayacak Kişi Sayısı
3
---
Yatak odaları
Budapeşte, Macaristan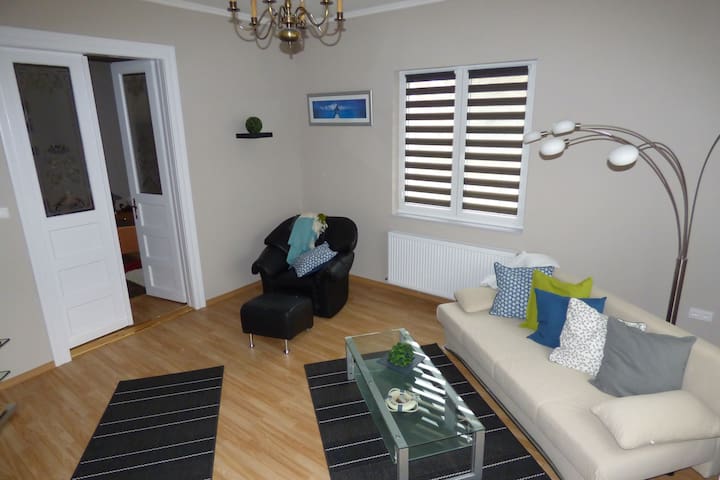 ingyenes parkolas Nice, comfortable, big flat. Free wifi, Easy to get to the city center, next tram, and bus . :) Free parking on the street. Free wifi (fast and reliable), TV with international channels.
Situated in distrikt 20 of Budapest this lovely apartment is perfect for people who are looking for a quiet place just 10 minutes from the city centre with car.The neighborhood is save . The apartment in a block . Bus, tram is very close .Bus: 151, 99, every 8 and 20 Tram: 51, 52minutes Bus: 23 easily get to the center by public transport
Nice surrounding, close to high traffic but still quiet street. Shops, drorogerie, pharmacy near by
Georgia was a really nice & welcoming person. Her apartments is great, clean & very spacious. It has plenty shops around, a spar is literally 2 mins. We felt at home here and would recommend this to anyone wanting to stay here. The city centre of Budapest can be accessed quickly & this is away from all the touristy stuff.
Craig
2015-08-10T00:00:00Z
Okay but area was not close to the centre
Esther
2015-09-03T00:00:00Z
The host canceled this reservation 83 days before arrival. This is an automated posting.
Alessandro
2016-05-13T00:00:00Z
The host canceled this reservation 6 days before arrival. This is an automated posting.
ELENA
2015-10-23T00:00:00Z
Accoglienza ottima Giorgia gentilissima e disponibile appartamento in quartiere tranquillo trovato senza difficoltà
Gabriella
2016-07-04T00:00:00Z
Admittedly our train was late, so we got in a taxi to try and make up some time. Unfortunately, the address given was incorrect, and we spent a lot of time and money trying to resolve the situation. Giorgia was very apologetic, but not being a Budapest native she wasn't able to help us navigate around town (bus 23, tram 2) The flat was nice and big, with a fan and towels, in a quiet neighbourhood. A couple of essential kitchen items were missing but otherwise flat was good.
India
2015-07-27T00:00:00Z
I have the same problem with incorrect address too fortunately we take a taxi and taxi driver resolved it by the phone. Neighbourhood was fine, shops were close to apartament. I recommend use (SENSITIVE CONTENTS HIDDEN)'s street view. You can get to city center by bus and tram. Flat was roomy, there was fan, tv, wi fi and some kitchen stuff but there weren't towels. Apartament could be tider but for this price its good option. Host was very nice
Mateusz
2015-08-03T00:00:00Z
The host canceled this reservation the day before arrival. This is an automated posting.
Alexandra
2015-09-08T00:00:00Z
Oda Tipi
Tüm ev/daire
---
Mekan Türü
Daire
---
Konaklayacak Kişi Sayısı
2
---
Yatak odaları
Budapeşte, Budapeşte, Macaristan
Situated in a residential area of Budapest City and the city centre reachable within 9 km, Solid Apartmans offers a self-catered accommodation with free WiFi and free private parking. Budapest Liszt Ferenc Airport is located 10 km from the property.
Very cheerful and friendly woman greeted us at the door of the house - answered all questions and responsive. The apartments look like a cozy cottage with a large number of all of the desired and elegant bathroom, the apartment itself was larger than in the photo!At the hostess beautiful English and is ready to welcome guests at any time - when we came away from Poland in neighboring apartments about 22-00. The tranquil and pleasant area - 20 minutes to get to the center
Анна
2016-08-07T00:00:00Z
The host canceled this reservation the day before arrival. This is an automated posting.
Jordy
2016-07-22T00:00:00Z
This location was perfect, close enough to downtown but far away enough to feel like all of the crazy from downtown was always around you. The apartment was perfectly clean and the hosts very attentive to any communication I had with them. Really great flat would totally stay there agains!
Jordan
2016-09-10T00:00:00Z
Oda Tipi
Tüm ev/daire
---
Mekan Türü
Ev
---
Konaklayacak Kişi Sayısı
4
---
Yatak odaları
Budapeşte, Budapeşte, Macaristan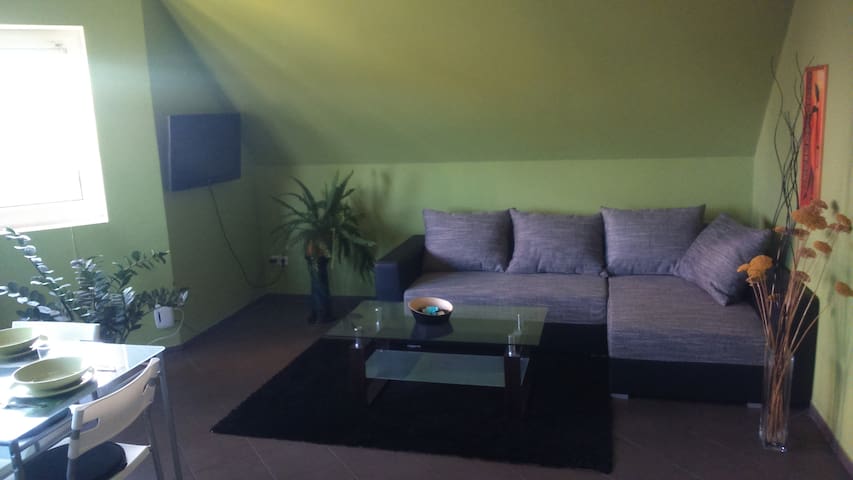 Budapest, between the airport and the city center, halfway kervárosi peaceful surroundings with clean air, friendly environment to our dear travelers. Cozy interior garden, barbecue, sunbathing options to ensure a peaceful rest.
Free wifi. 5 minutes walk from the runway, waiting for soccer and basketball sports craving for free.
Sarlota, was very conforn, clean and very kind. We have a nice time. Thanks Danilo
Danilo
2016-08-16T00:00:00Z
Ahoj Charlotte. Bylo nám dobře. Horní patro jsme měli celé pro sebe, pěkná koupelna, dobrý pokoj, tichá ulice, dobře vybavená kuchyň, snídaně připravené, ovoce, zelenina. Super. Jediné co mi ráno chybělo byla káva. Ale určitě přijdeme zas. Charlotte je velmi milá paní i její maminka.
Silvia
2016-06-10T00:00:00Z
Everything went well.
Marius
2016-10-30T00:00:00Z
Lets just say you get what you pay for
Doru
2016-09-05T00:00:00Z
Great and loving hosts. Wonderful family! Took such good care of us during our stay. The breakfast was also so generous! Perfect hosts and perfect place to stay. Thankyou.
Prashant & Radhika
2016-08-11T00:00:00Z
Oda Tipi
Tüm ev/daire
---
Mekan Türü
Diğer
---
Konaklayacak Kişi Sayısı
4
---
Yatak odaları
Budapeşte, Budapeşte, Macaristan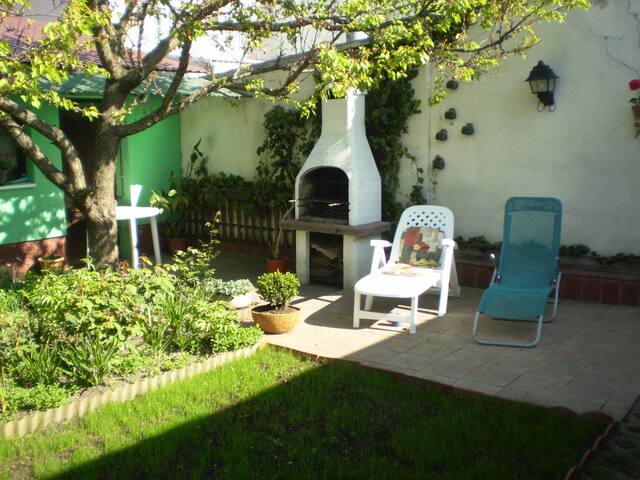 The proper place for: couples and business travelers, families with children.
I offer a high standard, full furnished flat in a quiet, green residental district of Budapest. The flat is about 40 minutes by public transport (bus, subway) from the city center, the airport is 10 minutes by taxi. The cozy, "Landhaus style" flat located in an 8-apartment row-house with a separate entrance and with own parking space. On the groud floor you can find a terrace and a small indoor garden. Fully equipped kitchen, heating and free wifi are available. Supermarket, Banking machine, banks, gym, swimming-pools are located next to the fllat. For lovers of cross-country training and walks - a small forest. The apartment in Budapest, in the garden area with fresh air. The city center is 40 minutes by public transport (bus, subway), the airport is 10 minutes by taxi. Comfortable apartment in the "Landhaus" style is located in an ordinary 8-flat house with a separate entrance and its own parking place. The ground floor apartments a terrace in a small enclosed garden. The apartment has its own heating system, internet access and a fully equipped kitchen. In the area of the apartment, located near a supermarket, ATM, fitness center, beach, swimming pool, Tennis court, restaurants, markets, banks (UniCredit, OTP). For lovers of cross-country training and walks - a small forest.
The apartment is very nice, with everything you need. Very close to bus station from which after 15 minutes you can get to metro station and than to city centre. Very quiet and friendly area with a lot of shops nearby. Alina is very helpful host and Budapest is a beautiful city:)
Agata
2017-01-02T00:00:00Z
Kiváló ár-érték arányú, kényelmes, tiszta felújított otthon. Alina nagyon kedves és segítőkész házigazda!
Attila
2017-02-04T00:00:00Z
Oda Tipi
Tüm ev/daire
---
Mekan Türü
Şehir evi
---
Konaklayacak Kişi Sayısı
3
---
Yatak odaları
Budapeşte, Macaristan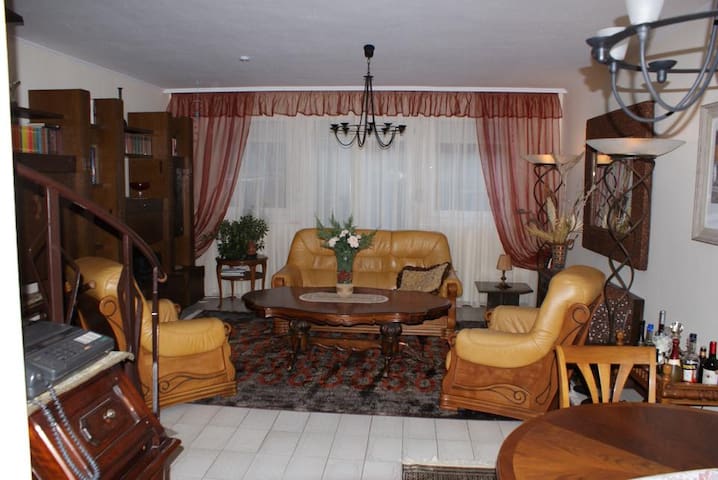 Youthful , inexpensive, safe base for good programs , partying , exploring the city . 8 m2 balcony on the ground floor. McDonald's 200m. Public transportation 40m. Shopping center, interspar 300m. Hairdresser, gym place 400m. Bank+atm 50m.
Full apartment for this price
This flat is enough close to the city but in the outside district so that's why the price is so nice :)
Really enjoyed our stay in Budapest! Felt very safe (we're two 20 year old girls!). The apartment was great, such good value for money. Laszlo is really kind, a great host. You can contact him about any problems you've got. Apartment was clean and spacious.
Lucy
2016-09-15T00:00:00Z
Csak ajánlani tudom! Minden rendben volt!
Takacs
2017-01-15T00:00:00Z
László is a very helpful and easy-going man. He met us very warmly and during our whole stay offered his help. As for the flat itself, it's very spacious and light, but it's a bit on the outskirts of the city. To reach the city center you have to take a bus and a tram, it's about 30 min. Though it's far from the center, the location of the apartment is very good: there are two big supermarkets, McDonald's, other different shops. And bus stops are also close to it. Thank you, László! It was a pleasure to stay at your place.
Виктория
2016-07-07T00:00:00Z
We had a good time in Budapest, László is a very friendly and helpful host. The flat is clean and comfortable and you only have a short ride by bus to the city centre.
Marie
2016-08-27T00:00:00Z
László is very good host! He showed us his flat and also a map of the city with public transport connection. Communication with SMSs was really good. I knew that if I need anything, I can always ask this guy. He also texted me during our stay to make sure everything is fine :) His apartment is exactly the same as on the photos. Long story short: the place was such a great value for the money.
Petr
2016-12-30T00:00:00Z
Great apartment, Laszlo was a great host. Easy buses into town. All good
Tim
2016-08-25T00:00:00Z
Laszlo was really helpful, went to pick us up when I misread the directions :-P He was very communicative, gave us all necessary information and was willing to help through the phone any time! Although it is far from the center, the buses go every 10 minutes, at night 30 minutes. No problems getting to the center or back.
Miroslava
2016-12-12T00:00:00Z
Laszlo was a great host! The place was very clean and everything you needed. Laszlo is also a very nice. He gave us rides from the airport and back and even gave us a tour around the city telling us where and what we should go and see.
Nima
2016-07-11T00:00:00Z
Oda Tipi
Tüm ev/daire
---
Mekan Türü
Daire
---
Konaklayacak Kişi Sayısı
4
---
Yatak odaları
Budapeşte, Budapeşte, Macaristan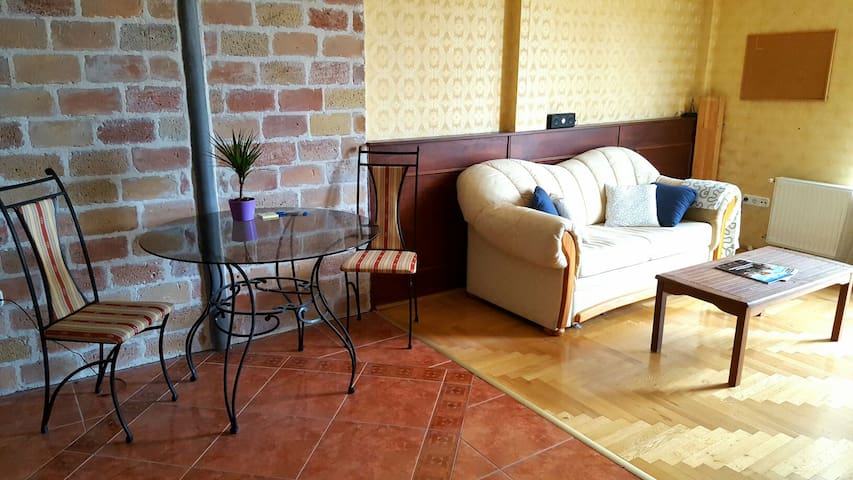 •green location •small, silent homestyle house •ideal up to 10 people •public transport, airport closeby •food, shoppingcenter •free wifi •free parking •free coffe and tea •big terrace for breakfast •fully equipped kitchen •large garden
Usted puede simplemente salir volando de vuelta aquí y volar de nuevo, los fines de semana cortas, largas semanas, ¡eres bienvenido! Mi lugar no está en el centro, pero se puede llegar fácilmente en tren (que se ejecuta toda la noche y la parada está a 10 min. Lejos!), Que está cerca del aeropuerto, que sólo puede volar hasta aquí y volar de vuelta otra vez. Disfrutar de la cultura húngara y la comida, al igual que las zonas verdes y silenciosos? ¿Quieres probar la mejor pastelería del país con la torta país de cada año? Y si lo prefiere zonas tranquilas para un ajetreado centro pero todavía desea un acceso rápido y fácil a todas las atracciones principales, entonces este es el lugar ideal para usted. Mi casa ofrece un sabor de Hungría, así como un alojamiento tranquilo y económico, con conexión Wi-Fi. El lugar está a sólo 18 minutos en transporte público del centro de la ciudad (60 céntimos de euro una manera para que los estudiantes / 1 euro por adulto / viaje) y sólo un corto trayecto en autobús al aeropuerto, así que no hay necesidad de costosos gastos de transferencia aeropuerto. Es un hogar lejos de casa. Dispone de dos amplias 4 camas y una habitación económica privada para 2 personas y un sofá para un niño más grande en el caso. La habitación privada puede ser reservado sólo para todo el precio! Por lo tanto, es también ideal para un pequeño grupo con un coche, aparcamiento en el patio es gratis. Hay una cocina totalmente equipada con té y café gratuitos y un lugar para guardar el equipaje también tenemos dos duchas y aseos con jabón y toallas de mano gratuitas a disposición de los huéspedes. Está situado en una zona tranquila y dentro de un paseo Min 2 de un lago de pesca un bosque público también está cerca para caminar y montar a caballo. Otras comodidades en el barrio incluyen un centro de bolos, golf cubierta, squash y una piscina o si usted quiere dar un regalo para usted mismo, hay peluquería en la calle, masaje distancia a pie y solarium. Muy cerca se encuentran restaurantes con especialidades típicas húngaras y asiáticos a precios razonables en comparación con el centro de la ciudad, por lo que una excelente relación calidad para las personas que viajan con un presupuesto limitado. Si quieres ir de compras hay un enorme mercado chino o un centro comercial grande para otros gustos, pero Tesco y McDonald Drive in también están cerca. Hay tiendas de alimentos, así como un mercado general a poca distancia del albergue y uno de los más grandes y modernos centros comerciales de Budapest a pocos minutos en autobús, este es también el lugar donde comienza el metro (tubo). Mi objetivo es hacer que se sienta cómodo y seguro en mi casa, un verdadero hogar lejos de casa. Hablo Inglés, alemán, italiano y ruso y de haber viajado mucho a mí mismo que tienen una buena idea de cuáles son las necesidades de los viajeros del presupuesto son. Como ciudadano nativo Budapest También estoy en una buena posición para darle consejos sobre lugares para visitar, tanto dentro como fuera de los libros de guía. Budapest está lleno de baños termales recomiendo absolutamente ellos, con el fin de evitar las colas que puede por su billete en las principales son grandes también en mí, soy punto oficial para ellos. Este no es un lugar de fiesta pero está configurado para las personas que disfrutan de viajar y experimentar nuevos lugares y culturas. No hay límite de edad, solamente te pido que muestra respeto a otras personas independientemente de su sexo, religión, orientación sexual, etnia o nacionalidad.
Verde y silenciosa.
Everything was good, exactly as described. It's good value for money, cheap and close to the aeroport.
Anton
2016-07-10T00:00:00Z
Agi was very sweet and welcoming. She explained us how to get to the train station and the benefits of travel by train. We recommend to use the train, especially if you never used it before - it was a great experience for us, the new way to discover Budapest. 24 hours travel card work for the train and it`s much faster and easier way to get to the very center of the city.
Alex
2016-03-20T00:00:00Z
Agi is a very generous and accomodating host. She took me for a small bike tour around the area to get me settled in and really knows how to host visitors from her experience working in the tourism industry. She even let me borrow a bike lock from her brother for the weekend as I forgot mine. This is truely a hostel style accomodations though. There is a private room which I though was where I would stay, but I was actually in the dorm room. It didn't matter to me because there were no other guys staying there, but just confirm the details with her before booking.
Aaron
2014-06-25T00:00:00Z
I loved Agi! She's flexible, interesting, and very smart. Speaks Russian, too! The room was near, clean. Everything was very friendly.
Zakhar
2016-09-01T00:00:00Z
Agi is amazing host, very helpful! You can't go wrong with this listing!
Nickola
2016-08-20T00:00:00Z
Agi bedankt voor de ontzettend leuke tijd die we bij jou gehad hebben! We werden met open armen ontvangen. De route's naar de supermarkt, treinstation en andere belangrijke plekken nam ze alle tijd voor om het ons uit te leggen. De kamer/huis was netjes en gezellig. Haar huis ligt buiten het centrum waardoor je in de late avonduren nog heerlijk in alle rust buiten kan zitten in de gezellige tuin die ze heeft. Als je vervolgens de volgende ochtend wakker werd stond er een ontbijtje voor je klaar. Ze doet zelfs in het hoogseizoen alles zelf en daar geven we haar dikke complimenten voor. Als er vragen waren deed ze er alles aan om het ons zo goed mogelijk uit te leggen of zocht ze het voor ons op. Het is aanvulling voor de geweldige vakantie die je al gaat krijgen als je naar Boedapest toe gaat. Agi is een lieve, gezellige en warme vrouw. Ze toont ontzettend veel interesse in jou als persoon, waardoor je je erg op je gemak voelt. Het heeft onze vakantie zeker af gemaakt & we hopen van harte elkaars pad later nog een keer te kruizen. Liefs, Manon & Marthe!
Mieke
2015-07-19T00:00:00Z
Cosy and calm house close to Budapest's airport. The location is great. There is a bus stop nearby, so you can get to the airport or the city center fast enough. Our room was big and the bed was comfortable. The house is equipped with everything guests could need - coffee, tea, dishes, soap and etc. Even some fruits from Agi's garden. There is a big and green garden where you can really relax! Agi is an excellent host. She is always attentive to her guests and ready to help them with everything. Koszonom!
Nataliya
2016-07-28T00:00:00Z
Agi is a very nice and helping host. I felt at home, and I liked the cocoa pudding I received upon arrival.
alex
2014-07-27T00:00:00Z
Oda Tipi
Özel oda
---
Mekan Türü
Ev
---
Konaklayacak Kişi Sayısı
2
---
Yatak odaları
Budapeşte, Budapeşte, Macaristan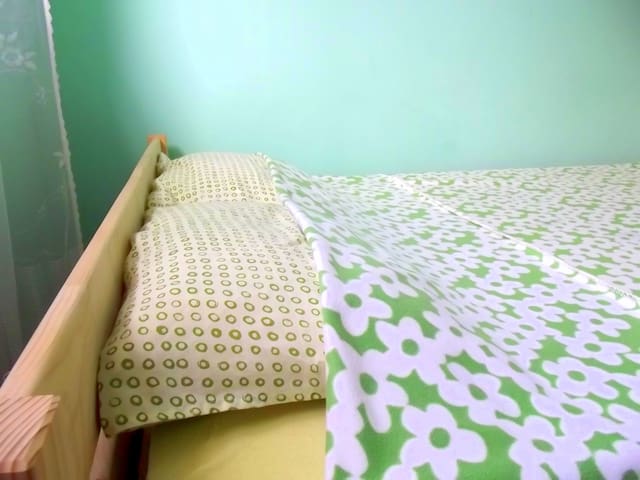 Tam fiyatlandırmayı görmek için tarihleri görün. Ek ücretler uygulanır. Vergiler ilave edilir.