The 64 sq.m stone house is situated in Apano Meria, the last traditional place on the island.Here you can enjoy the peaceful environment far from the town noise,without being more than 7 KM away from Hermoupoli's center. Beautiful paths,lonely beaches,traditional taverns and the old seeds are under your feet.The sun rises every day behind Dilos, opposite our planted field, from which you can also enjoy the view of Tinos, Mykonos, Ikaria. Simplicity creates beauty and here everything is simple...
The house is totally built out of stone, in the traditional way of the area's habits. You will find a double bed in the bedroom, where there is also an office, a closet and our little library, full of interesting literature and poetry books. There is a built semidouble-double bed on the sitting room, that a couple can enjoy, whereas, at the same place, another at least two persons can find comfortable room to sleep on the wide built couches. The little bathroom is also built according to the traditional old ways, the same as the kitchen with the marble counters and sink. There is a washing machine, solar water heater, hairdryer, iron, television and free internet wifi. Outside the house you can enjoy the view from the yard, sitting on the built benches under the arbour.
Chalandriani, the little village where the house belongs used to be a prehistoric agricultural spot. On the opposite hill of Kastri you can visit the remains of the prehistoric town. You can also find interest in exploring the cave where Ferekydis, one of the first ancient writers and also Pythagora's teacher, spent part of his lifetime. The medieval village of Ano Syros is only 5 KM away and you should for sure walk to it's narrow traditional little streets. The area is quiet and peaceful. You can enjoy walking on some of the beautiful paths that lead to stone wells, nearby little villages (San Michalis, Platy Vouni, Papouri) or the isolated sand beaches of the north. Watch exceptional bird species, like hawks or even hedgehogs if you are lucky, and meander around the special bushes of creeping theme or sage. Explore the quiet beaches of the north (Aetos, Marmari, Varvarousa etc), and find out the beauty of small sand gulfs and crystal waters among the rocky landscape. Enjoy your lunch or dinner in one of the three taverns of the area, with breathtaking view of most of Cyclades islands. The distance from the house is 1-2 KM and you can even walk to there on one of the most beautiful roads of the island between east and west! Find out about the biological products of the local. Non water vegetables, fresh milk straight from the cows, grapes immediately gathered from the field, figs with exceptional taste. And always the little donkeys nearby! After relaxation under full stared sky and peaceful view you can explore the rest of the island. Hermoupolis is just 7 KM away and the villages in the south are always close. Don't hesitate to also visit the islands that you watch everyday from our little house! Tinos is only 40 minutes away, Mykonos about 1 hour and from there take the little boat to ancient Dilos!
Oda Tipi
Tüm ev/daire
---
Mekan Türü
Ev
---
Konaklayacak Kişi Sayısı
5
---
Yatak odaları
Chalandriani, Yunanistan
Our house is a family maisonette of 95 sq.metters with elements of traditional residences in Myconos . Enjoy the great view of the Aegean sea from the upper level of the house or relax in the isolated bedrooms in the ground level with acces to the garden.
Our house is a multiple-level place about 95m. that represents our esthetics. You can enter the house from the upper level and enjoy a wonderfull view either you are sitting near the fire place in the living room , in the dining room or having a coffee in our large veranda with an opportunity to dine outdoors while relaxing and enjoying the blue Aegean Sea.In this level there are also a fully equipement kitchen, a small bedroom, a bathroom and a wooden loft for some extra relaxing moments. In the lower level you can find the two bebrooms and take a bath to a unique (URL HIDDEN) main bebroom has acces to a bright small terrace near the garden with the olive trees. Our house has the ability to acommodate from 2 to 8 (URL HIDDEN) is ideal for families or parties.
From our place you can have a panoramic view of the village. Kini is at the west part of Syros island so you can enjoy the most beautiful sunsets.The beach is 200 meters from the house and a lot of taverns (meat or fish) are on that beach.There is also a mini market.You can go the beach by foot following the direction for Lotos Beach(as you exit from our house you go left) and enjoy the panoramic view as you descending the hill. You can also take the path near the catholic church (after you exit our house you go right)and descend the stairs if you wish to pass through the village. Other options for swimming is the Lotos bay and Delfini beach. If there is not a windy weather, a boat leaves from Kini daily for the northern beaches of Syros (Grammata, Lia, Aetos, Varvarousa), which, due to the absence of a large urban network, are cut off and therefore ideal for those seeking isolation and tranquility. .
Confortable et très jolie maison avec vue magnifique sur la mer et sur Kini. Des propriétaires intentionnés et adorables, Accès au port et à la plage de Kini à pied, Une idéale adresse pour passer des vacances agréables en famille. À conseiller vivement !!! Un grand merci à Maria, son mari et leurs petite fille, pour tous ces moments inoubliables.
marie
2016-08-17T00:00:00Z
Nous avons été très bien accueillis par Maria qui nous a proposé son aide pour notre voyage jusqu'à sa maison de Kini. Un taxi nous a emmené depuis Ermoupolis (ferry) environ 10km (le plus pratique pour trouver la première fois). Son mari Stamatis nous y attendait et nous a très gentiment montré la maison et conseillé sur les endroits à ne pas manquer. La maison est super, bien agencée et bien décorée, l'équipement est comme listé, balcon (terrasse couverte) la vue sur la mer est splendide + terrasse sur la chambre grand lit 2 places niveau jardin. Le village KINI (cafés, restaurants, mini market, un loueur de voiture) et la plage (sable et eau transparente) sont a dix minutes de marche à travers le village, descente par des escaliers, très agréable, très reposant et l'atmosphère y est très douce! Nous vous conseillons la location de voiture 25euros /jour, pour découvrir l'île, voir d'autres plages, départ balades ou retourner à Ermoupolis (15 minutes) pour balades, boire un verre ou manger. Nous vous recommandons cette location que nous avons inauguré avec airb&b! Merci à Maria, Stamatis et leur fille Alexandra que nous avons eu la chance de rencontrer.
Lucie
2016-05-26T00:00:00Z
We had a fantastic holiday in Kini. Maria was/ is a perfect host. She preapered our stay in Kini very carefully and answered every question of us very fast. She let us a lot of advices, proposals and even the German guide. The house is lovely, clean, nice decoreted and has everything what you need for holiday. Its also very friendly for the children. We (four adults) were in Marias house with two babies and two children and it was enough space for everyone. Kini is beautiful, has nice beaches and you can use the bus, taxi or rent a car in order to visit another beaches and discover the lovely Syros. We also went for two days to Athens. We enjoyed the house and Kini very much. I hope to come back there once again. Thank you Maria for everything!
Aleksandra
2016-09-01T00:00:00Z
Dès notre arrivée à l'aéroport d'Athènes, Maria et Stamatis, son mari, nous ont pris en charge. Ils nous avaient réservé un taxi à notre arrivée à Ermopoulis. Bref, ils ont tout fait pour nous faciliter notre arrivée dans leur maison de Kini. Maria a veillé à ce que nous ayons de l'eau fraîche dans le frigo (l'eau du robinet n'est pas potable, comme dans toute l'île), une bouteille d'un très bon vin blanc et de succulents loukoums... La maison est située sur les hauteurs de Kini (environ 80 mètres d'altitude), à 10 minutes des plages de Lotos et de Kini (pour se rendre au centre ville, prendre par l'église catholique et l'escalier, pas par la route principale où passent les voitures). La situation de la maison offre une vue imprenable sur la baie de Kini et d'autres îles. Levers et couchers de soleil inoubliables sur la terrasse couverte. Il y a toujours de l'air, ce qui est extrêmement agréable. L'intérieur est joliment décoré. Le quartier est très tranquille. Tout est faisable à pied. La plage et le petit port de Kini sont charmants et très agréables pour la baignade. Kini dispose aussi d'une petite épicerie ("mini market") où l'on trouve le nécessaire. A noter que la maison est à 30 mètres de l'arrêt de bus Lotos en direction d'Ermopoulis (les horaires sont indiqués sur l'arrêt). Nous avons quand même loué une voiture à Ermopoulis (tarifs plus intéressants que celui proposé à Kini) pour découvrir les autres plages de l'île. Maria a pris soin de prendre des nouvelles le lendemain de notre arrivée pour savoir si tout se passait bien et nous avons échangé durant le séjour. Avant notre arrivée, elle a toujours répondu à nos questions avec rapidité, ce qui est très appréciable et facilite la préparation du voyage. Nous avons été enchantés par notre séjour.
Marion
2016-07-15T00:00:00Z
Oda Tipi
Tüm ev/daire
---
Mekan Türü
Ev
---
Konaklayacak Kişi Sayısı
8
---
Yatak odaları
Kini, Egeo, Yunanistan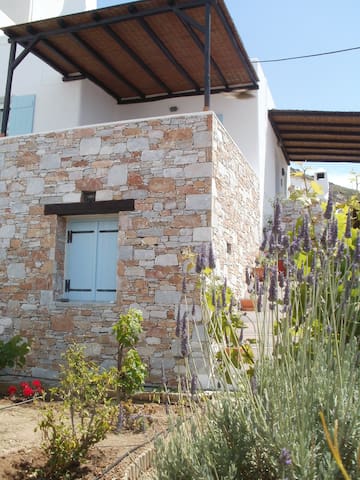 Detached house with fantastic seaview, built around a garden at Dani, next to Kini village/beach. Easy access to the north coast of the island.
The house is in two acres of land with magnificent view to the Aegean sea and to the gulf of Kini. Colourful skies and amazing sunsets take our breaths during the year. You can enjoy the sun flirting with the sea, relaxing at any of the house terraces or in the garden. It's the best choice for travelers seeking to wind down, spending vacation time at a place with easy access to the sea or the islands' nightlife. A short trail leads you in just 10 minutes to the beautiful beach of Lotos just a few steps down the hill.
The house of Stefania is beautiful, full of all accessories and amenities you may need and has a magnificent veranda from where you have a stunning view on the Kini bay and the northern shores of Syros. Stefania organized our arrival in Syros in a perfect way. She booked for us our car, came to the port together with her friend Rita to pick us up and showed us her house. At our arrival, there were fruits, cakes and other cuisine products for us in the kitchen. Stefania's house is just 10 walking minutes from a nice small beach. Stefania, her friend Rita and her sister Mary made us feel like we were friends since a long time. They gave us very useful hints to discover Syros and organized a fantastic farewell BBQ, during which we have tasted an authentic and gourmet Greek cuisine and enjoyed their cheerfulness and friendship. We recommend to stay at Stefania's house for all these reasons.
Arianna
2016-09-01T00:00:00Z
Oda Tipi
Tüm ev/daire
---
Mekan Türü
Ev
---
Konaklayacak Kişi Sayısı
5
---
Yatak odaları
Ermoupoli, Yunanistan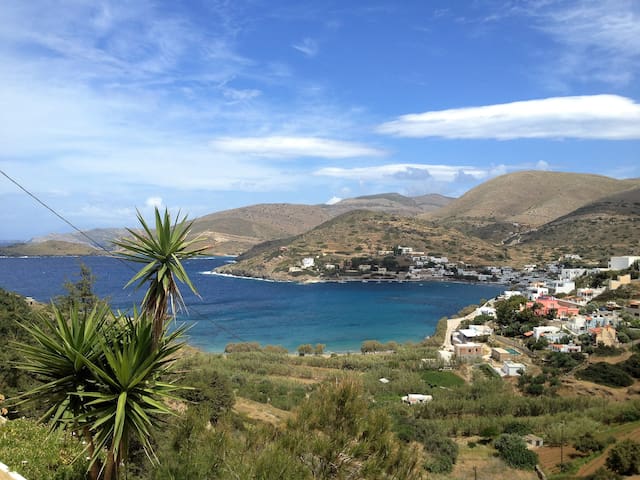 The unique isolated location of ANEMOS villa on the south coast of the Greek island of Andros creates the sensation you are floating over the majestic blue of Aegean sea while relaxing in the swimming pool with direct sea view.
The unique location of Anemos villa on the south coast of Andros Cyclades island creates the sensation that you are floating over the majestic blue of the Aegean sea while swimming in the new swimming pool with direct sea view. The villa is built in an isolated location away from the hustle n' bustle of the city center. The house is ideal for 4 persons (couples or family) and includes a private swimming pool with direct sea view , 2 bedrooms, dining room and living room with traditional fireplace, kitchen, bathroom, private external parking and garden . The interior of the house (60 sq. m.) is physically extended on the same level to the stone decorated pergola and terrace stretching to another 150 sq. m. of open space for leisure and relaxing giving out the sense that you are simultaneously in the house as well as outdoors to the open sky and the Aegean breeze next to the swimming pool. The property balances being "far" off the grid (closest grocery is about 15 mins) with being located on the main road (yet set far above it) between Gavrio and Chora Andros. "Anemos" in Greek means wind. Anemos villa is dedicated to anticomformist guests who love sea, sun and wind (light sea breeze or seasonal strong northern wind which is named by Greeks as "Meltemi" and is spread all over the Aegean sea especially during July and August)
Wood and stone architecture combined with Cycladic light and the surrounding picturesque beaches and cliffs blend together to provide a striking Aegean scenery. Our house is built in a site of 4000 square meters where there is also located a neighboring separate house that belongs to different owners
Apostolos was welcoming and the description of Anemos was perfectly accurate. The villa is in a breath-taking location with marvellous views of the distant islands. The outdoor pool is lovely. Unfortunately, this was not the holiday home for us. Anemos is the place to stay if you are truly happy without communication - no Wi-Fi, no television and virtually no mobile phone signal. The property is very isolated and there is no nearby village. A car is essential and a strong nerve is needed to reach the nearest beach which is a 2km drive down a long, narrow and winding road. We were also unlucky with strong winds which made it impossible to sit outside in the evening. After four days we decided to cut our losses and move to Batsi.
ann
2016-07-16T00:00:00Z
Abbiamo soggiornato nella casa di Apostolos ad agosto e tutto è stato fantastico! Siamo stati accolti da Apostolos e dalla sua famiglia e subito ci siamo sentiti a casa. La struttura è veramente unica; tradizionale ma allo stesso tempo moderna e dotata di tutti i comfort. La piscina e la vista sul mare sono senza eguali. Le foto non dimostrano abbastanza quanto fantastica sia la location. Apostolos è stato perfetto in tutto e per tutto: dal metterci a nostro agio al rispetto della privacy. Consiglio a tutti di soggiornare a villa Anemos. Torneremo sicuramente il prossimo anno.
matteo
2016-08-27T00:00:00Z
Apostolos is very great And welcoming. The house is on the Mountain and dominates the landscape of the Island. The view is very amazing, You can read and imagine the Grecque mythological. The swiming pool is great and the Children pass a good time. The house is like the description, beautifull, pleasant. The place is very peacefull and wild. The nearest Beach with is leattle chapel is one of the most beatifull beach of Andros. We pass a really nice Time in Anemos villa.!!!
Stéphane
2016-08-14T00:00:00Z
Anemos is a great place when you are looking for a relaxed and nice vacation. The view & house is wonderful and the pool large enough to spend all day at the house. Sometimes it is windy but it allows you to go hiking (there are very nice routes at Andros which are easy to find and to follow via signs) or to visit some of the beautiful beaches. Apostolos is a great host and cares perfectly for his guests. In case connectivity is important: we had most of the time a "4G" connection. So this was a lot better than expected & reachability was no issue.
Imke
2016-09-10T00:00:00Z
Me and my boyfriend visit Andros and Apostolos lovely house in July. We had an absolutely amazing stay. The house was everything we had hoped and more. Beautiful view and the house was lovely. We made day trips around the island and visit several beaches and towns, but mostly we stayed in the house area and nearest beaches. We would recommend everyone to rent this amazing place. We had a car which is more or less a most since the house is located on its own in the mountains. Apostolos was a great host and gave us all the service you could wish for. The best!
Tua
2016-07-23T00:00:00Z
Oda Tipi
Tüm ev/daire
---
Mekan Türü
Ev
---
Konaklayacak Kişi Sayısı
4
---
Yatak odaları
Andros, Egeo, Yunanistan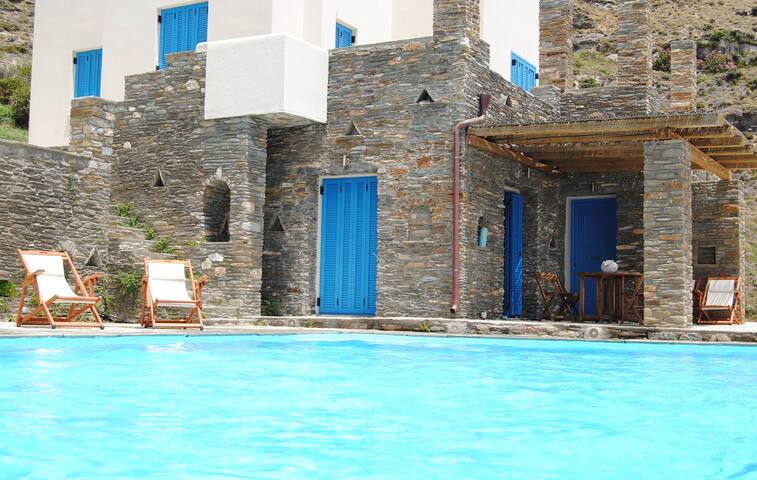 Ο χώρος μου είναι κοντά σε παραλία και εστιατόρια και χώροι εστίασης. Λόγοι που θα σας αρέσει ο χώρος μου: άνετο περιβάλλον, η τοποθεσία και οι άνθρωποι. Ο χώρος μου είναι κατάλληλος για ζευγάρια και οικογένειες (με παιδιά).
The house is equiped with vintage furniture. There are two bedrooms "Green bedroom" has a double bed and is coloured in green and gold shades. "Blue bedroom" has a single bed and a sofa bed and its main colours are blue and rose. Both bedrooms have closet and roof fan. In the kitchen you can find any equipment necessary to prepare a meal for your friends or family. The bathroom has shower and all the basic amenities.
Kini is the most picturesque village of the island. The house is situated less than 100m away from the beach where you can find tavernas, restaurants and coffee shops.
La maison est parfaite, a proximite de la mer : 3mn a pied, avec toutes les commodites : market, taxis et super restos a proximite...manquait juste des transats pour profiter de la terrasse et le wifi pour organiser la fin du voyage et contacter la famille. Un peu de bruit a signaler le soir, mais pas vraiment gênant du fait de la proximité du mini market Petrina est une super hotesse, sa famille est super...car tout pret. Merci pour l'accueil hyper chaleureux et tres attentionne ! Bref très bon rapport qualité prix !
Christophe
2016-09-02T00:00:00Z
This beautiful villa sits a bit off the main beach-front drag in Kini, just removed from the bustle on a quiet, serene street--but it's still super close to the action and water. Perfect set up with a thoroughly equipped kitchen! Petrina facilitated our arrival seamlessly with some help from her warmly welcoming parents, making an extra effort at every turn to enfold us into the culture of the island.
stratton
2016-08-04T00:00:00Z
our stay in kini was just perfect. the house is in a very good condition, the people very friendly, it is close to the beach and has a lot of space. i can fully recommend it for every visitor of syros
Nehrkorn
2016-08-17T00:00:00Z
Oda Tipi
Tüm ev/daire
---
Mekan Türü
Ev
---
Konaklayacak Kişi Sayısı
4
---
Yatak odaları
Κίνι, Αιγαίο, Yunanistan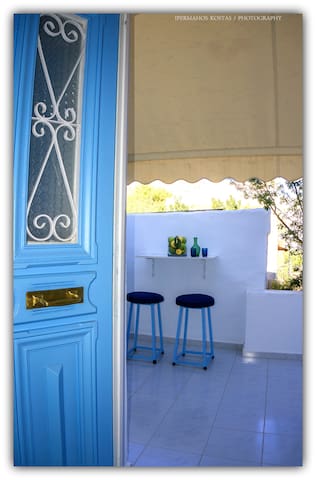 A house in the area of Kini in Syros, 80 square meters wide, with garden.The house is fully equipped with furniture, air condition, telephone line, cutlery etc. The house has two bedrooms, living room, hall, kitchen, WC and two terraces.
We found that Kini was the nicest village to stay at compared to any other villages on Syros.
lisbeth
2016-07-12T00:00:00Z
Maria was a great host and even picked us up from Hermoupolis and brought us to the apartment. She was also very helpful in pointing out the facilities in the area and advising which places to visit.
Thomas
2015-08-01T00:00:00Z
We had an amazing time on Syros, and thoroughly enjoyed our time in this lovely house in Kini with lovely views of one of the best beaches of the island a very short walk away. Maria very kindly met us at the port in Hermoupolis and ensured we were shown around the house and provided us with lots of relevant information. She had gone the extra mile with preparations and there was water, juice, feta, crisp breads, coffee, sugar etc provided. A life saver when you've just arrived somewhere new with children. The house was clean and tidy, very well equipped with iron, washing machine, pots, pans and everything else you would normally find in your home. We can thoroughly recommend the house as a holiday home and Maria as a host.
Christos
2016-08-26T00:00:00Z
I am delighted to leave some feedback for such gracious hosts. The first night that we needed the accomodation for they were booked, but It was no trouble for Marita/Maria to find us alterantive accomodation for our 1st night. The next day we were all picked up and transported to their beautiful house for the next 6 days. The house is gorgeous with amazing views over Kini beach. There were even essential supplies of food/drink for us on arrival. As a family with a 12 year old and a 3year old, the house suited us all perfectly. Lying in our beds in the morning you can open the shutters and see the sea! perfect! Maria/Marita thank your for making us feel so at home and going the extra mile for us. Especially helping us find accomodation in Mykonos for our last night. We will definietly be back and look forward to welcoming you all to London whenever your here. xx
Emma
2014-08-23T00:00:00Z
We really enjoyed our stay in Kini. Such a lovely little village! Lovely beach and nice restaurants just right outside. Maria was just a great host and was very helpful to us. Her house was just in perfect location, the view from the house was stunning! Maria also provided us with some food to start with such milk, orange juice, water, eggs, capers, feta cheese and jam. For that we were so grateful! We couldn't ask for anymore! It was a fantastic holiday!
Yuni
2016-07-21T00:00:00Z
Oda Tipi
Tüm ev/daire
---
Mekan Türü
Ev
---
Konaklayacak Kişi Sayısı
7
---
Yatak odaları
Κίνι, Αιγαίο, Yunanistan
The house is located in Kalamaki capers in a small traditional village built with local stone. You will enjoy spectacular sunsets, bathroom small, spotless beaches, walking in nature with scents of thyme and oregano! Please keep in mind from the main road to the house is 1600 meters of which 600 meters is a dirt passable for normal cars provided they are not sporty low,
Όταν ζεις σε αυτό το σπίτι νιώθεις χαρούμενος και ελεύθερος. Ακούς μόνο την θάλασσα και τον αέρα. Το Αιγαίο τρυπώνει απ' όλα τα παράθυρα του σπιτιού. Ο ανοιχτός ορίζοντας και το ηλιοβασίλεμα αδειάζουν το μυαλό και εξατμίζεται μονομιάς η πίεση που κουβαλάς. Το σκηνικό που έχουν φτιάξει η Αθηνά και ο Νόντας είναι μαγικό! Το σπίτι είναι χτισμένο αμφιθεατρικά στην νοτιοδυτική πλευρά του νησιού, με απόλυτο σεβασμό στο περιβάλλον και προστατευμένο από τους ανέμους. Οι παροχές που δεχθήκαμε δεν περιλαμβάνονται στην λίστα της εταιρίας Airbnb: Πεντακάθαρο σπίτι , απόλυτη ποιότητα ύπνου (πολύ καλό στρώμα & μαξιλάρια, πολύ καλής ποιότητας σεντόνια), μαλακές πετσέτες, σίτες σε όλα τα παράθυρα, πλήρης εξοπλισμός κουζίνας, DVD, ταινίες & CD για όλα τα γούστα! Αυτό που μας εντυπωσίασε ήταν ότι είχαν προβλέψει στην παραμικρή λεπτομέρεια να μην μας λείψει τίποτα. Υπήρχαν τα πάντα, όπως θα φρόντιζε ο καθένας να έχει στο εξοχικό του. Μείναμε έκπληκτοι όταν βρήκαμε ένα ψυγείο γεμάτο από πράγματα. Στον πάγκο της κουζίνας υπέροχο βιολογικό λάδι, μπαχαρικά, ρίγανη, και στο ντουλάπι μακαρόνια, καφέ και η λίστα δεν έχει τελειωμό. Η φροντίδα και η προσοχή τους ήταν περίσσεια κατά την διάρκεια της παραμονής μας και ειλικρινά ξεχάσαμε ότι είχαμε ενοικιάσει το σπίτι μέσα από μια ιστοσελίδα. Οι οικοδεσπότες μας είναι υπέροχοι άνθρωποι. Ευγενικοί, διακριτικοί , με εξαιρετική αίσθηση του χιούμορ και φυσικά οι πιο φιλόξενοι «άγνωστοι» που έχουμε γνωρίσει.
ΡΕΝΑ
2016-08-31T00:00:00Z
Oda Tipi
Tüm ev/daire
---
Mekan Türü
Ev
---
Konaklayacak Kişi Sayısı
3
---
Yatak odaları
Andros, Egeo, Yunanistan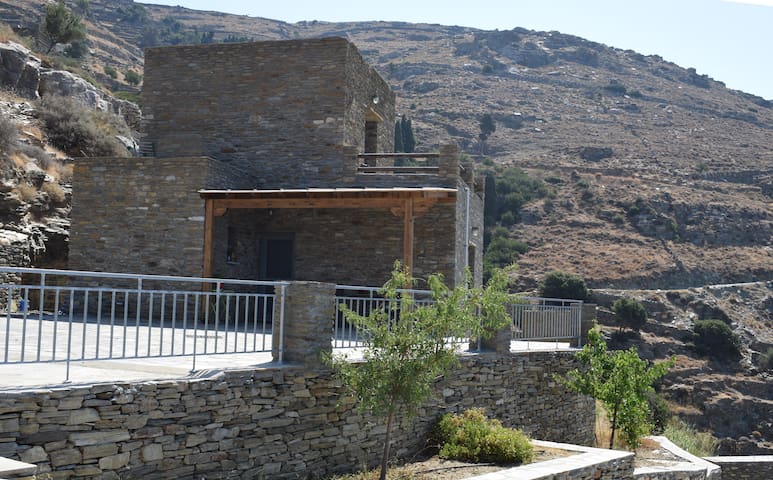 Ο χώρος μου είναι κοντά σε Παραλία. Λόγοι που θα σας αρέσει ο χώρος μου: Παραδοσιακή Κατοικία.Ο χώρος μου είναι κατάλληλος για ζευγάρια, φίλους,δραστηριότητες για ένα άτομο και γίνονται δεκτά και κατοικίδια..
Wonderful trip! Close to the beach, nice amount of space, great outdoor area. We liked the air conditioning and proximity to everything nice in Syros. Would definitely stay here again. The kayaks and the bicycles were the perfect extra touch!
Hunter
2016-08-02T00:00:00Z
Oda Tipi
Tüm ev/daire
---
Mekan Türü
Ev
---
Konaklayacak Kişi Sayısı
2
---
Yatak odaları
Kini, Yunanistan
6 bedrooms, 4 bathrooms: 3 suites on ground floor + 3 bedrooms & 1 bathroom on the first floor. Very calm, great neighborhood. Air conditioning in all the rooms.
Convenient for 3 families / 12 persons
Nice neighbors, far from the house. Very calm.
The contact with Philippe through the mail was good: Philippe answered quick and was very kind and helpful. We were picked up at the harbour of Ermoupoli by Dimitri (employe of Philippe). Dimitri is a very friendly and helpful host. He explained us everything we wanted to know about the house and the island. The villa was really amazing and we felt home immediately : it is like a dream house with a breathtaking view over the sea combined with the swimming pool, the cosy living room, the large space around the house. There are terraces on different sides (seaside, entrance side, 1st floor), this is very handy due to the wind which can occur. There is a bbq place at the front side near the kitchen which we used a few times. This is definitely a house where we would like to come back.
Carina
2016-05-16T00:00:00Z
The house and the view are indeed breathtaking! It's a wonderful and peaceful place/location. There's 3 or 4 cozy places outside were you can eat or take a nap (+swimmingpool!). Inside the interiour is very tasteful and super clean. I feel the more I will say about this place the less special it will be. We were there with 12 people and we were all like wow! Discover it yourself. Thank you Philippe!
Bart
2015-06-08T00:00:00Z
Nous avons passé une semaine entre amis dans la maison de Philippe. Le lieu est juste extraordinaire, surement l'une des maisons les mieux placées dans cette partie de l'île, un havre de tranquillité, en trois mots : luxe, calme et vue-panoramique. Une habitation charmante, où tout le confort est à disposition, un peu comme à la maison il n'y manque rien. Bien situé à la fois proche des plages et des commerces, tout en préservant un cocon d'intimité. la maison est très bien agencée, grâce à la disposition des terrasses on trouve toujours un endroit au soleil ou à l'abri du vent pour déjeuner, se détendre, profiter des vues sur la baie, les montagnes ou le coucher de soleil. Les chambres sont mignonnes, la literie est bonne et l'ensemble bien tenu. Très bon suivi de Philippe, qui a été d'une grande aide lorsque nous avons eu besoin de lui. Dimitri, qui est le gardien de la maison, quand à lui est un excellent intermédiaire sur place pour tous les besoins et questions pratiques. Bref depuis 10 ans que nous parcourons la Grèce et ses îles, la maison de Philippe restera dans nos mémoires comme un petit coin de paradis rempli de plaisants souvenirs.
Samuel
2016-05-09T00:00:00Z
La maison était tout simplement parfaite : spacieuse, pratique, propre et très bien équipée. Très bien située sur l'île de Syros, proche de plages magnifiques et d'une superette. Les à-côtés sont aussi très utiles ou pratiques : les terrasses, la piscine, le barbecue, les kayaks... La vue sur la mer Egée et les îles était magistrale (les couchés de soleil sont exceptionnels). Et un propriétaire très avenant, et qui nous a bien parfaitement bien aidés pour notre séjour. Very comfortable, functional and well-equiped house with a wonderful view on the sea. The place to be to chill out and enjoy holidays !
Anne
2016-05-31T00:00:00Z
Très belle découverte sur l'île de Syros ! Nous avons passé un excellent séjour dans la villa de Philippe. Maison très bien située, proche du port de Kini et à proximité de très belles plages. La maison est très spacieuse, bien équipée et (URL HIDDEN) d'une grand piscine avec une vue imprenable sur la mer et sur le coucher de soleil. La configuration de la maison et de ses 3 terrasses permet de profiter du soleil (ou de l'ombre) à toute heure de la journée. Un grand merci également à Dimitri qui gère l'intendance sur place, et qui s'est chargé de nos transferts depuis et vers l'aéroport. La voiture mise à disposition sur place par Philippe s'est aussi avérée être un vrai plus pour parcourir l'île en long et en large. En résumé, une très bonne adresse que nous recommandons et à laquelle nous prendrons plaisir à revenir.
Damien
2016-06-02T00:00:00Z
La maison de Philippe est superbe!! La vue sur la mer est idyllique! La piscine est très agréable et très propre. Bonne situation, à 5min d'un super marché et 5-10min de Kini (mieux vaut tout de même être motorisé) Notre arrivée et notre départ ont été très simples et la communication facile... Bref impeccable ! Merci !!
Raphaelle
2016-10-04T00:00:00Z
La maison a été à la mesure de nos attentes et même au delà : spacieuse, confortable, extrêmement bien située avec vue panoramique sur la côte découpée à l'ouest de l'île de Syros. Les chambres sont lumineuses et spacieuses. La maison est agencée de telle sorte que chaque chambre dispose d'un accès autonome à l'extérieur ou à une terrasse de sorte que même en groupe on peut toujours trouver un endroit calme. La piscine est grande. La maison est appropriée pour des groupes d'amis et/ou pour une famille avec enfants. Le contact avec le propriétaire Philippe a été facile et agréable, et efficace. A recommander chaleureusement!
Steffen
2015-08-02T00:00:00Z
Dimitri était très chaleureux et ait venu nous chercher au port. Nous avons decouvert la maison qui etait encore plus belle et agréable qu'en photo ; une grande piscine, une vue exceptionnelle, des chambres spacieuses, plusieurs endroits où se reposer à l'ombre! Je recommande vivement cette maison à ceux qui veulent passer des vacances en famille ou entre amis pour se reposer et s'amuser ! La ville la plus proche est à 15 minutes à pieds et il est sympathique d'y déjeuner, les lieux sont vraiment charmants !
Louise
2016-07-18T00:00:00Z
Oda Tipi
Tüm ev/daire
---
Mekan Türü
Ev
---
Konaklayacak Kişi Sayısı
12
---
Yatak odaları
Dani, Egeo, Yunanistan
Traditional storied house with entresol located at the picturesque side of Kini beach, 5 meters from the sand. Includes air conditioning, fully equipped kitchen, a bathroom, as well as a large balcony with a direct view on the sunset. Can host up to 6 persons. Cafeterias, mini markets, restaurants, and also the bus stop are all in close proximity. Recommended for couples, families and friend groups looking for a quality vacation at the countryside.
The house is located at the northern part of Kini beach, one of the most popular beaches of Syros. It is literally 5 metres away from the sand, which gives the opportunity to go swimming whenever you need and to enjoy the sun and the sea. It is near the cafeterias, mini markets, restaurants and beach bars of the village. The house itself is storied and includes 2 bedrooms on the upper floor (one has a double bed and one has a single bed), as well as a bedroom on the entresol with 2 single beds. In the livingroom there are 2 large sofas which can accommodate some persons as well, meaning the house can host up to 6 persons in total. The kitchen is perfectly operative and features a sink, cooker and fridge, as well as cupboards with any cooking equipment you may need. There is also a balcony and a small yard, where you can sit to relax and enjoy the sunset. In this house we have spent our first 15 summers, and it is full of beautiful and sweet memories. We hope that you will get the same friendly, calm vibe we have always gotten.
We had a great stay and the house exceeded our expectations. We found it even more charming than what the images give away. The location was perfect right next to the beach and with everything we could want and need near by. The hosts made us feel very welcome and even picked us up from the port, which we highly appreciated. All in all a terrific holiday.
Renate
2016-07-30T00:00:00Z
we had a wonderful time with my friends in this house. what a beautiful house it is, in front of the see, close to beautiful restaurant. Takis and Lefteris took care of our group, like real gest. thank's a lot Takis and Lefteris.
Sibylle
2016-10-05T00:00:00Z
it was perfect. Your island and your house were beautiful thanks for your welcome and your gifts
Florence
2016-08-19T00:00:00Z
Lefteris is a very nice and friendly young man who did everything he could to welcome us and to make our stay in Syros unforgettable. The house and the place is even better than the pictures. All our expectations and wishes for a beautiful holiday were fulfilled. Therefore is was for us the perfect and best place to stay in Syros. Many thanks Lefteris, Rob
Rob
2016-08-10T00:00:00Z
Oda Tipi
Tüm ev/daire
---
Mekan Türü
Ev
---
Konaklayacak Kişi Sayısı
6
---
Yatak odaları
Kini, Egeo, Yunanistan
Μέσα σε παρθένο κυκλαδίτικο τοπίο, με μπαλκόνι το Αιγαίο και κατοικία έναν παραδοσιακό πετρόχτιστο περιστεριώνα, θα βρείτε γαλήνη, ησυχία, ήλιο θάλασσα και θυμάρι. Σας προτείνουμε περιπάτους, ψάρεμα, κολύμπι και εξερεύνηση της επιβλητικής Άνδρου. Καλωσορίσατε!
In reality the view from the house was far better than the pictures can show. It was simply beautiful. Communication with the host was excellent as was the guide to the house. The house was sparkling clean, as were the ample collection of towels and sheets. We were a group of five, which filled the living space up quickly. Of course it would be silly to spend your time sitting indoors; go to the veranda's or any of the beautiful beaches nearby. Highly recommended.
Pieter & Karine
2016-08-20T00:00:00Z
Oda Tipi
Tüm ev/daire
---
Mekan Türü
Ev
---
Konaklayacak Kişi Sayısı
4
---
Yatak odaları
Kalamaki, Egeo, Yunanistan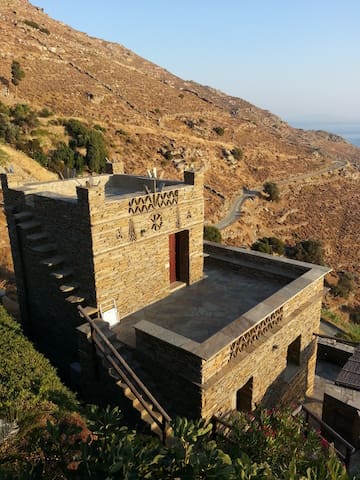 Beautiful stone built condo with sea-view in Andros. Luxurious interior, kitchen with dishwasher, swimming pool with Jacuzzi and reverse swimming system, private balcony and a huge front shared veranda.The amazing sea-view and the aromas of the nature will take your breath away! Within the spacey yard of six acres there is also a water stream with a small wooden bridge which adds to the beautiful senery. The nearest beach is very close and the area is perfect for long walks. Come visit us!
Το σπίτι είναι όπως ακριβώς περιγράφεται, σε μια ήσυχη τοποθεσία με μοναδική θέα. Η πισίνα ήταν σε καλή κατάσταση, το σπίτι και ιδιαιτερα η κουζινα ήταν πλήρως εξοπλισμένα. Έχει πολλούς εξωτερικούς χώρους, τόσο ιδιωτικούς όσο και κοινοχρηστους, που μπορείς να απολαύσεις την θεα. Τον ιδιοκτήτη δεν τον συναντήσαμε, αλλά είχαμε άψογη τηλεφωνική επικοινωνία και υπήρχε υπεύθυνος επιστάτης στον οποίο απευθύνομασταν για ότι χρειαζόμασταν. Ιδανικό μέρος για ήσυχες διακοπές.
Marina
2016-08-21T00:00:00Z
Oda Tipi
Tüm ev/daire
---
Mekan Türü
Ev
---
Konaklayacak Kişi Sayısı
5
---
Yatak odaları
Andros, Egeo, Yunanistan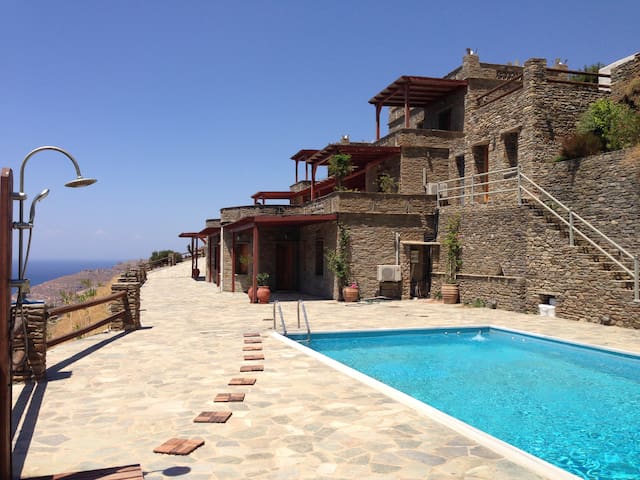 Stone house that contains a living room with a transforming bunk bed, a bathroom with a shower, a kitchen and a loaf bedroom. Ιt is located in the very first core of the medieval settlement of Ano Syros just a minute walk from the church of Agios Georgios, 2km distance from the center of Hermoupolis.
The house contains a fridge, a washing machine, a television, wifi internet, two air-condition. An electric fan, an electric heater and an electric blanket are also available.The kitchen is equipped with a furnace, a toaster, a safety mini gas stove, a microwave oven, all basic kitchenware, various plates and glasses. Telephone is also available for local calls only. Outside the house from the backdoor there is plenty of space formed for drying your laundry. Also from the backdoor is the chapel of Agios Michalis where you can have access to the chapel's yard and enjoy a wonderful view of the spring of Agios Athanasios.
The neighbors are friendly and social. It is recommended to explore the area around where you will find a lot of traditional taverns and wine shops, most of which will be open not only during summer but during winter too. A pharmacy store and a mini-market are available all season.
Great house next to the church in ano syros. Nick was really nice and helpful when we arrived at the port. Would definitely recommend staying at his place.
joe
2016-08-09T00:00:00Z
Nick's house was great for a city break. I recommend it for anyone that wants to experience the beauty of Anw Syros. Both Nick and his parents were very helpful throughout our stay.
Zach
2017-01-31T00:00:00Z
Nick was very kind and has welcomed us very well. He took us at the port when we arrived and told us to call him if we needed anything. The place is beautiful and has everything we needed. And it is worth saying that Ano Syros is one of the most beautiful places of the island. We totally recommend it. Thanks Nick
Arnaud
2016-08-24T00:00:00Z
Nick was very friendly and helpful. He gave us some recommendations about our trip too and was willing to drive us from and to the port. The house was also clean tidy and pretty spacious. We didn't have any issues throughout our stay would definitely recommend staying here.
alexandros
2016-08-08T00:00:00Z
Nick is a wonderful and generous person who assisted us to really enjoy our stay in Ano Syros. His house is cozy and beautiful and everything that one could possibly need is in there! We definitely recommend this house!
Christina
2016-08-14T00:00:00Z
Nick was a great host- very welcoming and helpful. I loved Ano Syros -- it's incredibly picturesque with fantastic views of Ermoupolis and the sea. The house is in walking distance to charming restaurants and shops, and just seconds from the bus stop.
Santhe
2016-08-15T00:00:00Z
Oda Tipi
Tüm ev/daire
---
Mekan Türü
Ev
---
Konaklayacak Kişi Sayısı
3
---
Yatak odaları
Ano Syros, Egeo, Yunanistan
Παραδοσιακό πέτρινο σπίτι στο μεσαιωνικό χωριό της Άνω Σύρου. Διαθέτει ένα υπνοδωμάτιο, σαλόνι, κουζίνα, μπάνιο και ένα μικρό μπαλκόνι με όμορφη θέα για τον πρωινό καφέ .. Επίσης μια σκάλα στο υπνοδωμάτιο οδηγεί στην ταράτσα με υπέροχη θέα της Ερμούπολης .. Λίγα βήματα από την κεντρική είσοδο του Άνω Σύρος (Καμάρα) με πρόσβαση σε λεωφορεία και ταξί .. internet, τηλεόραση και pickup για τους λάτρεις των βινυλίων ..
Άνω Σύρος είναι ένα παραδοσιακό χωριό 5 λεπτά με ταξί από το λιμάνι ή το αεροδρόμιο .. Διαθέτει 3 εστιατόρια με παραδοσιακό φαγητό και κάποια καφενεία με τοπικά προϊόντα. Πολλά μικρά καταστήματα με χειροποίητα ... τα πράγματα πολύ χαριτωμένο .. Η Καθολική Εκκλησία της St.Tzortzis (St.George) είναι εντυπωσιακή .. Αξίζει η βόλτα γύρω από το χωριό .. Δοκιμάστε το!
Definitely the best place to be ! First, the old city of Ano Syros is absolutly breathtaking. It's a real and beautiful labyrinth to get there and believe me, every step is worth it ! The place is very quiet during the day, and full of animations at night in the weekend. But not all kind of animations, only the cool one. You'll not see drunk brainless tourist, but mostly musicians playing guitarre in every corner (and there's a lot !). The appartment is beautiful, full of color and there's everything you need to cook, sleep or throw an amazing tea party with all the nice people you'll met in this incredible place. The old but still working perfeclty vinyl of Pink Floyd and the stunning view from the roof will always have a special place in my heart. Thanks to Lucas for all his advices about the island and also to his friends at Maison the Meze, a nice local shop with a good ethic and a space to eat and drink right next to the appartment. I'll come back for sure and I recommand it without any hesitations !
Lucie
2016-09-05T00:00:00Z
Πολύ ενδιαφέρον το σπίτι, με ιδιαίτερες λεπτομέρειες (φωτιστικά, τραπεζάκια κλπ). Πολύ φιλόξενος ο οικοδεσπότης και οι γείτονες. Επίσης, μοναδική θέα της Ανω Σύρου.
Irene
2016-08-25T00:00:00Z
Anosyros is absolutely the most charming place to be in Syros! With some better standard in the apartment and cleaning - this place could become great!
Karenina
2016-07-06T00:00:00Z
Lucas nous a attendu à notre arrivée à la porte de la ville pour nous amener au logement. Nous nous sommes sentis très à l'aise dans l'appartement qui est bien équipé et très chaleureux. La situation est idéale, en plein centre de la vieille ville d'Ano Syros, avec une vue fantastique sur le port et la ville. Lucas nous a très bien expliqué le fonctionnement de l'appartement et nous a fournis des informations utiles sur l'île et la ville. Un super séjour à Ano Syros!
Jean-Baptiste
2016-08-01T00:00:00Z
The apartment is nice and located in the center of Ano Syros, up the hill. Lucas went to find us at the entrance of the town and was welcoming. The rooftop has a stunning view on Ermoupoli. I recommend the place :)
Annaïg
2017-03-03T00:00:00Z
Oda Tipi
Tüm ev/daire
---
Mekan Türü
Ev
---
Konaklayacak Kişi Sayısı
3
---
Yatak odaları
Syros, Egeo, Yunanistan
La villa Astrofegia surplombe la baie de Kini et son joli port de pêche très typique. Elle se trouve à proximité des plus belles plages de l'île de Syros, des tavernes traditionnelles, et à environ 7 km de la très élégante ville d'Ermoupolis. Vous profiterez de la grande terrasse et sa magnifique piscine d'où vous pourrez admirer un exceptionnel coucher de soleil, et une vue spectaculaire sur la mer Egée dans un environnement calme et serein.
La villa a été décorée et meublée avec raffinement pour votre plus grand confort. Vous aurez accès à tous les services qu'elle propose, une cuisine équipée, un salon avec tv et dvds, la présence de ventilateurs et d'une climatisation, une buanderie...
Oda Tipi
Tüm ev/daire
---
Mekan Türü
Ev
---
Konaklayacak Kişi Sayısı
9
---
Yatak odaları
Kini, Egeo, Yunanistan

The Classic Beauty is Part of a fully renovated old traditional house in the heart of the historical city of Ermoupolis Syros. The guest who selects our house will enjoy a peaceful place , while can reach foot distance almost all points of interest
In the comfortable "classic beauty"(about 17squaremetres)you can also find refrigerator, toaster, coffee-filter, boiler machine, cups, glasses, knifes, forks, spoons and plates for your own breakfast and light meals. If you like you can enjoy it sometimes in the owners veranda, enjoying also her hospitality, who will be willing to tell you about the history of her house and the island too.
Eugenia met me from the taxi. She was very pleasant and helpful. The bed was comfortable but the room small and the bathroom was just an oblong box addition to the room. Having a toilet was a good thing but the bathroom was just too tiny, the shower was about 20 inches wide.
Marjorie
2016-07-20T00:00:00Z
Charming room well situated in Ermoupolis. Very quite place not far from the activities of the town in a very caracteristic house. I apreciated a lot the platform close to the sea; swimming and admiring the landscape while the sun is rising is a real dream. Thank you Evgenia for your sense of hostitality, like so many Greek people.
sophie
2016-08-13T00:00:00Z
Very nice room, wonderful hostess and in the heart of the historic center of Syros. Thank you!
Alexandra
2016-05-27T00:00:00Z
Eugenia is very helpful and friendly, the room is in a perfect condition and in a very good location. I recommend it to other travelers, as well. Thank you very much! :)
Rafaela
2016-09-09T00:00:00Z
I had a great stay at Eugenia's. The room is lovely and in a beautiful historic home right in the heart of town. Eugenia is very friendly, generous, and can offer helpful tips on where to go on the island, and on other islands as well. I enjoyed chatting with her about Siros and her family. Highly recommended!
Ned
2016-05-14T00:00:00Z
Great place to stay while visiting Syros! Close to the heart of the city and close to the port. Eugenia is also a wonderful host, very welcoming!
Matthew
2016-08-01T00:00:00Z
Eugenia is a very friendly and helpful host.The room a beautiful classic sweat room,very clean and the bathroom is private inside the room!Located in the center of main town near everything by walking.Eugenia offer a good breakfast.I suggest 100%
Νικος
2016-05-06T00:00:00Z
The room is in a very central point and everything is easily accessible! Evgenia has provided us with a light breakfast and was very helpful during our stay. she recommended to us great tavernas and overall we had a great time! the room is big enough for 2 people, clean and independent from the rest of the house. aircondition was a great plus!great value for money!
betty
2016-08-07T00:00:00Z
Oda Tipi
Özel oda
---
Mekan Türü
Ev
---
Konaklayacak Kişi Sayısı
2
---
Yatak odaları
Ermoupoli, Egeo, Yunanistan
Villa mit Blick in eine Traumlandschaft. Sie liegt über dem Strand von Delfini Beach. Die Fläche von 200 qm verteilt sich auf drei schöne Studio-Suiten, die auch separat benutzt werden können. Rundherum gibt es mehrere schöne Terrassen mit traumhaft schönen Panoramaausblicken in die Berge und auf das Meer. Villa with a view of a dream landscape. It is located over the beach of Delfini Beach. The area of 200 sqm is spread over three beautiful studio suites, which can also be used separately.
Oda Tipi
Tüm ev/daire
---
Mekan Türü
Ev
---
Konaklayacak Kişi Sayısı
6
---
Yatak odaları
Kini, Yunanistan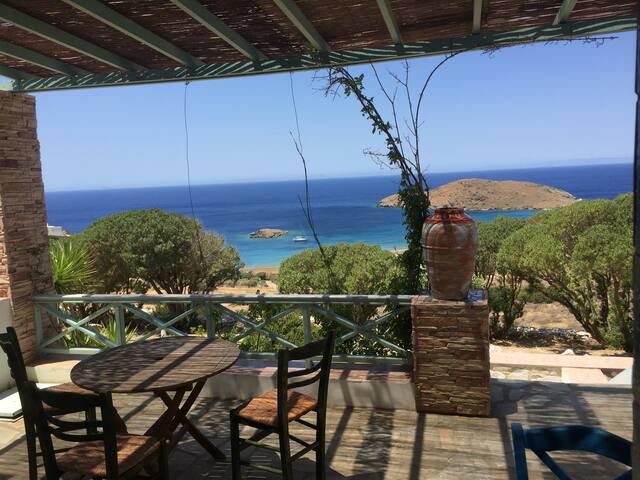 A traditional two bedroom island house, ideally located in the heart of the historical town, within short walking distance from all places of interest. Antique furniture, lovely shaded courtyard, terrace with sea views, wi-fi, peaceful neighborhood.
This traditional island house is attached to a neoclassical historical mansion with which it shares a lovely shaded courtyard. It has beautiful marble floors, wooden ceilings, tadelact bathrooms, antique furniture. The first bedroom has a buit-in double bed and an ensuite bathroom. The second bedroom has a double bed (or two singles upon demand), a separate entrance to the courtyard, and a private bathroom next to the kitchen. The kitchen is fully equipped and very functional and has a separate entrance next to which some steps lead to the private terrace, with sea views over the town and the harbour, perfect for evening drinks watching the ferries coming in and out of the port. The spacious living-room has a dining corner, a buit-in sofa that can sleep an extra person and an independent outdoor breakfast corner. The shared courtyard has lots of aromatic plants and a nice dining-area perfect for alfresco dining.
The house couldn't be more ideally located. In the heart of the historical town, it is within short walking distance from everything. Two minutes uphill walk from the main town square around which are all the best cafes and restaurants, a lively local market with fresh produce, stylish little shops and art galleries. The main port is a 5 minute walk. The famous Apollo theater where several musical and theatrical events take place, as well as an international opera festival, is a 3 minute walk. Also within a very short walk there is a lovely spot for swimming in Vaporia neighborhood, the little Venice of Syros. Crystal clear waters by a nice all day cafe-restaurant with magnificent views of the historical waterfront buildings. A unique experience! Yet the house's location is surprisingly peaceful and quiet, set back from a little cobblestone pedestrian street. The whole area is pedestrian, so perfectly quiet and safe for children. To reach the house you need to go up two flights of steps (70-80 steps) from the closest road accessible by car. At the foot of the steps there is a wonderful playground for young children.
Το σπίτι ήταν πολύ κοντά στην κεντρική πλατεία της Ερμούπολης αλλά σε ήσυχη γειτονιά, ιδανικό για παιδιά και λόγω της εγγύτητας σε παιδική χαρά. Η διακόσμηση είναι ακριβώς όπως στις φωτογραφίες και ο οικοδεσπότης έτοιμος να απαντήσει στισ ερωτήσεις μας. Μασ υποδέχτηκε με ένα μπουκάλι γάλα για το παιδί, γεγονός που μου έκανε θετική εντύπωση αμέσως μετά την άφιξή μας στο νησί το πρώτο βράδυ.
Anastasia
2016-03-16T00:00:00Z
We had a wonderful time in Kostas' house, in the heart of the city. The place is tasteful and comfortable, and our host Kostas was helpful and adorable. Hope to come back sometime!
Simon
2016-06-18T00:00:00Z
Πολυ ωραιο σπιτι, κοντα στην κεντρικη πλατεια της Ερμουπολης. Καθαρο και ανετο. Εξαιρετικη θεα απο την ταρατσα η οποια ειναι ευκολα προσβασιμη. Συστηνεται!
Spyros
2016-04-30T00:00:00Z
Our hosts welcomed us with warmth and generosity. They shared many useful insights with us. Our accommodation was exactly as we had hoped: characterful, beautiful, peaceful, versatile, comfortable and clean. There were fresh flowers, pots of homemade jam and loukoumi on the dining table when we arrived. Plus plenty of essentials: coffee, olive oil, drinking water, toilet paper, soap, keys, wifi... We felt instantly at home. We loved the sounds of church bells, neighbourhood chickens and birdsong. It was a quick walk (marble steps) down to the heart of Ermopouli: an elegant town square with palms and orange trees, the shaded market street and shops with excellent provisions (not tourist tat), lovely cafes, and restaurants serving interesting local food with many vegetarian choices. We did delicious yoga above a bakery (inhale bread/cake, exhale bread/cake). We loved the rebetiko musicians at Oneiro. And the sea (5 mins walk away) was perfect for swimming: calm, clear and cool. All in all, a blissful stay.
elise
2016-04-18T00:00:00Z
So homely and comfortable, this historical house is nestled into the hill side with a great roof top view! The perfect size for our family of 3 and friend. Beautifully renovated inside and out with so much care and attention to detail, really nice tadelakt bathrooms. Elisa and Kostas are wonderful hosts, they were so helpful in recommending places to eat and visit and really helped us to feel at home. We look forward to returning to this very special place again soon!
Julia
2017-03-19T00:00:00Z
Kostas est un hôte accueillant qui aimés on île et sa ville d ermopouli et vous fait partager ses coups de cœur et bonnes adresses. On se sent chez soi, la maison est pleine de charme et de caractère.
Aude
2016-10-04T00:00:00Z
Séjour remarquable. Nous avons adoré Ermoupoli et la maison de Kostas est l'endroit idéal pour profiter de la ville et de l'île. Kostas est très attentionné à chacun de nos désirs. La location est très bien entretenue et décorée avec beaucoup de goût. La terrasse est un endroit confortable et apaisant. Si nous revenons à Syros, c'est dans cette maison que nous reviendrons.
Olivier
2016-08-23T00:00:00Z
Κρατάμε άριστες αναμνήσεις της διαμονής μας στο πολύ ωραίο διαμέρισμα της Βίλλας Μαρίας του Κώστα. Πέρασαμε πολύ όμορφα σε αυτό το σπίτι διαθέτει πολύ χαρακτήρα. Η τοποθεσία του είναι ιδανική μέσα στην Ερμούπολη και έχει μια πολύ όμορφη θέα μέχρι τη θάλασσα. Ο Κώστας ήταν πάντα πρόθυμος να μας βοηθήσει και χαρήκαμε που κάναμε την γνωριμία του !
Maximilien
2016-08-14T00:00:00Z
Oda Tipi
Tüm ev/daire
---
Mekan Türü
Ev
---
Konaklayacak Kişi Sayısı
5
---
Yatak odaları
Ermoupoli, Egeo, Yunanistan
Giaros - Airbnb
:
99

misafir değerlendirmesinden,

5

yıldız üzerinden ortalama

4.4

yıldız
Tam fiyatlandırmayı görmek için tarihleri görün. Ek ücretler uygulanır. Vergiler ilave edilir.