Enjoy my housing for the people, the atmosphere, neighborhood, outdoor spaces and the brightness. My accommodation is perfect for couples, solo travelers and business travelers. 4km from the Werchter festival, very close to Leuven and Mechelen. We live in a nice area which is really to discover. Our accommodation is quiet and cozy. And our goal is to make you a pleasant stay.
The house is removed from the road and offers the peace. We provide you with a garden and terrace. The living room, kitchen are shared. Nespresso machine available. Each room has its own bathroom or shower. We offer the breakfast option. The latter is expected with bread, pastries, fresh eggs from the garden, bacon, juices, jams, spreads, cheeses, ... If you have specific requests for breakfast, please let us know. The price for breakfast is 7 €. You can buy locally and buy cool drinks coffee capsules. This saves you having to go to the store. Bicycles can be made available on request. We offer the possibility to book for therapeutic or relaxing massages on site. The price per hour is 55 €. We love living here and we wish you a pleasant stay.
Our neighborhood is quiet and residential.
Laurence est une personne très agréable. Accueil chaleureux. Gentillesse et disponibilité de Laurence. Tout a été fait pour rendre mon séjour agréable. Endroit exceptionnel . A recommander .
yves
2017-03-30T00:00:00Z
Accueil parfait, maison qui a son charme, propreté au rendez-vous! Je recommande cette chambre!
Océane
2017-04-02T00:00:00Z
Heel fijne plek, ruim je bent er thuis, mooi tuin en niet vergeten een bijzondere gastvrouw ik kom er zeker nog
Philippe
2017-03-31T00:00:00Z
Oda Tipi
Özel oda
---
Mekan Türü
Oda + Kahvaltı
---
Konaklayacak Kişi Sayısı
2
---
Yatak odaları
Tremelo, Vlaanderen, Belçika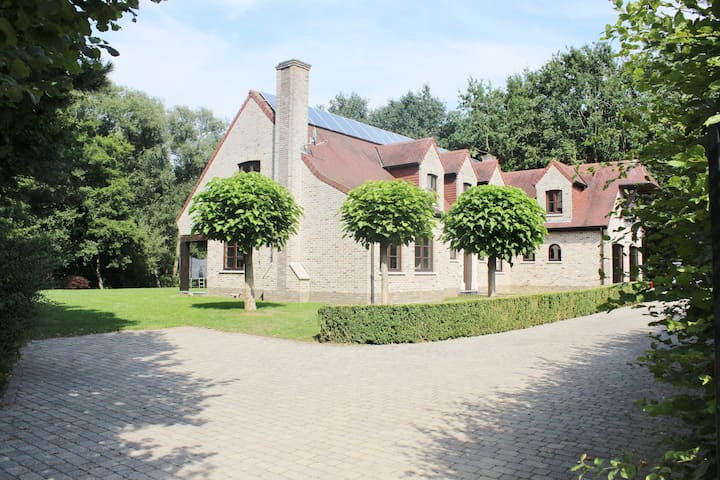 My room is close to public transportation, downtown, arts and culture and the airport. You'll love my place because of the atmosphere, the people and the location. My room is suitable for business travelers.
Impecable!
Roksana
2017-01-16T00:00:00Z
Oda Tipi
Özel oda
---
Mekan Türü
Ev
---
Konaklayacak Kişi Sayısı
1
---
Yatak odaları
Herent, Vlaanderen, Belçika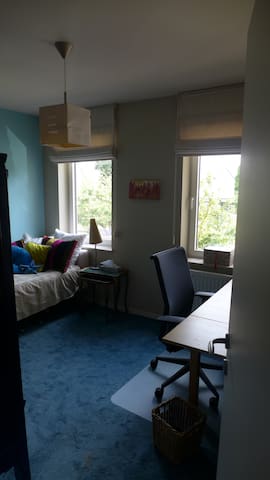 Mijn ruimte is geschikt voor stellen, solo-avonturiers en zakelijke reizigers. Rustig gelegen grote zonnige kamer met badkamer en eigen toilet. Frigo, microgolf en waterkoker op de kamer. Ontbijt inbegrepen. Mijn huis ligt op loopafstand van station Wijgmaal vanwaar je kan treinen naar de prachtige universiteitsstad Leuven in 5'. Brussel , Mechelen, Antwerpen en Gent gemakkelijk te bereiken. Twee fietsen beschikbaar om via kleine wegen en kanalen Leuven, Aarschot, Mechelen te bezoeken.
Zeer rustig gelegen grote zonnige kamer met badkamer en toilet. Frigo, microgolf en waterkoker op de kamer. Ontbijt inbegrepen .
Mijn huis bevindt zich op 5' loopafstand van station Wijgmaal vanwaar je naar de oude universiteitsstad Leuven kan rijden (5') . Mechelen (25') Brussel (35') Antwerpen en Gent ongeveer 1 u. Eetgelegenheden, bakker en supermarkt in de buurt.
Many thanks for a very kind welcome, and the delicious breakfasts that were provided. I really enjoyed being in such a pleasant place; the rail and bus connections are excellent.
sarah
2017-01-10T00:00:00Z
Yona is een geweldige gastvrouw, ik voelde mij direct thuis! De kamer is ruim en het ontbijt is geweldig (met verse broodjes!)
Gerbo
2016-12-07T00:00:00Z
Yona is een erg vriendelijke vrouw die bovendien erg behulpzaam is. Haar ontvangst was erg hartelijk. Wegens nog plannen later op de avond waren we laat thuis, maar hier was ze erg flexibel in, waarvoor dank. De kamer zelf is meer dan erg gezellig. In de ochtend werden we verwend met een uitgebreid ontbijt met allerlei lekkere dingetjes. Deze kamer is zeker de moeite waard! Een echte aanrader.
Jonas
2016-11-11T00:00:00Z
We werden ontzettend warm ontvangen door Yona, het verblijf is super (schoon, groot en erg gezellig ingericht). Yona heeft ons veel informatie gegeven over Leuven en omstreken, we konden gebruik maken van de fietsen en het ontbijt was super. Ontzettend bedankt, we hebben erg genoten van de gastvrijheid. Zeker een aanrader!!
Kim
2016-12-29T00:00:00Z
Yona is een zeer vriendelijke en attent vrouw. Ze reageert snel op je berichten en staat steeds klaar om je te helpen. We werden hartelijk ontvangen door Yona met thee en koekjes en veel informatie over de stad Leuven. In de koelkast had zij al veel klaargelegd voor het ontbijt. Ham,Kaas,Boeren vruchtensap, zelfgemaakte marmelade, 2 ei, melk, yogurt. Verder was er heerlijke fairtrade honing ,boter en cholade pasta. Het brood bracht zij in de ochtend en legde dat in een mandje voor de deur. heerlijk vers brood en 2x croissant. Het is een rustige dorp 15 min fietsen van Leuven , veilig en met een dorps gevoel. Yona bedankt wij komen zeker weer terug!
Roeben
2016-10-16T00:00:00Z
Super lieve vrouw en hele fijne studio!
Lisanne
2016-12-16T00:00:00Z
Was weer prima!
Lisanne
2017-03-29T00:00:00Z
De verhuurder heeft alles gedaan om de vrij vroege aankomst mogelijk te maken. Partner Paul was speciaal aanwezig om ons welkom te heten. Kamer met veel privacy. Heerlijk ontbijt
Rob
2016-11-19T00:00:00Z
Oda Tipi
Özel oda
---
Mekan Türü
Ev
---
Konaklayacak Kişi Sayısı
2
---
Yatak odaları
Leuven, Vlaanderen, Belçika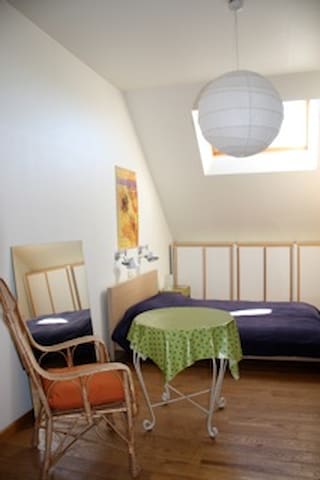 Houten vloer en groot raam met verluchtingrooster en zoals eerder vermeld een eigen ingang. De kamer is niet de meest afgewerkte (integendeel) maar normale mensen hebben hier geen last van omdat de natuurlijke omgeving deze pietluttigheden die in de winter wel aangepakt zullen worden ruimschoots dit compenseren. Deze woning is de uitvalsbasis van landelijk leven met natuurlijke groententeelt en kippenkweek.
Oda Tipi
Özel oda
---
Mekan Türü
Kulübe
---
Konaklayacak Kişi Sayısı
2
---
Yatak odaları
Werchter, Flanders, Belçika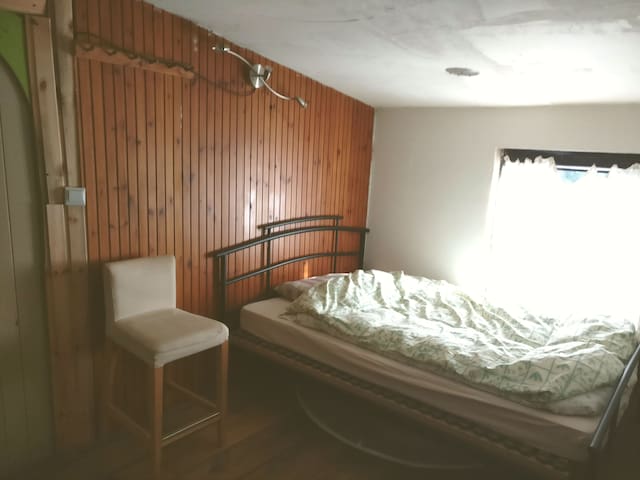 Near Leuven, Antwerp, Brussels .. Quiet area, big garden with Jacuzzi. Suitable for families with kids, couples, businesspeople .. Near Leuven (20 min), Antwerp (35 min), Brussels (40 min), Mechelen (20 min), quiet location, large garden with Jacuzzi. Suitable for couples, singles, business travelers and families (with children).
Cozy living room with lots of natural light and nice decoration. New, fully equiped kitchen with dishwasher, oven, microwave, coffee machine and American refrigerator with ice and fresh water. Big garden with Jacuzzi. Room 1: 1 double bed of 1m80, sleeps 2 Room 2: 4 single beds or 90 cm, sleeps 4 Room 3: 1 double bed of 1m40, sleeps 2 Separate TV room: a new, confortable sofa or 1m40, sleeps 1 or 2 Separate TV room: you have Netflix? Bring your laptop and you can see movies through a beamer projected on a big screen. The house has plenty of natural light, it is nice and cozy furnishings. Has a new fully equipped kitchen with dishwasher, oven, microwave, coffee machine and American refrigerator with ice cubes and fresh water. Large garden with Jacuzzi. Layout of the rooms: Room 1: 2 bed of 1m80 wide -> can sleep 2 people Room 2: 4 x 1 single beds (each 90 cm wide) -> 4 people can sleep Room 3: 2 bed of 1m40 wide -> can sleep 2 Separate TV room is new, comfortable sofa 1m40 -> to 1 or 2 people sleep The separate TV room you can project movies with a projector on a large screen. You must have a laptop and a subscription to Netflix.
There are some nice restaurants / brasseries nearby. You do need the car above (max 10 minutes). In close proximity to tourist cities like Brussels, Antwerp, Leuven .. Recreation Areas for the kids with pool and playgrounds on a 20-minute drive loads. GOLF: Keerbergen Golf Club and Golf Club The Vineyards are nearby. Nice restaurants in the area, 10 min drive. Touristic places like Brussels, Antwerp, .. are only 35 minutes away. Outdoor recreation for kids in the area. Golf courses only 10 to 15 minutes away.
Zeer correcte communicatie en alles tip top in orde!
karolien
2016-10-16T00:00:00Z
Zeer proper, gezellig huis met goede voorzieningen (flatscreen TV, dolbi surround installatie, goede WIFI, beamer) alsook een goed uitgeruste keuken. Communicatie met de eigenares zowel voor/tijdens/na verloopt zeer vlot.
Thomas
2016-12-12T00:00:00Z
We hebben een paar dagen hier in het huis mogen verblijven. Een fijne sfeer, goed verzorgd en compleet huis. Voorzien van alle gemakken en een zeer behulpzame hostess.
Loes
2016-10-03T00:00:00Z
Tinne warm welcomed me and although I had little time, we had the opportunity to see the full potential of the house. It is perfect for me and my two sons. Very spacy, fully equipped and for me on a good location. I you are looking for a family house, this is the place to be. To visit the near big Belgium cities, you need a car.
Henri
2016-09-05T00:00:00Z
Had the most delightful evening with my family in this place. The host was a pleasure to deal with, the price was great and the house was a dream house. Loved it!
Dave
2016-08-06T00:00:00Z
Dieses Haus ist einfach toll. Der einzig negative Punkt ist die Hellhörigkeit wenn man im Bad ist und die anderen Personen noch schlafen aber war für uns nicht so tragisch. Wir waren zu 5 und mit der Bettenaufteilung perfekt. Super tolle Einrichtung und der Jaccuzi ist der Hammer. Wir waren genau über Neujahr drin und haben uns das wenige Feuerwerk angeschaut. Im Sommer Wahrscheinl auch ganz toll hier. Kann es nur empfehlen.
Saskia
2017-01-01T00:00:00Z
The host canceled this reservation 144 days before arrival. This is an automated posting.
Olivia
2016-10-10T00:00:00Z
What a nice house we really enjoyed the time in that wonderful house. Also the host perfect organisation always attainable. We would very gladly stay there again. The jacuzzi in the big garden was a highlight. Honestly i wish a had a house like this and could live there. If i score this house form 1 to 10 i give a 9+
Dan James
2016-09-18T00:00:00Z
Oda Tipi
Tüm ev/daire
---
Mekan Türü
Ev
---
Konaklayacak Kişi Sayısı
8
---
Yatak odaları
Heist-op-den-Berg, Vlaanderen, Belçika
cozy room in the heart of Leuven. 2km from train station of Leuven. bicycle storage. easy transportation, and also free wifi.
Downtown area
The Center of Leuven is the place to be for shopping and student life, by day and by night
Fethi is a very good host; communication with him was very easy from the start. The room is very centrally located, and we felt very comfortable there. I would highly recommend to stay at Fethi's if you happen to visit Leuven, and I would most definitely stay at his place again!
Christiane
2017-01-11T00:00:00Z
Top kamer
Steef
2017-02-05T00:00:00Z
Knus kamertje
Hannah
2017-02-18T00:00:00Z
Simpele maar fijne kamer! Vriendelijke ontvangst, ondanks dat Fehti druk in de weer was in zijn winkel heeft hij snel het verblijf laten zien en één en ander toegelicht. De kamer is wat gehorig dus oordoppen mee kan handig zijn. Douche is wat krap maar al met al een fijn verblijf voor een goede prijs!
Rian
2017-03-17T00:00:00Z
Fethi is de ideale verhuurder. Niets is hem teveel! :) Een betere locatie kan je niet hebben. Je bent zo bij de universiteit en gezellige zaakjes. Het enige minpunt is de badkamer. Deze bevindt zich in de keuken en er is geen mogelijkheid om je in de badkamer te verkleden.
Shar
2017-03-16T00:00:00Z
Fethi was a very nice and accomodating host. The room was very clean and well decorated in a convenient location. The minus side is that the sound insulation (interior and exterior) is not optimal, but it was not a serious concern as I was traveling with ear plugs. I would advise other traveler to do so (also take an eye mask). I would recommend to stay at Fethi's place.
Yael
2016-04-09T00:00:00Z
Fethi was really polite and communicated very clearly, I came in late but this was not a problem for him. The room is exactly as described and showed on the pictures. Unfortunately the room is located next to the stairs/entrance. Therefor it was quite noisy when other people came into the house. There was a lot of light from outside coming into the room, so it is necessary to bring a sleep mask.
Sharona
2016-05-28T00:00:00Z
The location is excellent, I could find restaurants, pubs, supermarkets and the touristics place. The room is confortable and Fethi is very friendly. I could use the kitchen.
Paola
2016-09-23T00:00:00Z
Oda Tipi
Özel oda
---
Mekan Türü
Daire
---
Konaklayacak Kişi Sayısı
2
---
Yatak odaları
Leuven, Vlaanderen, Belçika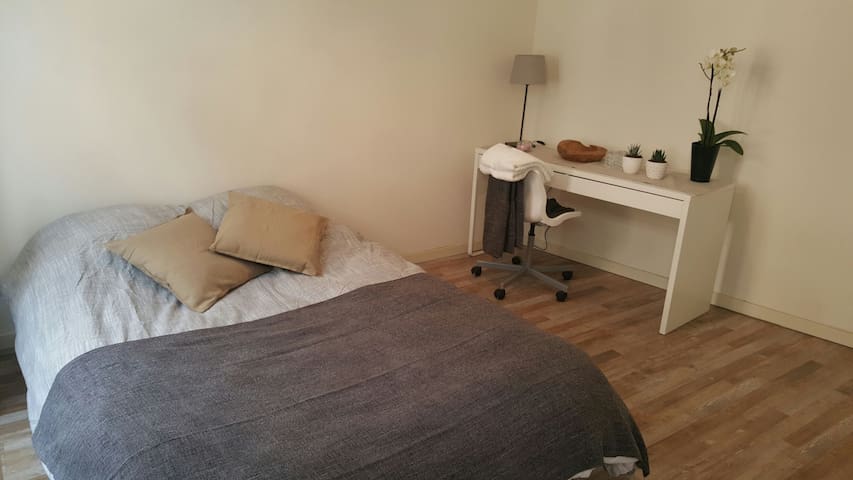 Beautiful room in a unique home in the city centre, garden view. The house is late renaissance and well-restored. Guests have access to a shared bathroom, well equipped kitchen and a large living lounge. Note my 2 lovely cats
This well-restored gem is one the the oldest houses in the city. A few minutes walking from Grote Markt and Oude Markt. Guests have access to a shared bathroom. A well equipped kitchen is at the disposition of guests as is the garden and the living room. The living room is large and cozy, offering both privacy and the option to mingle. The garden is open to guests if the garden room door is open. The room itself has a romantic vintage feel to it, colours are light and many aspects of nature integrated to the design. It faces the garden so it's rather quiet, you won't hear the street. Note that two young cats live in the house, let me know about allergies and I'll try keeping them out of your room. They are integral to the house though, so if you dislike cats, do consider other options because you're not welcome. Old houses like these have plenty of character, and were built for the needs and practicalities of 17th century people. One needs to love and appreciate them for what they are. This listing is a shared home and will never appear as spotlessly clean or be as practical as a newly built flat. Instead, you have exposed brick work dating from the 1650's, wooden beams and tiles from the same period and plenty of antiques. You may want to consider a more modern listing if your needs are sparkly and shiny surfaces and built in wardrobes.
The house is very central, yet tucked away just enough from the hustle and bustle, as such it's in an ideal spot for visitors. Many visitors will be in Leuven for the university, the campus is spread out through the entire city and many faculty buildings are near by.
Zentral, super nett, super unkompliziert, inspirierend und einfach nur ein guter Tipp.
martin
2015-09-12T00:00:00Z
Jessa's home is so beautiful, all was exactly as described. Her friend was there when I arrived, making check-in very easy. The room itself is small but was perfectly adequate for my needs. The house is decorated in a really nice way, with vintage prints and little tokens of travel from all over the world. Plus, one of the cats was happy to snuggle!
Desiree
2016-01-16T00:00:00Z
Very nice house and comfortable stay in Leuven, i don't have any complains at all! I would for sure stay here again!
Emily
2016-06-03T00:00:00Z
Prima locatie om van hieruit een weekendje in Leuven te verblijven! Gezellig huis en Jessa laat je erg welkom voelen. De katten maken de locatie helemaal compleet.
Karlijn
2015-12-13T00:00:00Z
Een leuke kamer in een karakteristiek huis in de gezellige stad Leuven. Op loopafstand van het centrum. Vriendelijk ontvangst door Felix. Minpuntje was het bed, dit was kapot, waardoor comfortabel liggen er dit weekend niet bij was. Verder erg genoten!
Amber
2017-02-19T00:00:00Z
Jessa's house is absolutely lovely and the room also cosy and beautifully decorated (is better than in the picture!). Jessa was really brillaint at responding and giving me all the nformaiton I needed, plus at the last minute I needed to arrange a very late arrival so, without any bother, she arranged for me to be able to pick up the key from a friend in the night shop next door. She left a lovely note on the bed, as well as gorgeous shampoo and bath gel, which was very much appreciated after a long day. Before I arrived she was also extremely helful suggesting restaurants to go to and so on. The house, and bathroom / kitchen etc were very clean and everyhing worked really well. I'd definitely come back and will recommend this place to any friends that visit Leuven! (leiven is also really lovely!) I just wish I could have stayed longer.
Joanna
2016-01-22T00:00:00Z
Jessa was very flexible with my check-in time. She was very friendly and welcoming. Room was very neat and cousy. Bed was good and luckily room was on the quiet side. The cat Yuri was also a great host :) Overal I really enjoed my stay and would really recommend this airbnb also for others.
Johanna
2016-02-05T00:00:00Z
Jessa had perfecte vervanging gevonden om haar eigen afwezigheid. Het huis is daarnaast prachtig, elke kamer is met zorg ingericht. Wij hebben een goed verblijf gehad waar geen hostel tegenop kan.
Josien
2015-06-14T00:00:00Z
Oda Tipi
Özel oda
---
Mekan Türü
Ev
---
Konaklayacak Kişi Sayısı
2
---
Yatak odaları
Leuven, Flanders, Belçika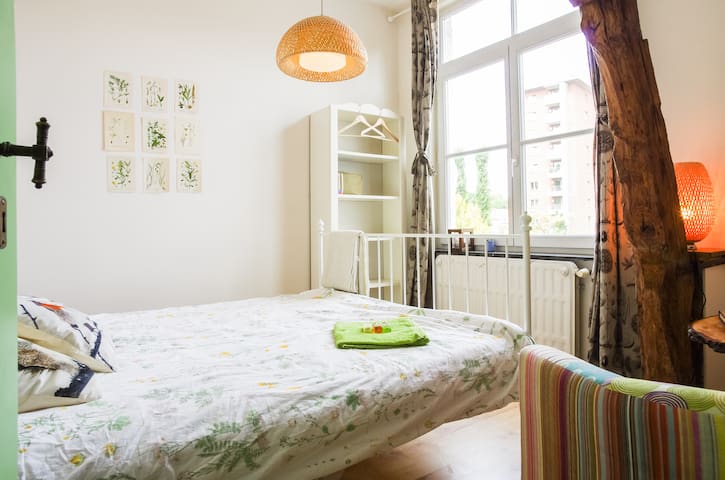 Accommodation in a quiet residential area with a spacious garden. One bedroom with comfortable double bed + private bathroom with bath / shower and washbasin on the first floor. 13 km from Brussels airport . Pick-up possible. Walking distance from a bus stop. 15' Walking distance from train station. Free parking in our street.
Accommodation in a quiet residential area with a spacious garden. One bedroom with comfortable double bed + private bathroom with bath / shower and washbasin on the first floor. Toilets on the ground floor. Available for couples and individual travelers.
Quiet residential area at walking distance from the centre of Erps-Kwerps with convenience store, bakery, taverne... At 2 km from Kortenberg with a variety of facilities.
Perfect place to stay! The is very confirtable and clean! I do recommed!
Fernando
2017-03-19T00:00:00Z
We spent a night at Hilda's house. The room is beautiful, the bed really confortable, and Hilda is so kind!! The neighborhood is quiet and perfect to have a good rest. We recommend it!
María Alejandra
2017-03-26T00:00:00Z
J'ai passé un très bon séjour. Très bon accueil, bon emplacement, très tranquille. Propriétaire très gentille et accueillante. La chambre est très chaleureuse. Bref je ne pouvais pas m'attendre à mieux !
Loran
2017-03-31T00:00:00Z
Great house and great host. Perfect for the airport and with a private bathroom.
Matthew
2017-02-23T00:00:00Z
Parfait séjour chez Hilde qui est une hôte bienveillante et chaleureuse
Sara
2017-03-11T00:00:00Z
Aangename gastvrouw, zonder franjes, leuke babbel, het voelde heel goed. Ik ga zeker terug.
Hilde
2017-03-07T00:00:00Z
The room was very nice and spotless. Hilde was very kind and sociable. I will definitely go here again.
Max
2017-03-17T00:00:00Z
She has been a wonderful host and it was amazing staying with her. The house was super clean and cosy. She was very helpful and came to station to pick me and guided me to the routes and she even made me the dinner the day I reached her place. She is very kind and I loved her hospitAlity. I would highly recommend her place to airbnb subscribers.
Harsh
2017-03-25T00:00:00Z
Oda Tipi
Özel oda
---
Mekan Türü
Ev
---
Konaklayacak Kişi Sayısı
2
---
Yatak odaları
Kortenberg, Vlaanderen, Belçika
Our B & B is located in the heart of the triangle Leuven-Mechelen-Brussels in a very quiet place, surrounded by meadows and forests. Ideal for anyone who wants to enjoy the green environment but also like to visit the historic towns around
Our guest room is located on the second floor. There are linens and towels available. There is also a seating arranged for guests, a shower and toilet. On request there is a free cot available.
Hiking, cycling and mountain bike trails, zoo Planckendael, Bloso domain, chicory museum, ...
Zeer vriendelijke ontvangst !
SYLVIE
2016-08-08T00:00:00Z
Really lovely place very close to Brussels and Leuven. The area is really quiet and green. Room is clean and well equipped. Breakfast is great (and organic!) and the hosts make sure you have everything you wish for. The hosts are really nice and friendly people who made us feel very welcome.
Willem
2016-07-05T00:00:00Z
Mariska en haar man zijn zeer gastvrij en doen je meteen thuis voelen! De b&b is gelegen in een mooie, rustige streek, zeer leuk voor een fiets- of wandelvakantie.
Siel
2016-07-24T00:00:00Z
I had a wedding nearby and found this place to stay during the night. The hosts were very friendly and welcoming. I had the chance to meet their 11 huskies and had an enjoyable talk over breakfast. If I needed a restful place to stay in this neighborhood for multiple days, I'd definitely choose this place again!
Bob
2016-10-16T00:00:00Z
It was very nice to stay in Mariska's house! First of all Mariska and her husband are great hosts! They are very kind and the house is very nice surrounded by nature. The room is nice and clean. Breakfast really very nice with first quality product and various. I strongly suggest to stay here
Alessandro
2016-08-29T00:00:00Z
De slaapkamer bevindt zich op de 2de verdieping. Op de slaaplamer is er een wastafel aanwezig. Douche en wc kun je bereiken via de gang van dezelfde verdieping. TV toestel staat op de gang. De bewoners zijn erg vriendelijk, gastvrij, houden rekening met specifieke wensen zoals dieet. De kamer en badkamer is erg proper. Erg rustige, landelijke omgeving op een boogscheut van Leuven, Mechelen, Brussel,... Het dierenpark plankendaal is op enkele km. Het bed is geschikt voor liefhebbers van een erg harde ondergrond. Ruime prive parking op het domein.
Jan
2016-02-19T00:00:00Z
We zijn heel tevreden van ons verblijf, de accommodatie, de eigenaars en hun vriendelijkheid.
Els
2017-04-02T00:00:00Z
Oda Tipi
Özel oda
---
Mekan Türü
Oda + Kahvaltı
---
Konaklayacak Kişi Sayısı
2
---
Yatak odaları
Boortmeerbeek, Vlaams Gewest, Belçika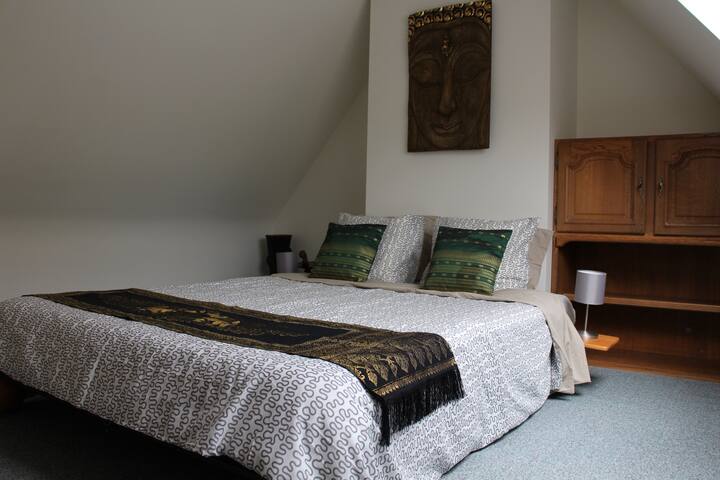 The place to be during Rock Werchter! Quiet neighbourhood near Werchter. We provide a full breakfast, a midnight snack and transport to Werchter! We will drop you off and pick you up in Werchter at the kiss and drive. No worries about parking in Werchter and no hassles with public transport. Parking in Wijgmaal is easy and free.
Cosy rooms with good bed and TV
We are located close to Werchter and Leuven, it is however a quiet area to have a good nights sleep.
Oda Tipi
Özel oda
---
Mekan Türü
Ev
---
Konaklayacak Kişi Sayısı
2
---
Yatak odaları
Leuven, Vlaanderen, Belçika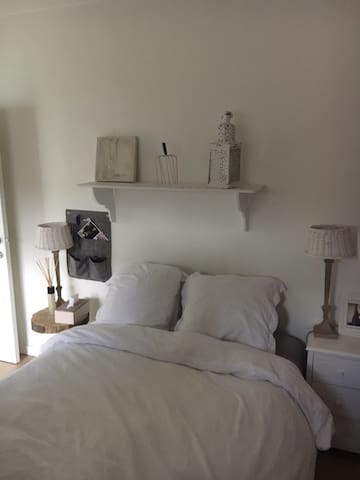 Aangename, cosy kamer gelegen in een groene landelijke omgeving. Vlakbij de mooie steden Mechelen, Leuven, Antwerpen, Brussel. Amper 15 min rijden van Brussel Airport. Er zijn talrijke mogelijkheden tot wandelen fietsen, golf, Je zal genieten van de rust, de prachtige tuin met ecologische zwemvijver. Mijn ruimte is geschikt voor stellen, solo-avonturiers en zakenreizigers.
Dit is een adres waar je je al heel snel thuis voelt en helemaal tot rust komt. Het mooi ingerichte huis, de groene omgeving en de mooie (en deugddoende) zwemvijver zijn hier weliswaar niet vreemd aan maar de gastvrijheid van Werner maakt het helemaal af. Bedankt voor een zeer geslaagd verblijf Werner, ons zie je nog terug!
Greta
2016-07-21T00:00:00Z
Werner is excellent host! He has a beautiful big house with a garden and a swimming pool. The house is very modern, with a stylish design! The shower was incredible. The house is located near to Brussels and Antwerp. Quiet area of town. Every morning Werner treated us to coffee. Werner was extremely generous, friendly and easy to get along with. Highly recommended.
Pavel
2016-07-25T00:00:00Z
Wow! What a beautiful place to stay. A lovely town, a spacious home with a large room and a friendly host. Very quiet and peaceful. Thank you Werner for your guidance in visiting the best tourist locations.
Mary
2016-08-09T00:00:00Z
We zijn enorm warm en gastvrij ontvangen door Werner. Zijn huis en de omgeving zijn prachtig en ons verblijf was zeer aangenaam door de relaxte en plezierige sfeer. De kamer is mooi en de bedden zijn prima. De badkamer is geweldig. Werner heeft ons uitstekend geadviseerd m.b.t. transport naar Werchter Classic waardoor we optimaal konden genieten van het festival. Ons korte verblijf was een mini-vakantie waar we zeer van genoten hebben.
Tamara
2016-07-10T00:00:00Z
Een mooi huis met een mooie kamer! Werner is erg behulpzaam en vriendelijk. De kamer was goed te combineren met het festival Rock Werchter. Een aanrader!
Mark
2016-07-04T00:00:00Z
Goede accommodatie, gastvrije gastheer, landelijk gelegen én dichtbij bij Brussel!
Maarten
2017-03-06T00:00:00Z
The host canceled this reservation the day before arrival. This is an automated posting.
Hanneke
2016-08-29T00:00:00Z
een plaats waar je je dadelijk thuis voelt, mooie ruime kamer
Johnny
2016-11-20T00:00:00Z
Oda Tipi
Özel oda
---
Mekan Türü
Ev
---
Konaklayacak Kişi Sayısı
2
---
Yatak odaları
Kampenhout, Vlaanderen, Belçika
My accommodation is close to triatlon of plas rotselaar Brabant. Located 11 km from Leuven; on the crossroads of cycle paths in Brabant, on the road beers, ...
Oda Tipi
Özel oda
---
Mekan Türü
Oda + Kahvaltı
---
Konaklayacak Kişi Sayısı
2
---
Yatak odaları
Rotselaar, Flanders, Belçika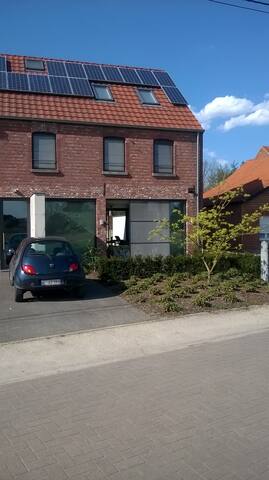 Dear friends and visitors of The Wannes Suite. We will move to another location some hundred metres from our current place. It will be more quiet, more spacious, more bright and most of all we will be able to offer 2 guestrooms. From April 1st 2017 we stop our activities in the old house and we will start refurbishments to adapt the new B&B to the quality standards that you are used to. We hope to welcome you again from August 2017.
The Wannes Suite got recently renovated with a unique mixture of warm wooden floors and furniture, a design bath tub, colourful abstract paintings and stained glass elements. It comprises the full first floor and has a small entrance hall, a sleeping room, a living room, a bathroom and a separated toilet. From the sleeping room you have access to the roof terrace. The hosts live in the same house but the suite and all facilities got completely separated. The best feedback we get for our breakfast: fresh bread, different kinds of cheese and meat, jam, eggs, fresh vegetables and fruit. The breakfast will be put at the entrance of the suite on the requested time. It is a very convenient place for 2 to 3 persons to spend some quality time in Leuven. A third person can sleep on a bed/coach in the living space. We get couples for a romantic weekend, friends to spend nice time in the many pubs, tourists to discover all corners of Belgium, professors and others to participate in the numerous seminars, youngsters to go to festivals, bike lovers discovering the beautiful Hageland region and businessmen working in Leuven, Heverlee or Haasrode. The suite is called Wannes after the painting in the sleeping room: it gives an abstract impression of the giant fisherman Wannes in Wenduine at the Belgian Coast. The Wannes Suite is an officially registered B&B, compliant with all regulations.
The B&B is located at 10 minutes walking distance from the station and city center of Leuven. It is situated in a developing neighborhood, where all facilities are nearby. Within 500 metres you will find sports infrastructure (a.o. a swimming pool) and at 1 km a very big recreation area in which you will find the nicest jogging trail in Flanders.
We had a fantastic stay with Magda in Leuven! The place was even nicer than expected: spacious, very clean, and it was like we had our own apartment. Everything was in good condition, and they have gone the extra mile to provide everything you would need (like a little refrigerator of our own). Magda was exceptionally personable, helpful, and accessible. Location was great, and a reasonable walk from the bus/train station and the center ring of Leuven. Bonus: the breakfast was exceptional!! We loved the place and space, location, and our experience with Magda. Fully recommend!
Katie
2015-06-24T00:00:00Z
Staying in the Wannes suite was a great experience. It's a very spacy room and more comfortable than a 4 star hotel (the ones that I visited so far:) ). The bath for example is big and there's a water cooker for tea. Magda and her husband were flexible, helpful and kind. Magda even cleaned our room when we were gone to the centre. And although it becomes kinda cliché; yes the breakfast is awesome. Best is to go to the city center by bike. We rented a tandem at the stations bike park which is fun:) We would recommend nature lovers to go cycling in the nature around Leuven!
Gerrit
2016-08-14T00:00:00Z
Nous n'avons malheureusement dormi qu'une seule nuit dans ce charmant endroit cosy... Apres une route fatigante, nous avons reçu un accueil très sympathique. Nous n'avons pas résisté à l'appel de la belle baignoire d'angle ;-) Nous avons ensuite pu déguster notre petite bouteille de Chardonnay bien fraiche (dénichée dans un magasin tout près de là) sur la terrasse, à la lueur des bougies... Vraiment rien à redire. Que du plaisir ! Nicolas et Amelie.
Nicolas
2014-05-21T00:00:00Z
I booked this room for a friend, cause we both stayed together in Leuven. Geert en Magda are excellent hosts. The room was big and offered a lot of comfort. The location is close and on walking distance to the beautiful center of Leuven. Leuven itself is more than worth a city trip. The breakfast in the morning was outstanding with even fresh strawberries and polish cottage cheese. Geert and Magda are kind people and i would highly recommend to stay at their place.
Hans
2014-06-30T00:00:00Z
Wat een perfecte plek voor een bezoekje aan de stad Leuven! Smaakvol ingerichte luxe kamer op een kwartiertje lopen van het historisch centrum. Magda en haar man doen er alles aan om het je zo goed mogelijk naar de zin te maken en over het ontbijt kan ik maar 1 ding zeggen: WAUW!! Echt het enige verbeterpuntje wat ik kan bedenken is een luxe probleem: wij zaten er op de heetste dagen sinds jaren, een parasol op het dakterras zou dan heel fijn zijn ;-)
Nancy
2015-07-05T00:00:00Z
We werden zeer goed ontvangen door Magda. De suite was echt volledig in orde en aangenaam. We kregen ook meteen uitleg over waar we gratis konden parkeren. Er was op de kamer erg veel informatie over de activiteiten in Leuven. Het ontbijt was geweldig.
Natacha
2016-08-08T00:00:00Z
Magda is a wonderful host always available to help and a very nice person to talk to. The room was realy big, very clean and pleasently arranged. Every morning I had an incredable breakfast waiting at my door. Madga lent me a bicycle and I could make a tour arround Leuven in a quick and pleasant way. The house is in a nice location near the train station that can get you in less then 20min to Brussels. Loved Leuven and had a very nice time there. Big thank's to Magda and her husband. Highly recommend.
Monica
2014-05-11T00:00:00Z
Wir hatten einen tollen Aufenthalt. Magda und ihr Mann waren sehr freundlich und hilfsbereit. Das Zimmer war genau wie beschrieben und sehr sauber. Das Frühstück war reichhaltig und lecker. Weg zur Innenstadt war nicht zu weit. Also sehr empfehlenswert.
Svenja
2017-03-05T00:00:00Z
Oda Tipi
Özel oda
---
Mekan Türü
Oda + Kahvaltı
---
Konaklayacak Kişi Sayısı
3
---
Yatak odaları
Leuven, Vlaams Brabant, Belçika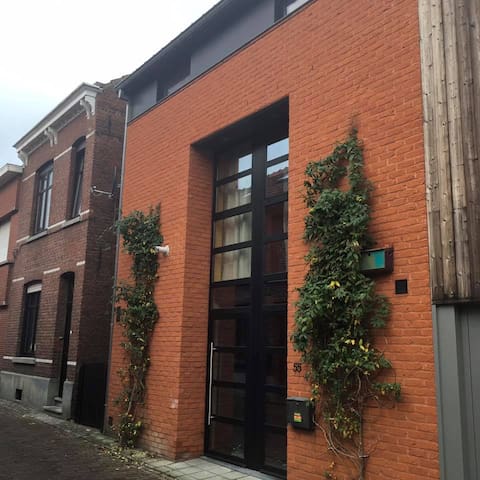 Mijn ruimte is geschikt voor stellen, solo-avonturiers en zakelijke reizigers. Er is een kinderbedje beschikbaar tem. 2 jaar.
De kamer is héél licht. Verduisteren is mogelijk. Knus ingericht. Opbergmogelijkheden. Privébadkamer ter beschikking .
Jaarlijks ROCK WERCHTER 10km hier vandaan. Met de fiets goed bereikbaar. Dicht bij Mechelen, Leuven en Lier. Wekelijkse zondagmorgen Heist markt . Rommelmarkt, brocante, voeding, kleine dieren. Leuke terrasjes.
Oda Tipi
Özel oda
---
Mekan Türü
Villa
---
Konaklayacak Kişi Sayısı
2
---
Yatak odaları
Heist-op-den-Berg, Vlaanderen, Belçika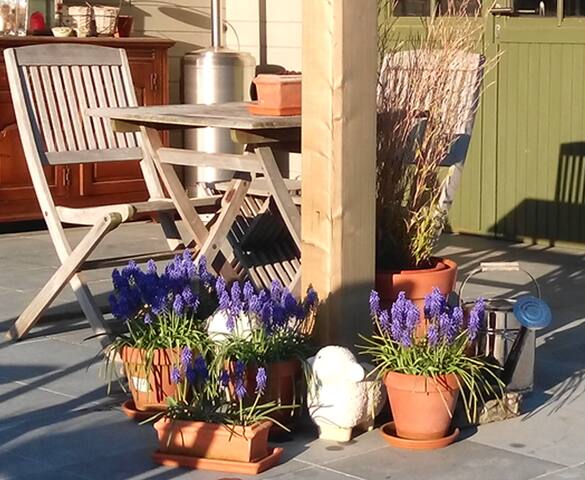 DUE TO RECONSTRUCTIONS OUR HOUSE WILL NOT BE AVAILABLE FROM JANUARY - HALF OF MARCH 2017!!! I WILL KEEP YOU INFORMED WITH NEW PICTURES (as soon as possible)!!! Comfortable house for 6 at just 9km of the historical centre of Leuven, situated in the green countryside! Nearby Brussels, Mechelen, Hasselt, and other cities in Belgium. Children will sure love the place: we offer all kinds of toys, bicycles and a a big garden with lovely goats!
Our house counts 3 floors, all very spacious, comfortable and efficiently organised. Five/six persons would be perfect to fit in the house. The groundfloor offers a tv room with a big couch, dining room with table for 8 and kitchen with all the utilities and electronic appliences you 'll need. There is a seperate playroom for the kids (with lots of toys/books, ...), toilet and laundry room (with washing machine and drying tumble). On the upper floor you find a modern bathroom (with Italian shower, bath and toilet) and the two bedrooms: 1 master bedroom (kingsize bed 180x200) and 1 room with a double bed (140x200). The attic has 2 bedrooms, each with a single bed (90x200) and a sofa bed. Each room has its own sink. The attic also has a toilet. The garden is huge and surrounded by public nature area. We have 2 goats, who would love to have some children around them to feed! Keep in mind that we only 30 km from our national airport, which is sure an advantage. It is possible that on some days (especially during high summer season) airplanes fly over, on their way to one of the landing routes on Brussels airport. (Feel free to get in touch if you need more information about this).
Nice places to visit easily by bicycle are one of the world's most famous festivals: Rock Werchter. 'De Meander' (a nice lake) where you can go for a walk or a swim) and the hoistorical center of Leuven (about 9km away); easy to reach by bike (35min drive) or by car (10-15 min drive). We have for you 3 adult's bicycles (two of them have a child's seat) and 2 children's bikes (4 - 9yrs). As Leuven is a centrally located city in Belgium, it will just take you half an hour to go to Brussels, and 1,5 hour to the coast side. In between you may not forget to visit Ghent, Bruges (must see) and Antwerp.
The best host ever! She made me feel so welcomed. Her beautiful home is such a "must visit", accessible, modern, cosy, family friendly, spacious, and so seren! It felt like I was in a five star hotel. There is more beauty experienced in the property than what you see in the pictures. I loved feeding the goats, chicken and the cat! Tired of city like me, well this is the best hideout! The local town is very accessible and pretty. It's exactly 30 minutes drive to Brussels. The surrounding is rich with natural space for children to play, for walking and cycling. Would I visit the property again, certainly yes! With the hosts' permission, I plan to visit their home again and again.
Harreld
2016-03-13T00:00:00Z
The Freya's house is wonderfull and very well decorated. We spent really good time in feeding their animals (1 cat, 2 goats and 1 pony "Jeff"). Our children really enjoyed to play with all the toys available in the different rooms. The main issue we faced was linked to the fact that the house is exactly located on the landing aerian way of the Zaventem airport (Brussels) what makes the house very noisy early in the morning and late in the evening.
Johan
2016-08-13T00:00:00Z
Freya was an amazing host and did everything possible to make our stay comfortable. On arrival there was an Easter egg hunt for the kids and different kids activities as it was due to be a wet week. The kids absolutely loved the house and the goats. The house itself is very comfortable and Leuven is a lovely town. We'd really recommend this place to stay.
Emma
2016-04-01T00:00:00Z
We so enjoyed our stay at Freya's family's home! We arrived a little later than expected and she had arranged for us to pick up the keys from her neighbors. Freya has everything detailed and organized for her visitors and everything is very specifically laid out and prepared!! There are really no questions or concerns that anyone would have at all! Freya took the time to specifically prepare for us and arrange for all of our needs AND wants! :-) She left us a lovely gift of chocolates and other treats! I had asked for her children to draw a picture for me and they did a beautiful job! We hope to visit Belgium again in the future and look forward to seeing them sometime!!
Deborah
2016-08-02T00:00:00Z
Oda Tipi
Tüm ev/daire
---
Mekan Türü
Ev
---
Konaklayacak Kişi Sayısı
5
---
Yatak odaları
Leuven, Vlaams Brabant, Belçika
Een warme en charmante plaats voor mensen van alle leeftijden, rassen en achtergronden en met een UNIEKE VERBLIJFSRUIMTE : een PIPPOWAGEN!!! (zie foto's)
gelegen langs het kanaal Mechelen-Leuven kort bij centrum Mechelen en winkels rustig en landelijk ideale overnachtingsplaats voor fietsers (fietsen-stalling) , trekkers en stappers max. 4 personen (2 dubbele bedden 200x145 cm) Senseo en thee voorzien, zelf voor ontbijt zorgen
landelijk, uitsluitend vrijstaande woningen stedelijk zwembad Mechelen op 200m provinciaal domein BLOSO op 1 km (wandelen, fietsen of mountainbiken, zwemmen, ...)
Oda Tipi
Müşterek oda
---
Mekan Türü
Kulübe
---
Konaklayacak Kişi Sayısı
4
---
Yatak odaları
Zemst, Vlaanderen, Belçika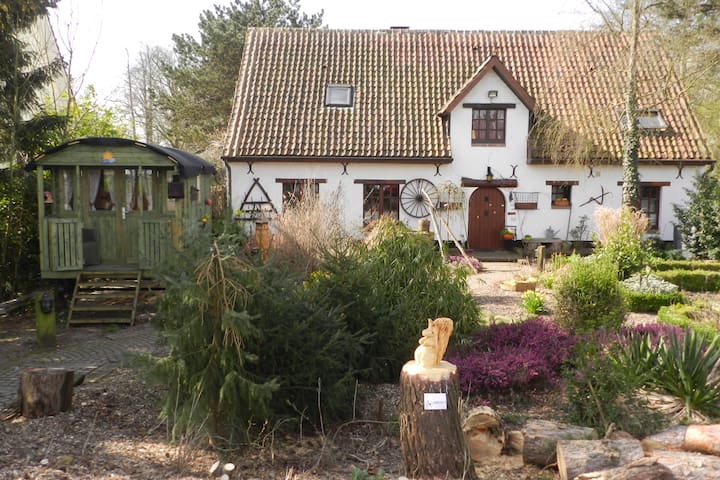 Studio 40 square meters with two kept open rooms with fresh linens. A little kitchen supplies. On demand devices. Private entrance via stabilized ladder. Building creative ecological style. Solar, wood and heating cogeneration and shower. Autonomous power, food and water. Recycle Technology of water on site. Space on the vegetable field for relaxation or campfire. Two bicycles to use to explore the beautiful surroundings from the Demer Dijk.
Quiet with many well-insulated windows and cozy wooden interior. I only space where it can meet your needs.
The neighborhood advantage is that it is located on a unique European bird habitat. The downside is that the rest area does not look nice at all levels.
Oda Tipi
Özel oda
---
Mekan Türü
Daire
---
Konaklayacak Kişi Sayısı
4
---
Yatak odaları
Rotselaar, Vlaanderen, Belçika
Our space is in the middle of nature just outside the busy university town of Leuven. It has free and safe parking facilities and is close to a lake (surfing, jogging,fishing) with a beach. Resto's at a few miles. Located on Rock Werchter biking route. You will enjoy the beauty of nature, clean air and walking routes . The place is suited for couples, adult students , business travellers and small families. ENG/FR/DUTCH
Light spacious and modern from within.
Op fietsroute Rock Werchter. Rustig . Jogging rond meer en zwemmen aan het nette strand van Rotselaar. On middellijk in de rust van de natuur. Op wandelafstand van de wei van Werchter ( Rockconcerten)
Oda Tipi
Özel oda
---
Mekan Türü
Ev
---
Konaklayacak Kişi Sayısı
4
---
Yatak odaları
Leuven, Vlaanderen, Belçika