Welcome to our home. If your looking for clean comfortable accommodations without the frills and reasonably priced this should work for you. 10% discount for stays over two nights.
You get a clean neat room with a king bed and a separate private bath. An extra bedroom with a queen bed is available on request for $40 extra charge per night payable on arrival . Note, only 2 people per room. Bath is shared between rooms 1 & 2.
We are located in your average middle class neighborhood on a dead end street in-town Kona.
Great room and private bath. Love the view and extra help finding good spots to visit. Very secure and quiet neighborhood, easy to find and close to everything.
Jay and Dee
2017-02-22T00:00:00Z
Nice relaxing home in a residential neighborhood. Beautiful views from the deck overlooking the ocean. Wonderful bedroom and bath. Great hosts. Would definitely recommend.
Kathleen
2017-02-11T00:00:00Z
Great place; everyone agrees. Clean and friendly and close to everything. Awesome view.
Al
2017-01-18T00:00:00Z
狗狗很可爱。房间干净整洁宽敞,房东非常热情,交通方便,离机场很近,周围有很多海滩和餐厅。
Vesper
2017-03-18T00:00:00Z
We were so grateful for our stay at Eric's place in Kona. We had a long drive back that day and a very early flight out of Kona the next morning. Eric's place was ready early for us, clean, beautiful view of the sunset and a quick 20 mins to the airport the following morning.
Jaclyn
2017-03-03T00:00:00Z
Awesome place and good value!
Stephen
2017-03-23T00:00:00Z
Your home is very cozy, and the host is so nice, my buddy said it's the best stay in this whole trip!!! Thank you!!!
zhayun
2017-01-31T00:00:00Z
This is a wonderful place to stay. The room is well furnished and has everything you need to be comfortable. Diane is a wonderful hostess. She treated us to great coffee and conversations. The house is tastefully decorated. The view from the terrace is breathtaking. If we come back to Kona, we'll definitely try to stay at Eric's and Diane's home again. Thank you so much for your hospitality
Yury
2017-01-28T00:00:00Z
Oda Tipi
Özel oda
---
Mekan Türü
Ev
---
Konaklayacak Kişi Sayısı
2
---
Yatak odaları
Kailua-Kona, Hawai, ABD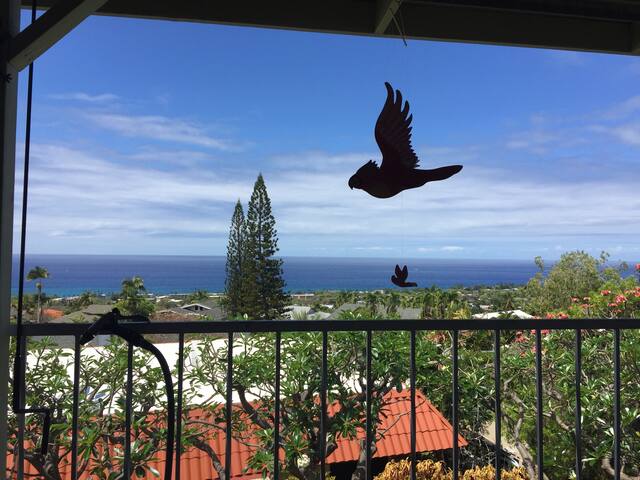 This welcoming bedroom has everything you'll need for a comfortable stay, including a queen-sized bed, air conditioning for a restful sleep, cable TV, and a large closet to store your suitcases and hang your clothes. 2 miles from the charming Kailua Kona waterfront village and the best restaurants, shops.
.
Kawena Street is quiet, safe and centrally located in Kona, 9 miles from the airport and 2 to 3 miles from most of Kona's stores and restaurants.
Very hospitable and friendly host! The house is quite clean and quiet. Just enjoyed a home-like one night stay. However it's a little bit hard to find the location. It might be helpful to use a guide-board around the cross-road.
GUIHUA
2016-09-30T00:00:00Z
The bedroom was clean with a nice welcome box of water and some treats. Charlie and Joanne made us feel very welcome. We enjoyed our time there. It was nice to share some stories and have a chat in the living room. I Am sure anyone who stayed would enjoy their company and the accommodation. Thanks for everything.
Nick
2016-11-19T00:00:00Z
Awesome place,extremely hospitable!
Mitchell
2016-08-14T00:00:00Z
Charlie and Joanne were the sweetest hosts! You can tell that all they genuinely want is for you to feel welcome and have the best time during your stay. The house was beautiful and the bed was the most comfortable I've slept on in the last year (which includes many hotels). They provided snorkeling gears and a boogie board whenever needed! The house is located on a beautiful hill overlooking Kona along Alii' Drive and the beach. The main area is approximately 6 minutes away driving. I would definitely come back and stay here when I return
Kaz
2015-12-04T00:00:00Z
Great place, great hosts, I would highly recommend Charlie & Joanne's place!
Alice
2016-07-30T00:00:00Z
This was a great experience. The room was exceedingly comfortable, Charlie and Jo were attentive and generous with their time and resources, giving us lots of tips. They are a lovely couple, and a joy to meet!
Alex
2016-03-31T00:00:00Z
We arrived late but Charlie and Joanne welcomed us very friendly. The room and bath was very clean and everything was perfect. Some snacks and coffee in the morning. We would definitely stay again.
Martin
2016-10-28T00:00:00Z
Charlie is a very welcoming host. The house is cozy, tidy and spacious. There are two bedrooms for guests and a shared bathroom. The bed is super comfortable. Central and private air conditioning. Convenient location not far from Kona and main supermarkets. 10 min ride from/to the airport. We recommend this place for a short and long stay.
Dimitri
2016-03-17T00:00:00Z
Oda Tipi
Özel oda
---
Mekan Türü
Ev
---
Konaklayacak Kişi Sayısı
2
---
Yatak odaları
Kailua-Kona, Hawai, ABD
Aloha, welcome to Hale Walua! Our home is located 5 minutes from Magic Sands Beach at a cool 1100 ft. elevation. You'll have a private entrance, comfy Queen bed, kitchenette/TV room with wifi and full bath. Everything you need during your visit to Big Island.
Enjoy this fully furnished, 3 room suite with over 500 sq feet of living space. The bedroom has a really comfortable Queen bed as well as a sitting area for checking out area excursions. The kitchenette has a sink, fridge, small oven, hot plate, French press coffee maker, hot water jug, and lots of serving pieces. There's a table and chairs for dining in and several outside dining areas too. A 3-burner gas grill is available for cooking up the day's catch while enjoying sunset with cold drinks. There's a cozy love seat for watching Apple TV or curling up with a great book after a big day exploring Big Island. Yes, we have wifi. The bathroom has a really pretty Italian glass waterfall sink, a big deep steeping tub and a Travertine shower.
Walua Road is a popular walking/biking trail with sweeping ocean views. It's an easy paved grade, and blocked to vehicular traffic in several areas. There's an abundance of old trees, tropical flowers, coffee and mac nut farms and friendly people. The Donkey Mill Art Center is only a 1/2 mile away and they offer lots of wonderful classes in painting, printmaking, ceramics, and much more. They also host movie nights, visiting artist talks, exhibition openings and other fun events for the creative community.
The surroundings and decoration inside simply amazed me the time we arrived. The lovely art-filled house is no worse than a 5 star hotel, which is much more beautiful than the pictures they displayed. Almost everything needed for beach is already prepared carefully.
Yiya
2016-12-31T00:00:00Z
Kate and Will are very nice couple! I believe they put a lot of thoughts on the house. The house is comfortable and beautiful. The location is also very good!
yun
2016-02-15T00:00:00Z
Great place that is very well equipped with kitchen stuff, boogie boards, beach chairs etc. Room was super clean and the hosts extremely helpful and extremely friendly. Would stay there any time again!
Thorsten
2016-01-24T00:00:00Z
Wonderful little spot of paradise! Very welcoming hosts (and dogs!) with lots of great local tips. Ohana was very cute, close to scuba, snorkeling, historic Kona sites. Comfy bed! Lovely neighborhood with gorgeous foliage and views of the ocean. Thanks for a great stay, Will & Kate!
Sarah
2016-03-29T00:00:00Z
What a great way to spend our week on the Big Island, this place was a home away from home. Ideal location, peaceful, and beautiful. Kate and Will were gracious hosts, had refreshments and snacks upon our arrival and made sure we were comfortable. This was a wonderful experience!
Tina
2016-06-09T00:00:00Z
Kate and Will were lovely hosts and we had a fantastic time staying with them. The property is well located on a quiet street that's centrally located for west coast activities. Kate and Will provided great advice about local attractions and were very friendly and good to talk to. They also provided lots of beach accessories including chairs, snorkels and beach towels. The property is generously sized for two people; it's actually half a house with a bedroom, bathroom sitting room/kitchenette and private entrance. It is beautifully and tastefully appointed - loved the leaf basin! A wall is shared with the hosts, but there were no noise issues. Although not air conditioned, the fan provided was very good for ensuring a good night's sleep. Thanks Kate and Will for being amazing hosts!
Keirnan
2015-09-12T00:00:00Z
We had a wonderful stay at Kate and Will's place! We highly recommend a trip to Kona and their beautiful home.
Joanna
2017-03-22T00:00:00Z
Will and Kate were friendly, welcoming, and gracious hosts. They provided festive treats for our stay over New Year's Eve and to get us through the next morning. The place is private, homey, and clean. Moreover, it is in a fabulous location, close to beaches, kona restaurants, and even a walmart. The hosts are accessible when needed, but they gave us plenty of privacy. They provided everything we needed for the beach, including towels, mats, and chairs. I can't say enough good about this airbnb stay.
Neesha
2017-01-05T00:00:00Z
Oda Tipi
Tüm ev/daire
---
Mekan Türü
Ev
---
Konaklayacak Kişi Sayısı
2
---
Yatak odaları
Kailua-Kona, Hawai, ABD
Our guest room is airy, cute, and clean. You are in a lush, quaint private lane of bungalows that are a 5 minute walk from a lovely hidden beach & 10 minutes drive to the cafes and shops of town. We love having guests in our home and look forward to meeting you!
Welcome to our cute beach bungalow- close to beaches, the town center, airport and the cafes & shops on famous Ali'i Dr. It's located in a private lane that is beautiful, quiet and safe. Your room is one of three in our two-story house just off of Ali'i Dr. It's located upstairs, next to the guest bathroom and our other bedrooms. It's uncluttered, clean and comfortable, with carpeting. Big windows make for some cool breezes at night. There is parking right outside the house. We have two guest spots, one in the covered driveway and one right next to it (uncovered). Depending on availability, you may park in either one. We also rent out another bedroom, so the bathroom will be shared with another guest.
We live on a private gated lane that is peaceful and serene. It is right off Ali'i Dr., which is the perfect place to jog, stroll, catch a sunset, grab a meal, or shop. In under 10 minutes, you can walk to a lovely hidden little beach, an awesome local spot called Da Poke Shack, and a Ali'i Gardens Marketplace for souvenirs, food, and fresh local produce. The center of town with the farmer's market, supermarkets, stores, restaurants, post office, banks, and all is just a 10 minute drive away.
Anya & Shirish's place was great. They provided detailed directions and offered a clean, inviting place to stay. I would definitely recommend them!
Kendal
2017-03-17T00:00:00Z
The energy in the space felt chaotic. One of the young children had a screaming meltdown the night we arrived as she resisted bedtime. One of the young children awoke at 5:30AM screaming/crying. The guest room to which we were assigned was directly across the hall from the young children's bedroom, which was also shared by both of the parents. Another couple were guests down the hall from us, and the eight of us shared a common bathroom. Our bedroom was situated about 50 yards from a busy street where cars were dense, dropping off children at the nearby school. When we checked in we were shown the kitchen area which we were told we had access to and could use. The sink was full of dirty dinner dishes. Our first morning there, the dirty dishes remained in the kitchen sink, rendering it unusable. Communication from the hosts was initiated after the request was approved. They chose to send us a PDF of instructions and directions to their place via email. When I responded via email, I did not hear back from the hosts for several days and when I did I was told that my response landed in the spam folder. The directions that the hosts provided to their house were confusing. Beyond the initial communication, the remaining communications were clear and helpful. Overall, I would not recommend staying with these hosts, at least until their children, both under the age of five, are older.
Marc
2017-02-23T00:00:00Z
Shirish was very kind and welcoming upon our arrival. We didn't get to meet Anya because our stay was very short. We just stayed one night and hung out in the room and watched movies. It was very relaxing. The bedroom that we were in and bathroom were immaculate. Our room didn't have air conditioning, but it still wasn't horrible. It was a short walk to the beach and a short walk even to get down into Kona and the shops. I would recommend this to anybody who wanted a place near Alii drive in Kona.
Rhonda
2017-03-16T00:00:00Z
I came in late and left early and Anya & Shirish were very accommodating and the place was clean and I give them the thumbs up.
Steffen
2017-03-28T00:00:00Z
This was my first Airbnb experience, and it was very good. Only reason I took a point off was that the bed was harder than my wife and I like. We both like a very soft bed though. Anya was very warm and welcoming, and her communication and directions to her house was spot on.
Joshua
2016-12-29T00:00:00Z
I have stayed at a couple of other places in the area when this has not been available. This is my favorite!
Kevin
2016-12-21T00:00:00Z
Lovely house and lovely host's family. Everything was perfect. And I also made good memories that I did not expect with their lovely babies. I hope to visit again in the future.
Hyungi
2016-12-20T00:00:00Z
Loved the place! Great location, went to the beach close by for many sunsets. Anya and family were very nice and friendly. Room got warm when the sun came up but cooled off nicely each evening! Loved waking to the sound of the birds!! Room and bathroom were nice and clean. thank you for a wonderful stay!
Janette
2017-01-23T00:00:00Z
Oda Tipi
Özel oda
---
Mekan Türü
Ev
---
Konaklayacak Kişi Sayısı
2
---
Yatak odaları
Kailua-Kona, Hawai, ABD
Aloha Our home is a spacious 5 bedroom house. We offer you a private room and bath and the shared use of the entire home for a minimum of 2 nights and up to 3 weeks. We are a 5 minute walk away from the ocean and located just a couple miles south of Kailua Town Central, a joyful bike ride away along the ocean- We are child and animal friendly., 3 cats... Our home has a big wrap around Lanai with beautiful sunset/ocean view. Your bedroom is small but you get full use of entire home. There is a Trolley (open bus) going in and out of town frequently from the bottom of our street. As for us: Me, Todd (56) I am a realtor and man of all trades. I live in this house with my son Zac, 8y and our two Roommates Brad and Elizabeth, landscaper and Student of Life . We are a fine little OHANA (extended Family) who has loved the many smiles on our guests faces :) Aloha nui loa!
Older established neighborhood with "usually" quite streets.
Todd was a very nice host. I had difficulties finding the house in the dark and he came down the street to pick me up. THe room was quiet and nice. There were a lot of travel guides on shelf for me to use. The best one I can recommend to all other travellers is Big Island revealved it is so accurat and gives honest tips. I stayed for 3 nights and really enjoyed it. You should have a car in order to get around and get down to Kona waterfront as it is about 2.5 miles away. One thing I should have done better: as the vulcano national part is nearly 100 miles (2.5 hours drive) away, I should have booked one additional night close to the vulcano national park in order to be ables to spent there a full day - just as ip for others. So, thank to Todd for the nice stay and the nice view from his Patio.
Joern
2016-05-19T00:00:00Z
We stay only for one night in sunny hawaii-kona. Its perfect for traveling in big island. The place is quiet and clean.
Nicole
2013-11-14T00:00:00Z
Friendly hosts and a very relaxed house. The room was clean and comfortable. Bummed I didn't have time to use the hot tub!
Dave
2014-04-04T00:00:00Z
Todd and his roommates were very friendly and welcoming. The location is very convenient for activities in Kona. And my favorite part was waking up in the singing of the birds
Yingting
2015-12-25T00:00:00Z
It qas very nice to be guests at Todd's home. Our room was small but we had everything what we needed. Todd and his friends were very helpful so we can recommend his private room for anyone who is interested in meeting the locals.
Fred
2014-10-27T00:00:00Z
Great experience! Todd was super welcoming and there to meet us when we arrived, even though we were late. Our stay was short but comfortable and I'd stay again for sure. He even helped accommodate us when his house was full and we were looking for other options. Meeting Todd was a wonderful introduction to the Big Island!
angela
2015-10-15T00:00:00Z
Welcoming, helpful and generous. This is a great place to stay just down the road from the touristy center of Kona. I started my Hawaii trip here and I'm glad I did. Comfortable bed in a private room. Amazing sunset and ocean view from the lanai. It's a great set up with great hosts.
Jeff
2015-08-07T00:00:00Z
Really liked staying in that shared house. Very nice people living there. Got lots of great tips what to see.
Christoph
2015-09-21T00:00:00Z
Oda Tipi
Özel oda
---
Mekan Türü
Ev
---
Konaklayacak Kişi Sayısı
2
---
Yatak odaları
Kailua-Kona, Hawai, ABD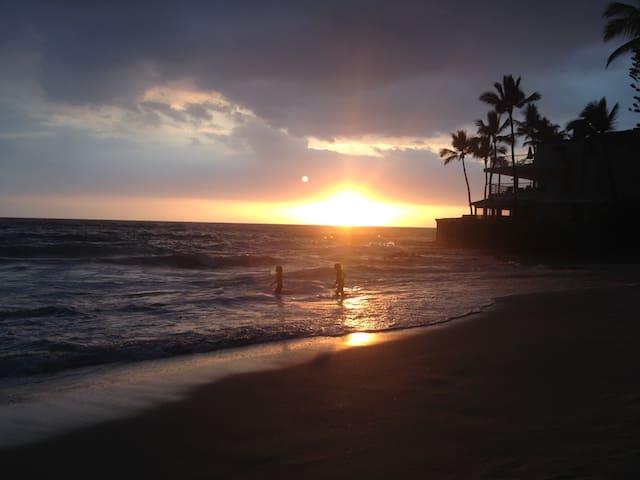 This is a plantation style house three blocks from pier and swimming with dolphins. Private bedroom & bath in quite cool setting laundry BBQ microwave refrigerator no/ac. Large tropical yard with outside shower Enjoy The Big Island like the locals from this unique setting. This is living local Hawaii
Being this close to town in a residential area and no coqui frogs
We know all the neighbors and keep an eye out for each other it makes it truly Ohana and the safest place I've ever lived
Marc and his wife Penny were great hosts. Communication was great and they provided us with good advice and even got us a discount with a tour group. Their place is clean and comfortable just as the pictures show. They let us use the washing machine and dryer which was really handy. The location is very convenient, close to shops and food, and not far from the airport. He had snorkel gear which he lent us free of charge. Penny was even kind enough to offer us a taste of the Popsicles that they sell at the farmers market. If staying in Kona for a few days I would highly recommend you stay with Marc and Penny.
Carolyn
2016-08-05T00:00:00Z
Great host, great communication, great location. We stayed at a very clean room and it's 5-10 mins walk away from Downtown Kona. We checked in after dark, but Marc came out immediately when we pulled our car so it was easy to find the place and settle in. Thank you!
Mika
2017-03-01T00:00:00Z
Very good! Marc and his wife are very nice, give very good recommendations for activities, and help you with all your needs. The room and bathroom are very clean and well equipped with access to the garden. Outside you have a small fridge, microwave and other kitchen stuff. They are very flexible with my check-in and check-out and if I will come back to Kona, I will stay there again.
Daniela
2016-01-15T00:00:00Z
Wir hatten eine tolle Zeit bei Marc und Penny. Wir können diese Unterkunft zu 100 % weiterempfehlen. Einmal hat er uns sogar mit seinen 2 Stand up Paddles zum Beach gefahren und wieder abgeholt :)
Sabrina
2016-08-18T00:00:00Z
Marc is an incredible host! He knows the area intimately and makes the best popsicles in the world.
Markus
2016-08-21T00:00:00Z
Had a great time staying at Marc's place! Marc was great to communicate with in the lead up to the stay, and was very flexible by letting us check in a bit early as the previous people had left early. We got a great welcome and a fruit lolly pop to cool down with. The space itself is exactly what AirBnB is about - a cool breezy room under the main house which was great for our needs and had a nice big clean bathroom. Although there is no air con we found being able to open the patio door to the garden, along with the powerful fan to be absolutely fine in combatting the Hawaiian heat. Best of all Marc had all the stuff we could possibly need to make the most of our stay - snorkels and fins, boogie boards and he even dropped us to the sea to go stand up paddle boarding with dolphins - fantastic and a real highlight. We would thoroughly recommend Marc's place!
Candice
2016-04-05T00:00:00Z
Staying with Marc and his wife has been an amazing experience! They are amazing host!! Literally respond in 5second the room has everything you need including an outdoor shower and kitchen really cool if you ask me!! Marc knows the island inside out and can help you with anything! Just ask :) he even let us take out the paddle boards so we could see the Dolphins. They are so close to the ocean it's amazing. We loved our stay they made it just one heck of a good experience!
Ladina
2016-03-17T00:00:00Z
Thank you! Marc and Penny are very thoughtful hosts and they maintain a quiet, spotlessly-clean guest ohana. Marc stayed up late to welcome me and had a cup of fresh, hot coffee for me in the morning. The room was perfect, convenient, and well appointed. My wife and I were Airbnb hosts for many years, so I have both a good understanding and high expectations, and I was totally happy and grateful. 100% recommendation. I will be back to stay with Marc & Penny when I'm in Kona. Peace, Love, & Music. djh
David
2015-12-03T00:00:00Z
Oda Tipi
Özel oda
---
Mekan Türü
Ev
---
Konaklayacak Kişi Sayısı
2
---
Yatak odaları
Kailua-Kona, Hawai, ABD
WALK TO THE BEACH FROM YOUR HOUSE. Conveniently sandwiched between the popular Magic Sands Beach and Kahaluu Snorkel Beach - just a few miles from Kailua Kona town. Outdoor shower included tucked inside your private garden area. Very quiet and safe cul de sac. Imagine coming to Hawaii and and having this gem to come back to each night and call your own! Relax on your choice of two lanai areas both equipped with table and chairs. Cook inside or take advantage of your own BBQ area. All Tax Inc
We have an amazing outdoor shower connected to your bathroom as well as our beautiful tiled indoor shower. One of the many features that sets our beautiful hale apart from the others. Come stay with us - if you're in vacation mode or wanna explore EVERyTHING this island has to offer mode! - this is your private retreat to come back to.
Its small and friendly! Placed in a cul de sac of only 5 homes you will usually get smiles and waves when you walk around.
Great location within walking distance to the beach. Dana was a very hospitable host and made sure we were comfortable. Thank you Dana :)
Teresa
2017-02-19T00:00:00Z
Such a nice studio apartment with two lanais and a very private outdoor area all for our own. Plus a private outdoor shower that we used every day sometimes looking up at a full moon. We loved the quiet and sound of the birds. Everything is good quality, new and the bed super comfortable. Kitchenette totally functional for those who make their own meals. Dana welcomed us with a 'starter' pineapple that helped with our daily smoothie regime. She has mango trees and lilipois (passion fruit) on the property and shares little treats from time to time. Dana is a great host who goes out of her way to help with all questions. We found the location is perfect. We prepared our fresh guacamole and drove down the hill to one of the beach parks to enjoy the sunsets. Early morning snorkeling is also very convenient--do it to avoid the crowds and you won't be disappointed. Check out the Sat am farmer's market at the shopping center. Very high quality products and ideas for gifts. This is a REAL farmer's market with music and a great atmosphere. The Wednesday afternoon market at K-Mart is also good. Cute, local markets...For turtles try the beach near the marina( we were lucky enough to see a monk seal one day as we walked to the end of the beach)--Dana can tell you where. We saw loads and loads of turtles and the bay is perfect for swimming. Sunsets are awesome, too. Drive up the coast beyond Hawi (stop here for cute shops and cafes)and do the hike into the valley (check out the fruit stand in a field before you get to the end of the road--it's the one with the mules!). Again, Dana has loads of insiders tips and best kept secrets to delight everyone. Come back in the evening to her lovely, quiet home and be welcomed by your own friendly family dog--at least your family dog while you stay at Dana's!! She even gave me tips on where to go for my hair!! By the way, buy some fish and use her huge grill in your private garden or head on down to the Poke Shack for some amazing selections. Hit the market for exotic fruits. Try the small beach opposite Poinciana. Just ask and don't be shy...Dana's been living here for a long time and she can fill you in. Many thanks, we'll be back!
Werner
2017-02-12T00:00:00Z
Dana's hale was absolutely amazing! We had everything we could have possibly needed for our stay, and the pictures do not do proper justice when it comes to showing how beautiful the apartment was. Definitely use the Hawai'i Revealed Guidebook, in a mere 3 days we made our way twice around the island and had countless adventures along the way. We kayaked across Kealakekua Bay to the Captain Cook monument and snorkeled the reef through Kona Boys, then headed down to Two Step for more snorkeling. We drove down to South Point and cliff dove from the old boat hoists, and visited the southernmost bar in the USA. We chartered a ride for a nominal fee to the Green Sand Beach (we were driven by a 10 year old). Then we drove to Volcano National Park and witnessed amazing activity in the Kilauea Crater. From there we drove to the End of the Road at Chain of Craters Road and hiked out to the active lava flow. We went in the evening and had the lookout to ourselves for over an hour. Truly a humbling experience. The next day we hung out at the local beach before heading to Hilo and partying at the End of the Road at Uncle Rob's Night Market. Don't underestimate how much you can do in a short time, and when in doubt, grab the guidebook and hop into the car!
Bence
2017-01-05T00:00:00Z
Beautiful studio in a lush setting. Great location- can walk to two beaches. Parking was easy and appreciated the beach gear to borrow. Dana and her puppy Keola were friendly and we appreciated the recommendations Dana gave us. Perfect host- accessible and helpful but gave us space. Mahalo Dana!
Emily
2017-01-25T00:00:00Z
Dana's home is very nice! The community is quiet and beautiful. There are even snorkeling and some swimming equipments, which is very nice. Dana is very kind to answer all the questions I have. Almost the best airbnb I have ever had.
Very
2017-01-08T00:00:00Z
my stay at Dana's was a very fantastic experience. her place is in a safe and otherwise fantastic location; downtown, beachfront kona to the north and captain cook a bit south. her home was inpeccably clean, the space was private, yet she was incredibly attentive and available if ever you need. she's thought of everything to help to make your hawaiian experience memorable, incl. a binder with advice about local attractions, boogie boards, snorkel equipment, beach chairs, cooler. What a fantastic experience and host. Mahalo, Dana!
Rob
2016-07-27T00:00:00Z
We love our stay at Dana, and everything is perfect. So impressed by her effort in every aspect.
David
2016-10-23T00:00:00Z
Dana's place was immaculately clean, a cosy beach house feel, quiet and private but also luxurious- a private balcony and a shaded terrace with beautiful garden all in a residential cul de sac about 45 seconds drive from Magic Sands beach and 2 mins drive from another black sand beach/snorkeling/surf spot. This was a welcome and ideal oasis and basecamp for our visit to the west coast of Big Island. It is less than ten minutes to Kailua village and shops/restaurants. There was even a designated guest parking space on the street and Dana's house has a lovely big tree in her front garden. Lovely touches in the place such as decor, private outdoor shower, spotless surfaces, good basic kitchen with all required, bird seed for the bird feeder and even papayas upon arrival! Towels, toilet paper, beach stuff (snorkeling gear, boogie boards, coolers, deckchairs - 5 star supplies). Waking up to bird song, seeing lizards in the leafy private garden, baby could explore easily, great sleeps in a comfy bed, a brand new barbecue we didn't use (no time). Everything was as described but was even better than expected. On top of all that Dana was a very personable, warm and friendly host who was really helpful and supportive - she helped arrange a babysitter one night for example, but was also generally available, and we had plenty of nice chats about life, babies, things to do, living in Hawaii etc. It was obvious she really cared about our experience and she has put thought and effort into creating a homely welcome and chilled feel in her listing. Our stay was great value for money considering all the above and we heartily recommend her place to other guests - provided those guests come with aloha and are respectful of a quality experience. All the best with the b and b Dana! Mahalo for our stay Alex, Simon and Naia
Alexandra
2016-09-22T00:00:00Z
Oda Tipi
Tüm ev/daire
---
Mekan Türü
Ev
---
Konaklayacak Kişi Sayısı
2
---
Yatak odaları
Kailua-Kona, Hawai, ABD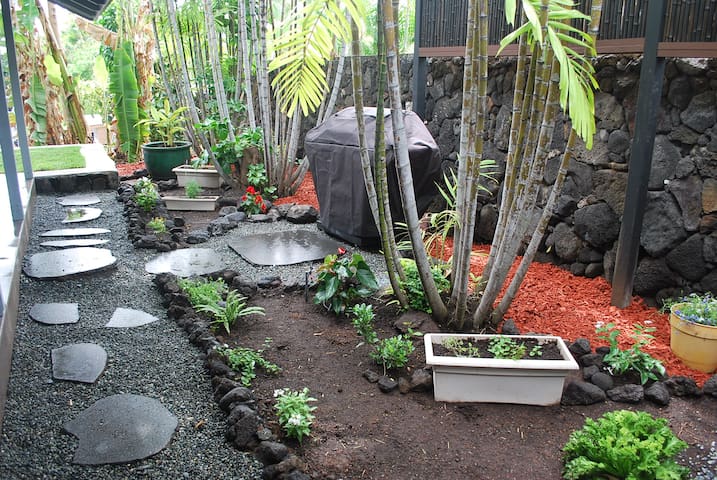 Vacation rental has a private entry, living area, large master bathroom, and covered lanai with kitchen. located in an exclusive neighborhood in Kona. Pool is central to property and shared with a guest house on each opposite end of large property
This exceptional private residential vacation rental with infinity pool has a spacious and private living area, bathroom, master bedroom and dining room, in addition to a large covered lanai with magnificent panoramic ocean views. Inviting interior and quiet location with cool breezes at a perfect 700 foot elevation allows for a relaxing and memorable stay in our beautiful town of Kailua Kona.
The property is located in a quality private neighborhood
Steve is friendly and gracious. His dog Bonny is a good judge of character! The photos don't capture the bird song and ocean breeze-you have to experience it. The proprty is better than advertised.
Sarah
2016-03-12T00:00:00Z
We loved our stay at Steve's home. He made us feel very welcome while also respecting our privacy. The view was so amazing and relaxing that we found ourselves wanting to cook in the evening and just hang out watching the sunset. There was no better place to do that! An evening swim in the infinity pool was another relaxing way to begin and end the day. It was such a unique home and one of our most pleasant stays on the island. We really miss waking up to the open air rooms, the tropical breeze and chirping birds! Highly recommended!!!!
Stacy
2015-04-17T00:00:00Z
Steve has a very beautiful home overlooking the city and ocean. He provides great info before our arrival and was very welcoming when we got there. The space was very clean and had all the amenities we needed. We didn't spend much time at Stevens other than to sleep to be honest, but it was a great crash pad at the end of a long day of being out.
Rachel
2016-01-24T00:00:00Z
exactly as pictured..very clean, gorgeous views, friendly host and dog..quiet residential street..very near to small beaches and stores..would stay here again in a heartbeat
Jason
2015-12-16T00:00:00Z
Steve's home is best! Steve and Bonnie are very welcoming upon arrival. This is our second time staying here and will fore sure be staying again. It is truly a home away from home. The amenities are stellar, location is perfect, the view is magical, and everything is well maintained. THIS is where you would want to stay when visiting the big island. I would recommend Steve's place to anyone visiting Hawaii. Thank you again Steve! It was a pleasure as always.
Michael
2016-06-21T00:00:00Z
My partner and I stayed in Steve's beautiful home for 2 full weeks and are so glad that we did. The suite was everything it was described to be. Very private, spacious, clean and with a stunning view. It has a full kitchen on the huge lanai which was absolutely perfect for having breakfasts while listening and watching the various birds and then dinner while watching the sunset. It was so nice to be able to park in the garage and be steps from our suite instead of finding parking in a big hotel lot and making our way to our room through elevators, doors and hallways only to discover we forgot something in the car! Steve was a perfect and gracious host. Always available if we needed something but leaving us to our own private space if we didn't. It was like having our own private concierge at our beck and call. The neighborhood was very upscale, safe and quiet. Made us feel very upper crust when coming home to our gorgeous house on the hill after a day in the sun. We highly recommend staying at Steve's breathtaking home to maximize your Kona experience!
Dan
2016-04-06T00:00:00Z
Awesome place and experience :) Thanks so much Steve, we'll be back!!
Riky
2016-11-27T00:00:00Z
Steve's property was exactly as listed - spacious, clean, attractive, quiet, and conveniently located. The pool, the lanai, the yard and the views were all lovely. He was a gracious host - there if you needed him, but otherwise unobtrusive. We very much enjoyed our stay.
Dulcy
2016-05-08T00:00:00Z
Oda Tipi
Tüm ev/daire
---
Mekan Türü
Ev
---
Konaklayacak Kişi Sayısı
2
---
Yatak odaları
Kailua-Kona, Hawai, ABD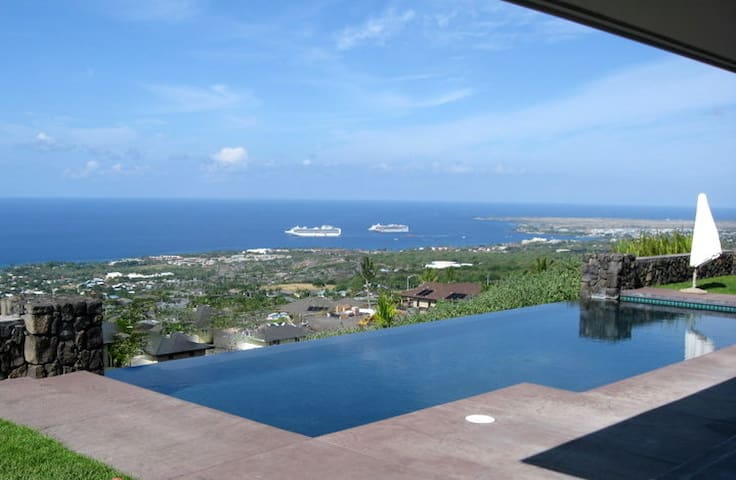 ~~~ APRIL SPECIAL $20 OFF REGULAR RATE ~~~ ~~~ MAY SPECIAL $10 OFF REGULAR RATE ~~~ Would you like more privacy? We have a large & comfortable studio downstairs. You would have you own entrance and the following amenities: 500 Sq. Ft. Highlights Include: ~30" Flat TV Basic DirectTV channels Bluray Player Standard Wireless Internet Full Bathroom Mini Fridge and Microwave
Our home is in a very quiet neighborhood. There is plenty of free parking on the street.
Nice comfy bed and cozy room. Beautiful sunset from upstairs !
Akiko
2017-01-24T00:00:00Z
Great communication and value. Within and easy drive to town and other activities. Friendly and Nice hosts! Fridge with water is a plus. Thanks!
Dan
2017-03-12T00:00:00Z
It was a wonderful stay. Shelly and Tom were very kind, welcoming, and helpful! We were able to utilize all kinds of fun gear to explore kona and they answered any questions we had! Great private room and beautiful view of the ocean from the home as well as a gorgeous back yard. We loved our stay and would definitely book again! Mahalo!
Miriam
2017-03-23T00:00:00Z
I can only say good things, we had an amazing time on the big island and so thankful for Tom and Shellys generous hospitality
Delara
2016-12-31T00:00:00Z
Shelley and tom were gracious hosts. Shelley put in a lot of effort to make us feel comfortable during our stay. She even had Christmas decorations for our stay in mid-late December. We had everything we needed for our stay; snorkelling gear, beach towels, fresh coffee in the morning. The bed is comfortable, the shower has great water pressure, and the lanai has the most beautiful sunset. I thought Shelley and Tom's place was even better than the pictures they have up.
aymen
2016-12-23T00:00:00Z
Lovely home and perfect size downstairs studio for our weekend in Kona! Shelly and Tom were great hosts, very nice people. Would definitely come back and stay here again :)
Dakota
2016-02-16T00:00:00Z
Great room in a wonderful location! Tom went out of his way to make our stay enjoyable & easy. We stay very busy when we travel so it was so nice to return to such a comfortable home. As fellow airbnb hosts, it's easy to recommend this property.
Jerry/Aida
2016-11-16T00:00:00Z
I really enjoyed my stay at Shelly and Tom's place. They went above and beyond to make me feel welcome and were very helpful, but also gave me space to relax. The room was very spacious, much larger than I expected, and had everything I needed. I would definitely stay here again on my next visit to the Big Island.
Dave
2016-11-04T00:00:00Z
Oda Tipi
Özel oda
---
Mekan Türü
Ev
---
Konaklayacak Kişi Sayısı
2
---
Yatak odaları
Kailua-Kona, Hawai, ABD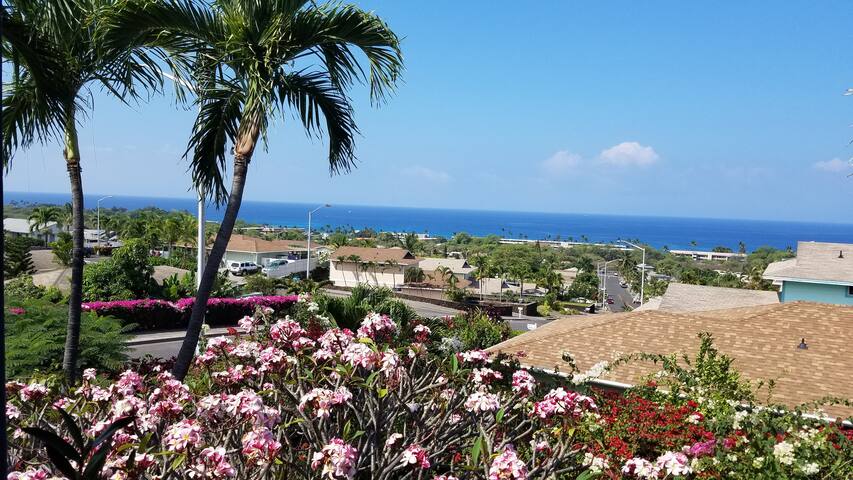 Help spread the word about a fantastic new opportunity walking distance to Magic Sands Beach and Ali'i Drive! This cozy, private room plus shared spaces in a nice home is newly listed offered at a special low rate - days are filling up - book early!
Welcome to White Sands Beach Estates! The perfect location for those in search of a tranquil environment. Close enough to be lulled to sleep when the surf is up yet tucked away from the bustle of Alli'i Drive. This fully gated and private home is located on a quiet street just a 5 minute walk to Magic Sands Beach on renowned Ali'i drive. Magic Sands Beach is also known as White Sands Beach and by the traditional Hawaiian name of La'Aloa which means "Very Sacred". The Kanaka Maoli (ancient Hawaiians) were very much in touch with the natural energy of the earth and were well aware of the special nature of this area. Perhaps the dolphins and whales who still spend time playing in the waters just off the shore of Magic Sands Beach shared secrets with them. Regardless, it is the area where the Ali'i (Hawaiian Royalty) chose to make their homes, hence the name Ali'i Drive. We are particularly lucky to have the remains of what is believed to be an ancient road running through the backyard. It was likely a well used path to travel from the ocean to the fertile farmlands up mauka (up the mountain). If you are lucky you might even see a Night Marcher! (ghost of an ancient Hawaiian warrior) If you are looking for a completely private space have a look at my other listing here: https://www.airbnb.com/rooms/4547363
The home is located off Ali'i Drive on La'Aloa Avenue in a peaceful residential neighborhood known as White Sands Estates. It is a wonderful resting spot for those looking for a quiet retreat after a fun day of play. This is a wonderful location on the Big Island - warm, dry and nearly always sunny! It is conveniently located near four popular beaches: - White Sands / Magic Sands Beach - 4 mile - Lyman's Bay to the North - Kahalu'u beach to the South Magic Sands Beach features beautiful white sand in the summer, crystalline turquoise water and super fun boogie boarding. 4 Mile is a well-known snorkel and scuba diving spot. World class surfing is 1 mile away at Lyman's Bay to the North and Kahalu'u beach to the South. Kahalu'u also offers easy access to honu (green sea turtles), spectacular snorkeling and beginning surf lessons. Nearby Keauhou shopping center (2 miles away), has dining, shops, a grocery store, movie theater, live entertainment and a wonderful Saturday Farmers Market with local coffees, organic produce etc. Kailua Village, the main tourist area, and the town of Kailua-Kona are 4 miles to the north. The Kona airport is approximately 20 minutes from the house. A rental car is highly recommended for ease of transportation and sightseeing. At the same time, we are only a few blocks from the public bus line and the sightseeing trolley picks up along Ali'i Drive. After experimenting with living in different areas and at different elevations on the Kona side of the island this is the place to be - warm, dry and nearly always sunny! Aloha!
I had an amazingly restorative and fun time at Paul's - I picked up some groceries on the way in, cooked meals in his giant and beautiful kitchen, ate them on the lovely patio, walked to the beach that was 5 minutes away whenever I felt like it, and went snorkeling at two incredible spots, one 10 minutes away and the other 25. It was an amazing trip. The house was beautifully decorated and immaculate. I don't know how it's possible to keep a house so clean when you're so close to the beach! Paul was so kind and welcoming. :) I felt truly comfortable staying at the house and he shared some great tips for around the island as well.
Zoey
2016-12-10T00:00:00Z
Paul is a super super nice host. His house is amazingly beautiful. Our room is nice and clean with a lanai which offers us a gorgeous view. He is really thoughtful, he printed a map for us and marked every possible places we might go on it. When he knew that we will go to the volcano park the next day, he leave me some useful things on the counter for us. Everything there just amazing. We will come back for sure. Thank you, Paul. Thank you for everything :)
Tingting
2016-08-07T00:00:00Z
Increíble estadía, la casa es muy amplia, limpia y ordenada. La ubicación, la mejor de Kona sin dudas. Paul muy servicial, nos hizo una guía de las mejores playas, y brindo todo los espacios de su casa para estar cómodos y sentirnos como en casa, para finalizar nuestra estadía nos llevó a nadar con delfines nada mejor que terminar el viaje con esa experiencia . 100% recomendable
Rodrigo
2016-02-06T00:00:00Z
I booked the room last minute and Paul was responsive immediately. It's a great location in Kailua-Kona with access to some of the best beaches and restaurants around. Thank you again Paul!
Maureen
2017-04-02T00:00:00Z
Paul was a great host. The house was very clean and comfortable.
Sarah
2016-10-07T00:00:00Z
폴은 정확하고 친절하며 필요한 것들이 무엇인지 잘 알고 있습니다. 딸과 함께 한 여행이라 바닷가에서 놀기에 좋은 위치이고 조용한 동네여서 더 좋았으며 폴이 보드 .비치체어등 도구들을 빌려주어서 아주 편리했습니다.
Seol
2017-01-14T00:00:00Z
It was a really nice house. I would like to visit again. It's right behind the house. It's accessible, but it's bird loud in the morning. thanks a lot
인영
2017-02-27T00:00:00Z
Amazing place! Great location. Paul is an incredible host. The house and room are clean and spacious. I would 100% recommend staying here.
Jenna
2017-03-01T00:00:00Z
Oda Tipi
Özel oda
---
Mekan Türü
Ev
---
Konaklayacak Kişi Sayısı
2
---
Yatak odaları
Kailua-Kona, Hawai, ABD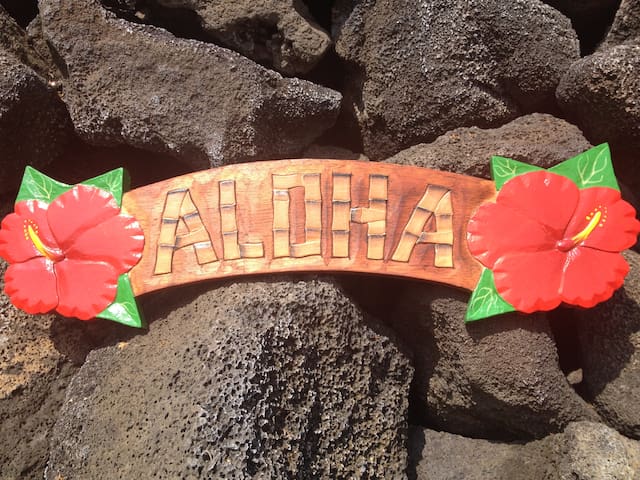 King size bed with private Bath. My place is perfect for people going out on manta ray adventures, diving, fishing from Honokohau Harbor. Surfers, golfer, adventurers. Travelers coming and going who are looking for either a easy commute to their departing flight or looking for a easy place to crash when upon arriving. My home home is centrally located for either in town adventures or the beautiful beaches to the north. The harbor is 5, Town 7.5 and the closest beach is 3 miles. Airport 2.7
Guest are welcome to my full kitchen, laundry area, large living room and dining area. The yard including two hammocks one in the garden and one on the porch. I'll help set you up with any adventure I can or help you find a relax place to disappear if thats your desire.
Oda Tipi
Özel oda
---
Mekan Türü
Ev
---
Konaklayacak Kişi Sayısı
2
---
Yatak odaları
Kailua-Kona, Hawai, ABD
A wonderful location for your Big Island fun. Located about 10 minutes to Kona and 20 minutes from Kona. As you can see from my reviews, I do my best to make sure your stay on the big island is a lovely one. From tips on where to snorkel, hike or great restaurants, to starting your day with one of my delicious breakfast. Aloha
This quite sanctuary I have created. Wonderful to sit in the back yard and listen to the birds
This is a wonderful home in a quite neighborhood.
Great breakfast and conversation at Angelica's place! And a lovely spot out back for my morning yoga! All was easy and comfortable....just right. Angelica provided really helpful info on island attractions and food. We originally selected Angelica's place for it's proximity to the airport - but there is much more to experience here! Angelica is a lovely host with a location near local beaches, activities, and plenty of restaurants and (URL HIDDEN) plan to spend some time enjoying all of it!
Louise
2017-03-16T00:00:00Z
Was such a pleasant stay with Angelica who was our host for 2 nights. She served us amazing breakfasts of homemade granola, papaya, banana, berries, pineapple, mango, eggs and Kona coffee. We are vegetarian, which she happily served and she even worked around my many food allergies. To top off our amazing stay she treated me to paddle boarding. Such a healing experience being out in the clear turquoise waters and a total body workout too! I highly reccomend that if you can! Her pup Leila is a champion paddle boarder and such a sweetie! Angelica met all of our needs and was super helpful with reccomendations around the island!
Amanda
2017-01-24T00:00:00Z
Angelica has a great house, on a nice cul-de-sac st. Really great location. I wasn't around much, but enjoyed my time here. Very clean room, and comfortable bed. Mahalo
tye
2017-01-03T00:00:00Z
My stay with Angelica was great. House was super clean and she was very knowledgeable about the area. Could not have asked for a better stay.
arnold
2016-11-26T00:00:00Z
Angelica was an amazing host! She went above and beyond to make us feel at home (and Leila her dog). The house was very clean and we loved relaxing on the patio. Breakfast was amazing. We really enjoyed the fresh fruit grown o the island and the coffee. I wish we would have stayed here longer!
Ashley
2016-11-27T00:00:00Z
Wonderful location, beautiful accommodations, private room and bathroom, spacious relaxing patio and sitting room. The rate includes breakfast, which by far was the BEST had during my entire week long stay in Oahu and Hawaii. Angelica is a wonderful host! She and her pup, Leila welcomed me into their home for a long weekend. Angelica's home is an extension of herself and radiates peace, calmness and relaxation. Since this was my first time to the Big Island, she gave me several suggestions on things to do and see. She graciously was my tour guide and I thoroughly enjoyed her company. I felt like I met a friend for life. Regardless if this is your first or 20th time to the Big Island, I highly recommend booking your stay in Angela's home!
Allison
2016-11-13T00:00:00Z
Great host!!! really helpful and frienedly...and great breakfasts
grady
2017-02-14T00:00:00Z
很值得來住,房間可以看到海,而且家裡庭院可以看到星星。早餐很有特色也很好吃,下次想參加SUB課程。
立傑
2017-01-26T00:00:00Z
Oda Tipi
Özel oda
---
Mekan Türü
Ev
---
Konaklayacak Kişi Sayısı
2
---
Yatak odaları
Kailua-Kona, Hawai, ABD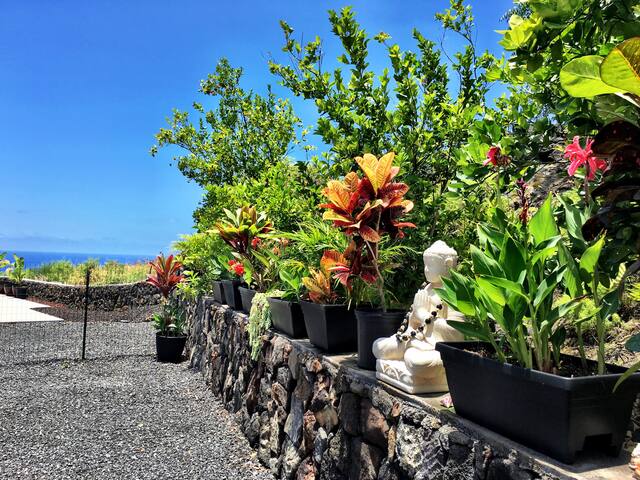 Enjoy spectacular panoramic ocean views in your home away from home in this large, 700 sq ft guest house complete with private covered patio and solar heated pool located in one of Kona's most exclusive neighborhoods.
Turn this home away from home into an unforgettable vacation. Enjoy breathtaking ocean views from every room. Unwind at the pool overlooking the ocean or light the grill while enjoying killer sunsets. The kitchen is fully equipped with coffee maker, French press, toaster, blender, microwave, and rice cooker along with everything else to enjoy meals on your private patio or indoors with a view. Cool travertine floors, marble top vanity and granite counter tops are just some of the details of this quiet and clean guest house. Going to the beach? The guesthouse comes complete with beach chairs, beach umbrella, beach towels, cooler, two boogie boards, snorkel equipment and stand-up-paddle board. Make sure to make use of the free 100/Mb WI-Fi, 50" 4K HDTV, washer & dryer, outdoor BBQ and iPod speaker dock. This vacation rental comprises the first floor of a beautiful luxury home in one of Kona's most exclusive neighborhoods. It is very private as it is not connected to the top floor by stairs or a door…it even has its own private driveway. As an owner operated vacation rental, we take pride in making sure the unit is spotless before your arrival. The pool is located off to the side of the home and it is reserved only for our guest. We are one of Kona's top vacation rentals with over 70 five star reviews; contact us for our web posting of our reviews and receive a free copy of our guidebook: THE BIG ISLAND, Hawaii's Adventure Guide. The HI Registration ID# for this property is: GE-(PHONE NUMBER HIDDEN).
Being located in one of Kona's most exclusive neighborhoods, the guest house is super safe and quiet. Some of the best snorkeling on the island, at Kahalu'u, is only ten minutes away. Kona is an ideal location to have as your base because it is within an hour's drive of 80% of the island's top attractions.
Great view and location! Room is so spacious and clean! Decent decoration make you feel like 5 star resort! And you feel so private since you have your own driveway. When I make the booking I was a little big unsure since there was no review yet. But I'm just so happy with my decision! And you can find more reviews on VRBO website since I was told they did more listing there. This place is even much much prettier than in the pics! Highly recommend!
Weiwei
2016-06-12T00:00:00Z
We really enjoyed our stay with Amy and Paul. The place was very comfortable and private. There was a full stove and between that and the gas grill we cooked a fair number of our meals. There is no dishwasher (so you'll just have to rough it) but there is washer and dryer in the unit which really came in handy - soap provided. The bed was a full sized queen bed and it was very comfortable. It's very easy to get downtown from here. Walking in the neighborhood involves some serious hill climbing so be prepared. The pool is a good size, plenty deep and well maintained. There is snorkel and beach equipment available. Use the snorkel with mouth piece bent at an angle, a lot more comfortable and won't leak. All in all you'll be very comfortable here. Dan and Carol
Dan
2017-03-24T00:00:00Z
Wonderful stay. Easy private and lovely view. Washer and dryer were great for a long trip.
Pandora
2017-03-01T00:00:00Z
This guesthouse experience was really incredible. One of my best airbnb experiences so far. The view is breathtakingly beautiful. The hosts are respectful of your privacy. Everything was high quality and very comfortable. Thank you so much for a great stay!
Christie
2017-04-06T00:00:00Z
Paul and Amy's home is a beautiful wonder nestled in the hills of Kona. The location is far enough from the hustle and bustle of the touristy area, but close enough to still enjoy the town. They have provided high quality snorkel gear, along with chiars, umbrella, boogie boards, paddle boards, and a small cooler. We used every single piece which saved us a good chunk of change. The space is located essentially in the basement of the main home, but it doesn't feel like it. There is beautiful open windows that make it feel larger than it probably is. The patio has an astonishing view of the ocean and is a great way to start your day with a cup of coffee. My suggestion to anyone staying there is to arrive at thier place 1st, look over your list of food or needs, then look around to find it's probably located there. In other words, they have thought of everything, like q-tips and zip-lock bags to cooking oil and a safe for your valuables (who thinks of that)!!! We checked in 1st and scratched off quite a few items after seeing them in the apartment, and again this saved us quite a bit of money. The pool is incredible and was used often by us. It has an even better view of the ocean, and is perfect for relaxing in after a long day of sight seeing. We only met Paul once, when he came down to help me strap down the paddle boards, only after I asked about the location of the tie downs. He seemed very friendly and gave several suggestions for dining options. It was very apparent they were trying to respect our privacy and we never heard or saw them other than that. Overall this place is magical. The only downside I could even think of (and it took forever to think of one) is the driveway is kinda tricky. But once you navigate it using the directions left by Paul and Amy, it was fairly easy. If I could rate it, it would be 5 out if 5 stars. If you're hesitate to rent, don't be, it's worth every penny and was a great value!!
Robert
2016-09-29T00:00:00Z
This place is exactly how it looks in the pictures and is exactly what you want it to be. very clean, private and was perfect for our staycation. I would recommend this place to everyone. Amy and Paul were available to answer any questions in a very timely fashion.
taylor
2016-09-17T00:00:00Z
Amazing view, super clean, great hospitality.
Yohei
2017-01-25T00:00:00Z
The flat has a nice view and the pool is really lovely. It is the bottom floor of a house, basically a converted basement. The furnishings are very nice and new, very clean, but not quite the private oasis we were hoping for. It's in a residential area but on a private street, near restaurants and shops -- perfect climate.
jan
2017-02-27T00:00:00Z
Oda Tipi
Tüm ev/daire
---
Mekan Türü
Ev
---
Konaklayacak Kişi Sayısı
2
---
Yatak odaları
Kailua-Kona, Hawai, ABD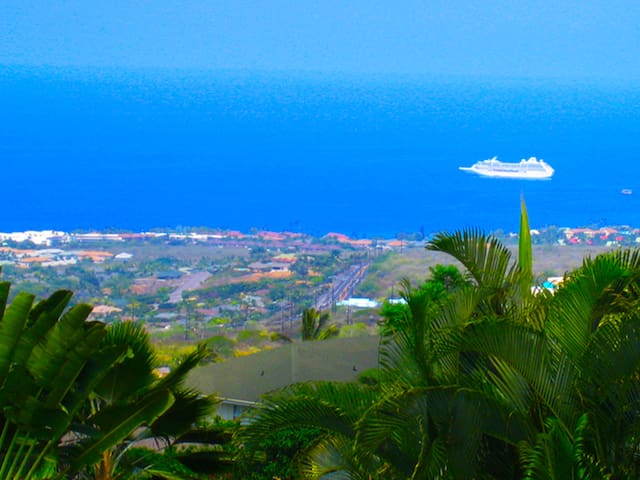 Quiet neighborhood right off Alii Dr. Beautiful home with 2 great hosts. Private bedroom and a shared bathroom. 2 lanai' with outside seating as well as barbecue. We moved to the island 6 months ago. We love the adventure every day brings us.
Two blocks from ocean. Two blocks from Awesome cove with turtles in the evening. Breathtaking sunsets. Air conditioned bedroom for your comfort We are here to ensure you have a great vacation.
Quiet yet close to all the action. 1.5 miles from the famous Magic Sands beach. Restaurants and shopping nearby.
This was good accommodations on a tight budget!
Barbara
2017-03-21T00:00:00Z
Mike and Robert's home is a short drive from the airport, and shorter still to the small town of Kona. They welcomed me and my daughter with thoughtful acknowledgement of our exhaustion from travel, and they struck the perfect balance between engaged host and detached home owner. They steered us toward fabulous snorkeling and biking to see lava flow at sunset. Everything was pristinely clean; the bed was comfortable. Rob makes a spectacular cup of coffee! Both were easy to communicate with--I recommend them highly!
Emilie
2017-03-14T00:00:00Z
Best AirBnB I've ever had.
Nikita
2016-12-15T00:00:00Z
It's a quiet and clean room with a separate bathroom. I had a wonderful few days here. All is there and it's close to the beach and to Kona. Enjoyed everything about my stay.
Uta
2016-12-10T00:00:00Z
Great place to stay while visiting Kailua. We would stay here again!
Jonathan
2017-01-29T00:00:00Z
Wonderful hosts who helped us figure out where things were located. Also had a lot of great suggestions for not only our trip in Kona, but all over the island. Great location, very clean! Definitely would recommend!!
Rachel
2017-02-07T00:00:00Z
Mike and Rob's house is very clean and nice. The bed was very comfortable, and it was cool enough during the night. No AC needed. Bathroom is very clean with nice hot shower, and it was exactly what we needed. :)
Hannah
2017-04-09T00:00:00Z
Our stay with Rob and Mike was fantastic! The house is in a great location, very clean and the bed was super comfortable! Rob and Mike were amazing friendly hosts! They made our experience on the island more then we could have hoped for!
Daniel
2016-12-21T00:00:00Z
Oda Tipi
Özel oda
---
Mekan Türü
Ev
---
Konaklayacak Kişi Sayısı
2
---
Yatak odaları
Kailua-Kona, Hawai, ABD
Central for everything Kona. Close to awesome snorkeling/beaches. We are 2-year Superhosts! Chill on our OCEAN VIEW pool deck. Sleep in luxurious comfort. Experience our pineapple & banana plantation. Ask us about Kona's arts scene. Fitness trail access. Diver-friendly. FAST WIFI!
We believe there is a difference in lodging when hosts are onsite and lovingly care for the home you're staying in. • Guests love the exclusive access with exterior entry to this ground-floor studio. • There is one QUEEN bed, and a comfy double sofa bed for 1 additional guest (note: see house rules), • The bathroom is shared with one other studio (travelers, not the hosts). • Kitchenette features fridge, microwave, coffee & tea pots, toaster, more Shared outdoor space includes a pool, dining area, and BBQ/grill. It's all ultra-clean, modern, and comfortable. Two ceiling fans and windows on three sides keep the air flowing. GREEN EFFORTS! We provide environmentally-friendly soap and shampoo, allowing guests to minimize use of chemicals if they choose. We live on a tiny island, and waste goes directly into the land we live on! We also compost and manage our own trash with an effort to minimizing.
OUTSTANDING LOCATION. Our neighborhood embodies the Kona dream--close to everything, with poolside views of the Pacific. You'll be centrally located a short drive from the shops, restaurants, and diversions of "downtown" Kailua-Kona town, charming galleries of Holualoa, and Keauhou. It's a very short drive to beaches, and yes, you could walk, but we strongly advise that you rent a car. You'll be perfectly positioned to explore the Kona and Kohala region's beaches and diversions, or head north and experience Waimea cowboy country, or head south to lovely Captain Cook and beyond to the Green Sand Beach and eventually Hawaii Volcanoes National Park. There is a gas station/convenience store steps away, along with Kona's mountainside walking/cycling trail.
As someone who dislikes generic, overpriced hotels, Randall and Denni's studio just south of the touristy Kona resort area was the perfect place to stay. Located in a house on a hill overlooking the ocean, the studio was modern, clean and safe. The property looked exactly like it does in the photos. Randall was a great host and was in touch with us as our arrival date approached and also as our plan changed due to an unplanned stop at a beach to relax after caving. He gave us great restaurant suggestions during our short stay in Kona and was chill to talk to. Thank you for sharing your wonderful house with us, Randall and Denni!
Poom
2015-07-18T00:00:00Z
Randall was a welcoming and gracious host. The place was easy to find and it was the quietest location during our trip (no roosters!) The studio offered us the feeling of being in our own space, a welcome change from the other airbnbs.
Robin
2015-06-11T00:00:00Z
Randall and Denni made me feel extremely welcome and comfortable in their beautiful space. Very friendly, communicative, and caring, they made my time in Hawaii a paradise, literally!
Haider
2015-10-11T00:00:00Z
What can I say, good location, nice place, very nice hosts. The room was clean, comfy, quiet and well equipped. All in all, it was a pleasure staying here and I definitely plan to return.
sumedh
2015-12-16T00:00:00Z
Talk about the spirit of Ohana! Randall was so welcoming and gracious from the very first contact to the moment when we had to say goodbye. He was extremely accommodating when I had issues with my flight which made us delayed in getting there and was so kind to both me and my son throughout our entire stay. He offered tips of where to go, what to do, and where to eat any time we needed him. He even invited us join him on the lanai to watch the sunset while we had a wonderful conversation with his husband and friends. The room was perfect, spacious, and very clean. It provided everything that we needed including beach towels and mats, shampoo, fresh linens, dishes, closet space, a microwave, fridge, and even a rack to hang our wet clothes. The neighborhood was quiet and safe and only a short drive from the beach, the airport, downtown Kona, and amazing snorkeling. I would absolutely stay here again! There really couldn't be a nicer man in all of Hawaii!
Jenelle
2015-08-05T00:00:00Z
Randall and his friend are great hosts - they'll do everything to make sure your stay is perfect. The windows should be left open for cooling as there is no airconditioning, hence privacy might be an issue if both rooms are booked as you can hear almost everything your neighbours say or do. The garden is lovely and you can dip in the pool, all in all the whole setting is beautiful and very nicely done. Thumbs up!
Cornelis
2016-07-06T00:00:00Z
Great experience. Randall was very communicative and flexible when our arrival time had to change at the last minute. The space was clean, quiet, and had a beautiful backyard.
Joe
2016-01-06T00:00:00Z
Thoughtful host and the room is exactly as described - a little more spacious than I anticipated. Lovely garden.
Linda
2017-02-12T00:00:00Z
Oda Tipi
Özel oda
---
Mekan Türü
Ev
---
Konaklayacak Kişi Sayısı
3
---
Yatak odaları
Kailua-Kona, Hawai, ABD
Just a few blocks from the ocean and beach parks. Separate apartment on the lower level of our personal home. Discounts for stays of longer than 6 nights, and monthly discounts. The price shown in the reservation request should reflect the discount when applicable. 13.5% Hawaii tax collected on arrival. Cleaning fee is waived if left clean.
This conveniently located, clean, peaceful self-catering apartment is on the lower level of our house. It is just a few blocks from world class snorkeling, swimming, surfing and boogie boarding in the heart of the White Sands Beach area off of Ali`i Drive. The ground floor separate apartment with private entrance and designated off-street parking consists of a bedroom with comfortable queen sized bed, living area with full and twin size (child size) futon, full eat in kitchen, spacious bathroom (shower but no tub) tropical decor and an outdoor deck for relaxing. There are ceiling fans in each room, but no AC. We find it comfortable most of the year, but you may not be use to tropical temperatures and humidity. Please consider this when selecting a place to stay. We are located on a quiet cul-de-sac, but there is some road noise from Alii Dr and the sound of the waves during high surf. We love the Big Island and look forward to sharing our knowledge with you. Amenities provided include: • Free high speed internet via wi-fi • Basic Cable TV • Keyless Lock • Full Kitchen – Fridge, stove, microwave, toaster, coffee maker, rice cooker • Pots & Pans • Cooking utensils • Dishes and cutlery • All linens provided • Gas BBQ Grill • Beach Chairs for 2 • Boogie Boards for 2 • Snorkel Gear for 2 Shared Washer/Dryer on request If you have a 5th in your party, ask about our extra person fee. No Smoking Please- $200 Security/Cleaning deposit. This will be refunded if you leave the apartment clean and as you found it. There will be an additional charge of 13.5% for Hawaii Transient Accommodation Tax/GE collected at arrival via cash or check USD.
Located on a cul-de-sac in a quiet residential neighborhood with easy access to local beaches and sightseeing. Walking distance to several beach parks and snorkel areas. 1.5 miles to Keauhou Shopping Center with a grocery store, drug store, restaurants, movie theater and shopping. Planning your trip- We recommend 7 to 10 days to experience most of the highlights of the Big Island. The Kona side has much to offer in the way of beaches, water sports, golfing and dining. It is about a 2-3 hour drive to the volcano area or Hilo and 1 hour drive up to the northern part of the island. While you can see all the areas from one location, we think splitting your stay between the east and west sides offers the best arrangement.
Liz & Robert's place was fantastic! It's a great location - so close to the beach and great snorkeling and just a few minutes drive to downtown. It was very comfortable and well-appointed. Having snorkel gear there to use was great. There were no breathing tubes initially and when I let Liz know, she immediately found some and brought them down. Their sweet dog Ollie came to visit, he might have sensed I was missing my dog at home and gave me some good puppy loving. There are fans in every room to keep cool and lots of windows to catch the ocean breeze. You can hear the ocean at night and even see it from the kitchen window. I wanted to move right in! The neighborhood was very quiet.
Rebecca
2015-03-13T00:00:00Z
Our experience met or exceeded all of our expectations. It was a wonderful private space in a quiet neighborhood. Very clean and comfortable for our family of 3. The walk to White Sands beach was very easy, and it was a short driving distance from a variety of stores and restaurants. I would recommend this location to anyone seeking a simple and relaxing vacation experience.
Eric
2014-07-10T00:00:00Z
This is the perfect spot to go to if you are thinking about getting a hotel, but are looking for the privacy of a home. It is just as convenient and much more beautiful! This accommodating downstairs unit is immaculately clean and fully stocked with all home necessities: soap, shampoo, extra sunscreen, extra bedding etc. Also made available to us were snorkels, towels, beach chairs and everything needed to cook and bake. (We were surprised to find multiple cake pans to make a cake for our daughter's 11th birthday!) It is centrally located in a residential neighborhood a few blocks away from the water. We were a close drive to shopping, swimming and snorkeling. We loved sitting on the patio and watching the wild birds in the backyard. Our hosts Liz and Robert provided a very helpful custom guidebook about the neighborhood and the accommodations. Liz was a great host- helpful, friendly and respectful. We highly recommend this spot! Thank you so much! You're space was an ideal way to start our Hawaiian vacation. We loved it!
Genevieve
2016-04-09T00:00:00Z
The apartment is spotlessly clean, extremely spacious and private. The kitchen is incredibly well stocked. Beach chairs, boogie boards, beach towels, tupperware, etc are all available for use. We did laundry here which was very convenient. We also really enjoyed the DVD selection and meeting Ollie the dog. Many thanks for hosting us here! We hope to be back one day.
Anna
2014-09-11T00:00:00Z
We felt very welcomed by Liz and Robert, the apartment was clean and perfect for us. We were only in Kona for 3 days but their location was well situated for all of our day trips. I would recommend this place to anyone!
Melissa
2014-09-01T00:00:00Z
We had clear communication throughout the process and we were able to move in a little early because it was ready. The house was wonderful and there was a great guide with info about the house and surrounding area.
Donna
2014-11-27T00:00:00Z
Liz is a great host, and the Ohana is the ideal place for a great vacation. It's very spacious and equipped with everything you need. This place is a bit outside of downtown Kona so you need a car to get around, but several beaches are in walking distance.
Helene
2013-03-10T00:00:00Z
Our stay at Honu Ohana was nothing short of amazing. The location is perfect and, no joke, is literally a walk to the White Sands. Not only is the apt close to the White Sands beach, it was only a mile away from the best snokeling and shave ice spot in Kona. A tip we got from Liz and Robert, among many other great tips. In addition to the house being spotless it had everything we needed to fully enjoy the Kona beaches. Snorkel gear, boogie boards, beach chairs etc...Thanks Liz and Robert for being such great hosts. We hope to come back soon.
Eric
2013-03-28T00:00:00Z
Oda Tipi
Tüm ev/daire
---
Mekan Türü
Ev
---
Konaklayacak Kişi Sayısı
4
---
Yatak odaları
Kailua-Kona, Hawai, ABD
Kona IronMan Triathlon, October 14!* Hale Ho'okipa (House of Rest and Refreshment) is a happy, Hawaiian family home. We recently installed shiny, new flooring!* Hele mai ~ Come Visit! 1 bdrm/1 bath, split-level, with kitchenette, sofa bed, full size refrigerator, garden, parking, and washer/dryer outside the unit. We are 8 minutes up Mount Hualalai from the beach and center of Kailua, Kona. Volcano, Waipio Valley, Mauna Kea, and Black Sand Beach, make great day trips from the house.
Welcome to Hale Ho'okipa (House of Rest and Refreshment)!*** ********************************** The unit is attached to the main house, yet fully private with its own entrance. I live in the other half of the house. It consists of one bedroom and one bathroom with shower, no tub. The bedroom and bathroom are on the same level and are kept cool with an air conditioning unit. The AC works only in bedroom and bathroom. Just down stairs from the air conditioned bedroom is the living room area with pull out sofa bed, cable TV, and fully equipped kitchenette to include full size refrigerator ~ and Kona coffee on hand. We suggest a stop at KTA or Sack for a few groceries and bottled drinking water before heading up the slopes of Mt. Hualalai to the house.*** The apartment, garden, and front lawn is private for your use only. Grocery stores, restaurants, internet cafes, churches, open markets - all 10 to 15 minutes away. Our easy blowing trade winds often bring the windward Hilo side (East Hawaii) more clouds and rain, where our leeward Kona side (West Hawaii) of the Big Island is much dryer and tends to be sunnier and warm. (hot in the summer) We have eight micro-climates here on Hawai'i Island, ranging from desert-like areas to tropical rain forest, and even occasional snow at the tops of Mauna Kea and Mauna Loa. So many interesting places to explore. Hawai'i Island, Moku o Keawe (affectionately known as the Big Island), is the largest and youngest in the chain of 8 inhabited Hawaiian Islands. The apartment is located only 3 hours from Kilauea volcano, erupting non-stop over 30 years now. Spend a day exploring Kilauea Volcano National Park, an easy day trip from the house. You will never forget it !*** Mauna Kea kuahiwi kuhao ika malie ~ Mauna Kea is the astonishing mountain that stands in the calm. Majestic 14,000 plus foot Mauna Kea ~ White Mountain ~ is only an hour and a half away ~ where sunsets are spectacular and viewing the heavens from the 9,000 ft Visitors Center telescopes is unforgettable!*** Gourmet Kona coffee and tea are grown nearby. We recommend a tour of one of the many coffee farms in our area. Snorkeling, scuba diving, surfing, deep sea fishing, kayaking, paddle boarding, and night time manta ray viewing are a few pacific activities we enjoy. A few hours away - Akaka Falls and Waipio Valley. *Kona is home to the IronMan Triathlon World Championships. The event takes place every 2nd Saturday in October. This ultimate endurance event - a 2.4 mile swim, 112-mile bike and a 26.2 mile run - attracts over 2,000 tri-athletes every year. Thousands of volunteers from around the world help make it a success. We host many other music and food festivals annually. Please take a look online at the Kona Web calendar of events!*** *Also nearby - Hulihe'e Palace, Moku'aikaua Church, ancient Petroglyph carvings, City of Refuge and other important Hawaiian historical sights. Ask me about our cute 4wd Jeep Liberty that will be available for rent in July. Seats 5 comfortably and is the perfect vehicle to explore the Island with!* *Please be respectful of the land and it's people. Malama pono* Malama aina*! Be not forgetful to entertain strangers: for thereby some have entertained angels unawares. Hebrews 13:2 KJB
We are located in a safe residential neighborhood. There is some road noise, though the large front lawn is normally a good buffer. Other sounds are the occasional rogue rooster, wild birds - cardinal, myna, and papaya. We are 5 to 10 minutes from favorite restaurants like: Splashers, Huggos on the Rocks, Big Island Grill, TK Noodle House, Umeki's, Fumi's, Bongo Ben's, Lava Java, and charter fishing hole in the wall, Bite Me. Also a number of awesome wifi cafe's like: Daylight Mind, Kona Coffee and Tea, and Kona Haven. We are 10 minutes from the King Kamehameha Hotel where the best Luau (Hawaiian Feast) and Polynesian Review is held every week. This landmark hotel hosts the annual Kona IronMan Triathlon World Championships, with several historical sights on the property.
Neighborhood was ok, situated super-close to Kona, which was a definite plus. Trish was very welcoming and gave us some good tips for stuff to do in the area. We were gone most of the time, but communication via email was very quick and reliable.
Stefan
2016-11-15T00:00:00Z
We should have listened to the words of the most recent past reviewer, as we felt the same... "we were a little disappointed after we arrived as the pictures definitely made the place look much nicer and brighter than it ended up being. From the wall material, to the flooring and the overall cleanliness feel we just had higher expectations based on the pictures". The displayed photos and the reality appeared completely different on face value. On closer examination and comparison it was clear to see that most of the furnishings were the same, albeit in a different spot, there has also been new furnishings added, which give the place a cluttered feeling. The place was never as bright during our stay as displayed in the photographs. On a much more positive note the place has a beautiful big garden and we enjoyed eating our breakfast surrounded by the hawaiian tropical plants. There were plenty of towels provided and the location is perfect for visiting the coffee farms, Hula Daddy Coffee Farm is just up the road, and then Kailua-Kona is a short drive down the highway. Although conveniently located it wasn't what we were expecting, and if the photos had shown the place as is, we probably wouldn't have stayed there.
Bobak
2015-07-11T00:00:00Z
Trisha was the most attentive AirBnB host we've come across! And her place was perfect for our stay: spacious, A/C, a full kitchen (with grocery stores nearby), TV with DirectTV, a lovely garden, and much more. We had the all of the comforts of home, for a fraction of the price of a comparable hotel room.
Gurpreet
2016-05-31T00:00:00Z
Trish was a great host! Her place was exactly what we needed for three nights in Kona, she even put nibbles and coffees in the fridge for our arrival and we even borrowed her washing machine and dryer which was great! A highly recommended spot thanks Trish :)
Clare
2016-07-29T00:00:00Z
Trish was very hospitable. She was easily reachable and responded to any messages quickly. We had access to everything we needed. My children loved the big backyard and side yard area.
Meggan
2015-10-13T00:00:00Z
Trish is very friendly & helpful. The unit had all we needed for a comfortable stay.
Julie
2015-11-13T00:00:00Z
When we decided to come to Kona for the 2nd time, we had a particular type of place to rent in our minds. We wanted a rental that has a beautiful yard (with tropical plants and fruit trees), clean kitchen, bedroom and washroom, somewhere that was close to town and to the snorkeling places (such as Kahalu'u). Trish's place did not disappoint! She is easy to communicate with and has such a warm personality. She even gave us a bottle of champagne to welcome us to our honeymoon! This place is highly recommended.
Lianne
2016-12-16T00:00:00Z
The host canceled this reservation 8 days before arrival. This is an automated posting.
Nolan
2015-06-24T00:00:00Z
Oda Tipi
Tüm ev/daire
---
Mekan Türü
Ev
---
Konaklayacak Kişi Sayısı
4
---
Yatak odaları
Kailua-Kona, Hawai, ABD
Newly remodeled studio with kitchenette also saltwater pool shared only with owner in a very private backyard 3 blocks from Magic Sands beach in a beautiful established neighborhood with amazing trees and peekaboo ocean views. Adults only maximum 2. 13.25% Hawaii General Excise and Transient Accommodation tax, ( Tax ID #W(PHONE NUMBER HIDDEN)), is due upon arrival; AirBNB does not collect this local tax when you book and pay for your reservation, the state requires the homeowner to.
Just remodeled ohana studio attached to home with a separate gated entrance includes kitchenette with full size refrigerator, sink and tons of cabinets. Everything is brand new including the king size bed. Wireless internet and Direct TV. Salt water pool with covered gazebo and BBQ. Bicycle available to use. Homeowner has dogs that are fenced away from the ohana studio and pool.
Beautiful neighborhood situated right near the ocean with fabulous sunset views.
Edie's home was modern, clean, safe, and close to the beach! It also had a great backyard and pool! Edie was very accommodating and easy to communicate with before and during our stay!
Mara
2016-09-09T00:00:00Z
It is such a lovely place to stay and we really felt at home. Totally clean, big bed, wonderful pool and very nice hosts. The locations ia also great and you can park your car directly in front of the house at the street. We enjoyed it very much!
Irina
2016-08-12T00:00:00Z
Edie's little studio space was just as described, cozy and relaxing. In a quiet neighborhood, a short drive to a grocery store and to the downtown area, as well as a quick walk to Magic Sands Beach, where it was great to watch the sunset and the boogie boarders riding the waves. Edie gave us some great recommendations for places to eat and was very easygoing.
Michelle
2016-02-12T00:00:00Z
We really enjoyed our stay at Edies place! She was so sweet and welcoming right when we arrived. The place was cute & comfortable! We slept great on the bed!
Jordan
2016-03-02T00:00:00Z
We have spent almost 4 weeks in Hawai'ï and Edie's ohana was our favorite - by far the best accommodation we have rented. The studio is fully renovated, very modern and has everything one needs to spend relaxed holidays. We have really appreciated the availability of the outside space with BBQ, sitting area and an amazingly clean pool (with salt water, great for our 4 months old daughter).The location is just perfect, quiet and safe neighborhood, about 5 min walk to Magic Sand Beach, about 10 min drive to Kona city center and less than a minute from H11. Edie is really amazing, she was so helpful (great suggestions on what to visit, when, etc) and did everything to make us feel welcome. We loved our week at Edie's ohana and would certainly recommend it to anyone who is looking to spend some time on Big Island.
Balounova
2015-12-28T00:00:00Z
Love love love. Awesome neighborhood, beautiful home, and Edie is amazing! The home had everything we needed and more. It's so close to so many places. Would only book with Edie if I ever travel back to this island again.
Candace
2016-11-24T00:00:00Z
Edie was awesome, great communication leading up to our arrival, helping direct us in and waiting for us as we were a bit late getting there, enjoying the island a bit much on the way in. The place is amazing, exactly as stated, she is very nice and accommodating. The location is in a quite residential neighborhood, beautiful landscaping, great pool, comfy bed. A great experience, we cannot wait to get back.
Don
2016-08-21T00:00:00Z
Edie is very friendly, helpful and welcoming. The granny flat is clean, fresh and very comfortable. The king bed and pillows extremely comfortable. We enjoyed relaxing on the deck chairs beside the lovely pool. Great location and would stay again. Thanks Edie Scott and Chez January 2016
Chez
2016-01-28T00:00:00Z
Oda Tipi
Tüm ev/daire
---
Mekan Türü
Ev
---
Konaklayacak Kişi Sayısı
2
---
Yatak odaları
Kailua-Kona, Hawai, ABD
Honalo - Airbnb
:
1721

misafir değerlendirmesinden,

5

yıldız üzerinden ortalama

4.89

yıldız