We are located 3 short blocks from the ocean and are walking distance to all amenities. Our 825 sq-ft apartment has 7' ceilings and full-size windows. Two bedrooms, a fully equipped kitchen (granite, stainless steel appliances), in suite laundry.
All beds are super comfy new Simmons Beautyrest mattresses (one queen, two singles); the kitchen and bathroom have heated tile floors (cozy). We offer our guests Apple TV, Netflix, wifi, and 100mb hardwire download speed; there is a security system and a sprinkler system. The apartment is in the lower level of our four level home. It is a half-basement with the majority of the space above ground - every room has full-sized wind-out windows. The apartment is well-lit and receives a lot of natural light.
This was our first experience of using AirB&B and we were a little nervous, but really needn't have been as our family had a fantastic time staying at Julie and Grant's lovely apartment, and wished we could have stayed longer. They made us feel really welcome and it was a brilliant place to stay whilst visiting family in Vancouver, on our first long haul trip with two young children (just 4, and almost 2). The apartment was so warm and cosy and well equipped, and Julie and Grant went above and beyond loaning us baby toys, an extra stroller, and a baby backpack - all of which made our packing a lot lighter. With family close by to babysit, we also really enjoyed a number of Julie's restaurant recommendations - Romers, Fable and Oakwood were stand outs. We've already recommended this place to friends and family in the UK who plan to go and visit our family in Vancouver in the next few months. A lovely cosy apartment, that helped to make our first long haul holiday with the kids, a real success. Thank you.
Kate
2015-01-07T00:00:00Z
The apartment is magnificient. Very spacious and with all the amenities you wish for. We were greeted by Julie, who showed us all the details and gave some very helpful information. It was a nice touch to find chocolate, wine and fruit as a welcome present. The pictures show what you will find. There is a supermarket round the corner and some options for a great dinner. Julie, Grant and William were great hosts, the even gave us some more toys for our twins. They were so kind to agree to some last minute changes in our plans and if we come back to Vancouver one day we will not hesitate to come back.
Jan
2016-09-16T00:00:00Z
The suite got everything and we immediately felt like home. The place is cozy and comfy. Julie and Grant are great hosts and we enjoyed chatting with them. We had a great time having dinner together and the kids had fun walking along the beach road nearby. I highly recommend this place if you are traveling with kids. Great neighborhood and convenient shopping places nearby. Kids can play at the backyard, playgrounds and beach nearby. Thanks for everything Julie and Grant!
Jianfeng
2014-07-27T00:00:00Z
We now have a son living in Vancouver and this was our 3rd visit to the city in the last 16months. We have stayed in this great apartment each time and it just gets better. Julie, Grant and William are brilliant, friendly, helpful hosts who cannot do enough for you. We expect to be back next year and will definitely stay here again
Geoff
2016-07-18T00:00:00Z
We stayed at Julie and Grant's apartment for 6 months. It was the best stay ever! From the first day on we felt totally integrated and became friends. Julie, Grant and their son are excellent hosts and connected me and the kids (5 and 9) to them and the neighbors. They added immeasurably to the quality of our experience in Vancouver. I could not find a better place for our Canada/Vancouver adventure! The appartement is perfectly equipped and well designed. Everything is in best condition, kitchen, bathroom, beds. The appartement is in a wonderful location, in a lovely, save and friendly neighbourhood a few blocks away form everything. School, shops, restaurant and beaches, all in minimal walking distance. Down town is just a bus ride away. If we get the chance to return to Vancouver we will stay here again. I whish you all the best and hope very much indeed that you come to visit us in Germany.
Diana
2016-06-21T00:00:00Z
Immaculate, nicely decorated, fully-stocked kitchen and amenities. The home/apt is gorgeous and within walking distance to beaches, large pool, shopping, restaurants, public transit, groceries. What stood out most of all were the gracious hosts and family that owns the home. Julie was so informative, had great tips of things to do, where to go, and they even welcomed our four year old daughter to play with their sweet son on multiple occasions. They also allowed us to use their stroller all week, which was a Godsend! The only frustrating part was that we could not stay longer! We will definitely stay here if we return to Vancouver again. Best vacation ever!
Jenn
2015-07-10T00:00:00Z
Really beautiful place and great hosts - warm and welcoming. We were in Vancouver for a family wedding and the hosts were able to help us arrange some last minute details. Excellent place and people.
Catherine
2016-09-06T00:00:00Z
We had a fabulous stay in this great apartment. Everything you could have possibly needed had already been thoughtfully provided. The apartment is in a great location with easy access to beach, shops and bars plus some lovely restaurants and brilliant for hopping on and off buses. Our hosts Julie and Grant are the kindest and friendliest we have ever met and we have already booked to stay again!
Geoff
2015-03-28T00:00:00Z
Oda Tipi
Tüm ev/daire
---
Mekan Türü
Ev
---
Konaklayacak Kişi Sayısı
4
---
Yatak odaları
Vancouver, İngiliz Kolombiyası, Kanada
Our place is just a few minutes away from Hastings Mill Park and Jericho Beach, as well as restaurants, grocery stores and transit to downtown. The inside and outside space offers everything what is needed for a relaxing stay in Vancouver with comfortable beds, a fully equipped kitchen, toys for little guests, outdoor patio set, BBQ and 2 adult and 1 kid bikes. For guests staying 28 days or longer we will include bi-weekly cleaning (details provided up on request).
Our home is a Kitsilano Character House with a beautiful yard situated in a quite but very central neighbourhood. The house has a fenced in front and back yard where you can relax after a long day of exploring Vancouver and its surrounding areas or just soak in the sun and read a good book or watch the kids play in the sandbox. There is also a garage with 2 adult bikes and 1 kid bike which can be used by our guests. Inside you will find 4 good sized bedroom. On the top floor is the master bedroom with a king size bed & walk-in-closet and 2 additional bedrooms with a single bed each as well as full bathroom. The two upstairs bedrooms belong to our children, so there will be lots of toys available for our little guests. The forth bedroom is on the ground floor with a single bed which can be extended to a king size bed. On the ground floor you will also find the second full size bathroom and the washer & dryer. There is another room downstairs which will not be accessible to our guests since we use it to store our personal belongings while away. The heart of the house is on the main floor where you will find a fully equipped eat-in Kitchen including a Nespresso machine and Soda stream, a dinning room which fits 8 people comfortable, a study with a computer, the living room with a flat screen TV, Apple TV and gas fireplace. As well as another play area for the kids with a piano and french doors opening to a covered balcony overlooking the front yard. For our guests who will stay 28 days or longer we will include bi-weekly cleaning (not including laundry & window cleaning). Also since it is our home, you are more than welcome to use any of our spices, laundry detergence etc., but should they run out during the stay we will not replace them.
It's a great neigbourhood with lots of different restaurants, coffee shops, parks and then of course there is the beach which is just blocks away.
Oda Tipi
Tüm ev/daire
---
Mekan Türü
Ev
---
Konaklayacak Kişi Sayısı
6
---
Yatak odaları
Vancouver, İngiliz Kolombiyası, Kanada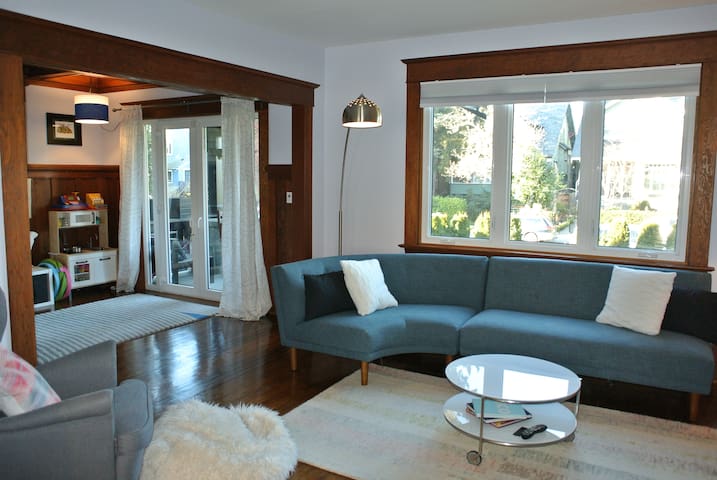 Wonderful classic kitsilano home with warm hardwood flooring throughout the home. The home is 1/2 a duplex in a great area. Walk to everything and the bus stop is just around the corner.
The host canceled this reservation 10 days before arrival. This is an automated posting.
Devesh
2017-03-22T00:00:00Z
Oda Tipi
Tüm ev/daire
---
Mekan Türü
Ev
---
Konaklayacak Kişi Sayısı
6
---
Yatak odaları
Vancouver, İngiliz Kolombiyası, Kanada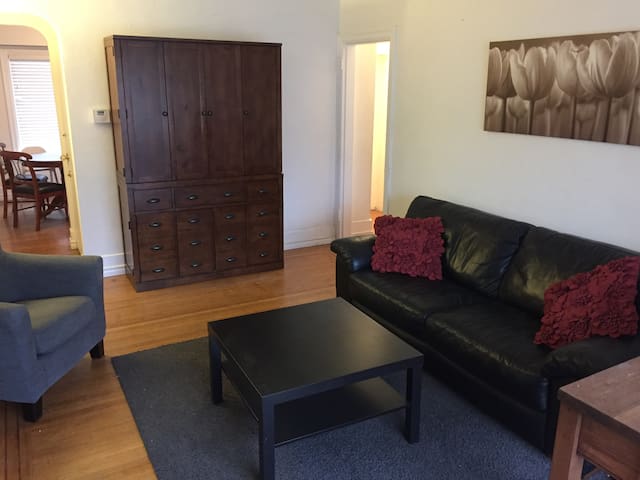 Newly renovated spacious one bedroom garden suite just 5 minute walk from Locarno Beach. Close to UBC and Kitsilano. Get the best of the incredible natural beauty at your doorstep on the edge of an urban centre with all its amenities.
In a beautiful quiet neighbourhood in West Point Grey just minutes from the beach and nature trails through Jericho Park, this location offers the best of the natural beauty in Vancouver as well as the shopping and amenities of a big urban city. Local mountains less than an hour away offer hiking skiing, and snowshoeing.
West Point Grey is a quiet and safe neighbourhood with beautiful wilderness parkland and stunning beaches and views. You are close to UBC, great local shopping and restaurants and still close to public transit and downtown.
One of the best Airbnb places that we've stayed at. Caleigh's suite is beautiful, clean, cozy with a lovely garden. There's a great coffee maker and some breakfast goodies too. The tv and washer / dryer worked well. It's in a great location and a short walk to the beach. I wish we could have stayed longer. Thanks for the quick responses to all my questions and taking care of all the details to make us feel welcome!
Anne
2016-07-13T00:00:00Z
The house is very cozy and we love the kitchen!
Danaya
2016-11-04T00:00:00Z
We had a superb time at Caleigh's. We had an entire apartment which had every amenity and more than we needed. We are completely pleased we found her. And the bed was so comfy, I didn't miss my own.
Susie
2016-05-09T00:00:00Z
Caleigh was a wonderful host and was very quick to respond to our questions and needs. I and my daughter had a very relaxing time at her beautiful house. Great place to experience a friendly quiet Canadian neighborhood and very close to walk to the sea. I was very satisfied and happy we chose air BNB. Definately would like to return.
선화
2016-05-20T00:00:00Z
We had a really great stay at Caleigh's place. The amenities were exactly as described -- my parents and I enjoyed the kitchenware a lot, and having the freedom of making an espresso every morning was definitely a huge plus. We also liked the books and DVDs collections very much. Overall I highly recommend Caleigh's place for small families if you want to have easy access to the beaches.
Sam
2016-09-28T00:00:00Z
很棒的住宿体验
文军
2017-01-31T00:00:00Z
A great place to stay.
Richard
2017-02-06T00:00:00Z
Brilliant place in a great location with a fantastic host - highly recommend!
Kelsey
2016-10-20T00:00:00Z
Oda Tipi
Tüm ev/daire
---
Mekan Türü
Ev
---
Konaklayacak Kişi Sayısı
4
---
Yatak odaları
Vancouver, İngiliz Kolombiyası, Kanada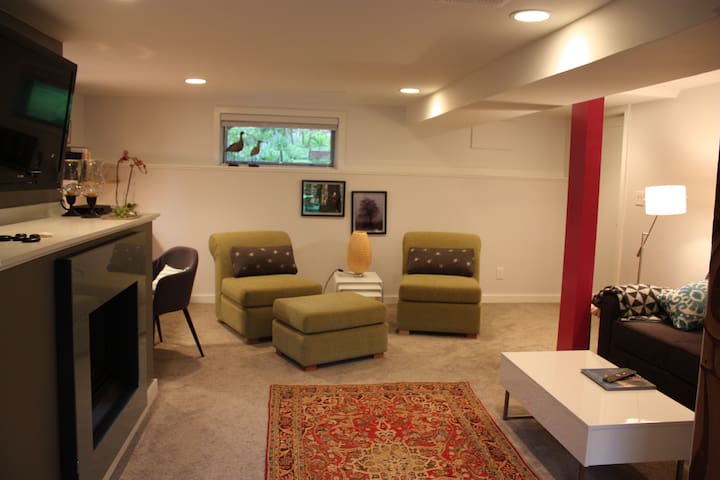 Hop skip and a jump from Jericho Beach... I'm offering a beautifully appointed room of your own - boasting a cozy single bed in the top floor of a rambling old character house; which is artfully decorated; fun; and available for short / long term stays. Perfect accommodation for students at UBC; and people visiting the city. There is a full kitchen and you will have access to all of the tools of the trade. You're welcome to raid my spice cabinet and other sundry items, (including my massive collection of herbal tea!) but I would ask that you provide the majority of your own groceries - i will provide space for you to store things if you plan to stay awhile! Mi casa is su casa! This house is located in one of Vancouver's oldest established neighborhoods, in the heart of the "Westside" - on the outskirts of Kitsilano - chok-a-blok full of 100 year old mansions and tree-lined streets... did I mention we're right across the street from the beach? I have a wealth of knowledge about this gorgeous city, secret beaches, the hottest up and coming restaurants of every variety, places to go... etc. etc. Just ask! We have wi-fi and laundry and a dishwasher for your comfort! I also have a vintage ladies' 10 speed Nishiki road-bike that I'd happily lend you to commute or tour around the city. The house is located close to bus routes, which will easily get you to UBC or downtown; and they run extremely frequently.
My neighborhood is safe, the houses are old and gorgeous to gawk at, the beach is close-by and you can walk to get groceries, coffee, and have dinner at nearby sushi restaurants and pub.
I had a great stay here! I lived at Bonnie's for three months while affiliated with UBC, and found the house very conveniently located for my purposes, as well as in a beautiful spot close to the beach and seaside bicycle route. The room is cozy, clean, boasts cute decor, and has a surprising amount of drawer space for its size. Best of all, Bonnie is a wonderful host -- kind, thoughtful, helpful, interesting to talk to, and went way above the call of duty (for instance, letting me stay at the house while passing through Vancouver after my booking was over, and letting me continue to store my stuff there while taking shorter trips). Plus, Bonnie's dog, Azzy, is adorable and hilarious. Highly recommended!
Arielle
2013-12-02T00:00:00Z
Bonnie's place is fantastic! You can't beat the location, especially if you're trying to be in the West Point Grey/Kitsilano area, and the space itself is amazing. It really does feel like the whole place is your home. Didn't get to meet Bonnie herself, but she was great about communicating and making sure I had everything I needed. Perfect stay.
Saga
2016-07-08T00:00:00Z
Bonnie was the perfect host - welcoming, friendly, relaxed and flexible. .Also a really interesting person to speak with and very knowledgable about Vancouver. Had a fantastic time staying here. A lovely house in a perfect location-very short walk to bus route to UBC and downtown, a block from the beach, beautiful neighbourhood just to walk around. Shops, parks and bars close by. All amenities provided, great wifi connection etc. I could not recommend House of Yin more highly and would most certainly stay here again anytime I was in Vancouver. Alison
alison
2013-09-02T00:00:00Z
I had a lovely stay with Bonnie in her beautiful home. Excellent stay in a very nice area, would happily stay again if ever back in Vancouver! Thank you for making my visit to Canada so amazing !
Céline
2016-12-28T00:00:00Z
Staying with Bonnie was a pleasure. She is extremely kind and has a wonderful home in a great part of Vancouver. I highly recommend staying with her! You will get to see all of Vancouver with great ease and stay in a comfortable, private room.
Alec
2016-03-27T00:00:00Z
Had a lovely stay with Bonnie at her House of Yin. She was really friendly and knowledgable about Vancouver plus the house is in a great location for exploring the city. Overall my experience was awesome!!!
Christine
2015-06-04T00:00:00Z
Amazing place. Bonnie's house is awesome, with everything that you need to be completely comfortable while exploring Vancouver. It's located in a brilliant spot - close to the beach but also close to public transport and the main drags of Kits (plus the view from the kitchen is great) which makes getting around really easy. The room is spacious and comfortable and most importantly, Bonnie is a wonderful host. She is really friendly, generous and accommodating. A fantastic place to stay, can't recommend it highly enough!
Brin
2013-05-23T00:00:00Z
Amazing, host, amazing house, amazing neighbourhood! Always clean and tidy. It was just great all round :) Bonnie + co. always made me feel welcome and offered loads of help and advice for settling in in Vancouver for the long term. I couldn't really have asked for a better stay. I'd definitely recommend to others. Thanks Bonnie! xx
Eleri
2015-04-30T00:00:00Z
Oda Tipi
Özel oda
---
Mekan Türü
Ev
---
Konaklayacak Kişi Sayısı
1
---
Yatak odaları
Vancouver, İngiliz Kolombiyası, Kanada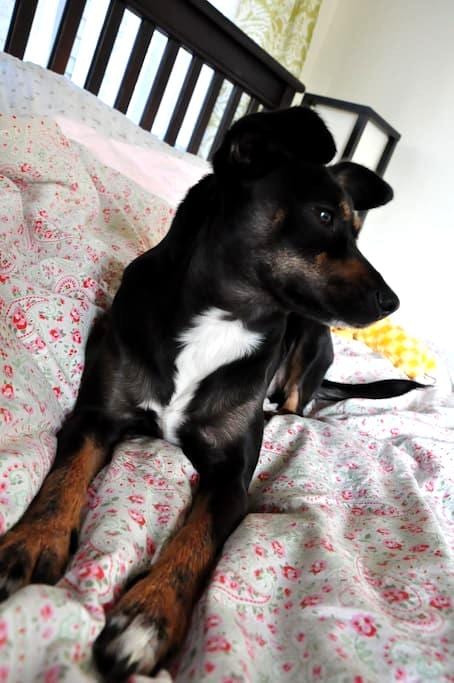 Experience the delight of small space living. Luxury firm Queen bed. Both firm and soft pillows. Natural linen bedding. Heated tile floors in main room and bathroom. 2 zones to ensure cool sleeping and warm bathroom. Garden level french doors lead to wisteria covered small patio and your private entrance. Ample free street parking. 2 quality bikes for your use (helmets, locks) Ride 2 blocks downhill to beach bike path connecting to all bike paths to city or UBC.
A quiet NON SMOKING house 2 blocks from Spanish Banks Beaches and 10 min bus to University of British Columbia. Walk or take 2 quality bikes most places in this beautiful city. Point Grey is a very safe neighbourhood to walk at all hours. Many restaurants and shopping within walking distance 2 quality adult bikes fully tuned up. Bike locks and helmets provided for your safety The studio garden suite doesn't have closet space ( I can store bulky suitcases in the basement during your stay) The accommodation suits up to 2 people - no extra guests as it is a very cozy space 10x25'. The French doors open wide to expand your experience. Patio furnished. Smart TV - Netflix - Youtube - Crackle tv
The beach is a highlight. In summer enjoy very low tides of 1 km of flat sand The Jericho sailing centre rents paddle boards, kayaks, wind surfers at the beach near here. Beautiful evening walks. University of BC minutes away by bus, bike or car. Vancouver marathon passes nearby on May 1st 2016 Triathlons, beach volleyball competitions, kite surfing, moon festival , view fireworks from the top of our lane (celebration of light ) or go down to the beach. Join the locals crabbing off the dock at Jericho sailing centre. Easy access to downtown - 1 bus, 15 minute cab ride. Airport to Trimble beach cottage is $40 Canadian flat rate cab ride Or use the sky train and connect to bus (480 is the bus number) get off at Discovery st and NW Marine drive and walk to our place - $7 approx Trimble beach cottage is very well situated
Elizabeth's cottage was perfect for our weekend in Vancouver. We were able to eat-in, walk the neighborhood and make a quick trip to UBC. The cottage was very clean and thoroughly equipped. We'll definitely come back for a visit in the spring or summer.
Sandi
2017-01-16T00:00:00Z
The cottage is exactly as described, quiet and cosy, just minutes away from the sea. A great retreat from Vancouver but still close to Kitsalino. I had a great week-end there, ran along the seaside and enjoyed a bike ride !
Stéphane
2016-10-10T00:00:00Z
Elizabeth was very helpful not only in suggestions on what to do, but also how to get to Vancouver from Seattle. We didn't have a car and we had a late arrival. She made sure we knew that we'd have to take a taxi and she was right on with the cost estimate. She was friendly, helpful and always just a text message away. We had a late flight out and she let us leave our bags on her porch so we had one more day to explore this beautiful city.
Samantha
2016-07-23T00:00:00Z
Great location near the beach and UBC. I loved having the bikes included.
Giselle
2016-10-08T00:00:00Z
Elizabeth was very accommodating to our changing plans, which was greatly appreciated. Fantastic location for getting to the beach and the University. We loved that there were bicycles available and made good use of them. Only small word of warning: it is a pretty compact space, not much room for luggage. The pictures stretch reality a bit. Otherwise, everything works in the kitchen and the shower gives a good dousing. Overall a great value.
Hamish
2016-10-31T00:00:00Z
Fantastic accomodation. Elizabeth is so amazing, extremely accommodating and available at anytime to help make your stay and trip the best you've had. Would highly recommend this stay if wanting to experience what the beautiful West Side of Vancouver has to offer.
Ben
2016-08-05T00:00:00Z
Elizabeth's place was very quiet, comfortable and welcoming. Everything we needed was available and well appointed. The location was great (by car) to town and downtown. The wifi was spotty so wouldn't recommend as a place to work or rely on wifi as your communication spot.
Rebekah
2016-10-24T00:00:00Z
Elizabeth was very accommodating and communicative. We were pleasantly surprised to find bicycles available for us to use. Although on this trip we didn't have much need to cook, it was nice to find full kitchen facilities.
Sharon
2016-07-20T00:00:00Z
Oda Tipi
Tüm ev/daire
---
Mekan Türü
Ev
---
Konaklayacak Kişi Sayısı
2
---
Yatak odaları
Vancouver, İngiliz Kolombiyası, Kanada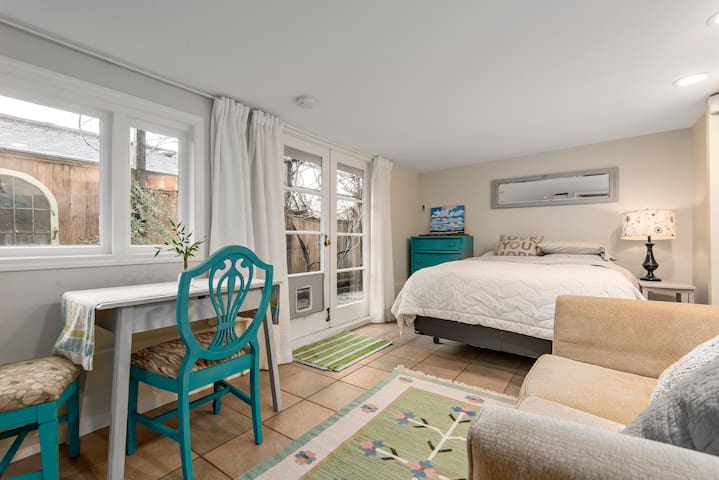 Welcome to a Single Bedroom of a 2 Bedroom garden suite in Kitsilano, shared with myself & my big dog, Rock. 2 blocks from West 4th, 5 minute walk to the ocean, plus plenty of incredible cafes & book shops & shops, heavenly restaurants of course too. There are Juice & Elixir & Tea & Pie places, all close by! There is an indoor gym in the back, and a shared backyard patio. Upstairs is a lovely, Expecting couple, with 2 dogs. Say hello, Thanks! Dogs are welcome, but on a case by case basis.
We are in a self-contained basement suite, all white so it feels spacious. I moved in March 1, and am now renting out the second bedroom on 3 weeks or more terms. The people upstairs, my landlords, are very nice, they are a couple expecting a child in spring, very soon!
I am in love with the location, in between West Broadway and West 4th, close to my favorite chai shop, pies shop & book store, plus loads of other little gems in the neighborhood. It's a quiet yet vibrant part of town. For groceries, Sobeys is a 5 minute walk, Whole Foods is a little farther in the other direction.
Marks a really chill easy to get along with host and we had a positive experience while we were there. Great location and good communication overall.
Elizabeth
2017-03-31T00:00:00Z
Oda Tipi
Özel oda
---
Mekan Türü
Ev
---
Konaklayacak Kişi Sayısı
2
---
Yatak odaları
Vancouver, İngiliz Kolombiyası, Kanada
Ideal Vancouver Location One minute walk to the beach, 5 minute bus ride to UBC and 20 min bus to downtown. Private room for one female in a lovely shared townhouse in a quiet neighborhood. Hosts are a vegetarian mother/daughter team.
Our home is small but lovely, just enough room for my teenage daughter, myself and a guest. Best location in Vancouver, one minute walk to the beach with views of the city and across the ocean to West Vancouver.
Our neighborhood is quiet and tucked away yet within walking distance to many amenities. In addition to the beach, there are numerous restaurants, coffee shops, book store, grocery stores etc We are in Point Grey, bordering Kitsilano.
I stayed in Sandra's beautiful house for 2 weeks and I felt like a family member during my stay at the "beachhouse". I can absolutely recommend this unique place near Jerichobeach and close to downtown Vancouver. Sandra is a great host and she made some very helpful suggestions concerning interesting places to visit. I would definitely stay there again.
Angelika
2016-07-30T00:00:00Z
I had a great experience while at Sandra's place. I was in town for work and it was a great home away from home for the couple nights I was in town. Fabulous location. Comfortable and cozy. Thank you Sandra!
Daniela
2016-09-29T00:00:00Z
Thank you for nice time and room. She provided a lot of amenities for me! And she is very kind and helpful. I really appreciate to you!
Karen
2016-10-27T00:00:00Z
Sandra made me feel at home and welcome in home!!! The location is amazing, minutes from the beach. I would definitely recommend staying there.
Cindy
2015-06-27T00:00:00Z
The neighborhood is really cool. Lot of options nearby. The sofa bed was comfortable. It was nice to have space in the dresser and closer to accommodate my belongings for 2 nights. Sandra is a very nice host and gave good tips about Vancouver.
Carla
2016-09-21T00:00:00Z
Sandra is very nice and welcoming. Her home is cute and the guest room is beautifully decorated and really cozy. It is equipped with a small refrigerator, which is very convenient for guests. Location is good too.
Mary
2015-09-03T00:00:00Z
Sandra was an amazing host. It's a great place to stay. Everything is exactly like the pictures and the beach is just across the street. I enjoyed my stay with them it was like being at home. Thank you for all your help you're awesome and have a great family!
Sara
2016-08-07T00:00:00Z
I felt very welcome in Sandra's home and it looks just like the photos - cozy and colorful and with everything you need. Sandra is easy going and very helpful and friendly, a considerate and gracious host who is going to extra lenghts to make her guests feel comfortable. Furthermore I enjoyed very much the patio in the sun in the morning and the fact that Sandra and her daughter are vegetarian :o) Their home is very pleasentful near the beach and not far from public transport and easy on go on a bike to downtown or to stay in the area with lots of shopping and cafés. I can only recommend to stay at Sandra's place.
Chelina Isabella
2016-05-17T00:00:00Z
Oda Tipi
Özel oda
---
Mekan Türü
Ev
---
Konaklayacak Kişi Sayısı
1
---
Yatak odaları
Vancouver, İngiliz Kolombiyası, Kanada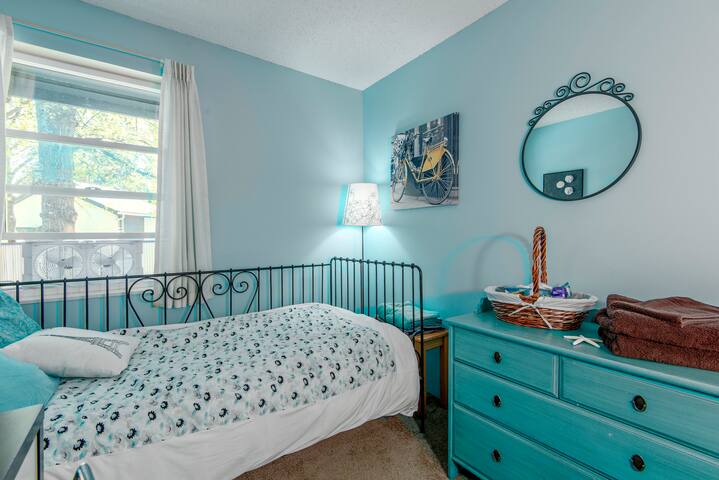 You'll love our place because of the location! It is close to the beach, and the popular neighbourhood of Kitsilano. It is located in a very safe and quiet neighbourhood, but it's proximity to major transit routes will make it easy for you to get anywhere in Vancouver. . Our place is good for couples and solo adventurers. It's also great if you love animals, as we have a dog who loves to cuddle! We are all young, working professionals and we are open to guests from all walks of life!
We love our neighbourhood because it is about a 5 minute walk from the beach! It's surrounded by parks and lovely places to walk. Our neighbourhood is also very quiet and safe, but it's very close to everything you could need it you'd like to go out and have a good time!
Ashley and Dustin's place is in a great location. Walking distance to the beach and shops and close enough via driving or public transport to downtown Vancouver. They are both great hosts and we enjoyed getting to know them.
Amy
2017-04-03T00:00:00Z
Oda Tipi
Özel oda
---
Mekan Türü
Ev
---
Konaklayacak Kişi Sayısı
2
---
Yatak odaları
Vancouver, İngiliz Kolombiyası, Kanada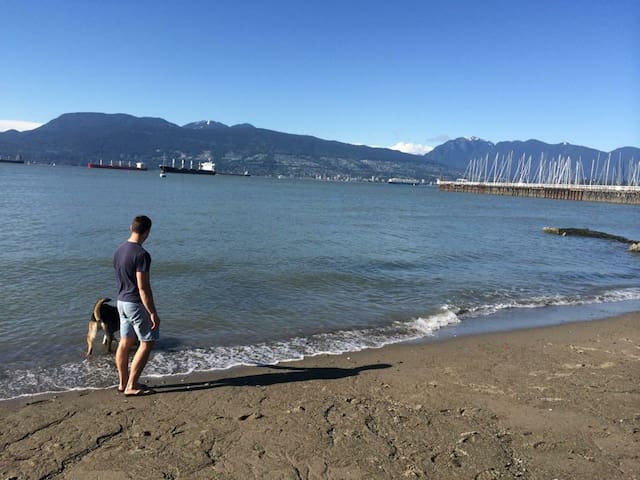 Our newly renovated suite in our century old heritage house is close to many beaches and parks including Hastings Mill Park, Tatlow Park, Jericho Beach, Kits Beach, Windsure Adventure Watersports, UBC and Downtown Vancouver. It's only 2 blocks from the ocean, shops and restaurants as well as public transit. You'll love our place because of the location, how quiet it is and the outdoors space. Great for couples, solo adventurers, business travellers, and families (with kids).
Our house was built in 1910 and is one of the oldest houses in the neighbourhood. It's been updated several times and we just spent one month renovating the suite you will be staying in.
Kitsilano is the best neighbourhood in Vancouver because you're close to the amazing beaches in the area and not far from downtown (a 8 minute drive). Kits is littered with parks, heritage homes and fantastic restaurants and shops. You're so close to all the action but away from the noise and headaches.
very nice overall. Thank you.
Bruno
2016-11-27T00:00:00Z
An overall lovely neighborhood- peaceful, filled with birds and a super area in which to walk to beach and to Aphrodite which had a sumptuous breakfast. We loved being away from the rat race and having a quiet place in which to sleep!
Kate
2016-09-25T00:00:00Z
Very nice space, just as pictured, in an awesome location.
Roberta
2016-10-03T00:00:00Z
Andre's place was perfect for my needs. It was comfortable and had a well stocked kitchen. The neighborhood is great! Close to grocery store and restaurants. Beautiful for walking and easy access to the beach. Andre was very easy to communicate with and was very accommodating. Thanks, Andre!
Sue
2016-10-08T00:00:00Z
Communication was very clear. Andre checked in with me shortly after arrival to ensure I had everything I needed and again half-way through. He responded to any questions I had immediately. He even had an easy back-up plan for when I left my keys and couldn't get it! The place is in a fantastic neighbourhood - clean and quiet, close to the beach, restaurants and easy transit to UBC and VGH as well as downtown and the airport (with one transfer onto the skytrain).
Corrie
2016-09-24T00:00:00Z
This is a great location. Easy access to public transport.
Robyn
2016-12-23T00:00:00Z
Andre was an excellent host to communicate with - speedy, helpful and friendly. The self-contained apartment suite is small but comfortable, and very well located, a couple of blocks from public transit, shops and restaurants. The suite is on the ground floor of a house, with others upstairs. One can hear a bit of noise from the hall and upstairs as people come and go occasionally, but everyone is quite quiet and this did not bother us. All in all, a great base for us while we were at UBC.
Jennifer
2016-11-20T00:00:00Z
Andre communicated well with us on the day. The place was great in a nice neighbourhood. Everything we needed was there ready. The place was super clean and tidy. It was exactly what we were after - chilling in a cool suburb for a week. Andre knows what he is doing.
Tim
2016-10-23T00:00:00Z
Oda Tipi
Tüm ev/daire
---
Mekan Türü
Ev
---
Konaklayacak Kişi Sayısı
3
---
Yatak odaları
Vancouver, İngiliz Kolombiyası, Kanada
Our garden suite is perfectly located to explore Kitsilano and Vancouver. We are walking distance to two different shopping areas, bars and restaurants, gorgeous beaches and bus routes to UBC and downtown.
Our suite is located in the basement of our character house. We are a busy family with young children who will be heard now and then, mostly in the hours before and after school. The use of extra baby gear can be arranged (high-chair, playpen etc.) to help make your stay hassle free. The ceilings in the suite aren't quite full height (about 6'9", 6'10") and a bit of duct work makes the doorway into the bedroom about 5 inches shorter.
Our house is located on a quiet tree lined street.
Loved our stay here. Great location with local facilities and easy transport links to downtown and other areas. Felt like home from home.
Glenn
2016-08-16T00:00:00Z
The unit was exactly as pictured. The neighbourhood was fantastic, close to shops and restaurants.
Katie
2016-09-09T00:00:00Z
Kristy was so thoughtful. We were traveling with our toddler and forgot to bring boots (in rain city!) and she gracefully allowed us to borrow her toddler's rain boots for the duration of our trip. She also made sure to have milk in the fridge and fresh cookies on the counter during our arrival. Really great stay. Thanks!
Laureen
2016-12-31T00:00:00Z
Kristy's suite is in a great location, close to Jericho Village and the beach park. The neighbourhood is lovely. There are lots of great coffee and restaurant options. We enjoyed Aphrodite and Beyond Bread near W4th and Alma. The suite is comfortable and Kristy and her family are very helpful and friendly! We would stay there again! Thanks.
Elly
2017-02-27T00:00:00Z
Very comfortable and well appointed suite. Great location and very walkable to all your needs. Of all the many airbnb places I have stayed, this is my favourite.
Donna
2016-12-22T00:00:00Z
Comfortable, clean home with all the basic amenities. House is located in a quiet, safe neighborhood with many restaurants and shops a walking distance away. Kristy and family are wonderful hosts and we had an enjoyable stay.
Madeleine
2017-03-23T00:00:00Z
Kristy was very helpful with travel direction on arrival, suggestions for places to visit in the neighbourhood, and lend me a bike for driving around the city on the weekend. Recommended place close to both UBC and Downtown by public transport or bike.
Roy
2017-01-21T00:00:00Z
Of all the airbnb places I have stayed at, this is my favourite. It feels like my home away from home. Thank you Kristy!
Donna
2017-01-03T00:00:00Z
Oda Tipi
Tüm ev/daire
---
Mekan Türü
Ev
---
Konaklayacak Kişi Sayısı
3
---
Yatak odaları
Vancouver, İngiliz Kolombiyası, Kanada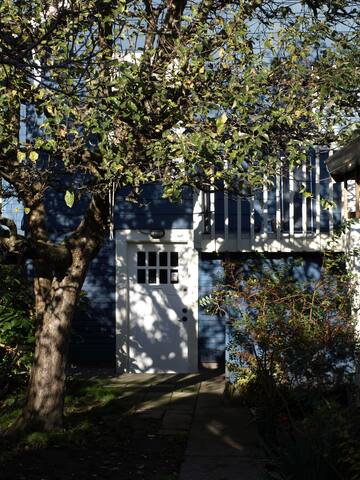 Hi there! It's close to UBC university,10 mins walk to Jericho beach and Kitsilano beach,5 mins walk to safeway supermarket, restaurants, starbucks, bus stop(#9 #14 to downtown\ubc\Vancouver east),gas station and banks. Free street parking. Really comfortable sofa bed ! It's in a living room!
Very conviennent ,close to beach ,school ,supermarket, bus station.share bathroom and kitchen with other 2 guests.
Jack is a nice guy. If you want to find somewhere warm and cheap, this is a good place. There is a Starbucks and a Safeway up the street, and it's easy to get into town. The only downside is that the futon isn't that comfortable.
Liam
2017-02-09T00:00:00Z
Nice place to stay, quiet and perfect for transportation, groceries and to visit UBC. Great experience.
Daryl F
2017-01-15T00:00:00Z
a room about right for the price!
Jessica
2017-03-08T00:00:00Z
Jack is a very hands off host and I had total freedom to come and leave throughout my stay. Super convenient location with easy bus access. Came on a cold rainy day and he personally brought out a blanket for me in the middle of the night.
David
2016-11-26T00:00:00Z
Although Jack was easy to communicate with and was nice enough to let me leave my luggage the day after my stay.. It is unacceptable to arrive to my bed and find dirty bed sheets . Also be aware that someone who lives in the basement makes a lot of noise + strong smell of marijuana. Also, found nice bugs on the wall next to my sofa bed .
Charles
2017-04-04T00:00:00Z
It's a great price for the apartment. My sofa bed was next to the living room, so rather opened. But there were really friendly people while I was living there and most of the time I was on my own. You easily get into the city or to the beach - I can only recommend the location! Jack was always kind and caring and messaged me whenever I needed something. Great host!!
Katharina
2017-04-01T00:00:00Z
Easy stay; great location for events at ubc. Bed a bit lumpy but all in all a good value.
Larry
2017-01-08T00:00:00Z
Great place to stay in Vancouver if you're planning on going to UBC, quite comfortable and very close to a bus stop to take you anywhere
David
2017-03-19T00:00:00Z
Oda Tipi
Müşterek oda
---
Mekan Türü
Ev
---
Konaklayacak Kişi Sayısı
1
---
Yatak odaları
Vancouver, İngiliz Kolombiyası, Kanada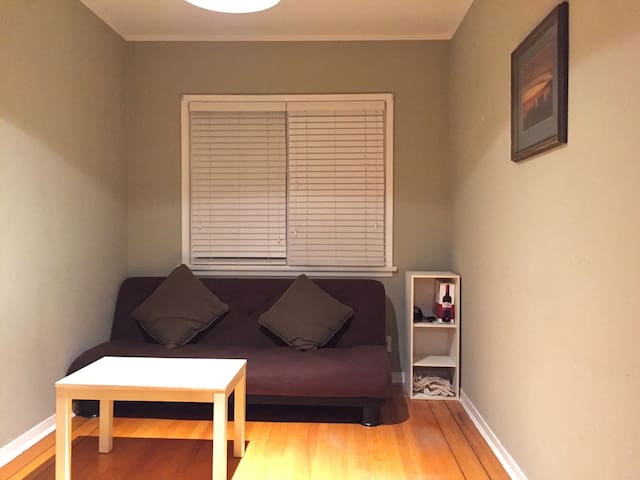 About the house: - 1 Bedroom with private bathroom that has a tub! - Upstairs that has the most beautiful view - Shed for bike storage and on street parking - Point Grey Road is foot and bike traffic only - 4 blocks from Jericho Beach!
Our space is known as the Gallery since it's situated on quiet Point Grey Road - a cycle or foot only traffic street that is right along the water in beautiful Vancouver. One side of the living room is completely glass and so you can see people running/cycling and walking, while also being able to see the gorgeous mountains that Vancouver is known for. It's a 15min drive into Downtown, 5mins to UBC and most importantly, a 30 second walk from the water.
Kitsilano is by far Vancouver's most relaxed neighborhood. It runs by the beach and there are at least 3 parts within a 2min walk from the house. Some nice pubs and yoga places nearby as well.
The host canceled this reservation 2 days before arrival. This is an automated posting.
Loick
2017-03-29T00:00:00Z
Although I arrived at around 11PM, he was welcoming us and explained all of houses I could use. Room has enough space for personal stuff and big restroom. Also it was available to park a car in front of a house with no cost.
JINSEOK
2016-07-23T00:00:00Z
Aswin made us feel very welcome upon arrival setting us up with keys and getting situated, even to go as far as offering us suggestions of things we could do during our stay. Checkin was very easy. The listing was very accurate and true to the photos. Very good location being close to both the beach as well as 4th. Great neighbourhood, many things to do and see. Also parking in front of the house was very useful and a definite bonus to stay at Aswin's. Would definitely stay again!
Andrew
2016-07-27T00:00:00Z
nice place
lukas
2016-08-09T00:00:00Z
aswin is ab outstanding host! he takes care a lot about the guests, tried to fulfill all our wishes. the communication was very easy and uncomplicated. the flat is perfectly located, all rooms are clean and tidy. i can this air bnb nothing but recommend to everyone!
Dominik
2016-07-20T00:00:00Z
Aswin is a friendly, communicative and helpful host. We had the place for ourselves most of the time. The house itself is a bit shabby, does not get any direct sunlight and is on the cold side. The room is clean and dark, again no sunlight or view (only for sleeping over), lots of wardrobe space, the best about the place is perhaps the huge bathroom with bidet (much appreciated!). Kitchen well equipped and common living room very agreeable and nice view of the very quiet neighbourhood, amenities and beaches minutes away. Overall good value for money, recommended mainly for younger travellers.
Martin
2016-06-01T00:00:00Z
Thank you Aswin for providing a peaceful refuge for my wife and I during a very sad time in our lives. You helped us with your presence, with your words, and with your ears. We were nourished everyday by the beauty inside and outside your home. We will always remember the experience. Thank you
Craig
2016-08-06T00:00:00Z
The location of the house is perfect, right by the bay and 15 minutes in bus from downtown. The room is clean and quiet. Aswin is a very nice and welcoming person. I had a great time. Lionel.
Lionel
2016-08-02T00:00:00Z
Oda Tipi
Özel oda
---
Mekan Türü
Ev
---
Konaklayacak Kişi Sayısı
2
---
Yatak odaları
Vancouver, İngiliz Kolombiyası, Kanada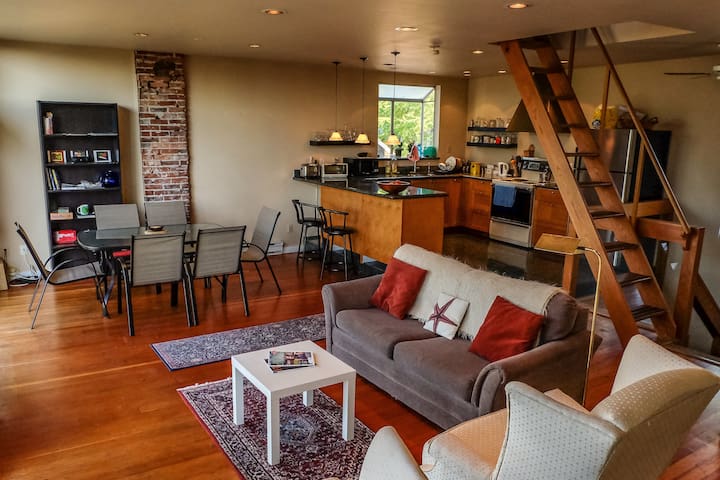 Private room, with a Queen sized bed on Main floor in a beautiful spacious apt. ( shared with occupant) Located in West Point Grey one block from Jericho beach. close to down town, and UBC. Local shopping, bus routes and other amenities close by.
Angela made us feel very welcome and was a great host.
Chris
2016-10-21T00:00:00Z
Angela (and Joe) are friendly, generous, musical, and helpful hosts. They invited me to join them for delicious meals and to indulge in Angela's own blends of teas and made me feel right at home in an unfamiliar city. Highly recommended.
Cory
2016-11-18T00:00:00Z
Neighborhood was prrfect. Joe & Angela super nice. Actually wish I could have spent more time with them
Stephen
2016-09-28T00:00:00Z
Angela and Joe were extremely welcoming, warm and wonderful. The house is located steps from the ocean and grocery stores and amenities. Easy transit to everywhere! Great for people visiting UBC students!
sue
2017-02-05T00:00:00Z
Made me and my SO feel right at home. Lovely house. Spacious and a very warm welcome throughout. Loved staying here. Be sure to keep in touch too. Ange is a league of her own.
Nathan Jay
2016-10-12T00:00:00Z
Angela was a wonderful, warm host. She has a beautiful home in a great neighborhood- close to the beach, amenities- very safe. I felt very comfortable and appreciated her hospitality. The house was pretty easy to find; I anticipated some trouble with parking on the street but always got a close spot. Great first Airbnb experience for me!
Melissa
2016-09-19T00:00:00Z
So I have never written a public review before, but Angela and Joe (her Husband) are just to amazing that I had to let everyone know about them. When I arrived at their house I had just had a long day of travel and three hours of trying to get through customs/baggage claim (never tell customs you are looking at schools they will question you to death) they were having dinner or just finishing. They immediately offered me wine (who doesn't love that already) and some leftover tuna steak which was amazing. They showed me around the house and to my room. We sat and talked about sports, politics, music, you name it they are very knowledgeable. I wasn't at the house very much because as much as customs didn't want to believe it I was actually checking out Universities in the Area. But when I was they let me sleep when I need to and on the last day had some friends over and played music and invited me to join them and sing along. Oh my gosh are these two people very talented. So to wrap it up, probably the best Airbnb I have stayed at and I can't wait to go back, because I actually want to spend more time with them and talk, drink wine, and listen to music. Thank you for everything you two are so amazing!
Jaron
2016-11-27T00:00:00Z
The host canceled this reservation the day before arrival. This is an automated posting.
Ken
2016-12-15T00:00:00Z
Oda Tipi
Özel oda
---
Mekan Türü
Ev
---
Konaklayacak Kişi Sayısı
2
---
Yatak odaları
Vancouver, İngiliz Kolombiyası, Kanada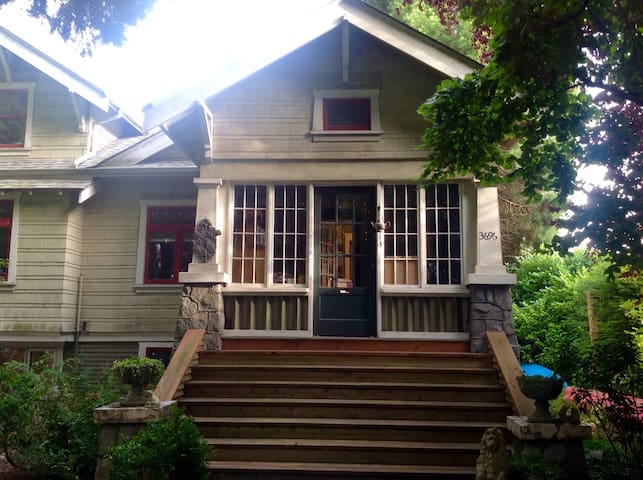 Fully furnished newly renovated 3 level 5 bedrooms character house in Point Grey, unobstructed view of ocean, mountain, downtown and city of Vancouver. Close to Locarno Beach, Jericho Beach, Spanish Bank Beach, English Bay, Granville Island, Museum, Golf Club, University of British Columbia.
She was very friendly and showed us the house and explained everything well. Overall the family enjoyed the experience staying there. Kids had lots of room in the yard to run around. The patio deck is dangerous for small children as the rail is not safe. Beautiful view!!
Anne
2016-08-28T00:00:00Z
Our group of four had a wonderful stay. Allie was very responsive and professional. The view alone is worth it!
Peder
2015-10-01T00:00:00Z
This is a beautiful old house with enough space for large groups of people. The view towards the city over the bay is magnificent and we ate as many meals as possible on the outside veranda. Not just a place to sleep but an experience on its own. Shops nearby and on the busroute to town. The dishwasher was not working and we reported this.
Jopie
2016-08-09T00:00:00Z
Very nice rustic home in a beautiful neighborhood. The view from the deck is gorgeous. The railing around the deck should have another piece of wood across the middle to make it safer for young children. My family had to really keep an eye on our 2nd year old. Communication from the host wasn't the best. There is wonderful beach waterfront down the hill from the house (drive down). Close to kitselano and Jericho beach. My family and I had a great when we were there. Good spot for a big group.
Paulo
2016-07-08T00:00:00Z
Very nice neighborhood. Loved the view from the back deck, but a problem with hornets swarming forced us inside.
Mark
2016-08-03T00:00:00Z
Beautiful house sitting on top of the hill with breathtaking view to the bay and mountains. Good neighborhood within several very small blocks from Safeway.
Sergey
2015-05-24T00:00:00Z
Allie met us on time and gave us a tour of her lovely home. The house was perfect for our group of 8. We had young children and a teenager and all had space to play and hang out. The view of the city was amazing. We were able to walk the kids down to the beach for a play. There were a few basic kitchen items missing, but the dollar store was close by- things like dishcloths, tea towels, a dustpan and broom. However, we left what we bought for the next guests to use. I would highly recommend this house to stay in Vancouver.
Michelle
2015-10-15T00:00:00Z
Everyone fell in love with the 270 degree panoramic view of Vancouver and the ocean....stunning...pictures do not do it justice.The house was immaculately clean.Very accommodating to let us in early to use the kitchen to prep a wedding barbecue. Everyone wanted the listing details for future (URL HIDDEN) better endorsement than that!
Dorothea
2015-06-21T00:00:00Z
Oda Tipi
Tüm ev/daire
---
Mekan Türü
Ev
---
Konaklayacak Kişi Sayısı
9
---
Yatak odaları
Vancouver, İngiliz Kolombiyası, Kanada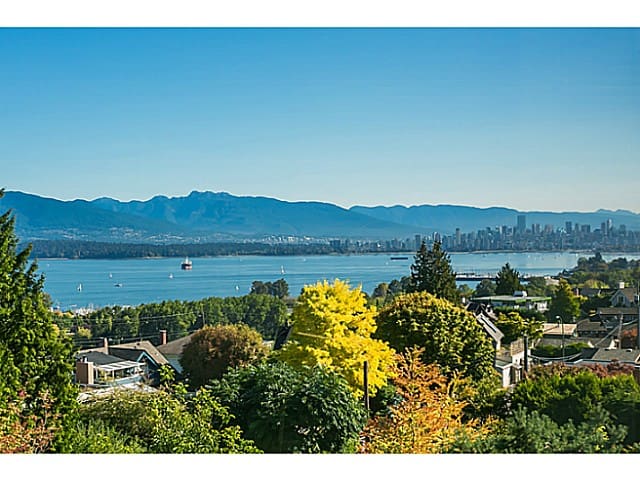 Our 1100 SF 2BR suite is on the upper floor of a heritage house with private entrance. Very spacious and bright suite that is only five minutes walk to Jericho beach. Supermarket, restaurants are two blocks away. Ten minutes drive to UBC, downtown and all fighting points. 1 queen &1 king bed in each BR and fully equipped kitchen.
Our 1,100 SF spacious 2BR suite located in the heart of Kitsilano. It takes only 5 mins walk to Jericho beach and bike lane, supermarket, restaurants, bus stop are two blocks away. 1 queen bed and 1 king bed in each BR with brand new beddings. Extra pull-out sofa bed in the master bedroom. Fully equipped kitchen to cook like at home. 10 mins bus/ drive to downtown, UBC. You can enjoy the sunshine or picnic in the front yard. Free parking on the street in front of the house . You can always find the parking, no worries! No pets, no-smoking, no party, no loud noise after 9:00pm, please !
This is a quiet neighbor, 5 mins walk to Jericho beach and supermarket, restaurants, bus stop in 2 mins walk. 10 mins drive or ride on a bus to downtown, UBC and sky train station. Very very convenient ! See the guests reviews for how they feel about the convenient location!
The listing appeared exactly as the photos show. Location in Kitsilano is lovely - 2 blocks from the ocean and 2 blocks from restaurants, public transit on West 4 Ave. It's the top floor of a beautiful old character home. Maggie was highly responsive to any inquiries we had before and during the stay and her directions were clear. It was nice to have a full kitchen available too!
Andie
2016-05-17T00:00:00Z
Had a great stay at Maggie's place in Kitsilano for four nights. There are coffee shops available 5 minutes away and great restaurants and shopping close by on 4th Avenue and Broadway streets. It is also centrally located to get to attractions such as Kitsilano beach, Granville Island and Stanley Park. Would stay here again.
Raj
2015-08-18T00:00:00Z
It was a very pleasant ,enjoyable and comfortable stay in Maggies accommodation in 2nd Avenue in Kitslano . Accomodaion was very clean warm and (URL HIDDEN) is situated in a beautiful area and has some fantastic views.We had a super relaxing time in her house with local shops and restaurants just round the corner. It helped to make our stay in Vancouver very memorable.Thanks very much to Maggie and her family.
joseph and margaret
2016-03-08T00:00:00Z
Maggie's place is clean, spacious and convenient to all things Kitsilano. With no keys to worry about (keys are not my forte!) we were able to come and go easily. The only drawback is the acoustics of the place - noises from the adjacent units are easily audible and one is very concious of every step. Overall though: cute, clean and convenient!
Geske
2017-01-22T00:00:00Z
Apartment is clean and homey. Kitchenware is well prepared and there was even a bottle of complimentary wine for us. Nice environment. Just that the floor is squeaky, needs some repair.
Tania
2014-07-01T00:00:00Z
We had a great stay here in Kits. Maggie's place was everything we needed and in the perfect location. Right by the beach. Thanks Maggie.
Kerry
2014-07-09T00:00:00Z
The Kits neighborhood is super convenient and has everything to offer a family with little ones. We walked everywhere or took the bus to farther destinations as we stayed 1 block from the main bus line. The place was fine for all our needs and Maggie was easy to reach when I had issues with anything.
Sarah
2016-03-23T00:00:00Z
Nice house we like it very much.
YUAN
2016-10-23T00:00:00Z
Oda Tipi
Tüm ev/daire
---
Mekan Türü
Ev
---
Konaklayacak Kişi Sayısı
4
---
Yatak odaları
Vancouver, İngiliz Kolombiyası, Kanada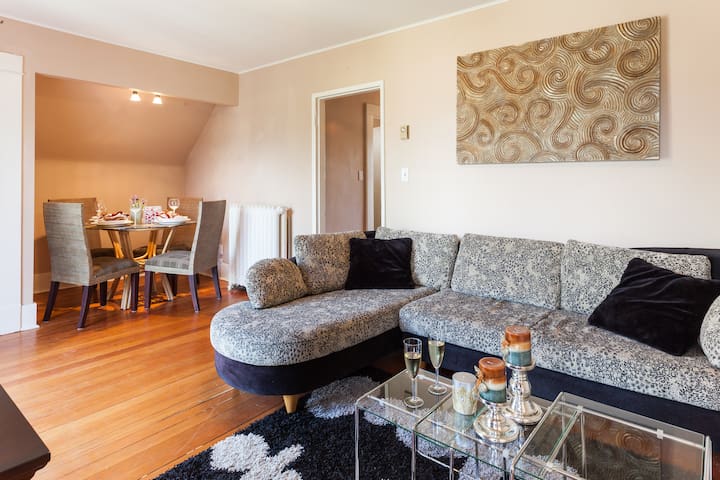 Lovely, newly renovated, self-contained suite in the heart of Kitsilano. My place is close to UBC, Downtown Vancouver, Jericho & Kitsilano Beach, shopping on 4th and Broadway. You'll love my place because of the comfy King sized bed, the neighbourhood, and the brand new kitchen with stainless steel appliances. My place is good for couples, solo adventurers, and business travellers.
Kitsilano neighborhood is close to everything! Close to the beaches, great shops and restaurants on both 4th and Broadway, close to Downtown Vancouver, close to UBC!
Lovely is the perfect word to describe Diana's suite in Kitsilano. The suite was quiet, clean, and comfortable, and Diana included a few extra amenities to make our stay a little more special. Kitsilano is a wonderful neighborhood to explore, with plenty of shops, restaurants, and people watching. We would absolutely stay at Diana's suite again.
Sarah
2017-03-15T00:00:00Z
Absolutely lovely.
Martin
2017-03-20T00:00:00Z
5 star accomodation in a wonderful location. We will defnitaly stay again
Philip
2017-04-03T00:00:00Z
I almost hate to recommend this gem,fabulous accommodation in a perfect spot,close to broadway and fourth and great restaurants
Beverly
2017-02-21T00:00:00Z
This was a great suite, even better than described online. Very private and quiet, warm and cozy with a divinely comfortable king-size bed (pillow top mattress!) and a brand new well-stocked kitchen with a gourmet convection oven and quality cookware - I actually cooked a whole Christmas dinner there. It's a lovely tree-lined residential street of heritage houses in a walk-everywhere Kitsilano location, very close to Jericho Beach and shops/restaurants on West 4th or Broadway. The suite is modern and spotlessly clean, full of thoughtful details like extra toiletries, Keurig coffee and a welcome basket of treats. Diana is an excellent host, very friendly, responsive and helpful. Designated driveway parking spot was very convenient too. I highly recommend this suite and will stay again next time I'm in Vancouver.
Martha
2016-12-28T00:00:00Z
This is a gem of a place and Diana is very hospitable. I am making plans to stay again on my next trip.
Giselle
2017-03-02T00:00:00Z
Very comfortable and brand new--very clean and quiet. Diana very accommodating, kind and professional.
MaryCarol
2017-02-05T00:00:00Z
Diana is such a great host being totally interested in our welfare. The apartment is newly completed and has modern first class appliances and furnishings. If you want to be in the heart of Kitsalano, with public transit, dedicated parking space, shopping, grocery and speciality food stores, restaurants, and a quiet residential location this apartment is for you
Edwin
2017-02-02T00:00:00Z
Oda Tipi
Tüm ev/daire
---
Mekan Türü
Ev
---
Konaklayacak Kişi Sayısı
3
---
Yatak odaları
Vancouver, İngiliz Kolombiyası, Kanada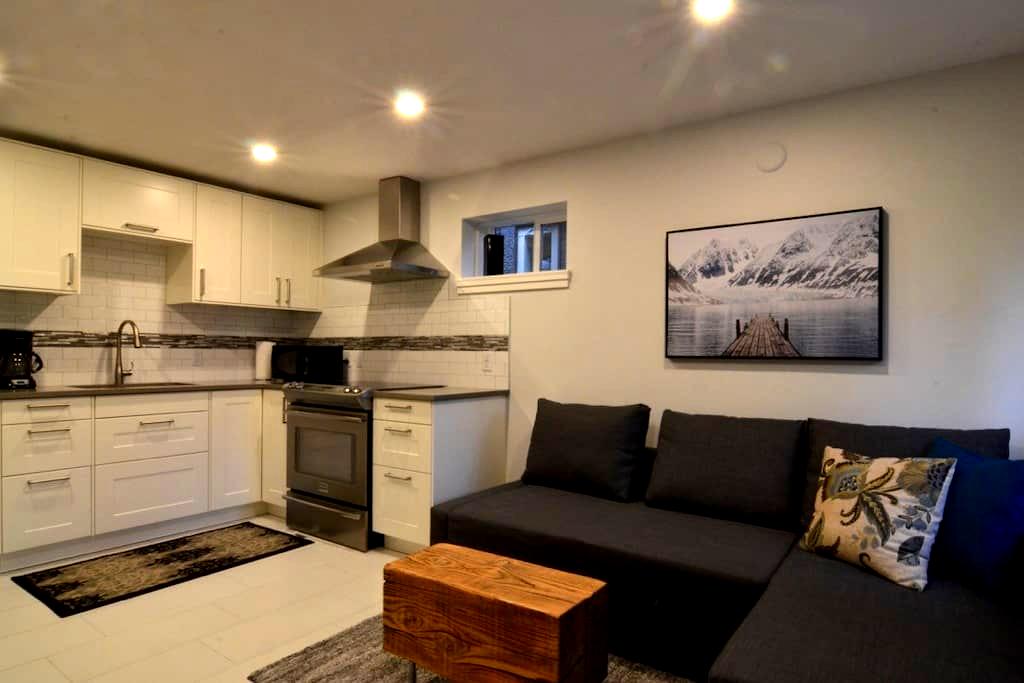 Located on one of Vancouver's most beautiful streets and bike paths, only a few steps away from the water.
Oda Tipi
Tüm ev/daire
---
Mekan Türü
Ev
---
Konaklayacak Kişi Sayısı
6
---
Yatak odaları
Vancouver, İngiliz Kolombiyası, Kanada
Tam fiyatlandırmayı görmek için tarihleri görün. Ek ücretler uygulanır. Vergiler ilave edilir.