Anmerkung: Wir haben zwei schöne private Räume. Jedes verfügt über einen separaten Eintrag. Wenn dies ein gebucht bitte die andere Auflistung überprüfen. https://www.airbnb.com.pe/rooms/10397603?s=i0IMceEH
Casa De Amistad-Lovely house share with amazing terrace and views in beautiful San Lazaro, the historic center of Arequipa. Spacious, filled with lots of air and sunlight, expansive roof-top garden terrace with amazing views, large fully furnished bedrooms, one with balcony. There are 2 gorgeous bedrooms with new mattresses and bedding, 32" 1020P TV/monitor, desk, armoire closet and balcony. The house has 24-hour hot water, wireless high speed internet, cable TV and a clothes washing machine. The bright clean kitchen has a stainless steel stove, microwave, water filter, oven, and full utensils for a cook's delight. The spacious roof-top terrace offers stunning volcano views and is perfect for taking sun, or reading, or enjoying a meal under the shade canopy. The abundant plants and off-street location provide a beautiful, quiet, and convenient living style. My mom and I are from Moquegua, Peru. We're looking nice persons or couples who want a quiet and friendly place to call home. This would be a perfect opportunity for a traveler(s) or volunteer(s) looking for a comfortable, clean and historic place where you can easily walk to the Plaza de Armas and the city center. Note: We are within 6 blocks of the Plaza de Armas and the Mercado San Camilo, the famous food market which occupies an entire block, and within 3 blocks of El Super, a modern grocery store. You have everything you need right here so you won't need a taxi or bus to get around. Daily Pricing 1st person in a private room is 20 US per day 2nd person sharing a private room is 13 US per day additional for stays of less than 1 week Weekly/Monthly pricing 1st person in a private room is 140 per week or 465 US per month. 2nd person sharing a private room is 9 US per day for stays of 1 week or more Discounts for long term stays of 2 months or more Please contact us at the number below or send me an email. Thanks for your interest, we look forward to seeing you soon here in historic Arequipa. Thanks for your interest, Robert and Veronica
We are in the historic City Center within 6 blocks of the Plaza de Armas and many historic sites like the Monesterio de Santa Catalina and la Catedral
We staied just one night but we would have love to stay more ! Robert is a great host always there if needed ! The terrasse is amazing and you can so your washing without any supplement to pay that is great ! He let us leave our clothes there because we left for a 2 days trek and didn't need everything that was so Nice from him ! I would go back anytime !!!!
Emilie
2016-05-27T00:00:00Z
Robert's place is a gem. While teaching English in Arequipa, my girlfriend and I stayed with he and his mother, Veronica, for a month. The place was kept spectacularly clean and is true to its listing. Wifi is great, the kitchen has everything you could need, can do laundry whenever you want, the rooms are spacious and have two beds in each. It is less than a 10 minute walk to the Plaza and is a few minutes walking to all the best restaurants. Veronica was there during our whole stay and she is the sweetest. She is always smiling and welcoming, and quick to share lots of fruits with you! I couldn't recommend this place enough.
Cole
2016-11-30T00:00:00Z
Disfrutamos mucho nuestro tiempo en la casa de Robert! Era muy amable y tenia los mejores tipps para conocer la cuidad. En la terraza se podia sentar y desayunar y disfrutar la vista a la cuidad. Quedanse allá!!!
Nicole
2017-02-15T00:00:00Z
I was welcomed perfectly by Robert after a very long trip through Peru ! The house is very well located, in the historic center, near everythings must be visited. The bedroom and the other room were very clean and the rooftop ''la cerise sur le gâteau''... Amazing view on the volcanos Chachani Misti and Pichu Pichu
David
2016-04-11T00:00:00Z
Robert's place was perfectly located in Arequipa. His mother, Veronica, was incredibly helpful & friendly checking us in and getting us situated. The roof top is a great place to enjoy a glass of wine while watching the sunset. We highly recommend Robert's accommodations.
Anna
2016-09-08T00:00:00Z
Great!
Anthony
2016-07-13T00:00:00Z
Extremely nice host - Robert, who was helpful in any way (like calling a taxi).The place is close to the main square, room was nice and cosy (I loved the rose on the table). Kitchen fully equipped, you can use washing machine. The taraza was just perfect to chill out. I highly recommend this place.
Agata
2017-02-20T00:00:00Z
The place is great, clean, charming, well located, and the hosts absolutely adorable. Verónica grows her own apples, plums and avocados and will offer them freely. The terrace is very cute. All around great experience!
Isabela
2017-01-04T00:00:00Z
Oda Tipi
Özel oda
---
Mekan Türü
Ev
---
Konaklayacak Kişi Sayısı
3
---
Yatak odaları
Arequipa, Arequipa, Peru
Our stunning department is situated in a residential zone, it is 10 minutes walk from the principal square. With spacious bedrooms and bathrooms. The kitchen is a fully stocked galley kitchen, with natural light. Near supermarkets and restaurants. The department is at the top floor of a modern skyscraper.
The department is luminous, spacious and modern.
I like that our area is a residential area, and it is 7 blocks away from the central square. In the zone there are delicious restaurants and nice supermarkets. And full transportation.
Carolinas apartment is very nice and clean. We had a great time there. Check in and check out was easy. Safe place. Not far from down town. Thank you Carolina
Sabine
2016-09-07T00:00:00Z
This was one of the top airbnb stays we have had...and we have had many! Carolina responded to all missives super fast, made sure we had arrived OK (though she was out of the country!) She met with us as soon as she returned to Arequipa. Her representative, Marta, met us at the apartment, and throughout our stay was in contact with us and made sure that we were OK and had what we needed. The apartment is clean, spacious, so very pleasant, in a lovely residential neighborhood. The beds are so comfortable, and the linens and towels of excellent quality. Such attention to detail made our stay there that much better. The walk to the town center (Plaza de Armas) took us 10-15 minutes, and we found small grocery stores around the corner, and the larger supermarket in the main square. The kitchen is conducive to having meals "at home" with every appliance necessary. (Perhaps Carolina could add a wine corkscrew and a sieve for pasta!) The washing machine was a great plus, and with Arequipa sun, laundry dried super fast. We had hot water whenever we needed it during the two weeks we spent there, and wifi worked well. Carolina's sister and brother-in-law own a restaurant, Don Valerio, just a short block away. They serve delicious (and inexpensive) almuerzos, and were so very kind to us. Highly recommended! They all made us feel like part of the family. We used the apartment as a base for two weeks, and made overnight trips to the surrounding sites. Each time we returned, it felt like coming home. Carolina arranged for Alonso to pick us up from the airport and take us there at the end. It is this extra attention to detail and caring for her customers that make this apartment in Arequipa a true find.
Rami
2016-07-10T00:00:00Z
We spend three nights in Carolina's appartment. It is very spacious and confortable. Modern and clean. There are everything needed. Full equiped. Easy to go to the Plaza de Armas for 8 soles. Taxi are everywhere. There is also a nice restaurant, Sambambaia, few blocks away if you do not fell to go downtown for dinner. Carolina do not live in Arequipa but she answer very quickly to everything. Martha is there and take care of everything. Carolina manage to have a taxi waiting for us at the airport, wich was very nice. The only little thing are the neighborhood' s dogs that barked all night. You either have to keep all windows closed and miss air because there is no air conditonning or put earplugs. But in all, I would greatly recommand this appartment.
Maryse
2016-10-08T00:00:00Z
Carolina was a wonderful host from first contact and throughout our stay. Martha met us and brought us into the apartment and showed us what we needed to know. The apartment is lovely, large, immaculate and very well set up..a most comfortable place to stay. Although Carolina was around the world from where we were, she responded quickly to any questions and offered help on airport pick up etc. this was a wonderful base from which to explore Arequipa. It was just a little more than a mile to walk to the city center and for those who are not walkers, taxi's are plentiful. Just make sure you have a map to show the taxi driver since the street is a tiny one. Carolina is an asset to Air B and B and I wouldn't hesitate to recommend her apartment to anyone traveling to Arequipa! And after 4 weeks of travel, we were happy to have a washing machine to wash our clothes. I forgot to mention the beautiful view of the volcanoes from both the front balcony, living room and back of apartment as well.
Barbara
2016-10-22T00:00:00Z
One of our best airbnb experience! Sublime flat, helpful and reactive host, close to the center but quiet street (important in Peru!). Thanks!
Cédric
2016-11-04T00:00:00Z
Excellent apartment. Well located in a very peaceful neighborhood. Carolina and her supportive team very collaborate and nice. Besides, Arequipa is a beautiful city. The apartment is walking distance to main attractions of the town.
DAVID
2016-06-19T00:00:00Z
The place is gorgeous and convenient. Carolina is very helpful in coordinating the taxi city tour and the taxi to airport for us. I would recommend the taxi city tour to everyone comes to Arequipa. Alonso is very nice and patient although we don't speak any Spanish.
Samantha
2016-09-19T00:00:00Z
Viaje por negocios a Arequipa, y el apartamento esta muy bien equipado y tiene todo lo necesario para proporcionar una estadía cómoda, esta en una zona bastante tranquila lo que permite descansar con comodidad por las noches.
Xuan
2017-01-20T00:00:00Z
Oda Tipi
Tüm ev/daire
---
Mekan Türü
Daire
---
Konaklayacak Kişi Sayısı
9
---
Yatak odaları
Arequipa, Arequipa, Peru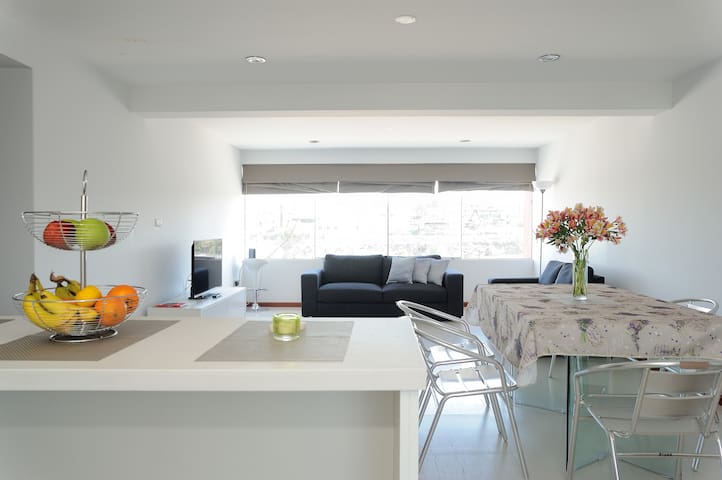 Attractions: Centro Historico Arequipa, parade 2 blocks and a half. . You'll love the house is close to the sights, vivid colors brighten the house plants that brighten the room, private room, nice atmosphere, beautiful view from the terrace, kitchen to use ... among others ... My accommodation it is good for couples, adventurers, tourists, volunteers ...
Near the center and very nice inside
Very close to the square, supermarkets, attractions. There kitchen to prepare tasty meals and washing machine for use free of charge.
The room was clean and very spacious. Good equipped kitchen and a wonderful roof terrace where you can chill or work from. It's perfect located in the middle of the Centro Historico were you can reach everything by walking. Anghela gave a a wonderful introduction and a map of the city and many tips. Also the communication with her was perfect in advance and during my stay. I would definitely stay there stay there again, when I will come back.
Suparni
2016-11-17T00:00:00Z
La maison est idéalement située (à 2 pas du centre historique), facile à trouver grâce aux indications d'Angela, qui nous a très bien accueilli, nous a très bien renseigné et conseillé. la chambre est spacieuse, très propre, ainsi que la salle de bain. Et le lit est au top. La cuisine est utilisable sans problème. Un plus dont nous n'avons pas pu profiter à cause des conditions météo : la terrasse avec une vue sympa. Un endroit à retenir !
François
2017-03-16T00:00:00Z
Ángela es una persona muy gentil y siempre está atenta a cualquier duda que tengas. Ella nos mostró todas las dependencias del alojamiento. El alojamiento es muy lindo, amplio ordenado, limpio y ubicado a pasos del centro.
Paula
2017-02-14T00:00:00Z
Angie was a wonderful hostess and the area couldn't have been better! Myself and my two friends booked a two nights not really knowing what to expect, but we were very pleasantly surprised. Angie was extremely patient when we missed our flight and then helped us book a tour after we arrived. She even exchanged our money, translated and helped us contact our tour company at 3 am when they didn't show up as planned! We could not have asked for a better experience. Thank you!
Andrea
2016-08-08T00:00:00Z
Anghi was an amazing host!!!! She is super friendly and helpful and has a warm heart! Her place is great!!!!! Perfect location close to the plaza de armas, great room, amazing patio, cool communal area with pool, ping pong, .... there is nothing more we could have asked for! Thanks, Anghi!! :)
Heike
2016-12-15T00:00:00Z
Anghela ist eine sehr freundliche und zuvorkommende Gastgeberin. Die Unterkunft ist sehr sauber und gut gelegen. Die Küche ist wunderbar ausgestattet. Alles ausgezeichnet, die beste und angenehmste Unterkunft die wir auf unserer Reise besuchten. Kann man nur weiterempfehlen!
Franz
2017-01-01T00:00:00Z
Perfect location, great games room and the rooftop is a great place to relax!
georgie
2017-02-20T00:00:00Z
Es el mejor de todos los sitios en que nos hemos alojado en Perú, las fotos del lugar hablan poco de lo hermoso y cómodo que es. Está muy cerca de la plaza de armas, lo que lo hace excelente para conocer caminando los mejores sitios de la ciudad. Anghela es muy amable, está pendiente de todo en la casa y sus huéspedes. Nos recibió con dos botellas de agua y unos alfajores en la habitación, nos dió toallas y el agua caliente funcionó muy bien... No me imagino otro lugar para hospedarme y recomendar en Arequipa, es genial, tiene una terraza espectacular, lavadora, una cocina muy cómoda, mesa de billar, televisión por cable, futbolín, la casa tiene decoración muy bonita y los espacios son amplios y cómodos... Me quedo corto en palabras para elogiar este lugar y su extraordinaria anfitriona... ;) Si no tuviera planes y reservas para mi resto de viaje, me hubiera gustado quedarme más tiempo...
Julian
2017-03-03T00:00:00Z
Oda Tipi
Özel oda
---
Mekan Türü
Ev
---
Konaklayacak Kişi Sayısı
3
---
Yatak odaları
Arequipa, Arequipa, Peru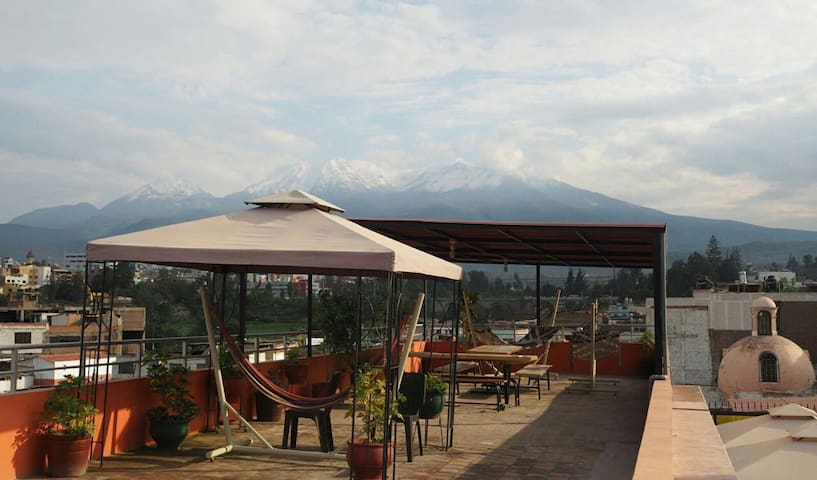 Fully furnished and completely independent: 01 bedroom mini apartment that features a comfortable double bed, TV and a private full bathroom with hot shower available 24/7. Equipped kitchenette area with: 4-burner kitchen hob, standard refrigerator, microwave, electric kettle, a stove top espresso maker, a blender, sink and a countertop water filter There´s also a small living room that features a guest ½ bathroom , a couch, and a big TV w/ Blu-ray Wi-Fi, Cable TV, and WASHER included!
This apartment allows people visiting Arequipa to have a different, innovative and completely independent experience at a very affordable and more than reasonable price. It´s located on the second floor of an antiseismic and modern construction (NO elevator available). Located less than 15 min. cheap taxi ride away from Plaza de Armas (main square) very close to supermarkets, movie theatres, restaurants, cafes and shopping malls. Apartment has its own doorbell and unit number. WHY ON EARTH WOULD YOU ONLY RENT A SIMPLE ROOM, EITHER PRIVATE OR SHARED, WHEN YOU CAN HAVE AN ENTIRE PRIVATE APARTMENT FOR THE SAME PRICE OR EVEN LESS? ---------------------- Modern and FULLY FURNISHED mini apartment ideally for 1 or 2 persons, although if desired and correctly booked, a third person can stay and use the available inflatable mattress as a bed, but please keep in mind that NO MORE than 03 persons will be allowed. FULL DESCRIPTION OF THE APARTMENT: It´s a 01 bedroom apartment that has a comfortable double bed (fresh linen, pillows and towels are provided) with an ensuite private bathroom w/ hot shower 24/7, it also has 2 closets with hangers and a 24 inch TV installed. The room has great natural light in the mornings. Near there, the kitchenette area can be found, which has a ready to use 4 burner kitchen hob with a cooker hood, 02 cooking pots and a frying pan, cooking spoons, spatulas, strainer, etc. (includes cutlery, plates and glassware), it also has drawers, shelves, a kitchen sink with a dish rack drainer, a countertop water faucet filter (safely drink cold filtered water straight from the tap), a standard refrigerator, an electric kettle for tea and hot beverages, a blender for making fresh fruit juices and for cooking, a stove top moka pot (italian coffee maker) for those coffee lovers, and also a microwave. A dining counter bar with two swivel bar stools to eat and/or use a computer can be also found right there. The small living room features a leather couch for two, a glass center table and a 42 inch flat screen TV with cable hooked to a Blu-ray player; near there a guest bathroom (half bath) can be found, there you can also find the laundry area along with the washing machine (detergent or any other washing supplies are obviously NOT included) the washer is just an extra bonus, especially for long stays. Clothes will come out almost dry from the washer, but since having a dryer is not usual with this kind of weather, keep in mind that there is a drying rack inside the laundry room where you can hang your clothes and let them dry. ----------------------------------------- When the apartment is booked for 03 persons an auto-inflatable mattress will be available. If you book for 02 persons and need to use the inflatable mattress just request it and I´ll be happy to provide it at no extra cost for you. The apartment is properly cleaned, disinfected and arranged for every new guest booking request, but during their stay GUESTS must be and are the only one responsible for its proper cleaning and maintenance (just like every other place published on Airbnb) To make this task easier, a broom, a dustpan, a mop, some disinfectant liquid and a toilet brush are provided. Also the first charge of soap, shampoo and toilet paper is provided in both bathrooms, please take this as a welcome courtesy. Once you run out of any of the items initially provided you can buy some more from the pharmacy on the first floor or in any other shop/market nearby. ------------------------ You can rest, cook, take a hot shower, relax on the couch, watch TV, etc. just like you would do at your own house. There is NO CURFEW, you can come in and out whenever you want. Compared to the classic ¨(not so)Private Room¨ listings or mediocre and crowded hostel bunk beds with cold and shared showers; for the same price or even less money, this is really a no-brainer. Go ahead and compare us with other listings and properties, WE DON´T CHARGE CLEANING FEES or similar, do the math with other listings that might ¨seem¨ cheaper but in reality they have a catch with the cleaning fee or the privacy terms, here you get the best bang for your buck! check out and take advantage of our weekly 12% and monthly 28% discounts! Our location is great, NOT FAR at all from Arequipa´s main square, it´s located in a safe and well known area, which makes my listing a total steal (especially for the high quality of the apartment and mostly for the great deal you´ll be getting) Arequipa´s Main Square (Plaza de armas) is only a less than 15 min. S/ 6 - 7 soles taxi ride away (S/ 6-7 soles equals less than $ 2 USD per ride), or a 35 minute walk for our eco friendly guests (less than 5 km) Arequipa is a safe and small city, distances are fairly close, don´t be mistaken by the map or fooled by taxi drivers, the building is close to everywhere you might plan to visit. Location and distances from/to the apartment are also very clear in the announcement so please keep that in mind before rating the location after your stay. ------------------------------------------------ We have the BEST quality-price ratio for Airbnb listings in Arequipa, go ahead and compare us NO CLEANING FEE OR HIDDEN COSTS! - ONLY REAL AND VERIFIED PHOTOS, IT EVEN LOOKS AND HAS BETTER THINGS NOW THAN WHAT IT LOOKS IN THE PICTURES. IF THIS APARTMENT IS TAKEN FOR THE DATES YOU DESIRE, PLEASE CHECK OUT MY OTHER LISTING --- Private Apartment #2 •modern and cozy•BEST VALUE• --- AND BOOK WITH CONFIDENCE, BOTH APARTMENTS OFFER VERY SIMILAR ROOM LAYOUT AND ARRANGEMENTS, PLUS THEY ARE LOCATED ON THE SAME FLOOR OF THE VERY SAME BUILDING, RIGHT NEXT TO EACH OTHER, CHOOSE THE ONE YOU LIKE THE MOST BY THE PICTURES
In the same building you can find a very well known and complete Drugstore-Pharmacy called INKAFARMA , to buy medicines, vitamins and personal hygiene supplies at the best prices in town (open from 7am to 11pm everyday) A 24 hour nice and well stocked LISTO mini market is also just around the corner where you can even pay by credit card and it also has an ATM on site. This kind of 24/7 markets are very rare in Arequipa. Also, ANCESTRAVEL Tour Operator, is located on the first floor of the building, where you can get all the tourist and general information you need (free of charge), as well as arrange and directly buy: bus tickets, plane tickets or tours at the best prices. Building is also located less than 8 minute walk (OR a 2 minute taxi ride) to the largest shopping mall in town, Mall Aventura Plaza, and a 15 minute walk (OR a 3-4 minute taxi ride) from the Parque Lambramani Shopping Mall. It takes less than 8 minutes by taxi to/from the bus terminal (terrapuerto), less than 15 minutes taxi ride from downtown Arequipa (Plaza de armas) and 30 minutes away from the Rodriguez Ballon airport by taxi. Check out the map at the end of this page to see my other recommendations for things to do or places to hang out during your stay.
We loved this flat and didn't want to leave! When we arrived from our overnight bus and Jose was waiting to take us to the flat. The flat is exactly like the pictures and has everything you need. Kitchen has a hob, microwave, pots, frying pans and utensils and the water is filtered. Lovely hot powerful shower. Great wifi. Very comfortable bed and pillows. Close to a shopping mall where you can stock up on food. Jose was a great host, he was easy to communicate with and it was a pleasure to stay at his flat.
Aimee
2016-10-13T00:00:00Z
Get off the beaten path! Smart little apartment perfect for one or a couple who are on a short- or medium-term stay not focused on tourism, or maybe the gringos who are old hands in Latin America and don't need to be close to the tourist beat. Restaurants, shops, everything you could need on the avenue, a modern shopping mall a 10-minute walk away. Historic city center is a $2 taxi ride away. Comfortable place, nice things. Very clean. Quiet neighbors. Safe neighborhood. Also for those looking to get off the beaten path and experience Peru's middle-class, the Avenida Dolores nightlife district is not far. Not a short walk, but not too far to walk. You never see gringos partying in those spots.
Colin
2016-04-12T00:00:00Z
Fantastic value accomodation in a comfortable one bedroom flat
Martin
2016-10-20T00:00:00Z
Jose is the perfect host. I stayed for over 1 months and he helped me with everything from picking me up to helping me with an online purchase to laundry and recommendations. He is always kind and attentive making sure everything is taken care of. The location is a bit far from downtown but more authentic with hidden gems all around. Loved my time here and will definitely stay again when I'm back in Arequipa. Thanks Jose!
Andrea
2016-08-10T00:00:00Z
Jose is a true professional. Our bus was 3 hours late to arrive due to a break down, but he was still waiting on us. He called the bus company to figure out the problem. The apartment is very new and was as clean as the pictures. The kitchen is well equipped for cooking. It was a very peaceful and relaxing stay. Jose was always available to help with anything we needed. One of the best airbnb experiences we have ever had!
Timothy
2016-05-03T00:00:00Z
Super
Jorge
2016-12-08T00:00:00Z
Really great and modern appartement. Jose was really attentive and gave us good info. A bit far from the center but ideal for People who are looking for a good accomodation.
Lukas
2016-06-07T00:00:00Z
El departamento estaba excelente limpio muy organizado y bastante espacioso, Jose Miguel atento en todo momento :)
Jorge
2017-03-21T00:00:00Z
Oda Tipi
Tüm ev/daire
---
Mekan Türü
Daire
---
Konaklayacak Kişi Sayısı
3
---
Yatak odaları
José Luis Bustamante y Rivero, Arequipa, Peru
We have rooms with a beautiful view and an excellent climate. safe area opposite a supermarket, a 15-minute walk from downtown, 5 minutes from the bus station. pleasant and comfortable atmosphere.
We have 2 bedroom duplex, with a bathroom. A bed is located in the upper room and 2 beds in the room below.
Downtown area
Oda Tipi
Özel oda
---
Mekan Türü
Özel oda
---
Konaklayacak Kişi Sayısı
3
---
Yatak odaları
Arequipa, Arequipa, Peru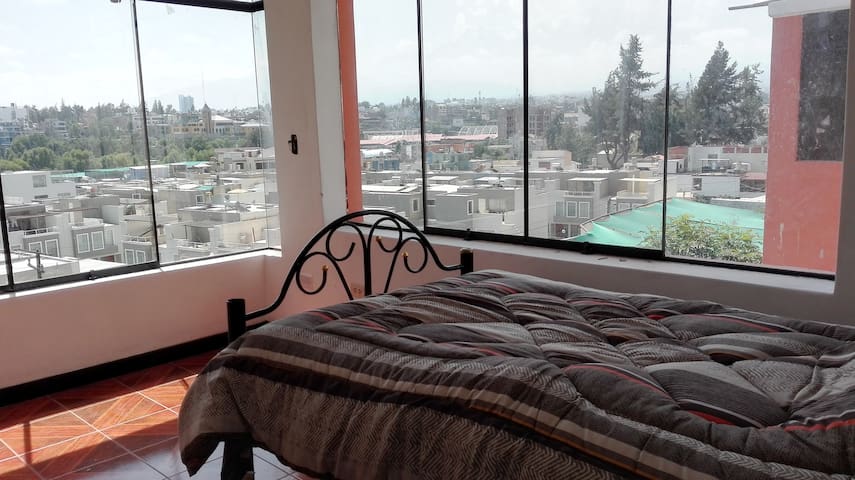 Department premiere! Located just two blocks from the Mall Aventura Plaza -the largest shopping center of the city with food centers, cafes, bars, restaurants, cinemas, supermarkets. It has three bedrooms-two double rooms and a simply room, a living room with a large-area cable TV, stereo and DVDs- player, a fully equipped kitchen and two bathrooms. good Ideal for business travelers, couples, families (with children).
Apartment quiet, cozy and warm atmosphere, located on the third floor of a building. All fully equipped and furnished environments.
quiet urbanization with several grocery stores and nearby parks. 3 blocks from Edmundo Escomel Hospital and two blocks from Aventura Mall.
Muy buen apartamento, buen lugar, cerca de centros comerciales y de transporte público, el dueño muy atento a los requerimientos que tuvimos en nuestra estadía, el apartamento en excelentes condiciones de salubridad
Rodrigo
2017-03-04T00:00:00Z
Oda Tipi
Tüm ev/daire
---
Mekan Türü
Daire
---
Konaklayacak Kişi Sayısı
5
---
Yatak odaları
Arequipa, Arequipa, Peru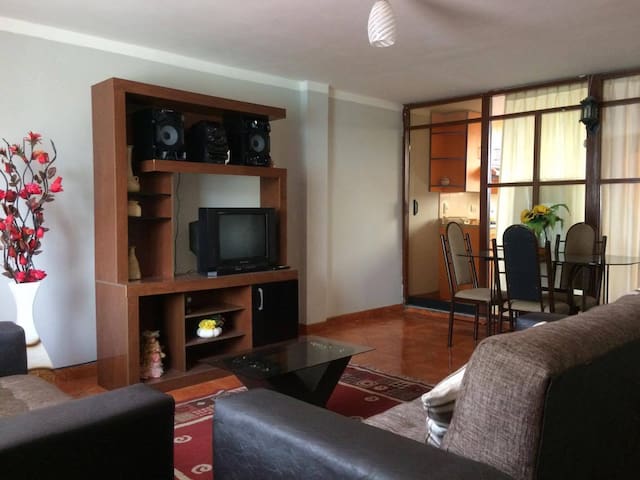 Bedroom 2 beds and half square, with external shared bathroom with access to the backyard.
La bienvenida fue muy amicable, el alojamiento es confortable y se puede ver que Chamo ama su ciudad y que quiere que sus invitados disfrutan un maximum de la ciudad de todas maneras. Tiene buen consejos para descubrir la ciudad y propone tour turisticos muy completos. Recomiendo este hogar agradable
Etienne
2016-12-20T00:00:00Z
Our stay at Jaimes was a really good experience. The rooms are clean, the beds comfortable and you can use the kitchen. The city centre is only a 20 minutes walk away. Jaime is extremely nice, he picked us up from the Bus Terminal and offered us tea and bread every day. When my boyfriend got sick it was no problem to stay a night longer. I can definitely recommend this place :) Muchas gracias!
Susanna
2017-01-10T00:00:00Z
Jaime is a fantastic host. He's very nice, we didn't have internet so we couldn't tell him the time of our arrival but he didn't seem to be bothered. He's very helpful, called us taxis a couple times. His house is a bit far from the centre (20 min walk) but in between the bus terminal and the centre. The room is simple, a bit noisy but the terrace is huge !
Kim Anh
2017-04-01T00:00:00Z
Jaime is a really open, nice, kind guy! We would definitely recommend!! We used the kitchen to make breakfast and dinner... on our last day we took a bus in the evening and it was no problem to stay at jaimes place the hole day. He also helped us to get a taxi. Thank you so much Jaime!!!!
Marina
2017-03-15T00:00:00Z
Jaime ("Chamo") y su familia son anfitriones increíbles. Muy amable y servicial. La locación de su casa es ideal porque puedes caminar al centro, a la estación y a muchas tiendas y restaurantes. Fue una visita fantástica.
Amber
2017-03-08T00:00:00Z
Very much recommended! Had a great stay and the host Jaime was very good; he helped us explore the city and was very cooperative with our schedule!
Komal
2017-01-21T00:00:00Z
Por favor quédese con Jaime! Él y su familia son muy amables y mantienen facilidades muy agradables y cómodos. El hostal solo queda 20 minutes de pie hasta la Plaza de Armas y los taxis son baratos. Jamie nos trajo a una picantería muy rica que se llama "la Capitana". A quedar con Jaime es una experiencia buena y bonita y yo la recomiendo mucho. Stay with Jamie! He and his family are very friendly and the facilities are very nice and comfortable. The hostal is only around 20 minutes away from the Plaza de armas, if not less, and taxis are very cheap. Jamie brought us to a picantería (a traditional peruvian restaurant) that was delicous that was called "la Capitana". Staying with Jamie was a wonderful experience and I recommend it highly.
Zach
2016-07-16T00:00:00Z
À recommander sans aucune hésitation! La maison de Chamo est tout ce qu'il peut y avoir d'accueillant et nous avons passé un séjour très agréable à Arequipa. C'est un très bon moyen de profiter du centre ville (à vingt minutes à pied presque en ligne droite) tout en étant au calme et à quelques minutes d'un grand marché où se restaurer et faire ses courses. Le logement est très propre et commode, et surtout l'aide de Chamo et de sa famille est précieuse car il connaît très bien sa ville et ses environs.
Rivka
2017-02-04T00:00:00Z
Oda Tipi
Özel oda
---
Mekan Türü
Konukevi
---
Konaklayacak Kişi Sayısı
2
---
Yatak odaları
Arequipa, Arequipa, Peru
We are Adela and Manuel: Manuel is 68 years old, retired, and I have 59 years, we are almost all day at home. We have five years of experience hosting tourists. We have two children, but do not live with us. We are very quiet people, we like to chat with friends, watch movies, play sports. We love having housed, share our culture, as is the food and that people feel at ease, as in your own home. Accommodation includes burglar alarm and keys for each room. We have hot water 24 hours a day. There are also filter water to drink. There washing machine to wash your clothes-housed. You can use the kitchen to prepare food. From our house you can see the city with a great view of the three volcanoes, Misti, Chachani y Pichupichu. If the room indicates "busy" we have three ads where you can book. The room size is 9 square meters. This room is for one person. It is possible to provide dinner for a fee of $ 3.00. We help to stay orienting on what you need. Very near the house there are shops, restaurants, cinemas and shopping center. Arequipa is a beautiful city with a beautiful and sunny weather most of the year, the climate is dry and mild, sunny day and cold at night, with an average temperature of 20 ° C. There are many tourist spots in the city, and other cities as the Colca Canyon. The people are very welcoming to tourists. The property is located in the city center, a few blocks from the Plaza de Armas. The Cottage Residential neighborhood is Cabaña María. You can walk to the main square in 20 minutes. If you want you can also go by bus or taxi (the fee of taxi is 5 soles). Public transport is 50 meters away from the house. We wait for you!
Adela and Manuel are incredible hosts!! Highly highly recommend staying with them. They're so kind and will give you all recommendations and make an amazing breakfast every morning. Really accomodating. I thoroughly enjoyed my stay with them.
Justin
2014-09-15T00:00:00Z
Adela and Manuel are great hosts. I was very pleased staying at their place as treat their guests as family and they go the extra mile to make sure their guests get what they want. They are polite, helpful and non intrusive. If you choose to spend few nights at their place you won't regret it.
Camelia
2015-09-05T00:00:00Z
I arrived at 2 AM in the morning but the family welcome me very well. The lady helps me a lot with my laundry. She folded them for me when I was out to explore the city. The guy offered me a walking tour ( I could not do) and a map which is very helpful. I spent the morning to have breakfast with them. They are very sweet and lovely. Checking time is flexible too. The location is good, easy to walk to the main square. It is near by a local market too. I would stay here again if I travel to Arequipa!!! I hope I could stay longer!!! Love Adela family
Xing
2016-08-03T00:00:00Z
Adela y Manuel han sido dos personas encantadoras que me han hecho sentirme como en mi propia casa. La habitación reunía todas las comodidades y la casa era agradable y bien situada. No se puede pedir más. Su ayuda en todo momento me ha emocionado vivamente
jesus
2014-10-09T00:00:00Z
My husband and I loved our stay at Adela's home. They had blazing fast wifi, a comfortable bed and lovely fresh breakfasts. Adela gave us a great walking tour of Arequipa when we arrived, and showed us some of the sights downtown. I'd definitely stay there again if I was to pass through Arequipa.
Rikki
2013-10-09T00:00:00Z
After my fifth night here I must say I am pleased with my experience. Adela and Manuel are super nice people, very laid back and down to earth, and they are willing to help with any questions asked. The room here is cozy and comfortable and the house is clean and nice with a great functioning (hot water) shower. A plus if you have experienced the contraire. The central plaza is about a 20 minute walk or a 4-5 sol taxi drive from the house. I teach online and as of now I haven't had problems teaching classes using the wifi, videos are also fast to load. I recommend this stay for the long termer or the one who passes by. From my experience, I am more than satisfied. Also, the carrot mermelade es muy delicioso.
Jake
2013-10-06T00:00:00Z
We absolutely loved staying with Adela and Manuel. They were very accommodating hosts. They allowed us to check in at 7am after a very long overnight bus ride--and even fixed us breakfast! The apartment is not in a central location, but is a nice enough walk (about 20 mins) to the central area. If you need a little help getting around, you may get a little tour from Manuel--who was more than happy to walk us to the Plaza de Armas so we wouldn't get lost. We wish our stay could have been a little bit longer. We will not hesitate to stay with them again, should we return to Arequipa!
Teri
2015-06-18T00:00:00Z
Adela and Manuel were great hosts and I highly recommend staying with them for as many days you choose to visit Arequipa. Their apartment is a 15 minute walk from the Plaza de Armas, which is very convenient. They offered us breakfast each morning and even walked us to the market and to the square on the day we arrived, to show us around. Arequipa is one of the most beautiful cities in Peru, and Manuel & Adela made sure that our visit was smooth and pleasant. They have a comfortable apartment and they really make you feel like you're home.
David
2013-07-23T00:00:00Z
Oda Tipi
Özel oda
---
Mekan Türü
Ev
---
Konaklayacak Kişi Sayısı
1
---
Yatak odaları
Arequipa, Arequipa Region, Peru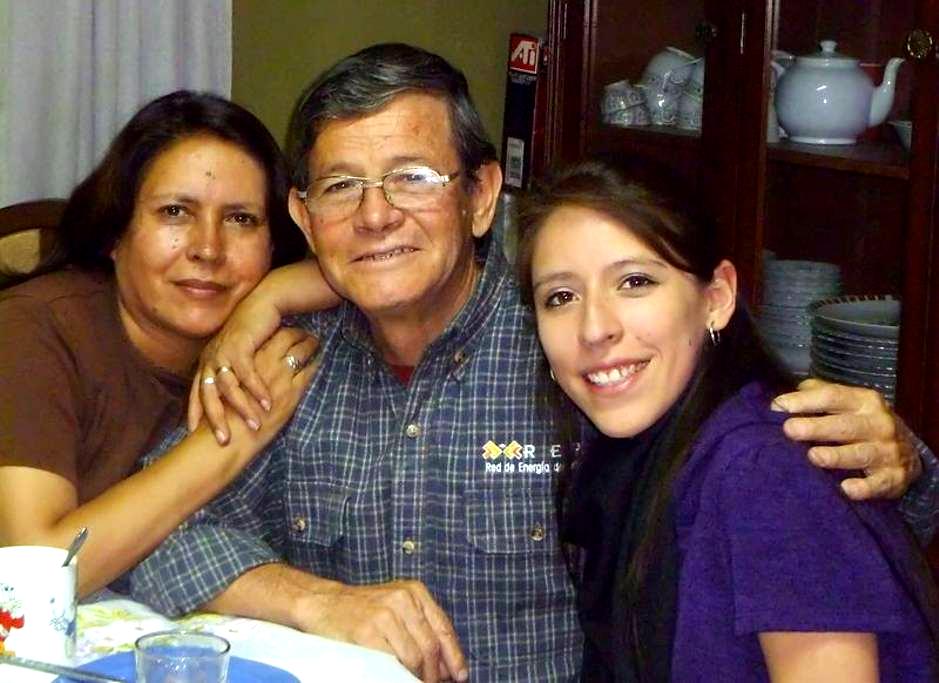 Linda modern development in the district of Jose Luis Bustamante y Rivero. It has a nice playground for children and adult fitness The environment department is fresh warm day and night. It has a living room, kitchen, refrigerator and washer lavandeía. Located 15 minutes from the city of Arequipa.
It is a very quiet and accessible urbanization
It is a quiet residential area, the park has many green areas, playground, miniature golf, chapel, gym, racquetball courts, basketball and foosball.
Sehr lieber Gastgeber, angenehmes Wohngebiet.
Katja
2017-02-15T00:00:00Z
Oda Tipi
Tüm ev/daire
---
Mekan Türü
Daire
---
Konaklayacak Kişi Sayısı
4
---
Yatak odaları
Arequipa, Arequipa, Peru
"Kennedy Apart", is located close to the tourist sites in Arequipa. It has modern and relaxing environment in its 3 bedrooms, 02 bathrooms with whirlpool tub, living room, kitchen full equipped. Garage and free internet access.
Kennedy apart ! It is an apartment located in a secure and private area of the city , has 3 bedrooms each with a flat-screen TV , 2 full bathrooms one of them with a hot tub for your moments of relax, spacious living and dining room, kitchen fully equipped , free Wi -Fi and free parking. Apart Kennedy recommends up to 6 people, it is located 10 minutes from downtown by car and 5 minutes from shopping malls, with many tourist restaurants near the apartment. Ideal for tourists and executives. 24 hours security.
The neighborhood is in a gated community so security is guaranteed.
Excelente lugar para poder disfrutar la ciudad, excelente anfitriona. Muy amable y cordial.
Christian
2016-11-20T00:00:00Z
I stayed 5 days and found it ideal. It's only a 5-7 sol (US $1.50-$2.00) and 10-15 minute taxi ride away from Plaza de Armas and has benefits you won't easily find elsewhere. This apartment is ideal for a family, and also ideal for those wanting a longer stay. It's also perfectly fine for a short-time tourist, but it's not a party place as it's a quiet residential area. What you get: + A modern virtually brand-new apartment with 3 bedrooms. + Nice, safe area with gated entry and 24-hour security. + VERY quiet (hard to find in noisy Arequipa). + Super-bright with natural illumination on ALL sides (one apartment per floor, top floor). + Very well equipped kitchen, including microwave, stove, refrigerator and all utensils/dishware. + Master bedroom is very spacious, large bed, lots of closet space, very bright with the afternoon sun (the two other bedrooms were locked during my stay--I assume they are smaller). + One full modern bathroom with good hot water and good pressure (not a given anywhere in Peru). Plus a guest bathroom. Note: If you have low water pressure, make sure to check with Sonia. She may simply have forgotten to turn on the supplementary pump. + Sonia lives in the same building on the 1st floor and easily accessible by phone, email or (SENSITIVE CONTENTS HIDDEN). She's very friendly, accommodating, and helpful. + Convenience store on the corner, and two more slightly larger ones 2 blocks away. + Free parking in front of the building (within the gated area), though a car is not necessary, as taxis are plentiful and cheap. No negatives, but I'll mention a few considerations: * 4th floor and no elevator, so not suitable for mobility impaired. * No electric washing machine (though there is a laundry service 2 blocks away). I recommended to the owner that she consider getting a washing machine, so check the current list of amenities to see if there is one now. * No TV in living room, but one in master bedroom (standard in Peru). * Few apartments have air-conditioning or heating owing to moderate climate. In winter, it can be a little cool at night and early morning, so you may need a sweater around the apartment, and the (provided) thick blankets at night. * The official address you will be provided cannot be located on (SENSITIVE CONTENTS HIDDEN) maps. If you have a GPS, the entrance is at the blue sentry box located at -(PHONE NUMBER HIDDEN). Otherwise, any taxi driver will know "Avenida Dolores frente (opposite) Restaurante Tradición Arequipeña," which will get you to within 2 blocks of the apartment. As this apartment is new and has no previous reviews, I'm writing a more comprehensive one than usual, so as to be be helpful to future renters (and to Sonia, for that matter). I predict this apartment will become deservedly harder to book once it becomes better known on the apartment booking sites (as it is currently new).
Sam
2016-06-18T00:00:00Z
Sonia's apartment is a wonderful place to stay in Arequipa. It is a home away from home for myself and my collaborators (I work on Chagas disease control in Arequipa). Sonia is always very helpful and attentive. The apartment is very nice, large and comfortable. The neighborhood is lovely. A short walk to Dolores where there are a lot of restaurants, but also very quiet. Truly a wonderful place to stay for those looking for a quiet spot.
Michael
2017-01-11T00:00:00Z
Very nice apartment in a lovely residential area in Arequipa. The communication with Sonia was great end she was very flexible. The apartment was as described garding the actual content, but the whole experience staying in the apartment was much better han anything we could have expected. We staued there the whole family (6 persons) and the children just wanted to stay the all the time we had in Peru. Such a lovely place. Only a short taxi ride from the city center and bus terminals. If we go back to Arequipa on day it is most likely we will choose the same place. Una experiencia exelente. Recomendamos a Sonia y su apartamento.
Thomas
2016-07-08T00:00:00Z
gracias sonia por la estancia, recomendado al 100%, siendo estudiante de turismo lleno mis expectativas.
Kate
2016-11-12T00:00:00Z
Oda Tipi
Tüm ev/daire
---
Mekan Türü
Daire
---
Konaklayacak Kişi Sayısı
4
---
Yatak odaları
Arequipa, Arequipa, Peru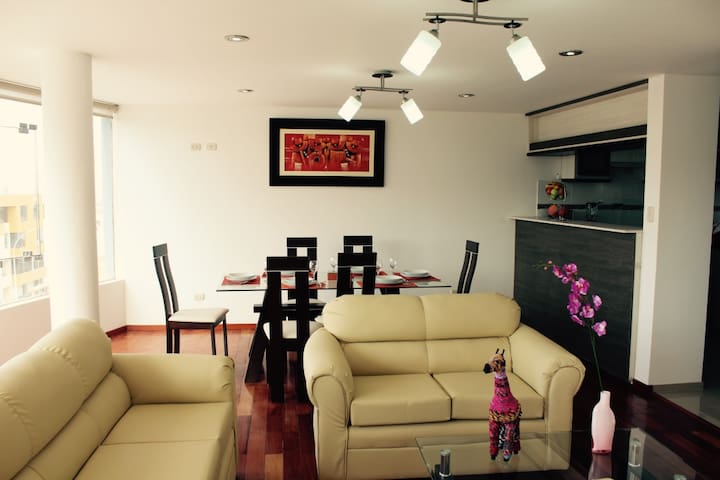 Comfortable and modern apartment, located in exclusive, private and safe area. Just 10 minutes from the main square. The apartment is on the third floor, good natural light and with a warm climate. We have Smart TV with connection to Internert wifi of 15 Mbps allows us to view Netflix in HD without inconveniences, we also have cable TV programming. Furniture and new appliances, all this will make you feel at home.
We take advantage of the climate of the city to use the solar thermal system, so it is only necessary to open the water faucet to get hot water all day. And if it was not enough, we also have an electric shower system.
TAHUAYCANI It is one of the most exclusive neighborhoods of the city, with green areas and permanent vigilance.
Lugar muy seguro y el anfitrión fue amable en todo momento.
Cristian Jesus
2017-01-15T00:00:00Z
Desde el principio Peter y su familia fueron muy atentos y amables con nosotros. La comunicación siempre fue rápida y todo durante nuestra estadía fue muy agradable. El departamento es muy lindo, cómodo y moderno, con todo lo necesario para tener una excelente estadía. Disfrutamos mucho nuestro tiempo ahí, es muy cómodo para estar y pasar tiempo juntos, y éramos 5 personas adultas. Las camas son super cómodas y la cocina está totalmente equipada, aprovechamos para cocinar una buena cena mientras veíamos una película en el televisor que está justo enfrente en la sala. ¡Lo recomendamos totalmente!
Adriana
2017-01-02T00:00:00Z
The host canceled this reservation the day before arrival. This is an automated posting.
Matias
2017-01-03T00:00:00Z
Peter es una gran anfitrión, nos recibió muy amablemente y me permitió hacer el check in antes de lo previsto y el check out después de la hora pactada, el departamento es así como se muestra en las imágenes, es súper cómodo y limpio, el internet tiene buena velocidad , y está implementado como para tener una buena estadía, la zona donde queda el departamento es una zona tranquila y residencial, de seguro cuando vuelva a Arequipa lo volveré a tomar , recomendado al 100%
Fabrizzio
2017-01-30T00:00:00Z
Spacious and comfortable apartment for a family of five. It looks just like the photos. Two of my children enjoyed hitting on the tennis wall in the park in front of their apartment. The neighborhood was safe and quiet. We enjoyed watching the fireworks from the rooftop terrace. 50 minute walk to plaza de Armis, 30 minute walk to mall. 10 min cab to plaza/bus station.
Karen
2016-12-25T00:00:00Z
La comunicación y atención fueron muy buenas. La zona es muy tranquila y agradable, a 10 minutos de la plaza central. Sí lo recomendaría como anfitrión.
Marvin
2016-10-19T00:00:00Z
This was a great place to stay. Away from city center but such a lovely area. The host Peter was wonderful. I would recommend staying here because the decor is beautiful
Helena
2017-02-26T00:00:00Z
El departamento esta muy bien amoblado en una zona tranquila, cerca a un parque que invita a caminar, ideal para visitarlo en familia ,la zona muy tranquila de fácil acceso a transporte publico y a escazos 10 minutos del centro historico y a 15 minutos del aeropuerto Peter y su familia siempre estuvieron muy atentos a nuestras solicitudes y es un cálido anfitrión.
Sara
2017-02-12T00:00:00Z
Oda Tipi
Tüm ev/daire
---
Mekan Türü
Daire
---
Konaklayacak Kişi Sayısı
5
---
Yatak odaları
Yanahuara, Arequipa, Peru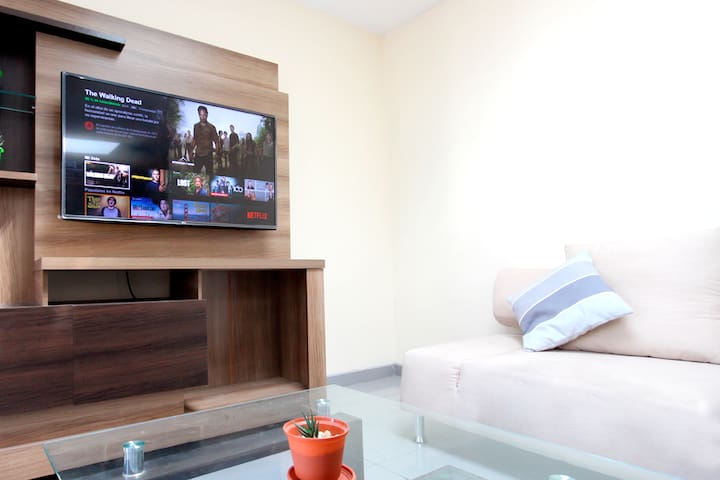 Welcome to our conscious international home in this green+quiet neighbourhood of Arequipa! We are a Peruvian-German family with a kid (4)+ a baby. Our mission is to share conscious-ecological ideas and lifestyle with our neighbourhood and all our visitors:) We run a little eco-cultural project near by, where we practise permaculture, gardening, bio-construction and bee keeping. The father of the house LOVES cooking, traditional Peruvian kitchen in a healthier version! Free use of our bicycles!!
We certainly aren't an ordinary family and we always love to share a funny story and a good idea with our guests, also we regularly host travellers, coming from all over the world, doing voluntary work in our project, meet them and have a good time with everyone!
We are at the border to the neighbourhood called Sabandia, known as a touristic attraction for its ancient terrace agriculture you will see all around and just in front of the house, which makes it a green and relatively quiet area. There are some beautiful spot in walking distance, view-points, waterfalls and ancient suburban neighbourhoods.
Oda Tipi
Özel oda
---
Mekan Türü
Ev
---
Konaklayacak Kişi Sayısı
4
---
Yatak odaları
Arequipa, Arequipa, Peru
Beautiful, spacious rooms with private bathrooms with hot water, very near the historical center in Arequipa. They have cable TV, telephone, WIFI and also American breakfast.
Although we didn't get the chance to meet Cynthia she was very easy to communicate with and very helpful. Hostal Villa Sillar is a perfect place to base yourself in beautiful Arequipa. It is only two blocks from the main square with a wonderful Mexican restaurant located next door. The included breakfast is good and it has a great courtyard to relax in throughout the day. Overall a great place to stay.
Abbie
2016-10-24T00:00:00Z
O lugar é super agradável, muito bem localizado, o quarto é muito confortável e limpo, a água do chuveiro e torneira são quentes. Eles guardaram as nossas mochilas durante nossa trilha no Vale do Colca.
Jacqueline
2016-10-07T00:00:00Z
Excelente ubicación, a pasos del centro de la ciudad. Súper confortable y pintoresco. Buena comunicación con la anfitriona. Lo recomiendo al 100%
Diandra
2016-11-20T00:00:00Z
Excelente hostel, Cynthia nos ayudó en todo y hasta nos dio la anotación antes porque ya estaba lista. Nos recomendó lugares para comer y salir cerca y hasta nos consiguió un tour de rafting genial. Excelente servicio y si vuelvo a Arequipa sería a este hostel :)
Julio
2016-05-27T00:00:00Z
Cynthias Hostal liegt 2 Blöcke von der Plaza de Armas und ist sehr liebevoll eingerichtet. Mein Zimmer bot Platz für all meine Sachen und das Bad war sehr sauber. Ich habe mich rundum wohlgefühlt und komme gerne wieder!
Juliane
2016-12-05T00:00:00Z
The stay was nice and the staff is very friendly and helpful. The location is not far away from la Plaza de Armas, its like 2 minutes by feet. We would recommend a stay there.
Annika
2017-03-03T00:00:00Z
Very nice accomodation with a 24h desk! Staff was very friendly and the location is perfect! Definitely recommendable =)
Steven
2016-10-07T00:00:00Z
Wonderfu!l in other words swimmingly awesome!!
Nic
2016-06-03T00:00:00Z
Oda Tipi
Özel oda
---
Mekan Türü
Oda + Kahvaltı
---
Konaklayacak Kişi Sayısı
2
---
Yatak odaları
Arequipa, Arequipa, Peru
Zona segura y con mucha movilidad para ir al centro de la ciudad y otros lugares turísticos. Muy cerca de zona de restaurantes, centros comerciales, saunas, piscinas, ideal para paseo en familia y/o amigos.
Oda Tipi
Özel oda
---
Mekan Türü
Daire
---
Konaklayacak Kişi Sayısı
5
---
Yatak odaları
José Luis Bustamante District, Arequipa, Peru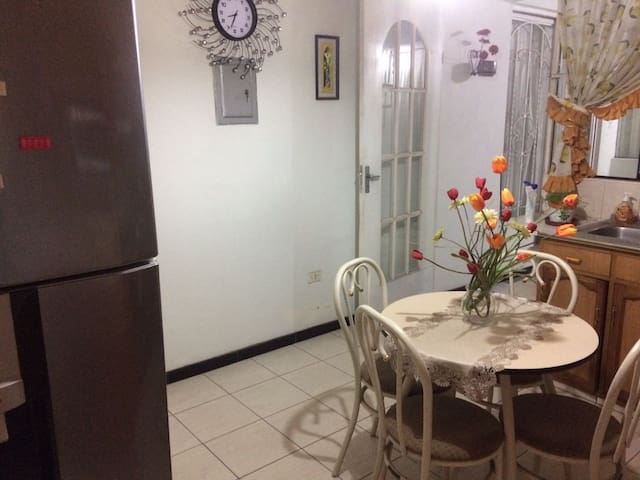 Attractions: historic monuments of the city center, nightlife, public transport, city center, transfer to the bus terminal and the airport. My accommodation is good for couples, adventurers, business travelers and families (with children).
La Casona Colonial and Republican Moya is located three blocks from the Plaza de Armas; our value proposition is to live an experience of staying in a house with more than 150 years; in a familiar and safe environment, we have a large main patio, a lounge cafe-bar with a capacity of 28 people where you can enjoy a cocktail, watch TV or play board games and a meeting room for 08 people. Our rooms are spacious with a height of 5 meters, oregon pine wood flooring, doors and windows preserved, we have bathrooms and showers for each room - not shared -.
The house is located in the colonial downtown Arequipa, guests can start the tour of the colonial center in the Mercado San Camilo, which is two blocks to the right of the Casona, the market can appreciate the variety of potatoes and fruits of the southern part of Peru, as well as enjoy delicious fruit juices with many combinations and flavors. After moving a block to our Misti Volcano, one block to the left (entrance opposite the curator of Old Palace), can enter the Cloisters of the Company, next to the Church of the Company, in such Cloisters appreciate three courtyards with portals and all construction in ashlar. Then visit our magestuoza Cathedral and Main Square, the Cathedral can appreciate an organ that works with boilers of this there are three in the world, a carved pulpit on a single tree trunk that is Lucifer. Then dirigiendoce the street La Merced the 1st block, can enter the Museum of Juanita Mummy (with entry fee) half a block from the main square; where they appreciate our Andean Apus princess offered to our Mamacocha caring. Then you can visit the Chavez Casa de la Rosa, now preserved for exhibitions of Art University San Augustine, who is returning to the Plaza de Armas in Esquina Calle Santa Catalina, San Augustine, and then visit the Church of St. Augustine. Then visit the passage of the cathedral back of the Cathedral, Santa Catalina Street crossing Calle San Francisco, in front of the house will Pozo, who founded the Pirate Holandez Iberian today preserved by the BBVA Bank. Then you can visit up towards the Miste two blocks, the Church and Plaza de San Francisco, next to the Plaza is the Municipal Museum and the Fundo del Fierro where they appreciate our craftsmanship in Sillar and Bronze and looms. For afternoon visit our Convento de Santa Catalina, advisable to visit between 16 hours and appreciate the convent daylight and artificial light that highlights the architecture of the Convent. Moran House and the Convent of Santa Teresa are also highly recommended. As well as the traditional neighborhood of San Lazaro who is behind the Plaza de San Francisco and across the Grau bridge the Yanahuara.
Muy buena atención por parte tanto de Gonzalo como de su mujer. Siempre muy dispuestos y muy amables. La ubicación también es muy buena!
Abril
2017-01-11T00:00:00Z
Realmente fueron muy amables, siempre atentos en todo momentos. Lo único que nos hizo sentir incómodos fue el comportamiento de algunos de los otros huéspedes que caminaban en la casa en ropa interior y entre nosotros habían niños.
Rocio
2017-01-02T00:00:00Z
La casa esta en el centro y es muy tranquila, Gonzalo t su familia son muy atentos y hacen tu estancia muy agradable, muy recomendable
Maria Jose
2017-04-02T00:00:00Z
Recomendable!
Patricio
2017-02-03T00:00:00Z
I was a few disappointed by the place because it is a 5 stars 'place and I don't think that it deserves it. The location is really good, just near the center of the city, the beds are confortables and Gonzalo is very nice. But: - we don't have any towels. It was the first and only time we don't have it for all our trip. Fortunaltely we had some personnal and we can use it. 2- Don't choose the option with bathroom in your room because we can't say that it is another room. It is just 2 walls, opened after 2meters and, for the sound (and smell), you can say that you are in the same room. And of course the toilets are in the same room. So thanks for the privacy...and if you want to go to the common toilets (and there are a lot of so we thought it won't be a problem): no way, they put a padlock because, as you have your own bathroom, you can't go there. And think that sometimes you can be ill with travelling in others countries... 3- We can't close the window because a cable pass throw this way so we can hear other people and somebody who has chosen to sweep at 6pm just near the room... So the place is ok but just know that there are these few things to know and don't think that everything will be perfect...
Marie
2017-02-26T00:00:00Z
Excelente anfitrión...Gonzalo muy comprometido con sus invitados.
Reynaldo
2017-02-18T00:00:00Z
Alojamiento cómodo, tranquilo y con una excelente ubicación. Ambiente familiar y excelente comunicación con Gonzalo y su familia. ¡Magníficos desayunos, abundantes y variados! Totalmente recomendable.
Eneida & Rafa
2016-07-22T00:00:00Z
I definitely recommend Gonzalo's place. He and his family were very nice and helpful with me and my family. The place is really close to the main square. Also, the beds were comfortable and clean.
CÉSAR
2016-12-06T00:00:00Z
Oda Tipi
Tüm ev/daire
---
Mekan Türü
Oda + Kahvaltı
---
Konaklayacak Kişi Sayısı
16
---
Yatak odaları
Arequipa, Arequipa, Peru
Beautiful house with 3 bedrooms, hall, terrace, barbecue area, master bedroom with bathroom with tub. bathroom for two bedroom and guest bathroom. Garden. Microwave, crockery, kitchen and bedrooms equipped, TV, cable, Internet.
It is in full yanahuara Square, it is a traditional house with all amenities, Internet, cable, laundry, fully equipped kitchen, including crockery.
The streets are very traditional and beautiful. The house overlooks the three volcanoes.
La casa de Claudia es muy linda y acogedora. Personalmente tuve la casa para mí sola. Todo estaba muy bien, la encontré limpia y ordenada. El problema fue que los días nublados (3dias) no tuve agua caliente para poder ducharme dado que la terma es solar. Fuera de eso no hubo ningún inconveniente , la zona es linda , bastante cerca a la plaza a unos 30min caminando y a 10min máximo en taxi que no cobra más de 5 soles. En cuanto a seguridad no tengo ninguna queja y la habitación fue muy cómoda. Gracias
Zarela
2017-02-15T00:00:00Z
We really loved the apartment, which is much nicer than on the pictures. It's beautiful, clean and the amount of space you have, incredible. Furthermore the neighborhood is very nice, just outside the center, and the hassle of the center, but close enough to be there in 10-15min.
Steven
2016-05-05T00:00:00Z
The house is good, spacious with multi levels. Though it's not located at the downtown, it's at a very quiet and comfortable area, with a mega supermarket at the end of road. Claudia and her mum are helpful and nice! They tried to help us with all difficulties, like arriving at late night, leaving in early morning, problems with the hot water and wifi. Though we are so unlucky that the problem of wifi cannot be solved, we are grateful to have Claudia and her mum helping us! We enjoy the nice stay!
Cherry
2016-09-15T00:00:00Z
Claudia's home is a really comfortable base from which to explore Arequipa's charms. The interior is modern, stylish and totally decked out with absolutely everything you need. Multiple levels/ bedrooms/ bathrooms/ roof terrace with commanding views. Hot water (solar) is 24/7, wifi signal good and cable tv should you want to watch. The location is superb - 10 min walk to Zona Colonial, huge supermarket at the end of the street and Plaza Yanahuara is steps from the front door for a morning coffee and great view of Misti volcano. Complete Air BNB experience- it really felt like home. Make sure you specify Calle Jerusalén Yanahuara as there are a couple of Calle Jerusaléns. Highly recommended.
David
2016-06-15T00:00:00Z
We had an amazing stay at Claudia's house in Arequipa. We were welcomed by Claudia's Mum Elisabeth who was so lovely and very tolerant (we went to the wrong Calle Jerusalen - **make sure you go to Calle Jerusalen near plaza yanahuara **) Elisabeth took great care of us - she explained everything and told us about the neighbourhood and was always available if we had any questions.. The house is lovely - very safe, quiet and equipped with everything you need - fast wifi, cable tv, washing machine, hot water, roof terrace with amazing mountain view. The house is right next to Plaza Yanahuara which is lovely, peaceful with great views and restaurants and good coffee. 5 mins down the road is a big Metro supermarket. The historic centre is about 12 min walk from the house through some lovely streets and over the bridge. We had a really lovely stay and we'd definitely recommend this house.
Ben
2016-04-09T00:00:00Z
The apartment is lovely and warm, very spacey, and clean. It is located in a relaxing and traditional plaza about 15 minutes walk away from the main plaza de armas. There is a big supermarket about a 10 minute walk away. The bedrooms are big and the beds are comfortable. There are multiple bathrooms. All communication and organisation with Claudia was very smooth - no issues at all. I would definitely come back and stay here!
Nadim
2016-06-02T00:00:00Z
The house is fantastic! With a huge comfortable bed, two bathrooms right next to it, a terrace with a table for meals... We also liked the location. Claudia's mom received and saw us off. All was smooth and wonderful.
Ania
2016-07-16T00:00:00Z
Debería de antes de aceptar recibir huéspedes, arreglar el agua.. ya que no contamos con agua en la mayor parte del tiempo
Giancarlo
2017-03-05T00:00:00Z
Oda Tipi
Tüm ev/daire
---
Mekan Türü
Ev
---
Konaklayacak Kişi Sayısı
3
---
Yatak odaları
Arequipa, Arequipa, Peru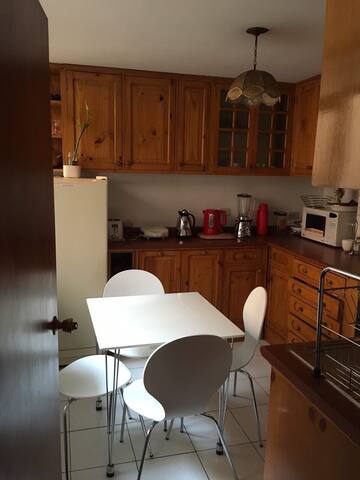 Estamos localed sólo una cuadra de plaza de armas, muy seguro para caminar y más cerca de supermercado, tiendas, restaurantes, bares, bancos. Excelente ubicación. Todas las habitaciones con baño privado, dobles, dobles y dormitorios, wi-fi gratuito, cocina gratuita.
On commence par les points positifs 1) Emplacement central rien à redire 2) personnel plutot gentil Concernant les point negatifs, cet etablissement ne sait pas comment se positionner. Il veut etre un hotel mais sans ranger ton lit mais te demander de quitter a 10h00 tapante ce qui n'est pas le principe des Airbnb ou on se met d'accord sur l'heure d'arrivée et de sortie. En gros, nous avons eu tous le cote negatif d'un airbnb (ranger notre lit et laisser la chambre comme on l'avait trouvé) et tout le coté negatif d'un hotel (inflexibilité, prix...)
El Ghali
2017-01-25T00:00:00Z
It was just ok, very simple, the shower was just warm in the very early morning and the information at the reception was not very helpful. On the other side it was cheap and clean.
Kai
2016-07-09T00:00:00Z
Great location. Good communication
Kristin
2017-01-16T00:00:00Z
This is a hostel. The location couldn't be any better. The rooms were a little disappointing but I looked at other comparable places and they are all the same. The 13" inch tv in our room worked and we watched nfl playoff games. The staff is wonderful though they only speak Spanish. They let us check in at 7 am when we arrived by bus which was great. Hostel was very quiet and clean
J
2017-01-08T00:00:00Z
Mi opinion, este hostal es uno de los mas proximos de la plaza de armas, el personal es muy agradable. Ppour moi cette hotel est l'un des plus proche de plaza de armas , ce qui ext tres agreable et le prrsonnel trss sympathique. Petit point negatif, nous n'avons pas vraiment eu d'eau chaude.
louis
2016-10-22T00:00:00Z
Un endroit parfait pour les backpackers.les chambres sont simples, le patio agréable, la cuisine très pratique et l'équipe très agréable
Myriam
2016-12-20T00:00:00Z
Just don't go there! Everything is a mess!! No one will write back, no one will know that you will come and they will ask you a second time to pay even - unacceptable really. Even our on time cancellation was ignored! There is no breakfast, although it's claimed (we were angry and then they served coffee and eggs and bread), the pics are old, dirt and mold everywhere - there was no water at all not to shower, not to flush the toilett not even an offer to get some bucket or similiar. While raining, water entered our room and flooded the floor! There was even used toilet paper in our bin - YUK!!!! Everything is humid and really really disgusting and no one speaks English or is interested to help. Just DON'T GO THERE!!!!!!
Cornelia
2017-03-16T00:00:00Z
We could check in at 8:30 AM. That was great, because we came with the nightbus. It´s a very nice and quite hostel with very central location.
Anke und Pierre
2017-03-07T00:00:00Z
Oda Tipi
Özel oda
---
Mekan Türü
Konukevi
---
Konaklayacak Kişi Sayısı
2
---
Yatak odaları
Arequipa, Arequipa, Peru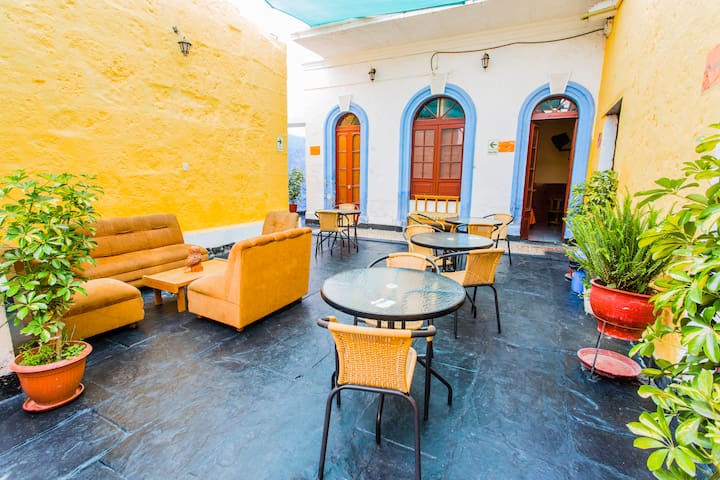 Sillary is a thematic hotel, each bedroom is different from the others, but all have the same concept: Arequipa. 12" to downtown, a big mall 2 minutes away by walk, peacefull and green area, personalized treatment to every guest. The Monastery deluxe Suite has everything to make you feel at home been away from home.
The hotel is located in a quiet residential area and away from the noise of cars, its main feature is what it feels cozy atmosphere and hospitality of their hosts. A mixture of modernity and tradition will make your unique stay in Arequipa.
Very quiet in private development with many parks around a shopping mall 5 minutes walk and transport to all parts of the city 4 blocks away. The Peaceful is very friendly and the hotel is in street truncates so they can park outside without problems.
El hotel esta muy bien hecho, con cuartos muy interesantes y modernos. Nos gusto muchisimo desde la entrada el lugar y Jesus y su personal nos ayudo en todo lo que ocupamos.
Jose Andres
2016-05-02T00:00:00Z
Jesus est venu nous chercher à l'aéroport. A l'hotel, c'était propre et confortable. Jesus a fait le taxi pour nous pour les 2 jours que nous avons passé chez lui. On a bien aimé discuté avec lui.
Minh-Thy
2016-03-06T00:00:00Z
Jesús es maravilloso, llegamos de madrugada y ahí estaba esperándonos, él y su familia nos hicieron sentir en casa. El alojamiento es muy lindo, cómodo y tranquilo. Buena limpieza. También tiene un mall cerca que sirve para pasear, comer y hasta tiene un mercado para comprar algunos víveres. Seguro todo puede mejorarse pero no tengo ninguna crítica para hacerle. Por supuesto, Arequipa es hermosa.
Analia
2016-04-01T00:00:00Z
Le lieu est très calme.l'accueil y est très familial. Jésus qd on n'a pu le voir était très accueillant et chaleureux. On s'est très senti et nous avons beaucoup apprécié.Jésus incarne bien l'esprit d'échange avec les voyageurs que nous sommes. Gracias Jésus par llevar nos al terminal terestro ! Juan
tereso
2016-07-13T00:00:00Z
La estancia fue muy tranquila y acogedora. Los cuartos son como están en la foto, incluso mas grande y Jesús se preocupa de que conozcas la ciudad. Muy buen lugar para quedarte.
German
2016-03-17T00:00:00Z
Jesus jest doskonałym gospodarzem a przyjęcie w hostalu Sillary odbyło się szybko i bezproblemowo. Jesus interesował się naszymi wrażeniami z pobytu w swoim hotelu i pytał co można poprawić aby przyszli goście czuli się bardziej komfortowo. Miejsce ciche i przytulne z dala od komunikacyjnego zgiełku. Zdecydowanie polecamy to miejsce wszystkim podróżującym do Arequipa. Hostal Sillary zasłużył sobie na miano udanego startu w bussinesie hotelowym.
Alberto
2016-06-30T00:00:00Z
We stayed with Jesus for 4 nights. The room and bed were comfortable and the shower consistently had hot water, which was nice. The rooms can get noisy depending on foot traffic in the building. Jesus or someone were always available to help. The internet kept cutting out and wasn't reliable. The location is a 10-15 minute taxi ride away from the city center, depending on traffic and they are always happy to call a taxi for you.
Kamil
2016-05-19T00:00:00Z
Jesus and staff were very accommodating. From organizing my Colca Canyon tour to allowing me to book another night last minute. Rooms were clean and the hotel was a 20 min walk to historical Arequipa. Definitely enjoyed my stay.
Matthew
2016-08-23T00:00:00Z
Oda Tipi
Özel oda
---
Mekan Türü
Konukevi
---
Konaklayacak Kişi Sayısı
2
---
Yatak odaları
Arequipa, Arequipa, Peru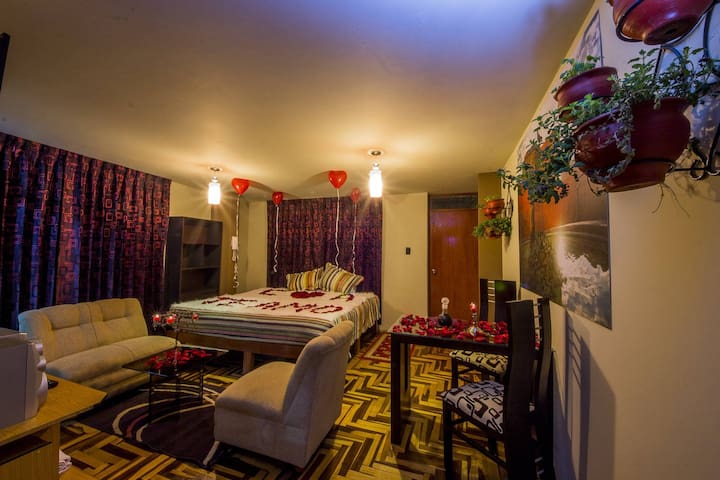 Tam fiyatlandırmayı görmek için tarihleri görün. Ek ücretler uygulanır. Vergiler ilave edilir.