Gepflegte , gemütliche 2 Zimmerwohnung in Bestlage; ca. 50 qm; Einkaufsmöglichkeiten und Restaurants vor Ort; Die Wohnung liegt in unmittelbarer Nähe der Gondel - Wagstättbahn - der Einstieg in den Skigroßraum Kitzbühel. Die Lage des Appartements ist auch im Sommer ein optimaler Ausgangspunkt für zahlreiche Freizeitmöglichkeiten . Startpunkt für traumhafte Mountainbike Touren in den Kitzbüheler Alpen Kein Auto notwendig. Bettwäsche ist bitte mit bringen;( Bezüge / Leintuch)
Frühjahr /Sommer / Herbst Optimaler Ausgangspunkt für Mountainbiker,Motorradfahrer und Wanderer. Wander- und Biketouren im Tourismusbüro erhältlich; Winter Die Gondelbahn Wagstätt / Jochberg ist nur 100 Meter entfernt - der Einstieg in den einzigartigen Skigrossraum Kitzbühel.
The host canceled this reservation 35 days before arrival. This is an automated posting.
Jan
Hervorragende Lage neben der Gondel, überaus netter und zuverlässiger Mieter, sehr empfehlenswert!
Tini
2016-01-28T00:00:00Z
The host canceled this reservation 30 days before arrival. This is an automated posting.
Luis & Joanna
Very nice and cosy flat in a nice residence. calm and great view from balcony. Karin the housekeeper and her husband was very welcoming. Jochen is very reactive. we spent a great moment with our three children
Jérôme
2016-08-20T00:00:00Z
Jochen was very open and flexibel. Easy to communicate with (and fast reactions). He does everything to make you feel comfortable. Nice and friendly person. Location of the appartment is superb. Walking distance from skilift, village and restaurants. Cosy appartment with two bedrooms. Perfect for a family. We had a good time her.
Bastiaan
2016-03-11T00:00:00Z
Oda Tipi
Tüm ev/daire
---
Mekan Türü
---
Konaklayacak Kişi Sayısı
4
---
Yatak odaları
Jochberg, Tirol 6373, Avusturya
Ski oder Wanderurlaub in den Bergen. Schöne Holzhütte in den Bergen, auf der Sonnenseite gelegen. Perfekt zum Entspannen zu zweit oder einem Urlaub mit Freunden. Skigebiet, Wasserfälle, Badeseen, Angelteiche oder Biken. Bramberg ist vielfältig!
Liebe Gäste, da wir selbst in Bayern wohnen haben wir uns entschlossen unsere Holzhütte auch an Naturfreunde zu vermieten. November 2014 haben wir mit viel Mühe versucht unser Heim für Sie so komfortabel wie möglich zu gestalten. Eine neue Küchenzeile wurde eingebaut, sowie Lampen, Teppiche und Vorhänge erneuert. Wir hoffen nun, das unsere Hütte auch für Sie eine angenehme Atmosphäre bietet. Ich persönlich bitte Sie darum, die Lage der Hütte und die Natur zu schätzen. Es soll nach wie vor eine urige Holzhütte bleiben. Ich hoffe Sie verstehen mein Anliegen und haben einen schönen Aufenthalt. Zu unseren Bekanntschaften zählen mittlerweile anliegende Bergbauern und Handwerker, die wir jederzeit bei Problemen kontaktieren können und die Ihnen Hilfe leisten werden.Informationen über Freizeitakitvitäten, Gastronomie oder Einkaufsmöglichkeiten erhalten Sie jederzeit im Vorraus oder während Ihres Aufenthaltes.
Genießen Sie den wunderschönen Ausblick auf die Berge. Den dunklen Sternenhimmel bei Nacht. Die freie Sicht auf die Nebeldecke über dem Dorf. Genießen Sie die frischen Hühnereier am Morgen, die sie zuvor vom Bauern geholt haben. In Absprache mit dem Wirt kann im unterhalb gelegenen See des Geislgasthofes gefischt werden. Entspannen Sie in der nicht weit entfernten Therme Tauernspa Kaprun. Von Wasserfällen , Klamm, Edelsteintäler,Heimatmuseum, Almhütten über kleine Einkaufsstädte und Badeseen können Sie zu jeder Jahreszeit etwas Passendes unternehmen. Die neuerbaute Smaragdbahn im Ort bringt Sie zum Familienskigebiet "Wildkogel" oder zum Start der längsten Rodelbahn Europas (14 km/ 2200). Ich garantiere, es ist für jeden etwas dabei.
L'unica difficoltà è stato trovare la casa per il resto tutto così come ce l'aspettavamo, semplice carina e tranquilla, immersa nel verde ed a misura di famiglia. Svegliarsi aprire la finestra e vedere il panorama degli alti tauri la rende ancora piú una cosa unica. Un grazie a Peter e Lisa per la cortesia e la disponibilità.
Gianluca
2015-08-24T00:00:00Z
This was our first time in the Holzhuette. The cabin is as you expect from the photos: very authentic and very cozy. We loved it. The facilities are simple, but that is what you should expect from a place like this. We very much enjoyed our stay. There is a big balcony that you can use when the sun is out. It gives you a lovely view of the Hohe Tauern Mountain range and the big valley. You can look all the way past Mittersill. Bramberg am Wildkogel is a lovely little Alpine Village. It is situated close to some of the most beautiful vales of the area, such as the Habachtal and the Obersulzbachtal. We will defenitely come back to this area, and it is very lovely we will want to rent the Holzhuette again.
Maartje
2015-07-16T00:00:00Z
The hut is very nice, the view is great. But that's it. The experience was very bad. Lisa almost never talked to me, never said "hello" in the communications. I had to call her father to get information on how to find the hut, when I can arrive, etc.. Obviously I met nobody when I arrived, the keys were hidden somewhere. I asked if bed linen and towels were included before leaving. Lisa's father told me yes. But half-way to the hut, I got a text message saying that only bed covers are included... It's a pitty that the service is so bad, because the hut is really charming and the view is amazing.
Romain
2016-03-01T00:00:00Z
Sehr gemütliche mit liebe eingerichtete kleine Hütte :) Wir kommen gerne wieder und werden es weiter empfehlen!
Matthias
2016-02-07T00:00:00Z
peter heeft ons op de dag van aankomst aangeboden beneden in het dal op te halen. het huisje ligt boven het dorp met een fantastisch uitzicht en is alleen bereikbaar door een smal weggetje met enige serpentines. het ligt bijna aan het einde van een doodlopend straatje en het is er heel rustig
Juultje
2015-04-07T00:00:00Z
Wir waren 4 Leute mit kleinem Hund und hatten eine tolle Zeit auf der Hütte. Die Hütte ist gut ausgestattet, die Betten sind bequem und der Kaminofen macht die Hütte besonders gemütlich. Leider hatten Ende November die beiden Gasthäuser (Bergkristall und Geisl - je ca. 500 m zu Fuß) geschlossen und wir haben dann aufgrund der gut ausgestatteten Küche selbst gekocht. Für eine kurze (und leicht anstrengende) Wanderung ist der Rundweg um die unteren Sulzbachtal-Wasserfälle sehr empfehlenswert (ca. 1 1/2 Std.) Auf jeden Fall telefonischen Kontakt mit Lisas Vater vor der Anreise aufnehmen, dann erhaltet ihr alle wichtigen Informationen, insbesondere Richtungsangaben zur Anfahrt - ganz ganz netter und lieber Herr :-) Wir würden jederzeit wieder kommen!
Martin
2016-11-28T00:00:00Z
The house was perfect. Really cosy, small, but with everything we needed. Peter and Lisa picked us up in the village and Peter showed us the house. After two days Peter called if everything was oke and if there were any questions. Very kind. We would really recommand this accomodation!
Fanny
2015-09-04T00:00:00Z
Wir hatten eine tolle Zeit in der Hütte. Es war sehr gemütlich und der Ausblick ist wunderschön. Die Hütte hat alles was man braucht. Dieses Inserat ist sehr zu empfehlen.
Joshua
2016-02-02T00:00:00Z
Oda Tipi
Tüm ev/daire
---
Mekan Türü
---
Konaklayacak Kişi Sayısı
6
---
Yatak odaları
Bramberg am Wildkogel, Salzburg 5733, Avusturya
3-Raum Ferienwohnungen, ca. 90 m², 2 Schlafzimmer, Bad, Balkon möbliert, Kabel TV, W-lan, Carport, eigene Kläranlage, Parkplatz, eigener Eingang pro Wohnung, wenig Handyempfang, geräumige Aufenthaltsräumlichkeiten
Uninterrupted views and country house style 3 - Room Flat (approx. 90 m²) for 4 - 6 Persons Entrance area with cloakroom, 1 double room, access to the balcony, Bathroom with double wash basin, shower, Living room/kitchen with 4 hob ceramic cooker, oven, slicing machine, filter coffee machine, microwave, kettle, dishwasher, fridge with freezer section, dining area, double sofa bed, opened fire, flatscreen TV, access to the balcony Storeroom (locked), 1 double room with access to the balcony, ensuite bathroom with wash basin, WC, shower, bath, WC
The "Rettenstein" is one of the most distinctive mountains in the Kitzbühel Alps, and there is a cheese dairy on the "Baumgartenalm" that is well worth a visit. Tip: A treasure hunt in the Habachtal valley. This unspoiled valley in the Hohe Tauern National Park is especially significant because of its emerald mine. The only source of emeralds in Europe to speak of is here in the Habachtal valley. Habachtal emeralds can be seen in in the collections in the local museums in Bramberg and in the neighbouring communities (Neukirchen, Hollersbach or Mittersill). Of course, the well-known Wildkogelbahnen and Kitzbüheler Alpen ski areas are a must, but there is also another attraction that should definitely be included in your winter holiday plans, and that is probably the longest lit natural toboggan run, which is in neighbouring Bramberg.
We've had a lovely stay at the Mountain Lodge. The location is very special. Surrounded by mountain tops on all sides. We've used the lodge as a base for our skiing holiday in February. It's a 20 minutes drive (at most) to the panoramabahn. A great starting point for the Kitzbühler Alps. The lodge is new, spotless and warm. We had the bottom part of the lodge with a living/dining/kitchen, two bedrooms and two bathrooms. There's a huge balcony which would be lovely in summer and an undercover area to park the car which is convenient in winter after a night with snowfall. The housekeeper Helene was friendly and helpful. Definitely worth a visit! PS. I would recommend a 4WD to get up the mountain in winter. We had quite a bit of snowfall.
Peronne
2017-02-27T00:00:00Z
Sehr schöne Almhütte auf einen unglaublichen Lage. Als letzte Haus an der Straße auch wenig bis kein Straßenverkehr und trotzdem nah an der Skilift (Panoramalift). Der Hütte ist qualitativ hochwertig ausgestattet Von Küche und Bad, biss zum Schlafzimmer und damit absolut empfehlenswert! Nächstes Jahr gerne wieder!
Joel
2016-02-03T00:00:00Z
De mountain lodge was helemaal nieuw, netjes en op een geweldige plek. De lodge is van alle gemakken voorzien en zeer ruim voor vier personen. Om naar de lodge te komen moet je een mooie tocht maken over een bergweg. Tijdens ons verblijf was er regelmatig sneeuwval maar werd de weg goed schoongehouden. Het uitzicht en de rust zijn adembenemend. De skigebieden zijn binnen 10 minuten te bereiken met de auto.
Ralf
2015-02-08T00:00:00Z
Me and 3 friends rented the house due to its remote location in the middle of the beautiful alps. The house itself is very spacious, provides all the necessities and most of all the scenery from the balcony is simply breathtaking. Pure quietness and a great place for hiking out into the surrounding mountains. The host was very friendly and always available to call in case we had any questions. Would definitely go there again and can recommend the house to anybody looking for a comfortable house in the middle of beautiful nature.
Marcus
2015-08-10T00:00:00Z
Oda Tipi
Tüm ev/daire
---
Mekan Türü
---
Konaklayacak Kişi Sayısı
6
---
Yatak odaları
Mühlbach, Salzburg 5732, Avusturya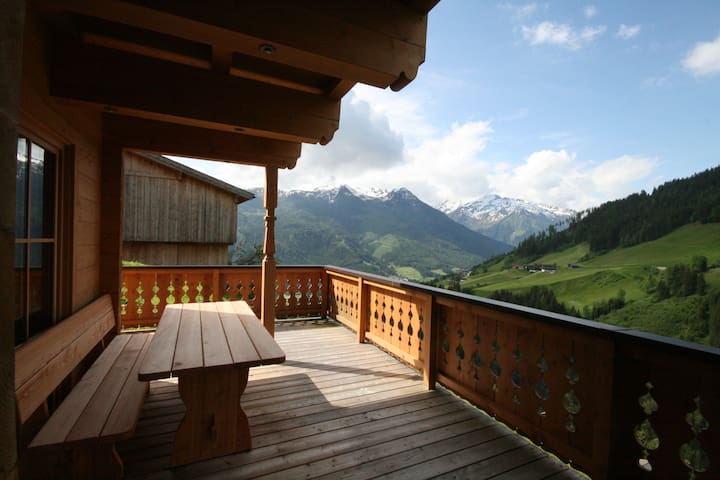 Tam fiyatlandırmayı görmek için tarihleri görün. Ek ücretler uygulanır. Vergiler ilave edilir.