Capacitat de fins a 6 persones en 3 llits dobles. Dos dels llits estan fetes de bales de palla, de manera que no hi hauria de ser-ho al·lèrgica o una princesa. Tractem de mantenir l'encant de l'antic graner amb vida tant com sigui possible. L'apartament de vacances està situat en un antic graner a la nostra gran propietat 3500m². L'estable està connectada a la casa per una cruïlla. A l'exterior de l'edifici, hem tractat de canviar el menys possible. La part interior s'ha renovat amb afecte, amb la qual cosa s'han utilitzat materials majoria locals i sostenibles. L'apartament existeix fora d'una petita sala d'estar amb cuina, estufa de llenya i taula de menjador. Per sobre de la sala d'estar es troba un dels dormitoris amb 1 llit doble. En l'altra habitació hi ha dos llits fets a bales de palla (amb matalassos a la part superior). El gran bany modern connecta el saló amb el segon dormitori. Calefacció central està instal·lat en totes les habitacions. Amb el bon temps, que són benvinguts a gaudir del nostre gran jardí amb terrassa, hamaques, llit elàstic, caixa de sorra, mitja volta i llar de foc i animals de granja (porcs, ovelles, ànecs i pollastres).
Petit poble en el Soutern Bosc Negre (Naturpark Südschwarzwald i Reserva de la Biosfera de la Unesco). Hi ha una petita botiga de queviures i un restaurant al poble. Veure tots els restaurants estan disponibles a pobles propers. Hi ha una gran zona per practicar senderisme i ciclisme de muntanya. Si vostè està buscant per al turisme estàndard Bosc Negre rellotge de cucut això podria no ser la millor zona, però sí tenim la naturalesa increïble i paisatges. L'esquí de fons és possible a l'hivern en els 5 minuts de distància de la zona anomenada "Lipple". Petita zona d'esquí està a uns 30 minuts de distància. Podem llogar raquetes de neu a un preu de 10 euros / parella / dia (màx. 3 parells disponibles). A l'estiu és possible banyar-se al petit rierol al poble o al proper llac petit anomenat "Nonnenmattweiher". Hi ha un spa preciós a Badenweiler, a uns 20 minuts amb cotxe. A l'àrea gran (fins a una hora en cotxe) es poden trobar grans atractius com les Cataractes Todtnauer, Titisee, cellers i les ciutats de Friburg i Basilea.
Remko and Leonie are very lovely and they have done a great job in making this apartment in their barn. It is a lovely place to spend some time. It is a shame that there was no internet in the apartment as listed but it wasn't a priority in such a beautiful place.
Steve
2016-03-06T00:00:00Z
We very much enjoyed our stay at Rössle. The apartment is as described; in the centre of a charming and friendly village with a shop for groceries opposite, and a good base for exploring the area. Remko and Leonie were very welcoming and helpful and the local organic milk, yoghurt etc delicious. Recommended!
Matthew
2016-07-09T00:00:00Z
We very much enjoyed the chance to spend time in this little corner of Schwarzwald. The accommodation is just as described and the garden exceeded the description and was a slice of heaven for our children to explore and play. The village itself was beautifully nestled in a valley, with a well stocked community run store just opposite and a slightly eccentric Gasthof just down the road which provided the most enormous meals. Leonie and Remko were very generous in letting our children enjoy the garden to the full, and were kind and helpful in their advice and welcome to our family. I would happily recommend a stay here in this beautiful old farm.
Miles
2016-08-03T00:00:00Z
Wij hebben een fantastisch lang weekend gehad in Wies en omgeving! Prachtige omgeving en een heel mooie en gezellige boerderij. Het is heel nieuw van binnen en schoon. Remko en Leonie zijn heel gastvrij.
Marleen
2016-05-09T00:00:00Z
This was something very special. It was a very charming little house, very nicely renovated. Located in a small village with beautifull hills surrounding it. Remko and leonie are very nice people, they helped us alot with recommondations for hikes and things to see. We did not have good weather, but still it was perfect. In the evenings we got warm by the fireplace and at night we could watch outside the large windows from our bed and see the night sky with a lot of stars. I would defenetly recommend this place!!!
Sander
2015-09-21T00:00:00Z
Wir haben das Wochenende in der schönen Ferienwohnung sehr genossen. Remko und Leonie waren sehr offene und aufmerksame Gastgeber. Unsere Tochter hatte grosse Freude an den Tieren im Garten. Wir kommen gerne wieder.
rebekka
2015-10-12T00:00:00Z
We had a fantastic stay in Remko and Leonie's apartment. The converted barn was perfect: nice rustic feel with the wood burner and great views up the hillside from the little balcony. The area is beautiful, we enjoyed some very warm spring sunshine while we were there. Remko and Leonie are very friendly and helpful and communication was easy both before and during our stay. I would defiantly recommend this apartment to anyone wishing to visit the Black Forest!
Anna
2016-04-12T00:00:00Z
It was amazing experience, i would say best so far among all the places we have stayed.
Riddhi
2016-09-29T00:00:00Z
Oda Tipi
Tüm ev/daire
---
Mekan Türü
Daire
---
Konaklayacak Kişi Sayısı
6
---
Yatak odaları
Kleines Wiesental, Baden-Württemberg, Almanya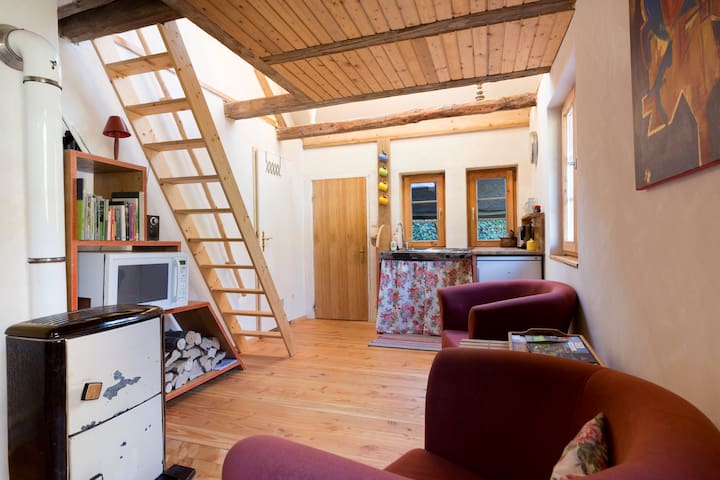 80m² large, bright apartment *** in the attic on a farm (from 1803) lovingly decorated. Find rest and relaxation in beautiful idyllic Black Forest village Wambach retail Wiesental (750m). Ideal for horse riding, trekking, to relax ... Experience nature and animals. enjoy farm produce. Where Switzerland, France and Germany explore. farther on rural life or just unwind.
3 Stars Holiday! Guaranteed rest and relaxation. Pure nature! Sleeping in the hayloft € 15 / Night Summer and winter beautiful excursions. Experience Unforgettable moments with the animals. Even after children or Ewachsenen with disabilities possible.
Small village on a hill with views of 750m. 30 residents from young to old with great community and active village life. Numerous traditional restaurants in the vicinity. Hiking trails directly from the house. Guided horseback riding thermal baths Amusement Museums A Sackgassenort and therefore idyllic and nice and quiet ...
Familie Steinebrunner hat ein kleines Paradies geschaffen für Menschen mit Kindern und Hunden und für die, die Ruhe und Erholung suchen. Die Wohnung hat einen großen Wohlfühlfaktor und das natürliche Ambiente sorgt dafür, dass man gerne länger bleiben möchte als geplant. Wir, mit Kleinkind und Hund, haben uns sehr wohl gefühlt. Die Gastgeber sind sehr nett und für alles offen. Es gab keine Probleme, alles war gut. Wambach ist als Sackgassendorf ohne Durchgangsverkehr ideal für Kinder, die noch ungefährdet auf der Strasse spielen können. Die Hunde des Dorfes laufen noch frei herum und sind gut sozialisiert. Wir wollen auf jeden Fall wieder kommen.
Dirk
2016-07-06T00:00:00Z
jan and his family are great hosts!! the place is great for kids they have chikens and rabits and goats and hourses and a very friendly dog which our young boy liked to hug. the apartment is well equipped and has all necessary things for a long family stay - we stayed for 9 nights. we took the 1 hour hourse riding which was amazing since as climbing up we saw amazing view of the alps.
Ziv
2016-08-29T00:00:00Z
We werden bij aankomst meteen vriendelijk welkom geheten en kregen een rondleiding door de tuin/de hooischuur/kruidentuin en het appartement. Het appartement voldeed aan al onze verwachtingen. Het is ruim van opzet en er was plek genoeg voor ons allemaal (2 volwassenen en 3 kinderen). Het ontbijt (wij namen het hartige ontbijt, maar je kunt ook kiezen voor zoet) was heerlijk: ham, salami, eitje (van eigen kippen), kaas en lekkere broodjes. Wambach is prachtig gelegen middenin het Zwarte Woud. Heel mooie omgeving. Zeker een aanrader.
Sophie
2015-07-24T00:00:00Z
jan speaks english comfortably and is a friendly host. the location is genuienly rustic with horse riding options.
gilly
2016-08-17T00:00:00Z
Hatten eine wunderschöne erholsame Woche in Wambach. Sehr freundliche Familie und ein richtig schönes Örtchen im abgelegenen Südschwarzwald. Man braucht ungefähr 2 Minuten dann befindet man sich auf Waldwegen und hat einen sehr schönen Blick ins Tal. Genau das was die Anzeige verspricht hält sie auch.
Janosch
2015-03-08T00:00:00Z
Het appartement is heerlijk ruim en schoon en ligt in een heel rustig dorpje. Het ontbijt is heel goed verzorgd met elke dag vers gebakken broodjes. Jan en Corinne weten veel over de omgeving en kunnen goede tips geven voor wandelingen of uitjes. Een heerlijke plaats om tot rust te komen!
Elvira
2016-05-06T00:00:00Z
Thank you for sharing your nice apartment with us. Plenty of space, beautiful location. I would definetely stay here again.
Adrienn
2015-06-22T00:00:00Z
Jan y su familia han hecho de nuestro fin de semana, algo para recordar. Alojarse en su preciosa casa, poder disfrutar de su compañía, ver su día a día con los animales e incluso participar y poder disfrutar de la experiencia de un paseo a caballo ha convertido un fin de semana de relax en un fin de semana único. Y como no mencionar esos deliciosos desayunos con el pan recién cocinado por Corina y esas increíbles mermeladas caseras. Por último y para los que tengan niños hay que mencionar lo mucho que disfrutan los pequeños con los animales y sobre todo con sus amorosos perros, pero sobre todo lo simpáticos y encantadores que son sus hijos y la gran oportunidad que supone para todos los peques conocerse y jugar juntos Sólo me queda despedirme hasta la próxima, ya que seguro que esta visita será la primera de muchas en el futuro. Gracias por todo
Iago
2015-11-16T00:00:00Z
Oda Tipi
Tüm ev/daire
---
Mekan Türü
Daire
---
Konaklayacak Kişi Sayısı
5
---
Yatak odaları
Kleines Wiesental, Baden-Wurttemberg, Almanya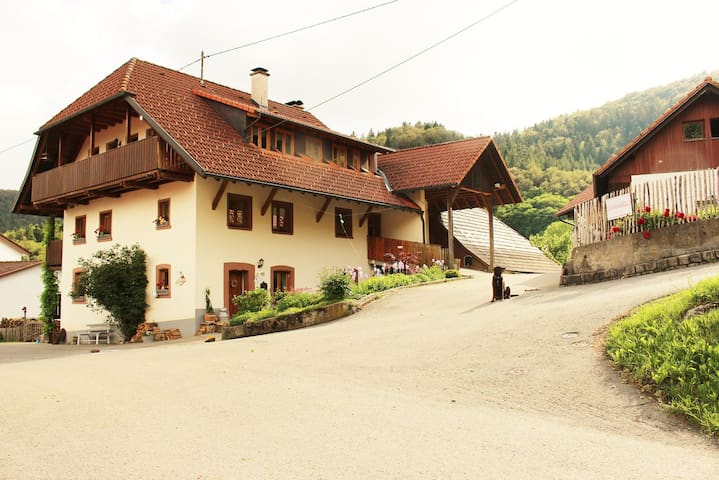 My property is located in the nature reserve at Ballon. Surrounded by mountains, surrounded by nature and forest you can experience peace and relaxation. You'll love my property due to the comfortable interior, the fantastic location, the clean air, its own spa facilities, a fully equipped gourmet cuisine. My accommodation is good for: couples, solo travelers, adventurers, business travelers, families (with children) and large groups.
Sehr schöne Unterkunft, geschmackvoll und modern eingerichtet mit viel Platz für eine größere Gruppe. Schöne Lage für Ausflüge in die Umgebung. Nettes Restaurant 2min zu Fuß. Sehr freundliche und unkomplizierte Abwicklung vor Ort. Alles Prima und gerne wieder :o)
Holger
2016-09-25T00:00:00Z
FANTESTIC HOUSE , ENOUGH BEDs FOR BIG FAMILY , IN GOOD LOCATION , THE HOST WAS HELPFUL AND COOPERATED
abduljaleel
2016-08-17T00:00:00Z
Corinna's place was really nice, very confortable and quiet. We enjoyed very much the whirlpool as well as the sauna.
Thomas
2017-01-29T00:00:00Z
Oda Tipi
Tüm ev/daire
---
Mekan Türü
Daire
---
Konaklayacak Kişi Sayısı
10
---
Yatak odaları
Kleines Wiesental, Baden-Württemberg, Almanya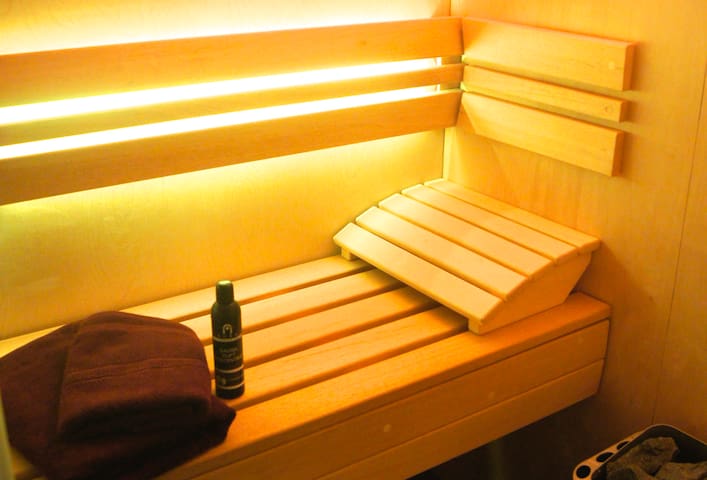 "Nice to have you here!" Your apartment is located in a separate floor, with its own sun terrace and wonderful views of the Belchen. We want you to enjoy your vacation in the Black Forest means cozy, wonderful experiences and a good service and to keep in mind. We want you to come from holidays happy and energetic. That's what we stand for.
Free Wireless Internet Lake in the nature reserve - nun Matt Weiher Apartment 800 m asl am Belchen Terrace with grill and fireplace Optional breakfast and much more.
Oda Tipi
Tüm ev/daire
---
Mekan Türü
Daire
---
Konaklayacak Kişi Sayısı
4
---
Yatak odaları
Kleines Wiesental, Baden-Württemberg, Almanya
Benim konaklama çiftler, yalnız yalnız ve iş seyahatinde yanı sıra İsviçre-taşıt için iyidir.
Mutfak, banyo, yatak odası, uzaktan kumanda odası, koridor ve garaj yaşayan
Oda Tipi
Tüm ev/daire
---
Mekan Türü
Daire
---
Konaklayacak Kişi Sayısı
2
---
Yatak odaları
Höchenschwand, Baden-Württemberg, Almanya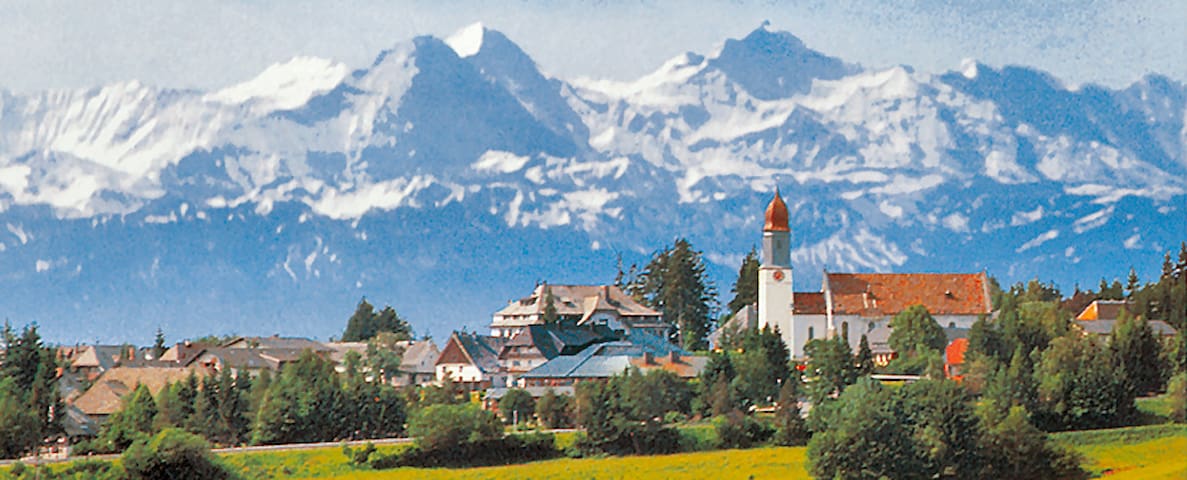 My property is located in the nature reserve at Ballon. Surrounded by mountains, surrounded by nature you can experience peace and relaxation. You'll love my property due to the comfortable interior, the fantastic location, the clean air, a large walk-terrace, its direct connection to nature and a fully equipped kitchen. My accommodation is good for couples, solo travelers Adventurers, business travelers, families (with children), groups and furry friends (pets).
Pasamos un fin de semana genial. El entorno es pura naturaleza. Un lugar muy tranquilo. La casa es pequeñita pero muy acogedora. Tiene unas vistas preciosas al bosque y una chimenea que en un día lluvioso como el que pasamos nosotros te hace sentir a gusto en casa. Recomiendo esta casa y su entorno para todo aquel que le guste el bosque. Diversos senderos salen de cerca de casa Alma.
Maria Soledad
2016-11-06T00:00:00Z
Corinna's apartment in the Black Forest was the perfect getaway for my family. It was clean and spacious and we really enjoyed the surrounding area. Although we didn't meet Corinna because she isn't in the area, she gave great instructions on how to access her place. There was a slight miscommunication/misunderstanding about calling the property manager, but in the end everything worked out just fine!
Judith
2017-02-26T00:00:00Z
Oda Tipi
Tüm ev/daire
---
Mekan Türü
Daire
---
Konaklayacak Kişi Sayısı
6
---
Yatak odaları
Kleines Wiesental, Baden-Württemberg, Almanya
The Landhaus Strittberg 7 offers three 5-star holiday apartments. The apartment of 100 sqm Deluxe is suitable for 2-4 persons + dog + 2 additional. See our website (URL HIDDEN) Please inquire availability.
Very tastefully and fully furnished Feriendomicil with full equipment, beautiful large outdoor terrace with a covered outdoor fireplace, south-facing views and Alpine views (weather permitting), Geeigent for couples, individuals, dogs welcome, cots can be provided.
We are very quiet in a dead end of a village residential area, but are very close to the B 500 and thus very conveniently located for all sorts of trips to the Black Forest or to nearby Switzerland. There are many great attractions for beautiful and also for bad weather. See our website (URL HIDDEN)
Krystyna ist eine fantastische Gastgeberin. Man kommt "nach Hause" auch wenn es der erste Besuch und sicher nicht der letzte für mich war! Die Wohnung entspricht keinesfalls den üblichen Ferienwohnungsstandards. Man hat ein Zuhause auf Zeit! Undzwar mit einer hervorragenden Ausstattung (Einrichtung Küche, Wellnessbereich und vieles mehr). Wer sich verwöhnen will, Alpenblick, Sternenhimmel nachts und Sonnenschein tagsüber möchte, der sollte DRINGEND zu Krystyna fahren!
Anna
2016-12-19T00:00:00Z
Oda Tipi
Tüm ev/daire
---
Mekan Türü
Daire
---
Konaklayacak Kişi Sayısı
4
---
Yatak odaları
Höchenschwand, Baden-Württemberg, Almanya
My property is located in the nature reserve at Ballon. Surrounded by mountains, surrounded by nature and forest you can experience peace and relaxation. You'll love my property due to the comfortable interior, the fantastic location, the clean air, its own spa facilities, a fully equipped gourmet cuisine. My accommodation is good for couples, lone adventurers, business travelers, families (with children) and large groups.
Excellent accueil, logement spacieux, bien équipé, confortable et chaleureux, dans un environnement bucolique à flanc de montagne. La cheminée et le jacuzzi sont des atouts indéniables. Nous recherchions calme et tranquillité, nous n'avons pas été déçus. Plein de choses à visiter dans la région, on peut y faire du ski l'hiver (le point culminant de la Forêt Noire, le Feldberg, est tout proche), de la randonnée, du VTT... Et Fribourg n'est pas très loin. Avis très positif, à recommander.
Noël
2016-11-13T00:00:00Z
Nous avons été reçus par une dame qui nous a expliqué le fonctionnement des appareils et les obligations de la vie dans cet appartement. Nous avons été particulièrement bien accueillis avec une décoration de Noël dans chaque pièce et une boite de chocolat en cadeau de bienvenue. Tout était propre et cosy. Nous avions plaisir à retrouver les lieux à chacun de nos retours
Claire & Patrick
2016-12-26T00:00:00Z
Nur zu empfehlen :) Die Lage ist sehr schön, mitten in der Natur und auch für Kinder wunderbar. Wer eine kleine Auszeit sucht von der Großstadt, ist hier genau richtig.
Camille
2016-10-23T00:00:00Z
A perfect place to enjoy the montain.. the house has everything you need to cook.. towels and bed staff.. the owner was very kind.. we have enjoied the snow amd the fresh air.. maybe the only problem is you go seven is that one bed is in the living room.. despite of that perfect!
Eva
2017-01-29T00:00:00Z
Oda Tipi
Tüm ev/daire
---
Mekan Türü
Daire
---
Konaklayacak Kişi Sayısı
7
---
Yatak odaları
Kleines Wiesental, Baden-Württemberg, Almanya
Oda Tipi
Özel oda
---
Mekan Türü
Daire
---
Konaklayacak Kişi Sayısı
1
---
Yatak odaları
Höchenschwand, Baden-Württemberg, Almanya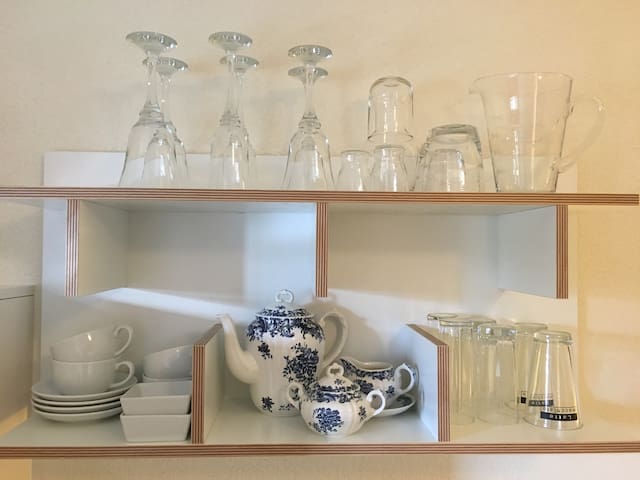 2-комнатные-апартаменты 50 кв.м, на нижнем этаже.
Гостиная / столовая комната с 1 диван-кроватью и кабельным телевидением (плоский экран), радио и CD-плеером. 1 спальня с двуспальной кроватью. Кухня (печь, кофемашина). Ванна / туалет. Терраса с навесом. Терраса мебель, кладовка. Дополнительные услуги: телефон (за дополнительную плату), фен.
Жилой дом "Haus Sonnenmatt". На окраине, в 400 м от центра города, в тихом, в солнечном месте, на холме. Для общего пользования: сад. В доме: сауна (за дополнительную плату). Солярий (за дополнительную плату). Центральная система отопления, стиральная машина, сушилка (для общего пользования, за дополнительную плату). Парковка в доме. Магазин 400 м, ресторан 200 м, открытый бассейн 1.5 км. Теннис 1 км, трасса для беговых лыж 100 м. Открытый спортивный центр 1 км. Внутренние бассейны в местных отелях и спа-курортов (за дополнительную плату).
Oda Tipi
Tüm ev/daire
---
Mekan Türü
Daire
---
Konaklayacak Kişi Sayısı
3
---
Yatak odaları
Höchenschwand, Almanya
Rólegur, þægilegur tveggja herbergja íbúð með Wi-Fi og stórum sjónvarpsskjá. Njóttu þægindi af stóru stofunni vel búin eldhús og baðherbergi með sturtu og baðkari. Heimsókn Basel með Kaup sínum, söfn og minnisvarða án flutningskostnaðar.
A skyldubundin gestur skattur er innifalinn í verðinu. Í staðinn, gestir okkar geta notað allar almenningssamgöngur (strætó, lest, sporvagn) í héraðinu North West Sviss frjáls og óheft. Þetta felur í sér ferðir til og frá Euro Airport Basel. Íbúðin býður upp á stofu með sjónvarpi, svalir, tvö svefnherbergi, eldhús og baðherbergi með baðkari og sturtu. Í einu svefnherbergi eru þrjú rúm. Að auki eitt rúm er hægt að setja upp annað hvort í svefnherberginu eða í stofunni. Annað svefnherbergi er með hjónarúmi. Eldhúsið er útbúið með ísskáp, örbylgjuofn, keramik Cooktop, ofni, uppþvottavél og borðstofuborð. Við höfum meira ókeypis herbergi í húsi einni hæð upp. Óskað þeir geta að leigja líka. Við bjóðum örugg WiFi og bílastæði framan við húsið. Rúmföt, púða, teppi, handklæði og svo framvegis eru innifalin í verði. Sé þess óskað, þvo við og þurrka sér þvottinn þinn fyrir CHF 5 - á vél. Ungbörnum allt að 2 ára eru ókeypis, nema fyrir vöggu sem við munum veita og ákæra með CHF 5. - á nótt. Innkaup fyrir edibles, ATM, apótek, og fleiri, eru innan 5 til 10 mínútna akstursfjarlægð. Næsta bakarí hægt að ná í 5 mínútur með bíl. Lestarstöðin er í aðeins 3 mínútna göngufjarlægð. Það er um 40 mínútur til Basel nota almenningssamgöngur og um það bil helmingur þess tíma með bíl. Flestir áfangastaða í Sviss (Bern, Interlaken, Lucerne, Zürich, osfrv) er hægt að ná innan dags þar á meðal ferðast þangað og til baka. Við lifum í dalnum Waldenburg, dreifbýli svæði umlukið hæðum sem bjóða fjölmargir gangandi og gönguleiðir. Reykingar eru stranglega bannaðar í húsinu okkar, en íbúð hefur svalir og þar er bekkur fyrir framan húsið. Af hreinlætisástæðum við rúma ekki hunda né ketti.
Skynja dreifbýli andrúmsloft Waldenburgertal (Valley of Waldenburg) með grænum hæðum sínum og fjölbreytt tækifæri göngu. Næsta Bærinn er aðeins 300 metra fjarlægð frá húsinu okkar. Njóttu kvöldi heitum sumardegi á svölunum.
We had a great time with Chris and Ruth in Neiderdorf! We had the large apartment that takes up the entire second floor and it was spacious and spotless! It was also very quiet and restful with beautiful views from every window. The bathroom was terrific and a hot shower after a day's touring was a great treat! There was obviously plenty of room for a large family to sleep and a fully equipped kitchen with utensils. Staying with Chris and Ruth was like going to your favorite Aunt and Uncle for a holiday visit. Their location is perfect for a visit to northern Switzerland including both Basel and Zurich. We drove some days and took the train other days to see the sights. The commuter train stops right down the hill from their home and wisks you north to Liestal where you transfer to fast trains to Basel and Zuirich. Chris and Ruth have drawers full of brochures, maps and train schedules and will tell you where everything is located. We especially enjoyed visiting the Roman ruins on the Rhine in Augst. Parking is off the street and right by the door. When we left it was snowing quite a bit and Ruth thoughtfully volunteered to drive us down the hill in our car and then walk back. All in all it was a wonderful visit; we could have stayed there for many more days if not for a new grandson waiting for us in Germany. We recommend staying with Chris and Ruth to anyone looking for an authentic time in Switzerland with a home like atmosphere.
Chris
2013-11-23T00:00:00Z
If you are looking for a relaxing, home-like atmosphere in Switzerland - look no further! This home is clean, comfortable, and even had games and puzzles for my kids (11 & 9). Only negative: not enough TIME! My family of 6 (husband, kids, and mom & dad) stayed for 3 days, 2 nights, and wish we would have stayed for the week! Beautiful area off the beaten path with nice areas to walk and take beautiful panoramic photos. One nice touch that I should mention: we arrived late on a Saturday afternoon, not thinking that the local grocery store (Coop - walking distance) would be closed on Sunday. Since we were traveling without cell phones (by choice - we wanted to disconnect for a couple of weeks), Ruth couldn't remind us. So she took it upon herself to put milk and OJ in the fridge, and fresh cherries from the neighbor on the table. Between what we had already accumulated with bread and cheese, we were able to have nice, light meals until we could grocery shop on Monday. Very friendly couple, wish we had more time to get to know them! Hoping to come back soon - and definitely will stay for at LEAST a few days...Thanks, Chris & Ruth!
Tracy
2013-07-16T00:00:00Z
Wir wurden von Ruth und Christian herzlich empfangen - die Unterkunft hat uns gut gefallen und entspricht der Beschreibung - wir haben uns sehr wohl gefühlt und kommen gerne wieder.
Ulrich
2014-12-15T00:00:00Z
Ruth and Chris are simply the perfect hosts. They made sure we felt welcome and even provided us with sweet little thoughtful items such as drinks in the fridge upon our arrival. The apartment we stayed in was exactly as in the photos with the rooms being amazingly spacious and the terrace having a beautiful view of the village's green hillsides. Although we stayed for only two days, we felt like home here and were sad to leave such a charming place.
Ivo
2015-08-07T00:00:00Z
Ruth & Christian were very helpful hosts, they facilitated every thing at the time of arrival. I wish them all the best.
Asem
2016-10-05T00:00:00Z
Staying with Ruth and Christian was absolutely fantastic. From the minute we arrived in Switzerland until the minute we left, Ruth and Chris were both doing their best to make sure we had an amazing visit and got where we needed to be. They went out of their way for us, including driving to pick us up at the airport (we arrived late at night), taking us out to sights around Switzerland and acting as our very own tour guide, and definitely not least of all, Ruth cooked us an amazing dinner (best potato salad ever!). The home was comfortable, clean, and had everything we needed. I am so happy we decided to stay with them instead of staying in a hotel!
Emily
2013-07-23T00:00:00Z
Christian y Ruth fueron unos excelentes anfitriones. El apartamento esta situado en una zona maravillosa y privilegiada. Ideal para desplazarse a cualquier punto de suiza. El apartamento dispone de todas las comodidades no le falta ni un solo detalle. Nos hemos sentido muy cómodos (como en casa) sin duda muy recomendable. Ruth y Christian. Muchas gracias por todo.Hasta pronto.
Rafael
2015-07-22T00:00:00Z
Ruth's house has such a wonderful and peaceful view. We could enjoy the last night of our trip in her house. Also her house is equipped quite well. Highly recommend!!
Myeongho
2016-09-19T00:00:00Z
Oda Tipi
Tüm ev/daire
---
Mekan Türü
Daire
---
Konaklayacak Kişi Sayısı
6
---
Yatak odaları
Niederdorf, Basel-Landschaft, İsviçre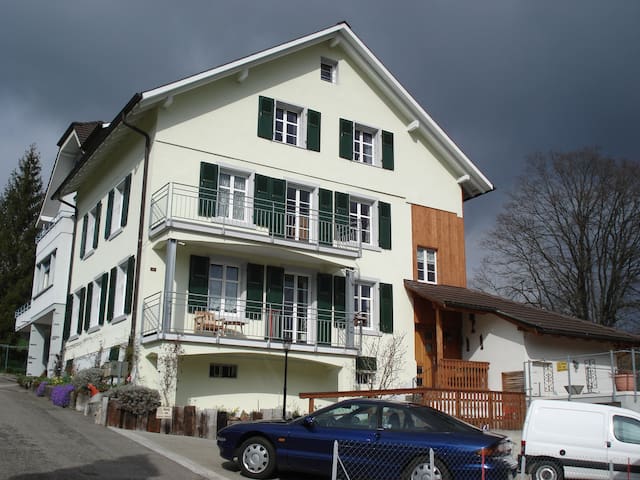 Unser altes Schwarzwaldhaus liegt im Heilklimatischen Luftkurort St. Blasien-Menzenschwand am Südhang des Feldbergs in einem sonnigen, 850m hoch gelegenen Tal, umsäumt von hohen bewaldeten Bergen und in unmittelbarer Nähe des Radon Revital Bades.
Die gut ausgestattete Ferienwohnung bietet Platz für 9 Personen, ist 100 qm groß. Das parkähnliche Grundstück bietet Platz für Jung und Alt zum Spielen und Verweilen.
St. Blasien Das malerische Kurstädtchen mit der drittgrößten Kuppelkirche Europas, den Domfestspielen und dem jährlichen Bildhauer- Wettbewerb Anfang September. Feldberg Ist mit 1493 m der höchste Berg im Schwarzwald, und mit dem 49 qkm großen Naturschutzgebiet begeistert er den Wanderer im Sommer und den Skifahrer im Winter mit vielen Liften. Belchen / Belchenbahn: Von hier aus haben Sie einen Rundblick in die Schweiz, Frankreich und den Schwarzwald Titisee Wegen seiner idyllischen Lage ist der heilklimatische Kurort international bekannt und beliebt. Vogtsbauernhof In diesem Freilichtmuseum können Sie die letzten 400 Jahre Kultur und Geschichte des Schwarzwaldes lebendig erleben. Sauschwänzlebahn Diese Museumsbahn im Wutachtal empfehlen wir mit Vergnügen für Jung und Alt Tropfsteinhöhle Hasel Eine der ältesten Tropfsteinhöhlen in Deutschland. Die vermessene Gesamtlänge der Höhle beträgt 2185 Meter, der Schauteil der Höhle ist 360 Meter lang. Deutsches Uhrenmuseum in Furtwangen Die 150 jährige Sammlung ist weltweit berühmt und vermittelt einen Einblick in die Geschichte, Tradition und Kultur des Schwarzwaldes. Sea Life Konstanz Hier können Familien in die Wunder der Unterwasserwelt eintauchen. Bodensee Das Pfahlbaumuseum Unteruhldingen am Bodensee ist ein archäologisches Freilichtmuseum mit angeschlossenem Museumsbau. Insel Mainau Die Blumeninsel im Bodensee . Weil am Rhein Vitra Design Museum Rheinfall von Schaffhausen Der größte Wasserfall Europas ist ein grandioses Natur-Schauspiel. Vogelpark Steinen Ein tolles Erlebnis für Jung und Alt. Wildpark Löffingen Bestaunen Sie Wildtiere bei einem Spaziergang aus nächster Nähe Europapark Rust Deutschlands größter Freizeitpark Colmar im Elsass Mit dem Unterlindenmuseum mit dem Grünewaldaltar und die Stadt ist für den elsässischen Wein berühmt. Strassburg Historische Altstadt mit französischem Flair und dem berühmten Münster. Sitz des Europa-Parlaments. Zürich Bootsfahrt auf dem Zürichsee, Bummel durch die Altstadt und Besuch von zahlreiche Museen und Galerien . Luzern Direkt am Vierwaldstätter See gelegen. Eine Bootsfahrt ist empfehlenswert. 4 Tipps für Kultur- und Kunstliebhaber Stadtführungen und Exkursionen in Freiburg der besonderen Art Museumszug Rebenbummler Freiburg / Breisach Entdecken Sie den Kaiserstuhl nahe Freiburg auf nostalgische Art. Alle Museen in Basel von A-Z auf der Startseite von Basel im Internet Donaueschinger Musiktage 1 Tipp für Groß und Klein Für die Faschingszeit die schönsten Faschingsumzüge und vieles mehr.
La anfitriona es muy amable, y se preocupa por todo antes de la llegada, pero no se encuentra en el sitio, en el pueblo hay alguien que te atiende si tienes algún problema pero no le vimos en ningún momento porque salíamos muy temprano y llegábamos tarde, sobre las 10 de la noche, y allí a esas horas no hay nada ni nadie. No sé si la anfitriona tiene conciencia del estado de la casa y de la impresión que a la llegada pueden tener los huéspedes, pero pensamos que estábamos viviendo una pesadilla porque el acceso a la planta alta no está muy acondicionado, lleno de telarañas y sucio. No sé si tuvimos mala suerte pero no había cobertura de móvil, y sólo tuvimos internet el primer día con lo cual estábamos bastante incomunicados. Eso unido a algunos problemillas que la anfitriona ya conoce no nos hicieron una estancia agradable. La casa una vez atraviesas la entrada y subes los dos pisos, no está mal, para dormir sólo. Con un poco más de interés por la limpieza estaría mucho mejor.
PILAR
2015-08-26T00:00:00Z
Wir haben unseren Aufenthalt in Menzenschwand sehr genossen, alles war gut organisiert und hat geklappt. Wir kommen gerne, bei besserem Wetter, mal wieder.
Andreas
2016-05-20T00:00:00Z
Wir haben uns sehr wohl gefühlt in unserer Unterkunft. Wir waren 2 Stunden zu früh dort und konnten die Wohnung trotzdem schon beziehen. Die Informationen von Beate waren sehr wertvoll. Wir waren für 4 Tage in St. Blasien. Die Küche ist für Leute ab 170 cm schon sehr klein. Da wir alle grösser sind, hatten wir recht Mühe. Sonst war alles in Ordnung.
Ruth
2016-03-30T00:00:00Z
We had an overall great experience, the building is very rustic and the apartment is quite charming and accommodate six people easily. The apartment has all the amenities you'd need (dishes, towels, blankets, etc.). The location is excellent, very central to many Black Forest attractions if you are traveling by car. The village is in a beautiful valley and is very peaceful (quiet), but there still are restaurants within a short walking distance. Excellent trails for running/walking if you enjoy that. Overall good experience..
Nicholas
2016-07-09T00:00:00Z
Although we never meet beate, the key of the house was left for us including all the neccessary instructions. The house is beautiful , well equiped, the surrounding is quiet and fantastic. We enjoyed our stay and we truly recommend it as a great spot for staying if travelling is in the south of the black forest.
Omri
2015-10-03T00:00:00Z
It was very nice to host in Beate plase. Wery clean, there all things that famaly need.Comfortable and guiet.
Maya
2016-09-16T00:00:00Z
We really loved our short holiday in the Black Forest and the flat was in a beautiful and convenient location for us to explore the Hochschwarzwald and also take a trip to Switzerland and as a base for lovely walks and close to one of my favourite lakes. As there was only 3 of us the flat was very spacious and well equipped ( a lot better than other holiday lets we have stayed in). Beds are very comfortable and the shower was great. Everyone we met in the house was very nice. The communication we received beforehand from the owner was very good and useful. There were only 2 small things which were not excellent. One was the internet which was very slow and the other was the kitchen which is very well stocked but very small with slanted sides due to the roof so being 5'10" I always had to bend over when I was in there. However after a day or so I got used to it and we didn't cook much anyway. So all in all a great place to stay and we would certainly like to come back!
Karin
2015-08-21T00:00:00Z
we had greet experience. the locatin of the apartmennt is proximity to Black Forest attraction. the building is very rustic and the apartment is quite charming and accommodate seven people easily. Beds are very comfortable and the shower was great. well equiped. The kitchen is cramped and the ceilings in there very low . but we manage . We enjoyed our stay and we truly recommend it.
Boaz
2016-07-02T00:00:00Z
Oda Tipi
Tüm ev/daire
---
Mekan Türü
Daire
---
Konaklayacak Kişi Sayısı
8
---
Yatak odaları
Sankt Blasien, Baden-Württemberg, Almanya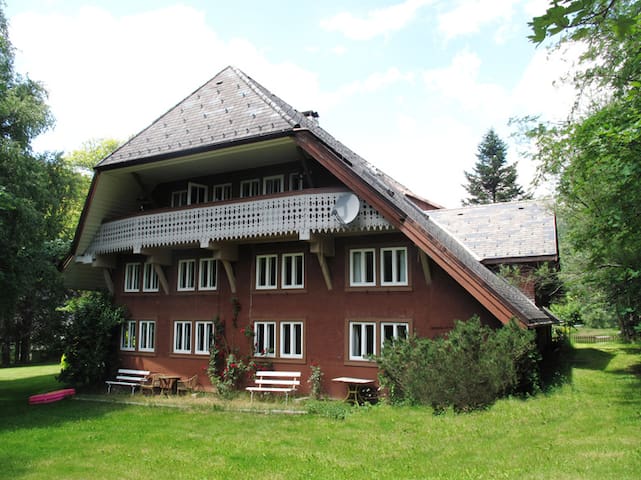 Unsere Ferienwohnung befindet sich in dem idyllischen Hochschwarzwalddorf Menzenschwand in einem ehemaligen mehr als 270 Jahre alten Bauernhaus. Das Haus liegt ruhig in einer Sackgasse des Menzenschwander Vorderdorfes.
Unsere Ferienwohnung befindet sich in dem idyllischen Hochschwarzwalddorf Menzenschwand in einem ehemaligen mehr als 270 Jahre alten Bauernhaus. Das Haus liegt ruhig in einer Sackgasse des Menzenschwander Vorderdorfes und ist von alten Schwarzwaldhäusern umgeben. Besonders am Haus Bacmeister ist der riesige parkähnliche Garten (ca. 4000 qm) mit Wiesen und altem Baumbestand. Das Grundstück grenzt nach Westen hin an einen Bach, die Alb. Der Garten eignet sich hervorragend als Spielwiese für Kinder. Jeder findet im Garten des Haus Bacmeister seinen Bereich zum Entspannen. Im Winter kommen in Menzenschwand nicht nur die Sportler auf ihre Kosten, sondern auch die Romantiker. Das eingeschneite Dorf zeigt sich in idyllischer winterlicher Ruhe. In Menzenschwand gibt es drei Skilifte (1 speziell für Kinder) und mehrere Abfahrtsvarianten. Eine Talabfahrt führt bis unmittelbar vor das Haus Bacmeister. Und der Feldberg mit seiner FIS Weltcup-Abfahrt ist keine 4km Luftlinie entfernt. Von dort gibt es ebenfalls eine Talabfahrt direkt nach Menzenschwand. Paradiesische Winterlandschaften können auch die Langläufer erleben. 70 km Loipen im Tal (200 m vom Haus entfernt) und auf den Bergen bieten alle Schwierigkeitsgrade. Die freundlich eingerichtete und im August 2011 grundlegend renovierte Wohnung befindet sich im 1. Stockwerk des Hauses. Sie verfügt neben Diele, Küche und Bad (mit Badewanne) über ein Wohn- und Esszimmer (mit TV-Satellit) mit Schlafsofa und zwei Schlafzimmer. In der Küche befindet sich eine Spül- und eine Waschmaschine. Die Wohnung eignet sich ideal zu Ferienaufenthalten für Familien. Insgesamt gibt es 7 Schlafgelegenheiten (1 Doppelbett, 2 Einzelbetten, die nebeneinander gestellt sind, 1 Schlafsofa für 2 Personen und 1 Zusatzmatraze). Auf dem gleichen Stockwerk befindet sich noch eine weitere Wohnung, die bei Bedarf (z.B. gemeinsamer Urlaub von 2 Familien) hinzugemietet werden kann. Für Familien mit Kindern ist das Haus Bacmeister der ideale Urlaubsort, der große Garten und der Bach bieten unendliche Möglichkeiten zum Spielen. Weiterhin gibt es einen Fussballkicker, Tischtennsiplatte, Schaukel und Trampolin. Im Garten kann gegrillt werden. Vorsicht - die Deckenhöhe ist wie in allen alten Schwarzwaldhäusern niedrig (ca. 190 bis 200cm, unter manchen Türen nur 180) - wir hatte es schon, dass sich sehr große Menschen nicht so wohl gefühlt haben.
Very nice and well equipped apartment in excellent location.
Roy
2016-10-13T00:00:00Z
De eigenaar communiceerde vooraf zorgvuldig alle details, zodat we goed geinformeerd waren. Het ontvangst verliep goed.
Arco
2016-02-27T00:00:00Z
L'appartement de David est très bien situé dans un petit village calme et à proximité de stations de ski familiales. Il est bien équipé, avec notamment des jouets pour les enfants, ce qui est appréciable quand on voyage avec des petits. David répond rapidement et précisément aux questions posées.
Caroline
2017-02-16T00:00:00Z
Oda Tipi
Tüm ev/daire
---
Mekan Türü
Daire
---
Konaklayacak Kişi Sayısı
7
---
Yatak odaları
Sankt Blasien, Baden-Württemberg, Almanya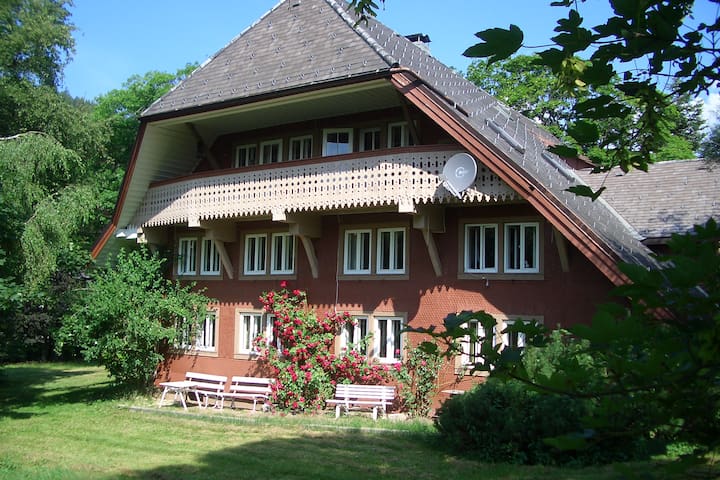 Nah gelegen zur Stadt, zum Einkaufszentrum Edeka und Lidl. Zentru(SENSITIVE CONTENTS HIDDEN)ah und ruhig. 5 Gehminunten zum Busbahnhof. 5 Gehminuten zum nächsten Lokal. 10 Gehminuten zum Dom. 10 Gehminuten zu den Eisdielen. Eigener Parkplatz zur Wohnung direkt am Haus.
Markus ist ein sehr toller Gastgeber. Das Zimmer war sehr sauber und gemütlich und die Wohnung sehr gut ausgerüchtet. Die Anleitungen für den Eintritt und die Benutzung der Wohnung waren sehr klar. überall, meine Aufenthalt war angenehm und ich wurde diese Wohnung empfehlen.
Carolina
2016-10-06T00:00:00Z
Markus is a great host! Really friendly and the apartment is just perfect! Location is very practical; liddle shop on 1 min walk, close to hiking trails, centre, ... We really had a great stay here!
kristof
2016-06-01T00:00:00Z
Alles super !! Nur zu empfehlen Toller Gastgeber Super Kommunikation Immer wieder gerne :)
Steffy
2016-12-27T00:00:00Z
Die Wohnung ist wirklich geräumig und gemütlich eingerichtet. Die Übergabe der Schlüssel erfolgte völlig problemlos und ich habe auch gleich noch ein paar nette Tipps zur Umgebung mit auf den Weg bekommen. Da man wirklich unzählige Seen, Wanderwege und auch die Rothaus-Brauerei (Tannenzäpfle-Bier) in der näheren Umgebung findet, hat man mit dieser Wohnung einen ausgezeichneten Ausgangspunkt für viele Halb- oder Ganztagesausflüge und Wandertouren. Schön ist auch, dass man zur Selbstversorgung alles Nötige in der Küche und einen LIDL direkt um die Ecke des Wohnhauses vorfindet. Ich kann die Wohnung jedem Interessenten vollkommen weiterempfehlen und habe mich sehr gefreut, dass gleich meine erste Buchung hier ein schönes Erlebnis war. Vielen Dank !
Constantin
2016-09-13T00:00:00Z
The host canceled this reservation the day before arrival. This is an automated posting.
Veronika
2017-02-19T00:00:00Z
Oda Tipi
Tüm ev/daire
---
Mekan Türü
Daire
---
Konaklayacak Kişi Sayısı
1
---
Yatak odaları
Sankt Blasien, Baden-Württemberg, Almanya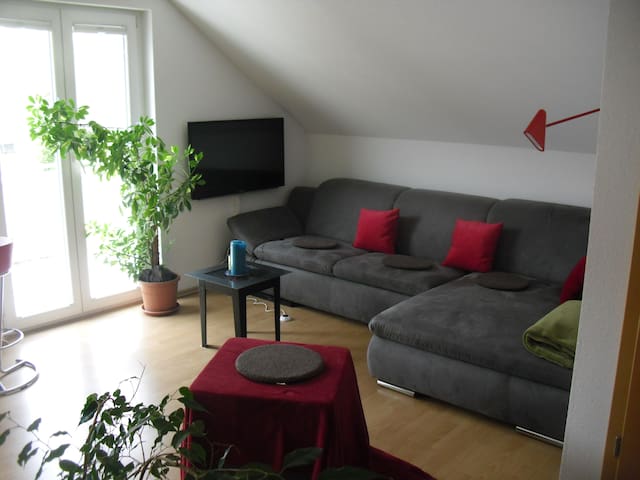 Sweet little apartment in Sankt Blasien! Centrally located with balcony, bathroom, bedroom. Sankt Blasien has Europe's second largest domed church and is located in a recreational area. In winter it is ideal for cross-country skiing.
Ein Zimmer mit dünnen Wänden, keine Kochgelegenheit und Legionellen im Wasser.
Martin
2016-08-22T00:00:00Z
Small and simple room in a nice location.
Alex
2016-09-16T00:00:00Z
Das Zimmer ist klein aber bietet alles was man braucht und ist sehr sauber! Wir wurden sehr nett empfangen und uns wurde alles gezeigt. Das Highlight ist natürlich das Hallenbad im Haus!! Alles in Allem super Preis/Leistungsverhältnis und zu empfehlen! Wir kommen gerne wieder :-)
Dominic
2016-10-03T00:00:00Z
Die Unterkunft ist in Ordnung.
Lukas
2016-10-09T00:00:00Z
Die Schlüsselübergabe hat super funktioniert, das Zimmer war zweckmässig für einen Kurzaufenthalt (nur Übernachtung) eingerichtet, die Lage war sehr zentral und dennoch sehr ruhig. Ich komme gerne wieder!
Markus
2016-10-16T00:00:00Z
Sehr netter Gastgeber! Wir hatten große Verspätung wegen eines Unwetters. Wir könnten 23:30 anreisen und alles lief glatt! Vielen Dank!
Marius
2016-02-16T00:00:00Z
Uns hat der Aufenthalt sehr gut gefallen klein aber sehr nett.
Agnes
2017-02-12T00:00:00Z
The host canceled this reservation 27 days before arrival. This is an automated posting.
Stephanie
2017-03-17T00:00:00Z
Oda Tipi
Tüm ev/daire
---
Mekan Türü
Daire
---
Konaklayacak Kişi Sayısı
2
---
Yatak odaları
Sankt Blasien, Baden-Württemberg, Almanya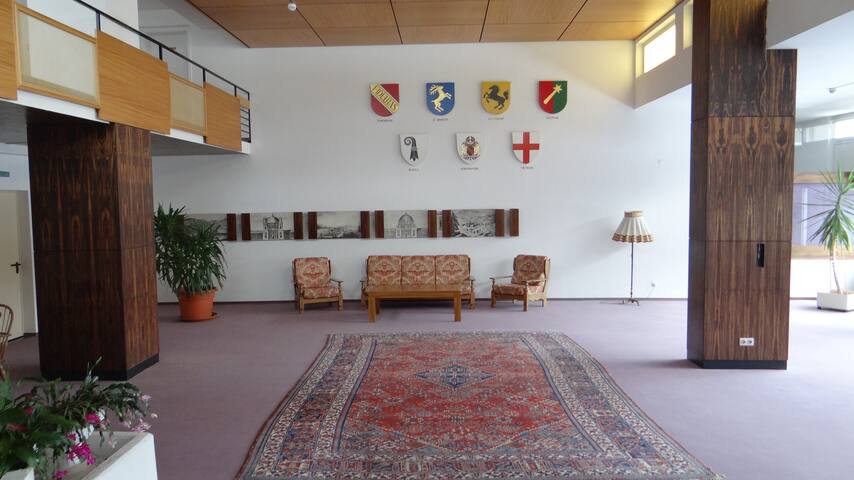 Meine Unterkunft ist in der Nähe von St. Blasien ca. 9 km entfernt und Waldshut-Tiengen ist ca. 15 km entfernt. Zum Flughafen Basel und Zürich sind es etwa 60 km. Im Zentrum von St. Blasien, befindet sich ein wunderschöner Dom. Die Unterkunft liegt in ruhiger Lage im schönem Albtal, perfekter Ausgangspunkt für zahlreiche Unternehmungen. Die Hochschwarzwald Card Inklusive. Geeignet für bis zu 5 Personen.
Oda Tipi
Tüm ev/daire
---
Mekan Türü
Daire
---
Konaklayacak Kişi Sayısı
5
---
Yatak odaları
Sankt Blasien, Baden-Württemberg, Almanya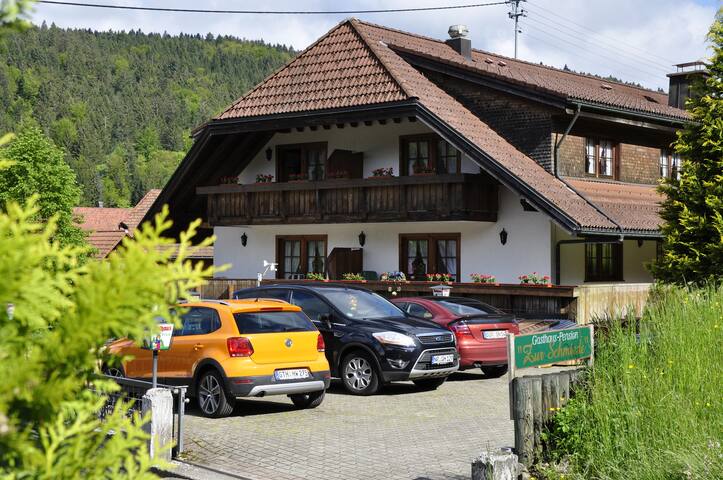 Are you looking for an apartment in the center of St. Blasien, two steps away from the Dome, the Kolleg, the clinics but surrounded by nature? You have found it! This appartement offers you all the comforts that you need for an unforgettable stay!
The FINAL PRICE is comprehensive of EVERYTHING: badclothes, towels, taxes and cleaning. NO EXTRA! Description of the apartment Do you want to visit the Black Forest alone, with your entire family or with your friends - why not- ? Would you like to spend some time with your pet in the pure nature? No problem: you just found the solution. Nothing is missing in this well-furnished, 55 m² apartment: there is a spacious and bright living-room with cable TV and free Wi-Fi, a balcony with view on the cathedral dome cupola (the third-largest cupola of a religious building in Europe), a small but well-equipped kitchen (with dishwasher, oven, microwave oven, refrigerator, freezer and many cupboards), a restroom with shower and a wide window and finally a large and airy master bedroom. You will also have a reserved parking lot at your disposal!
Why this apartment? It is situated in the very center of the city, less than five minutes away from the cathedral dome and the international school (Kolleg Sankt Blasien). Five minutes by car? No, on foot! You can easily leave your car in front of the building in your reserved parking lot and then stroll about in the city center. Are you here to visit a relative or an acquaintance who is in the clinic of St. Blasien/ in the lungs clinic (Lungenfachklinik) / in the rehabilitation clinic (Rehabilitationsklinik) / in the Luisenheim nursing home? Then this apartment is perfect for you! It is a two-minute walk away from all four centers. If you are very active and you are looking for adventure in the uncontaminated nature you will love this last option: just 10 meters away from the door of the building there are two accesses to the woods, one of which being the "Philosopher road" (Pilosophenweg). It is rich of trails and offers a wonderful view of the entire city center and of the surrounding green woods. What else do you need to be convinced?
Lorenzo is one of the best hosts we have seen. The whole procedures and communication were clear, easy with fast response. The apartment located in beautiful village near Switzerland border. We got to the Zurich airport in 50 minutes. Walking distance to amazing forest paths and views. The place is well equipped and have a very comfortable and big bed in the bedroom. We definitely will come back here.
Oleg
2014-09-01T00:00:00Z
Flat description was as shown in photos. We found it easily with Lorenzo's directions. The beds were comfortable & the balcony useful for meals outside as it was warm. Small but perfectly adequate bathroom (with shower, toilet & washbasin) & kitchen (with everything we needed) St Blasien is a quiet, pleasant small town with a stream running through. It has a few restaurants & Eiscafes. We used it as a base to explore a taste of that part of the Schwarzwald but would happily return to follow some of the many walking trails in the area.
Julie
2015-09-02T00:00:00Z
Lorenzo is available and quicly reply to my questions. We had a nice stay in his flat which is very well equiped (you can easily cook everything you want) and is very well located : in few seconds we are in the center or in the forest.
Lucie
2016-05-09T00:00:00Z
We had booked the place for a optimistic plan of skiing in Feldberg which obviously didn't happen as the days were bright sunny and no snow!! But we stayed here for 3 nights , and travelled to blackforest locations. Everything was a described in the listing. Ms. Rudolph was there to greet us and introduce us to the house. Very comfortable house with everything needed for a pleasant stay including vessels in kitchen. Only downside which Lorenzo had explained earlier was that the internet was not working , and this location being a remote location i had problem connecting with my phone's internet also. this situation would have been better if the long holiday season was not around hopefully. Will surely recommend to people looking for accommodation in the locality.
avinash
2015-12-28T00:00:00Z
Die Wohnung war sehr schön, sauber und genau wie auf den Bildern. Die Küche war gut ausgestattet, es blieben keine Wünsche offen. Der Empfang war sehr freundlich und informativ. Einziger negativ Punkt war eine etwas instabile Internet Verbindung. Lorenzo bot jedoch Lösungsvorschläge
Michael
2015-04-25T00:00:00Z
Clean, basic and conservative 1 bedroom apartment. Wifi wasn't available, but no need for when you can sit on the balcony for a beautiful sunny sight on the medieval quite town of St. Blasien.
Sjoerd
2016-03-21T00:00:00Z
My friend and I had a lovely stay here, although it was very difficult to find if relying on (SENSITIVE CONTENTS HIDDEN) maps! Internet was unfortunately out while we were there, so be prepared, as the only place in town with wi-fi we found to be somewhat unreliable. A very small town but has everything needed (very cheap groceries!) and is as advertised, on the doorstep of Black Forest.
Natasha
2015-12-01T00:00:00Z
Einfache rustikale aber auch gemütliche Unterkunft. Alles ist im einwandfreiem Zustand. Gerne wieder
Saskia
2017-01-29T00:00:00Z
Oda Tipi
Tüm ev/daire
---
Mekan Türü
Daire
---
Konaklayacak Kişi Sayısı
4
---
Yatak odaları
Sankt Blasien, Baden-Wurttemberg, Almanya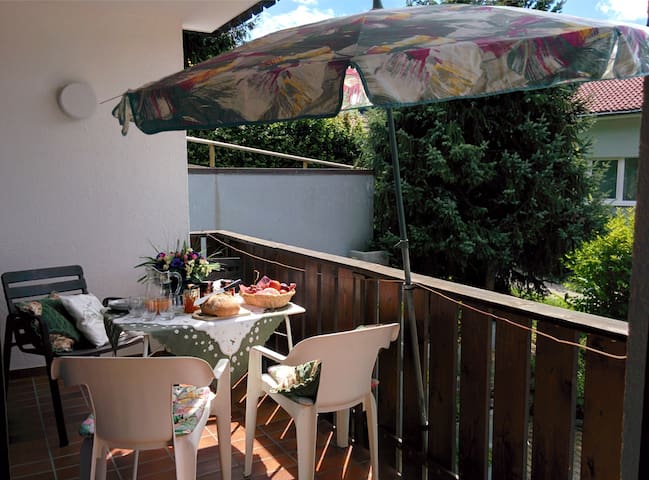 Schöne, große Wohnung für Familien. Schlafzimmer mit großem Doppelbett, Einzelbett und Kinderbett. Zusätzlich im Wohnzimmer 2 vollwertige, ausklappbare Betten. Gut ausgestattet Tageslicht-Küche und großes Bad mit Dusche/Toilette. Wohnraum mit Flachbildfernseher, Stereo, Eckchouch, Essecke. Der Preis für 2 Personen beträgt 78,--, jede weitere Person ab 6J. 10,-- Kinder unter 6J. frei. Kinder unter 6 Jahre bitte nicht als zusätzliche Person angeben, sonst stimmt der Preis nicht mehr!
Die Unterkunft hat eine einzigartige schöne Lage in dem ruhigen Ort Menzenschwand. Das (für unsere Gäste kostenlose) Hallenbad ist nebenan. Im großen Spaßbad in Titisee ist der Eintritt ebenfalls frei. Am Ort finden Sie Skilifte, Loipeneinstieg, Kinderspielplatz, kleines Wildgehege, tolle Wanderwege und vieles mehr.
In der Nachbarschaft, direkt gegenüber befindet sich das bekannte Radon-Revital-Bad. Hier haben alle unsere Gäste mit der Gästekarte freien Eintritt für 3 Stunden täglich. Außerdem in fast 70 Einrichtungen und bei den Skiliften, freier Eintritt.
The host canceled this reservation 30 days before arrival. This is an automated posting.
Atsje
2017-01-31T00:00:00Z
Lieber Fritz, Wir hatten eine gute Zeit in Ihrer Wohnung. Es war sauber, geräumig und ordentlich. Besonderer Dank gebührt die Hausmeisterin Mia für die Betreuung und Flexibilität. Die Hochschwarzwaldcards sind perfekt, wir haben wir sie zum Skifahren, Parkplatz und Schwimmen eingesetzt. Nochmals vielen Dank.
jeroen
2017-03-12T00:00:00Z
Oda Tipi
Tüm ev/daire
---
Mekan Türü
Daire
---
Konaklayacak Kişi Sayısı
5
---
Yatak odaları
Sankt Blasien, Baden-Württemberg, Almanya
1

–

18

/

300+ Kiralık Daire
Tam fiyatlandırmayı görmek için tarihleri görün. Ek ücretler uygulanır. Vergiler ilave edilir.