One bedroom apartment on walking area - Rose, Montenegro Apartisment is settled in a quiet small bay of ancient settlement Rose on the peninsula Lustica. Apartment of 45m2 has wi-fi, tv and separate entrance, bathroom, living room with complete kitchen and one bedroom. Distance from parking and cafe-restaurants is on 2-7 minutes walk. We organise transfers from airports Tivat ( 20km), Dubrovnik (56km), and Podgorica (112km).
House where the apartment is alocated is consisted of two apartments..this one and one studio apartment so it is good option for friends amd bigger famillies. On the ground floor is magazin for aditional thing which guests can bring with themselves. For all guests on disposition is a mall in front of the house where can tie up boats or enjoy the sun, and small access into th sea in front of the house. On the peninsula are also well known beaches: Zanjice, Mamula island, Blue Cave, Mirista, Dobrec, Almara. To Herceg Novi town frequently goes boat "Loro". Medieval town Kotor (UNESCO) is on 20km distance. You'll love my place because of the light and untouched Mediterrenian nature. House is ideal choice for guests who seeking for a privacy. Also is good choice for couples, solo adventurers, families (with kids), and smaller groups.
Because of the hiddenness and the spirit, many famous artists and people who want to escape from the bustle select Rose for a years as a place of rest that do not change.
Oda Tipi
Tüm ev/daire
---
Mekan Türü
Daire
---
Konaklayacak Kişi Sayısı
3
---
Yatak odaları
Herceg - Novi, Opština Herceg Novi, Karadağ
Part of the Klinci Village Resort , this apartment has a massive sea view, a shared pool below and large balcony to sit and enjoy exclusive moments of your life !! A 40 m square One bedroom residency with a Queen size bed, a fully equipped kitchenette, a bathroom with a shower and a terrace with an outside sitting furniture.
Offering an outdoor pool, a restaurant, a bar and free private parking on site, Guest House Klinci is located in Luštica. Breakfast is available.
Olive groves and pomegranate trees dot the neighbourhood. An idyllic hamlet named Rose and the white pebble beach are in close proximity to the property. Mamula prison and Blue caves also add to the charm of the neighbourhood.
The appartement was very Nice and Conform with photos
Stéphanie
2016-07-29T00:00:00Z
Very nice ,quiet place and good owner! Very testy kitchen, funny dogs:))
Kontra-88
2016-07-16T00:00:00Z
Amazing place! The apartment was large and comfortable. The views breathtaking. We used both pools which were clean and lots of fun. But best of all was the staff. The chef was warm and funny and her food was absolutely delicious. Thank you!
Jaanika
2016-10-02T00:00:00Z
Smeštaj je bio identičan kao na fotografijama, ako ne i bolji. Apartman koji smo dobili (br. 3 ) je ogroman, sa izdvojenom spavaćom sobom, prostranom dnevnom sobom, trpezarijom, velikim kupatilom i potpuno opremljenom kuhinjom. Tu su i dve terase sa pogledom na more. Sve je bilo čisto i uredno. Dva bazena su prelepa i pristupačna iz svih apartmana. U prizemlju kuće se nalazi restoran, sa preukusnom domaćom hranom i obilnim obrocima. Wi-Fi najbolje funkcioniše u restoranu i prizemlju. Bogdan i njegova ekipa su izuzetno ljubazni i predusretljivi. Osećali smo se kao da smo došli na mini-odmor kod dugogodišnjih prijatelja. ------------------ The apartment was the same as at the photos if not even better. The one we got (apartment no. 3) was huge, with a separate bedroom, a spacious living room, dining room, large bathroom and a fully equipped kitchen. There are also two terraces with the sea view. Everything was clean and tidy. Two pools are beautiful and accessible from all Bogdan's apartments. The ground floor restaurant serves delicious local food (and big portions). Free WiFi works best at the restaurant. Bogdan and his team were very, very friendly and helpful. We felt like we were having a mini-vacation staying at longtime friends.
Marijana
2016-06-16T00:00:00Z
Очень уютная , уединенная вилла в горах. С любого номера открывается потрясающий вид. Большой, комфортный, чистый номер с кухней со всеми необходимыми принадлежностями для приготовления еды. Большая удобная кровать с белоснежной пастелью. Очень вкусные ужины в печи готовит Emilia. Управляющие очень стараются , чтобы отдых был незабываемым! Им это удалось. Отличный сервис! Замечательная собака Otto с , которой играла наша дочь. Уверены, что другого такого замечательного места в Montenegro не найти! И повторюсь, очень вкусно готовят!
Natalia
2016-09-04T00:00:00Z
This is a really amazing place- it looks a lot more beautiful in real life than on the photos! The views are really incredible. We loved staying there.
Kat
2016-08-26T00:00:00Z
Excellent séjour ! Un endroit magnifique en pleine nature ! Des hôtes parfaits.. Nous recommandons cet endroit ! Merci beaucoup ! A bientôt :-)
Arnaud
2016-08-19T00:00:00Z
Très bon accueuil. Appartement agréable avec jolie decoration. Terrasse avec vue magnifique sur la mer. Super piscine . Endroit très reposant dans une nature très préservée contrairement à une grande partie de la Côte Montenegrine .
Catherine
2016-08-15T00:00:00Z
Oda Tipi
Tüm ev/daire
---
Mekan Türü
Daire
---
Konaklayacak Kişi Sayısı
4
---
Yatak odaları
Tivat, Karadağ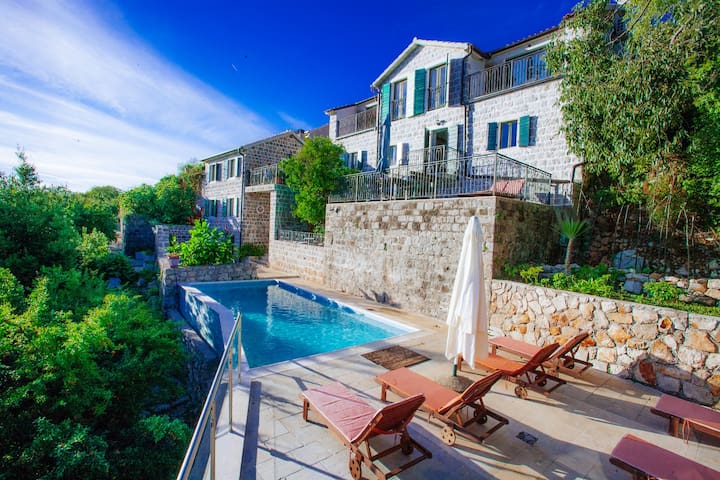 New cozy apartment with sea view and outdoor pool,with one bedroom(king size bed),well equipped kitchen,separate dinning area and bathroom. Bedroom has a terrace. Apartment is located at Lustica peninsula,peaceful place with beautiful nature. It is on walking distance to Zanjic beach 250m,and Mirista beach800m,The nearest town: Tivat 19km and Kotor 24km.The closest grocery shop is on 600m and there are biger supermarket in Radovici,10kmaway.There are many restaurants at Zanjic and Mirista beach
This is possibly the cleanest place I've stayed in, everything was spotless, including the pool! The photos accurately represent the apartment. The pool has a great location, overlooking the bay, as pictured. The apartment has a little kitchen with hob, so it's even possible to cook if staying for longer. The location is quite isolated and you have to drive down a badly surfaced road for quite a few kilometres, including a steep final track, so good/slow driving is required, but the villa at the end is totally worth it. There are restaurants and a small shop within walking distance. Marijana was very helpful both before and during my stay, providing directions and advice - it was a shame I didn't get to meet her, but I was well looked after by her father and her helper (also called Marijana) who take great care of the property.
Jan
2016-08-27T00:00:00Z
отдыхали в доме Марианны и пребывали каждый день в полном восторге! дом новый. отлично расположен. вид на море потрясающий. идеально чисто. ОЧЕНЬ уютно. комнаты светлые. есть "хозяйственная" комната, где можно постирать вещи. лежаки. зонты. терраса. отличный бассейн. парковка. не дом, а сказка. хозяева милые, приветливые, заботливые. за все дни не было ни одного момента, когда мы оказались бы чем-нибудь недовольны) до пляжа рукой подать. Жанница - 2 минуты вниз. ещё пара-тройка минут до Миришты. чистейшая вода. кафе на любой вкус. небольшой магазин со всем необходимым. в общем , как говорится, strongly recommend !!
Katya
2016-08-23T00:00:00Z
Our stay at the apartment was lovely. Marijana was very helpful and kind from the moment we made our booking until the moment we left the apartment. He helped us with ordering a taxi for our trip from the airport to her apartment and back and was very swift in all our questions we had. The apartment is clean, new and has a wonderful view to the bay. Definitely recommend!
Aleksandar
2016-09-05T00:00:00Z
Wundervolles Apartment in traumhafter Umgebung. Kommunikation war perfekt, wir haben ca. 3h vorher gebucht und sofort eine Antwort mit ausführlicher Wegbeschreibung bekommen. Straße zum Haus ist gewöhnungsbedürftig eng und holprig aber auch mit einem kleinen Auto sehr gut machbar. Der Papa von Marijana spricht ein bisschen deutsch und hat uns sehr freundlich empfangen und zum Haus geführt. Nochmal vielen Dank dafür! Wer abseits von den Stränden in Mirista baden will, geht ein paar Minuten zu Fuß Richtung Westen und kann dann einsam und ruhig auf Felsen liegen-einfach perfekt. Es gibt einen kleinen Supermarkt im Ort und in der Früh kommt jemand mit einem Kleinbus, der Obst/Gemüse und frisches Brot verkauft. Gute Restaurants und Bars gibts unten am Strand. Wir kommen wieder!!
Matthias
2016-08-25T00:00:00Z
A wonderful location and incredibly good value accommodation, luxury at a bargain price! Lovely relaxing sun beds, pool & views. Very welcoming & helpful host. The listing does not mention the very rough & remote track to get to the property, that could potentially damage your car, we were only told when we'd booked and paid. Lovely beach, but likely to be very busy party scene in peak season.
Hannah
2016-09-10T00:00:00Z
Our stay at Marijana's apartment was wonderful. The apartment is super cozy, the pool and the sea view from it are amazing. The beach is a 10 min walk from the house along with various restaurant to eat and drink. Our overall stay was perfect and I highly recommend it.
Erika
2016-08-02T00:00:00Z
Excellent logement de luxe dans une villa. Tout le confort est la, la literie, comme le reste est excellente. Notre hôte a tout fait pour que nous soyons bien. Seule bémol, la route d'accès qui est un peu rude.
Jordan
2016-10-05T00:00:00Z
Oda Tipi
Tüm ev/daire
---
Mekan Türü
Daire
---
Konaklayacak Kişi Sayısı
2
---
Yatak odaları
Herceg Novi, Herceg Novi, Karadağ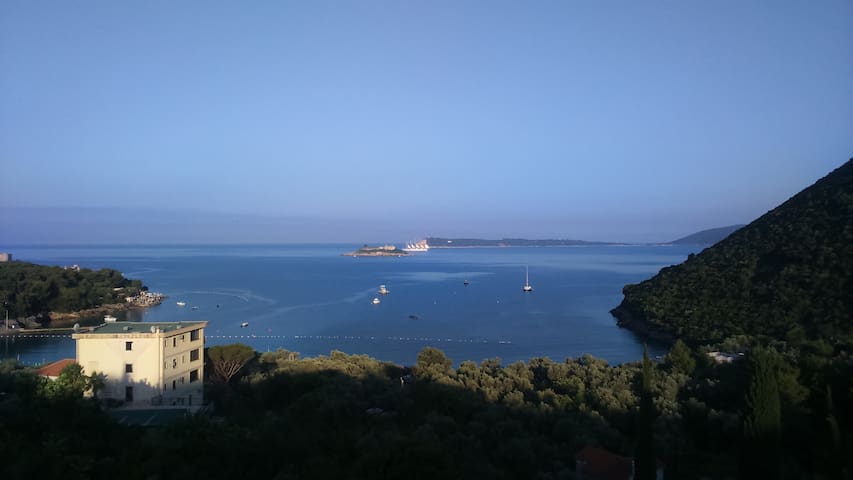 Comfortable and modern apartment with a large terrace, perfect to enjoy the summer days, with a view of the sea, illuminated by the sun, offers complete enjoyment!
Oda Tipi
Tüm ev/daire
---
Mekan Türü
Daire
---
Konaklayacak Kişi Sayısı
4
---
Yatak odaları
Kumbor, Herceg Novi Municipality, Karadağ
Apartment is placed at our private beach within Infinity Fortress complex. It's capacity is 42 m2, and with comfort is perfect choice for a couple or single person. Fully equipped accommodation for outstanding holiday, with room service available.
Oda Tipi
Tüm ev/daire
---
Mekan Türü
Daire
---
Konaklayacak Kişi Sayısı
2
---
Yatak odaları
Herceg Novi, Opština Herceg Novi, Karadağ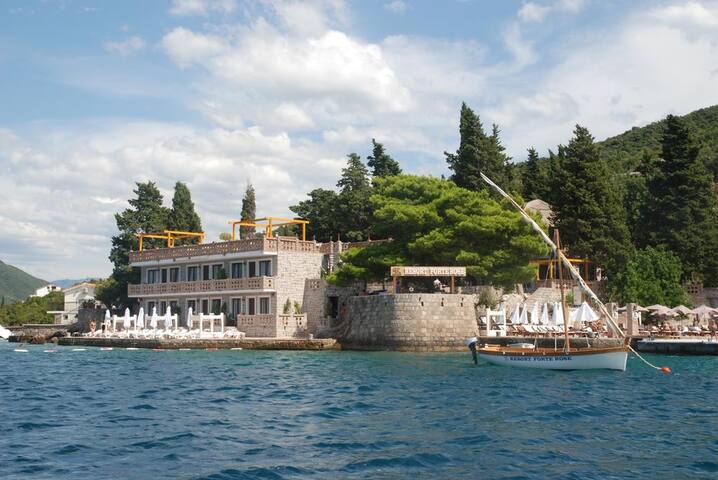 Montra Apartments are available for rental throughout the whole year. They are located in the little town of Kumbor within the UNESCO protected Bay of Kotor and only 4 km away from one of Montenegro's most beautiful old towns, Herceg Novi.
Terrace sea view. Equipped kitchen with refrigerators, free Wifi, free car parking, air-conditioning, hair-dryer provided, TV's with satellite receivers. This apartment has a small terrace suitable for two people and is very bright. The bedroom has one sky window that is facing the main street and although we have not had any complaints except one of the noise from cars during August. There is not a lot of traffic except during the high season in August where people are travelling home or crossing through Montenegro, which can sometimes cause congestion and therefore a bit more traffic noise. This also depends on how deep your sleep is. If you are extremely sensitive to noise then we would recommend during the high season our ground floor apartment which has no access to the street and a more spacious terrace but no view of the sea other than the garden in front. Guest will have private access to their apartments via stairs or patios. There will be someone to help our guests for anything they may require. We'd like to point out that there is currently a development going on close by of the luxury spa resort "One & Only". Although they cease to do any work during summer due to tourists, there unfortunately isn't any direct access to the beaches below the apartments. The beaches are 8-10 minutes walking distance in either direction. Please note the apartments are located just of the one and only main road.
The beach is located 8-15 minutes from the apartments, although this depends on the person. There is also a local shop which is the same distance. There is a local bus stop located 200 meters and the nearest restaurant is located 100 meters. Kumbor is a small place located 4km from the main city of Herceg Novi. It has a walking promenade that takes you up to the last village of Bijela which is approximately 6.5km long. The promenade has plenty of places to eat and drink. It is suitable for people who wish to relax rather than party. Should you wish a more active nightlife then Herceg Novi would be the closest place. As for the beaches there are plenty small ones along the promenade and some of them have playgrounds and most are suitable for children.
Perfect, clean apartment as a starting point for your trips around the bay. Close to Herceg Novi and the ferry to Kotor. Milos welcomed us warmly and introduced us to the local secrets. The balcony view is not as great as you would hope, but be sure to bring binoculars to check out cruise ships and billionaire yachts, because you can see them passing by. Silvija is very quick and thorough in communication, making everything very clear and easy.
Jeroen
2014-07-31T00:00:00Z
Kumbor is not an attractive place where to be, but from the harbor you can easily take sea-taxis to wonderful beaches and it is an handy location to start exploring Kotor Bay from. The apartment is really nice. It has been completely renovated and it is very clean. Silvia and Milos are very welcoming and helpful.
Martina
2014-08-23T00:00:00Z
We arrived August 7th, 2014 in the appartment and immediately our hosts made all what is possible to let us feel confortable. The flat was very clean, they welcomed us with a basket of local fruits and red wine, they changed our sheets 3 times, once before, once during and finaly after our stay and offered to clean our clothes themselves to spare us the hassle to find other solutions downtown. Our hosts Silvia and Milos are a nice very easy going couple, willing to share what the region offers best. Based on their advices, we rented a car (DELTA CAR d.o.o.) for the entire stay, we took the boat from Kotor to swim at the most beautiful beaches in Zanjic, Miriste and the blue cave (take the 10:00 Boki boat) and have been visiting the best restaurants (Fanfini in Djenovici). We also went out in the evening with them and their friends to visit the trendy clubs in Herceg Novi. From its location between Herceg Novi and Djenovici, the flat has an astonishing view on the Bay and you can watch the boats passing by in the evening to and from Kotor on the balcony. As you can see, Silvia's and Milos' appartment nearby Herceg Novi, fully met our expectations and its profile description. Therefore, we will highly recommend Silvia and Milos' flat and we wish them good luck and lots of successful holidays rentals.
Laurence
2014-08-19T00:00:00Z
Unfortunatelly we didn't had the honor to meet Silvia. But her mother-in-law offered us a warm welcoming! Although she doesn't speaks English, she made herselve perfectly understandable! We enjoyed our stay in Kumbor, which is a very interesting location to visit Herceg Novi, Perast, Morinj, Kotor and so many other places... The appartment is very nice and clean, in the area there are a lot of supermarkets to buy some food! Great recommendation!
Yasmine
2016-07-25T00:00:00Z
I had a wonderful stay at Silvia's apartment. It is located in a peaceful area called Kumbor, with a lovely view of water and mountains. Its away from the bustle of the main town of Herceg Novi, but its just a few minutes into town by car. Its also very close to several places like Perast (30 min), Kotor (a little further), Tivat (15 min). Plenty of restaurants and supermarkets close by, and Silvia sends you all the details beforehand, making it easier to plan! I arrived around 9pm; Silvia was very flexible and efficiently managed to deliver the keys to me even though she was in London at the time! The apartment has everything you need: bed, sofa, TV, table to work on, dining table, fast internet, kitchen with pots and utensils, fridge, washing machine, chairs and table for the balcony and so on. Silvia also checked in on me a couple of times during the stay to see how I was doing. Very friendly and efficient host. I'd recommend Silvia and her apartment anytime!
Mangesh
2016-06-06T00:00:00Z
L'appartement correspond à l'annonce. Il est idéalement situé afin de découvrir la côte adriatique de Dubrovnik à Kotor. L'accueil est conviviale et chaleureux.
Corinne
2016-07-12T00:00:00Z
Нам очень понравились аппартаменты, чистота, потрясающий вид, в номере все удобства!
Kontra-88
2016-07-20T00:00:00Z
Thanks to Silvia and Milos. We liked everything. Silvia's mother in law Aneta helped as a lot. She was very friendly and hospitable. Beautiful see view from balcony. Big parking place.
Margarita
2016-06-25T00:00:00Z
Oda Tipi
Tüm ev/daire
---
Mekan Türü
Daire
---
Konaklayacak Kişi Sayısı
4
---
Yatak odaları
Kumbor, Herceg Novi, Karadağ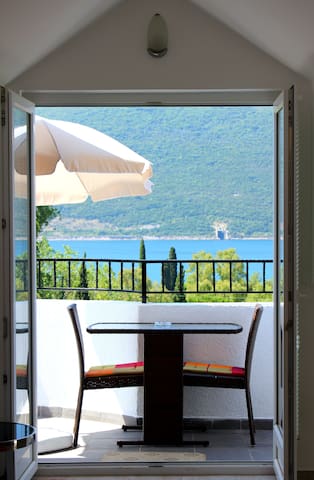 My place is close to public transport, the city center, parks, and art and culture. My place is good for couples, solo adventurers, and business travelers.
This cozy first floor, recently renovated apartment is located in the center of Herceg Novi. The apartment is located near Old town, 50 m from sea. It has living room, bedroom, kitchen, bathroom and balcony. The beach, restaurants, cafes, shops are within walking distance from the apartment.
We stayed 3 nights in Jasnas place. It is a clean and great apartment with a lovely view. The apartment has all the equipment we need but the beds especially the sofabed are a bit hard. The apartment has a good location near the beach and old town and away from the most busy and noisy tourist area. We enjoued our stay. Jasna was friendly and helpfull and arranged a friend of her to pick us up in the airport in Dubrovnik when we arrived. Thank you Jasna. Hope to come back to your place again one day.
Annemarie
2016-07-12T00:00:00Z
Oda Tipi
Tüm ev/daire
---
Mekan Türü
Daire
---
Konaklayacak Kişi Sayısı
4
---
Yatak odaları
Herceg - Novi, Herceg Novi, Karadağ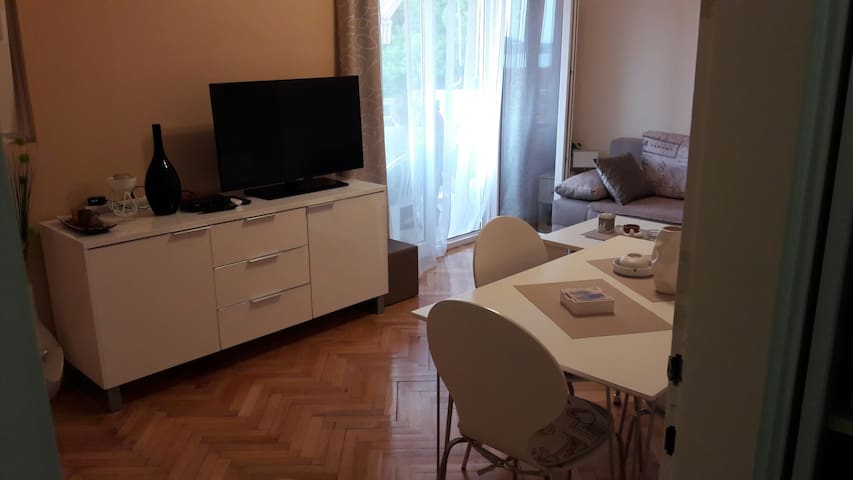 Spend your vacation in a village,surrounded by hundred of years old olive trees,little churches,breathtaking mornings and quiet evenings.Experience the spirit of the past,be the part of nature.Appartment is 80 m2 big,has two bedrooms,living room,dinning area,kitchen,it is located on Lustica peninsula in village Klinci.Nearest beaches-Rose 3 km,Mirista and Zanjic beach 8 km.Nearest grocery store is 6 km away and a nearest city Tivat is 20 km away
Oda Tipi
Tüm ev/daire
---
Mekan Türü
Daire
---
Konaklayacak Kişi Sayısı
5
---
Yatak odaları
Lustica, Herceg Novi Municipality, Karadağ
Cebra apartments complex is a sea-front house located in Herceg Novi, 10 meters away from the sea. It offers a fabulous view of the bay and provides the feeling of the true atmosphere of our coast. You'll love my place because of the great sea view, the neighborhood, the comfy bed, the kitchen, coziness etc. My place is close to the city center, great views, restaurants and dining and it is good for couples, business travelers, families (with kids), and big groups.
This is a one bedroom apartment with beautiful sea-view terrace. It consists of one bedroom with king size bed and one single bed, one fully equipped kitchen, bathroom, living room with sofa bed for two and a terrace. If you prefer to cook your own food you can prepare your own meal or we can arrange for you to get food from nearby restaurant with local and international cuisine.
Herceg Novi is a mere 10 km from Croatian border and 15 km from the airport at Ćilipi making the center easily accessible. It is covered in mostly sandy beaches and the water temperatures tend to be much warmer than the other beaches in bay. The promenade turns in shopaholic's dream during the summer season when the bazaar opens. Between restaurant gardens, open air clubs and modern cafes, one can watch painters creating portraits in 5 minutes, browse silver jewelry displayed on wooden suitcases and much more. Because of its mild climate all year around Herceg Novi is also a winter resort.
Oda Tipi
Tüm ev/daire
---
Mekan Türü
Daire
---
Konaklayacak Kişi Sayısı
5
---
Yatak odaları
Herceg - Novi, Herceg Novi, Karadağ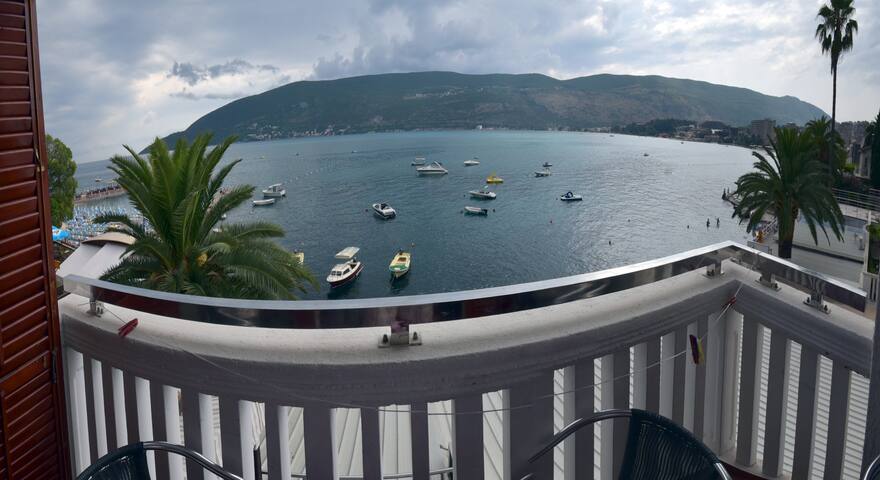 My place is on the pure coast, also on peninsula are beaches Yanjice, Mirista Mamula island, Blue cave, Almara, public transport by boat "Loro" to Herceg Novi town, and the airport Tivat (20km), Dubrovnik (65km) from where we can organise transfers on request. You'll love my place because of the real escape from the noisy cities and busy life, the cleanest sea and beautuful liht of sunsets. My place is good for couples, solo adventurers, families (with kids), and bigger groups.
House in settled on one of the most attractive location in Montenegro in a quiet cove of ancient settlement Rose on the peninsula Lustica. Male Rose cove is sheltered from strong waves and each apartment has sea view, wi-fi and separate entrance. All apartments have a bathroom, living room with complete kitchen, one or two bedrooms. Distance from parking and coffee-restaurants is on 3-10 minutes walk.
Whole Rose are pedestrian zone, and the locals as well as guests all vehicles leaving in the parking at the entrance of the Rose, which is free and safe. The house is the last in and you need go 7-10min on foot. The first boat "Loro" to Herceg Novi leaves at 6:30h AM and the ticket for one person is 3 euro. From the port of Herceg Novi you can reached Rose by small boats which going all day. The port is located 15 minutes walk from the bus station of Herceg Novi. (This is good option you you comming from Dubrovnik airport). If you arrive via the airport Tivat distance from Rosa 20km, and you need to turn on the first roundabout to the right following the sign of the Rose.
Oda Tipi
Tüm ev/daire
---
Mekan Türü
Daire
---
Konaklayacak Kişi Sayısı
5
---
Yatak odaları
Herceg Novi, Herceg Novi Municipality, Karadağ
Near my housing restaurants and cafes, excellent views of the city center 4 km from Herceg Novi. You will enjoy, because the house is located 50 m from the sea, but quietly and only spokoyno.On postroet, all new furniture and b / machinery space at doma.zona for barbekyu.Moe accommodation for relaxing couples, solo travelers, business travelers and families (with children).
Oda Tipi
Tüm ev/daire
---
Mekan Türü
Daire
---
Konaklayacak Kişi Sayısı
4
---
Yatak odaları
Zelenika, Herceg Novi, Karadağ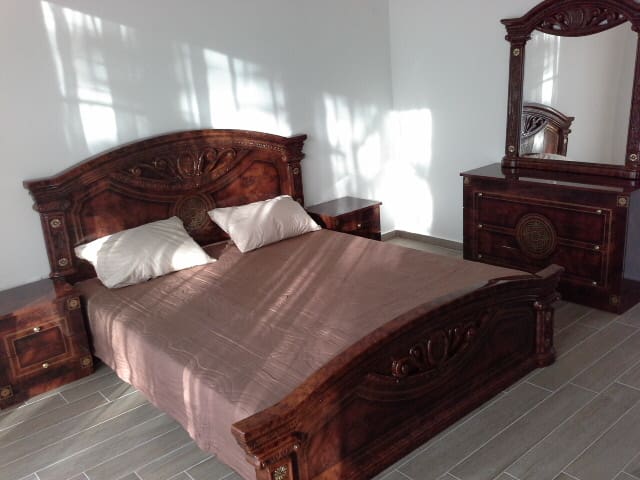 Studio is meant for 2 + max. 2 persons. The visible price is set for two adults, with breakfast included, but from JUNE TO SEPTEMBER it's with buffet breakfast and buffet dinner. Studio is the part of the hotel complex Art Media.
Hotel "Art Media", ŽANJICE, Montenegro The Zanjice cove is perfect for those who wish to spend their holiday surrounded by the beauty and peace of ancient pine and olive trees. It is renowned for its beautiful pebble beach and crystal clear sea. It is situated on the Lustica peninsula, which outlines Boka Kotorska bay and is facing open sea. The cove can be reached by boat (15 minute ride from Herceg Novi) or by car (30 minute ride from Tivat airport). Transport from Dubrovnik airport can also be arranged on request. A few nearby attractions include the Austro-Hungarian fortress Arza, the island Mamula, and the Blue Cave, all of which you can visit by our boat. We also organise boat trips for our guests around Boka Kotorska bay, as well as night fishing. Diving courses can also be arranged. The picturesque "Art Media" apartment complex is located just above the beach, in the shade of tall pine trees. The complex comprises 12 studios apartments (2 +1), and 2 apartments with a separate bedroom (2 +2), all overlooking the sea. All apartments are fitted with kitchenettes, air-conditioning, LCD satellite TV, and wireless internet connection. In an effort to help preserve the beautiful surroundings a great deal of electricity supply comes from solar energy. The accommodation price includes a buffet breakfast served in the beautiful courtyard, where each apartment has its own designated area. Guests can also use the services of our restaurant with a varied Mediterranean and National cuisine. In addition to the main pebble beach, we recommend to our guest a rocky beach just outside the apartments. Painting, sculpture and music workshops and seminars are organised throughout the year in the "Art Media" complex, so the guests can enjoy various works of art displayed on the premises, as well as an occasional concert of classical or popular music. We specially recommend the seafood specialties evenings, with varied live music program. The memories of the joy of a morning swim surrounded by silence and serenity, and the beauty of spectacular sunsets will take you back to Zanjice over and over again.
Zanjice is quiet place, so if you want to run away from the crowds, this is the place for you :) There are few cafebars and restaurants around but not toom nuch. Nature is BEAUTIFUL. Clear sea and long walks...
It really made our holiday special and memorable! The hotel locates in very beautiful and quiet place. The staff were so friendly and helpful. We were needing a relaxing break and that is exactly what Art Media delivered! Hope we can go back!
Andrey
2016-09-14T00:00:00Z
We keep very warm memories about our stay in Hotel Art Media in June. The location is great - a very quiet and relaxing place, surrounded by trees, just a few steps to the beautiful Zanjice beach, the best in Boka Katorska bay. It was a pleasure and great surprise to find such a gem nested in the forest and overlooking the sea, but keeping the comfort of modern city - nicely decorated and stylish rooms with new furniture, all the comfort and facilities required for the stay, restaurant with excellent cuisine and open till late. The atmosphere is very friendly and family-like. The hotel is family run and Igor and his family are doing this with 100% passion, dedication and excellence. Plenty of outdoor activities available in addition to beach (walking, cycling, fortress, boat excursions, exploration of Boka Katorska bay) - much more than for 3 days we allocated for this place. There are concerts and art workshops taking place there quite often, but unfortunately, we missed them due to our short stay. We definitely consider this place for further visits and would recommend it to all our friends with pleasure.
Polina
2014-06-19T00:00:00Z
My Husband and I stayed in the Art Media Hotel for 5 nights and wished that it could have been longer. Our appartment was very big, comfortable and modern. The food is delicious,you have to try the freshly catched sea fish! The surrounding with little bays and cristal clear water is absolutely beautiful.But what makes it very special is the hospitality and kindness of the Host family and staff. We highly recommend!
Michelle
2016-08-14T00:00:00Z
Чудесное, чудесное, сто раз чудесное место! Сильвия, Никола, их сын Игорь и прекрасные сотрудники создают очень душевную атмосферу. Как будто отдыхаешь не в отеле, а дома! Все очень душевно и комфортно! С удовольствием приедем ещё!
Ludmila
2016-04-29T00:00:00Z
The rooms are spacious and clean. Because its off season we were the only guests and the friendly staff prepared breakfast and dinner only for the two of us. You should ask for the palatcinka!! We rented a kajak from the place and visited a small island. The area is very calm and perfect for enjoying nature and peace. We will come back!
Meike
2016-11-04T00:00:00Z
We stayed at Igor's place for 3 nights and had such a wonderful time. It is a very special place with hospitable and warm hosts. The rooms are really comfortable and modern and we were able to use kayaks in the serene private beach, just across from the house. The whole area is breathtakinginly beautiful. The food is delicious and the staff were so obliging and eager to please. I highly recommend! Thank you.
Emma-Jane
2016-07-02T00:00:00Z
The best place to stay we have experienced among the numerous places we've been visiting so far. In spite of we have read all the comments on Igor's family place, we were not expecting so many efforts to provide a really high-class level of service all this with simplicity and so spontaneously. We just spent two nights but it was quite like a seperation to leave from this place: the bay is fantastic to relax and sunbath or enjoy a good swim. The room is really convenient, clean and the place is quiet. Breakfast is good, the food at the restaurant is also really good. On top of that, daily animations are prepared by Igor's family. Little concerts some nights at the restaurant, visits in the morning with the owner's boat: we regret we had not enough time to enjoy it. A perfect place with great people, if we come back one day in Montenegro, we'll book there for sure. Road was finally easy to drive during the day... especially if you've been driving on more difficult roads in Montenegro (Mount Lovcen) or in other places (Corsica, French Alps for instance). You just have to be vigilant in the turns, and be patient if you cross any other car arriving in front of you. Finally, you'll see, it's worth the drive: an amazin location with amazing people!
Aurelien
2015-08-11T00:00:00Z
I have been coming to Montenegro for 35 years and this was the nicest place I have seen. Actually, the energy of the place is the best out of (a lot) of places I visited around the world. It was clear that this place is designed and is carried for with love. Hosts: From the initial email communication with Igor, to the welcome party at the reception upon check-in, to the hotel concierge, cleaning and serving staff.... absolutely everyone was a delight to deal with. Such a great group of people. Location: The complex is designed to be integrated with the nature- the olive trees and pine trees scattered around the buildings. The buildings are not tall and therefore fit perfectly in the nature. The interiors are comfortable, simple and clean. They seem to be designed in natural hues to be integrated to the nature outdoor. The bay is secluded and that means planning ahead for the drive. Super easy to find if you are prepared with maps. The hotel grounds are well kept, with wooden art sculptures hiding in the shades of the tall trees. The sea is literally there in front of you and so are the boats that you can rent to visit the neighboring coves and islands. Restaurant: Part of the hotel. The food was impeccable. We had fish, calamari, potatoes... everything had that home made quality. Do yourself a favor and spend your money on dinner here rather than in the fancy restaurant next door- Ribarsko Selo, that place is insanely pretentious and only good for the views and the setting. So have a drink there and people watch, then come back to your hotel and enjoy their garden, music and chill. The owners themselves eat at the restaurant. The breakfast is buffet style and with lots of choice. I will recommend absolutely everyone to escape the insane noise and crowds of the Budva riviera and visit this magical place.
ivana
2014-09-21T00:00:00Z
Oda Tipi
Tüm ev/daire
---
Mekan Türü
Daire
---
Konaklayacak Kişi Sayısı
4
---
Yatak odaları
Herceg Novi, Herceg Novi, Karadağ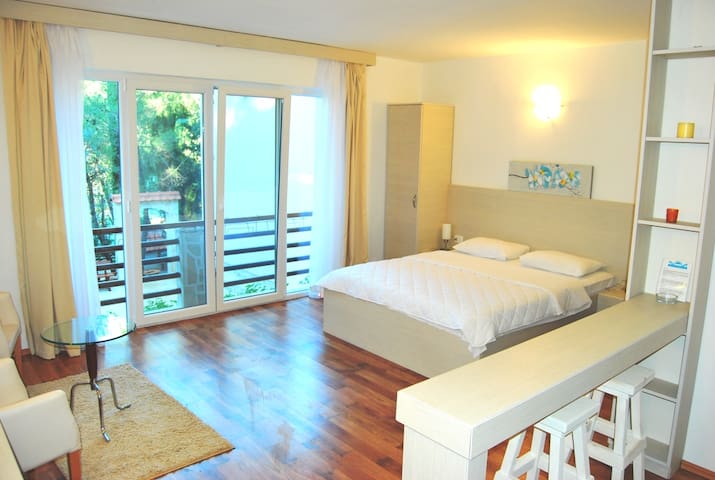 Located only few steps from the beach, enjoy your stay in studio with beautiful view over the bay entrance. Studio is only 15 min away from the City marina and historic Old town. It's a perfect match for couples or friends.
Simple and functional little studio, 15m2, is located in the attic of the family house, directly on the seaside promenade in a quiet neighborhood. What it might lack in size it makes up for in big, uninterrupted sea view from it's balcony. Balcony door keep the room airy and bright throughout the day and you can go to sleep at night listening to the gentle sound of the waves. Studio has fridge and kettle and private bathroom with shower. Wi-Fi is free of charge.
You can enjoy dining in various nearby restaurants which serve local dishes.
The description of the room was exactly like the reality. Davor provides the basic things you need to create your own breakfast (plates, cultery, ... - not the breakfast itselves, of course, because it is not included in the room rate). He is a nice and communicative person you will like for sure.
Michael
2016-09-01T00:00:00Z
Staying at Davor's was an awesome experience. I got really lucky and was able to rent the apartment the day of. Davor was a great host because he was communicative, and had everything very well organized. Him and his wife are very kind people, which you can tell simply by meeting them! Davor was able to drive me to the airport, and helped me figure out how to take a day trip to Dubrovnik. The apartment itself was very clean, the bed is comfy, and the apartment is in the perfect location. Thanks so much for hosting me, and thanks for all the help! I would definitely recommend this apartment to everyone, for its a great mix between the Western experience, and the Eastern Europe experience!
Mara
2015-07-22T00:00:00Z
Great host, nice apartment and wonderful vacation! The apartment is a bit small, but clean and cosy. And location is perfect! Thank you, Davor, we will return again)
Olga
2016-09-30T00:00:00Z
The apartment is exactly you can see on the photos. Davor helped us with a transfer from airport and gave us a good advice what to see and where to go first in this wonderful country! We've got impressed of Montenegro's beaches, mountains, vine and traditional cuisine! As we were enjoyed of the beautiful view of our balcony terrace we will suggest to our friends to stay at this apartment in Studio Jelic. Thank you so much! These days were amazing!!
Sergey
2014-10-31T00:00:00Z
Davor is a great host. The apartment is on top of his large house, right on the beach promenade. It was super central and convenient and the view is incredible. Despite the beaches in Herceg Novi often being quite loud at night, Davor's apartment is really quiet and we hardly heard a thing when we closed the terrace doors. The apartment is, however, quite small and it shares a floor with three other apartments, which means that at times we were woken up by other residents coming home or leaving their apartments. However, despite this, we were pleasantly surprised at how quiet the apartment was. Would definitely consider staying here again and would recommend it to anyone that wants an amazing view during their stay in HN.
James
2016-07-26T00:00:00Z
Davor was fantastically helpful and very welcoming. He offered to help us with anything that we might need and was always on hand to give advice of sights to see or a place to eat! The Studio was immaculately clean and provided everything we needed! Davors place is situated in a perfect spot for exploring the city and has unbeatable access to the sea. We would happily stay again.
Rosie
2016-07-22T00:00:00Z
Davor is a very helpful and responsive host! The view from the balcony is so amazing! And the location is good also, you can find beautiful seaview on the left side and the old town is on the right side within few minutes walk. It is highly recommended to stay in Davor's place when you come to Herceg Novi! Thank Davor for everything!
Jacob
2017-03-26T00:00:00Z
Nice apartment with good location near old town. Beautiful view from the balcony!
Eija
2016-08-28T00:00:00Z
Oda Tipi
Tüm ev/daire
---
Mekan Türü
Daire
---
Konaklayacak Kişi Sayısı
2
---
Yatak odaları
Herceg Novi, Karadağ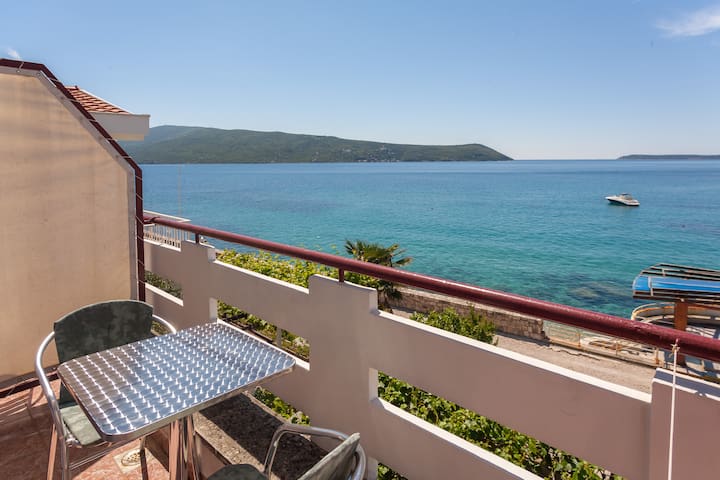 The apartment is located in Meljine, at the beginning of the Herceg Novi promenade, and halfway between two Unesco World Heritage sites – Dubrovnik and Kotor. Nested in a quiet neighborhood, away from the crowd and night clubs, it's only 250 meters away from the beach. Fully equipped with home appliances, the apartment offers you a cozy and pleasant stay in the shadow of kiwi-fruit and grapevine. And a perfect view over the astonishing nature of the Bay of Kotor, of course!
Nested in the former fishermen village and just a few kilometers away from the vibrant Herceg Novi with its cultural amenities an historical heritage offers a lot of oportunities for an active vacation. You'll love my place because of the beautiful sea view, comfy bed, the light, and the quiet neighborhood. My place is good for couples, families (with kids), and furry friends (pets).
The appartment is 250 m away from one of the most beautiful beaches of Herceg Novi Riviera. It's located in a quiet neighborhood, but only several minutes away by car or public transport from a vibrant Herceg Novi night scene.
Milica wasnt there but that didnt affect the cominication at all. House was very clean,we had all we needed and I'd defenetely recommend Milica as host and her place as well.
Miki
2017-03-19T00:00:00Z
We had a wonderful stay at this apartment-it is quite a ways outside the centre, but a lovely walk on the promenade to get there. When you get to the apartment, cross the bridge at the bottom of the driveway and you'll be able to get to the closest supermarket and the promenade. If you have mobility issues or are not at least a bit physically fit, this flat may be a challenge for you. It is a very steep climb, and four steep flights of stairs but it is worth it for the view and wasn't a problem for us, but just something to be aware of. The flat has an oven and a sandwich maker which is a nice touch and plenty of hot water in the shower with great water pressure. Milica's grandparents are kind and welcoming and were so sweet. Most of all, the view is way better than in the photos and the balcony is a great place to hang out. The apartment is spacious and was very clean. Bring earplugs, there are lots of dogs in the area. Be careful of using 'As Taxi' from the bus station as our driver fixed his meter and overcharged us and didn't take us to the apartment, claiming not to be able to find it. Our taxi driver on return was from "Taxi Mare" and was perfect-2 euros.
Jenn and Mike
2017-04-05T00:00:00Z
We had a wonderful week's stay! Everything was very, very clean and practically brand new. The kitchen was well-equipped, the bed very comfortable, plenty of hot water, and the view from the balcony amazing! Yes, it is on a very steep hill, but cars and taxis had no problems. We had no car, and I'm 68 years old (my partner 73), and we had no problems going up and down (even carrying bags of groceries) as long as we took our time. The beautiful view of the bay is worth the climb! Although Milica was not there, she was always available by text or email to answer our questions--often within minutes. Her grandparents are such nice people; I only wish I spoke Italian so we could have communicated better. I can highly recommend Milica's place for travelers who appreciate the things I mentioned above: cleanliness, comfort, fast responses, and exquisite beauty.
Rosemary
2017-03-16T00:00:00Z
Oda Tipi
Tüm ev/daire
---
Mekan Türü
Daire
---
Konaklayacak Kişi Sayısı
4
---
Yatak odaları
Herceg - Novi, Opština Herceg Novi, Karadağ
This contemporary apartment in Radovici features mountain- and sea views and a furnished terrace, providing the perfect beach getaway near the Adriatic Sea for 2.
Set in Radovici on the Lustica Peninsula, this apartment is only 4km from the amazing beaches of the Adriatic coast. Spend days basking in the sun or enjoying the plethora of water sports, tour forests and olive groves or play some ball on the building's sports court. You will love the comfortable and modern interiors, complete with mod cons such as a satellite TV in the living area and WiFi Internet, and will be mesmerized by the resplendent sea and mountain views. Cook up gourmet feasts in the sleek kitchen, with a stove, fridge, oven and all utensils needed during your stay, or head outside for a BBQ and dine on the furnished terrace as you drink in the sublime coastal sunsets. Get a great night's sleep in the bedroom, fitted with a comfortable double bed, and freshen up in the immaculate bathroom, which as a shower and WC.
The Lustica Peninsula is a stretch of beautiful countryside between the Adriatic Sea and the Bay of Kotar in Montenegro. The peninsula features numerous olive groves, stretches of hills and mountainous terrain. The apartment is close to many beaches, with Rose Beach at 4km, and Blue Horizon beach 12km away. There are a few restaurants near Rose Beach, while Žanjic Beach, 6km away, features several fine eateries. Many other nice beaches nearby are a mix of pebble and sand, but none are overpopulated. Zigi Beach has a younger crowd and is a favourite of yachters. Zanije Beach is the place to catch a boat to the famous Blue Cave, and these are also great places to enjoy water sports and rent bikes or scooters. The house is 12km from the city of Radovic and 24km from the town of Kotor. These cities provide varied restaurants, a hospital, post office, banks and other conveniences. The nearest supermarkets are 15km away.
Biljana and her family are very welcoming and helpful. Very nice contact. The studio is tidy and you can enjoy the views and tranquility/silence in the garden. We have a good memory of this part of Montenegro.
Urte
2016-06-14T00:00:00Z
Oda Tipi
Tüm ev/daire
---
Mekan Türü
Daire
---
Konaklayacak Kişi Sayısı
2
---
Yatak odaları
Radovići, Tivat, Karadağ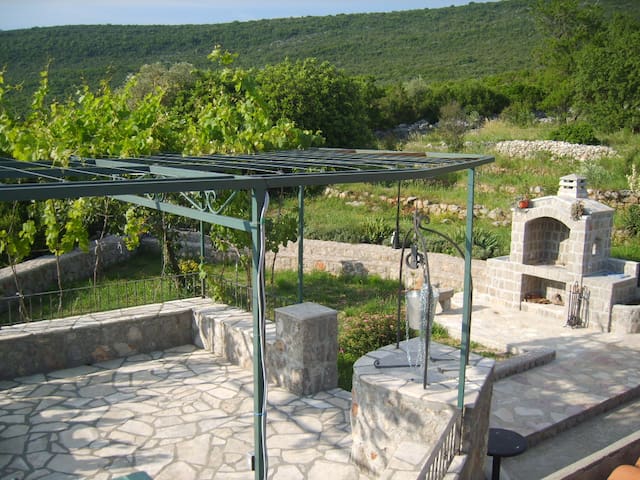 Apartment Rivijera offers accommodation in Kumbor, a small quiet village, 4 km from Herceg Novi. The property features a spacious garden with a barbecue and a seating area, free Wi-Fi and free parking. A sandy beach can be found 70 m away. The air-conditioned unit is 45 km from Dubrovnik. Free private parking is available on site. Budva is 28 km from Apartment Kumbor Kumbor, while Cavtat is 34 km away. The nearest airport is Tivat Airport, 12 km from the property.
Oda Tipi
Tüm ev/daire
---
Mekan Türü
Daire
---
Konaklayacak Kişi Sayısı
6
---
Yatak odaları
Kumbor, Herceg Novi Municipality, Karadağ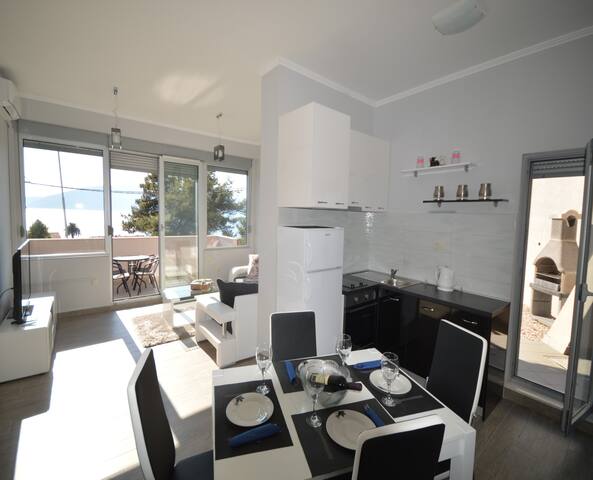 Daireler Herceg Novi merkezinden doğal vaha 4 km uzaklıkta yer almaktadır. Evin tatil, hiçbir gürültü için ideal ve Bay girişinde güzel bir görünüme sahip, sadece 200 m denize bu kadar yakın ormanda çevrili güneşli bir nokta var.
I like the garden.
Peter
2015-09-06T00:00:00Z
Mato and his family were the kindest hosts one could ever imagine. Not only his wife went to the station to pick us up, but she even offered to cook dinner for us. It was, by far, the best meal we had in Montenegro -everything was locally sourced and home made by her. I don´t have enough words to express how much we appreciate how welcome we felt. The flat itself was spotless clean and the views were even better than in the pictures! This flat exceeded all our expectations and made our trip to Herceg Novi unforgettable. I wish I could give them more than 5 stars. Thanks so much!
Lucia
2015-07-07T00:00:00Z
My friends and me had a really nice and rich experienced time in Herceg Novi and surroundings. Mato showed us many interessting places in Montenegro and told us interessting stories about the history, the culture of the country and the daily life of the people from Montenegro. Mato also gave us the possibility to travel with him in his boat and his old military car. Lot of fun:). The meals, which his wife was preparing, were really delicous. The vegetables and fruits are from his own garden. The house and the appartment a really nice and confortable. The view to the sea is beautiful. The whole time I felt very welcome and supported. I really appreciate the time that we spend with Mato and his family together. I learn a lot! A big thankyou Elisabeth Meine Freund und ich hatten eine sehr schöne und bereichernde Zeit in Herceg Novi. Mato hat uns viele interessante Orte gezeigt und uns über die Geschichte und die Kultur von Montenegro sowie über das alltägliche Leben der Menschen berichtet. Mato gab uns auch die Möglichkeit, mit seinem Boot und seinem alten Militärauto, die Umgebung zu erkunden. Wir hatten eine Menge Spaß:) Seine Frau bereitet sehr leckeres traditionelles Essen zu. Das Gemüse und das Obst kommen dirkt aus dem Familiengarten. Das Haus und unsere Unterkunft waren sehr gemütlich eingerichtet, der Blick von dem Balkon auf der Meer waren wunderschön. Ich schätze die Zeit, die wir mit Mato und seiner Familie verbringen konnten, sehr. Ich habe mich immer willkommen uns unterstützt gefühlt. Ein großes Dankeschön, Elisabeth
Elisabeth
2016-06-07T00:00:00Z
My parents and I stayed at Mato's place at the end of August. I agree with other comments here - that is what Airbnb is all about - friendly hosts welcoming you with local hospitality! The only thing you need to take into account is that you have to go up the hill to get to the house - that might be difficult for not very fit people, but I personally was absolutely fine with that. The area is nice, the beaches are small, the water is very clean. If you wish to go to Herceg Novi - a larger old city nearby - you can easily take a local bus at the bus stop that is just down the hill on the highway. As for the hosts, I would like to say special thanks to Mato for a boat tour and to Mato's wife Nada - for treating us to delicious local dishes. We enjoyed our stay at Mato's place very much and we highly recommend it to anyone wishing to get acquainted Montenegro!
Ekaterina
2016-09-03T00:00:00Z
Mato was not there as he was working ! But we were welcome by Jonas (his son) and his wife ! They picked us up at the bus station even they hadn't to do that ! And we appreciated it very much as our bus from Dubrovnik was very late ! When we arrived they proposed us to drink or eat ! The flat is nice and the view from the balcony is amazing ! It is very easy to join the center of herceg novi by bus (the bus station is down of the road) ! If I come back one day I won't hesitate and choose this place ! And if anybody of Mato's family is traveling to Paris one day I won't hesitate to host them if I can or show them the city ! PH
Pierre-Henri
2015-08-20T00:00:00Z
What an experience to stay at Mato's place... Our expectations were high reading the other reviews, but they were completely fulfilled ... We were welcomed by Mato and his son with some refreshing homemade juice, cheese and ham, he told us about the history of Montenegro and Herceg Novi, he is the best guide you can imagine... The next day we were welcome to join him on his boat to see the Bay, for us this was really exciting! He invited us for a dinner with his family, his wife made all kinds of Montenegrian food with vegetables from their garden... It felt special, very welcoming ... The apartment was big, clean, quiet, the view is spectacular... For someone who prefers a special experience (and not the typical touristic things of the crowded Herceg Novi as Mato's place is a few kilometers away from the town) should definitely stay here... Thank you Mato, you know we will be back !
Sarah
2016-06-26T00:00:00Z
We stayed in Mato's apartment for 4 nights at the end of a walking holiday in the mountains. We wanted somewhere quiet where we could relax, explore Herceg Novi & Kotor and enjoy the sea. The apartment gave us all of this. Mato and his family are perfect hosts. They were warm and welcomed us with an excellent lunch and much conversation. We learned a lot more about this beautiful country from Mato. The apartment sits on a hill above the road between Kotor and Herczeg. It's the top storey of a 3-story house and Mato's land extends to the side of the house and up the hill behind the house. The apartment is self-contained, it has it's own large balcony with views over the bay. The kitchen is well equipped, the sitting room has satellite and terrestrial TV and has a very comfortable sofa. There's plenty of storage space for clothes (a wardrobe in the bedroom) and a shoe rack in the hall. The bathroom has a shower, an infra-red heater, a washing machine and it's own water heater. The way to the house is a couple of hundred meters up the hill along a local road which joins the Kotor-Herceg road opposite the Herczeg bus stop. We didn't find the hill a problem even carrying shopping (I'm in my 70's). Bus services between the Kotor and Herceg Novi are regular and fast and the bus stops are near to the road leading to Mato's. There is a small supermarket which supplied our day to day needs and a restaurant both within walking distance. There is a larger supermarket further away towards Herczeg. The sea is maybe 25 meters down a path from the road. On the sea-front we found small bar/restaurant where we went every evening to watch the sunset over the bay with the waves lapping at our feet(URL HIDDEN)
Peter
2016-06-03T00:00:00Z
Dear Mato's Family, I spent a fantastic holiday in Crna Gora with my family that is greatly thanks to your warm-hearted welcome and all helpful guiding in Kumbor. :-) The apartment was super comfortable and cozy with a unique as well as wonderful landscape and view to the sea. I wish I could stay longer. I recommend you to all my friends and relatives and hope that once we meet again in our lives. It was a honour for us being invited to a farewell dinner you prepared for us, that was more than delicious. Would you visit Hungary in the future, please do not hesitate to call me. I would be more than happy to guide you through the city. Great appreciation to you!
Nikolett
2015-08-27T00:00:00Z
Oda Tipi
Tüm ev/daire
---
Mekan Türü
Daire
---
Konaklayacak Kişi Sayısı
3
---
Yatak odaları
Herceg Novi, Montenegro, Karadağ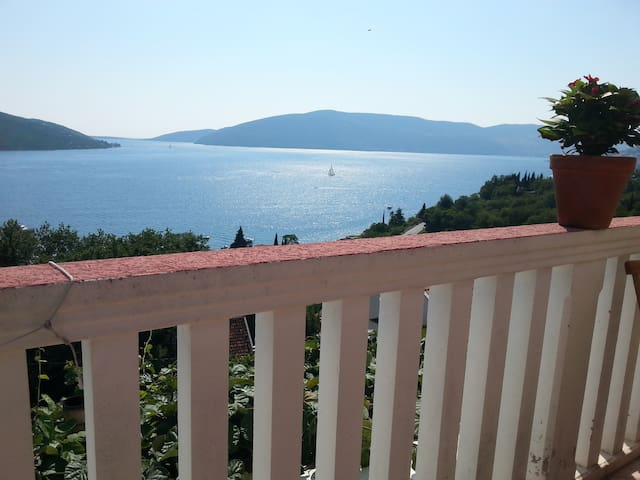 Cozy apartment near the sea is ready to receive guests! Nearby there is everything you need for your holiday: 5 minutes from the sea, several beaches (sand / gravel), supermarkets, cafes, restaurants, bus stop, free parking.
Apartment in Meline area (Herceg Novi) in a 5-minute walk from the sea. Walking distance to the supermarket, hardware store and a bus stop. The apartment is 45 square meters, is located on the 3rd floor and has 2 terraces overlooking the sea, a kitchen-studio and bedroom. It holds up to 4 people. There are: wi fi internet 5 Mb / s, TV 70 channels, fully equipped kitchen, ironing facilities, parking and all that you'll need!
Комфортная квартира не далеко от моря. Свежий ремонт, новая мебель и техника. есть всё для комфортного проживания. Ольга очень отзывчивый и приятный человек. Спасибо!
Дмитрий
2017-01-17T00:00:00Z
Me and my partner had a phenomenal stay at Olga's apartment. Her husband Alex, picked us up from the airport and dropped us off on our day of departure which was fantastic. The apartment was very clean, modern and had everything we required. The view from the balcony was amazing and me and my partner spent many many hours across the holiday there. 2-3 min from the beach and the area is situated at the beginning of the promenade in Herceg Novi which is a lovely walk along the coast to the old town which we frequented most nights. Would definitely come back! Thanks Olga, Alex and little Liza!
Stephen
2016-08-09T00:00:00Z
Останавливались у Ольги в апартаментах на 4 дня с 10 сентября. Квартира соответствует описанию и фотографиям- всё новенькое, уютное, отличный ремонт. Небольшая спальня окнами выходит во двор, не хватает только небольшой прикроватный тумбочки или полочки со второй стороны кровати, не смотря на размеры -уютно, нет солнца с утра, прохладно спать. Гостиная, она же кухня-столовая с террасой с потрясающим видом на море и горы! На террасу ведут двустворчатые балконные двери, так что открыл их и наслаждаешься видом и с дивана. Солнце только с утра, вечером отлично посидеть с бокальчиком вина! На кухне всё самое необходимое есть, не хватало только кофейника и больших кружек) Отличное расположение, достаточно высоко, но вид с террасы того точно стоит, своя парковка, магазины, палатка с фруктами, банк, заправка, ресторанчик, набережная- всё близко. Всё понравилось, с удовольствием приедем ещё!
Людмила
2016-09-14T00:00:00Z
The apartment is just like on the photos, and fully equipped with all necessary household appliances, we had all that we needed. And the balcony view is terrific, I guess, half of the few days stay we spent on the balcony. A short walk to the beach, a shop nearby, few cafes, bus stop. But again, all one would need here is the balcony view. :) Olga, the host, and her mother, and extremely positive and generous hosts who welcomed us and showed us around, and were easily reached any moment if we needed anything. I would definitely suggest staying at this place to those coming to Herceg Novi, a great option for sure. Спасибо, Ольга! Нам у вас очень понравилось. :)
Veronika
2017-02-14T00:00:00Z
I loved her place so much. We have a cozy and private apartment to stay. The view from the place is splendid. Trust me worth the price and Ogla was a great host and she always helped us out. And the check in and check out time were negotiable. Her place was reachable and I recommend to use taxi to get to her place since the place was a bit uphill but the taxi fee was cheap like 2-3€ from main bus station. I will definitely recommend Ogla's place for some good reasons and so on.
Stephen
2016-11-23T00:00:00Z
Nous sommes ravis de notre séjour. Olga est extrêmement réactive, fiable et serviable ou elle nous a offert des délicieux chocolats un vrai régal et une bouteille de vin blanc local. Son appartement est situé pas très loin de la plage et à trente minutes de la vielle ville ou je recommande vivement d'y aller à pied pour là découvrir de jour comme de nuit. L'appartement lui-même est spacieux avec un excellent confort. La terrasse est très agréable à vivre à n'importe quel moment de la journée avec une vue splendide sur la baie. On manque de rien, tout est fait pour passer un merveilleux séjour. Je le recommande vivement. Merci Olga pour ces moments inoubliable
Dominique
2016-08-19T00:00:00Z
Отдыхали в апартаментах с 10.07.16 по 26.07.16, семьей из 4 человек. Начну с того, что квартира полностью соответствует описанию и предоставленным фото! Мы были первыми. Вся техника, посуда, полотенца были новыми-запечатанными) Квартира уютная, стильная, удобная для проживания как одного человека, так и семьи с детьми. В пешей доступности продуктовые магазины, пекарня и овощные базарчики и множество кафе-ресторанов. По променаду можно прогуляться до Герцог Нови. На протяжении всего променада большой выбор пляжей. Море близко! Ольга очень гостеприимная хозяйка, отзывчивая и внимательная. Встретила нас в аэропорту сама и проводила! Все показала и рассказала по дороге. Вечером поднялась к нам с огромной вазой черешни, фруктов и бутылкой вина! Очень приятный комплимент! Сама Ольга живёт на первом этаже с маленькой дочей и всегда рада помочь! Обращались с любыми вопросами. Вид из окна просто потрясающий) Стоит обратить внимание на то, что дом находится на горе. И если едут бабушки с внуками, или люди с физическими проблемами, будьте готовы к подъёму в гору) Остались очень довольны! Всем рекомендуем! Отдых незабываемый)
Александр
2016-07-27T00:00:00Z
Nous sommes resté deux nuits dans l'appartement d'Olga et ce fût un vrai plaisir. Olga est venue nous chercher à l'arrêt de bus, nous avons eu le plaisir de rencontrer sa petite fille Lisa. Notre accueil a été chaleureux et la discution entre nous c'est faite naturellement et sans difficultés. Olga nous a emmené faire des courses, prêtée son robot car nous lui avions dit notre projet de faire un gâteau. C'était vraiment appréciable. L'appartement est tout simplement splendides, refait à neuf depuis peu, décoré avec beaucoup de goût,tout y est ! Une belle chambre avec rangements, une salle de bain avec machine à laver, une cuisine tout équipée et une pièce à vivre au top. Le tout bien chauffé ce qui n'est pas négligeable en hiver. Nous nous sommes senti comme chez nous. Il est situé proche de du début de la balade en bord de mer qui relie Melinje à Igalo en passant par Herceg Novi (25 mon à pieds en flânant ). On remercie encore Olga pour tout et bien évidemment on recommande fortement. =D
Elsaa
2017-01-07T00:00:00Z
Oda Tipi
Tüm ev/daire
---
Mekan Türü
Daire
---
Konaklayacak Kişi Sayısı
4
---
Yatak odaları
Herceg - Novi, Herceg Novi, Karadağ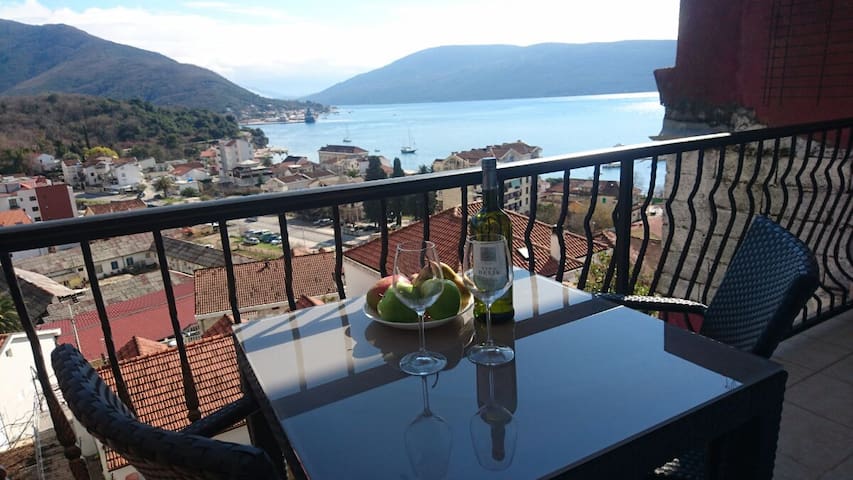 Klinci - Airbnb
:
104

misafir değerlendirmesinden,

5

yıldız üzerinden ortalama

4.78

yıldız
1

–

18

/

300+ Kiralık Daire
Tam fiyatlandırmayı görmek için tarihleri görün. Ek ücretler uygulanır. Vergiler ilave edilir.