The time I lived in Utrecht, I used to make cycle tours around. Every time I passed by this area I thougt: Oh, I should love to live here! Than, I met Pete, and it appeared that he was a farmer. Well, it is a great joy to live on this farm!
Picture this: Walking outside, looking over the camping. All around, you are looking out over green meadows with cows and sheep grazing, accompanied by the sound of green frogs croaking merrily. And the kids? They are out feeding the calves with Pete the farmer, or having fun in the playing hut. Charming rooms The three cosily decorated rooms are upstairs on the first floor. Each room is furnished with 2-3 extra-long box-spring beds (210cm) and have enough space for 2-3 additional box-spring beds (70x200cm). Plus, each room is provided with easy chairs, a mini-bar, air conditioning, a flatscreen TV, a safe and WiFi. Your private bathroom contains a large shower. Our house is non-smoking! Our prices are based on hotel service, this means that your beds are made up, everyday cleaning and change of the towels when necessary. Our prices are based on hotelservice without meals, you have a fully equiped kitchen, dining room and dish-washer! For our youngest guests For toddlers we have a baby bed, a highchair and toys. Your children will have a great time with Pete the farmer as they join him to feed the calves, or when they play with our crazy bikes. In the kitchen you will find tourist information and a bookcase stocked with works of fiction, magazines, games and DVDs. We have a large parking lot, which our guests may use free of charge. Coming with your family or friends? This appartment is to rent! Feel the countryside, the green hart of Holland, enjoy our luxurous accommodation and our hospitality, your are most welcome!
What to see? Within one hour drive you can reach Utrecht (Dick Bruna house, and medieval center with nice musea like the railway museum) , Amsterdam (Anne Frank House, van Gogh, Rijksmuseum with Rembrandt van Rijn), The Efteling, Kinderdijk, Schiphol and National Park Hoge Veluwe. Visit Castle The Haar in fairytale village Haarzuilens, only 3 km from our farm! The nearest shops and some cosy restaurants are at 3 km. It's a pleasure for us to tell you about our nice country and the sites worth visiting!
Leuke dagen gehad met oud en nieuw met vrienden en hun kinderen. Kinderen vonden het fantastisch, met skelters gespeeld, met cavia's gekroeld en de koeien gemelkt zien worden. Kamers erg netjes, zeer goede bedden, lekkere douches en in iedere kamer een eigen tv en koelkastje. Gezamenlijke ruimtes ook heel gezellig, en een keuken met alles er op en eraan. Mooie omgeving, leuk om een eindje te wandelen. We hebben het super naar ons zin gehad. Kortom, een echte aanrader, geen negatief punt te vinden!
Wieske
2017-01-01T00:00:00Z
Excellent service and the rooms were very comfortable. The breakfast was delicious and the bathrooms were very well maintained. We received a great and hospitable welcome from the host and were provided with everything we asked for and more.
Azhar
2016-07-13T00:00:00Z
We were a group of 3 families (12 people) and we had a great holiday (one week) in Netherlands travelling by car. Our experience was very satisfying, finding an ideal solution for our needs and expectations: - We can confirm that the description of the house on AirBNB site is absolutely correct and truthful. The space and the equipments of the rooms were suitable for our number of people. - Lovely landscape in a green and quiet location, handy both for Utrecht and for Amsterdam. There was a good supermarket near few kilometers. - Excellent communication and courtesy from Marianne. - Excellent house cleaning. Advisable both host and house!
Cristiano
2016-08-19T00:00:00Z
Wir haben die Unterkunft bei Piet und Marianne komplett gebucht, da wir sowohl zwei Familien (5&4 Personen), eine Zweiergruppe und zwei Singles unterbringen wollten, was sehr gut geklappt hat. Die Unterkunft war sehr sauber und mit viel Liebe zum Detail eingerichtet, es standen große Schlafräume und moderne Badezimmer zur Verfügung. Der Frühstücksraum wurde dabei morgens und abends unser zentraler Treffpunkt. Sehr gefreut haben wir uns über den immer freundlichen Service von Marianne, die jederzeit mit Rat und Tat zur Seite stand und die Möglichkeit unkompliziert täglich frische Waren für unser Frühstück zu bestellen. Tagsüber haben wir Amsterdam erkundet, was per Autobahn und P+R Parkplätzen am Stadtrand sehr gut und günstig zu erreichen ist. Abends haben wir uns dann wieder über die Ruhe auf dem Bauernhof gefreut... Alles in Allem ein wirklich sehr gelungener Aufenthalt, den ich jederzeit nur weiter empfehlen kann!!!
Thomas
2015-05-27T00:00:00Z
The entire place was very clean and the rooms were spacious.
Emily
2015-05-22T00:00:00Z
Oda Tipi
Tüm ev/daire
---
Mekan Türü
Daire
---
Konaklayacak Kişi Sayısı
14
---
Yatak odaları
Kockengen, Utrecht, Hollanda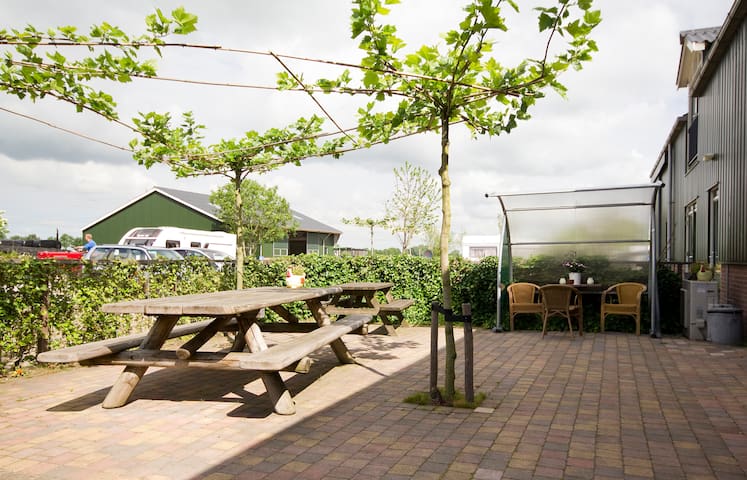 Gemütliches, einfaches, aber voll Wohnung von 65m2 aus den '50ern ausgestattet: Kamin, Bügeleisen, Parkplatz in der Nähe. In ruhiger Lage, nur 10 Minuten Radfahren oder Bus vom Stadtzentrum entfernt, in der Nähe der Autobahnausfahrt.
Ruhige Wohnung mit schöner spaceous Wohnzimmer mit Kamin. Grand-Ess- / Arbeitstisch. Eine helle Wohnung durch große Fenster. Schöner Balkon auf der Sonnenseite. Die Küche hat Geschirrspüler! Waschmaschine verwendet werden, Trockner Funktionen bedient, wenn mit großer Sorgfalt.
Sehr ruhige Umgebung in der Nähe von Park und Gastfreundschaft. 10 Minuten Radfahren oder Bus zum Stadtzentrum.
daniel was very kind
emanuela
2017-03-29T00:00:00Z
The host canceled this reservation 3 days before arrival. This is an automated posting.
Javier
2017-03-21T00:00:00Z
Oda Tipi
Tüm ev/daire
---
Mekan Türü
Daire
---
Konaklayacak Kişi Sayısı
4
---
Yatak odaları
Utrecht, Utrecht, Hollanda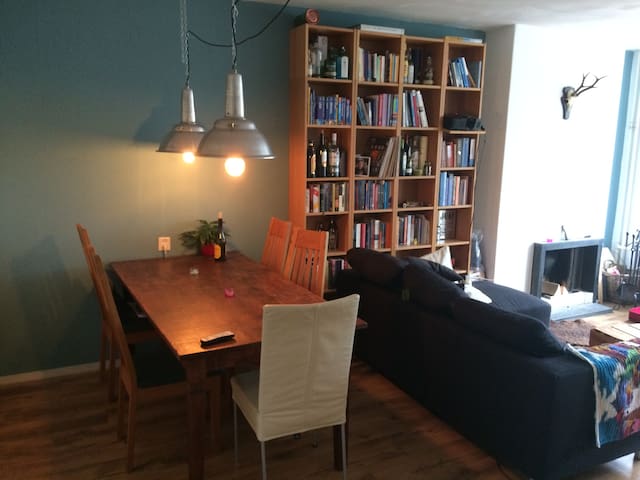 Alloggio vicino al centrum, facili collegamenti ferroviari e la stazione di autobus in giro. ristoranti esteso (aperto fino a tardi) supermercati, parco, amichevole sicuro quartiere tranquillo. Tea / Coffee .Professional pulito settimanale.
L'alloggio è semplice ma spazioso pulito e luminoso. L'ubicazione è fantastica in centro ad Utrecht nella zona storica e caratteristica della città ma, comunque, facilmente raggiungibile anche in auto. Lo consiglio sicuramente anche per periodi di soggiorno lunghi. Ed è un host molto corretto, disponibile, gentile e preciso. Sono felice di poterlo ringraziare pubblicamente e raccomandarlo a chi legge.
Lucia
2016-11-14T00:00:00Z
The rrom was very spacious, bright and very warm for these cold winter days! I would definitely recommend this place; location, price and size are great! Ed is also a very friendly and caring host ! =)
K Denise
2016-11-30T00:00:00Z
Ed is a very great host! I always felt welcome, we always got along very well, and had interesting talks. Everything was always clean and tidy, Ed spontaneously cooked or made tea and we sat together to eat and talk. He's an especially friendly host!
Esther
2017-02-12T00:00:00Z
Ed is a very kind and helpful person. The flat is nicely located in the city centre, close to the typical Dutch canals. I had a very pleasant stay.
Dominik
2017-02-24T00:00:00Z
A great host to live with, will definitely recommend to anyone to live right in the heart of the beautiful Utrect city center. Neighbors have a cool cat, too!
Vladimir
2016-12-17T00:00:00Z
The host canceled this reservation 6 days before arrival. This is an automated posting.
Daan
2016-11-09T00:00:00Z
Ed's place is perfectly located, very clean and very comfortable. I highly recommend staying here. Ed is a very kind person and often brought me food, and he also allowed me to check out late. Thanks Ed! I had a great stay.
Kat
2017-01-03T00:00:00Z
Oda Tipi
Özel oda
---
Mekan Türü
Daire
---
Konaklayacak Kişi Sayısı
1
---
Yatak odaları
Utrecht, Utrecht, Hollanda
sakin bir sokakta hafif ve rahat 2 katlı daire, şehir merkezi ve merkez istasyona hem 5 dakikalık yürüme mesafesindedir. Rahat bir oturma odası, donanımlı mutfak, iki yatak odası, iki tuvalet ve kapalı üst için barbekü bir çatı terası.
Bir oturma odası, iki tuvalet, ana yatak odası, misafir odası ve 15m2 çatı terası ile 50m2 ~ Cosy appartement. Oturma odası rahat bir kanepe ile donatılmış, düz ekran TV (dahil Netflix) Stereo (her ikisi de Chromecast'e ile donatılmış) ve bir yemek masası. Mutfakta iyi bir espresso makinesi ve bulaşık makinesi ile donatılmıştır. İkinci katta çift kişilik yataklı bir ana yatak odası var, ikinci uyku odası geniş ~ 120cm bir yatağa uzatılabilir bir uyku kanepe vardır. Mevcut bir ekstra çift şişme yatak da var. banyo, duş, fazladan bir tuvalet ve bir çamaşır makinesi bulunmaktadır. Üst Teras mahalle üzerinde bir serbest görünümü vardır ve bir picknicktable, bir gazlı ısıtıcı ve kullanabileceğiniz bir barbekü ev sahipliği yapmaktadır.
Şehir merkezi ( 'Oude Gracht') için 5 dakika yürüme mesafesi, Ledig Erf, kahve dükkanları (kahve hizmet olduğunu;)), Dom, Neude için 10 dakikalık yürüme mesafesinde.
Excellent accueil de Joep, dans une maison traditionnelle et très bien aménagée, située dans un quartier calme proche du centre ville (oudegracht). Maison agréable et fonctionnelle, meme pour une famille (2 chambres et deux grands lits). Terrasse de choix pour les jours de soleil!
Gian Luca
2016-09-11T00:00:00Z
The house is absolutely wonderful! Exactly as shown in the pics. Also, the location is really nice because it is close to the center, 10min max, and also in a quiet and cozy neighborhood. Joep was very very helpful and he also provided us with house instructions and few things to visit outdoors. Aw and of course dutch waffles :) thank you! I will rate my first airbnb experience with 5/5!
Dimitra
2016-11-13T00:00:00Z
This is by far one of the nicest airbnb's I've stayed at. The location was perfect, so incredibly quiet and charming, as soon as I arrived to the apartment, I didn't want to leave. The host was always quick to respond, check in and check out was seamless, I cant recommend this place enough. I
Marko
2016-09-18T00:00:00Z
Top appartement! Centraal gelegen, alles is er en een relaxte host!
Paul
2016-09-17T00:00:00Z
We had a great stay at Joep's place. Great location and very cool apartment. Communication was also very easy and everything was very clear!
Bart
2017-03-21T00:00:00Z
Un appartement Cosy et chaleureux. Équipements irréprochables. Situé a proximité de tout . Vous y passerez un séjour agréable dans cette jolie ville d'Utrecht.
Rodolphe
2017-03-19T00:00:00Z
Only stayed one night but wish we'd had longer. Nice clean apartment, great location & check in/out process was v easy - great communication from Joep. Will definitely stay here again if we return to Utrecht.
Olivia
2017-02-26T00:00:00Z
Joep communicated very well with us and left us instructions on how to access the apartment. The apartment was located in a lovely quiet neighbourhood which was a 10minute walk to the Dom Tower, so ideally positioned. The apartment was clean, comfortable and warm. A nice little touch of Joep to leave us a packet of cakes to welcome us and clean towels. An ideal little pad to stay for a short break.
Sarah
2016-10-17T00:00:00Z
Oda Tipi
Tüm ev/daire
---
Mekan Türü
Daire
---
Konaklayacak Kişi Sayısı
4
---
Yatak odaları
Utrecht, Utrecht, Hollanda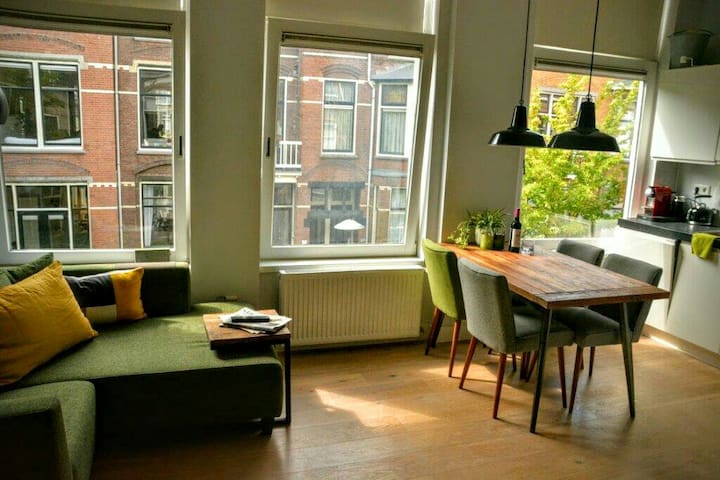 Willkommen in meinem gemütlichen Studio, wo Sie alles, um sich (inklusive Balkon) in der Nähe des Stadtzentrum haben werden. Der Supermarkt ist in der Nähe und ein großer Park und busstop gleich um die Ecke. Perfekt für Alleinreisende oder ein Paar!
Oda Tipi
Tüm ev/daire
---
Mekan Türü
Daire
---
Konaklayacak Kişi Sayısı
2
---
Yatak odaları
Utrecht, Utrecht, Hollanda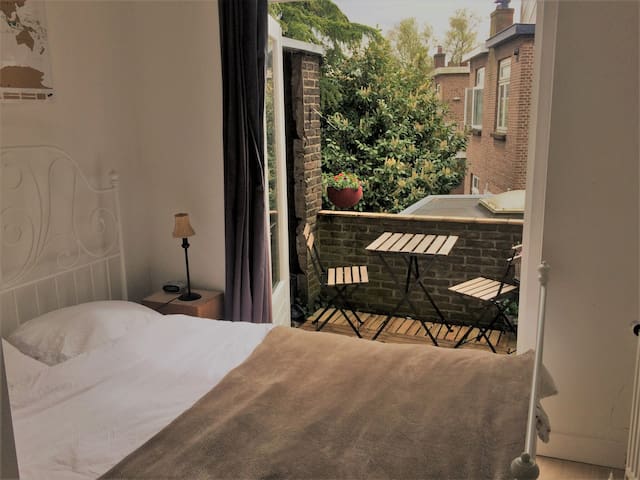 Utrecht kenarında bulunan bizim güzel ve geniş dubleks. katlı şirin dükkan ve ücretsiz otoparkı ile modern ve şık bir mahallede yer almaktadır. 20 dakika içinde Utrecht merkezinde otobüsle ve Amsterdam'ın kalbinde arabayla yarım saat içinde bulunmaktadır. Kale Haarzuilens ve Maxima Park olarak hemen bölgede çok güzel yerler vardır. Hollanda'nın en güzel şehirlerinden birinde kısa bir mola için genel güzel bir yer!
Sessiz, modern, şık ve yakın büyüleyici alışveriş caddesi rahat mağazaları ile.
Ik was in de veronderstelling dat ik een klein (studenten)kamertje had gereserveerd. Maar daar aangekomen bleek dat de slaapkamer -met érg fijn bed- een onderdeel was van een frisse, luxe masionette in een rustige woonwijk met gratis parkeergelegenheid. Daar hij zelf weinig thuis was, stelde Armand ook zijn woonkamer beschikbaar. Het verblijf was méér dan zijn geld waard en voor herhaling vatbaar!
Jofke
2017-03-25T00:00:00Z
Heerlijk schoon en ruime woning. Van alle gemakken voorzien en het contact met de verhuurder was fijn. Ik zou iedereen die een weekend in Utrecht wil genieten deze woning aanraden!! Bedankt Armand!
Ali
2017-02-13T00:00:00Z
Armand's house it's located in a great neighborhood, a really calm, modern and cozy one. Just one block away you can find a big area of shops, between them supermarkets, banks, places for eating, mall, and parking. Just 3 blocks away you can find a bus stop, the public transport system it's really organized, always in time and you can buy a ticket inside the bus which goes between €2,70 or €4,40 for going and coming back (both trips) depending to which place you go. The apartment it's really cozy, cleaned, modern,organized and beautiful. We found it really comfortable. Armand was extremely nice with us! Such a great person! Was so helpful and good host! Would absolutely recommend his place!!!!
Maria Gimena
2017-03-20T00:00:00Z
Such a l9vely place would defo recommend to anyone
Tom
2017-03-05T00:00:00Z
Heel prettig netjes onderkomen. Vlakbij winkelcentrum en busverbinding naar Utrecht.
Francis
2017-04-03T00:00:00Z
The apartment is very modern and light. Our room had 1 double bed, 2 bedside tables with a small lamp , a small seat but no cubboard or anything to put your clothes etc.Spacious bathroom well equipped , nice big towels. Nice livingroom -kitchen.You share the place with the owner.
Elly
2017-04-08T00:00:00Z
Oda Tipi
Özel oda
---
Mekan Türü
Daire
---
Konaklayacak Kişi Sayısı
2
---
Yatak odaları
Utrecht, UT, Hollanda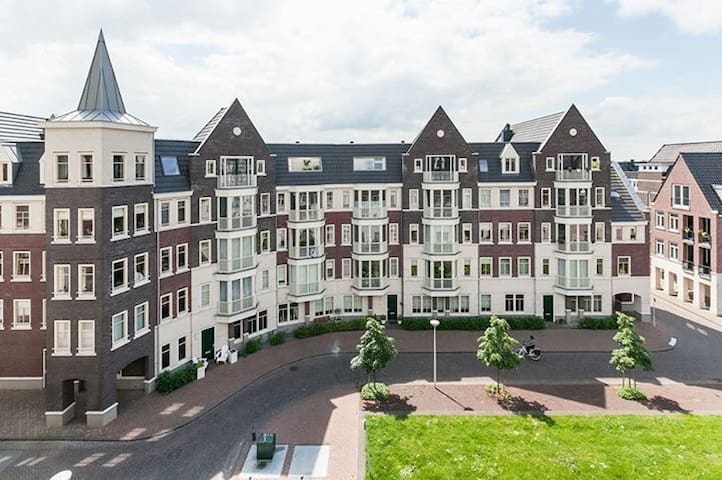 A weekend, do business or visit the Fair ... what you going to do, here you can linger. What to expect: ♡ Nice comfortable pillow top bed ♡ central place in Utrecht: • Fair at 3km • Bus stop around the corner • Highways next door ♡ You can use the bathroom and kitchen and in the morning I give great coffee!
The bedroom has all the amenities needed. Nice bed, clothes hangers, night lamp, mirror.
Oda Tipi
Özel oda
---
Mekan Türü
Daire
---
Konaklayacak Kişi Sayısı
2
---
Yatak odaları
Utrecht, Utrecht, Hollanda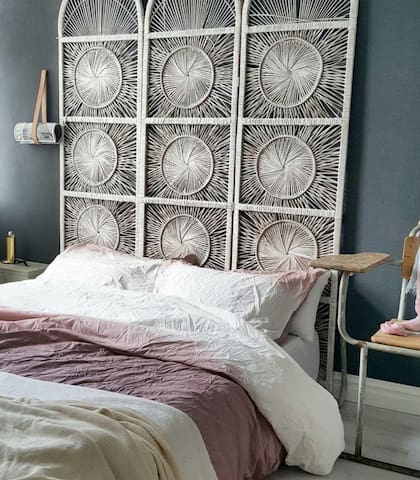 Nuevo y moderno apartamento en el 1er piso. Grandes espaciosa sala de estar con una cocina totalmente equipada. 1 dormitorio con una cama doble y un sofá cama en la sala de estar. Cuarto de baño y ducha y WC. terraza para tomar el sol en la parte superior del edificio. Varios autobuses que te llevan al centro están a la vuelta de la esquina (10 minutos). Una gran cantidad de espacio de estacionamiento, lo cual es raro en Utrecht!
Oda Tipi
Tüm ev/daire
---
Mekan Türü
Daire
---
Konaklayacak Kişi Sayısı
4
---
Yatak odaları
Utrecht, Utrecht, Hollanda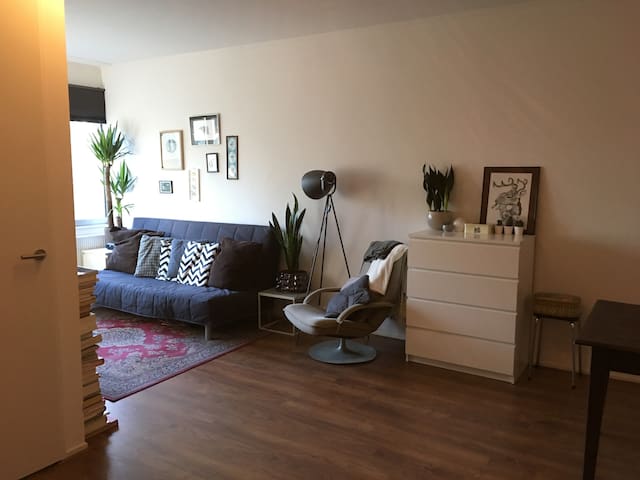 Ma place est à proximité du centre-ville, des restaurants et des restaurants, des parcs, une vue superbe, et de l'art et de la culture. Vous allez adorer ma place à cause de l'emplacement et l'ambiance. Ma place est bon pour les aventuriers en solo.
Daniel was a very laid-back and trusting host. His tastefully arranged top floor apartment is ideal for one person. It's in a safe area and is only a 15 minute walk from the central station and 20 minutes or so from the Dom Tower. There's a supermarket just along the block too. It does overlook a major road junction, which not everyone will like, but I found I got used to the traffic noise. Overall, I thought the place was great value.
Stuart
2016-08-28T00:00:00Z
I had a great time staying at David's place! The apartment was very clean and really close to the city center, yet on a quiet neighborhood. David was easy to communicate with and flexible in checking in/our arrangements. I would definitely stay here again and would recommend it to others!
Katerina
2016-10-09T00:00:00Z
Did not meet Daniel but a key handover was arranged at a liquour store around the corner (which is, by the way, very well stocked and has super nice staff). Great location, appartment is in walking distance to the inner city, overall it´s ok for the price.
Michael
2016-11-13T00:00:00Z
Host was very easy to communicate with.
Jayde
2016-10-23T00:00:00Z
Daniel's place was really nice! Better than the pictures I think. For one person it's really cozy and spacious. The place was well maintained and situated close to central station and I loved my stay there. Daniel arranged the key exchange smoothly and the apartment was cleaned really well. Thank you for hosting!
Lois
2016-09-12T00:00:00Z
Great place to stay to discover Utrecht, Amersfoort and other cities nearby. Within walking distance of the city center, convenient store, parks and central station. Daniel wasn't there to welcome me when I arrived in the afternoon but it was possible to pick up the key in a shop nearby and that went very easily. The kitchen was equipped with everything that I needed and perfect for a solo traveler. There was a lot of personal stuff hanging and lying around when I arrived, but after storing that in his closets and wardrobes I felt at home.
Kimberly
2016-08-22T00:00:00Z
Oda Tipi
Tüm ev/daire
---
Mekan Türü
Daire
---
Konaklayacak Kişi Sayısı
1
---
Yatak odaları
Utrecht, Utrecht, Hollanda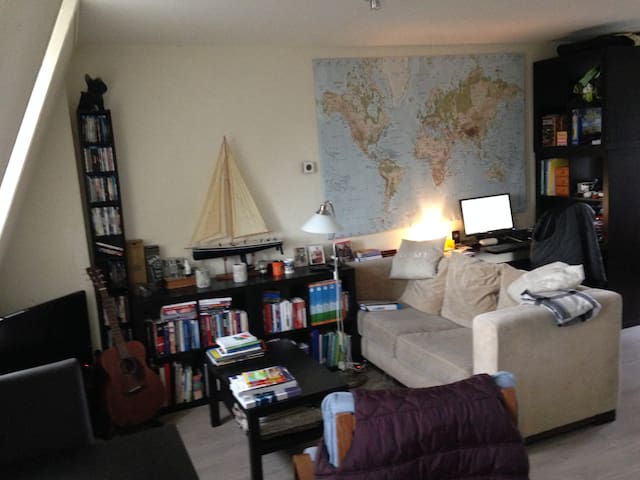 Benvenuti nel nostro spazioso appartamento monolocale a Utrecht! Il soggiorno ha una magnifica vista su Utrecht. E 'a pochi passi da un piccolo centro commerciale con supermercato, verdure fresche, negozio di droga e parrucchiere. A breve distanza in autobus o in treno per il centro di Utrecht con un sacco di cose da fare e da vedere. Ristoranti lungo il canale, la famosa torre di Dom, Utrecht ha molto da offrire! Se si desidera visitare Amsterdam, è a soli 30 minuti di distanza trainride!
Il nostro appartamento monolocale è ideale per una coppia o due amici che vogliono andare a esplorare Utrecht. L'appartamento si trova al 8 ° piano in modo da vista è incredibile! Offcourse c'è un ascensore. Alla fine posteriore c'è un balcone in modo da poter prendere il fresco. Si avrà un letto a due letti con lenzuola fresche nella parte posteriore della sala (dove il tavolo da pranzo è nella foto, un nuovo letto sarà posto prima di arrivare).
A pochi passi dal supermercato e mezzi pubblici. Se si dispone di una macchina si può parcheggiare gratuitamente e ci sono 2 minuti dall'autostrada / interstatale. A soli 30 minuti di macchina da Amsterdam.
Oda Tipi
Tüm ev/daire
---
Mekan Türü
Daire
---
Konaklayacak Kişi Sayısı
2
---
Yatak odaları
Utrecht, Utrecht, Hollanda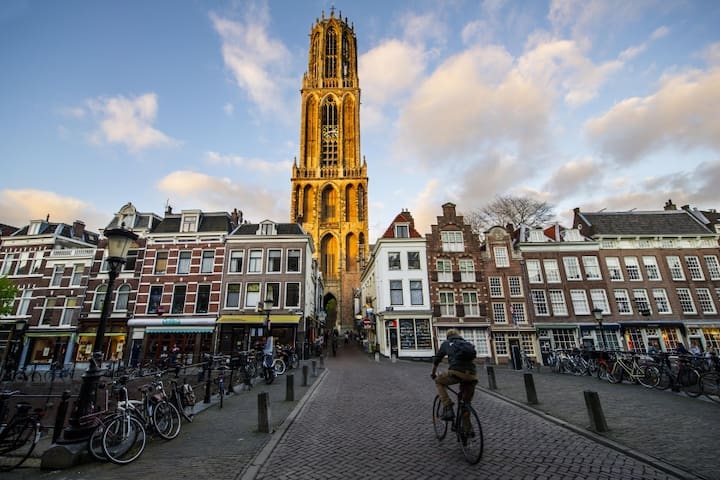 Værelse med en fantastisk udsigt i hjertet af landet, fri cykel. Mit hjem er beliggende i et multikulturelt kvarter på 15. etage, dens rart at have en åben udsigt om morgenen, når du vågner op eller efter en travl dag. I lejlighedskomplekset finder du en dejlig blanding af mennesker; unge, gamle, børn, lokale, expats og udenlandske studerende.
Alle er velkomne
Der er er lille indkøbscenter i nærheden med en bager, multikulturelle supermarkeder, så en masse grøntsager og frugter, nogle fast-food og en Lidl. Lidt længere væk vil du finde en anden lille indkøbscenter og et indkøbscenter med et større udvalg.
I definitely wasn't expecting what I got for that price! Very much paid off to look for places that aren't as central, but easily accessible. Frank was very accommodating and the apartment had all the necessary amenities.
Kenneth
2017-02-26T00:00:00Z
Frank is a great guy. Easy communicate, very helpful and generous. The room is huge and has a fantastic view of the city. However, a bit far from central station. 40min on foot or 15 min with trams.
Andrius
2017-04-09T00:00:00Z
Frank is a great host, always smiling and ready to give you advices and chat about everything. At the same time, if you need your privacy, you can have that without problems. I also really appreciated his flexibility in check-in and check-out. The bedroom is big, very clean, warm and comfortable. Thanks to its 4 windows you can enjoy a great view over a part of the city. This place is in a fashionable multicultural neighbourhood, with people ready to help you if you get lost. Urban trains and busses are at 5 minutes walking. I highly recommend this host and this place to everybody!
Amir
2017-02-22T00:00:00Z
Frank is a very nice host we had a good talk and he is very helpfull. I arived in the evening and the view was just so cool! If your looking for a budget place to sleep with a great host do not hesitate to book this room. Thanks again Frank!
Dennis
2017-03-01T00:00:00Z
Frank is the perfect host. Very hospitable and very generous in the sharing of his knowledge. A super view and super market very close by. The bike was brilliant and more than compensated for the out of town location. I can't wait to come back.
Jason
2017-03-30T00:00:00Z
Mijn verblijf bij Frank was top. Frank is heel aardig en gastvrij en het was super dat ik gebruik kon maken van z'n fiets en keuken. Ik heb heerlijk geslapen in een ruime kamer met een super bed en schitterend uitzicht. En het was nog betaalbaar ook!
Jeroen
2017-02-09T00:00:00Z
Staying with Frank was great--he was really flexible about my reservation and made me feel very welcome. He also had some great recommendations for events happening in Utrecht which I really appreciated!
Kelsey
2017-03-04T00:00:00Z
The apartment was quite good taking into account extremely low price. Frank is very nice and open mind person and I truly enjoy talking to him! The main disadvantage is the neighborhood. Houses around are primarily occupied by immigrants, who are not that aggressive, but still make walks around extremely uncomfortable. Probably this is the only reason that can possibly stop anyone from living there, because everything is good enough inside the apartment!
Andrey
2017-02-16T00:00:00Z
Oda Tipi
Özel oda
---
Mekan Türü
Daire
---
Konaklayacak Kişi Sayısı
1
---
Yatak odaları
Utrecht, Utrecht, Hollanda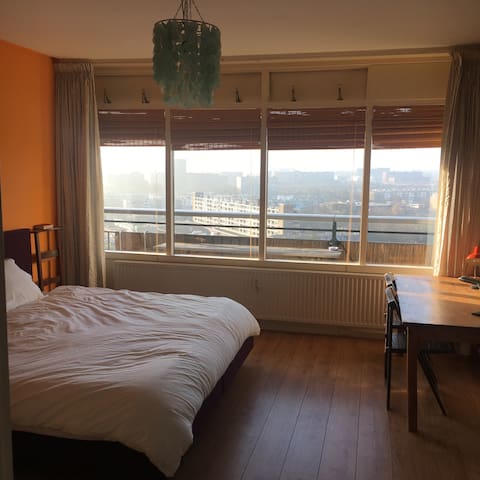 Die Wohnung ist sehr geräumig und gut gepflegt. Es hat einen schönen Holzboden, erstaunliche Kücheninsel und offene Türen zu einem Stadtgarten. Es befindet sich neben Konferenzzentrum Jaarbeurs liegt nur wenige Gehminuten vom Stadtzentrum und dem Hauptbahnhof entfernt.
Die Wohnung ist sehr geräumig
Die Nachbarschaft ist zu Fuß vom Stadtzentrum (30 Minuten) und Hauptbahnhof (15 Minuten). Die Wohnung befindet sich in einer sehr ruhigen Gegend in der Nähe der Royal Dutch Mint entfernt. Ein Spielplatz ist vorhanden vor der Wohnung. Mehrere Optionen für Frühstück, Kaffee und Abendessen sind in den umliegenden Stadtteilen entfernt. Es ist absolut wert die lebendige multikulturelle Kanalstraße für die täglichen Einkauf zu besuchen. Diese Straße ist voller Lebensmittel Obst und Gemüse zu kaufen.
We had a fantastic stay in Laury's flat!! Sadly we didn't get to met with her but she arranged for someone to met us with the keys and give us details about the area. The space is tastefully decorated and comfortable. The neighborhood is lovely and is close to the centraal station, a nice park, and some lovely restaurants. You can easily walk there from the station. All in all, five stars from us ☺
Jake
2017-04-03T00:00:00Z
Perfect ligging. Mooi fris en modern pand
Anja
2017-03-27T00:00:00Z
We had a lovely stay at Laury's apartment! She is a very kind host and upon arrival showed us around the apartment (which was exactly like the pictures), and gave us clear instructions on how to get to the station and the nearest supermarket. The apartment is very nicely decorated and we felt very comfortable staying there. The apartment is situated at a short (20min) walk from the city centre and about 15min from central station in a lovely quiet neighbourhood. We would definitely recommend Laury's apartment and would love to stay again on our next visit in Utrecht.
Kristy
2016-02-21T00:00:00Z
The house of Laury is still great ! Clean , comfortable and perfectly prepared ! I will definitely go back to her in the next trip to Utrecht !
STEFANO
2016-04-17T00:00:00Z
Heb echt genoten van dit prachtig huisje . Precies zoals de beschrijving en de foto's . Rustige ligging in zeer aangename buurt en op wandelafstand van het centrum . Alles zeer schoon en zeer gezellig .
HANS
2016-01-17T00:00:00Z
Ottima accoglienza, puntualità nella consegna delle chiavi, appartamento comodo al centro e confortevole!!
STEFANO
2015-11-21T00:00:00Z
Oda Tipi
Tüm ev/daire
---
Mekan Türü
Daire
---
Konaklayacak Kişi Sayısı
4
---
Yatak odaları
Utrecht, Utrecht, Hollanda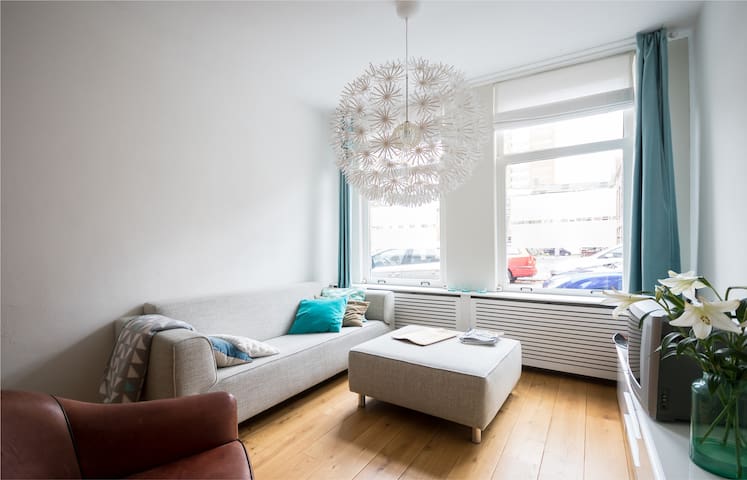 Diese Loft-Wohnung im Dachgeschoss eines alten Schulgebäudes ist ein einzigartiger und Beleuchtung Raum. Es liegt in der Nähe des Zentrums von Utrecht, wo Sie alles, was die Stadt zu bieten hat genießen können. Oder bleiben den ganzen Tag im Bett und einfach sein :-)
Dieses Appartement verfügt über eine offene Küche mit Bar. Das sehr komfortable Schlafsofa ist Ihr Bett. Da die Wohnung keine Vorhänge hat, wird man den natürlichen Tag und Nacht-Zyklus genießen.
Der Park ist ein 2 Minuten zu Fuß vom Appartement. Supermärkte sind um die Ecke. Diese belebte Straße bietet eine Vielzahl an Geschäften und Restaurants.
Oda Tipi
Tüm ev/daire
---
Mekan Türü
Daire
---
Konaklayacak Kişi Sayısı
2
---
Yatak odaları
Utrecht, Utrecht, Hollanda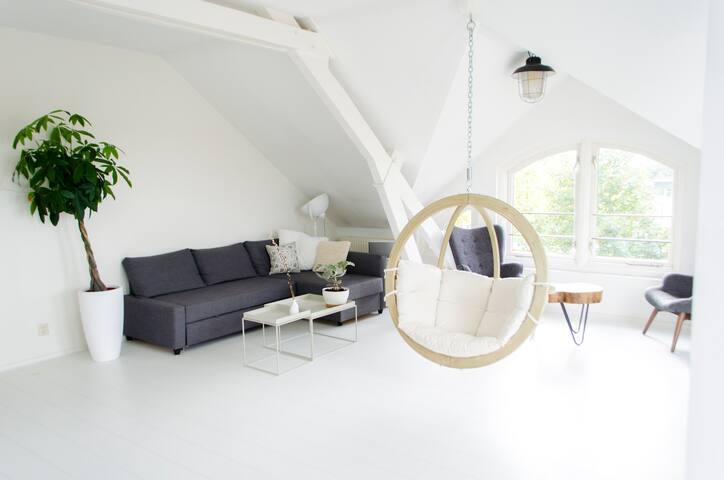 Mein Platz ist in der Nähe des Stadtzentrums (2 min zu Fuß), 15.10 min zu Fuß vom Hauptbahnhof Utrecht, haben Sie einen Supermarkt und Geschäfte in 50 m Entfernung. Sie werden meinen Platz lieben, weil es gemütlich und ruhig mit einer freundlichen Nachbarschaft. Mein Platz ist gut für Paare, Solo-Abenteurer und Geschäftsreisende. ----------- Detaillierte Beschreibung: Großes Schlafzimmer mit Doppelbett Wohnzimmer mit Schlafcouch (1 Person) Kleines Bad Toiletten Küche komplett ausgestattet (Nespresso, Geschirrspüler, Mixer, Backofen, etc.)
Lucies flat is small but very cute and nice. We had a very good stay there :)
Christina
2017-03-05T00:00:00Z
What a great spot. Close to shops, bus stops and even close enough to easily walk to town. We would definitely visit again. Thanks Lucie
Jorn
2017-03-29T00:00:00Z
We really enjoyed our statment at Lucie's place. It is quite close to the central station and at a walkable distance to reach the center. The apartment is cosy, and she was really kind. She gave us a lot of info about what to do in Utrecht, and also she was really flexible with out late-check-out. We strongly recommend her place.
Pavel
2017-02-16T00:00:00Z
Staying in Lucie's apartment was very nice! The apartment is tiny, but has everything you need. It feels like your at home! It's located 10 mins by foot from trainstation and city centre. Great place for a short stay in Utrecht! Lucie wasn't around but communicates well about getting inside, getting around and check-out. Recommended!
Bart
2016-11-20T00:00:00Z
beautiful clean house, close to the center of city and the train station. Lucie wasn't here but anyway she was really nice and helpful (maps,guide and advice for visiting the city) and she found a solution for our late check-in:)
Giulia
2016-10-01T00:00:00Z
Lucie is a great host and offers a nice cozy apartment perfectly located. (Near the centrum and the Central station with food stores 2min walk) Booking, communication and arrival were very easy with good descriptions and extra pictures. The accommodation was clean and tidy and corresponds to her description. Awesome stay, I highly recommend, Thank you again!
Adrien
2016-12-05T00:00:00Z
Lucie was a great host, even though she was not in Utrecht during the stay, she explained everything very clearly by messaging. The appartment was exactly as the pictures on the site. Everything was neat and clean. The location was also really good, 10 minutes walk to the city centre. I would definitely recommend this place to everyone who is looking for a short break in Utrecht.
Caroline
2016-10-09T00:00:00Z
Though we didn't meet Lucie in person, she was very reachable and communicative. Really friendly and correct too! She gave us some good tips on what to do / see / eat in Utrecht. The apartment itself was as expected. Fantastic location to explore the city. Wifi connection was a bit spotty, but nothing insurmountable. Overall, a great experience!
Machteld
2016-09-25T00:00:00Z
Oda Tipi
Tüm ev/daire
---
Mekan Türü
Daire
---
Konaklayacak Kişi Sayısı
3
---
Yatak odaları
Utrecht, Utrecht, Hollanda
Utrecht sakin bir mahallede sakin bir ev.
Oda Tipi
Tüm ev/daire
---
Mekan Türü
Daire
---
Konaklayacak Kişi Sayısı
3
---
Yatak odaları
Utrecht, Utrecht, Hollanda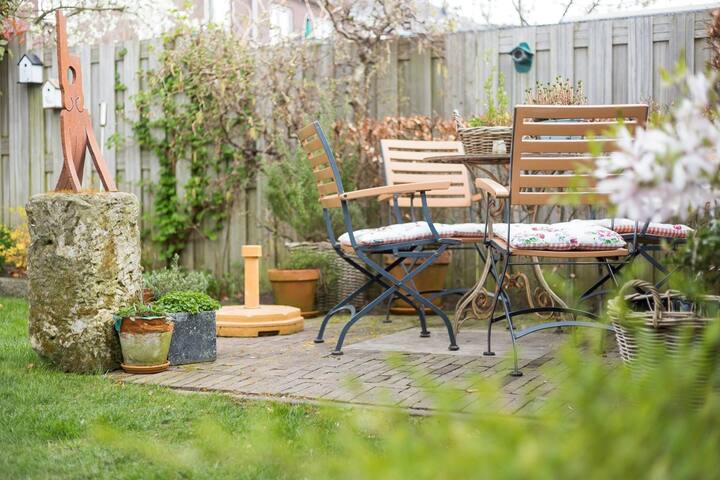 Gemütliches Haus mit offener Küche und einen schönen Balkon. Ein schöner Ort zum Entspannen, in einer der nächsten Teil der Stadt, mit vielen neuen Cafés in der Nähe. Nur wenige Minuten vom Zentrum und dem Bahnhof entfernt. Schauen Sie sich die Bilder an und besuchen Sie uns!
Die Wohnung liegt in einer sehr ruhigen Straße (Sackgasse) und da die meisten unserer Nachbarn sind bereits im Ruhestand, ist es eine sehr ruhige Apartment-Block. Wir haben ein großes Wohnzimmer mit zwei Sofas und zwei bequeme Stühle, nach einem aufregenden Tag in der Stadt zu entspannen. Die offene Küche ermöglicht es Ihnen, ein gutes Essen zu kochen, während ihre Freunde an der Bar sitzen können, so können Sie immer noch ein nettes Gespräch mit ihnen haben! Wir haben auch einen großen Esstisch, an dem Sie mit sechs Freunden speisen können. Der ganze Raum hat sehr angenehme Beleuchtung (wie wir von einem Lichtspezialisten beraten wurden). Dann gibt es genug Platz für alle in unserem großen Balkon! Wir haben eine schöne Sitz, wo Sie die Sonne genießen können. Auch im Frühjahr ist die Temperatur bereits sehr angenehm auf dem Balkon, weil es windstill ist. Hier haben wir auch eine Außenküche zur Verfügung.
Wir leben in einem schönen multikulturellen Viertel, in dem es viel zu tun! Unterhaltung: (URL HIDDEN) (URL HIDDEN) 5 min mit dem Fahrrad: Oude (@Vleutenseweg 33) 3.Louis Hartlooper Filmhaus (@Ledig erf) 4.Springhaver Filmhaus (@springweg 46) 5.Salsa Tanzen Dienstag @ Stairway to Heaven (@mariaplaats 11) 6.Poolbar Hart van Utrecht (@ganzenmarkt 16B) 7.Amsterdam Nehmen Sie den Bus zum Hauptbahnhof Utrecht, alle 15 Minuten fährt ein Zug nach Amsterdam (nur 25 Minuten) Kaffee / Mittagessen / Abendessen: 1.Park 388 für das Mittagessen / Tee, gleich um die Ecke (@Vleutenseweg 388) 2.Cafe Westen für das Mittagessen / Abendessen / Wein (@Just über den Block) 3.Picobello für das Mittagessen / Kaffee (@Vleutenseweg 232) 4.Aperitivo für Cocktails und Abendessen (@Vinkenburgstraat 20) 5.Cafe Lombok für Beers & Food (@vleutensweg 228)
Jeroen is a very nice person and very friendly. He was a very good host for our family. The apartment is very nice and clean. It was just perfect.
Hugo
2016-08-07T00:00:00Z
Jeroen is a very kind and sweet host, always ask if you need any help. The apartment is perfect! The living room was so romantic as we step into. Everything you need is there ready for you, all kinds of cooking stuff and ingredients, even wines: ) Just want to say I spend a wonderful time there, and thx Jeroen again for let us stay!
Jenny
2016-05-01T00:00:00Z
Super dejlig lejlighed - tæt på bus og indkøb. Jeroen tog venlig imod os og gav os alle relevante oplysninger. Absolut et besøg værd.
Hanne
2016-10-24T00:00:00Z
We had a lovely weekend at Jereons apartment. It's nicely located in beautifull and multicultural Lombok ca. 2,5 km. to the City center and old Canal. The apartment is just as nice as on the pictures ans Jeroen is very friendly and easy to communicate with. Thanks for a great stay! ;-)
Maria Kjærsgaard
2016-12-05T00:00:00Z
Jeroen heeft ons hartelijk welkom geheten in zijn appartement. Een kleine rondleiding en wat uitleg over de huishoudelijke apparaten was een goed begin van ons weekend in Utrecht. Alle faciliteiten zijn aanwezig. Het balkon is erg fijn, hier kun je tot laat lekker genieten van het mooie weer.
Marjan
2016-08-29T00:00:00Z
We stayed at Jeroen's place while attending a conference in Utrecht. His apartment is comfortable and absolutely beautiful (nice, quiet neighborhood,20 minutes walking to the centre or 5 minutes by bus which stops right in front of the apartment). Jeroen was very kind and hospitable, leaving us a welcome package of small treats to make us feel at home. We had a great time and I would definitely recommend his place whilst staying in Utrecht!
Katarina
2016-09-05T00:00:00Z
Simply perfect :-)
Pavel
2017-02-27T00:00:00Z
Oda Tipi
Tüm ev/daire
---
Mekan Türü
Daire
---
Konaklayacak Kişi Sayısı
4
---
Yatak odaları
Utrecht, Utrecht, Hollanda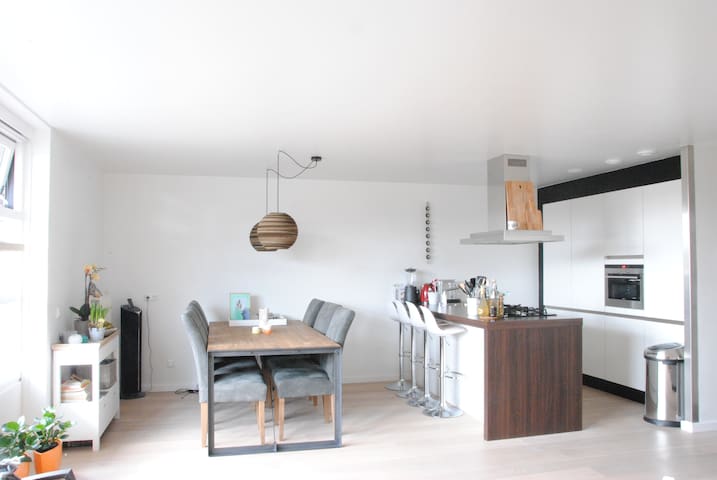 Mein Apartment mit einem Schlafzimmer ist sehr hell, gemütlich und bequem. Riesige Supermarkt buchstäblich auf der Straße, 5 min. zu Fuß nach Utrecht CS und wunderschöner Umgebung mit vielen kleinen türkischen Geschäften. Große Fenster öffnen Sie die Sonne von der Couch zu genießen.
Sie werden alles für sich selbst auf eine brillante Lage haben. Konnte nicht zum Bahnhof und in einem wunderschönen und lebendigen Nachbarschaft näher sein. Auch Sie werden buchstäblich für alle Annehmlichkeiten für den Supermarkt, die Sie erfordern würde.
Die Nachbarschaft ist wirklich multikulturelle. Lädt der türkischen Obst- und Gemüseläden, Metzger, Käseläden, Bäckereien und döner / shoarma aways nehmen. Es gibt immer viel los und die Leute sind sehr freundlich.
Mark's apartment was great. Right across the street from a supermarket, lots of shops and restaurants close by, and the walk to Utrecht Central station was only a few minutes. Mark gave good directions on how to get to the apartment, and left a packet inside with more information. We were not bothered by the street noise at all. I recommend this quiet, bright apartment.
Branden
2016-06-20T00:00:00Z
O apartamento era muito confortável e tinha tudo que era necessário, tal como descrito. O Mark foi um excelente anfitrião, sempre disponível para todas as dúvidas e muito flexível com as horas de check in e check out. O apartamento está bem localizado, perto da estação central e do centro da cidade. Há ainda um supermercado mesmo em frente o que foi muito útil. Só tenho pena de não ter podido ficar por mais tempo. Recomendo vivamente!
Ana Carolina
2016-05-21T00:00:00Z
Mark is a wonderful host. He was highly responsive and easy to engage with all times. The apartment was enjoyable and the true Utrecht experience. The location is surrounded by rich culture amenities, a full service supermarket, and is a quick and easy walk to Utrecht Central Station (5 mins) and the historic city center. It was a great value and one we highly recommend.
Gregory
2015-08-08T00:00:00Z
the apartment was great with everything you need. There are grocery shops right in front of the apartment which is very handy.
Setareh
2016-09-08T00:00:00Z
My mothers experience of Marks apartment : First of all I'll tell you I really enjoyed my stay because i felt like home. Mark was so helpful in many ways (keys,directions for home facilities etc) and also interested if everything was ok with my stay. The apartment is very cozy, clean and warm. Not noisy at all as he described it and very bright with wide windows . The neighborhood was very easy going ,with many facilities just at hand (super market,shops,buses,central station etc). Thanks to Mark and all of you with your reviews that i chose this apartment. Hope next time it will be available.
Βαγιάννα
2016-02-11T00:00:00Z
Wir haben Mark nicht persönlich getroffen, aber die online Kommunikation war top und die Schlüsselübergabe über den Kebapladen zwei Häuser weiter hat super geklappt. Wie im Inserat beschrieben ist die Wohnung klein, aber wir sind zu viert gut zurecht gekommen. Die Anbindung über Utrecht Centraal zum Flughafen und nach Amsterdam ist wunderbar. Die Nachbarschaft ist voll mit türkischen Supermärkten vor denen alte Herren gemütlich herumsitzen und Katzen streicheln. Die Wohnung ist mit allen elektrischen Geräten ausgestattet die man brauchen könnte. Ein Fön wäre vlt noch gut, aber sonst ist alles was man sich vorstellen kann vorhanden. Eine dicke, bebilderte Anleitung beantwortet alle Fragen, die man haben könnte. Wir haben in der ersten Nacht das obere Fenster zur Straße nicht geschlossen und es war daher sehr laut, aber in der zweiten Nacht, bei geschlossenem Fenster wars total okay. Wir können die Unterkunft in jedem Fall weiterempfehlen. Und Utrecht als Reiseziel sowieso.
Nicole
2016-07-29T00:00:00Z
The apartment was perfect for my 2 week long stay in Utrecht. I did not notice any sound issues. Clean apartment in perfect location, with all amenities.
Sajal
2016-01-30T00:00:00Z
Het was een erg leuke buurt en het was een fijn appartementje. Helemaal top!
Maartje
2016-07-26T00:00:00Z
Oda Tipi
Tüm ev/daire
---
Mekan Türü
Daire
---
Konaklayacak Kişi Sayısı
4
---
Yatak odaları
Utrecht, Utrecht, Hollanda