Koyasan Guest House Kiminoya is a registered World Heritage site located in the center of the Koyasan area. It's a wonderful location where visitors can visit various sightseeing spots via bus or on foot. The rooms available for use belong to a 2-story wooden house in which we will share our visitors. In other words, it's a run-of-the-mill Japanese home. Guests will share a room, which is a countryside, Japanese-style room complete with tatami matting.。
Oda Tipi
Özel oda
---
Mekan Türü
Oda + Kahvaltı
---
Konaklayacak Kişi Sayısı
2
---
Yatak odaları
Koya, Wakayama Vilayeti, Japonya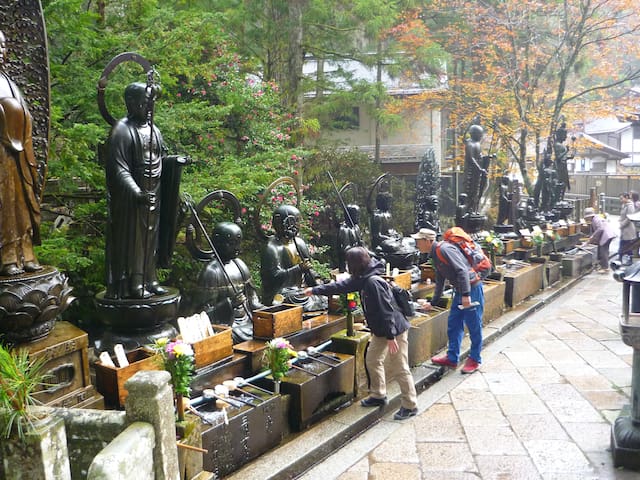 Koyasan Guest House Kiminoya is a registered World Heritage site located in the center of the Koyasan area. It's a wonderful location where visitors can visit various sightseeing spots via bus or on foot. The rooms available for use belong to a 2-story wooden house in which we will share our visitors. In other words, it's a run-of-the-mill Japanese home. Guests will share a room, which is a countryside, Japanese-style room complete with tatami matting.。
Oda Tipi
Özel oda
---
Mekan Türü
Oda + Kahvaltı
---
Konaklayacak Kişi Sayısı
3
---
Yatak odaları
Koya, Wakayama Vilayeti, Japonya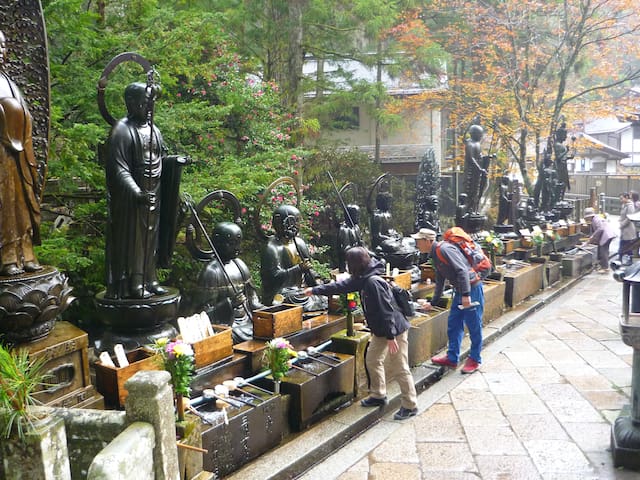 Sanboin is a "Shukubo"(temple lodging), which has a 1200-year history. Deluxe room "Mandala" is sophisticated wide room with conversation room. You can experience a kind of meditation that purifies the body and soul.
An amazing place to stay' such a calm atmosphere pervades the whole temple that it is easy to feel relaxed. The staff were very welcoming, the food was AMAZING, the best we had in Japan. The morning service is an experience not to be missed- very spiritual
Andrew
2016-10-28T00:00:00Z
Amazing place with extremely friendly monks and delicious food. The prayer in the morning was fantastic in gorgeous, atmospheric room. Slightly difficult to find but just trust the blue dot on (SENSITIVE CONTENTS HIDDEN) maps. We can't read japanese and no sign outside saying which place or indeed name of it on airbnb. But it is easy on the main street once you know.
Claire
2015-10-11T00:00:00Z
We had a very nice stay in Koyasan (Sab Bo In temple). Monks made us a visit in english of the temple. Our room was very nice, with a private view on the pond and the garden. The bathroom are shared (1 for mens, 1 for Womens), and Yukata are provided. We had the diner and the breakfast in our room, a discover of traditionnal vegetable monks' food. In the morning (6am), we took part in Monks prayer, for 1 hour. A very good experience, and very close to the things to be seen in Koyasan.
Laure-Anne
2015-05-15T00:00:00Z
nice house, nice people
Zhang
2015-10-16T00:00:00Z
The monk that greeted us was helpful and kind. The room is very large with a view of the garden. Sharing morning prayer ceremony was an honour and the food very (too!) generous. I think the cost of the room at nearly NZD$700 for one night was overpriced but a difficult time to find alternatives and a unique experience that we enjoyed.
Tracy
2015-05-01T00:00:00Z
The temple is quiet and calm and beautiful , and near the Okunoin.
Katy
2016-04-04T00:00:00Z
Nice temple located close to a bus stop. The monks are friendly and speak english. You can participate to the morning ceremony (6am), which is interesting. The temple has public baths with a little onsen (hot bath). Dinner and breakfast are included, and feature tasty, vegetarian dishes.
Laurent
2015-04-14T00:00:00Z
Staying at the temple was a great experience. We felt very welcome and really enjoyed our stay. Would definitley go back if we have the chance!
Tomas
2014-08-14T00:00:00Z
Oda Tipi
Özel oda
---
Mekan Türü
Diğer
---
Konaklayacak Kişi Sayısı
2
---
Yatak odaları
Koya, Ito District, Wakayama, Japonya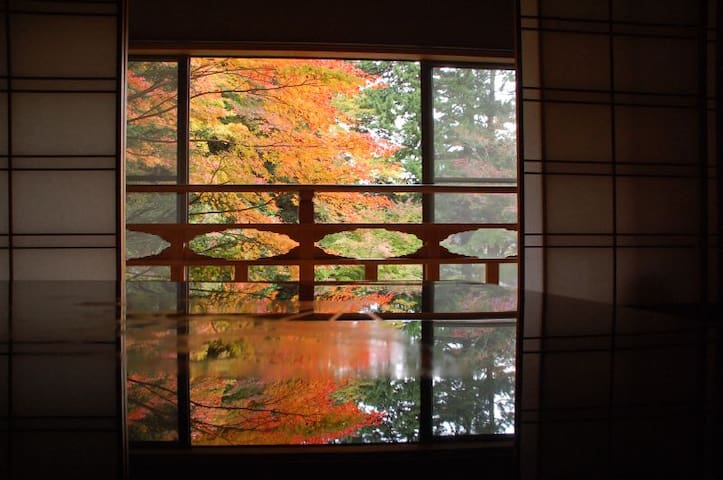 KOYASAN GUEST HOUSE KIMINOYA is a registered World Heritage site located in the center of the KOYASAN area. It's a wonderful location where visitors can visit various sightseeing spots via bus or on foot. The rooms available for use belong to a 2-story wooden house in which we will share our visitors. In other words, it's a run-of-the-mill Japanese home. Guests will share a room, which is a countryside, Japanese-style room complete with tatami matting.
Koyasan is a basin measuring about 6 kilometers east-west and 3 kilometers north-south. The guesthouse Kiminoya is conveniently located in the center of town. The nearest bus stop is Senjuinbashi (written "千手院橋"), bus stop #6, also located in the center of town.
Had a very wonderful stay, it was very comfortable and the perfect location for exploring the area. Maesaka went out of his way to ensure my stay was comfortable - highly recommend!
Brooke
2017-04-03T00:00:00Z
My girlfriend and I had a nice stay at Maesaka's home. We were happy to be his first customers. Mr. Maesaka was kind, helpful, and friendly. He speaks English really well, so there were no problems communicating with him. His aunt, who lives in the house, doesn't speak English, but she was extremely friendly. We felt very welcome in their home. The house is located quite close to shops and attractions in Koyasan, but it was a little hard to find. He has a sign in front of the home and gives good directions on his website, so that was good. The location was great, and he has parking available for 500 yen. The room was nice and clean. As with many places in Japan, there are no beds but futons. The futons, bedding, and pillows were very comfortable, and I slept really well despite sleeping on a futon on the floor. All the bedding was of high quality. The shower was very nice, clean, and modern. You must share it with other guests in the home, but I had no problems with that. Towels aren't provided, but you can rent one from the host. I used my own, so I'm not sure of the cost. Our host even showed us how to make Takoyaki, and we made and ate it together. It was delicious and a wonderful Japanese experience! The takoyaki is free, but he only asks that you buy one drink from him, which are very reasonably priced. We enjoyed eating takoyaki and talking with our host. I recommend it! When my windshield was frosty in the morning, Maesaka San helped me thaw it with hot water. Him and his aunt saw us out and waved goodbye. They were very warm and welcoming, and I was happy to meet them Overall, we had a great stay at Maesaka San's home. It's a great option for those who don't have the money to stay in a temple in Koyasan, and it's in a good location.
Evan
2017-04-02T00:00:00Z
Oda Tipi
Özel oda
---
Mekan Türü
Oda + Kahvaltı
---
Konaklayacak Kişi Sayısı
4
---
Yatak odaları
Koya, Wakayama Vilayeti, Japonya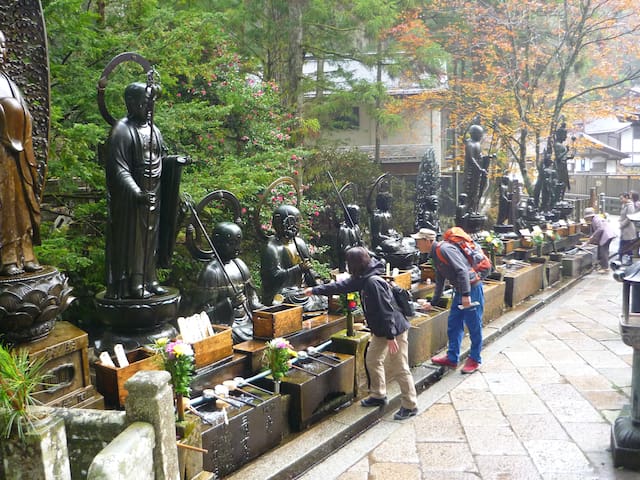 西暦816年に弘法大師空海によって開かれた高野山は1200年の歴史を有する宗教山上都市です。山内には117の寺院が立ち並び、その独特の歴史空間は、もともと「修禅の道場」(瞑想のための場所)として開かれました。高野山ならではの自然と調和した心地よい空気と、ゆるやかな時間の流れは、国内外の多くの来訪者を魅了しています。2004年には世界遺産に指定されました。 当院三宝院は弘法大師の母である玉依御前の創建で、春には境内一面に姫しゃが咲き誇り、秋には「紅葉三宝院」と謳われたもみじが美しいお寺です。
裏千家の御家元などが滞在される際の貴賓室として使われていたお部屋を、今回特別に開放することになりました。お部屋は三笠宮崇仁殿下が命名された「臨紅庭」に面した離れのプライベートエリア。3部屋続きで、広々とした空間をお使いいただけます。専用の高野槇のお風呂も付いて、心休まる静かな時間を満喫することができるかと思います。 【食事】 お食事はすべて精進料理。肉と魚を用いず、きのこや野菜といった季節の自然の恵みを心込めて調理しています。特にごま豆腐は滋味豊かで、口当たりもよく、高野山名物のひとつです。 精進料理とは、単なるベジタリアン料理のことではなく、自然の恵みを感謝していただく、そしてその恵みを心を込めて調理し賓客をもてなす、というように、命を支える「食」を通じて、心のありようそのものを磨くことを意味するのだと、当院では考えております。 【限定酒「玉依御前」】 弘法大師の母上であられる「玉依御前(たまよりごぜん)」は、日々大師の身を気遣い、秋になると里で穫れた種もみを一粒一粒、御手ずから爪剥(つまむ)かれ、醴酒を醸して大師に届けられたといいます。弘法大師はこの酒を『爪剥酒(つまむきのさけ)』と号されたと伝えられていますが、玉依御前の創建になる当院では、この逸話にちなみ、弘法大師の祥月命日にあたる旧暦3月21日の前夜、御逮夜にこの爪剥酒を御影堂に奉納する儀式を何百年にも渡って担って参りました。 当院では、この奉納の儀に用いられるお酒に「玉依御前」の名を冠して、お泊りのお客様には特別にご賞味いただいております。奥の院の若水を用いて醸したこのお酒は、一般には販売していない特別限定酒になります。 【護摩】 護摩の火は知恵を象徴したもので、仏の知恵によって人間のさまざまな煩悩を焼き清めることを意味します。 護摩祈願をお申し込みいただいた方には、特別に護摩を焚かせていただき、煩悩の消除によって、健康や幸運がもたらされるよう祈願させていただきます。 【阿字観】 阿字観とは真言密教の瞑想法であり、「大宇宙の根源と自分とはひとつである」ことを感得することを最終的な目的とします。 深い呼吸法と、正しい姿勢、そして意識の集中により、心身のバランスを整え、自身と外界との一体感を回復するのです。 当院では、弘法大師が若き日に行ったとされる虚空蔵求聞持法(50日間で真言を100万回唱える修行)を成満した住職飛鷹全隆から直接指導を受けることができます。 【北面大師】(ほくめんだいし) 弘法大師空海像としてもっとも優れたもののひとつで、約800年前、鎌倉時代の彫像です。一説には運慶作と伝えられています。 一般には原則非公開とさせていただいていますが、朝の勤行のときのみ拝観いただいております。 【南山進流声明】(なんざんしんりゅうしょうみょう) 声明は真言や経文に旋律をつけて唱える仏教声楽で、インドから中国を経て、奈良時代に日本に伝来したとされています。 真言声明は、弘法大師が伝えたものが基礎となっていますが、十三世紀初頭、時の三宝院住職である正等房勝心は、高野山は弘法大師入定の霊峰でありながら、声明の本流が途絶えてしまって伝承されていないことを遺憾とし、大進上人を流祖とする声明の流派「進流」の本山を、大和中川寺より高野山へと移す努力をされました。 以後、高野山の進流声明「南山進流」(南山とは高野山の別称)として、今日に至るまでその伝統が続いています。当院では、その正統を継承する弟子たちを中心に、毎年中秋の名月に合わせて声明コンサート「月光無尽 音まんだら」を開催しています。
20万とも30万ともいわれる墓石が立ち並ぶ奥の院は、日本の総菩提所といわれる聖地です。当院は、奥の院の入り口まで、徒歩5分程度の場所に位置しています。
Our stay at Sanboin was magical and memorable, from the moment we set foot at its gate up to the time we exchanged goodbyes with our hosts. My wife, daughter, and I spent 2 nights at this temple lodge, arriving in the afternoon of the 30th of December and departing in the morning of New year. We occupied the private Japanese-style room (which was divisible into 3 by screens) with its ensuite toilet and bath. For the multi-course Japanese vegetarian breakfasts and dinners (which were all flavorful, generous, and filling), we opted to dine at the public dining hall that was lined with painted panels. As it was very cold (it snowed) at the time of our visit, all indoor spaces are warmed by space heaters. Our futons were also heated with electric liners. We were met at the gate by our host Zenbo-san. He took good care of us: He gladly answered our queries with regards to the practices, rituals, symbolisms, and history of Sanboin, of their founder Kobo Daishi, and Koyasan; and when we took part in the New Year's Eve Buddhist ceremony, he guided us every step of the way. Sanboin is ideally located in the middle of Koyasan. To its left is the Okunoin graveyard. To its right are the numerous grand halls and Shukubos. While there was a bus service, visitors can comfortably and leisurely go around town on foot. However, travelling to and from the Yokosan station, one must take public transport. Suggestions to future visitors: Consider *also* taking a stroll at nearby Okunoin in the evening, preferably after dinner, all the way to Kobo Daishi's mausoleum. The walk in the well-lit path may be deemed frightful by some, it is actually very solemn and SAFE. Take part in Sanboin's ceremony when available, or invited. Time your visit: the New Year's Eve midnight ceremony was a great experience. Worth mentioning is the fact that this year 2015, Yokosan celebrates its 1200th year. Apparently, winter is the favorite season of Kobo Daishi, but the cold can be prohibitive for some guests. Either way, Koyasan and Sanboin can be enjoyed all year round. We would love to see and enjoy Sanboin at other times of the year. Do not hesitate to ask the hosts. While there may be a language barrier, the monks at Sanboin have a good command of the English language. Even the head master. Sanboin makes its own sake. It also supplies sake to all other temples in Koyasan. It is not available commercially; but it is offered to guests. We would kid the monks that they must be well loved by the other monks in Koyasan. Be prepared to completely immerse one's self in Japanese culture, physically and spiritually. Sanboin comes strongly recommended.
Reggie
2015-01-02T00:00:00Z
11月15日に一泊でお世話になりました。 門構えから、庭園、襖絵、本堂が素晴らしいのは想像通りでしたが、何より、坊の方々のホスピタリティが心暖まるものでした。 朝の御法話を待たずに、夕げの際に早々とご住職のお話を伺えたり、担当して頂いた石井全信さんには到着からお見送りまで、本当に、細かくお心遣いを頂きました。ありがとうございました。 また、今回の高野山での楽しみの一つの声明を拝聴できた事は、感慨深いものになりました。幼い頃からグレゴリオチャントに親しんで来たなか、十数年前に声明に触れる機会があり、何故かグレゴリオチャントと同調する心地よさを覚え、加えて、グレゴリオチャントには無い力強さと潔さを感じ、以来、コンサートホールではなく、早朝の高野山での声明を楽しみにしておりました。 16日の朝は前日の雨も上がり、清しい朝の本堂での声明は、自身の心が掃き清められていく素晴らしい体験でした。特にソロ(このような言い方は失礼かと思いましたが)の時のお声は、よく練られているのに透明で、金属音ではないのに強い張りがあり、雲海に舞い上がる白龍の様で、景色が変わっていきました。 高野山と言う異次元な聖地を創造して下さり、たった今、この瞬間も、森羅万象を憂い、守っておられる空海さんへの畏敬の思いを新にすると共に、三宝院にご縁を頂き、ありがとうございました。
Maya
2015-11-17T00:00:00Z
It was great to stay at Sanboin, one of the best shukubos, a specific type of esoteric Buddhism temple with the function of ryokan, Japanese traditional hotel. They serve delicious traditional vegan course dinner and breakfast. Also in the early morning you can join the morning chanting ceremony to meditate for about an hour. The whole experience that you stay in one of over 100 temples on top of Koya mountain which will soon have 1200 years anniversary is very unique and special. We also recommend the pilgrimage path, called Koyasan-cho-Ishimichi to climb up the mountain for about 7 hours.
Kosuke
2014-05-28T00:00:00Z
Oda Tipi
Özel oda
---
Mekan Türü
Diğer
---
Konaklayacak Kişi Sayısı
2
---
Yatak odaları
Ito District Koyacho Koyasan, Wakayama, Japonya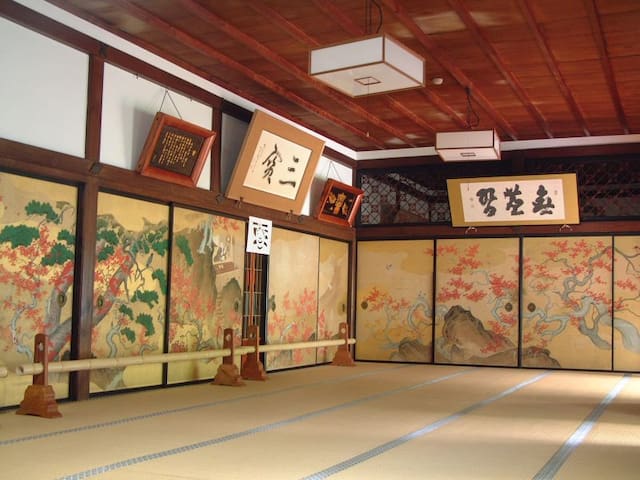 Koya-san - Airbnb
:
31

misafir değerlendirmesinden,

5

yıldız üzerinden ortalama

4.76

yıldız
Tam fiyatlandırmayı görmek için tarihleri görün. Ek ücretler uygulanır. Vergiler ilave edilir.