Penthouse apartment located on the top floor in one of the most famous prewar buildings in Moscow called "House on the Embankment"("Dom na Naberezhnoi"), right next to popular and hip destination place called Red October, named after the chocolate factory and transformed into a cultural destination hub. You'll love the views on the magnificent Cathedral of Christ the Savior from one side of the apartment and incredible Moscow views, including Kremlin from the other.
A beautiful, clean and bright apartment in a fantastic location in a one of the most famous buildings in Moscow: "House on the Embankment". Built in 1931, this significant landmark in Russian history was intended as a home for the Soviet elite. It was designed in a manner that would allow residents to have access to a variety of amenities, so they wouldn't need to leave the building. You can visit the museum, which is a replica of a typical apartment in 1930s Moscow. There are two bedrooms with master bedroom featuring a queen size bed and a second bedroom featuring full size bed. There is plenty of closet space. Spacious living room and fully equipped kitchen (electric kettle, coffee maker, toaster, microwave, refrigerator, freezer, dishwasher, stove, oven). The apartment is located in a safe neighborhood in the center of Moscow. There is a 24/7 supermarket in the building.
Great stay and very good host!
Neil
2016-08-15T00:00:00Z
The place was extremely accessible and nice. I had a great experience thanks to the location. I will definitely use the place again if i get a chance to visit Moscow :)
Sun
2016-11-01T00:00:00Z
Alles war super. Unterkunft ist 1A. Supermarkt vor der Tür hat 24 Stunden offen. Roter Platz nur 10 min zu Fuß. Aus dem Fenster ist Kremel zu sehen. Vielen Dank an Alena.
Denis
2017-03-23T00:00:00Z
The apartment was really great. It was spacious and well furnished. The apartment had everything one might need on a trip. There was also a very good view from every window. The only problem was very loud club music on Saturday night coming from the street. But other than that there were no complaints at all.
Kenji
2016-09-06T00:00:00Z
Большое спасибо Алене за гостеприимство ! Она сдела все чтоб моё размещение было комфортным ! Великолепный вид, апартаменты точно как на фото - стильные и просторные , полностью оборудованные для безмятежного проживания , месторасположение- центр центрович))
Elena
2016-07-12T00:00:00Z
This place is 1:1 as on the images down to the smallest detail. What you see is what you get. Building is old, but nice AND they are ALL old in center and this is just how Moscow rolls. Location, property attributes and comfort justifies the price well. You cannot be more central, Uber was easy to find the place, there is 24hrs supermarket just around the corner and Alena is extremely responsive and eager to help with any question or extra inquiry. She was flexible to accomodate midnight check-in and allow us to do a late check-out as well.
Marko
2017-03-27T00:00:00Z
The view from the Alena's apartment is simply stunning, from the both sides. You see all what you imagine about Russia from her windows. It's an old historic building with many famous personalities who had lived there since Lenin, Stalin, USSR and post-soviet era. There is a Theater of Nations with plenty of Russian concerts. Moreover there is a museum in this very house explaining what happened to some of people who had lived there. Not to mention that the location is super central. You are literally surrounded by cultural sightseeings, no time to get bored. There are plenty of new interesting restaurants and trendy cafes with creative people. Strelka bar, few steps away, is the top address to get your rich breakfast with the view over the Moscow River and The St Christ Cathedral. The area around Bolotny island has many hidden galleries and beautiful streets to discover. It is a good place to start or to finish your trip in Russia. I wish I could stay longer to experience more of that place.
Yulia
2016-10-23T00:00:00Z
Alena was a great host! Very communicative and helpful. The area of the apartament is one of the best in Moscow with a lot of restaurants, bars and club within walking distance from the apartment. The apartement is just perfect with a breathtaking view from both side! It also has a small balcony! The bathroom is incredible! The Jacuzzy has a view on the Church of Christ the Saviour! I will dewfintely rebook when in Moscow!
matteo
2016-07-11T00:00:00Z
Oda Tipi
Tüm ev/daire
---
Mekan Türü
Daire
---
Konaklayacak Kişi Sayısı
4
---
Yatak odaları
Moskva, Moskova, Rusya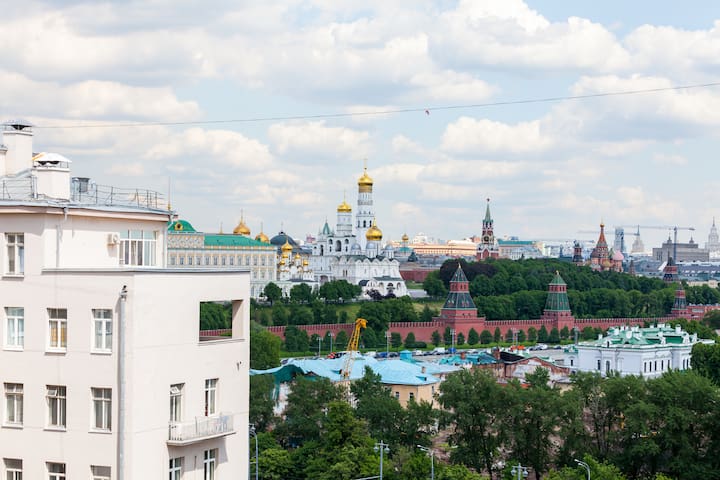 Современная стильная квартира в центре города! Супер локация! 3 минуты до метро октябрьская, 5 мин до метро Полянка, 20 минут пешком до Красной площади!!! Вся инфраструктура в шаговой доступности бары, рестораны, магазины. Возле дома находится парк культуры имени Горького, огромный парк Музеон!!!
Квартира только после ремонта, стильная, современная, есть всё необходимое для проживания!
В 1 ой минуте от дома находится парк Музеон и Якиманская набережная
Квартира уютная, оборудована всем необходимым. Очень близко от метро. В шаговой доступности магазины, банкомат, аптека, кафе. В 3 минутах расположен парк Музеон. У нас от проживания остались только положительные эмоции. Екатерина гостеприимная хозяйка, отзывчивая, и любезная. Спасибо хозяйке за прием, с удовольствием рекомендуем всем эту квартиру!
Serghei
2017-03-26T00:00:00Z
Красивая и современная квартира с прекрасным расположением, всем оборудована. Спасибо Екатерине за гостеприимство ))
Ekaterina
2017-03-30T00:00:00Z
Oda Tipi
Tüm ev/daire
---
Mekan Türü
Daire
---
Konaklayacak Kişi Sayısı
4
---
Yatak odaları
Москва, г. Москва, Rusya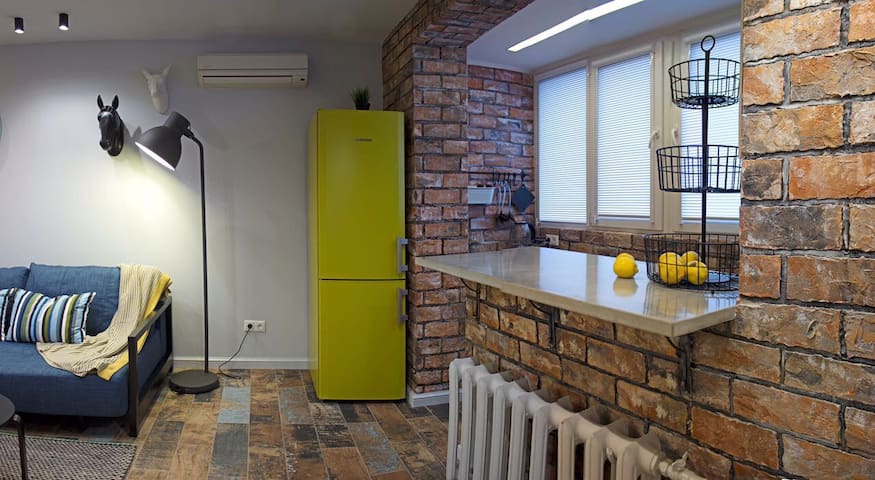 Spacious room with marvelous view of Moscow Kremlin.
Прекрасная комната с витражным остеклением и видом на Московский Кремль. Площадь комнаты примерно 15 квадратных метров. Комната для проживания 1 человека или пары. В комнате предусмотрены места для храниения ваших личных вещей, также есть место для работы (письменный стол). На первом жтаже дома имеется круглосуточный магазин.
Самый центр столицы. 10 минут пешком до Кремля, Главного Храма страны и Пушкинского музея, 15 минут до Третьяковской галереи, 5 минут до бара стрелка и всех ресторанов, кафе и музеев на острове. В пешей доступности Парк им. Горького и Музеон.
Nice place, hope to come again.
Wellos
2017-03-18T00:00:00Z
Oda Tipi
Özel oda
---
Mekan Türü
Daire
---
Konaklayacak Kişi Sayısı
2
---
Yatak odaları
Moskva, Moskova, Rusya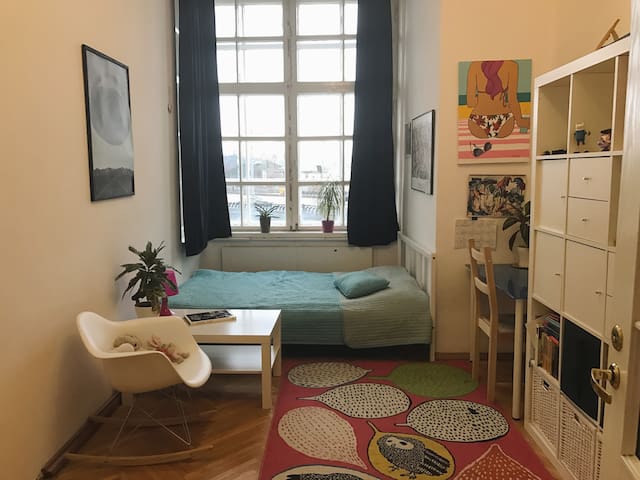 Amazing 3-room apartment right in the Moscow life center! It's really 2 minutes walk from Kremlin, come and check it out!)) Apartment is located in the legendary House on the Embankment, even with the Theatre inside. This magnificent historical building gets you to feel Moscow's heartbeat.
Inside the apartment a very light atmosphere: lots of free space, white walls, very sunny, bathroom with a window, balcony with a view of the Christ the Saviour Cathedral and old factory, transformed into modern lofts.
Enjoy all the places of historic interest, art galleries and museums in the walking distance + 3 metro stations in less than 10 minutes walk. Moscow night life is near by the corner, with great fun & parties.
Katya is a great hostess. It's a shame a made her waiting for me for a half a day but she was stoically generous. This is a perfect location, I enjoyed watching the amazingly beautiful new year fireworks from the window. Many good shops and restaurants nearby made my stay very comfortable.
Karma
2016-01-05T00:00:00Z
The apartment completely lived up to expectations. It was spacious, light filled, had everything one would need - loved the coffee machine - and was in a great location for sightseeing and also close to cafe's grocery store, metro. Found out it was one of the more famous apartment buildings in Moscow. Our host was very attentive and pleasant to deal to deal with. If we return to Moscow we hope this is available again.
Martin
2015-10-26T00:00:00Z
Katerina was easy to communicate with and flexible with regards to check-in and check-out. Her apartment was spacious and clean, and located within walking distance from many of the city's landmarks, public transport, and nice restaurants. Recommended!
Jean-François
2016-11-20T00:00:00Z
Kate is a very nice host, communication in english was fast and easy. The apartment is spacey and clean and everything was perfect. Location is wow, a short walk away from the Kremlin. Would definitely come back if possible!
Sascha
2015-11-27T00:00:00Z
Very pleasant and simple stay at Katerina's. Perfect location close to Kremlin, in a historical place also, appartment comfortable and tidy, Katerina easy-going.
Marie-Helene
2016-07-18T00:00:00Z
Katya's appartment is really special! From the balcony overlooking the Christ the Savior Cathedral! if you cross the bridge, begins Red Square and Tretyakov Gallery in 10-minute walk! Inside appartment is very clean and white and cozy! I highly recommend this appartment to other guests! Special thanks to Katya!
Dasha
2016-06-30T00:00:00Z
This is a large, modern, bright & open, very clean apartment. We loved staying here. If anything, the photos don't show how roomy and comfortable it is. Katerina was very responsive and helpful. Location is excellent--right in the center. Loved staying here.
Joan
2016-06-15T00:00:00Z
appartement agréable et très bien situé, surtout si on veut visiter le Kremlin, les musées Puskin, Tretiakov, etc. Building historique construit dans les années 30 pour les cadres de l'époque. Il existe un musée dans ce building qui retrace l'historique de ce building.
veronique
2016-04-16T00:00:00Z
Oda Tipi
Tüm ev/daire
---
Mekan Türü
Daire
---
Konaklayacak Kişi Sayısı
4
---
Yatak odaları
Moskva, Moskova, Rusya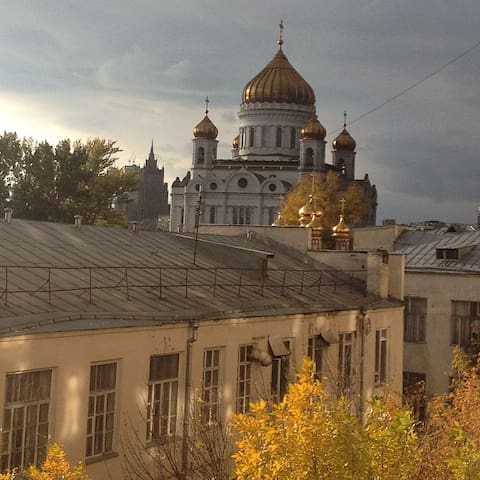 The apartment is located in the center of Moscow. Safe area and courtyard. Prior to Red Square to walk 15 minutes, 3 minutes is the Park of Arts "Muzeon" in which branch of the Tretyakov Gallery. In about 10 minutes giant ice rink in Central Park and the Museum of Modern Art "Garage". It is also a 15-minute countless ancient streets in the area st. Ordynka and Pyatnitskaya. As well as 4 major subway lines within walking distance. In walking distance of shops and cafes.
4 bedroom apartment 135kv meters can accommodate 10 people comfortably), spacious, and comfortable. Freshly renovated.
I like most in my area, it is centrally located, but at the same time, there is a quiet park Muzeon two minutes. Two branch of the Tretyakov Gallery is also within walking distance.  In winter near the rink in Gorky Park, where the issue skating, not to wear their)) the right of Gorky Park is located Crimean bridge, if it is to cross will be taken to a museum in Moscow at the station. Metro Park Kultury. Christ the Savior Cathedral in 15 minutes through a beautiful bridge in the city, with a wonderful view. Not far from the Temple - the Pushkin Museum, Multimedia Art Museum. Red Square and the Kremlin are a 15-minute walk, but can be reached by bus and 3 stops. Stop by the house. Alexander Garden, Manezh Square, GUM Department Store, and Grand Theatre - all located near Red Square. Central Children's Store is located 10 minutes from Red Square, if you go on Nikolskaya Street. . If you want to see the night life, then a 15-minute walk on the other side of the river, located "Island Red October", where the night clubs and bars. Parties there are mainly on Fridays and Saturdays. The nearest metro station to the house: Glade, October radial, annular October, Tretyakov, Novokuznetskaya.
Это самая лучшая квартира и Хозяйка , просили поздний выезд , без проблем, в холодильнике было свежие продукты, что оказалось очень кстати после 12 часов перелёта с детьми, отличная очень большая квартира, очень чистая, со всем кухонной техникой, Новым постельным бельём , полным комплектом полотенец, на 10 человек ,и полным набором посуды , включая бокалы для вина, мартини , и шампанского ( что было кстати на Новый год) отдельная Детская комната , и 3 изолированные спальни, очень радушные хозяева, спасибо огромное.за наше прибывание в г Москва, именно в ваших апартаментах. Удобное месторасположение квартиры. Рядом парк Горького , и много музеев .
Viktoriya
2017-01-03T00:00:00Z
The host canceled this reservation 27 days before arrival. This is an automated posting.
ZHANQIANG
2017-04-06T00:00:00Z
Oda Tipi
Tüm ev/daire
---
Mekan Türü
Daire
---
Konaklayacak Kişi Sayısı
10
---
Yatak odaları
Moskva, Moskova, Rusya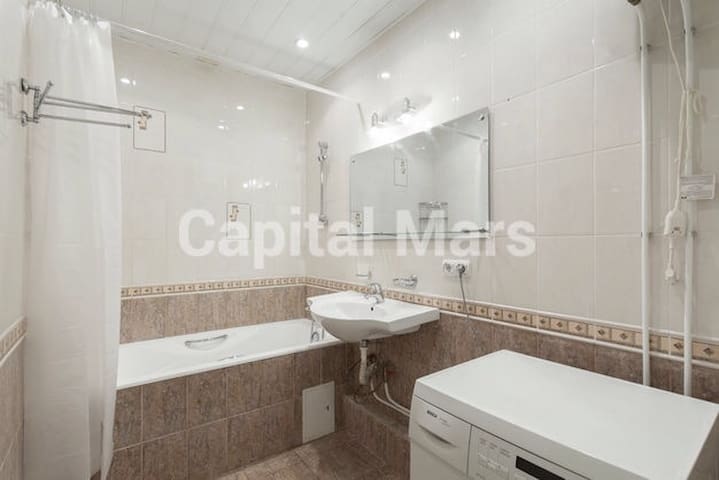 Уже более 15 лет мы работаем в сфере предоставления гостиничных услуг. Наши услуги сертифицированы по Государственному стандарту, что отличает нас от других компаний и является существенным показателем престижности.
Добро пожаловать в уютную двухкомнатную квартиру в историческом центре Москвы. В основной комнате расположена большая двуспальная кровать. Во второй комнате двуспальный диван. В квартире имеется вся необходимая бытовая техника: телевизор,холодильник, стиральная машина, электрический чайник, СВЧ, фен, утюг, гладильная доска.
Квартира находится в шаговой доступности от метро Полянка (8 мин.), Октябрьская (4 мин.), Третьяковская (12 мин.) Рядом Центральный дом художника, Музеон, Парк Горького, кинотеатр Ударник, Третьяковская галерея, Кремлевская набережная Москвы-реки, пешеходный мост к Храму Христа Спасителя, а также торговые и бизнес центры, круглосуточные магазины, кафе и рестораны.
Oda Tipi
Tüm ev/daire
---
Mekan Türü
Daire
---
Konaklayacak Kişi Sayısı
4
---
Yatak odaları
Moskva, Moskova, Rusya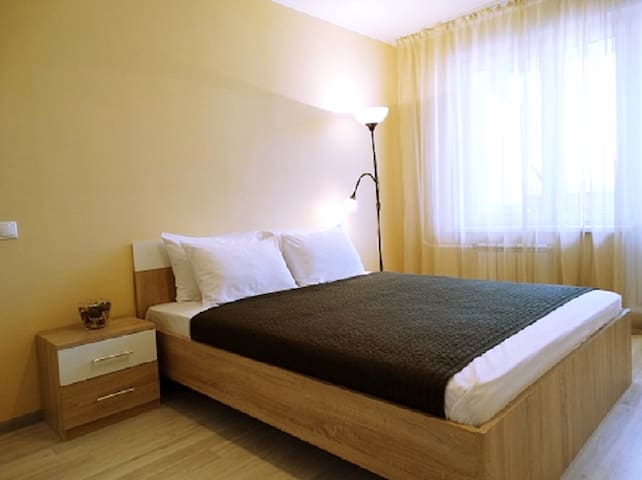 Рядом с моим жильем искусство и культура, парки, центр города и отличные виды.
The apartment is quiet big , I would say huge ))) 4 or 6 pesons will be more then comfortable there . Warm , cozy , nice . Best locations for the tourist !!!!
The most famous historical aria
Гостеприимная хозяйка, хорошая квартира, прекрасный вид !!!
(EMAIL HIDDEN)
2017-01-08T00:00:00Z
Это просто потрясающее место: - домашняя атмосфера - огромные размеры квартиры - хорошие, приятные э искренние хозяева - расположение и вид из окна - Все ухожено - Близость ко всем интересным местам Москвы - Кремль, парк горького, арбат, храм христа спасителя Одна из лучших квартира в Москве, я хочу закхать сюда ещё. И вообще я бы снял её на постоянно
Кирилл
2016-06-24T00:00:00Z
Oda Tipi
Tüm ev/daire
---
Mekan Türü
Daire
---
Konaklayacak Kişi Sayısı
4
---
Yatak odaları
Moskva, Moskova, Rusya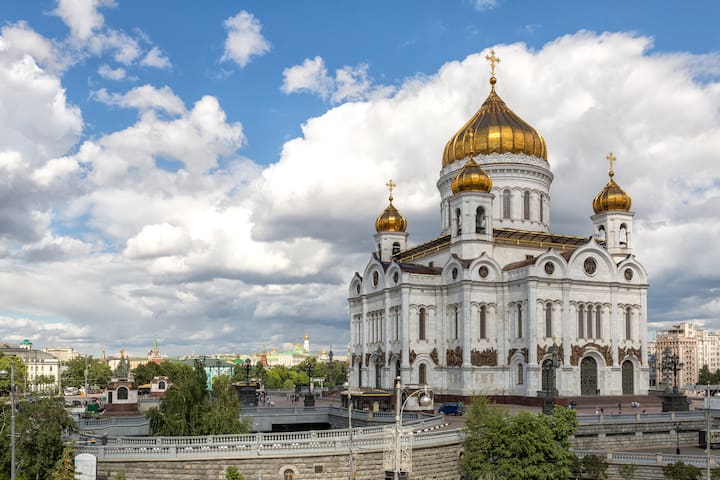 2 bedrooms with comfortable double beds, spacious living room and kitchen. Great location!
Amazing location - Kremlin and Red square are in few minutes by walk! Absolutely breathtaking view from the windows! There are 2 separated bedrooms with comfortable beds, cozy, spacious and bright sitting room with fold-out coach and fully equipped kitchen in the flat.
un grand appartement avec une vue magnifique. très proche du Kremlin, en plein centre ville. communication très facile avec le hôte, nous avons été accueillis et guidés par une personne compétente.
svetlana
2016-11-18T00:00:00Z
The aparment was great, as described
Julio
2017-02-10T00:00:00Z
Все прекрасно, спасибо большое! Квартира — настоящая редкость.
Pavel
2016-12-17T00:00:00Z
Absolut geniale Lage, direkter Blick auf den Kreml. Leider wird in dieser Gegend (aufgrund des Kremls) oft das GPS gestört. Das macht es teilweise spannend ein Taxi zu bekommen. Man kann aber viele tolle Plätze zu Fuß erreichen, es gibt ein reiches Angebot an Restaurants und Cafes.
Till
2016-12-11T00:00:00Z
Très bon emplacement, tout est à proximité
Kestutis
2017-02-14T00:00:00Z
Julia and Tanya'a apartment is amazing. The location is really great and the rooms are spacious!
xiao
2017-02-03T00:00:00Z
Alles fantastisch!!!
Max
2017-03-07T00:00:00Z
Замечательная квартира, расположения в Москве лучше и не придумать! Спасибо большое!
Марина
2017-03-18T00:00:00Z
Oda Tipi
Tüm ev/daire
---
Mekan Türü
Daire
---
Konaklayacak Kişi Sayısı
6
---
Yatak odaları
Moskva, Moskova, Rusya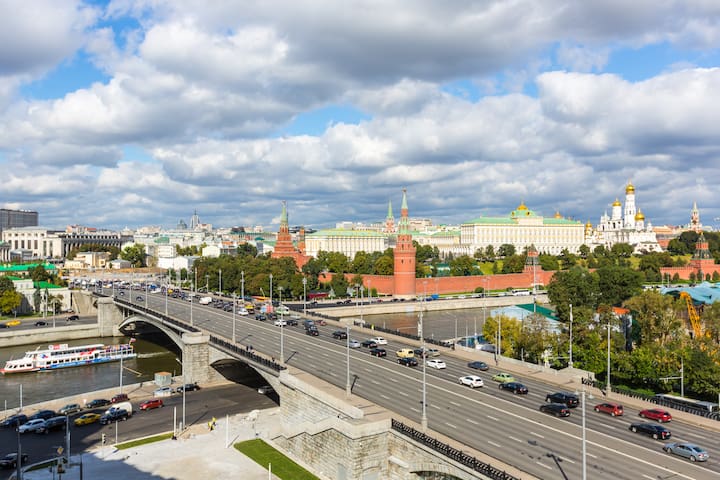 5 minutes by foot to the Kremlin, in the historical house of the embankment at the Moscow River, 5 minutes to the Christ the savior church, 5 minutes to Gorky Park, 2 minutes to the river. 3 Metro stations nearby. Non stop shop next to the house. Рядом с моим жильем искусство и культура, рестораны и кафе, отличные виды,. Мое жилье подходит для этого: соло-путешественники и деловые путешественники.
房间还是很好的 还有个装饰的小壁炉 很可爱 就是门锁是坏的 下次修一下就好了 还有 隔音效果不好 适合单身男女入住 位置很好 邻居也不错 谢谢房东 很整洁的男人
Christ
2016-09-14T00:00:00Z
Всегда хорошо возвращаться!
Мария
2016-12-25T00:00:00Z
Oda Tipi
Özel oda
---
Mekan Türü
Daire
---
Konaklayacak Kişi Sayısı
1
---
Yatak odaları
Moskva, Moskova, Rusya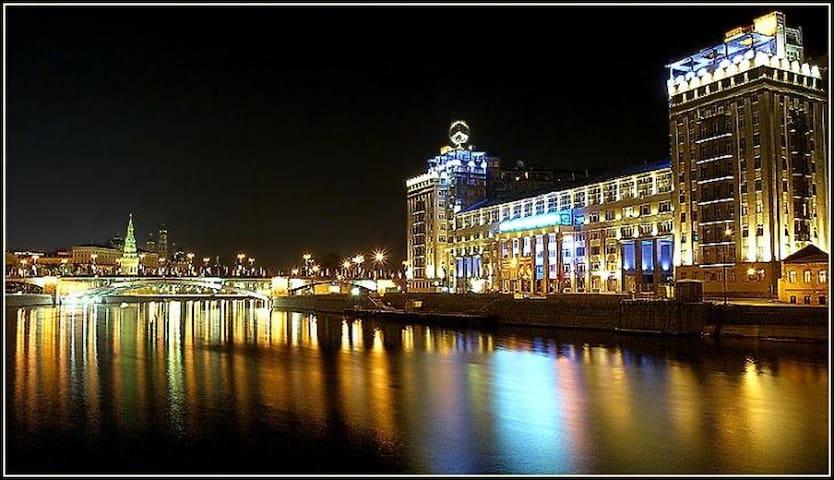 A picture postcard view over the Kremlin from a room in a huge apartment in Moscow' famous House on the embankment.
With six rooms, the apartment is big, bright and has high ceilings. 125sq m in total. It's on the 10th floor of Moscow's House on the Embankment, with a fantastic, picture-postcard view over the Kremlin. International news reports are regularly filmed from our livingroom. The building is famous for it's unique soviet architecture and history. There's a museum downstairs devoted to the building. The apartment is located on the banks of the river, opposite the Kremlin and within 200m of the "Red October", the new epicentre of Moscow's social scene, full of great bars and restaurants. 10minutes walk in three directions takes you to a wide choice of metro stations. For those of you who like to keep fit, there's an old cycle machine in a spare room. For those of you who don't, there's a library of dozens of books about Moscow and Russia which you're welcome to borrow during your stay. I've been coming to Moscow for almost 15 years. It's a fabulous city to visit whether you're here for business or leisure. But if you are on business, make sure you find time to check out the city. As they say in Russia, "A good day's fishing is always better than a bad day's work" Johnny
Moscow's epicentre. 24-hour supermarket in out building. BAR STRELKA - Moscow's best bar/restaurant only 4 minutes walk. Gorky Park and amazing Museon sculpture park only 8 mins walk. The Kremlin and Christ the Saviour Church both 5 mins walk.
Johnny was a very pleasant and considerate host. He made sure I found my way to the apartment and helped me with any questions I had about Moscow (getting around, restaurants, etc.). The view from the apartment is truly extraordinary, yet the price of the space is actually quite reasonable for such a dearly appraised city. Recommended.
Joshua
2012-07-06T00:00:00Z
I stayed 2 nights at Jonny apartment and I liked it very much. The location is perfect, it is a 7 minutes walk to the Armory in the Kremlin and less than 10 minutes walk to metro station. There is a very nice view from the apartment to the Kremlin and the Moscow River. The apartment is very clean and cozy. Johnny is really nice guy and interested person. He gave me a lot of tips where to go and which places to see. I would definitely recommend this apartment and I will come back there by myself.
Pavel
2011-11-01T00:00:00Z
Great location! Really great, in fact. And the whole experience was excellent, smooth transaction, great host -- given that all this takes place in Russia, the whole situation is even more incredible. A good thing!
Alex
2011-10-11T00:00:00Z
We had a wonderful time in Moscow and Johnny was the perfect host. It was so helpful for us as Americans visiting Moscow for the first time to have a host who spoke English and could explain so many things to us. The room was very comfortable and had a fabulous view of the Kremlin and Red Square. Johnny also gave us interesting historical background information on his building as well as transportation and restaurant recommendations. Perfect location in perfect host!!
Anita
2015-04-22T00:00:00Z
Staying at Johnny's place is an awesome experience. He is a very good host, will help you out if you need anything and can tell you a lot about the city and the history of the neighbourhood and of this special building. The apartment is just amazing. Probably without exageration the best view on the Kremlin from the Window in the whole city. I can only recommend to stay at this place if you want to stay at a nice place, very centrally, having a great view and meeting a very polite and nice host.
Eugen
2012-02-13T00:00:00Z
Johnny's apartment is central, but the best feature is the views and the balconies! It was great leaving the balcony door open all night and letting the breeze come in, and it was fab to be able to look out to the Christ the Savior Church while working at the desk in the bedroom, or the Kremlin from the living room! Having a lot of space and washing machine were great as well!
Deirdre
2012-05-03T00:00:00Z
Charismatic apartment on a splendid location with a stunning view on the kremlin and Moscow skyline. Johnny is a great guy and makes for a highly interesting flatmate.
Bram
2013-07-07T00:00:00Z
Ideal location. Great host. Top floor of a famous building overlooking the Kremlin and the river. 75 metres from Red October restaurants and nightclubs. Short walk to Gorky Park. Johnny is a gracious, fun, and easy-going host. The place is clean, too.
Thomas
2012-06-17T00:00:00Z
Oda Tipi
Özel oda
---
Mekan Türü
Daire
---
Konaklayacak Kişi Sayısı
1
---
Yatak odaları
Moskova, Moskova, Rusya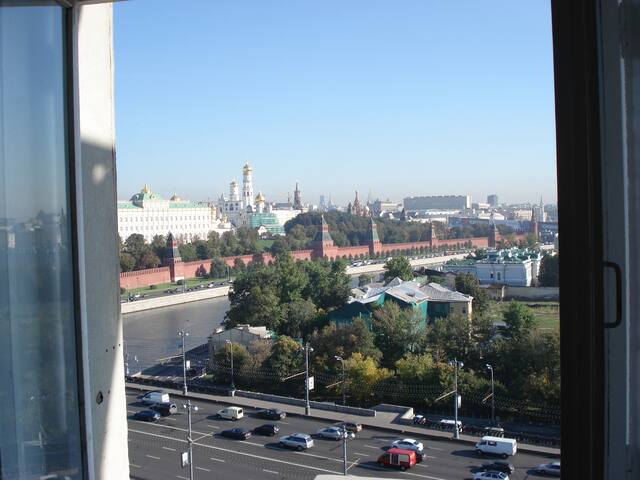 A place in the heart of Moscow, next to all the main sights and fancy areas. Lots of restaurants nearby. All reachable by foot.
A fully functioning kitchen. A bathtub and a shower. The 3,5 meter height ceiling will give you a great feeling. A window in the bathroom is something I always wanted. There's a museum dedicated to the building next door. It was completed in 1931 as the Government Building, a residence for the Soviet elite.
You literally see Kremlin when you come out of the main door. 10 minutes to the walls of Kremlin through the Bolshoy Kamenny Bridge and a little longer to Red Square through the picturesque Alexander Garden! Within a walking distance are the Cathedral of Christ the Savior, Pushkin Museum, the Red October - the new fancy area with lots of bars, restaurants and nightclubs, Gorky Park is just 20 min walk along the river with great city views and new Krimskaya Embankment walking spot (see pics) with street art gallery where you may buy a piece of art or get a coffee or mulled wine. A 24/7 supermarket 50 meters away! Lots of restaurants around (see guidebook!)
Great place. Brilliant location. Right near Red Square, Kremlin etc and also Gorky Park which is a must! We loved our stay.
Jenna
2016-05-03T00:00:00Z
As always, I had a great time at Alex' place. I have been renting this place many times over the last few months and everything always worked out super nicely and I enjoyed it very much.
Eugen
2014-02-02T00:00:00Z
Highly recommend staying here - the location couldn't be better as you are right in the middle of all the sights to explore. The place has everything you need in the kitchen and has a large bathroom. Alex is very helpful always responding to messages straight away and giving helpful info. Would love to stay again!
Cassie
2016-05-11T00:00:00Z
I stayed here for a couple of days and I want to say great things about the apartment and Alex as a host. The apartment itself is so well positioned in the center of Moscow. The apartment is well equipped and a perfect shelter after a day visiting. There's a little supermarket a few doors down too) Alex was really helpful, he gave me any kind of tip about transportation from airport and about my comfortable staying in Moscow. At any problems he always responded within few minutes and even bought a bunch of flowers to be founded inside the flat upon my arrival!! Can you believe it?! So kind!! No way, the best accommodation ever founded in Moscow after many times here!
Pierfilippo
2015-05-29T00:00:00Z
Громадное спасибо за гостеприимство и сервис. Нам всё очень понравилось, смело рекомендуем для длительного проживания!
Equilibrium
2017-02-26T00:00:00Z
Apartment was very nice, I can recommend this to anyone.
Jani
2014-04-03T00:00:00Z
Increíble departamento, muy recomendable. Edificio emblemático, muy bien ubicado, luce tal como las fotos y Alex es muy atento y preocupado. Volvería de todas maneras.
David
2016-06-28T00:00:00Z
Alex was a great host and we so enjoyed his apartment. The location was wonderful. It was our first time to Moscow so being close to the Kremlin was perfect. Alex was very nice and helpful!
Meghan
2013-06-26T00:00:00Z
Oda Tipi
Tüm ev/daire
---
Mekan Türü
Daire
---
Konaklayacak Kişi Sayısı
4
---
Yatak odaları
Moskva, Moskova, Rusya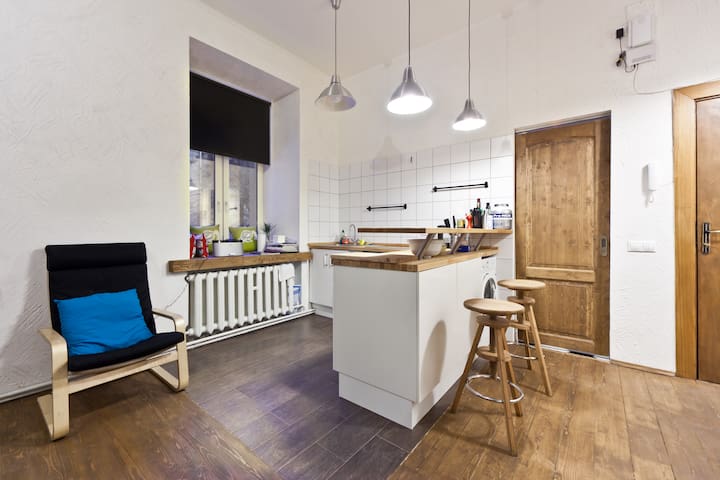 Dear guests, at the moment I can offer you my 4-room's apartment with the Kemlin view in the most central and prestige area in Moscow called Golden island, which is really an island, in few min walking to Red Square. Most of tourist attractions are situated in this area as: Kremlin, St.Basil's Church, Tretyakov's gallery, Cathedral of Christ Saviour, Pushkin Museum, Historical museum, Old Arbat and Tverskaya streets and much more. You will enjoy beautiful Moscow without loosing time on transport
If you want to stay in the Heart of Moscow you made a right choice. It's the best central location in the city for foreign guests who want to visit a lot of historical places without loosing their time on transport. The supermarket is close by and lot's of places to go out, cafe's, clubs .
The location is indeed calls Heart of Moscow, it's very central, Red Square , Tretyakov's gallery, Pushkin Museum, Bolshoy Theatre, Lubyanka square, GUM and etc. are in a walking distance from the apartment. Old and New Arbat str., Tverskaya and Nikolskaya streets are very close.
Todo fue excelente, Anastasia es súper buena anfitriona. Siempre estuvo muy atenta, la recomiendo al 100% Departamento súper bien, amueblado, con todo lo que uno ocupa para viajar. 100% recommended
Christian
2016-06-20T00:00:00Z
房子的位置特别好,距离红场不远,走路10多分钟就到了,房主很热情,介绍了很多关于俄罗斯的景点。
成明
2016-10-04T00:00:00Z
We enjoyed our stay a lot. Anastasia is a wonderful host. She allowed for an early check-in. Apartment is centrally located and is a walking distance from Metro. Very close to most frequented tourist attractions like Kremlin, St Basils Cathedral, Red square, Church of Christ the the Redeemer.
Harish
2016-06-14T00:00:00Z
非常非常满意!房东在家等我到半夜,交钥匙给我们,为我们详细介绍莫斯科的景点。送了我们小礼物,非常耐心的帮助我们,有任何问题都给她留言,及时回复,给我们很好的建议。离开时给我们联系了车到机场,很满意!这个公寓处在中心位置,红场克里姆林宫很近,我们几乎都是步行!离地铁站叶不远。强烈推荐!
Juan
2016-08-19T00:00:00Z
Le logement était vraiment très bien placé, et exactement comme dans la description. Nous avons passé un super séjour. Merci à Anastasia qui est vraiment très accueillante.
Bruno
2016-08-07T00:00:00Z
Thank you Anastasia for a wonderful stay and your warm welcome. The apartment was very comfortable and ideally located for our first visit to Moscow.
Gill
2016-07-29T00:00:00Z
Анастасия прекрасная хозяйка! Нам все очень понравилось. Квартира просторная, близко к красной площади, ст.метро в шаговой доступности. Все чисто, аккуратно, с легкостью разметилось 6 человек. За отдельную плату мы договорились о раннем заезде.
Земфира
2016-06-06T00:00:00Z
Nice place
Aza
2016-09-01T00:00:00Z
Oda Tipi
Tüm ev/daire
---
Mekan Türü
Daire
---
Konaklayacak Kişi Sayısı
6
---
Yatak odaları
Moskva, Moskova, Rusya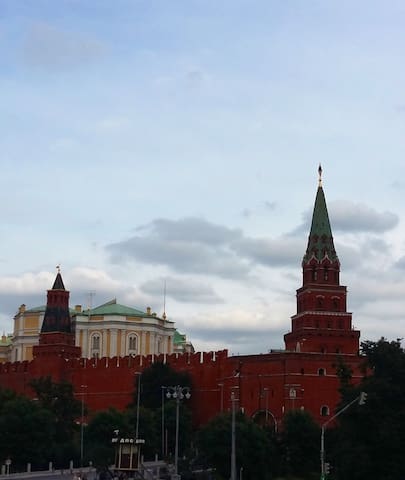 Прекрасная 3-х комнатная квартира в престижном районе Москвы, напротив Кремля и Храма Христа Спасителя (дом на Набережной). Шикарный вид из окон!
Квартира- Студия (ПРИХОЖАЯ-Корпусная мебель-СТОЛОВАЯ) и две изолированные комнаты - спальни, оборудованная кухня, открытый балкон, большая ванная комната с окном (джакузи, душкабина, бойлер). В квартире выполнен дизайнерский ремонт, полностью меблирована и укомплектована: спутниковое ТВ, высокоскоростной Интернет, кондиционеры, современная бытовая техника.
Квартира в престижном районе Москвы, напротив Кремля и Храма Христа Спасителя (дом на Набережной). Шикарный вид из окон!
Oda Tipi
Tüm ev/daire
---
Mekan Türü
Daire
---
Konaklayacak Kişi Sayısı
6
---
Yatak odaları
Москва, Московская, Rusya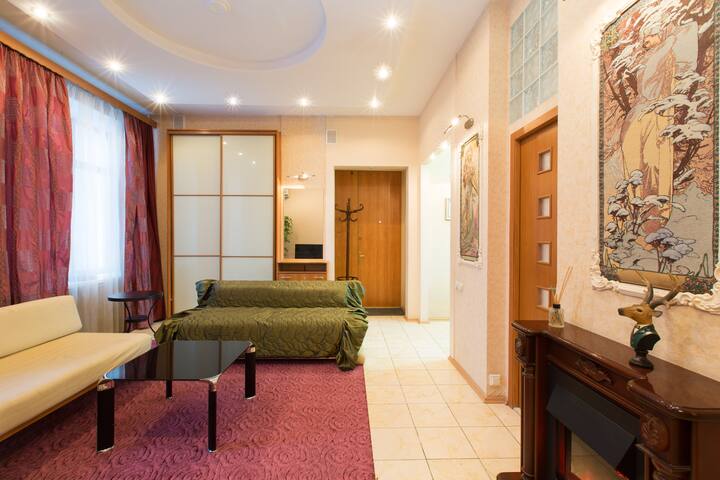 Cozy & comfortable apartment in the pure center of Moscow, walking distance from Kremlin & Red Square, Tretyakov state gallery and one of the best parks of Moscow, Park Gorkogo. It's a quite place in the mids of hectic moscow night life. 5 minutes from metro station Oktyabrskaya and 7 minutes from metro Polianka.
In the apt there are full stocked kitchen, balcony, TV and WiFi, of course.
This is pure centre of Moscow! To get to Kremlin and Red Square, Tretiakovskaya gallery, Gorky park and many other places of interest you don´t need public transport no taxi - everything is in a walking distance. In the neighbourhood there are lots of supermarkets, restaurants, cafes and pubs... and a big fitness centre just behind the house. And there are alsow lots of organizations nearby: bancs, business centers, minystries and ambassies of foreign countries.
нормально все было.
Владимир
2017-04-01T00:00:00Z
Уютная просторная квартира, высокие потолки, новая мебель и техника, свежий ремонт. Расположена в центре, в пяти минутах ходьбы от главных корпусов Третьяковской Галереи.
Oxana
2017-03-27T00:00:00Z
Замечательная уютная квартира в пяти минутах от метро, рядом с посольством Франции. Квартира хорошо оставлена, чистая, уютная. Интернет отлично работает. Дом тоже уютный. Рядом - детская площадка и спортивная коробка. Отличное место для проживания!
Tatyana
2017-04-03T00:00:00Z
Oda Tipi
Tüm ev/daire
---
Mekan Türü
Daire
---
Konaklayacak Kişi Sayısı
4
---
Yatak odaları
Москва, Rusya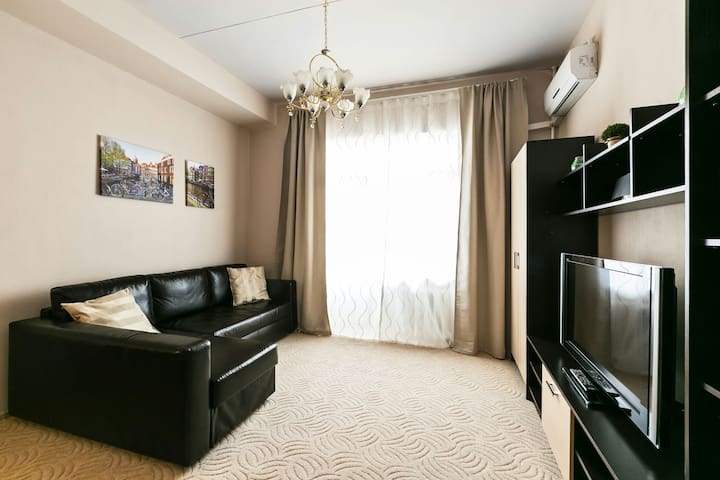 Unmatched location right in Moscow's downtown.Small room with double bed, full-equipped kitchen, brand-new shower, unique views, washing machine, weekly cleaning service, Apartment and building full of history just 10 min walk from the metro.
The House on the Embankment is a block-wide apartment house in downtown Moscow, Russia. It faces Bersenevskaya Embankment on one side and Serafimovicha Street on the other side. It was completed in 1931 as the Government Building, a residence for the Soviet elite. It was designed by Boris Iofan. Prior to construction, the site, in the Bersenevka neighborhood of the island opposite the Moscow Kremlin, was occupied by the Wine and Salt Court, an old distillery and excise warehouse. The building currently has 505 apartments (some used as offices), a theater, a movie theater, restaurants, and retail stores.
Oda Tipi
Özel oda
---
Mekan Türü
Daire
---
Konaklayacak Kişi Sayısı
1
---
Yatak odaları
Moskva, Moskova, Rusya

Beautifully furnished apartment in the historical center of Moscow, Zamoscworechye. Surrounded by churches, historic sites, galleries, restaurants and cafés. The apartment has everything you need for a short stay and for a long stay. Welcome
Smooth, fast and easy handover. Very clean and cosy apartement. Great location. Nice view on the city center and a side arm of main river. Svetlana stayed in contact all the time and provided assistance. Can 100% recommend Sveta as a host!
Jan
2016-02-08T00:00:00Z
Great location and nice apartment
Gaspare
2016-01-05T00:00:00Z
The host canceled this reservation 4 days before arrival. This is an automated posting.
Anton
2016-03-20T00:00:00Z
Svetlana have been very welcoming, especially letting something to eat the time to organize. The flat is charming and location great.
philippe
2016-07-02T00:00:00Z
Très bel appartement de 3 pièces spacieuses (salon / dressing / chambre à coucher) + cuisine et salle de bain. L'appartement est de qualité supérieure à tous les niveaux (literie, oreillers, équipements electriques, mobilier, etc). Il est calme, lumineux et très bien chauffé en hiver. Svetlana est réactive et attentionnée, étant arrivé tard dans l'après-midi, elle m'a laissé de quoi prendre le petit déjeuner du lendemain. Elle m'a donné toutes les explications nécessaires et s'est assurée que je ne manque de rien pendant mon séjour.
Jeremy
2016-03-01T00:00:00Z
Oda Tipi
Tüm ev/daire
---
Mekan Türü
Daire
---
Konaklayacak Kişi Sayısı
2
---
Yatak odaları
Moskva, Moskova, Rusya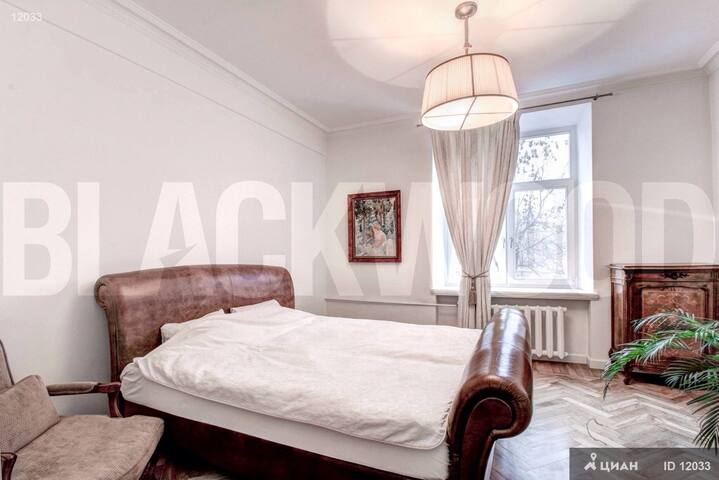 2 светлые и просторные комнаты в легендарном Доме на набережной, Кремль и остальные достопримечательности в шаговой доступности. Остановка в этой квартире – необходимый шаг для всех, кто интересуется историей и культурой Москвы. Роскошная ванная комната, уютная кухня и балкон, с которого открывается прекрасный вид на город, 2 спальни и огромная гостиная сделают ваш отдых незабываемым. 15 минут до Храма Христа Спасителя, 10 минут до Дома Пашкова и ГМИИ им. Пушкина, 10 мин до Кремля
Oda Tipi
Özel oda
---
Mekan Türü
Daire
---
Konaklayacak Kişi Sayısı
3
---
Yatak odaları
Москва, г. Москва, Rusya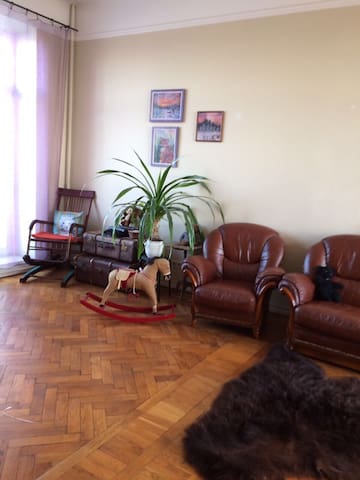 Best deal in this location! Private 50 sq m apartment on Serafimovicha str. in the heart of the city in a few steps from Red Square, Pushkin Museum, Kremlin. There are 6 metro lines in a walking distance.
First owner -
Oda Tipi
Tüm ev/daire
---
Mekan Türü
Daire
---
Konaklayacak Kişi Sayısı
3
---
Yatak odaları
Moskva, Moskova, Rusya