Un grand merci à la maman de Laurence pour son accueil à notre arrivée. Nous avons eu plaisir à discuter avec elle au cours de notre séjour. Un grand merci aussi à Laurence que nous avons rencontré quelques jours plus tard. Ce fut un plaisir. De très gentilles personnes :) Que dire de la maison qui est juste ....... PARFAITE ! La déco épurée, tout ce que j'aime. A la fois pratique car super bien équipée (idéal en famille) et aussi très cosy avec son ambiance feutré (idéal pour des week-end en amoureux lol). Nous nous sommes de suite sentis comme chez nous prenant complètement possession des lieux dès notre arrivée. Le jardin et la vue un énorme plus. J'ai pris plaisir à faire des petites lectures matinales dans le parc sur ce très vieux banc qui m'a charmée :) Petit pincement au cœur en quittant la maison. Bref une semaine parfaite avec une région que nous ne connaissions pas et qui vaut le détour. Et le tout avec un temps merveilleux. Encore merci Laurence :) Laurent, Yaël, Kaylee et Anaïs.
Yael
2016-08-14T00:00:00Z
Le logement est exactement comme sur les photos, à savoir très confortable, bien décoré et moderne. Nous avons passé un réveillon génial et la localisation est tout à fait correcte pour pouvoir visiter les sites touristiques. Merci beaucoup pour votre accueil chaleureux et votre disponibilité ! Je recommande vivement cet maisonnette :)
Mathilde
2016-01-05T00:00:00Z
Prachtig, smaakvol ingericht huis, voorzien van vrijwel alle denkbare gemakken. Het huis is net buiten La Boussac gelegen. Overdekt terras met uitzicht op grasveld met bomen. Bakker/kruidenierswinkeltje op ca. 1 km, supermarché op ca. 7 km afstand. Enthousiaste ontvangst door de gastvrouw met een welkomstpakketje. Zij voorzag ons ook van de nodige informatie over uitstapjes in de omgeving ( aanraders: Le Mont St. Michel en de plaats Dinan).
Kees
2016-08-28T00:00:00Z
Accueil chaleureux dans une maisonnette tout confort et très bien décorée , idéalement située par sa proximité avec tous les lieux touristiques d'Ille et vilaine ( Dinan, Dinar, saint Malo , Fougères , l'incontournable mont saint Michel ......... etc ) , bref tous les ingrédients pour passer une excellente semaine , un grand merci à Laurence ( alias Lol ....... pour les curieux )
patrick
2015-08-02T00:00:00Z
Superbe logement, parfaitement conforme aux descriptions et aux photos. Propreté impeccable, lieu très agréable ! Nos Hôtes ont été vraiment accueillants et très sympathiques. Bref nous avons passé un moment génial dans ce bel endroit.
Vincent
2016-05-17T00:00:00Z
Oda Tipi
Tüm ev/daire
---
Mekan Türü
Ev
---
Konaklayacak Kişi Sayısı
4
---
Yatak odaları
La Boussac, Brittany, Fransa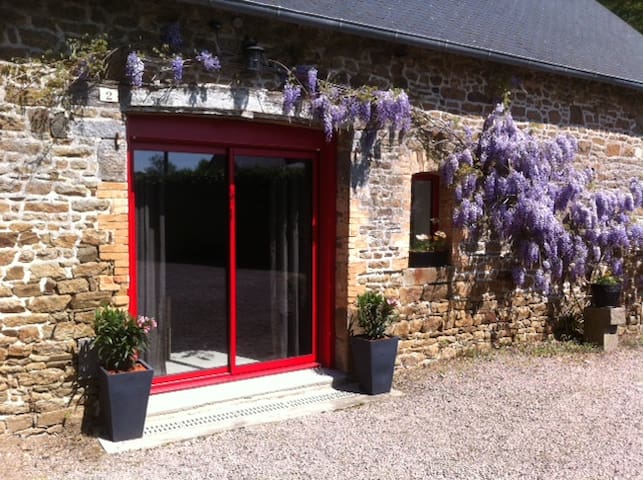 Gite 6 people between Mont St Michel and St Malo 6km from the bay of Mont St Michel, in a bucolic and quiet cottage 6 people with 3 bedrooms each with its bathroom, south garden and swimming pool at the cottage cottages
This property is well located between the Mont St Michel and St Malo As of Dinan, magnificent walled city with its port on the Rance.
the area is a place called the campaign with the most porch house, which is about 200m is a former farm. private garden facing south with tables, chairs, barbecue and rtansats
The reservation was canceled 12 days before arrival. This is an automated posting.
Dominique
2014-06-30T00:00:00Z
Superbe, accueil par Patrick super sympathique, le gite est fidèle au descriptif. Patrick est passionné par sa région et nous indique les bons tuyaux pour passer un excellent séjour. Pour les plateaux de fruits de mer, il connait les bonnes adresses. Nous reviendrons, merci encore.
Jean-François
2015-05-19T00:00:00Z
Catherine et Philippe sont très accueillants. Le gîte est conforme au descriptif et la localisation idéale pour visiter la baie du Mont Saint Michel à Saint Malo.
Xavier
2015-08-30T00:00:00Z
bonjour nous avons été bien accueilli par Catherine et Philippe qui sont très gentils. ils nous ont préparé un gâteau maison délicieux. le gite était conforme à la description; les conseils avisés de Philippe sur le mont Saint Michel nous ont été précieux
Stephanie
2015-07-19T00:00:00Z
Très bonne semaine passée dans le gîte, idéal pour nos enfants : grand jardin, piscine, salle de jeux, sans oublier les ânes, même sans bouger de la maison, ils avaient de quoi s'occuper ! Catherine et Philippe nous ont très bien accueilli. Notre GPS ne trouvant pas l'adresse, Philippe a eu la gentillesse de venir nous chercher. Ce sont des personnes chaleureuses, qui savent aussi se montrer discrètes pour que l'on se sente comme chez soi. Gîte dans la campagne, mais idéalement situé pour aller au si bien du côté de St Malo, que le Mont Saint Michel.
laetitia
2016-07-30T00:00:00Z
Oda Tipi
Tüm ev/daire
---
Mekan Türü
Ev
---
Konaklayacak Kişi Sayısı
6
---
Yatak odaları
La Boussac, Brittany, Fransa
belle chambre avec vrai lit, dressing et plancher en bois refaite a neuf, avec une salle de bain à votre disposition , dans un cadre sympa , calme avec la possibilité de faire de belles randonnées sur place et aux alentours (petit déjeuner compris). La chambre se situe dans notre maison d'habitation. Nous avons un petit chien (croisé fox et beaggle) ainsi qu'un petit garçon de 2 ans. Nous vous accueillerons avec grand plaisir!!
La maison est en pleine campagne mais il y a tout le nécessaire a proximité, nous sommes a 7 min de Dol de Bretagne (ou il y a: Boulangeries, piscine, cinema, théatre, bowling, supermarché, restaurants, le glacier sanchez réputé par chez nous! ect...). A coté de la maison il y a le chateau de landal a voir ainsi que le parc de la higourdais, très sympa pour se ballader. Et aux alentours il faut absolument aller voir: Dinan, Saint Malo, Dinard,Cancale, Le Mont Saint Michel..
Nadège et Bastien sont des hôtes très accueillants, qui savent nous mettre à l'aise. Ils nous donnent des conseils sur de beaux lieux à visiter ainsi que de bons petits restaurants. Leur maison chaleureuse est située au calme, de quoi bien profiter de son séjour. Les petits déjeuner étaient au top. La chambre et la salle de bain sont très confortables et spacieuses. Ce fut un très bon séjour. Bon courage pour le reste de votre projet.
Amélie
2016-09-05T00:00:00Z
séjour bien agréable. c'est un logement à recommander. merci.
Evelyn
2016-09-22T00:00:00Z
Belle maison, calme et paisible. Idéalement située au milieu de sites touristiques. L'accueil chaleureux, les crêpes et cookies de Nadège vont nous manquer!
gwennaëlle
2017-02-16T00:00:00Z
Nous sommes restés 2 nuits chez Nadège et son conjoint. Cela était une première expérience de ce type d hébergement et nous avons été enchanté par l accueil et la simplicité de nos hôtes. Il ne manquait rien et avons apprécié les conseils de Bastien. Une très bonne adresse bien placée et d une tranquillité bénéfique. ..
patrick
2016-07-17T00:00:00Z
We had a lovely stay with Nadège, Bastian and their little boy. They have a great and well restored old house in an excellent location very close to Mt Saint Michel, St Marlo, Dinan and other locations. The floors are a little creaky, but it all adds to the charm. They have an adorable dog, Luna, who led us to the chateau near their house. We had tasty crepes for breakfast and got to try some of their home-made cider and liqueurs! Nadège also met us nearby to show us the way to their house. Language was tricky at times, but we communicated just fine. We felt very welcome. Would recommend for a great stay in the region, Thanks!
Jeff
2016-06-27T00:00:00Z
Chambre d 'hôte dans une maison bretonne très typique, située dans un environnement idéal pour les amoureux de la nature et du calme. L' accueil est chaleureux. Les hôtes sont à la fois discrets et disponibles. Nous avons apprécié la grande liberté, l'accès aux parties communes et donc la confiance accordée par les hôtes. Merci à eux pour leurs conseils touristiques et gastronomiques ainsi que pour la dégustation de la liqueur familiale ... C'est sans hésiter que nous reviendrons dans cette chambre d'hôtes !
Christophe
2016-02-17T00:00:00Z
Il est important de signaler que la chambre se trouve à coté de la chambre d'un enfant de 15 mois. Pour ma part je regrette de ne pas avoir été prévenu...
Nathalie
2016-07-31T00:00:00Z
Nous avons passé un excellent weekend, je recommande le logement car il est très bien situé, les hôtes sont super gentil.
Abla
2016-11-12T00:00:00Z
Oda Tipi
Özel oda
---
Mekan Türü
Ev
---
Konaklayacak Kişi Sayısı
2
---
Yatak odaları
Epiniac, Bretagne, Fransa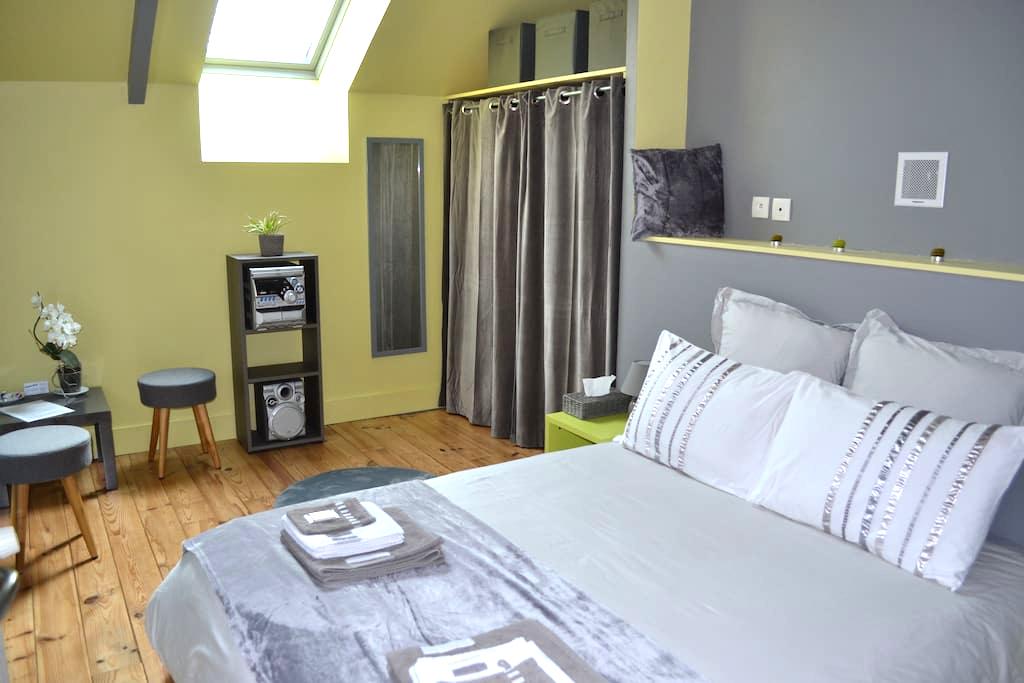 Nice quiet room in Pontorson city center, in a typical Breton creperie, 160 bed, bath tub, terrace facing south all independent private veranda.
In the center of the main street, the last town before the Mont St Michel reached on foot footpath 100m from the pancake, 9kms of Mt. The station is located 100m and departure shuttles to the Mont St Michel from the station, free parking right in front
In the center of the main street, the last town before the Mont St Michel reached on foot footpath 100m from the pancake, 9kms of Mt.
Quand nous sommes arrivées, nous avons eu un malentendu par rapport aux dates. Techniquement, Mathias ne nous attendait plus. Malgré tout, il nous a accueilli chaleureusement, et ce fût une de mes meilleures expériences Airbnb. On a adoré la propreté de l'endroit qui nous a permis de nous détendre et même de prendre un bain chaud après un long périple en train. L'endroit est tout près de la gare, sur la rue principale où on trouve tout ce dont on a besoin. Le Mont St-Michel est à 12 minutes en bus de la Gare, l'appartement est à 6 minutes à pied de la Gare. Le petit balcon était charmant, le lit confortable et la chambre joliment décoré. Mathias habite la porte à côté, ce fût facile de se référer à lui en cas de besoin, et sinon il travaille en bas. Je recommande vraiment.
Andréanne
2015-11-07T00:00:00Z
Mathias has a very lovely room he rents out that is literally inside a creperie. As in, you walk into the restaurant and the room is upstairs. (So needless to say it smells delicious.) The room and bed were very spacious and comfortable, and there is a beautiful, enclosed porch attached to the room that is great to lounge in if you have some extra time at the end of the day. It was quite easy to contact Mathias, either through the AirBnB app or via texting. He was very accommodating and friendly, and on top of that his crepes are delicious. If you stay here, I would recommend eating at his restaurant as well before heading to bed. All in all, it was a fantastic place to stay in a beautiful town, and it is incredibly close to Mont St Michel as well. I recommend it whole-heartedly!
Steven
2015-07-30T00:00:00Z
La chambre proposée était très agréable. Mathias sait se rendre disponible, on a pu partager un bon moment ensemble et il nous a donné de très bons conseils. Profitez de l'occasion pour dîner à sa crêperie, c'était très bon.
Gautier
2016-01-17T00:00:00Z
Mathias MERCI! Nous avons été vraiment ravies de ce séjour. Ta convivialité a le don de nous mettre tout de suite à notre aise et d'installer comme un air de vacances. Tes conseils ont toujours été de bon augure. La chambre ainsi que sa véranda sont très agréables et nous permettent d'avoir un espace bien distinct de la crêperie et de ton appartement. N'oubliez pas justement de goûter à ses crêpes. Les produits sont frais. Nous n'avons pas du tout été déçues!!! Enfin, l'emplacement en plein centre ville de Pontorson est idéal. Commerces et bus pour le Mont Saint Michel sont à proximité immédiate.
Marie
2016-07-11T00:00:00Z
Ottimo alloggio con crêperia al piano terra, in posizione ottimale per la stazione ferroviaria di Pontorson, da cui parte la navetta per Mont St Michel. Mathias è stato gentilissimo e le sue crêpes sono ottime! Veramente un piacevole soggiorno, consigliato!
Nora
2016-10-27T00:00:00Z
La chambre est très agréable avec sa terrasse. La crêperie est très sympa et nous avons passé un bon dîner. Je recommande ce logement!!
laura
2016-06-21T00:00:00Z
The host canceled this reservation 26 days before arrival. This is an automated posting.
Nina
2016-08-31T00:00:00Z
Mathias is offering a lovely room with a nice big terrace above his creperie in Pontorson very close to Mont St. Michel. The room was really nice and also we got some coffee for breakfast in the creperie. For dinner with tried different crepes in the restaurant and all of them were lovely and really big portions as well. Very good and very well made. Thank you!
クラウス
2016-06-11T00:00:00Z
Oda Tipi
Özel oda
---
Mekan Türü
Ev
---
Konaklayacak Kişi Sayısı
2
---
Yatak odaları
Pontorson, Basse-Normandie, Fransa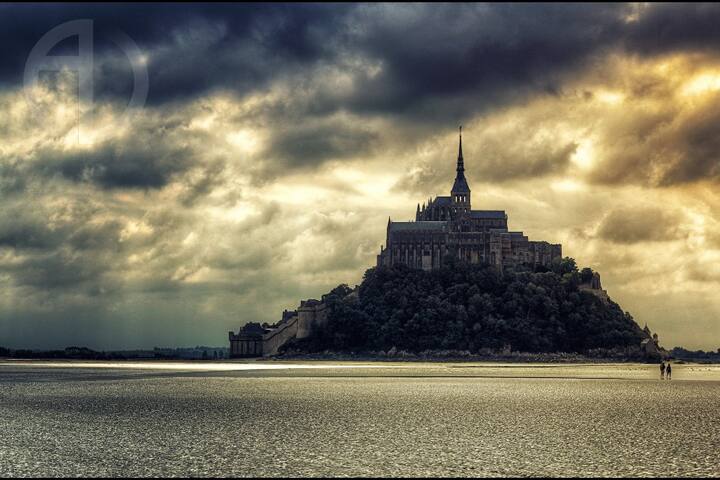 We offer a large bedroom with a bed 160 cm with private shower, private entrance. The terracotta floor and walls plastered with old make a "rustic" space but the equipment is modern Accessible to wheelchairs. We limit detergents in order to preserve water, which is why we do not provide linens.
The place is designed so that travelers feel independent. Facilities: fridge and microwave oven waves. We love sharing simplicity and values are mindful of our ecological footprint, the toilet water is, most of the time, rain water. Shower and taps are equipped with pressure reducers. A you to balance pleasure and respect of resources. You can also enjoy the sun with access to the terrace which offers table and chairs.
That's the countryside! But it is not alone: some houses are a small hamlet.
Logement tout à fait conforme à la description, situé à la campagne dans un havre de paix. Très bon rapport qualité-prix et accueil très sympathique de Cécile. Tout est conçu pour vous faire passer un séjour confortable et agréable...
Nathalie
2016-09-30T00:00:00Z
Tres bonne experience que cette petite nuit passee chez Cecile... un havre de paix qui permet de bien se reposer ! Accueil tres sympa ! Merci
geraldine
2016-11-26T00:00:00Z
Nous avons passé 3 jours très chouettes; super accueil., super endroit , très calme. Merci beaucoup pour tout ! Cecile et Laura
janine cecile
2016-08-25T00:00:00Z
Charmant endroit et accueil agréable, grande disponibilité... Merci !
Ludovic
2016-08-25T00:00:00Z
Très bon séjour chez Cécile. Logement conforme à l'annonce.
Margaux
2016-08-22T00:00:00Z
Studio très confortable, calme, propre, joliment décoré, situé dans un hameau très pittoresque et charmant. L'accueil de Cécile a été sympathique et elle a nous a donné de bons conseils pour découvrir les attraits de la région (Mont St-Michel, St-Malo, Dinan).
Pierre
2016-08-02T00:00:00Z
Studio super ! Quartier calme et agréable ! Et hôte sympathiques ! Nous avons été très bien accueillis!
Maïlys
2016-10-05T00:00:00Z
Séjour très agréable chez Cécile et Philippe qui sont très accueillants. Ils ont su nous donner de bons conseils pour nos balades et nous ont prêté des cartes de rando-vélo. Le logement est confortable et au calme. Même s'il est nécessaire de se déplacer en voiture pour visiter les lieux touristiques, son emplacement central est plus qu'appréciable. Nous vous conseillons de suivre Philippe pour une balade contée et en musique aux alentours du Mont Saint Michel, un régal!
Sarah
2016-07-27T00:00:00Z
Oda Tipi
Özel oda
---
Mekan Türü
Ev
---
Konaklayacak Kişi Sayısı
2
---
Yatak odaları
Baguer-Morvan, Bretagne, Fransa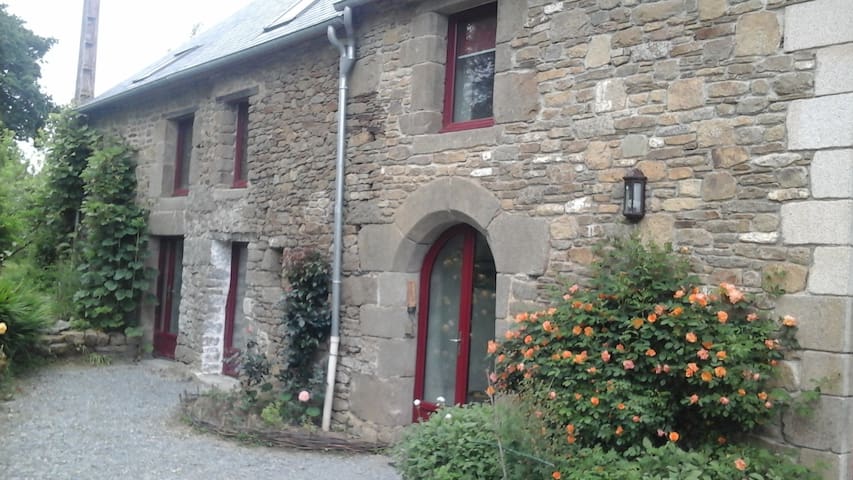 My house is located in a rural village near the sea. Roz on Couesnon nicknamed "the balcony of the Bay" is located at the gates of Brittany, near Normandy. Near the tourist road to the Mont Saint Michel Cancale and Saint Malo.
In a country village, close to the sea, my house is in a small village ROZ SUR COUESNON. It is located at the gates of Brittany, near Normandy, place nicknamed "the balcony of the bay." We are on the tourist route between Mont Saint Michel and Saint Malo, near the picturesque towns of Dinan, Dinard, Cancale, Avranches. Around a hearty breakfast, we are pleased to inform you about the sights, activities to discover in our region. This breakfast at your convenience, offers good bread, croissants, homemade jams, coffee, tea, hot chocolate, crepes, salted butter caramel, seasonal fruit, fresh squeezed orange juice or organic fruit juice, soft butter or salted butter. (I use products from organic farming ... milk, flour, eggs, cream ....) In a village house in stones of granite, built in 1893 and renovated two rooms of 12 m2 are contemporary in style. They each have a new bedding of high quality 1.60 x 2 m, bedside tables, table and chairs, dresser for clothes, large mirror, clothes. The house is located at a place called THE Poultière, locality composed of old granite houses (mostly aged over 100 years) often from old farmhouses. We are located just 3 km from the sea, in the polders. Many typical pancake and restaurants are nearby. The pancakes are the specialties of the region and the salted butter caramel. Many shops are located in the picturesque towns near Dol de Bretagne, Avranches, Saint Malo, Cancale, Dinan, Dinard. Places to visit: Mont Saint Michel registered in the "World Heritage" by UNESCO in 1979. This tourist mecca today receives more than three million visitors a year. Saint Malo, a former pirate town of Surcouf, was once an island. Dol de Bretagne is a former Episcopal city, Dinan is a commercial city of medieval times, Dinard is a spa town. If you want to prepare a picnic, my kitchen is gracefully at your disposal. The capacity of the room 'Nature' is two people, a crib can be installed. For children under three years no supplement. My house has a capacity of 5 adults (one double room, a room for a couple and an adult or three children)
- I love the country side with old houses that have charm. - I like the nearby polders allowing walks on foot or bicycle. - I like the proximity to great beaches that allows beginners to yachting - in Cherrueix. I love the bay that can cross day and night, with a guide who makes you discover this natural area, its fauna, flora, quicksand, the power of the tidal bore. I like the proximity of the oyster growers that make you discover their work Vivier Sur Mer. Finally I like the mild climate of the region, neither too cold nor too hot. In your luggage it is useful to bring a pair of walking shoes, a backpack and a windbreaker.
Our stay with Annick was absolutely wonderful! Her home is so lovely and welcoming, as was Annick herself. She greeted us at her house (in a lovely rural area of France), showed us to our cozy room with everything we needed for a nice stay, and then lead us in her own car through the windy back streets to the Mont St. Michel parking lots (cutting our driving time in half so that we got there in under 10 minutes!). The next morning before our departure she made us an incredible and authentic French breakfast (with the most delicious crepes and caramel sauce!) and we had a lovely chat over tea and coffee. Such a wonderful stay! We highly recommend both Annick as a host (and wonderful person) and her lovely home!
Micole
2016-06-06T00:00:00Z
Annick's home is charming. We loved the village our room and her hospitality. She served us a wonderful "Brittany" breakfast with Galettes and jams from her on garden. The room was very comfortable and she had nice touches like water and tea for the room. She was so kind to guide is directly to Mont St Michel as well. And she recommend a great restaurant.
Patti
2016-09-28T00:00:00Z
Annick ti accoglie in modo eccellente e ti fa sentire a casa. Ottime le sue crêpes preparate a posta per noi la mattina. Ottimi i suoi consigli per visitare Mont Saint Michel, e per vivere al meglio l'esperienza in quei luoghi. Esperienza da ripetere, e consigliamo vivamente di soggiornare da lei. Merci Annick!!!
Andrea
2016-08-09T00:00:00Z
She was an amazing host! Incredibly helpful and friendly, we would definitely recommend her! Space was very cute, clean & private! We loved staying with Annick!
Katie
2016-07-05T00:00:00Z
Nous etions très satisfaits de notre séjour à Annick. Elle est très sympa et elle était très accueillante de nous montrer la voie à Mont. St. Michele. Nous aimerions revenir de rester avec elle. Merci beaucoup Annick Gergana
Gergana
2014-05-03T00:00:00Z
My friend and I stayed at Aure's absolutely lovely home in October 2015 for two nights. We wanted to explore Mont St. Michel and the area, and Aure was so gracious as to pick us up from the train station and drive us to the Mont (and back from there/ to the station at the end of our trip!) Her kindness and friendliness is truly remarkable. We loved her DELICIOUS homemade crepes with salted caramel sauce in the morning, her beautiful fireplace, coffee, decor, openness, and hospitality. She offered us bicycles to tour the countryside (one of the tires got a little soft, but we still had fun for a while! She was getting it repaired for the next :). The area is beautiful. We walked for hours touring around, and found a cute restaurant in a nearby village (be warned, if you don't have a car you will be doing lots of walking! Although Aure offered to drive us around, we didn't want to inconvenience her too much. The walk was nice :) If you're looking to explore Mont St. Michel or the Bretagne countryside, Aure and her lovely home and great conversation is the perfect place to go.
Amanda
2015-10-04T00:00:00Z
Merci Annick pour ce moment très agréable. L'endroit est très charmant , Annick nous a donné beaucoup de conseils pertinents pour visiter le Mont St Michel , et le petit déjeuner était vraiment très bon. Une formidable adresse pour visiter ce formidable monument.
Christopher
2015-08-18T00:00:00Z
Un accueil chaleureux. Annick est une superbe hôte, souriante et aux petits soins. Le logement était très bien décrit. Le petit déjeuner était très bon: des crêpes au caramel beurre salé et des confitures faites maison, ... Nous sommes ravis d'avoir choisi cet endroit. A refaire!
Nazek et Vincent
2015-04-05T00:00:00Z
Oda Tipi
Özel oda
---
Mekan Türü
Ev
---
Konaklayacak Kişi Sayısı
2
---
Yatak odaları
Roz-sur-Couesnon, Bretagne, Fransa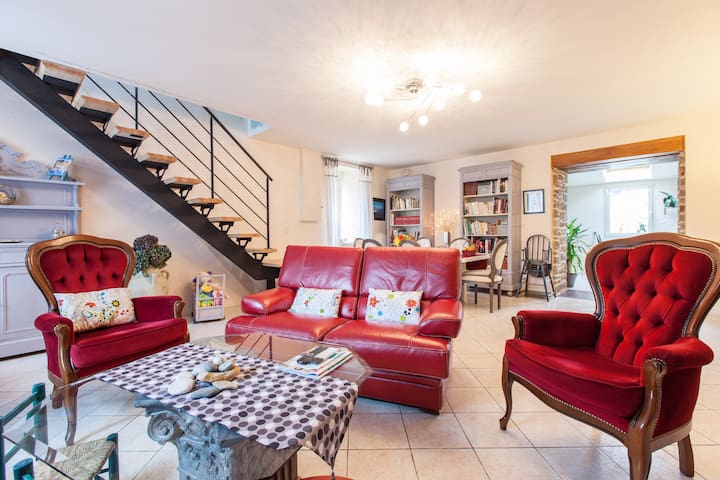 Petite maison typique de pays, très agréable, proche des fabuleux sites touristiques : St Malo - Dinan - Dinard - Mt St Michel,entièrement équipée: cuisine, salle d'eau, wc, chambre lit 2 P, mezzanine lit 1P.Plans accés G.maps Gîte Trévidic. Les réservations pour Juillet et Aôut se font à la semaine. Accés internet : difficulté dans la région bas débit
Josiane nous a très bien reçu. Elle a été joignable directement par telephone lorsque nous nous demandions si sa maison se trouvait bien là. Tout était très propre, très bien équipé, de l'extérieur une maison typique très jôlie. Nous étions à 10 min du mont saint Michel et à 20 min de st Malo, l'emplacement idéal; sans bruit. De plus, l'accès a internet y est un peu limité mais on capte quand même, mais il faut savoir que c'est la même chose dans toute la région (faible débit). Nous remercions Josiane pour ce airbnb super agréable qui nous a permis de faire une belle coupure.
Marie
2016-03-16T00:00:00Z
Excellent accueil de Joisane, c'est une hôtesse attentionnée, amicale et chaleureuse. Le gîte est parfait, propre, bien équipé, mignon. Une adresse à conserver, nous reviendrons avec plaisir.
Marie Paule
2015-06-21T00:00:00Z
Belle maisonnette séparée, au calme, et munie de tout le nécessaire (toilettes, douche, kitchenette, TV)
Fabien
2015-09-28T00:00:00Z
J'ai séjourné dans le logement de Josiane au moi de mai. Josiane est une personne très sympathique, nous nous sommes perdus et elle est venue nous chercher. Le logement était propre. Beaucoup de choses sont fournis. Adresse à retenir !!!
Justine
2015-05-16T00:00:00Z
We loved staying at Josiane's place. She was very welcoming and the apartment was clean and charming. For Americans, it would be helpful to know some French and to have (SENSITIVE CONTENTS HIDDEN) maps as the house is in the middle of the (beautiful) French countryside. Would definitely recommend for a quiet stay about 15 minutes from st michel and st malo. Thanks Josiane for your wonderful hospitality!
Juan
2015-06-27T00:00:00Z
Parfait endroit pour une séjour au calme. Josiane est d'une très grande gentillesse et vous reçoit parfaitement. Je recommande parfaitement.
Audrey
2015-12-23T00:00:00Z
Accueil très chaleureux. Nous étions trois adultes. Logement parfait et très propre. Idéal pour se reposer endroit très calme.
Philippe
2015-10-29T00:00:00Z
Très bon accueil de Josiane. Le logement est très agréable, très bien équipé, et surtout dans un endroit très calme. Idéal pour le repos. Nous avons dormi comme des bébés. La région est vraiment très belle, et ce logement est bien situé pour permettre de voir de belles choses sans avoir à faire trop de déplacements. A recommander
JEAN-LOUIS
2016-04-01T00:00:00Z
Oda Tipi
Tüm ev/daire
---
Mekan Türü
Ev
---
Konaklayacak Kişi Sayısı
3
---
Yatak odaları
Pleine-Fougères, Bretagne, Fransa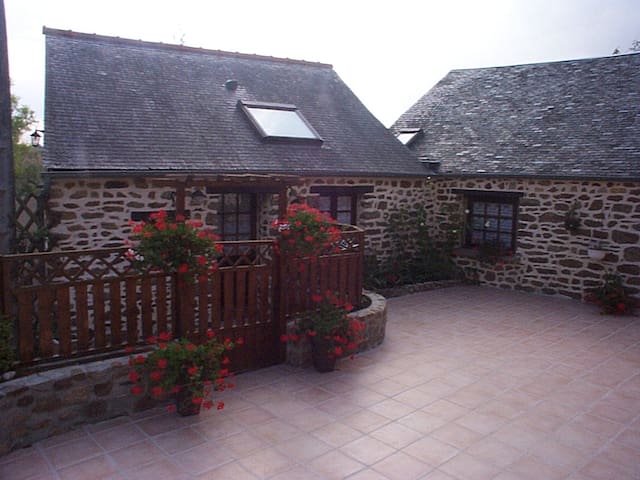 'Le Petit Lapin' is a private 'boutique' cottage next to my farmhouse in the small Breton village of Sains. Its exposed beams and stone walls reveal its rural character, but it has all the modern amenities as well as its own large terrace.
On the Brittany-Normandy border, 'Le Petit Lapin' is a traditional Breton cottage located on top of a hill in the small village of Sains, nine kilometres from the famous medieval site of Mont Saint Michel. Usually renting from Saturday to Saturday ( and 3 nights minimum) in high season and by the night (2 nights minimum) the rest of the year, this small self-catering holiday cottage sleeping 2-4 people has a lovely view over the Couesnon Valley to the south. The lively market town of Pontorson, the gateway to Mont Saint Michel, is six kilometres to the east in Normandy, while Dol de Bretagne, with its ancient cathedral, is eight kilometres to the west in Brittany. Dol additionally boasts several fine restaurants and a public indoor swimming pool. Sandy beaches are a thirty-minute drive from the house, as is dramatic cliff-walking near Cancale, a town famed for its oysters. Saint Malo, with its old walled town and a large aquarium, is also a thirty-minute drive, as is the beautiful medieval town of Dinan and the seaside town of Dinard. Rennes, the capital of Brittany, is a hour away and has a fabulous Saturday market, but there are plenty of colourful local markets throughout the week in Dol (Saturday), Saint James (Monday) and Pontorson (Wednesday) as well as a small market twice a week in the nearby village of Pleine Fougeres (on Tuesdays and Fridays). Pleine Fougeres also has a large supermarket. Please note that the minimum stay is 2 nights most of the year and 3 nights in the summer, and while I prefer week-long bookings in the July and August-- due to the region's popularity-- I am happy to make exceptions if there is availability. Monthly rentals are normally only available November through March.
Caroline was absolutely welcoming! Her cottage, located in a gorgeous little village, is very beautiful, clean and had everything we needed. The cottage is very quiet and relaxing with a lovely patio and orchard, and has great privacy despite sharing one wall with their house. Caroline is very organized with lots of information about attractions in the area, fantastic local restaurants, and things to do. She was genuinely welcoming to us and our two children, and we had a very comfortable stay. We would definitely recommend staying here!
Connie
2012-06-08T00:00:00Z
Caroline's description of le Petit Lapin was very accurate and in fact we found it even more perfect. The location is extremely tranquil and private with a lovely patio area and then vast orchard to sit and enjoy the view. We loved the attention to detail in the cottage with great lighting, kitchen equipment and heating if you want it. There were a lot of very personal touches which showed that Caroline really cared about her guests and it made us want to really look after the cottage while we were there. Great location being near to Mont St Michel, st Malo, Dinan and Dol de Bretagne. We will definitely return again with our bikes as it is great cycling country. Thank you Caroline very much for making our short stay such a delightful experience. Kay and Geoff
Kay and Geoff
2013-09-16T00:00:00Z
As a family we spent a wonderful time at Le Petit Lapin at the end of August this year. Blessed by sunny, warm weather, we could visit all the sites we had planned to, and be restored when back in the quiet village of Sains. Le Mont Saint Michel is literally 10 minutes' drive down the road - allowing for visits at various times during day and night -: a truly magical place. Saint Malo and Dinard are lovely historical and picturesque towns - to be seen. The beaches by the Anse du Guesclin, that Caroline recommended, were natural beauties and the children loved venturing through rock pools and lagoons when not in the sea. Dol de Bretagne is the closest town: a very nice medieval setting, where to stop and sit outdoors for a drink - always pleasantly busy through the day -, shops are well assorted and service is everywhere efficient, friendly and very agreeable. The children enjoyed a swim at the local pool one evening while we had our dinner in town. Le Petit Lapin is a fully refurbished, traditional stone house set in the quietest, gently hilly countryside - and the closest motorway access is only 10 minutes away! The interiors have been styled to offer a very pleasant combination of stone, white surfaces and wood and result in a bright, very comfortable accommodation. Our evening meals back at Le Petit Lapin were a good time to chat and catch up with each other... before having our last walk of the day in the orchard, under a clear, starry sky. We will go back to Brittany and to Le Petit Lapin. Caroline and her family have prepared a cosy place for their guests to enjoy and we are looking forward to meeting them again.
Mrs Anna
2013-09-02T00:00:00Z
Nous avons passé un trop court mais néanmoins excellent séjour au "petit lapin", Caroline est très accueillante et nous a donné plein de bons conseils sur la région. Le gîte est très agréable, et le jardin charmant.
Marielle
2016-05-07T00:00:00Z
We had a lovely four night stay in Caroline and Tom's cottage. Everything you would need and would recommend firing up a barbecue in the orchard. Caroline gave us lots of information which really helped to get the most out of our time there: lots to do in the local area so would definitely worth a visit, even the rain couldn't dampen our spirits!
Chris
2016-06-13T00:00:00Z
The cottage is the perfect size for a couple or small family looking to explore the region. It has easy access to all the local tourist attractions and is surrounded in beautiful countryside perfect for walks. The cottage is attached to the larger farm house of Caroline, which sits on a good sized, well looked after plot. Parking is off the street in the shared courtyard and there is a private terrace. Perhaps the stairs to the mezanine sleeping area aren't great for small children, but otherwise this place is perfect.
Adam + Sonna
2016-03-04T00:00:00Z
Our family had a great time in the Brittany Cottage. The house is perfect for our needs. Caroline was really kind and close. We had a good connection. I ride the bike to St Michel and we spend the day visiting the place. We really had a very good time here.
Jose
2014-07-11T00:00:00Z
Mis padres estuvieron en la casa de Caroline un par de días y volvieron encantados. Tiene un jardín enorme y la casa esta muy bien equipada, tiene de todo. Además como viajaban en coche lo pudieron aparcar ahí mismo. No tuvieron ningún problema. Esta muy bien situada. Estarían encantados de volver.
Laura
2014-08-26T00:00:00Z
Oda Tipi
Tüm ev/daire
---
Mekan Türü
Ev
---
Konaklayacak Kişi Sayısı
4
---
Yatak odaları
Sains, Brittany, Fransa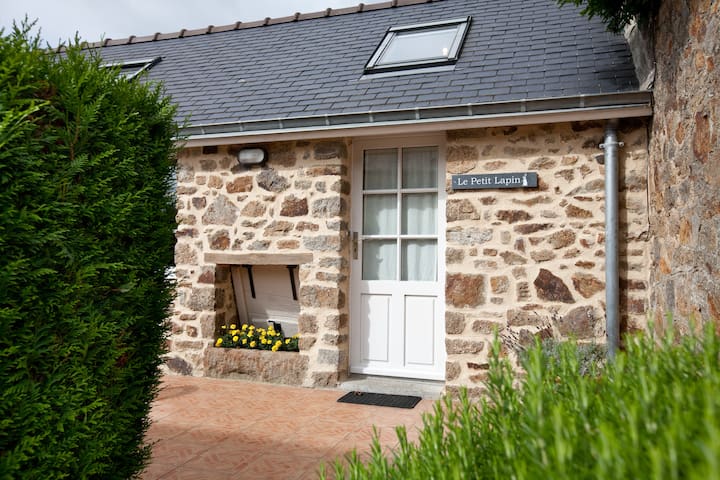 The Millhouse er en stor ejendom fyldt med karakter og smukke oprindelige funktioner. Ideel for familier og grupper, med store haver, grillplads og en pool, denne store ombygget lade er en perfekt, roligt sted at slappe af efter en dag på at udforske de forskellige seværdigheder i lokalområdet. Kun 20 minutter fra Le Mont Saint-Michel, 40 minutter fra St-Malo og Dinan.
The Millhouse består af en meget stor køkken og spiseplads, med en separat spisestue og opholdsstue. Der er 2 soveværelser med himmelseng queen size senge og et soveværelse med en himmelseng queen size seng og en enkelt seng. Der er 3 badeværelser, 1 med fritstående roll-top victorianske badekar. Der er en stor have, med 2 siddepladser, en grill, og masser af plads til parkering. Vi leverer håndklæder, sengetøj og alle køkken grundlæggende funktioner, du skal bruge, herunder salt, peber, olie og frisk mælk. Der er også 2 ekstra fold-ud senge på anmodning.
Vores nærmeste by er Pleine Fougeres (3 minutter drev), som har to boulangeries, un tabac, en slagter, restaurant og et ugentligt marked. Vi er også meget tæt på Ville Cartier skov, hvor der er smukke vandreture og udendørs aktiviteter som ridning, Tree Top eventyr, og padle sejlsport. Der er et marked for hver dag i ugen i de omkringliggende byer og landsbyer. Vi er inden for nem kørselsafstand af Pontorson (10 minutter), Combourg (20 min), Dol-de-Bretagne (20 min) Cancale (40 minutter), og mange af regionens smukkeste strande
This was such a relaxing place to stay. It was incredibly peaceful and the mill house is a unique property full of quirkiness but very comfortable. The booking was dealt with very promptly and the hosts Sian and Tom were extremely friendly and helpful. The house was very clean and well equipped with a really nice welcome pack. It's a great place although it is so tranquil it's so convenient fir some wonderful places- Mont Saint Michel so close, St Malo , Cancale. Some marvellous beaches also. The small villages nearby have good markets, great boulangeries and an supermarket is only 10 minutes away.There are plenty of good creperies and some wonderful seafood nearby. It is very safe for children to play. There are paddling pools available and a few bikes to borrow. The area is great for cycling. Also a lovely forest nearby with great activities for children . We also saw red deer near the property and great birds at a near by bird reserve. I would thoroughly recommend this place.
Jane
2016-09-27T00:00:00Z
It was a wonderfull place and my family and me had an incredible weekend in that huge Mill house. Everything is decorated with taste and the fire place are so relaxing at night. i highly recommend to stay there for a week a more. Really feels like home.
Mathieu
2016-10-10T00:00:00Z
Rustic rural beauty in this authentic farm house. The hosts, Peter & Emma, were so kind and were doing their best to accommodate our needs. They recommended a wonderful market close by and let us look all around the farm. The kitchen is truly the heart of the home with a roaring fire. We recommend new bedding for the room at the top but other than that it was clean, comfortable and warmed our hearts. Thank you for your hospitality!
Kimmi
2017-03-30T00:00:00Z
Excellent séjour dans une maison authentique et très calme. Les enfants ont adorés les nombreux recoins de la maison sur 2 étages. A 15 minutes du Mont saint Michel et à 45 de Saint Malo. C 'était parfait pour nous. Merci à Tom pour son accueil
christophe
2016-11-02T00:00:00Z
Es un lugar increíble! Para disfrutar con la naturaleza!
Andrea Cecilia
2017-04-06T00:00:00Z
The host canceled this reservation 87 days before arrival. This is an automated posting.
Alina
2017-02-03T00:00:00Z
We found this place very central to St. Michel and St. Malo and to see the local Mehir.
Louise
2016-10-01T00:00:00Z
Tom and Sian made me feel so welcome and explained everything I might need to know for my stay. They really do go above and beyond to ensure you have the best time. This is truly a beautiful place and gives you such a sense of serenity and a taste of rural Brittany. I would definitely recommend this as an idyllic spot, whether you're sightseeing or just simply "being".
Kath
2016-10-30T00:00:00Z
Oda Tipi
Tüm ev/daire
---
Mekan Türü
Ev
---
Konaklayacak Kişi Sayısı
7
---
Yatak odaları
Vieux-Viel, Brittany, Fransa
Mon logement est proche de Saint-Malo avec ses importantes marées à voir, Baie du Mont Saint-Michel (les polders et les agneaux des prés salés, château (Chateaubriand) de Combourg, cathédrale de Dol de Bretagne, les parcs à huitres et bouchots de Cancale, Le Vivier sur Mer, Golf du Tronchet, monastère des Dominicaines de Plerguer, chars à voile de Cherrueix, Cobac Parc (parc animation) Lanhélin.... Mon logement est parfait pour les couples, les voyageurs en solo et les voyageurs d'affaires.
Vous serez accueilli au 1er étage de notre maison dont 2 chambres mises à votre disposition et une salle de bain privée . Le petit-déjeuner est compris dans le prix de la chambre. Votre voiture sera en sécurité dans notre propriété. Description chambre 1 couple (1 lit de 140) et 2ème chambre pour 1 personne (1 lit de 120)
Situation : A 10 km Combourg, (château où l'écrivain Chateaubriand a vécu , à 5 km de Dol de Bretagne, cathédrale et ses maisons à pans de bois, à 25 km du Mont St Michel, à 30 km de St Malo en passant par la côte de la Chapelle Ste-Anne St-Broladre, Cherrueix (chars à voile), Le Vivier Sur Mer (bateaux de pêche amphibie), Cancale (dégustation d'huitres sur place au port), St-Coulomb avec Fort Du Guesclin (ancienne demeure Léo Ferré) La pointe du Grouin, St-Malo, ses remparts, son port et ses extraordinaires marées à voir. Vous pouvez continuer vers le barrage de la Rance et Dinard. Et à 50 km Rennes, centre ville historique, parlement, portes mordelaises ...
Un grand merci à Yolande et son mari de son chaleureux accueil et leur sympathie. La maison est très bien équipée et très accueillante, et la propreté est immeillorable. Le petit déjeuner est abondant et de très bonne qualité. Mais ce qui a été le meilleur c'est sa disposition à nous aider et son agréable conversation. Nous avons passé un très bon moment et suivre leurs conseils nous a fait passer une très belle journée en Bretagne. Nous y retournerons sans doute. Nuestro agradecimiento a Yolanda y su marido por su calurosa acogida y su simpatía. La casa está muy bien equipada, es muy acogedora y la limpieza es inmejorable. El desayuno abundante y de muy buena calidad. Pero lo mejor de todo ha sido su disposición a ayudarnos y su agradable conversación. Hemos pasado un muy buen momento y seguir sus consejos nos ha permitido pasar una muy agradable jornada en Bretaña. Volveremos, sin dudarlo!
Manuel
2016-10-30T00:00:00Z
Yolande et son mari nous ont très bien accueillis. Cest un couple très sympathique et de bon conseil. La maison et les chambres en particulier étaient vraiment très propres, le petit déjeuner copieux. Je recommande vivement!
Ana
2016-11-01T00:00:00Z
Séjour parfait Yolande et Jean Bernard son vraiment très accueillants et très gentils. Nous nous sommes sentis très bien, les chambres et la salle de bain sont parfaites. Nous retenons l'adresse pour une prochaine visite du Mont St Michel. =)
Krystelle
2017-02-25T00:00:00Z
Yolande y su marido, nos hicieron sentir como en casa, agradables a más no poder, con una casa muy confortable. Sin duda volveremos
Arantxa
2016-09-10T00:00:00Z
excelente estadía. recomendable 100%. yolande y su marido muy simpáticos y atentos, muy hospitalarios. Dos personas buenísimas e interesantes para charlar y conocer. su casa muy linda, cómoda y muy limpia. a la mañana el desayuno fue perfecto, todo muy rico y abundante. Realmente la pasamos muy bien y estamos muy agradecidos de haberlos conocido. Recomiendo 100%. Alejandro excellent séjour. 100% recommandée. yolande et très amical et attentif mari, très accueillant. Deux personnes buenisimas et intéressant de discuter et de rencontrer. très agréable, confortable et très propre maison. petit déjeuner était parfait, très riche et abondante. Vraiment nous avons apprécié et nous sommes reconnaissants d'avoir rencontré. Je recommande à 100%. Alexander
Alejandro
2016-10-01T00:00:00Z
Oda Tipi
Özel oda
---
Mekan Türü
Ev
---
Konaklayacak Kişi Sayısı
3
---
Yatak odaları
Epiniac, Bretagne, Fransa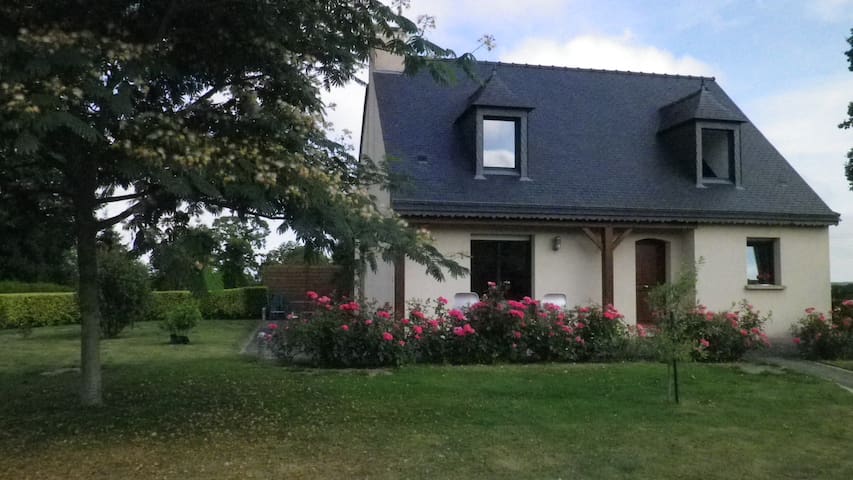 Aux portes du pays Gallo, berceau de la Bretagne romantique! Au calme, dans une petite maison indépendante de 50m2, comprenant : Chambre avec couchage 2 pers, salle de bain, salon, frigo. Possibilité lits enfants supplémentaires. Accès au jardin.
Bonjour, Nous vous proposons de venir séjourner, au calme et en centre bourg, dans une petite maison indépendante de 50m2-de plain-pied, comprenant : Une chambre avec un couchage 2 personnes, Une salle de bain, avec douche, Une cabinet de WC+lave mains, Un salon, avec canapé, bureau et télé, Un réfrigérateur, Un accès au jardin fleuri et aux animaux. Possibilité d'équipement bébé/enfant (lit, chaise haute, transat, trotteur, jeux intérieur/extérieur), sur demande. Petit déjeuner - croissant et pain frais - servi à l'heure de votre convenance pour 5€/pers. Linge de lit et de toilettes fournis,
A 250 mètres du centre bourg, vous aurez accès à toutes les commodités (2 boulangeries,1 crèperie, tabac/presse, PMU, boucher, pharmacie, fleuriste) pour passer un agréable séjour et visiter la région. Aux portes du pays Gallo, berceau de la Bretagne romantique! 14Km du Mont Saint Michel, 40Km de Cancale / Pointe du grouin, Fougères, Saint Malo, Dinard 50Km de Granville 70Km de Fréhel
Accueil très chaleureux, les hôtes sont très sympathiques et sont de bon conseil pour visiter la région. Logement confortable, spacieux, propre et calme. Pour une première expérience avec Airbnb, nous avons été enchantés.
Bruno
2015-09-21T00:00:00Z
Wir, ein Seniorenpaar mit Hund, genossen 2 Wochen lang die ungewöhnlich herzliche Gastfreundschaft der Familie Rabu. Die Beschreibung in Airbnb entsprach in allen Punkten der Realität. Nicht erwähnt wurde die himmlische Ruhe in Pleine Fougéres und die besten Galettes der Region, die es in unmittelbarer Nähe im Restaurant "Les Polders" gab. Da das Städtchen in unmittelbarer Nähe zur Normandie (La Manche) liegt den Reiseführer für die Normandie nicht vergessen. Auch hier ist die Bretagne unbedingt eine Reise wert!
Georg
2015-08-23T00:00:00Z
The reservation was canceled 29 days before arrival. This is an automated posting.
Laurine
2015-04-25T00:00:00Z
Virgine is a really nice person. When we arrived to Pontorson, we called her and she picked us up so we didn't have to walk all the way to her house. Once we arrived to her home we found a beautiful and clean apartment, were my couple of friends and I had more than enough space to sleep and leave our things. They offered us breakfast and all the relevant information regarding the touristic things to do at the city. I totally recommend staying with Virgine and her family they are wonderful people!
Guillermo
2015-04-20T00:00:00Z
C'est la maman de Virginie qui nous a accueilli, car Virginie n'était pas là à notre arrivé. Virginie est passé nous voir le lendemain pour s'assurer que tout allait bien. Le second soir son compagnon nous à aidé à ouvrir des huitres pieds de cheval, Il nous à sauvé la soirée. L'appartement quand à lui très agréable, chaleureux. On s'y sent tout de suite bien. J'adore il y a plein de magazine dans la maison Je recommande vivement.
Ruben
2015-12-28T00:00:00Z
Merci à Virginie & Family pour votre accueil & vos infos pratiques. Nous avons passé une agréable nuit dans un endroit paisible. Votre région est très sympathique et le Mont-Saint Michel magnifique! Une pensée particulière a vos animaux qui sont splendides surtout le Bélier. Encore merci pour tout et au plaisir... Francis & Aixian
francis
2015-09-04T00:00:00Z
Merci pour l'accueil et les conseils
Cassandra
2015-07-20T00:00:00Z
We had a really good stay at Virginie's maisonette. Very close to Mt St Michel in a peaceful little village, the accommodation has everything needed for an enjoyable stay. Virginie and her husband were very hospitable and welcoming :) thank you!
Hollie
2015-09-17T00:00:00Z
Oda Tipi
Tüm ev/daire
---
Mekan Türü
Ev
---
Konaklayacak Kişi Sayısı
4
---
Yatak odaları
Pleine-Fougères, Bretagne, Fransa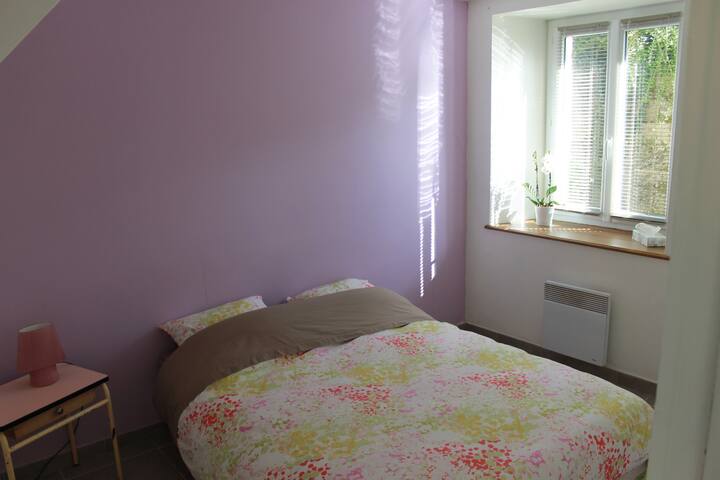 Mon logement est proche de du mont saint michel, le centre ville. Vous apprécierez mon logement pour l'emplacement, les gens et l'ambiance. Mon logement est parfait pour les couples, les voyageurs en solo, les voyageurs d'affaires, les familles (avec enfants) et les compagnons à quatre pattes.
We left Paris by car and arrived early in the evening, as was winter there nothing open to eat, so if it's low season it's good to take some groceries if you're staying in Saint Georges. We were welcomed by Samuel. Your hotel is simple and economical, newly refurbished rooms. The room very clean and decent, good bed with shower in the room. The only drawback is the acoustics, you can hear the outside noise from the other rooms and the showers from the neighboring rooms, but as we were tired we slept. The next day we took the Petit Dèjeuner (a croissant, a chocolate puff and coffee with milk) offered by 5Euros.
Lindaura e Gustavo
2017-01-08T00:00:00Z
Parfaite description, ce quil faut pour les petits budgets, on recommande!
Amaël
2016-12-21T00:00:00Z
Super endroit ! Très proche du Mont-Saint Michel agréable, calme, paisible. Samuel très sympathique ! Tout parfait :))
Pauline
2017-02-19T00:00:00Z
Petit hôtel sympa, proche du Mont ; principales qualités la propreté et la sympathie de l'hôte. En bord de route donc un peu bruyant...Très bien pour un week-end.
Siegrid
2016-11-27T00:00:00Z
Très bonne expérience, Sam a été très sympathique et très serviable. Un accueil très chaleureux, particulièrement appréciable par cette période période de grand froid hivernal :-) Merci Sam
Abdel
2017-01-06T00:00:00Z
La chambre est agréable, propre et bien chauffée.
Er
2017-01-29T00:00:00Z
C'est une hôtel qui se transforme en airbnb. L'endroit est parfait pour visiter le Mont Saint Michel, les navettes sont à mème pas 10 minutes. On est très bien accueilli et on sens qu'ils sont en face de transition. Le prix est tout a fait correct. Pour le moment il nous a maqué un peu ambiance maison, mais comme j'avais dit, ils sont en transition. Bon courage avec votre projet ! On vous recommande !!! A la prochain !
Joost
2016-10-10T00:00:00Z
I stayed with a friend for two nights at Samuel's and had a good stay there. The room was comfy and warm (which we appreciated for outside it was freezing cold) and Samuel has been a very kind and friendly host. There was no bus connection between St-George-de-Grehaigne and Pontorson, so my advice is to organize a taxi before if you'd like to go! To Mont Saint Michel its like half an hour and it's really worth it!
Anica
2017-03-07T00:00:00Z
Oda Tipi
Özel oda
---
Mekan Türü
Ev
---
Konaklayacak Kişi Sayısı
2
---
Yatak odaları
Saint-Georges-de-Gréhaigne, Bretagne, Fransa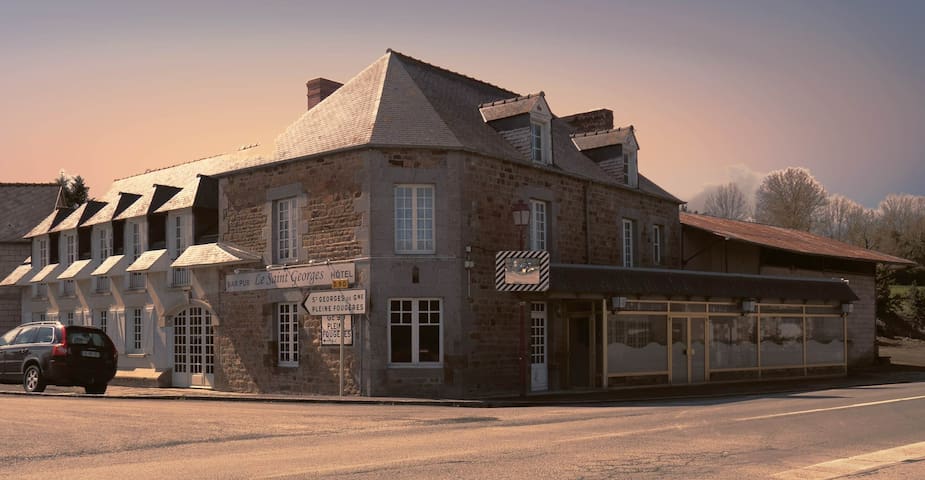 Our former mansion of the fifteenth century is located between St Malo and Mont St Michel. Three lodgings 4 stars of 4, 6 and 8 people are arranged there. One for 4 persons consists of a 45m2 living room-kitchen, 2 bedrooms and a bathroom.
Nous avons passé un très agréable moment, comme à la maison avec un accueil très chaleureux. Le lieu est calme, ce que nous recherchions, en pleine campagne mais tout près de Dol où on trouve tous les commerces. Nous y reviendrons.
Raphael
2015-10-29T00:00:00Z
Posizione perfetta per esplorare tutta la baia di Saint Michel e oltre. Grande spazio all'aperto per giocare o prendere il sole. Perfetto per le famiglie. Appartamento confortevole, zona tranquilla e silenziosa. Robert e tutta la famiglia vivono proprio qui e sono molto disponibili e gentili, dando preziosi suggerimenti. Rilassante e rigenerante.
Silvia
2015-08-08T00:00:00Z
We had a wonderful stay in this beautiful home - it's every bit as picturesque and charming as the photos appear. Our kids enjoyed the grassy yard, playground, and bocce ball while we had a chance to rest and enjoy some wine! The place was clean and comfortable - the beds were great, the area was quiet and peaceful. Robert and his wife were such warm and helpful hosts - even with limited english, they went out of their way to help us find the best places to visit. On their advice we changed plans and spent a day in Dinan which was one of the highlights of our trip. So much better than staying in a generic hotel - it felt like visiting extended family.
Rick
2015-07-05T00:00:00Z
Superbe location, manoir idéalement placé (mont st michel, st malo ..) et proche tout commerce. Un grand merci à Mr et Mme Monnier pour leurs accueille..!
Axel
2015-05-10T00:00:00Z
Nous avons été bien reçus. Le gîte correspondait à nos attentes : bien situé pour les visites, proche des commerces, bien équipé, grand et typique des maisons anciennes du coin. Un dépaysement totale pour nous pendant notre séjour de 4 jours. D'agréables soirées en famille au coin du feu ... Notre fille de 4 ans s'est bien amusée dans le jardin. Le prêt du lit parapluie pour notre bébé nous a été bien utile. Merci pour ce séjour et les conseils pour les visites.
Amélie
2016-10-28T00:00:00Z
Accueil chaleureux, gite de caractère, idéalement situé pour visiter le Mont-st Michel, Cancale,St Malo....excellent séjour.Merci à jacqueline et Robert.
Chantal
2016-04-18T00:00:00Z
Lieu idéalement placé pour visiter de Saint Malo au Mont Saint Michel. Grands espaces extérieurs pour jouer ou se détendre. Parfait pour une famille avec enfants. Appartement confortable, calme et paisible. Excellent accueil de la part de Robert. Nous recommandons vivement cette adresse !
Fabrice
2015-08-25T00:00:00Z
We passed two lovely days at the beautiful Manoir de Launey Beaudoin in nice quite rural surroundings. Lovely couple of owners made us feel welcome and comfortable.
Sofia
2015-05-17T00:00:00Z
Oda Tipi
Tüm ev/daire
---
Mekan Türü
Ev
---
Konaklayacak Kişi Sayısı
4
---
Yatak odaları
Baguer-Pican, Bretagne, Fransa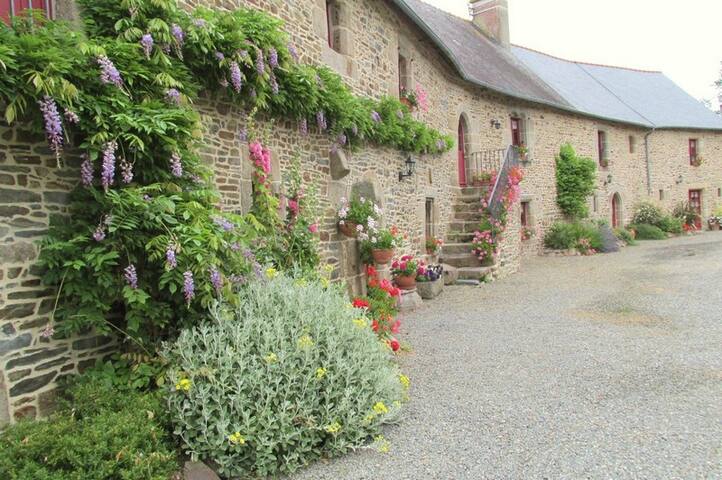 My accommodation is close to Golf Du Tronchet (6 kms), Dol de Bretagne (8 kms), Dinan, Mont Saint Michel, Saint Malo, Cancale. Enjoy my accommodation for the proximity to nature.
In this stone farmhouse, you can enjoy the garden in summer or winter insert. You can rent an extra room with a bed of 90 X 140, the bathroom is shared but these two adjoining rooms.
L'endroit est reposant, la maison est accueillante ainsi que Pascale et son mari. Si vous êtes amis des bêtes c'est cette chambre privée qu'il faut choisir. : chiens, chats et un âne qui dit "bonjour"
LAURENCE ET FRANCOIS
2016-08-22T00:00:00Z
Pascale et sa famille sont très sympa et accueillants. Nous nous avons senties très bien. L'appartement est joli et il y a beaucoup bons livres et BD. On avait un petit-déjeuner savoureux et en plus il était super de carasser les beaux chats! Merci pour le séjour magnifique :)
Lisa
2016-11-13T00:00:00Z
Accueil chaleureux, visite des lieux et qui correspondaient au descriptif. Partage sur la région, les différents lieux de visite, les horaires plus accessible, les monuments à ne pas louper. Petit déjeuner copieux et varié. Chambre et salle de bain propre, environnement calme et agréable.
Mélanie
2016-09-05T00:00:00Z
Nous avons été comblés par notre passage chez Pascale et son mari. Ils ont été très arrangeants sur l'heure d'arrivée, et bien qu'elle fut tardive cela ne les a pas empêché de discuter avec nous autour d'un thé pour faire connaissance et nous donner des conseils sur toutes les choses à faire dans les alentours. La chambre était très confortable, et le petit déjeuné gentiment préparé était génial! Nous n'avons manqué de rien, Pascale et son époux sont des hôtes au top :)
Mazarine
2017-04-07T00:00:00Z
Charmant accueil de mes hôtes, même tard, disponibles et bienveillants... Belle fin de soirée et papoter un petit moment. Chambre douillette pour une bonne nuit au calme. Sans parler du super petit déjeuner...
Eric
2016-10-18T00:00:00Z
Merci beaucoup à Pascale et Guillaume pour leur accueil très chaleureux. Nous avons passé les 2 fins de soirée à discuter avec eux au coin du feu avec une tisane :-) Endroit très calme et confortable, petit déjeuner avec confitures maison, très bons conseils, tant sur les balades que les restos. On a passé un très bon week-end, encore merci pour votre gentillesse!
Simon
2016-11-01T00:00:00Z
Notre séjour fut court car c'était le soir d'un mariage d'amis, Pascale a été très souple par rapport aux heures d'arrivée, on a tellement bien dormi qu'on a loupé le brunch des mariés! Pascale et sa famille sont super accueillants, tout est propre, soigné et agréable. Cerise sur le gâteau ils ont un âne (un vrai) au fond de leur terrain, absolument magnifique, si nous avons l'occasion on y retournera avec plaisir avec notre fille. Merci!
viviana
2016-09-25T00:00:00Z
Host was really helpfull and accomodating.
Ishan
2016-11-12T00:00:00Z
Oda Tipi
Özel oda
---
Mekan Türü
Ev
---
Konaklayacak Kişi Sayısı
2
---
Yatak odaları
Baguer-Morvan, Bretagne, Fransa
Nuestra casa rural tiene capacidad para 2 + personas. Es la más pequeña de 2 casas en los grandes terrenos de una casa de campo en un lugar aislado. Cerca de Mont Saint-Michel, a 30 minutos de Saint-Malo, Cancale, Dinan, Dinard aeropuerto y hermosas playas.
La cama doble estándar para dos personas cómodamente. Está situado en la entreplanta parcialmente cerrado. El área de estar de planta abierta con una cocina totalmente equipada con horno de microondas, cafetera, tostadora, una mesa de comedor plegable y sillas, un televisor de pantalla plana vía satélite / DVD con canales en inglés solamente, una mesa de centro y 2 sillas y una pequeña habitación doble sofá cama para acomodar un extra de 1 o 2 personas (véase la foto). El más pequeño de 2 casas rurales, que se encuentra en los terrenos de la granja (también se anuncian en este sitio). El entorno consisten en un gran patio de grava, campos y zona de césped con estanque. La propiedad está situada en un entorno rural en la zona de Mont Saint-Michel bahía. Ideal si buscas tranquilidad, pero a poca distancia de tiendas, actividades recreativas, destinos turísticos y playas de arena.
La propiedad está situada en un entorno rural. Ideal si usted está buscando para el retiro y tranquilidad, pero dentro de una unidad de 10 minutos de tiendas, aproximadamente 15 minutos en coche de Mont Saint-Michel y aproximadamente 30 minutos en coche a otros destinos turísticos populares y playas de arena. Las actividades recreativas también están en las inmediaciones.
Elizabeth and Steve have real hospitality, we enjoyed the stay in their villa. It was clean and well maintained. Also it was nice of them that they offered a glass of wine to drink outside while watching beautiful stars at night.
Takumi
2015-08-17T00:00:00Z
We werden hartelijk welkom geheten, kregen thee, toeristische tips en een goede stafkaart te leen. Er lagen croissants, thee ed voor de volgende ochtend in het huisje. Een sfeervol huisje in een prachtige omgeving.
P.J.
2014-09-25T00:00:00Z
The place was lovely and Steve was so welcoming and helpful about what to do in the area. We did not have the pleasure of meeting Elizabeth as she was under the weather. The cottage was clean, cozy, and the local cider was delicious. Once you get used to navigating the area it is really quite central to many beautiful sites. When I think of French countryside this is what I imagine. I would definitely stay here again.
Michelle
2015-06-07T00:00:00Z
Had an absolutely fantastic stay at Elizabeth Anne's and Steve's place. They are so lovely and friendly and hospitable with lots of suggestions for things to do in the area. The cottage was lovely, with a fully equipped kitchen and even a welcome pack of crossaints and cider! Highly recommended and it is close to all the attractions in the area. Cannot fault this place. Thanks so much.
Daniel
2016-04-17T00:00:00Z
Elizabeth-Ann and Steve were most hospitable hosts and the accommodation was clean and comfortable. Steve was an excellent tourist advisor and we had a great time looking at the sites of the area. Thanks to you both.
Sue
2014-06-06T00:00:00Z
Logement très rustique dans une ferme et très au calme, tout ce que nous cherchions pour notre weekend. L'été cela doit encore être plus agréable avec le soleil. Très bien situé entre le Mont Saint Michel et Saint Malo. Très bon accueil des hôtes avec des produits locaux, de la bonne humeur et un contact très facile !!!
Clémentine
2016-01-25T00:00:00Z
We had a great two night's stay here in a beautiful setting, all as advertised. Thank you, Steve and Elizabeth Anne, for giving us a very warm welcome and for being so informative on local places of interest. We would definitely come again.
Holly
2015-05-29T00:00:00Z
Accueil chaleureux d'Elisabeth et Steve. Le gite est confortable et bien situé pour visiter la Baie du Mont-St-Michel. Nous aurions apprécié une liaison Wi-fi dans le gîte (Ne fonctionne que dans la cour) et une TV en bon état de marche, avec chaînes francophones (Chaînes anglaises seulement) Francis & Liliane
Francis
2014-06-23T00:00:00Z
Oda Tipi
Tüm ev/daire
---
Mekan Türü
Ev
---
Konaklayacak Kişi Sayısı
2
---
Yatak odaları
Saint-Broladre, Brittany, Fransa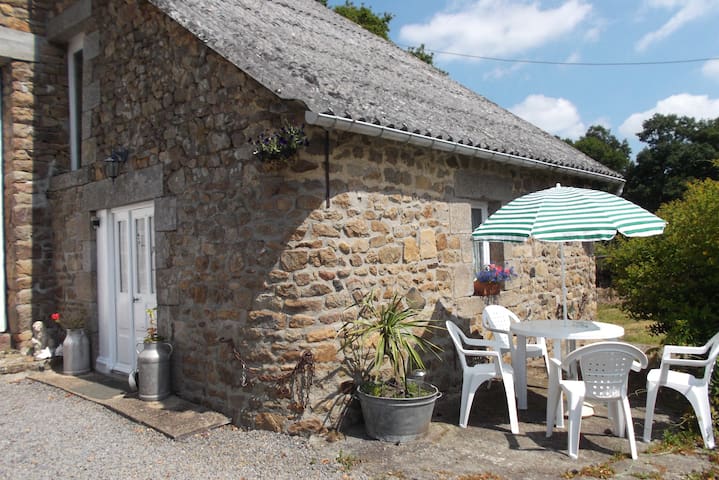 Our house is adjacent to the owner's house, in a haven of greenery and peace, close to the forest Villecartier (lake with miniature boats, tree climbing). - Rating: 2 ears - 2 rooms - Capacity: 4 people
Our house is adjacent to the owner's house, in a haven of greenery and peace, close to the forest Villecartier (lake with miniature boats, tree climbing, botanical course). - Rating: 2 ears - 2 rooms - Capacity: 4 people - Total area: 45 m² - A 1 km from the village, 3 km from Pleine-Fougeres. We are located 14 km from the Mont Saint-Michel. Amenities: Ground floor: living room with lounge, equipped kitchenette. Floor: 1 bedroom (1 bed 2 seats) and 1 bedroom (2 beds 1 seats), shower room with WC. Electric heating. crib on request up to 3 years. Comfort elements: Microwave oven, Private washing machine, color TV, DVD player, Satellite (English / French), cot, electric heating. Outside amenities: Parking (Private setting) Barbecue (Private setting) Garden furniture (Private setting) Our services : - A provision, a cot, high chair, bath "baby", etc., making our cottage "baby home". - Wireless internet. All these services are included in the price of your rental. - A video rental service (orange service). Do not hesitate to ask for the access code on your arrival (renting these videos staying at your expense). On the sheets, only duvets and pillows are provided, bed linen is for rent at € 9 per bed, bathroom linen being 5 e per person. However, you can bring your own sheets and duvet cover. The double bed is standard size (2 people): 140 x 190. The other 2 beds (children beds or 1 person): 90 x 190.
The district town of forest: The Villecartier Forest, not far from Fougeres (in Bazouges Perugia), covering more than 1,000 hectares of beech, oak and holly. This grove has housed major historical episodes ... ... refuge when the Normans invaded Britain, land of confrontation between Chouans and Republicans ... It was also the place of life and work of shoemakers. .. until the early twentieth century ... This forest is now a place of recreation for the family ... On sunny winter Sundays, it is a very nice place ... Few people, hiking in families with children uncles, aunts and grandparents, bicycle tours for cyclists, walks a few masters and mistresses who want to exercise their dogs, and finally walk in music ... in short, the hike for all ... Etang Villecartier in Bazouges La Perouse Well marked trails invite you to discover the landscape, nature and heritage. You can play the adventure and lose yourself at the mercy of forest roads ... and you come face to face with the chaos of stones of remarkable trees ... children's playgrounds will close the ride Beauty ... children's playground Sunday for small If this is the exercise that motivates you ... I suggest the sporting course (CRAPA) in the forest with more physical steps ... It's all free ... The creperie is open as winter Sundays ... to warm up after so many activities ... The summer and on weekends from April to September, the forest turns into a leisure park with paying activities. In the middle of the forest, the pond Villecartier (3 hectares), the small port is the starting cruises electric models that walk 2 to 4 people for about twenty minutes ... boats at dawn, trawlers, ferries, tug boats and pedal boats. Port miniature forest Villecartier During the crossing, admire replicas of the Tower vase ... .... headlights and other Breton wonders. The port is open daily in July and August. On weekends and holidays days of April, May, June and September. And then there are the acrobatic course in the trees, nature Récré at Great Oaks Park ... You can fly from tree to tree, slip with zip lines, cross barrels or monkey bridges ... All this in the middle of nature ... One can easily spend the day ... Acrobatic forest Remember to take the right outfit, the rest of the equipment is provided. There are two distinct businesses: a park designed for children with 3 circuits of varying difficulty ... It is accessible for younger age 5. The Mont Saint Michel : Mont Saint-Michel, in the middle of the bay, every year nearly 3.5 million visitors, pilgrims and tourists. At the entrance of this medieval city, the former Corps de Garde des Bourgeois, facing the guns, houses the tourist office. Mont places to visit Saint-Michel: the path of rempartsEn passing the door of the Boulevard, then the King provided with a drawbridge, you experience the High Street with its museums, shops and houses of the XV and XVI centuries (the passage of the drawbridge leads also on your right, the path of the walls). The parish church, a small building of the fifteenth and sixteenth centuries is dedicated to St. Peter, patron of the fishermen. Finally, the ascent of the Grand Stairway is a prelude to the Wonder and the visit of the Abbey. After admiring the Abbey, you can admire the incomparable beauty of the Bay down the ramparts path, or by choosing the walkway on your left, dotted with small gardens, which you also have access through the porch of Fanils . "Wonder of the West", the Mont Saint-Michel stands at the heart of an immense bay invaded by the highest tides in Europe. It was at the request of the Archangel Michael, "chief of the celestial militia" that Aubert, Bishop of Avranches built and consecrated a church 16 October 709. In 966, at the request of the Duke of Normandy, a community of Benedictines settled on the rock. The pre-Romanesque church was built before the year one thousand. In the eleventh century, the Romanesque abbey church was founded on a set of crypts at the tip of the rock and the first monastery buildings were built up against its north wall. In the twelfth century, the monastery buildings novels were expanded to the west and south. In the XIII century, a donation of King Philip Augustus of France after the conquest of Normandy, allowed to undertake Gothic entire Marvel: two three-story buildings crowned by the cloister and refectory. History of Mont Saint-Michel church abbatialeAu fourteenth and fifteenth century, the Hundred Years War made it necessary to protect the abbey by a set of military constructions which allowed him to withstand a siege of more than thirty years. the Romanesque choir of the abbey church collapsed in 1421, was replaced by the Gothic choir in the late Middle Ages. This great spiritual and intellectual center was with Rome and Saint Jacques de Compostela one of the most important pilgrimages of the medieval West. For nearly a thousand years men, women, children came by roads called «paths to paradise» hoping for the Archangel of judgment, weigher of souls, the assurance of eternity. Become prison under the Revolution and the Empire, the Abbey will require significant restoration work from the late nineteenth century. It is entrusted since 1874 in the service of historical monuments. The celebration of the monastic millenium in 1966 preceded the installation of a religious community in the old abbey perpetuating the primary purpose of this place; Prayer and Home. The Brothers and Sisters of the Monastic Communities of Jerusalem ensures that spiritual presence since 2001. Alongside the development of the abbey a village grew up in the Middle Ages. It thrives on the southeast flank of the rock, sheltered by walls dating back mostly to the Hundred Years War. This village has always a commercial vocation. Join the "World Heritage" by UNESCO in 1979, this tourist destination welcomes more than three million visitors a year.
Hôtes accueillants et de bons conseils. Le logement calme et bien équipé est placé idéalement pour visiter le mont saint Michel et ses environs.
Pauline
2017-04-10T00:00:00Z
Nous avons très bien été accueilli. Le gite est propre et fonctionnel, il y a ce tout ce qu'il faut pour y rester quelques jours avec en bonus un petit jardin. On y est au calme. Attention au surplus pour tout ce qui est draps et serviettes de toilettes, sinon vous pouvez apportez les vôtres.
Olivier
2015-06-01T00:00:00Z
We enjoyed our stay very much; at night it is completely quiet with a good view of the stars. Strong wifi signal made internet access easy. Guests need to remember to bring all 'consumables' such as kitchen rolls and similar. Local shops close quite early in this rural location.
Andrew
2014-05-22T00:00:00Z
Très bon séjour dans ce gîte! Vraiment bien placé pour faire des visites (Mont Saint Michel, Saint Malo...) et très agréable! Accueil sympathique et lieu propre, rien à redire! Merci pour ce bon moment!
Matthieu
2015-03-06T00:00:00Z
A charming and quiet place, nice owners, close to our trip main target - Mont Saint Michel. I'm satisfied and absolutely recommend the offer from Irène and her family.
Slawek
2016-05-23T00:00:00Z
The host canceled this reservation 20 days before arrival. This is an automated posting.
Joppe
2015-05-31T00:00:00Z
Merci a Irène de nous avoir reçu si gentiment et de nous avoir conseiller sur les endroits a visiter. Le gîte est situé dans un coin très agréable, au calme. Et on a eu un accès rapide a toutes les villes que nous voulions visiter. Nous reviendrons avec plaisir dans quelque temps!
Gaelle
2016-04-14T00:00:00Z
Logement propre et agréable. entièrement équipé, literie confortable. L'accueil est très bien aussi, et le fait qu'elle habite à coté facilite les choses si on a des demandes particulières. a renouveler :)
valerie
2015-04-27T00:00:00Z
Oda Tipi
Tüm ev/daire
---
Mekan Türü
Ev
---
Konaklayacak Kişi Sayısı
4
---
Yatak odaları
Vieux-Viel, Bretagne, Fransa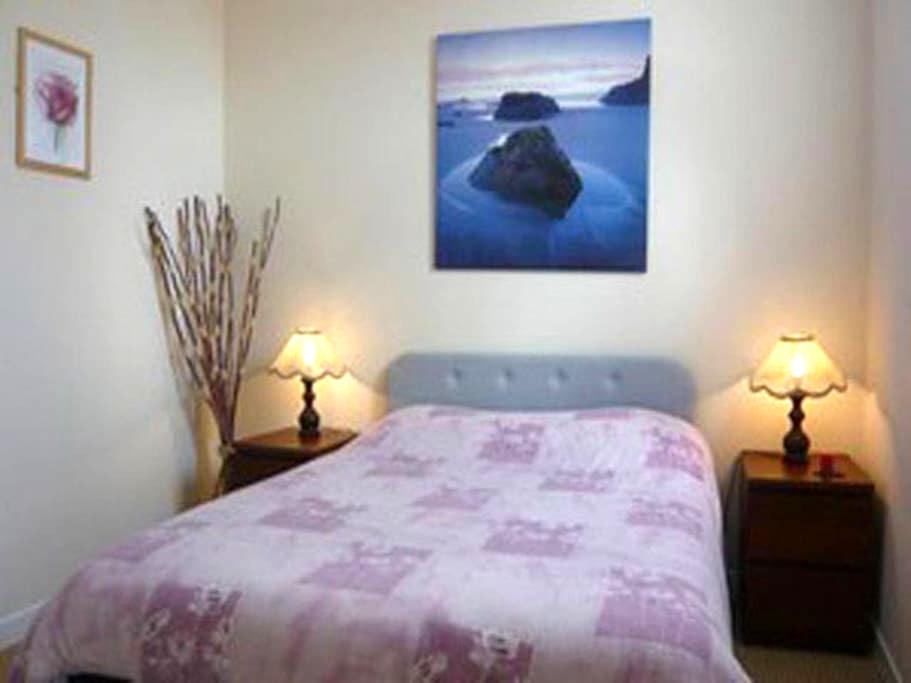 최근 세분 하우스, 조용. 시내 (상점, 기차역, 극장, 수영장, 레스토랑) 근처 이상적으로 세인트 말로, Cancale의 몽 생 미셸 사이 몽 생 미셸의 베이에 위치해 있습니다. 바다와 시골 사이, 지역 발견합니다. 조직 이유로 나는 같은 날에 대한 요청에 응답 할 수 없습니다.
Corinne was very welcoming and we enjoyed our stay very much. The house is in a nice quiet area and has private parking and lovely garden.
Martin
2016-09-08T00:00:00Z
Nous avons été très à l'aise chez Corinne ...!!!! Elle est une dame très gentil, intéresante à babarder et amable.... La maison est parfaît....!!!! C'était comme être chez Nous....!!!!
Javier
2016-06-22T00:00:00Z
During our trip through the Bretagne we stopped for 1 day in Dol-de-Bretagne to see the Mont Dol and the Mont Saint Michel - but in the end it was also lovely to talk to Corinne. She told us a lot about the region and helped us to find a good restaurant on sunday evening. The house of Corinne is situated in a calm neighbourhood about 20 minutes walk to the trainstation. The house is modern and very clean. We also enjoyed to play with Corinne's cat. To put it in a nutshell: We felt very welcome and we recommend the room if you want to visit Dol-de-Bretagne.
Rouven
2016-03-09T00:00:00Z
Excellent séjour, corinne est charmante. Je recommande vivement.Isabelle
Isabelle
2016-04-17T00:00:00Z
Corinne a été une hote parfaite, tout a été comme nous l'aurions souhaité. Nous nous sommes senti comme chez nous. Si nous avons l'occasion de revenir nous le ferons sans hésiter car elle attachante. Il y a des personnes comme Corinne par exemple avec qui nous pourrions lié une amitié
Patrice
2016-09-12T00:00:00Z
Accueil très agréable chez Corinne. Aucune mauvaise surprise pour la chambre, celle ci correspond précisément aux indications données par Corinne. Vivement conseillé si vous n'êtes pas loin.
Thomas
2016-10-23T00:00:00Z
Séjour vraiment très agréable, dans une maison confortable. Corinne est une hôtesse accueillante, chaleureuse et arrangeante. Nous recommandons vivement ce lieu ! Merci encore pour ce bon moment
Sonia
2016-02-18T00:00:00Z
Merci pour votre accueil très chaleureux, chambre très au calme et confortable! Nous reviendrons pour un futur séjour à Dol.
Martine Jean-Claude
2016-10-02T00:00:00Z
Oda Tipi
Özel oda
---
Mekan Türü
Ev
---
Konaklayacak Kişi Sayısı
2
---
Yatak odaları
Dol-de-Bretagne, Brittany, Fransa
Tam fiyatlandırmayı görmek için tarihleri görün. Ek ücretler uygulanır. Vergiler ilave edilir.