Centrally located in the picturesque mountain village of Field, BC. Great base for exploring the Canadian Rockies and Yoho National Park. We are about a 25 min drive from Lake Louise. The apartment has 1 bedroom with a queen bed. There is a spacious living area with a pull out couch for extra guests. It is SELF CATERING. The apartment has fully equipped kitchen, shower and bathroom. It is recommended to pick up supplies in Golden, Lake Louise, Banff. It has its own private entrance.
Our hosts were welcoming and made the check-in process a breeze. The rooms was exactly as advertised. It made for a relaxing weekend and the perfect homebase for our hiking trip.
Calin
2016-11-13T00:00:00Z
Great place to stay in a very nice and calm little town. The suite was very big and had everything we needed and was just a drive away from many of the Banff high lights! Host were very nice and accomodating. Field has a great place to eat called the truffled pig!
Roderik
2016-07-29T00:00:00Z
We met Paulina she is very nice host. She gave us privacy meanwhile she was alway helpful when we needed. We didn't meet Darren which is a little bit pitty but we did recieve his detailed guidance and other useful information. The suite is exactly as described. very clean and comfort. It has everything we need. My wife likes the village very much, quiet and beautiful, recall ours memories when we were in Murren many years ago, a similar village in Switzerland. definitely we would like to recommend to others.
YING
2016-08-04T00:00:00Z
The apartment made an excellent, homely, base for exploring Yoho. What a beautiful location as well.
Robert
2016-06-18T00:00:00Z
The host canceled this reservation 79 days before arrival. This is an automated posting.
Wally
2016-07-04T00:00:00Z
Darren and Paulina were great hosts and the place is very comfortable and nice.
Nikolas
2016-08-30T00:00:00Z
We really enjoyed our stay at the Hummingbird Suite, instructions to enter the house/room were clear in the host's absence. House and the neighborhood is extremely pretty; highly recommend to anyone visiting Field.
Prantik
2016-06-29T00:00:00Z
The hosts were amazing! We got in a little later than expected but they still took the time to greet us and show us around the house. They were very friendly and made us feel very welcomed.
Tim
2016-09-17T00:00:00Z
Oda Tipi
Tüm ev/daire
---
Mekan Türü
Daire
---
Konaklayacak Kişi Sayısı
4
---
Yatak odaları
Field, İngiliz Kolombiyası, Kanada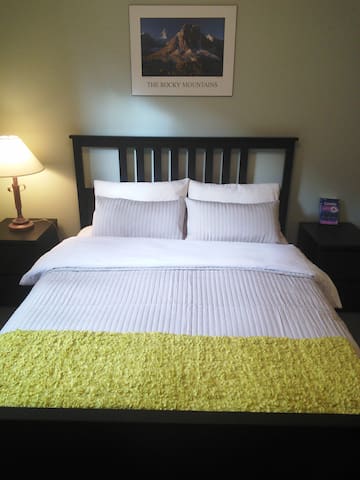 The Old Church Guesthouse is a lovely 2 bedroom lower level apartment. It is fully furnished with cozy down duvets on the beds, a complete kitchen with full size electric stove and refrigerator, comfortable living area, small library and many extras.
In the heart of the Canadian Rockies. One hour drive from Banff. Fifteen minutes from Lake Louise. Great base for sightseeing, hiking, downhill and cross-country skiing. A 2 bedroom roomy and comfortable fully-furnished apartment with private entrance- 6 steps down from garden level. Full kitchen has regular sized refrigerator with freezer, and full-sized electric stove, as well as plenty of dishware,glassware, cutlery and pots and pans for guests to do their own cooking. I provide delicious locally roasted coffee, a variety of teas, and some basic seasonings but guests are responsible for all their own meals. It is recommended that guests stock up on groceries before arriving in Field because our village has a wonderful restaurant and a great cafe, but very limited grocery shopping. For more detailed information about the guesthouse and the area, you can look at my website titled Old Church Guesthouse. I live upstairs and am usually available to greet guests and introduce you to the area. The Guesthouse is available at these rates from Nov. 1 until April 30. Different pricing applies for May through October and can be seen on the website.
Field is a tiny remote mountain village, removed from the hustle and bustle of this popular tourist destination
Helen was the perfect host. She made check in very easy for us and was very friendly. The house is spacious and comes equipped with some lovely touches - locally roasted coffee and a vast library of books relating to the Rocky Mountains being highlights! Field is a great location and has quite a fascinating history. It's very close to Lake Louise but we would recommend checking out some of the local hikes to have a more intimate experience with the Rockies!
Sam
2016-09-12T00:00:00Z
We thoroughly enjoyed our stay at the Old Church Airbnb.  The suite was clean, the bedding cozy and comfortable, the kitchen was stocked with everything a visitor might need.  We especially enjoyed the abundance of Kicking Horse coffee beans that we could grind at our leisure and the coffee cream to accompany it!  Helen was friendly, flexible and helpful and we had everything we needed. Field is a really interesting location with lots to see and do and a really excellent restaurant. It's also easy to make a trip out to Banff or Lake Louise. Fantastic time!
Erin
2015-09-03T00:00:00Z
helen, it was awesome to stay at your place and explore the rockies. it is such a nice, calm guestapartment, where you fell yourself at home. well equipped flat with everything you need. magnificent!!!!! see you soon :-)))
Matthias
2012-03-26T00:00:00Z
It was great place, just like my home. Helen was so kind. If I travel Banff & Yoho area next time, I would like to visit again.
Sunghyun
2016-08-01T00:00:00Z
Helen was a great host. Very accommodating. She introduced herself in the morning and opened her door to us if we had any needs. Beds, temperature, shower, bathroom, living room were all comfortable. If you are looking for a low key town to stay in for a couple of days while you are enjoying mountains, this is the place to stay!
Dane
2015-06-16T00:00:00Z
It was a pleasure staying at the Old Church Guesthouse in Fields, BC. Helen was a most warm and accommodating host and the suite was immaculate and well-kept. It was a pleasant surprise to find a wonderful restaurant just a half a block away and the travel to Lake Louise for our conference only took about 20 minutes. I would recommend this place and would certainly stay again!
Marie
2015-11-01T00:00:00Z
The old church guesthouse is a lovely basement suite, totally private and very comfortable. Helen was a wonderful host who answered all our questions - even when we came knocking on her door one morning! Very tidy and had everything we needed, would definitely recommend this place for anyone wanting to visit the area.
Silas & Laura
2013-10-21T00:00:00Z
My husband and I enjoyed our time at the Old Church Guesthouse. It was quite spacious for the two of us and Helen took care of everything for us from offering local travel suggestions and hints to providing towels if we wished to go to the hot springs. Highly recommend visiting the Old Church Guesthouse if you are in the area.
Sarah
2016-10-18T00:00:00Z
Oda Tipi
Tüm ev/daire
---
Mekan Türü
Daire
---
Konaklayacak Kişi Sayısı
5
---
Yatak odaları
Field, İngiliz Kolombiyası, Kanada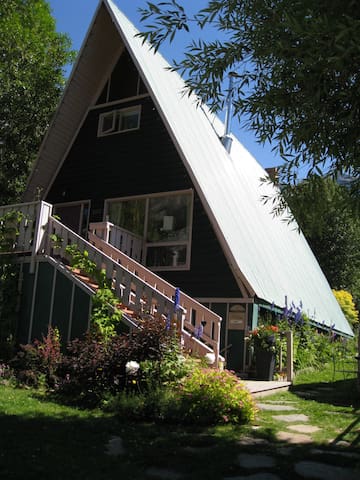 Tam fiyatlandırmayı görmek için tarihleri görün. Ek ücretler uygulanır. Vergiler ilave edilir.