My accommodation is good for couples, adventurers and business travelers.
Her follow up was excellent after the booking. However, I personally found the sharing of the bathroom for four people, including the host to be a little strange. I thought there would be more privacy in that area. The room was quite stuffy the first night we moved in, and we couldnt figure out how to open the window, but it was better the second night with the window open. Hostess was very accommodating and welcoming.
Jeffrey
2016-11-13T00:00:00Z
A wonderful stay! Claudia was so accommodating from our check-in right up to our departure. We had a few traveling delays, and Claudia was easy to get a hold of and worked with our schedule without hesitation. The house was beautiful and clean, the bed was so comfortable, and we really felt right at home! Claudia and her husband were great to talk to, and we even got breakfast in the morning! All the small details were just perfect- you can tell she cares a lot about her guests. Thank you for a truly wonderful stay!
Tara
2016-09-18T00:00:00Z
Charlie and Claudia were great hosts! They had no trouble accommodating our late arrival & early departure and even had some breakfast choices laid out for us in the kitchen when we awoke before 6 AM! House is very clean, and bed is super comfortable. We will definitely stay here again if we are in the area!
Keith
2016-12-30T00:00:00Z
A wonderful place and gracious hosts. A truly beautiful home. Good breakfast provided. It was nice talking to Claudia and her husband. House was central to the Naval base Lakehurst and the shore. We had a truly wonderful stay. Thank you Claudia. You will see us again. Steve and Sue
Susan
2016-10-02T00:00:00Z
Claudia was very understanding when we had a late arrival. The room was nice, as advertised, and the bathroom was clean. We just stayed one night, in between going to Atlantic city and seaside hight. Staying with Claudia was very convenient for us and she was a good host, very friendly. I definitely recommend her place! !
Antonieta`
2016-08-29T00:00:00Z
Claudia is a great host who makes you feel right at home I have stayed here 3 weeks and everything was wonderful
Andy
2016-09-03T00:00:00Z
Beautifully arrayed; Claudia has a great sense of decor. She and Chuck are perfect hosts: friendly and helpful yet they also give guests their privacy. It was a delight to stay with them.
Tricia
2016-11-25T00:00:00Z
Even though it was a less than ideal weekend to visit the shore (severe coastal storm & beaches were closed), we felt very comfortable at Claudia's home. The bedroom had everything we needed and we had a great night's rest (in a king size bed!) Claudia was a fabulous host and even had a breakfast prepared for us in the morning. I would definitely stay at her house again if in the area. Thanks for everything, Claudia!
Carla
2016-09-04T00:00:00Z
Oda Tipi
Özel oda
---
Mekan Türü
Ev
---
Konaklayacak Kişi Sayısı
2
---
Yatak odaları
Toms River, New Jersey, ABD
Ruhige Nachbarschaft. Viele Tag (Hof) Verkäufe in der Umgebung. Große Farmers Market und nur wenige Minuten von Seaside Heights. Alle Arten von Festivals - Frühling, Sommer und Herbst. Nur eine Non-Stop-Fahrt mit dem Bus von NYC.
Harika bir deneyimdi. Ev sahibi Carolda cok misafirperver biriydi. Bu ilk defa airbnb ile kaldigim bir yerdi, gercekten dedikleri kadar guzelmis. South jerseydeki sahillere ortalama yarim saat mesafede, bazilarina 15-20 dk sadece. evin yakinlarinda alisveris yapabilceginiz yerde var, ornek olarak Wallmart eve sadece 7 dk mesafede. Boyle bir tatil beldesinde bize evini actigibicin Carol'a cok tesekkur ederim.
Fatih Furkan
2016-07-18T00:00:00Z
We had a great stay at Carol's. The house was very convenient for us.
Sue
2016-08-18T00:00:00Z
Carol was very accommodating and friendly. She has a great sense of humor and treats you as if you were family. We highly recommend her place if you're visiting seaside heights.
Benny
2016-08-05T00:00:00Z
Beautiful place, just as described. It's very quiet. Carol has great hospitality. She was ready for me even though I arrived late. I really enjoyed my stay, and I would come back in the future!
Camille
2016-06-13T00:00:00Z
I very much enjoyed staying at Carol's lovely home. The neghiborhood, just minutes from the Jersey Shore, is nice, quiet and safe. There is plenty of parking space. The room was clean, comfortable and perfect including everything I needed. Carol is very accomodating and is a pleasant conversationalist. I look forward to coming back the next time I visit Toms River.
dwmorris10
2016-06-03T00:00:00Z
Carol was so sweet and accommodating. She greeted us right away and had great stories. She was super friendly and was so understanding about our pet and our changing check in and check out times. She was such a great host!!!
Kay
2016-10-04T00:00:00Z
This was our first time with AirBnB and my boyfriend and I couldn't have asked for a better first experience. Carol was extremely warm and welcoming and we felt right at home as soon as we arrived. Though we were only there for a night, she went above and beyond to make sure we were comfortable. We will definitely be coming back to see Carol next time we're down in Jersey :)
Gabrielle
2016-07-03T00:00:00Z
Carol was a warm and welcoming hostess. And her room is a great value on the Jersey Shore. And some of you might also find Carol to be a kindred spirit. In hindsight, I was drawn to her place by the picture of the Buddha - and that was a blessing. Carol as a lovely room she calls the Zen room. And her spirit and stories were in alignment with that as well. Best wishes on your trip.
CJ
2016-11-08T00:00:00Z
Oda Tipi
Özel oda
---
Mekan Türü
Ev
---
Konaklayacak Kişi Sayısı
2
---
Yatak odaları
Toms River, New Jersey, ABD
Nuestro barrio es un apacible lugar tranquilo, y limpio para vivir. Es 15-20 minutos a Mar Hts, Island Beach State Park, la playa y Pt. Pleasant Beach, Lavalette y otras ciudades costeras están a poca distancia. Atlantic City, Gran Aventura están a punto 40-45min. lejos. Grandes restaurantes, centro comercial, tiendas de 5-15 minutos en coche. GSP está a pocos minutos de la casa.
The host canceled this reservation 4 days before arrival. This is an automated posting.
Ivana
2016-07-26T00:00:00Z
Marie is amazing, not good. The room was decorative, the breakfast exceeded expectations, and everything was picture perfect, like a dream come true. She is an incredible host, a terrific story teller, and has a personality that shines. One cannot ask for more. The Airbnb representative told her she outdid herself and staying here, the actions matched her words. I highly recommend and you won't be disappointed.
Michael
2015-06-17T00:00:00Z
It was my second time staying with Marie and it was like coming home. We felt comfortable and welcome and enjoyed spending time with her.
Beatrice
2016-10-23T00:00:00Z
Marie was very welcoming and accommodating. We enjoyed talking to her and meeting her dogs. The room was very small but we only slept there so it was perfect for us.
Beatrice
2016-10-09T00:00:00Z
I've been staying with Marie for over a month and I have no complaints! She is a great hostess and I will definitely be back when my job brings me this way again.
Nicole
2016-09-30T00:00:00Z
This was our first stay with Airbnb and we could not ask for a better stay. Marie was a very nice and kind host. She made sure we had everything we needed. Her home is cozy and welcoming, and her dog Rico is adorable. I highly recommend Marie and her warm home to anyone who is looking to spend some time at the Jersey Shore :)
Maurice
2015-08-20T00:00:00Z
Marie is a wonderful host and keeps a lovely, clean home. She is friendly and welcoming, and will do whatever she can to make your experience in her home a pleasant, peaceful one. I loved staying at Marie's place so much that I booked a second weekend immediately. Both times were an awesome experience. Thank you so much, Marie! You will be seeing me again
Maria Campagna
2016-07-11T00:00:00Z
My overnight at Marie's home was more than just a gracious hostess providing my friend and I with a lovely place to stay. We spent time sharing stories and noshing on the delicious chocolate cake she had baked. We loved being there so much we almost forgot to head to the beach! Her home is clean as a whistle and very comfy. She was more than accommodating to our needs. In fact we enjoyed it so much I just had to instantly book an overnight next month for me and my fiance! Thanks for the memories Marie, you are appreciated.
AronJoanna
2015-07-27T00:00:00Z
Oda Tipi
Özel oda
---
Mekan Türü
Ev
---
Konaklayacak Kişi Sayısı
2
---
Yatak odaları
Toms River, New Jersey, ABD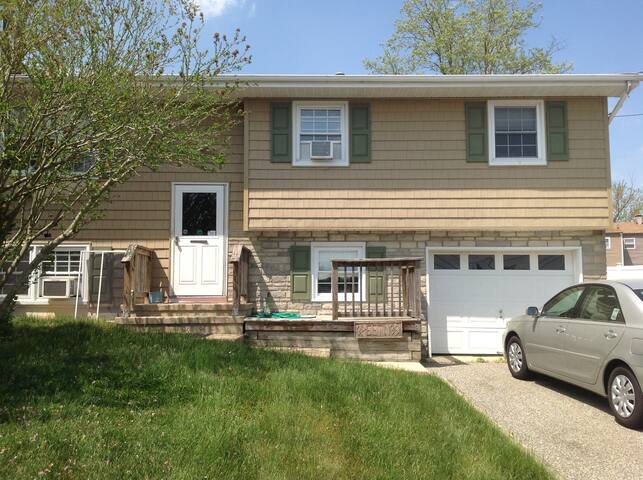 Location convenient to the shore, 65 miles to Atlantic City, Philadelphia, New York.
This was my first experience with airbnb... Me and my daughter(7 years old) needed a place to stay for the night after being at the beach all day I didnt want to drive 2 and ahalf hours back home as we wanted to spend more time in the city so I contacted Robert and he accommodated us kindly... very welcoming, we spent a silent night after a long day, he bought my daughter muffins for breakfast... trustworthy gentleman, I would definitely go back again. Thank You Robert!
Carolina
2016-09-11T00:00:00Z
Very nice place, I would stay again if I was around the area.
Johnathan
2016-02-29T00:00:00Z
Clean and neat home. Rob was a good host.
Derek
2017-03-24T00:00:00Z
Robert met me upon arrival. Was a great and engaging coversationalist and offered snacks to munch on during my stay as well as my drive home.
Joshua
2016-10-03T00:00:00Z
Robert made me feel very welcome to his home. He had the room warmed up, and showed me my private bathroom. He let me know I was welcomed to watch TV in the living room and was very kind and friendly.
Guernica
2016-12-26T00:00:00Z
Robert was very sweet and welcoming. He made sure I was comfortable and safe. And even offered to drive me to the bus station. I stayed to be near Belmar but though short, he even gave a little gift to leave. Thank you!
Evadne
2016-07-03T00:00:00Z
Oda Tipi
Özel oda
---
Mekan Türü
Ev
---
Konaklayacak Kişi Sayısı
1
---
Yatak odaları
Lakewood Township, New Jersey, ABD
在汤姆斯河私人家庭清洁,舒适,私人bedrm,安静的街区。到海边HTS(7.4英里)岛海滩St.Park(9.1mi),PtPleasant海滩(12MI),浮桥,GSP(2.9mi)45 mi.to大西洋城。克。进阶(17mi)大床舒适适合两项。 一个5磅的Yorkie的处所
我讲英语和西班牙语。 Hablo英格尔ÿ西班牙语。 "卡莎ES苏住处"。 "我家就是你家"。我会去我的方式,以确保你有一个愉快的时光。
Bizim mahalle sessiz bir bölge ama biz gereken her şeyi yakındır. AVM, golf sahası, plaj, tahta, atlantik şehir, büyük macera, restoranlar, Garden State Parkway, Rt. 37, Rt. 9, Rt. 70 Her şey bir kaç dakika uzaklıktadır ve ben birçok yerler için broşür ile tedarik edecek.
I am glad to say that Marie is now a dear friend of mine. From the moment I arrived she made me feel welcome and I slept like a dead person ion that wonderful queen bed. Whenever Im in NJ I will be staying with Marie.
Neil
2015-08-12T00:00:00Z
Marie has a nice home in a quiet neighborhood. The atmosphere is very comfortable and relaxed.
Frances
2016-09-18T00:00:00Z
What to say about our experience with Marie? It was so comfortable it was like walking into my own home! Upon arrival Marie gave us a tour and explained that her house was now our house (a beautiful welcome if you ask me). She also baked a cake for our arrival and even provided breakfast and coffee in the mornings! About the location, it is perfect if you want the "Jersey Shore" experience with the ability to come "home" and get a good night sleep. Right near the Garden State Parkway, you can hop right on and be at one of many beaches within 10 minutes. Marie also had a calendar of events and a bunch of restaurants suggestions and things to do. Overall, an affordable, unique, and worthwhile visit. At the end of our stay we made a friend. We would stay at Marie's again in a heartbeat!
Melissa
2015-06-07T00:00:00Z
I enjoyed mi time in Toms River! Marie is a very nice host!
Daria
2015-11-10T00:00:00Z
BEST AirBnB host ever! Marie was just the sweetest! She was very helpful in checking for us a car rental even before we booked a room, and when we missed our bus and arrived in NJ really late, Marie picked us up at the bus terminal! Her house was very cozy and we felt very at home immediately. Everything was perfect – toiletries, breakfast, coffee, warm space; it has everything we needed. She also has a very cute yorkshire! It made our morning entertaining and fun. I highly recommend Marie for anyone who wishes to visit NJ! :)
Christine
2015-09-21T00:00:00Z
Marie was a lovely host! We had everything we needed; the room was clean and tidy, breakfast and fruit were available. We had some good conversations and felt like home!
Jelle
2016-07-08T00:00:00Z
Marie is great. Really a superhost. It was super to stay at her house. Her dog is sooooo cute and charming. I enjoyed the trip to the US. Thanks to her. Marie ist eine wunderbare Gastgeberin. Ich habe den Aufenthalt bei ihr sehr genossen. Danke für alles. Petra
Petra
2015-10-20T00:00:00Z
Marie was great! Very easy to work with and so sweet. Her little puppies were a fun welcoming party.
Tracy
2016-07-03T00:00:00Z
Oda Tipi
Özel oda
---
Mekan Türü
Ev
---
Konaklayacak Kişi Sayısı
2
---
Yatak odaları
Toms River, New Jersey, ABD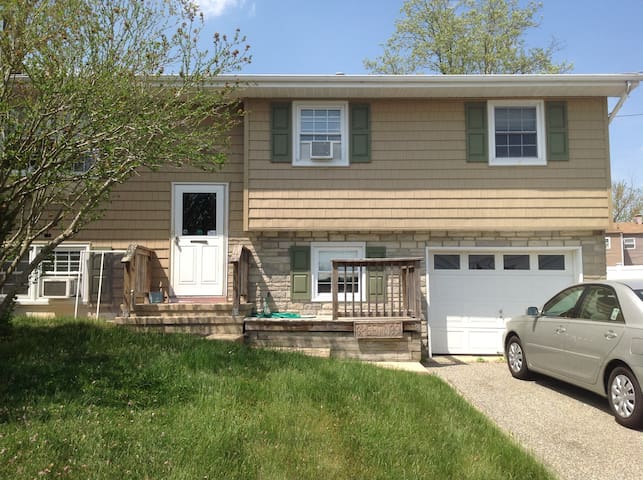 The house was super clean and felt very homely. Our host allowed us to treat the home as if we lived there. Happy with our stay. Host was very friendly.
Richard
2016-09-04T00:00:00Z
The house was BEAUTIFUL! Tsila was so welcoming and so helpful with local knowledge. Can't say enough how gorgeous the property and house were. So quiet and peaceful and yet so close to everything you need.
Kai
2016-07-18T00:00:00Z
Oda Tipi
Tüm ev/daire
---
Mekan Türü
Ev
---
Konaklayacak Kişi Sayısı
10
---
Yatak odaları
Toms River, New Jersey, ABD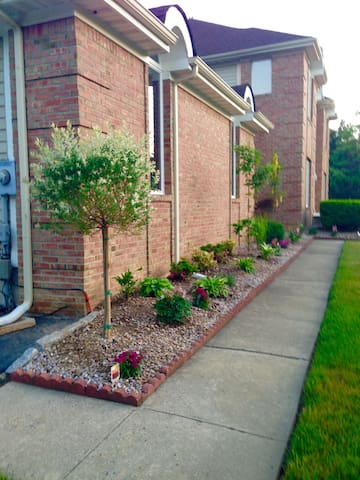 Stay in our comfy home with your own, wide-open private room. The room is 25ft x 25ft and has a plush queen size bed, custom-upholstered couch set, fireplace, entertainment center and TONs of natural light. We're located at the end of our street, meaning you'll have the peace and quiet you desire while staying at our home away from home. Interact as little or as much as you'd like with us during your stay. We look forward to making you feel at home in our home! Note: We have cats!
Located at the end of our street, we have a spacious yard, ample parking and tons of space. Your private room will be located up a set of stairs directly after the front door. We have full bathroom with a Whirlpool tub available to you, as well as a full kitchen.
Quaint area of Jackson, NJ. 1 min drive to multiple convenience stores, pizzerias and Chinese restaurants. 5 min drive to several super markets and restaurants/shops. 25 min drive to many beaches and shore areas!
Oda Tipi
Özel oda
---
Mekan Türü
Ev
---
Konaklayacak Kişi Sayısı
2
---
Yatak odaları
Jackson, New Jersey, ABD
Simply put magical! The residence IS exactly what the listing presentation states. Although the beauty and elegance of the home cannot be felt without a stay. The decor phenomenal, the neighborhood exquisite and the serenity undeniable. Unfortunately our host was unavailable but no matter for another booking in the future will compliment that. Overall a wonderful and pleasant experience. This was my first use of AirBnB and the host made everything simple and at ease. I would recommend this home to anyone, anywhere, anytime!!!
Emil
2015-12-07T00:00:00Z
I was traveling up to visit my daughter and her family, and to meet my newest grandson. I decided to try Airbnb to compare to the near by hotels. Airbnb won hands down!!! I did not have to inconvenience my daughter's adjusting home schedule as a new mom, and I could also now cook meals to prepare for her in this environment. I looked at several nice places. However, I booked with Tsila. This place was an extremely rare find, not just for value, but the whole experience! Tsila's home was so beyond grand and so beautiful! She had EVERYTHING we could have needed, and more. It was clean, peaceful, extremely zin-like. Her extra touches could be measured by the ton! Even more impressive was the host herself! Tsila felt like a friend before I even met her. Michael met us with the keys. He was so nice and just as sweet. Tsila arrived later to meet us. She greeted my family with hugs and kisses. She even took time to play with my visiting grandkids, as well as providing them with outside toys and games. She knew I would be doing some cooking, and invited me to use her fresh herbs out of her garden if I wanted. (By the way, her landscape is amazing with roses and greenery, her garden is unique and creative). She graciously allowed us to make a few last minute changes in the sleeping arrangements with no hassles or stress. She made my stay feel like I was at a luxurious hotel, an expensive spa, but best of all, I felt the warmth of home! She covered it all! One more note, I accidently left a small bag of items, but did not noticed it after I left. Tsila went out of her way to make sure the items would be returned. I can not say enough to tell you what a kind and warm soul our host has! I rented her house, but found a friend! Thank you Tsila for both! My only regret is that we left early and did not get to hug her good bye! Thank you Tsila and Michael! You were truly marvelous host! Your home is beautiful. I feel both privileged and blessed to have the honor to stay at your place! Thank you a thousand times over!
Patty
2016-06-28T00:00:00Z
Tsila was an absolute pleasure to deal with! Clear communication and incredible home. Thank you!
Jake
2016-11-13T00:00:00Z
The house is absolutely beautiful, and as described in the booking. Checking in was seamless and communication with the host is extremely transparent. Tsila, is awesome and extremely accommodating. We booked the place for 8 for New Years Eve; and Tsila prepped her home so that we were are comfortable as possible. I would recommend this listing for anyone looking for a classy, spacious, and luxurious stay and I would love come book again!
David
2017-01-01T00:00:00Z
We had a wonderful stay at her home. When we had a few questions I gave her a call and she offered to swing by and help us in person which was awesome. The home was very clean and we loved everything about it. I will definitely book again based on the home and the hostess you can not go wrong!
Cam
2017-03-12T00:00:00Z
Out of all the places I've rented whether business or vacation this one was by far the best. Tsila went out her way to make sure my family and I had everything we needed. The home was extremely cleaned and prepared. The extended space gave my family extra comfort. Tsila even checked in on us helping with trash and more. Though I didn't get the chance to meet her, my family was completely overwhelmed by her kindness and hospitality.
Charles
2016-01-02T00:00:00Z
Tsila made us feel very comfortable upon our arrival at the house and gave us a tour to show us where everything was. Our family of 8 really enjoyed our stay in this spacious and modern house and the large garden was fun for the kids to play in and the jacuzzi bathtub was the highlight.
Chana
2016-08-05T00:00:00Z
Die Beschreibung entsprach exakt der Realität. Das Haus war sehr gepflegt und der Empfang sehr herzlich. Die Eigentümerin hatte sich allerdings vertan: sie dachte, sie hätte nur ein Zimmer vermietet, wir hatten aber das ganze Haus gebucht. Tsila hat das schnell eingesehen und war eine sehr gute Gastgeberin. Sie hatte Pizza und Wein zur Verfügung gestellt und sogar angeboten, uns am Flughafen abzuholen. Wir kommen gerne wieder, das Haus ist sehr schon gestaltet und hat exklusiven Charakter!
Oliver
2016-05-16T00:00:00Z
Oda Tipi
Tüm ev/daire
---
Mekan Türü
Ev
---
Konaklayacak Kişi Sayısı
10
---
Yatak odaları
Toms River, New Jersey, ABD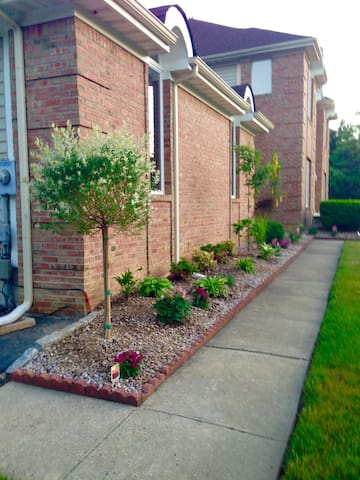 We had a conference in Lakewood and found Gary's place to be a comfortable distance away. Happy we booked this location. Though we were literally 4 minutes from lots of restaurants and shopping areas, the house itself if very private and secluded, which gave it a cottage feel. We loved it! Photos are accurate and there is a river right across from the house, which is really nice with benches, etc. Would definitely recommend Gary's place.
Gym Hoodie
2017-03-19T00:00:00Z
Oda Tipi
Tüm ev/daire
---
Mekan Türü
Ev
---
Konaklayacak Kişi Sayısı
4
---
Yatak odaları
Toms River, New Jersey, ABD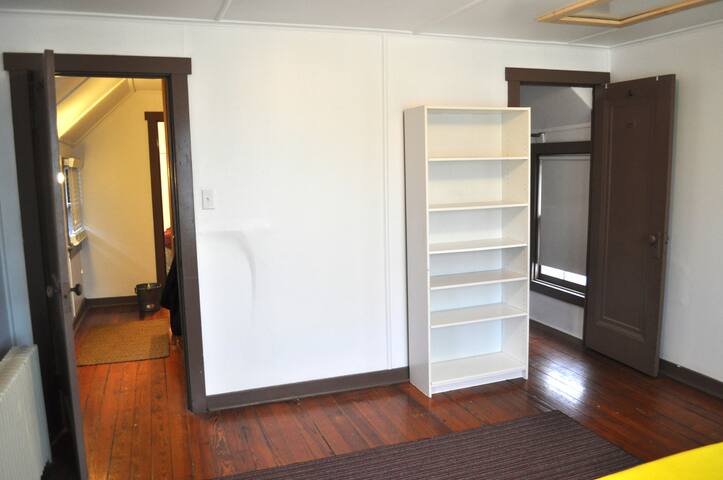 Ein Block von einem Park, der Baseball-Felder, einen Tennisplatz, Basketballplatz, Volleyballnetz, Picknickplatz, Spielplatz hat. Auf der anderen Seite des Parks ist der Toms River / Barnegat Bay, das Boot gleitet, Bootsanleger, Strand und Fischen und Krabben umfasst. Das Hotel liegt an der Jersey Shore, das Haus ist nur 10 Minuten von der Küste, Island Beach State Park, 30 Minuten von Six Flags Great Adventure, 45 Minuten von Atlantic City und etwa eine Stunde von Princeton, New Brunswick, Philadelphia und New York.
Charming Cape Cod mit vier Schlafzimmern. Die beiden Schlafzimmer im Obergeschoss sind für die Gäste und ein Queen-Size-Luftmatratze und Nachtschränkchen enthalten. HINWEIS: Der Raum wurde nur gemalt und enthält auch einen faux Holz elektrische Heizung Ofen.
Das Hotel liegt im ursprünglichen Teil von Beachwood, die 1917 gegründet wurde, ist es eine ruhige Gegend, die zum Wandern und Radfahren ist groß. Zusätzlich wird ein Block von Mayo Park zu sein, sind Sie nur ein paar Blocks von einer 24-Stunden-Laden / Tankstelle, Imbiss, Pizzeria, Apotheke, Nagelstudio und mit einfachem Zugang zu den Garden State Parkway
I had a great time at Robert's place. It really was a good deal. Robert is a great guy and very respectful. His dog, Jake, is very friendly and a blast to hang out with.
Paul
2017-03-03T00:00:00Z
I love Robert's place, it has become my home away from home hahah. Robert is such a great host and is always there when you need him. If he doesn't no the answer to something he looks it up and within minutes has the answer to them.
Reynaldo
2017-03-16T00:00:00Z
Great spot and incredible value! Robert was a communicative and welcoming host. Bedroom was comfortable and cozy.
Katie
2017-02-25T00:00:00Z
Great bang for your buck!
Mar'shell
2017-02-12T00:00:00Z
Robert was a great host! We ended up in Beachwood more or less by chance and didn't know what to expect. So it all was a very pleasant surprise. The area around Toms River is beautiful and Robert prepared a very nice room for us with everything you could ask for. He seems to be an expert in New Jersey history and tourism and helped us make the most of the very limited time we had in the area. We would have loved to stay longer. Thank you again Robert for your hospitality and the ride!
Leo
2017-02-21T00:00:00Z
Good time. Being 3 females in the location of the home we felt uncomfortable because it seemed you were uncomfortable also or there was a lack of trust. The location spot of being 30 minutes from AC is false it took and Hour to get there.Any age of 18 wouldn't be the best to stay. The Air mattress had to be inflated every other minute. More space would have been fine. The price set was the price of its value. Host is laid back but we wanted more conversations and more stuff to do as college students at our age, if host is in the tourism scene.
Niya
2017-03-12T00:00:00Z
Cool place
Allen
2017-03-14T00:00:00Z
My second stay here with Robert. An ideal location, quiet neighborhood and home and has all the basics one needs.
michael
2017-01-11T00:00:00Z
Oda Tipi
Özel oda
---
Mekan Türü
Ev
---
Konaklayacak Kişi Sayısı
2
---
Yatak odaları
Beachwood, New Jersey, ABD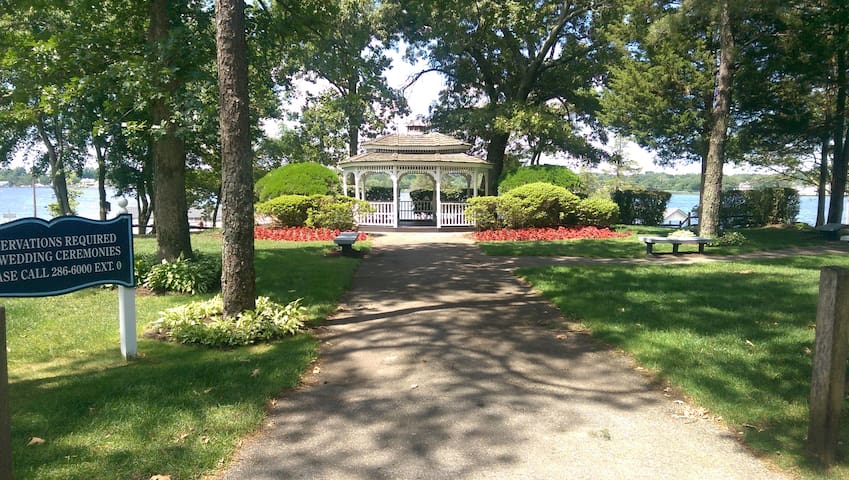 Wow! Beautiful home! Beautiful yard! Beautiful people! Clean, comfortable, private, accommodating. Great location, quick drive to the beach and boardwalk. Convenient to movies, workouts, shopping, restaurants. Thank you both for making us feel welcome.
Philip
2014-06-27T00:00:00Z
Beautiful house in a great neighborhood! Very easy drive to the beach. Quiet and peaceful room with a lovely walkway leading down to the yard space. Very romantic. Noelle and Dominc were great hosts.
Michael
2016-06-06T00:00:00Z
As a first timer using Airbnb, my weekend stay was very special for my fiancé and I, and Noelle & Dominick made it nothing less of perfect for us by being great hosts. They are so friendly and made me feel very welcomed. We had all the privacy that we needed during our stay. The lower level where we stayed (including the room) is very beautiful and spotlessly clean – I slept like a baby on that bed. Three things that impressed me the most beside how awesome the place is are: the night lights on the path that leads to our private entrance, the hosts provided every single details from all the toiletries to sunglasses and a Frisbee – a Frisbee? how awesome is that, and lastly the unexpected visitor – Noelle's cat - that made my fiancé smiled a lot. We will definitely be back
Lam
2015-06-21T00:00:00Z
Noelle and Dominick were excellent hosts, they made us feel welcome from the moment we pulled up to the driveway. They really focus on the little details which made our stay all much more special. The bed was super comfy and as shore lovers we really enjoyed the "shore" decor feel that the gorgeous room offered. I'd highly recommend staying here for your jersey shore trip. Thank you to the lovely hosts your experience will be that much more memorable.
Karen
2014-08-31T00:00:00Z
Our stay here was lovely... Noelle and Dominick have a beautiful home. We had the whole basement with much privacy, and the bed was sooo comfortable and heavenly to sleep in. Noelle offered us many recommendation which we took up and were very pleased with. Make sure to check out "Shut up and Eat" there food was great.
konrad
2014-08-30T00:00:00Z
Noelle and Dominick were great hosts! They were very flexible as I was delayed getting there that evening and then had to leave a couple of days early unexpectedly. They never hesitated to let me know that if there was anything they could do to make my stay more pleasant they were open and eager to help. Their home is just beautiful and the space is neat, clean and relaxing. The back porch and yard are beautiful. Had I had more time to be there and to relax, I would have enjoyed doing so in this space. So close to the beach too - just 10-15 minute drive. It was a great first airbnb experience and I highly recommend! Thank you, Noelle and Dominick!
Gina
2014-11-05T00:00:00Z
beautiful home and room! Noelle made sure we had everything we need. extremely comfortable bed,and even though you share a house, there is full privacy.
pete
2016-06-23T00:00:00Z
We had a wonderful time staying with Noelle! She was welcoming and friendly, and their house has an ideal set-up for guests. Big comfortable bed, hot shower, beautiful back yard. Anything we could have needed was made available. She and her family went above and beyond!
Lyla
2016-05-15T00:00:00Z
Oda Tipi
Özel oda
---
Mekan Türü
Ev
---
Konaklayacak Kişi Sayısı
2
---
Yatak odaları
Toms River, New Jersey, ABD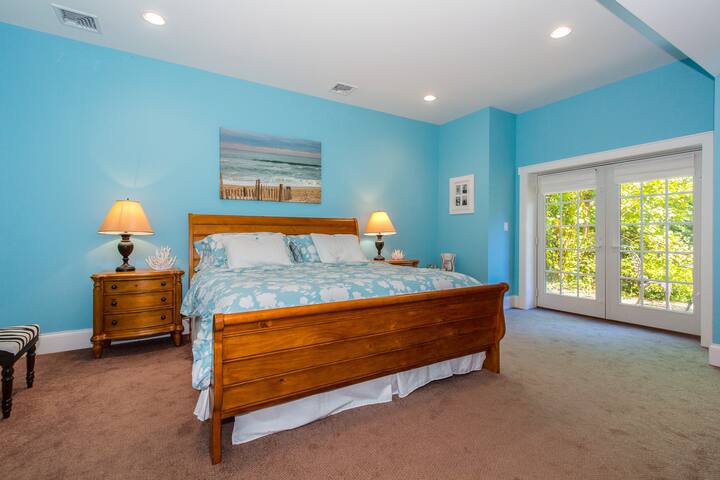 My place is close to restaurants and dining, great views, the beach, and family-friendly activities. You'll love my place because of the neighborhood and the light.
Oda Tipi
Özel oda
---
Mekan Türü
Ev
---
Konaklayacak Kişi Sayısı
2
---
Yatak odaları
Jackson, New Jersey, ABD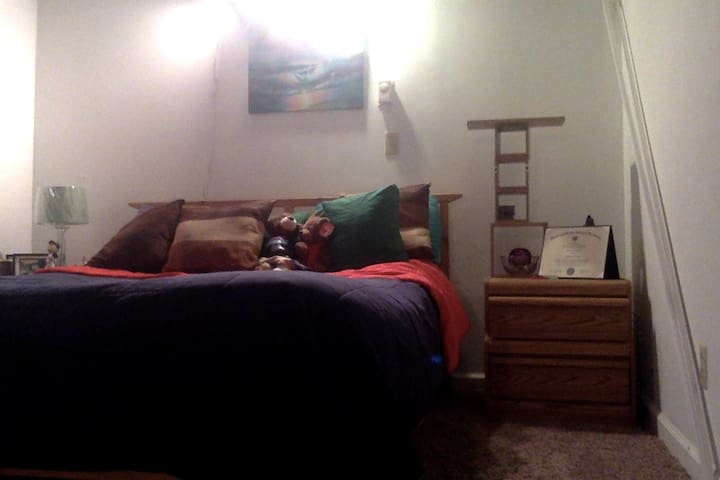 Acogedor bungalow de verano cerca de muchas actividades de playa. Muy cerca de la playa en Toms River, pesca en Barneget Bay, a 15 minutos de alturas de la playa, a 45 minutos a Atlantic City, excelentes restaurantes, locales nocturnos y aledaños.
barrio tranquilo, cerca de las zonas de playa, cerca de buenos restaurantes y actividades de verano. No es lujoso, pero limpio y cómodo.
Heidi was very accessible and friendly. The accommodation was very much in line with the price we paid. I loved having the history of the place to read as well as all of the cute, historic knick knacks around the bungalow. Having beach chairs accessible was an added plus.
Kathleen
2016-08-16T00:00:00Z
Rented this for a family reunion I was attending in a bordering town. Shared with family in from Mid West with 2 young children. The house was the typical Jersey Shore Bungalow I and my family remembered from our childhood. Home was clean, comfortable and well-stocked with beddings and towels for all six of us. Heidi has an amazing collection of videos that kept my young nieces and us entertained before bed at night and again in Morning. House is close to everything. Heidi was a attentive host and delivered as promised. I'll recommend this rental to anyone.
Donald
2016-08-08T00:00:00Z
I had a wonderful time and Heidi was a great host!
Jessica
2016-07-31T00:00:00Z
Heidi's bungalow was a great fit to our vacation. She had the place ready from clean linens to towels. I recommend her place and plan on booking her place on our next trip
Kirk
2016-07-16T00:00:00Z
Oda Tipi
Tüm ev/daire
---
Mekan Türü
Ev
---
Konaklayacak Kişi Sayısı
6
---
Yatak odaları
Beachwood, New Jersey, ABD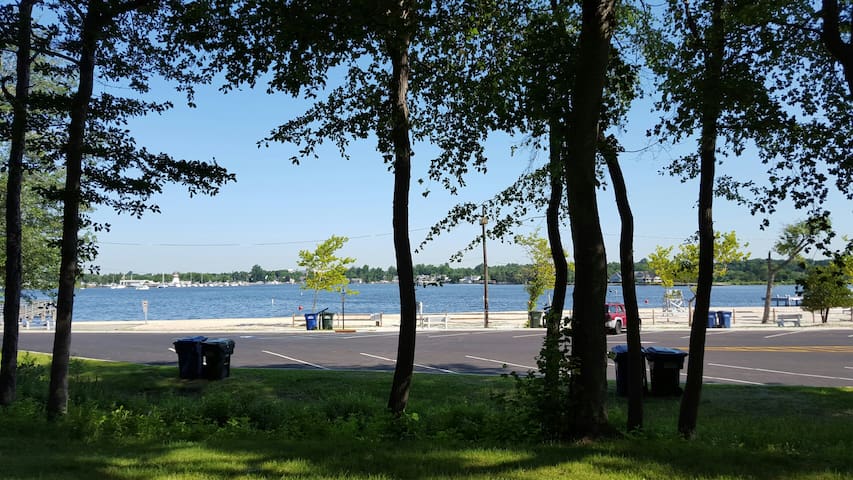 All guests will enjoy the downstairs of this Multi Family home with a swimming pool, hot tub and friendly dog. Walk 2 minutes to market, bank, and shopping or a brisk walk to the bay with a beach area. The ocean is a 15 minute drive to Brick, Pt. Pleasant and Seaside Park beaches. Drive an hour north to NYC or an hour south to enjoy Atlantic City for day trips. Restaurants range from fast foods to fine dining. Your vacation can be as busy as you like or as quiet.
My husband, our dog Cookie, and myself live on the second level of our multi family home. You will have the entire ground level apartment.
Oda Tipi
Özel oda
---
Mekan Türü
Ev
---
Konaklayacak Kişi Sayısı
4
---
Yatak odaları
Brick, New Jersey, ABD
Tam fiyatlandırmayı görmek için tarihleri görün. Ek ücretler uygulanır. Vergiler ilave edilir.