My house, located between the valley and the mountain (15 minutes from Sion and 15 minutes from the ski resort of Veysonnaz - 4 Vallées), accessible by public transport, offers a comfortable, friendly and stunning views. As an architect, I wanted to create a modern, respectful of the authentic structure of the cottage, ideal for couples, lovers of winter sports or hiking, solo travelers and business travelers.
The apartment is built in a traditional house of mountain, dating from the eighteenth century, composite construction beams, fully renovated. It is located in the village center of La Vernaz in 1000 m. altitude. Its area is about 60 m2, including a living room / bedroom, kitchen, bathroom with shower and a separate toilet.
Énormément de plaisir à loger chez Martine avec ma fille, calme, très bien équipé, proche des pistes de ski, une adresse à garder précieusement...
Cyril
2017-02-19T00:00:00Z
Merci pour ce petit séjour . On a vraiment aime votre endroit. C'est fait avec le coeur et encore plus jolie que dans les photos. La vue de l'appartement est magnifique. Martine on a aider avec des chemin pour marcher et le séjour était tout ensemble très reposant et sympathique.
Anna
2017-02-13T00:00:00Z
merci à Martine pour son accueil et son sens du contact. l'appartement est plein de charme ,un mixte de chalet ancien relevé par une décoration contemporaine. je recommande vivement
thierry
2017-04-06T00:00:00Z
We had such a wonderful stay at Martine's place. So stylish and cleverly designed for storage and room, it was even better than it looks in the photos. We visited with our 18month old and a cot and high chair were left for us which was great. The views are unbelievable and you're close to many activities and walks in the beauty of the Alps. It's the perfect place to relax after a day exploring and everything you need is provided. We would definitely visit again. Thank you Martine and Tim!
Steph and Matt
2017-01-27T00:00:00Z
We had a great Time in this house. The inside of the house is very modern and clean. From the windows you have a great view on sion!
Näriman
2017-03-05T00:00:00Z
We had a lovely visit in Les Agettes in Martines home. When we arrived late at night Martines son helped us with the directions. He also offered us help with our bags. The next day they checked in and looked so everything was good. The apartment was actually a lot nicer than the images illustrate. We thought it was a great apartment but we got really suprised over the look and how clean it was. From the bedroom it's a great view over the mountains. The location is great, 15 minutes to the 4 valleys ski resort. 5 minutes to the closets grocery store and a small resturant on the other side of the street. The last day Martine offered us to have brunch with her. She was super nice and service minded. I really recomend this apartment if you going to this area!
Alexandros
2017-01-01T00:00:00Z
Ein wundervolles Appartment. Mit viel Liebe wurde ein altes Bauernhaus umgebaut. Wunderschöne alte Features wurden erhalten und trotzdem lässt die Wohung nichts an modernem Style missen. Einfach nur toll. Der gelbe Sessel ist wirklich da. Ich habe drin gesessen. Sehr gemütlich. Die Schlafcouch ist nicht sehr gemütlich, aber für ein paar Tage geht das schon gut. Dafür ist alles andere so unglaublich liebevoll eingerichtet. Die Dusche ist so toll. Ich würde es Wellness nennen. Martine ist eine tolle Gastgeberin. Ich würde immer gerne wieder hinfahren. Vielen Dank Martine und Tim und alles Gute Ella und Moni
Ella
2017-02-11T00:00:00Z
Martine welcomed me personally and showed me the appartment which is as described. No, actually it is more spacious! (though it has low ceilings). It is a very comfy and well equipped appartment and I spent a lot of time on that yellow armchair:) Thanks!
Chris
2016-12-23T00:00:00Z
Oda Tipi
Tüm ev/daire
---
Mekan Türü
Daire
---
Konaklayacak Kişi Sayısı
2
---
Yatak odaları
Les Agettes, Valais, İsviçre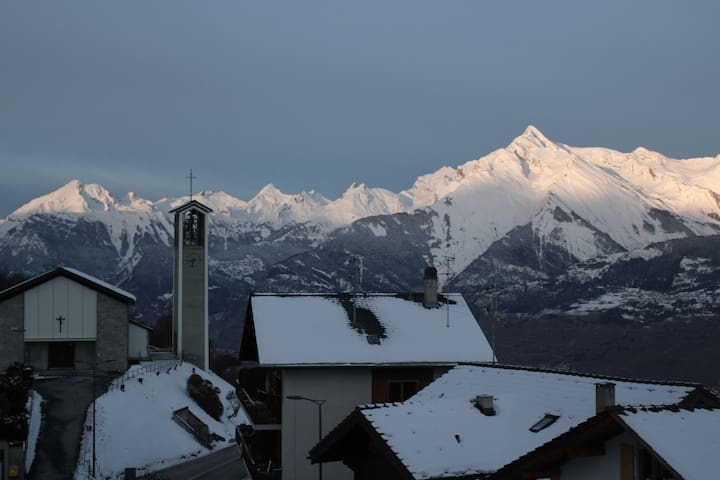 Putují na staré město Sion, hned za rohem tohoto soukromého ložnice. Vlakové nádraží je 5 minut pěšky od ložnice. 15 minut autem jednoho z nejznámějšího lyžařského střediska na světě, 4 Vallées (Nendaz, Veysonnaz, Verbier). Ostatní lyžařská střediska jsou také v blízkosti (Anzère, Crans-Montana) --- La Vieille ville de Sion se Trouve Côte La gare est à 5 minut pied de la chambre privée. Une place de parc est dans le disponible garáž v suterénu.
Mají dobrou noc spát tuto jednu ložnici v centru Sion, byla budova postavená v roce 2011. I přes umístění v centru města vnější hluk nebude problém dobře spát Vzhledem ke kvalitě budovy. Budete-mají vlastní koupelnu jen přes ložnici. ----------- Dobrý spánek v tomto soukromém pokoji v centru Sion, v budově postavené v roce 2011. I přes své prestižní centrální poloze, bude vnější hluk neměl být problém díky dobré kvalitě stavby. Ve vlastní koupelně je k dispozici hned vedle pokoje.
Místnost je v centru města Sion. Jen napříč všemi ulicemi ruční, hospod a restaurací ve městě. Staré město je hned za rohem, a budete ble na Treck na hradů města. Z okna ložnice vás bude ble vidět hrady. Chcete-li navštívit místa v blízkosti --Ostatní nutí jsme jen 5 minut chůze od vlakového nádraží a autobusové nádraží. Takže všechny lyžařské areály, trekking skvrny, jsou jen na jednom jízdy autobusem nebo vlakem od našich stránkách. ------- Místnost se nachází v centru Sion. Jen ve všech hlavních ulic, hospod a restaurací. Staré město je 1 minutu chůze od místnosti a budete moci vylézt na hradech města. Z okna svého pokoje uvidíte hrady surplomblent krásné město Sionu. Chcete-li navštívit další místa v blízkosti nutí, pokoj je pouhých 5 minut chůze od vlakového nádraží a autobusové nádraží. Tak, všechny lyžařská střediska, hory a zavlažovacích kanálů jsou jen autobusem nebo vlakem od našeho bytu.
깨끗하고 아주 좋은시설이에요.
Seungchan
2017-02-19T00:00:00Z
Un très bon séjour ! Les hôtes étaient très aimables et arrangeants , je le recommande fortement
Maud
2017-03-03T00:00:00Z
Séjour très agréable!
Susanne
2017-03-22T00:00:00Z
Tolle lage des appartements. Danke für den angenehmen Aufenthalt.
Phil
2017-04-06T00:00:00Z
Perfecto.
Maria
2017-04-02T00:00:00Z
Samuel is a very attentive and friendly host. He helped us to get to the house without losing and apart, is very generous. 100% recomended.
Txema
2017-03-29T00:00:00Z
Everything was extremely clean, Samuel was very kind and friendly. I would recommend his place to everyone.
relja
2017-03-11T00:00:00Z
Very good place to stay! I had a perfect welcome, Samuel and his friend were lovely and even Tigy the cat was cute with me. The private bathroom is a luxury. I can recommend this place very warmly to everybody!
Céline
2017-03-28T00:00:00Z
Oda Tipi
Özel oda
---
Mekan Türü
Daire
---
Konaklayacak Kişi Sayısı
2
---
Yatak odaları
Sion, Valais, İsviçre
Located in the heart of the old town of Sion, our studio offers all the comfort and closeness that you will need during your stay. Jenny and I have everything for you having to take your toothbrush and your clothes.
Studio Design & Cosi 40m2 completely renovated, located in the Grand-Pont street. Fully equipped kitchen, wifi and HD digital TV Net +, Boombox Bluetooth speaker system, double bed, linens and shower products provided. In case of long stay, cleaning done once a week free of charge, additional cleaning option costs CHF 50.- delivery, not including breakfast. City taxes levied surcharge on site.
Today, the Grand-Pont street is meeting area, except for residents, is closed to traffic every night of the week and on Sundays and holidays. The layout of the place during the last decade has made it beneficial to the lives of residents, tourists and merchants. This street is full of good places to eat, bars, delicatessens and small shops, come and have fun ...
Wir haben dieses Wochenende zwei Nächte in Jenny's Wohnung verbracht und es war wirklich sehr schön! Der Check-in war ganz unkompliziert und sympathisch. Absolut klasse! Die Wohnung ist sehr schön, sehr sauber und auch total ruhig, weil im Hinterhaus. Trotzdem ist man mitten in der Altstadt - mitten im Leben. Alle Museen, Restaurants und Shops sind eigentlich direkt nebenan! Toll! Wir haben ein Parkhaus in der Nähe benutzt und auch das war ganz nahe und echt okay vom Preis (CHF 16,00/Tag). Von der Lage her optimal für Erkundungen der Umgebung, denn man ist in 5 Minuten auf der Autobahn. Wir würden jederzeit wiederkommen und geben die volle Punktzahl mit SternchenDanke Jenny
Karin
2017-03-19T00:00:00Z
Si vous chercher un endroit super centré sur Sion, à 10 min de la Gare, à 5 min du centre du vieux Sion ou regorge petits bistro et bar sympa vous êtes à la bonne adresse. L'accueil est fort agréable, l'endroit design à souhait est très agréable, une douche spacieuse est présente, ainsi que tout le nécessaire afin de passer un agréable séjour. Et si lors de votre retour vous souhaitez boire un dernier verre, conseil passer par le Cubanito, à 2 min, ambiance très sympa. Pour sur j'y reviendrai. Pascal
pascal
2015-08-10T00:00:00Z
Nous avons passé une semaine vraiment merveilleuse. Le studio est impeccable, la déco est originale. Jenny a laissé des petits attentions pour améliorer notre quotidien. Et surtout, chose très importante, la literie est bonne, on a dormi comme des bébés. Elle prend régulièrement des nouvelles. Bien situé au coeur de la vieille ville. On ne peut mieux rêver comme endroit. Je recommande. Rebecca fév. 2015
Erica et Alain
2015-03-02T00:00:00Z
Nous avons passé un agréable week end en plein centre de Sion. Nous avons beaucoup apprécié ce studio qui a un super design, qui est très bien situé et où le lit est très confortable. Merci à Jenny et à son équipe pour leur excellente collaboration !!
vero
2015-05-25T00:00:00Z
Our stay was very comfortable. Check in was fine, and the studio contained everything needed. The location is perfect, central, yet quiet. Highly recommended.
Matthew
2016-01-18T00:00:00Z
Bon accueil, un peu bruyant la nuit
Fabienne
2015-09-07T00:00:00Z
filippo
2017-01-27T00:00:00Z
Studio très agréable et très propre. Situé dans la vieille ville de Sion, on peut s'y balader à pied et profiter des boutiques, bars et restaurants aux alentours. Le WiFi fonctionne à merveille, par contre il n'y a pas de réseau mobile dans le Studio (pas de GSM, ni 3G, ni 4G). Nous nous sommes régalés avec des filets de perche du Valais au restaurant Cheval Blanc situé à quelques pas du Studio. Les parkings aux alentours ont des tarifs différents, pensez à vérifier avant. La salle de bain est spacieuse et le lit très confortable. Nous reviendrons volontiers. Merci !
Christine
2017-01-05T00:00:00Z
Oda Tipi
Tüm ev/daire
---
Mekan Türü
Daire
---
Konaklayacak Kişi Sayısı
2
---
Yatak odaları
Sion, Valais, İsviçre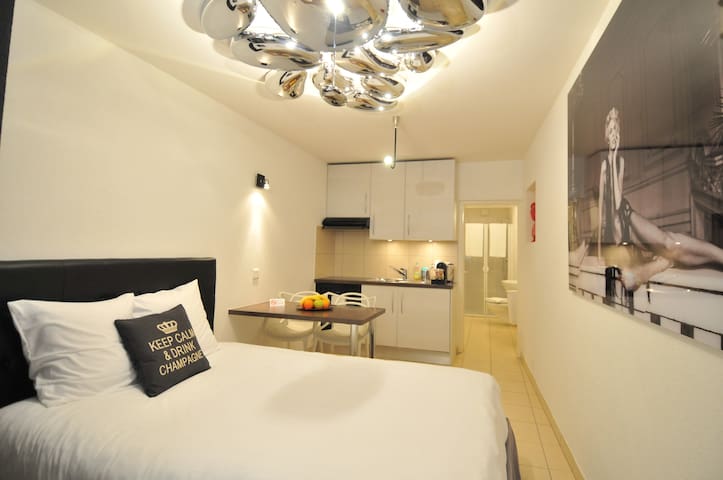 Our accommodation is close to A We are about 15 minutes Nendaz 20 minutes veysonnaz 25 minutes from Montana and 10 minutes from the shops in Sion, the spectacular view, restaurants, facilities for families. Our accommodation is perfect for couples and families (with children) and can acceuilir 6 people. Cleaning fees are payable locally, 60 Chf for 4 and 15 Chf per person extra.
A excpionnelle view and conveniently some minutes drive
Christian's apartment was beautiful - we were a family of 5 and picked the place due to its centrality relative to multiple ski resorts. He and his wife had many beautiful touches including fresh baked bread and homemade jam. The apartment was spotless and comfortable with a beautiful view. I hope to return one day in the future!
Siobhan
2017-02-27T00:00:00Z
The host canceled this reservation 12 days before arrival. This is an automated posting.
Franck
2017-01-30T00:00:00Z
This chalet is located above the town of Sion, on the road to Nendaz (in the 4 Valleys that lead to Verbier) . Newly renovated this place had everything you could possibly think of. The hosts were amazingly sweet and nice. The first evening they brought us a breakfast basket with homemade bread, homemade apple juice from the garden, jams and butter. So nice! We woke up every morning to a great view overlooking the beautiful Swiss mountains. The place is located just 10 minutes drive from the Nendaz ski lifts, 30 minutes from Crans Montana ski & golf and one hour from Zermat (Matterhorn) and Chamonix. The bus stop is just next to the house but its so cheap and easy to just rent a car to drive around as the train in Switzerland will cost you more in any case. We dined at the chalet a lot, as the kitchen was amazingly equipped. I can honestly and warmly recommend this place for a group of friends, families or a couple. Thank you Christian, for everything, we loved our stay with you.
Nicolas
2017-03-20T00:00:00Z
Rapport qualité / prix a 10 min de la station de Nendaz excellent. Accueil excellent.
pierre
2017-03-05T00:00:00Z
Très bon accueil avec petit dèj offert. Beau chalet confortable typique à la région. Je recommande sans hésiter ! On reviendra...
David
2017-04-07T00:00:00Z
Super séjour ! Appart nikel avec absolument tout à dispo, spacieux et vue magnifique. Situation calme et propriétaires adorables aux petits soins. A deux pas de la ville de Sion. Je recommande
Nathalie
2016-09-16T00:00:00Z
Oda Tipi
Tüm ev/daire
---
Mekan Türü
Daire
---
Konaklayacak Kişi Sayısı
6
---
Yatak odaları
Sion, Valais, İsviçre
bright two-pieces in the countryside a few steps from downtown. Renovated in spring 2016.
Possibility to use the sofa bed in the lounge for two additional people
Excellent appartement. Encore plus jolie en vrai qu'en photo. Totalement adapté pour un sejour.
Michael
2017-01-15T00:00:00Z
bien situé, tranquille et bien équipé.
guy
2017-01-17T00:00:00Z
Superbe appartement. Notre hôte est vraiment très à l'écoute. Nous avons passé un super séjour à Sion et espérons revenir.
dimitri
2017-02-10T00:00:00Z
Idéal pour un week end tranquille
Emilien
2017-02-12T00:00:00Z
Gute lage, sehr Zentral. Sauber und sehr freundliche Gastgeber
Luca
2016-12-23T00:00:00Z
Oda Tipi
Tüm ev/daire
---
Mekan Türü
Daire
---
Konaklayacak Kişi Sayısı
2
---
Yatak odaları
Sion, VS, İsviçre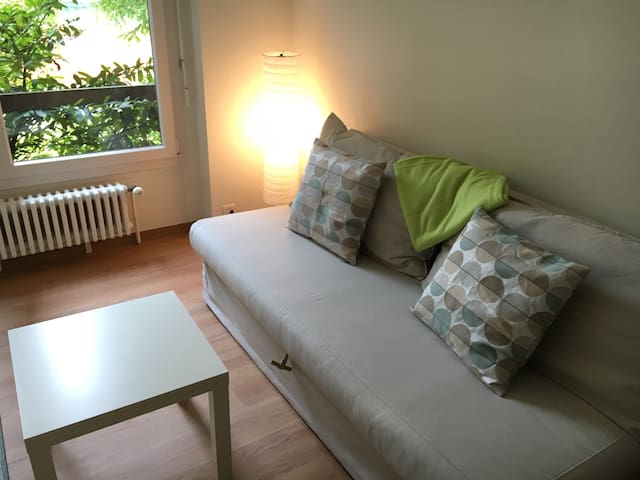 El piso está situado junto a un canal con un balcón orientado al sur. Es un lugar tranquilo, cómodo y amueblado con gusto. En el centro de los Alpes ofrece un acceso ideal para los destinos de renombre: Verbier, Nendaz, Montana, Zermatt, Saas-Fee ...
Apartamento reformado con gusto. Las pinturas son ecológicos de la marca Farrow & Ball y materiales en el suelo son también sin disolventes. El piso tiene una cocina abierta con la sala de estar, 2 dormitorios y un baño con bañera. Un dormitorio tiene una cama de 160 cm de ancho y el otro tiene 2 camas individuales de 80 cm. Una plaza de aparcamiento está incluido en la tarifa. Pintura de los artistas locales se visten las paredes. Tras un objetivo de sostenibilidad, cada pieza de mobiliario, lámparas y platos son de segunda mano y renovado. Suministramos ropa de cama, toallas y artículos de primera necesidad. conexión Wi-Fi está disponible y libre. Cerca del edificio son una cafetería / panadería, una tienda de comestibles, una farmacia y una carnicería de renombre
El barrio es tranquilo y agradable. Cerca del campo de golf, la hípica, la pista de patinaje. Las orillas de los ríos Rohne también están cerca y ofrecen buenas oportunidades para caminar. La Ferme Asile, centro cultural, con un buen restaurante y una agradable terraza se encuentra justo al otro lado del canal
Merci encore à Isabel pour son accueil si chaleureux. C'est un magnifique et lumineux appartement, décoré avec bcp de goût, on s'y sent très bien. C'est un quartier calme, tout proche du golf de Sion et à quelques minutes à pied du centre ville. En plus il y a une place de parc. Tout est parfait. Un cadeau de bienvenue à l'appartement! Mercii
Claude & Misha
2016-10-04T00:00:00Z
Apartment is nicely decorated, very light! All the equipment is brand new and works fantastic! parking in the front is perfect. Isabel is a kind host, very ecologically minded which is a ++. No connection for electric vehicles on site but within 5 minutes walking there are some in the centre.
Nick
2016-03-31T00:00:00Z
Tout était absolument parfait! L'accueil, l'appartement et le reste. Nous avons passé un excellent séjour et nous reviendrons à coup sûr.
audrey
2016-09-18T00:00:00Z
Isabel's place is perfect! She has thought of literally everything one might need during a visit. We were greeted on the day of arrival and shown around. She has plenty of recommendations for sights to enjoy while in Sion. The old town city centre is just about a 10 minute walk. This bring you to the location of the two castles that hover above the town. Plenty of unique shops to visit. Beautiful local art shops. There is a market, bakery, pharmacy, restaurant right around the corner from the apartment which makes it easy on the day of arrival to grab something quick to eat and shop for groceries. I would definitely stay at Isabel's place again when I visit Sion.
Michelle
2016-06-04T00:00:00Z
Une hôtesse très sympathique et arrangeante avec un appartement très agréable. Merci de votre disponibilité. Aymeric.
ASSISTANTE STERIMED
2016-07-15T00:00:00Z
Appartement très agréable et très bien équipé notamment avec un enfant en bas age. Isabel nous a très bien accueilli. Nous ne manquerons pas de revenir si nous en avons l'occasion.
Sophie
2016-08-07T00:00:00Z
Superbe appartement, Isabel nous a réservé un accueil agréable et chaleureux et communiqué les informations pratiques pour bien s'installer chez elle et profiter des avantages de la ville et de ses environs, très conciliante et très agréable je recommande vivement ses services de qualité et son bel appartement très joli et fonctionnel et très propre, merci infiniment à elle, on reviendra c'est certain
Youcef
2016-08-16T00:00:00Z
Le logement était tel que décrit. Isabel était là pour notre arrivée et nous a montré tout ce qu'il fallait voir dans l'appartement. Le quartier est très tranquille et il y a quelques magasins à proximité. Il y avait des fleurs et des petites attentions dans le frigo. Nous avons passé deux jours très agréables.
Mauricette
2016-10-17T00:00:00Z
Oda Tipi
Tüm ev/daire
---
Mekan Türü
Daire
---
Konaklayacak Kişi Sayısı
4
---
Yatak odaları
Sion, Valais, İsviçre
Beautiful apartment, located on the ground floor, with 2 rooms and views of the mountains. quiet neighborhood near the ski slopes of Valais. All the available amenities.
This is a cute, new apartment in a quiet area, 15 minutes walk from the city center. The apartment is located near the most important ski resorts in Valais: Crans-Montana, Veysonnaz, Verbier ... In the apartment you will find everything that is necessary to spend a few days of tranquility; they even leave you food to facilitate your stay.
Javier est très sympa et disponible, nous avons reçu une réponse très rapide et aussi un e-mail détaillé concernant son bel appartement. L'emplacement est vraiment top avec un jardin - idéal aussi pour les enfants. Proche du centre de la ville, de la promenade au bord de la rivière, du golf et des magasins. L'appartement est très bien équipé et très propre. Nous nous sommes senti comme chez nous à la maison. Nous allons y retourner avec plaisir. C'était un beau séjour en Valais. Merci encore pour tout.
Claude & Misha
2016-07-31T00:00:00Z
El apartamento ha resultado igual que en las fotos, nos ha parecido muy acogedor y cercano con el centro de Sion. Bien equipado y confortable. Aunque no coincidimos con el anfitrión nos sentimos acogidos ya que nos dio indicaciones muy completas sobre el apartamento y el entorno mediante correo electrónico, en todo momento se mostró disponible para resolver cualquier duda.
ana
2016-02-08T00:00:00Z
Great place, the appartment is very nice and Javier helped in everything
Péter-Contesse
2017-01-02T00:00:00Z
Notre week-end en famille (enfant de moins de 2 ans) chez Javier a été des plus agréable. Nous nous sommes rendus facilement à pieds au centre de Sion. L'appartement dispose de tout le nécessaire et est très confortable. Il est en tout point fidèle aux photos! Nous avons eu beaucoup de plaisir a échanger avec Javier qui est un hôte accueillant et serviable. L'appartement donne sur un grand parc pour les enfants et est au calme. Un disque dur nous a permis de revoir de vieux films très sympathique.
Sarah
2017-02-26T00:00:00Z
Oda Tipi
Tüm ev/daire
---
Mekan Türü
Daire
---
Konaklayacak Kişi Sayısı
2
---
Yatak odaları
Sion, Valais, İsviçre
Attic studio in Sion, kitchenette with hob, fridge, microwave / grill, kettle, pain.Attique in a very quiet building. Bathroom with shower. residential area near the city center within walking distance. Included with accommodation: 1 parking! ️4e floor. Booking 2 nights minimum
quiet residential area
Ideal studio room for a stay in Sion. The place is clean, tidy and had everything we needed. It is also nice and close to the centre. Steph and her family were lovely and offered to help with anything needed!
Haley
2016-05-22T00:00:00Z
Famille sympathique est souriante. Un accueille très chaleureux
Raphael
2016-04-23T00:00:00Z
Steph nous a bien accueilli à notre arrivée, elle a été trés gentille et disponible. Le studio est super, c'est l'idèal pour deux personnes; il corresponde parfaitement à l'annonce et il y avait tout ce qu'il fallait pour bien s'installer pour quelque jour. En plus il y a une magnifique vue sur le chateau de Tourbillion. Calme, silencieux, propre et juste a quelque minutes à pied du centre ville, je le recommande vivement!
Elena
2016-06-07T00:00:00Z
Das Studio hat eine gut ausgestattete Küche. Es ist mit mehreren Dachfenstern versehen und daher sehr hell. Die Gastgeber waren sehr freundlich und immer erreichbar. Einziger Minuspunkt: Man ist im vierten Stock ohne Lift.
Manuel
2016-09-25T00:00:00Z
It's a nice and clean apartment in a good area close to the city center. They where realy friendly. I recomendit.
Luca
2017-02-09T00:00:00Z
Todo ha sido tal y como Steph ha dicho y las fotos reflejan bien la casa. La comunicación ha sido excelente y la casa tenía todo lo necesario, incluso algún detalle :). Contento con la decisión.
Guillermo
2017-03-01T00:00:00Z
Our stay in Sion was great. The studio is small but cozy and well prepared. You hace everything you need. It is also remarkable that it was very clean. The building and the neighborhood was very quiet. Take into account that it is on the 4th floor (without elevator)! I would definitively reccomend it to friends!
Ana Belen
2017-01-02T00:00:00Z
Nous avons passé un très bon week-end dans le logement de Steph. Logement agréable et accueil chaleureux. Je recommande
Quentin
2017-03-26T00:00:00Z
Oda Tipi
Tüm ev/daire
---
Mekan Türü
Daire
---
Konaklayacak Kişi Sayısı
2
---
Yatak odaları
Sion, VS, İsviçre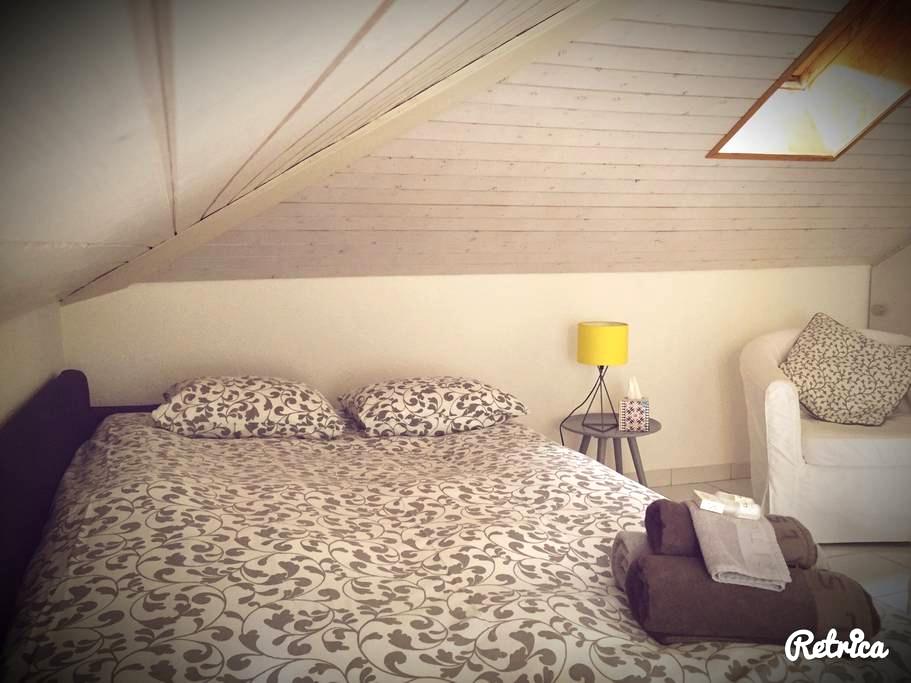 bella vista, metà del Vallese con mezzi 5 della stazione sciistica
Oda Tipi
Tüm ev/daire
---
Mekan Türü
Daire
---
Konaklayacak Kişi Sayısı
2
---
Yatak odaları
Sion, Valais, İsviçre
Beautiful apartment in a quiet area of Zion Charming housing 3 1/2 rooms, fully refurbished with concierge service. A ten minute walk from downtown Zion. The location of this property is ideal, whether you are with family, alone, with friends or even business travelers, the range of activities around is comprehensive: indoor swimming pool, ice skating, shopping, relaxation, gastronomy, culture, ballads ... When is the pleasure of welcoming you?
Beautiful apartment of 3.5 rooms fully renovated, located in a quiet area of the city of Sion, Rue de Lausanne. The space consists of a kitchen, a living-dining-room, two bedrooms with double beds 160x200 (one room is modified with 2 single beds 80x200) and a bathroom and separate toilet. The entire household, except dishes, is made free of charge every 7 days. Breakfast excluded. Local taxes and fees levied surcharge on site CHF 2.20 per person per day. uninsured parking service. A place to load and unload luggage is available at the accommodation, for a maximum duration of 30 minutes.
The geographic location of this apartment allows to fill our sports friends and nature lovers by accessing the lake Mont barley and its fitness course (Bisse du Mont d'Orge, ice rink, swimming pool ...). But our epicurean friends, thanks to the many restaurants that abound the city of Sion, discover and enjoy the products of our land. A half an hour from the ski resorts of Crans Montana, Nendaz and Thyon 2000 and 45 minutes from Verbier. Rejuvenate in our mountain air and enjoy the end of the day to stroll in the middle of the center of our capital of Valais.
Oda Tipi
Tüm ev/daire
---
Mekan Türü
Daire
---
Konaklayacak Kişi Sayısı
6
---
Yatak odaları
Sion, Valais, İsviçre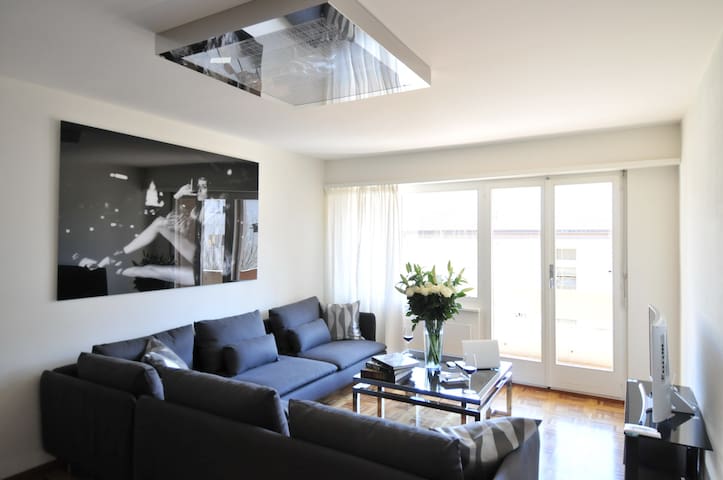 Oberhalb Sion Dieses gemütliche Apartment mit einem Schlafzimmer, eine große private Terrasse mit Blick auf die Schweizer Alpen bietet bietet eine sehr ruhige Lage mit viel Vegetation für Naturliebhaber. Perfekt für einen angenehmen und authentischen Aufenthalt das Wallis :-) erkunden
Unabhängige, komfortable Wohnung über Treppen erreichbar. Ein Schlafzimmer mit einem Doppelbett und einem Ledersofa, umwandelbar in ein richtiges Bett im Wohnzimmer; erstaunliche Terrasse (Tisch und Stühlen, Sonnenliegen, Sonnenschirm und Grill); eigenes Bad mit Dusche; private Küche (Kühlschrank, Herd, Backofen und Spülmaschine); Zugang zu Waschmaschine und Trockner; Kabelfernsehen; W-lan; Krippe auf Anfrage erhältlich; Steuern inbegriffen.
Sehr ruhig gelegen zwischen Sion und Savièse; nur wenige Gehminuten von See Mont d'Orge und Bisse von Lentine (unser Führer für Sightseeing sehen wir in der Gegend empfehlen); viel Vegetation für Naturliebhaber.
Natacha und Olivier sind sehr nette Gastgeber und hatten immer Zeit für uns wenn es nötig war. Das Appartement ist sehr schön und hat alles was man braucht. Auch die Benutzung von Waschmaschine und Trockner war super problemlos. Die riesige Terrasse mit Grill ist toll, wir haben jeden Tag draußen Gefrühstückt. Durch die am Haus wachsenden Kiwi gab es einen besonderen Touch obwohl es dadurch in der Wohnung etwas dunkler wurde. In Sion ist man zu Fuß in 30 Minuten, zurück dann in 45, geht halt bergauf. Für 2 Personen absolut klasse.
Stefan
2015-09-23T00:00:00Z
Very pleasant stay. The apt was a good size to share with one other person - even the sofa bed was quite comfortable, and the whole place was nice. Olivier and Natascha were welcoming, friendly, helpful and gracious. They provided a garage space for the car as the weather was nasty, delivered us a delicious breakfast each morning, and offered an excellent restaurant recommendation. Many little details in the apartment testify to the thought they put in - leaving six eggs in the fridge (saved me having to go back out to the grocery store after arriving late first night), fresh fruit on the table, even a board game. Fully recommend this place and will be back myself as soon as the skiing improves a bit...
Morgan
2015-01-04T00:00:00Z
Olivier et Natacha n'ont pas pu être présents lors de notre séjour. Toutefois, ils se sont toujours assurés que nous ayons toutes les informations nécessaires et que nous soyons bien arrivés. Nous avons même eu droit à un petit présent pour se faire pardonner leur absence.
Candice
2014-09-28T00:00:00Z
We stayed one night at Olivier and Natachas "BnB Carpe diem" and had a fabulous time. The apartment is just enough for 2-4 people and the terrace outside is perfect for the great breakfast in the morning that is even included in the stay - it was simply delicious - The communication went very easy and well and we felt very much welcomed at their place. It is a great and very calm place to spend a weekend away from the city and the region is just beautiful. Thank you again for your hospitality and let us know if you will be in Santa Monica or Flims :)
Irina
2014-09-15T00:00:00Z
this was for my brother's family and they said the place is extremely clean and feels very nice and cozy. i havent met olivier & natacha in person but they were really nice and helpful.
eunjung
2014-07-15T00:00:00Z
L'appartement est confortable pour un couple avec 1 ou 2 enfants et la terrasse est magnifique. De nombreuses informations touristiques sont à disposition dans l'appartement et les hôtes sont très sympathiques. Les petits déjeuners sont très bons. Merci à Olivier et Natacha pour leur accueil chaleureux.
Muriel
2014-08-04T00:00:00Z
The hosts Olivier and Natacha were prompt, caring and extremely responsive. They were also very flexible to accommodate our changes. It was a pleasure to deal with them during the process of booking. The apartment itself is a beautiful place and is in a brilliant location. It was very clean and they had made a great effort to ensure we were comfortable. We really enjoyed the visit and will be staying with them next time we are in Sion. The pictures do not do justice and will really recommend this to anyone thinking of staying in Sion.
Karthic
2014-06-23T00:00:00Z
Natacha und Olivier sind hervorragende Gastgeber! Das Wohl der Gäste liebt ihnen spürbar am Herz - wir wurden sogar zu einem Raclette eingeladen und konnten uns bei Weisswein und Essen austauschen. Ein weiteres Highlight ist das Frühstück - Eier, Joghurt und sogar selbstgemachten Saft und Konfitüre. Herrlich! Als gebürtige Walliser kennen sie das Wallis mit allen möglichen Wanderungen und hatten selbst bei schlechtem Wetter tolle Tipps auf Lager (Museen, Thermalbäder, etc.). Das Zimmer ist ruhig und verfügt über eine grandiose Terrasse mit Gasgrill und toller Sicht auf die Berge. Zu Fuss ist es etwas weit nach Sion und ein Auto ist von Vorteil, da die Busse nicht zu jeder Zeit verkehren. Küche und Schlafzimmer sind tiptop - das Zusatzbett ist jedoch ein altes Sofa und nicht gerade bequem. Für ein Paar passt's super aber wer 2 richtige Betten braucht wird nicht voll auf seine Kosten kommen. Sonst alles gut - WIFI, TV, Geschirrspüler - alles funktioniert.
Pascal
2014-08-01T00:00:00Z
Oda Tipi
Tüm ev/daire
---
Mekan Türü
Daire
---
Konaklayacak Kişi Sayısı
4
---
Yatak odaları
Sion, Valais, İsviçre
We rent a beautiful, quiet 2-Z apartment with terrace. Old Town / Shopping (5 '), bus / train station (10') Sion is the starting point for great excursions, hikes and has a beautiful old town with restaurants, museums and famous landmarks of Valeria and Tourbillon (see sion tourisme)
We rent a beautiful, quiet 2-Z apartment with terrace. Old Town / Shopping (5 '), bus / train station (10') Sion is the starting point for great excursions, hikes and has a beautiful old town with restaurants, museums and the famous castle hills Tourbillon and Valeria (see sion tourisme) Quiet 2-room apartment with terrace All attractions within walking distance. The owner lives in the house. IMPORTANT! Night's sleep is also on the terrace 22:00 to 8:00 There is a fully equipped apartment with kitchenettes are available. Bed linen (beds made) and towels are included. Front of the terrace is a private / closed children's playground. One parking space in front of the house can be rented for up to 5 CHF / day. Negotiable WM / TM can be (depending 3CHF) used. Our neighborhood is very central but absolutely quiet as all roads are only access roads. The house was built in 2000th The area was also the site of numerous archaeological excavations (menhirs, Celtic tombs ...) With public transport Sion is very accessible, and Sion, the Switzerland of the largest bus station. Many large hiking, skiing areas are accessible by bus (Nendaz, Les 4 Vallées, Crans-Montana, Anzère, Nax, Thyon-les Collons, Ovronnaz, Evolène ...)
Our neighborhood is very central but absolutely quiet as all roads are only access roads. The house was built in 2000th The area was also the site of numerous archaeological excavations va Celtic origin (menhirs, tombs ...)
Quartier très calme et appart très confortable ! L'hôte a rapidement pris contact, m'a fait confiance et les échanges de messages étaient très sympathiques
Anne
2016-07-17T00:00:00Z
Anne-Marie hat uns am ersten Tag herzlich empfangen und uns gleich mit einigen Tipps für Ausflüge versorgt. Für weitere Ideen können die vielen Broschüren, Wanderkarten, Gastroführer, usw. zu Rate gezogen werden. Die Wohnung war sehr sauber, ist top ausgestattet und liegt sehr zentral wie beschrieben. Falls wir wieder einmal nach Sion reisen werden wir ganz sicher wieder bei Anne-Marie anfragen.
Marc
2016-09-16T00:00:00Z
Je recommande absolument sans réserve Nous reviendrons
José
2016-06-21T00:00:00Z
Ich habe mit den Wohnung sehr wohl gefühlt, sie war mit allem Notwendigen ausgerüstet (sogar Wasserkocher und Toaster), total sauber und gut geheizt. Die Gastgeberin hat mir den Kühlschrank aufgefüllt für das Frühstück und hat mich sogar vom Bahnhof abgeholt. Die Wohnung ist total ruhig und ich habe super gut geschlafen.
Pascale
2015-02-07T00:00:00Z
Wir verbrachten ein wunderschönes Wochenende in Sion. Die Wohnung ist eine wahre Wohlfühloase mitten im Stadtzentrum von Sion. Anne-Marie hat uns sehr freundlich empfangen und sogar frische Erdbeeren für uns bereitgestellt. Sie erklärte uns auch auf dem in der Wohnung vorhandenen Stadtplan wie wir was finden können. Die Wohnung hatte alles was wir brauchten und noch mehr. Der Kühlschrank war voll mit leckerem Essen. Die Wohnung ist sauberer als jedes Hotel in dem wir bis dato übernachtet haben und sehr liebevoll eingerichtet. Die WLAN Verbindung ist sehr schnell und gut. Wir haben uns total wohl gefühlt und würden jederzeit wiederkommen. Sion ist auf jeden Fall eine Reise wert wir wären gerne noch länger geblieben.
Kerstin
2014-06-16T00:00:00Z
She(The host) kindly pick us up at the train station and explained everything we need during staying
Bongsung
2014-12-25T00:00:00Z
Wir haben uns super wohl gefühlt. Die Wohnung ist picobello sauber und es ist an alles gedacht: es gibt Lebensmittel zum Frühstücken, Gewürze und Utensilien zum Kochen, der aktuelle Veranstaltungskalender der Stadt liegt parat und auf der Terrasse sind sogar Wäscheklammern und Wäscheleine. Anne-Marie hat uns mit dem Auto vom Bahnhof abgeholt, was wir wegen der schweren Koffer sehr schätzten. Sie ist sehr sympathisch, hilfsbereit und sie kennt sich bestens in der Stadt aus. Das ist die perfekte Adresse um die Stadt kennen zu lernen.
Dagmar
2013-11-09T00:00:00Z
Une hôte très sympa, nous avons été très bien accueillis!
Maria
2017-03-24T00:00:00Z
Oda Tipi
Tüm ev/daire
---
Mekan Türü
Daire
---
Konaklayacak Kişi Sayısı
3
---
Yatak odaları
Sion, Valais, İsviçre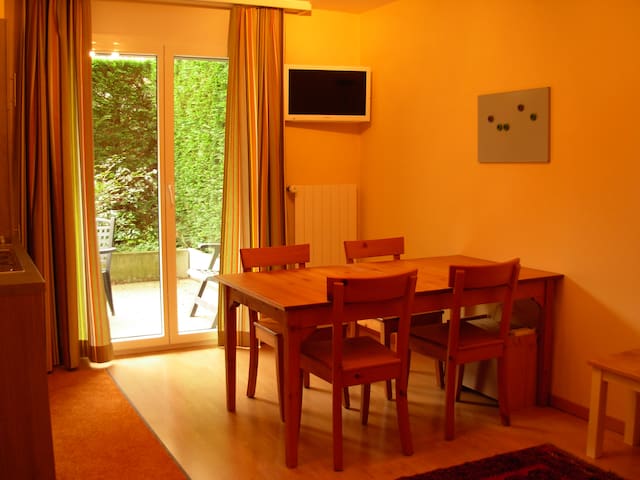 Large modern apartment, functional, extremely bright and quiet. Located close to the old town and the Place du Midi, one of the most famous and trendy places of the city with many restaurants, sunny terraces and many shops.
New Apartment, Design & Pleasant 140m2, located at chemin des Collines. fully equipped modern kitchen, wifi and 2 digital TV. 1 double bed with private bathroom, 2 single beds, 1 bathroom with shower, towels provided. 70m2 private garden with BBQ facilities.
The neighborhood is one of the most sought Zion. It is in a residential area of the city center and access is a dead end without traffic. Only residents access to their homes in the vehicle.
Très bel appartement pour un très bon séjour
Olivier
2017-02-26T00:00:00Z
Appartement très bien agencé, spacieux, moderne. Idéalement situé : proche du centre-ville et de la vieille ville. L'accueil était parfait !
Petithéâtre
2017-03-26T00:00:00Z
Oda Tipi
Tüm ev/daire
---
Mekan Türü
Daire
---
Konaklayacak Kişi Sayısı
4
---
Yatak odaları
Sion, Valais, İsviçre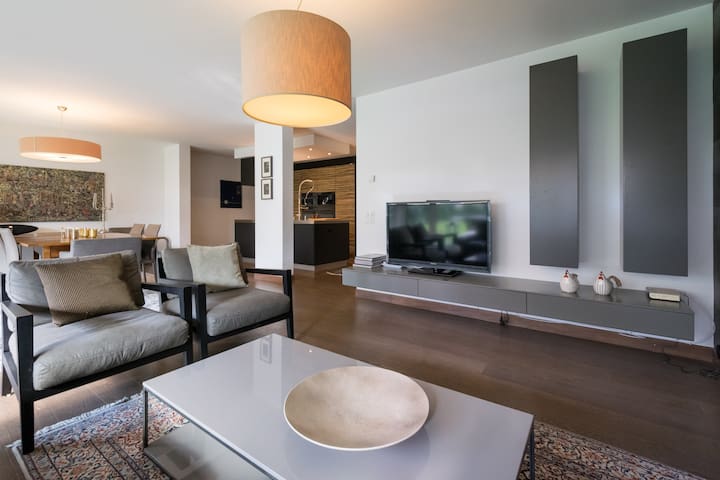 Jedná se o velmi pěkný byt v centru města Sion, ve středu Place du Midi, obklopené ze všech stran krásné terasy a mnoho druhů obchodů. Nejlepší pekárna ve městě Sion je jen 15 metrů od vchodu do budovy, ideální pro chutnou snídani na slunné terase. Sion je jedním z nejslunnější město ve Švýcarsku, 360 slunečných dnů v roce, tak úžasné být znát každý. Jedná se o rekreační byt s krásným kuchyňským koutem, velmi dobře vybavené a otevřená na velmi pěkně zdobené obývací pokoj radostně pestré a dynamické. Pokoj je prostorný, s velkou manželskou postelí. Další pokoji se mohou ubytovat další dvě osoby v případě potřeby je jednoduché lůžek 90/200. Zajišťujeme prádlo a čisté ručníky, Wi-Fi. V blízkosti sjezdovek je známé lyžařské středisko Crans Montana známá všech mezinárodních akcí v průběhu celého roku, je jen 20 minut od bytu. Vítejte na Sion, že budete mít město.
Great location, spacious and clean. Would definitely stay here again!
Susana
2015-05-27T00:00:00Z
Vielen Dank für die schöne Wohnung!!! Nicht nur die tolle Lage im Zentrum von Sion aber auch super Einrichtung von der Wohnung. Alles was das Herz begehrt. Wir konnten uns das Frühstück machen und auch am Abend kochen. Auch die Übergabe von dem Schlüssel hat sehr gut funktioniert. Ich glaube, ich komme wieder! Marta aus München
Marta
2015-10-27T00:00:00Z
Beautiful, large apartment. Located in the center of town, with access to everything in Sion. The hosts were away while I was there (so I had the whole apartment, not just a private room). The hosts left some coffee, tea, and snacks for me to help myself, including some nice chocolate cookies. The upstairs neighbors must have young children, because there was quite a lot of running around upstairs in the afternoon, but they were silent after 8 pm, so it wasn't a problem for sleeping.
Niki
2013-11-26T00:00:00Z
To give some context: My wife and I were travelling around the western half of Switzerland by train, and we wanted to be near a main rail line for our daily outings. That's how we picked Sion as a location. The town itself looks nice, but we didn't spend much time there. We were pleased with the apartment - it was clean and comfortable as advertised. It is located on the first floor of a building in the car-free, central pedestrian zone of Sion, about an 8-10 minute walk from the train station. Lots of bakeries, restaurants and shops nearby. Some street noise filters up to the apartment on Friday-Saturday nights, but not too disturbing. We did not meet the host, but communicated well via email. No issues. It was great for our purpose.
Bob
2016-07-30T00:00:00Z
Accueil super, l'hôte toujours dispo et rapidement. Endroit super, au centre, tout est proche, resto, bistrot, magasin, vieille ville. Nous sommes restés 3 semaines, durant les rénovations de notre maison, l'inconvénient du bon emplacement proche de tout, est que c'est un peu bruyant, mais ce pas trop grave. Mais comme nous habitons un petit village tranquille et que nous ne sommes pas habitués aux bruits, au bout des 3 semaines..... A part ça rien à redire, appartement assez grand, nous étions 4, propre, bien équipé, très sympa.
Georges
2016-10-04T00:00:00Z
Not the first time in this apartment, hopefully not the last ;) Amazing place, amazing host! Thank you!!!
Natalia
2015-08-01T00:00:00Z
J'ai malheureusement dû annuler mon séjour, mais j'ai eu un très bon contact avec l'hôte et Jasmina a été très rapide à me répondre concernant la disponibilité du logement.
Valérie
2014-12-04T00:00:00Z
The apartment was even better than it looked in the photos, the area was a bit noisy at night time but that is to be expected in such a central location with everything so close. Overall an absolutely great place!!
James
2015-07-28T00:00:00Z
Oda Tipi
Tüm ev/daire
---
Mekan Türü
Daire
---
Konaklayacak Kişi Sayısı
4
---
Yatak odaları
Sion, Valais, İsviçre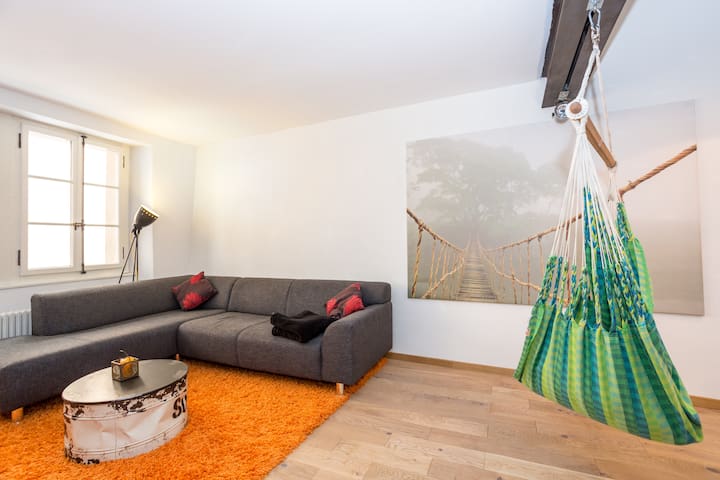 My accommodation is close to historical sites and shops Pedestrianized street, the spectacular view, the many local restaurants and varied. Enjoy my apartment for its location beautiful view of the valley and the old town. My accommodation is perfect for couples, business travelers, families (with children) and large groups.
Its view from the terrace Exceptional location at the center of the old town of Sion Respect for the former both in its planning that by design
The local shops and restaurants cafes while having the impression of being in a small village
Brigit is a warm and kind host. She was available when we had questions and her place is really interesting and unique.
Steven
2016-12-22T00:00:00Z
An excellent place in the old city centre, we had good time walking around and enjoying the history of the soroundings. The apartment very charming, clean and containing only the needed items to provide the standard comfort . A very good option.
Paulo Jorge
2016-11-07T00:00:00Z
J'ai trouvé l'ubication agreable, grand apartement dans le centre de la vielle ville. Malheuresement je ne me suis pas trouvée bien avec l'host: 1. il est difficile de se mettre en contact avec l'host (elle te réponds avec des jours de retard) 2. l'hygiene, surtout de la cuisine est pire: les vesseilles sont vieux et ruinés et il y a le risque de les casser. En tout cas je me suis trouvée très bien dans la ville de Sion qui est très jolie.
Enrica
2017-01-27T00:00:00Z
Brigit's place is an enjoyable flat to stay in at a good price. Make sure you have logistics well sorted, because Brigit was very bad at providing directions to us. (She'd said I could use her spot to park our car, but took 2 days to provide instructions that allowed us to find where it was which was pretty frustrating.)
Nicholas
2017-01-11T00:00:00Z
Bel appartement situé en plein coeur du centre historique de Sion. Absolument recommendé.
Patrick
2017-03-21T00:00:00Z
A charming home in a charming part of Sion. Central but very quiet (except the lovely church bells!). Perfect for our stay before heading up to the mountains.
Matthew
2017-01-15T00:00:00Z
La terrassiere est un petit nid douillet sur les toits de la vieille ville. Le site est remarquable, l'appartement confortable, et Brigit avait tout prévu pour notre arrivée. On ne pouvait rêver mieux ! On recommande !
adrien
2017-01-28T00:00:00Z
Oda Tipi
Tüm ev/daire
---
Mekan Türü
Daire
---
Konaklayacak Kişi Sayısı
3
---
Yatak odaları
Sion, Valais, İsviçre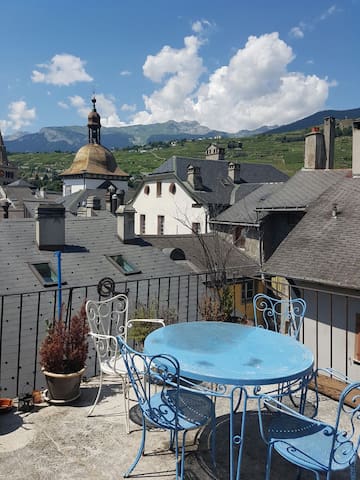 Meine Wohnung ist in der Nähe der Stadt Zion (4 km) und Sierre (11 km). Sie werden es für den Standort genießen, es ist ein idealer Ausgangspunkt für Ausflüge und Aktivitäten im Winter wie im Sommer in der gesamten Gemeinde. Resorts Ski, Thermalbäder, Restaurants, Museen .. Meine Unterkunft ist ideal für Paare, Alleinreisende, Geschäftsreisende und Familien. Es ist auf dem Boden meiner Wohnung. Zugang zum Garten im Westen mit Blick auf.
Gehäuse neu, modern und komplett ausgestattet. Wir stellen Bettwäsche, Frotteehandtücher. Einbauküche
Die Gegend ist Familie und sehr freundlich. Bäckereien, ein paar Bars, Restaurants, ein Postamt und ein Lebensmittelgeschäft: Sie werden in der Umgebung finden.
El apartamento de Jocelyn está completamente nuevo y muy bien equipado y decorado. Nos encantó. Jocelyn estuvo atenta a nuestra llegada y a todo lo que necesitaramos. Muy amable y agradable, nos recibió con leche, mermeladas, etc para el desayuno. El apartamento cuenta con un jardín estupendo para relajarse. Todo fenomenal. Merci beaucoup Jocelyn pour tout.
Cristina
2016-08-20T00:00:00Z
The host canceled this reservation 37 days before arrival. This is an automated posting.
chiara
2016-11-21T00:00:00Z
Oda Tipi
Tüm ev/daire
---
Mekan Türü
Daire
---
Konaklayacak Kişi Sayısı
4
---
Yatak odaları
Sion, Valais, İsviçre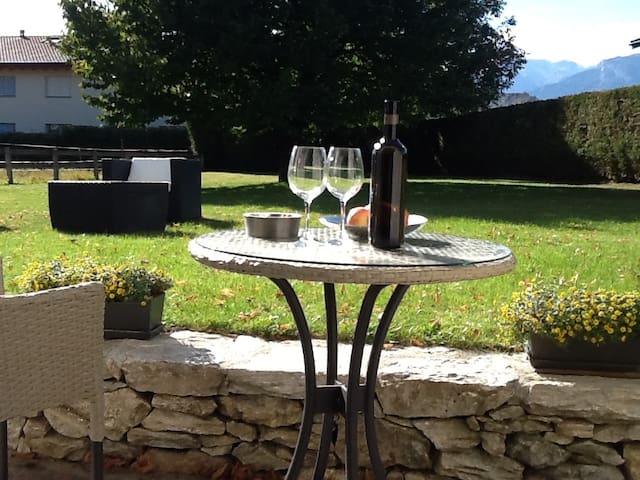 Sehr schöne Wohnung im Zentrum von Sion, 10 min. zu Fuß zum Bahnhof und 3 min. in die Altstadt und den Schlössern. Restaurants, Supermärkte und Geschäfte neben der Wohnung.
Il nostro host, dopo avere cercato di contattarlo in tutti i modi di è fatto vivo solo all'ultimo momento. Avevamo già dovuto annullare il viaggio!!! E adesso non vuole rimborsare il pagamento... Poca serietà.
thierrybuchi
2015-07-04T00:00:00Z
one of the nightmares to communicate with Jonas. He was very irresponsible and negligent. He lives in Germany and asked his friend to receive us who switched off his phone. there was a pass code to enter the building which he didn't care to inform us in advance. The phone number he gave us was not his number and it was his friends number which was switched off the whole evening. It directly goes into voice mail.. how irresponsible!! I had to wait in front of his apartment banging the doors and looking for some one to attend in the night for at-least one and half hour before we gave up and spent and extra 180 CHF in the middle of the night to book another hotel for that night. On the following day he gave another number which he wont answer as receiving a phone call costs him a lot as he lives abroad!! it was one of the horrendous experiences due to his irresponsible attitude..hosting is beyond his scope!! shower room doesn't have a door. water falls out in the bathroom and makes the floor very slippery. he doesn't deserve even a single star ( but no option)
kiran
2015-08-07T00:00:00Z
Très bon accueil de Jonas, il nous a donné toutes les infos que nous souhaitions connaître. L'appartement est très propre et très spacieux. Très bien situé dans le centre de Sion. Adresse à conseiller
gilles
2015-08-22T00:00:00Z
The host canceled this reservation 19 days before arrival. This is an automated posting.
Pascale
2015-07-24T00:00:00Z
Tout c'est bien passé, très bon contact. Superbe appartement au centre ville de Sion, très bien situé proches des commerces, bars et restaurants.
Mireille
2015-07-19T00:00:00Z
Appartement très bien situé et spacieux. Les instructions étaient claires, le prix attractif et Jonas très disponible. Petit bémol: la deuxième douche était non fonctionnelle et la majorité des lits sont des matelas par terre.
Jeanne
2015-09-06T00:00:00Z
Oda Tipi
Tüm ev/daire
---
Mekan Türü
Daire
---
Konaklayacak Kişi Sayısı
5
---
Yatak odaları
Sion, Valais, İsviçre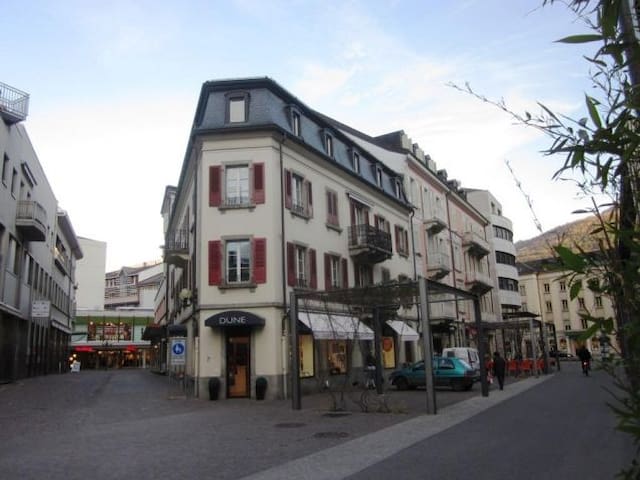 Modern apartment with 2 bedrooms: 1 double room and 1 room with bunk beds. Sofa bed in the living room, 1 bathroom, terrace and garden. Close to shops and the train station. In the heart of Valais with its winter and summer resorts.
Modern apartment with 2 bedrooms: 1 double room and 1 room with bunk beds. Sofa bed in the living room, 1 bathroom, terrace and garden. Close to shops and the train station. In the heart of Valais with its winter and summer resorts. Train station 500 meters. In the center of Sion, commercial center at 50 meters.
Very comfortable apartment, we felt like at home. It is exactly as the photos show. The garden is very beautiful. The place is very quiet. We are a four members family from Spain, my daughters felt better than at home than sometimes they preffer to stay at the apartment than go out. There is a commercial centre very close, 2 minutes by foot. A very good and big supermarket MIGROS inside.
maría jose
2014-08-04T00:00:00Z
Blaise nous a laissé un mot de bienvenue, et nous nous sommes sentis d'emblée très bien. L'espace, le jardin avec vue sur les montagnes, deux salles de bain et deux vasques par salle de bain, ... Le grand confort. Avec cela, un emplacement idéal: proche de la gare, du centre commercial, et du centre de Sion.
Mathilde
2015-09-01T00:00:00Z
Nous avons été accueillis par un gentil mot très visible depuis la cuisine, et Blaise nous a donné des réponses immédiates à toutes les questions posées. C'est notre deuxième séjour chez Blaise, le premier avait été une réussite, et le deuxième n'a pas démenti l'excellente impression que nous avions eue la première fois. Nous reviendrons sans hésitation.
Mathilde
2016-03-08T00:00:00Z
Alles super! Tolles Appartment! Klasse Gadtgeber! Organisation top!! Kommen gerne wieder!
Jan
2017-02-27T00:00:00Z
Très joli logement idéalement situé. Propre, calme et agréable à vivre. Très recommandé !
Raphael
2014-09-20T00:00:00Z
We loved everything about our stay at Blaise's gorgeous home in Sion. The home itself is modern and clean and spacious - perfect for us traveling with our baby for him to have his own quiet room (we provided travel crib). Two bathrooms is nice, and all the amenities to make our short stay comfortable and enjoyable. The location is perfect - 5/10 minute walk into heart of old town and to the must see historic sites. We learned that the adjacent street parking is short term on weekdays but free on weekends - we left the car on the street in the snow during a weekday and got lucky. Overall we highly recommend staying here!
Jennifer
2016-01-06T00:00:00Z
Logements trés sympa, bien centré et calme. Proche de la gare, du centre commercial et du centre de sion. Notre famille a passé de agréables séjours dans cette appartement avec jolie décoration et charmant jardin.
Peter
2016-08-01T00:00:00Z
Nous avons passé un très agréable séjour à Sion chez Blaise. L'appartement est aménagé et décoré avec beaucoup de goût, le système pour récupérer la clé était très pratique et le logement est bien situé dans le centre de Sion. Blaise s'est montré très gentil et a été facilement joignable afin de répondre à nos questions!
Camille
2016-09-04T00:00:00Z
Oda Tipi
Tüm ev/daire
---
Mekan Türü
Daire
---
Konaklayacak Kişi Sayısı
6
---
Yatak odaları
Sion, Valais, İsviçre
Les Agettes - Airbnb
:
310

misafir değerlendirmesinden,

5

yıldız üzerinden ortalama

4.59

yıldız
1

–

18

/

300+ Kiralık Daire
Tam fiyatlandırmayı görmek için tarihleri görün. Ek ücretler uygulanır. Vergiler ilave edilir.