Beautiful double ensuite room, amongst the vineyards of Bordeaux, with swim spa, hot tub & heated pool. Ideal for wedding guests at Chateau Rigaud & Soulac
Beautiful traditional French property, nestled amongst the Bordeaux vineyards.
The property is literally located amongst the vineyards - accessed via a quiet village lane.
Oda Tipi
Özel oda
---
Mekan Türü
Ev
---
Konaklayacak Kişi Sayısı
2
---
Yatak odaları
Eynesse, Nouvelle-Aquitaine, Fransa
Entre Saint Emilion et Bergerac, notre propriété en pleine nature est un havre de paix. A l'écart, un gite indépendant comprenant une chambre, un salon et une cuisine vous accueille en toute intimité.
Des meubles anciens, une grande cuisine très bien ėquipée avec poêle à bois, un salon avec éçran plat, une chambre avec une literie neuve et de qualité( 160x200), une terrasse privative sans vis à vis plein sud. Fond de cuisine, linge de maison, ménage de fin de séjour, légumes du jardin, oeufs .... Offerts
Notre propriété se trouve au bout d'une petite route, aucun vis à vis, la nature à perte de vue , calme assuré. De charmants restaurants à quelques kilometres. Le village de Riocaud est pittoresque mais tout petit ! Les course se font à 10 minutes, à sainte foy la grande. Nous sommes à 10 minutes de Duras, 30 min de Bergerac, 45 min de Saint Emilion, 1h15 de Bordeaux
When we arrived we were warmly welcomed by Nathalie and Alain with strawberries, a bottle of wine, homemade cookies and fresh (still warm!) goat milk. We enjoyed every part of our stay and Nathalie and Alain did everything to make it perfect. They took the time to provide us with tips on places to visit in the area and provided us maps with walking and cycling routes. They also lend us their bikes! The gite itself is located privately and during the day you hardly notice the presence of Nathalie and her family. But if you need them, they are there! All the animals on the property combined with the absolutely beautiful surroundings (forrest, vinyards) create a great atmosphere. Cut little dog Pepito and the cuddly cat (was her name Millot?) visited us regularly. We surely come back again!
Stefan
2016-07-05T00:00:00Z
Oda Tipi
Tüm ev/daire
---
Mekan Türü
Ev
---
Konaklayacak Kişi Sayısı
2
---
Yatak odaları
Riocaud, Aquitaine, Fransa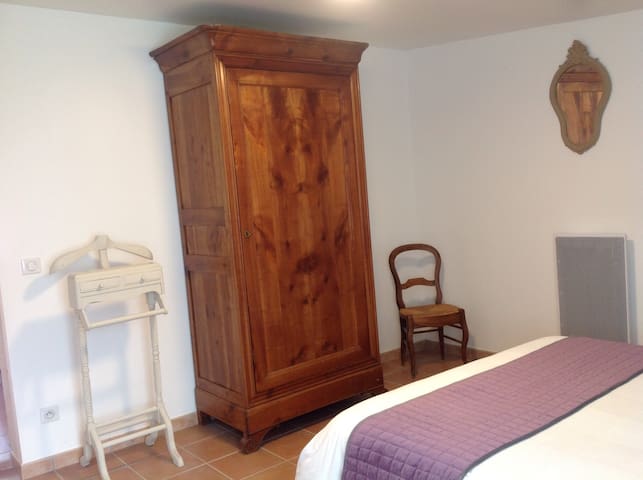 The 0ld Stone House in Eynesse has loads of French character with all the mod-cons to make your stay comfortable. Situated in the Bordeaux woodlands just 10 minutes walk from Eynesse village centre and the Dordogne river. Experience the best of French life!
A large open plan living space ideal for larger families consists of a kitchen / lounge / dining area and a mezzanine TV room
A quiet hamlet where all residents (Approx 15 homes) are involved in the wine industry and all are very friendly. There are wineries two doors away where you can buy some lovely wine. The Dordogne river is only 10 minutes walk for a swim or a kayak.
Mark replied immediately to our questions, both prior to and during our 6-day stay at his place. His instructions about the keys and locks for entering the house on our own were somewhat complex, yet explicitly clear. We had no trouble, even in the dark of night when we arrived. The heat was on (November 7 arrival) and felt welcoming.
Kay
2016-11-13T00:00:00Z
8 of us stayed in this charming barn conversion for a wedding in nearby Pessac. Facilities were great (loved the ping pong), Mark was fantastic with communication prior our trip and there was someone nearby to answer any queries whilst there. Ideal location for a large group wanting to experience South of France.
Jenna
2015-08-04T00:00:00Z
Description and photos probably don't give justice to house. Really lovely location and house. Mark was very good host and extremely efficient with any questions we had. Just wish we could have stayed longer . Would definitely recommend . Pop up pool was real bonus
claire
2016-07-25T00:00:00Z
Oda Tipi
Tüm ev/daire
---
Mekan Türü
Ev
---
Konaklayacak Kişi Sayısı
10
---
Yatak odaları
Eynesse, Aquitaine, Fransa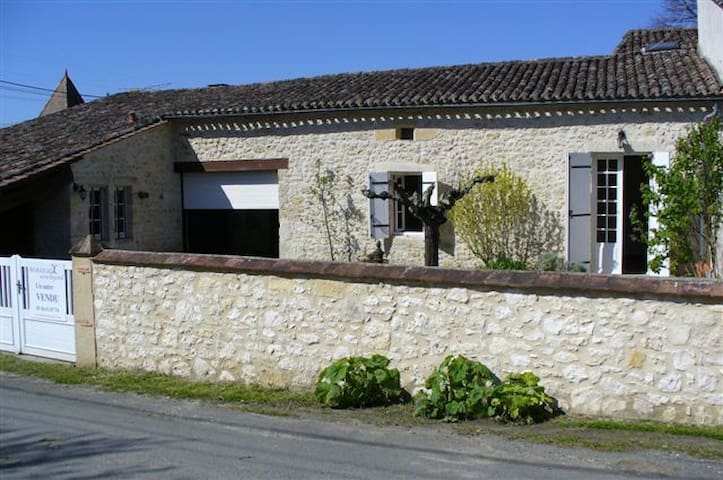 Beautiful character house between Bergerac and Saint Emilion. south terrace overlooking the river, north side (kitchen, dining room overlooking an orchard west cerisiers.Côté a new paved terrace in the shade of bamboo fencing facing the woods, a lovely place!
Its location overlooking the Dordogne, south-facing nature all around. While not far from shops.
The river, the trees, the cherry orchard, nature, calm, charm endroit.Possibilité to the kayak club 3kms, fishing, pedestrian walk, cycling, equestrian club, pony club just next , gliding field 5kms, golf course "The vigiers" 25 kms ... Saint Emilion 25km.
Elisabeth received us very kindly and made our stay at her place feel like home. Hers is a beautiful countryside house with a lot of character that is worth visiting. Being at Elisabeth's is a great opportunity to enjoy nature and tranquility, and to inmerse into the visual character that Elisabeth imprompted into her beautiful house.
Jordi
2015-06-30T00:00:00Z
Nous avons été ravis de rencontrer Elisabeth , qui est une hôte sympathique et pleine d'enthousiasme. Ses conseils pour découvrir les alentours nous ont été précieux. La maison, en bordure de la Dordogne, a énormément de charme. Nous avons passé de longues soirées sur la terrasse à profiter d'une vue exceptionnelle.
Line
2015-07-24T00:00:00Z
Excellent house! One of the most lovely Airbnb's I have ever stayed in. Garden was lovely with magnificent views over the the river. The cherry orchard out back was like a dream. All this surrounded by vineyards! Great for a couples getaway, but would be equally good for a family holiday
Robert
2016-06-22T00:00:00Z
Très belle maison de caractère, très calme et décorée avec beaucoup de goût. Un petit cocon.
Carey
2016-03-31T00:00:00Z
Elizabeth's house is beautifully situated, close to the river giving the property a wonderfully tranquil and cool atmosphere. The restoration is very sensitive and the decor is an eclectic mix of artistic artefacts that reflect Elizabeths interest in photography. Alongside that the owner is very protective and some might say a little more demanding than some hosts, we were asked to look after her plants, and her cat, which we did take on voluntarily, but we were a little surprised when, mid stay the owner turned up unannounced and we were made to feel that the cats disappearance was our fault, and some doubt was cast on whether we had been watering frequently enough. For the price one would not expect this. Bedrooms are of excellent size and the beds very comfortable but privacy is lower than some would expect. The upstairs bedroom has no door and is open to the hallway. The single bathroom and toilet in one room is really inadequate for six people , this is especially as the plumbing is not of a modern standard, flushing the loo causes and noise in the basin and an unpleasant odour. Linen is adequate but towels are not new at all. Having said that the house is extremely beautiful, and the tranquil setting and is close to the river makes for a lovely place to relax. The swimming is the river is excellent, and safe for adult swimmers, not for young children, be prepared to do a little work yourself to allow easy access to the river.
Richard
2016-07-31T00:00:00Z
Très agréable séjour dans cette belle demeure chaleureuse surplombant la rivière, aménagée avec beaucoup de goût. Les amateurs de calme, de lecture et de musique seront comblés.
Jean-Pierre
2015-08-15T00:00:00Z
Nous avons restés une nuit chez Elisabeth qui nous a accueillis très chaleureusement avec un clafouti de Cerises…la maison est très belles. Une maison d'artistes, remplis de bels objets, des photos, des meubles en bois magnifiques…le jardin est sublime donnant directement sur la rivière…un petit paradis. Merci Elisabeth !
shir
2015-05-23T00:00:00Z
Elizabeth's home is set in a beautiful location with easy and convenient access to many of the best places to visit in the region of Bordeaux. The house itself is set in stunning surroundings on the river with great views. During our stay Elizabeth kept in contact to ensure everything was ok during our stay which was greatly appreciated. The house itself is nice with some modern touches although the bathroom could use a little work. Overall we really enjoyed our stay and would be happy to go back!
Scott
2016-05-02T00:00:00Z
Oda Tipi
Tüm ev/daire
---
Mekan Türü
Ev
---
Konaklayacak Kişi Sayısı
4
---
Yatak odaları
Saint-Antoine-de-Breuilh, Aquitaine, Fransa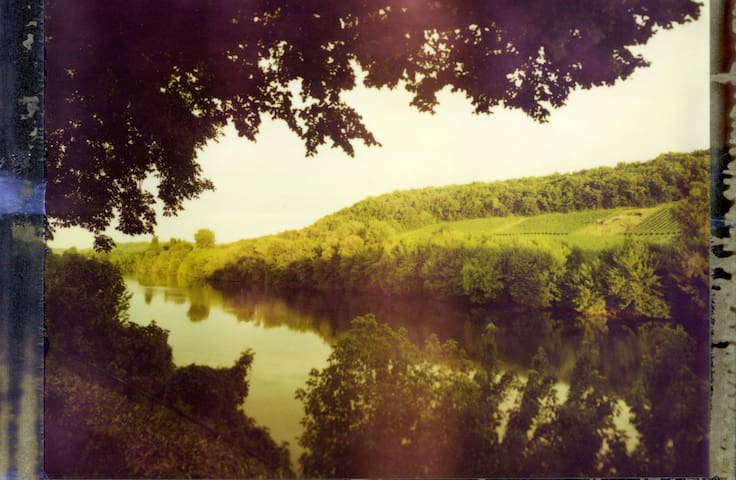 Découverte, rencontre, convivialité, partage. Séjournez dans notre maison en pierres rénovée, situé à proximité de la rivière "dordogne". Profitez de la piscine en pierre les aprés midi chaud. Gouter notre miel, nos fruits et légumes de saison.
La maison se trouve à côté de notre logement, "ensemble de maisons en pierre", une seule location, dans une petite commune en bord de dordogne. Nous aimons partager de bons moments avec nos vacanciers et les guider dans leur séjour, et leurs faire profiter de notre verger et potager.
Ensemble de maison en pierre en bord de rivière. Commune de 600 habitants situé à proximité de saint Emilion, Monbazillac, Sainte foy la grande.
Nous avons passé un merveilleux week -end au calme, sous le soleil, la maison est confortable, très fonctionnelle et joliment décorée. Nous avons été accueillis très chaleureusement par Florent et son épouse, nous reviendrons dès que possible pour prendre le temps de découvrir la région, encore mille mercis pour tout ! Corinne
Corinne Christophe
2016-04-05T00:00:00Z
The host canceled this reservation 68 days before arrival. This is an automated posting.
Sophie
2016-06-27T00:00:00Z
Un excellent séjour passé dans un cadre idyllique ! Tout était là pour se sentir dans un cocon de bien être, un gîte spacieux et accueillant, bien équipé et reposant. Des hôtes aux petits soins et très agréables sachant se faire autant discrets que disponibles. Un endroit où nous reviendrons avec beaucoup de plaisir.
Nicolas
2016-04-14T00:00:00Z
Florent est un hôte toujours de bonne humeur, très attentionné et discret à la fois. La description du logement mériterait d'être enrichie, ainsi que les photos. Le logement dispose d'un agréable coin salon au rez-de-chaussé qui n'est pas visible sur les photos. Il y a de nombreux jouets et jeux de société qui sont les bienvenus lorsque le soleil est timide. A l'extérieur les enfants disposent d'un portique et d'une grande pelouse. Le quartier est plutôt tranquille et familial :)
Valérie
2016-04-11T00:00:00Z
The house was lovely and charming and we had a wonderful stay there. Florent and his wife were very friendly and accommodating. The language barrier definitely made communicating difficult so I think there might have been a couple misunderstandings. We didn't know that we were meant to provide linens so they did provide them for us but it was quite expensive. Extra 60 euro. This is something for others to be aware of. Otherwise I would definitely recommend it.
Alexis
2016-06-26T00:00:00Z
We really enjoyed our time in Eynesse. The house is very spacious with a grocery store near by. The family is very warm and welcoming.
Denise
2016-05-29T00:00:00Z
Oda Tipi
Tüm ev/daire
---
Mekan Türü
Ev
---
Konaklayacak Kişi Sayısı
6
---
Yatak odaları
Eynesse, Aquitaine, Fransa
Obwohl er nicht weit von der Stadt Ste Foy la Grande, wenn Sie Ruhe und Erholung suchen, ist Les Cèdres ideal. Nur ein Kommentar von einem letzten Gast fasst zusammen: "Ein idyllisches Refugium Wir haben unseren Urlaub wirklich hier in diesem fabelhaften Haus und seine ruhigen, erholsamen Umgebung.."
Très bon accueil chez Simon et Mayline. La chambre est située dans une petite dépendance, elle est très agréable et nous disposions de tout le nécessaire! Super! La maison est dans les vignes dans un lieu très calme et agréable. Nous avons pris un délicieux petit déjeuner, rien ne manquait! Nous sommes très content de notre court séjour et nous le recommandons fortement! Merci Simon et Maryline.
Chloé
2016-10-25T00:00:00Z
The host canceled this reservation 6 days before arrival. This is an automated posting.
Victoria
2017-01-08T00:00:00Z
Oda Tipi
Özel oda
---
Mekan Türü
Ev
---
Konaklayacak Kişi Sayısı
2
---
Yatak odaları
Saint-Quentin-de-Caplong, Aquitaine, Fransa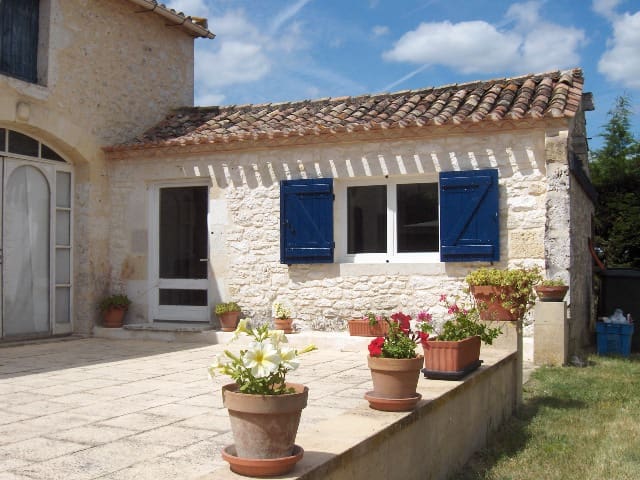 Villa between Bergerac and St Emilion, surrounded by vineyards, calm, no vis-à-vis. Big fenced garden, private pool 9mx4m, 2 terraces, summer kitchen, BBQ, indoors: fully equipped, 4 bedrooms, 2 bathrooms, equipped kitchen, buanderie, tv/wifi.
Nice size villa (single-storey), full of storage. 4 bedrooms (double beds), 2 bathrooms, equipped kitchen. Full of light in the living and dining room! Quiet surrounding, no "vis-à-vis. Yet, a 5 minute drive to shopping malls.
Neighbours are very kind. On demand, you can even play tennis next door! Very nice market in Sainte-Foy-La-Grande. Nice walks around. many castles to visit.
Maison et environnement très agréables (même en hiver). Cassandra est vraiment exceptionnelle, très sympa et disponible pour répondre à toutes nos questions ! Nous étions 8 et nous avions chacun notre espace, les chambres et le salon sont super. Nous retournerons tous avec plaisir dans cette maison chaleureuse. Un grand merci à Cassandra et à bientôt !
Natascia
2016-01-05T00:00:00Z
Belle maison au calme où l'on se sent bien.
GRAZIA
2016-12-26T00:00:00Z
The host canceled this reservation 47 days before arrival. This is an automated posting.
Sabrina
2016-07-31T00:00:00Z
Très bon séjour dans cette agréable maison. Merci à Cassandra pour sa flexibilité et la facilité d'accueil. Je recommande pour un séjour au calme, au vert, c'est l'idéal!
Quentin
2016-05-09T00:00:00Z
Belle propriété située au milieu des vignes! Bon weekend entre amis !
Flora
2016-09-25T00:00:00Z
Oda Tipi
Tüm ev/daire
---
Mekan Türü
Ev
---
Konaklayacak Kişi Sayısı
8
---
Yatak odaları
Saint-André-et-Appelles, Aquitaine, Fransa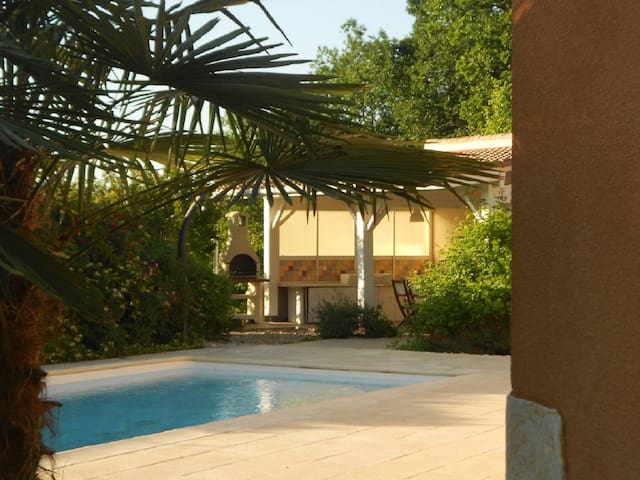 La Porte Bleue ist ein schönes Selbstversorger mit 2 Schlafzimmern Cottage in einem typisch französisch Dorf mit alten honigfarbenen Architektur. Genießen Sie frisch gebackenes Brot und Croissants vom Bäcker am Morgen und verbringen auf der Terrasse einen entspannten Tag, im beheizten Schwimmbad, Besuch von Märkten, Schlösser, Tennis spielen oder Kanu fahren auf der Dordogne. Am Abend wählen Sie zwischen Abendessen auf der Terrasse oder einen Spaziergang zu einem lokalen Restaurant!
La Porte Bleue ist ein neu renoviertes Haus auf dem Gelände unseres Hauses, mit seinen eigenen privaten Haustür Zugang von der Straße. Kostenlose Parkplätze im Umkreis von 100 Metern in einem kleinen Parkplatz. Das Haus hat zwei kleine, aber perfekt Zimmer mit Bad! Eine davon ist ein Doppelzimmer, und man kann Doppel- oder Zweibettzimmer sein. Beide Schlafzimmer verfügen über kompakte Duschräume angebracht, mit Waschbecken, WC und Duschen. Alle Armaturen sind ganz neu. Die Küche ist komplett ausgestattet, mit Geschirrspüler, Waschmaschine, Espressomaschine, Kühlschrank mit Gefrierfach, Mikrowelle etc. Wir bieten alle Handtücher, Bettwäsche und Geschirrtücher und ein Willkommenspaket mit einigen Grundlagen in Ihnen zu begleichen. Es ist ein Satelliten-TV und Bluetooth-Verbindung Ihre eigene Musik zu spielen. Sie werden viel Geschirr finden, Kochen und Reinigungsanlagen für 4 Personen. Unten befindet sich ein Essbereich und ein gemütliches Wohnzimmer zu entspannen und fernsehen oder Musik hören. Französisch Türen öffnen sich auf der Terrasse mit Liegestühlen und einem Esstisch im Freien. Der Pool ist in der gesamten Saison (Juni bis September) erhitzt und misst 7 x 3 Meter mit Stufen an einem Ende. Es ist 1,3 Meter tief im gesamten Gebäude. Sunchairs, Sonnenschirme und Badetücher sind vorhanden, und es gibt Schatten von blühenden Bäumen überragt. Wir haben eine solarbetriebene Dusche nach der Benutzung des Pool abzuspülen. Es ist ein Outdoor-Tischtennistisch, und wir haben Schläger und Bälle. Nur 200 Meter zu Fuß einen öffentlichen Tennisplatz ist, die durch das Tourismusbüro gebucht werden kann. Sie können unsere Tennisschläger zu leihen!
Wir sind in der Mitte der Weinberge gelegen und weniger als eine halbe Stunde Fahrt von der schönen St. Emilion. Es gibt so viel zu tun, mit Weinprobe überall, Schlösser Besuche auf der Dordogne Kanu, Fahrradverleih, lokale Märkte und im Juli und August Nachtmärkte zu, die oft Live-Musik und sind ein großer Spaß! Die Restaurants im Dorf sind nur 100 Meter zu Fuß oder so und sind ein gutes Preis-Leistungsverhältnis. Man hat eine Terrasse, die das Tal mit herrlichem Blick auf die untergehende Sonne mit Blick auf. Perfekt für einen kühlen Drink vor dem Abendessen! Wir lieben es, in einer gemütlichen Bar / Restaurant essen direkt am Fluss Dordogne, die im nächsten Dorf Pessac sur Dordogne ist, und wo sind die Kanu- und Fahrradverleih befindet. Etwas weiter entfernt ist Bordeaux eine fantastische Stadt das ganze Jahr über, und wir auch dort eine Wohnung haben, so lassen Sie uns wissen, ob Sie ein Doppel Zentrum Urlaub Lust auf und wir können Sie den Link schicken.
My wife and I booked this beautiful village cottage last minute half way through our honeymoon so we could take a break and recover from all the sightseeing and touristy activities. We could not have picked a better place, this cottage is a little oasis in the middle of an old wine country village. The apartment was very clean and had all the amenities you could want. We spent most of our days lounging around the gorgeous pool sipping rose and reading our books. The back area also has lounge chairs, a table to enjoy lunch outside (which is shaded by plants) and even a ping pong table. The back area is very private as there are no neighbors behind the cottage, this made it very quiet and peaceful. Debbie was wonderful as well, she greeted us with fresh strawberries from an organic market and was always accessible via the airbnb messenger app. Every time I messaged Debbie to coordinate arrival or ask questions she replied back right away. The town itself is very quiet and pleasant to walk around. We ate dinner at a local restaurant 5 min walk from the cottage where the owner treated everyone like old friends. It also felt very safe walking back to the cottage late at night. On another night we drove to Saint-Emilion for dinner which was a quick 20 minute drive that is also very scenic and wonderful. We would definitely go back to Debbie's cottage and will tell our friends and family to visit if they stay in the area.
Alex
2016-09-01T00:00:00Z
Beautiful little cottage situated in a peaceful and historic village. Hosts were most helpful and accommodating, providing us with information and things to do in the surrounding locale. Cottage interior is clean and modern and the exterior boasts everything you would need for a relaxing day by the pool. We would thoroughly recommend this property Lee and Nigel
Lee
2016-08-25T00:00:00Z
We stayed 3 days at Debbie's house and felt very welcome. It was really hot so we enjoyed the swimming pool a lot. As there is no airconditioning Debbie found us tower fan's to cool down at night. The house is lovely and taken good care of. There was a bottle of wine and perrier and some ice cream for us. That was great. The beds were really comfy and towels etc plenty. Our kids liked the cats and the drawing material and trains they found for them. They also arranged a trip to a winery for us. The bakery is closeby and also a little grocery shop. There is also a good restaurant around the corner. When we were there the wifi signal wasn't working but we were welcome to use theirs. We could recieve it from the garden/swimming pool but not inside the house. They took a lot of effort in fixing it. We enjoyed it a lot. Great location and hosts.
Elise
2016-07-22T00:00:00Z
Debbie and Jonathan were very welcoming and their cottage was perfect for us. We spent 4 days in Gensac and used it as our base to cycle through the vineyards of Bordeaux. The cottage is warm, inviting and comfortable and we enjoyed it very much.
Kent
2016-09-20T00:00:00Z
Perfect would be the word to define Debbie's cottage: nice, peaceful, comfortable, with good quality beds, and a wonderful pool and views! House is even nicer than seen in pictures. Debbie and her husband are very nice and welcoming persons, helping us in everythiwe needed. Gensac is a small, elegant and friendly village with stunning views of the valley. The best for us: "pain au chocolat" for breakfast in the terrace and watching stars from bed before sleeping. Thank you Debbie!
Alejandra
2016-08-10T00:00:00Z
We had a great stay in Gensac. The property is just as pretty in reality as is seems in the photos. It was perfectly clean, pool included. It's also equipped with everything we needed, even running to games and a ping pong table. The indoor spaces are not huge, but are well thought-out and were absolutely fine for 2 adults and 2 children for two weeks. The outdoor space is fantastic. It is also very quiet, with very little noise from neighbours. It is really well situated, in a village with a couple of restaurants and a boulangerie and butchers within a minute's walk. Debbie and her husband were great hosts - available, friendly and very helpful when we asked for it, and perfectly hands-off when we didn't.
Chris
2016-07-16T00:00:00Z
Oda Tipi
Tüm ev/daire
---
Mekan Türü
Ev
---
Konaklayacak Kişi Sayısı
4
---
Yatak odaları
Gensac, Aquitaine Limousin Poitou-Charentes, Fransa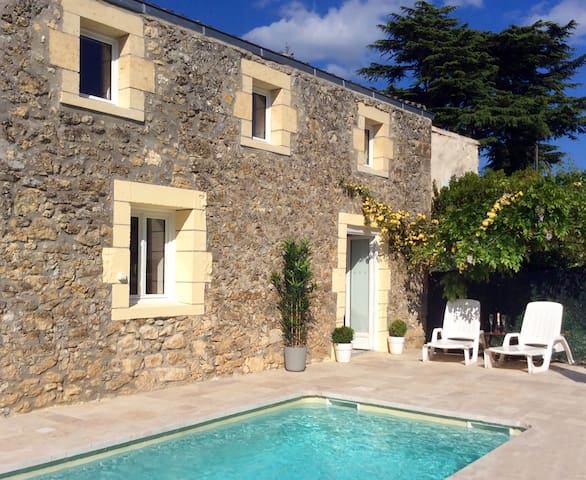 La Matha is an old stone built converted barn set away from the road amongst vineyards. It has four bedrooms, two with en-suite shower rooms, a bathroom, and spacious living accommodation. Downstairs consists of a large open plan space containing distinct kitchen, dining and sitting areas. Outside, there is a large garden with a heated swimming pool, table tennis table, hammock and other games. Adjacent to the house is a covered terrace with barbecue, table and chairs
The kitchen is fully equipped with oven, hob, dishwasher, fridge-freezer, separate wine fridge and a microwave oven. There is also a washing machine in the utility room. Upstairs there is a very large master bedroom with a modern en-suite shower room. A baby bath, high chair (seat attachment) and travel cot are all provided.
La Matha is in the middle of vineyards, set away from the road. About 8km to the south is the village of Pellegrue, which has a small, modern supermarket and a bakery. 10km to the north is Saint Foy La Grand, where there is a large supermarket and a fabulous market on Saturdays in the centre.
Oda Tipi
Tüm ev/daire
---
Mekan Türü
Ev
---
Konaklayacak Kişi Sayısı
9
---
Yatak odaları
Caplong, Nouvelle-Aquitaine, Fransa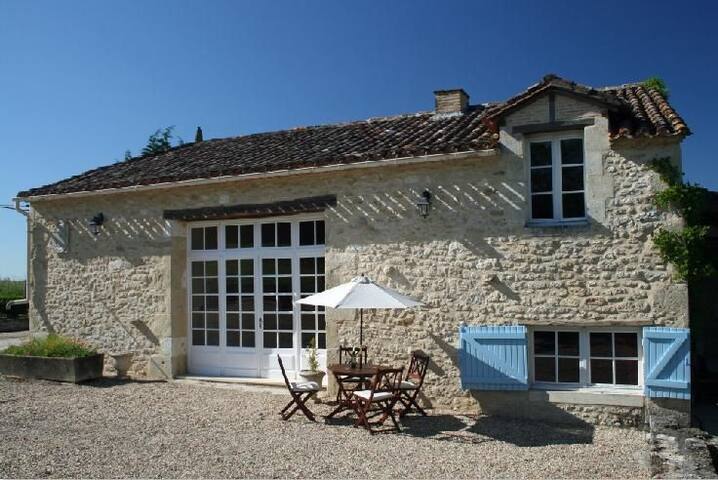 quiet and close trade
Oda Tipi
Özel oda
---
Mekan Türü
Ev
---
Konaklayacak Kişi Sayısı
1
---
Yatak odaları
Port-Sainte-Foy-et-Ponchapt, Aquitaine-Limousin-Poitou-Charentes, Fransa
La propriété se situant à 20km de Bergerac, 30km de St Emilion et 80km de Bordeaux ; elle est idéale pour explorer la région et découvrir son patrimoine culturel. La chambre et son lit king size conviennent parfaitement aux couples et voyageurs en solo. C'est donc avec plaisir que je partagerai mes coups de coeur, bons plans et ma connaissance de la région avec vous ; autour d'un petit déjeuner.
Oda Tipi
Özel oda
---
Mekan Türü
Ev
---
Konaklayacak Kişi Sayısı
2
---
Yatak odaları
Saint-André-et-Appelles, Aquitaine Limousin Poitou-Charentes, Fransa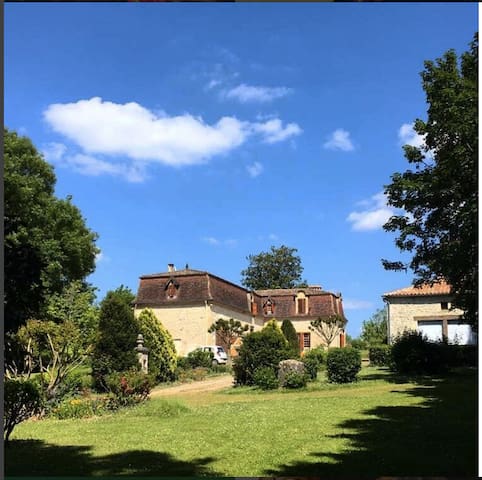 Entre Bordelais et Périgord, avec jardin et terrasse couverte dans hameau au milieu des vignes. 3 chambres et une mezzanine salle de jeux, 2 espaces salon. Décoration soignée style campagne chic, pierres apparentes, ambiance cosy et chaleureuse.
L'accueil de Carole a été très sympathique, efficace. La maison est très bien équipée. Elle est grande et belle mais par certains côtés peu pratique. Deux des trois chambres ont leur salle de bain privative (très correcte) . Les occupants de la troisième chambre doivent donc passer par l'une des deux autres chambres pour se doucher. Deux des chambres sont sous les combles, ce qui dans le Sud Ouest, au mois d'août, n'est pas forcément un avantage. Nous avons passé de très bons moments dans le jardin arrière de la maison où il est toujours possible d'avoir de l'ombre. L'endroit est d'un calme absolu. On y est bien.
Pierre
2016-08-21T00:00:00Z
Carole's place was in a great location and was perfect for our one night stay. She was easy to communicate with and very flexible when we were delayed.
Fiona
2016-09-16T00:00:00Z
Superbe maison, calme , très agréable séjour entre amis à la campagne. Parfait pour des enfants. A refaire. Merci beaucoup.
Solange
2016-05-17T00:00:00Z
La maison correspondait totalement à ce que nous avions vu sur le site. La météo clémente a mis en valeur les atouts de cette maison calme.
Pat
2016-11-01T00:00:00Z
Charming, spacious house in a peaceful area with vineyards all around. Very nice with lots of toys for our children. Short drive to supermarket and beach on the Dordogne.
Tommy
2016-08-04T00:00:00Z
The property is in a lovely quiet location, it was lovely for the children to have so much freedom and space. Beautiful house with a really well stocked kitchen and Carol couldn't have been more helpful. Would definitely recommend.
Karl
2016-08-07T00:00:00Z
Un endroit très sympa ou on se sent chez soi et ou il fait bon séjourner!
Anne
2016-08-12T00:00:00Z
Excellent séjour! La maison de Carole est LA maison de campagne par excellence. Son charme opère des les premiers instants! Mes amis et moi avons adoré et nous y avons passé un très bon moment...petit déj dans le jardin, apéro et barbecue le soir... La maison est pratique, toute équipée, exactement comme sur les photos. Carole est très sympathique et son accueil est irréprochable. Bref, je conseille vivement cette maison à 200%!
SYLVAIN
2016-07-18T00:00:00Z
Oda Tipi
Tüm ev/daire
---
Mekan Türü
Ev
---
Konaklayacak Kişi Sayısı
6
---
Yatak odaları
Saint-André-et-Appelles, Aquitaine, Fransa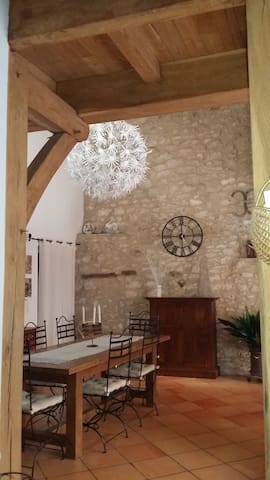 Périgourdine de 200 m2 bâtie en moellons dans les années 1970. Nous en avons fait l'acquisition, en 2008 et l'avons entièrement rénovée. Elle est située sur un grand terrain qui surplombe la Dordogne. Un accès permet de descendre sur la rive. Située à environ 100 mètres de la rue, elle offre donc calme et sérénité à ses occupants. Les six chambres peuvent accueillir douze personnes : lits doubles et lits simples afin d'accueillir petits et grands
Oda Tipi
Tüm ev/daire
---
Mekan Türü
Ev
---
Konaklayacak Kişi Sayısı
12
---
Yatak odaları
Eynesse, Nouvelle-Aquitaine, Fransa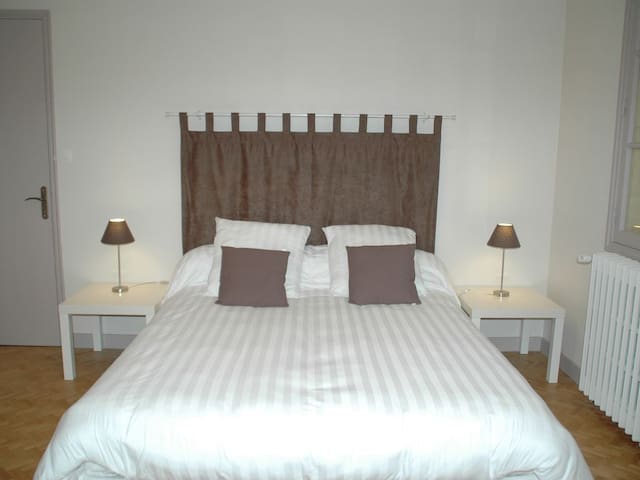 Chambre à la campagne avec grande salle de bain cadre verdoyant et calme Située à 70 Km de Bordeaux 33 km de St Emilion 30 km de Bergerac 6 km de Ste Foy la Grande
Anaïs est très aimable. Elle nous a reçu dans sa jolie maison, un endroit calme dans son beau village. Merci pour son accueil.
joëlle
2016-08-15T00:00:00Z
Anaïs nous a accueilli chaleureusement malgré notre arrivée tardive. La maison est un petit coin de paradis, avec une terrasse et un jardin au calme. Petit plus, un petit poulailler et des oeufs frais tous les jours, le bonheur!! Je recommande!!
Anais
2016-07-31T00:00:00Z
Le logement est super et anais aussi Très sympa accueillante et je me suis très vite sentie à l'aise
Lea
2016-08-25T00:00:00Z
Oda Tipi
Özel oda
---
Mekan Türü
Ev
---
Konaklayacak Kişi Sayısı
2
---
Yatak odaları
Eynesse, Aquitaine Limousin Poitou-Charentes, Fransa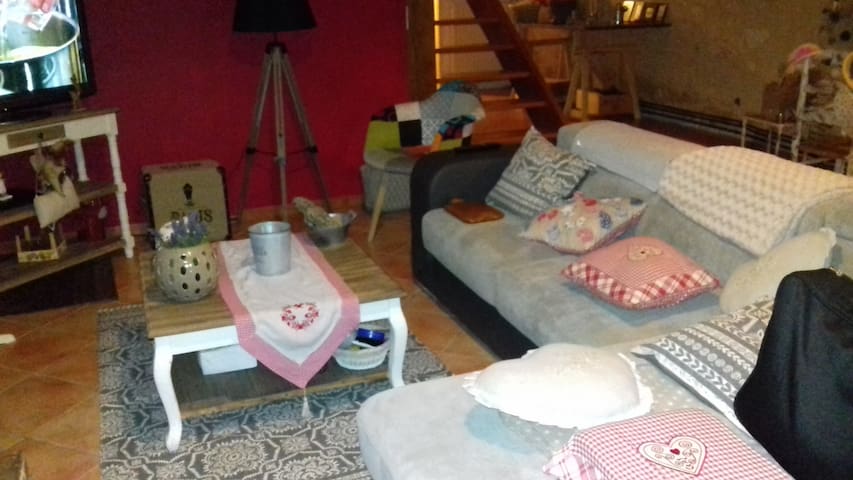 Chambres d'hôtes proposées dans notre typique Ferme française. Dans une position élevée magnifique avec une vue superbe, nous sommes sur le bord du village, entouré de bois et de vignes. Les animaux sont les bienvenus. Les repas du soir aussi offerts - bonne nourriture, le vin local.
Nous offrons votre propre chambre dans notre maison avec votre propre salle de douche attenante. Il y a un lit double, mais un espace suffisant pour mettre un lit Voyage ou un lit pliant supplémentaire si vous avez besoin. Le petit déjeuner est inclus, et nous proposons également des vins locaux de repas du soir «en famille» chaque fois que possible avec des produits locaux, et certainement. Nous avons en fait un hectare de vignes sur la propriété, donc sommes membres de la grotte locale pour tous ceux qui souhaitent acheter des vins.
Le village se trouve à distance de marche, et offre des bars, des restaurants et toutes les commodités. Nous sommes à environ 45 minutes de Bordeaux, et environ 25 minutes de St Emilion. La Dordogne est d'environ 4kms et en été, il est du canoë-kayak.
Jamie & Audrey have a Wonderful Country Home. It is on top of a hill that looks down into a beautiful valley. Our Private Bedroom with Shower/WC was spacious, beautifully put together and we were very comfortable and happy there. We highly recommend their home. They were helpful in planning our time, ideas of things to see and great people to visit with in the evening. Thanks again Jamie and Audrey!
Leslee
2017-03-28T00:00:00Z
A charming home in the vines with great company and lovely friendly dogs.
Myra
2017-03-11T00:00:00Z
Oda Tipi
Özel oda
---
Mekan Türü
Ev
---
Konaklayacak Kişi Sayısı
2
---
Yatak odaları
Gensac, Aquitaine, Fransa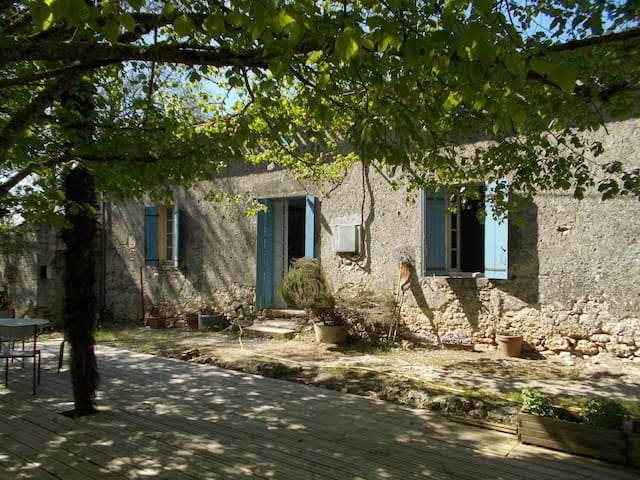 Le gîte fait partie d'une ancienne ferme située dans un endroit tranquille, au bout d'un chemin privé à quelques miles à l'extérieur du village de Pellegrue. Il a été rénové avec goût, offrant 2 chambres avec salle de bains privative pour un maximum de 4 personnes pour profiter .. Un grand soin a été pris pour conserver le caractère et les caractéristiques originales de la maison et chaque chambre est décorée et meublée avec goût, offrant tout pour un séjour confortable et relaxant. L'entrée principale du gîte conduit à partir d'une terrasse en pierre à paroi avec glycines pergola couverte, dans une salle à manger / salon spacieux et bien éclairé avec télévision à écran plat (Royaume-Uni et les chaînes françaises) et un lecteur DVD. L'accès Internet est inclus dans le prix et il y a wifi. Chaque chambre dispose d'une vue magnifique sur le jardin, une vigne au-delà et de bois dans la distance, qui peuvent tous être apprécié par nos clients. La chambre principale et salle de bains se trouve au rez-de-chaussée. La cuisine est bien équipée avec four, plaques chauffantes, réfrigérateur, lave-vaisselle et micro-ondes. Un congélateur est prévu dans la buanderie séparée où la machine à laver, fer à repasser, évier, espace de stockage et de machines à ramer sont trouvés. Au premier étage, il y a une chambre double lits et salle de bains. Une mezzanine spacieuse est sur le même niveau, et rend un espace douillet idéal pour se détendre ou lire. Draps et serviettes de bain sont inclus, mais pouvons-nous s'il vous plaît vous demander d'apporter vos propres serviettes piscine / plage. Il n'y a pas de coûts cachés concernant l'électricité et la consommation d'eau. La propriété est située dans un grand jardin bien entretenu, contenant des arbustes, des arbres fruitiers et de vastes zones de pelouse pour la détente. La piscine d'eau salée est pour votre usage et la terrasse spacieuse est équipée d'une douche solaire, transats et un grand parasol. La piscine bénéficie de certains des meilleurs points de vue de la propriété a à offrir. Les deux zones terrasse, piscine et jardin offrent une intimité complète pour les clients de profiter tout au long de leur séjour. Situé dans la région viticole de l'Entre Deux Mers, le logement est une base idéale pour visiter Ste Emilion, Bordeaux et la région de la Dordogne. villages voisins offrent des marchés sur les différents jours de la semaine, certains avec des marchés de divertissement en soirée pendant les mois d'été.
Pippa made us feel very welcome and was very helpful in giving us any information on the local area, the towns and markets. The house was spotless and bed was comfy.
Ann
2016-08-31T00:00:00Z
The home is very comfortable, well maintained home and garden. It's a short drive to essential services but a car is necessary. Pippa was extremely helpful in providing ideas for excursions. The location is secluded and peaceful.
carol
2016-09-25T00:00:00Z
Perfection - if you want to stay in & around vineyards in a beautiful setting then this is for you. The house & location are fantastic. Every amenity that you could ask for in the house is provided. Pippa & Philippe are perfect hosts, there when you need them but highly discrete for the remainder of the time. The location of the house allows you to dictate the pace of the holiday, you can enjoy total relaxation in tranquil surroundings or enjoy the fun of Bordeaux city or the evening markets. All in all a perfect place to enjoy your holiday.
paul
2016-09-08T00:00:00Z
Nous avons passé un séjour tres agréable, la maison est parfaite et nos hôtes ont été aux petits soins et de très bons conseils ! Merci pour tout !
Antoine
2016-06-28T00:00:00Z
Oda Tipi
Tüm ev/daire
---
Mekan Türü
Ev
---
Konaklayacak Kişi Sayısı
4
---
Yatak odaları
Pellegrue, Aquitaine Limousin Poitou-Charentes, Fransa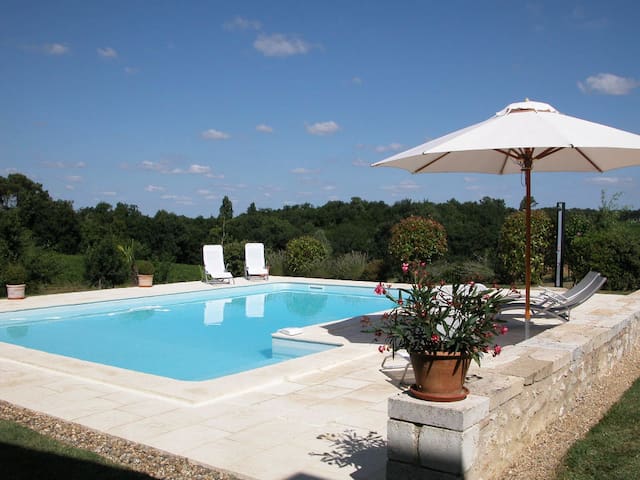 Eingebettet in den Weinbergen mit freiem Blick nach unten auf die umliegenden Wälder. Dieses malerische Steinhaus bietet ein modernes Interieur, mit allen ausgeht für das darf benötigt Land weg.
Viaud Est, Ihr erster Eindruck von dem Haus betreten, ist der Raum, der mit seinen sechs Meter hohe Decken lassen das Licht Flut in die Lounge und offene Bereiche von natürlichem Licht zugute kommt. Um das moderne Interieur ergänzen, die Küche ist komplett mit Granit Tischplatten integriert, die auch bis zum Speisesaal öffnet sich ein fester Granit Esstisch kennzeichnet. Die offene Küche, Ess- und Wohnbereiche sind besonders gemütlich mit einem geschlossenen doppelseitigen Kamin für die kühleren Abende oder einfach nur für einige zusätzliche Ambiente gemacht. Das Haus hat zwei dicke Wände Fuß, so im Sommer sind Sie sicher, schön und innen, gut isoliert und im Winter mit in Zonen aufgeteilten Fußbodenheizung durch heraus kühlen. Das Master-Schlafzimmer im Erdgeschoss (barrierefrei) blickt auf den Infinity-Pool und Weinberg durch Französisch Türen zum Außenbereich unterhaltsam führt. Das Zimmer verfügt über ein sehr geräumiges Bad und Ankleideraum mit viel Platz zum Auspacken. Die beiden Schlafzimmer im Obergeschoss sind ebenfalls mit Bad und verfügen über frische weiße Bettwäsche, Bademäntel und TV. Die Mezzanine-Etage verfügt über eine TV-Lounge mit Zugang zu Sky (Englisch) TV, Netflix und Französisch Satellit sowie ein Arbeits- / Büroraum mit Wi-Fi im ganzen Haus. Es gibt einen Hauswirtschaftsraum mit Waschmaschine und Trockner, und für längere Aufenthalte werden wir das Haus gereinigt und die Bettwäsche wöchentlich gewechselt für Ihren Komfort. Für Ruhe ist das Haus auch an der Durchzugs einer Karte voll alarmiert und die Eigenschaft hat, Toreinfahrt automatisiert.
Pellegrue ist ein malerisches Dorf, das überwiegend mit Weinbergen gestreut wird. Für Ihre Bequemlichkeit das Zentrum des Dorfes, nur ein Wickelantrieb, nur 5 Minuten entfernt hat einen Supermarkt, eine Tankstelle, eine Apotheke, zwei Banken, Nachrichtenagenturen, Tourismusbüro, ein Café, Weinstube, Tennisplätze, Automechaniker und Schönheitssalon. Für die Sicherheit bewusst haben wir auch ein Arzt, Notfall, Feuer und Polizeidienststellen. Es gibt viel in der Gegend und die Eigentümer haben viele Empfehlungen für Aktivitäten unabhängig von der Jahreszeit zu tun. Von Wandern, Reiten, Radfahren, Kanufahren, Jet-Ski, Angeln, Golf, Heißluftballon, Luxus-Spa-Tag, antike Boutiquen, Hubschrauber Weintouren, regionale Produkte und Handwerk Märkte, Nachtleben und natürlich Qualität Restaurants und die unglaubliche Weinprobe, die die Gegend mit St. Emillion zu bieten hat, sagte einer der besten in der Welt produziert werden. Die Lage ist auch ideal für Tagesausflüge nach Bordeaux, Arcachon, Biaritz, Toulouse und der Perigeux.
Our family arrived at Nora's home after 2 weeks of busy tourist activities in London and Paris and we were thrilled to find her home as warm, welcoming and relaxing as shown in all her pictures. This Luxury French country home is beautiful in every way. Designer furniture and decorations throughout. For us, seeing the vineyards outside the master bedroom every morning was a fabulous way to start the day. For specifics; The three bedrooms are very well equipped and provided wonderful comfort and privacy for my husband and I and our 2 teenage children who each had their own room. The rooms would also be ideal for 3 couples. The linens, bedding, towels and supplies are as nice as you would find in a 4 or 5 star hotel. Nora was generous in providing extra supplies in the kitchen and all the handy cooking utensils, made cooking wonderful French food easy as a breeze. Good dishes, good cooking pans, good knives, and plenty of wine glasses made our evening dinners perfect and easy for us to sample red and white wines. Most importantly our hosts Nora and her family were super welcoming and accommodating. Without them we would have missed some fabulous weekend markets at local villages and their advice was invaluable on where to go and things to see, and their company was fun and enjoyable. We will return!
B
2016-07-01T00:00:00Z
Loin devant toutes les autres expériences AirBNB, même hôtelières 5 étoiles... Tout se trouve en ce lieu unique... Rêve, évasion, beauté... L'espace est une belle surprise qui dépasse les photos. La décoration y est juste parfaite et en harmonie. Les hôtes vous prévois bien plus d'attention que tous les autres hôtes d'AirBNB. Et en hiver, on retrouve le feu de bois allumé, au milieu de l'habitation avec une cassette au double vitrage de chaque côté de là cheminée. Avec le présent de la bouteille de Champagne d'une sélection d'exception pour des amateurs comme nous, nous sommes au paradis... On rêvait d'évasion, on a été terriblement et agréablement surpris. Avec nos deux chiens, aucun soucis, c'est même clôturé pour eux. Jusque dans tous les petits détails des offres TV complètes dans chaque chambre, avec pour certaines Netflix à des jeux, des livres, des guides... Il vous sera impossible de ne pas vous laisser aller à l'endroit... Nous devons revenir l'été pour la terrasse et la piscine, OBLIGATOIRE :). Il y a même un barbecue au gaz. Un grand centre commercial à 15 minutes qui vous offre un choix tel que vous vivrez la vie de château... Un séjour de Rois... merci ! N'hésitez pas à demander des renseignements à vos hôtes super discrets et très disponibles qui sont dans la maison juste à côté.
Michael
2016-12-29T00:00:00Z
Nora and her family were most welcoming. The house is stunning, so cleverly designed, practical and well appointed, at the same time charming with masses of character. Everything we could have needed was provided. The layout is lovely and the pool and terrace a delight day to day and a great place to spend the evening with a glass of the local Côtes de Duras. The privacy was just what we wanted while Nora was a stones throw away when we needed anything (as we invariably did). The situation and aspect is beautiful. Nestled in vineyards, with lovely lawns, the sound of the local swallows was the only (welcome) intrusion. The wonderfully quiet roads made for pleasant outings to local Bastide towns and further afield. We left relaxed and delighted with our stay. We would wholeheartedly recommend a holiday here. Thank you Nora for a fabulous holiday.
Simon
2016-07-21T00:00:00Z
We were warmly welcomed by Nora and Peter. There was a very nice bottle of champagne awaiting us. The house was truly magnificent and beyond our expectations. The serenity and the calmth among the vineyards was sublime. Hope to be there again next year. Perfect place to stay!!
P.J.A.
2016-07-31T00:00:00Z
Nora and Peter were fantastic hosts and made us feel very welcome. They live in the house next door and were really helpful with all of our questions regarding the local area. The house, garden and pool are beautiful and the views over the vines are to die for, especially at sunrise. The kitchen is really well equipped, there is underfloor heating and the beds are super comfortable. Highly recommend for a luxury get away in a beautiful, peaceful location.
Heather
2016-10-23T00:00:00Z
Nous avons été très bien accueillis,Nora et Peter sont très gentils,discrets et prêts à rendre service.Maison luxueuse conforme à l'annonce.Accessible aux personnes à mobilité (URL HIDDEN) région est très belle et mérite d'être visitée
Bruno
2016-08-20T00:00:00Z
Nora and family were sunny and welcoming on arrival. Their knowledge of the area was excellent and they were always happy to give advice and yet remain discreet despite their property being just across the entrance drive. The location was very peaceful as all the roads were practically empty. We were surrounded by big skies and beautiful vineyards. Local markets, medieval towns and canoeing on the Dordogne made for a perfect summer holiday for us and our grown up family. The welcome bottle of champagne was well receive, attention to detail was exemplary and every comfort covered.
Jeremy
2016-08-13T00:00:00Z
My parents and I had the loveliest stay at Nora and Peter's place. The house is every bit as beautiful (spectacular!) as it looks in the photos. It's ideally situated for a relaxing, peaceful vacation in the vineyards, as well as close enough to St. Emilion to allow for afternoon wine-tasting excursions. Nora and Peter are extremely gracious, responsive hosts. We appreciated their insights into the area and thoughtful recommendations, including on markets and wineries to visit. We had a very hard time leaving!
Bianca
2016-10-11T00:00:00Z
Oda Tipi
Tüm ev/daire
---
Mekan Türü
Ev
---
Konaklayacak Kişi Sayısı
6
---
Yatak odaları
Pellegrue, Aquitaine, Fransa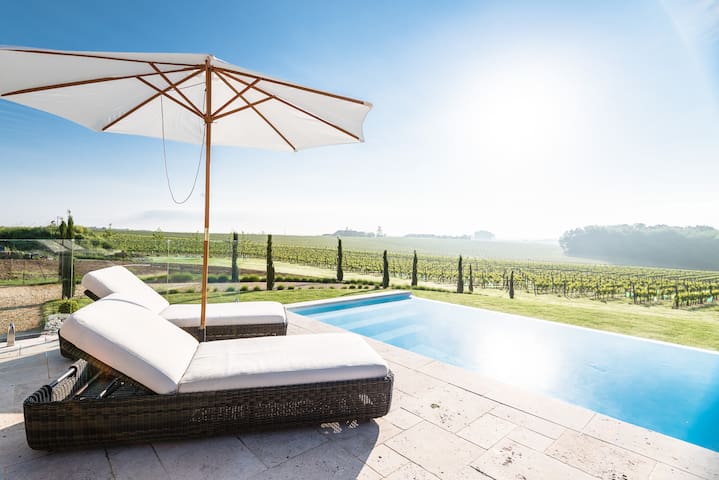 Pleasant small house nestled in the heart of the charming village of Gensac (former listed village), ideal to relax and discover Gironde countryside between vineyards and woods. Near Saint-Emilion, Sainte-Foy-la-Grande, Monsegur.
Pleasant small house nestled in the heart of the charming village of Gensac, ideal to relax and discover Gironde countryside between vineyards and woods near Saint-Emilion and its castles, Sainte-Foy-la-Grande and its market, Monsegur and its festival jazz. A large living room hosts a kitchen with all the basic accessories (coffee maker, stove with oven, toaster, etc.) and lounge. Upstairs, a room for 3 beds (a double bed, a single bed and a cot) and a bathroom with shower. A garden is available. Possibility to take the meals under the arbor.
This is a lovely home, Dany made us feel very welcome. It is very comfortable and was perfect for our stay to attend a wedding nearby. Dany was always available to help and nothing was too much trouble. We can definitely recommend staying here and would be happy to do so again
Victor
2015-09-29T00:00:00Z
My boyfriend and I visited Petite Maison as we were attending a wedding in Chateau Soulac nearby. The place is perfect for a couple and has everything you need including a lovely garden. There is a small village within walking distance which has 2 restaurants, a supermarket and tobacco shop. To get to anywhere else you definitely need a car as everything is really far away. Dany was a great host, she was waiting for us upon arrival and also helped us arrange transport from the airport. I would stay here again if I went back to Gensac.
Francesca
2016-08-14T00:00:00Z
Gensac is a beautiful picturesque french village. We stayed at Charmante petite maison as we were attending a wedding at Chateau Soulac , which is very nearby. Dany was a lovely host sharing lots of tips about the local area, and went out of her way to make sure we had a lovely stay. The house is a typical french house. We loved our stay here and would love to stay again in the future.
Joanna
2015-10-13T00:00:00Z
Gite simple et sympathique, dans un village bien au calme. Nous en avons profiter pour visiter la région des vins de Bordeaux. Dani est hyper accueillante et prête a tous les services pour rendre le séjour de ses hôtes des plus agréables.
Bouisseau
2015-07-29T00:00:00Z
We loved Dany's house. Quiet, peaceful, yet in a small village so everything we needed was close by. The garden was delightful. Dany was very helpful and welcoming.
Michele
2016-08-03T00:00:00Z
Excellent accueil de Dany, très serviable et sympathique. La maison est tout confort, le jardin très agréable et charmant. Village calme qui a son charme et est proche des lieux d'intérêt de la région. Une expérience très positive à tout point de vue.
Marie
2015-08-10T00:00:00Z
Dany a mis à notre disposition du vin, de l'eau, de quoi faire notre petit déjeuner. C'est une attention peu courante. La petite maison ,charmante ,située dans un très beau village. Un bémol :un réseau téléphonique et une connexion internet quasi inexistants dans le village
Frank
2016-07-28T00:00:00Z
Provided bread, butter, jam, milk, juice, coffee, tea, list of places to go for shopping and eating, etc. Very kind and helpful.
Vera
2016-10-10T00:00:00Z
Oda Tipi
Tüm ev/daire
---
Mekan Türü
Ev
---
Konaklayacak Kişi Sayısı
3
---
Yatak odaları
Gensac, Aquitaine, Fransa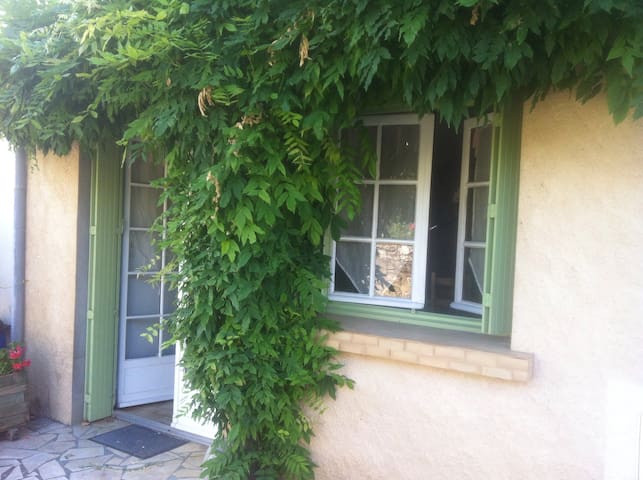 Tam fiyatlandırmayı görmek için tarihleri görün. Ek ücretler uygulanır. Vergiler ilave edilir.