My wife and I's place is close to UConn, Old Taverns & Pubs, Hiking and Biking Trails, Public Lakes. You'll love our place because of the outdoors space, the location, the ambiance, the people. We have a garage if needed for vehicle. Our place is good for couples, solo adventurers, UConn visitors and business travelers. Pets and Laundry are negotiable.
Visitors can close off a complete wing of the house for privacy in the living area; this, in addition to having their own bedroom and desk space. This house is very close to UConn, perfect for prospective students/faculty and guests. Rides can be provided to UConn if timing is appropriate. Otherwise, you're in walking distance to campus. Pubs and parks also within walking distance. Local pizza place delivers food and other amenities are nearby. Enjoy!
Super comfy and the hosts were incredibly flexible and helpful.
Kathleen
2017-03-27T00:00:00Z
Mark and Annette are so wonderful! They made us feel right at home. I'm a documentary filmmaker and they allowed me to conduct an interview at the house which was incredibly helpful. I hope to stay here on my next trip to U Conn.
Kathleen
2017-03-28T00:00:00Z
Oda Tipi
Özel oda
---
Mekan Türü
Ev
---
Konaklayacak Kişi Sayısı
4
---
Yatak odaları
Mansfield, Connecticut, ABD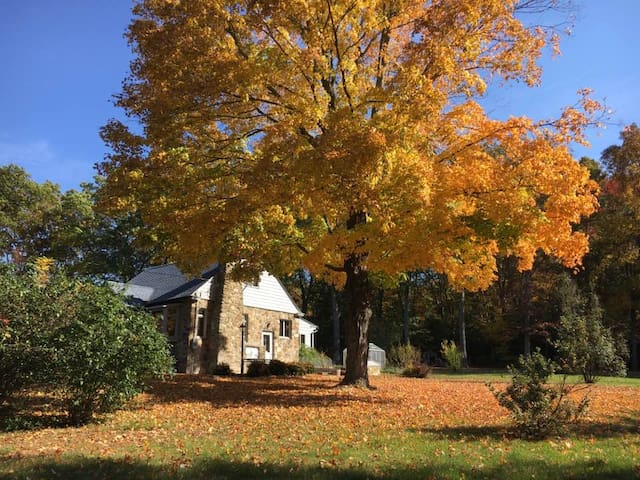 Located close to UConn and public transit, this loft guest room features high ceilings and an airy feel. Enjoy a great view of quaint New England barns and our signature curly willow as you hang out upstairs or in the spacious living space below. Your entrance and bathroom are private.
You will love the warmth of the wood in this post and beam studio loft Guestroom. The queen bed upstairs has two great views of our specimen trees. To the north, you can watch the birds populating our curly willow. To the west, take in the magnificence of our giant sycamore. The downstairs room has a comfortable seating area with a couch that folds out into an extra bed. The sliding glass door brings in a brick-paved courtyard where the birds come to their feeders and the flowers bloom in three seasons.
Located right next to the Spring Hill Historic District, our property is surrounded by the open space of UConn fields and Joshua Trust land. Walking along Route 195 is not recommended, but hiking along the Nipmuk Trail is! Our view rivals 50-foot, which is another vista along the Nipmuk trail, a short hike east from the house. We are two miles from downtown Storrs and the UConn campus to the north and Willimantic is not much further to the south. Storrs is located en route between Boston and New York City in the Quiet Corner of Connecticut.
The hosts were very welcoming and accommodating. The space is beautiful and cozy with a nice little kitchen area and a beautiful sunrise view.
Kelly
2016-12-17T00:00:00Z
My coworkers and I stayed here while attending an event at UConn. The location was perfect (5min from campus). Also their home was absolutely beautiful. We definitely recommend staying here.
Patrick
2016-10-11T00:00:00Z
This place will fill you with joy and make you never want to leave! Not only is the view fantastic but the interior of the house is homey and unique!
Andrea
2017-03-27T00:00:00Z
Oh my goodness this place is amazing!!! So beautiful and unique - I cried a little when we arrived because of how perfect it is! Doug and Annie were extremely gracious hosts and very responsive (even at 6:30 am). We arrived late due to traffic and they had the door open and lights on for us! We recommended staying here to all of our friends at UConn because of how great it was. They even made us French toast in the morning! I have never felt more at home away from my home!!
Andrea
2016-10-23T00:00:00Z
Our stay at Willowview couldn't have been better. Annie and Doug were wonderful hosts. They kindly provided breakfast foods, including Annie's delicious home-made granola. The accommodations were perfect and the view was spectacular. We hope to come back again.
Maureen
2016-10-31T00:00:00Z
The hosts, Annie and Doug, are warm and welcoming. What a lovely place to stay! The scenery is idyllic. It feels like my own personal Walden Pond (I got so much writing done!), yet conveniently located minutes from UConn campus. It was quiet, private, pretty, clean, and cozy. And the homemade granola is divine! Thanks so much, Annie! I can't wait to come back!
Cinthia
2017-01-06T00:00:00Z
This was my first Airbnb experience and it was amazing. I liked the homey touches with the family pictures and books -- it made me feel at home.
MaryBeth
2016-10-09T00:00:00Z
Oda Tipi
Özel oda
---
Mekan Türü
Ev
---
Konaklayacak Kişi Sayısı
4
---
Yatak odaları
Mansfield, Connecticut, ABD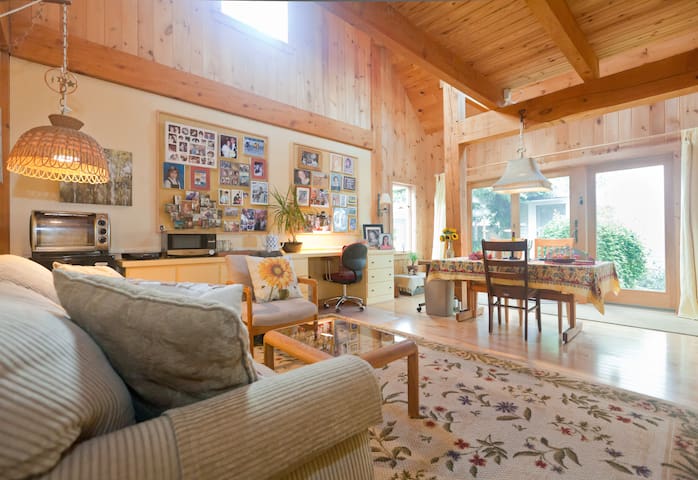 Relax & unwind in this amply sized private studio suite, complete with large seating/tv area & study/desk space. Space comes w/ 2 FULL beds a full private bath, mini fridge & microwave. Beautiful rural wooded area with numerous hiking trails nearby. Longer term rentals may be considered.
We are one of the closest abnb's to UCONN, maintain a very clean and comfortable space and do our utmost to make each guest feel welcome & completely at home.
Scenic and very hike-able Nipmuck trail is very close by. Both UCONN and newly remodeled Storrs Center are a short drive.
Her home is minutes away by car from the UCONN campus which is where I was headed. Yet it isn't far (~1/2 hr.) from greater Hartford where I had to run some errands. Her setup is ideal in that a guest has privacy with your own clean and modern efficiency space with seating area, desk space, private bath and comfortable bed. She has a cool built in ironing board setup in a nearby laundry area that I may want to replicate at home. The setting is wooded and peaceful. What more can you ask for? Keri was clear and communicative in helping me prepare for arrival and helping me figure out how to get my freshly made UCONN dairy bar ice cream back home. I plan to stay here again when I go back to UCONN.
Dan
2016-06-03T00:00:00Z
We came to Storrs, Connecticut to celebrate Thanksgiving with our extended family. The homestead in Storrs was packed to the max with visitors, so we opted to stay in a nearby airbnb. Keri's house is romantically located in a secluded oak- and maple-filled woods very close to the UConn campus. We enjoyed the stillness and beauty there after our fun and noisy gatherings at the homestead. Our "suite" was a very large room with bright windows and a thermostat next to the bed, equipped as well with a small refrigerator and a separate bathroom. Keri and I communicated by email and text because she was visiting family elsewhere. We arrived later than expected due to holiday traffic, and she graciously explained the logistics via text even though she and her family had already left on their holiday journey. I would definitely recommend this place and this wonderful host to anyone coming to the area.
Priscilla
2016-11-26T00:00:00Z
Keri's room was as clean and equipped as advertised. It was a very nice stay!
Kanda
2016-10-21T00:00:00Z
This is my second time staying with this lovely family I can't imagine visiting uconn without having them to greet me in the morning and have their great place to come home to at night!
C.j.
2015-11-10T00:00:00Z
I love staying with Keri and the family it's like going home! You will not be sorry!
C.j.
2016-01-29T00:00:00Z
Keri was very welcoming and made me coffee every morning. She also asked if we needed anything - more than once. The room is in a beautiful, forested, rural neighborhood. If you like nature and quietude, this is it.
Caryn
2016-07-11T00:00:00Z
My host and family made me feel so welcome that I came back to stay again! This is a very private, comfortable room with many amenities. I would highly recommend staying here.
Robin
2015-09-09T00:00:00Z
Keri is a very good host. I arrived here house 9 pm because of the traffic in New York. The room is very neat and warm. All of them are great. I just stay there for only one night. Next time I will also choose Keri's house if I go to UConn.
John
2017-03-06T00:00:00Z
Oda Tipi
Özel oda
---
Mekan Türü
Ev
---
Konaklayacak Kişi Sayısı
2
---
Yatak odaları
Mansfield, Connecticut, ABD
Brand new, renovated, 1 bedroom apartment, with full kitchen, bathroom, and living space located on a quiet wooded scenic road just a 5-10 minute walk from downtown Storrs and Conn's campus. Perfect location for checking out campus!
Renovated last year (full tear down and reno). Comfortable bed and linens, TV in both bedroom and living area (with premium cable), 2 couches, and full kitchen. We have free wifi as well. Plenty of parking in your private driveway/entrance.
Our place is located halfway down a scenic road, just a short walk from Storrs Center (and local restaurants, coffee shops, and bookstore). From the apartment, a 10 minute walk will put you right in the middle of the UConn Campus.
lovely and clean!
Darcie
2017-03-09T00:00:00Z
Perfect for family travel. We stayed there with our one year-old, and had a great night. Ali, the host, is accommodating, gracious, and extremely helpful. We hope to stay here again in the future. Would be great for a family with one or two older kids as well, I think.
Ranjit
2017-01-29T00:00:00Z
Ali's apartment is a great place to stay. It is modern, clean, has everything one might need, looks exactly as the pictures show. Ali is a wonderful host, she made me feel very welcome. She and her family live in the same house, but the apartment is absolutely independent and has its own entrance door. In the morning one could hear voices and footsteps on the upper floor, which was totally fine with me as I was awake by then anyway. The house is very conveniently situated. It takes about 15 very pleasant minutes on foot to get to the UConn's campus.
Ekaterina
2016-05-27T00:00:00Z
Alison made us feel very welcome! She had written a note with a lot of helpful information about the neighborhood and left some food and drinks for us in the fridge. The apartment was very cute and clean in the middle of the woods but still close to the shops and restaurants of Storrs. We had a wonderful time in this lovely apartment which is a perfect place if you are visiting Uconn.
Wim
2016-05-08T00:00:00Z
Ali's apartment is very clean and comfortable. It's only 5 minutes to the main road of Storrs, it's easy for us to visit UCONN. There are many trees around the house, the air is so fresh, and we saw a baby deer with mother twice outside the house in the morning. Ali's family are so kind and nice, they made us feel very welcome.
James
2016-09-13T00:00:00Z
The location was perfect. Her directions and instructions were on target. Looking forward to our next visit.
Devra
2016-10-15T00:00:00Z
This place was great. Ali made me feel very welcome, providing a note with essential info about the area and some snacks and drinks, being accessible for any questions, and making it very easy at arrival and departure. The unit was perfect for what I needed, with a comfy bedroom, bathroom, and convenient kitchen area, and plenty of space to relax in the living room area. The apartment was in great condition, clean and comfortable. The location was lovely. lt felt like you were tucked away in the woods, in a quiet neighborhood, but a pleasant 15ish minute walk from my destination on UCONN campus and even closer to nearby cafes and restaurants.
Shannon
2016-06-18T00:00:00Z
Oda Tipi
Tüm ev/daire
---
Mekan Türü
Ev
---
Konaklayacak Kişi Sayısı
2
---
Yatak odaları
Mansfield, Connecticut, ABD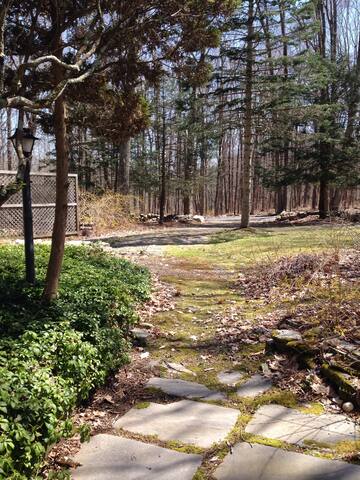 Cozy little cottage type home with all the conveniences of your own home. Cable TV with all the movie channels, high speed internet, excellent cell phone reception and all the amenities. Room for three vehicles off street. Grocery and shopping 2 miles away at the new Main Street project in Storrs, CT. Enjoy the "Quiet Corner" of Connecticut. Close to 384 / 84 / UConn is 5 minute walk.
There is very little traffic on the road. The deck is completely private.
If your stay is university related you will enjoy a 5 minute walk to campus.
Although I didn't meet Bryan he was super attentive before, during and after our stay. The cottage was as described in a beautiful, convenient location. The décor and furnishings were artistic yet comfortable. I definitely recommend this place!
Julie
2016-10-18T00:00:00Z
Thank you Bryan for a great experience! Bryan's home was very comfortable, we loved the style of his home and enjoyed cooking in fully equipped kitchen !! We had a great quiet weekend and look forward to future stays!!
Cindy
2016-02-01T00:00:00Z
Bryan was exceptionally fast when communicating. He made it very easy for us to get settled. The neighborhood is right off campus and an easy drive to campus or a quick uber to where you need to be. I'd highly recommend a stay here.
Dan
2016-10-23T00:00:00Z
Beautiful place very close to UConn. Location was ideal for a seminar on campus. (5 minute drive.) The house is well-kept and comfortable, and Bryan was pleasant and welcoming. Logistics were very simple, and Bryan made it clear that he was available if necessary.
Josh
2016-09-12T00:00:00Z
Bryan was very accommodating and when we got into the area early, he was happy to let us check in ahead of time. Great communication and the house was well kept.
Brad
2017-01-29T00:00:00Z
Cozy is a perfect descriptor! A lovely house, and a perfect space for our group of three (though I think it would be perfect for bigger groups as well). Bryan was a gracious host and was very responsive by text throughout our stay.
Robert
2016-05-01T00:00:00Z
Truly a wonderful place. Very clean, beautifully furnished, and unique. Bryan was extremely accommodating and friendly. This is an excellent place to kick back on the porch, relax, and enjoy the fireflies at night. Highly recommended!
Doug
2016-06-27T00:00:00Z
This was our second time staying at the Cozy Chalet and it is a great place. In fact, it is even better than the last time we were here. The kitchen is very well outfitted, the place has a ton of atmosphere and is located perfectly for campus visits. Bryan is a great host and communication is as good as it gets.
Dan
2016-05-10T00:00:00Z
Oda Tipi
Tüm ev/daire
---
Mekan Türü
Ev
---
Konaklayacak Kişi Sayısı
5
---
Yatak odaları
Mansfield, Connecticut, ABD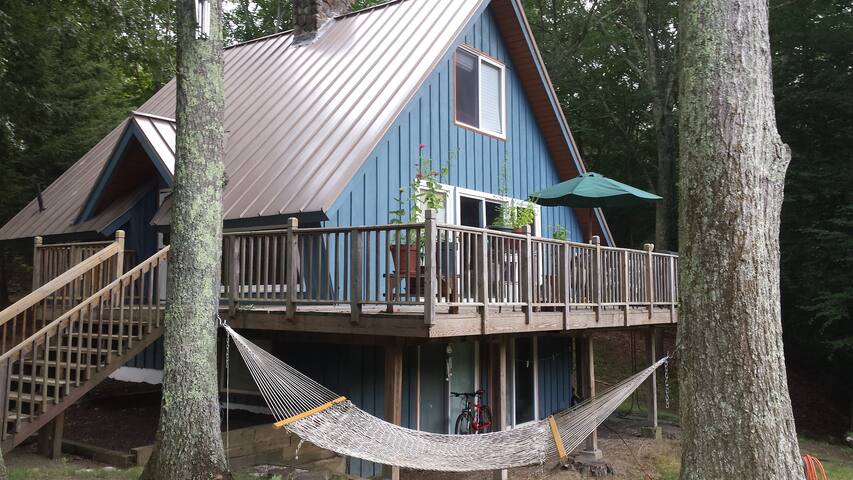 Private single family house within walking distance to UConn campus. Have 3 bedrooms, and 1.5 bathrooms. With all amenities. Plenty of activities near by.
3 large bedrooms, formal dining room with bright and open floor plan. In door fireplace in living room. one and half bathrooms.
Right across street to UConn campus. Plenty of dining and shopping nearby.
Oda Tipi
Tüm ev/daire
---
Mekan Türü
Ev
---
Konaklayacak Kişi Sayısı
6
---
Yatak odaları
Mansfield, Connecticut, ABD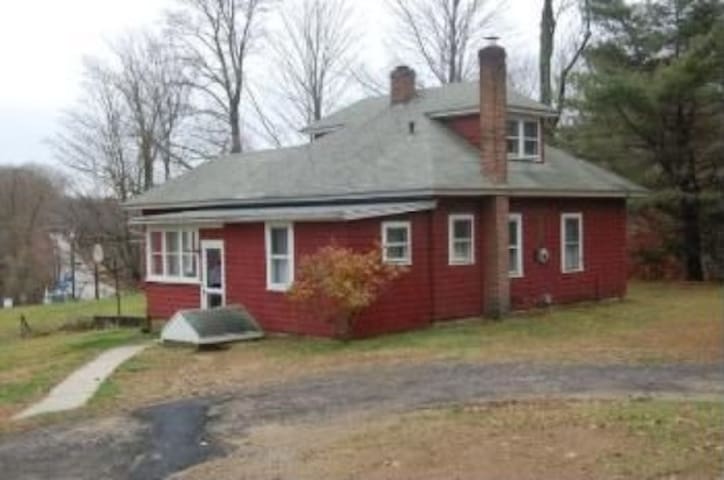 Located a mere 7 miles from the University of Connecticut, it's the perfect destination for families wanting to visit their students. We are centrally located to ensure you are able to enjoy everything New England has to offer, 21 miles from Hartford, 80 from Boston, and 130 from New York City. Enjoy the history and culture of the city, and return to the tranquility of the peaceful, country haven. *Pet Deposit an additional $150, must be well behaved, off furniture, and the yard cleaned*
A home designed with fung shui, grounding, and peace invoking in mind. From the design, to the layout, the arrangement of furniture, and each color was chosen to invoke a feeling of tranquility. It is the perfect place to help you escape the hustle and bustle of life. Enjoy an afternoon of fishing in your own private Bass pond, we provide access to three high quality fishing poles. It is a freshwater, spring fed, self sustained body of water, you can sit and listen to the sounds of a babbling brook as the water tunnels underground to return to a nearby river. The perfect place to relax and read a good book, or simply close your eyes and enjoy the calm peace it brings. As darkness begins to fall upon you be sure to utilize the high powered telescope to get up close and personal with the spectacular stars that fill the nights sky.
Beautiful home, hosts were great and very accommodating! Thank you!
Anastasia
2017-02-21T00:00:00Z
Good place for standard business travel.
Tom
2017-03-29T00:00:00Z
Kimberly was a great host and answered all of my questions in a quick fashion. I will definitely be booking with her again.
Tuan-Phi
2017-02-12T00:00:00Z
Kimberly was fantastic! All as advertised
Cory
2017-04-01T00:00:00Z
Clean, quiet, cozy. Great place to stay wether you're in the area for a day or for a month.
Bryan
2017-03-24T00:00:00Z
Oda Tipi
Tüm ev/daire
---
Mekan Türü
Ev
---
Konaklayacak Kişi Sayısı
7
---
Yatak odaları
Tolland, Connecticut, ABD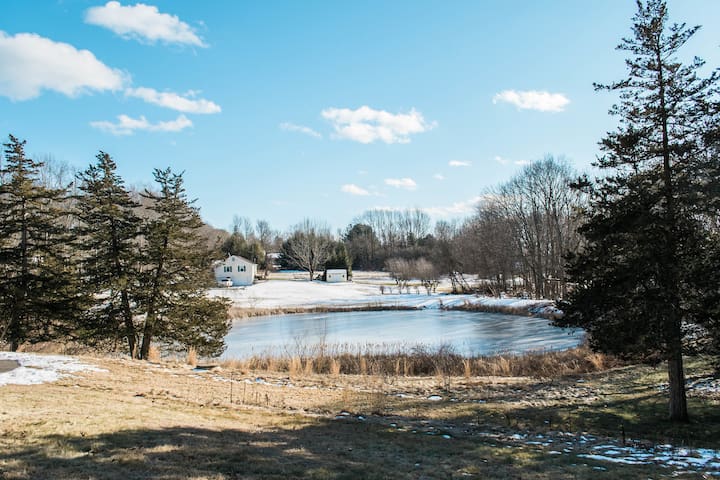 Your own private entrance to a large room+ with full size bed, futon, work desk, flat screen TV, & fireplace. Shower and utility room with microwave, fridge, and coffee maker. Located in a quiet/safe area with awesome view of Hamilton Reservoir. 1 mile off I-84. Also, in-room massage therapy by a highly experienced and established massage therapist available from Rosemary Roman Nolan, LMT by appointment.
May Brook Road is usually quiet and a nice walk with views of the lake. Sturbridge is just up I-84 and has many restaurants and of coarse, Old Sturbridge Village. The Brimfield Antique Flee Market is 15 minutes away in May, July, and Sept. The Treehouse Brewery is a short drive. A mile away is the Travelers Restaurant which has great food and an assortment of books. Each guest gets to take home 3 books per person free. The space really is Cozy and Quiet! But close to I-84 and a lot of interesting places.
The house is located on the quieter, back side of Hamilton Reservoir, often called Holland Lake. May Brook Road is very quiet. If you go for a walk or run, expect others doing the same to say hi! The neighborhood is small town residential. It is part of The Last Green Valley National Heritage Corridor. Check it out on line to see the many activities available in the area.
We arrived later than planned and John our host waited for us and even showed us all the amenities. The room was beautiful, cozy, and neat. John provided us with directions/maps to some places in town. Even gave us a gift certificate for a local eatery. If we had questions he was there to answer them or help us. The views were wonderful and peaceful. I would recommend this place to anyone. If you want a nice relaxing getaway, consider this little gem :) Definitely coming back this winter or spring!
Adrienne
2015-10-11T00:00:00Z
John was very communicative before our visit, making it a very smooth and simple process. He's a really nice and hospitable guy, and his house is very quiet and relaxing. It's in a woodsy country neighborhood that is still a two-minute drive from the highway and not far from major cities and nice old towns in the area. The room is great, very private and cozy with nice amenities (W&D, microwave, toaster oven, hot plate, coffee maker, fridge/freezer, streaming channels, wood-burning fireplace, ironing board, etc.). My wife and I will be sure to stay here again the next time we're in the area.
Mario
2015-10-25T00:00:00Z
This was my first visit to USA & my first airbnb experience. What a lovely start for a road trip. John was such a great host full of useful travel information & on hand for anything we needed. The apartment is so cosy & quiet with a view of the lake to wake up to I wish it could have been for longer.
Jayne
2016-06-22T00:00:00Z
Johns communication was great and he was very informative on our arrival. The listing is accurate and it was a lovely location with a beautiful view of the lake. The room was clean and cozy and the bed very comfortable. His suggestion of the Travellers Restaurant was great, the food was excellent and it was so unique. Johns place is a spot we would love to stay at longer and explore the area.
Richard
2016-04-27T00:00:00Z
my second trip to location. All was good
Duane
2016-04-02T00:00:00Z
Even with such a late arrival John was there to welcome us and even help carry my cooler down the stairs. He was very friendly with a quick review of the layout of the space and some information of the surrounding area. The kitchette was awesome. We brought a little griddle to add to his kitchen with microwave fridge and freezer, coffee maker, plates, utensils, and even salt pepper. Very user friendly space! There were some games and books along with a desk area to work in if you like. I would highly recommend John's place... We definitely got our monies worth.
Melissa
2016-06-20T00:00:00Z
The stay was more than great! John is such a nice and open-hearted person and it was very welcoming when we arrived. His place at the lake is very beautiful and quiet and surly worth to stay for more than just one night. The apartment is really clean, cosy and makes you feel like your at home right away. We highly recommend this place if you want to spend a couple of days at a quiet and peaceful place or even if you are just looking for a nice place to stay for one night. We would definitely come back to John and Zoey, the lake, the fireflies and the campfire in the garden ;)
Juliane
2016-07-22T00:00:00Z
Staying at John's was wonderful, it was very quiet, scenically beautiful and conveniently close to I-84. John is a very cordial accommodating person who really wants to make your visit worthwhile. The room we stayed in was pleasantly cozy and comfortable and had everything we could need. Thanks for making our stay great!
Sydney
2016-07-25T00:00:00Z
Oda Tipi
Özel oda
---
Mekan Türü
Ev
---
Konaklayacak Kişi Sayısı
4
---
Yatak odaları
Holland, Massachusetts, ABD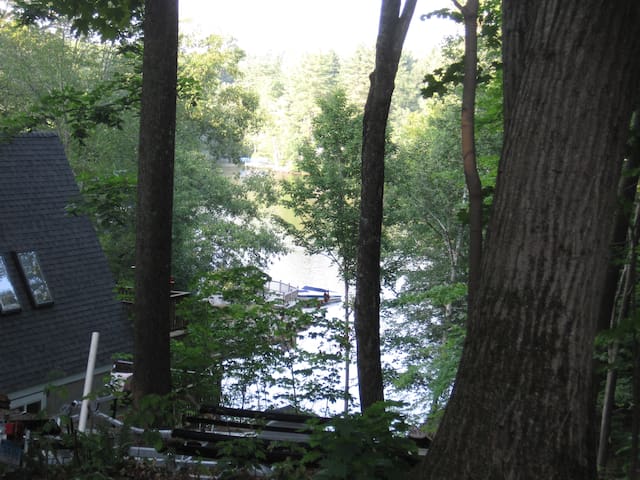 Oda Tipi
Müşterek oda
---
Mekan Türü
Ev
---
Konaklayacak Kişi Sayısı
1
---
Yatak odaları
Central Manchester, Connecticut, ABD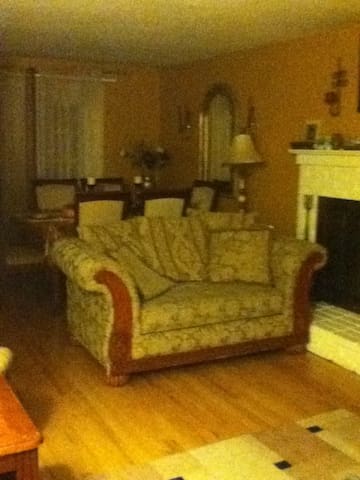 Very comfortable home for visitors, students and visiting parents
Very comfortable king-size bed with two cozy chairs with ottomans view of the back yard which includes a stone lined spring fed pond. Discounts for Extended Stays.
I am very close to a grocery store and the college campuses. Only 25 minutes to the casinos 35 minutes to Mystic Aquarium
Douglas has a beautiful home! It was a pleasure to stay here and the thoughtful design and decoration made me feel cozy and at home right away. Douglas was available at check in to give me a tour and show me the house and it was easy to communicate with him. Overall a great experience and I would definitely stay here again if I was in the area!
Dana
2017-03-26T00:00:00Z
Easy place to stay, quiet and efficient. Would stay again.
Laurie
2017-01-31T00:00:00Z
Oda Tipi
Özel oda
---
Mekan Türü
Ev
---
Konaklayacak Kişi Sayısı
2
---
Yatak odaları
Windham, Connecticut, ABD
Our place is close to the University of Connecticut (10 minutes). You'll love our place because of its historic flavor, its quiet country atmosphere, yet its proximity to culture and fine dining. Our place is good for couples, solo adventurers, business travelers, and families. This is a welcoming space; we celebrate diversity and ask only that visitors be respectful of the house rules. We are open to longer term stays into the week - please message us about your needs.
Our home is on the National Register of Historic Places, but it's also still a small, comfortable working farm, albeit a work in progress. There are free range chickens, two cats, and a blind dog named Phineas, all of whom are very friendly. Well...the chickens might run from you ;) UConn is 10 minutes away, Mohegan Sun Casino is 45 minutes away, Coventry Farmer's Market is right in town every Sunday from 11-2, or Hartford is 30 minutes away.
Those interested in early New England history may enjoy walking through Historic South Coventry. Old mills and churches have been turned into antique and collectible shops, and its history as an industrial center is still visible in many places. (Currently a lot of street construction and repair)
Karl and Hilarie are great hosts! Their house is a gem. It has so much character and history, and Karl and Hilarie did not hesitate to tell us all about it. It was such a great experience getting to know the history behind The Earl Smith house. The bedroom is spacious and the bed comfortable. The bathroom was super clean and had all the things you might need. We also had access to a den/living room area which had couches and a great view of Main street. Phineus and Colt, their two lovely dogs, were adorable and so well behaved. Karl and Hilarie made us feel at home and we couldn't have asked for a better stay.
Nabeel
2016-12-10T00:00:00Z
We are regulars at Karl and Hilarie's and always look forward to our next visit to our CT friends in order to stay that their lovey farmhouse.
Elise
2017-01-22T00:00:00Z
Karl and Hilarie and their 2 sweet dogs were very welcoming to their unique historic home. It was clean and comfortable, including the bed. They are in a lovely, quiet town, which is full of hidden treasures they could point you to if you're looking for activities. Overall, a great place to rest and relax, and wonderful hosts!
Anneliese
2016-12-31T00:00:00Z
There place is an older historic house that they are still in the process of renovating. Clean and cozy accommodations.
Deborah
2017-02-25T00:00:00Z
Karl & Hilarie's place was a very homey place to spend the night. She has many friendly animals at her house, and we enjoyed meeting them during our stay. Hilarie was an excellent host and was very quick to respond to any concerns or questions we had while staying there.
Jacob
2017-03-20T00:00:00Z
Great old CT farmhouse that comes with a few chickens and beautiful blind chocolate lab! Lots of character with a big comfy bed. Wish I had more time to enjoy the porch or feed a few chickens but maybe next time. Hilarie & Karl are great hosts and were very welcoming. Just drive up the old dirt driveway and come in through the back door!
David
2016-10-24T00:00:00Z
Karl and Hilarie were great! Very hospitable and friendly. The house was cool. I highly recommend their place.
Kevin
2016-12-04T00:00:00Z
Very warm and friendly. I was offered a cup of tea and some history of the charming home.
Luz
2016-10-16T00:00:00Z
Oda Tipi
Özel oda
---
Mekan Türü
Ev
---
Konaklayacak Kişi Sayısı
2
---
Yatak odaları
Coventry, Connecticut, ABD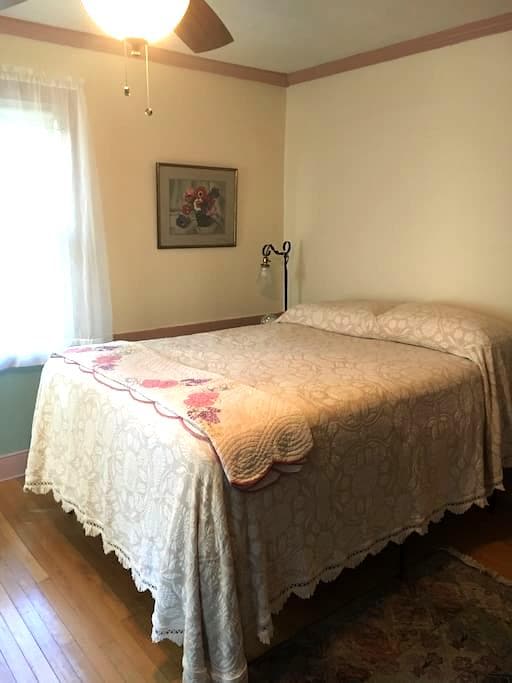 This solid home is in a safe neighborhood two blocks from Eastern Connecticut State University and only 8 miles from the University of Connecticut, Storrs. Built during the era of American Thread, we boast Victorian homes, ethnic restaurants, a Railroad Museum, Mill Museum, hiking and biking trails, friendly people, and FROGS! Make yourself at home!
If you enjoy music, you are in the right place. Enjoy our piano, guitar, other instruments. We have a large screen tv for your enjoyment. Know that we will share the same living space so please let us know of your plans so we can coordinate with you to ensure you have a great stay here. I work at home and will need to make sure we are all on the same page. Non-smoking home with no pets. I've a reputation for being a pretty good cook and baker so maybe we can do some cooking in my kitchen. There is plenty of storage for your things in our home. You are near great places to catch a concert, dine out, and can walk to all of these kinds of activities and so much more. I know my town inside out so if you have an interest, I know where to send you. This Quiet Corner of Connecticut is bursting with things to do, both in and out of doors. Looking forward to your stay here in Romantic Willimantic!
This area has the highest concentration of Victorian homes than anywhere in the country, perhaps the world. Between festivals and celebrations, visiting Willimantic is an all-season kind of town where we know our neighbors...and actually like them!
Oda Tipi
Özel oda
---
Mekan Türü
Ev
---
Konaklayacak Kişi Sayısı
2
---
Yatak odaları
Windham, Connecticut, ABD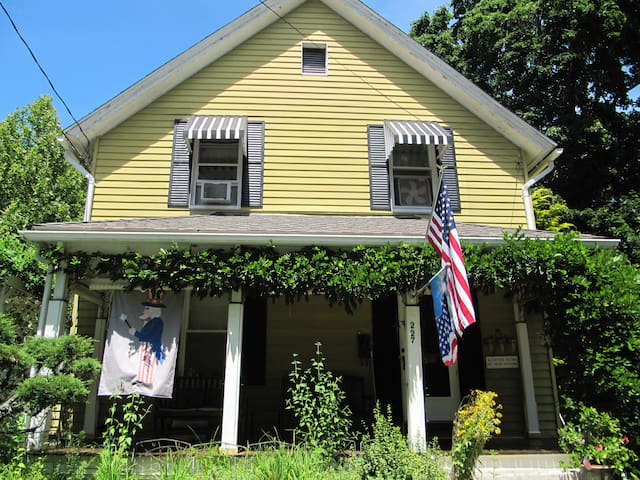 Only minutes from UConn & ECSU, you can stay in an over-300 year home on over 2 acres of wooded serenity, with direct access to local trails. Experience the charm of colonial Connecticut, yet with all the modern conveniences.
Our guest room is on the first floor of our unique 1713 colonial-era home, with a private bathroom just around the corner. In the cooler months, enjoy a cheerful fireside experience, and in the warmer months, all the outdoor beauty New England has to offer.
We're on a quiet street with direct access to the Hop River State Trail, a part of the East Coast Greenway, a great place for walking or biking (bikes may be available upon request). A great selection of restaurants await you in nearby Willimantic or Storrs. Also in Storrs is the main campus of the University of Connecticut (UConn), which offers a variety of activities and cultural/arts events throughout the year. Downtown Hartford is less than thirty minutes away, with all of the history, recreation, and attractions it has to offer.
Matt and Adam are fantastic hosts, and their house is lovely. I always enjoy staying here!
Greg
2017-02-03T00:00:00Z
This charming colonial home was perfect while visiting with my daughter at UCONN. Adam and Matthew have a beautiful gem of a home in nestled along the rural roads of charming Andover, CT. I will definitely be returning.
Judy
2017-04-02T00:00:00Z
You can tell by all the reviews that Matt and Adam are great hosts, and their place is lovely. These two have great style and the place is immaculate. I wish we would have had more time to share words and ideas with these obviously well-read and open-minded fellow midwestern expats.
Scott
2017-01-29T00:00:00Z
We had a quick stay for one night and it was perfect. If our plans had allowed we could have easily stayed longer. Matthew's place is really nice and Matthew and Adam are gracious hosts.
Andrew
2017-02-19T00:00:00Z
Matt and Adam are wonderful hosts. They were so welcoming and patient when I arrived later because of traffic. The house is beautiful, the guest room is so nice and that bed-so comfortable! I loved that their cat came and stayed with me, it made it feel more like home. I was in Connecticut for a race the next day and I get a little 'diva-ish' with pre race jitters and prep-Matt and Adam were great with giving me space to do my thing. The personal guest bathroom was a fantastic touch. I wish I was able to stay just a little longer to get to know them better but all the same, they were great hosts in a very, very nice location.
Jennifer
2016-02-27T00:00:00Z
Great home and very convenient location to everything in Eastern CT. Matthew and Adam were friendly and great hosts. The room was comfortable and plenty of room for the two of us. There is a private bathroom and everything was clean and updated (amazing for a house built in the 1700s!). The check in / out process was flawless and the hosts were quick to respond to any questions after booking. Would highly recommend!
Jack
2016-08-13T00:00:00Z
Matthew always has everything ready for me when I arrive. This means so much to me as I am often tired and ready to crash as soon as I get there! On this trip, Matthew wasn't home when I arrived, but he left me a key and sent directions about how to get into the house. I appreciate his trusting me to be there by myself.
Paula
2016-02-10T00:00:00Z
I had a wonderful stay as usual!
Greg
2016-10-22T00:00:00Z
Oda Tipi
Özel oda
---
Mekan Türü
Ev
---
Konaklayacak Kişi Sayısı
2
---
Yatak odaları
Andover, Connecticut, ABD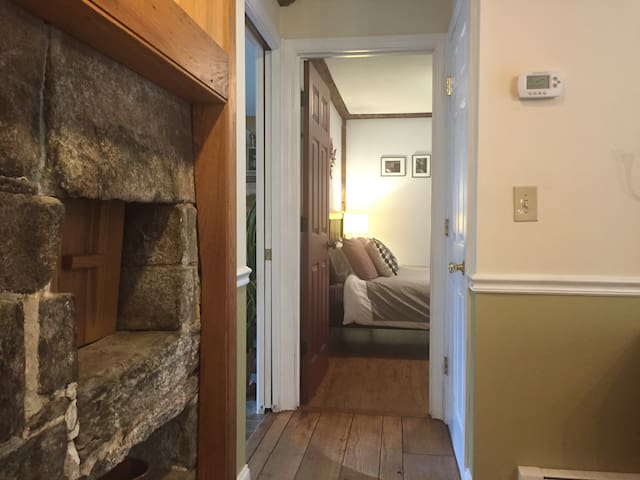 This little cottage, built circa 1850, retains its small scale charm, yet offers modern comforts expected today. In addition to a living and dining room, there is a full vintage kitchen, two bedrooms, one bathroom, and a laundry nook with washer and dryer. Curl up with a good book or explore nearby trails. The town library is nearby. There is high-speed WiFi As is common in small houses of this era, the ceilings are low. We just completed restoration of the building, inside and out.
Chaplin is located between Boston (2 hours) and New York City (3 hours) in the Quiet Corner of Connecticut. It is 15 minutes from the University of Connecticut and downtown Storrs, 15 minutes from Eastern Connecticut State University and five minutes from 24-hour shopping. The Hyde School and Pomfret School are also just a short drive away.
The quiet little village of Chaplin is a great place to unwind away from traffic and the pressures of daily life. Most of the homes on Chaplin Street were built between 1820 and 1840, after Benjamin Chaplin left money in his estate to build the church, completed in 1815. Enjoy the serenity of Chaplin's National Register Historic District. The village street is lined with fine architectural examples of early 19th century homes. Even the simple structures, such as the Clark Cottage, remain intact. Aside from a paved street and utilities, the village looks nearly the same as it did when it was built.
Peggy and Warren are wonderful and warm hosts! We were welcomed with Peggy's home baked cookies which the children (and grownups) loved! The communication with Peggy prior to our arrival was perfect. She recommended thing to do in the area and invited us to see her own work. Her weaving studio is so beautiful! Her work is inspiring! Staying in their place was lovely. They fixed the place up with really good taste! It's been our best experience with an Airbnb so far! Thank you so much to both of you!! Ayalah
Ayalah
2016-10-25T00:00:00Z
Nice place to stay in historic Chaplin. Other than a rather cramped bathroom everything is good. The kitchen is charming and well stocked and the two bedrooms are well situated and either end of the house.
Lily
2017-03-23T00:00:00Z
Chaplin is something less often seen these days and harder to experience first hand, a small historic village that still functions like a village, with neighbors who wave to you on the street as they drive by, or stop to chat about their dog; the church bells even ring on Sunday mornings. Staying at Clark Cottage lets you be part of that. Even though all there is to do is to stroll down the old street, or take a walk in nearby woods, it's a treat to slow down, listen to a rooster crowing in a back yard, and be part of a quiet spot in Connecticut's "quiet corner."
Sarah J
2016-11-13T00:00:00Z
Located close to great restaurants, two universities and in a charming quiet New England village, this cottage has so much to offer. Our hosts were so helpful in making the stay comfortable and the accommodations highlighted the charm of the historic Chaplin village and nearby towns. Everyone was "wowed" by Clark cottage.
Adele
2017-03-12T00:00:00Z
Peggy is the best! We even got a chance to run across the street and see her weaving studio! The cottage is lovely and I would recommend anyone to stay here.
Katie
2016-12-11T00:00:00Z
Peggy made us feel very welcome and made sure we had everything we needed. The cottage was spatious and had a relaxing vibe and is in such a quiet area that we slept really well while we were there. Also, we enjoyed how it what set in the beautiful village of Chaplin in a beautiful part of rural Connecticut.
Emerson
2016-11-27T00:00:00Z
Clark Cottage is comfy and cozy, a great, quiet country getaway convenient to Boston.
Sarah J
2016-12-30T00:00:00Z
Peggy and Warren were great hosts! The cottage is very charming and comfortable with lots of natural light. The house is in a quaint historic village with New England character, including an old graveyard that was fun to explore. Also just one mile from the cottage is Goodwin Forest which had great hiking and mountain biking trails. Coffee and muffins left for us by the host were an extra special touch. Thanks for a great experience!
Laura
2016-10-12T00:00:00Z
Oda Tipi
Tüm ev/daire
---
Mekan Türü
Ev
---
Konaklayacak Kişi Sayısı
4
---
Yatak odaları
Chaplin, Connecticut, ABD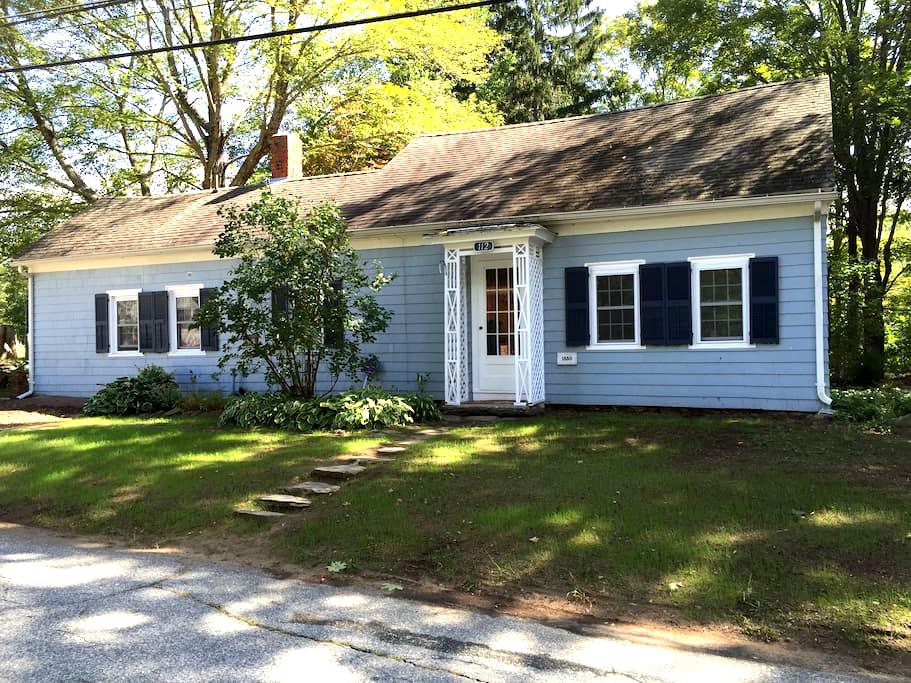 My home is close to the Town center, Blish Park, tennis, swimming, great views, art and culture, town restaurants for dining in or outside. You'll love this location because of the quiet and serene environment, four great restaurants, the ambiance, and the best treasure - Lake Terramuggus with lifeguard on duty. My home is best suited for solo adventurers and business travelers, although two people are welcome for short term visits.
The location of this home is centrally located in CT with a rural, country setting. My home is a small ranch - cottage style - single floor living space. There are neighbors close enough, while privacy is still evident. The home comes with a beach association accommodation with lifeguard on duty, within just a short walking distance from the house - no fees or extra costs to you for this beach benefit. In the autumn, there is fishing and leaf peeping at the Lake.
The neighborhood is mostly adults and a few families with children. In the summer, the children are active at the beach. Overall, the neighborhood is quiet and very safe. Not much traffic on this road. The homes are well kept and cared for.
Sharon is very nice and I enjoyed my stay with her--second time!
Peter
2017-01-16T00:00:00Z
Shari is a great host. She has even gone to the level of moving herself to the spare room, which has a smaller daybed, and allowing guests to use the larger bedroom. Very appreciated
Karen
2017-03-13T00:00:00Z
Great value and a great place to stay. Sharon is is a wonderful host and I highly recommend a visit!!
Mark
2017-01-13T00:00:00Z
Sharon was very friendly and accommodating. Also her house is within walking distance of a beautiful lake.
Tom
2016-12-03T00:00:00Z
Sharon was a warm and welcoming host, as was her feline co-host, Tater. Her home is small, but clean and cozy. Sharon is friendly and accommodating and goes out of her way to make you feel comfortable as a guest in her home.
Liz
2016-12-11T00:00:00Z
Shari's place is comfortable and clean and she is a friendly host. Highly recommended!
Peter
2017-01-08T00:00:00Z
Sharon is a lovely host with a comfortable home in a quiet neighbourhood not far from East Hartford. She has a wonderful, affectionate, and playful cat. The home is on the cooler side, so an extra layer is helpful, although she's happy to turn up the heat add well. :)
Karen
2016-11-29T00:00:00Z
Very friendly!
Yougi
2017-01-19T00:00:00Z
Oda Tipi
Özel oda
---
Mekan Türü
Ev
---
Konaklayacak Kişi Sayısı
2
---
Yatak odaları
Marlborough, Connecticut, ABD
Lake front cottage located on Alexander's Lake and nature conservancy near the historic town of Putnam which has numerous restaurants and shops. and only 30 minutes to Casino's. The property is located directly on the water with a very private beach, wood and gas fire pit, private dock, and includes use of kayaks, canoe ,row boat and his and hers bikes. We also include firewood, gas grill and fishing gear. We have tried to include everything you will need to enjoy the lake experience.
Our cottage is located on a quiet private lake, there are no motor boats allowed on the lake which makes it ideal for kayaking sailing or floating in a tube. Guest have access to kayaks, canoe and row boat. We also have fishing gear and his and hers bikes. The property is located on a very quiet dead end road and is great for walking running or biking.The cottage has a fully equipped kitchen including all pots pans silverware basic spices oils coffeemaker microwave and toaster. We also provide a complete coffee bar set up with variety of coffees teas and creamer. There is also a nice outdoor grilling area with gas grill and two burner stove. There is a full-size bed futon bed and included is all towels sheets blankets etc. Cable tv and wifi
Awesome cabin.
Ruslan
2017-03-26T00:00:00Z
John and Amy were lovely. They made sure we had all of the information we needed about the area and made us feel like we could reach out with any issue. The house is the perfect size for a small, romantic getaway. Well worth it.
Emily
2017-03-12T00:00:00Z
This place was awesome. Located on a scenic lake -- it's the perfect getaway from the hustle and bustle of a city. Also nearby is a great variety of department stores that fill your every need. The little town is quaint and quite enjoyable. I would highly recommend!
Randy
2017-02-26T00:00:00Z
This is the perfect quiet weekend getaway. The dead end road is set away from everything and the lake is just gorgeous. John and Amy's cottage is SO much nicer than I thought it would be - clean, modern, spacious, comfortable. Their ammenities and the ability to use their boat, fishing rods, bikes and more made this trip memorable, to say the least. I will definitely be back for more time at the cottage!
Anne
2017-04-02T00:00:00Z
everything about this stay was perfect. John was very flexible about our uncertain arrival time. We will be back. LOVED it here.
Kathleen
2016-08-31T00:00:00Z
Fantastic space. The lake is gorgeous. Secluded but close to shopping. Everything was as described. I had a question or two for the hosts and they were prompt and friendly in their replies. I would highly recommend this rental.
Joe
2016-10-16T00:00:00Z
房子处于湖边,位于密林深处,风景很好,设施比较完善。 但没有WIFI 没有吹风机,没有洗衣机,虽然其他设施都很好, 很有家的感觉。
Jiewen
2016-10-22T00:00:00Z
This was a great place to stay. Small and cozy with everything we needed. John was a great host and we didn't have a single problem. Enjoyed everything about our stay and we had a great time. We hope to able to do it again someday.
Lisa
2016-09-26T00:00:00Z
Oda Tipi
Tüm ev/daire
---
Mekan Türü
Ev
---
Konaklayacak Kişi Sayısı
3
---
Yatak odaları
Killingly, Connecticut, ABD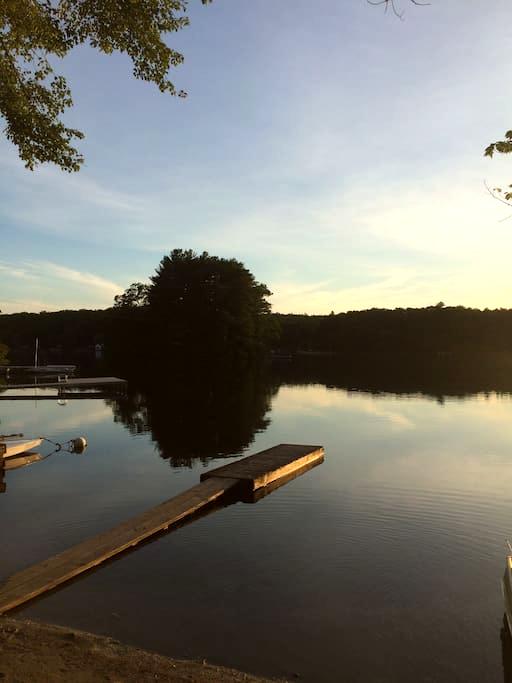 Bed is a 9 inch memory foam mattress. Very comfortable. Freshly painted, and spotless bedroom. Recently refinished desk also accompanies room. I have a dog and a cat. Both Friendly. Bedroom has Central Air. Bus stop is .2 miles away, about 5 minute walk. Public transit is not great in CT however.
Very sweet neighborhood. Lots of families and nice people.
Enjoyed my short stay at Chris's house. He was very welcoming and his dog was energetic and outgoing.
Richard
2016-10-02T00:00:00Z
It was great experience everything is quite and simple. About the home was clean and organized, Chirs is great guy he helped by telling me everything I need and give and drove me around when he had time, I strongly recommended to try it and you will appreciate my suggestion. Thanks Chirs again:(
Abdullah
2016-10-31T00:00:00Z
Chris was a great and welcoming host.
Dennis
2016-09-30T00:00:00Z
Chris seems like a very nice person based on fairly minimal interaction. His house is comfortable and clean and his dog is super friendly. I tend to keep to myself during airbnb stays and so I'm typically looking for a place that is clean and relatively quiet with a good internet connection and friendly people. All requirements were met! Thanks Chris!
Ian
2016-10-06T00:00:00Z
Chris is a nice host. He provided me everything I needed for one good stay in his cozy house with room available for Airbnb's costumers bigger than descripted on web site. He and his housemate are very friendly people. Chris' mother often does laundry of essentials like towels and make sure the house is clean. He keeps two pets on house, a smart cat and a amazing dog, her name is Crystal. The house is 30 min walk up away from the gorgeous Rockville, at the heart of Vernon, where you can see buildings with renaissance architecture beside an exuberant forest. That one is close to another charming city Manchester, either near to Hartford, capital of Connecticut (01h 30 min by bus). Definitely, Rockville is a perfect place to write a book, clear your mind and do something like that.
Alessandro
2015-10-05T00:00:00Z
Chris was super warm and welcoming! He made sure he was home to greet me even though my schedule was kind of unpredictable and he had evening places to be. I appreciated that the room was exactly as shown/described, and though the walls are a bit thin the value for what he charges is really great. Bonus adorrrrable cat and dog were a pleasant addition, too!
Sukriti
2016-08-06T00:00:00Z
Chris was a great host. He promptly responded to my questions prior to arrival and is very friendly. The room is as advertised. There were fresh sheets and a towel ready for me when I arrived. I would definitely recommend staying at this listing.
Annemarie
2016-08-06T00:00:00Z
Chris was very friendly and accommodating. He had everything ready for me and even called me minutes after leaving to let me know I forgot something.
Noelle
2015-12-26T00:00:00Z
Oda Tipi
Özel oda
---
Mekan Türü
Ev
---
Konaklayacak Kişi Sayısı
1
---
Yatak odaları
Vernon, Connecticut, ABD
For those passing through we have space for you here.
Laurie was a great host. My week was very relaxing. I do alot of work on my computer so it was great having a reliable wifi along with plenty of phone service. The space was just as how it was described and very welcoming. Plenty of parking too. I chatted with Laurie for a bit and she was lovely. I'm planning on staying again.
Billy
2015-07-20T00:00:00Z
Oda Tipi
Tüm ev/daire
---
Mekan Türü
Ev
---
Konaklayacak Kişi Sayısı
2
---
Yatak odaları
Coventry, Connecticut, ABD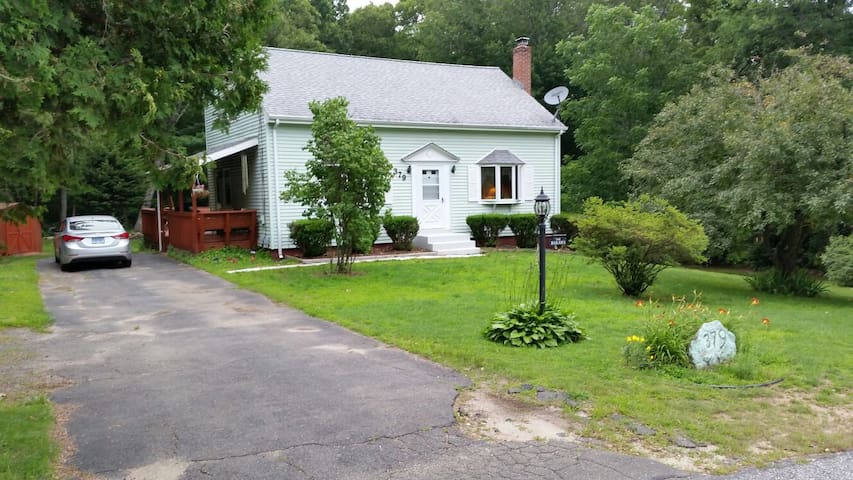 Mansfield - Airbnb
:
385

misafir değerlendirmesinden,

5

yıldız üzerinden ortalama

4.97

yıldız
Tam fiyatlandırmayı görmek için tarihleri görün. Ek ücretler uygulanır. Vergiler ilave edilir.