Best Location! 1/1 780sqft Condo on the Bay Front in the heart of South Beach. Walk/Bike everywhere or jump in a cab right in front of the building. The Resort features bay front swimming pools, hot tubs, spa and lush gardens. Flamingo South Tower
The most central location in South Beach. Walk or cab to anywhere in South Beach. The bay front pools, hot tubs, day beds and volley ball court are yours to enjoy by day. Beautiful exotic hard wood flooring through out this spacious apartment. Amazing 14th floor views of South Beach. Fully equipped kitchen. WiFi
This is the best neighborhood in Miami. You can walk to dinning, night life, shopping, beach, Lincoln road is only 2 blocks away. By far the best location in South Beach
Mark was very helpful meeting us when we needed and showing us around, very spacious and comfortable apartment as was the complex and the pools defiantly the best point of interest, we had a great stay and would recommend for sure!!
rebecca
2015-09-11T00:00:00Z
I would say it is amazing experience that stay in Mark's apartment. Perfect location, very tidy and nice rooms, beautiful environment. And most important that Mark is a very nice and kind helpful person, he even pick up us at very late weekend and show us everything around the building. Definitely I will come back and reserve Mark's apartment again! Thanks Mark for everything you do!
SHIGUANG
2016-07-23T00:00:00Z
Very pro and nice welcoming.
Damien
2015-01-23T00:00:00Z
If I were reviewing the condo and resort only, I would give close to 5 stars. Mark was very responsive throughout the whole process of choosing to stay at his place and meeting up so that he could give my roommate and I keys, as well as during our stay. He was also really helpful recommending restaurants and walked us around the whole resort when we got there, which was super helpful. The place was clean and very nice as described, and the pool and resort were wonderful. We loved how close it was to Lincoln Rd as well. However, there was a big issue that impacted our enjoyment our stay. Apparently, short-term rentals are prohibited in Miami Beach, so we technically weren't supposed to be renting the condo from Mark for the week. We did not know this until we checked in with Mark and got the keys. During our stay, the resort security stopped my roommate and told her she wasn't supposed to be hanging at the pool without Mark there since we were using his resort pass. As instructed by Mark, she told the security guy she was staying with Mark. He said she could stay for the day but said after that she couldn't without Mark. We had not known this could be an issue, and from then on, we felt very uncomfortable and felt like we were sneaking around by being on the property. It made what should have been a relaxing vacation unsettling, which shouldn't have been the case given that we were paid guests. Mark seems like a good guy and the place is really nice, but I wish I had known there was risk involved going in. We felt a bit complicit in doing something we didn't realize was prohibited, and it really impacted our enjoyment of the resort and our stay. We didn't contact Mark because we knew he couldn't really do anything about it and didn't want him to think we were doing anything that could get him in trouble (we weren't--as he instructed, we didn't talk to anyone from the resort and tried to act like we lived there) but I felt like this was not something someone should have to deal with on vacation, and I think it's important for anyone who stays there to know about the risk involved.
Maggie
2015-07-24T00:00:00Z
Marks apartment could not have been more perfectly located. Very close & walking distance to the beach, Lincoln Road where there is lots of dining & shopping. The apartment itself is clean & quiet and is perfect for a stay in Miami.
Matt and Tonya
2014-11-07T00:00:00Z
The apartment is in a great location: walkable to the beach and Lincoln Road, within a gated complex with deli, cafe and two lovely pool areas, and next to citi-bike stop. The hosts were very kind and helpful.
Nicola
2017-02-23T00:00:00Z
Great location, arrival was the best I have had. Mark couldn't do more to help us when we were out there to ensure we had things to do, felt supported and safe. Thank you :)
Roxanna
2016-09-05T00:00:00Z
Marc's space is great. It's clean and quiet and is centrally located in South Beach. The pool is a nice option too. Marc was super easy to communicate with. Would highly recommend to future guests. Side note (nothing to do with actual apt)- Bring a winter coat...they blast arctic temperatures in common spaces, elevator, hallways, etc. Polar temps are hard on you and the environment!!!
Eleonora
2014-04-09T00:00:00Z
Oda Tipi
Tüm ev/daire
---
Mekan Türü
Daire
---
Konaklayacak Kişi Sayısı
3
---
Yatak odaları
Miami Beach, Florida, ABD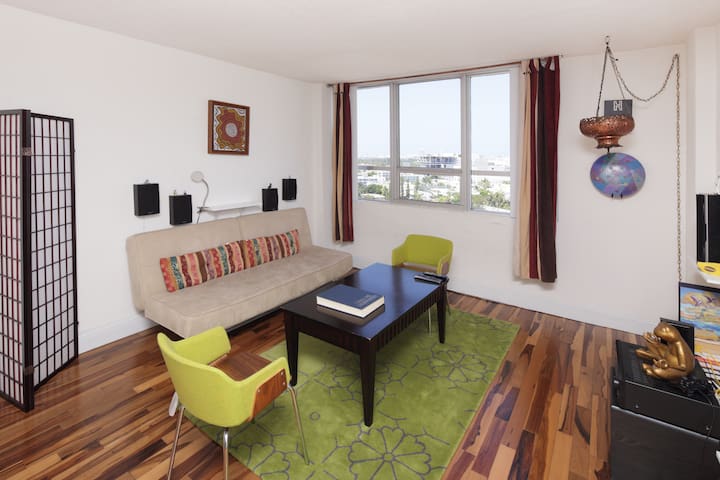 If this Townhouse is not available for your dates PLEASE CHECK OUT MY OTHER LISTINGS. Chic & Elegant 3 Story is located in South Beach close to Lincoln Road Mall,the beach and Espagnola Way. The townhouse is fully equipped , clean, safe and comfortable.
LOCATION: Epicenter of South Beach with Lincoln Road Mall less than 5 min walk & Beaches 10 to 15 min walking distance. The great thing with my listing: Not a building but a real Miami Beach Townhouse with a private patio, private entrance and has its own balcony. In and Out like any private House with very quiet and green neighborhood. BEDDING: - 1 Queen bed, sleeps 2 - Sectional sofa sleeper,sleeps 2 people - Crib for your baby, please request it when you book - 1ST FLOOR you'll find a full-size washer and dryer and seating area. - Enjoy eating or lounging on 2ND FLOOR BALCONY. It has a full-size kitchen and large living area. The large living area has a sectional sofa sleeper- Sleeps 2 people. Continue up the spiral staircase to 3RD FLOOR to find the Master Bedroom with a Queen Size Bed- Sleeps 2 people. Conveniently located, you can find: - Grocery Stores such as Whole Foods (recommended) less than 5 blocks from home;or CVS which is across the street. - Nice and inexpensive restaurants or the most famous ones such as Yardbird,Yucca, Juvia...Night light is also walking distance with Segafredo, Bodega which is the new hop spot in South Beach! - Catch all kinds of Tours at Washington avenue or Collins avenue (City tours , Everglades tours, Keys West tours, etc.) - Taxi rank is in front of the house as well as the bus stop and City bike dock. You are truly in the heart of South Beach!
You are in South Beach which is the Glamour area of Miami Beach! The location of my house is central you don't need a car at all because EVERYTHING is within a walking distance : - Lincoln Road Mall is less than 2 min walk - Miami Convention Center is less than 10 min walking distance - Ocean Drive and the Beach are less than 15 min walking distance - Beaches So shopping, best restaurants, bars and clubs, the Beach....everything is around the House!
Our stay at Sofia's place was absolutely amazing!! The house was beautifully decorated, very clean and the location couldn't have been more perfect. Sofia's was so nice to work with! Very accommodating to our needs and very flexible with our schedule. She did a great job showing us around and giving suggestions of places and things to do. We will definitely stay here again next time we visit Miami!
Anja
2016-04-18T00:00:00Z
Sofia was an excellent host and gave us so much valuable information for our trip. She gave us tips on where to store our bags after checkout and let us drop our bags off before checkin so we could go to the beach. The apartment/townhouse was exactly as pictured and had everything we needed. The pools were gorgeous! It was a great trip and my friends and I really appreciated all the help that Sofia gave us along the way.
Emily
2015-03-16T00:00:00Z
Sofia was a delight to deal with, very responsive and very helpful. Her place is very well furnished and we had everything we needed during our stay. She even gave my friends and I tips on where to go and how to cut costs during our stay. Needless to say the pool area was beautiful with a great view of the city. I completely recommend renting here. Thank you very much for a pleasant stay Sofia!
Alan
2015-05-28T00:00:00Z
Had a great experience. House was convenient and clean. Great location. Would recommend to anyone.
GUS SERGE
2016-01-03T00:00:00Z
Sofia est une hôte très accueillante qui a pris le temps de nous faire découvrir la maison et la quartier malgré notre arrivée à l'aube. La maison est très jolie, bien décorée et avec tout le nécessaire pour se sentir chez soi et profiter au mieux de ses vacances. La résidence possède 2 très jolies piscines, idéale pour flâner et se reposer. Situation idéale, au calme mais avec tout à proximité, accessible à pied.
Lucas
2015-10-04T00:00:00Z
We had an extremely delightful stay at Sofia's house. The house is essentially of 5-star hotel quality, except that (1) it is much more spacious, with 2 floors; (2) the house is bright, has character and decorated with good-taste artwork; (3) kitchen, washer/dryer, plenty of towels/linen makes it convenient and homey. Yes the swimming pool is what you can see from the picture, no more word needed. In summary, the place is 10 times better than 5-star hotel, and I will not go back to any 5-star hotel if I have the luck to live at Sofia's house. Sofia herself is charming, warm and resourceful. We are a family of four (including our two young children). Before the stay, we were on a cruise at sea and so I could not organize the check-in until the very morning. Sofia was very accommodating of my planning error, made great effort to let us check in ahead of normal time. Sofia also gave us wonderful tips about the restaurants (yes go for Yardbird yummy) neighborhood areas. I cannot say enough thanks, Sofia, who made this a dream vacation at Miami. A super host, INDEED!
Zheming
2015-04-26T00:00:00Z
Sofia was an excellent host, very friendly and helpful in advise about the local area in all aspects. Apartment itself was very clean, cosy and and had all the modern tech with good wifi and entertainment facilities. Pools areas were very nice with a great opportunity to relax and get some sun. Location was also ideal, being close to all the shops, restaurants and nightlife. Overall very happy with my experience and highly recommend Sofia and her property.
Kevin
2016-03-20T00:00:00Z
loved the place. Exactly like the picture. cozy , clean and of style. It is vey close to the sea and also Lincoln St. Good for shopping and dining out.
Beth
2015-07-10T00:00:00Z
Oda Tipi
Tüm ev/daire
---
Mekan Türü
Şehir evi
---
Konaklayacak Kişi Sayısı
4
---
Yatak odaları
Miami Beach, Florida, ABD
****This is a new apt that'll be available on July 1st. Photos will be updated as the days go by. Since there is no furniture in the home at the moment no security deposit is required & 100% refund is available for this place. Modern style coming soon. There will be full furniture in the unit by July 1st all RSVP can start from that date moving forward
About 15mins away from the beach. Since there isn't a way for me to add parking on your RSVP there is FREE parking . I'll be there the day you arrive to tour you around the building. The parking is in an covered garage. I'll give you the spot number.
Oda Tipi
Tüm ev/daire
---
Mekan Türü
Ortak mülk
---
Konaklayacak Kişi Sayısı
2
---
Yatak odaları
Miami Beach, Florida, ABD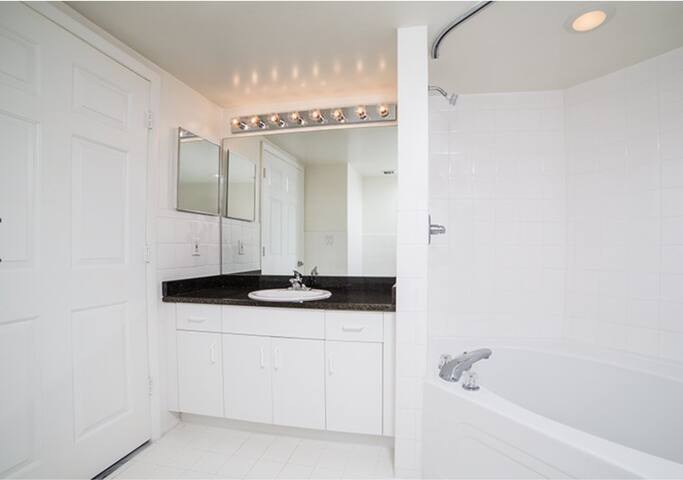 Beautifully remodeled & upgraded unit with washer & dryer and public parking garage 3 blocks away. Perfect for 1 or 2 guests, especially for a couple (king size bed), recommended for young-soul guests! Great location in the middle of active life! Next to the beach, restaurants, nightclubs, stores, bars, Lincoln Road, Ocean Drive, and much more! That is why the streets can get noisy sometimes from tourists! Across the street - Walgreens.
It is a wonderful place for one or two people, great for a couple with king size bed with beautiful bed sheets. sofa, hightop table with hightop stools, washer & dryer in the unit, TV, Wi-Fi, cable, microwave, coffee maker, all necessary cooking tools and dishes/silverware, bathroom has different size towels, shampoo+conditioner, soap.
BEST LOCATION IN MIAMI BEACH!!! EVERYTHING IS NEARBY!!! Just a block away from the beach. Located right by the different types of restaurants, shops, bars, clubs and everything you can think of!
Elena's apartment is exactly as described. The unit is right in the middle of the action in South Beach so if you're looking for a quiet, peaceful stay I would look elsewhere. But, if you want easy access to the beach and walking distance to all that South Beach has to offer then this place is perfect. The bed is big and comfy and the apartment had everything we needed to cook some of our own food. The bathroom was nice and clean and she provided soap and towels for us as well. She responded quickly and nicely to all of my questions. I would highly recommend to visit Elena's place in South Beach if you're looking for a place to stay in the heart of SoBe.
Ryan
2017-04-09T00:00:00Z
Elena is great. Her communication is superb. The location is perfect. It's one block away from the beach. A few blocks away from Lincoln mall. It's off the strip which allows for the location to be quieter then other locations. The pictures of the property are accurate. Me & my boyfriend enjoyed our time here.
Caroline
2017-01-24T00:00:00Z
This Studio is located 2 blocks from Ocean drive! It is nice and cozy. Communication with Elena was seamless. She let us check in early too which was very nice of her :) I would recommend this place if you are going to South Beach and want to be close to the night life scene!
Alex
2016-12-13T00:00:00Z
Elena was such a welcoming and gracious host! She let us leave our bags at the apartment earl before check in time so we could explore the city and again on our last day after check out time, so we wouldn't have to carry our bags around Miami. The place was very clean and as described/pictured. Perfect for 2 people for a weekend getaway. Great and convenient location! I would definitely stay at their condo again when I visit Miami!
Azza
2017-04-02T00:00:00Z
r
Susan
2017-01-28T00:00:00Z
Place was clean. Close to everything you want to go to Miami for. We had lots of fun staying there.
Ayman
2017-01-02T00:00:00Z
Elena's place is really nice. It's ideally located for the beach and all the shops, restaurants etc of Miami Beach. The studio is small but has everything a single guest or a couple would need for a comfortable stay. Elena communicates well, and was on site at check in and check out.
David
2017-03-24T00:00:00Z
Awesome place in the heart of South Beach! Just a block away from Ocean driver!! Elena was a great host! Easy to reach and very flexible! We had an amazing time!
Juan
2016-12-31T00:00:00Z
Oda Tipi
Tüm ev/daire
---
Mekan Türü
Daire
---
Konaklayacak Kişi Sayısı
2
---
Yatak odaları
Miami Beach, Florida, ABD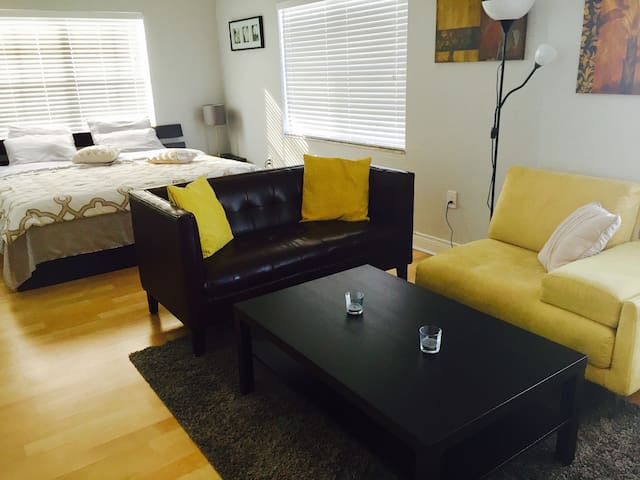 NEW! You can't be closer to the beach ever Clean and very bright studio conveniently located in the hearth of South Beach, just steps to the beach Ocean drive and Lincoln Rd! The most famous restaurants and clubs 2-5 min walking distance! Street parking only ! MINI COOPER rent just for 33$ a day will get discounted rate of 1$ per hour anywhere at Miami Beach
Casual, clean and very bright apartment ! Unit includes: •Wifi •Cable TV •Microwave •Dishwasher •beach chair •beach towels •hairdresser •toiletries KITCHEN has full equipment with all necessities. •blender •coffee maker •microwave •oven •dishwasher •pots and pans BEDROOM has queen size bed very comfortable for 2 people, with fresh sheets, mirror , cable TV and closet. BATHROOM is clean, very spacious , you will find toiletries, shampoos, cleaners, towels ... In closet you'll find: •iron •ironing board •sheets •blankets
Apartment has perfect location. It's right next to most popular street Ocean dr , very close to Lincoln Rd and Washington Ave, also it has easy access to all major attractions in SOBE. You won't need a car!!! Short walking distances, short uber or lyft , Citi bikes ! Shops , restaurants , all attractions and services, spa, theatre, movies, hairdresser, cosmetic centers , and much more ... everything is around you!!!!
Great place great host
Omer
2017-02-03T00:00:00Z
Karol was most helpful. The building is right in the middle of all the action. The unit is certainly interesting and the bed is most comfortable. It was a visit we'll never forget.
terry
2017-02-12T00:00:00Z
The apartment was furnished nicely and in good shape. It is well located on Ocean Ave with access to the beach right out the front door. Because of that it's an incredibly lively neighborhood and we were surprised by how sound proof the apartment was from the outside. There was hallway noise on one of the nights we were there which wasn't as muted. In terms of parking, Karol did a good job of communicating on parking garages, but we mistakenly parked in a very expensive parking lot one of the nights. It would be a lot easier to go without a car here. There are bus lines nearby and a ton of things within walking distance. Karol was very responsive and easy to communicate with about check-in and attentive to anything else we needed during our stay.
Traci
2017-01-04T00:00:00Z
This place is a fantastic location! Minutes from the shore and next to a beautiful park area perfect for walking or reading! Although there are restaurants and bars all around, the condo remained quiet at night. The wifi was perfect! The place was spotless. It is equipped with a perfect king-sized bed. All in all we had a very lovely stay!
Whitney
2017-01-19T00:00:00Z
We had a great stay! Karol was very helpful with a late check in and info about traveler resources.
Caroline
2017-01-29T00:00:00Z
What a great place to stay! Apartment was truly as advertised and right in the heart of South Beach- everything you need is in walking distance. Clean, comfortable, private and steps from the beach! Karol was so welcoming, friendly and provided clear information. So easy to work with and answered questions quickly by text and checked in with me to make sure all was well. Great stay in South Beach- bed was soooooo comfy! Would come back and happy to work with host again. Thank you!
Tracy
2016-12-15T00:00:00Z
Karol has a great apartment located right on the beach. She was quick to respond to any questions or concerns I had. Would definitely recommend staying here. The apartment was clean and very well organized.
Josef
2016-12-04T00:00:00Z
Good host. The place was even better than the pictures. Thank you Karol!
Amina
2016-11-22T00:00:00Z
Oda Tipi
Tüm ev/daire
---
Mekan Türü
Daire
---
Konaklayacak Kişi Sayısı
2
---
Yatak odaları
Miami Beach, Florida, ABD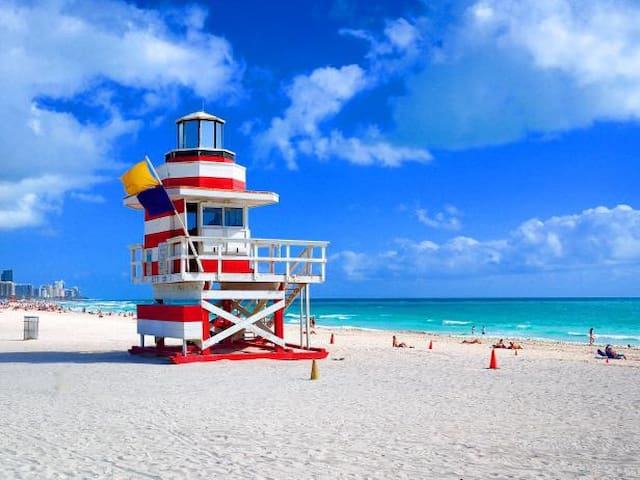 Share a great space for your short stay in Miami Beach. The apartment is in a nice and safe neighborhood. Close to supermarkets and bus station!
T
Thank you Joyce, the studio has perfect location near the beach and ocean drive. Very nice and cozy. Would stay again any day!
Evgeniya
2017-03-23T00:00:00Z
Great stay and great communication! Joyce and her father are great people!
Donny
2017-03-28T00:00:00Z
Joyce's house is a stellar place only 10 min walk to south (URL HIDDEN) super clean and has just about everything you would find in a big house nicely placed inside the studio.... Joyce's father is a friendly and sweet guy who was very helpful.... Check in was super easy with a secret key spot and Joyce was in touch all the while.... Guys, if your a solo traveler and are looking for a place to crash after a long day at the beach this is the place....you probably don't want to go to one of those hostels which are crowded and noisy..... Check out was flexible so I was able to collect my stuff in the evening from the house as well.....all in all a 5 star experience..... I highly recommend Joyce's place to other travelers...
AJ
2017-03-30T00:00:00Z
Excelente. El papa de Joyce muy atento. Joyce siempre al pendiente. Gracias!
Pedro
2017-04-02T00:00:00Z
It's a great location for the price. Hosts were helpful. Thanks
Rita
2017-04-07T00:00:00Z
Clean room and very pleasant host!
Chulia
2017-03-27T00:00:00Z
Good bang for the buck in terms of location given the price. Place is equipped with a conditioning, and the owner's dad was nice and accommodating. One downside is the lack of Wifi - can be a bit tricky if you need to get things done during your stay.
Johnson
2017-03-26T00:00:00Z
As promised, went smoothly! Thank you
Jeff
2017-03-24T00:00:00Z
Oda Tipi
Müşterek oda
---
Mekan Türü
Yatakhane
---
Konaklayacak Kişi Sayısı
1
---
Yatak odaları
Miami Beach, Florida, ABD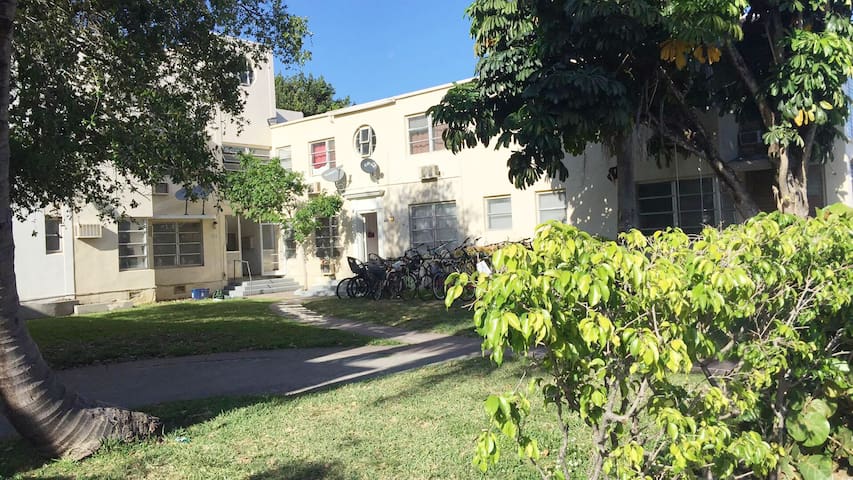 Beach-front and located in the most sizzling section of Ocean Dr, Completely renovated and modern Studio. 400 Sq. Ft. with a full kitchen & full bath. Across from one of the world's most known beaches and in the middle of our historic Art Deco district. Culturally rich and diverse, a Miami pride.
Modern and comfortable furniture. Full size kitchen with Cooktop, Full Size Microwave, Wine Chiller, Full Size Sink, Bar Sized Refrigerator with Freezer, and absolutely all small appliances and kitchen/dining implements as needed to make this your home away from home by the beach. Closet with drawers and hangers, blow dryer, iron and ironing board, Internet WIFI, Smart TV with many viewing options, Full size shower. Modern bath fixtures and all linens included. Central A/C, Electronic lock with unique code combination per guest to offer you increased security and prevent lockouts. As a courtesy and for your enjoyment, Two Beach Towels and 2 Beach Chairs along with 1 beach umbrella are available for your use at our studio. Everything in property is for the use of Guest. The building is beach front. This is a public beach. Our inquiry, rental, payment and arrival/departure process is very fast, very smooth and seamless. We provide access to building and property through electronic lock codes, hence arrival and departure become very convenient and independent. We provide emergency cell phone numbers for Building management and Property management for confidence during your stay that any requests will be promptly responded to. The is the most lively block on Ocean Dr. With immediate neighbors being The Clevelander and Mangos among many other famous spots, you will have a wonderful time along with a rich cultural experience. During the day you can appreciate and absorb the ocean breeze, the sun, the walks and bike rides and during the evening, Ocean Dr comes alive! full of music, great cuisine and drinks and a fusion of cultures that will become a unique travel experience. You will not be needing a vehicle to enjoy Ocean Dr. But if transportation is needed, there is public bus, shuttles and taxis readily available. There is no private parking on Ocean Dr, it is provided by City for a reasonable cost on streets and parking garages. Very accessible and safe as a whole. For longer stays we'd be happy to offer a monthly parking pass for your convenience.
The is the most lively block on Ocean Dr. With immediate neighbors being The Clevelander and Mangos among many other famous spots, you will have a wonderful time along with a rich cultural experience. During the day you can appreciate and absorb the ocean breeze, the sun, the walks and bike rides and during the evening, Ocean Dr comes alive! full of music, great cuisine and drinks and a fusion of cultures that will become a unique experience.
Great place for 1-2 people, at the perfect location.
Dan
2016-10-17T00:00:00Z
Communicate was good and check in & out is very easy. The apartment is as described and photos are accurate. Everything in the apartment was clean and working properly. Location is right in the middle of the SoBe "action" but the apartment is situated toward the back of the building so noise wasn't an issue for us. There is no view from the windows, they are frosted, they can be opened but you would only see the building across the alley which not attractive.
Aubrey
2016-05-24T00:00:00Z
The reservation was canceled 7 days before arrival. This is an automated posting.
Mai-Ling
2015-01-09T00:00:00Z
Overall, we enjoyed our stay.
Darien
2016-12-30T00:00:00Z
Molto cordiale. Ci ha inviato un messaggio con tutte le istruzioni per entrare ed un sms per vedere se eravamo arrivati. Ha risposto immediatamente ad una mia richiesta. Direi accoglienza ottima!
valeria
2016-06-04T00:00:00Z
Great stay overall! Prompt, concise responses from booking all the way to check out. The studio was very clean and looks just like the pictures!
Tara
2016-07-05T00:00:00Z
Location is key for this place. It is located right on the main strip-Ocean Drive, right across the street from the beach. It is located on top of Fat Tuesday's and you really can't hear the noise from the bar or the street while in the room unless someone is in the alleyway outside the windows. The only downfall of this place is the noise within the actual building. I'm assuming because of the great location to bars and restaurants younger adults chose to stay here. The walls are very thin, if you plan on staying up and partying till 6 am this is the place for you otherwise be ready to wake up to parties in the hallway all hours of the night. Also if women are planning to stay here there is no deadbolt- just a heads up since the groups of rowdy people sounded to be mostly men. Overall I would recommend this place for a couple looking to have a blast right on the beach. It was perfect size for the two of us. Sandra was really great to work with and answered any questions or concerns I had prior to going.
Kristina
2017-03-31T00:00:00Z
Sandra was a great host! She was responsive and communicative! The studio is located near all of the Miami Beach hotspots on Ocean Drive! Nice, quaint place and you don't hear any of the festivities happening outside! Would definitely stay again!
Lori
2017-01-30T00:00:00Z
Oda Tipi
Tüm ev/daire
---
Mekan Türü
Daire
---
Konaklayacak Kişi Sayısı
3
---
Yatak odaları
Miami Beach, Florida, ABD
Come stay in this beautiful 1 bedroom designer apartment in the heart of South Beach. Centrally located and just minutes walk from the beach, with plenty of shopping, dining, and nightlife abounds. This apartment will truly feel like home! My place is close to Mansion Nightclub, Starbucks, Palace bar, Lincoln Road, Flamingo Park Pool, and Flamingo Park. You'll love my place because of the coziness, the location, the nightlife. Great for couples, solo adventurers, and business travelers!
Enjoy the beach complete with a beach cruiser bicycle. Airport transportation is available to guests for a fee upon request. Please let us know at least 24 hours in advance if you would like to be picked up.
The place was exactly as in the pictures, centrally located and very clean. Would definitely stay again
Katherin
2017-04-05T00:00:00Z
If you're looking to stay in South Beach Gavin's place is perfect. Affordable, convenient, and well maintained!
Luis
2016-12-05T00:00:00Z
The location is top, just a easy 10 minute walk and you are on the beach and ocean dr. The apartment is exact the same as on the pictures and has al the basic to life there. The contact with calvin is easy and you get fast responce on your questions. We had a very Nice time en i really recommend this place to others.
Dennis
2017-03-10T00:00:00Z
The apartment is just as described, with a nice equiped kitchen and nice touches like a bike, beach towels, an umbrella and coolers to take to the beach, etc. The location is also great. I just wish Gavin would have checked in to see if everything was ok, this is just a minor suggestion but I think airbnb's business is still hospitality and it's simply a nice gesture.
Felipe
2016-12-09T00:00:00Z
Nos encanto la instancia en el apartamento de Gavin. el lugar es perfecto y supero nuestras expectativas en todo sentido, la ubicación es genial. el barrio es tranquilo. El apartamento estaba limpio, es amplio y tiene todo el menaje necesario para sentirse en casa . sin lugar a dudas volveríamos a quedarnos en este lugar. fue nuestra primera experiencia en Airbnb y fue estupendo.
Karen
2016-08-29T00:00:00Z
Great apartment--very centrally located in the South Beach area and extremely close to the beach! We had a very good experience with Gavin, who helped us with everything we needed. It was very easy to get in the apartment. My friends and I loved it. The apartment was super clean and looks exactly like it does in the pictures. There were even some beach towels to our surprise. We had a rental car and paid for parking. The rental ended up being useless because we mainly used uber to take us around and everything was within reasonable distance to just walk. I will definitely stay here again and I highly recommend this rental to anyone visiting South Beach.
Ajani
2016-07-12T00:00:00Z
Great location, all in the proximity of great night life and the beach, which all can be walked to. Other then the thin walls and having maintenance come in to fix windows during my visit I'd highly recommend staying at the place.
Eduardo
2016-10-30T00:00:00Z
Outstanding location - close to everything that matters. Clean and comfortable. Would definitely return. Thanks for a great stay!
Andrew
2016-10-13T00:00:00Z
Oda Tipi
Tüm ev/daire
---
Mekan Türü
Daire
---
Konaklayacak Kişi Sayısı
4
---
Yatak odaları
Miami Beach, Florida, ABD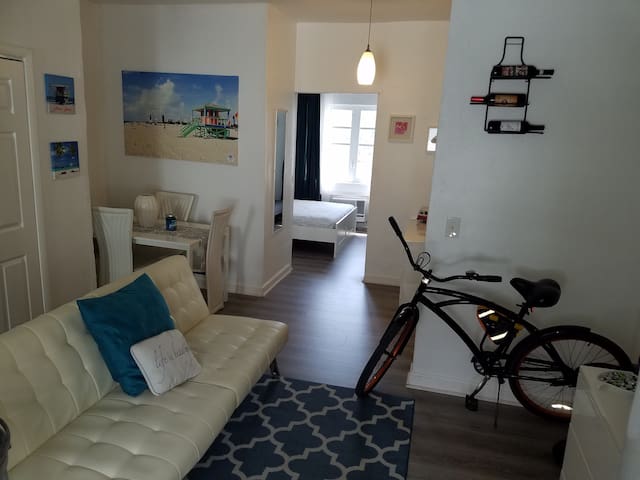 Stay at the famous Congress Hotel in the heart of South Beach. Located on the world famous Ocean Drive between the Versace Mansion and The Clevelander. Balcony, kitchen, modern bathroom. Rooftop pool next door and bar with panoramic ocean views.
Modern large studio featuring a king-size bed as well as a full-size sleeper sofa. Stainless steel kitchen with stainless steel appliances. The bathroom features a large modern spa-like tub with a rainfall style shower. Condo is located in one of hottest historic boutique hotels in South Beach. Along with your rental you will privileges, Wi-Fi and cable in your own apartment, as well as access to the spectacular roof-top pool. Linens for the beds and sleeper sofa are provided in your unit, and so are towels for your personal use and for the beach. 500 sq ft living area King Size Bed Sofa, convertible to a full-size bed Balcony Soaker Tub with Rainfall Showerhead Hair Dryer Kitchen with Refrigerator, Combo Micro-Convection Oven, Dishwasher Central Air Conditioning Cable TV and WiFi Internet Ironing Board and Iron Electronic Magnetic Keys Desk In-Room Safe
South Beach is a vibrant community filled with historic Art Deco architecture, fashionable boutiques, contemporary art galleries and many of the hottest nightclubs in the world. Whether you are here for a corporate convention, family vacation, social event or for the tropical scenery, there are many more things to do in South Beach Miami. Stop by our concierge desk if you have any questions about the best places to see or be in South Beach. The beach and warm ocean waters are just outside the door. You will welcome the luxury of your suite with the chic crowds of South Beach just steps from your door. Be ready to explore the infamous South Beach night life just steps away. Located on Famous Ocean Drive (between 10th and 11th Street) between world famous Clevelander Hot Spot and former Versace Mansion.
Great spot in the heart of it all. Would return.
Scott
2017-02-06T00:00:00Z
Location was perfect. Room was perfect. Hotel could have maintained the rooftop pool better but would definitely stay here again.
Stefanie
2017-04-03T00:00:00Z
Great place in a awesome location!
Matthew
2017-03-15T00:00:00Z
Fantastic location, very clean, extremely comfortable bed.
Gregory
2017-03-28T00:00:00Z
Great place to stay if you are looking to enjoy everything South Beach has to offer. Catalina was extremely helpful with check-in and answering any questions we had promptly. I highly recommend if you are looking to enjoy the food, night life and beach but it can get a bit noisy at night and first thing in the morning but the super comfy bed makes up for it. Overall great stay, especially if its your first time to Miami like it was ours.
Chris
2017-02-17T00:00:00Z
Neat condo with everything you need in a good location on South Beach. Far enough off the road and above ground to keep the noise to a minimum for sleeping - even during spring break. Check in and out was simple enough and the hosts were always accessible over email if we had any questions.
Alex
2017-03-24T00:00:00Z
Location was everything, as soon as you walked out you had everything you needed. Space was exactly as described.
Leia
2017-02-13T00:00:00Z
Great place to stay on South Beach. Walking distance to anything you want. Great access to the beach. Check in and check out was quick and easy and host answered texts very quickly! I would recommend!!
Brock
2017-04-10T00:00:00Z
Oda Tipi
Tüm ev/daire
---
Mekan Türü
Daire
---
Konaklayacak Kişi Sayısı
3
---
Yatak odaları
Miami Beach, Florida, ABD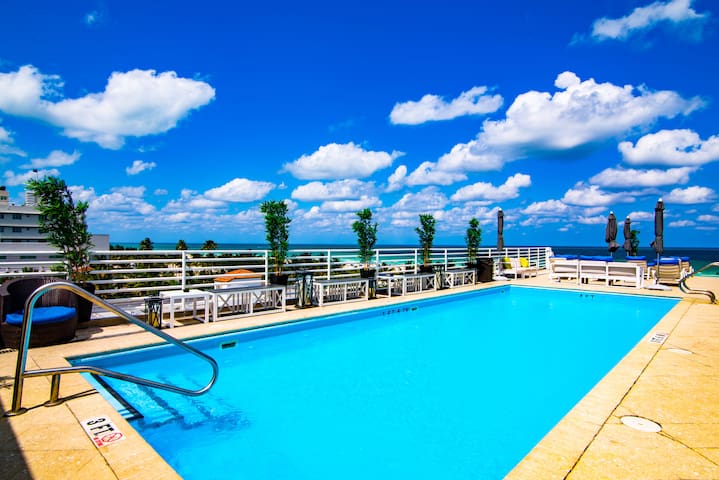 This is an apartment in a hotel -- stay one night or one month, -- or forever! Basic but clean and bright with kitchenette. Center of South Beach, steps from Ocean Drive, beaches and the famous night life. Active area 24/7 -- can be noisy occasionally. ***AUTOMATIC BOOKING IS ON SO YOU CAN BOOK RIGHT NOW IF THE APARTMENT IS AVAILABLE*** Valet parking is available in-and-out for $25/day at the condo. 24/7 check-in check-out at the front desk, also free luggage storage before and after.
Great location. Two blocks to Ocean Drive and the Beach. 763 Pennsylvania Ave -- South Beach
Very accurate description, Javan was always just a phone call away. Very polite.
Brian
2016-10-09T00:00:00Z
Javan was extremely helpful and willing to help at all times! He's most definitely an outstanding host! The place is really well located, just few blocks always from some of the best places in South Beach. The place is also very close to a South Beach public parking with a really cheap fee.
Miguel
2016-01-24T00:00:00Z
Javan was great. We booked the wrong time so didn't actually live in the apartment. But Javan communicated well afterwards and refunded us as much as he could.
Yining
2016-11-29T00:00:00Z
Great location less than 10 minutes from the beach with lots of restaurants and bars close by. Good public transport links minutes from the hotel too. Staff at the hotel were very friendly and Javan was available anytime we needed him. Overall a great place to stay to explore south beach.
Eoin
2017-01-03T00:00:00Z
Nice room (just like pictured) with fairly comfortable bed, a/c, microwave, refrigerator, safe and a view. Bathroom was clean and water pressure and heater were good. Hotel staff allowed us to leave bags at 11am until we checked in and gave useful bus and restaurant advice. Area can be a little noisy and windows need work. Very close to Beach and many restaurants.
Allen
2017-03-06T00:00:00Z
Great location, short walk to Ocean Drive.
Michelle
2017-04-07T00:00:00Z
Everything ok, really excellent position!
Paolo
2017-03-24T00:00:00Z
Although I didn't meet Javan (the building had a front desk/reception) he was a great host, very responsive to all of my questions and issues. The apartment met my needs and I felt very safe and comfortable and the location was great. There is a rooftop patio just outside the apartment that is open to all guests in the building, and during spring break it was filled with people partying. Not really an issue if you are in South Beach to party, but you may want to consider if you plan on catching up on sleep :)
Caroline
2016-03-10T00:00:00Z
Oda Tipi
Tüm ev/daire
---
Mekan Türü
Daire
---
Konaklayacak Kişi Sayısı
2
---
Yatak odaları
Miami Beach, Florida, ABD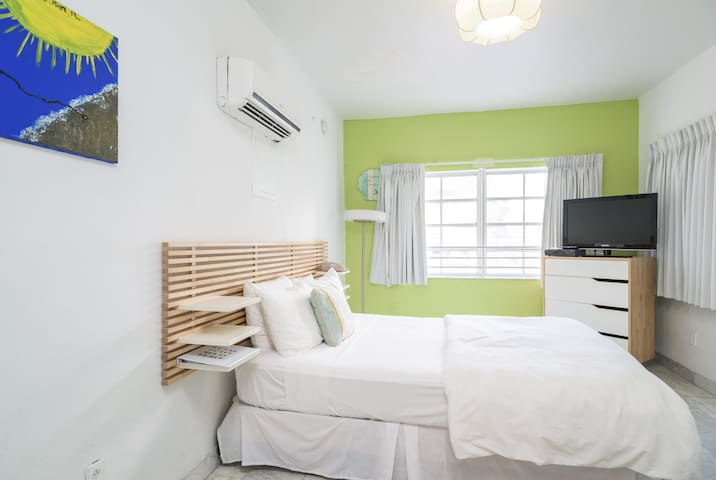 Beautiful studio in the heart of South Beach, a few steps from Washington Ave. and Ocean Drive, less than 5 minutes walk from the Beach. Situated in the Historic Art Deco District, this studio can accommodate 2 people. The location is perfect to enjoy South Beach lifestyle and vibe, getting around could not be any easier! The apartment is completely and newly renovated. Enjoy a warm tropical style feeling and the exclusive Wall Art Painting by italian artist ABIK.
South Beach has been called the American Riviera: the clear blue water and the white sand beaches are a must-see for any Miami visitor. If you're taking a break from the sun, check out one of the many museums, shops or historic buildings in the area. South Beach is an eclectic mix of world-class boutiques, galleries and stores. It's also a culinary hot spot for everything from gourmet to casual beachside cuisine. South Beach is an architect buff's paradise. The Art Deco buildings are an iconic part of the city and its "sun and fun" history. At night, South Beach comes alive with crowds ready to go out and have a world-class evening out.
Cozy apartment, suitable for a couple. The apartment is equipped with everything you need and it's really located in a perfect position near bars, restaurants and the beach. Spb has been very kind and available. Definetely recommended.
Claudia
2017-02-10T00:00:00Z
The host responded quickly to every question I had.
Angelika
2016-12-28T00:00:00Z
The hosts and the apartment were wonderful! The hosts are very accommodating. The apartment is clean is only a few blocks away from the beach and located in relatively quiet neighborhood. We would stay here again.
Bruce
2016-05-25T00:00:00Z
convenient, beautiful space with helpful hosts! thank you for such a lovely stay!
Shreya
2016-06-14T00:00:00Z
We spent 6 days in this apartment. The location is awesome, few steps to the beach, lots of bars, restaurants, shops. Great connection with public transportation to Miami if you don't have car. I can recommend the Publix supermarket, it's 10 min walk or you take the free shuttle. They have the best choice of everything. We also rented the bikes at Miami Beach Bicycle Center. I recommend the fat-tire bikes, we really enjoyed biking on the beach and cooling down in the ocean right after. So this is about location. The apartment is not to small not to big. The closet is great, you can put all your clothes, shoes and bags in it. If you arrive in the evening don't use the switch on the wall on the left. It doesn't connect to any lamp and you may have the impression there is no power in the apartment, there are lights next to the bed and a standing lamp in the first room. Check in and check out went very well, apartment was very clean including the fridge and kitchen. Towels were provided. There are mainly tourists in the building, we haven't heard the neighbors but you definitely hear the street. Fortunately there is not a lot of traffic on this street. Final conclusion: awesome location, close to everything you need but far enough to everything you don't. Clean, nice and comfortable.
Karolina
2017-02-17T00:00:00Z
The host was very quick to respond and provided plenty of details to make the stay go smoothly. Nice apartment with all basic ammenities. In a great location and in what seemed to be a relatively quiet neighborhood. Overall great experience would stay here again
Nate
2016-06-17T00:00:00Z
We had a great stay here. The location is very convenient, close to the beach, shops, restaurants and cafes. At the same time it was a quite neighborhood. The apartment has everything you need, including air conditioned. However, this was rather noisy, which might be a problem for sleep. The bed was comfortable. We had a very good and clear communication with the host, who provided detailed information about the apartment and answered to our questions.
Paolo
2016-12-09T00:00:00Z
Pasé allí 3 días con mi marido, el departamento es muy cómodo, completo, limpio, muy iluminado y con una buena ubicación. Los dueños fueron muy amables y atentos, sin duda volvería a hospedarme. Tuvieron una comunicación muy fluida con nosotros y se mostraron muy predispuestos dado que nos tocó estar ahí justo cuando estuvo el huracán.
Mercedes
2016-10-09T00:00:00Z
Oda Tipi
Tüm ev/daire
---
Mekan Türü
Daire
---
Konaklayacak Kişi Sayısı
2
---
Yatak odaları
Miami Beach, Florida, ABD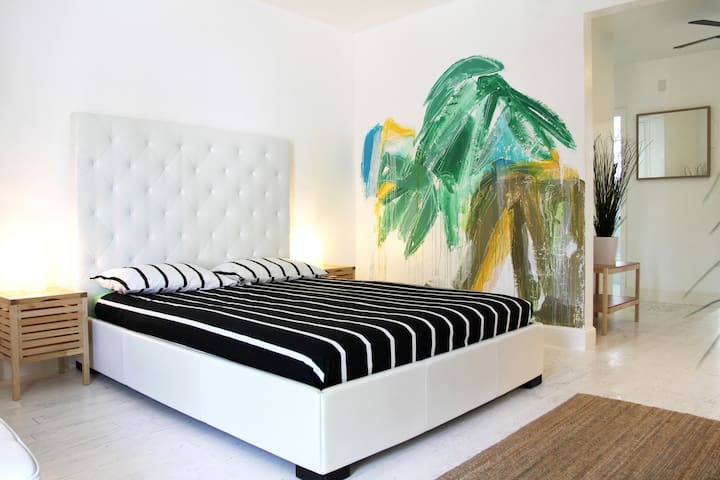 Spacious 1 bedroom with private bathroom located in the center of south beach. Comfortably fits two people. Wifi, air condition, full kitchen and washer dryer. Resort style community with pool, cabanas and ocean view. Two minute walk to Lincoln Rd.
Oda Tipi
Özel oda
---
Mekan Türü
Ortak mülk
---
Konaklayacak Kişi Sayısı
2
---
Yatak odaları
Miami Beach, Florida, ABD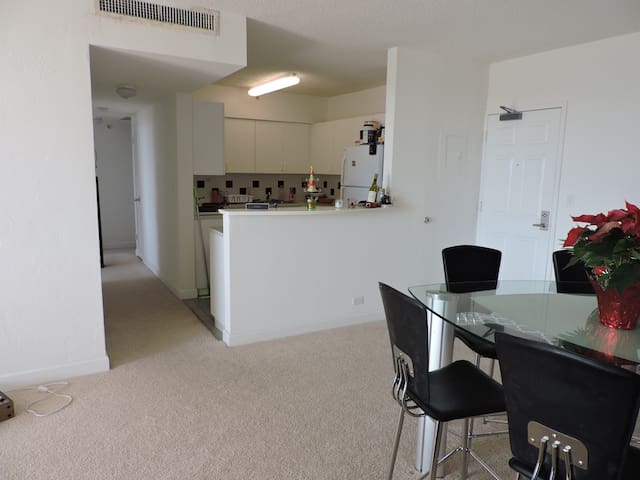 This beautiful and fully furnished studio is located in the heart of vibrant South Beach, in an Art Deco building with garden and pool. Ideal location: On Washignton Ave only 2 blocks from the beach , close to Ocean Drive , Lincoln Road Mall.
Completely remodeled studio that can accommodate up to 3 guests. Fully equipped kitchen, dishwasher, high-speed internet WiFi, cable TV, hair dryer, microwave, coffee maker, etc. Queen size bed and full size sofa bed. All linens, towels, plates, silverware, glassware are provided to the guests. Laundry room in the building with washer and dryer.
Centrally located off Washington Ave with less than 5 mins walk to the Beach, Lincoln Road and Espanola Way.
Location was great and the place was nice, but as soon as i walked in there was sand on the floor next to the bed, also on the other side of the bad was a hair weave, it was in plain view so house keeping did not do a good job. Another thing was check out is at 11am and housekeeping was at my door knocking at 10:27am asking us are we ready to leave i said no, lastly i tried to contact management regarding a late check out due to my flight back home was not until 7pm, i didn't get a response until 2 hours later after checkout, i was already at the airport, overall decent place but need to change some things
Anthony
2016-10-04T00:00:00Z
I love this apartment . It was very convenient . Five guys rift around the street and also a liquor store . I would set to use uber very cheap rides and beach is very close to this nice clean apartment. I will use again. Thanks for everything . He responds very fast and is very helpful.
Briana
2016-06-18T00:00:00Z
Klasse Location in Miami Beach. Sehr gute Lage, alles auch gut zu Fuß zu erreichen.
Michael
2016-10-30T00:00:00Z
Great place. Just like the pictures Great location. I got the place for my dad for a long weekend while visiting from NY. He absolutely loved the whole experience. Very happy everything worked out great
Leo
2016-07-26T00:00:00Z
The apartment is really comfortable and nice. It's situated very central, just around the corner there are lots of shops, restaurants and bars. The beach is just 5 minutes away. Gilles was helpful and friendly. 100% recommandable!
Giulia
2017-01-28T00:00:00Z
Pros: The property manager (Imara) was responsive when reached out to over text. The layout lived upto the pictures and the location couldn't be better. The small apartment was impressively equipped with basics like iron, hairdryer, beach chair, beach umbrella microwave etc (although we didn't use any of that). Great eateries closeby. Value for money if you are a couple looking for an affordable private apt in south beach with easy access to beach. Pool was a cozy touch. Cons: On our arrival (time confirmed prior to booking), the apartment was still left uncleaned after the prior host vacated. when we called the manager, she realized the mistake and apologized. Her first remedy was to ask us to find a hotel for the night (at 1am!) and that she wouldn't charge us for the night and/or give us a discount. Of course, this was unacceptable, so she said she will check with the cleaning lady and call back. While I was waiting for airbnb on the phone, the manager called back with an identical place vacant (and cleaned), which we occupied that night. Next day, we were asked to move again to the original place (after cleaning, of course). Our day was ruined waiting while the cleaner finished so we could re-pack, move our stuff and unpack. Fortunately, this first night disaster didn't remain horrible too long as we had a cleaned up apartment to sleep in the first night and second night as well. Mistakes happen and we moved on after that first day headache and we didn't want to retain the bitter taste rest of our vacation. The Apartment linens were old (some with holes) and need to be replaced. Place can be noisy, but we were pre-warned from other reviews.
Prem
2016-02-24T00:00:00Z
If the main purpose of your visit to Miami Beach is to party and cure your hangover at the beach, then this apartment suits your needs perfectly well. If not, well, then you possibly will notice that the furniture is partly pretty shabby (broken mirror, rocked out couch, missing cabinet door), that the noise of the club around the corner won't give you a chance to get any sleep before past 2 a.m., that the key set does not work for the pool area etc pp. Pool Area looks better in the pictures than it is in reality. Bath and Kitchen though were very clean and in much better shape than the rest of the apartment. And the location of the apartment is perfect if you are mainly into visiting the very touristy Ocean Drive and Art Deco district. To make a long story short: Recommended for party travellers who dont need much sleep.
André
2016-11-10T00:00:00Z
Such a wonderful and convenient place. I really loved the location. Everything worked great and I was very comfortable. Thank you for the easy check in and check out. Definitely recommend this place, would definitely stay again.
Tyrone
2016-05-04T00:00:00Z
Oda Tipi
Tüm ev/daire
---
Mekan Türü
Daire
---
Konaklayacak Kişi Sayısı
3
---
Yatak odaları
Miami Beach, Florida, ABD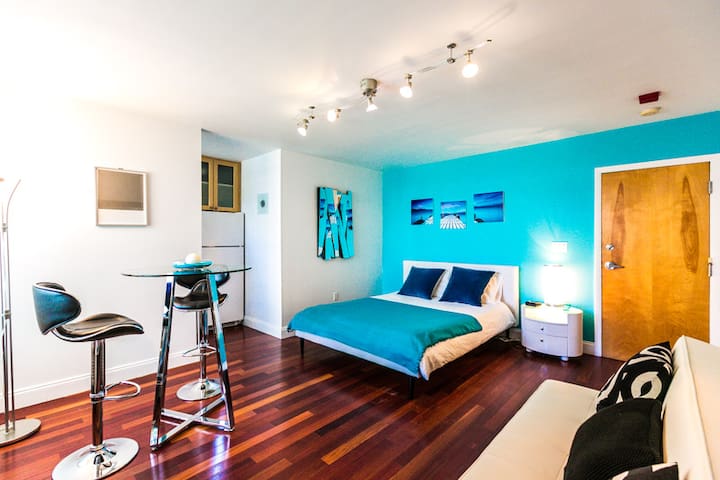 The absolute BEST LOCATION by the Beach & Ocean Dr, in the heart of the ART DECO area. ALL AMENITIES : Hi-speed WiFi, cable TV, kitchenette, fridge & freezer, microwave, beach chairs & more ! Easy check-in, with 24h front desk assistance & luggage storage.
Modern apartment with a queen bed & ALL AMENITIES at no extra cost : * Hi-speed WiFi * Widescreen cable TV * Air Conditioning * Kitchenette (microwave, coffee machine, toaster, silverware, plates, glasses, etc.) * Fridge & freezer * Large closet * Iron & board * Safe * Full size mirror * Hair dryer * Towels & luxury linens * Soap & shampoo * 2 beach chairs * Access to the solarium The apartment is cleaned & prepared by professionals before and after each guest.
The best location in South Beach ! * 1 min. walk to the Beach & Ocean Dr * Shops, restaurants, cafes and fun activities all around * 10 min walk to Lincoln Rd mall * 8 min. walk to South Pointe Park * Parking garage around the corner  * Bike rentals right in front  We are at your disposal if you have any questions, and hope to welcome you soon !
Nice apartment. Unfortunately it was quite noisy due to people coming in and out of the hotel throughout the early hours of the morning. Other than that it is also in a good location.
Sam
2017-03-24T00:00:00Z
Todo excelente
Telémaco
2016-09-16T00:00:00Z
Great stay, close to the beach. Had everything we needed. Thank you Louis!
Apryl
2016-08-01T00:00:00Z
Thanks a lot for a beautiful stay at Miami Beach. The appartement is very good located, very clean and good equiped. The guys from the lobby are very friendly and heplful. We really enyojed our stay. The bed was very comfortable. We received a lot of useful information. Thanks a lot Louis;-)
Ramona
2016-09-15T00:00:00Z
This is a superb location in South beach!!!One of the best places i have stayed in when i have visited Miami. Just 3 minutes to the beach..1 min to all the shopping you want and a perfect start for your morning run-so close to South point
christina
2016-07-14T00:00:00Z
Definitely a super convenient location. Easy in/out and nice that we could leave our stuff during the day after checkout. Quiet. Be sure you're ready to checkout at 11 - we were still packing up and the staff made sure we knew we were late.
Anna
2017-02-07T00:00:00Z
The host was very nice and helpful because he answered all my question. The place looked just like the picture. It was small but cute. The bed was very comfortable. The staff were also very nice and helpful. The neighborhood was nice and I loved that it was very close to Ocean Drive and the beach. I would most definitely recommend this apartment/condo.
Jacqueline
2016-07-18T00:00:00Z
It was a lovely evening and I could walk everywhere I wanted to go! Especially close to the beach which was delightful!
Kayla
2017-01-18T00:00:00Z
Oda Tipi
Tüm ev/daire
---
Mekan Türü
Daire
---
Konaklayacak Kişi Sayısı
2
---
Yatak odaları
Miami Beach, Florida, ABD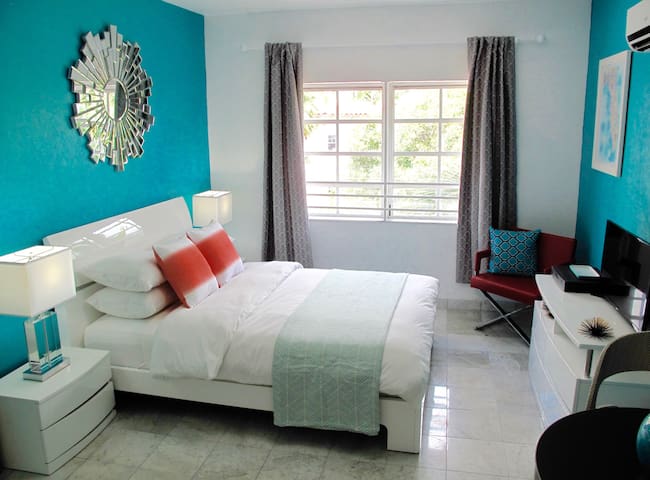 Great location (Miami South Beach), Bay view 5* condo-hotel with all amenities (pool, gym, spa, bar & restaurants), cosy 1 bedroom in a higher floor with view on city & ocean of South Beach. Walking distance to beach, Lincoln Rd, shops & restaurants
Great location apartment Miami Beach with ocean and city views for a business traveler or for a couple, you will find all you need to make your business travel or vacations very pleasurable. All the ammenities are included. We offer transfer services from and to the airport, must be booked in advance 1 week prior you arrives. We also provide for business travelers a celular phone during their stay if you need it.
The neighbordhood where is the apartment is residential and safe to be in Miami Beach. At the same time there is many options of restaurants, starkbucks, wholefoods, bars, hotspots, parks and many more everything walking distance. You also can enjoy it the nice restaurant at the hotel.
Tatiana's place was perfect. The hotel is top notch. Great pool scene. Her apartment has everything you would need or want. You can look out over Sobe and see the ocean from her room. If you're looking for a place to stay in South Beach, don't go cheap spend a little extra and stay in a 5 star hotel in Tatiana's studio suite. Tatiana was also quick to respond and made sure that we arrived and checked in smoothly.
Seth
2015-04-20T00:00:00Z
I have been to south beach many times before. This was the best experience I had . The pool is simply amazing . The view is great too. I would definitely recommend Tatianas place to anyone
botezan
2017-02-17T00:00:00Z
Had the best stay ever !!!! The room was perfect and the view was amazing. The Mondrian has so many extra things to do like the pool and gym, which made it even more fun! I will never stay anywhere else when I come to visit South Beach again !
Caylin
2017-03-10T00:00:00Z
Tatiana and her friend Hannah were great hosts! The place was amazing and exactly as the photos showed. The pool was amazing and location was great as everything was walking distance. Would definitely recommend this place and hope I will be staying there again.
Anouska
2017-01-30T00:00:00Z
Had a very enjoyable stay at Tatiana's. She was quite helpful. She brought me an umbrella etc. She was always available for questions. Condo was a nice size so you wont feel crammed and the pool was a blast. Fun in the sun.
Jim
2017-01-18T00:00:00Z
First of all, the Mondrian is amazing. Go on Trip Advisor and read the reviews of the hotel. You'll have access to absolutely everything that the hotel guests have - pool, spa, incredible workout room overlooking the bay, etc. Really incredible hotel and great location removed from the insanity of South Beach. The night before my trip, I got a call from the host telling me that I needed to pay $50 for a late check in fee. When I told her that the fee was not included in the listing, therefore I thought that it was inappropriate for it to be sprung one the night before my departure to miami, this led to a pretty firm discussion / disagreement over the phone. The host insisted it was listed in the description (100% false) and when I told her that I had the listing in front of me, had screen shotted it on my phone, and there was no mention of anything about a late check in fee, she told me that she "needed to contact airbnb because it got deleted from the listing". When I told her I didn't think that was the case, she then proceeded to tell me that they use a service that does key delivery and it was their fault for failing to text me. Long story short, I was very firm, insisted that I was not going to pay this last minute fee, and she finally agreed. It left a really sour taste in my mouth to begin my trip. Bad start aside, our experience was wonderful at the Mondrian. We didn't need to contact the host much but she was communicative about check out and responsive. I'd overall recommend this home for a girls weekend, romantic getaway, etc.
Michelle
2017-02-04T00:00:00Z
Apartment was great! Location was walkable to many bars, restaurants, and the beach. Had full access to the amazing pool. Would 100% stay there again. Host had great communication and made sure we had everything we needed.
Tyler
2017-03-19T00:00:00Z
This place is amazing!! You can use all the hotel facilities and the pool area i great! You get pool towels every day and the sunset is beatiful. The room is spacius and you have a small kitchen if you want to make breakfast/ lunch. Tatiana is so kind and helpfull. We arrived at fort lauderdale airport and she fixed us an afordable airport pick up. Any questions or requests Tatiana and her friend Albi helped us straight away! I would definitly stay there again. Thanks for having us!
Maren
2017-03-08T00:00:00Z
Oda Tipi
Tüm ev/daire
---
Mekan Türü
Daire
---
Konaklayacak Kişi Sayısı
2
---
Yatak odaları
Miami Beach, Florida, ABD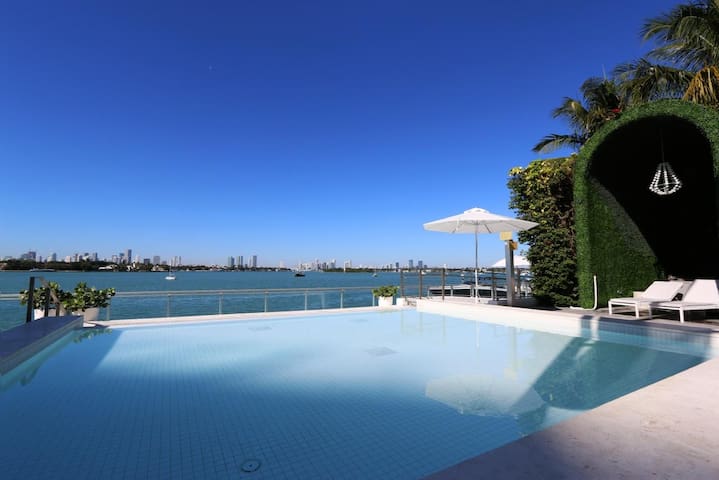 Cozy private room TV, wifi Bathroom and Kitchen to share 3blocks to the beach Towels and linens provided Sunblock provided "One of the hottest places on planet earth... South Beach... and have we it all... Beautiful weather, beautiful places and beautiful people. When looking for world-class dining, spectacular beaches, the hottest club scene in America, or to just spend a quiet day meandering through chic boutiques, unique shops and then later to pamper your body, look no further. Whether you're planning a visit or already live in this multi-cultural Mecca, this is your gateway to all that has happened, is happening and will happen. he global influence on South Beach has given us the opportunity to offer some of the best dining anywhere in the world. "Foodies" the world over agree that great dining starts with fresh ingredients. South Beach, being on the ocean provides us with the freshest of seafood and our warm climate and long growing season gives us almost yearlong access to some of the freshest fruits and produce. The ingredients that we don't have access to locally arrive from around the globe at our international airport on a daily basis. When you combine the freshest ingredients with the Latin / Global influence, you can't help but end up with an extraordinary culinary experience. The world-class chefs of South Beach are committed to making your trip unforgettable." -Southbeachonline Im a great host
John is really adorable and a very helpful host. I enjoyed my stay (clean, relaxing and close to the beach...) and I definitely recommend John to everyone. Thank you and see you the next year :-)
Adeline
2013-09-16T00:00:00Z
Kommen immer wieder gerne zu John ! Waren 2 mal bei ihm und es war spitze . Nochmal danke John für die tolle Zeit und Deine Gastfreundschaft :)
Katrin
2016-05-05T00:00:00Z
Great location in the heart of "the Beach". Spacious room with wonderful Deco and paintings from the owner!
Jairson
2016-10-15T00:00:00Z
We had a fantastic time and John is the perfect host who helped with all our questions and provided great recommendations for Miami Beach. It's like 1 minute to the beach so location can't be better. The rooms are as described and it's very clean. Hope to be back one day. Thanks again John!
Marco
2015-12-05T00:00:00Z
John is a nice and helpful host. His apartment is clean and right in the hub of Miami Beach - the perfect location. We had a different room than the one in the pictures but it was equally nice and in the same style. We really enjoyed our stay, thanks for having us, John!
Anita
2015-01-11T00:00:00Z
Johns room is the amazing and as comfortable as you can imagine. Would recommend everyone to stay there because his apartment is also located perfectly for a stay in South Beach and has a good price worthiness.
Tim
2016-07-19T00:00:00Z
Nice place. John is very friendly
Pornpipat
2016-03-30T00:00:00Z
John is an easy going, helpful guy. He is a smoker, so if you are sensitive to cigarette smoke then this is not the right place for you. He is located 1 block from the beach, close to EVERYTHING. The photos do not represent the apartment/room because he recently moved, but it is fabulously decorated.
mei
2013-10-26T00:00:00Z
Oda Tipi
Özel oda
---
Mekan Türü
Oda + Kahvaltı
---
Konaklayacak Kişi Sayısı
2
---
Yatak odaları
Miami Beach, Florida, ABD
Esta habitación se encuentra en la sala de estar, detrás de una pared de un armario y un Biombo ( separador de ambiente )(URL HIDDEN)This room is on the living room !!(URL HIDDEN) Este cuarto dispone de una cama Full ! Para 2 personas ! Y tiene un armario grande para poder guardar sus cosas! El Barrio de Art Deco es la zona más turística de Miami Beach ! Todo se encuentra a solo unos pasos !!! Lugares de intereses, la playa y la bahía ! El apartamento cuenta con 2 cuartos más ! Y está súper bien equipado ! Q sean bienvenidos!!
Lo mejor de mi barrio es q tiene todo cerca, a unos solos pasos! Hay absolutamente todo lo que se necesita ! Y es muy tranquilo y seguro !!!
Pictures match place very well. You have a small living area and kitchen and you share a space with 2 other people in the apartment. Most of the time people are never there though. Good room for 1-2 people. And close walk to the beach and strip.
Austin
2017-03-18T00:00:00Z
Diego's place is walkable to Washington ave. It's in a quiet area.
cynthia
2017-03-21T00:00:00Z
We had Airbnb for the second time in Miami and had a great experience with Diego. Very flexible host, great location (to us), clean, comfortable. This house had pretty much everything we need for use. Highly recommend for South Beach location Airbnb.
Tatyana
2017-03-06T00:00:00Z
Diego was a great host, very accommodating. The only downside with this place would be the other people staying in the apartment at the same time as us. The first night we were unlucky and the other guests stayed up late at night and we could hear their whole conversation through the walls when we were trying to sleep. The female of the couple also kept coughing and it was very loud. Another negative thing was they kept turning off the air conditioning, claiming it was too cold, when we were feeling uncomfortable in the miami heat since we have been living in a very cold environment prior to this. However, the next night was great because new guests came and the couple were very lovely and considerate.
Lily
2017-03-29T00:00:00Z
Diego was traveling and was not at the apartment when we arrived. But despite him traveling, it was extremely easy to communicate with him. Roommate Josh, comes in and out of the apartment but was not a bother whatsoever. There were other Airbnbers staying in the other room, but got along. The room itself is part of the living room but is separated by an artificial wall. The wall gives just enough privacy. There is a giant wardrobe where you can keep your personal belongs, and there is a lock to close it. The apartment is located in the middle of South Beach and virtually everything is in walking distance. Extremely short walk to the beach and 5th Street. Definitely recommend staying here!
Ana
2017-03-14T00:00:00Z
It's just like the pictures. Nice neighborhood and close to the beach.
Ganiat
2017-03-09T00:00:00Z
Diego is a great host. Really took the time to accommodate my schedule. If you are on a budget but still want to enjoy South Beach this is a good selection.
Zach
2017-04-01T00:00:00Z
Diego is a great host! Just message him and he will gladly accommodate you.6
Patricia
2017-03-23T00:00:00Z
Oda Tipi
Özel oda
---
Mekan Türü
Daire
---
Konaklayacak Kişi Sayısı
2
---
Yatak odaları
Miami Beach, Florida, ABD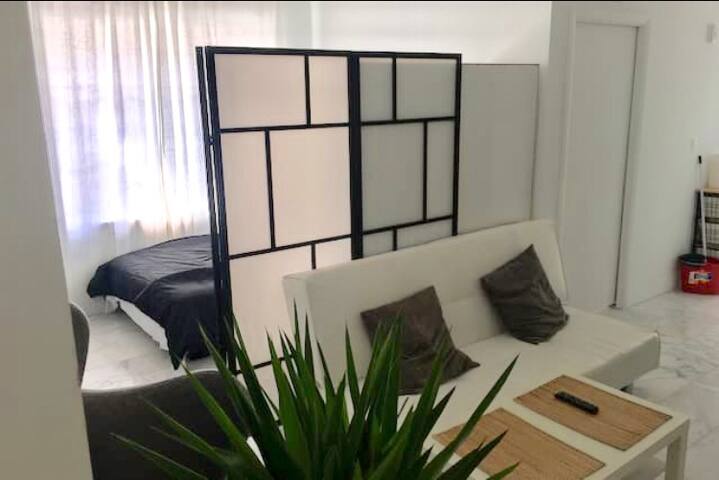 Very good location! The house has everything for a life! Will be glad to see you, we will help you organize your stay!
Very nice,cute and clean
Julijana
2017-03-07T00:00:00Z
Perfect location! We were able to walk to the beach, bars, shops etc....
Cherish
2017-03-12T00:00:00Z
Elena's place is in a great location, walking distance to the beach and nightlife. Elena was very nice, being available to meet me when I arrived late at night and telling me about things to see nearby.
Christopher
2017-04-05T00:00:00Z
Incredible location and very nice host. Main issues: - floors dirty / dusty - bathroom dirty / only had a toilet paper roll so we had to buy more ourselves - I messaged the host to check that she had towels and toiletries for me and my friend, to which she enthusiastically responded yes, but when we arrived she only offered one regular towel and one small face-towel (I asked for another and initially she said there were none, but was then able to provide a second one). And for toiletries there was just a small bar of soap, a nearly empty bottle of body & hair wash, and a bottle of shampoo - there were basically no cups / dishes / kitchen supplies, and the handful of supplies available were dirty and stacked in the sink - the fridge had some random moldy items in it We can't stress enough how perfect the location was, and how nice Elena was. At the end of the day we had an amazing time, because we were right by the beach and we barely spent any time in the room at all (just to sleep, and the bed was incredibly comfortable). The place just needs a little cleaning.
Francesca
2017-02-22T00:00:00Z
Very thoughtful and friendly host. The location was walkable to the beach and it was a safe neighborhood. I would go back again.
James
2017-03-27T00:00:00Z
Very nice location few minutes away from the beach. Bedroom is decent size. Elena was really helpful whenever I had any questions and our interactions were pleasant.
Kate
2017-02-28T00:00:00Z
Nice place to stay for the basic sleeping and bathing. Elena ja super nice and helped us with whatever we needed! She even got us into some clubs with the help of some of her friends! I'd definetly recommend the place!
Lina
2017-04-11T00:00:00Z
Oda Tipi
Özel oda
---
Mekan Türü
Daire
---
Konaklayacak Kişi Sayısı
2
---
Yatak odaları
Miami Beach, Florida, ABD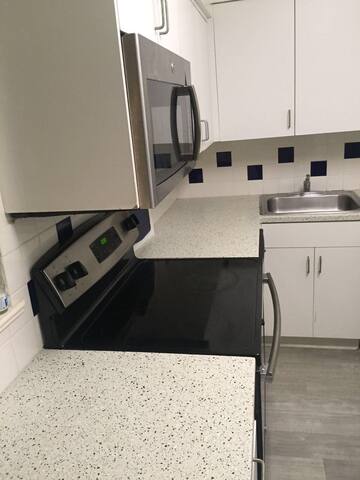 Tam fiyatlandırmayı görmek için tarihleri görün. Ek ücretler uygulanır. Vergiler ilave edilir.