Our place is close to family-friendly activities. Loon Point Cottage is located at the end of the road and adjacent to the White Mountains National Forest on South Pond in the picturesque town of Stark NH. If you enjoy fishing, hiking, kayaking, swimming, bicycling, bird watching (loons swim by everyday), this place is for you. Come to relax and enjoy the outdoors. Our place is good for couples and families.
Loon Point Cottage is located on the end of Kelly Rd on South Pond. The cottage has lots of natural light is perfect for those who want to sit, relax and enjoy the natural beauty of the White Mountains National Forest. Parking is limited to no more than two cars.
Oda Tipi
Tüm ev/daire
---
Mekan Türü
Ev
---
Konaklayacak Kişi Sayısı
6
---
Yatak odaları
Stark, New Hampshire, ABD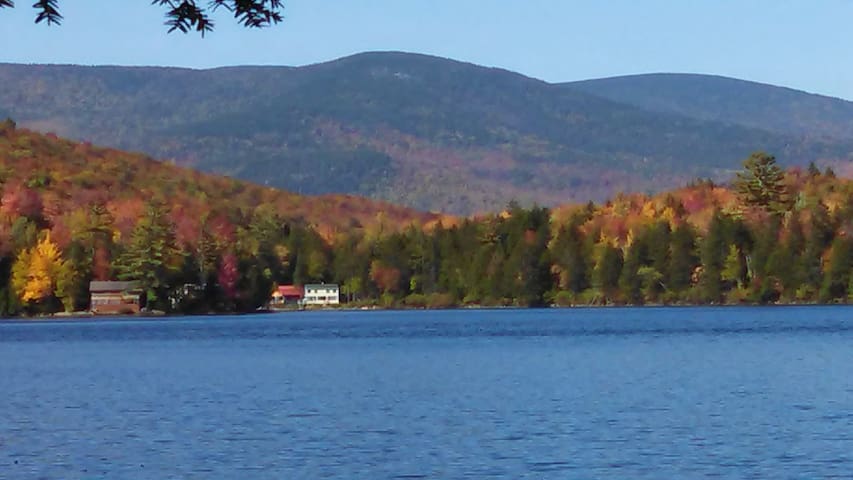 Perfect for unwinding after a day of play in the White Mountains. This 2 bedroom, 1 bathroom house has been renovated with you in mind. Nearby the Success ATV trails and Mahoosuc Trail section of the AT. Less than an hour drive to many ski areas and theme parks.
This newly renovated guest house has a large yard and plenty of parking. There are 2 queen beds and a queen sized air mattress if needed. Full kitchen, outdoor grilling area, fire pit. TV has Netflix and Hulu. There is a Bluetooth radio as well. Conveniently located near hiking, mountain biking, canoeing, ski & snowshoe spots and ATV trails.
This is a quiet and laid back residential neighborhood.
Leane & Tracy were wonderful hosts. They were very time-flexible for our arrival as well as for departure. The house itself is completely new and has everything you need, even a gas griller outside and lot of space in the rooms. totally recommend this place. 10/10
Peter
2016-08-11T00:00:00Z
This is a wonderful place! Leane and Tracy turned this house into a warm, cozy, beautiful home. The house is equipped with everything you need. We had the pleasure of meeting our hosts for a wonderful conversation by the campfire- it was so nice! Leane and Tracy were happy to help with any problem and even the neighbors offered their help. The location is perfect- not far from all white mountain attractions. We highly recommend staying here (especially with kids) - we will definitely be back!!!
Mauricio
2016-08-20T00:00:00Z
This house was super clean, everything was convenient. Leane and Tracy provided anything you need. I strongly recommend this place.
Faramarz
2016-10-02T00:00:00Z
Absolutely amazing place to stay! I can not recommend this place more. We plan on returning for future trips
Gregory
2017-03-19T00:00:00Z
Beautiful stay !! We all loved it and would recommend to all my friends
Abijitth
2016-12-11T00:00:00Z
We had a great stay. The house is very neat, very comfortable
Shannon
2016-10-30T00:00:00Z
Leann is so nice and responds very quickly she is a great host!!! Anything and everything you need she made available to us. Thank you for making it so easy and smooth for us. We hope to see you next year.
Soriliz
2016-09-25T00:00:00Z
This house was so clean and organized. The hosts welcomed us with a bottle of wine and had more there than we expected. We absolutely loved our stay in this house and are looking forward to booking again.
stephanie
2016-08-21T00:00:00Z
Oda Tipi
Tüm ev/daire
---
Mekan Türü
Ev
---
Konaklayacak Kişi Sayısı
6
---
Yatak odaları
Berlin, New Hampshire, ABD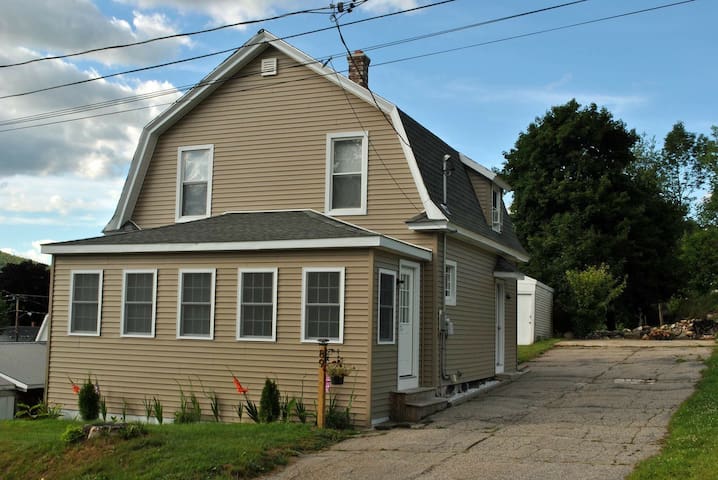 You will find all the comforts home in this neat, three-bedroom house near the banks of the Androscoggin River which runs through Berlin: a small city with that "small-town feel" in the Great North Woods region of New Hampshire. Opportunities abound for those who enjoy the outdoors and the natural beauty of New England. This "Northwoods Haven" is good for couples, solo adventurers, business travelers, and families.
Built in the 1950's and updated during THIS century, the house sits on a long, narrow lot with a deep backyard, mature trees and a stone fireplace. Plenty of parking in the long driveway – enough room for a couple of vehicles along with trailers for ATV's or snow machines. There are 3 bedrooms (1 queen and 2 twin) and a large, carpeted living-room floor if you'd like to add a couple of kids and sleeping bags! There are roomy dressers and closets for all of your clothing and possessions. Bathroom has tub and shower and is stocked with thick, cotton towels, paper products, bar soap, liquid hand soap and shampoo. Full, eat-in kitchen with stove, microwave and fridge. There is a coffee maker with regular & decaf coffee, creamers, sugar & sugar substitute provided. The kitchen is fully equipped for those who enjoy cooking and eating at home. Also provided are paper towels, paper plates and napkins for those "take-out" meals. Living room has lots of comfortable seating and a flat screen HD TV with streaming video through Roku which includes Amazon Prime, Netflix and Hulu. Wireless internet is included. (WEP Key provided upon your arrival) There is a large, sunny, enclosed back porch: a perfect place to enjoy your morning coffee and/or store your skis & boots.
Located at the northern end of town, this is a quiet, residential neighborhood. Traffic on the street can get a little busy during certain times of day but is not noisy enough to be annoying or even noticeable. Our local hospital is located less than a mile up the road. The neighbors are quiet and most have lived in the neighborhood for many years.
Absolutely adorable house, comfortable beds, very clean, fully stocked with fresh towels and all the kitchen utensils one might need. Lynn was a fantastic host, meeting us at the house for the key exchange, tour, and overview; she even baked us scones!! I would highly recommend staying here.
Camilla
2017-02-12T00:00:00Z
Oda Tipi
Tüm ev/daire
---
Mekan Türü
Ev
---
Konaklayacak Kişi Sayısı
6
---
Yatak odaları
Berlin, New Hampshire, ABD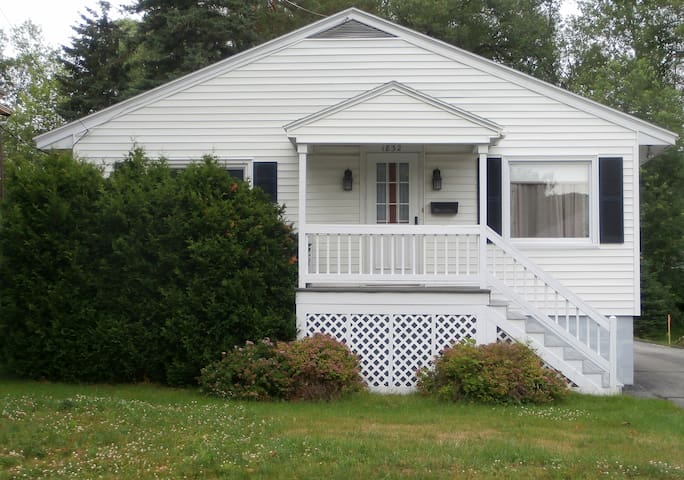 Cozy 3 br Gorham NH home w/futon couch in living room. Great North Woods & White Mountains. Snowmobiling, Skiing, ATV'ing, hunting, hiking or 4x4 driving. Many ski mountains nearby. Many awesome flyfishing waters too. Wifi included. Many DVD movies Ride your ATV from the house take a 4.5 mile ATV trail to Jericho State Park! 4x4's! Hike Mt. Washington summit or do the Presidential Traverse! Stay for a week and do both! Canoe'rs and kayak'ers, there's a 700 mile canoe trail.
There's a 2 car garage if you want to store you snomobiles, atv's, quads, canoes bikes or kayaks inside. Also a storage room for snowboards, skis or bikes.. Gorham/Berlin is one of only two towns in New Hampshire that allow ATV traffic to ride the main roads. 4x4 trail in Jericho St Park is new for 2016! Park charges $20 fee for this trail
(SENSITIVE CONTENTS HIDDEN)Maps shows a 4.5 mile ATV trail straight to Jericho State Park, so you can leave your car behind and ride your ATV right from the house to the trail to the park! The town of Gorham is one of only two towns that allow ATV's to be ridden on the streets but they must have a headlight and driven on the roads, not sidewalks and at speeds 30 mph and below. Antique'rs ~ There 2-3 shops that have some cool stuff and fair prices.
The house was perfect for what we were looking for, nothing fancy but very homey. Neighbors were both friendly and helpful. House was clean, plenty of space.
Allison
2016-09-26T00:00:00Z
We only stayed two nights, but Darrell's place is definitely well set up for a longer stay. It's spacious, charming, and very warm despite the chilly evenings. And the big screen TV with Netflix is nice to wind down after a day of hiking. Overall a great spot to base yourself for a White Mountains adventure.
Simon
2016-10-02T00:00:00Z
Lovely place, Nice views
Bhavesh
2017-02-13T00:00:00Z
Pantry and kitchen appliances were as described, providing the basics that not all housing provides. Bathroom was excellent with plenty of hot water!! Internet did not work, a password was left next to the router but no connection to the network could be made, same is true with Netflix. No communication as to how the key would be left was given. The house was unlocked when we got there but didn't know that this would be the case ahead of time. Great for someone who is looking for a no frills place to crash while hiking or skiing but a little overpriced for what was available
Ian
2016-07-17T00:00:00Z
It was a nice quiet stay, The place was very comfortable and has easy 15 Min drive to the Mt Washington Auto Road and Glen Trials, Check in and check out was easy, Especially the view is amazing.. the property overlooks a big mountain... its a lovely sight during sunrise / sunset...Darrel have also stocked up the kitchen with couple of noodles / Coffee / oil / sugar and ketchups.. That helped us on the next day morning...Would love to stay here again in Fall 2016..
VIGNESH
2016-05-31T00:00:00Z
Everything listed was completely accurate to a T. The house is everything you need. Nice bathroom and jacuzzi tub. The beds are comfortable, I believe the pillows were some type of memory foam. If you're looking to hike the white mountains or Mount Washington, it is the ideal location. Great stay, cheap price, exactly what I was looking for. Would recommend to anyone looking to stay in NH.
Jared
2016-06-26T00:00:00Z
The house was great, located slightly outside of Gorham, but still near to food and shopping. The owner was very friendly and helpful. For when I try and tackle Mount Washington for the second time I would definitely try and stay here again.
Eric
2016-03-24T00:00:00Z
Darrell was nice and accommodating. The house was spacious for four and the bedrooms were warm. We had all the amenities we needed in our visit to Gorham.
Jonathan
2016-05-03T00:00:00Z
Oda Tipi
Tüm ev/daire
---
Mekan Türü
Ev
---
Konaklayacak Kişi Sayısı
5
---
Yatak odaları
Gorham, New Hampshire, ABD
This is close to the largest atv trail system east of the Rockies with the ability to leave right from the driveway on your machine. It is also just minutes away from Mount Washington and multiple ski areas. You'll love this place because of the easy going neighborhood. You can enjoy the hand crafted swing on front porch. You can enjoy the feel of being in the woods without going without. This place is good for couples, solo adventurers, business travelers, families, groups, and furry friends.
Recently remodeled. Sleeps six singles comfortably. Can always double up on five of the beds and bring cots for more.
Great neighborhood with very little traffic. Located a couple blocks from the highschool so around 7am and 2pm there is more traffic than normal at those times during the school year.
Carl was friendly, hospitable, and went out of his way to help us with what we needed:
Briana
2017-01-02T00:00:00Z
Solid
Jake
2017-02-26T00:00:00Z
Great place in a good location! Very comfortable for a group of people. Definitely recommend!
Jonah
2017-03-04T00:00:00Z
Awesome place to stay in. We are snowboarding in wildcat mountain. It's like 25 minutes drive from there. Carl was an awesome host! Stayed up till like 4 am because we were running late because of snow! He was extremely nice. Tried to follow through with any request we made. Just had a great time!
Syed
2017-02-12T00:00:00Z
He welcomed us with a warm greetings. And he is very cool and helping in getting the things. He gave muffins to eat. He kept vessels and utensils for cooking. He is very good and gave all the freedom to us. No restriction at all. We had a great stay and enjoyed a lot. Thanks Carl.
Rathnasamy
2016-10-09T00:00:00Z
We played in a hockey tournament, and we had 10+ guys and it was perfect. Close to the rink!
Charles
2017-03-26T00:00:00Z
Carl is a great host. He prepared almost everything, essentials, tv, internet, muffin, water...The back yard was perfect for our two corgi dogs and my family had a really nice stay.
Rick
2016-10-16T00:00:00Z
Carl is a supper nice host.
saina
2016-11-26T00:00:00Z
Oda Tipi
Tüm ev/daire
---
Mekan Türü
Ev
---
Konaklayacak Kişi Sayısı
10
---
Yatak odaları
Berlin, New Hampshire, ABD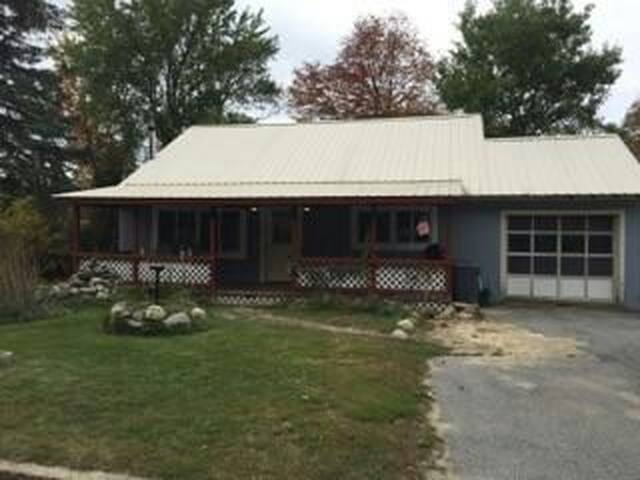 In-town home in a friendly neighborhood, close to White Mtn amenities. Totally renovated Bungalow style home with all the comforts you would expect. This is a great place if you are looking for a weekly or monthly rental in the Berlin/Gorham area. (NH Rooms & Meals Lic #060319)
Totally renovated Bungalow style home with all the comforts you would expect. This is a great place if you are looking for a weekly or monthly rental in the Berlin/Gorham area. Flat screen HD TV with cable and Netflix and Amazon movie access, new furniture, fast wireless Wifi, fully equipped kitchen for those who enjoy cooking. Queen bed in 1st floor bedroom; queen bed and full bed in two 2nd floor bedrooms. Full bath on 1st floor plus half bath on 2nd floor. Stained glass and hand painted stencils add to the historical Craftsman charm of this home. Additional features include a screened porch, private rear deck with gas grill, large side yard, and off street parking for 2-3 cars. 12 minutes from Androscoggin Valley Hospital, White Mountain Community College and FCI Berlin. Convenient location provides easy access to hiking, kayaking, golf, fishing, hunting, and Jericho State Park. Plus, there is direct access to the ATV trail system from the property (Berlin allows street travel). Within a short drive to Santa's Village, Story Land, Mt. Washington Auto Road, AMC's Pinkham Notch facility, Wildcat Ski area, and outlet shopping in North Conway. You'll love it here! Sorry, no pets or smoking. FCI Berlin employees: we can work within your housing allowance for short term stays.
There are several City of Berlin parks to explore for walking or jogging. They are quite pleasant. One begins just a few blocks south of the City Hall and follows south a block east of Main Street. Building and parking is just over the bridge heading east on Mason Street. The other is just south of the Goodwill Store one block west of Pleasant Street.
Oda Tipi
Tüm ev/daire
---
Mekan Türü
Ev
---
Konaklayacak Kişi Sayısı
6
---
Yatak odaları
Berlin, New Hampshire, ABD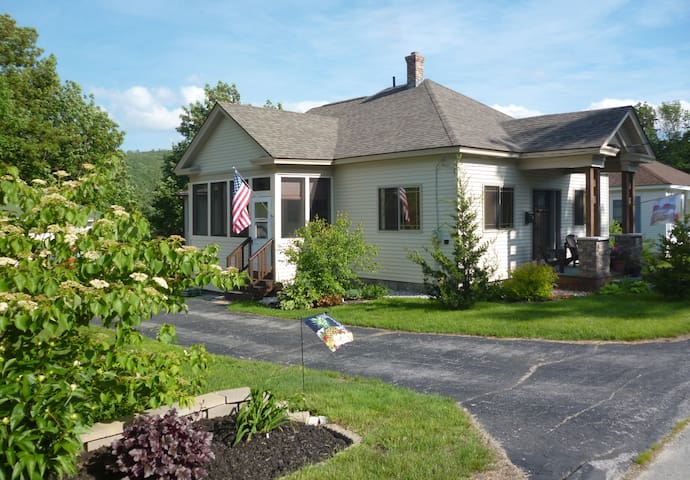 You'll love my place because of being so close to ATV/Snowmobile trails, Quiet neighborhood, & not on a busy street. Still renovating, outside needs some cosmetics. The inside is cozy & CLEAN.Parking is tight, shared driveway, trailers will need to park on street or Jericho Rd Parking lot. Excavating driveway soon, will offer parking for trailers in near future. My place is good for couples, business travelers, & families. If you are not looking for the Taj Mahal, just clean/comfy, come stay!
Oda Tipi
Tüm ev/daire
---
Mekan Türü
Ev
---
Konaklayacak Kişi Sayısı
6
---
Yatak odaları
Berlin, New Hampshire, ABD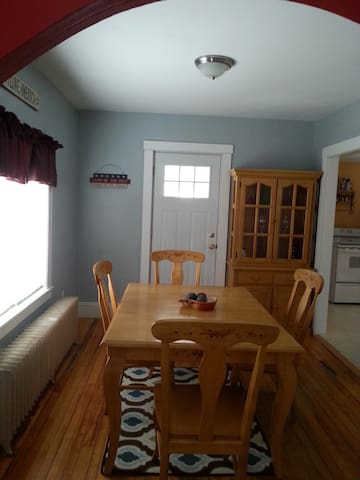 Enjoy our cozy cottage which is situated on a quiet country road tucked into the woods of the White Mountain National Forest. We are just minutes from Mt Washington, hiking, skiing, shopping. Great for families or small group of friends.
Enjoy our cozy cottage which is situated on a quiet country road tucked into the woods of the White Mountain National Forest. We are just minutes from Mt Washington, hiking, skiing, shopping. Great for families or small group of friends. This cozy cottage sits on a knoll and looks out across the road to a bank of White Birches. No matter the season view is always spectacular. My favorite is sitting out on the two Adirondack chairs that are on the front lawn and star gazing. The night is absolutely black; with no city light obstructions. Sit long enough and you will most probably catch a shooting star or two. Or sit in the backyard by our fire pit. There are 8 adirondack chairs for your comfort. This entire 3 bedroom home is yours to enjoy. There is also an oversized garage if needed. This comes in handy for folks that are touring on motorcycles. Keep the bikes out of the weather. Also please enjoy the fire pit area in the backyard. There are 8 adirondack chairs located around the fire pit as well as a gas grill. My husband and I own a campground directly across the river from this home; about one mile away. We would like for you to also take advantage of all the campground has to offer if you choose. Pool, playground, walking trails and more. We are opened from 8:30am-8:30pm but are always just a phone call away. You can enjoy a nice walk or bike ride along our country road. If you continue for about 15 miles you will arrive in Bethel ME. This road also parallels the Androscoggin River where there are many nice pull offs for fishing and swimming. We have a table setup in the foyer filled with area attraction brochures and maps. We provide you driving loops of the area so if you are looking to get out and explore we'll help you find the hidden gems. You will want to have access to your own vehicle as there is not any public transportation nearby. Because the home sites on a knoll; there is stair access only to enter the home; so it is not suited to anyone that would have problems climbing stairs.
The home is situated on a quiet, country road. No street lights; great for night sky star gazing.
Host was great to deal with. Very responsive and pleasant in person. The house was perfect. Quiet street. Close to all the hiking we wanted.
Bryan
2016-09-11T00:00:00Z
We had a great stay at the Cozy Cottage! Laurie was awesome and made check in and check out super easy. The house is very cute and a great home base especially for families with little kids. The play room was perfect- filled with games and toys for all ages. House is on a nice quiet street surrounded by the woods- absolutely beautiful in fall!
Richard
2016-10-19T00:00:00Z
Great spot, as advertised, near Mt. Washington and various spectacular swimming holes, which is what we were looking for.
Ted
2016-06-20T00:00:00Z
What a wonderful experience! Everything was PERFECT! Laurie was so helpful and pleasant to deal with. She contacted us beforehand to make sure all of our questions were answered. She gave great directions and contacted us a couple of days in advance again to make sure we were coming and resent directions and asked if there was anything else we needed. In response to our request, she gave plenty of suggestions of what to do in the area as well. The house was exactly as described. It was immaculate! Plenty of room to spread out. The kitchen was great, and we ate all our meals there. Having a washer and dryer was an added plus. All the info available for things to do in the area was so helpful! If we ever come back that way, we will definitely stay there if it is available. Thanks for a wonderful Airbnb experience!
Dan
2016-11-27T00:00:00Z
We recently enjoyed a 4 night stay at Laurie and Dave's cozy cottage. I grew up in the area and now love to visit the White Mtn region with my husband and two young sons. Communicating with Laurie before our stay was very quick and easy. The listing of the cottage is very accurate. The house was clean and well maintained. Our boys enjoyed a fire in the fire pit in the back yard as well as roasting marshmallows. There is a well-maintained field across the street that is part of the property that the boys used to play soccer. The foosball table was a hit! There is also a small designated playroom with a wall chalkboard, kids size table, megabloks, and many other toy/game options. The cottage is located on a very quiet road with minimal traffic. The nights are quiet and dark (no street lamps). Check-in and check-out process was easy and is done at the owner's campground office located a few miles down the street. The layout of the house took some getting used to as there is a 1/2 step between most rooms that caused a few stumbles the 1st few days. This cottage was a terrific option for us to use as a "home base"--it was wonderful to come home to a quiet space after a day of exploring the local attractions (hiking, Santa's Village, Lost River). The cottage is equipped with wi-fi which definitely came in handy as our cell coverage was not reliable (not many cell towers in the north country!) The owners also welcomed us to use any of the amenities of their campground down the street (the pool listed in the description is a heated outdoor pool at the campground). Unfortunately we ran out of time to take advantage of the pool--the boys have already asked us when we are coming back and if we can stay longer next time! Thank you Laurie and Dave! --Melissa, Stephen, Kai and Luke
Melissa
2016-06-27T00:00:00Z
If you're searching for the perfect base-camp for a White Mountains getaway, look no further. The house is perfectly positioned with a short drive away from major trail heads to climb some 4000 footers. It has plenty of space and many games to keep you occupied after a day of hiking. We were particularly fond of the darts-board and the foosball table. The night sky in the neighborhood should also be noted. There is no light pollution, so if you want to spend a romantic evening stargazing, this is the place! Laurie was great, she has all the local secrets, so don't be shy to ask.
Gergely Nemo
2016-09-05T00:00:00Z
Laurie was fantastic! I can't say enough good things about her. The place was clean, exactly as described, and very charming. She was great at communicating over email, made herself available if we needed, but was not at all overbearing (we actually never physically saw her the whole weekend). We'd love to come back in the future
Wilbur
2017-01-02T00:00:00Z
Oda Tipi
Tüm ev/daire
---
Mekan Türü
Ev
---
Konaklayacak Kişi Sayısı
8
---
Yatak odaları
Shelburne, New Hampshire, ABD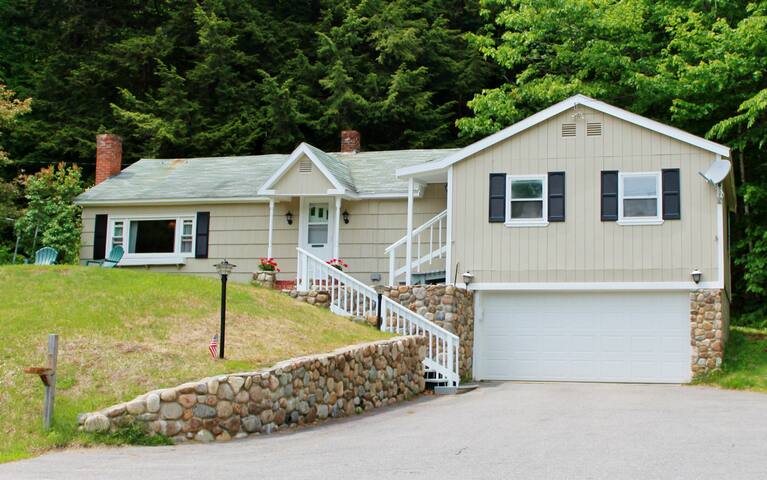 Wooded back yard with hiking trail. Mountain view from front porch with swing during fall and winter. You can leave house on ATV and ride any road in town. 2 minute trailer haul of snowmobiles to trail access. 3-4G cell service. Great hunting.
3 bedrooms plus other sleeping areas, great porches with wood or mountain veiws. Pool table. Full kitchen.
Carol was great with communication. I asked if we could arrive early to drop off our stuff, no problem. We had 7 people it was perfect size and worked great for us. Great poarch on the front and the back of the house to just hang out in the mournings or evenings. Had fresh towels and beds ready to go with easy departing instructions. I would definitely stay again. Better than a hotel!
Matthew
2016-08-08T00:00:00Z
Carol was a great host. She provided easy to follow instructions and arrival went smoothly. Her home was convenient, cozy, and clean. We enjoyed the pool table, DVD collection, and nice view. We'd definitely consider Carol's house again if northern NH is the plan.
Kyle
2016-02-16T00:00:00Z
The listing was accurate, the host was very proactive in making sure I was comfortable, and the accommodations were perfect. Highly recommend.
John
2016-02-01T00:00:00Z
The entire experience was a positive one. We made a last minute reservation and the host was very responsive, WHICH HELPS in a time crunch! The home was very spacious and everything in the ad was as described. Having all of the linens provided makes a huge difference and we were all grateful for that. We're glad to give 5 stars for this experience, but hope it's ok to give a few critiques outside of it. My only critiques (which has nothing to do with the ad or experience) would be these: -The instructions in the guest book were very good and detailed. If those could also be repeated in the house rules on ABnB, that would be helpful. -The parking was a little sticky as the driveway is very steep and would be difficult to park multiple cars on....this and if street parking if legal would be helpful to mention. -In New England, I'm always afraid of shutting the heat off near or during winter and I wasn't able to figure out how to lower the electronic thermostat and while it was still warm out, I shut it off and let the host know just in case, but I didn't want the heat running if it wasn't going to be in use for an extended period of time. -I wish there was cable/satellite and internet, but not a huge deal. The ad was clear about there being cell service and no cable. We're very grateful for the hosts to let us rent and stay in this home this past holiday weekend.
Kenneth
2016-10-10T00:00:00Z
Convenient, clear instruction
Yin
2016-09-05T00:00:00Z
Carol was really responsive and was even willing to come by and help look into something for us when a problem came up. The home had more room then we anticipated which my group really liked, seeing that everyone was able to find their own sleeping space. There is a wide variety of movies in the living room with big speakers, the TV however was a little out of date. Overall the stay was very comfortable for us and we would definitely comeback if we're ever in the area.
Patrick
2016-07-25T00:00:00Z
As others have said, the house was as pictured and Carol was very easy to communicate and we were able to let ourselves in on our own schedule. The location was great for hiking in the Whites -- 15-30 min drive to many trailheads. The set up was good for two couples (there are two private bedrooms) though many more can fit comfortably in the private room with a futon or in the double bed that is not private (in a room between bedrooms and bathroom). Overall, we had a very restful stay and would consider this place as a budget option for a large group meeting up to enjoy NH's mountains and towns.
Dorothy
2016-07-05T00:00:00Z
Nicely maintained house.. clear instructions.. and a nice kitchen... to sum up - a good package... great if 6-8 ppl travelling together.
Rahul
2016-10-09T00:00:00Z
Oda Tipi
Tüm ev/daire
---
Mekan Türü
Ev
---
Konaklayacak Kişi Sayısı
9
---
Yatak odaları
Berlin, New Hampshire, ABD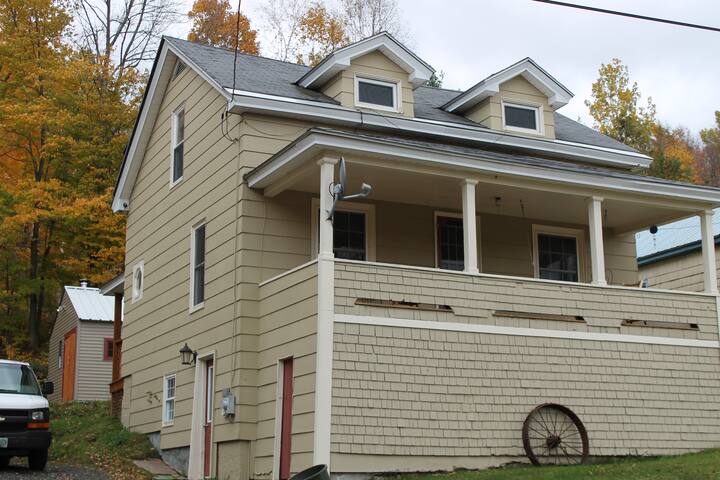 1800 square foot house that can accommodate a large group of people. This house has a lot of unique features and character. Enjoy cooking your own meals in the fully stocked kitchen. From the fenced in front yard, to the gas fireplace in the living room, to the newly renovated bathroom on the second floor, this house has everything to make your stay comfortable. Come see what the north country has to offer! This house is located in the heart of down town Gorham.
Oda Tipi
Tüm ev/daire
---
Mekan Türü
Ev
---
Konaklayacak Kişi Sayısı
12
---
Yatak odaları
Gorham, New Hampshire, ABD
Our place is close to ATV Trails, Snowmobile Trails, Androscoggin River, Fishing, Hunting, Trail Riding, etc.. You'll love our place because of the peace and quiet, with lots of outdoors activities nearby including Fishing, ATV trails, Snowmobile Trails, Hunting, etc.. My place is good for couples, solo adventurers, families (with kids), big groups, and furry friends (pets). Plenty of parking. 20 minute drive to Jericho ATV Park, 15 minutes to Errol, 20 minutes to Berlin.
The upstairs and downstairs of the duplex are 2 very similar setups - each with it's own kitchen, bathroom, bedroom, livingroom, etc. For parties of 5 or more you will have the entire building.
Direct ATV & Snowmobile trail access is available right at the end of your driveway. Ride literally hundreds of miles of trails right from your door.
Chris was great at communication and we got exactly what was promised. Definitely would stay here again.
Kacie
2016-09-25T00:00:00Z
Great place to stay for an outdoor adventure. I will return.
William
2017-01-15T00:00:00Z
I had a marvelous time staying at Chris's place, was a quiet and relaxing, my favorite thing the fire stove, it was like a fireplace. Chris was a great host!! i definitely recommend his place !!!
Nivian
2017-01-01T00:00:00Z
Oda Tipi
Tüm ev/daire
---
Mekan Türü
Ev
---
Konaklayacak Kişi Sayısı
10
---
Yatak odaları
Dummer, New Hampshire, ABD
Our brand new 4br 3 bath ski chalet in the Peaks, Sunday River's premier location, has dramatic views of the slopes and surrounding mountains and is literally 3 minutes to the base lodge. Simply the best location! Get first tracks on White Heat and trade stories of the day in front of the fireplace while taking in the views.
You will love the dramatic 30 foot ceiling great room with a cozy gas fireplace and "wall of windows" facing the slopes and mountains. Watch the fireworks from the house Saturday nights! All new furniture and decor.
There are so many great things about the neighbor hood. 1. The Views! The Peaks is located on Mount Will which is directly across from Sunday River. This makes the views spectacular! The mountain seems so close that you can touch it! You can watch skiers enjoying the day but... 2. The proximity to Sunday River means you can maximize your time in the slopes. The home is a mile from the south base lodge. You can leave the house and in less than 5 minutes you are parking. Unless you are in a condo on the mountain you can't be closer. 3. The quiet...despite its close proximity to everything Sunday River, the neighborhood itself is peaceful. The homes are consistently beautiful and you ca. See every star in the sky.
Two families of four (kids ages 8-10) shared this space for a long, ski weekend. It is perfect for families! The adults enjoyed the wide open upstairs area while the kids enjoyed playing on the lower level. The new house is located in a residential area-while close to the ski mountain, it is a quiet location. And the views are hard to beat! We watched the weekly, Saturday fireworks from the main floor. Beautiful, new home and very clean. We will definitely be back!
Jordan
2017-02-20T00:00:00Z
Oda Tipi
Tüm ev/daire
---
Mekan Türü
Ev
---
Konaklayacak Kişi Sayısı
8
---
Yatak odaları
Newry, Maine, ABD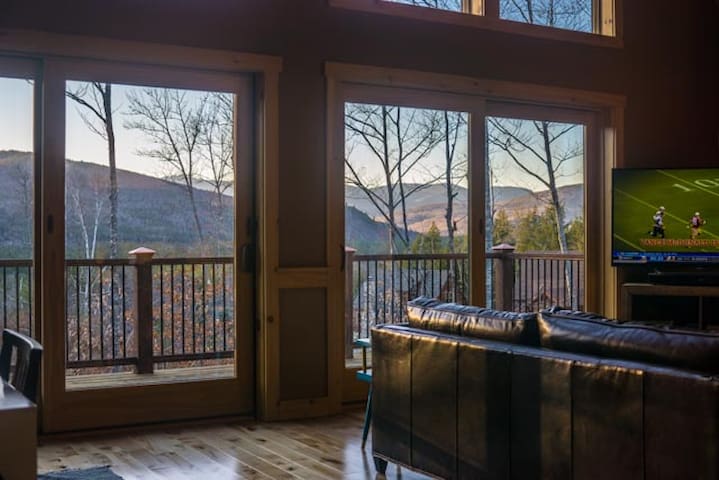 This property is nicely settled in the heart of the White Mountains. Here you will find many activities for your family to enjoy. The house sits adjacent to many snow machine/ATV trails, just park your trailer in the driveway and go from here with your snow machine (the ATV trail is approximately 1-2 miles from the house). The driveway is large and can fit many ATVs, snow machines and trailers. Close by are many trail heads, including the Appalachian Mountain Trails. There are many activities to do such as; Golfing, cycling, Story Land, Santa's Village, Shopping in North Conway, Mount Washington Auto Road, Wildcat Ski Mountain, Sunday River Skiing, Bretton Woods, Attitash, and the newly popular Jericho ATV park. The property sleeps up to eight people. There are three bedrooms, 3 full sized bathrooms and one ¼ sized bath. The master bedroom has a king sized bed with a master bathroom, the second bedroom has a full sized bed, and a third bedroom has 2 twin beds. There is a full sized kitchen with a dining area and off this area you will find a porch to grill/BBQ. The cellar is finished and has a full sized bathroom and a pull-out couch, a great play area for kids. There is a large back yard for everyone to use. We do not provide towels and linens for this property.
we enjoyed, all was good
nagendra
2016-10-16T00:00:00Z
We ended up staying in another location that the host had in Whitefield/Dalton because Missy said that was better equipped for cooking. If you are looking for a secluded, comfy retreat in the mountains -- the Whitefield house is perfect. There are several outdoor seating areas and TWO porches, we watched the stars every night -- which was a true treat for us since we're NYers and can't see them in the pollution! We were looking for a place for our "mini-moon" and this definitely fit our needs. Three bedrooms, all have queen-sized beds ... two bathrooms, laundry downstairs, porches, living room, ample kitchen. Beautiful house, and close enough to the hiking we wanted to do (Mount Adams is ~40 minutes and Jefferson ~45) Would definitely recommend, we were a couple but would be perfect to come in a group given the number of rooms and outdoor seating areas.
Abby
2014-10-16T00:00:00Z
The house was as listed on the website, in very good condition and well equipped. Missy was responsive host. She had left all the instructions about the house displayed on the refrigerator.
Dushyant
2016-07-04T00:00:00Z
We had an amazing time! House was perfect for our group of family and friends. Owners were extremely responsive, knowledgeable about the area, and helpful - we felt very welcome in their home!
Jessica
2015-01-04T00:00:00Z
Amazing experience for the group! Loved the place. The hosts were quite responsive and answered all are queries patiently.
Anjaney
2014-07-07T00:00:00Z
Beautiful home and amazing host. My guest and I would love to return.
Bryan
2016-01-19T00:00:00Z
This house worked great for us on vacation. We needed four beds and internet access, which can be hard to find in Coos county. Made meals in the kitchen and on the grill. Heard a moose calling one night, and saw a bear with three cubs on the way back to the house another night.
Christopher
2014-07-01T00:00:00Z
Stayed here for a second year. The house is a great place to come back to after a day of mountain hikes or whatever. We did not use the grill this year, but did use the kitchen and especially the internet - the kids (and parents too) get withdrawal. Close to both wilderness and civilization.
Christopher
2015-06-29T00:00:00Z
Oda Tipi
Tüm ev/daire
---
Mekan Türü
Ev
---
Konaklayacak Kişi Sayısı
8
---
Yatak odaları
Gorham, New Hampshire, ABD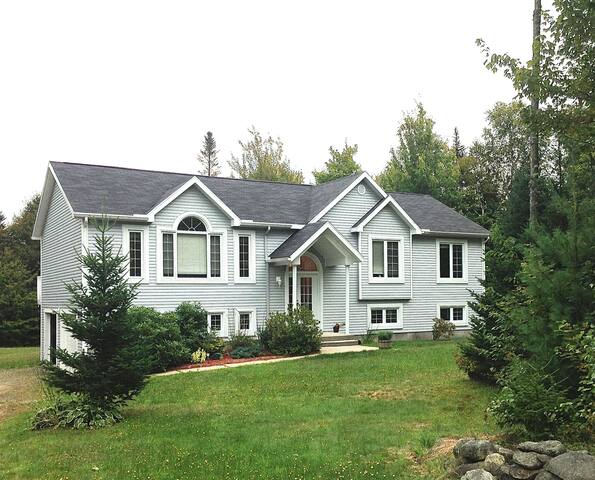 Historic 5 bedroom Farmhouse is a quick drive from Sunday River skiing. Fully equipped large eat in kitchen, dining room, 2 living rooms each with cozy woodstoves, and beautiful large backyard situated on a spring-fed brook. Sleeps up to 18.
***Prices are up to date and accurate through September 2017, please enquire about pricing for dates after September 2017*** This charming rambling farm house with modern amenities is the perfect setting to enjoy your favorite outdoor activities with friends and family. The arrangement of the house allows for privacy if you need to get away from the big group, as well as comfortable areas for everyone to congregate. There are 2 separate living rooms each with ample comfortable seating, wood stove, television, and VCR or Playstation/DVD player (no cable TV). The fully equipped kitchen offers plenty of space and equipment to prepare meals; and the dining room can seat 16 (10 at dining room table + 6 at drop leaf table that is available) with 6 additional seats in the eat-in kitchen. This property comfortably sleeps 18, but is cozy enough for smaller parties as well. Five bedrooms with a mixture of twin and double/queen beds allows this property to be suitable for a variety of groups – adventure groups, multi-family groups, groups of couples, and multigenerational families. The master suite offers great privacy with a king bed and en-suite full bathroom. Each additional bedroom has double or queen beds, perfect for couples, as well as 1-2 additional twin beds per bedroom for children. *Prices are inclusive of Maine taxes *Discounted cleaning fee for smaller groups
This charming rambling farm house with modern amenities is the perfect setting to enjoy your favorite outdoor activities with friends and family. Winter: Not only is Sunday River a quick drive away, but there are also great snowshoeing trails and miles of snowmobile trails from the backyard, as well as local opportunities for cross country skiing and dog sledding. Summer/Fall: Kayak/canoe the Androscoggin River across the street from the house. The hiking options are unlimited ranging from easy to difficult. There are many swimming holes and waterfalls to cool off in the local mountains. Grafton Notch (~20-30min drive) and the White Mountain National Forest are great starting points for hikes (closest entrance is 3 miles away). Enjoy events at Sunday River, which are running all year long (mud-runs, beer festivals, etc). Enjoy great local food in Bethel, Maine or Gorham, NH each a 15minute drive from the house. Hike or take the cograil up Mt Washington (~45 minute drive). Or just enjoy the beautiful 1.5 acre secluded backyard with your own private brook and mini waterfall!
Enjoyed our stay at this charming Maine farmhouse. It was ready for our arrival, could accommodate as many people as advertised, and was about 20 minutes from Sunday River. Was easy to get in using the key code on the door. Overall, a good experience exactly as advertised.
Rhonda
2015-02-09T00:00:00Z
Dan was a great host. Very quick to respond to any question we had prior and during our stay. The house was great for our party with plenty of space and beds for everyone to sleep comfortably.
Chris
2015-01-05T00:00:00Z
This is a nice, big house that is set up well to accommodate a large group. Everything was clean and comfortable. The area around the house is quiet and feels secluded, but its quick drive to Bethel or Gorham for anything you could need. Dan communicated quickly clearly.
Chris
2014-03-18T00:00:00Z
This place was great for a large group! Plenty of beds, wood stove made it nice and warm. Great place to stay when skiing at Sunday River.
Steve
2015-03-09T00:00:00Z
Great house with lots of room and very close to Sunday River. Dan was very on point with the communication and we will definitely be looking to rebook next year for our ski trip. Unreservedly recommended!
New
2016-01-25T00:00:00Z
We had a fantastic time at Dan's house. The house is very spacious inside and out! We loved the games cupboard! Thank you for letting us stay!
Ajay
2016-07-31T00:00:00Z
This is really good experience to stay the Dan's house. Everything is clearn include bathroom badroom and kitchen. They have yard behind the house.The view of outside is really prefect.
谱中
2015-10-26T00:00:00Z
We had an excellent stay at this rental home this fall. The house was huge, clean and provided plenty of room (and more!) for our group of 9 - I would definitely recommend it for a large group. We especially enjoyed the backyard with the fire pit. The pellet stove kept the house cozy even during cold nights. The kitchen was roomy and there were plenty of different cookwares/utensils, which made making breakfast for a large group an easy task. We will definitely be coming back.
Derya
2015-10-12T00:00:00Z
Oda Tipi
Tüm ev/daire
---
Mekan Türü
Ev
---
Konaklayacak Kişi Sayısı
16
---
Yatak odaları
Gilead, Maine, ABD
Welcome to The Keystone Cabin, a 4BR, 3.5 bath log cabin just minutes from the Sunday River Ski Resort & Golf Club! This home accommodates up to 14 people and includes a finished basement/game room, hot tub, and an open concept living space perfect for family & friends! Plan your next getaway with us!
The Keystone Cabin is part of Sunday River's Powder Ridge Community, and offers an open concept living space with a gas fireplace, large dining room, and a fully equipped gourmet kitchen. Entertainment features include: Wi-Fi, Cable TV, On-Demand, EPIX, and Smart TV functionality (Netflix compatible). The walk-out basement is equipped with a Pool Table, Poker Table, Ping Pong table top, and the hot tub is right outside! The basement area is sure to be one of the many highlights of your stay.
The house is located in the Powder Ridge Community where there are custom mountain homes scattered across the mountainside looking out over the Mahoosuc Range and Sunday River.
Kevin's place was perfect for our group of 10! everything was ready and clean when we arrived and we thoroughly enjoyed our stay. particularly ping pong table, hot tub etc., in the basement! Kevin was very responsive to all our requests /queries, thanks again!!
Eswar
2016-10-16T00:00:00Z
Beautiful place, great location! Kevin was an excellent and responsive host! We really enjoyed our time there.
Behnam
2016-10-09T00:00:00Z
Great stay for a large group! Close to a lot of things and a lot to do in the house.
Andrew
2017-01-29T00:00:00Z
Kevin made us feel very welcome and was extremely helpful and responsive. The house was comfortable, clean and inviting, good for our large group of varying ages. Loved the layout of the house, the furniture and decor. We enjoyed games, ping pong, hot tub, great kitchen and dining area for big family meals. The mudroom entry was awesome for shedding boots and gear. The street is a dead end so it's very quiet and nice for snowy walks. There was plenty of parking and it was an easy drive to Sunday River for skiing, or Bethel for shopping and cross country skiing. The Keystone Cabin was a top notch renting experience and we hope to return some day!
Jodie
2017-01-01T00:00:00Z
Excellent spot! The location is awesome and he house is beautiful with a great pool table/ping pong table. Easy to get to the local bars/restaurants too!
John
2017-03-26T00:00:00Z
The cabin is amazing! Came here for a weekend to relax. Sunday River Resort for skiing/boarding was only 7 minutes away. Closest grocery store was only 15 minutes away. Cabin was ready with plenty utensils, bowls, plates, cups, pots, pans, etc. The game room was a real treat for pool/gambling and the hot tub was perfect to wind down in after skiing. Cabin came with wifi and was very warm/clean. Very spacious.
Mary
2017-01-22T00:00:00Z
The Keystone residence was the perfect stay for my friends and I. Remote, yet very close to the mountain. Great amenities and built to relax and have fun with friends and family. Would highly recommend staying, and would definitely stay again. Robert
Robert
2017-04-02T00:00:00Z
The place the great. We all really enjoyed our stay and would definitely want to stay there again. It's a short drive to the mountain. The pictures accurately reflected the house, and the beds were very comfortable.
Daniel
2017-03-19T00:00:00Z
Oda Tipi
Tüm ev/daire
---
Mekan Türü
Ev
---
Konaklayacak Kişi Sayısı
14
---
Yatak odaları
Newry, Maine, ABD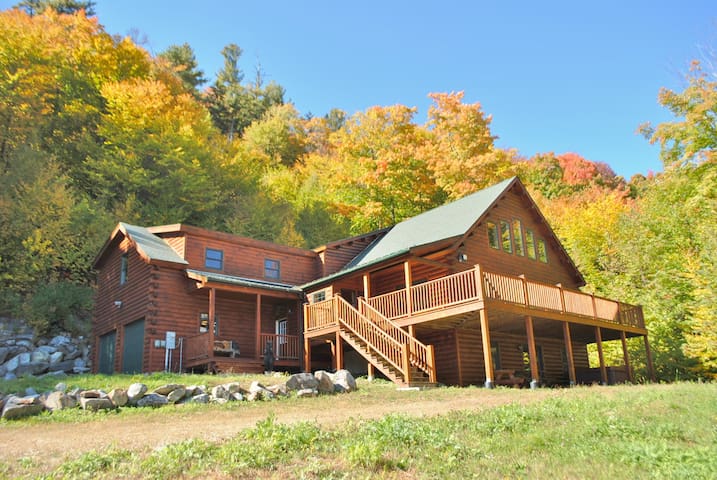 Spectacular Log Home on Sunday River's exclusive Powder Ridge. ALL VIEW features four bedrooms, 3 full baths and great views! Gourmet kitchen is fully stocked. Log Dining room table sits 12. Propane fireplace located in main living room. Flat screen TV's located in each bedroom and in both living rooms. Hot Tub, game room and bedroom with two queen beds located on the lower level. Automatic propane generator guarantees no power outage no matter the weather! ALL VIEW is the perfect ski house!
Spectacular Views of all 8 peaks of Sunday River! We are located within walking distance of Newry's world famous Covered Bridge!
Wonderful, responsive owners, and a beautiful home located just a few minutes from the mountain. Could not have been a better stay!
MEREDITH
2017-03-19T00:00:00Z
The host canceled this reservation 22 days before arrival. This is an automated posting.
Kristen
2017-01-12T00:00:00Z
Oda Tipi
Tüm ev/daire
---
Mekan Türü
Ev
---
Konaklayacak Kişi Sayısı
12
---
Yatak odaları
Newry, Maine, ABD
Come and enjoy the charming Great Brook Cottage located approximately ten minutes from Sunday River Ski Resort, ten minutes from Bethel and four miles away from the Grafton Notch State Park. It has two small bedrooms, a loft which we use as a sleeping den (our kids' favorite place), cozy living and dining areas. It is tastefully (that's what our guests say) furnished for year round enjoyment. It also has an over-sized back porch with charcoal grill and a fire pit. Ski at Sunday River, Mt. Abram, or Black Mountain of Maine, until you can't walk any longer, then come back and sit by the fire in the large, beautiful, stone fireplace in the center of the cottage, built with stones from the Great Brook. We supply the firewood, stacked on the front porch, and more in the shed. Snow shoe on the property or head towards any of the mountains for a challenging adventure. One of our favorite places is Rt. 113 in Gilead (20-minute drive from the house), which is closed for traffic in Winter. Enjoy the completely frozen world alongside the Wild River. In early Spring, listen to the Great Brook, which runs from the Puzzle Mountain, and occasionally breaks through the ice. Fish for rainbow or brook trout in the Bear river a short walk away. Summer is a great time for kayaking or canoeing on the Androscoggin river and the Umbagog lake, mountain biking and hiking as well as golfing at the Sunday River resort. Our house is located on the Scenic Byway (State Rt. 26) which connects with the New Hampshire Scenic Byway and passes through Grafton Notch State Park. The Bear River parallels the road for much of the way. Enjoy spectacular scenery and foliage viewing; stop by for a short hike to Screw Auger Falls and Mother Walker Falls. So much to do, welcome to the Great Brook Cottage!
This is our second time staying in the cottage and we could not have been happier. We were greeted by a lovely bottle of wine when we came in, thank you Miroslav! The house is cozy and welcoming and has everything we needed. This year we also were able to take advantage of the nice outdoor space. Lots of seating, a table for dinner and a firepit where the perfect way to spend the evening!
Elena
2015-07-06T00:00:00Z
The Great Brook cottage was perfect for a family get away. It was so cozy and had everything we needed. Miroslav was extremely responsive and the cottage was just as he described. It is only 10 minutes from sunday river and a great option for a ski vacation. We hope to come back next year!!
Kristi
2017-02-26T00:00:00Z
Wonderful stay! The cottage is comfy & warm. We stayed 2 nights and loved being able to enjoy the outside fire pit one night & the beautiful stone fireplace inside the 2nd night. Booking was easy and Miroslav, the host, was very responsive. A wonderful area for hiking & exploring and coming "home" in the evenings to this wonderful cottage made for a truly lovely fall weekend getaway. I would not hesitate to recommend this property or to stay here again
Mary Beth
2016-09-26T00:00:00Z
This was our second stay at Great Brook Cottage and we had a glorious time! As others have stated, if you are active and into skiing or hiking there is plenty to do very close. But if you just want to take it easy like we did this year...you can visit at least Two waterfalls within 12mi with easy access/walks, check out some beautiful New England cemeteries, and have your fill of amazing beer and lobster rolls at the local brewery! The cabin was immaculate and so charming. I feel like I am in a fairy tale when I stay here. The road is close to the cabin but it is not highly traveled so it's still pretty quiet and feels remote enough. Especially with the Amazing backyard and river! Highly recommended.
Bonnie
2016-05-25T00:00:00Z
The Great Brook Cottage was absolutely fantastic! Cozy and spacious enough - all amenities provided for a great stay including wood for fires and a lovely hammock in the backyard. The back deck with fire pit is wonderful! Miroslav is a wonderful host...very prompt with communication. Highly recommended!
Bob
2014-08-11T00:00:00Z
Super cute and great getaway
Brian
2016-11-26T00:00:00Z
Great cottage in a great location. Very welcoming decorations and amenities. Felt like home without feeling cluttered. Comfortable beds and furniture, too. Hosts also provided an unending supply of firewood for the outdoor firepit and indoor fireplace. The nearby towns of Bethel and Newry were also very welcoming with fun restaurants and local shops. Nearby Grafton Notch State Park is another hidden gem in the area!
David
2014-09-29T00:00:00Z
We wanted to have some peace and quiet far from all the noises of civilization. An amazing place with everything you need. Our kids were the happiest munchkins in the world. They spent a lot of time outside playing ball, neighbor's dog and snow. Adults enjoyed the fireplace, food and wine. Everybody got everything they wanted and needed! Hope to be back soon! Thank you very much!
Ekaterina
2013-12-02T00:00:00Z
Oda Tipi
Tüm ev/daire
---
Mekan Türü
Ev
---
Konaklayacak Kişi Sayısı
5
---
Yatak odaları
Newry, Maine, ABD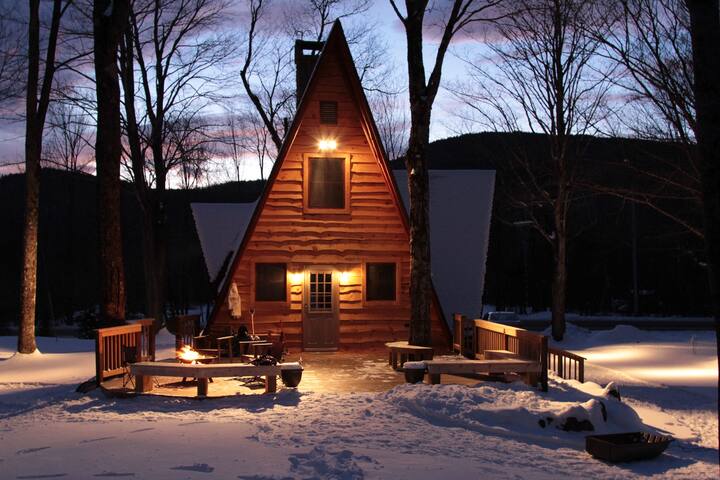 Beautifully sited, secluded spacious home near Sunday River with mountain views. The 100 acre property is on AMC Grafton Loop Trail with miles of varied trails from the house for hiking and cross country skiing, and access to ITS snowmobile trails.
Just 15 minutes from Sunday River, mountain and woods views without another building or road in sight. A vast playground of fields, wooded trails or woods for exploring, on both sides of the Bear River that runs through the property.
Bear River Road, Route 26, leads to Grafton Notch State Park, a scenic area by the Maine - New Hampshire border. Local attractions include Screw Auger Falls and Step Falls, both a short drive from the house. In the summer, the Puzzle Mountain section of the Grafton Loop Trail can be hiked from the house.
It was so great! Ken left a bottle of champagne for us in the fridge and the deck with the adirondack chairs was a great place to just relax and enjoy the view. It was everything we were looking for at a great price.
Mackenzie
2016-10-23T00:00:00Z
Excellent location, stop and grab a pie just down the street! Thank you Ken.
Taylor
2016-09-19T00:00:00Z
Ken was a very gracious host that did not overlook anything. He was also very helpful in resolving a minor issue that came up during the rental. Good guy. Great stay.
Leland
2016-06-27T00:00:00Z
Great weekend
Joe
2016-12-19T00:00:00Z
Ken does a great job anticipating your every need. The house is cozy, clean, and looks great. Ken is an awesome and easy host to work with.
Robert
2017-01-16T00:00:00Z
Ken is great, the house is warm, clean, and provides a relaxing place to get away. Skiing is close, and the snowshoeing in the property is an extra perk.
Christine
2017-02-21T00:00:00Z
The house is just as pictured and very clean. The bedding is of very very high quality!!! We slept so well. The pantry has basics and you are a short run from town for any groceries you need, the stove is superior! There is a grill too. Internet was always reliable which was excellent for catching up with work. The house is very close (within steps) of a snow mobile trail which was so wonderful for our dogs. We never saw anyone! The lower level has a first floor bedroom, bathroom with shower, and laundry and has a terrific mudroom. The owners left plenty of kindling to start an outdoor firepit too. We would definitely stay here again!!
Suzanne
2016-11-26T00:00:00Z
Very private house. The views are wonderful, especially from the porch first thing in the morning. The river and swim hole are just across the street and there are an abundance of trails literally out the front door. Beds were comfortable, shower was hot, and the kitchen has everything you need. Very nice stay.
Carla
2016-09-05T00:00:00Z
Oda Tipi
Tüm ev/daire
---
Mekan Türü
Ev
---
Konaklayacak Kişi Sayısı
9
---
Yatak odaları
Newry, Maine, ABD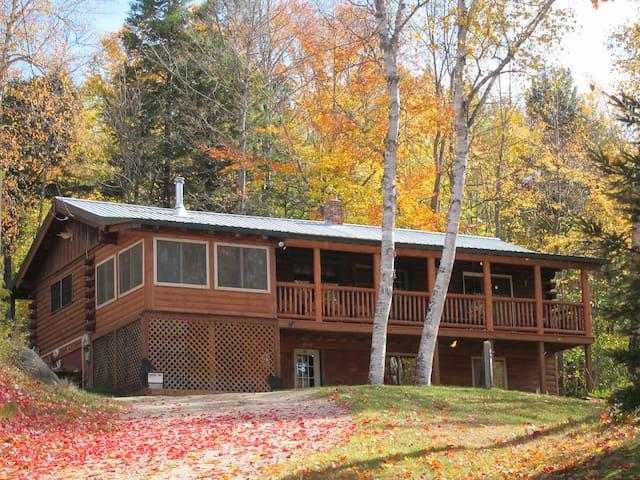 Milano - Airbnb
:
224

misafir değerlendirmesinden,

5

yıldız üzerinden ortalama

4.79

yıldız
Tam fiyatlandırmayı görmek için tarihleri görün. Ek ücretler uygulanır. Vergiler ilave edilir.