Great spot near freeways and restaurants. Comfortable and quiet apartment.
Jan
2016-03-23T00:00:00Z
Olga was very responsive, friendly and helpful! Her apartment was described accurately - a very clean 1 bedroom apartment that was perfect for two people, although it could definitely sleep one more. The neighborhood was quiet, safe and parking was easy to find. Her apartment complex was also quiet and felt perfectly safe. We felt very welcome! Olga left us plenty of instructions regarding apartment amenities, wifi info and where to find nearby restaurants and shops. She left us clean towels and candy :) Her apartment is in close proximity of two trolley stops - we made the 10 min drive to Old Town and jumped on the trolley there, it was very easy! I would definitely stay at Olga's again and recommend her Airbnb listing to anyone visiting SD.
Kelsey
2016-03-27T00:00:00Z
Olga was a great host, everything was provided as promised and more. She was great at communicating and making sure our stay was comfortable. The apartment was clean and had all we needed. The location of the apartment is perfect for getting almost anywhere in San Diego! Great experience !!
Lysa
2016-07-25T00:00:00Z
Wonderful place, wonderful host. Very comfortable, in great location. Olga provided clear directions and my stay in San Diego was great!
Austin
2016-04-03T00:00:00Z
Olgas place was so nice! Cute left for us and just an great centrally located area! Place was very clean and Olga was very accommodating! Highly recommend for visitors!
James
2016-03-21T00:00:00Z
Olga is great. She made it easy to check in and made my stay very comfortable. Her home was clean and spacious. 100% would recommend
Jorge
2016-04-18T00:00:00Z
Wonderful experience. Communication was great with a decent location to get to and from downtown. Apartment was really quiet and pretty clean. Quality pricing and happy to stay at Olga's for memorial day weekend.
Som
2016-05-30T00:00:00Z
Didn't meet Olga but she was fat at responding and very accommodating. The area is residential and very close to the 8. Parking was a bit of a struggle off the street especially at night but we never had to park too far. The space was just as described and very homey id definelty stay again!
Marissa
2016-08-14T00:00:00Z
Oda Tipi
Tüm ev/daire
---
Mekan Türü
Daire
---
Konaklayacak Kişi Sayısı
2
---
Yatak odaları
San Diego, California, ABD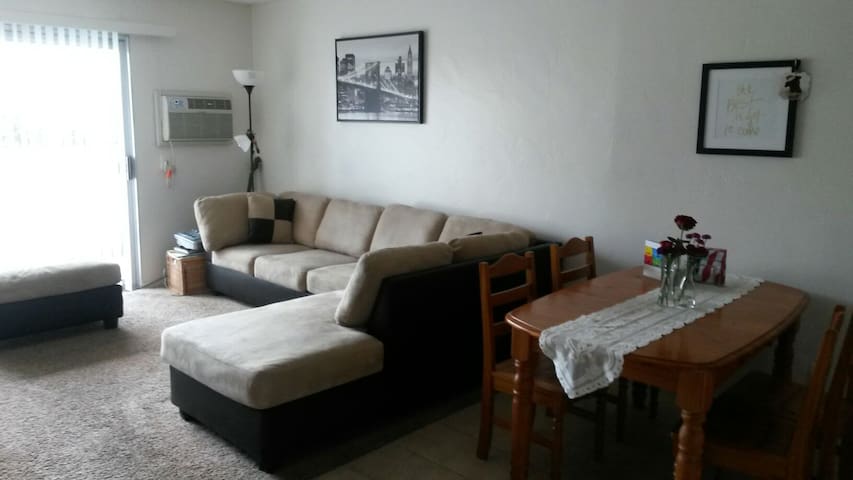 Tam fiyatlandırmayı görmek için tarihleri görün. Ek ücretler uygulanır. Vergiler ilave edilir.